As any Vancouverite can attest to, ramen is one of the city's most prized foods. It's the reason why so many people are searching for the best ramen in Vancouver.
Mainly because rain is a frequent occurrence here. And one of the greatest remedies of the gloomy downpour or a simple no-frills meal is an affordable bowl of hot soup and noodles.
Like sushi, ramen just something Vancouver does well—like, mouth-wateringly well.
So, ready your chopsticks and don't forget to ask for extra noodles. Here are ten of our favourite places to snag the best ramen Vancouver has to offer.
*Noms Members are part of our exclusive paid membership. Only food spots we personally recommend are accepted as members. 
10. Kintaro Ramen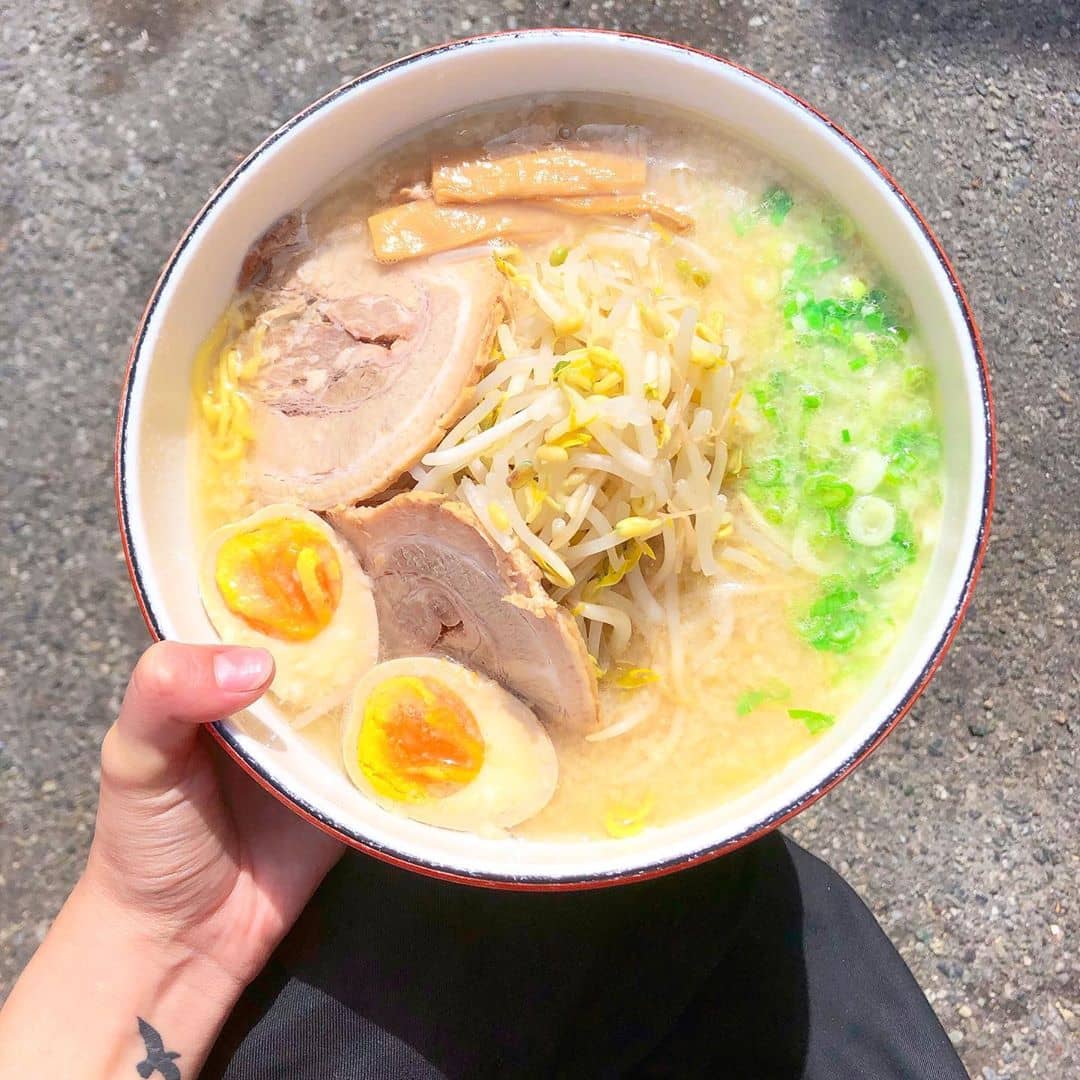 Kintaro may not win in the aesthetic department, but it sure is a treat to the stomach. Its unpretentious interior and long queues gives this iconic Downtown Vancouver ramen spot a similar feeling to those in the backstreets of Tokyo.
Kintaro's menu covers most basic choices (like shoyu, shio, and miso) and has specialty options (like cheese and cold ramen). Like other ramen restaurants in Vancouver, you're able to customize the richness of your soup and how fatty you want your cha-shu. If you're wandering around the Westend area, Kintaro makes a great choice if you're looking for a good bowl of ramen that is well portioned and budget-friendly.
Location: 788 Denman Street Vancouver, British Columbia V6G 2L5
9. Benkei Ramen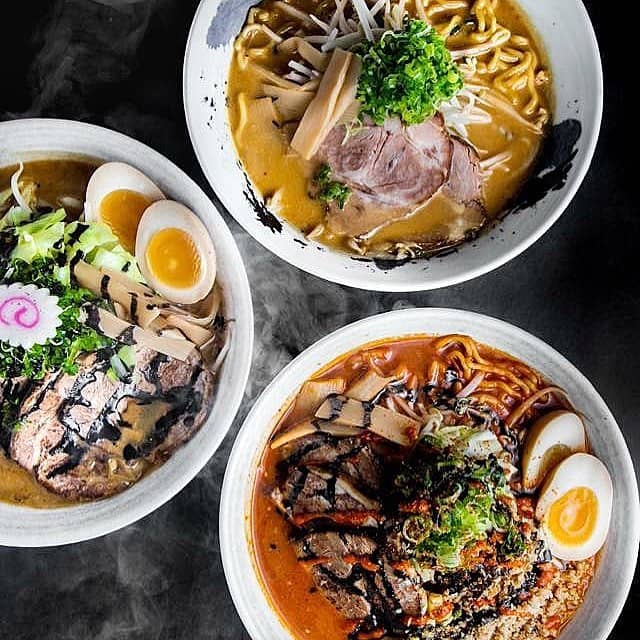 Perhaps the most affordable entry on the list, Benkei Noodle Shop prepares budget-friendly Japanese ramens that surely don't taste anything less than upscale. Their Tonkotsu broth is prepared each day by boiling for over 10 hours. The extended period of time brings out the umami flavours and thickens the broth.
Their Akaoni ramen—bowled with pan-fried and minced pork, green onion, bean sprouts, bamboo shoots, special roasted garlic oil, and roasted sesame—is a spicy pleasure, one that'll satiate any die-hard chili lover. However, they also have some fantastic curry ramen and rice bowls, to boot. Vegan? They've got you covered; their Black Ramen bowls feature house made noodles sitting in a vegetable broth with rich black sesame miso, which is all then drizzled with coconut milk and roasted black pepper.
Location:
– Near Broadway City Hall Station – 545 W Broadway, Vancouver, BC V5Z 0B4
Instagram | Facebook | Website
8. Taishoken Ramen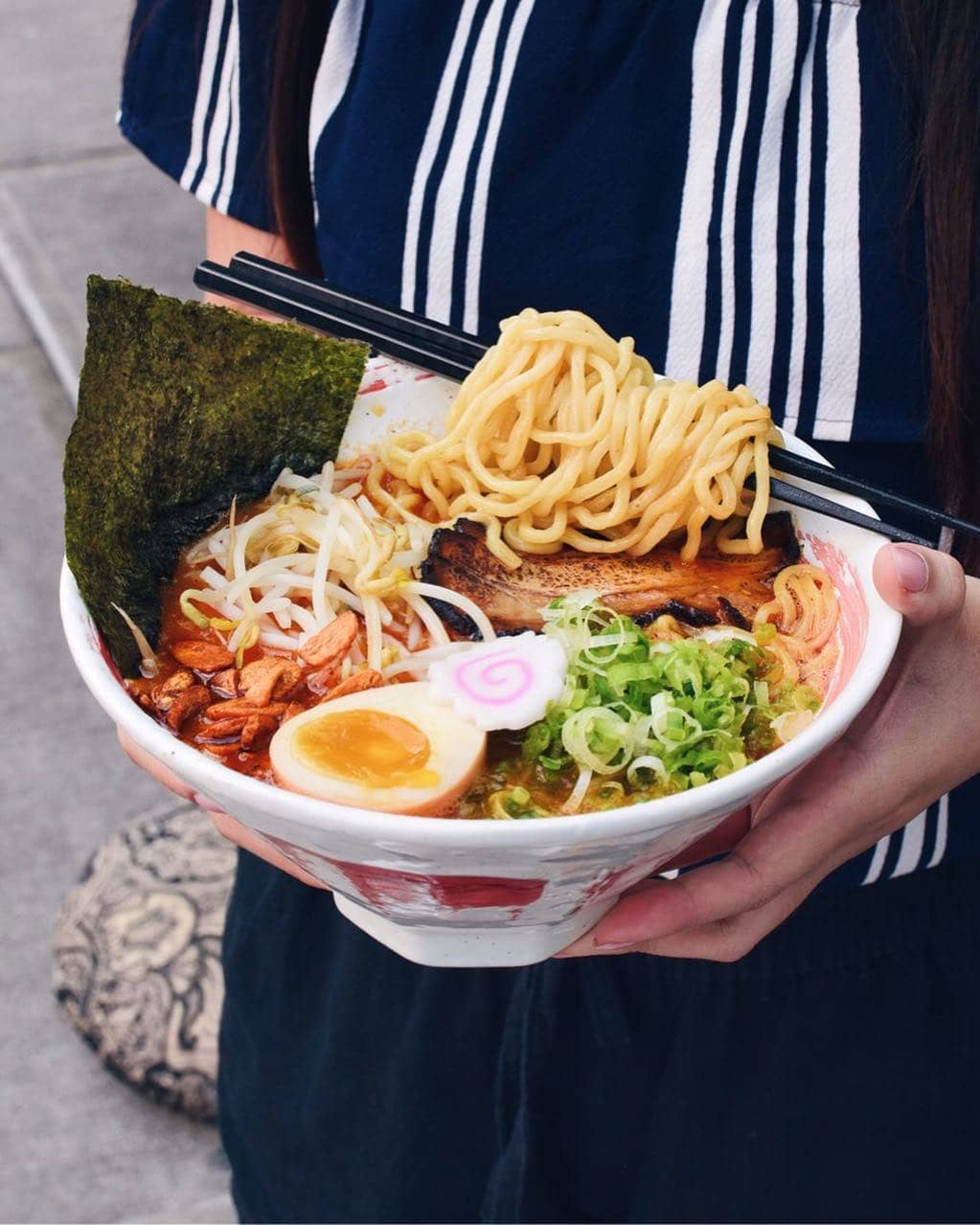 Taishoken Ramen is a small, quaint ramen destination just on the border of Chinatown and Gastown, featuring a wide selection of ramen staples that include traditional Tonkotsu (pan-fried pork cutlet), garlic-spiced oils, miso broths, and more. Vegetarians can find an afternoon or evening treat in their "tomato cheese ramen," complete with tofu, caramelized onion, corn, basil pesto, and parmesan cheese.
Taishoken made a name for themselves for their delicious Tsukemen, a ramen dish in Japanese cuisine that consists of noodles which are eaten after being dipped in a separate bowl of soup or broth, allowing the noodles not to soften too much.
Locations: Near International Village – 515 Abbott St, Vancouver, BC V6B 2L2
A rundown of all the best restaurants, cafes, drink spots, and shops in the Chinatown area.
7. Ramen Tsukiya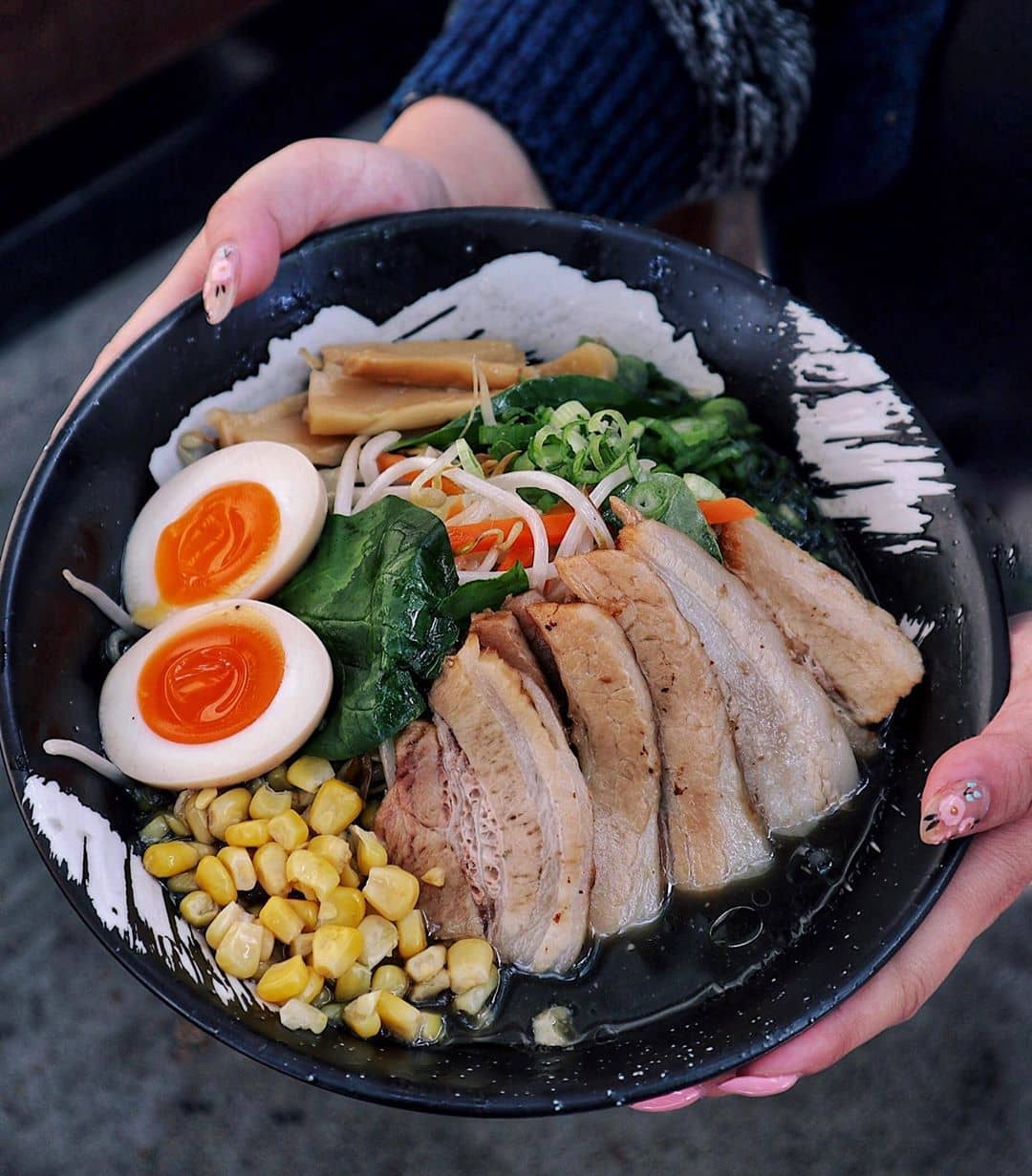 This ramen hotspot is a well-documented Instagram darling, serving bowls of Japanese noodle dishes that are as pretty as they are picture-worthy. Ramen Tsukiya's black charcoal ramen—a mesmeric pool of pitch-black broth that floats tofu, bamboo shoots, miso and more—should sit high on any food bloggers must-eat list in the city.
For a less eye-shocking, yet equally transfixing ramen, grab a bowl of their cold Japanese-style ramen. The dish uses cooked (then chilled) spinach noodles, cooked eggs, sliced beef, green onion, cucumber nori, and a healthy dollop of sesame seeds and wasabi, which are all then piled atop this cool-as-a-cucumber ramen bowl. If you're looking to cool down from hot summer's day, this ramen is just the thing to order
Location: Close to Stanley Park – 740 Denman St, Vancouver, BC V6G 2L5
6. Jinya Ramen Bar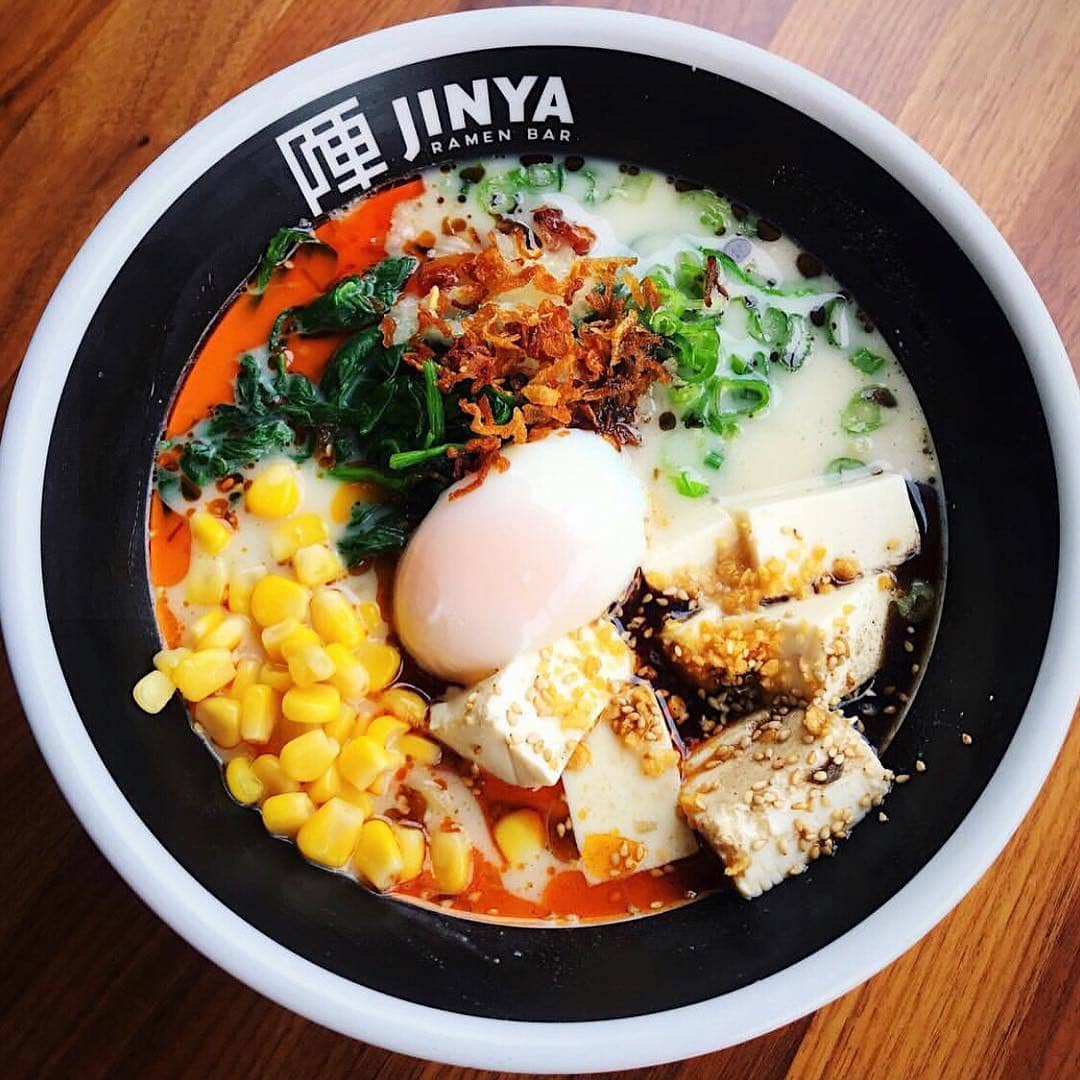 "No Ramen, no life." That's their motto. Jinya Ramen Bar's growing number of locations are each a bastion for aesthetics and flavour. All their ramen offerings are served in massive breathtaking bowls that, truly, make every ramen's many colourful ingredients pop. But the quality doesn't end with the tableware; it makes its way to the kitchen, as well.
Like the other ramen restaurants in Vancouver, they are meticulous in their craft. For instance: to prepare the broth, Jinya specifically uses FUJI water with 99.9% free of impurities. Their thick and flavourful broth is slowly simmered for more than 10 hours and is combined with whole pork bones, chickens or vegetables with just the right amount of ingredients.
They're not afraid to tell you that they're crazy about ramen. Seriously.
Locations:
– Downtown Vancouver – 541 Robson St Vancouver, British Columbia V6B 2B7
Instagram | Facebook | Website
A rundown of all the best restaurants, cafes, shops, and places to stay in the famous Robson Street area.
5. Menya Itto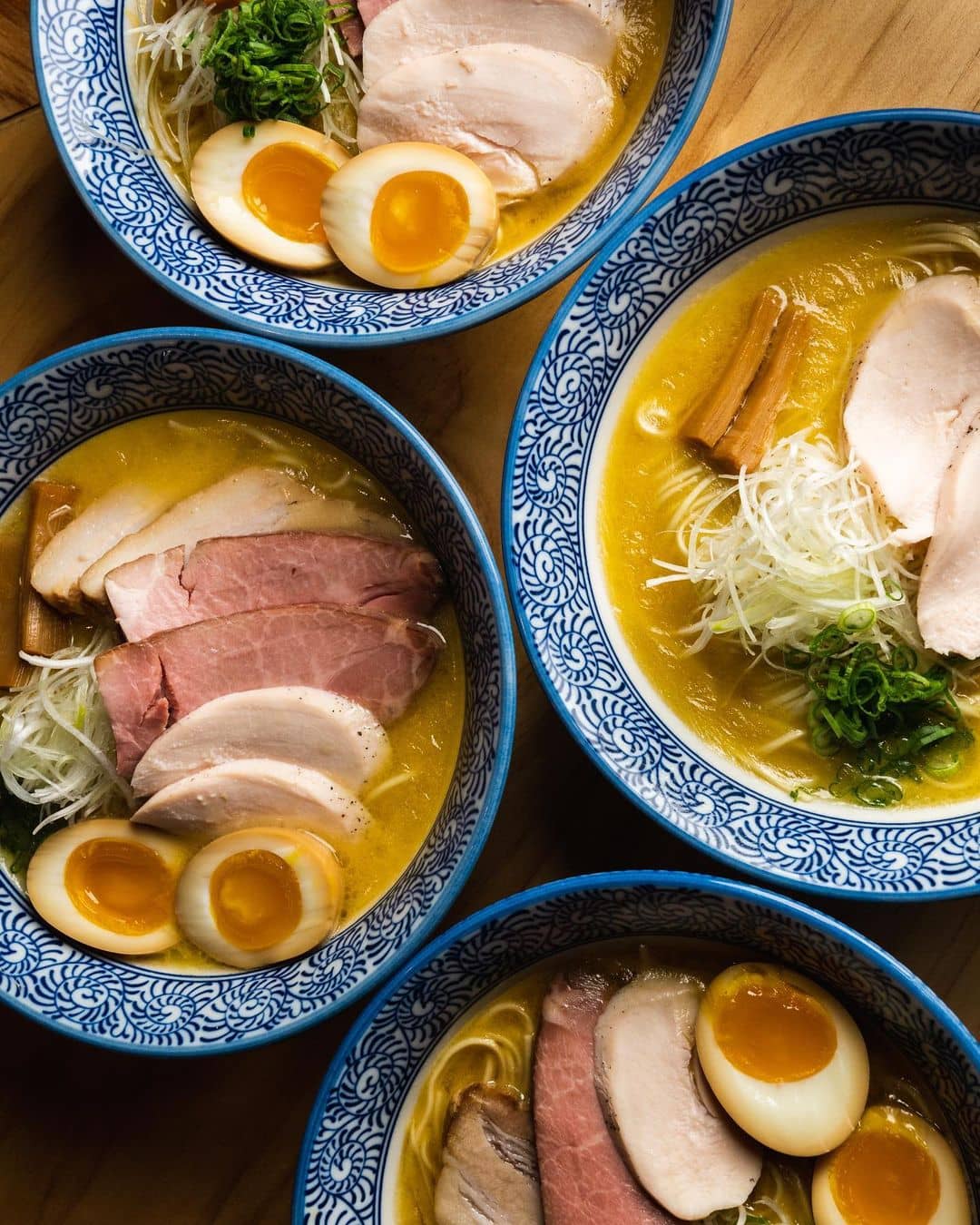 Menya Itto has always been in our top of mind whenever we think of an impeccable ramen bowl or tsukemen. Dubbed the 'King of Tsukemen' by its loyal fans in Japan, Menya Itto was awarded the Tabelog awards for best ramen in Japan since 2010. Drop a visit to this place and get seduced by the chewy, slippery noodles, flavorful broth, and a modern, cozy ambiance. You will never leave this place with an empty stomach!
Their Chashu Noko Gyokai Ramen has a thick and creamy chicken, seafood soup with scallop oil, and house-made thin noodles, which is light yet tasty and impressive in every bite!
The main attraction is definitely the Menya Itto Classic Tsukemen. It is what people line up for and is an absolute must-order if you love Tsukemen. This hard-hitter has thicker noodles, served with Menya Itto's Signature broth with crunchy-textured chicken balls. Soft, chewy, crispy at the same time!
What to order: Chashu Noko Gyokai Ramen, Menya Itto Classic Tsukemen, Tori Dango, Tori Chasu
Address: 1479 Robson St, Vancouver, BC V6G 1C1
Website | Instagram | Facebook
4. The Ramen Butcher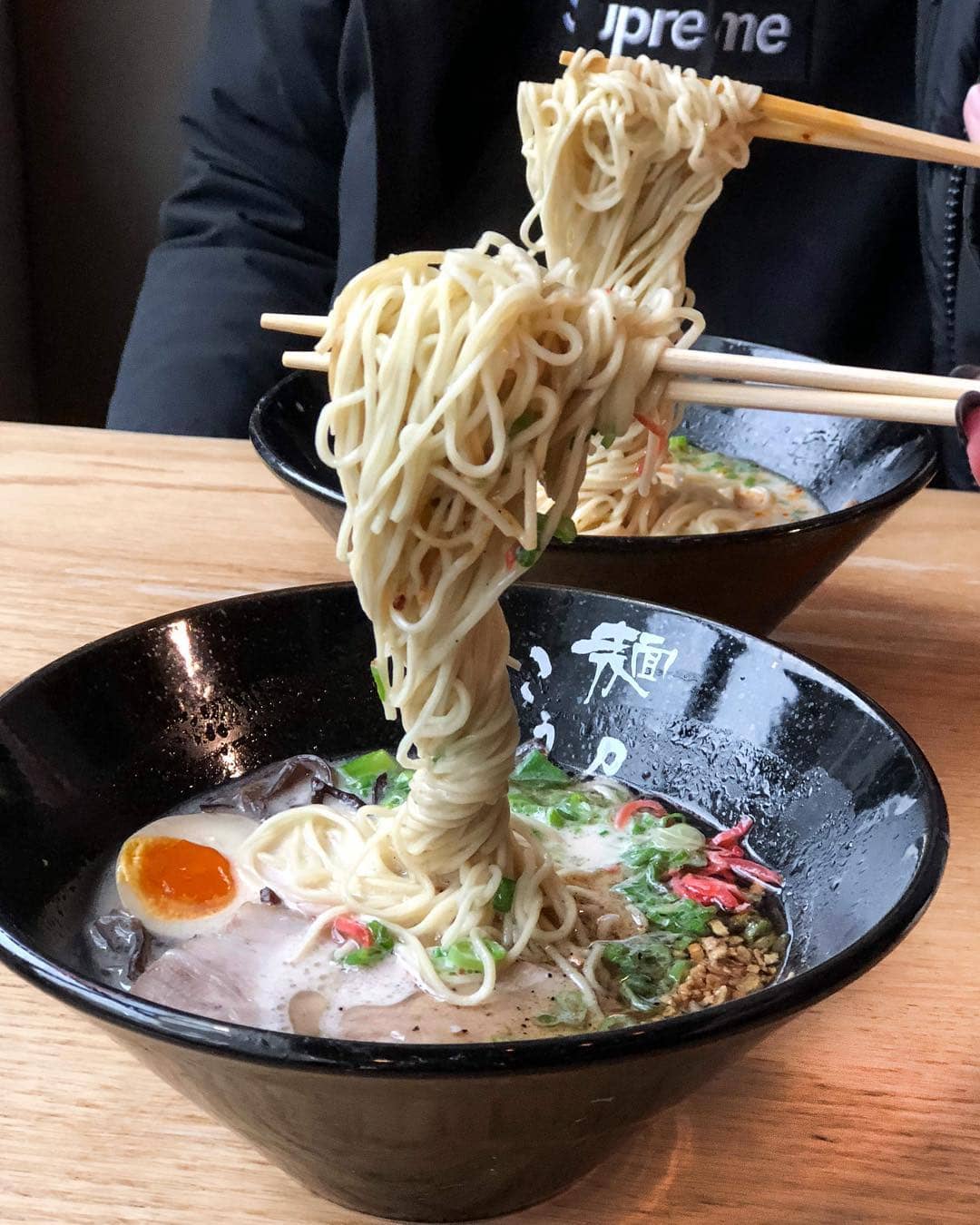 Well, if the name isn't enticing enough, their lofty ramen menu should do the trick. Located in the heart of Chinatown, The Ramen Butcher is a bastion for old-school noodle slinging, making their famously thin noodles in-house and fresh daily.
While their classic Tsukemen and chicken ramens are resounding crowd favourites, we'd recommend taking your palate on a culinary excursion, ordering their black garlic ramen for dinner or lunch at this ramen restaurant. It's a welcomingly take on conventional pork broth ramen by adding in roasted garlic oil. Yearning for some extra noodles? Ask for a (free) "kaedama"—which is, literally, a softball-sized mound of extra noodles.
Pro-tip: Always ask for Kaedama. Cause why not?
Location: 223 E Georgia St, Vancouver, BC, V6A 1Z6
3. Hokkaido Ramen Santouka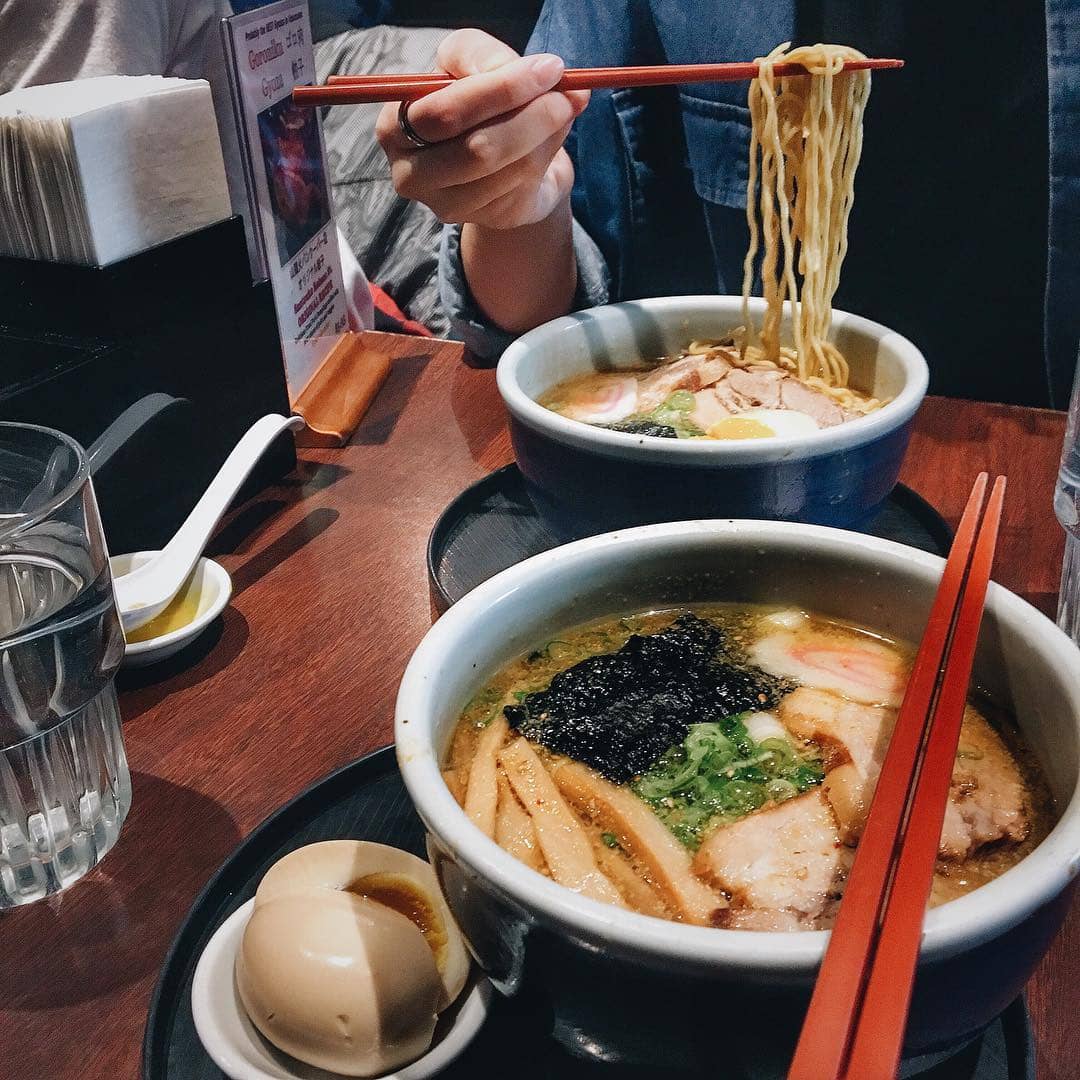 What started off as a tiny nine seater restaurant with only a single item on the menu (now famous Shio ramen), in Hokkaido, Santouka has become a well established name internationally. With their goal to make "Family friendly, delicious, and healthy ramen", Santouka makes their soup broth from scratch and uses minimal salt and artificial seasoning.
To create their mild and gentle flavoured broth, they boil pork bones for an extended period of time. Once the soup is complete, they do not re-boil it in order to preserve the taste and smell. Although this means their soup may not be piping hot, this allows it to be served to children and elders at the right temperature.
And while you really can't go wrong with any of their Shio Ramen, we'd be remiss not to recommend ordering the spicy miso ramen as well. Like your taste buds, it'll re-ignite your love affair for all things miso and chili peppers.
Like Danbo and Marutama, you can expect a queue outside the door as Santouka has their own cult following as one of the best ramen in Downtown Vancouver.
Locations:
– 1690, Robson Street, Vancouver, BC V6G 1C7
– 558 W Broadway, Vancouver, BC V5Z 1E9
Order Online: DoorDash | Uber Eats
Instagram | Facebook | Website
2. Marutama Ra-men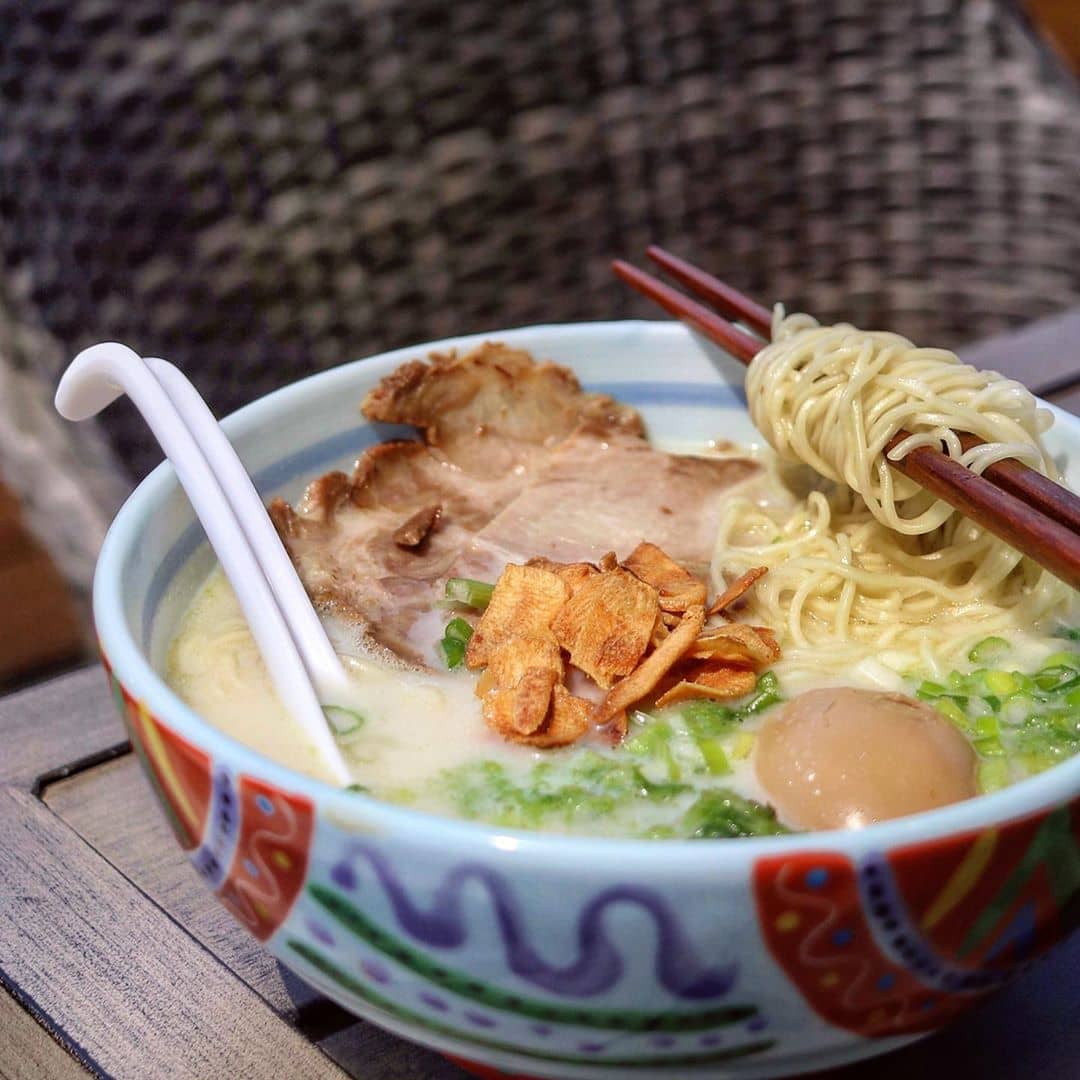 Marutama Ra-men is must-visit for those craving a bowl of noodles that could've very well come straight out of the streets of Tokyo. They specialize in a simple and light-tasting ramen, that uses a chicken broth base and ingredients that are all house-made or imported from Japan.
Every morning at 6:00 AM, their team prepares the soup and makes their chewy ramen noodles from scratch. Each day they make 1500 batches of noodles and still sell out before closing.
Their Tamago Ramen is a crowd favourite, which is topped with sliced cha-shu, seaweed, green onions and the most delicious semi-runny soft-boiled soy sauce eggs. With three locations spread throughout Vancouver, they serve tried-and-true ramen bowls, ones that are never too far away from where you might be.
They are one of our personal favourite when looking to get the best ramen in town and one we recommend to all our relatives and friends visiting from out of town.
Pro tip: When you receive your bowl of ramen, always add the garlic chips. You will never be the same again after trying it.
Want to see how Marutama Ramen Vancouver makes their ramen? Watch our feature below:
Locations:
– 780 Bidwell St, Vancouver, BC V6G 2J6
– Near Central Library – 270 Robson St, Vancouver, BC V6B 0E7
– 2858 Main St, Vancouver, BC V5T 0C1
– 5278 Kingsway, Burnaby, BC V5H 2E9
Order Online: Website
Instagram | Facebook | Website
1. Ramen Danbo
#kitsilano #robson #bucketlist #recommended #popular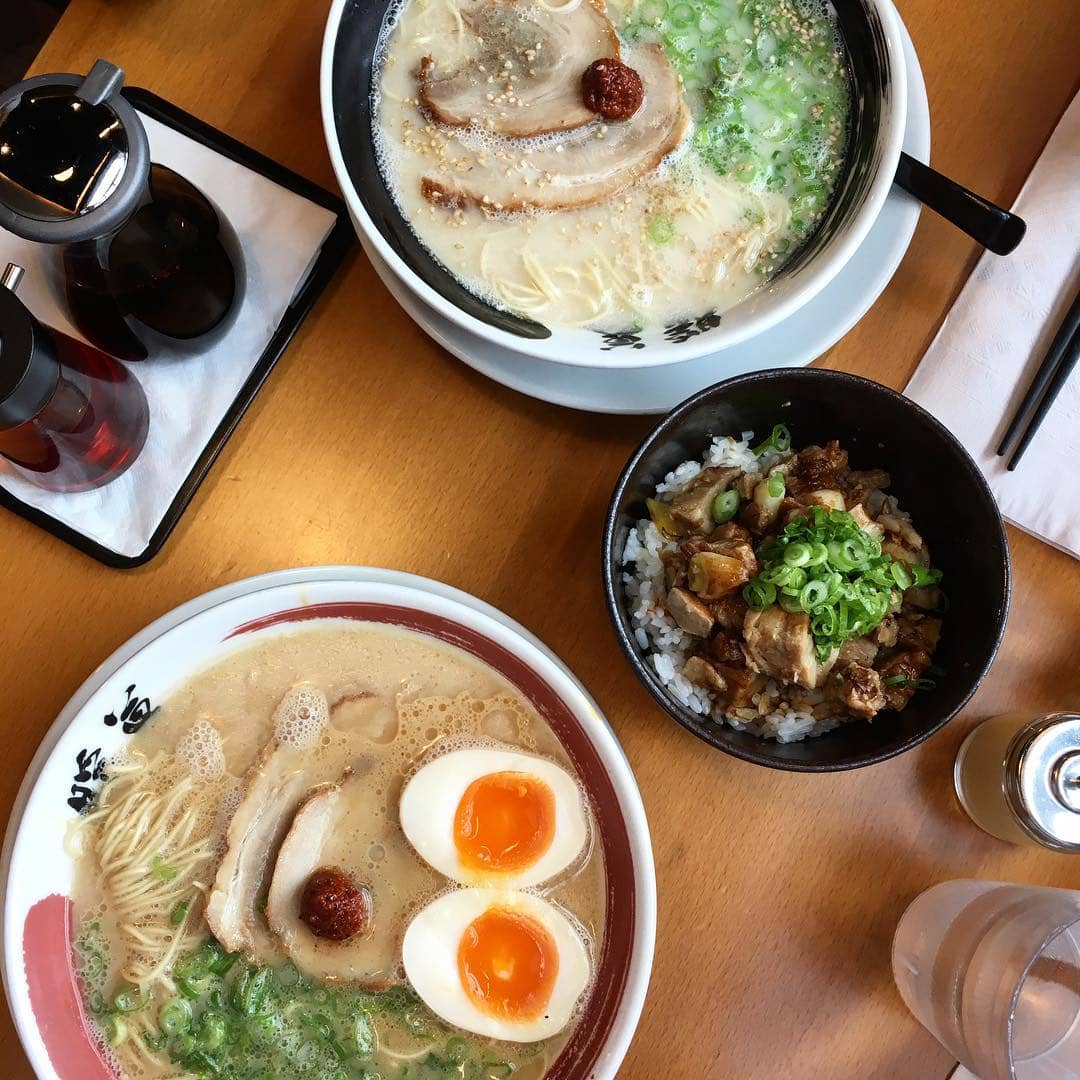 Ramen Danbo's bowls and plates traditional Fukuoka-style Tonkotsu ramen, a rarity even in the Vancouver food scene. Ramen Danbo even goes the extra mile, allowing diners to customize their ramen orders. Should you wish, you can build an entire ramen bowl from the bottom-up by choosing the doneness of the noodle type you choose, the thickness of the broth, types of cooked meats and vegetables, and a range of toppings to garnish your creation with after all is said and done.
However, you can never go wrong with their simple, traditional and wholesome Shio ramen.
Expect a long queue at their Robson Street location as they do serve some of the best ramen in Downtown Vancouver and a must have if you're needing to fill up your Vancouver Food Bucket List. It's well worth the wait though.
Locations:
– 1833 West 4th Avenue, Vancouver, BC Canada, V6J 1M4
– 1333 Robson Street, Vancouver, BC Canada, V6E 1C6
Order Online: DoorDash | Uber Eats
Honourable mentions: Ramen Gojiro, and Ramen Taka notsume
We're lucky to have so many quality ramen shops in Vancouver. And since each one of them uses a different method to cook their broth or provide you with options to customize your ramen noodle, it makes it a delightful experience to try all the best ramen spots and find which one is for you.
And if you're looking for more great comfort eats in the city, check out our picks for the best fried chicken and brunch in Vancouver.
The following two tabs change content below.
Latest posts by Noms Magazine (see all)