The beautiful warm and sunny year-round weather of Los Angeles makes it one of the best cities in the country to enjoy rooftop dining any time of the day.
From rooftop resto bars with a view to trendy poolside lounges, the City of Angels sets the bar high (pun intended!).
Explore and enjoy the cool vibes and pleasant climate of this dream city with the following list of the 11 best rooftop bars in Los Angeles.
1. The Roof at EDITION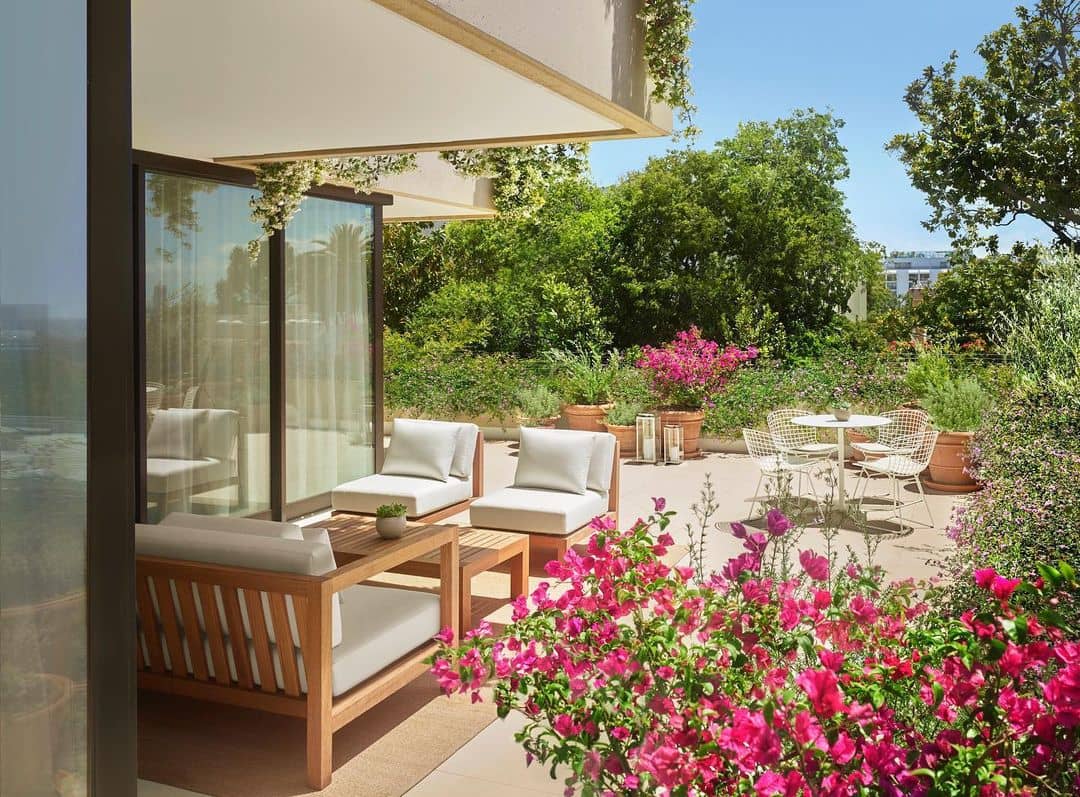 An ornate and chic rooftop bar, The Roof at EDITION has a vibe catering to both the younger and older crowd. With potted plants, wooden bench seating, and lush trees, the space is fresh, sleek, and vibrant, and gives you killer views of the city's skyline, along with a vast selection of Latin and tropical-inspired drinks and Mexican-inspired plates.
The Steak Torta, with the crusty bread, melt-in-the-mouth meat, gooey cheese, and bold spices, is a light yet filling sandwich that still lets you enjoy your favorite drinks to your heart's content.
The Crab Nachos are crunchy and cheesy and come with a generous topping of crab meat, so much so that you get a mouthful of crab meat in every bite. With a hint of spice from serrano, this is bar food at its best (with a view, of course!).
Apart from their signature cocktails like Casita de Campo and Daydream d'Lite, which are truly delicious, you can also get a wide range of other drinks, including beer and wine.
Not to forget, their Churros, served with warm chocolate, have a fan following of their own.
What to order: Steak Torta, Crab Nachos, Yucca Fries, Churros, Casita de Campo, Daydream d'Lite
Address: 9040 West Sunset Boulevard, West Hollywood, CA 90069
Website | Instagram | Facebook
2. High Rooftop Lounge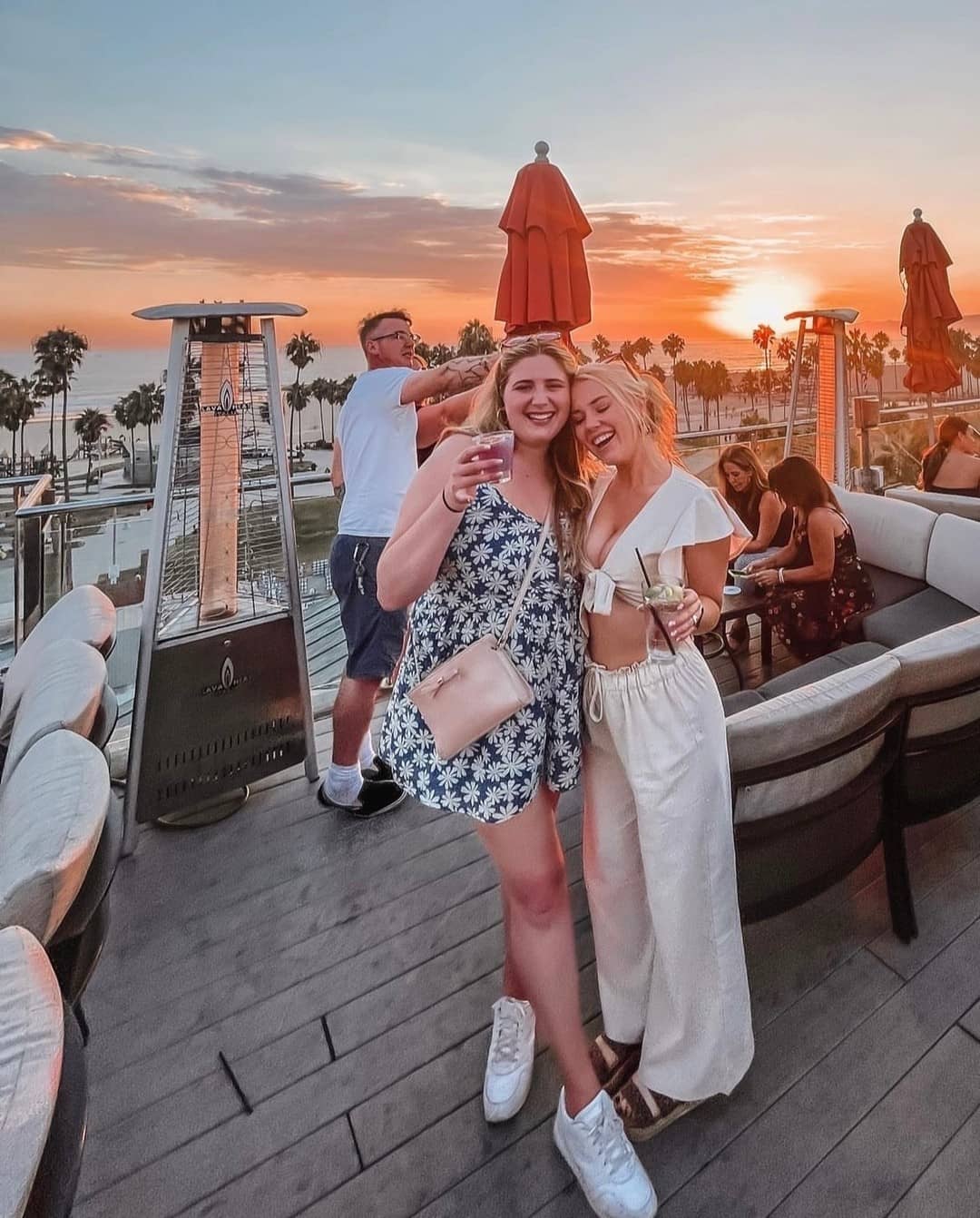 Rooftop bar with a view of Venice Beach? Double check! With comfy seating, large umbrellas, and high-end cocktails, High Rooftop Lounge is one of the most happening places along the beach, serving yummy bar food, and also a weekend brunch.
If you're planning to visit the place for brunch, before anything, book yourself a front-row seat to the breathtaking ocean view.
Now, for the yummy part – perhaps the most popular brunch dish here is the Rosemary Chicken & Candied Walnut Waffle. A unique twist to traditional chicken & waffles, this dish has all the right flavors and textures and is a surefire winner.
The Beachside Burrito is equally good and very filling and satisfying.
Of course, you cannot leave without a few brunch cocktails. Go with something tropical like The Jumpin' Screwdriver, or something fresh, bright, and non-alcoholic, like the Sunrise.
From their regular menu, the Westminster Wings, made with the chef's special bbq dry rub, is tempting and every bit delicious, especially with the sweet and spicy mango habanero dipping sauce.
Do try one of their Hot Cocktails, like the classic Hot Toddy, or the spiced-up Breakwater Buttered Rum. You won't be disappointed!
What to order: Rosemary Chicken & Candied Walnut Waffle, Beachside Burrito, The Jumpin' Screwdriver, Sunrise, Westminster Wings, Hot Toddy, Breakwater Buttered Rum
Address: 1697 Pacific Avenue, Venice, CA 90291
3. Bar Bohemien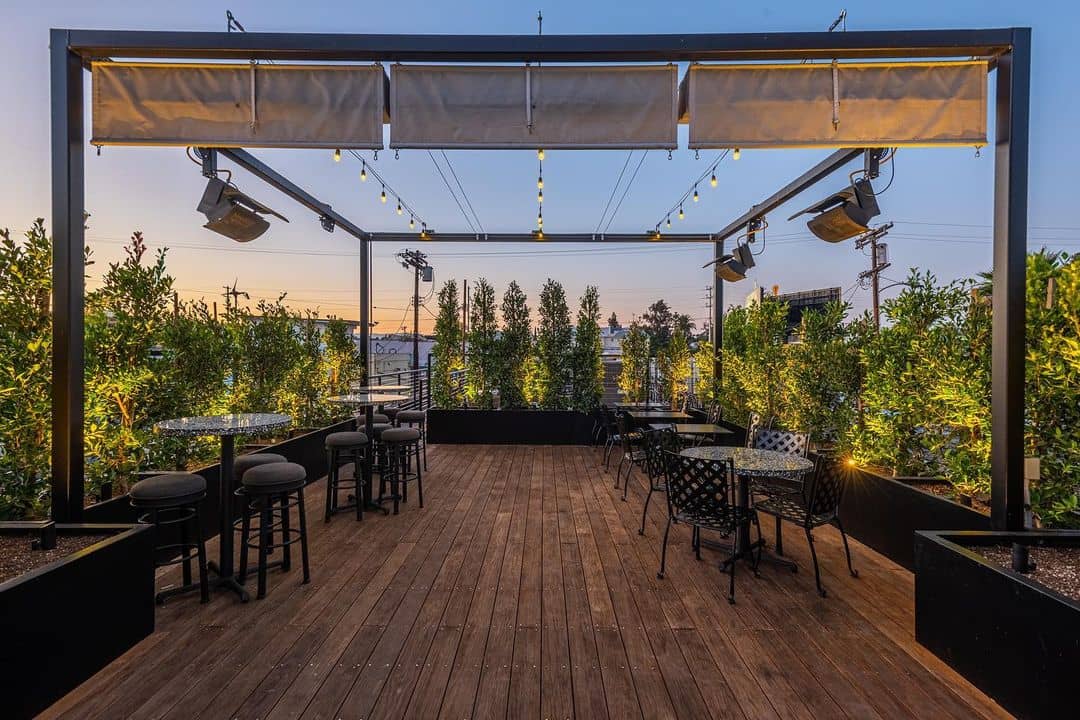 A small walk upstairs the Citizen Public Market will take you to a whole different atmosphere in the form of Bar Bohemien. This relatively new rooftop bar is perfect to indulge in happy hours with friends or for a few drinks with colleagues. While the space is rather small, the ambiance is casual, low-key, and chirpy.
The Bohemian Remedy, with a balanced proportion of ginger, maple, yuzu miso, and lemon, and with the smooth and creamy Monkey Shoulder Scotch as its base, is a superb modern blend.
Not Your Mamas Iced Tea is a sophisticated and divine cocktail made with black tea-infused vodka and lemony peach flavors.
The sweet and spicy Fire & Rain is a must-order here, and the warm, smoky, and rich La Adelita is Bar Bohemien's best tequila offering.
What to order: Bohemian Remedy, Not Your Mamas Iced Tea, Fire & Rain, La Adelita, Culver Cocoa
Address: 9355 Culver Blvd., Culver City, CA 90232
4. Above Sixty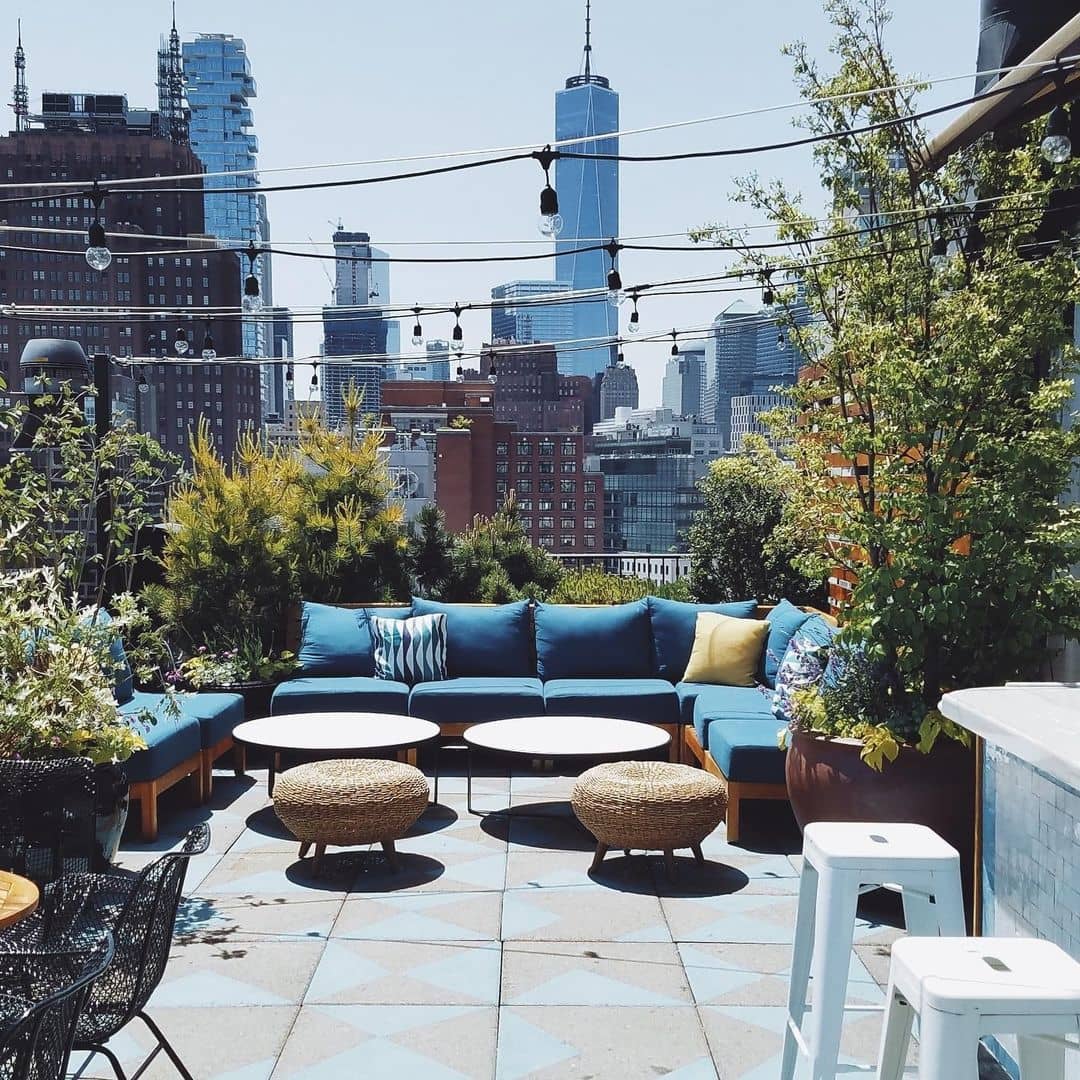 At a walking distance from LA's popular Rodeo Drive is Above Sixty, a rooftop bar and lounge offering sensational panoramic views of the city's mountains and downtown lights. Also featuring an exclusive pool deck with beautiful individual cabanas, this is a great spot for socializing as well as for small cocktail gatherings.
The Cocktails menu here is quite simple and straightforward. Named after different feelings you're likely to feel when you're here, each cocktail is a beautiful and delicious concoction.
For the "Playful" you, the cocktail blend includes vodka, strawberry, mint, and lemon juice – simple and delightful.
Feeling "Lucky", your blend comes with whiskey, lemon juice, blackberries, and sparkling wine – sweet, fizzy, and elegant.
If you're looking for a bite to eat, you can find some pretty amazing options on Above Sixty's menu, like the hearty, meaty, and rich Rigatoni Bolognese.
You could also try one of their housemade pizzas, or something simple, like Grilled Cheese with a side of French Fries.
What to order: Playful, Lucky, Rigatoni Bolognese, Grilled Cheese, BBQ Chicken Pizza
Address: 9360 Wilshire Blvd., Beverly Hills, CA 90212
5. The Highlight Room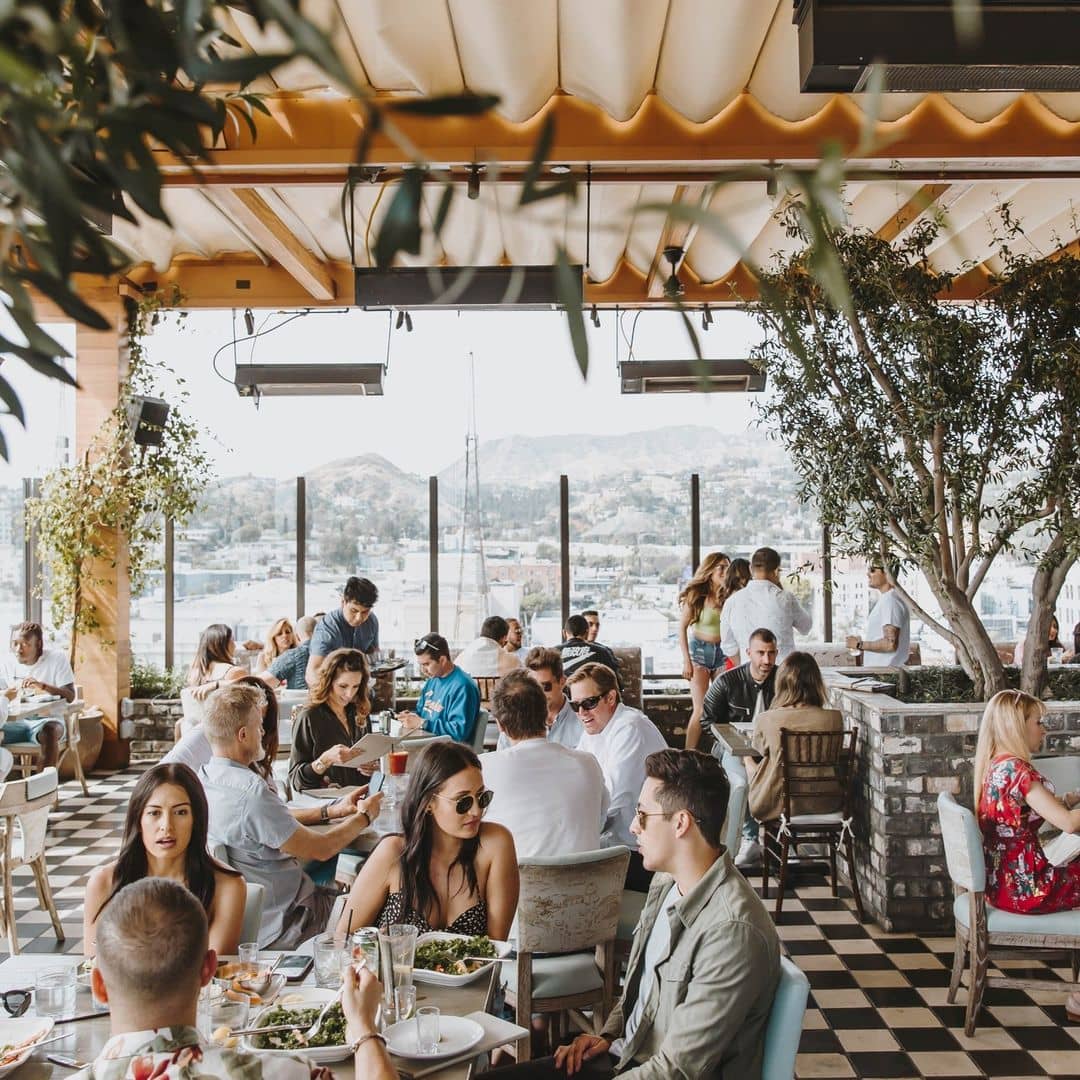 Offering 360-degree views of Los Angeles year round, The Highlight Room introduces you to VIP nightlife (and daylife!), Hollywood style! Day or night, the place is always lively; relax by the pool in one of the luxurious cabanas sipping a signature cocktail, or let the illustrious views sink in as you enjoy fresh Californian fare from the grill.
Before you even order your drink here, you should order their Mezze platter. It comes with spicy and nutty muhammara dip, creamy whipped feta cheese, grilled flatbread, and seasonal vegetables. Everything on the platter tastes AMAZING, especially when you eat them together.
The Pesto & Burrata Flatbread is incredible on its own and tastes even more wonderful with the tangy and sweet balsamic reduction.
The boozy Watermelon Mint Lemonade is refreshing and addicting at the same time, and the Bubbles & Berries, with premium vodka, sparkling wine, and strawberries, is a joyful decadence.
What to order: Mezze, Pesto & Burrata Flatbread, Watermelon Mint Lemonade, Bubbles & Berries, The Classic Margarita
Address: 6417 Selma Avenue, Hollywood, CA 90028
Website | Instagram | Facebook
6. The Roof Garden at The Peninsula Beverly Hills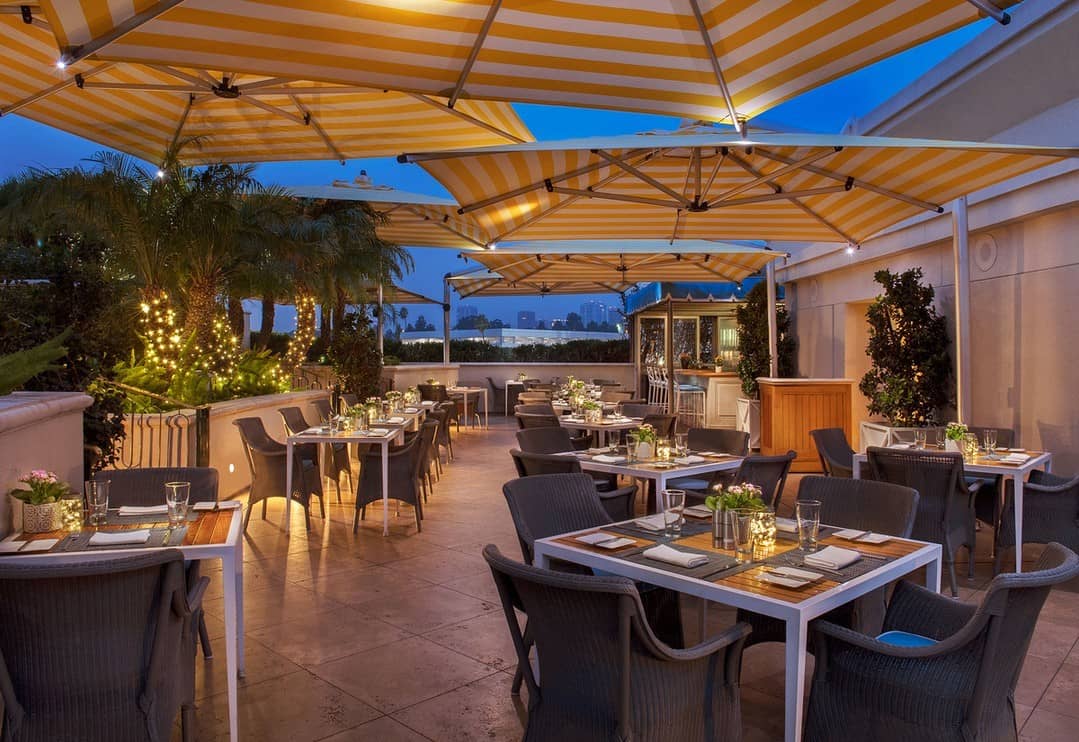 Located atop one of LA's most famed addresses, The Roof Garden is a beautiful oasis in the otherwise bustling city. It is also one of the best rooftop restaurants in Los Angeles. The menu features globally-inspired Californian classics, and an extensive collection of handcrafted cocktails, and other drinks.
Escape to a tropical paradise with the Ten to One Colada. This is a refreshing twist on the classic cocktail, made with the award-winning Ten to One Rum. It is sweet, fruity, and simply irresistible.
The Kentucky Mule is a bourbon version of the traditional Moscow Mule; this Americanized version tastes equally good if not better – 100% flavorful and refreshing.
The Peninsula Cobb salad is a long-standing favorite, and the Roof Garden Burger is as good as handhelds get.
What to order: Ten to One Colada, Kentucky Mule, Peninsula Cobb, Roof Garden Burger
Address: 9882 South Santa Monica Blvd., Beverly Hills, CA 90212
7. Margot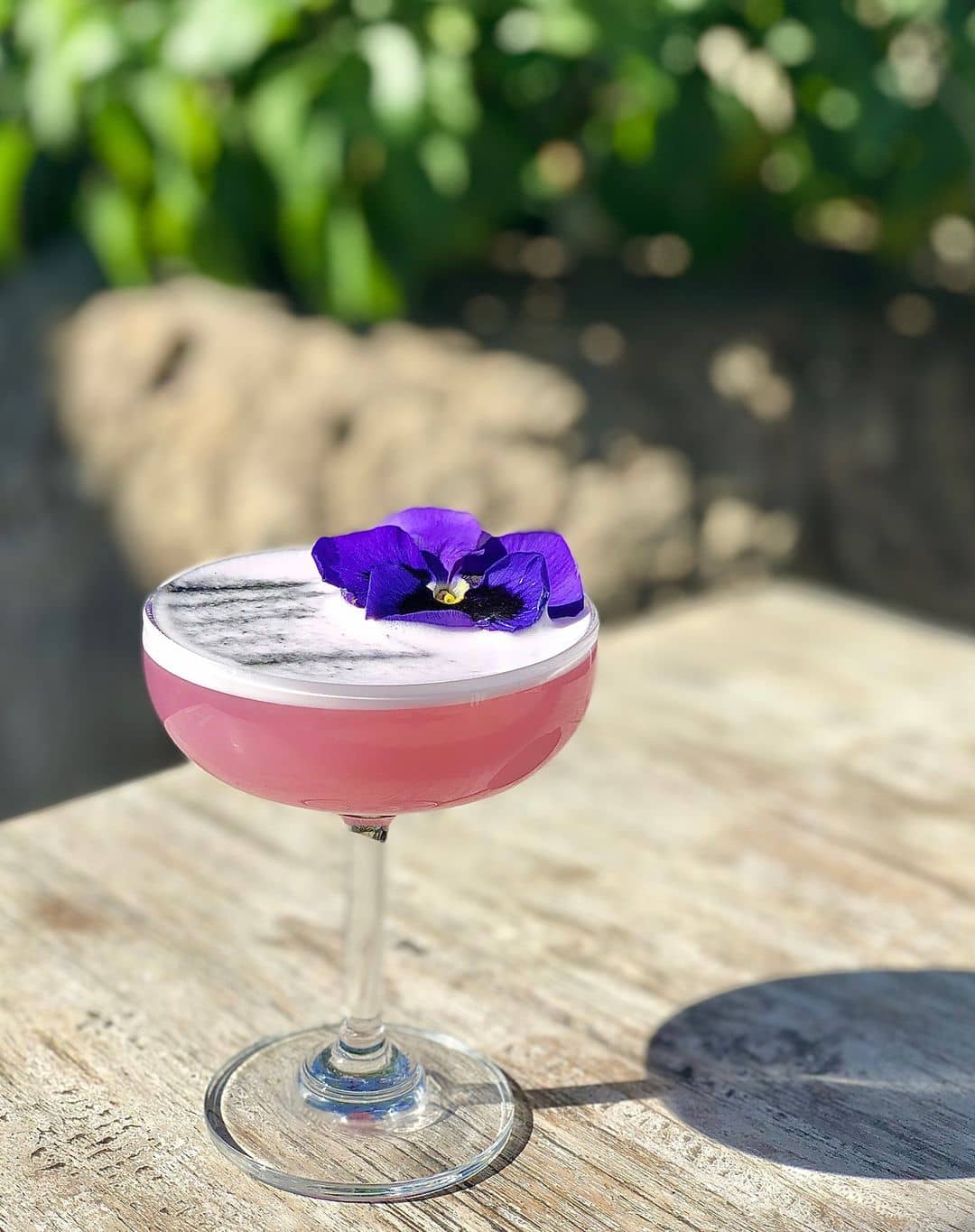 Located atop the Platform shopping center in Culver City, Margot is an extremely photogenic rooftop restaurant and bar serving coastal Mediterranean cuisine, complemented with craft cocktails and premium wine. Apart from the gorgeous 360-degree views, the food at Margot is also IG-worthy.
The Mutual Butterflies cocktail is an exotic blend of tequila, berry amaro, blue merlot leaves, and lemon. It is rich, bitter, and perfectly exhilarating.
Craving coffee but would like something even stronger? Espres-so Self, it is! It is strong, sweet, bitter, and well-balanced.
The Pan Con Tomate is simplicity at its best. It's just a whipping of fresh tomatoes, creamy ricotta, and extra virgin olive oil spread on grilled fresh bread – a simple, hearty, and delicious preparation.
Dessert at a rooftop bar/restaurant just hits different, don't you think? The Tiramisu Tres Leches at Margot is a heavenly creation – rich, moist, not overly sweet, and divine!
What to order: Mutual Butterflies, Espres-so Self, Pan Con Tomate, Spaghetti, Tiramisu Tres Leches
Address: 8820 Washington Blvd., Suite 301, Culver City, CA 90232
8. Desert 5 Spot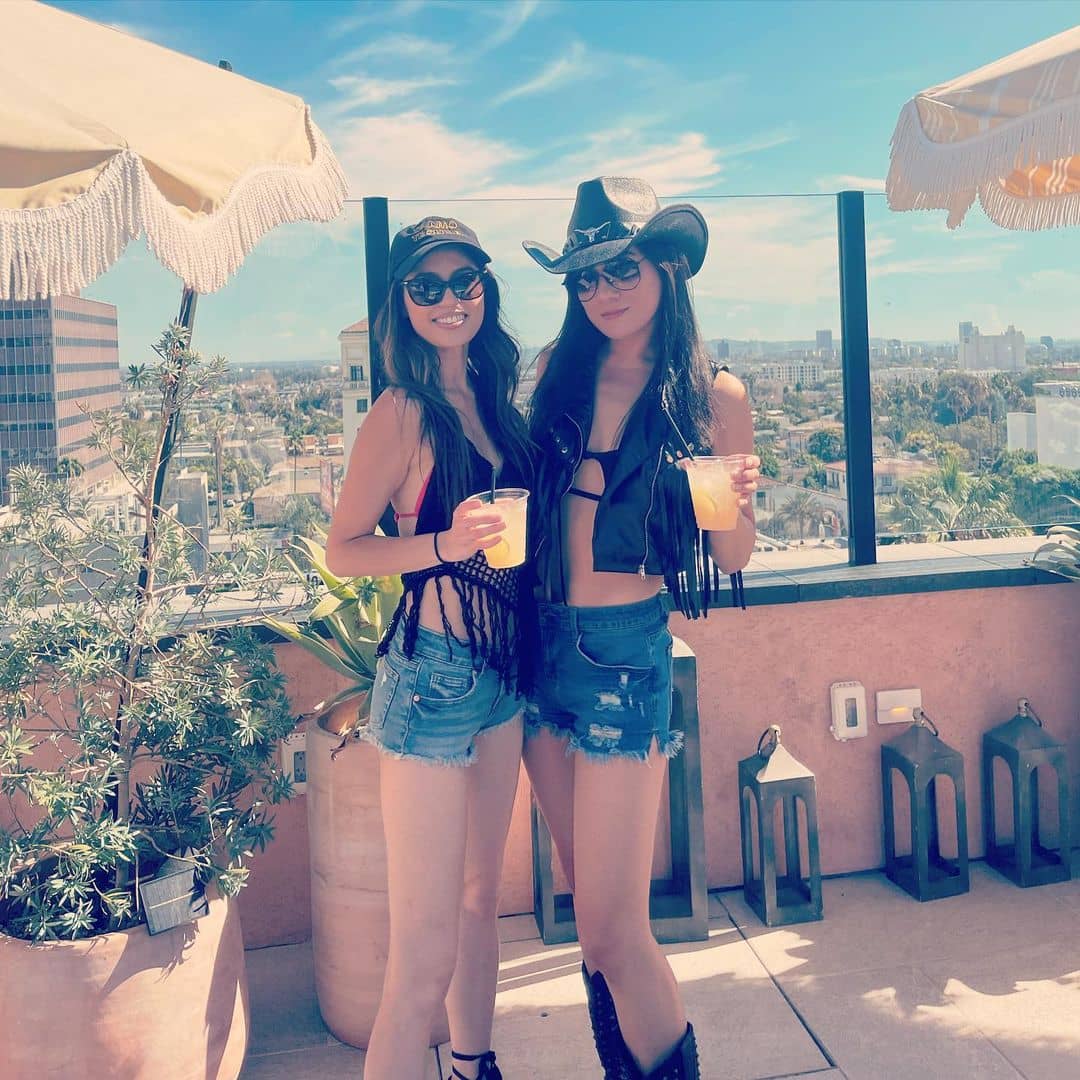 Desert 5 Spot, no doubt, is one of the best places in town to blow off steam. This is a Pioneertown-inspired rooftop bar with a retro-chic design, serving up cold canned beers, margaritas, and good times!
Whiskey, spice, and everything nice – an apt description for the old-fashioned Highwayman on Desert 5 Spot's menu. Served with a charred marshmallow on top, this drink is bold, complex, and sweet with notes of cinnamon in the background.
Jolene has ultra-premium Avion tequila as its base, is combined with fruity strawberry, watermelon, and lime notes, and sweetened with agave. This is elevated deliciousness in a glass!
The Coca-Cola Cowboy is a robust drink made with caramel-y Milagro Reposado tequila, ginger honey, lime, averna amaro, and finally finished with cola. The drink is stimulating to the senses and instantly transports you to paradise.
What to order: The Highwayman, Jolene, Coca-Cola Cowboy, Margarita, Espresso Martini
Address: 6516 Selma Avenue, Los Angeles, CA 90028
Website | Instagram | Facebook
9. Broken Shaker at Freehand Los Angeles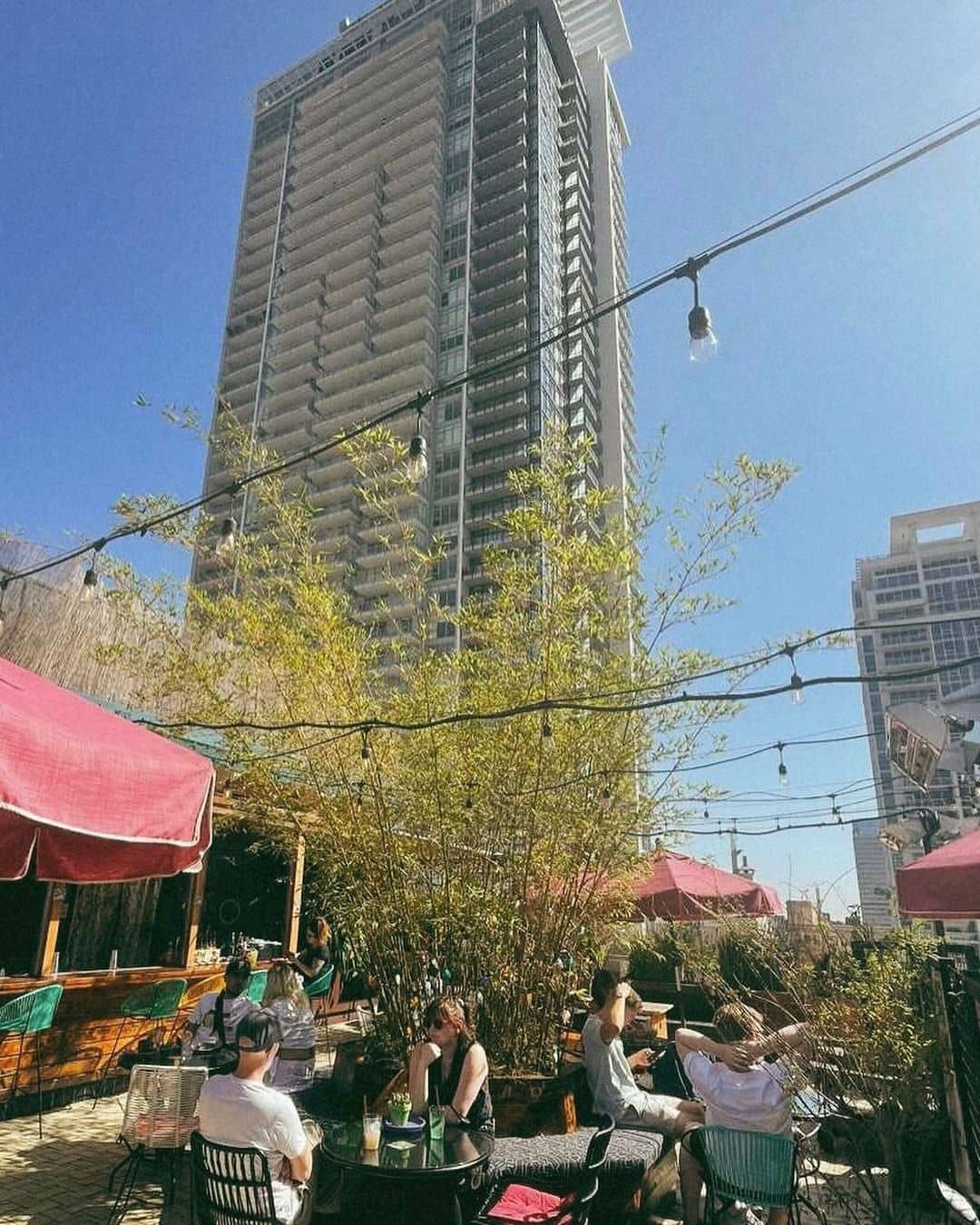 Located on the rooftop pool deck of Freehand Downtown LA hotel, Broken Shaker is an award-winning bar serving up handcrafted cocktails and small bites. The decor is trendy, the atmosphere is casual and friendly, and the food and drinks are as interesting as they are good.
If you like your cocktail light and fruity, try the Hibiscus Bliss. It is fruity, herby, sweet, refreshing, and so so good that you'll likely end up drinking more than one.
The 8 Hour Work Day cocktail, as its name suggests, is a perfect after-work drink to sip with your co-workers.
For something solid, creamy, and well-bodied, go with the Fireside Chat.
While the Fried Fish Tacos get a 10/10 from us just for their crunch, the Chips & Salsa takes the winner's cup for being the perfect bar snack.
What to order: Hibiscus Bliss, 8 Hour Work Day, Fireside Chat, Fried Fish Tacos, Chips & Salsa
Address: 416 W 8th Street, Los Angeles, CA 90014
10. Perch LA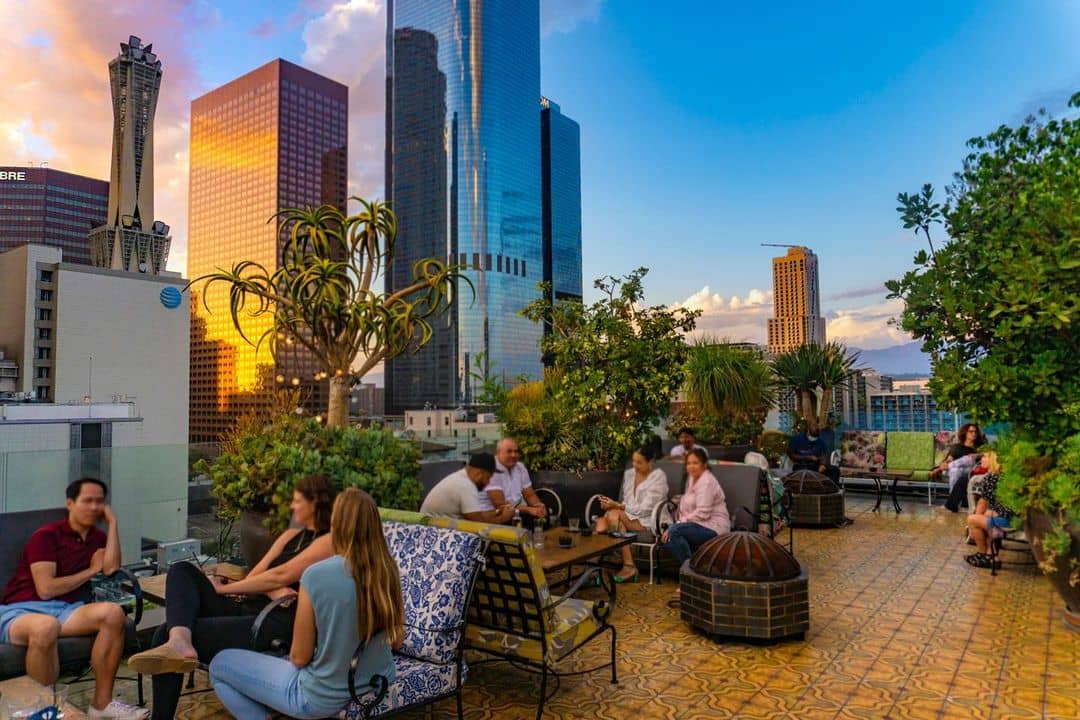 Rightly described as an "elevated resting place", Perch LA is just that! This rooftop lounge and bar also features an outdoor patio dining, everything on the 15th floor, offering unobstructed views of Downtown Los Angeles. Serving French-inspired food, even the decor here has a French touch to it.
The Steak Frites at Perch LA comes with perfectly done steak, and earthy and salty truffle cheese fries. You could just say that everything on the plate is impressive.
The Ahi Tuna Tartare is fresh and seriously delish!
The Brussel Sprouts with smoky bacon, parmesan, and sherry vinaigrette serve as an excellent starter as well as a wonderful bar snack.
The Penthouse Passion comes with the extraordinary flavor of Herradura Silver tequila, with just a touch of sweetness, and fresh and smooth fruity notes.
The Bleu Violette, on the other hand, has Fords gin and gets its mildly sweet and floral flavor from the addition of butterfly pea flower tea syrup.
Simple, refreshing cocktails are always the best, and Summer Solstice at Perch LA is exactly that!
What to order: Steak Frites, Ahi Tuna Tartare, Brussel Sprouts, Penthouse Passion, Bleu Violette, Summer Solstice
Address: 448 S Hill Street, Los Angeles, CA 90013
Website | Instagram | Facebook
11. Flora Rooftop Bar and Lounge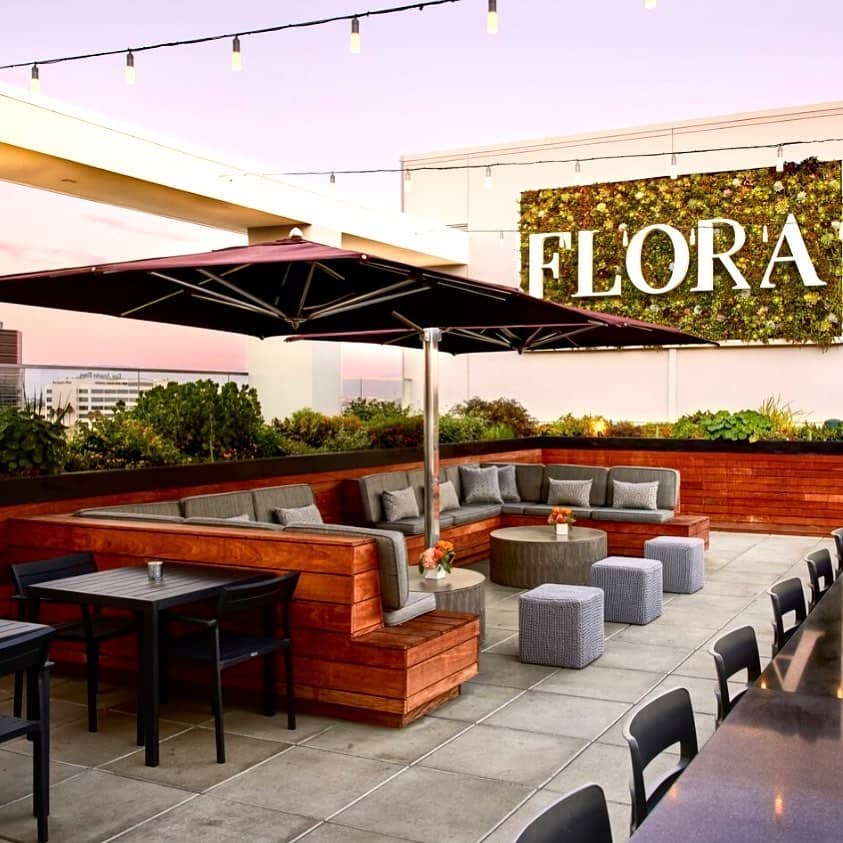 Flora Rooftop Bar impresses us not just with its panoramic rooftop setting, but mainly with its botanically inspired cocktails, and creative shared plates featuring edible flowers and herbs grown in the rooftop garden. The place is great for a romantic date night with bae, and also to connect with friends.
The Front Porch Sour, featuring Evan Williams bourbon, rosemary syrup, lemon, and pineapple, is one of the most balanced sours you're likely to have sipped and is every bit delicious.
The G & T (Garden & Tonic) is minty, crisp, refreshing, and has a strong herbal flavor without overwhelming the other flavors.
Rose Gimlet is one aromatic cocktail, with fresh rose flavor, and finished with bright citrusy notes.
The Fattoush Salad comes loaded with all types of veggie goodness. All you need to do is add a protein of your choice, preferably chicken or shrimp, to make it even more filling.
The Chicken Flat Bread, with house-made fresh basil pesto, is extremely fresh and flavorful, and the South Bay Burger Sliders will definitely make you want to come back for more drinks and bites to eat.
What to order: Front Porch Sour, G & T, Rose Gimlet, Fattoush Salad, Chicken Flat Bread, South Bay Burger Sliders
Address: 2130 E Maple Avenue, El Segundo, CA 90245
Website | Instagram | Facebook
LA's diverse food scene includes a string of incredible Italian restaurants. This all-inclusive list of the best Italian restaurants in LA is just what you need to satisfy your pasta and pizza cravings.