Looking for the best Santa Monica restaurants? Well, you're in the right place!
From casual to the finest dining, Santa Monica has all kinds of restaurants for everyone's distinct palates. While it's easy to drown in the abundance of tourist traps, a few hidden gems and one-for-the-books may just hit the right spot.
If you're looking for the best Santa Monica restaurants to hit up, you're just in the right place! Listed below are 12 of the best eats in Southern California's famous pier and beach town. Get ready to feast your eyes on the best sandwiches or the fanciest pasta in the city!
1. Forma Restaurant & Cheese Bar Santa Monica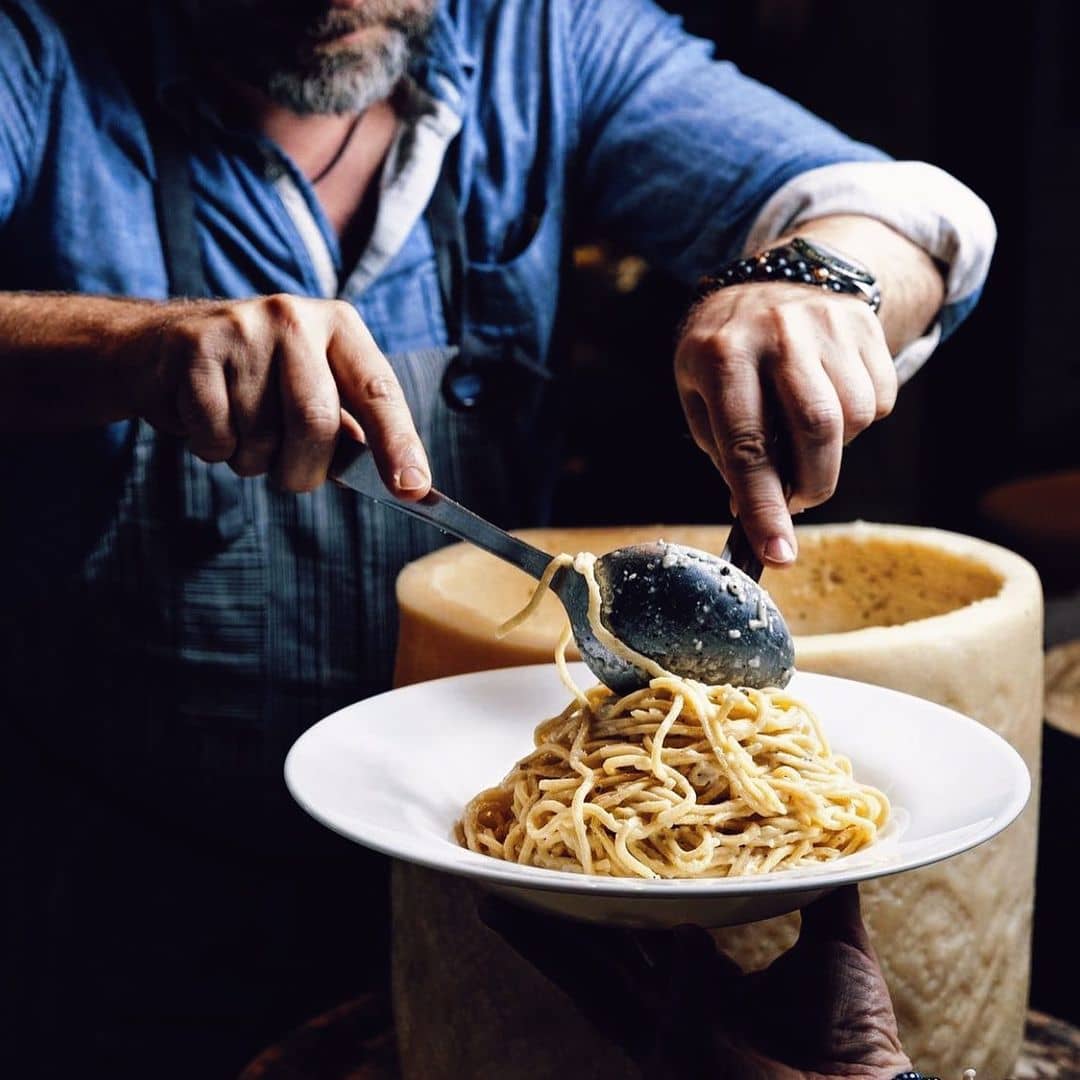 A famous Italian restaurant in Santa Monica, Forma offers the most delicious cheesy dishes! Do you love cheese? If yes is your answer, this is the place to check out. With a lovely and romantic patio lined with fairy lights and all sweet-looking things, Forma is the perfect place for an intimate dinner where first impressions matter.
The Tortellini is a consistent crowd-favorite in Forma, a scrumptious pasta dish with a thick consistency and the freshest mushrooms that creates a distinct and robust flavor. No need for explanations. Order this and thank us later.
A dish spun in Forma's giant cheese well, the Chitarra Cacio E Pepe is cheesy on all levels. The perfectly cooked al dente pasta is enhanced by the fresh peppers and gooey melted cheese on top. Also, who wouldn't want to see their dish spun in a cheese wheel?
Pappardelle cooked perfectly in a meaty wild boar sauce— is this heaven on earth? The wild boar ragout, in particular, makes this dish stand out from the rest. Trust us; you won't get enough of this!
What to order: Tortellini, Chitarra Cacio E Pepe, Pappardelle with Wild Boar Ragout
Address: 1610 Montana Ave, Santa Monica, CA 90403
Website | Instagram | Facebook
2. Massilia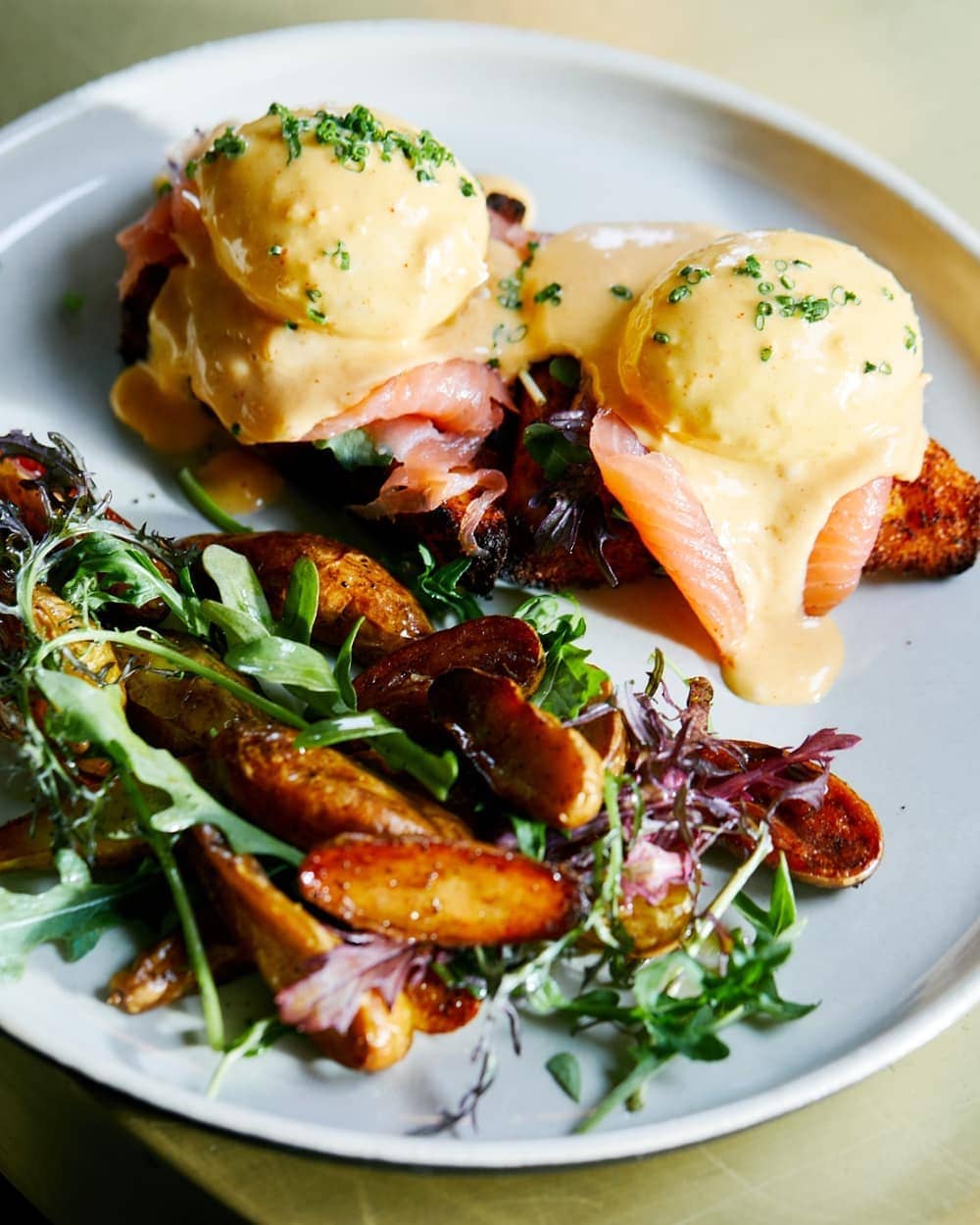 A French-Italian-Mediterranean fusion restaurant, Massilia is a one-of-a-kind restaurant you definitely haven't tried before! String lights and candles at every table allow the coziest dim lighting. If you want a memorable meal that will have you dreaming of it for the next few days, Massilia is the place to be.
Tender, moist, and impeccably savory— the 8-Hour Lamb Shank aims to please. The potato puree on the side is a soft delight that feels like feathers tickling your lips when you attempt a bite. Braised for a full 8 hours, expect a lot of Lamb flavors on this one.
Steak Frites cooked to absolute perfection, this dish is the overall star of the night. The steak is so well-seasoned you can devour it alone without the sauce. Coming with a generous portion of fries, this is Steak Frites at its prime.
What to order: 8 Hour Lamb Shank, Steak-Frites
Address: 1445 4th St, Santa Monica, CA 90401
Website | Instagram | Facebook
3. Tar & Roses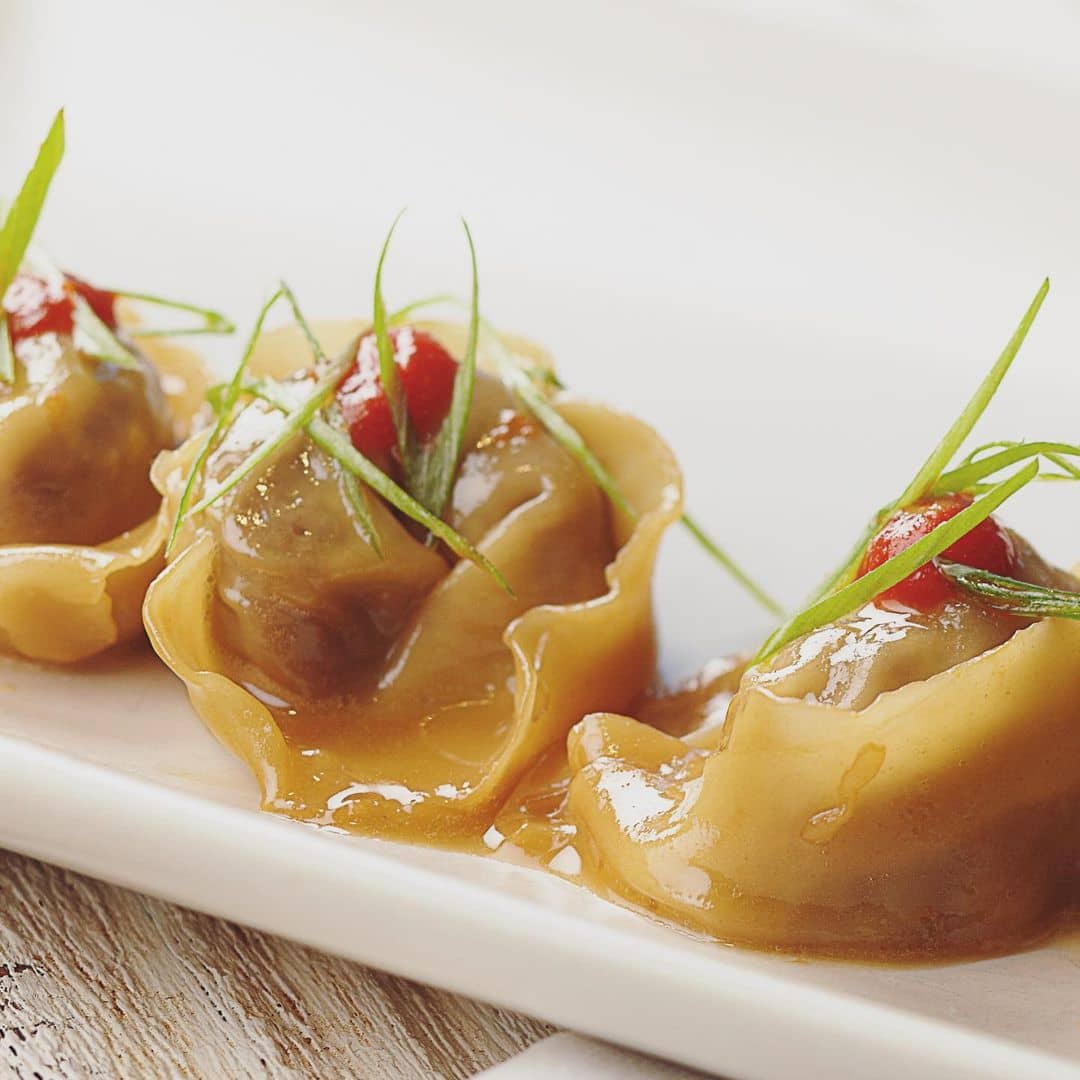 Considered a legend in Santa Monica, Tar & Roses is a casual and elegant restaurant with the tastiest fusion-style dishes. Moodily lit with a lot of indoor seating, a back room, and an outdoor eating area, this is the best place for a relaxing dinner. With so many styles of food to excite your palates, Tar & Roses will give you the culinary experience of your life.
One bite is all it takes for you to fall in love with Tar & Roses' Oxtail Dumplings. Yup, just one bite, and you will find yourself asking for seconds. The perfect sampling of rich and light flavors proves how versatile this restaurant is.
Rich in flavor, the Black Cod is a wonderful dish that's potent with lime. In addition, the combination of lemongrass risotto truly elevates the dish, adding the perfect OOMPH to the black cod's overall flavor profile.
What to order: Oxtail Dumplings, Black Cod
Address: 602 Santa Monica Blvd, Santa Monica, CA 90401
Website | Instagram | Facebook
4. BOA Steakhouse Santa Monica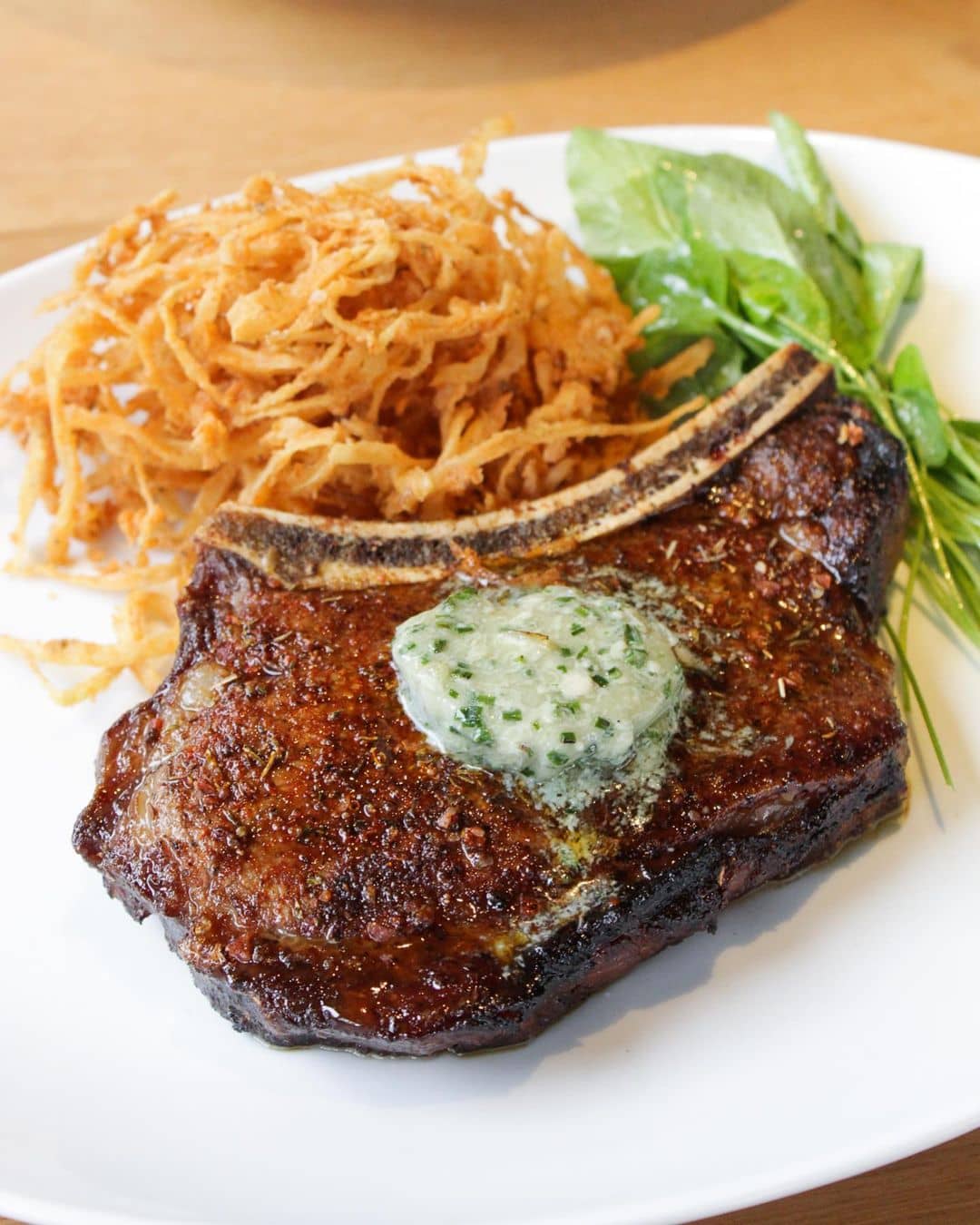 Located right on Santa Monica Boulevard, BOA shines as bright as a diamond to a foodie's eyes. Everything in BOA, from the service down to the meal, is spot on. The moment you enter the place, you'll feel like an A-list celebrity with how everyone treats you here. You can tell from the ambiance alone that there's a lot of love and soul here.
Perhaps the best Caesar Salad you'll ever taste in your life, the one at BOA's is simply divine. A true house specialty, this one is all levels special indeed. Who knew something so simple as a Caesar Salad could taste like you're seeing heaven?
BOA's 21-Day Dry Aged Bone-In Ribeye is phenomenal in taste and texture. Coming here without ordering this is basically doing yourself an injustice. The ribeye is so good you might feel emotional when the meal is coming to an end. PRO Tip: Don't forget to ask for sea salt flakes and watch them melt lovingly into the meat.
What to order: Caesar Salad, 21 Day Dry Aged Bone-In Ribeye
Address: 101 Santa Monica Blvd, Santa Monica, CA 90401
Website | Instagram | Facebook
5. Lunetta All Day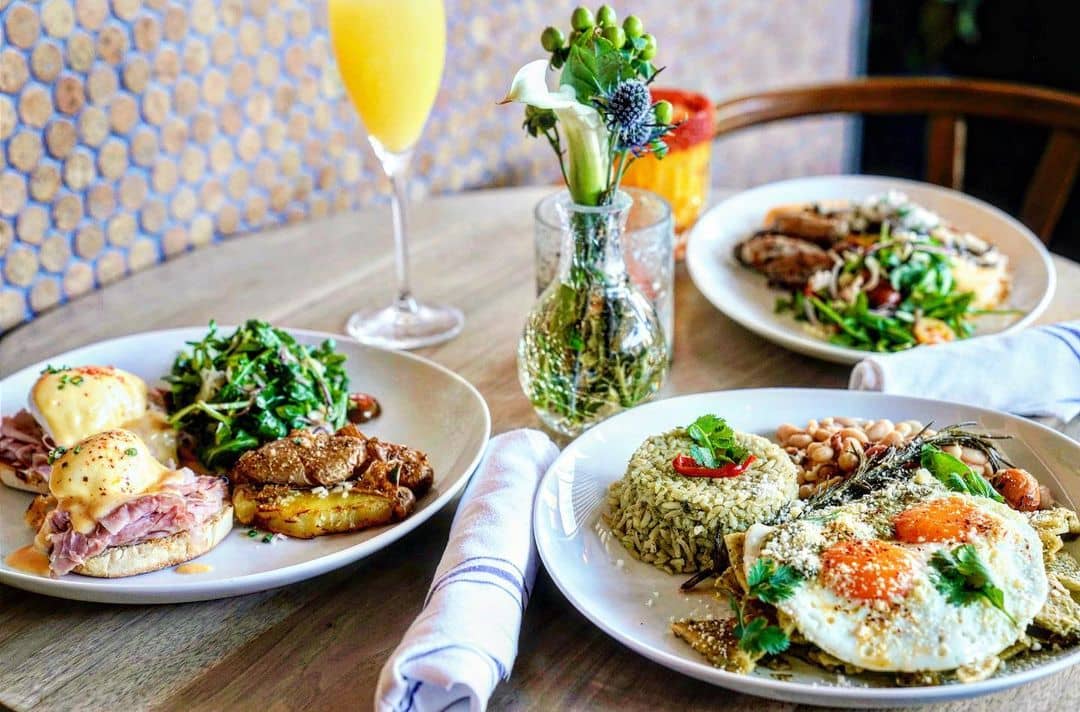 Lunetta All Day is the cutest little spot for brunch in Santa Monica. The decor transports you to a lovely seaside cafe in the South of France, where you enjoy great food and great conversations. Planning a brunch date with your girlfriends? Book a table at Lunetta immediately!
Loaded with flavor from both the salmon's seasoning and the cilantro aioli, Lunetta's Wood-Grilled Salmon Sandwich might just be the best brunch sandwich ever made. The cilantro aioli is especially so good you wish you could take some home and use it on everything!
Lunetta is home to the absolute best Fried Chicken Sandwich in town. The sauce that comes with it adds so much flavor to the whole meal, even to the fries on the side. The juicy breast meat perfectly compliments the crunchy breading.
What to order: Wood-Grilled Salmon Sandwich, Fried Chicken Sandwich
Address: 2420 Pico Blvd, Santa Monica, CA 90405
Website | Instagram | Facebook
🍩 Explore Santa Monica through this Underground Donut Tour!
6. Mercado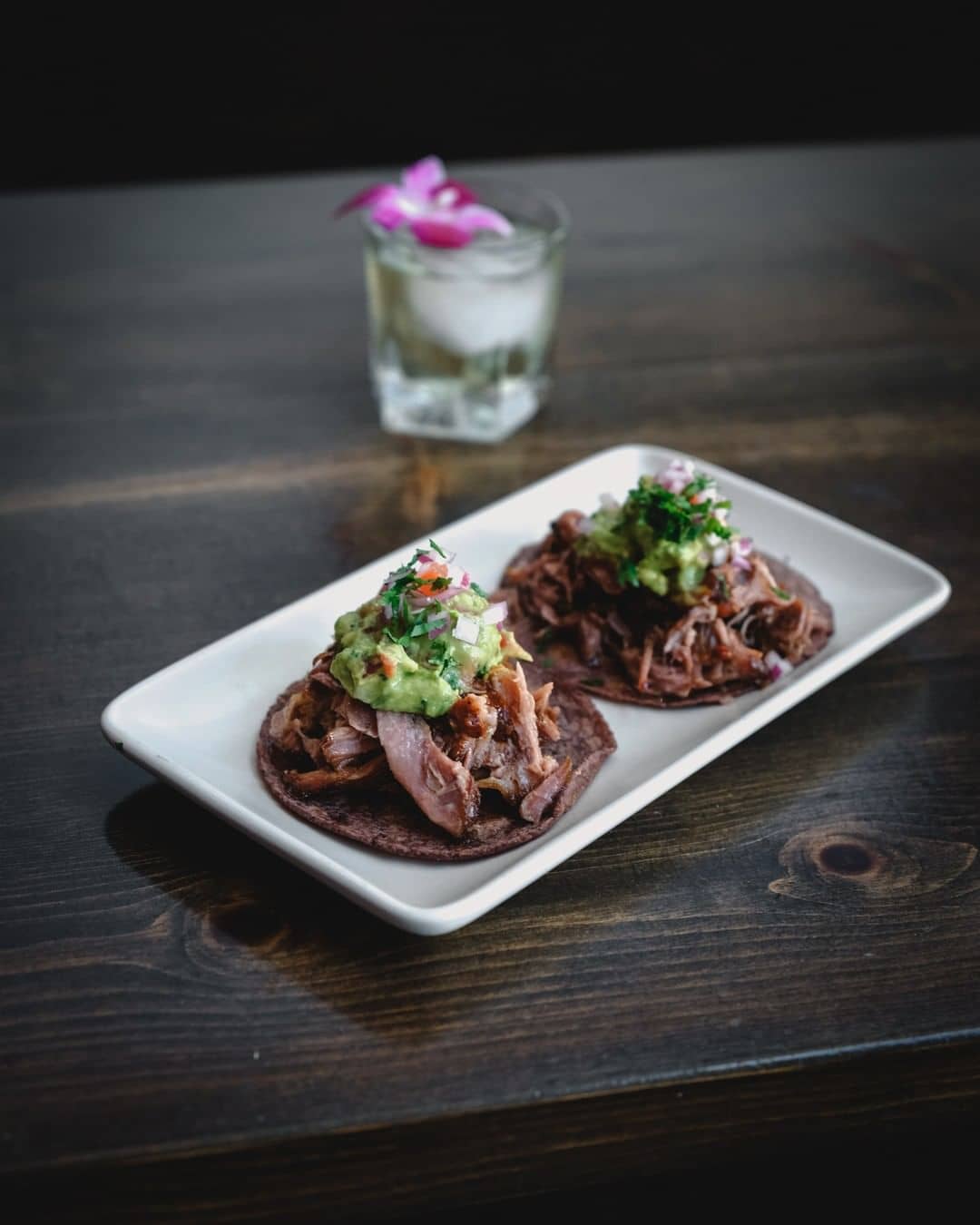 Your next go-to spot when you're craving Mexican food in Santa Monica, Mercado has all your favorite Mexican classics and more. Wooden table designs, impeccable presentation of both food and drinks, and top-notch service— Mercado delivers! Serving one of the best Mexican foods in town with an upscale feel, this restaurant flawlessly ticks both authenticity and delicious boxes off the list.
Juicy meat with the perfect spicy kick to it, Mercado's Dos Gringas is the best tacos al pastor in town! The tacos are brimming with flavor, and the flour tortillas are grilled like a quesadilla. You can't go wrong ordering this one!
Grilled white fish, medical slaw, avocado salsa, and chile de arbol salsa— is this the best Tacos De Pescado ever made? Tasty, light, and fresh. The soft and chewy handmade flour tortilla adds a superb texture to the whole meal.
Bedazzle yourself and order a Carne Asada in Mercado. The caramelized corn and tender steak in this one are tough to beat. This would be the top contender if there were a grand prize for the best Carne Asada in town.
What to order: Dos Gringas, Tacos De Pescado, Carne Asada
Address: 1416 4th St, Santa Monica, CA 90401
Website | Instagram | Facebook
7. Pono Burger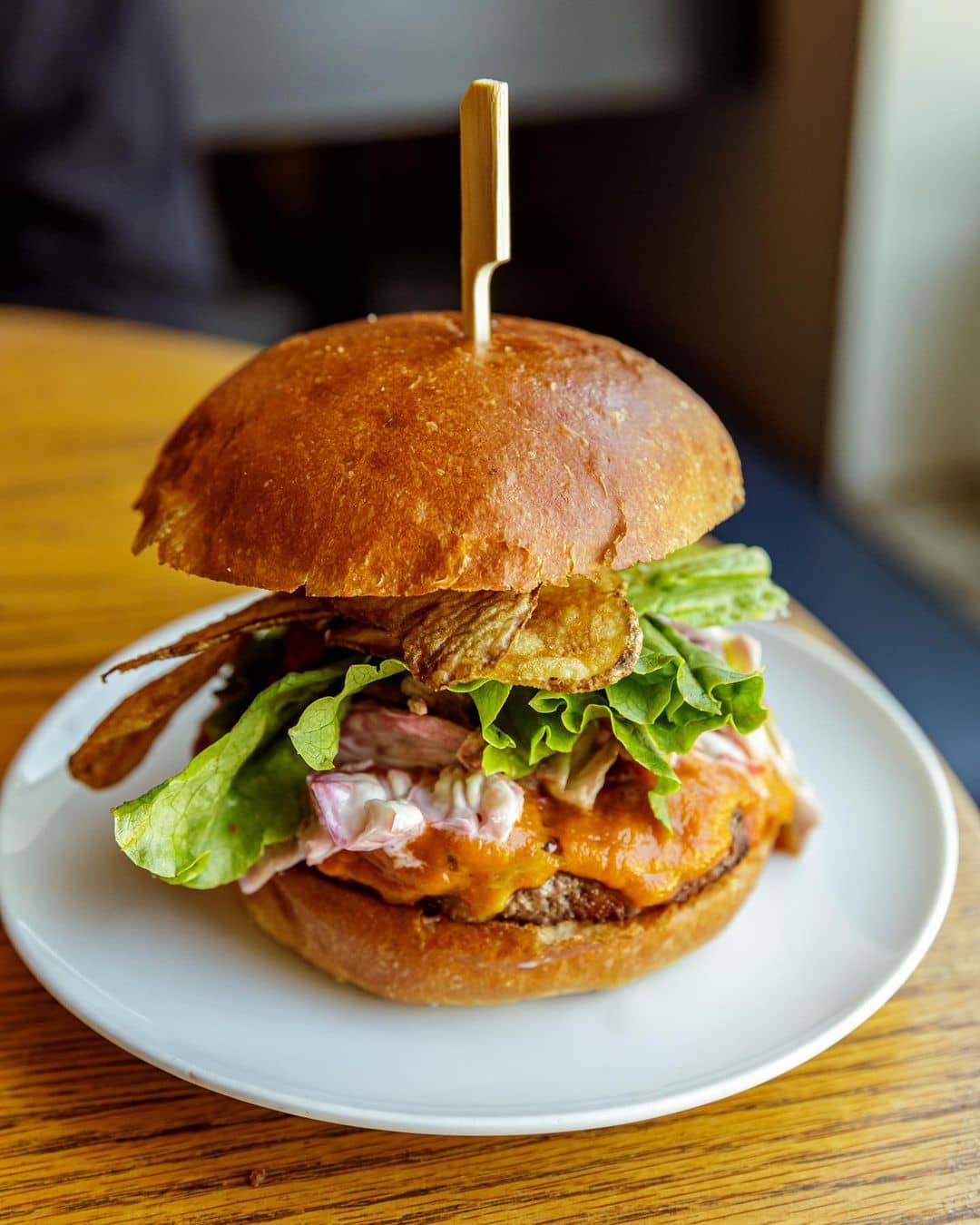 Burger but healthy? Count us in! Pono Burger is a famous local spot in Santa Monica that serves high-quality burgers. Not only is their meat fresh and organic, but you'll also have a hard time choosing from their delicious selection of burgers here! With a modern and hip ambiance, you might want to get your camera ready for a snap.
An extraordinarily delicious burger, the Paniolo is huge and crunchy to the core. Taking one bite will take you on a trip down a savory barbecue state with a giant onion ring city as its capital. Order a Strawberry Milkshake to pair with the Paniolo's potent taste, and you have the perfect burger + milkshake combo.
Do you like your burger spicy? If yes, the Spicy Kuawa Crunch is an addicting burger with a flawless spicy kick; you can feel the tingle on your lips. The russet potato chips give it a nice crunch, while the spicy guava rum sauce perfectly tops off this delicious burger.
What to order: Paniolo, Spicy Kuawa Crunch, Strawberry Milkshake
Address: 829 Broadway, Santa Monica, CA 90401
Website | Instagram | Facebook
8. Fia Steak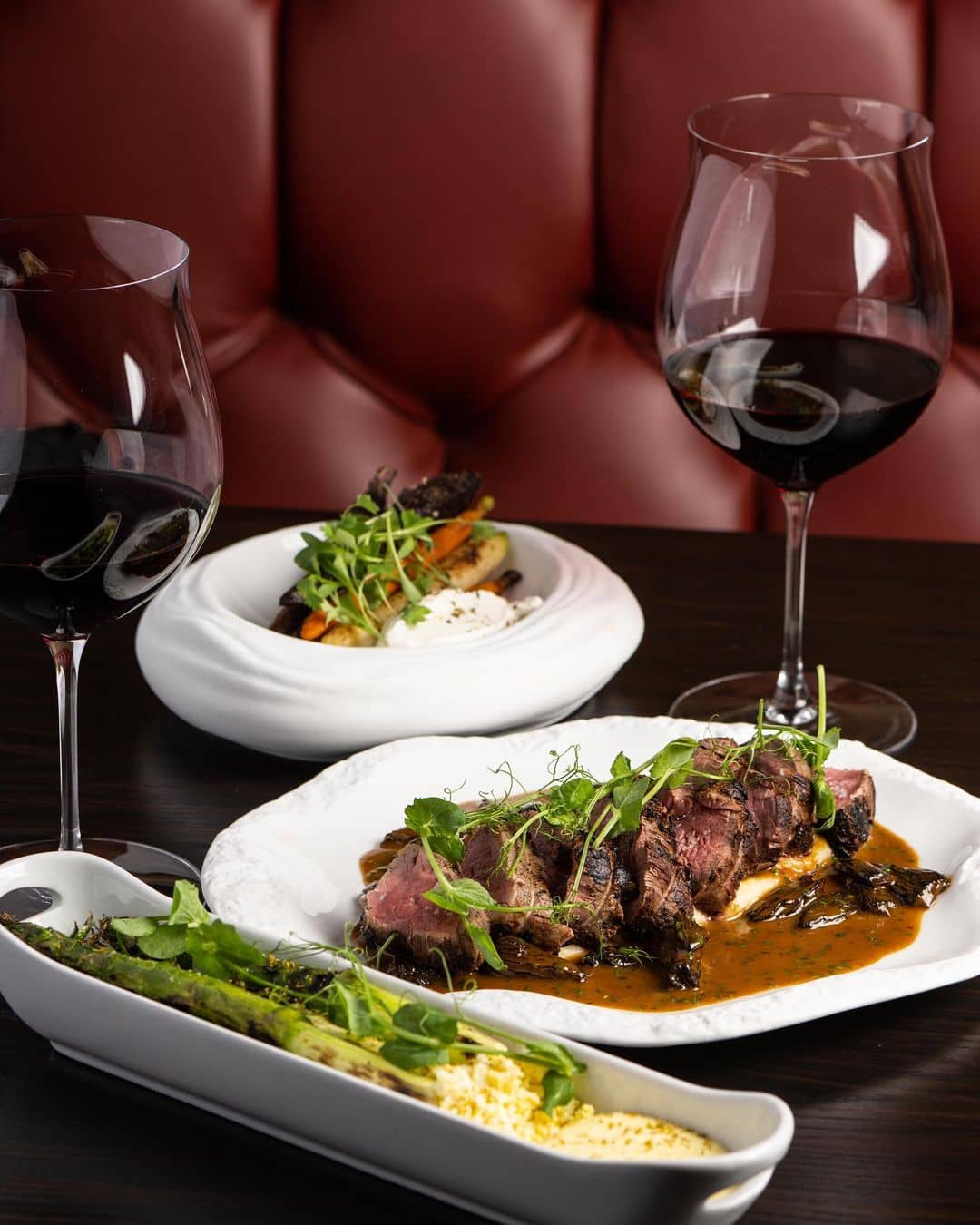 Fia Steak is a hidden gem with great food and great drinks in Santa Monica. From the street, the restaurant is unassuming, and you need to walk down a long outdoor walkway only to step inside a gorgeous patio with lots of garden lighting. The whole place boasts an old-school steakhouse vibe paired with modern decor that hits all the marks when it comes to ambiance. If you absolutely love steak, try the one at Fia.
A big piece of lobster tail and claw soaked in a mildly spiced risotto, Fia's Grilled Maine Lobster Risotto is creamy and rich. The massive platter can easily feed two people, and we're not complaining! The flavors brought about by the lobster are out of this world; you'll definitely regret not getting this one.
Can you truly call it a steakhouse without Prime New York Steak? If we could describe this meat in one word: elegance. While the bearnaise sauce for dipping adds an exceptional flavor to the steak, you can fully enjoy the meat's juiciness and umami on its own.
What to order: Grilled Maine Lobster Risotto, Prime New York Steak
Address: 2458 Wilshire Blvd, Santa Monica, CA 90403
9. SOCALO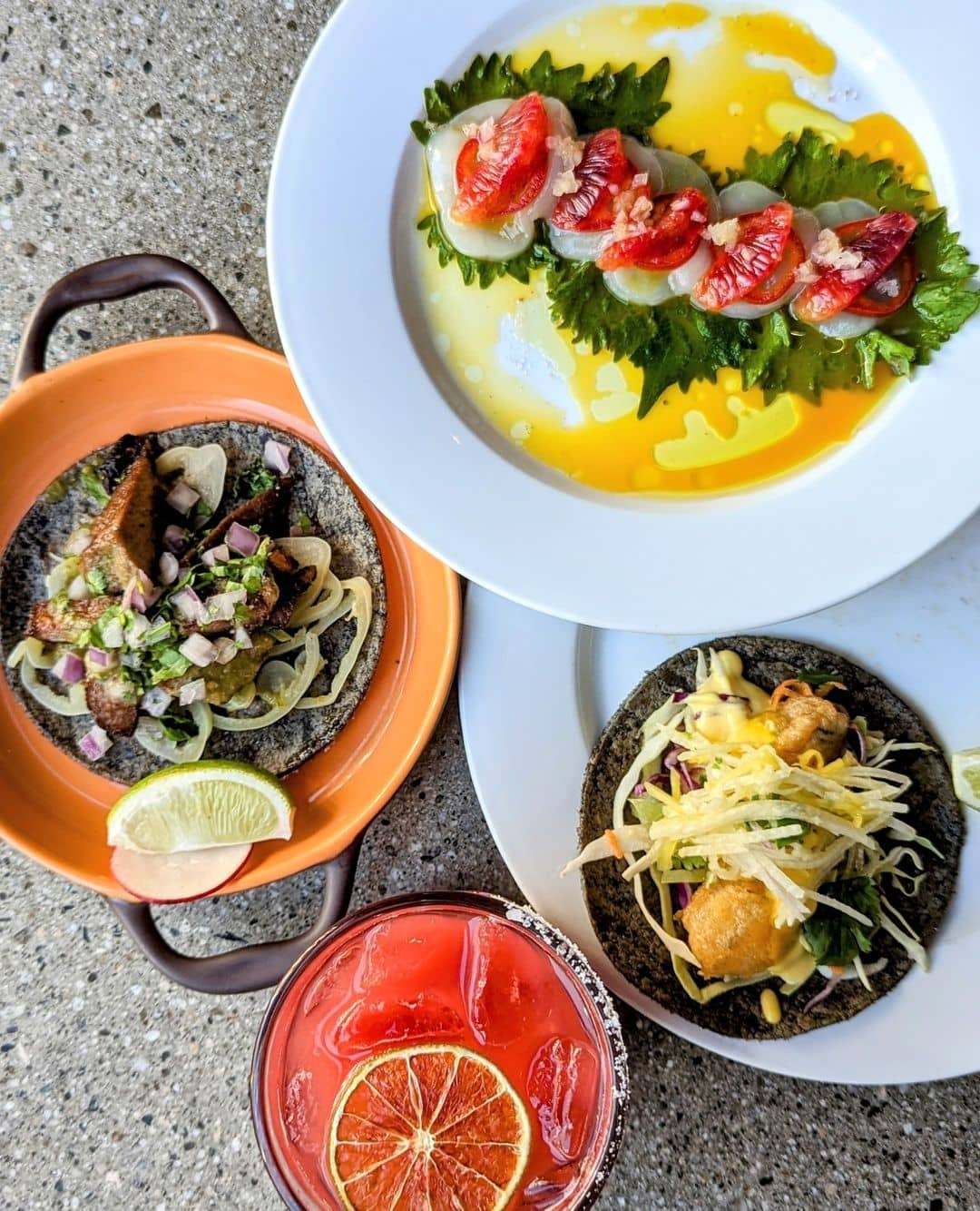 A sit-down Santa Monica cantina, Socalo is a popular spot gaining popularity for its California-Mexican fare using local, conscientiously-sourced ingredients. The restaurant screams a hip Santa Monica vibe with polished concrete floors and modular wooden furnishing. Do you want to enjoy a good meal in an artistic and fancy place? Socalo is your best bet!
Socalo's Santa Monica Street Bowl is as healthy as a street bowl can be. Filled with yummy roasted vegetables and jackfruit carnitas, douse these in the spicy salsa that comes with the chips and guac, and you're good.
If you like having the best of both worlds, the Vampiro Steak & Shrimp Tacos are full of complex textures and flavors that feel like a party inside your mouth! The habanero salsa is particularly a standout among the sauces, but it might make your mouth dance.
What to order: Santa Monica Street Bowl, Vampiro Steak & Shrimp Tacos
Address: ​​1920 Santa Monica Blvd, Santa Monica, CA 90404
10. True Food Kitchen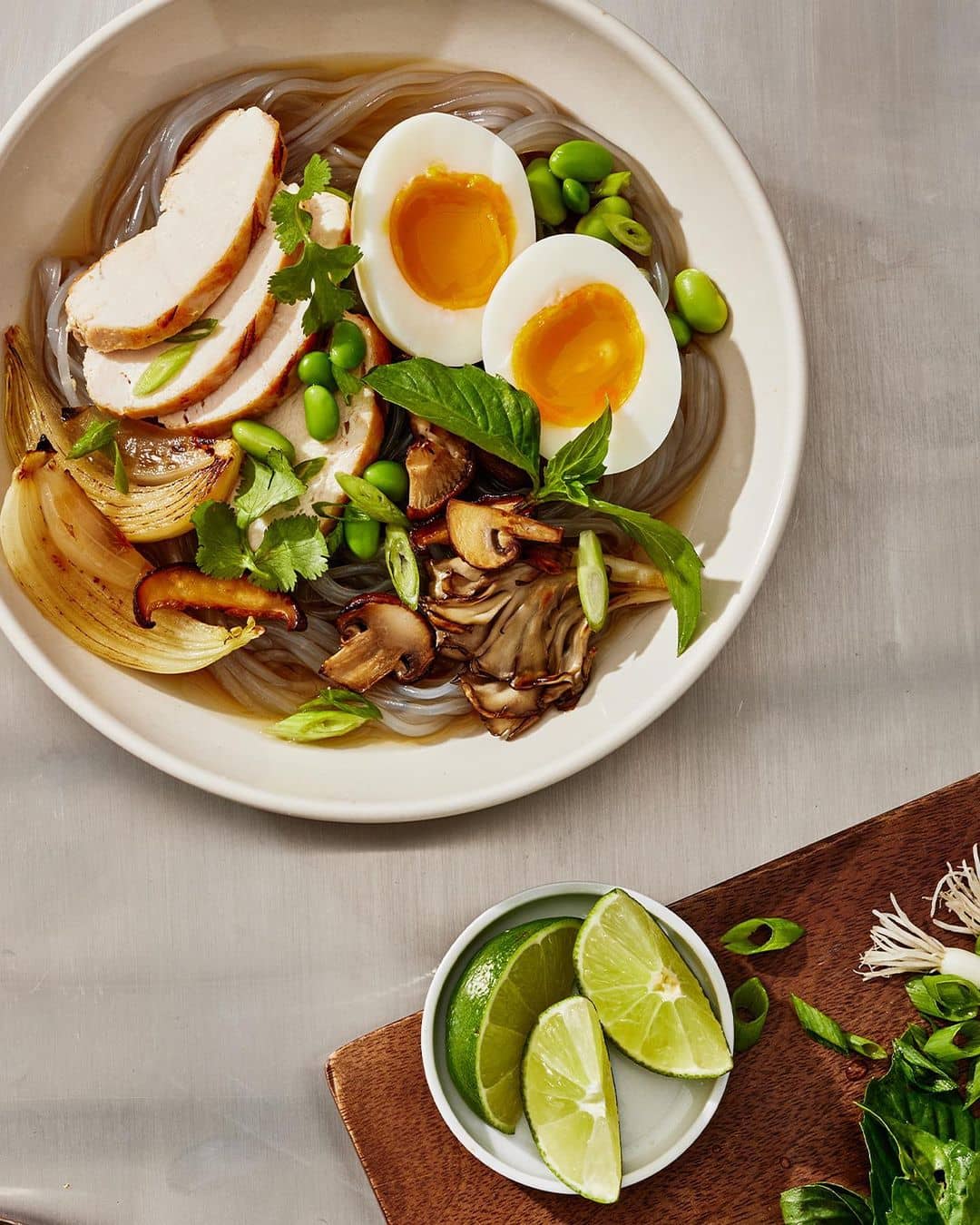 Do you want to get a taste of the best vegetarian meal of your life? True Food Kitchen got your back! Located on the first floor of the main 3rd street promenade hub at the end of the shopping area, True Food Kitchen serves fresh and health-conscious Californian fare. Reminiscent of a dormitory dining hall with a lot of tables and high ceilings, this is the kind of place where you enjoy great food with people you make a lot of memories with.
True Food Kitchen's Edamame Dumplings is truly unlike any other! Perfectly cooked and chewy dumplings with a magical sauce that will take you to wonderland, this is one of the best vegan dishes ever to exist.
When you get a taste of True Food Kitchen's Grass-fed Burger, you'll never fathom yourself tasting any other burger! With healthy wheat bread, the texture of this burger adds a unique take to a classic delectable meal.
What to order: Edamame Dumplings, Grass-fed Burger
Address: 395 Santa Monica Pl Suite 172, Santa Monica, CA 90401
Website | Instagram | Facebook
11. Sunny Blue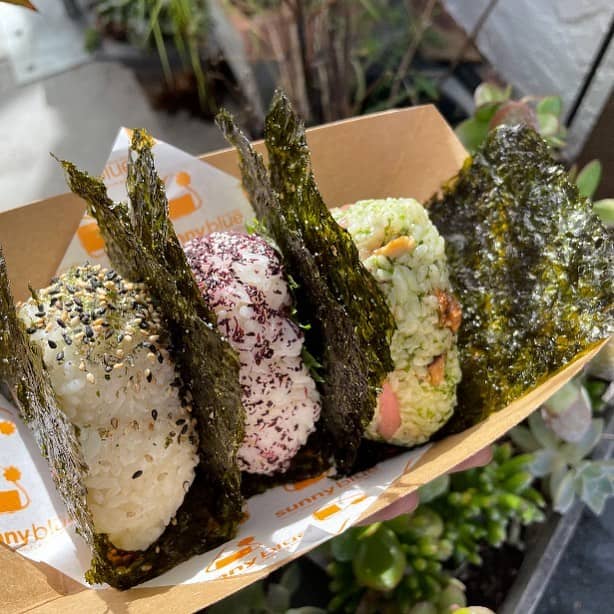 Situated on Main Street's restaurant row in Santa Monica, Sunny Blue is a tiny shop that offers handcrafted onigiri. Delicious rice meals are formed into different shapes and filled with the most appetizing fillings; you wish you could make these at home. Sometimes, all you need is a fresh and light musubi to get you going on your day, and Sunny Blue is the best place to get one.
Sunny Blue's Miso Beef is quite possibly the best snack on the go you can take on the nearby beach. The rice and the miso beef complement each other so well. Just one bite will make you an active member of the Sunny Blue Miso Beef cult.
A hint of spice that flawlessly elevates the flavor of the fish, the Spicy Salmon is the perfect blend of spicy and savory flavors. The salmon is so smooth it melts in your mouth. You might end up ordering two more.
What to order: Miso Beef, Spicy Salmon
Address: 2728 Main St, Santa Monica, CA 90405
Website | Instagram | Facebook
12. Solidarity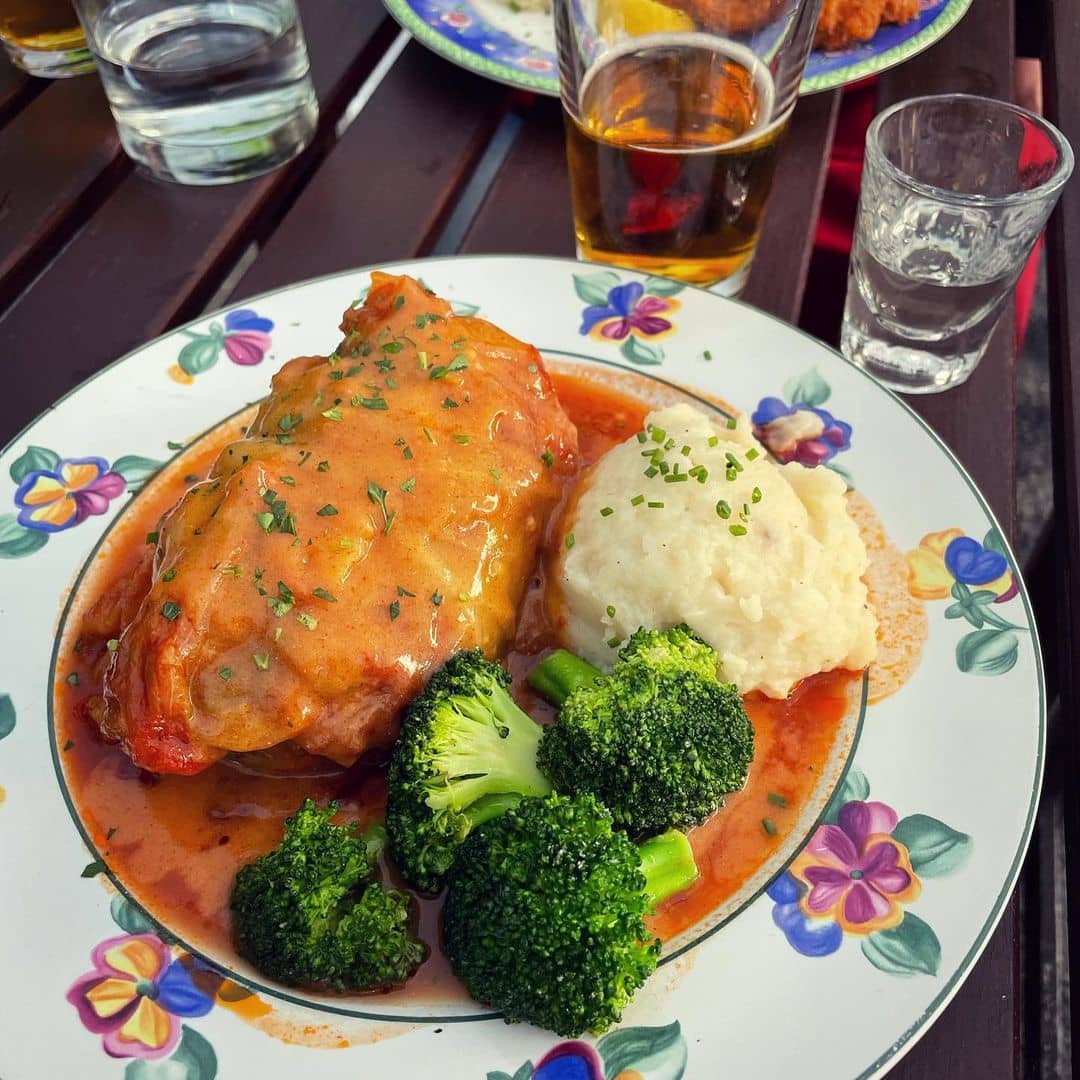 Solidarity is a beautiful Polish restaurant in Santa Monica that serves delicious cocktails and great food. With a solid happy hour, you have everything you need here! Located in a former house on Lincoln Boulevard, the place has a lovely back patio with the most exquisite ambiance. If you haven't tried Polish cuisine, Solidarity will turn you into a lover.
The softest cabbage leaf burrito with a very light flavor emphasizing the fillings, the Golabki is like a warm, familiar embrace. This one will have you thinking of what your mom used to cook, even if you've never tasted it.
Have you ever tasted a Stroganoff so good it brought tears to your eyes? Well, the one at Solidarity is the perfect embodiment of the word home. You might call your mom to ask if she's secretly hiding in the kitchen. We don't know how the people at Solidarity do it, but all of their dishes are cooked with utmost love and care that you can almost feel in every bite.
What to order: Golabki, Stroganoff
Address: 1414 Lincoln Blvd, Santa Monica, CA 90401
Website | Instagram | Facebook
Are you up for a food adventure? If you want more food recommendations along the coast of Southern California, check out our list of the best restaurants in Long Beach and get ready for mouthwatering options!
Looking for a place to stay in Santa Monica?
This article includes affiliate links where we may get a small commission if you use our link. No extra cost is added to you.