Looking for the best Soho restaurants in NYC? You're in the right place!
One of the reasons why Soho is considered one of New York City's most famous neighborhoods is due to the abundance of excellent dining and drinking establishments found there. We all know restaurants and bars are an integral part of every community, and Soho certainly understood the assignment.
From iconic bistros to the best Chinese dumplings, there are a lot of options for you to choose from. If you're famished after completing your shopping spree or simply searching for the best eats in town, here are 13 best Soho restaurants you gotta eat at.
1. Balthazar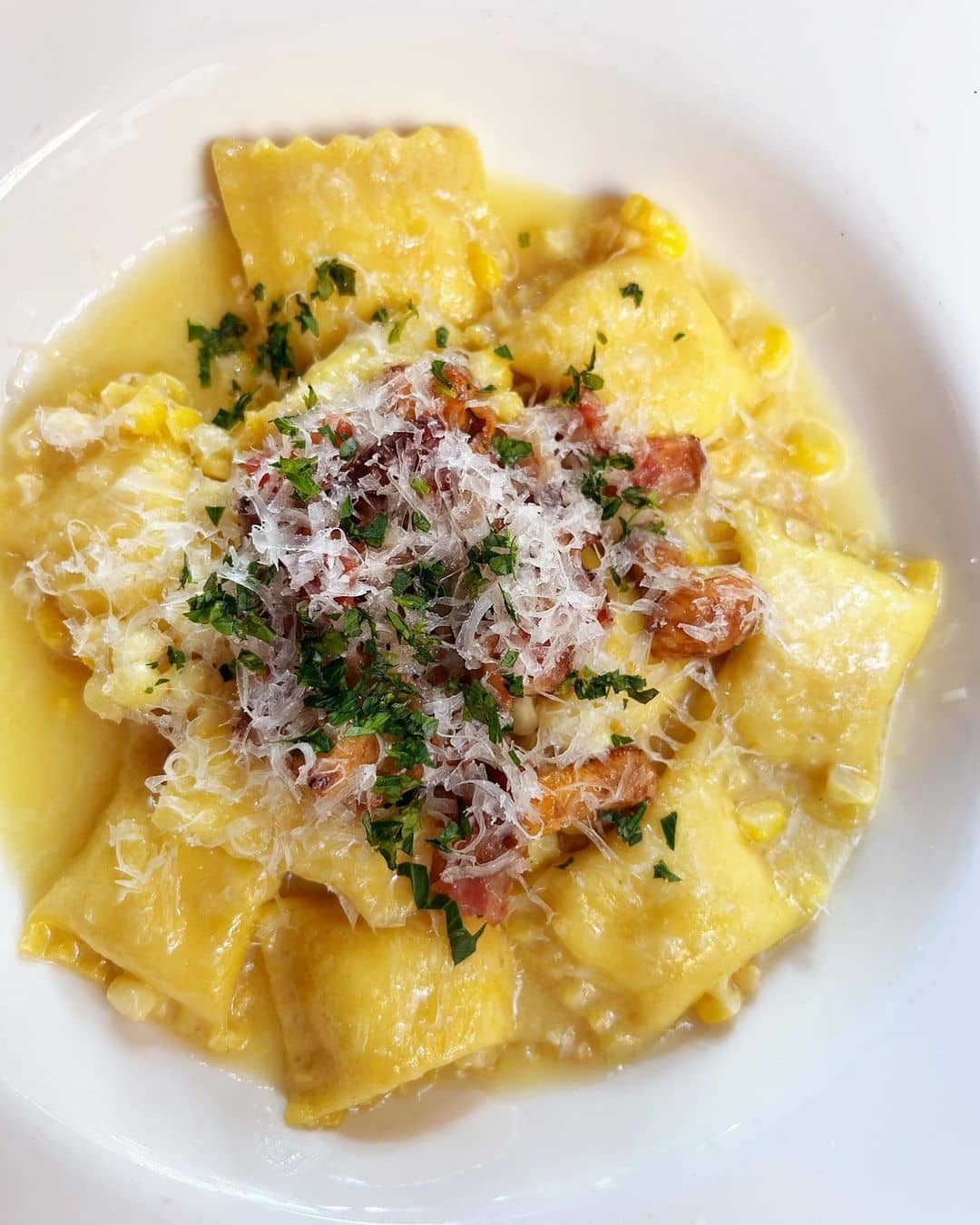 A quintessential eatery in lower Manhattan known for its French cuisine, Balthazar is the breakfast spot of the rich and famous people. With exceptional service despite the bustling atmosphere, you'll be greatly taken care of at Balthazar. This restaurant has earned its status as an all-time New York favorite, and you'll know why when you get there.
Balthazar's French Onion Soup is a favorite among many with its strong baked aroma and plenty of melted cheese. You might spot the same order on two or three tables near you because it's just that good.
Steak Frites, anyone? Balthazar makes them crazily good that it feels like you've been transported to Paris. Their french fries, in particular, are the best you'll ever taste in town. If you want a killer meal, this one is a no-brainer.
What to order: French Onion Soup, Steak Frites
Address: 80 Spring St, New York, NY 10012
Website | Instagram | Facebook
2. Charlie Bird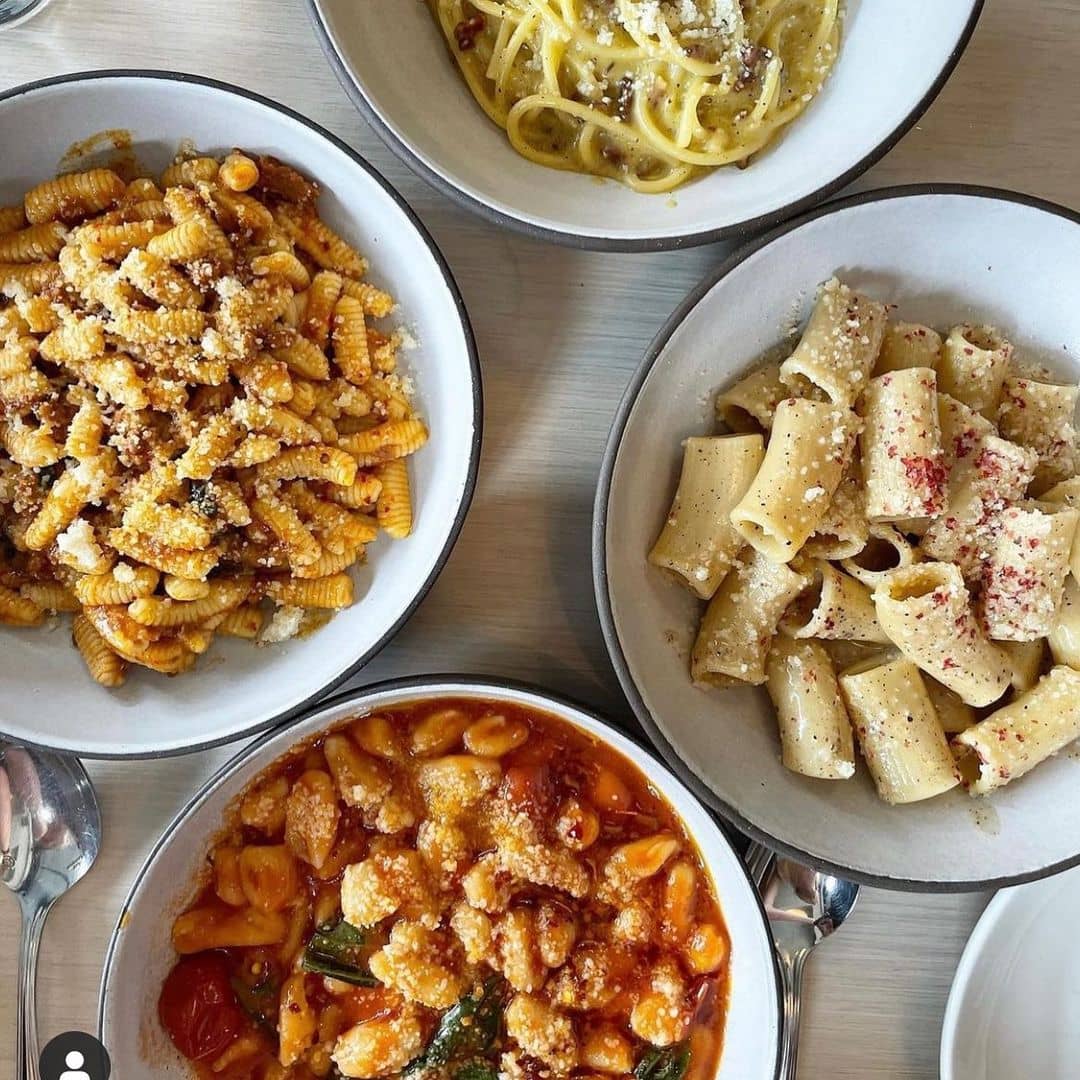 A Soho must-visit, Charlie Bird, is popular for having a bomb-ass Italian menu and the best old-school hip-hop playlist in town. This place is stylish in every way— from the interiors to the food to customers that dress to impress. If you want to fully experience the city that never sleeps, Charlie Bird is the place to be.
An outstanding dish that may convince you to become vegetarian, Charlie Bird's Farro Salad is your next addiction. The bits of pistachio elevate the dish's flavor. If the world is ending, the only thing you'll want to eat in the last few minutes will be this.
Cooked perfectly al dente with just the right amounts of black pepper and pecorino cheese, Cacio E Pepe will make you feel like you're back in Rome even if you've never been there. This one is just off-the-charts good.
What to order: Farro Salad, Spaghetti Cacio E Pepe
Address: 5 King St, New York, NY 10012
Website | Instagram | Facebook
3. King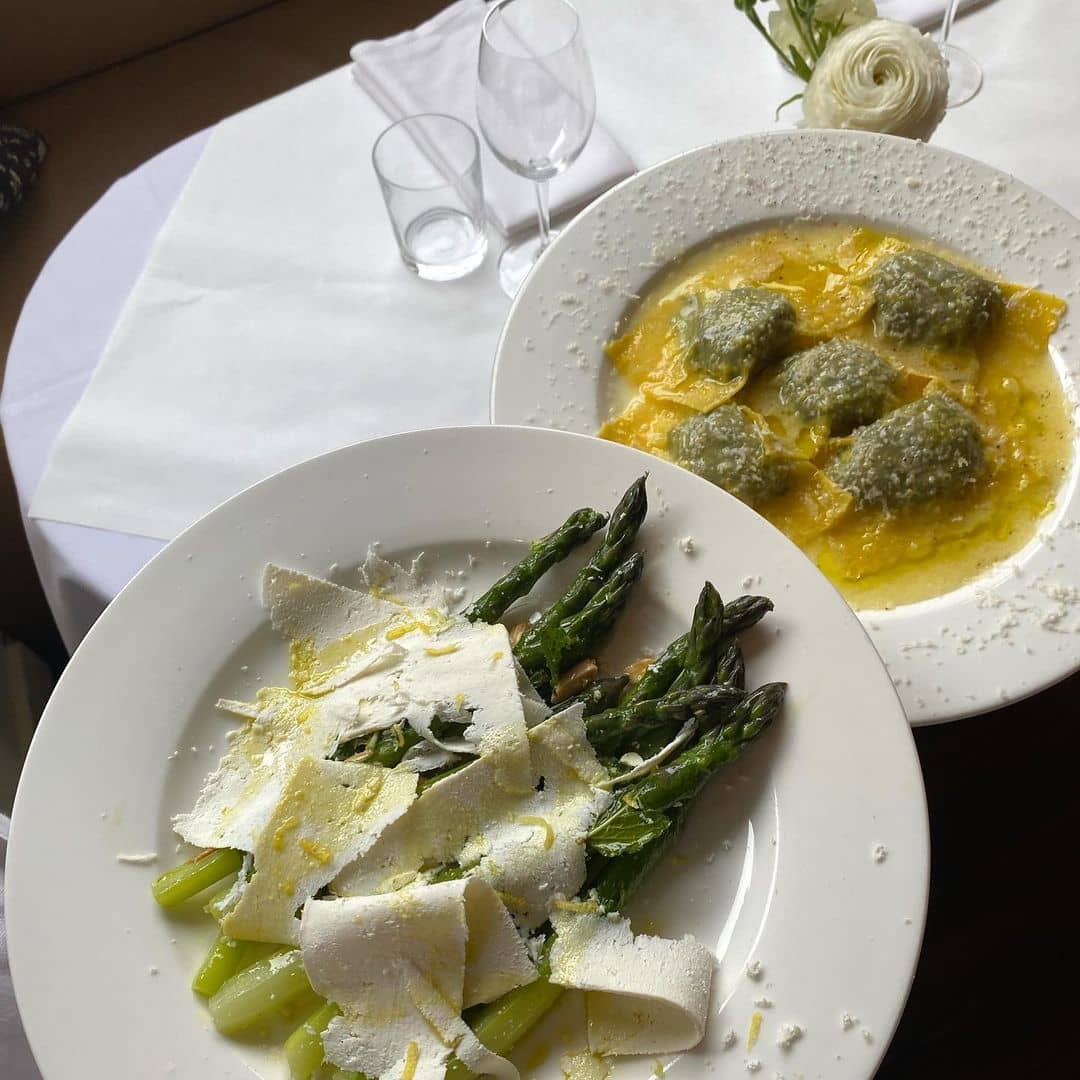 Elegant and unassuming all at once, King is a unique restaurant with a daily changing menu. Here, each dining experience is made special; no matter what you get, you're sure to discover a wonderful dish. Loosely based on Italian and French influences with no pretensions, this is the place for people who like fine food.
Soft and fluffy, it's a good thing the Panisse is a constant item on their menu. The creaminess of the chickpea dough almost feels like it's cheese. You'll be dreaming about this dish every night from the moment you taste it.
At King restaurant, get ready to embark on a culinary voyage like no other. With a daily-changing menu that showcases the best of Italian and French cuisine, every visit is a delightful surprise. From the exquisite execution to the expertly crafted flavors, expect each dish to be a masterpiece.
Surrender yourself to the seductive allure of King's Chocolate Cake. This constant star on their menu never fails to impress. Boasting an abundance of rich flavors with a light and airy texture, this heavenly dessert strikes the perfect balance.
What to order: Daily-Changing Menu, Chocolate Cake
Address: 18 King St, New York, NY 10014
Website | Instagram | Facebook
4. Sadelle's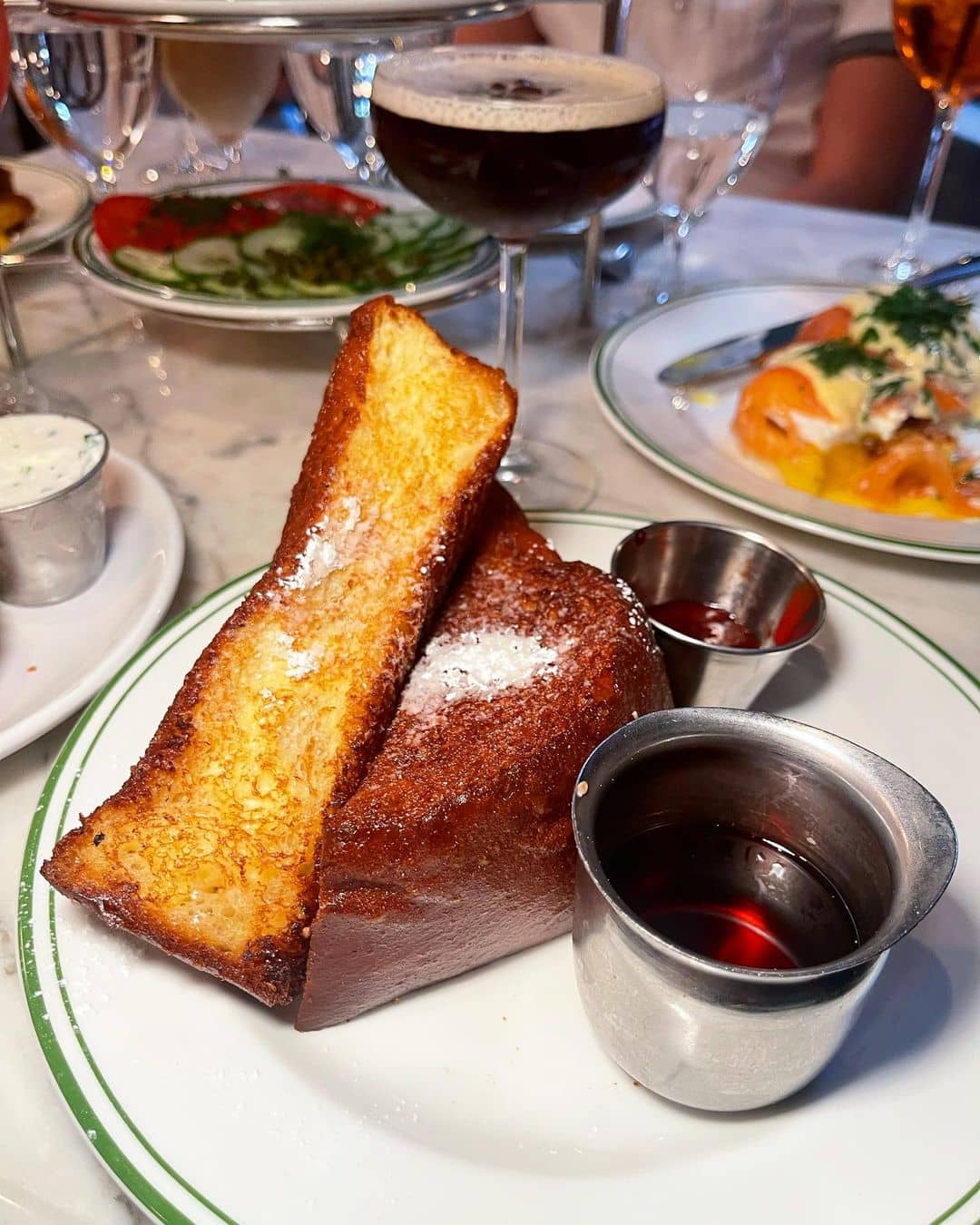 A cute and trendy brunch spot that you always see on social media, Sadelle's is healthy breakfast nirvana. With brick walls, steel interiors, and floral arrangements scattered around for the perfect gram shot, there's no wonder this place is popular. Sadelle's has everything you want for breakfast, brunch and some of the best bagels in NYC.
Who knew a simple French Toast could taste so mind-blowingly good? This one is thick and crispy on the outside while flawlessly soft and moist on the inside. Even if you don't usually like french toast, you will eat this all day if you can.
Thin, delicate, and made with all the right seasonings, Sadelle's House Salmon is *chef's kiss*. The dill, capers, cucumbers, and tomatoes accompanying the dish are the perfect garnishes one could think of.
What to order: French Toast, House Salmon
Address: 463 W Broadway, New York, NY 10012
Website | Instagram | Facebook
5. Shuka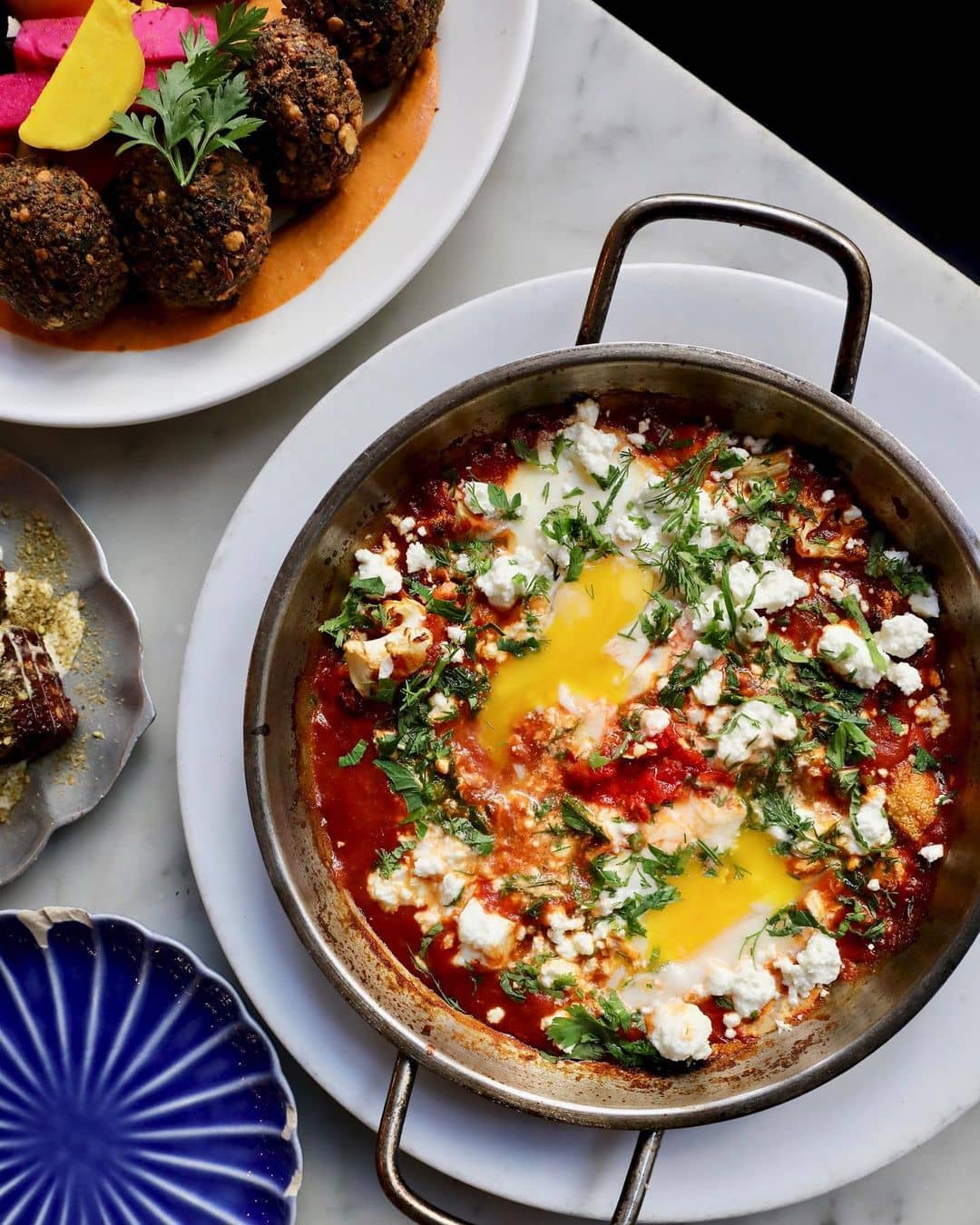 Easily topping the best Mediterranean restaurants in NYC, Shuka is home to many yummy things that are packed with flavor. Cozy indoors and outdoors seating, exquisite food, charming decor, and exceptional service— nothing goes wrong in Shuka. Words are not enough to describe the absolute heaven on earth that is Shuka, so why not go and experience it yourself?
A unique combination of textures and flavors, Shuka's Fried Halloumi is to die for. The cheese and garlic sauce on top of it is fantastic. If you love cheese, this one tastes like a comforting fried cheese.
Saucy with somewhat warmer spices, their Chicken Shawarma is perhaps the most filling shawarma you could ever have. It comes on a puffy pita with delicious cilantro and red cabbage that looks so appetizing.
What to order: Fried Halloumi, Spit Roasted Chicken Shawarma
Address: 38 MacDougal St, New York, NY 10012
Website | Instagram | Facebook
6. Omen Azen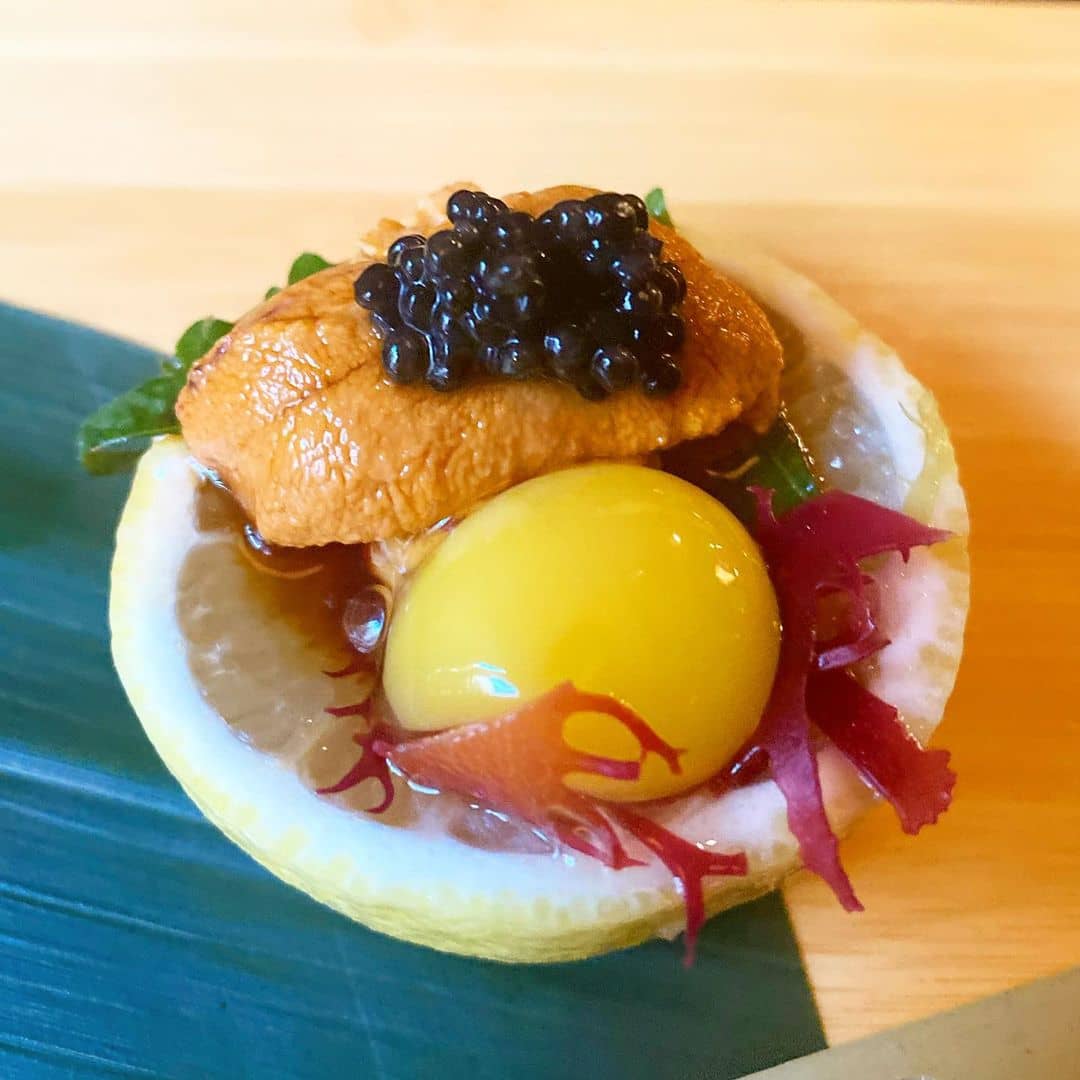 Omen Azen sets itself apart from famous American-style Japanese restaurants by keeping the original Kyoto flavor. In Omen Azen, you get to experience authentic Japanese food, service, and interiors. If you especially like slurping fresh hot udon noodles with a delicate broth, this place is for you.
What is a Japanese restaurant without fresh and great sashimi? Omen's Mixed Sashimi Special is as spectacular as it gets. All the fish are delicate, tender, and soft as clouds if we could touch them.
Of course, you can never go wrong ordering udon at an udon place. Handmade and fresh with seasonal ingredients, their Omen may look simple, but the taste is exceptional. Lingering memories of this meal will haunt you until you go get to taste it again.
What to order: Mixed Sashimi Special, Omen (Original Dashi Broth)
Address: 113 Thompson St, New York, NY 10012
Website | Instagram | Facebook
7. Altro Paradiso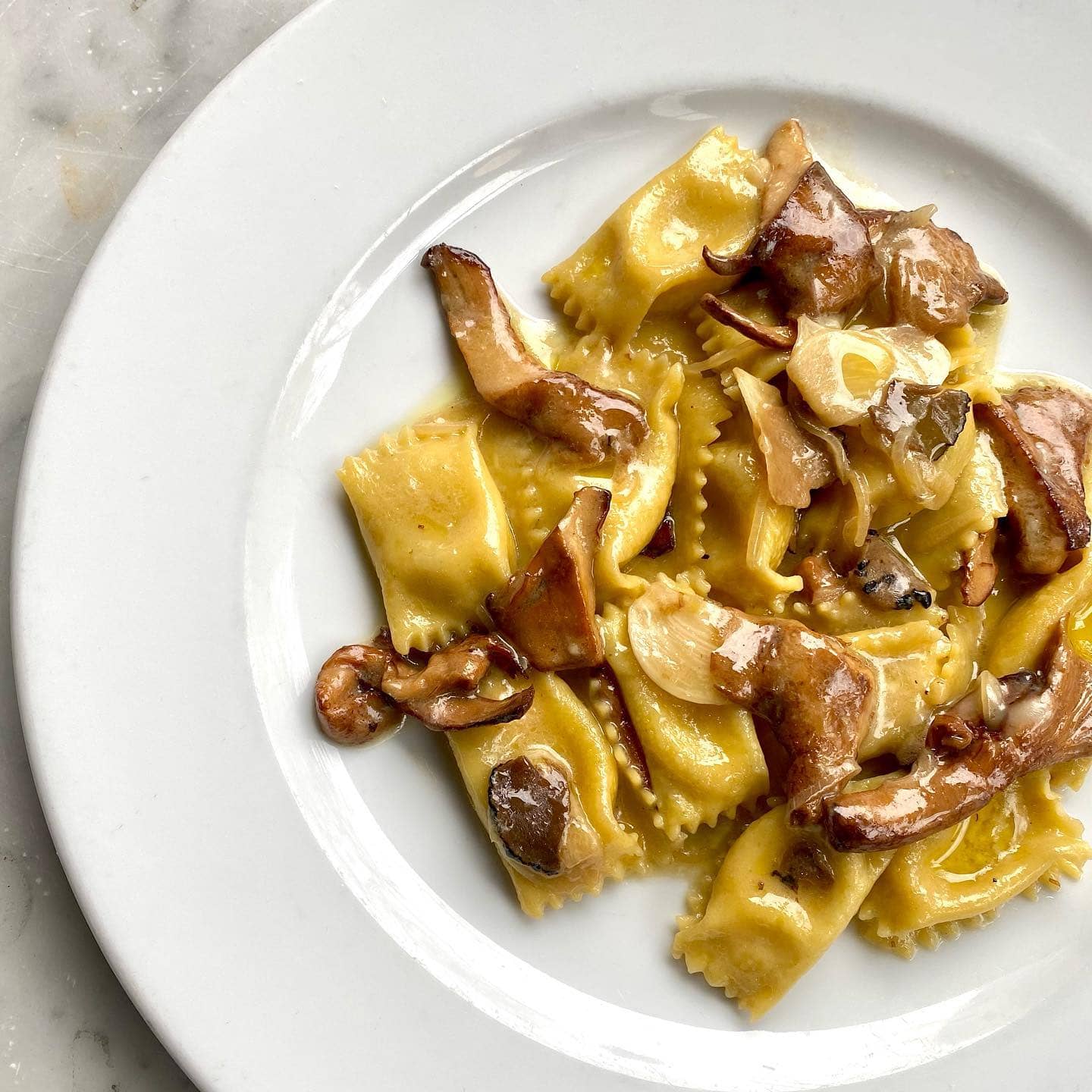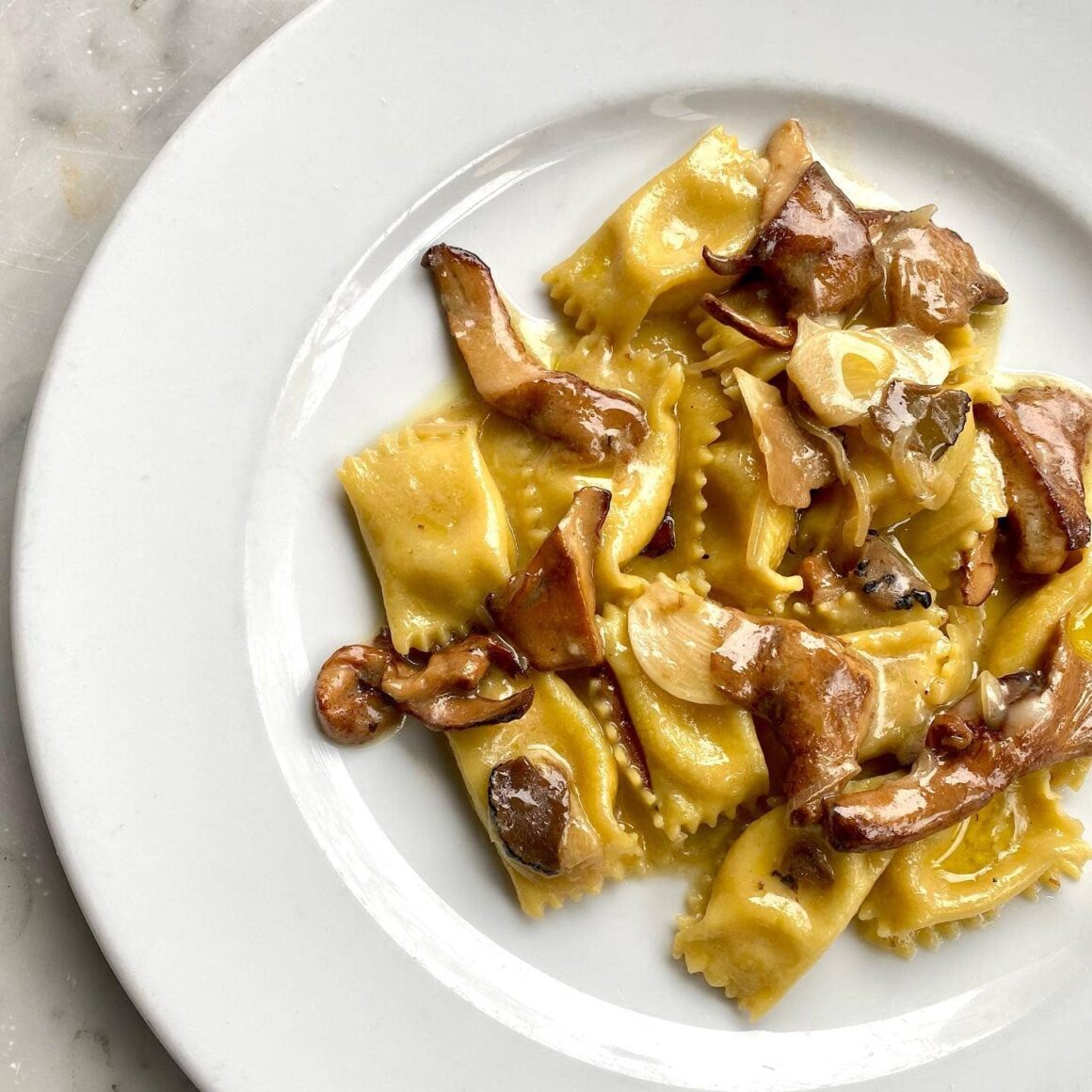 If you're on a city-wide quest for the best Italian pasta, Altro Paradiso doesn't disappoint. A classic Italian restaurant in Soho, this restaurant has the perfect balance of elevated and casual. With high ceilings and warm lighting, Altro Paradiso provides an intimate and relaxing dining experience from start to finish.
A standout among other items on their menu, the Finocchio with fennel, olives, and provolone is a simple yet stunning salad you should get. This salad has a marvelously assembled bunch of greens that are great for sharing as an appetizer or a main dish for a vegetarian.
Italian restaurants are usually rated based on their Cacio E Pepe, and the one at Altro Paradiso is phenomenal. Creativity? Check. Texture? Check. Taste? Double check. This dish is a hit if you like authentic Italian pasta.
What to order: Finocchio, Cacio E Pepe
Address: 234 Spring St, New York, NY 10013
Website | Instagram | Facebook
8. Famous Ben's Pizza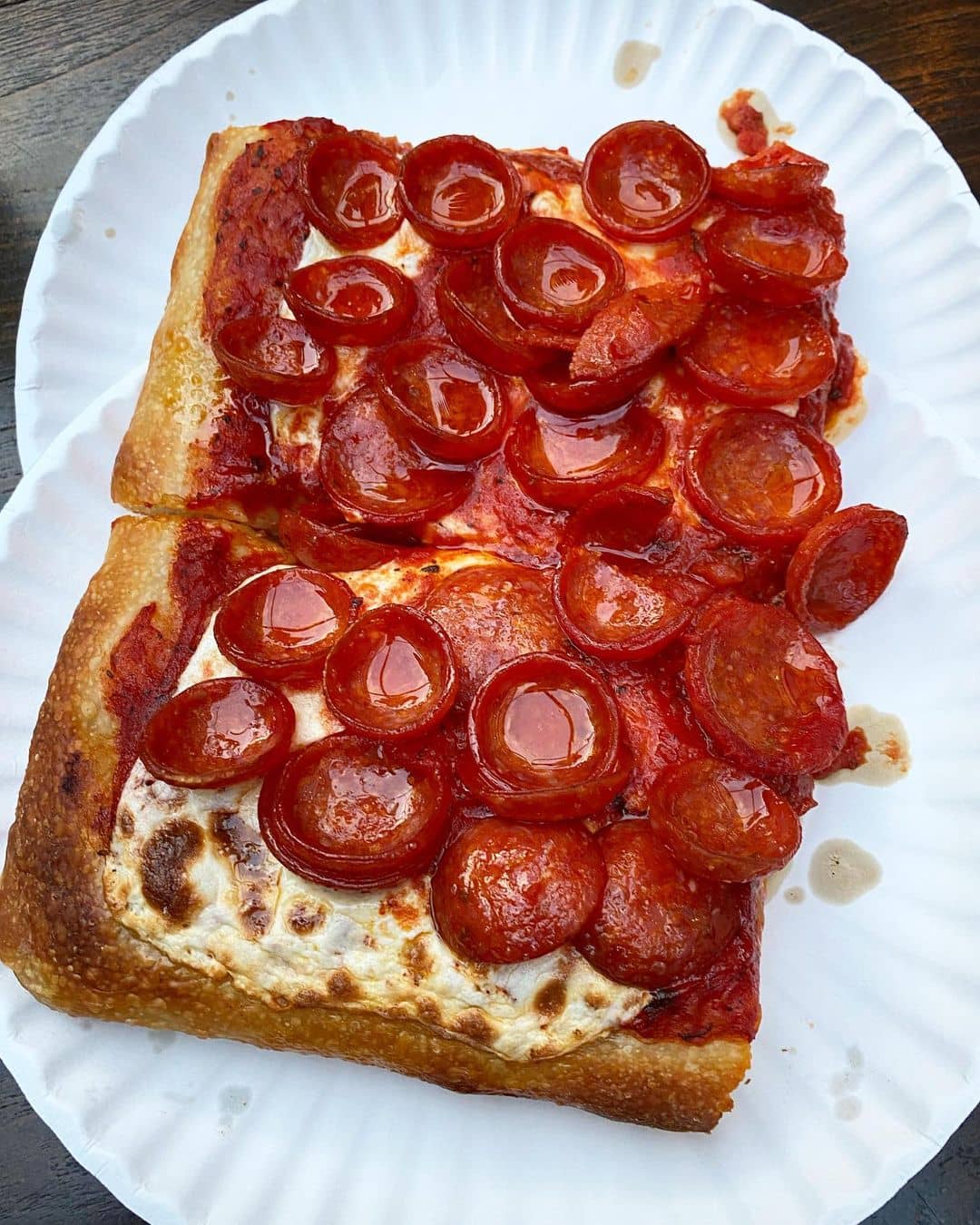 Famous Ben's Pizza, which serves traditional New York-style pizza, first opened in Manhattan in 1979. Their Sfincione,' or Palermo-style pizza, is loved by many. Square slices of this thick Sicilian pizza are served hot and gooey. Numerous famous people have eaten at the pizzeria, and it has appeared in a number of movies and TV shows.
With a crunchy, buttery base that's soft with the perfect crunch as you take a bite, their Famous Ben's Focaccia Sicilian Pizza is unlike any other. It has an outstanding balance of tomato and cheese, and the olives add a nice touch.
Aside from pizzas, Famous Ben's Pizzas are also known for their garlic knots. You can easily get enticed by the full display you see inside. They are sprinkled with basil and are made with real garlic.
What to order: Famous Ben's Focaccia Sicilian Pizza, Garlic Knots
Address: 177 Spring St, New York, NY 10012
9. Boqueria Soho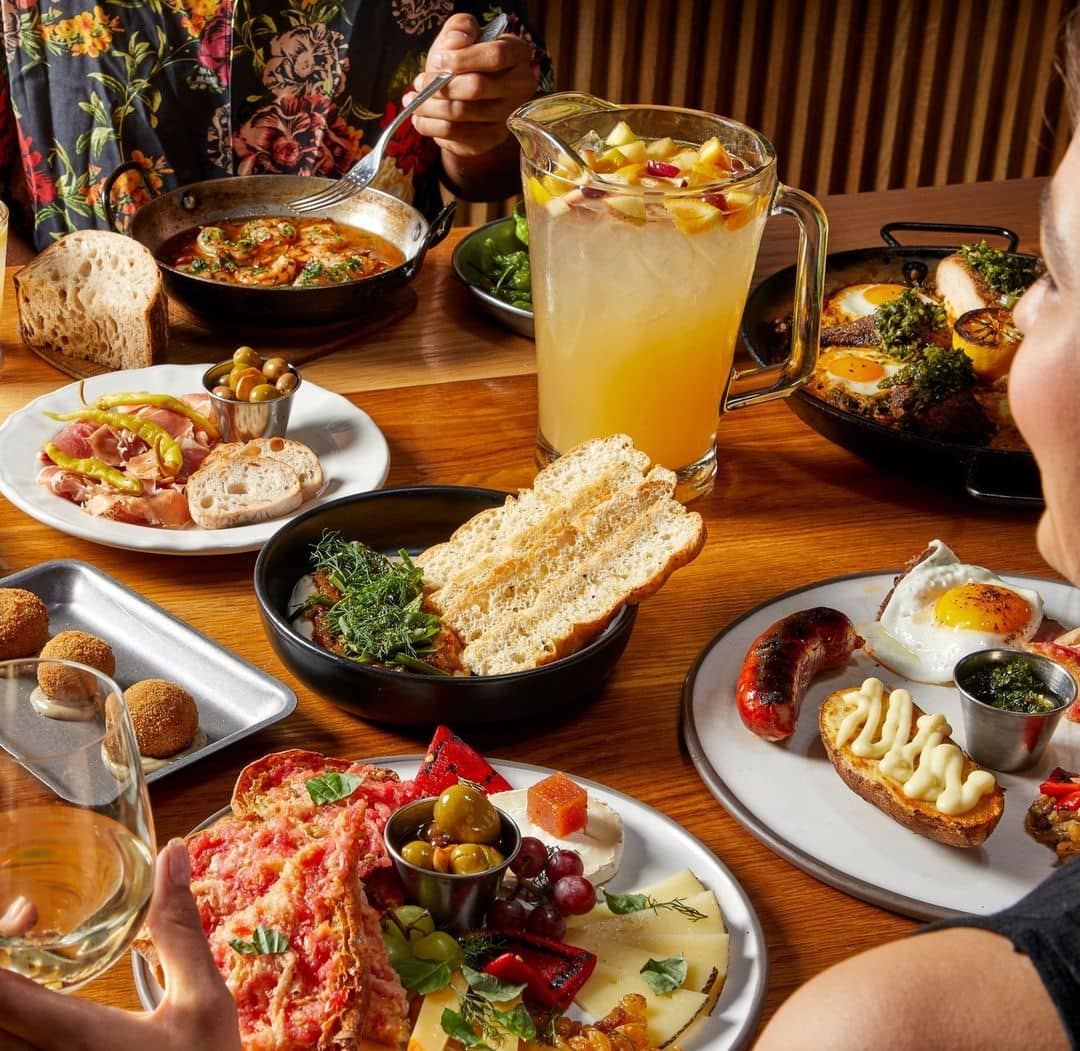 A Soho favorite that serves one of the best Spanish tapas-style foods, Boqueria Soho is the best you can get outside of Spain. This restaurant's attention to every single detail deserves a five-star across the board. The atmosphere is chill and intimate, making it the perfect spot for any occasion.
Crispy potatoes with garlic aioli, Boqueria's Patatas Bravas are absolutely divine. Served fresh and piping hot, you may want to be careful with this one since you need your tongue to taste all of the tasty flavors.
Another popular item on their menu, the Pan Con Tomate, has good portions of serrano ham that are well-seasoned and pack a punch. The bread has the perfect crust to complement the tomato spread fully.
The Sangria Tinta pitcher is highly recommended for drinks if you're coming here with a group.
What to order: Patatas Bravas, Pan Con Tomate, Sangria Tinta
Address: 171 Spring St, New York, NY 10012
Website | Instagram | Facebook
10. Raoul's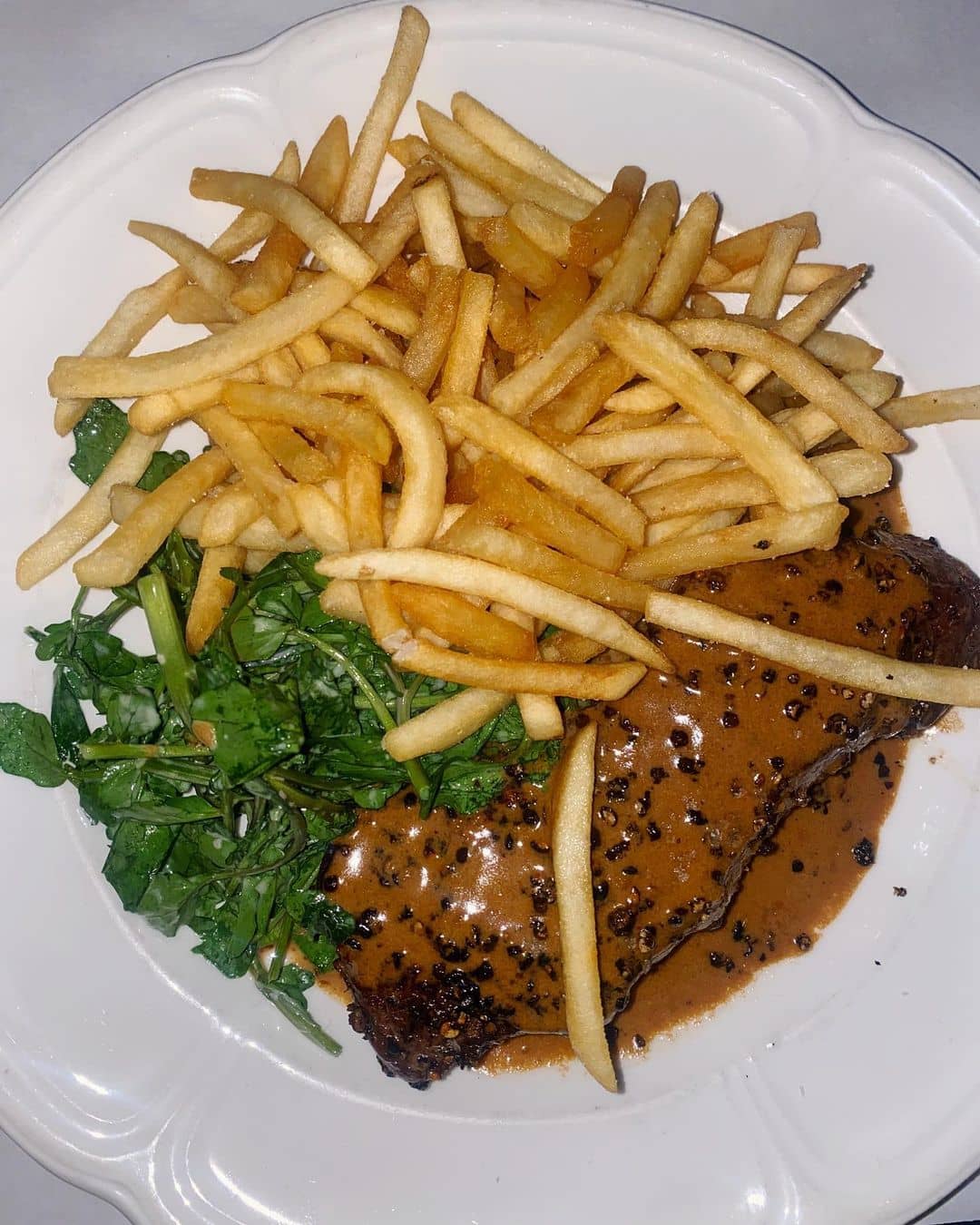 A true gem down in Soho, Raoul's is a French bistro nestled in the middle of West Village. This restaurant is an elegant and cute spot with some of the best eats and impeccable service. The interiors are lively and have a lot of personality. Known for having the best burgers in town, the place can get packed quickly, so make sure to get a reservation.
An unforgettable dish that will melt in your mouth, Raoul's Foie Gras is out-of-this-world. This one is perfectly glazed with a sweet sauce and steamed greens that taste crazily good.
Raved by many, Raoul's Burger Au Poivre is the culprit as to why it's nearly impossible to get a reservation in this place. Served on a lightly toasted bun with greens, cornichons, cheese, and a side of the most delicious Au Poivre sauce for dipping, treat yourself to a burger of a lifetime.
What to order: La Belle Farms Seared Foie Gras, Raoul's Burger Au Poivre
Address: 180 Prince St, New York, NY 10012
Website | Instagram | Facebook
11. Soho Diner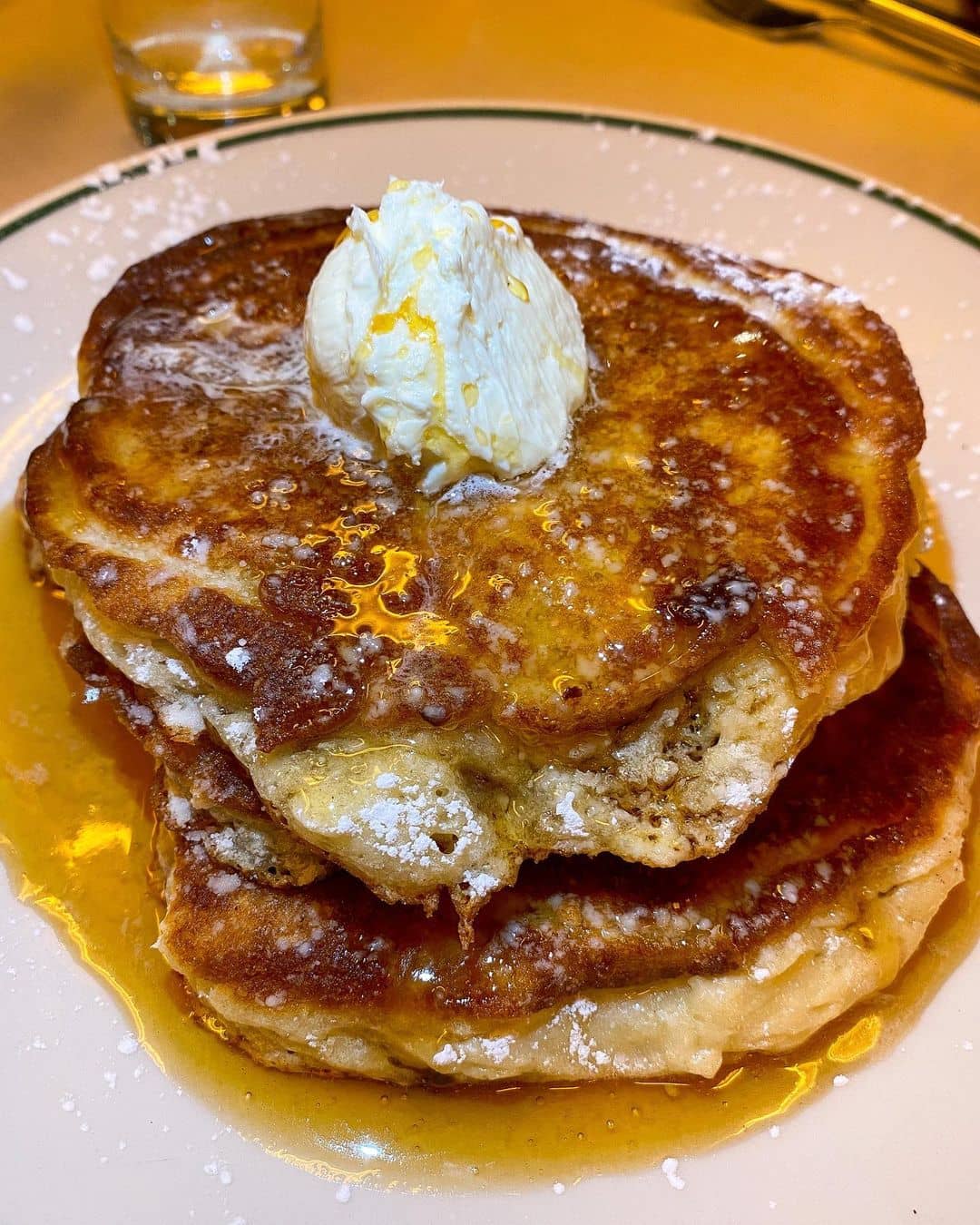 An always-open upscale diner serving revamped diner classics in a vintage setting, Soho Diner is famous for their lovely pancakes. With a 50s-inspired interior with New York chic vibes mixed in, this place is stylish in every corner. If you're craving breakfast classics, there's no better place to get it than Soho Diner.
For pancakes, you have two choices. The Buttermilk Pancakes have a subtle hint of sweetness that will absolutely satisfy your late-night pancake cravings. On the other hand, their Vegan Banana Pancakes with huge chunks of banana as toppings are a great vegan option.
If you're not feeling pancakes, The Soho Burger is a great and delicious way to soothe a rumbling tummy. The chopped pickles are a nice touch, but there's something about the sauce that makes this burger stand out among the rest.
What to order: Buttermilk Pancakes, Vegan Banana Pancakes, The Soho Burger
Address: 320 W Broadway, New York, NY 10013
Website | Instagram | Facebook
12. Aurora Soho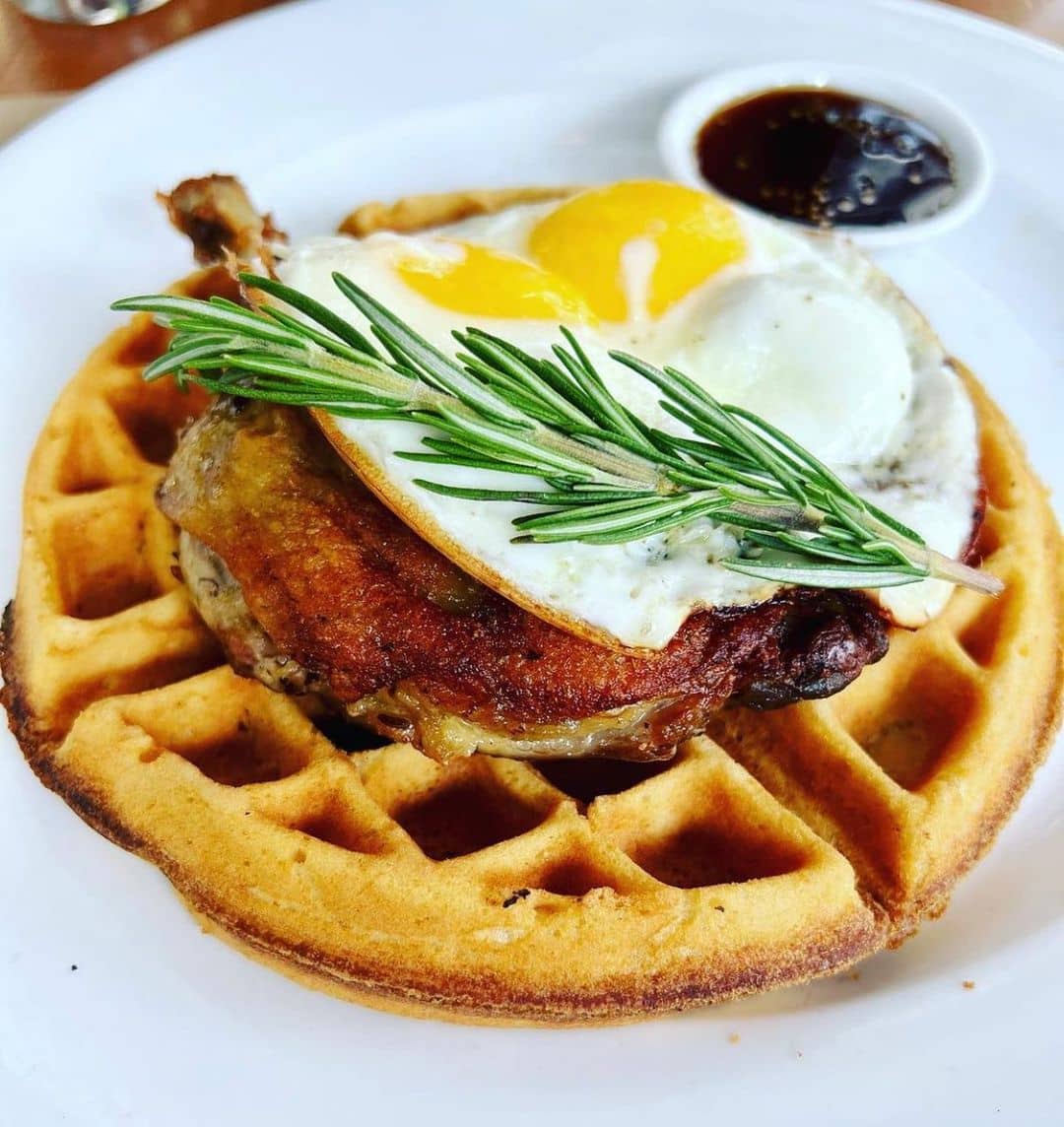 Offering upscale rustic vibes with upscale Italian cuisine, Aurora Soho delivers in all aspects. You'll come here for the food, stay for the ambiance, but leave with all boxes checked for satisfaction. A solid brunch spot if you happen to be in Soho, this will be your next go-to spot.
The Nutella French Toast doesn't only sound amazing; it tastes utterly sensational. Perfectly balanced and not too sweet, they made sure not to overdo it with the creme on top.
Combine prosciutto di parma, burrata, truffled hollandaise, English muffins, roasted potatoes, and field greens; you'll come up with the yummiest Parma Benedict. The eggs are perfectly poached and are a complete meal on their own.
What to order: ​​Nutella French Toast, Parma Benedict
Address: 510 Broome St, New York, NY 10013
Website | Instagram | Facebook
13. Dominique Ansel Bakery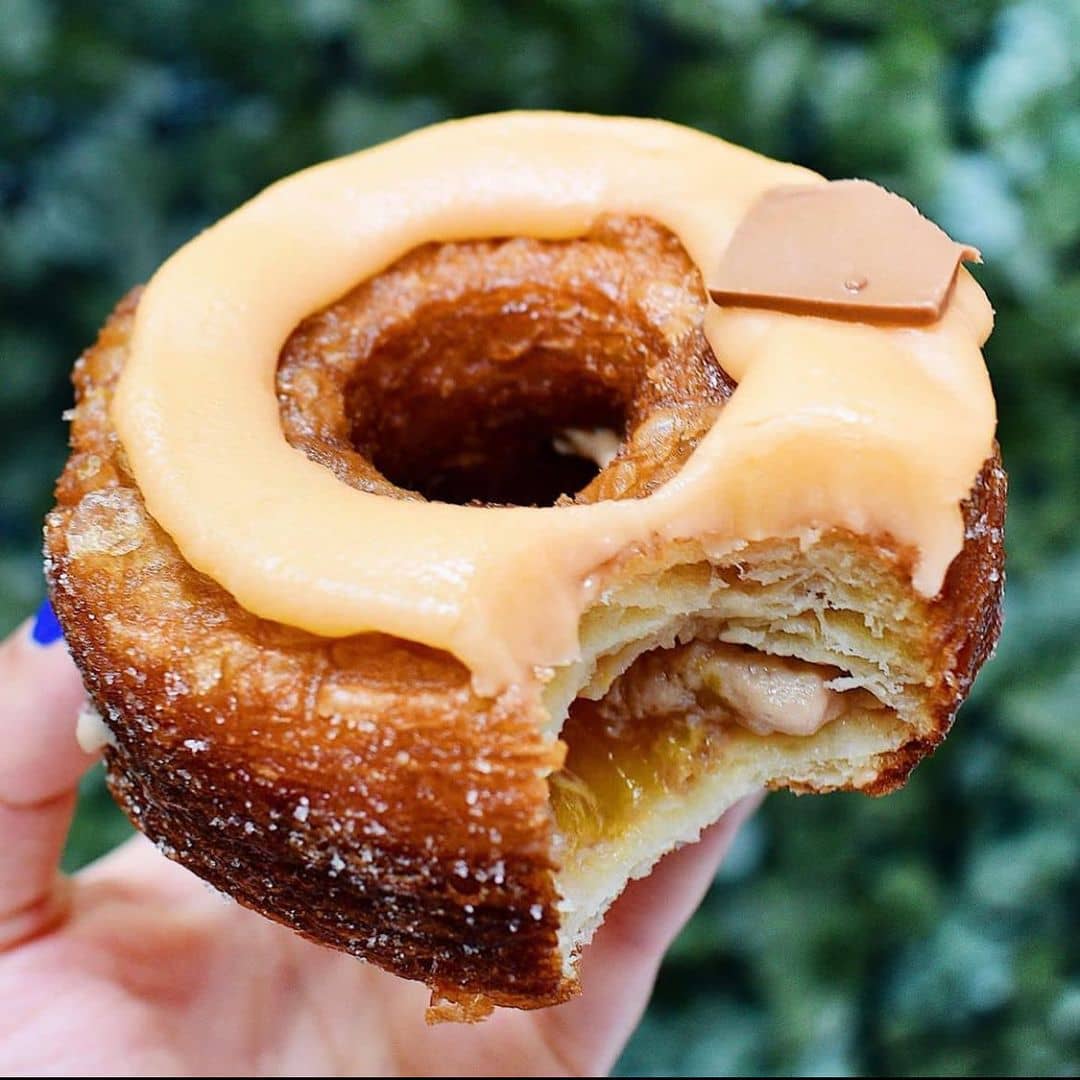 You know you're about to have a great day when you start the day with Dominique Ansel. Known for creative pastries and desserts, there's no question why this place gets crowded even before it opens. If you're in NYC, it's a crime to not visit this place at least once in your life.
A croissant and donut in one? Say hello to The Cronut! This one has a rotating flavor each month which people rave about. This month's lucky flavor is the Pumpkin Pie & Brown Sugar that tastes amazing.
There is beauty in simplicity and Dominique's Kouign Amann is a living testament. If you're not a fan of the cronut's flavor of the month, the DKA has the same crunchiness and flakiness but without the fillings.
What to order: The Cronut, DKA (Dominique's Kouign Amann)
Address: 189 Spring St, New York, NY 10012
Website | Instagram | Facebook
Because of the wide variety in price and quality, it can be difficult to choose between the many excellent restaurants in Soho. Hopefully, this guide helped make your decision easier. If you're looking for more recommendations in the area, check out our list of the best restaurants in New York.
Looking for a place to stay in New York?
This article includes affiliate links where we may get a small commission if you use our link. No extra cost is added to you.