Known as Canada's stampede city, Calgary is rich in its historical legacy, attractions, and activities. Don't be fooled by its quaint feel and tranquil surroundings, in Calgary, there's so much to do and see.
Aside from the beautiful attractions, another best thing about Calgary is its food! Whatever you're craving, they have it available and as scrumptious as ever, even sushi. So if you're a sushi lover in Calgary, you have all the reason to love what we have in store for you even more!
From the ambiance down to the gratifying taste of authentic sushi, we've compiled a list of the 12 best sushi restaurants in Calgary you just have to try out!
1. Ari Sushi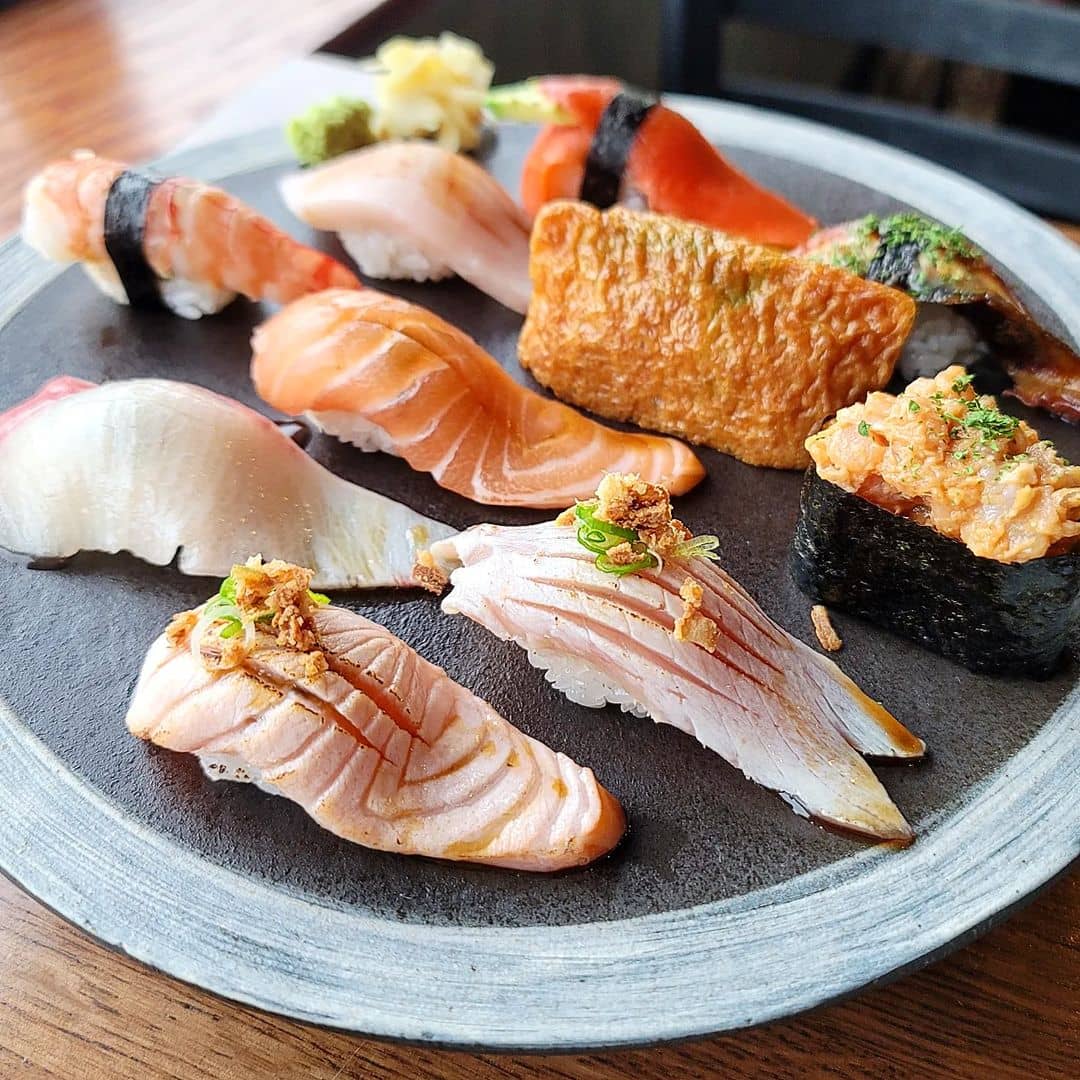 One thing about Ari Sushi is that it promises you a first-rate authentic sushi place, and it always delivers! With its head chef being an experienced chef in 5-star Japanese restaurants in Korea, you'll know that they aren't here to play around.
Ari Sushi boasts a modern and simple interior with their high wooden chairs and classic-looking plate decors. The atmosphere is busy but not too busy to be uncomfortable. Everything is lively making you even more enticed to eat their delicious food!
For their rolls, you shouldn't miss out on their Scallop Sushi, Shima Aji Sushi, Ari Special Roll, and for something classic, they're Dynamite Roll.
All their rolls are made with the freshest ingredients that make each roll spectacular. Especially the Shima Aji Sushi, for its exquisite in-depth flavour.
Don't miss out and get their Bluefin Tuna as well! You're about to be blown away by its butter-like texture, it's a top-grade dish that will make you want to invite everyone you know. Lastly, their Beef Tartare will also exceed your expectations! Just like the others, its consistency and texture is soft and the sauce of the beef perfectly complements the balanced flavour of beef.
What to order: Scallop Sushi, Shima Aji Sushi, Ari Special Roll, Dynamite Roll, Bluefin Tuna, Beef Tartare
Address: 1201 9 Ave SE, Calgary, AB T2G 3H8
2. Big Catch Sushi Bar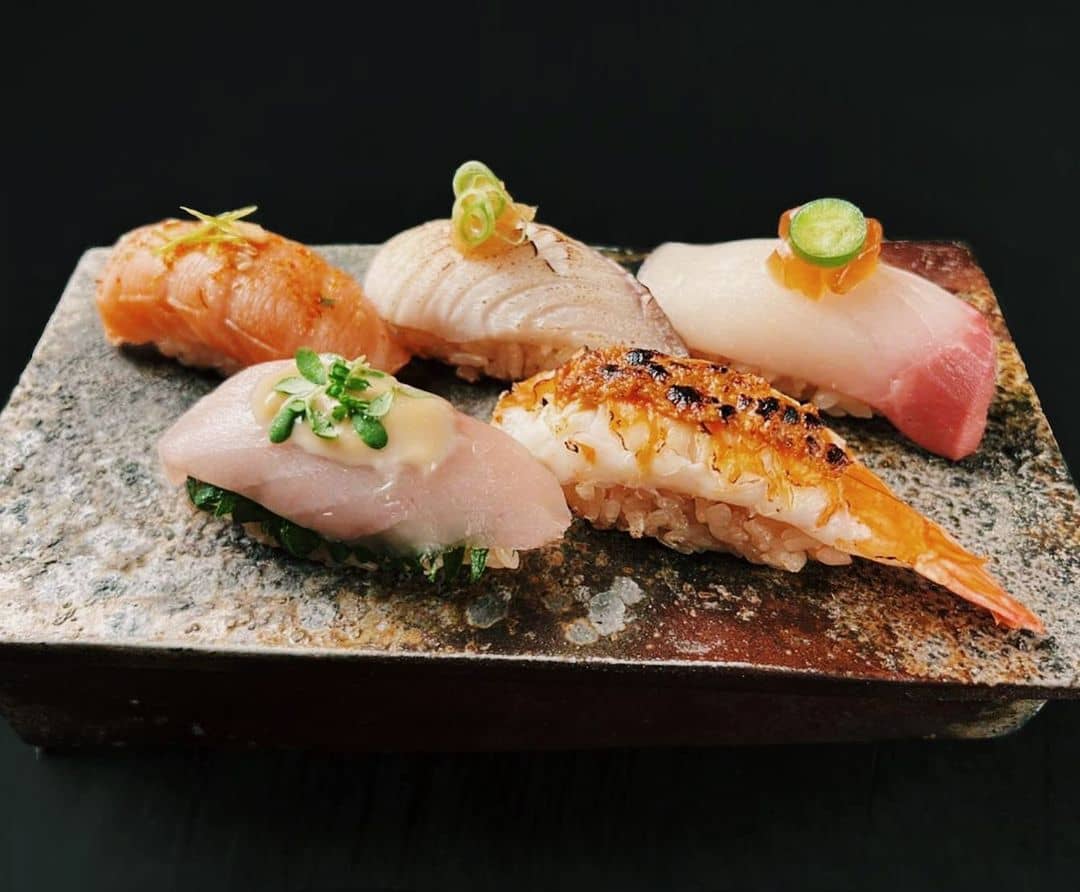 Giving you the real sushi experience, Big Catch Sushi Bar is another sushi restaurant that offers nothing but sushi goodness! They aspire to fill the hearts of the people in Calgary with modern culture. With its spacious area, you can really feel comfy right away. The interior of the place gives a modern yet traditional feel with wooden designs everywhere.
The food presentation here is like a masterpiece. Every dish here is aesthetic to the sight.
Starting off with their Oshi Rolls, Spicy Tuna Rolls, Green Halo Rolls, and the best one yet, the Magic Mushroom Pressed Roll. You can tell that all these rolls are carefully and wonderfully made with the finest ingredients and unique techniques.
But the best one of them all is the Magic Mushroom Pressed Roll. Its truffle sauce just makes it outstanding, it's simply to-die-for.
And of course, let's not forget about dessert. Try out their Ginger Creme Brulee. Not too sweet and not too bland either, it's the perfect dessert for those looking for a well-balanced sweetness to their palate.
What to order: Oshi Rolls, Spicy Tuna Rolls, Green Halo Rolls, Magic Mushroom Pressed Roll
Address: 8835 Macleod Trail SW #130, Calgary, AB T2H 0M2
Website | Instagram | Facebook
3. Globefish Marda Loop & Izakaya
Effortlessly blending modern elegance with traditional Japanese influences, Globefish Marda Loop & Izakaya is a beloved sushi spot located in the heart of Calgary. The restaurant boasts Impeccably crafted sushi and a mouth-watering selection of Izakaya-style small plates.
If you want a more immersive dining experience, their Izakaya menu is a must. A staple of Izakaya meals, the Edamame will leave a lingering satisfaction that you will absolutely love.
Looking for the perfect combination of sushi? Globefish's Favorite Sushi Combo might just be what you need. This one comes with 3 delicious pieces of tuna sushi, salmon sushi, and california roll. Share it with a date you want to impress or a fellow sushi lover!
Another must-try in this spot, the Angry Beef Sushi Burrito is angry indeed with a spicy jalapeno. Who knew the combination of sushi and burrito would taste so bomb? Get ready to ignite your palate with this dish!
What to order: Edamame, Favorite Sushi Combo, Angry Beef Sushi Burrito
Address: 2009 33 Ave SW Suite 1, Calgary, AB T2T 1Z5
Website | Instagram | Facebook
4. Sho Sushi Bar & Kitchen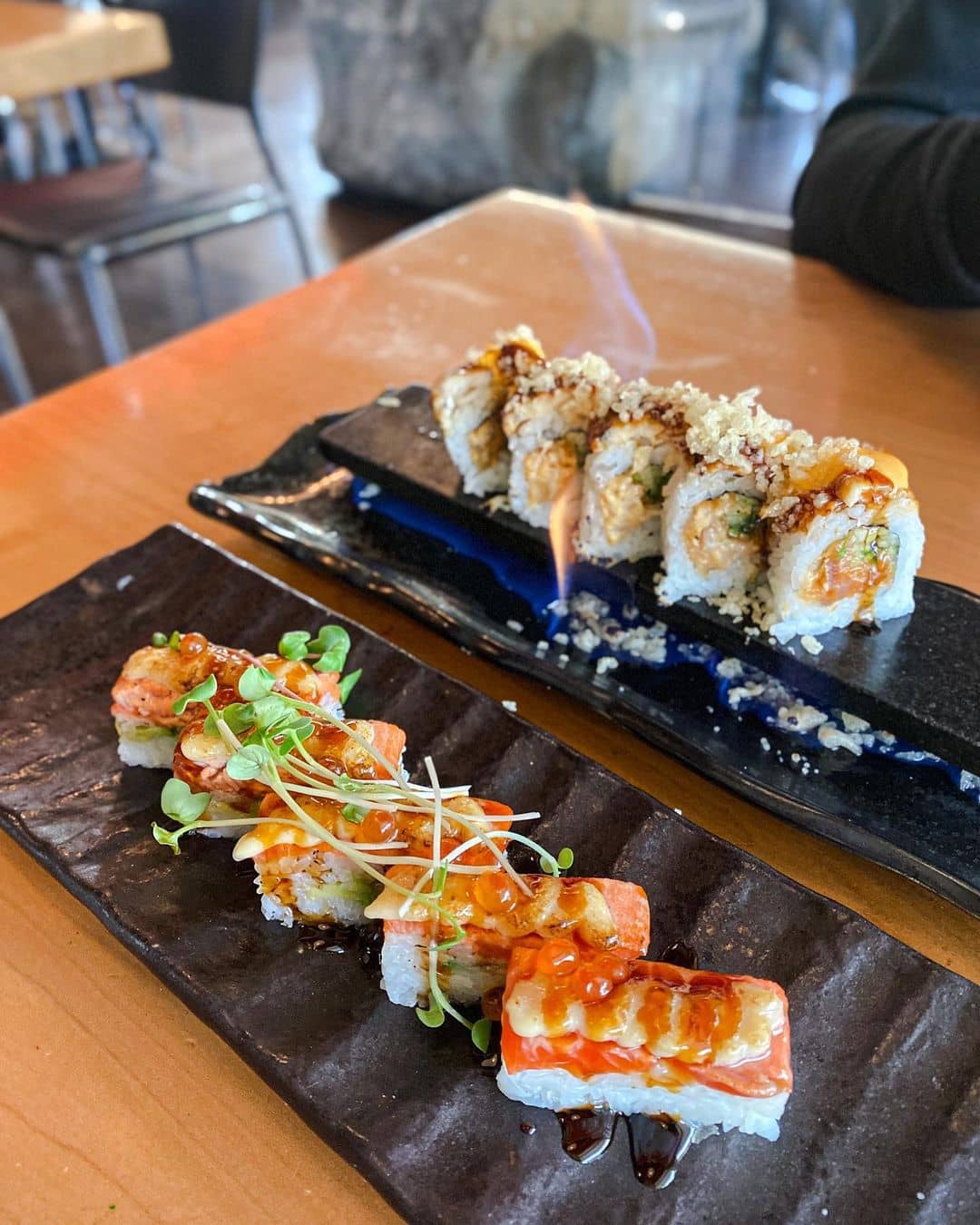 Featuring a unique blend of contemporary and Japanese, Sho Sushi Bar & Kitchen aims to provide its customers a fun atmosphere complemented by top-notch food!
Its relaxing and laid back atmosphere is attributed to its classy and modern interior. A place filled with industrial hanging lights and exposed brick walls that absolutely gives a sophisticated look to the place. As soon as you walk in, you're going to feel comfy right away!
If you happen to visit, the rolls you should never miss are their Dynamite Rolls, Rainbow Rolls, and Fire Dragon Ball Rolls. The Fire Dragon Ball Rolls is actually a spectacle as it's lit by fire and is then presented to the table. It's definitely not something you see every day.
What makes all their rolls a crowd-pleaser aside from their flavorful taste is the humongous portions served. As if a regular-sized roll isn't filling enough, their rolls are larger than usual making every penny worth it!
If you want something else rather than rolls, their Seared Salmon is definitely a dish you won't forget. Another treat for the eyes, they also sear it right in front of you. The drizzled sauce on top of it makes it even more mouth-watering.
What to order: Dynamite Rolls, Rainbow Rolls, Fire Dragon Ball Rolls, Seared Salmon
Address: 7212 Macleod Trail SE, Calgary, AB T2H 0L9
Website | Instagram | Facebook
5. Sushi Hiro Japanese Restaurant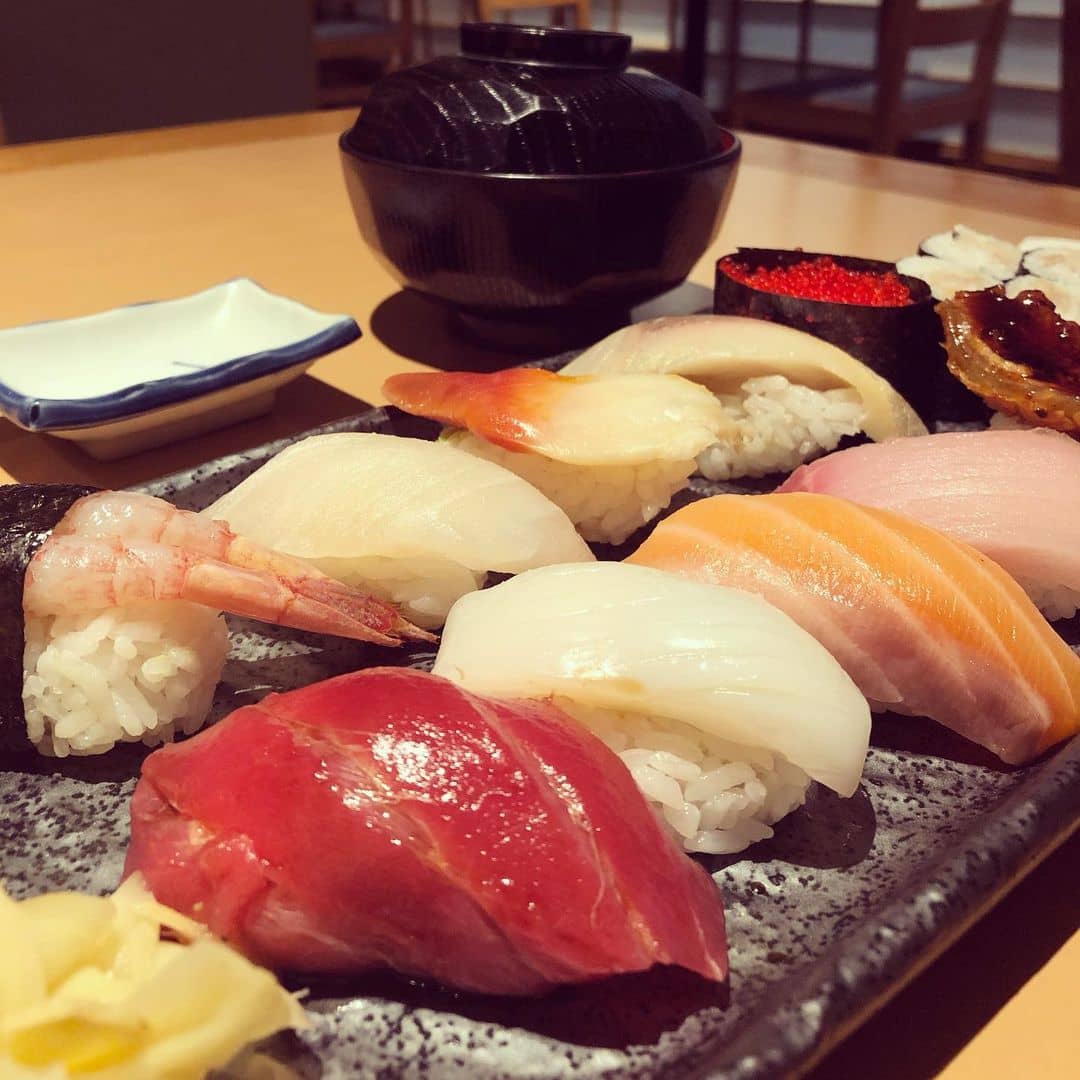 If you're looking for nothing fancy but a casual setting that serves outstanding food, look no further because Sushi Hiro Japanese Restaurant has just what you want. With its minimalist interior and the muted blue painted walls, it's a restaurant that will give you cosy vibes right as you enter. A plain interior with only wooden chairs, tables, and dividers is what you'll see. The focus is all on its amazing food!
Unlike other Japanese restaurants in the area, this resto doesn't offer the typical overdone maki sushi with tempura bits, too much mayonnaise, and tempura sauce. Their sushi rolls still allow you to fully taste the fresh fish.
Featuring 8 delectable pieces of nigiri sushi and 3 carefully crafted maki rolls, the Special Nigiri sushi will take you to new heights of delight. The seafood's freshness is particularly notable in the whole platter, elevating your sushi experience.
A captivating sushi bowl that will stun you the moment you set your eyes on it, Sushi Hiro's Chirashi Sushi is happiness in food form. The colours showcasing a generous amount of fresh seafood and vibrant vegetables is a feast for both the eyes and palate.
What to order: Special Nigiri Sushi, Chirashi Sushi, Assorted Sashimi
Address: 727 5 Ave SW, Calgary, AB T2P 0N2
6. Sushi Bistro Anzu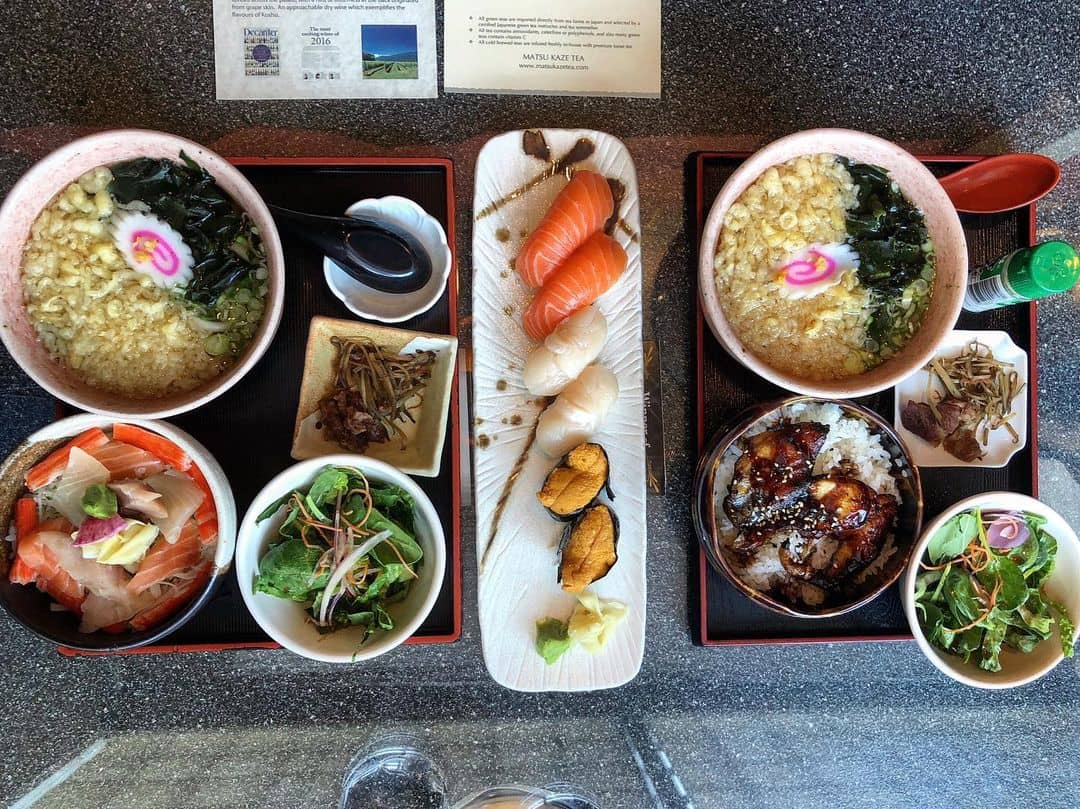 Sushi Bistro Anzu has earned the reputation of being one of the best Japanese restaurants in Calgary. This small and cozy restaurant have been serving smiles for over 5 years. With its affordable prices, you get so much more!
The Special Spicy Scallop Rolls will make you drool all over with the tastiness of the scallops. Plus, its spice adds to the zest of the roll. The Yam Tempura Rolls are also top-notch quality. The yam, avocado, and mayonnaise complements each other bringing out a superb overall flavour.
If you're looking for a roll of heat and excitement, their Flames Roll is definitely the one for you. It's made up of smoked salmon, prawn tempura, lemon, and of course, some hot sauce. Don't downplay the spiciness of this roll, because despite its oozing savoury flavour, the spice also kicks in pretty heavily!
Want something other than sushi? Their bento boxes are also a famous crowd-pleaser. Try out their Bento Box C or also called Yaki Saba Bento. What makes this the ultimate favourite is the oven-grilled mackerel that is crazily appetising.
What to order: The Special Spicy Scallop Rolls, Yam Tempura Rolls, Flames- Rolls, Bento Box C
Address: 1721 Centre St NW, Calgary, AB T2E 2S3
Website | Instagram | Facebook
7. Midori Japanese Cafe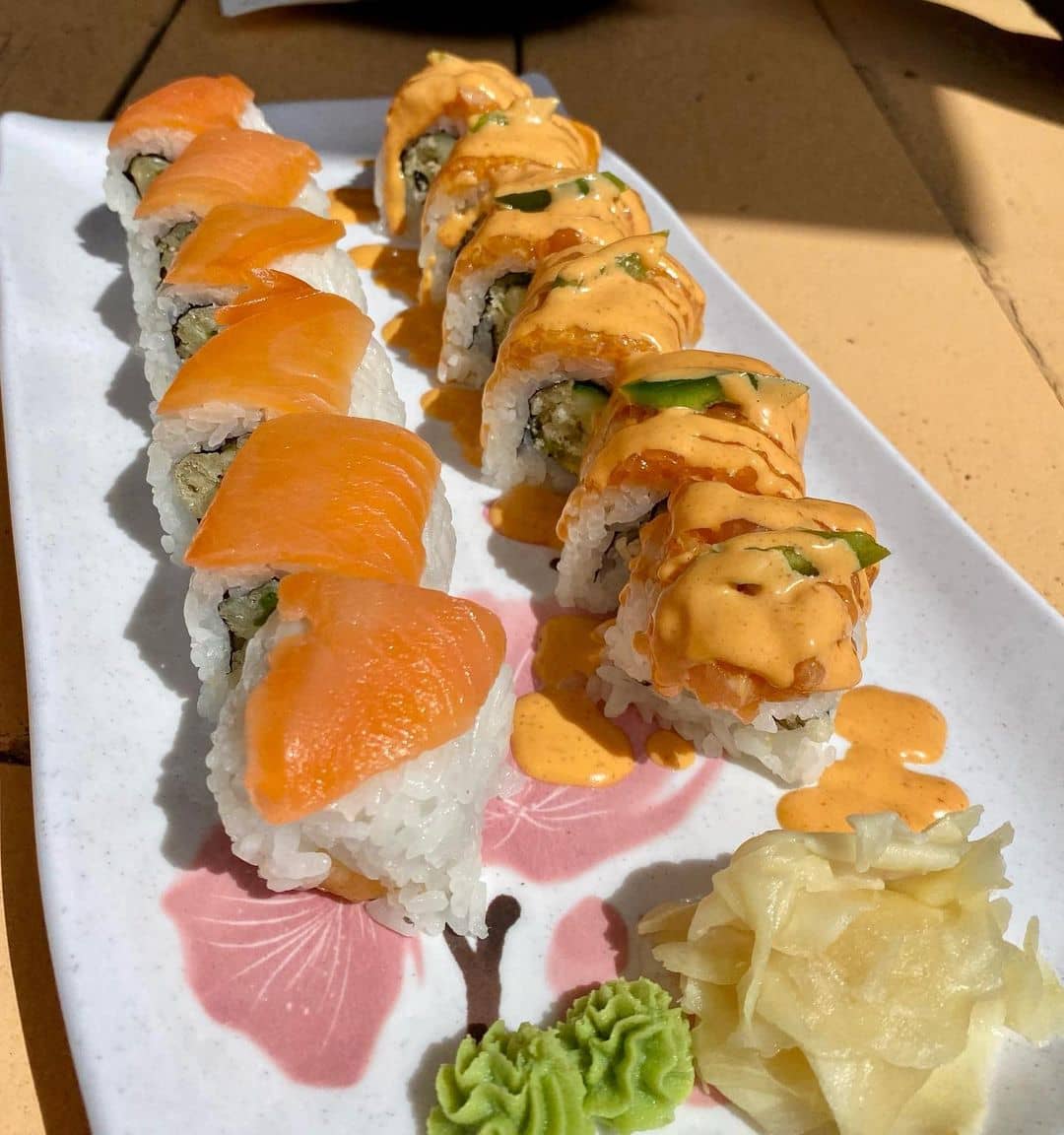 Hunting for a Japanese restaurant that really gets you in the feel of Japanese culture? Get the Japanese experience here in Calgary with this cafe's authentically prepared sushi, sashimi, and all of your Japanese faves.
This quaint little restaurant has its seat placed near the Chef where they prepare your food. They also have regular tables for two if you prefer it that way. The interior gives you a glimpse of East Asia with its simple decors and wooden dividers.
They have a wide selection of rolls for you to choose from. You won't get enough of their Spicy Salmon Rolls and Crunch Midori Rolls. All of these rolls have high quality taste and are deliciously flavourful.
The Spicy Salmon Rolls have just the right amount of spice. The spiciness doesn't overpower the salmon so you can taste the perfectly fresh fish which gives it an amazing flavour.
The Crunch Midori Rolls are known to be one of the best rolls in Calgary! It's a crunchy ebi fry roll drizzled with kani crunch plus some ebiko. The flavours are absolutely phenomenal especially with the very crunchy texture.
What to order: Spicy Salmon Rolls, Crunch Midori Rolls, and Beef Teriyaki Lunch Special
Address: 1054 17th Ave SW, Calgary AB T2T 0A5
8. Takumi Sushi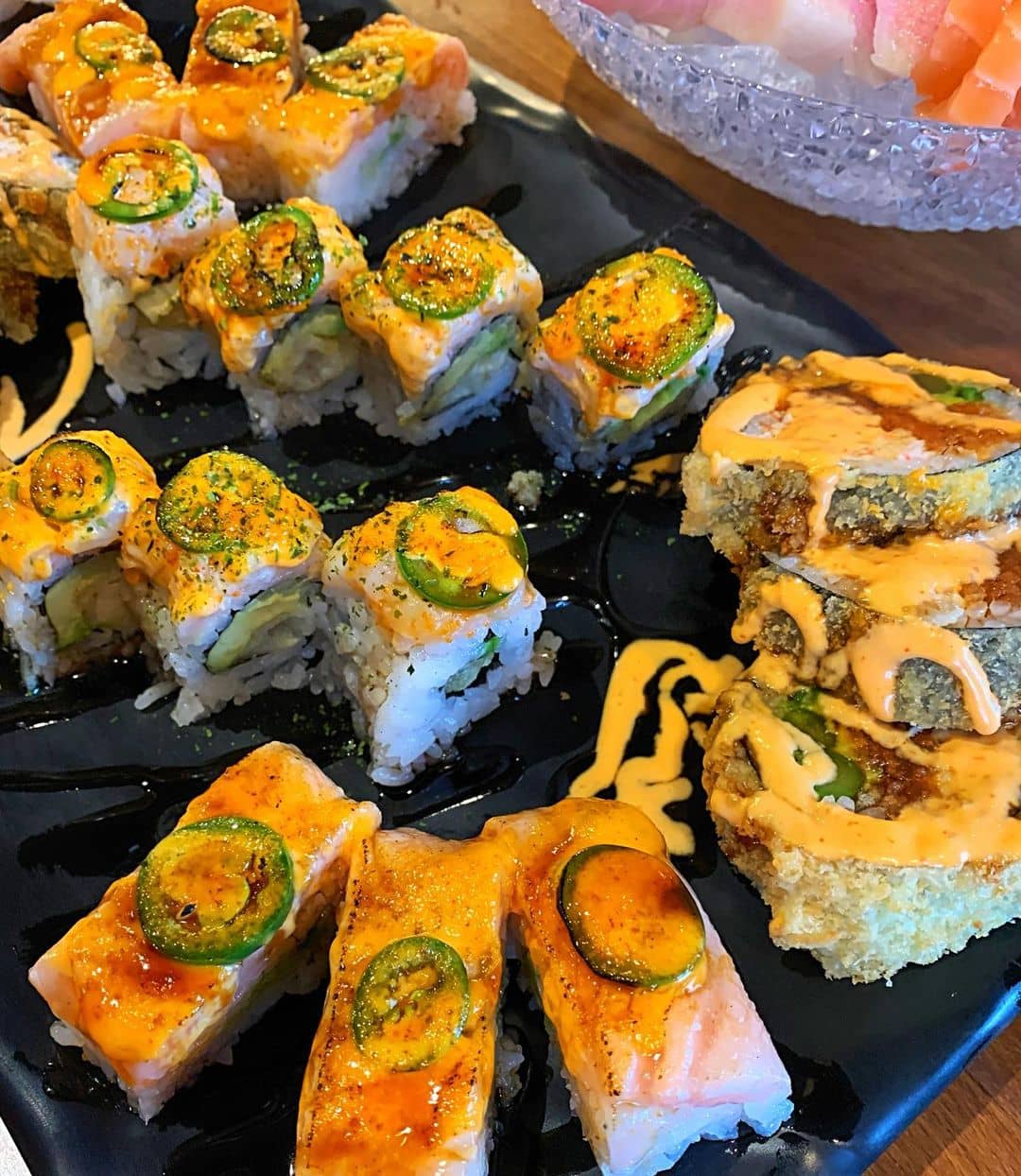 Takumi Sushi is the place to go if you're craving for some Japanese cuisine and an aesthetic sight! In Takumi Sushi, you're not only served with specialised Japanese food but you're also presented with a picturesque interior.
Featuring a unique take on Japanese restaurants, almost all materials used for the structure are wooden. They have cool-looking decorations such as a hanging curvy ladder and of course, the traditional lanterns hung on the walls. The place is well-lit with its numerous warm lights everywhere you look.
This Japanese restaurant offers some of the most artistic rolls you'll ever see in your life. You won't regret ordering their Pink Lady Roll, Mango Addict Roll, Dynamite Roll, and Cowboy Roll. All filled with excellence and deliciousness, you can tell the preparation was indeed not a joke!
The Pink Lady Roll deserves a special mention because of its well-thought of ingredients—the red tuna, jalapeño cream cheese and unagi sauce brought the best out of this roll. It's just flavoursome in the most exquisite way possible!
Another dish you should try? Definitely their Sho-Yu Ramen. No words to describe but phenomenal! The broth was exceptional with flavours of fish, pork, and yummy soy sauce being dominant.
What to order: Pink Lady Roll, Mango Addict Roll, Dynamite Roll, Cowboy Roll, and Sho-Yu Ramen
Address: 150 Crowfoot Crescent NW #311, Calgary, AB T3G 2L5
Website | Instagram | Facebook
9. Shijo Sushi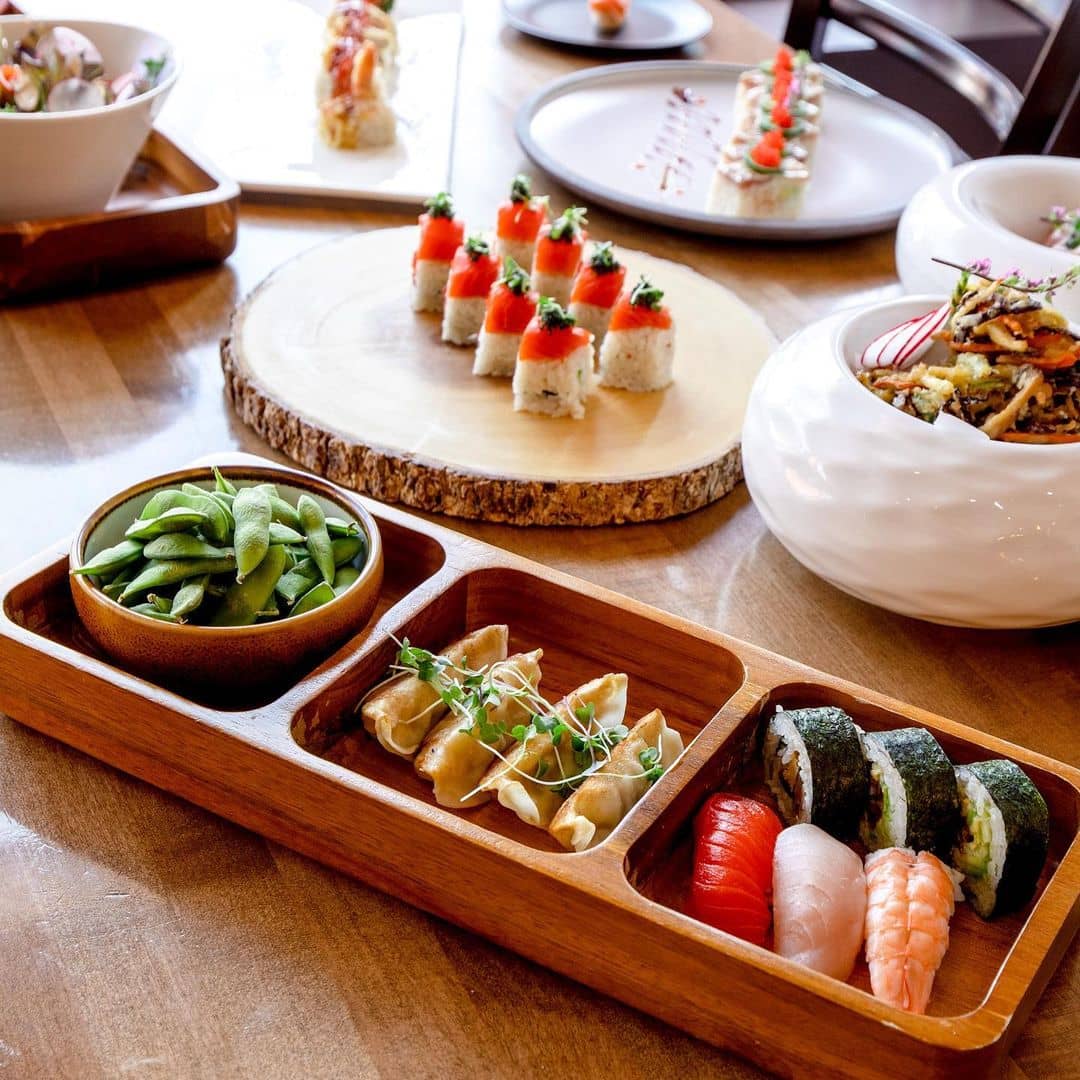 Shijo Sushi is your go-to cosy sushi place! Whether you're here alone to unwind and let off some steam or to hang out with some buddies, you'll be assured that their food will make any day even better!
Their bar seating area is perfect for a sushi night to binge all on your own. They also have regular tables perfect for chit-chat sushi sesh with friends. With the warm lanterns everywhere, the ambiance of this place only gives a quaint and comfy vibe.
Indulge in the goodness of their chef's special rolls and maki rolls! For the latter, the Spicy Salmon and Veggie Tempura is our favourite. Have a taste and they might become yours, too.
If you're looking for something different, the Caterpillar and Salmon Mango Roll on the chef's special menu are like hidden treasures waiting to be discovered. These gems of a roll will blow your mind away.
What to order: Spicy Salmon Roll, Veggie Tempura Rolls, Salmon Mango Roll, Caterpillar Roll
Address: 1240 Kensington Rd NW #103, Calgary, AB T2N 3P7
Website | Instagram | Facebook
10. Masa Sushi Restaurant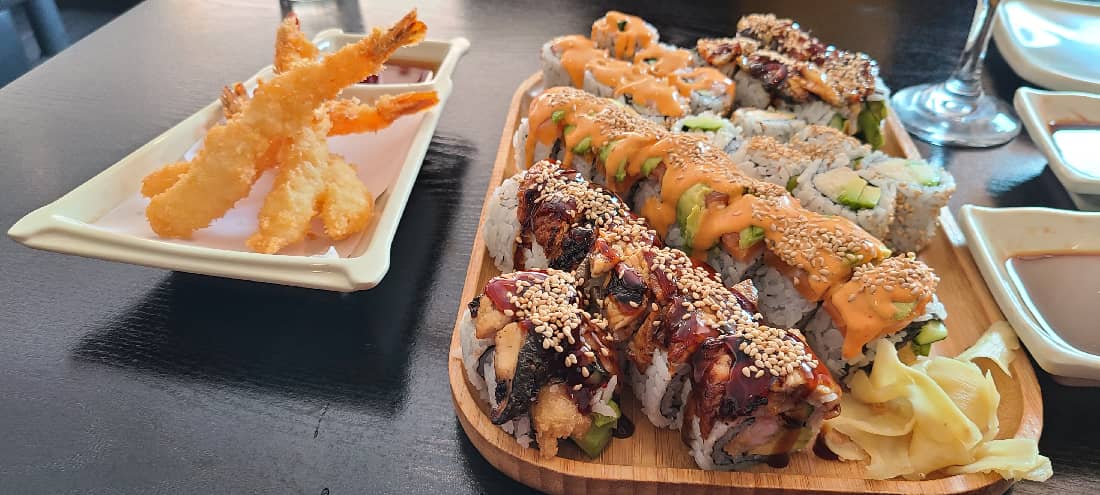 Traditional with a blend of contemporary is what Masa Sushi Restaurant is all about! Proving a modern touch to Japanese cuisine is just the perfect way to go in Calgary which is why it's been a local's favourite ever since. This little restaurant is the most ideal restaurant for a chill dining out with family and friends. It's peaceful, cosy, and of course, has the most top-notch Japanese cuisine!
There's no replacing Masa Sushi Restaurant when it comes to their rolls and atmosphere. Speaking of rolls, try out their Black Dragon Rolls, Golden California Rolls, Dynamite, Stampeder Rolls, and Unagi Rolls. Everything was freshly made and is rich in its filling. They definitely go all out when it comes to their fish, fruits, and sauces. The flavours are intricate and simply superb!
If you want dishes to make you incredibly stuffed, you should also try out their Ginger Chicken and Teriyaki Chicken. Their Ginger Chicken is a dish you can never go wrong with. The tangy taste of the ginger kicks in but it blends well with all the other ingredients making it a top-grade dish. The Teriyaki Chicken is rich in its flavourful sauce that's just so good. No other words for this dish but just a *chef's kiss.*
What to order: Black Dragon Rolls, Golden California Rolls, Dynamite, Stampeder Rolls, Unagi Rolls, Ginger Chicken, Teriyaki Chicken
Address: 722 85 St SW #301, Calgary, AB T3H 4C7
11. Shibuya Izakaya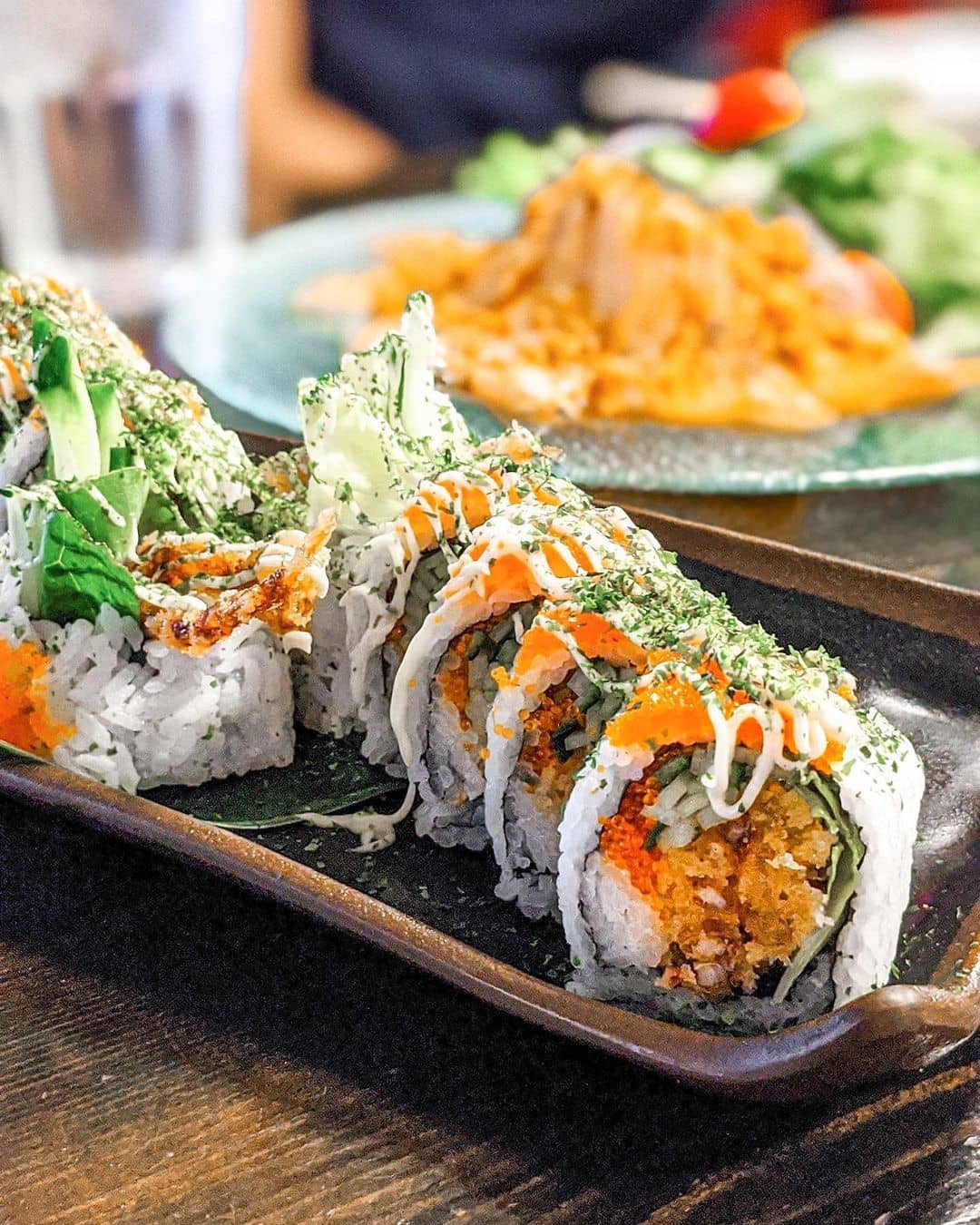 Nestled in a tranquil and lowkey neighbourhood, Shibuya Izakaya features a casual and relaxing restaurant that serves quality Japanese meals for locals and tourists! Its talented team makes the most out of their skills and experience to deliver only the best dishes. Featured in many magazines and publications, this Shibuya station-inspired restaurant will definitely make you fall in love with its food, ambiance, and service!
Since this is all about sushi, you already know that they serve the freshest and most delicious sushi rolls. Get their Yam roll, Lobster Roll, Spider Roll and Spicy Tuna Roll to taste heaven in a roll! Artfully assembled and beautifully presented, these rolls are very fresh-tasting with the perfect combination of ingredients. They will never let you down with their savoury, spicy, and slightly sweet flavours.
Their Beef Tataki is also a must-try! It is absolutely delicious down to its last bite. The flavours are exceptional and aside from the rolls, this dish will definitely be the highlight of your meal. It comes with a special jellyfish salad that tastes more special than just the typical jellyfish salad. It has a modern touch that gives an extra edge among the rest!
What to order: Yam roll, Lobster Roll, Spider Roll, Spicy Tuna Roll, and Beef Tataki.
Address: 449 16 Avenue Northeast, Calgary, AB T2E 1K3
Website | Instagram | Facebook
12. Sushi In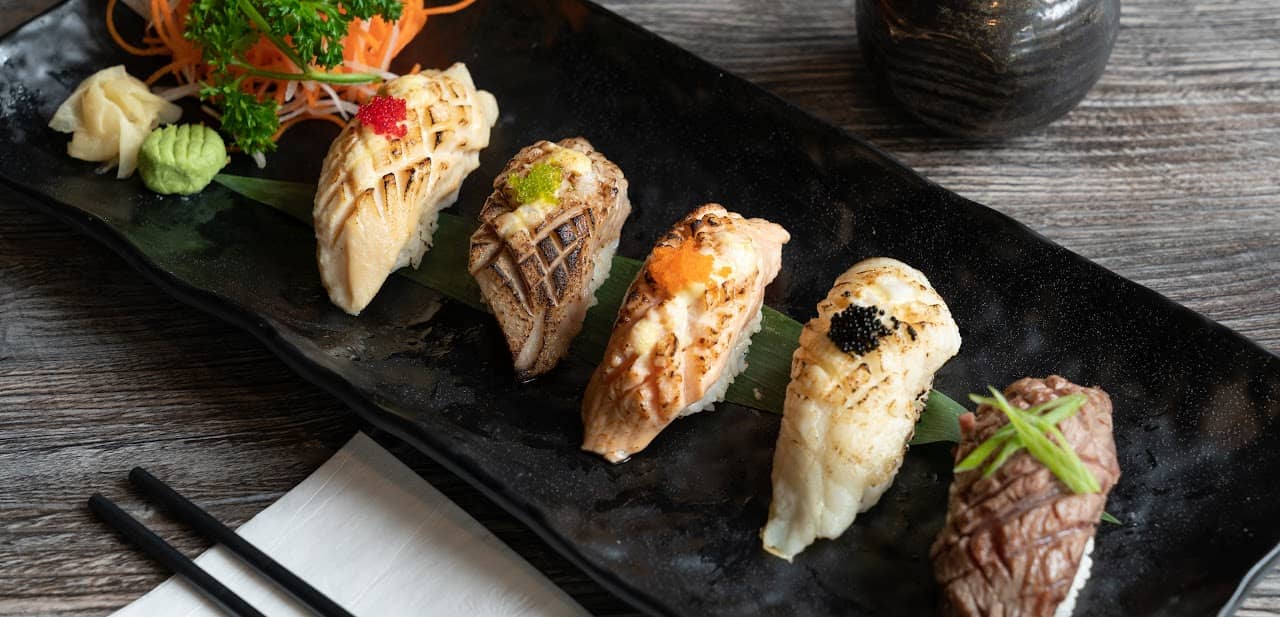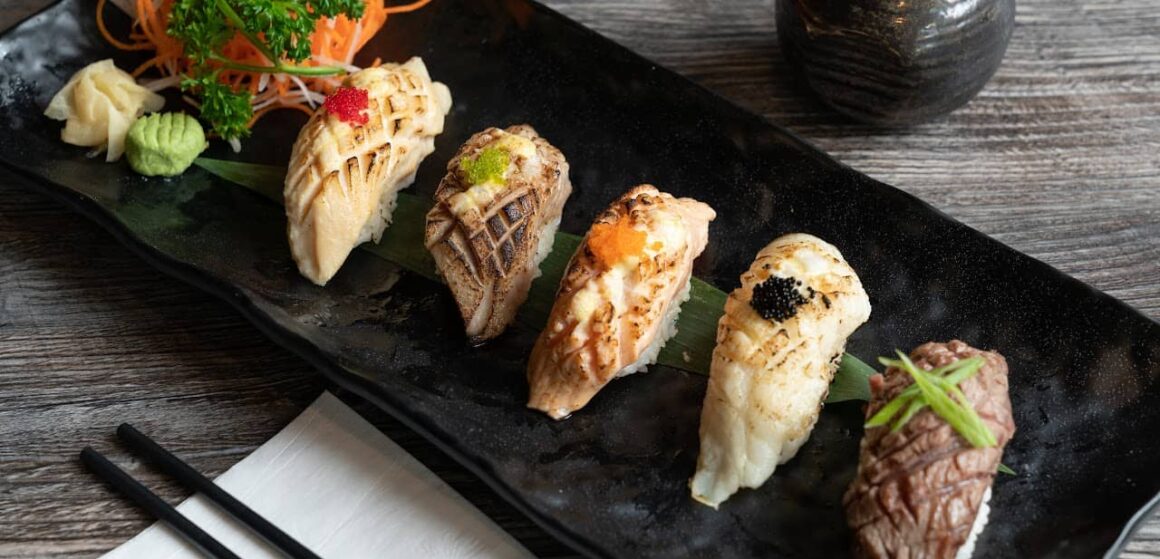 Sushi In is known for its fabulous platings and even more fabulous taste. Also labelled as one of the best Japanese restaurants in Calgary, you can assure this restaurant won't let you down. Expect a lively and busy atmosphere. The interior of the place is just like any other Japanese restaurant with Japanese decors and signs all over.
We recommend you try out their Cherry Blossom Roll, Rapture Roll, and Mango Paradise Roll. The Cherry Blossom Roll has a unique taste and what makes it even more appetising is that it comes with kiwi sauce. This brings out more flavour to the roll.
The Rapture Roll is one for spicy lovers. The drizzled spicy sauce is just phenomenal. The spiciness is intense but the different savoury flavours are still intact and distinguishable!
Lastly, the Mango Paradise Roll marks a grade of A+ with its scrumptious texture, balanced sweetness, and creative presentation. If you're a fan of lots of crab sticks on your roll, this one is definitely going to be your fave!
What to order: Cherry Blossom Roll, Rapture Roll, Mango Paradise Roll, and Salmon Sashimi
Address: 2711 17 Ave SW #3, Calgary, AB T3E 0A6
That's all for our list of the top 12 Sushi restaurants in Calvary. If you've already satisfied your cravings with Sushi, and you're looking for more best food places. We have just what you need! Check out our list of the best restaurants in Calgary you should definitely try out!