Times Square in New York City is a tourist hotspot and a favorite destination for locals alike. As the "Crossroads of the World," Times Square is overflowing with diverse dining options – from fast food to five-star restaurants.
From classic American dishes and cheesecake to top-level ramen and pasta dishes, there's something for everyone in this iconic neighborhood.
Below we'll explore some of the best restaurants in Times Square that offer the ultimate NYC experience.
Get ready for mouthwatering menus, award-winning cuisine, and unforgettable ambiance – all packed into one amazing place!
Look for a place to stay in New York City?
This article includes affiliate links where we may get a small commission if you use our link. No extra cost is added to you.
1. Carmine's Italian Restaurant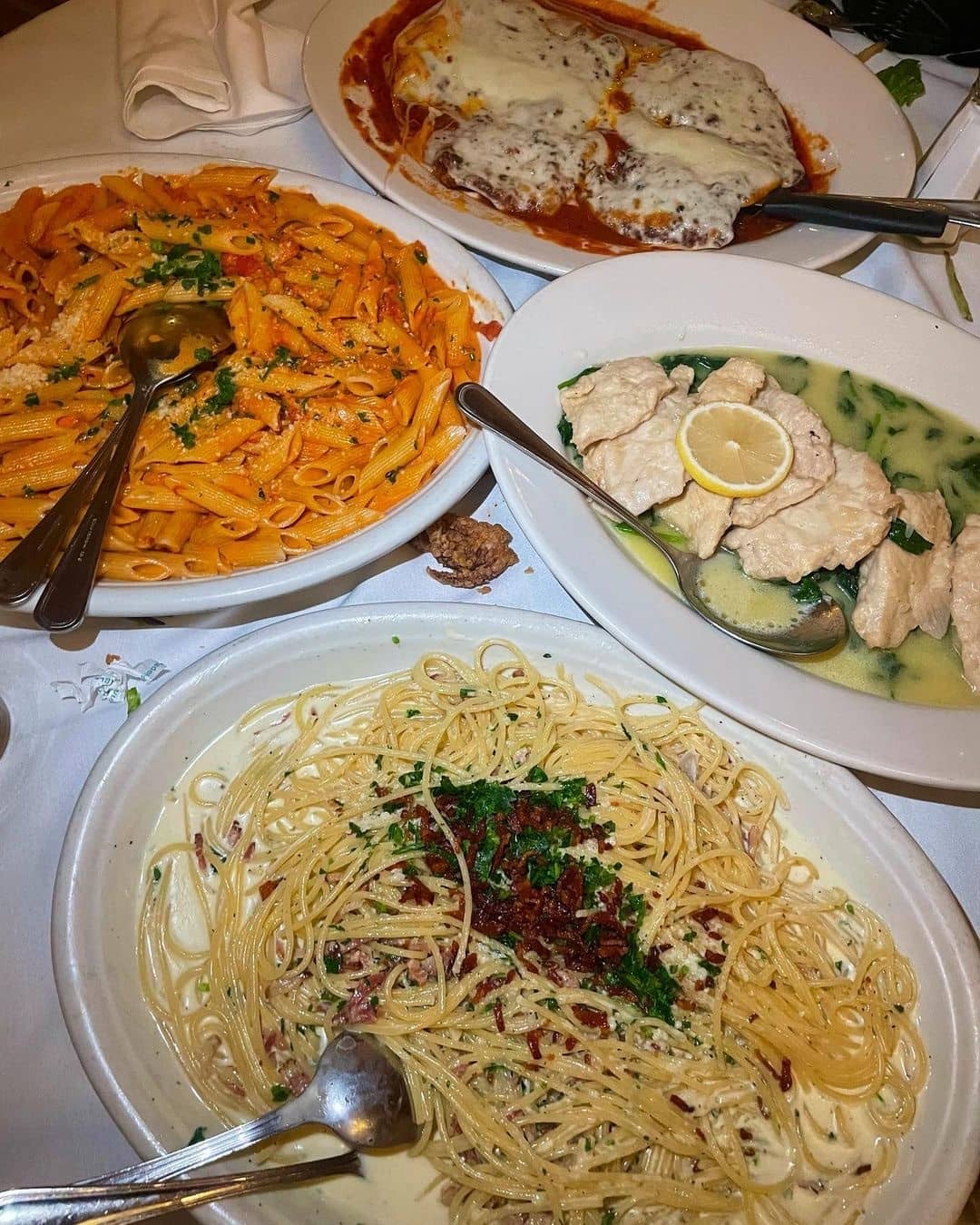 Eating at Carmine's Italian Restaurant before or after going to a show is like a right of passage in New York.
A classic NY crowdpleaser for over 90 years, there's no need for good reviews— if you know, you know! Mouthwatering traditional Italian-American fare served in huge portions; this place is packed for a reason.
You can't go to an Italian restaurant without tasting some good old Penne Alla Vodka. With tomatoes that are cooked to perfection, this pasta dish is simply delightful.
Treat your friends or family to this gigantic platter of penne greatness, and thank us later.
Lasagna that melts in your mouth? Count us in! The one at Carmine's isn't just your typical cheesy, oily lasagna; this is THE lasagna.
Get a side of crunchy Garlic Bread to dip in the marinara sauce for an added crunch.
What to order: Penne alla Vodka, Lasagna, Garlic Bread
Address: 200 W 44th St, New York, NY 10036
Website | Instagram | Facebook
2. Trattoria Trecolori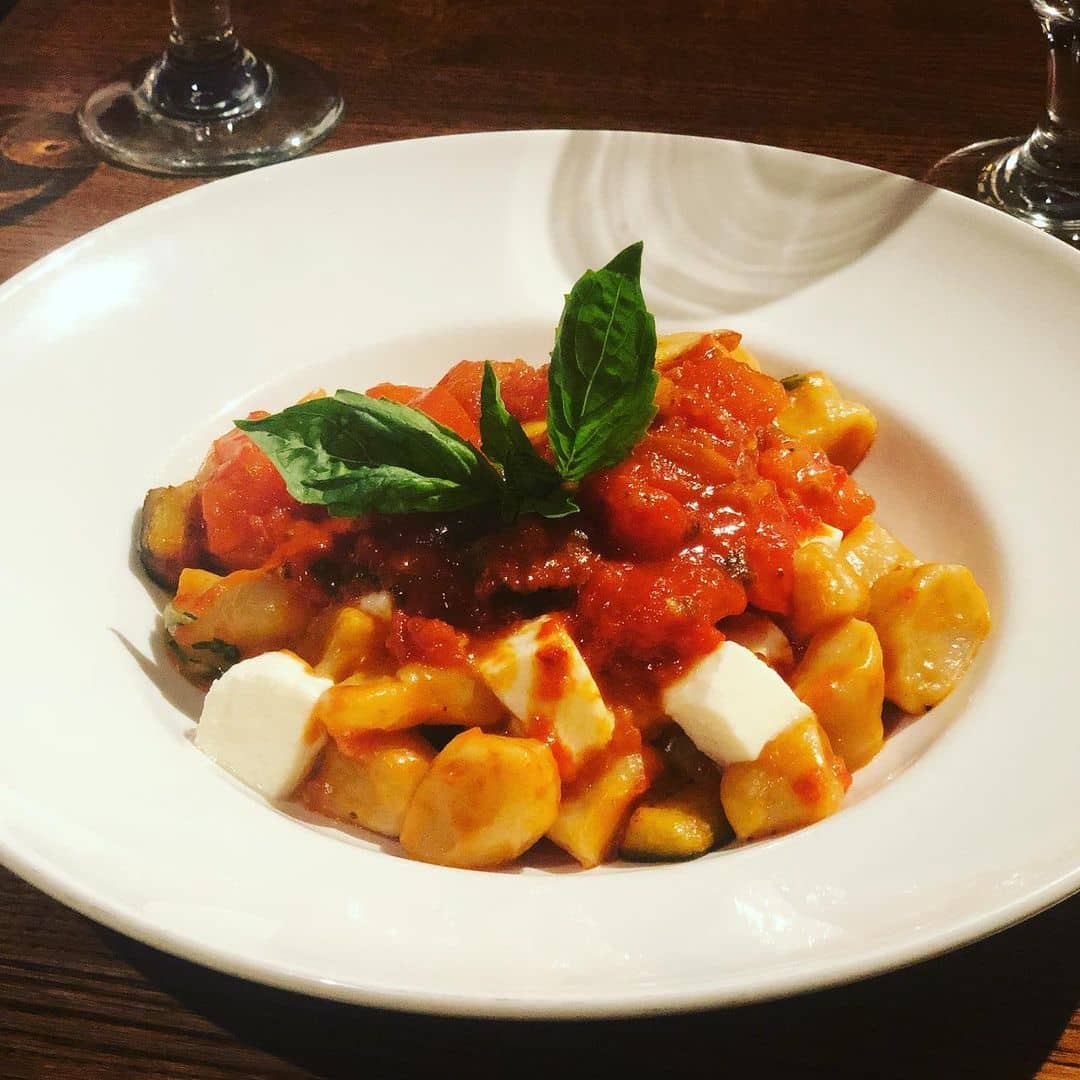 An exceptional little Italian spot near Times Square, dining at Trattoria Trecolori is like being thrown in the middle of New York and Rome.
White tablecloth, low lighting, and fantastic food; everything about this restaurant is top-notch! 
Start off your meal with a remarkably delicious Caprese Salad that you will dream of every night.
With the loveliest tomatoes and the best mozzarella, this salad is perfection. You can request to add more balsamic to your liking.
Hitting all the right spots, the Pollo Parmigiana with crispy baguette is to die for! The juicy chicken cutlet paired with the luscious marinara sauce is absolutely divine. One bite will take you to the heavens.
Get a wonderful Tiramisu for dessert, and you won't be disappointed. It has the perfect mousse-y, creamy taste that's not too overly sweet— one of the best tiramisus you'll ever have in NYC.
What to order: Caprese Salad, Pollo Parmigiana, Tiramisu
Address: ​​254 W 47th St, New York, NY 10036
Website | Instagram | Facebook
3. Jasmine's Caribbean Cuisine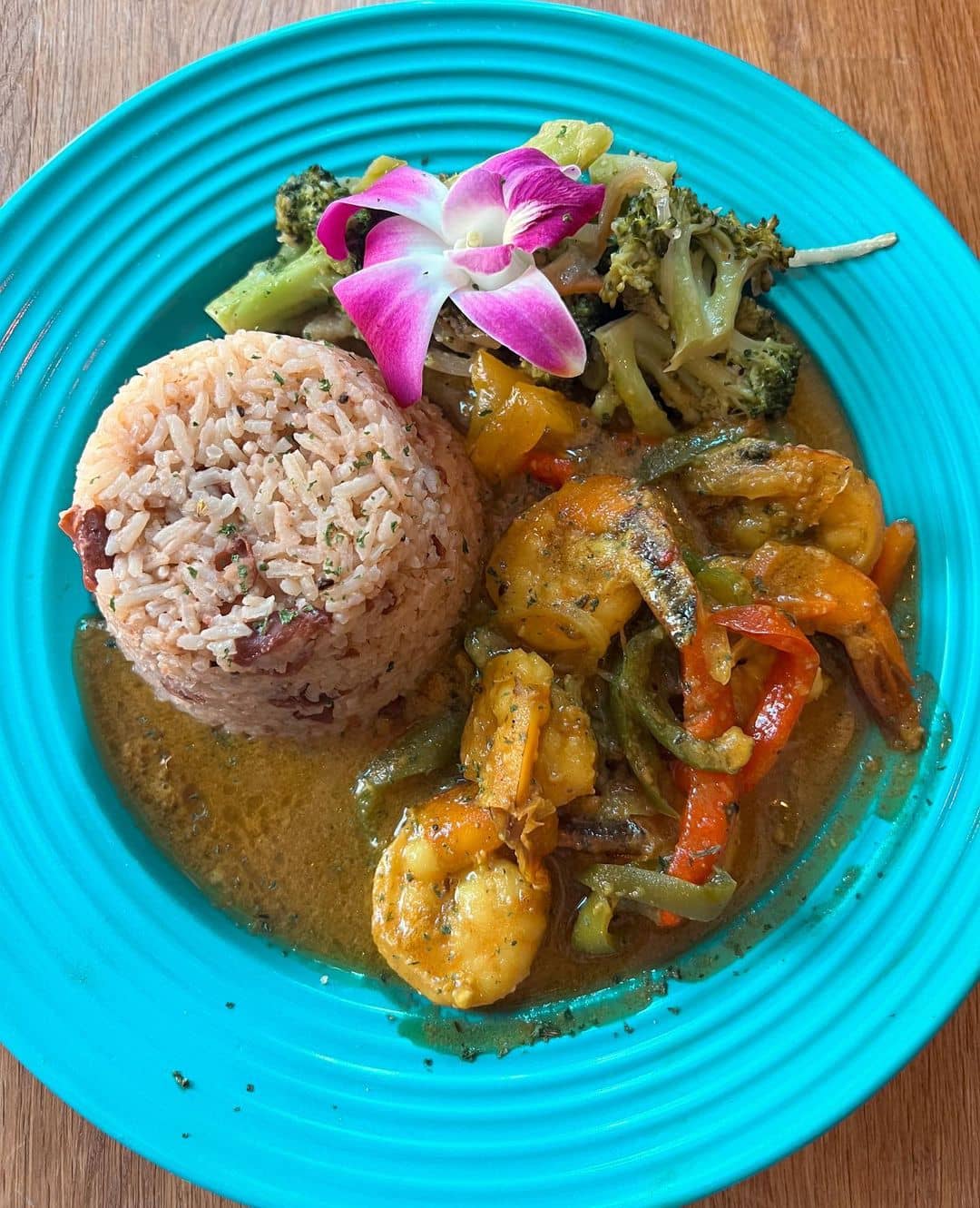 Your next favorite Caribbean restaurant in Manhattan, Jasmine's Caribbean Cuisine, is a worthy addition to your list of delicious pre-theater spots.
The vibrant, lively, and fun decor will lift your spirits as you indulge in Caribbean flavors. If you're craving some island vibes in the heart of the Theater District, hit this place up!
Tasting exactly like how it would in Jamaica, Jasmine's Jerk Chicken is authentic and flavorful to the core.
Hands down the best Jerk Chicken you'll ever have; you'll keep coming back for this dish alone.
Falling off the bone in a savory gravy, the Oxtail is tender at all levels. Packed with all the right flavors, this one is just sheer perfection.
The smell alone will warm up your soul like a comforting hug.
What to order: Jerk Chicken, Oxtail
Address: 371 W 46th St, New York, NY 10036
Website | Instagram | Facebook
4. Ichiran Ramen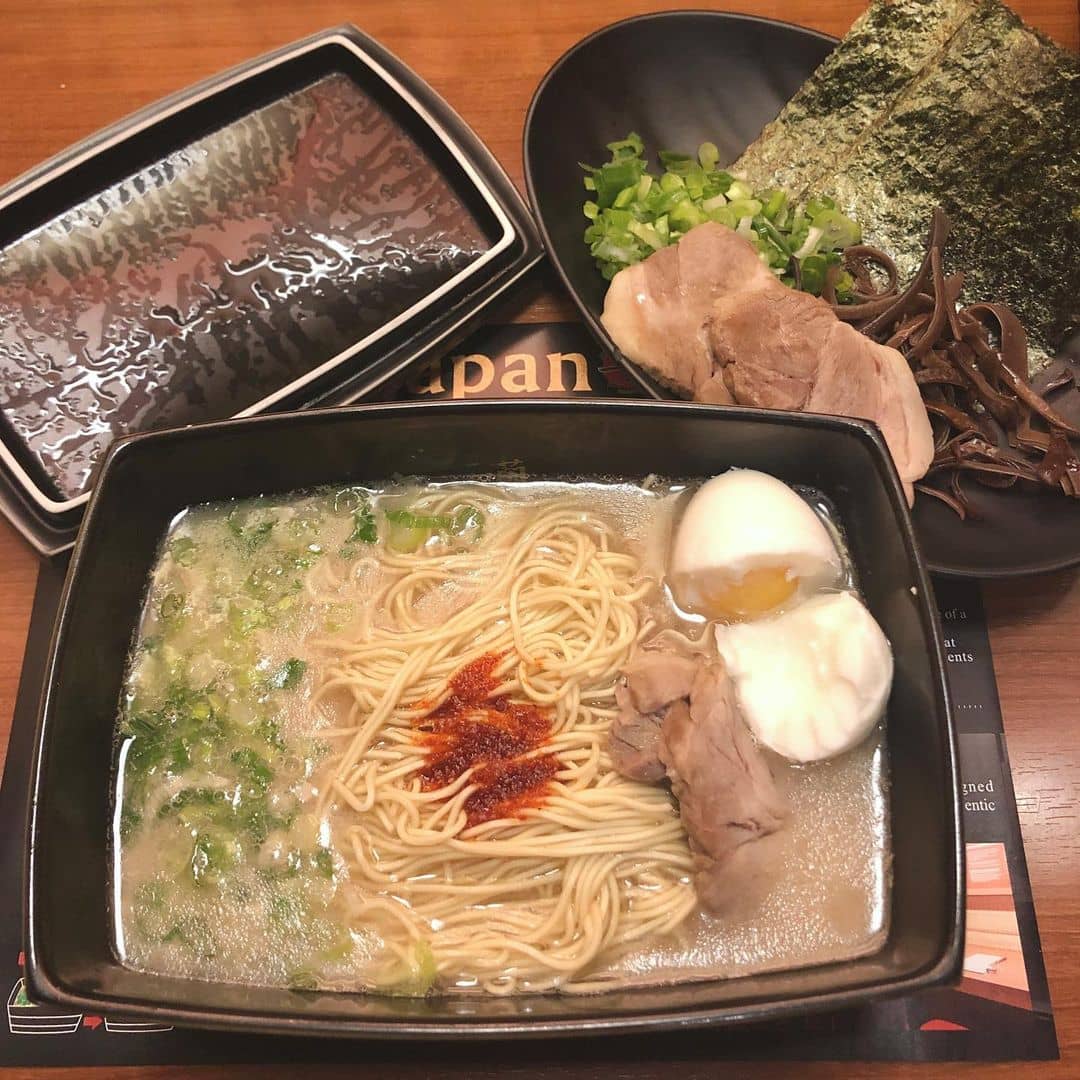 Introverts, rejoice! The famous Japanese chain offering individual booths for privacy is in New York. Ichiran is found in different places worldwide simply because they're so good.
Not only are they known for their solo booths, but they also allow you to customize your Tonkotsu Ramen to your own liking. What else could be better than this?
When in doubt, nothing beats Ichiran's Classic Tonkotsu Ramen. The broth is simply golden, and everything will be sparkly in your eyes.
You can tell they don't skimp out on the pork, either. Don't forget to order a side of Gyoza for the full ramen experience.
Good news for vegetarians, you can also enjoy the exquisite taste of Ichiran through their Veggie Ramen.
No, this is not your typical bland veggie broth. This is a vegetarian-and-ramen lover's haven.
For dessert, end your meal with a Matcha Pudding to put a satisfying stop in your tour of Japanese flavors.
What to order: The Classic Tonkotsu Ramen, Ichiran Veggie Ramen, Matcha Pudding
Address: 152 W 49th St, New York, NY 10019
Website | Instagram | Facebook
🍕Are you a foodie? Check out these NYC food tours!
5. Tim Ho Wan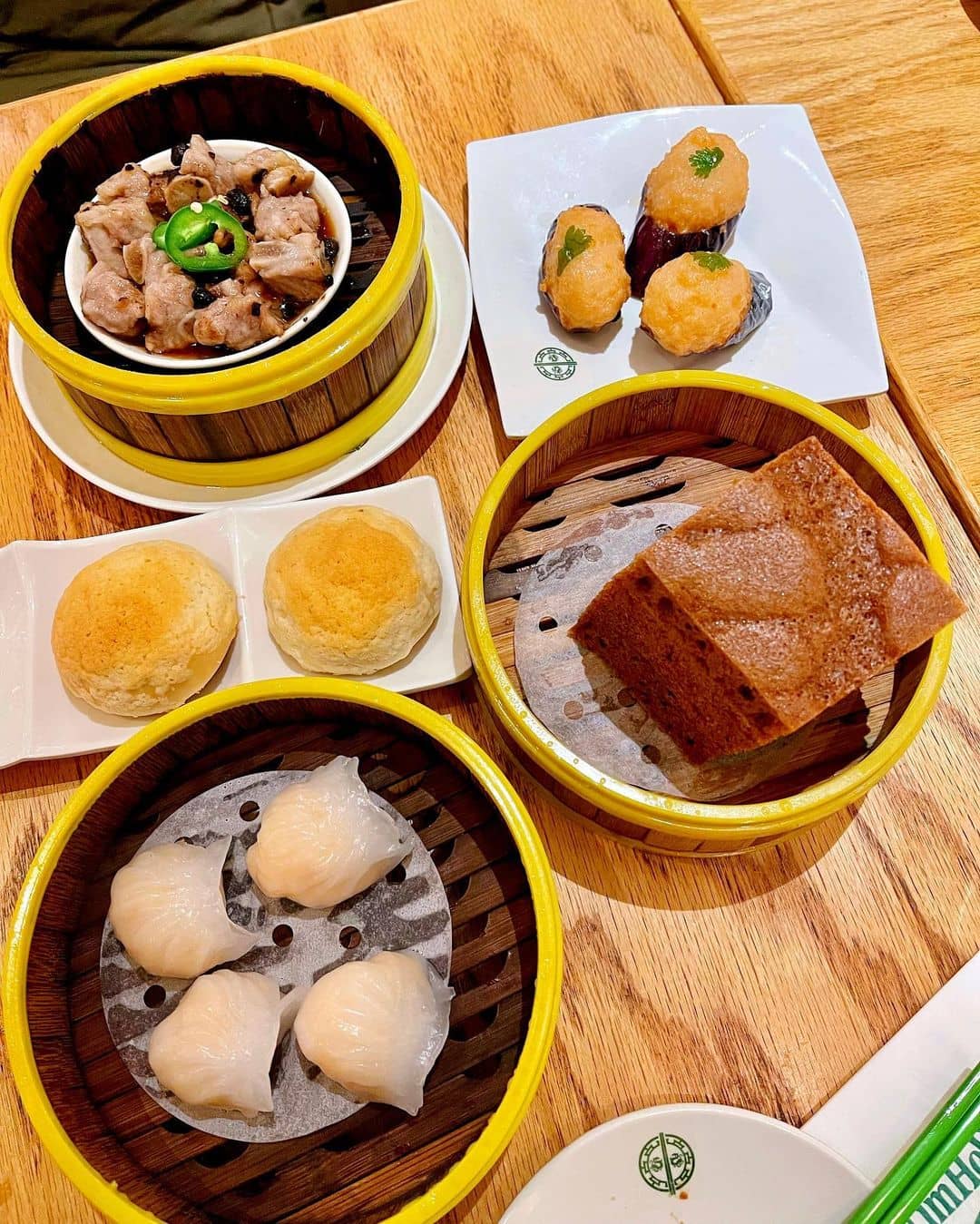 Blessing New Yorkers with the chance to taste the widely hyped Baked BBQ Pork Bun, the infamous Tim Ho Wan brings Hong Kong flavors to NYC.
You will surely get excellent quality food here with fresh and daily made-to-order dim sum.
If you're planning to get Chinese food outside Chinatown, Tim Ho Wan is the only place you should go.
Prepare to give this place a solid 10 out of 10 based on their Pork Buns alone. This bun is widely loved for a reason. Soft, delicate, and melt-in-your-mouth goodness, you'll be gobbling these up in no time.
The pineapple bun itself is crispy and a little flaky, while the meat inside is just phenomenal.
Tim Ho Wan's Steamed Shrimp Dumplings sets the standards when it comes to dumplings.
Tasting really fresh; you'll almost taste the sea in this one. This bite-sized treat will blow your mind if you haven't tried it yet.
What to order: Baked BBQ Pork Buns, Steamed Shrimp Dumplings
Address: 610 9th Ave, New York, NY 10036
Website | Instagram | Facebook
6. Junior's Restaurant & Bakery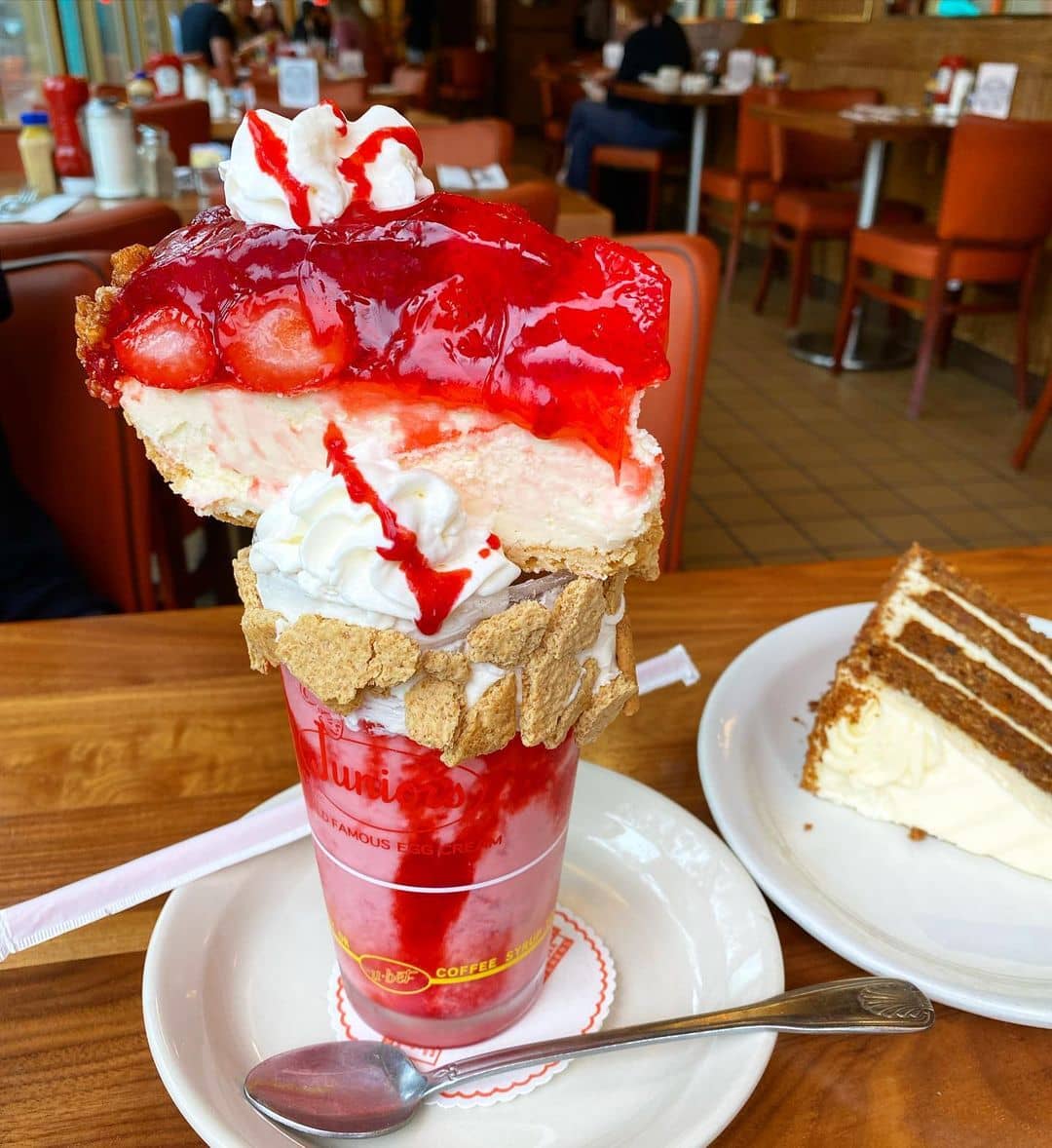 A visit to Times Square NYC is incomplete without visiting Junior's! With a huge menu offering outstanding options from sweet pastries to hearty sandwiches.
Having been around since the 1950s, Junior's is famous worldwide for their cheesecake. In fact, you can choose to send their cakes to anyone, anywhere in the world!
Of course, you can't come to Junior's without getting a taste of their no.1 original Cheesecake.
Taste this one first before getting the other variations. Creamy and light, their Cheesecake is like heaven on a small plate.
Pulled high with corned beef, the Reuben is a must-have at Junior's!
The combination of grilled sauerkraut and their homemade Russian dressing creates a harmonious melody that makes the dish sing.
What to order: Cheesecake, Reuben
Address: 1515 Broadway @, W 45th St, New York, NY 10036
Website | Instagram | Facebook
7. Ruth's Chris Steak House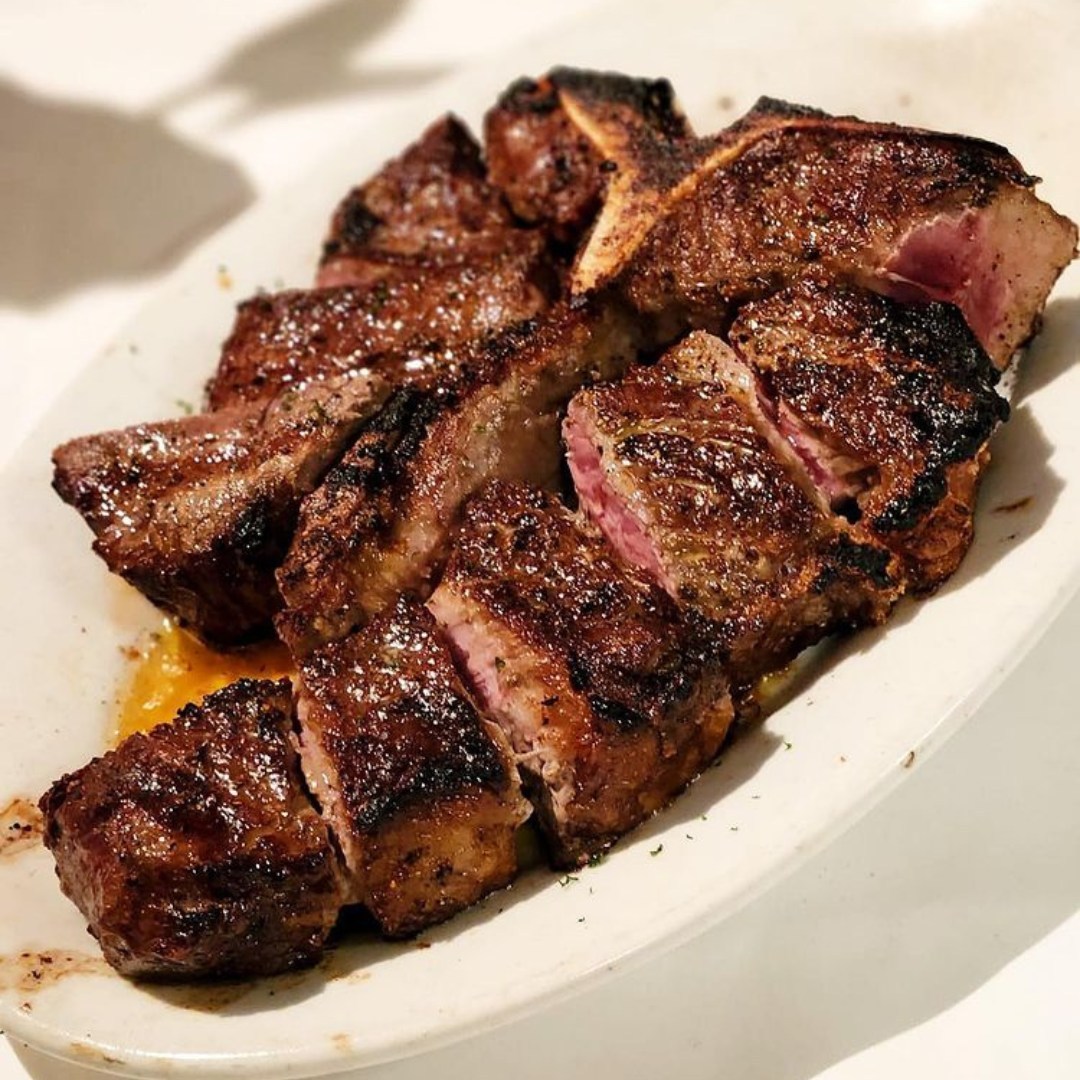 The famous upmarket steak house chain known for mouthwatering, butter-topped beef! Ruth's Chris Steak House specializes in serving prime steaks that are seared to perfection.
The place is massive, and every corner is luxuriously thought out well.
The perfect steak, warm hospitality, and a sophisticated atmosphere; what else screams fine dining more than this?
The Petite Filet, cooked whichever you prefer, is the best steak you'll ever have in your life.
Never again will you get any steak other than this magical goodness. Not only is it thoughtfully prepared and tender, but the portion size is also perfect!
Cooked with bacon and honey butter, their Roasted Brussel Sprouts are wonderfully charred with an impeccable smoky flavor.
This particular dish tastes so good that it will convert you into a brussel sprouts fan if you aren't one yet.
What to order: Petite Filet, Roasted Brussel Sprouts
Address: 148 W 51st St, Manhattan, NY 10019, United States
Website | Instagram | Facebook
8. The Terrace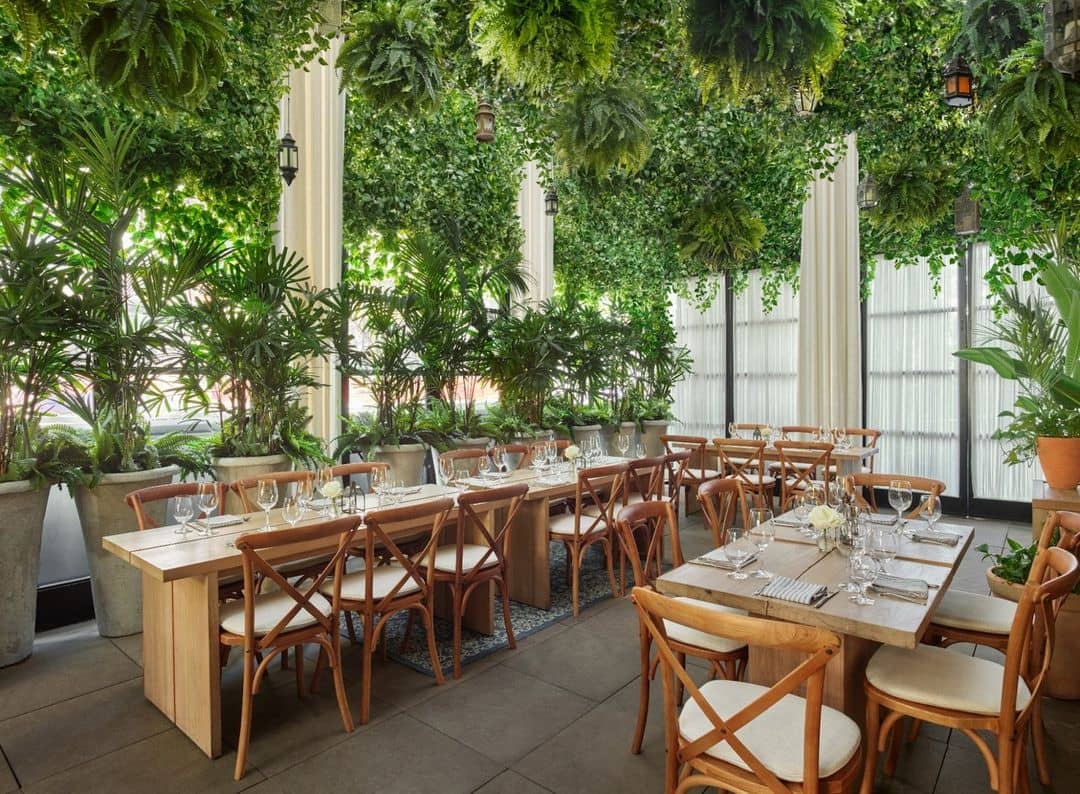 Located on the 9th floor of Times Square Edition Hotel, The Terrace is a lovely restaurant styled with a country-garden ambiance.
The restaurant has an enclosed patio garden dining area that is breathtakingly romantic and intimate— perfect for special occasions!
If you want a unique and enjoyable dining experience, The Terrace is the place to be.
Served beautifully in a cute little cast iron dish, ready your cameras and take a snap before indulging in their delectable Deep Dish Focaccia that tastes just as splendid as it looks.
Warm, fluffy, and crusty on the outside, this dish will make it to your list of favorites.
Something you've never heard of before, the one-of-a-kind Carrot Bolognese is an entirely vegan dish that tastes miraculously amazing.
You might have to convince yourself many times that it's indeed vegan since it tastes exactly like its meat counterpart.
What to order: Deep Dish Focaccia, Carrot Bolognese
Address: 701 7th Ave 9th floor, New York, NY 10036
Website | Instagram | Facebook
9. Joe's Pizza Broadway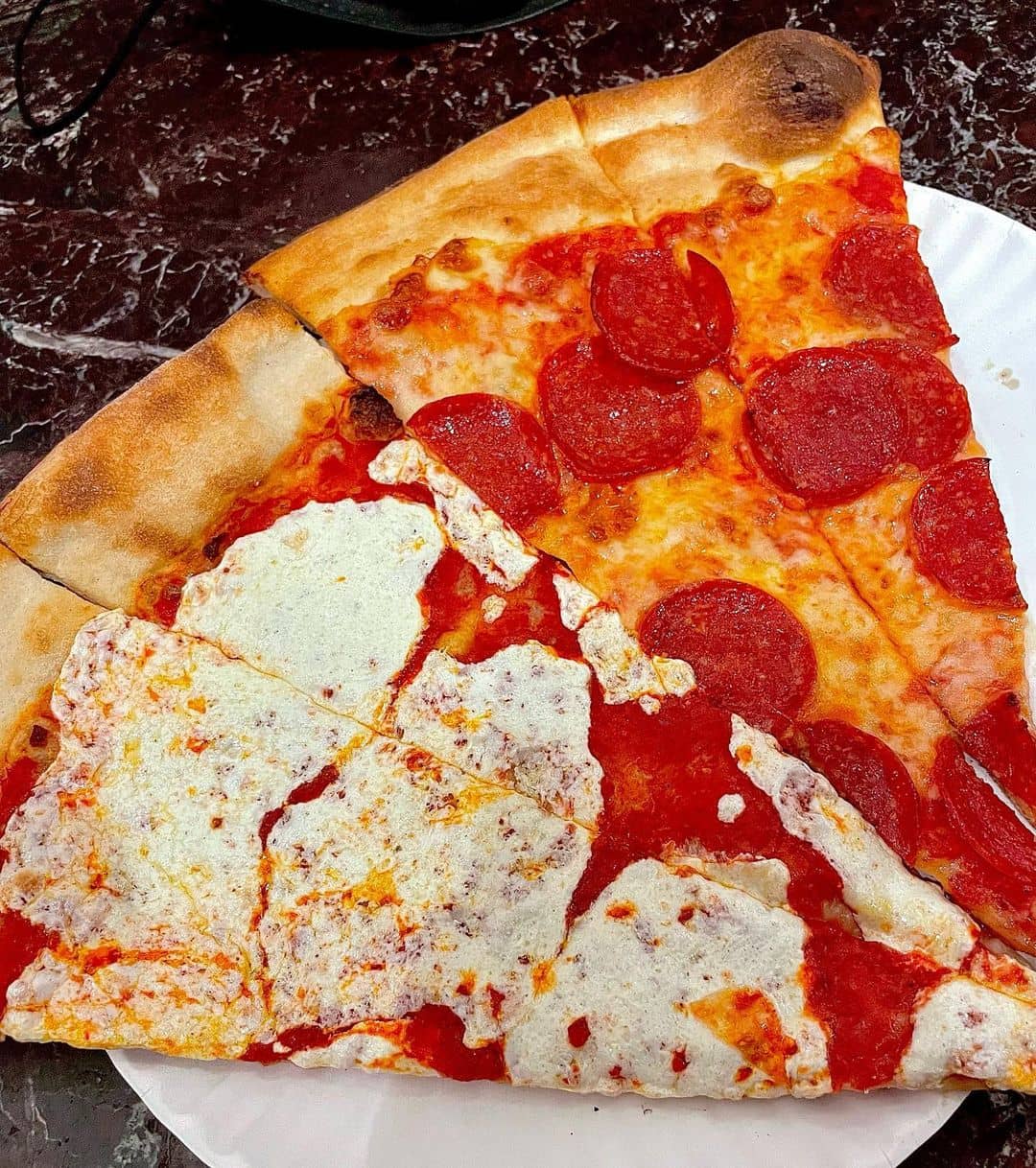 When in NYC, Joe's Pizza on Broadway is an unstoppable force that lures tourists in. Although lines move fast, it looks like it's never-ending with the number of people flocking to get a taste of New York's best pizza.
This place needs no introduction with various celebrities sighted at this spot and even making an appearance in the Spider Man movie.
If you want to try the most popular pizza place in New York, get ready to get in line at Joe's Pizza.
You can never go wrong with a classic Cheese Pizza with Pepperoni at a classic NY pizza spot. With a nice crispy crust that perfectly captures the NYC pizza essence, nothing screams NYC more than this one.
Coming in a thin crust that highlights the toppings, the Fresh Mozzarella Pizza offers the perfect balance of sour, sweet, and salty taste with the familiar charred flavor at the end.
If you're not a fan of thick, greasy pizzas, this one's for you.
What to order: Cheese Pizza with Pepperoni, Fresh Mozzarella Pizza
Address: 1435 Broadway, New York, NY 10018
10. Los Tacos No.1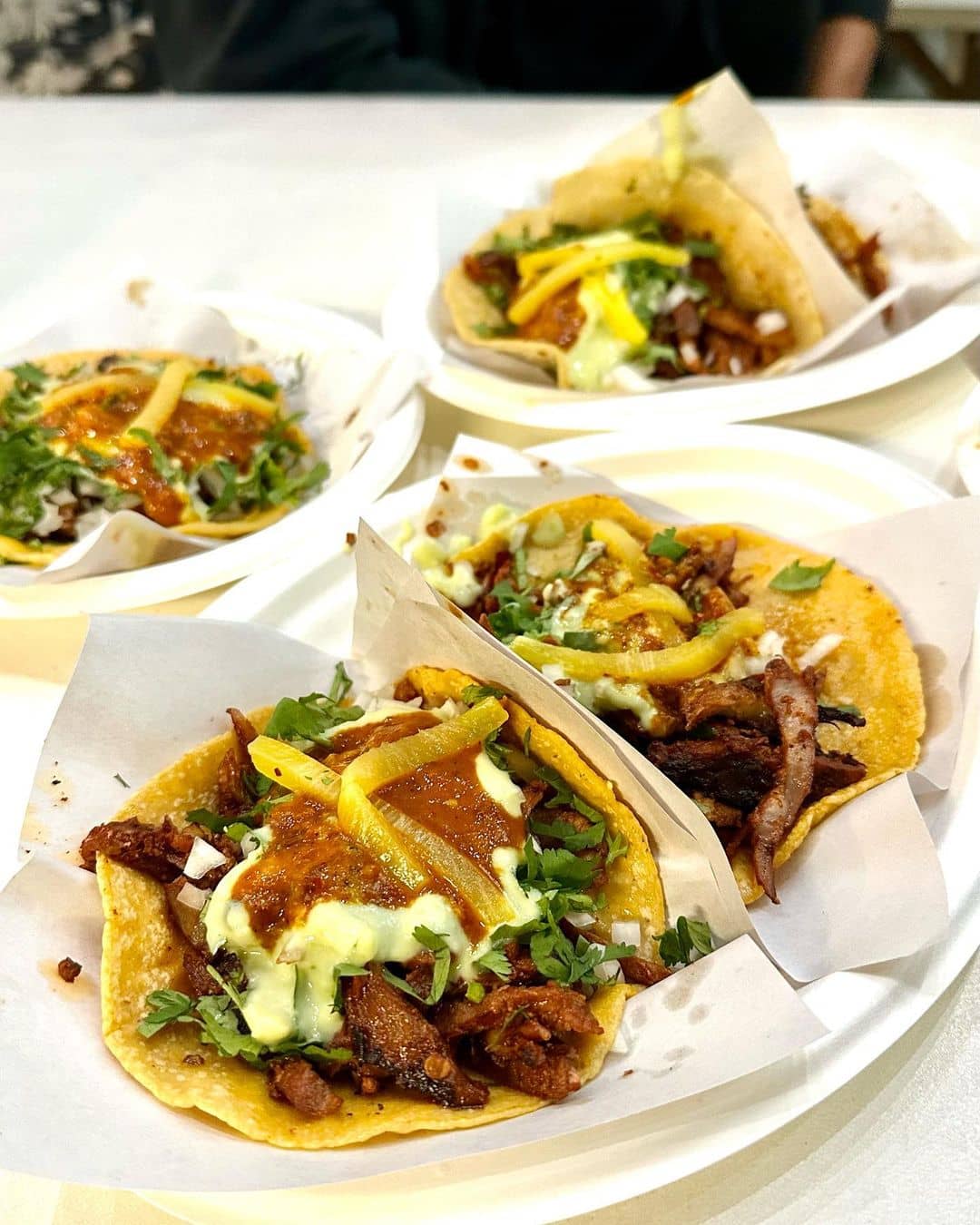 A stellar place to grab a quick bite in the  Chelsea market! The line can be a bit hectic at times but the flavors are truly worth the wait and most definitely the price.
The superb authentic Mexican taste comes from family recipes and fresh, simple, and tasteful ingredients straight from home surely give you an instant crush. 
The Adobada Taco is definitely worth the hype with unbelievably flavorful marinated pork with perfect tenderness and fattiness covered in their special sauce.
All the elements complement each other so well that you can't help taking another bite. 
If you're not that into pork, try their Grilled Asada and be embraced by the juiciness in every bite nicely balanced with their ultimately delicious salsa wrapped in a soft taco.
A nice touch of herby scent adds to making the flavor even more fulfilled and complete.
Oh, after you've picked up your order, there's a small salsa bar you can use to add a little extra flavor (although the taco itself is already full of flavor).
What to order: Adobada Taco, Grilled Asada
Address: 229 W 43rd St, New York, NY 10036
Website | Instagram | Facebook
11. Bubba Gump Shrimp Co.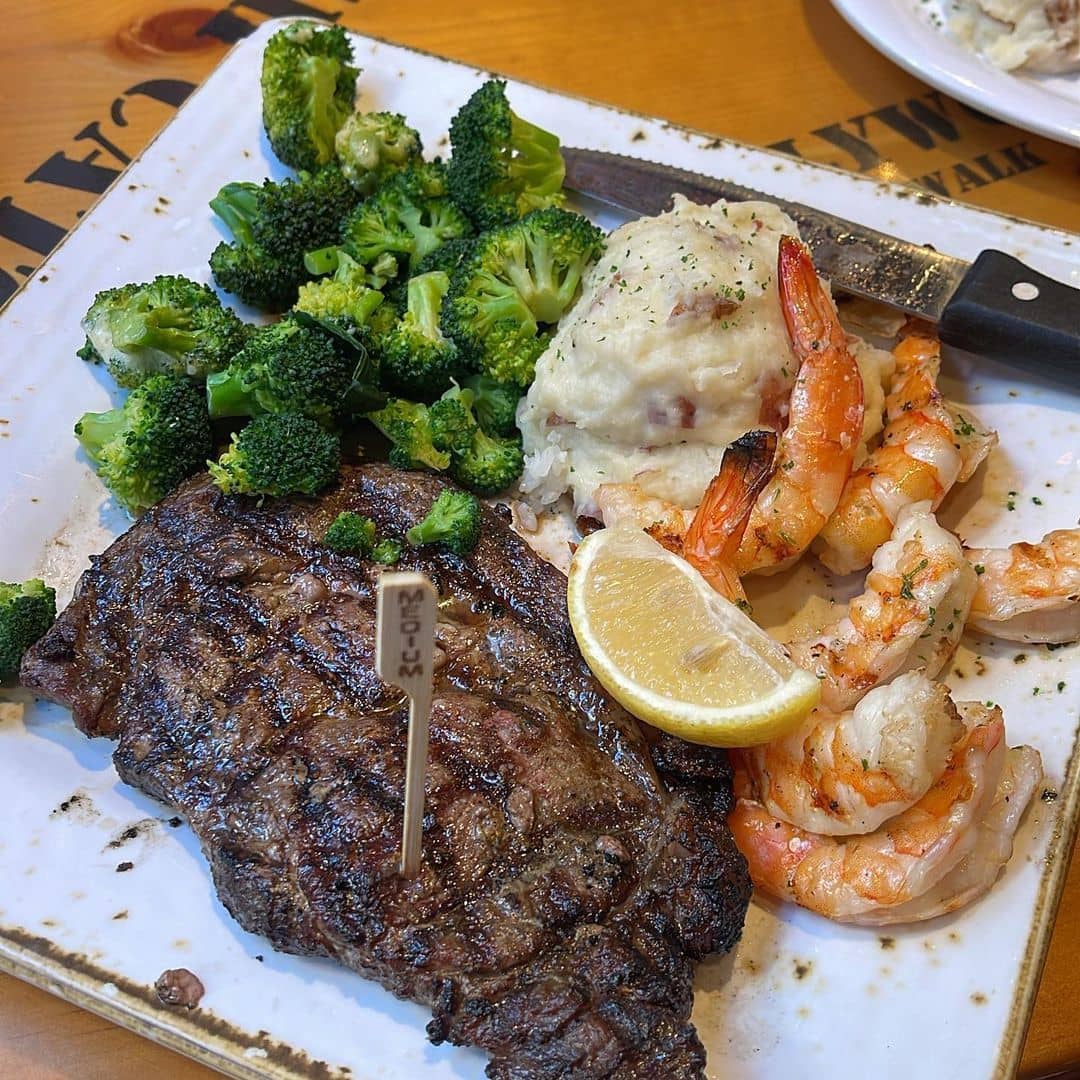 A classic American seafood chain, Bubba Gump Shrimp Co. is widely known for offering delicious southern-style dishes.
Inspired by the 1994 film, "Forrest Gump," the restaurant's interior is filled with homages to honor the movie.
With a great view of Time Square's hustle and bustle, you'll enjoy every bit of your stay here.
One of the best things on Bubba Gump's menu is the Dumb Luck Coconut Shrimp.
The sweet, crispy golden flavor of coconut combined with the cajun marmalade flawlessly elevates the shrimp, creating the perfect dish. 
An out-of-this-world dish, Bubba Gump's Bourbon St. Mahi Mahi & Shrimp, is exceptional in a class by itself. Glazed in a tasty bourbon sauce, it's like giving your mouth a high-five.
The charbroiled cajun spiced Mahi Mahi tastes even better with the mashed potatoes.
What to order: Dumb Luck Coconut Shrimp, Bourbon St. Mahi Mahi & Shrimp
Address: 1501 Broadway, New York, NY 10036
Website | Instagram | Facebook
12. Patzeria Perfect Pizza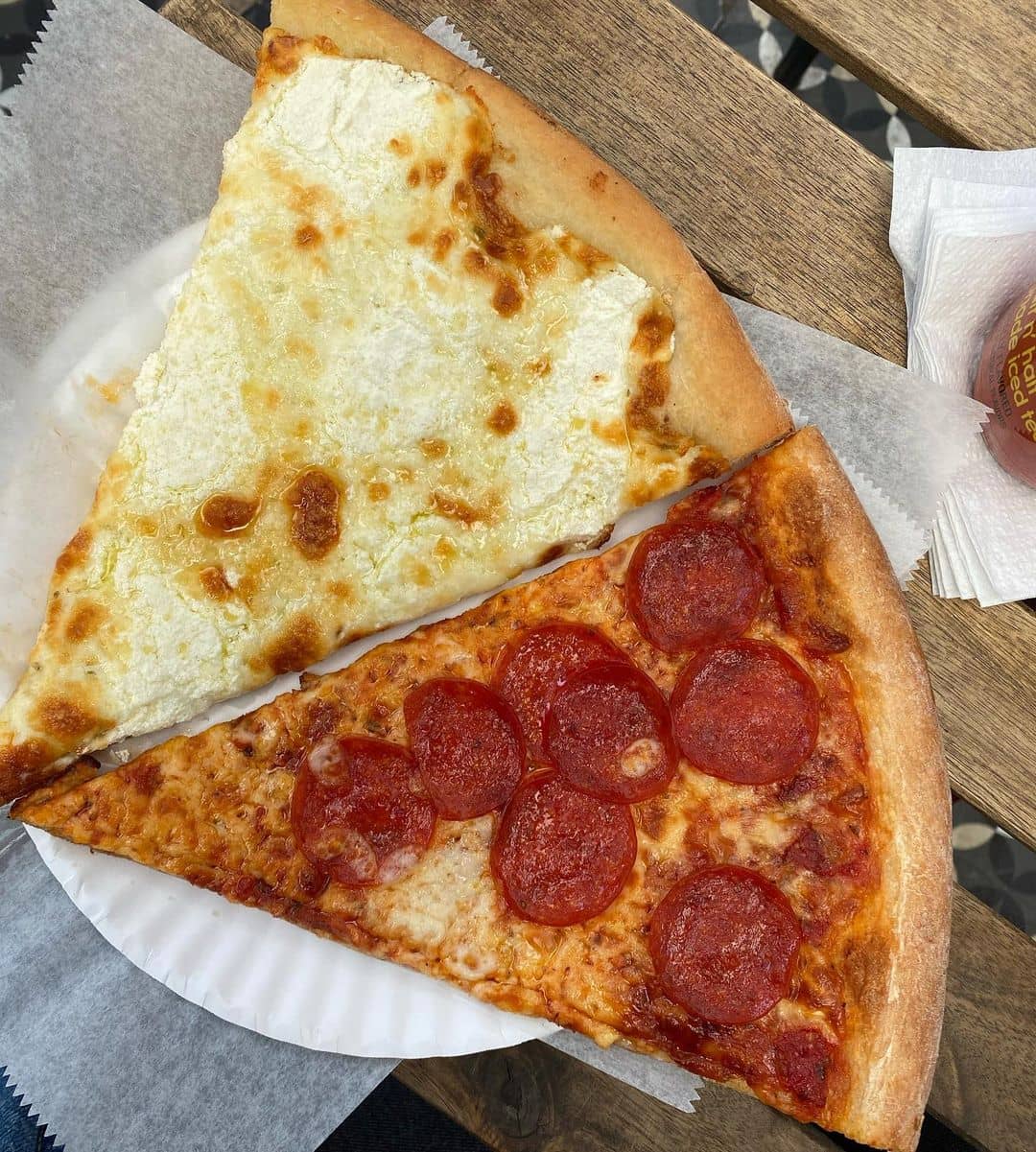 What better way to spend a day in NYC than having a slice of NY pizza?
Conveniently located in the heart of the Theater District, Patzeria Perfect Pizza is an excellent option for a pre- or post-show slice of the best pizza in town.
Like any other pizzeria, Patzeria is a grab-and-go spot with only a quick counter for 2-3 people to eat and a few makeshift tables outside.
Whoever came up with the idea to put flavors of pizza and lasagna together is doing god's work.
Tasting like lasagna but in pizza form, this might be the best lasagna you'll ever have!
You can tell a pizza place has the basics down by two things: their crust and Margarita Pizza.
Patzeria definitely understood the assignment. Instead of focusing on the mozzarella, Patzeria creates its own unique twist by putting a lot of garlic bits.
What to order: Lasagna Pizza, Margarita Pizza
Address: 231 W 46th St, New York, NY 10036
Website | Instagram | Facebook
13. Yard House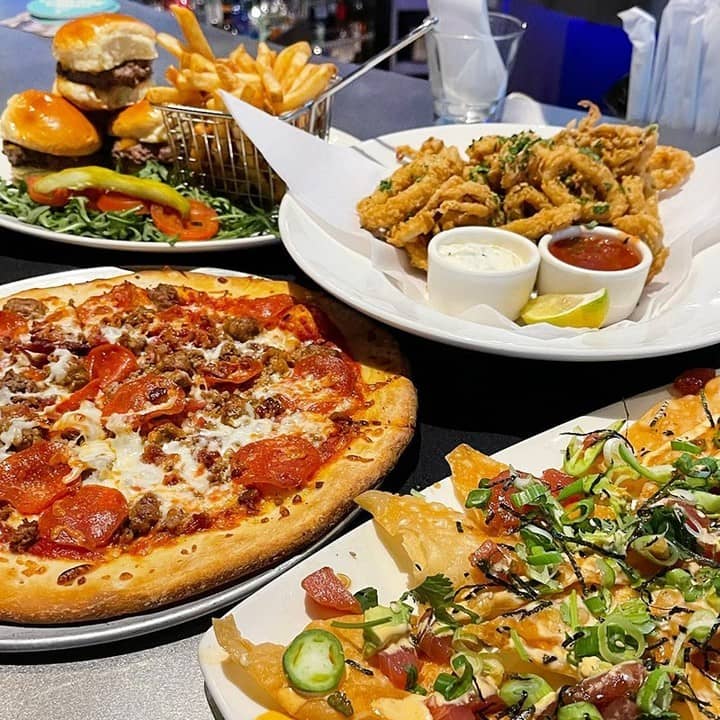 A branch of the famous Yard House company near Times Square, Yard House has a good selection of brands and local brews.
Situated right down the street from Broadway, you'll be able to jump in and have a fantastic meal in no time.
Featuring a wall of beer taps of all types and good music, you'll have a great time here.
A classic dish to pair with alcohol, the Chicken Fingers here are of absolutely high quality.
We're not sure what sort of magical spell they put over their ranch, but it's crazily good. Who knew such simple chicken fingers could taste so good?
Yard House's Smoking Old Fashioned puts a fun twist to the classic old fashioned by adding… guess what? Smoke!
This sweet whiskey cocktail with subtle bitterness is elevated with an additional smokey flavor.
What to order: Chicken Fingers, Smoking Old Fashion
Address: ​​575 7th Ave, New York, NY 10018
Website | Instagram | Facebook
14. Margon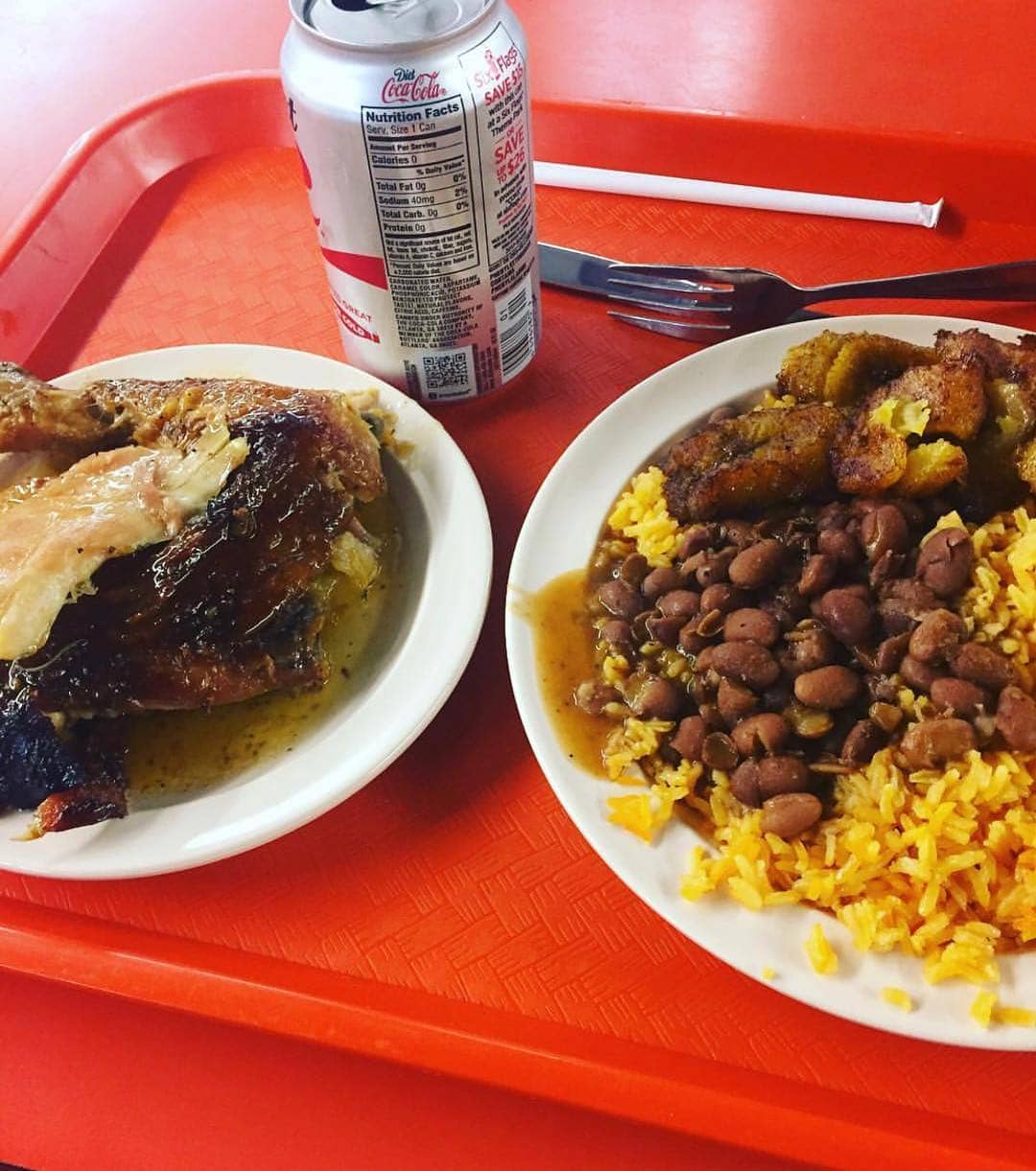 Serving the best Cuban and Dominican food near Time Square, Margon brings you the comforting embrace of Caribbean home-cooked meals. From beans to plantains to rice, Margon has it all!
Aside from yummy food, they're also friendly to your wallet. If you're looking for delicious cheap eats around the area, Margon is your place. 
Cheesy, crunchy, and everything you want in a sandwich, Margon's Cuban Sandwich is THE bomb.
The fragrance itself will fill your stomach if that's even possible. Fulfilling, hearty, and tasty, this is potentially the perfect sandwich ever made!
Served with a side of rice, beans, and plantains, the Oxtail is a part of their Monday, Thursday, and Friday special that deserves a spot on their regular menu.
Incredibly tender and flavorful, your taste buds will rejoice with every bite you take.
What to order: Cuban Sandwich, Oxtail
Address: 136 W 46th St, New York, NY 10036
Website | Instagram | Facebook
15. Empanada Mama – Times Square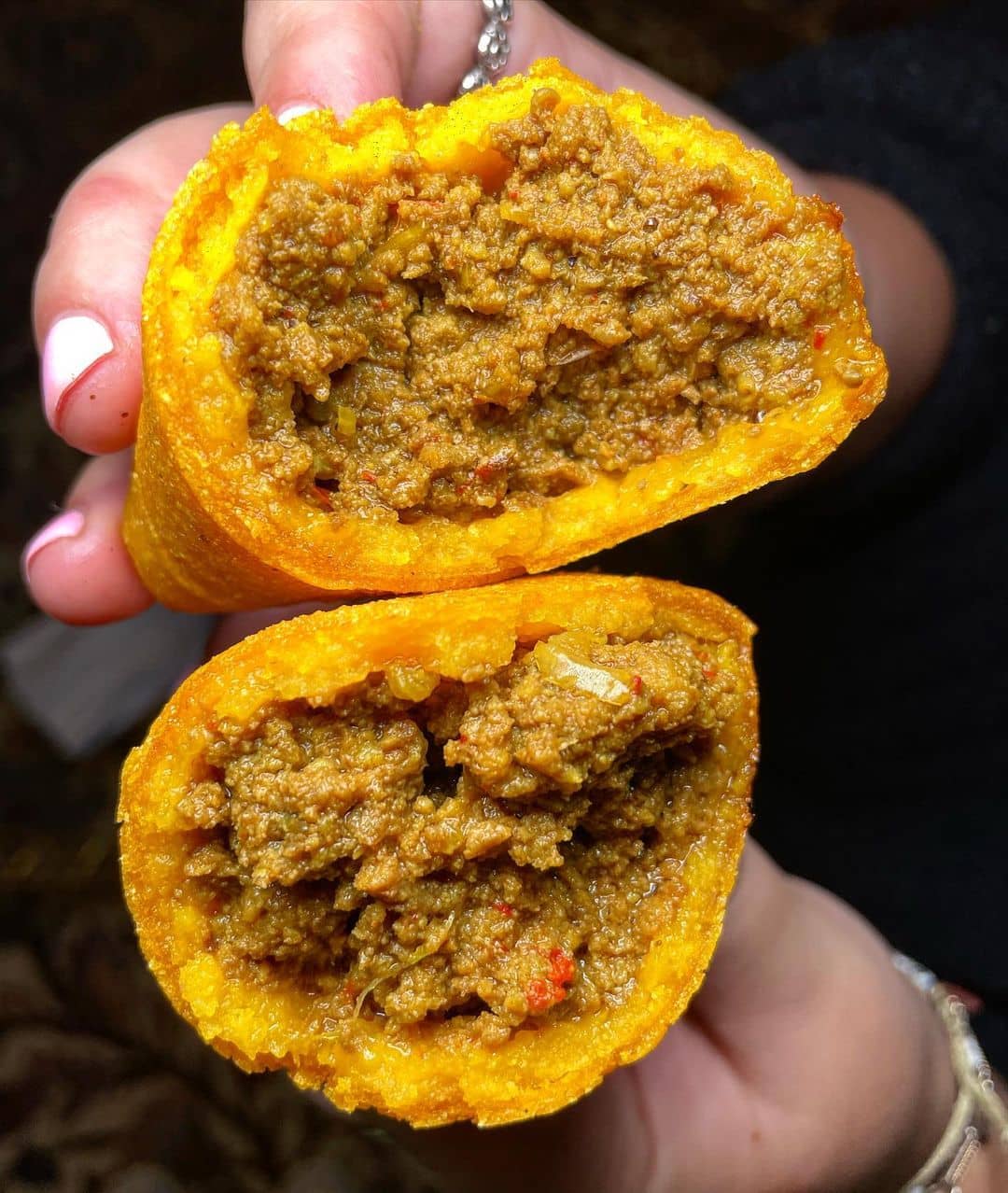 Street food for the people, Empanada Mama, is an excellent option for a quick bite in Times Square.
This "to-go" place is open for 24 hours, making it perfect for late-night cravings.
Who wouldn't want empanadas at 3 in the morning?
Especially if it tastes as good as Empanada Mama.
If you can only have one from their vast menu of empanadas, the Spicy Chicken is highly recommended.
Crispy shell and moist chicken inside, this one offers a long slow burn in the spiciness. 
A seafood stew with tiger shrimp and crab meat, the Viagra Empanada is a crowd favorite.
Together with the green sauce on the side, you'll be sent straight to a different dimension.
The green sauce provides a refreshing flavor in contrast to the salty filling.
What to order: Spicy Chicken Empanada, Viagra Empanada
Address: ​​200 W 40th St, New York, NY 10018
Website | Instagram | Facebook
As one of the bustling hubs of the city, Times Square offers a lot of great options when it comes to food.
If you're not a fan of long lines and huge crowds, head on over to our best restaurants in Brooklyn for more choices.
Look for a place to stay in New York City?
How We Create Our "Best" Lists
All Noms Magazine's "best" lists are created using multiple factors and signals to help readers find the best restaurants, things to do, and places to stay at. Some of these factors and signs include personal experiences, correspondence with locals, and compiling experiences from review sites.
Each list is also created to be balanced (in terms of price, cuisine type, ambiance, and more) as possible. This means that the lists are not specifically created in ranking order. You should be comfortable picking from any of the spots on the list and generally have a good time. But of course, YMMV (your mileage may vary) and everyone may have different experiences/palates.