Looking for the best Brooklyn restaurants? Well, you're in the right place!
Many New Yorkers still consider Manhattan the center of the city's culinary scene.
However, new restaurants in Brooklyn have caught the attention of adventurous foodies, making it just as popular as Manhattan when it comes to food.
If you're looking for the best eats in Brooklyn, there are lots of options for you. From mouthwatering pizza places, elegant brunch spots, and fancy Italian cuisine— you're sure to find one you'll love.
Here are 27 of the best Brooklyn restaurants for you to feast your eyes on.
🍕 Explore the best of NYC's food scene with these top-rated guided food tours!
1. Gage & Tollner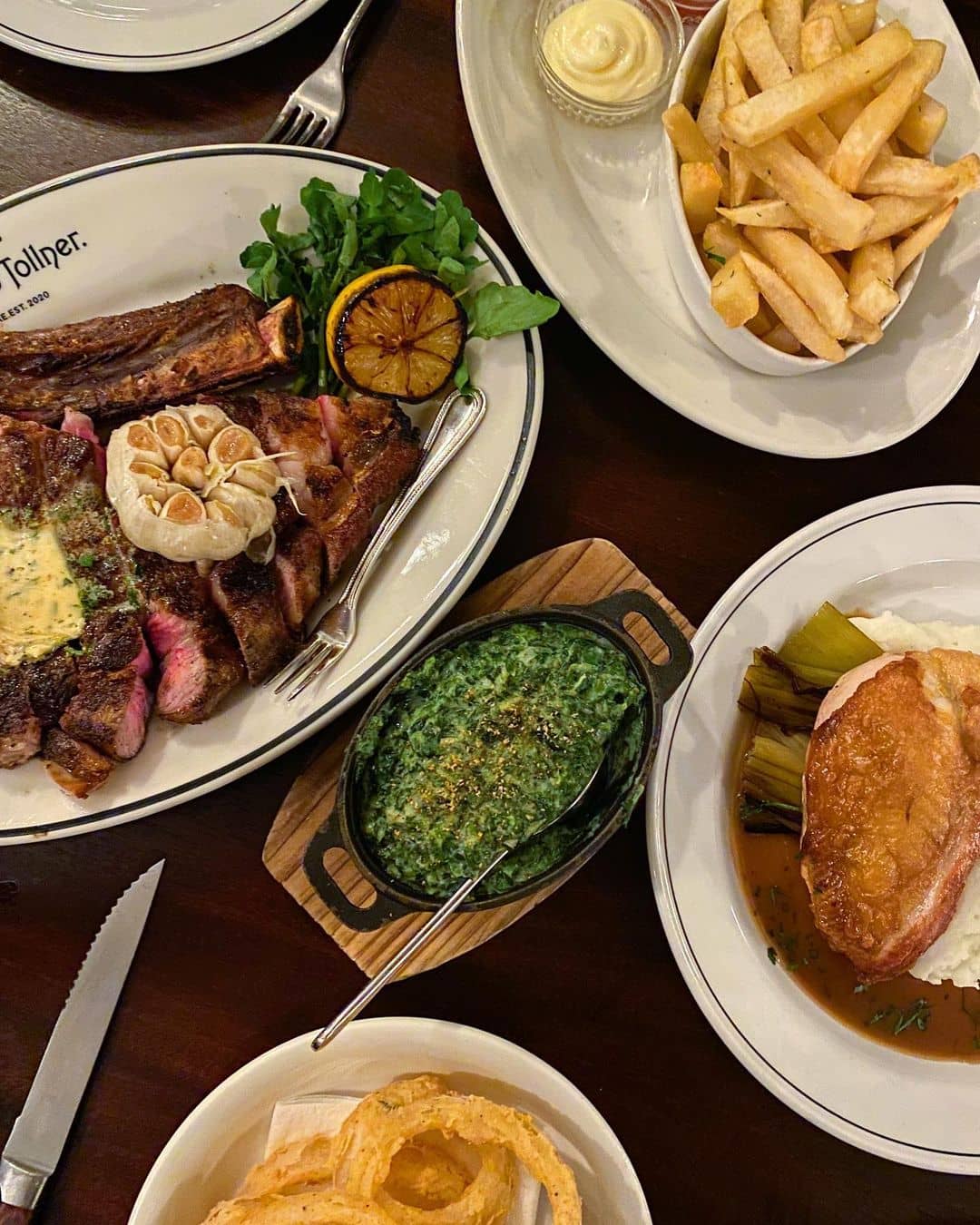 Oddly located on a bustling street in downtown Brooklyn, Gage & Tollner stands out from its neighboring discount shops and empty storefronts. This posh, vintage restaurant is furnished as it came straight from the Art Nouveau period.
Serving up exquisite American-French-English cuisine that comes in generous portions, coming here is like a reward to one's self.
It's a crime to visit Gage & Tollner without ordering their famous NY Strip Steak. Only a few bites of this dish will have you reveling in meat heaven.
The Bearnaise sauce creates a mind-blowing taste that everyone loves.
Gage & Tollner's Mushroom Soup is an enchanting culinary experience. The soup's earthy essence, infused with the allure of Ras el Hanout and the luxurious Porcini Butter creates a taste that delights the senses.
With each sip, you are transported to a magical forest of gastronomic wonder.
What to order: NY Strip Steak, Mushroom Soup, Parker House Rolls
Address: 372 Fulton St, Brooklyn, NY 11201
Website | Instagram | Facebook
2. Nura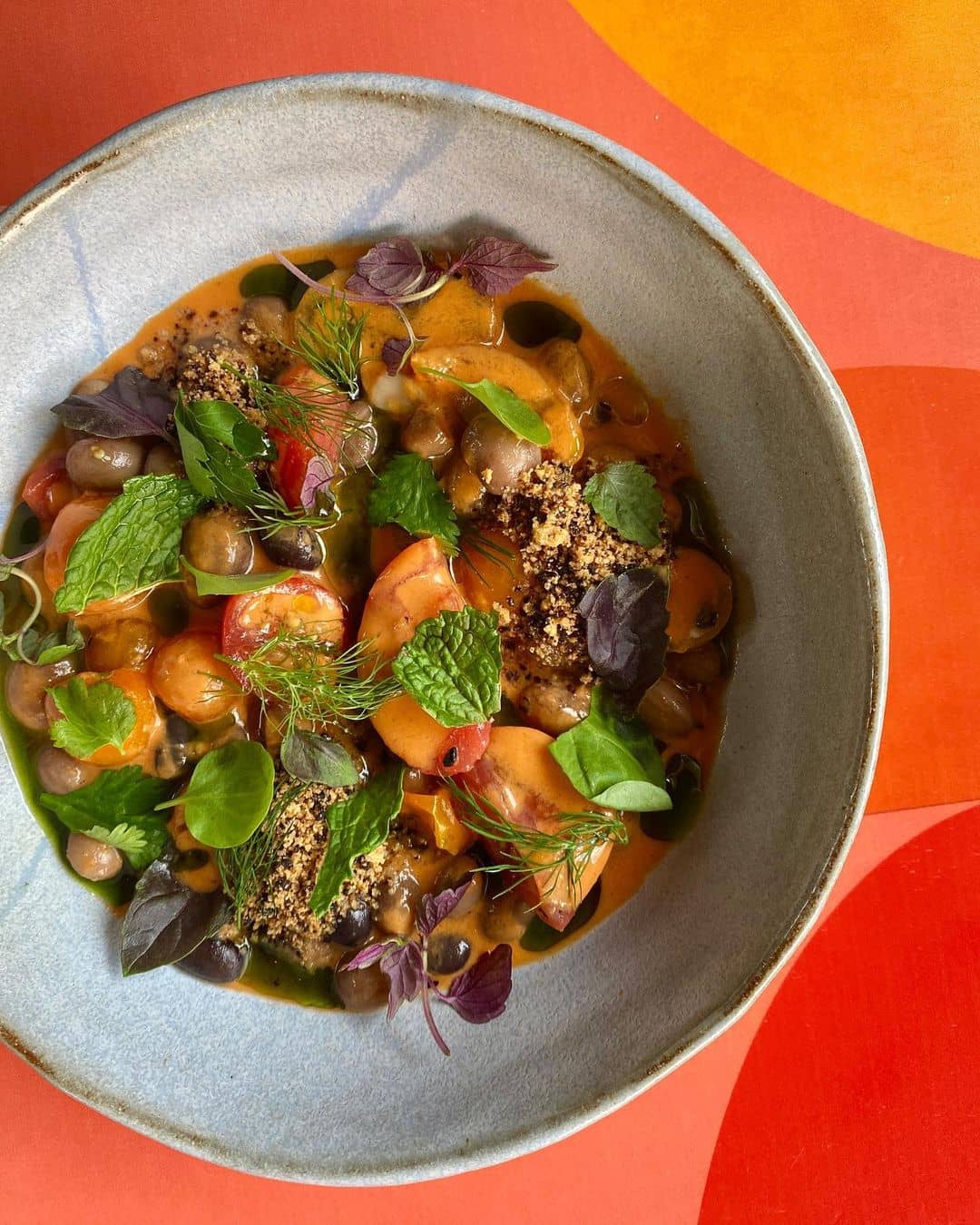 For an elevated dining experience in Brooklyn, Nura doesn't disappoint. The interiors and ambiance of this place are worth a post or two on your Instagram feed; trust us, it will look bomb.
Cozy, airy, and surrounded by greens— is this Brooklyn's version of the Garden of Eden?
Potentially the best meal you'll have in a mile, Nura's Green Chorizo Lamb Kofta is amazingly moist and flavorful. It has a strong lamb flavor that's perfectly juicy.
You may consider ordering another one, as you'll typically inhale it like air.
A highlight on their menu, the Baby Back Ribs are a must-have! The meat is uniquely seasoned with Middle Eastern flavors and so soft it literally melts in your mouth.
The cherry chipotle sauce it comes with makes it even more phenomenal.
What to order: Green Chorizo Lamb Kofta, Mussels Escabeche
Address: 46 Norman Ave, Brooklyn, NY 11222
3. Francie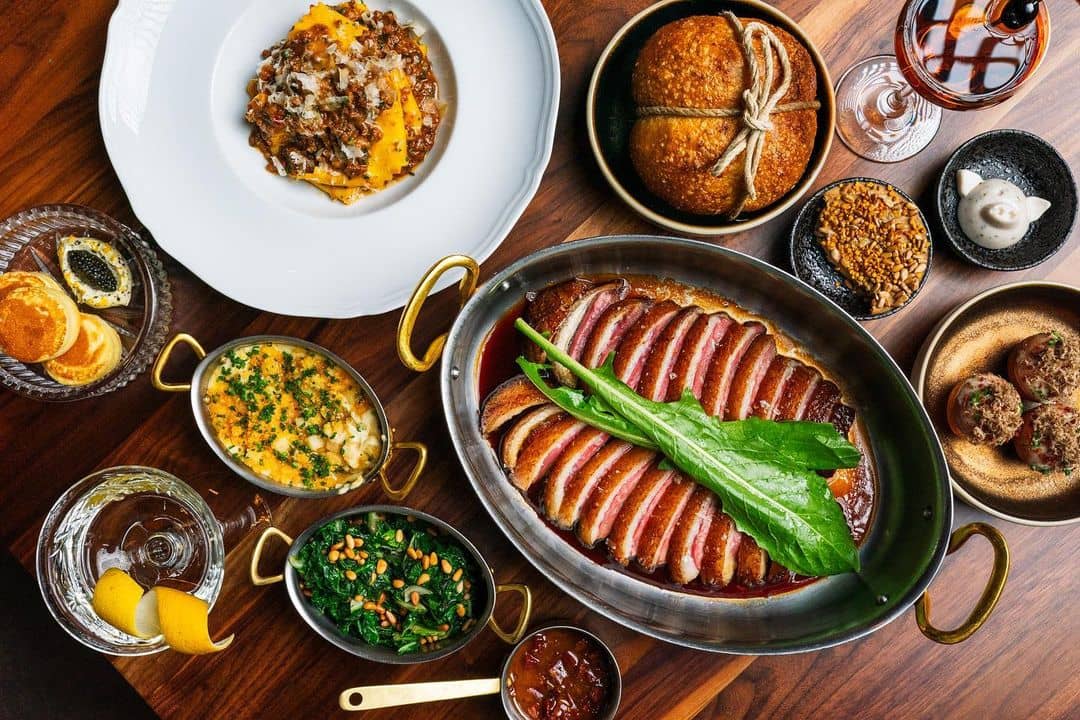 A Michelin-starred brassiere serving European-inspired fare and the best ducks in the whole of NYC, Francie is worth the splurge for any special occasion or a romantic date night with someone you want to impress.
The place is designed to look like a bank in the 1800s with an open kitchen so you can see all the magic happen.
There's no need to think; get the Dry-Aged Crown of Duck everyone raves about and thank us later.
Dry-aged for a month, this crown of duck has the best crispy skin and is the epitome of flawlessly sweet, savory, and juicy.
If ducks aren't your cup of tea, the gorgeous Lobster Ravioli served in a herby, creamy sauce is the best pasta option you'll ever get.
With the freshest and fluffiest lobster, you will instantly salivate just by thinking of it.
For dessert, the Souffle Cakes with caviar are absolutely stellar. We recommended ordering another one because one is simply not enough!
What to order: Dry-Aged Crown of Duck, Lobster Ravioli, Souffle Cakes
Address: 136 Broadway, Brooklyn, NY 11249
Website | Instagram | Facebook
4. Lilia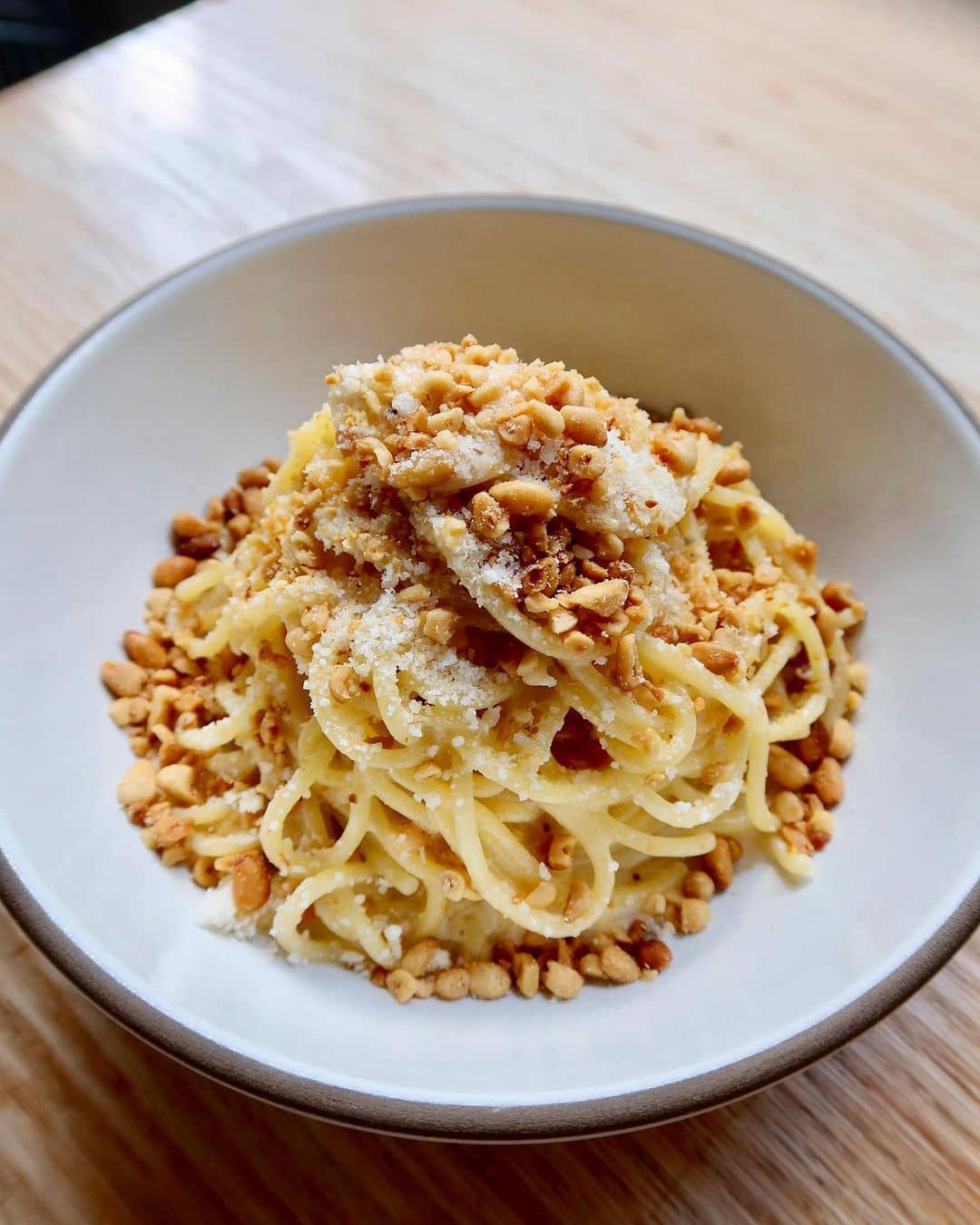 Lilia is a casual Williamsburg dining spot where handcrafted pastas, wood-fired seafood, and classic Italian cocktails work together to give you a memorable dining experience.
The restaurant celebrates soulful cooking with simple ingredients, and the atmosphere here is warm and exuberant.
One of Lilia's signature pasta dishes is Mafaldini. A flat, ribbon-shaped pasta, made fresh in-house, tossed with pink peppercorn and finished with parmigiano to create this simple and delicately flavored dish.
The Agnolotti here will leave you dreaming of it for years to come! The filling inside the pasta pillows is sheep's milk cheese, which covers your mouth with a subtle flavor and creaminess as soon as you pop one in.
The addition of saffron and honey adds a rich, musky, and semi-sweet flavor to the dish.
Their Grilled Clams and Grilled Scallops are both unique and delicious in their own right.
What to order: Mafaldini, Sheeps Milk Cheese Filled Agnolotti, Grilled Clams, Grilled Scallops, Olive Oil Cake
Address: 567 Union Avenue, Brooklyn, NY 11222
5. El Pingüino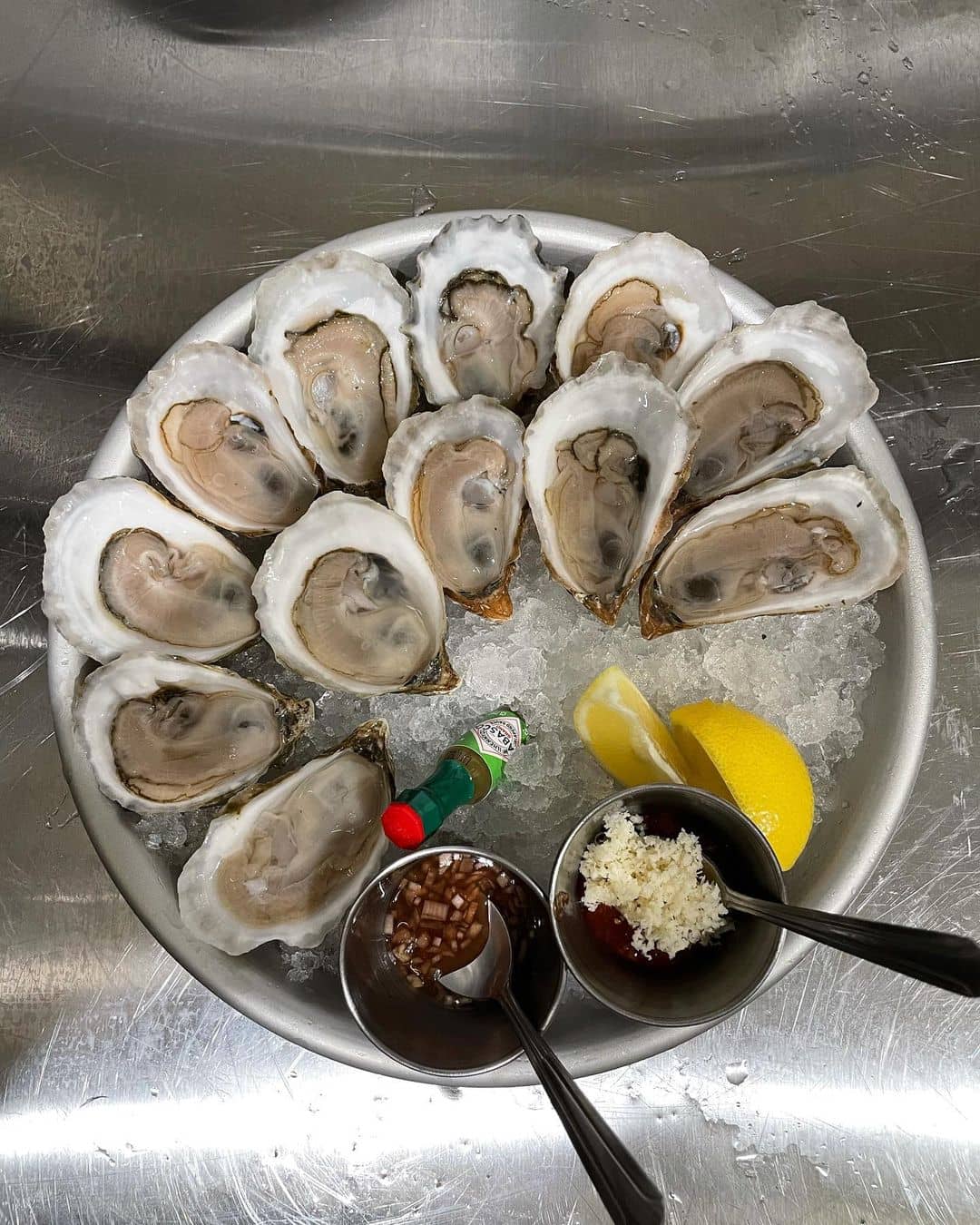 If you want to taste the best seafood in town, El Pingüino is the place to be. Serving beautifully sourced and presented Spanish cuisine, you know you're in great hands here.
The '60s Spanish pop playlist and cute artwork transport you to Spain without a passport.
Get ready to dine in exquisitely with high-class seafood and drinks in El Pingüino!
If you could order only one item on their menu, get the Oysters a la carte, and you won't be disappointed.
Fresh and plump, their oysters are cut all the way through on the shell side, allowing easier eating.
Love seafood? How do a dozen oysters, scallops, bass ceviche, and crab salad sound to you? El Pingüino's Seafood Plateau is an excellent choice if you want a sample of several menu items.
What to order: Oysters, Seafood Plateau
Address: ​25 Greenpoint Ave, Brooklyn, NY 11222
6. French Louie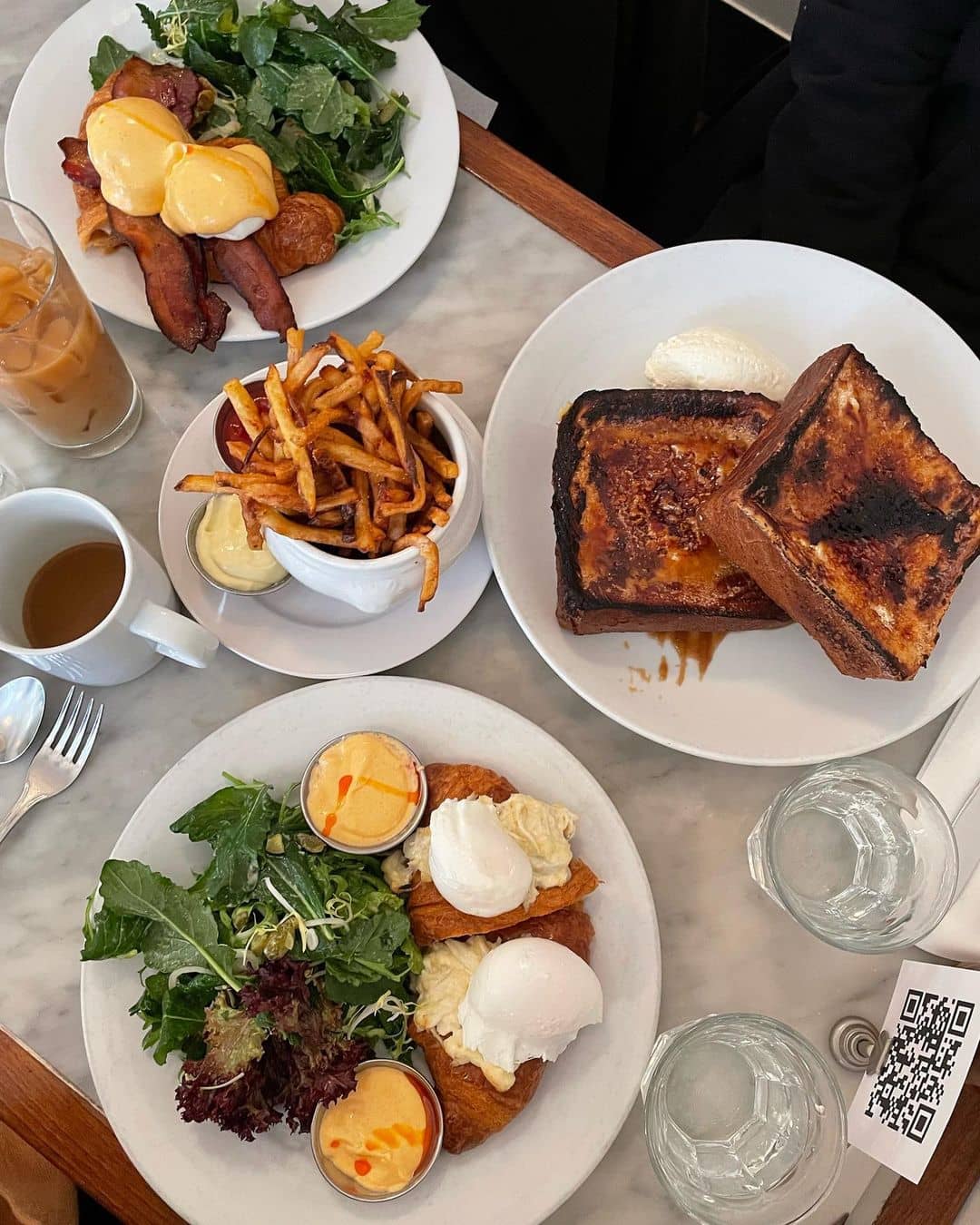 Aptly named from a high-spirited and cheerful modern hermit, French Louie is an ideal Brooklyn brunch spot if you're looking forward to enjoying spot-on food amidst amazing atmosphere and vibes.
The diner offers some of the best brunch mainstays in the borough, which you can consume to your heart's content on their dedicated outside patio for some added bliss.
French Louie's menu may be limited, but they excel in culinary craftsmanship in elevating all classic dishes to the next level.
For example, their french toast is coated with apple butter and creme fraiche flake to provide a special touch to the standard toast.
You may also get their own twist on breakfast with poached eggs, crab, and croissants slathered in hollandaise sauce.
Then there's the smoked trout with crème fraiche, salade, and multigrain toast, which is a delectable combo you won't want to miss.
What to order: Creme Brulee French Toast, Eggs Louie, Smoked Trout Scramble
Address: 320 Atlantic Ave, Brooklyn, NY, United States
Website | Instagram | Facebook
7. Kokomo
Kokomo offers the ultimate Caribbean experience in Williamsburg. Their outside dining is one of the best you'll ever experience in your life.
The interiors are full of vibrant colors paired with cute lights. Kokomo is all about having a good time, from the exotic food to the vibes mixed with the liveliest tunes.
Cheesy with all the right seasonings, the Oxtail Flatbread is scrumptious to the core.
The sweet tomato sauce complements the fatty shredded oxtail, and the crispy onions add a nice touch.
Have you ever heard of an island pasta? Something like that exists in Kokomo, and it tastes crazily good.
The perfect blend of Caribbean spices and a creamy umami finish that your tongue will savor, Koko's Island Pasta is a clear winner.
What to order: Oxtail Flatbread, Koko's Island Pasta
Address: 65 Kent Ave, Brooklyn, NY 11249
Website | Instagram | Facebook
8. Peter Luger Steak House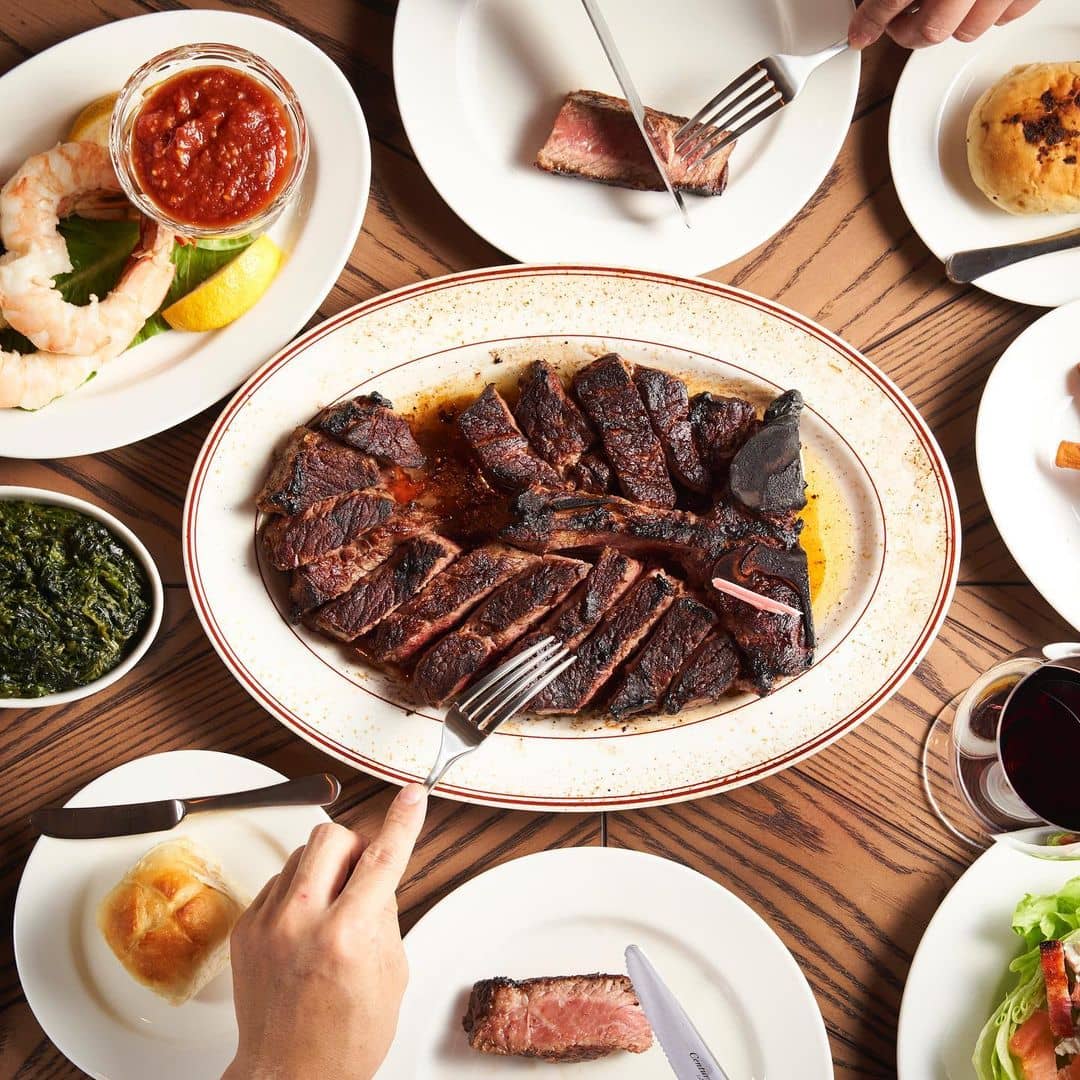 Peter Luger Steak House, the third-oldest steakhouse in New York City, has truly withstood the test of time. Located in Williamsburg, this New York staple serves up steaks fit for a king.
With a very laid-back and cozy ambiance that brings you back to 18th-century New York, Peter Luger is an iconic place that you must try at least once in your life.
Deliciously buttery and creamy with lots of spinach, Peter Luger's Creamed Spinach is a dish everyone loves aside from their steak.
It comes with just the right amount of cream, so you can really enjoy the spinach's taste.
If steaks in Peter Luger had a best friend, it would certainly be their German Potatoes. Crunchy and tasty as they should be, these ones taste like your childhood favorite home fries.
Of course, Peter Luger is best known for their Dry Aged Steak, and it definitely lives up to the hype.
Their steak sauce, made from delicious spices that taste like cocktail sauce, is uniquely done and goes so well with the steak and almost everything on their menu!
What to order: Creamed Spinach, German Potatoes, Dry Aged Steak
Address: ​​178 Broadway, Brooklyn, NY 11211
Website | Instagram | Facebook
9. Sunday In Brooklyn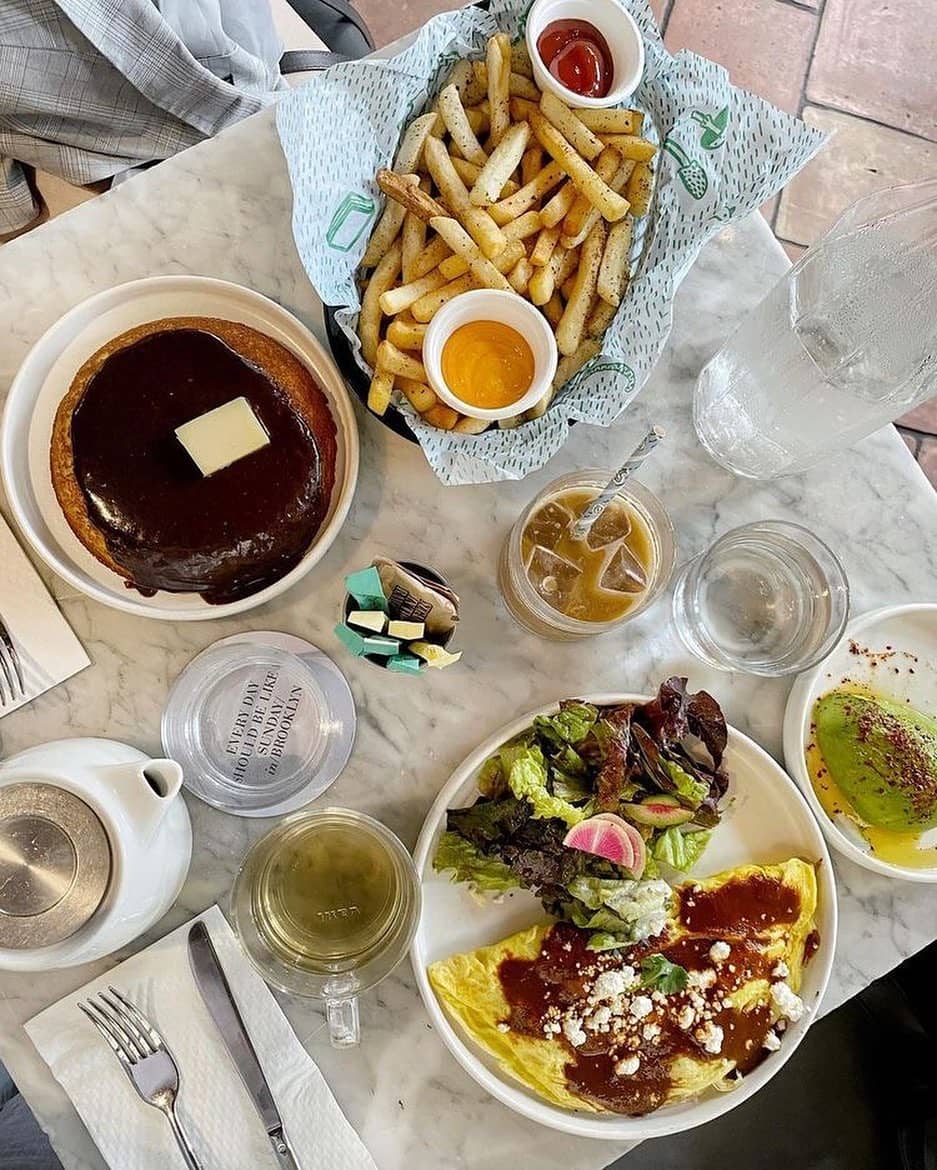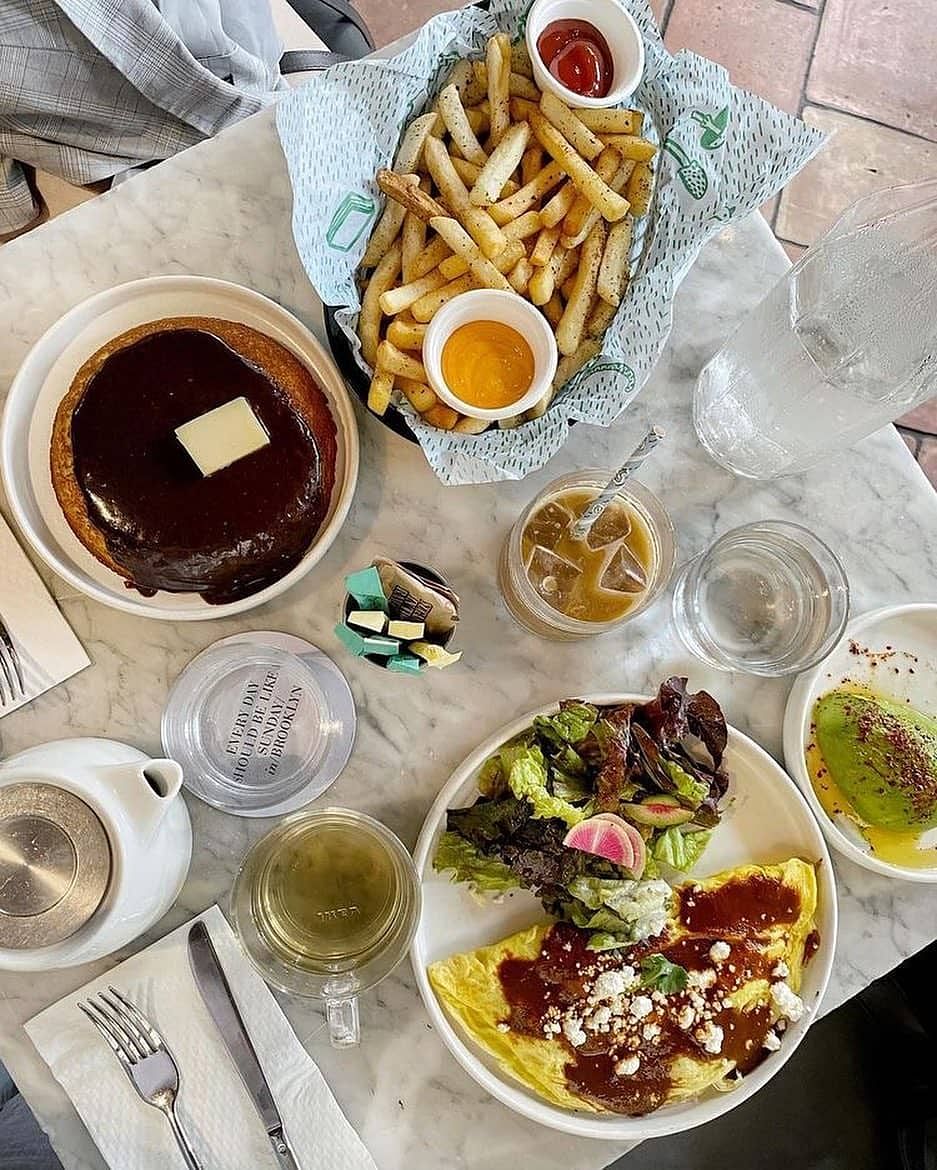 Sunday in Brooklyn is a neighborhood restaurant in Williamsburg that cares deeply about food and people, so every delicious brunch dish is made with so much love and care.
The three-story sun-drenched corner building offers a multitude of experiences for each season and time of day.
Meet your loving family and friends here to enjoy the warm welcome, like neighbors, on a beautiful Sunday morning.
There's no doubt why Sunday Pancakes is always the top option for every customer.
The thick, buttery, and fluffy pancake is topped with a unique maple taste to the syrup creating a very balanced and addictive sweetness that makes you feel so pleasant just like a Sunday morning.
Another crowd-fav is Cheddar Scramble – a standard nutritious and delicious breakfast for everyone.
The smooth, flavorful scrambled eggs are served with some fries, multigrain toast to give that nutty flavor to the dish, and some crispy, savory bacon and sausage.
There a very good reason why this is a top brunch spot in NYC!
What to order: Sunday Pancakes, Cheddar Scramble, Avocado Toast with Smoked Salmon, Shakshuka
Address: 348 Wythe Ave, Brooklyn, NY 11249
Website | Instagram | Facebook
10. Agi's Counter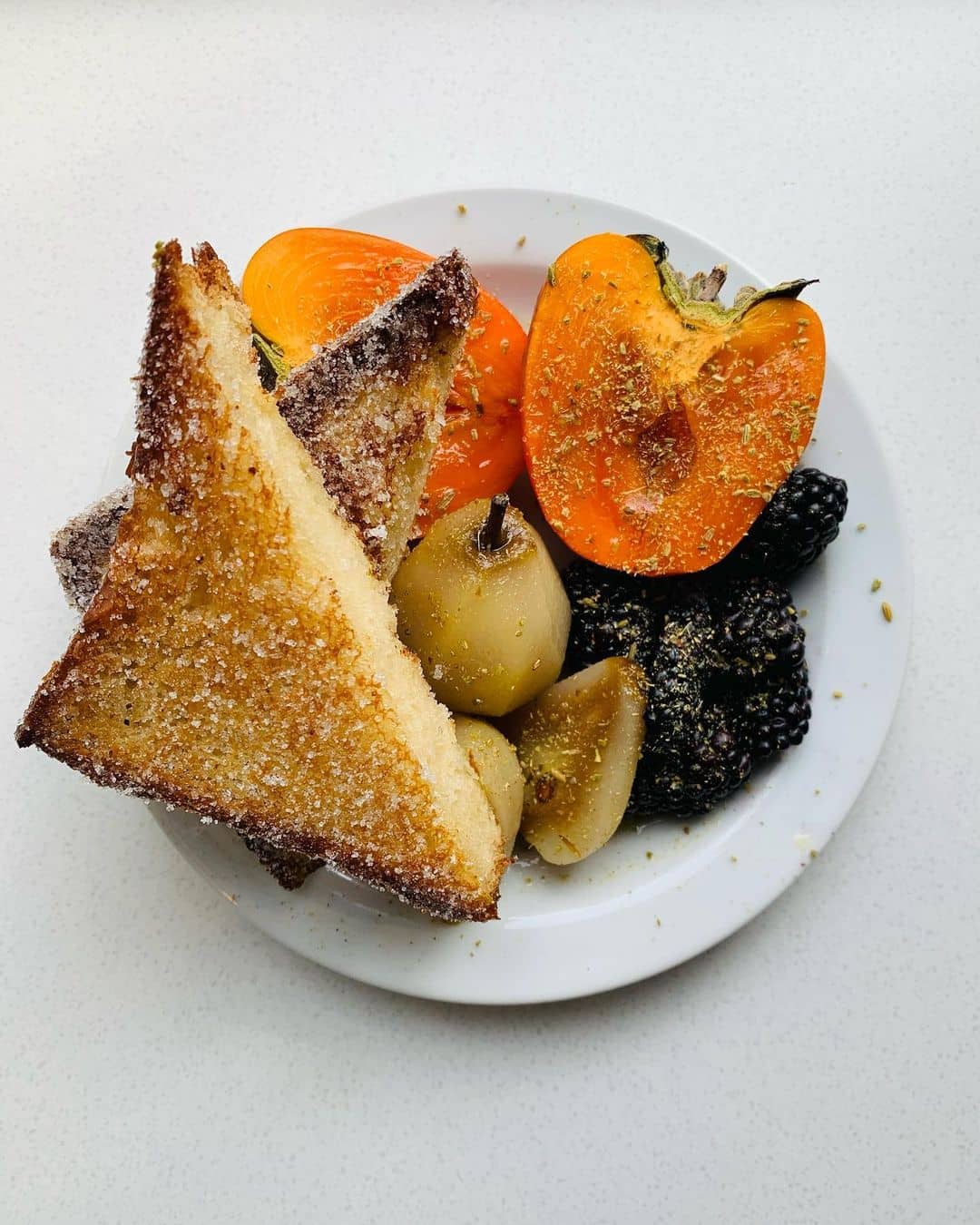 A cute Hungarian breakfast and lunch spot, Agi's Counter is a special new addition to the neighborhood. The lovely wallpapers create a true European lunch counter vibe.
Some of the best fluffy pastries and delicious thick slabs of toast are found here.
Agi's Counter is your best option if you're up for a pretty and hearty breakfast.
Their Confit Tuna Melt elevates the classic sandwich to gourmet heights. Served on a griddled potato pullman, the sandwich offers a satisfying crunch while the tender confit tuna melts in your mouth.
The creamy alpine cheddar and refreshing cabbage slaw create a harmonious balance, making this dish a delight to your taste buds.
If you love Hash Browns, Agi's Counter makes outstanding ones. These ones aren't your typical commercialized hash brown texture.
Crispy with thin strips of potato on top of thick sour cream and scallion ribbons, you'll be looking for these every morning.
What to order: Confit Tuna Melt, Hash Browns
Address: 818 Franklin Ave, Brooklyn, NY 11225
Website | Instagram | Facebook
11. Sofreh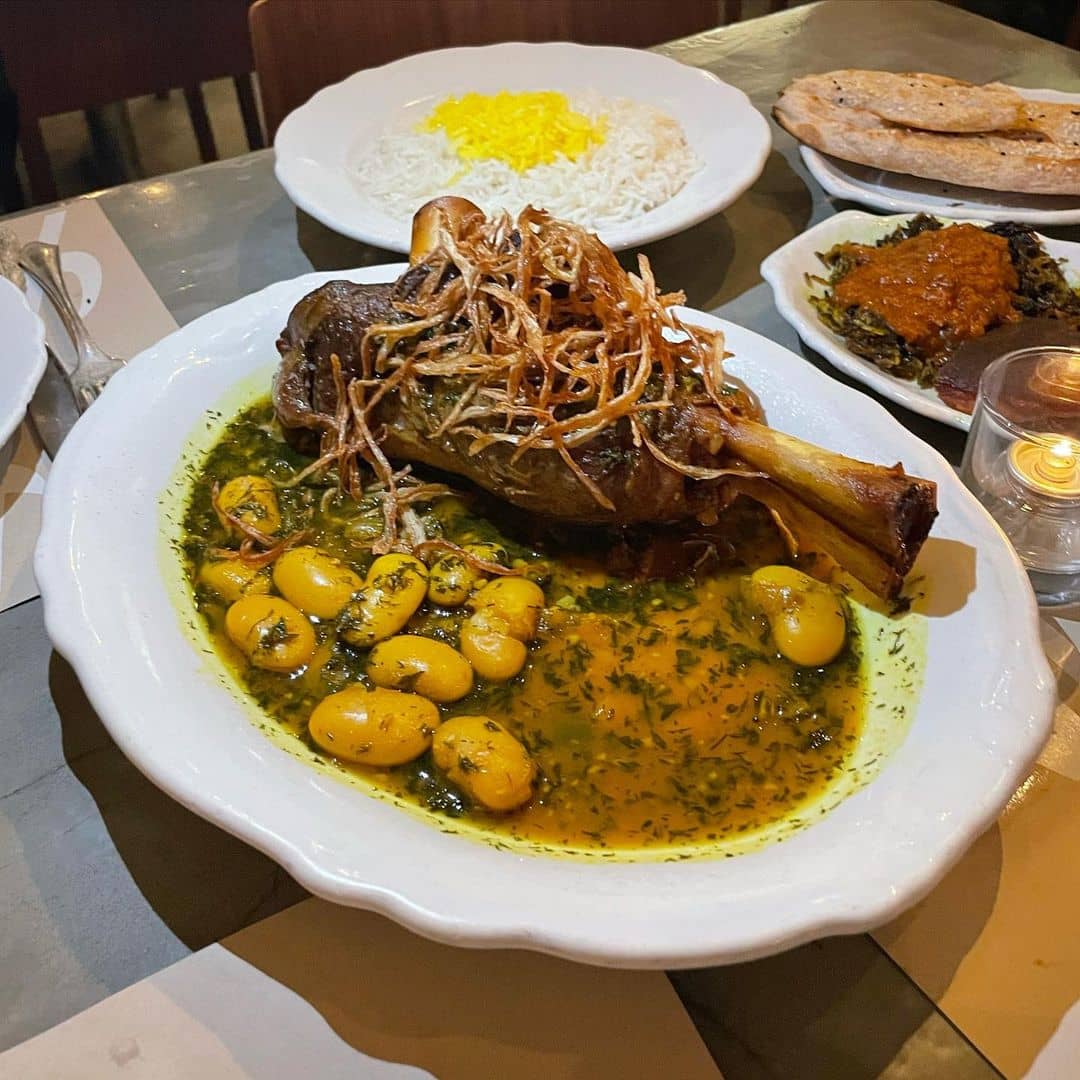 Word out on the street: Sofreh is the place for mind-blowing Persian-Iranian food with a modern twist. If you're a fan of Mediterranean flavors with the familiar sweet fragrances from herbs, you'll love Sofreh.
It's highly recommended to book in advance as wait times are pretty long, as expected for a place as good as Sofreh.
Sofreh's Lamb Shank is falling-off-the-bone good. The ultra-tender meat makes everything worth your penny; you won't even think twice about spending more for another.
Don't forget to add a side of pickles for the best experience.
With ginger apricot sauce, barberries, almonds, and glazed orange peels, Sofreh's Half Chicken are simply out-of-this-world amazing. Paired with the Saffron Rice, this meal is a dream.
The Cardamom Rose Cake with a subtle hint of rose is like the first breath of spring, signaling the blossoming of cherry blossoms.
The cake itself is so soft and fluffy, and the orange marmalade goes so well with the sweetness of the cake.
What to order: Lamb Shank, Half Chicken, Saffron Rice, Cardamom Rose Cake
Address: 75 St Marks Ave, Brooklyn, NY 11217
Website | Instagram | Facebook
12. OKONOMI // YUJI Ramen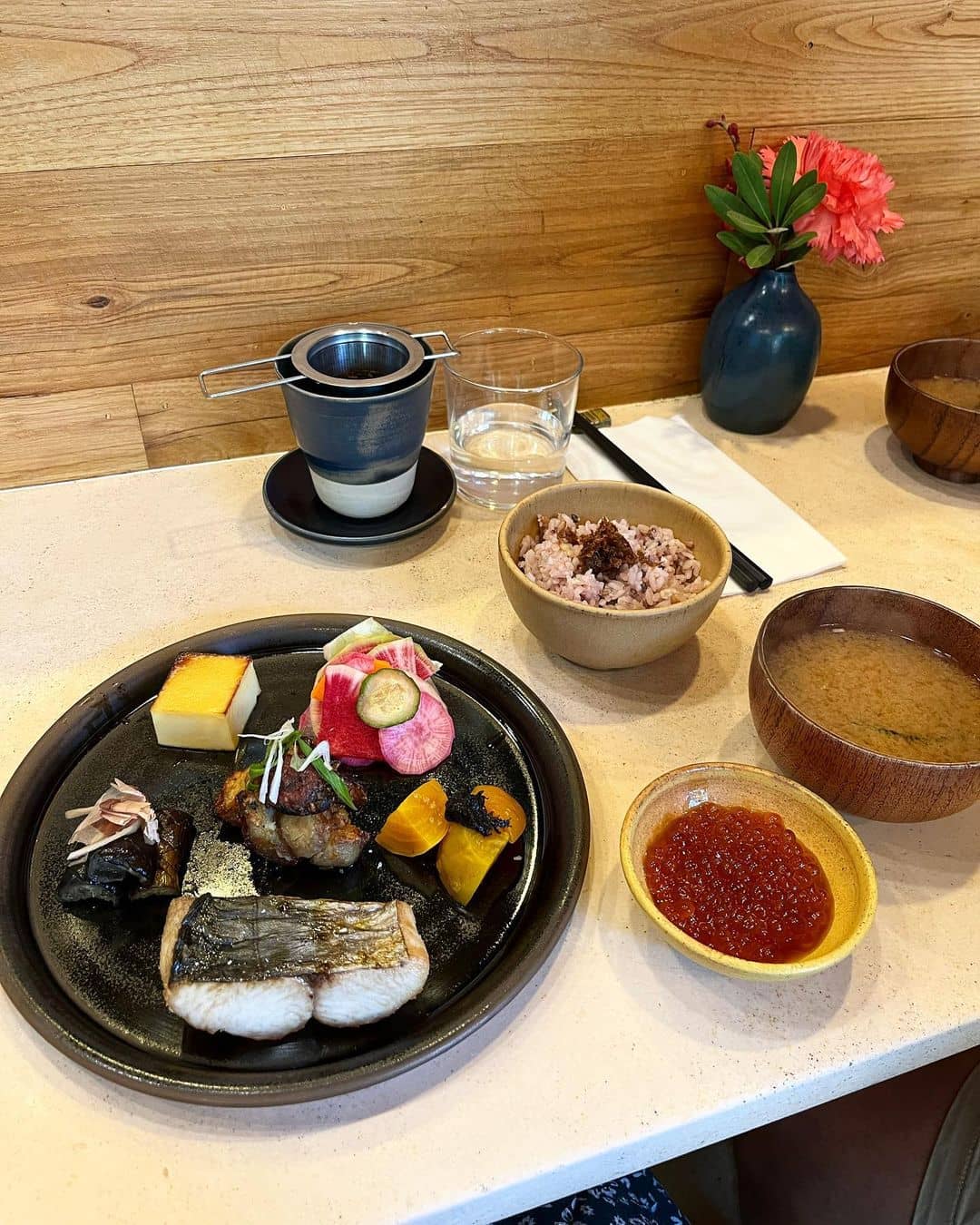 The ultimate hidden gem in Williamsburg that you can't miss out on! OKONOMI // YUJI Ramen is a neighborhood Japanese kitchen with a focus on regional seafood and Mottainai cuisine.
And what is special about this restaurant is, every day they offer a traditional Ichiju Sansai set meal for breakfast and lunch so you don't have to worry if you don't know what to choose.
In the Ichiju Sansai Standard Set, the Tamagoyaki Tsukemono is TO DIE FOR!
It's simply their signature Japanese omelet that is fried perfectly and cut into a beautiful rectangle shape.
The warm egg is nicely seasoned and still maintains its smoothness and silkiness.
The Roasted Fish Seven is highly recommended with the soft and moist fish made to perfection with a light touch of smoky scent.
Some Miso Soup with a savory and lightly sweet taste in the broth to complete the hearty and warm brunch is not a bad idea at all!
What to order: Ichiju Sansai Standard Set
Address: 150 Ainsle Street Brooklyn, NY 11211
Website | Instagram | Facebook
13. Bonnie's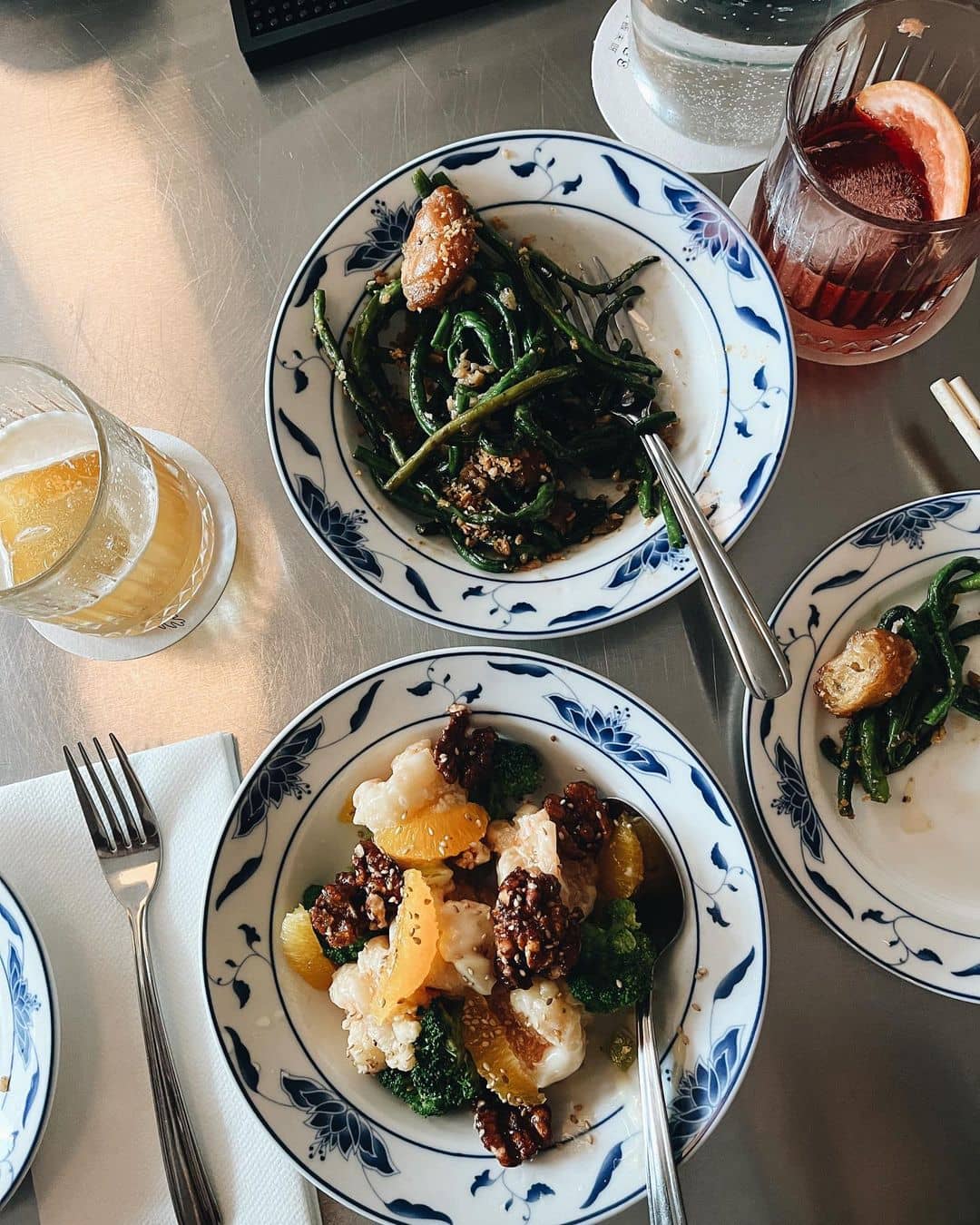 A rare gem with unique eats, Bonnie's creates modern takes on Cantonese foods, and they do it so well. With a really chic and eclectic ambiance, this place unquestionably aims to please.
Bonnie's is so good that booking a reservation two weeks in advance is highly recommended to score a seat.
Bonnie's Dao Gok, or Chinese Long Beans, has a deep umami flavor that stays in your mouth for a long time.
So, you may need to wash it down with water to properly savor the next meal. Each bite is chewy and extends all the deliciousness further into your mouth.
Another crowd favorite is the X.O Cheung Fun or Seared Rolled Rice Noodles, that taste oddly like toasted gnocchi with Cantonese flavors. Magically fluffy and crispy at the same time, you'll love every bit of this dish.
What to order: Dao Gok (Chinese Long Beans), X.O Cheung Fun (Seared Rolled Rice Noodles)
Address: 398 Manhattan Ave, Brooklyn, NY 11211
14. Leland Eating and Drinking House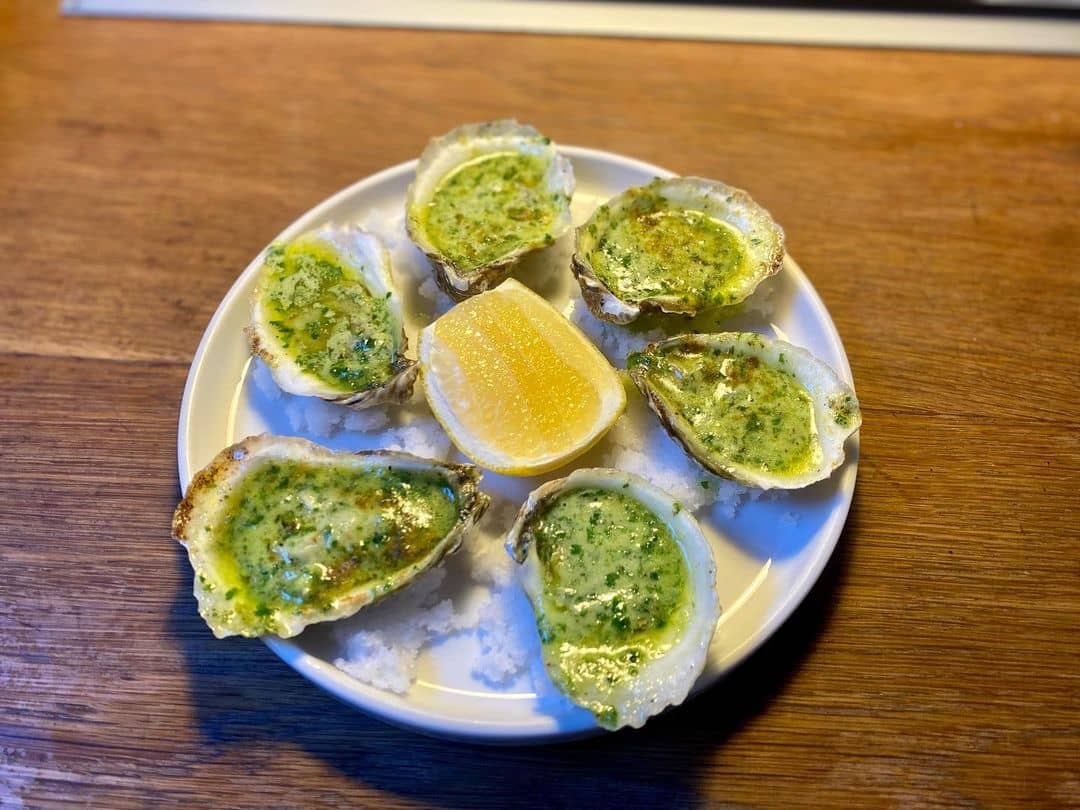 THE neighborhood spot for local comfort food on the corner of Dean St. in Brooklyn, Leland Eating and Drinking House's hospitality and service is top-notch.
If a Brooklyn menu existed, this restaurant offers all its greatest hits. Situated inside an old historical building, Leland fits the Brooklyn vibes perfectly.
Served with tzatziki sauce to add a subtle creaminess, the Smoked Pollock Fritters are an excellent choice to get things started.
The glorious combination of flavors makes the dish seem like it's made with magic. Who on earth could create such a tasty dish?
Crispy on the outside and chewy on the inside, the Focaccia is an excellent accompaniment to most of the items on their menu.
We highly suggest getting this along with the fritters.
Flawlessly cooked with a hint of what seems like Asian flavors, Leland's Whole Fried Fish is to die for.
For a large plate, you're better off getting this with friends or family, but you can always take out leftovers to enjoy at home.
What to order: Smoked Pollock Fritters, Focaccia, Whole Fried Fish
Address: 755 Dean St, Brooklyn, NY 11238
Website | Instagram | Facebook
15. Ugly Baby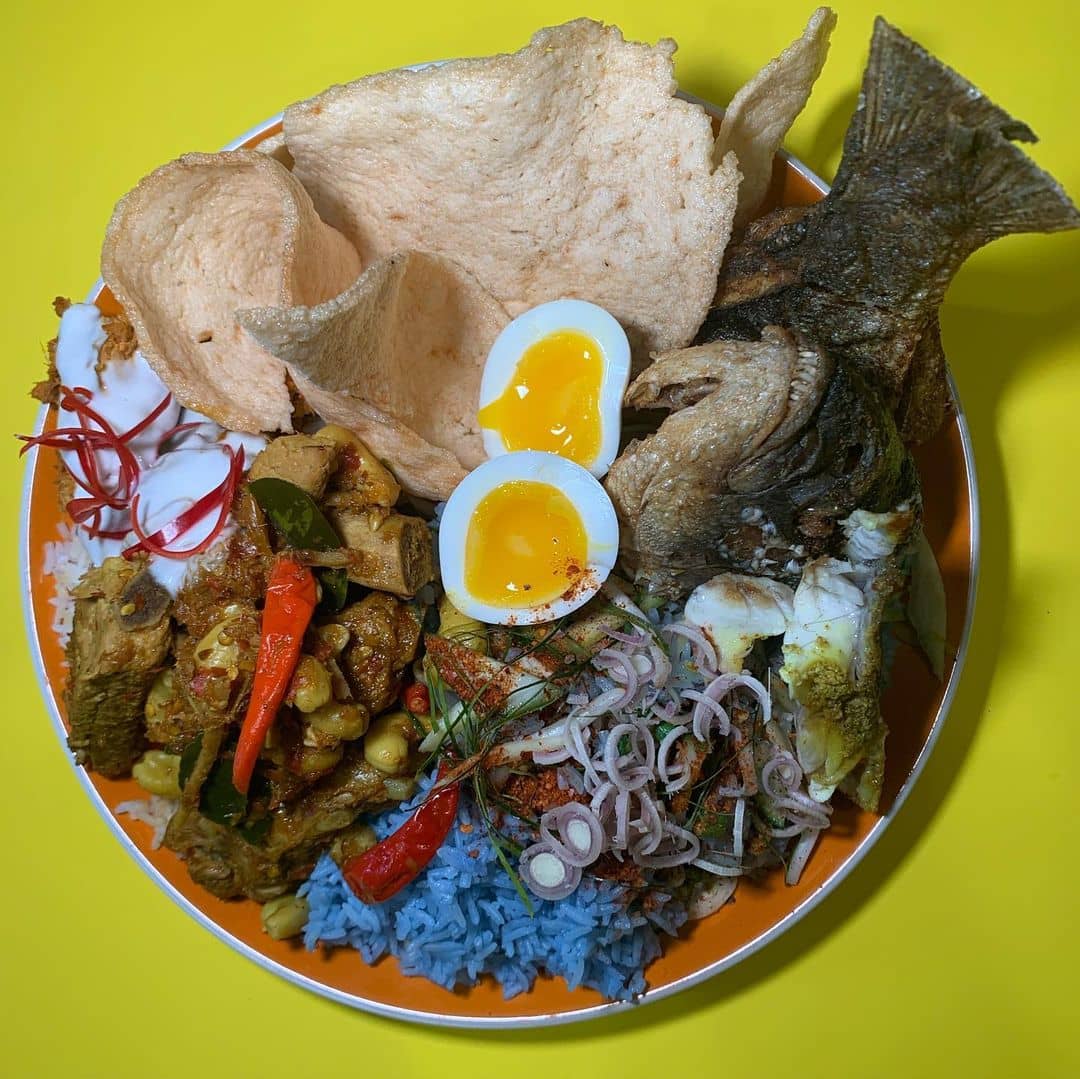 Ugly Baby is an unmissable hole-in-the-wall restaurant that stands out with its bright-colored restaurant front. You'll be greeted by vibrant orange walls and neon yellow tables as soon as you enter.
Serving authentic Thai cuisine, even the extremely spicy ones, this restaurant is definitely not for the faint of heart.
A peanut butter curry soup with beef shank, the Panang Nuer will get all your toxins out.
Nutty and spicy, your mouth will have a party with the different textures this dish brings.
Don't worry about the spiciness level; the staff ensures to keep your water cup filled.
gly Baby's Kang Kluay is a vegan delight that combines kabocha squash and banana curry in an irresistible culinary creation. The tender kabocha squash perfectly complements the creamy banana curry, creating a sweet and savory taste.
This innovative dish offers a captivating dining experience for both vegans and non-vegans alike.
What to order: Panang Nuer, Kang Kluay
Address: 407 Smith St, Brooklyn, NY 11231
Website | Instagram | Facebook
16. Reunion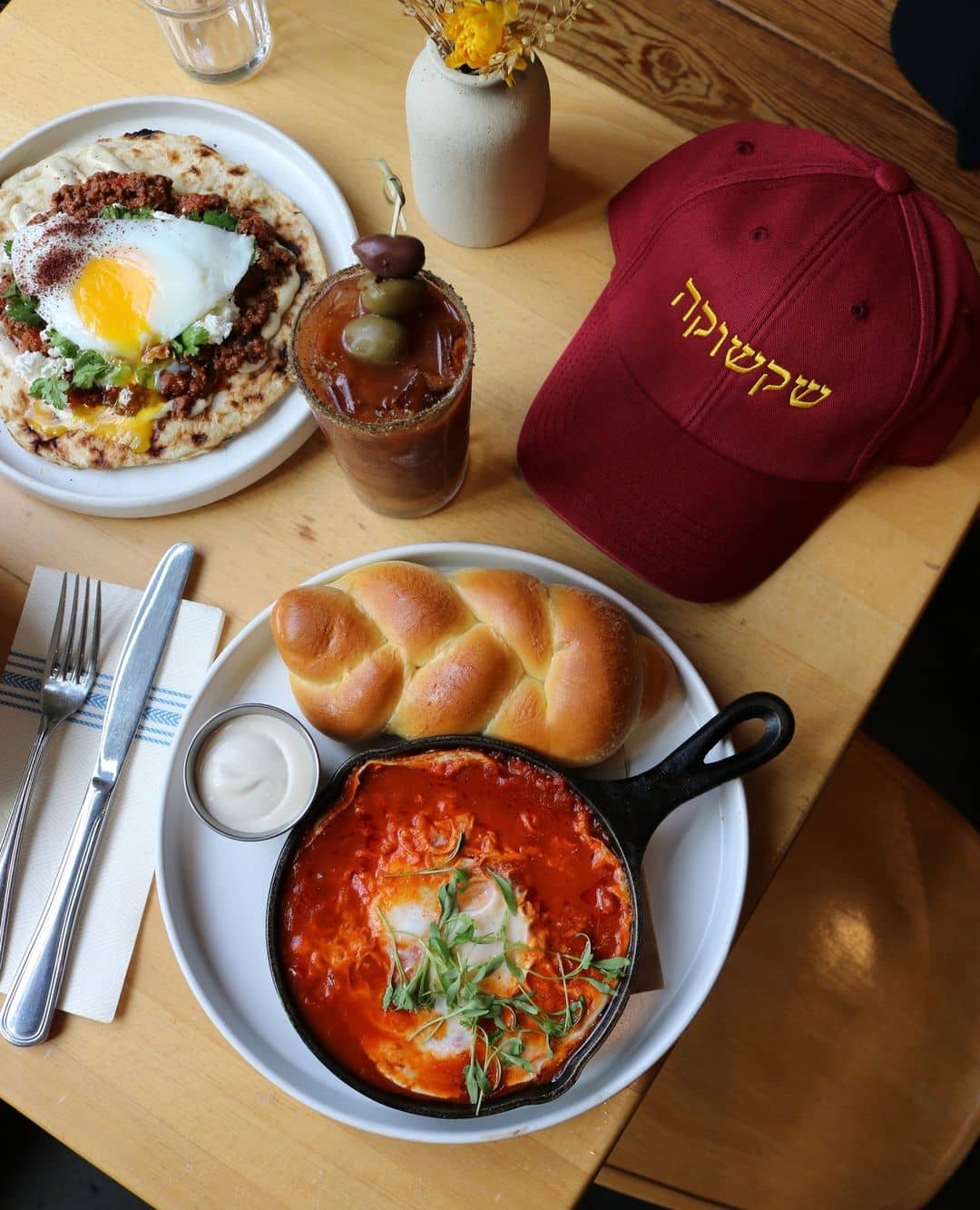 Reunion is a love letter to Tel Aviv. Get off the L train and feel like you're in the middle of the most iconic Israeli city to enjoy the absolute best brunch in Williamsburg area you've ever had.
Dive in and get ready to experience warm Middle Eastern hospitality in the heart of Williamsburg, where you are offered irreplaceably tasty dishes and a cozy atmosphere.
Their Shakshuka is absolutely bomb. It's a very flavorful dish that comes with juicy tomato sauce with a kick of spice from the pepper creating a smoky flavor overall.
The bread that comes along is so puffy and complements the shakshuka perfectly.
If you're seeking a dish that celebrates the art of handmade mastery, Reunion's Malawach is a must-try.
Allow yourself to indulge in the flaky goodness, savor the creamy soft-boiled egg, and relish the tangy whipped feta with this phenomenal dish.
What to order: Shakshuka, Malawach, Hummus
Address: 544 Union Ave, Brooklyn, NY 11211
Website | Instagram | Facebook
17. Otis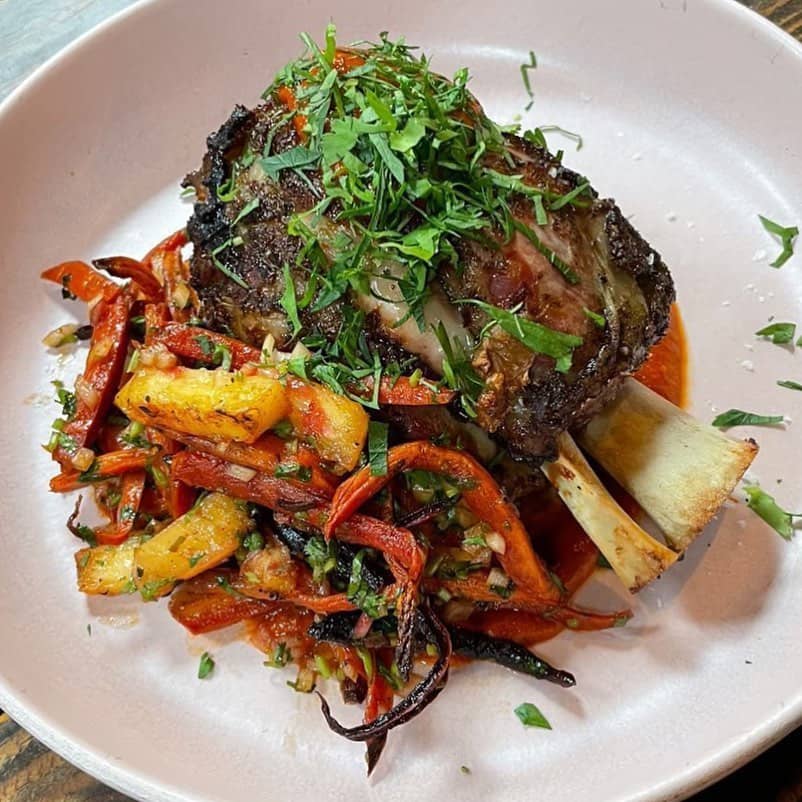 An intimate spot for modern American cuisine in Bushwick, Otis offers exciting twists on a lot of existing dishes and combos you've never thought of before.
A perfect mix of a simple yet unique tasting menu, exquisite outdoor and indoor seating, and friendly service, Otis checks everything off the list.
A constant crowd-pleaser, Otis' Burrata is a killer and one of the best you'll ever have in your life. It contains so many things, creating a dish of multiple appetizers in one.
The addition of squash especially gives it character and makes it stand out from the rest.
Incredibly soft and tender pork shoulder swimming in a delicious sauce, the Braised Pork Shoulder Pasta is a must-try.
The Gigli pasta is cooked al dente perfectly. Unexpectedly sweet and hearty, this one will quickly fill up your stomach.
What to order: Burrata, Braised Pork Shoulder
Address: 18 Harrison Pl, Brooklyn, NY 11206
Website | Instagram | Facebook
18. Chez Ma Tante
Having your brunch in white-washed brick walls and cozy ambiance while eating some European fare redefined to American taste is dreamy, yes?
Chez Ma Tante wants you to have that experience so that you can fully appreciate the flavorsome meal, serene setting, and warm service.
Don't pass up this opportunity to enjoy their highly prized pancakes, which are a timeless tribute to the stacks of fluffy cakes with maple syrup.
They also have great falafel made of hummus, harissa, cucumber, and za'atar dressing.
Chez Ma Tante's chips and aioli has amassed its own loyal base of followers for how the duo is made extremely delicious by a best-kept-secret recipe.
Then, have a drink of Pinot Noir for a taste of a successful finish!
What to order: Pancakes, Falafel, Chips and Aioli, Wine
Address: 90 Calyer St, Brooklyn, NY, United States
19. Diner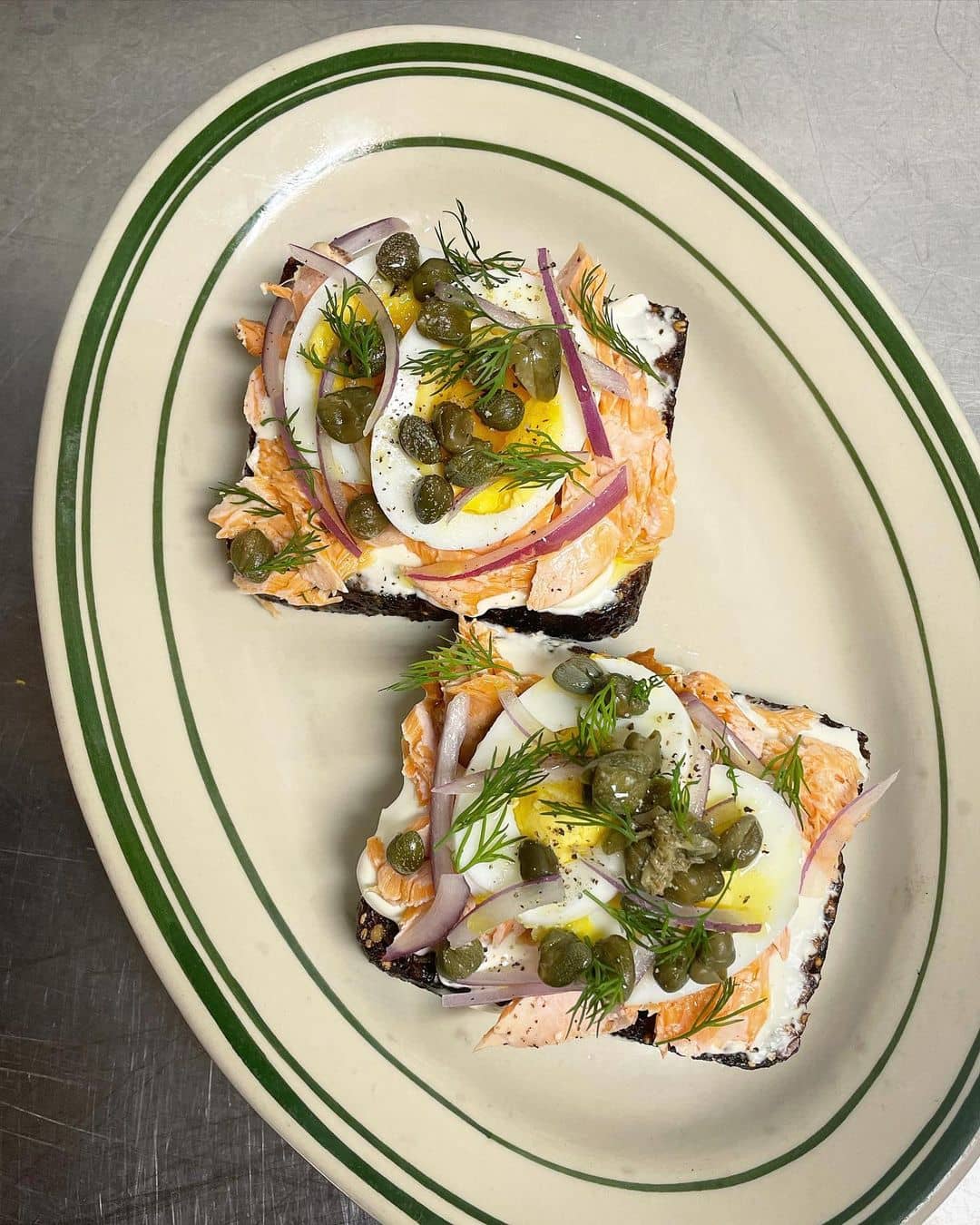 A perennial favorite among locals, Diner represents everything cool about Williamsburg. Stylish, intimate, and extremely high quality— it's hard to get enough of this place.
The front dining room transports you to what seems like a cool railcar with hand-cut tiles and custom light fixtures.
A southside powerhouse, you can never go wrong with Diner.
Diner's Caesar Salad doused in a tasty sour creamy dressing is perfectly balanced with crunchy layers of green lettuce.
This dish will make it impossible for you to order one at any other place because your mind will only think about Diner's Caesar Salad.
A wholesome burger for a wholesome place, Diner's Grass-fed & Finished Burger is one for the books.
Made from sustainable and organic ingredients, this burger is as healthy as it gets.
What to order: Caesar Salad, Grass-fed & Finished Burger
Address: ​​85 Broadway, Brooklyn, NY 11249, United States
Website | Instagram | Facebook
20. Sobre Masa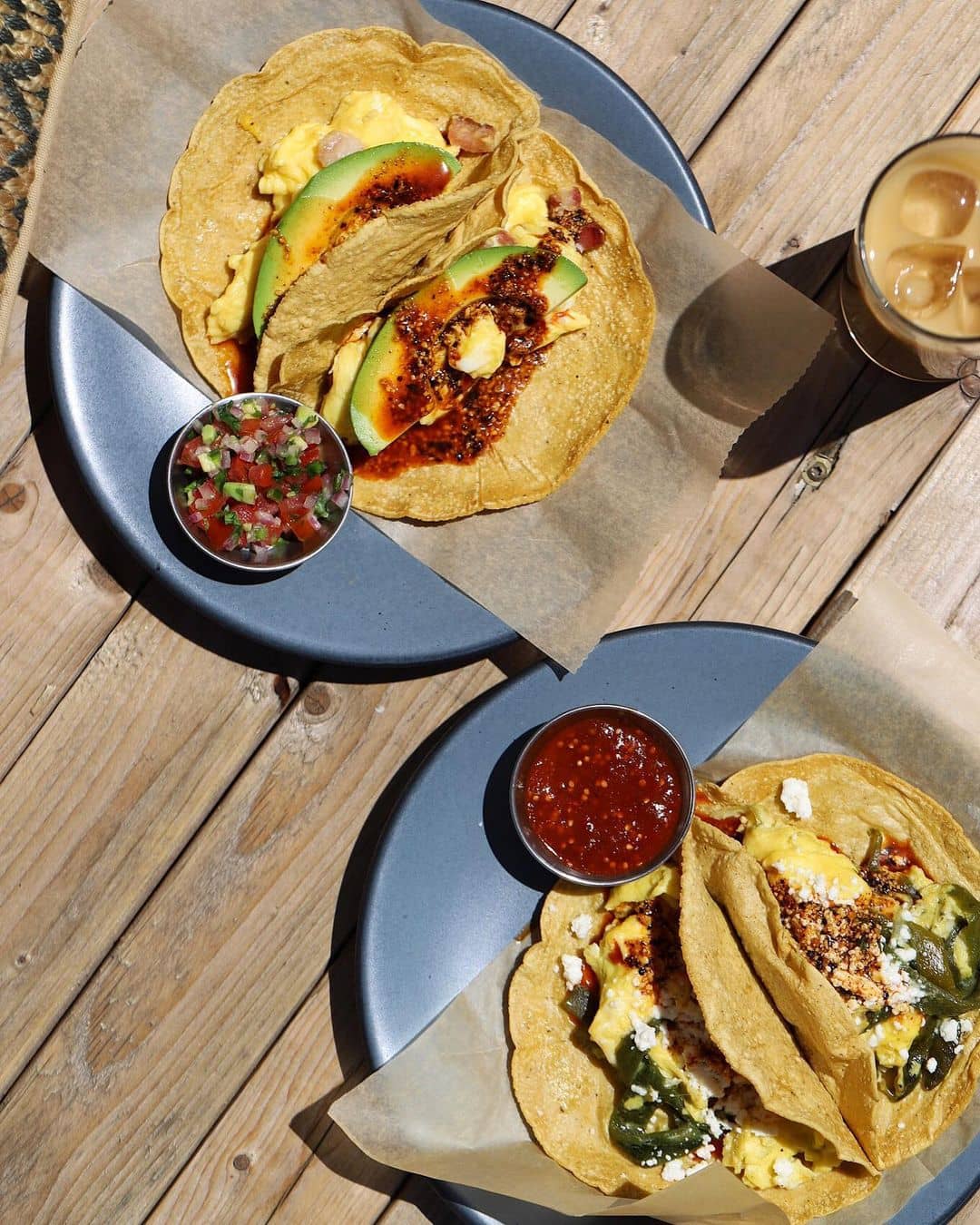 One may think Sobre Masa is just a typical stylish coffee shop, but this tortilleria is actually famous for having the best mezcal options in town.
A multi-faceted business, Sobre Masa is a coffee shop up front, a tortilleria in the middle, and a mezcaleria in the back. Everything here screams VIBES.
Flavored like chorizo with the crispiest cheese, their Tacos de Coliflor (Cauliflower Tacos) is a favorite among many.
The tray of 6 special sauces they bring out for accompaniment is an adventure in itself, but each tastes equally delicious.
Sobre Masa's Camaronese a la Plancha is a seafood masterpiece features succulent head-on prawns cooked to perfection and drizzled with aromatic garlic chili oil.
The head-on prawns, with their vibrant colors and enticing aroma, take center stage and will wow your mind with just one bite.
What to order: Tacos de Coliflor, Camarones a la plancha
Address: ​​52 Harrison Pl, Brooklyn, NY 11237
Website | Instagram | Facebook
21. Meadowsweet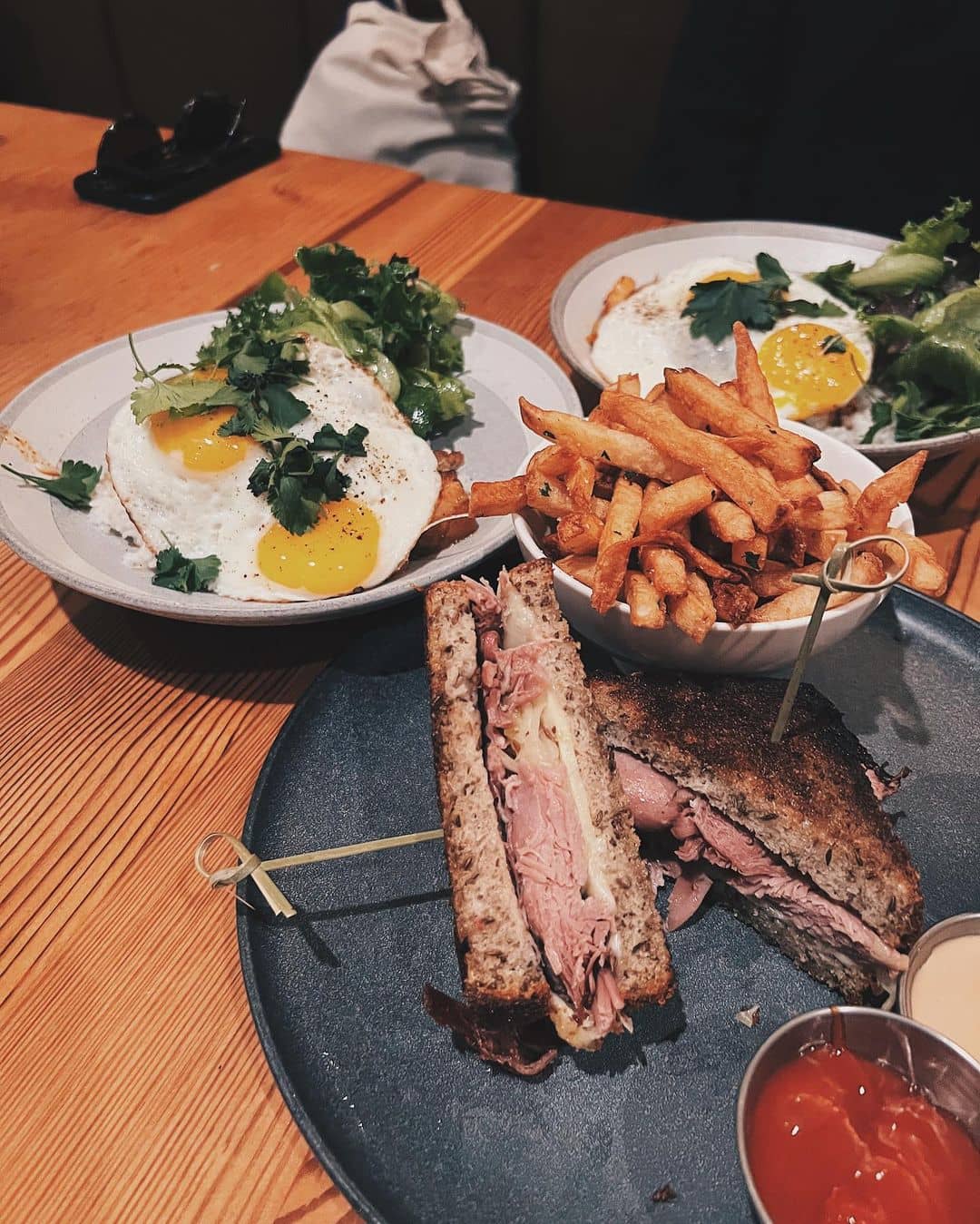 At Meadowsweet, you are offered to enjoy good food, friendly service, and a comfortable atmosphere to start your day.
The ambiance here is the perfect combination of rustic without feeling pretentious, giving you that home-like feeling with a scent of freshly made brunch in the kitchen.
The Crispy Baby Artichokes are a must-have! It is the perfect combination of the acidic taste from the lemon balanced nicely with the umami sense from the parmesan.
Amazingly refreshing, this dish promises to be a party in your mouth texturally with explosive and unforgettable flavor.
Always ask for Brown Butter-Almond Muffins when you come to Meadowsweet since their muffins are so famous for being one of the lightest, fluffiest ones you'll have ever tried.
The delightful sweetness is created with a perfect amount and balanced with the blueberries, and the light crunchiness on the outside gives the muffins an even more flavorful taste.
What to order: Crispy Baby Artichokes, Brown Butter-Almond Muffins, Burrata & Delicata Squash
Address: 149 Broadway Brooklyn, NY, 11211
Website | Instagram | Facebook
22. Ramen Danbo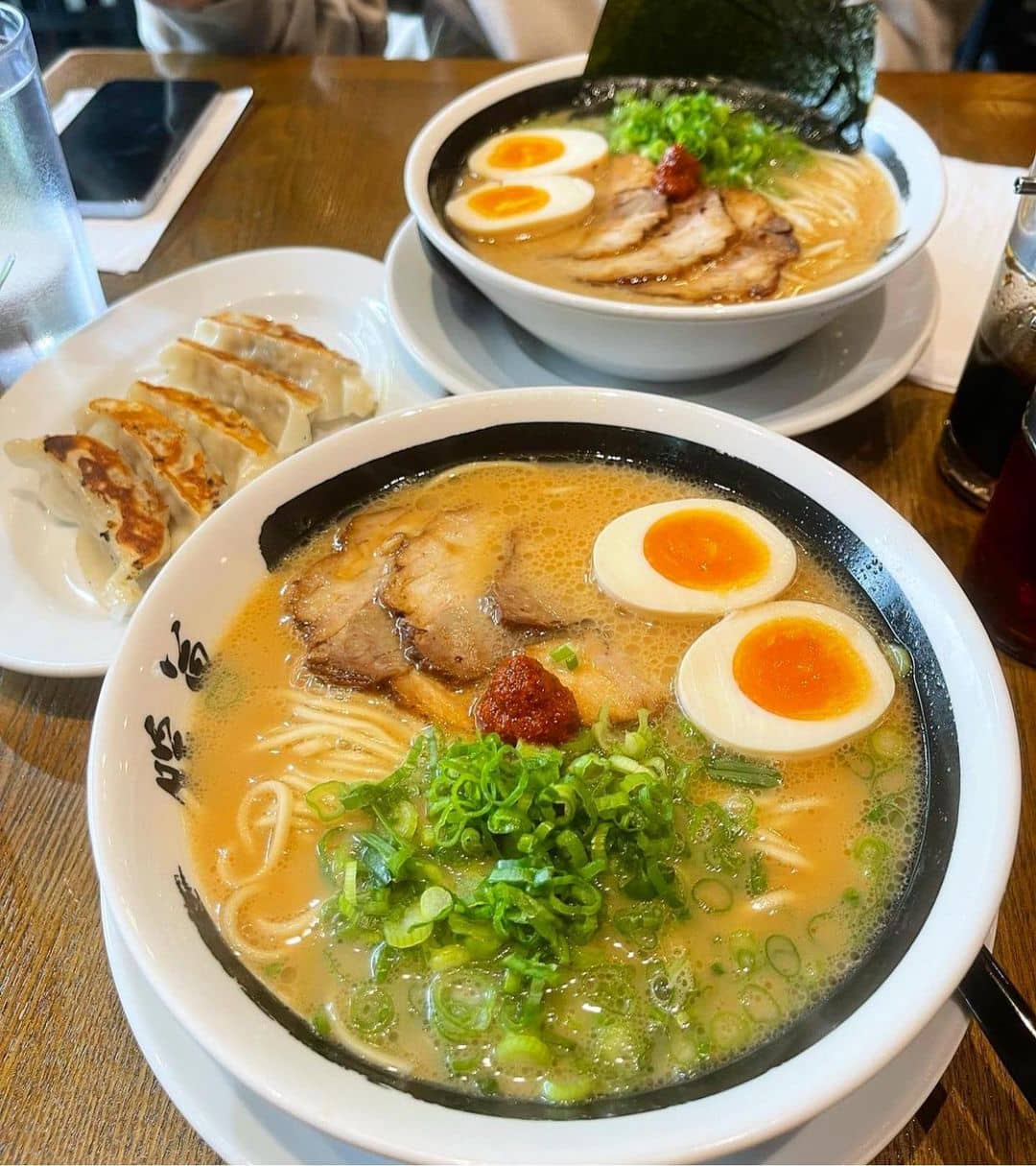 Warming your soul with authentic Japanese ramen, Danbo promises to win your heart with the signature Tonkotsu broth – simple but truly delicious makes you can't help slurping down a hot bowl of soup and endless amounts of carbs!
They also provide 4 types of regular ramen that are all customizable from noodle type to topping selection, etc.
You know you can't go wrong with the top-notch Miso Chasu-men with two eggs.
Chasu-men comes with six slices of mouth-watering braised pork belly so this dish is a must for chashu lovers!
The eggs are perfectly marinated and jammy inside with the firm, chewy noodles elevate the flavor. Chef's kiss!
And here is the vegan top option for you – Classic Atsuage Ramen, which comes with six slices of thick-fried tofu that taste heavenly providing a tasty and nutritious boost of healthy protein.
The broth is kept nicely with well-balanced seasoning and the noodles are made to perfection!
What to order: Miso Chasu-men, Classic Atsuage Ramen
Address: 52 7th Ave., Brooklyn, NY USA 11217
Website | Instagram | Facebook
23. Edith's Eatery & Grocery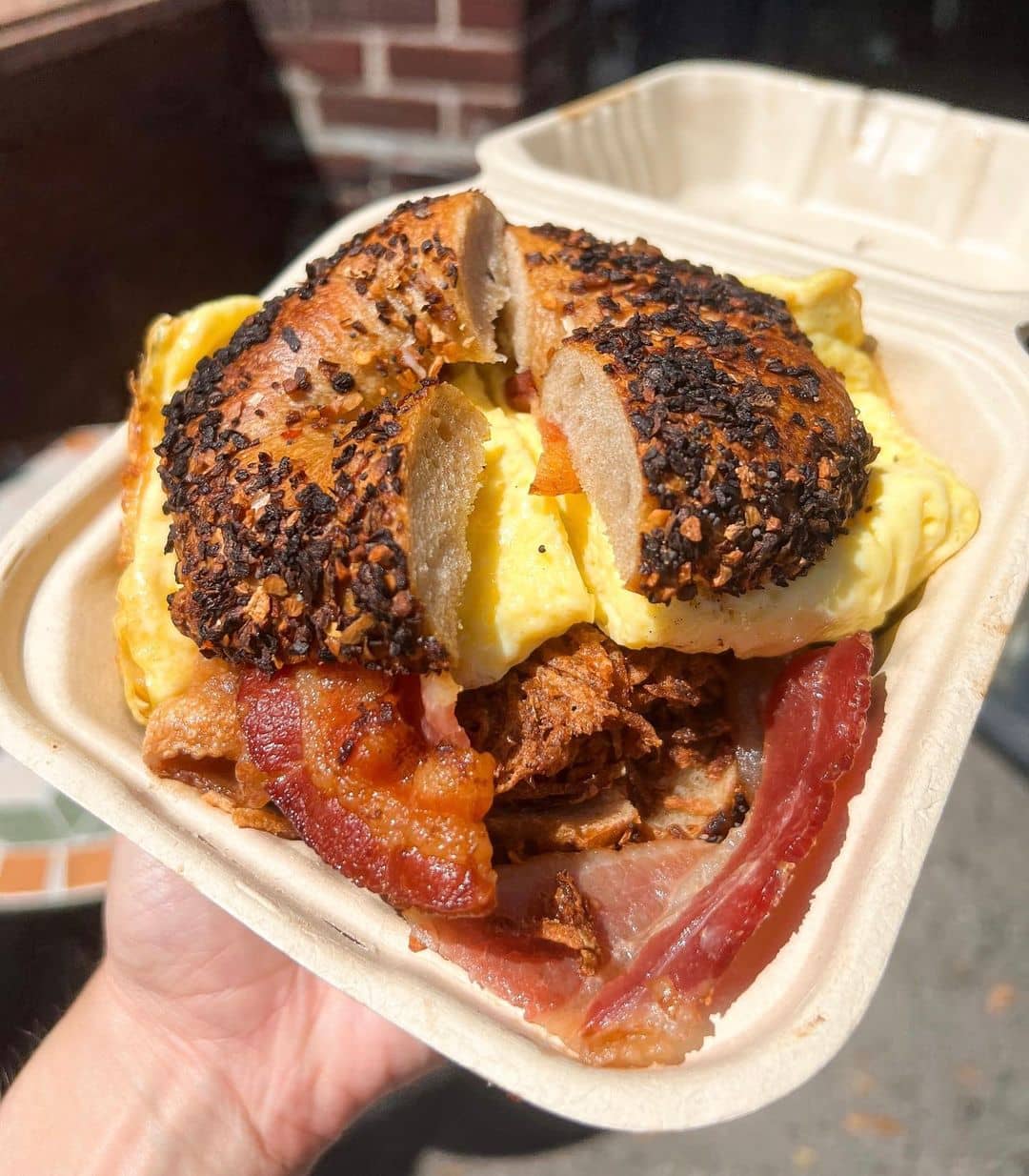 Edith's Eatery & Grocery is one of the few places in New York where food is so outstanding you wish you lived next door to have a taste every day. This sweet lunch neighborhood spot has a cafe and grocery in one, as well as a deli counter with meats and various deli fare.
After you enjoy your meal, you can browse the grocery section for stuff you may want to take home.
Addictive, flaky, and hits all the right spots, their Homemade Malawach with soft-boiled eggs tastes heavenly.
One bite of this dish will have you wishing you could have this for breakfast every day.
Edith's Syrniki Russian Pancakes are a dream. Dense yet soft with an obvious tangy farmer's cheese flavor, you could eat this one all day.
The tart currant sauce takes the pancake to a whole new level.
What to order: Homemade Malawach, Syrniki Russian Pancakes
Address: 495 Lorimer St, Brooklyn, NY 11211, United States
Website | Instagram | Facebook
24. Four Horsemen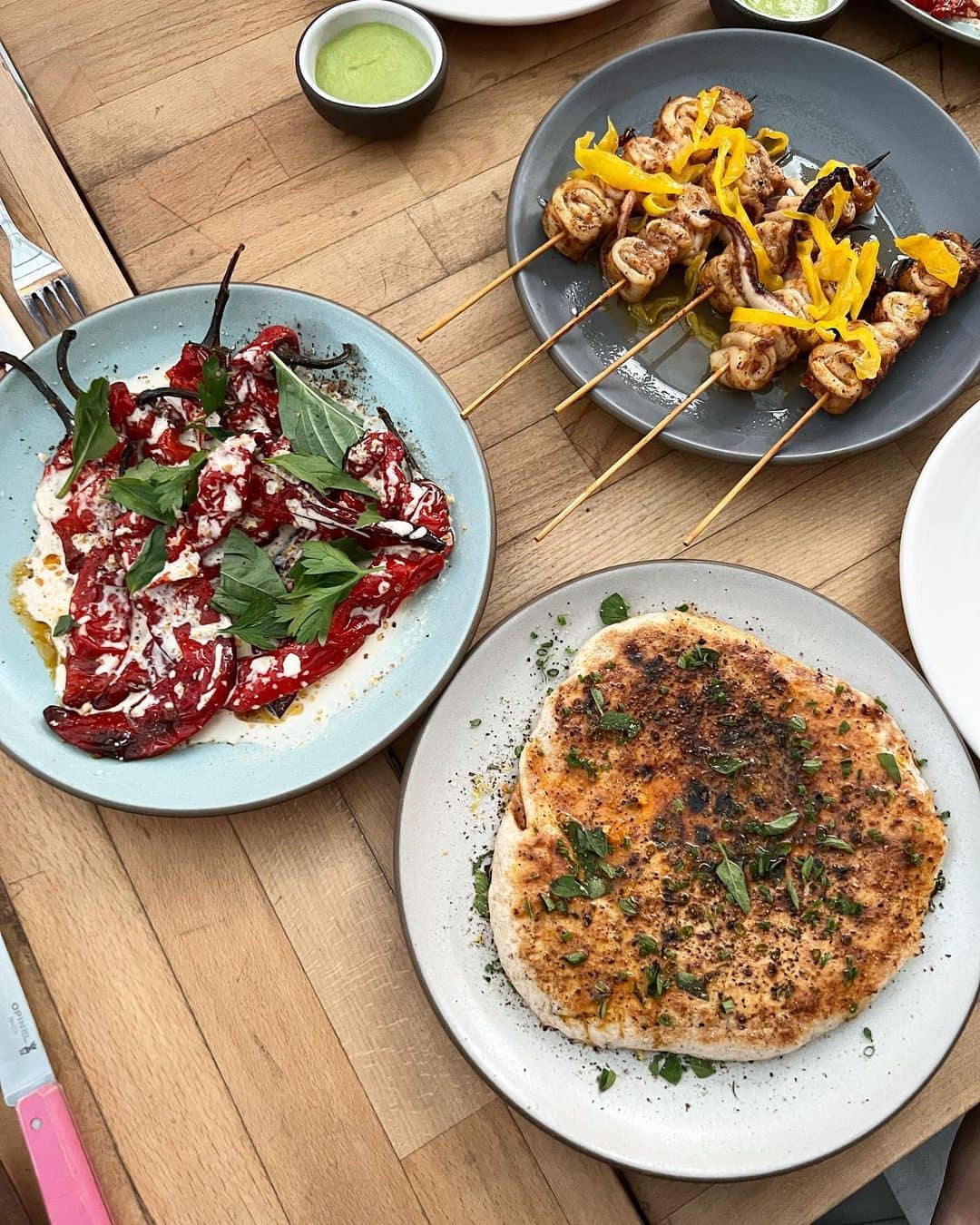 Four Horsemen has been known for world-class wine but their food is delicious as well.
So if you're wandering on a Sunday morning without having any option in mind, join Four Horsemen and we promise they won't let you down.
The restaurant is small and intimate with a soothing mid-century modernism interior and lovely staff that are all so helpful and kind, giving you the convenience to enjoy your morning perfectly.
If you're a tuna fan, don't hesitate to call Yellowfin Tuna!
The cured tuna has a velvety and buttery texture and is nicely balanced with a citrusy scent in their specialized tonnato sauce and yuzu kusho.
The flavor is no doubt so flavorful and explosive. Chef's kiss!
Four Horsemen brings the essence of the sea to the table with their Manila Clams.
The succulent clams are accompanied by the flavorful combination of fennel sofrito, saffron, and pastis.
The fennel sofrito adds a touch of sweetness and anise undertones, while the saffron infuses the dish with a luxurious quality.
What to order: Yellowfin Tuna, Manila Clams, Fried Chicken
Address: 295 Grand St Brooklyn, NY 11211
Website | Instagram | Facebook
25. Ichiran NY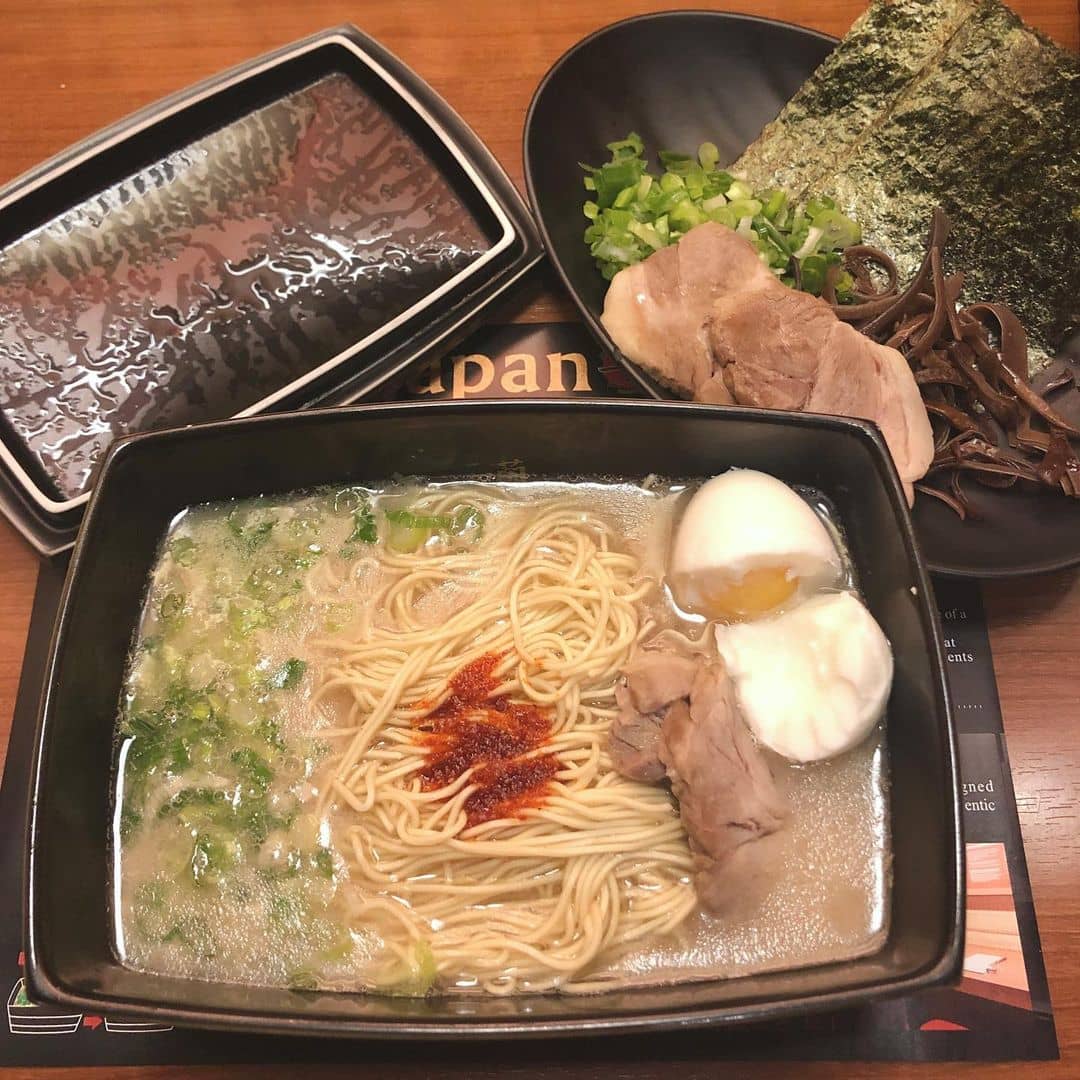 Introverts, rejoice! The famous Japanese restaurant offering individual booths for privacy is in New York. Ichiran is found in different places worldwide simply because they're so good.
Not only are they known for their solo booths, but they also allow you to customize your Tonkotsu Ramen to your own liking.
What else could be better than this?
When in doubt, nothing beats Ichiran's Classic Tonkotsu Ramen. The broth is simply golden, and everything will be sparkly in your eyes.
You can tell they don't skimp out on the pork, either. Don't forget to order a side of Soft Boiled Egg for the full ramen experience.
Good news for vegetarians, you can also enjoy the exquisite taste of Ichiran through their Veggie Ramen.
No, this is not your typical bland veggie broth. This is a vegetarian-and-ramen lover's haven.
For dessert, end your meal with a Matcha Pudding to put a satisfying stop in your tour of Japanese flavors.
What to order: The Classic Tonkotsu Ramen, Ichiran Veggie Ramen, Soft Boiled Egg, Matcha Pudding
Address: 374 Johnson Ave, Brooklyn, NY 11206
Website | Instagram | Facebook
26. L'Industrie Pizzeria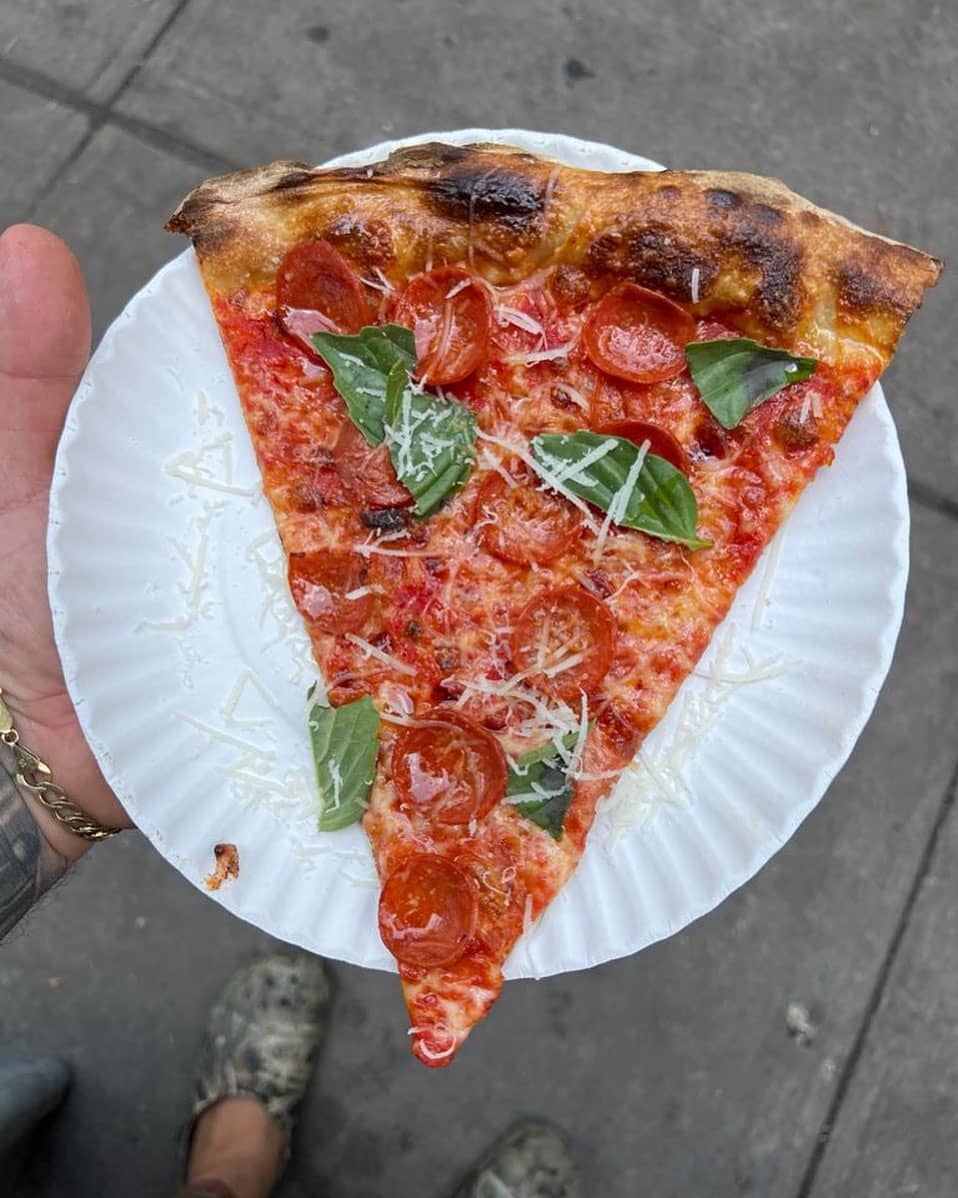 What better way to spend a New York day than dining on a mouthwatering slice of pizza?
With a shelf that's lined with rows of imported Italian pizza ingredients and plenty of booths set up in a covered street outside, L'Industrie Pizza provides you with the ultimate New York Pizza experience.
From the bustling kitchen, the friendly staff, and the music ranging from old-school hip-hop to classic rock, this place is as lively as it gets.
There's a reason why L'Industrie's New Yorker pizza got its name, and if the whooping pepperonis and sausages are not enough to convince you, what else can?
For some reason, the combination of these two simple ingredients topped with fresh basil creates the best pizza in the whole of NYC.
From your first bite to your last, the Margherita pizza hits almost like vodka in a good way.
The sauce just hits differently, and the edge of the pepperoni cups curls up so well. The sweet crust complements Margherita's slightly alcoholic taste.
What to order: New Yorker, Margherita
Address: 254 S 2nd St, Brooklyn, NY 11211
Website | Instagram | Facebook
27. Llama Inn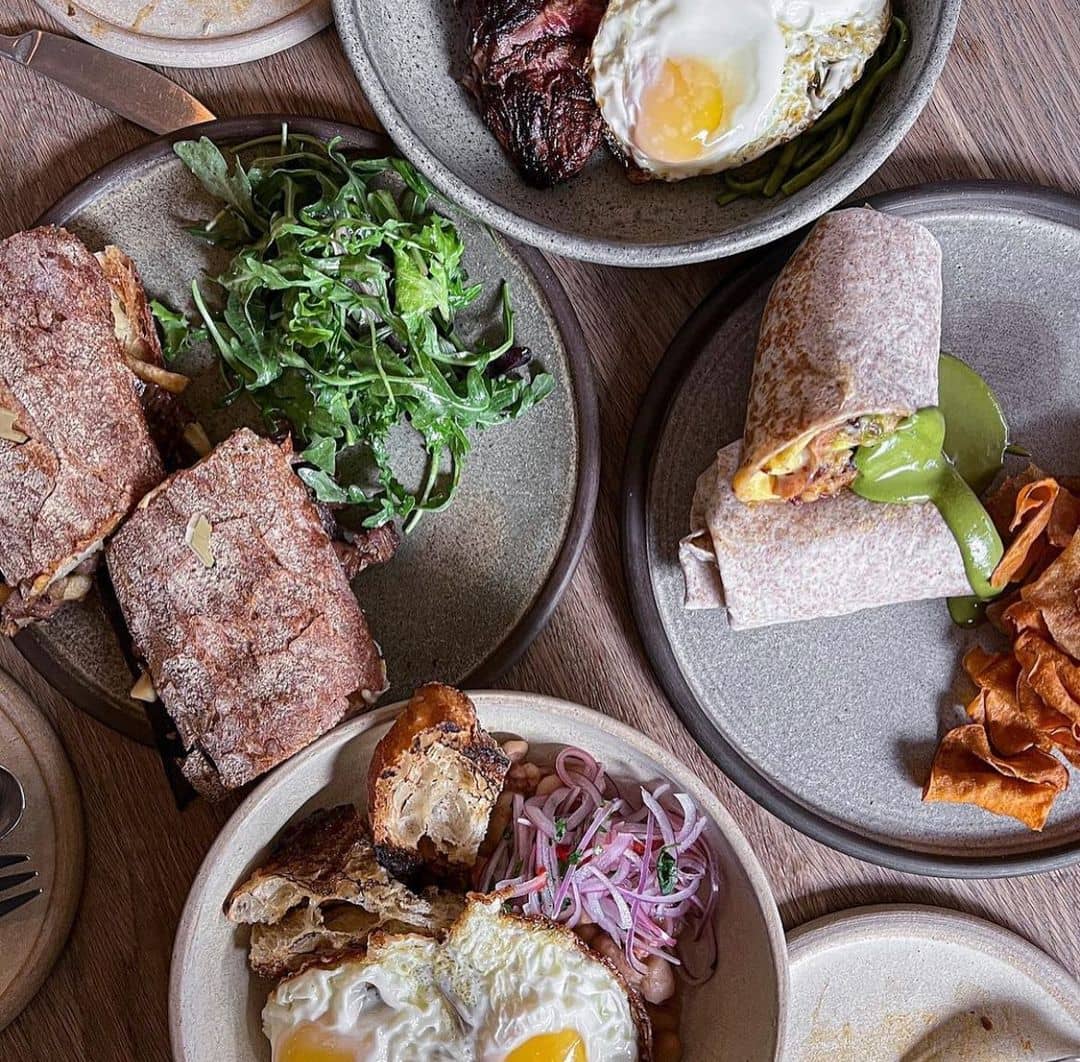 Are you looking for a romantic-feel restaurant but don't know where to go? LIama Inn promises to win your heart! Candle lit, greenery, dim lights, and just an overall cozy and intimate feel.
With these cozy details, LIama has created a signature tropical vibe and airy atmosphere that makes everyone fall in love! And yes, their food is phenomenal as well!
The Breakfast Burrito came highly recommended with beautifully cooked eggs, some kick of spice from the Poblano pepper, and some soft rice on the inside topped off with an aji Verde sauce making every bite worth every penny.
Oh, the sweet potato chips on the side were delish!
Another crowd-fav is the Salmon Ceviche – giving an Asian flare to it where the fluke is nicely balanced with sweet potatoes.
The buttery, creamy salmon is top-notch when every bite just melts in your mouth with a light touch of sweetness from sweet potatoes.
If there's anything you should order at Llama Inn, make sure it's the Salmon Ceviche.
What to order: Breakfast Burrito, Salmon Ceviche, Lomo Saltado
Address: 50 Withers St, Brooklyn, NY 11211
Although this list contains some pretty good options, Brooklyn isn't the only one offering excellent food in the big apple.
Head on over to our list of the best restaurants in NYC for more recommendations.
Look for a place to stay in New York City?
This article includes affiliate links where we may get a small commission if you use our link. No extra cost is added to you.
How We Create Our "Best" Lists
All Noms Magazine's "best" lists are created using multiple factors and signals to help readers find the best restaurants, things to do, and places to stay at. Some of these factors and signs include personal experiences, correspondence with locals, and compiling experiences from review sites.
Each list is also created to be balanced (in terms of price, cuisine type, ambiance, and more) as possible. This means that the lists are not specifically created in ranking order. You should be comfortable picking from any of the spots on the list and generally have a good time. But of course, YMMV (your mileage may vary) and everyone may have different experiences/palates.