Has it been such a long time since you've had a memorable day or night dining out in West Village with your friends and family? But you're stuck on where to go? We got you all covered.
From organic Italian restaurants to an explosive kick of spices in Spanish culture, or even some elegant touch of Japanese dishes for a unique experience is compiled in this list just for you. Without any further ado, check out our list of the best West Village Restaurants:
1. Palma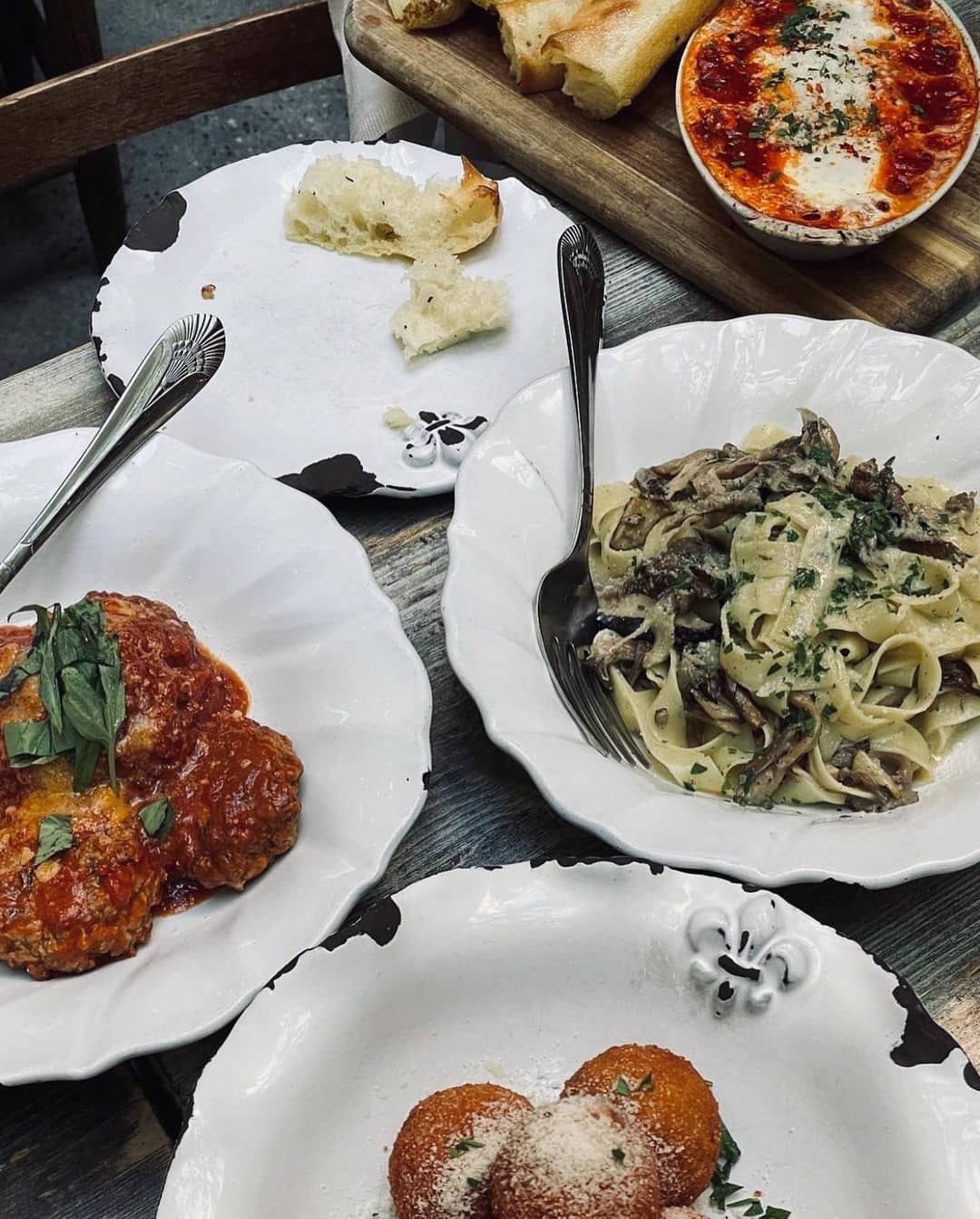 Palma is an organic Italian restaurant that thrived as an extension of their home and stays true to generations of our family recipes and techniques. White Stucco walls, beamed ceilings, and a salvaged chestnut door that leads to a well-taken cared garden with ivy-covered walls create a lovely atmosphere where you can chill with delicious food and world-class wine.
Looking for something sweet and crunchy? Try the Cavolfiore and be amazed by the refreshing flavor of sautéed cauliflower florets with scrumptious caramelized onions completed by currants, pine nuts, & bread crumbs.
Moving on with a more hearty and flavorful dish to fulfill your stomach – Spaghetti All'astice with tender, sweet Maine lobster covered in Vesuvian vine tomato sauce and peperoncino on top of fresh artisan pasta creating a perfect touch for the night.
What to order: Cavolfiore, Spaghetti All'astice, Ravioli Cacio E Pepe
Address: 28 Cornelia St, New York, NY 10014
Website | Instagram | Facebook
2. Nami Nori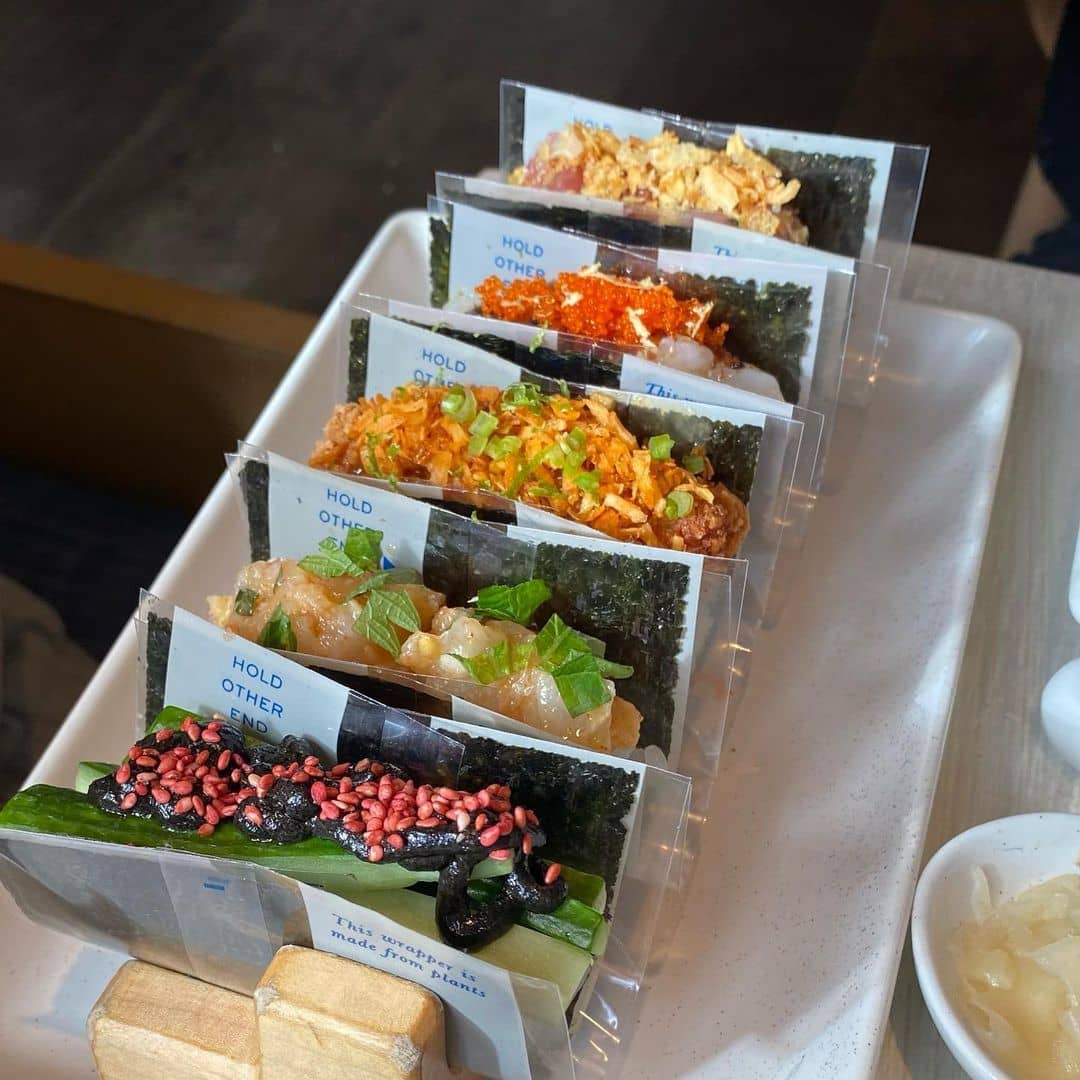 Originating in New York City, Nami Nori is a casual yet elegant temaki bar specializing in open-style sushi hand rolls that promises to satisfy you with the deliciousness in every bite. The open-style temaki allows guests to enjoy a wide variety of flavors, in each fun-to-eat, visually tempting bite. Nami Nori is no doubt, a spot-on place to share with friends and family.
Let's dive in with a fresh Nami Nori Salad – customers' all-time favorite start. Coming with some juicy tomatoes, crispy rice chips, and Nori specialized buttermilk dressing creating a combination of sourness and sweetness makes this dish is so mouth-watering.
Always ask for their Signature Set to enjoy more at a more affordable price – including their top 5 temaki such as fresh, buttery cubes of tuna poke and crispy shallots; some scallops with juicy tobiko and citrusy scent from lemon; delectable cucumber black sesame; flavorful coconut shrimps in green curry; and salmon serrano with ginger, gyoza, and tosazu.
That sounds like a good deal, right?
What to order: Nami Nori Salad, Signature Set, Tuna Crudo
Address: 33 Carmine St, New York, NY 10014
Website | Instagram | Facebook
3. Semma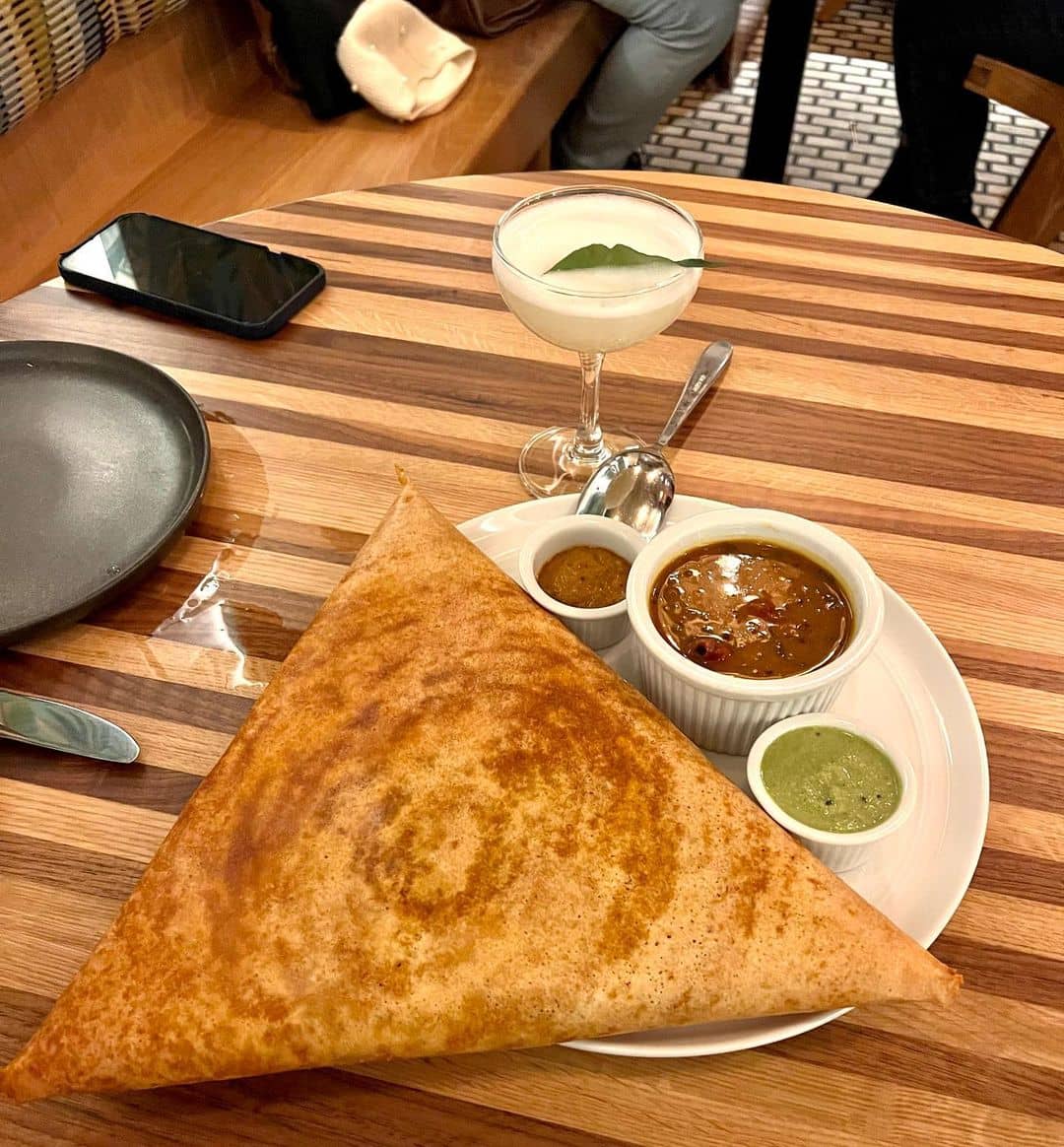 Semma – which means "fantastic" is indeed true to the name! It is an exploration of heritage Southern Indian cuisine that has rarely been seen outside of local homes and neighborhoods, bringing you to the soul of Southern India with explosive flavors and regional ingredients in every dish. They also provide you with a diverse menu in 3 different sizes in portions so don't worry!
For a Small menu, try the Eral Thokku which comes with tender tiger prawn and spicy green chili, fenugreek and curry leaves giving an explosive flavor to every bite.
For Medium ones, ask for Attu Kari Sukka to enjoy their top-notch lamb that is made to perfection. The juicy meat is elevated with the lightly sweet, spicy, and piney scent of the cardamom and Tellicherry peppers.
And for their largest option, try the Valiya Chemmeen Moilee with delicious lobster tail covered with creamy, spicy mustard, turmeric, and rich coconut milk creating a balanced flavor in spices. If you're looking for something hearty and flavorful, this dish will no doubt be a perfect match!
What to order: Eral Thokku, Attu Kari Sukka, Valiya Chemmeen Moilee
Address: 60 Greenwich Ave, New York, NY 10011
Website | Instagram | Facebook
4. Osteria Carlina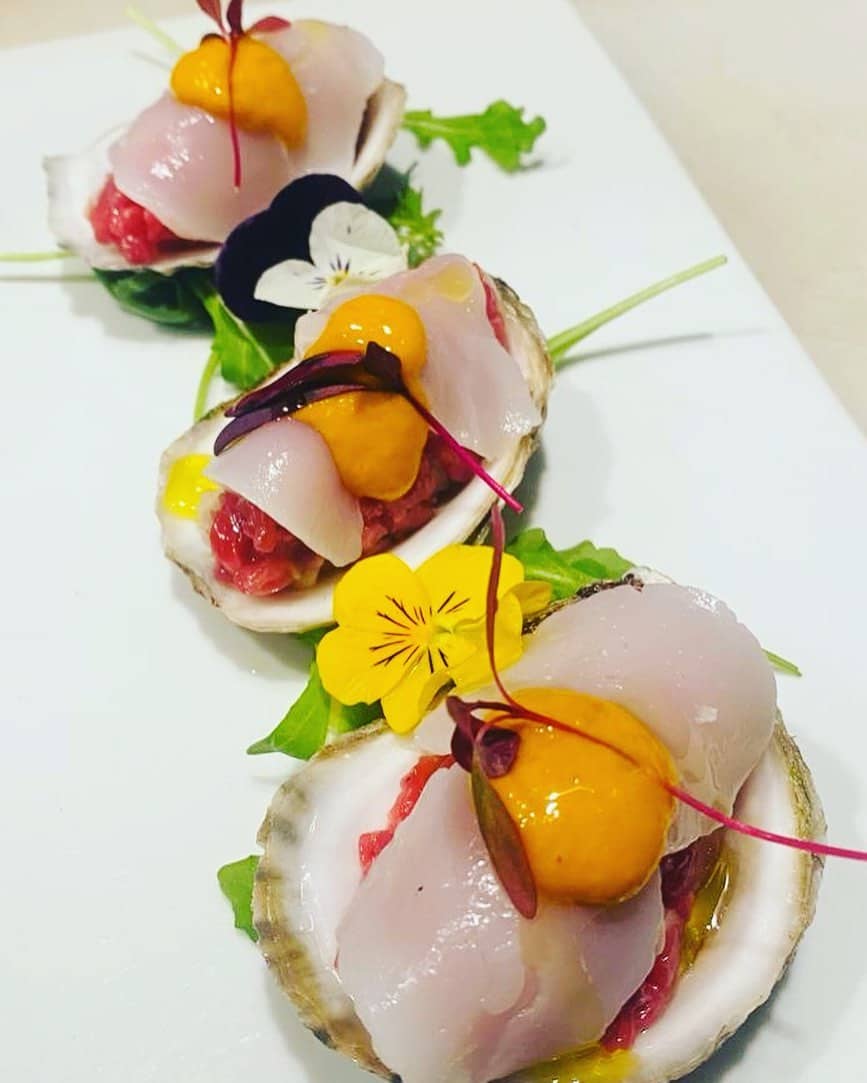 Osteria Carlina is undoubtedly one of the best little gems of the West Village. Offering you a variety of excellent Italian food, from amazing appetizers, creative plates of pasta & mouth-watering meat, and chicken & fish dishes, you will have one of your best meals ever. The sommelier is there to help you pick out a great authentic wine to complement your food.
A true neighborhood spot!
The Pappardelle Con Porcini e Parmigiano is hands down the best on their menu.The pappardelle gracefully embraces the hearty porcini mushroom ragu. The flavor is unforgettable with well-balanced spices creating a delicious creamy start for your experience at Osteria Carlina.
Seafood pasta is one of the best things to exist and Osteria makes sure you're aware of that with their Tajarin Al Mare. The delicate tajarin pasta is the perfect canvas for this seafood masterpiece with succulent scallops, shrimp, and squid.
Oh, ask for the Classic Tiramisu as well to end your meal with Savoyardi cookies topped with bitter, authentic coffee Lavazza and sweet mascarpone cream.
What to order: Pappardelle Con Porcini e Parmigiano, Tajarin Al Mare, Tiramisu
Address: 455 Hudson St, New York, NY 10014
5. Tartine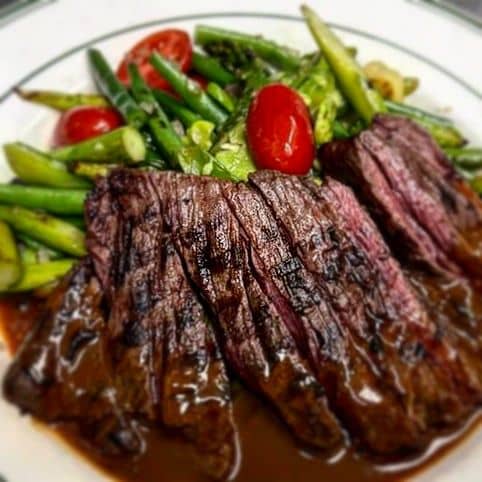 At Tartine, you can expect the absolute best brunch – to the point that people line up down the street waiting – but dinner is surprisingly solid as well. Whether you want coffee and croissants, a quick healthy lunch, or a cozy dinner, Tartine offers 3 different menus with amazingly tasty food.
With aesthetic appeal and warm welcome, Tartine has always been the "go-to" French restaurant for the locals in the heart of West Village.
Their French Onion Soup Gratinee has never disappointed the customers with incredible flavor. Nothing's better than a bite of all the butter and cheese toast with nutty, creamy soup along. Especially when it's cold out, the flavor is even more well-balanced.
You can't miss out on their Spicy Tuna Tartare when everything is made to perfection. Coming with fresh cubes of buttery tuna and creamy guacamole at the bottom makes every bite full of flavor. Some fresh ginger, red onion, cucumber, and radishes on the side give a refreshing completion to the dish.
What to order: French Onion Soup Gratinee, Spicy Tuna Tartare, Marinated Grilled Chicken Paillard
Address: 253 W 11th St, New York, NY 10014
Website | Instagram | Facebook
6. Anton's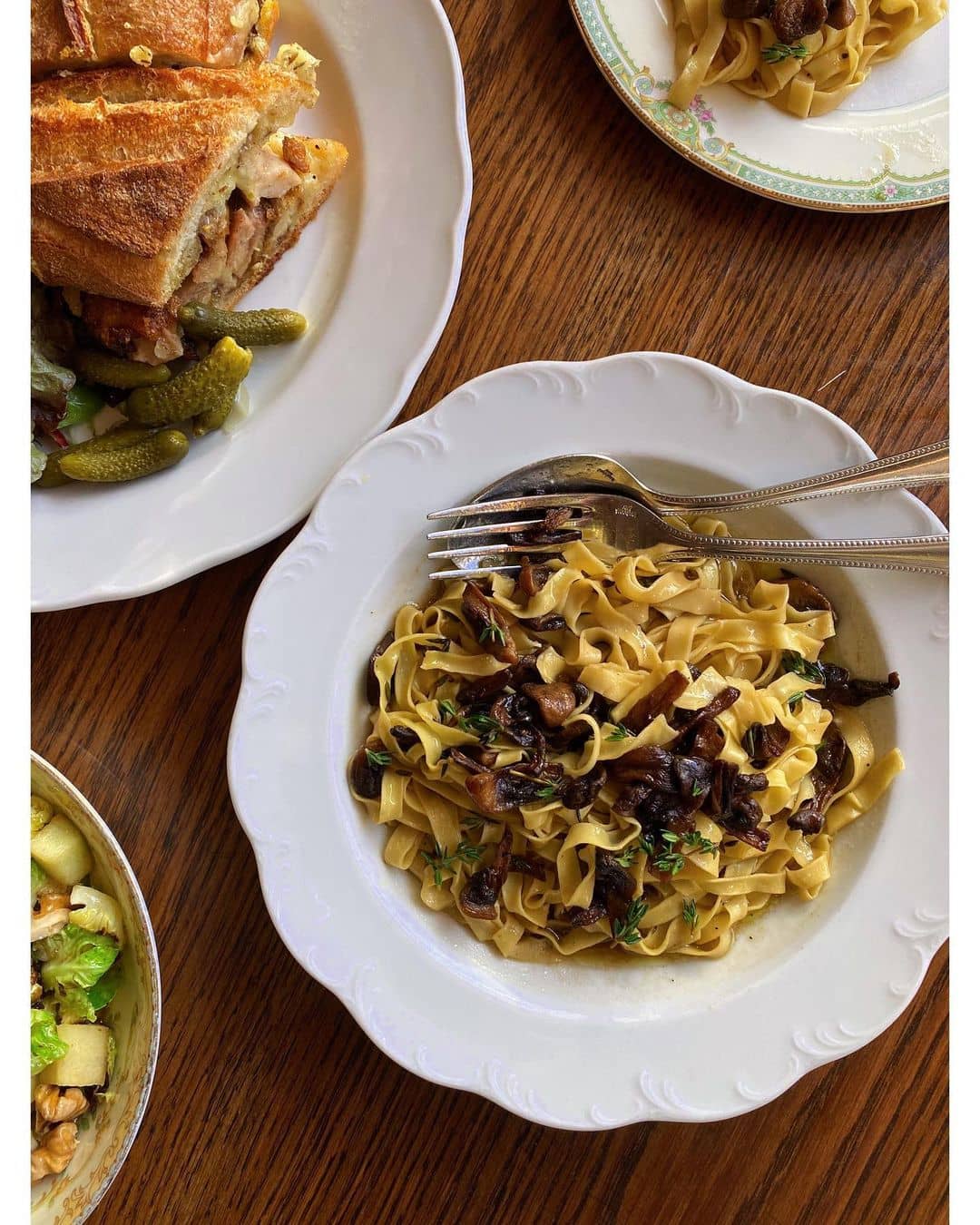 If you've spent much time in the neighborhood, Anton's real estate will already be familiar. Anton's is a nostalgic New York café and wine bar in the heart of the West Village that thoughtfully reimagines NYC's rich culinary history through comforting, eclectic American cuisine with deep European influences.
The lovingly-appointed space features rich mahogany woodwork, and beautiful wrought-iron windows giving you so much of a vibe before get to enjoy their top-notch dishes.
If you're looking for a fish dish, their Filet of Sea Bass will surely win your heart. What an amazing dish with the soft, flaky flesh and addictive sweet, firm flavor lend to the versatility covered with nutty black butter and capers. A nice kick of herby taste from pea leaves also helps fulfill the flavor.
We know you're looking for more hearty dishes, but we can't help talking about their delicious dessert – famous Bayley Hazen Blue with Cabot clothbound cheddar, and some creamy, nutty Marcona almonds all covered in Catskill honey.
What to order: Filet of Sea Bass, Bayley Hazen Blue with Cabot Clothbound Cheddar, Long Island Clams, Spinach-ricotta Ravioli with Brown Butter
Address: 570 Hudson St, New York, NY 10014
7. Sevilla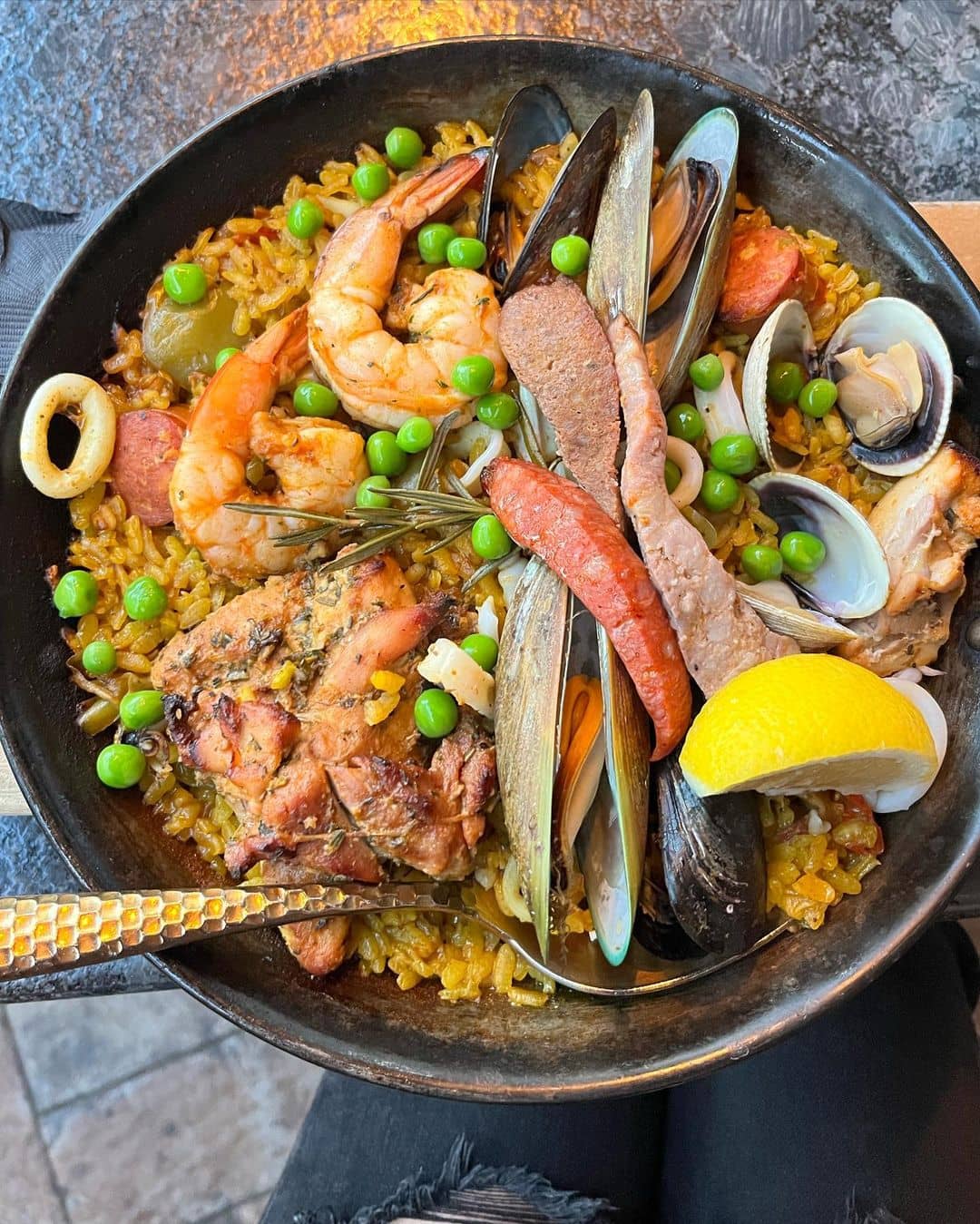 Craving for some Spanish food but don't know where to go? We got you covered! Welcome to Sevilla – one of the best Spanish restaurants that you can ever find in New York!
This is an authentic old-school restaurant with wood-paneled walls, worn brown leather booths, and tuxedoed waiters giving a really cool movie-set atmosphere.
On top of the unique ambiance, the Paella a la Valenciana is TO DIE FOR. Coming with a half lobster filled with smokey rice, clams, scallops, and tender chicken meat. All the flavor is blended nicely together making every bite worth every penny.
Another star of the show is Veal Sevilla – which is Sautéed with Mushrooms in Wine Sauce. Make sure to add them to your favorite side dish as they are made so quickly yet delish! Buttery, herby, and garlicky, Veal Sevilla has a total steakhouse vibe that makes you feel fancy as well.
What to order: Paella a la Valenciana, Veal Sevilla, Red Snapper Guava with Cream Cheese
Address: 62 Charles St, New York, NY 10014
Website | Instagram | Facebook
8. The Mary Lane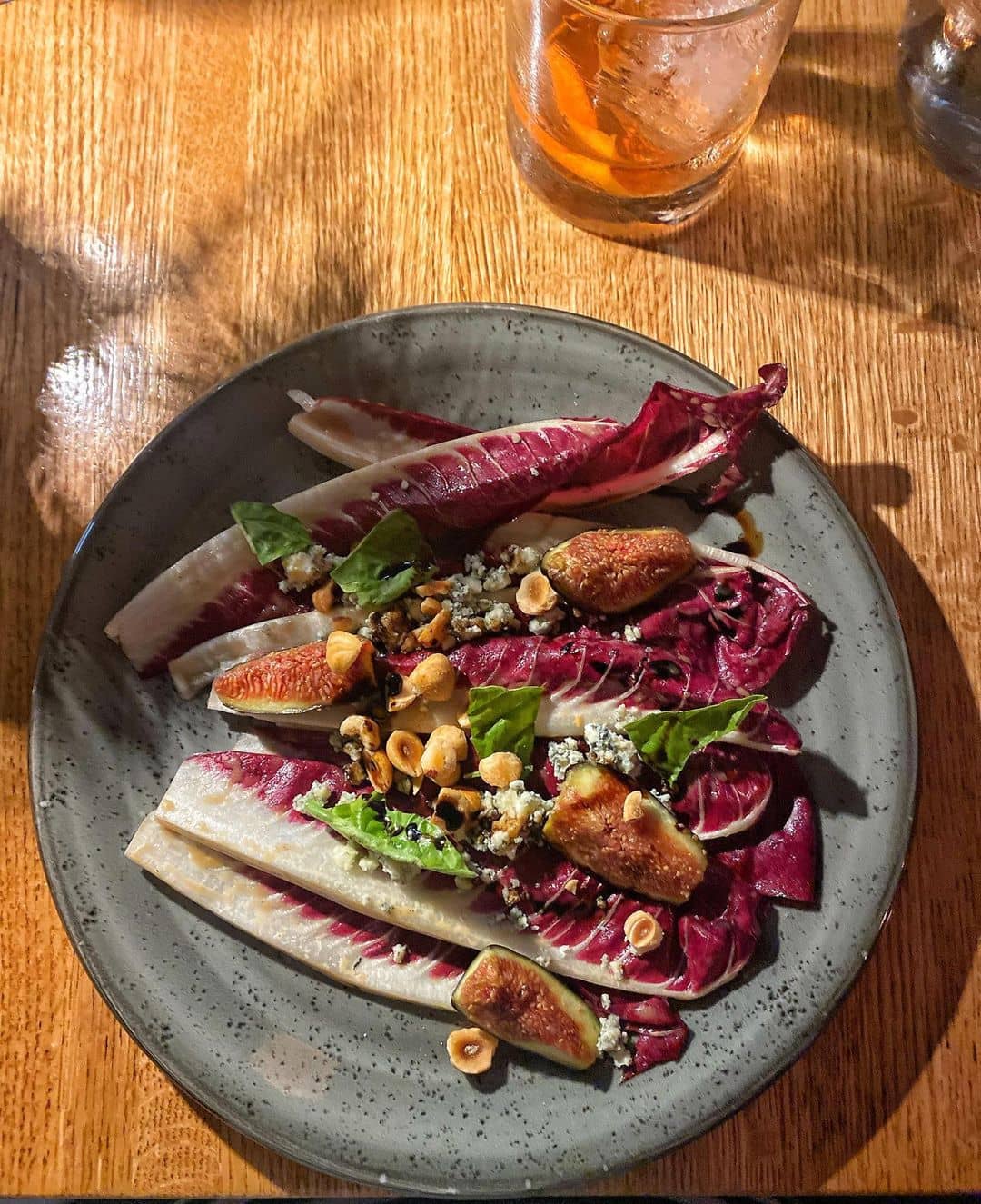 Located on the cobblestone corner of Bank and Greenwich Streets in the West Village, The Mary Lane at 99 Bank St is a seasonal New American neighborhood restaurant that features its signature locally-sourced, market-based fare in a bright, airy dining room surrounded by floor-to-ceiling windows creating a perfect mood for a memorable night.
The King Trumpet Mushroom is a clear standout on their menu. This extraordinary dish comes with crispy fingerling chips, capers, and truffle dijon aioli. In every bite, you will get a taste of crazily good mushroom with a meaty texture.
Another crowd-fav is the Braised Chicken Cacciatore Ravioli with tender braised chicken cacciatore enveloped in pockets of ravioli. The savory chicken is accompanied by the subtle bitterness of broccoli rabe and briny olives. The crispy skin and generous sprinkle of Grana Padano completes the dish.
What to order: King Trumpet Mushroom Tartare, Braised Chicken Cacciatore Ravioli, Grilled Shogun Maitakes
Address: 99 Bank St, New York, NY 10014
Website | Instagram | Facebook
9. Oscar's Place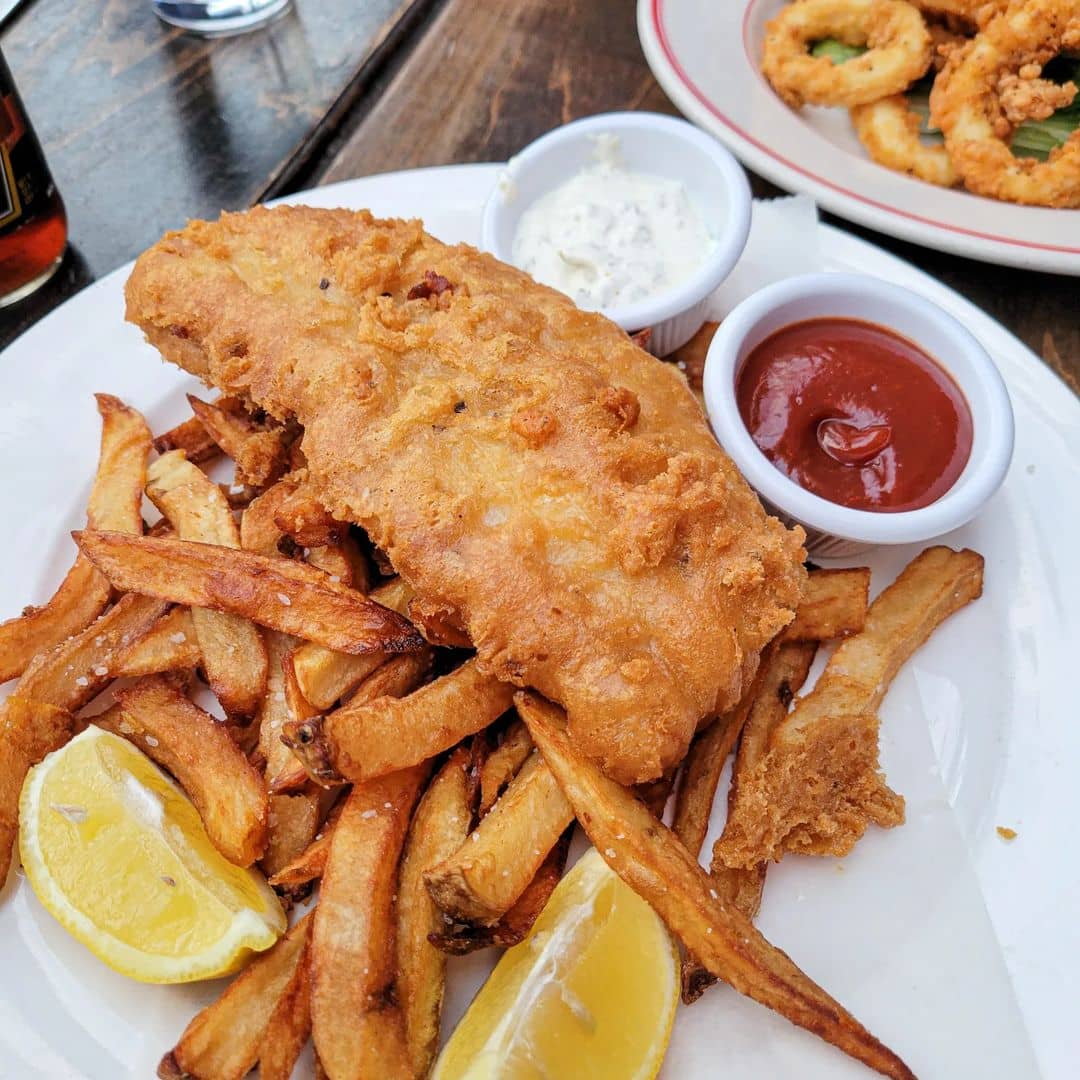 One of the hidden gems in the heart of West Village – Oscar's Place, where you are offered only the absolute best classic British food and kept the Belgian favorites.
Entering the restaurant and you'll be embraced by the warm and cozy atmosphere with a minimal "go-to" interior makes it a perfect spot to waste your evening with your loving friends and family.
A Classic Nicoise is a must when visiting Oscar's Place. Served with Mescluns greens, marinated tomato, potato, green beans, and egg, you'll are offered a veggies festival in your mouth with an amazingly balanced flavor of refreshment and creaminess.
The Cold Poached Salmon has always been the top option for customers with a delicate and light aftertaste. It comes with some specialized tartar sauce on top and cucumber, mesclun greens, and the sourness of lemon vinaigrette making every bite full of flavor.
What to order: Classic Nicoise, Cold Poached Salmon, Pan-Seared Salmon
Address: 466 Hudson St, New York, NY 10013
Website | Instagram | Facebook
10. Corner Bistro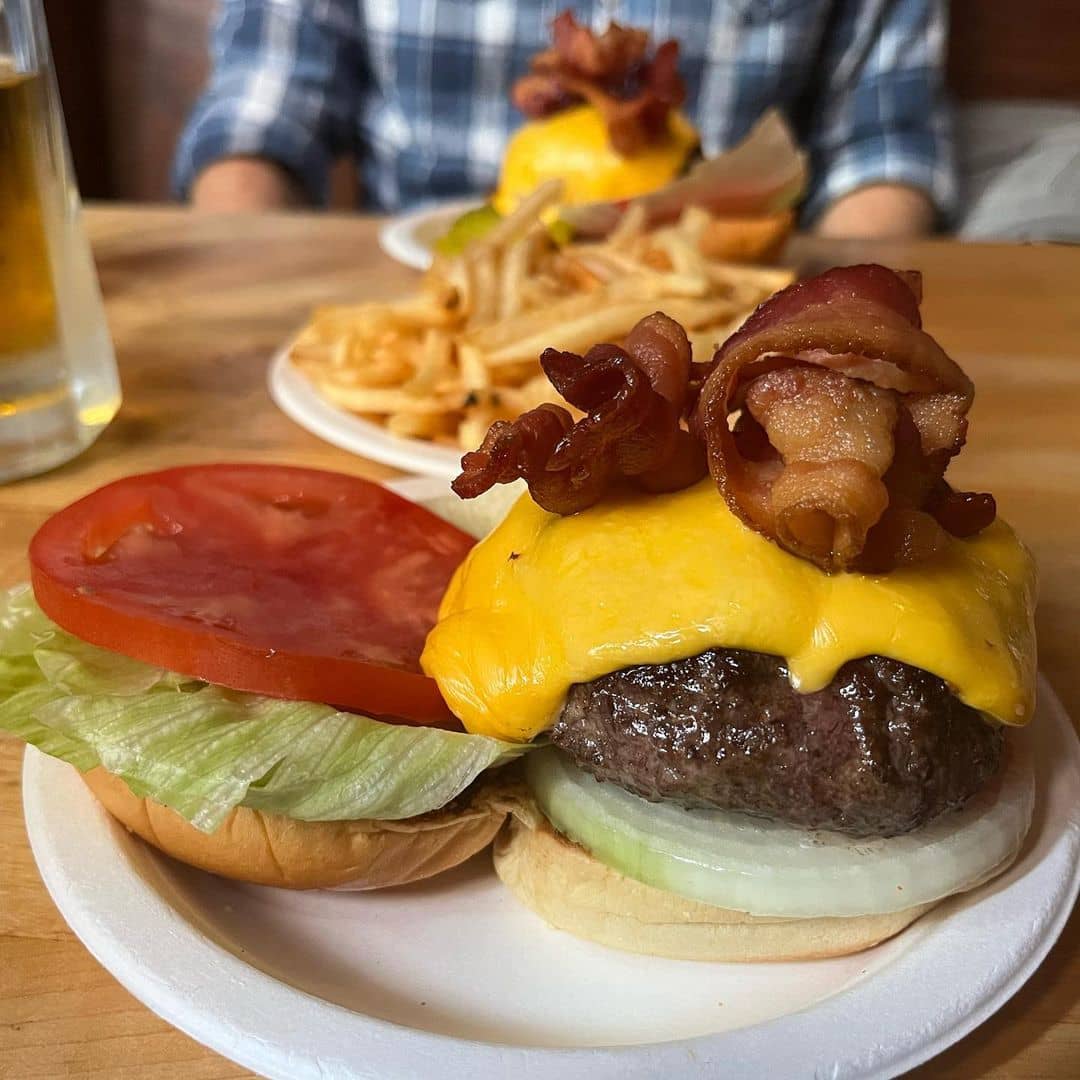 Corner Bistro, the last of the bohemian bars in West Greenwich Village, has been serving customers since the earlier part of this century. Featuring a traditional pub with lots of polished wood and minimal decorations, Corner Bistro will give you an instant crush with its calming and cozy atmosphere, and of course, the high-quality food as well.
The Bistro Burger has always been considered the best burger. Simple and straightforward with American cheese crisp bacon and veggies, it's straight-up chuck messy, greasy, and tasty! A true classic burger with mouth-watering flavor.
Another star is the Bistro Bello with the addictive umami scent of grilled portobello mushroom topped with savory American cheese and beautifully made crisp bacon. Can't help falling in love with this combination.
What to order: Bistro Burger, Bistro Bello
Address: 331 West 4th Street, New York, NY 10014
Website | Instagram | Facebook
11. Mary's Fish Camp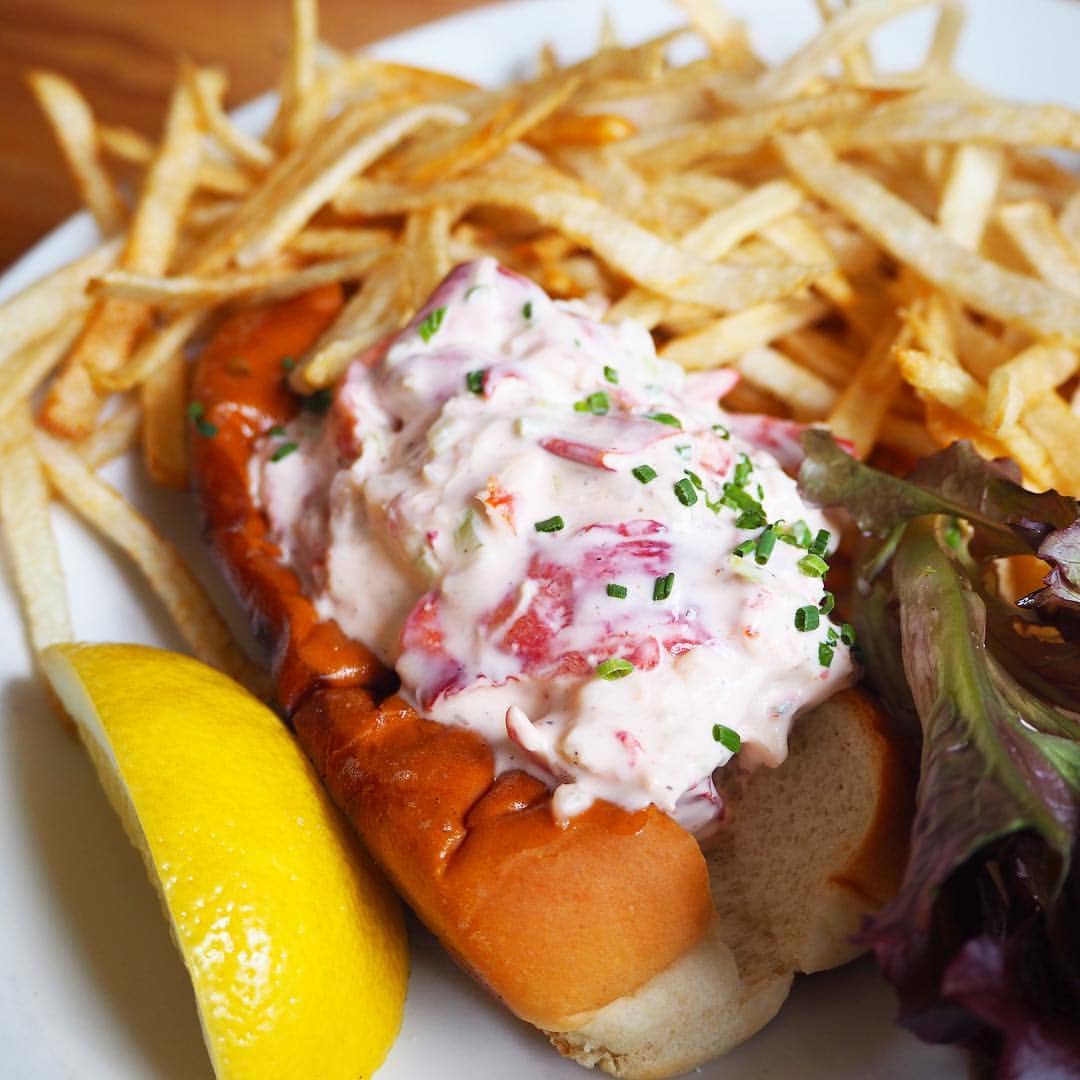 For over a decade, Mary's Fish Camp has been a steady flag of excellent flavors as one of the best restaurants for seafood. So for our seafood lovers, this is the best spot for you to enjoy the absolute best quality food and explosive spice.
The Lobster Roll really lives up to the hype when it's made to perfection. The lobster meat is so sweet, tender, and fresh with a hefty amount of mayo that goes along making this dish so messy yet delicious. And the lemon juice really balances the heavy flavor of the mayo and completes the dish with a light touch of its sourness.
The Pan-Roasted Mussels are also highly recommended with mussels in white wine and butter sauce. What makes this dish so special is the burnt orange giving a unique citrusy scent. Oh, and the bread is so puffy and soft that you can't help taking another bite. 
What to order: Lobster Roll, Pan-Roasted Mussels, Fried Oysters
Address: 64 Charles St, New York, NY 10014
Website | Instagram | Facebook
12. Boucherie West Village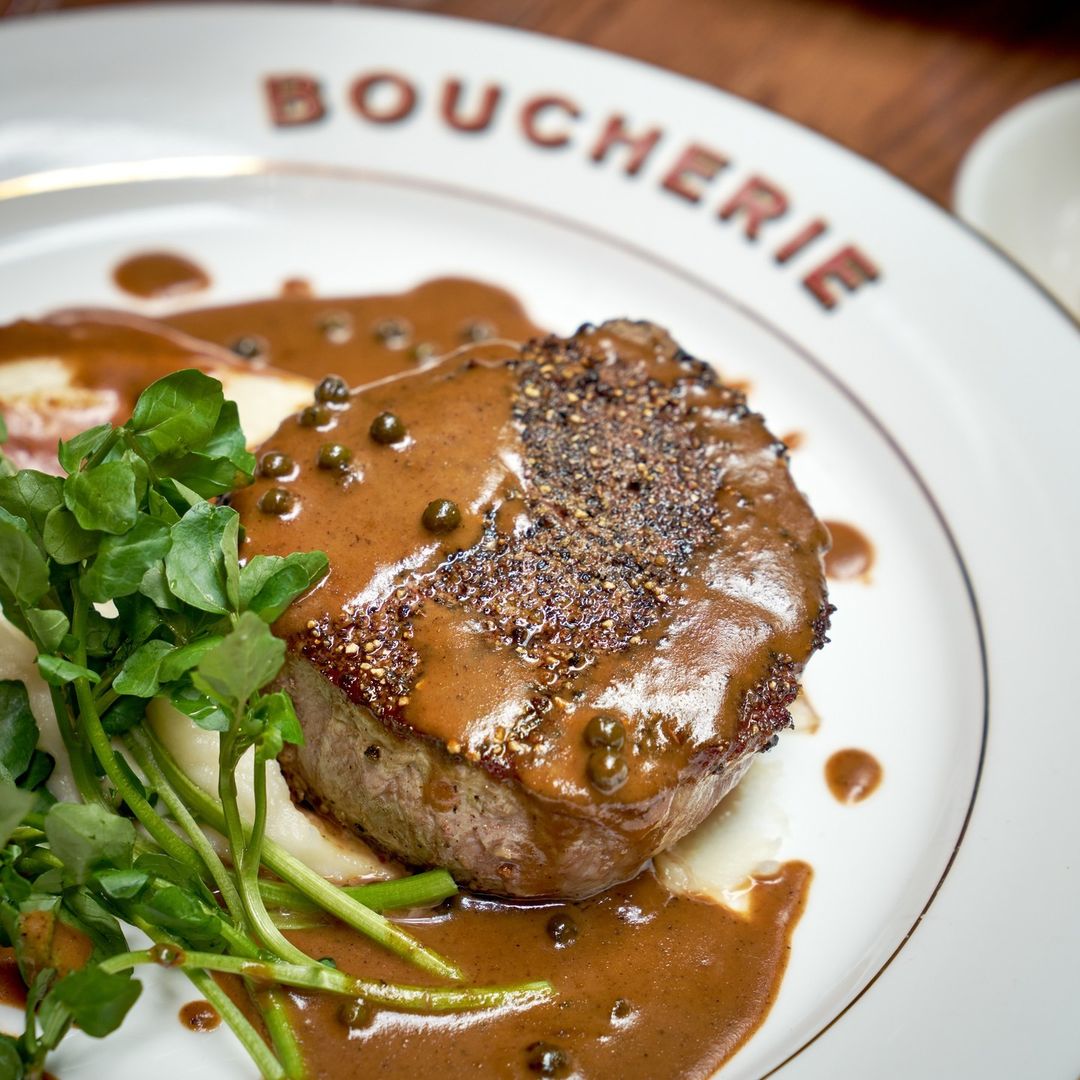 Nestled in the vibrant West Village, the enchanting world of Boucherie is where culinary wonders await. Boucherie effortlessly captures the essence of a classic French bistro, infusing it with a modern flair. From the moment you enter, the cozy ambiance embraces you, transporting you to the romantic streets of Paris. With an exceptional wine selection and impeccable service, Boucherie is the place to be for mind-blowing French cuisine.
The Escargots are a delicious french delicacy that will take you to another dimension. Tender snails cooked to perfection and elevated by an out-of-this-world combination of parsley, butter, lemon, garlic and shallot, this dish will transport you to a world of culinary delight and will have you wishing you can stay there forever.
Velvety hudson valley foie gras mousse that melts in your mouth, Boucherie's Mousse de Foie Gras is in a league of its own. This outstanding dish will envelop your palate with luxurious richness you'll never get anywhere else.
What to order: Escargots, Mousse de Foie Gras, Steak Frites
Address: 99 7th Ave S, New York, NY 10014, United States
Website | Instagram | Facebook
Above is our list of the best gems you can find in West Village for a perfect night with top-notch food and enjoyable atmosphere. And if you're looking for the same thing for other restaurants in New York, check out our list of the Best Restaurants in NYC for more information.
Looking for a place to stay in NYC?