For stylish concoctions, award-winning wine lists, and rare spirits, there is a brilliant choice of vibrant and trendy cocktails lounges & bars in Yaletown.
Yaletown bars draw locals and visitors from far and wide, all looking for good times, great drinks, and an atmosphere to go with it. These hot spots are filled with their own sparkling zest and suit every taste, mood, and budget, and will leave even the biggest cynic coming back for another wonderful experience.
For your next visit to this unique and stylish neighbourhood, we've put together a list of the Best Yaletown Bars & Cocktails Lounges, for your drinking pleasure.
10. Yaletown Brewing Company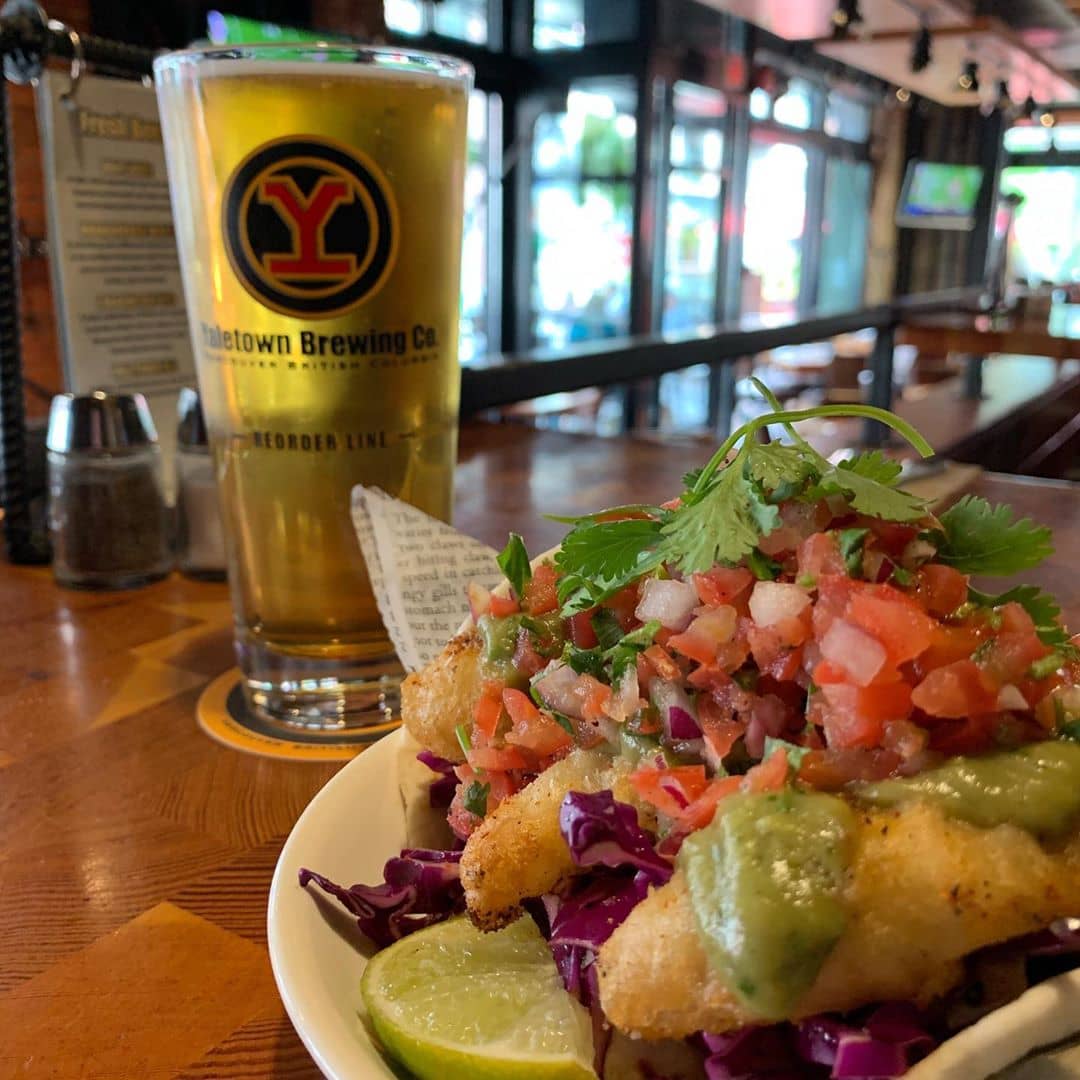 This is a place for beer lovers, and even those who like to try a different kind of brew every once in a while. YBC boasts a seating capacity of over 160, an array of seasonal beers on tap, and a buzzing atmosphere complete with TVs and a pool table. There's even a fireplace!
The complete neighborhood pub experience is what this spot is all about, so be sure to drop in for a visit, grab a cold one, and have the best time!
Address: 1111 Mainland St, Vancouver, BC V6B 2T9, Canada
9. The Greek by Anatoli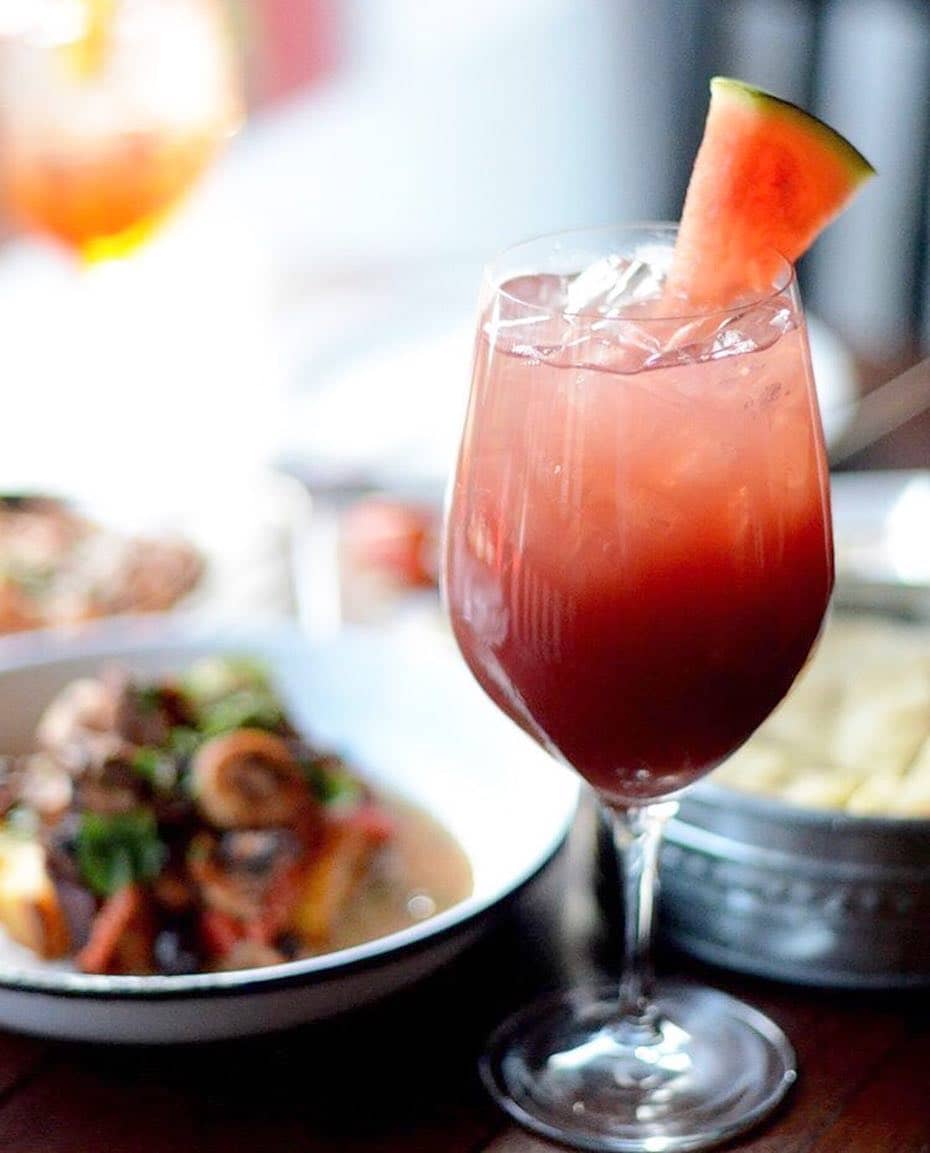 If you're really in the mood to hit the town and experience a memorable evening out, then The Greek by Anatoli is the place you'll want to go.
Classically authentic, this spot will transport you to Greece the second you step through the doors. The atmosphere is warm and welcoming, the staff always at the ready to assist you, and the drinks are simply divine!
Enjoy a traditional Greek Larger, or choose from a selection of amazing cocktails on their menu.
Tip: Don't miss out on the Haloumi Caprese!
What to order: Greek Larger, Haloumi Caprese
Address: 1043 Mainland St, Vancouver, BC V6B 5P9, Canada
Website | Instagram | Facebook
8. Hello Goodbye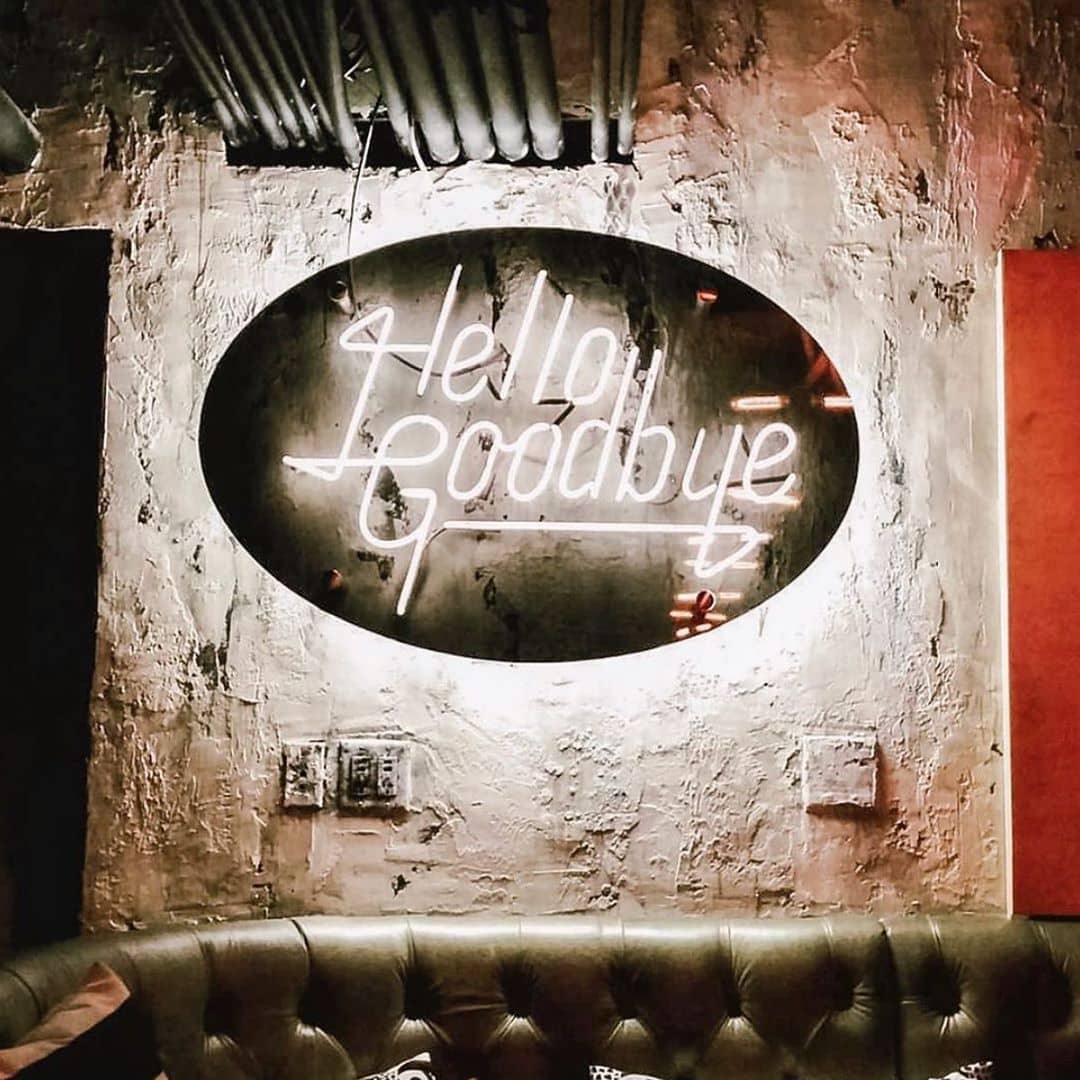 Who doesn't like a little mystery in their lives?
If you're one of those people who enjoys the occasional trip off the beaten track, then you're going to have to find your way to one of Yaletown's best escapes. Once there, you will enter through an unmarked door, walk down a hidden stairwell, and enter Hello Goodbye.
This underground bar doesn't just promise an escape from the ordinary, it delivers it in spades! So, gather a group of friends and go have some fun.
Order up a round of cocktails from their extensive list. We recommend the Spanish Banks and Oceans 11. Ask your server to surprise you with something unique, and you won't be disappointed!
What to order: Spanish Banks, Oceans 11
Address: 1120 Hamilton St, Vancouver, BC V6B 2S2, Canada
Website | Instagram | Facebook
7. Hapa Izakaya Yaletown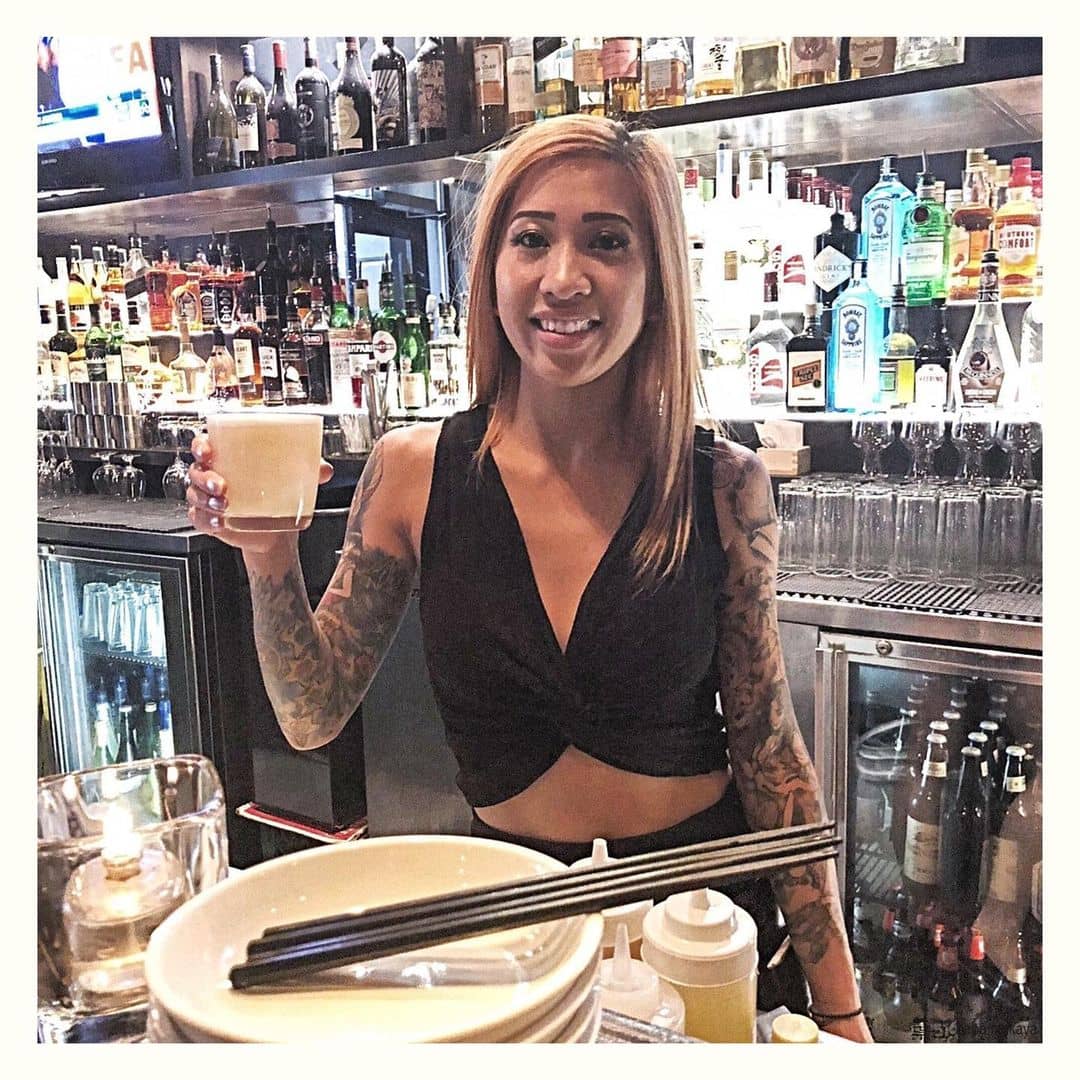 An Izakaya is the Japanese equivalent to a gastropub or informal Japanese bar that serves alcoholic drinks and snacks. Similar to the British or Irish pubs, izakayas are casual stopovers for anyone looking for a drink and some food.
This Yaletown delight has a cult-like following with their patrons, and with daily specials for their drinks, fresh specials for food, and their happy or "Hapa" Hour deals, Hapa continues to provide a successful blend of Japanese cuisine, fun, and culture.
Known for their cold and hot tapas, the beef tataki (seared beef with sesame chilli sauce,) aburi saba (mackerel sashimi) and karaage (deep fried chicken) are extremely popular. As all their cocktails are made from high quality ingredients, the Spiked Pear Lemonade, the Takara Whisky Sour, and Hapa Old Fashioned are firm crowd favourites.
Tip: Hapa's has a Drink special for each day of the week, so ask your server when you visit.
What to order: beef tataki, aburi saba, karaage, Spiked Pear Lemonade, Takara Whisky Sour, Hapa Old Fashioned
Address: 1193 Hamilton St, Vancouver, BC V6B 5P6,
Website | Instagram | Facebook
6. Bartholomew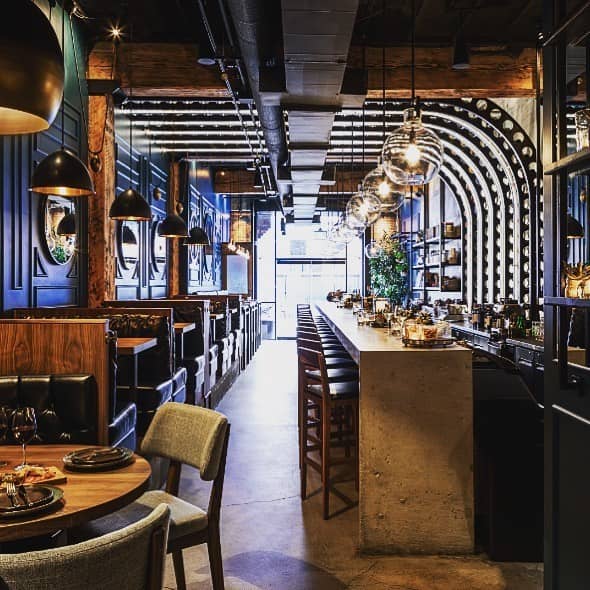 If you're a fan of cocktails and charcuterie, look no further than Yaletown's Bartholomew Bar. This trendy spot is popular amongst locals and visitors alike, and serves a wide variety of cocktails and drinks.
We recommend you go for a Perfect Manhattan, or a Gimlet, and definitely do not miss out on trying one of Bart's Old Fashioned Cocktails. The Japanese Whiskey is a super combination of Suntory Toki, Vanilla-Angostura Bitters, Lemon Zest, Lemon and Sugar.
Protip: When you order the charcuterie, opt for The Butcher's Board.
What to order: Perfect Manhattan, Gimlet, Bart's Old Fashioned Cocktails, Japanese Whiskey
Address: 1026 Mainland St, Vancouver, BC V6B 2T4, Canada
Website | Instagram | Facebook
5. Uva Wine & Cocktail Bar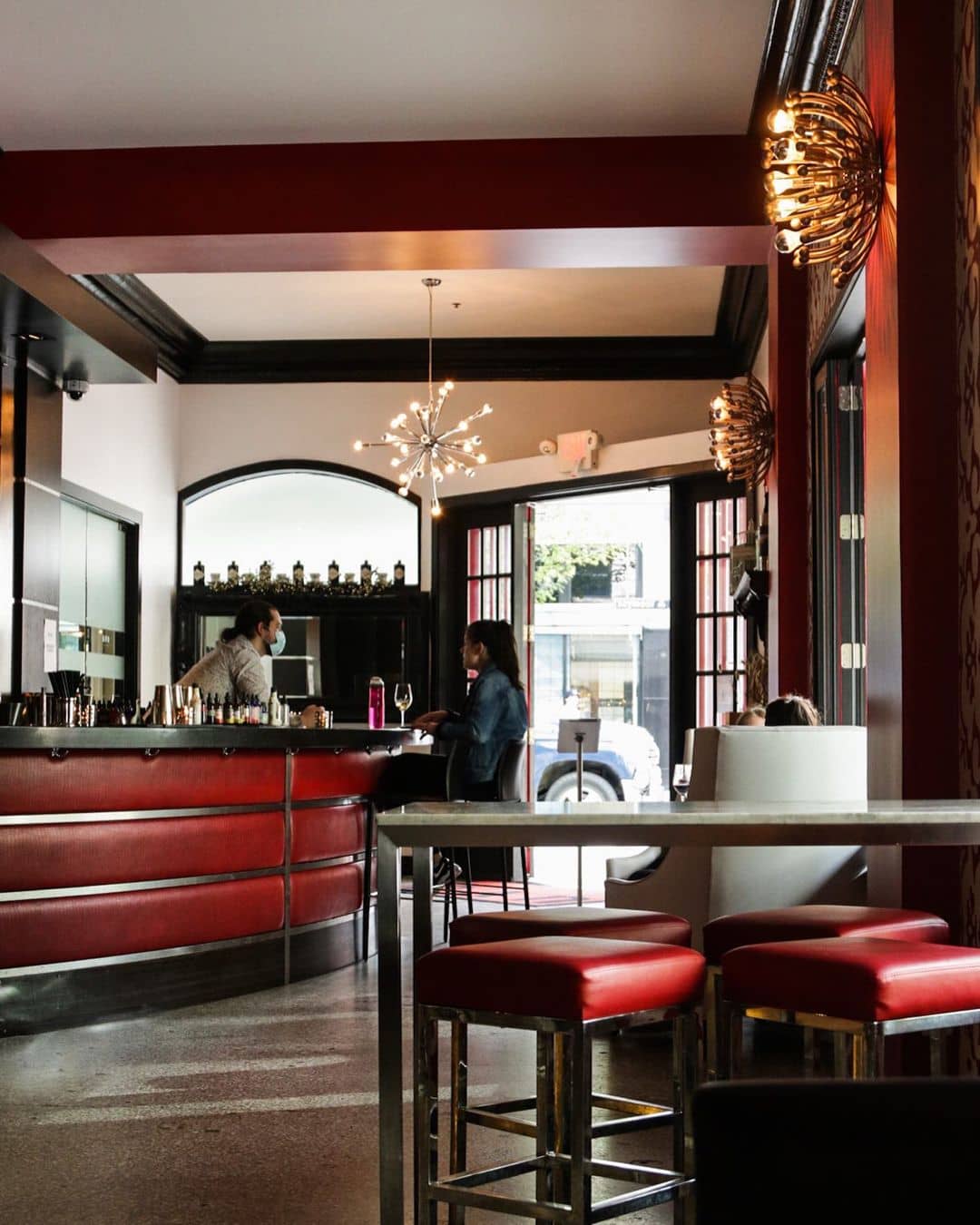 For years, Uva Wine and Cocktail bar has been synonymous with excellent hand-crafted cocktails and "hard to find" wine selections in a sophisticated yet intimate setting.
Winning numerous awards for their artisan cocktails and diverse wine selection, Uva is simply known as the best place to get a drink.  
Uva serves some of the better BC and Italian wines available. You can also try a flight to sample their red, white or bubbly. For those who like a little pizazz in their drinks, ask the bartender for a specialty drink or go with their SnapDragon Cocktail, or one of their three takes on the classic Negroni.
You can even order the Negroni Tasting Flight if you're undecided and try all three 1 oz negronis.
Tip: By day, Uva is a genuine Italian caffe house offering conventional Italian fare with a stylish twist.
What to order: SnapDragon Cocktail, Negroni Tasting Flight
Address: 900 Seymour Street, Vancouver, BC V6B 3L9
Website | Instagram | Facebook
4. Elisa Steakhouse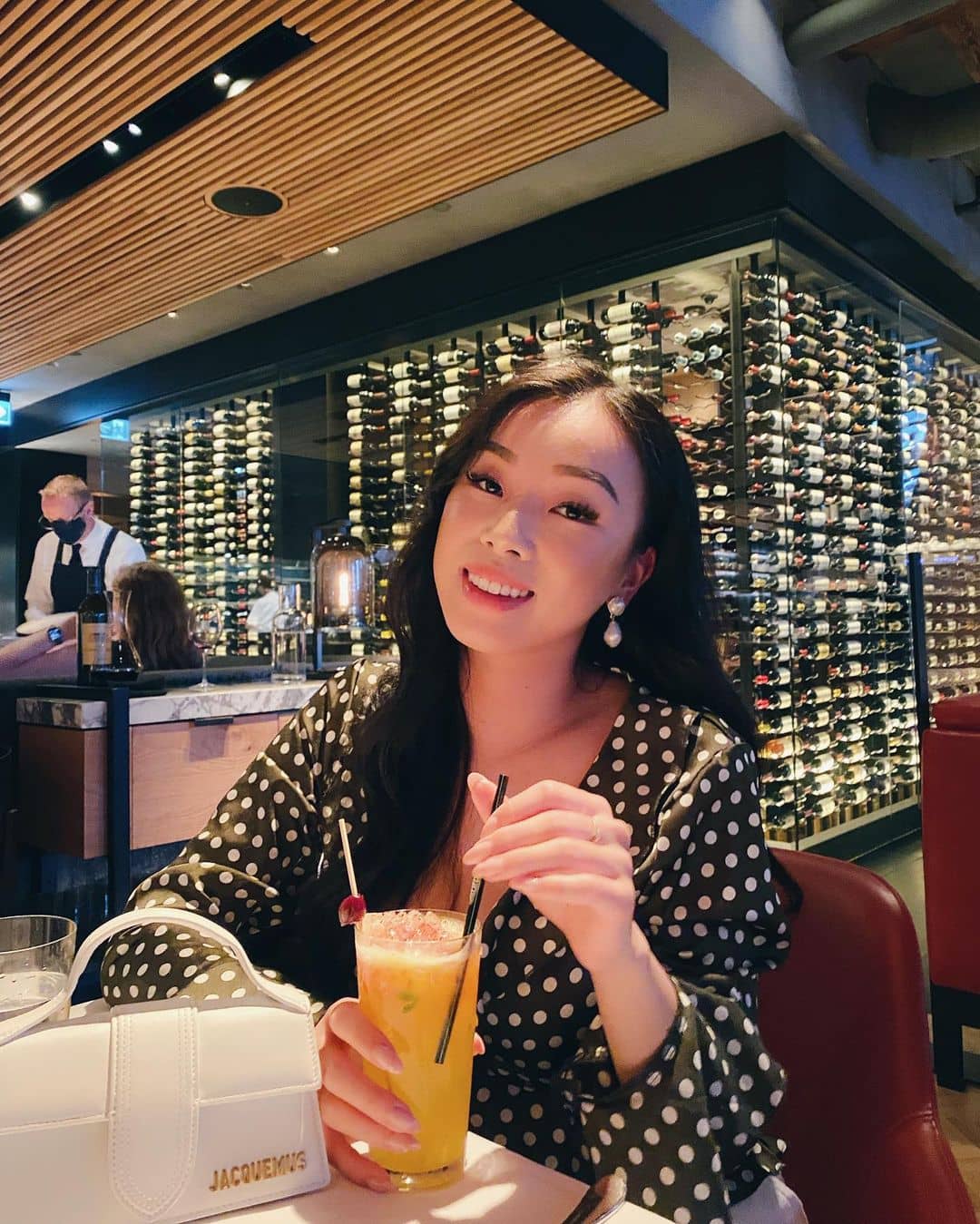 Elisa is a reimagined steakhouse with a unique and feminine take on the normal steakhouse experience. It is a delightful blend of fine dining with a cozy atmosphere, wood fire cooking with an extensive 45-page wine list, and a beautifully decorated setting. Elisa is the place to bring your friends and family to impress and create delightful memories.
Order up a Red Star Line cocktail, that's mixed just right with ketel one citroen vodka, cherry liqueur, apricot, cranberry and lemon. For beer lovers there's local draughts, and wine enthusiasts really need to check out that extensive wine list.
With an award-winning menu, it's pretty difficult to suggest what to eat here as everything is just perfect. If pressed, we recommend their tartares in either beef or tuna, or the Elisa seafood tower.
What to order: Red Star Line cocktail, tartares, seafood tower
Address: 1109 Hamilton Street Vancouver, BC V6B 5P6
Website | Instagram | Facebook
3. D/6 Bar & Lounge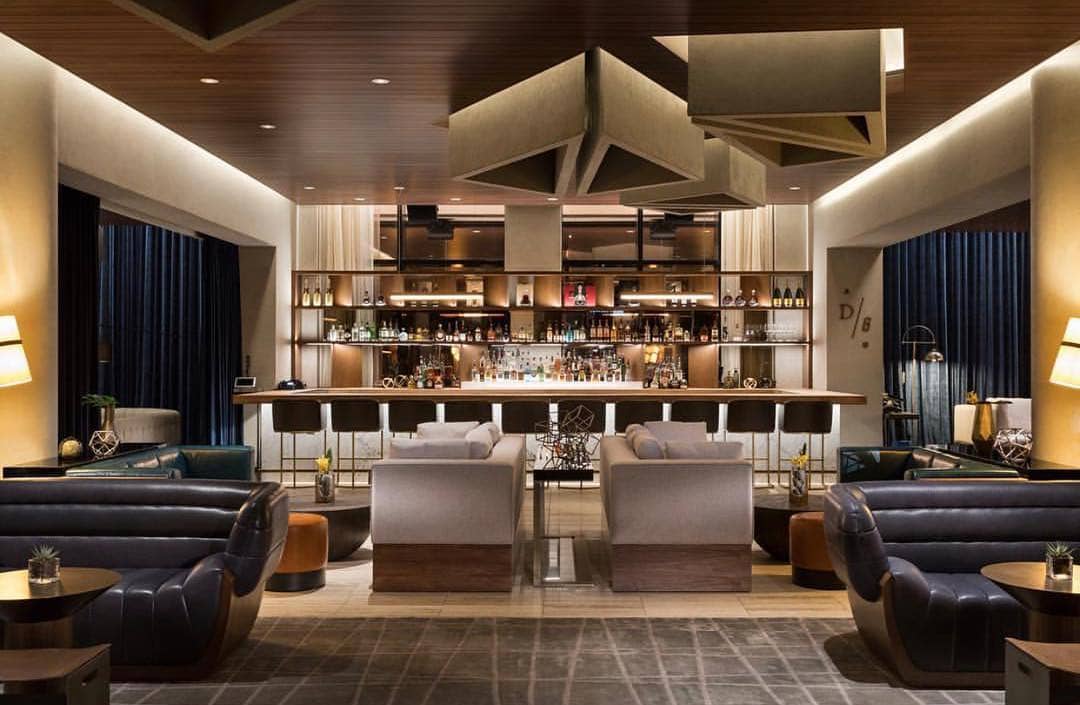 Located on the 6th floor of the Douglas, Autograph Collection in the stunning Parq Entertainment Resort, is a vibrant and hip rooftop lounge with indoor and outdoor seating.
Offering a breathtaking view and a cozy vibe complete with a pool table, bookcase and a rooftop garden, D/6 is the perfect place for a working lunch, an intimate dinner, or drinks and more drinks. With a glass of wine in your hand or a carefully crafted cocktail, there is no better place to relax and drink in the sights of Vancouver.
D/6 has a premier urban rooftop garden offering year-round patio dining and its own outdoor bar. Here, you can enjoy a Classic Margarita or a Ruby Sangria.
The more adventurous might want to try the Dark N Stormy or their signature Sicilian Spritz. They have a good selection of beer on tap and bottled, and their wine list is carefully thought out and serves only the finest local and foreign wine.
What to order: Classic Margarita, Ruby Sangria, Dark N Stormy, Sicilian Spritz
Address: 45 Smithe St, Vancouver, BC V6B 0R3
2. The Victor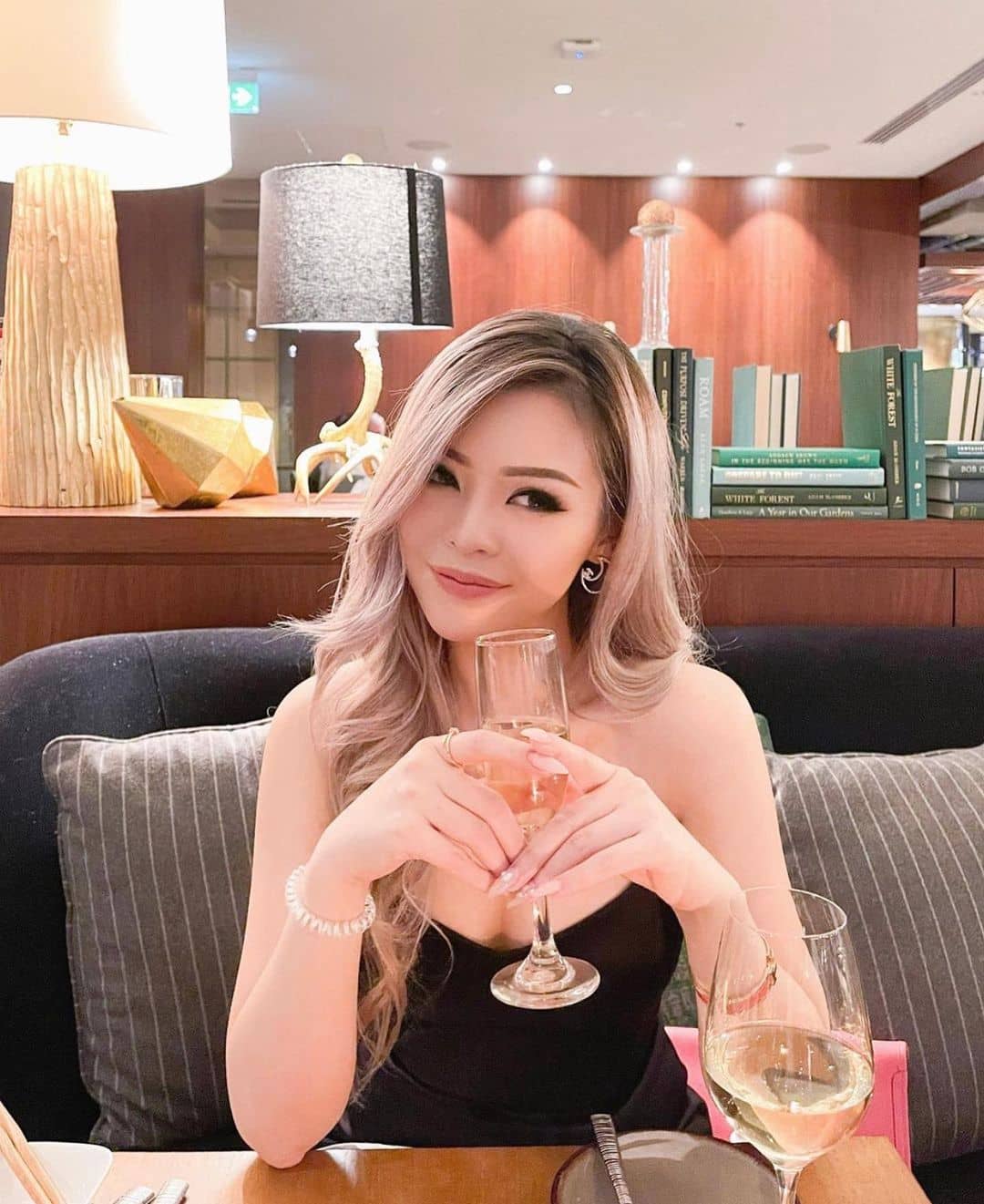 Designed in the style of the Victorian reign, The Victor portrays a classy and elegant dining experience with great pomp and splendor. From their oak dining tables to the elaborate ornaments, The Victor is the perfect place for a fancy date, or to meet friends.
Any cocktail enthusiast or wine aficionados would instantly fall in love with this magnificent setting of salient views and old world charm
At The Victor, the cocktails are cutting edge. With fresh ingredients and exotic spirits, their signature selection is truly mind-blowing. We highly recommend their Crouching Tiger, Mexican Fresca, or the Night of The Iguana.
Wine Lovers, be prepared to swoon. Not only does The Victor have one of the largest selections in Vancouver, but they also have one of Canada's largest in-house Enomatic wine systems.
Choose from their Premium and Elite flights, or indulge in the exquisite Tignanello experience by Marchesi Antinori. For food, try the prawn tempura or Dungeness crab cake, chilled seafood, and definitely the Salmon Steak.
What to order: Crouching Tiger, Mexican Fresca, Night of The Iguana, Premium and Elite flights, Tignanello, prawn tempura, Dungeness crab cake, chilled seafood, Salmon Steak
Address: 39 Smithe St, Vancouver, BC V6B 0R3
Website | Instagram | Facebook
1. Brix and Mortar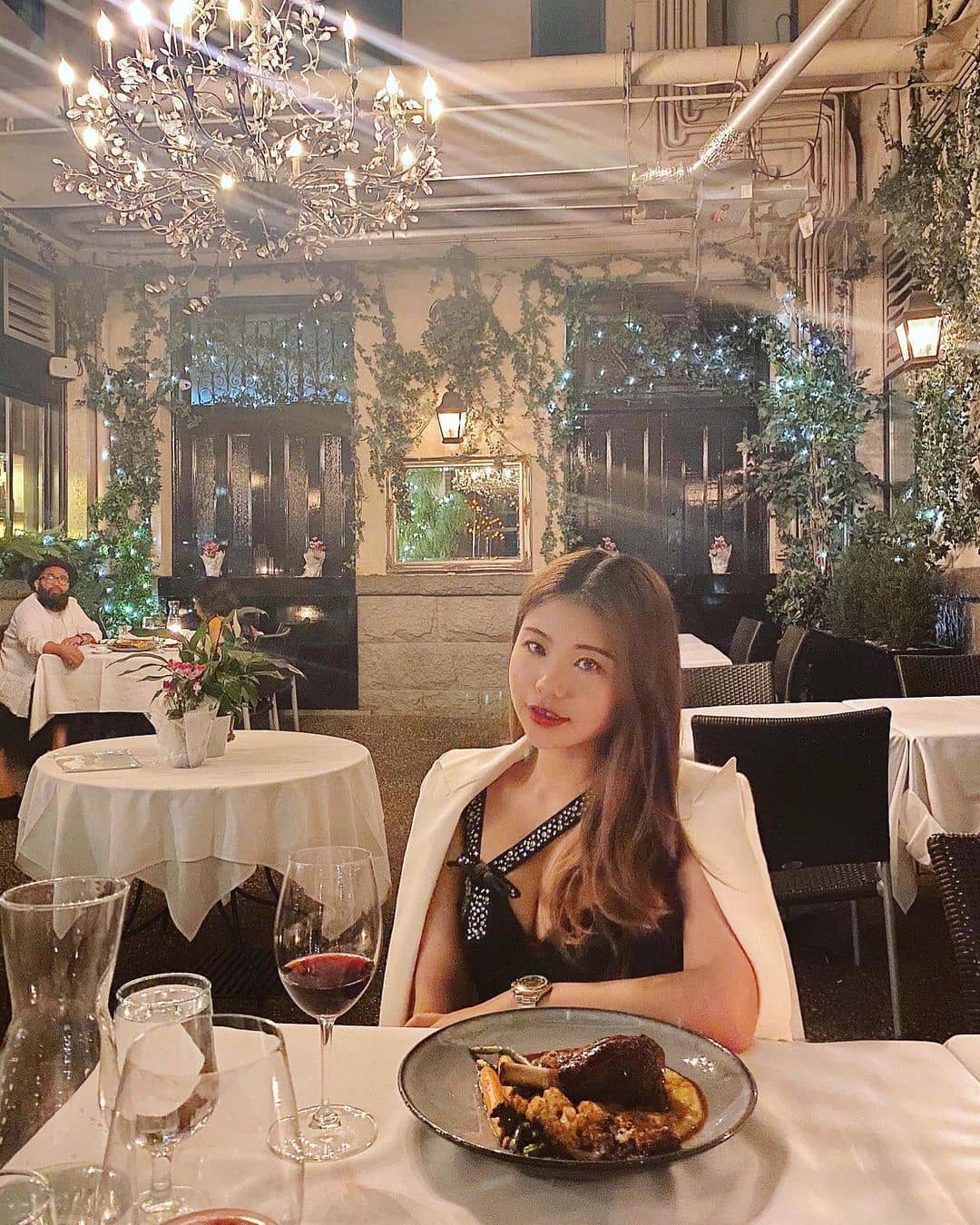 A 1912 heritage building that has been renovated to provide not only a fine dining experience but an incredible feeling like you're in a Victorian castle. Brix and Mortar combine delicious food, fantastic wine, and creative cocktails.
We highly recommend their signature cocktail menu that is both unique and bold mixology at its finest, and with a few nods to pop music in their names. Get Hot or Cold with Katy and a mean Blanco Tequila mix, or blame your next round on Kanye with Taylor's Look What You Made Me Do.
Enjoy either foreign or local beers, or dive right into their wine list with the Wine Director for a perfect glass of Red. The food here is top-notch too. Innovative, creative and fresh, Brix has a menu to suit any palette. Try their complex Fried Cauliflower salad, Pork Ribs with sweet and soy honey glaze, and Sockeye Salmon with popcorn rice.
Tip: The Brix and Mortar Happy Hour is from 4 pm to 6 pm, with an assortment of tantalizing finger food, highballs, and draught beer.
What to order: Hot or Cold with Katy, Blanco Tequila, Kanye with Taylor's Look What You Made Me Do, Fried Cauliflower salad, Pork Ribs, Sockeye Salmon
Address:1138 Homer Street Vancouver, BC V6B 2X6
Website | Instagram | Facebook
We hope you enjoy your boozy night (or weekend) out by picking a few spots off the best Yaletown bars we listed here. For more fun and satisfying experiences in this amazing neighbourhood, check out the superb local restaurants and gorgeous al fresco coffee shops in beautiful Yaletown.