Looking for the best brunch in Chicago? Well, you've found the right place!
Whether you're looking for a delicious hangover cure, to treat your closely-knit group with amazing food, or craving first-class brunch yourself, Chicago has some of the absolute best places you can try.
The following are the best brunch Chicago restaurants that can match your every mood and satisfy your mid-day cravings.
🍩 Are you a foodie? Explore Chicago's culinary scene with one of these top-rated food tours!
1. Lula Cafe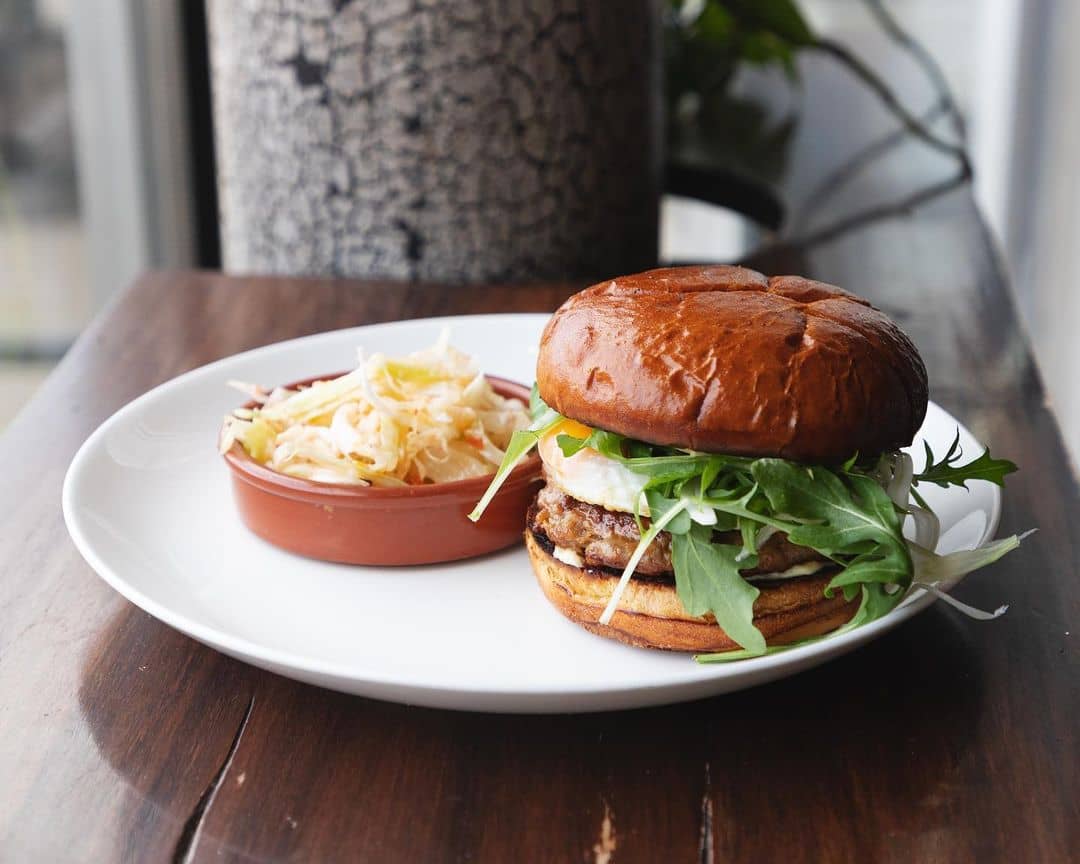 Opened in 1999, Lula Cafe is a neighborhood gem that serves simple, casual yet sophisticated brunch, made with farm-fresh ingredients. The space is modern and elegant, the menu is quite extensive, and the food will make you weak in your knees!
The gluten-free Chickpea Crepe is a one-of-a-kind wonder! The crepe is thin and savory, and with the addition of asparagus, radicchio, green garlic, and a sunny side egg, you get a well-rounded meal, one that's not only healthy but tastes amazing too.
The Duck and White Bean Stew is a hearty bowl filled with loads of deliciousness. The duck is tender and juicy, the beans come cooked perfectly, and the garlic toast on the side acts as the perfect scoop to soak up all the heartiness from the bowl!
If you prefer something classic, try the Pretzel Bread French Toast. The pretzel bread is soft and buttery and has a slight sweetness (more from the chantilly cream on top) that contrasts the fresh mixed berries served with it.
Finish your meal with their Chocolate & Almond Financier. This little creation is fluffy, nutty, and delicate, and has light yet bold flavors, and an addictive sweetness.
What to order: Chickpea Crepe, Duck and White Bean Stew, Pretzel Bread French Toast, Chocolate & Almond Financier
Address: 2537 N Kedzie Blvd, Chicago, IL 60647
Website | Instagram | Facebook
2. Yolk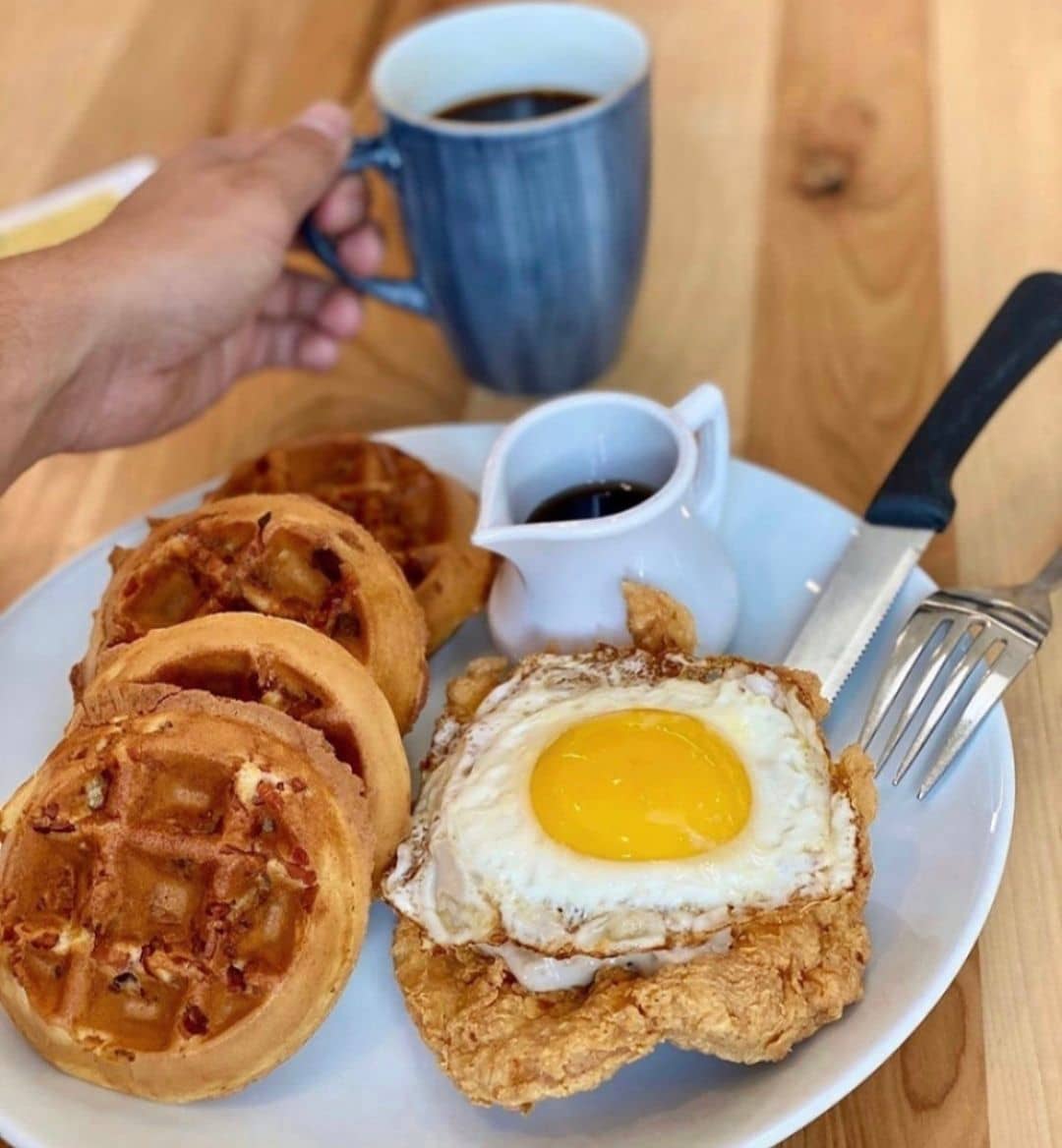 Chicago's very own Yolk has been captivating diners with its popular egg creations since 2006, and now, with multiple locations in and around the city, this is a go-to brunch spot for the locals. The combination of innovative dishes and unparalleled service has gained the chain plenty of loyal customers.
Yolk's Eggs Benedicts are BOMB! Though there are different variations you can try, we like the traditional one with a warm English muffin, Canadian bacon, and perfectly poached eggs.
Pro tip – add a side of their Seasoned Potatoes and remember to drizzle the house brand habanero hot sauce on it to make your plate absolutely drool-worthy.
From their Sweet Specialties, try the Red Velvet French Toast. This is actually red velvet cake with cream cheese dipped in their secret batter and grilled. The result is a wonderfully addictive creation of fluffy, soft, and sweet French toast, which comes topped with fresh strawberries and whipped cream.
The Nutella Crepes are equally addictive!
If you have quite a big appetite, go with one of their omelets. Made with 5 freshly cracked eggs, each omelet is huge and extremely filling. Our personal favorite is The Works Omelet.
What to order: Eggs Benedict with Seasoned Potatoes, Red Velvet French Toast, Nutella Crepes, The Works Omelet
Address: Multiple
3. Lou Mitchell's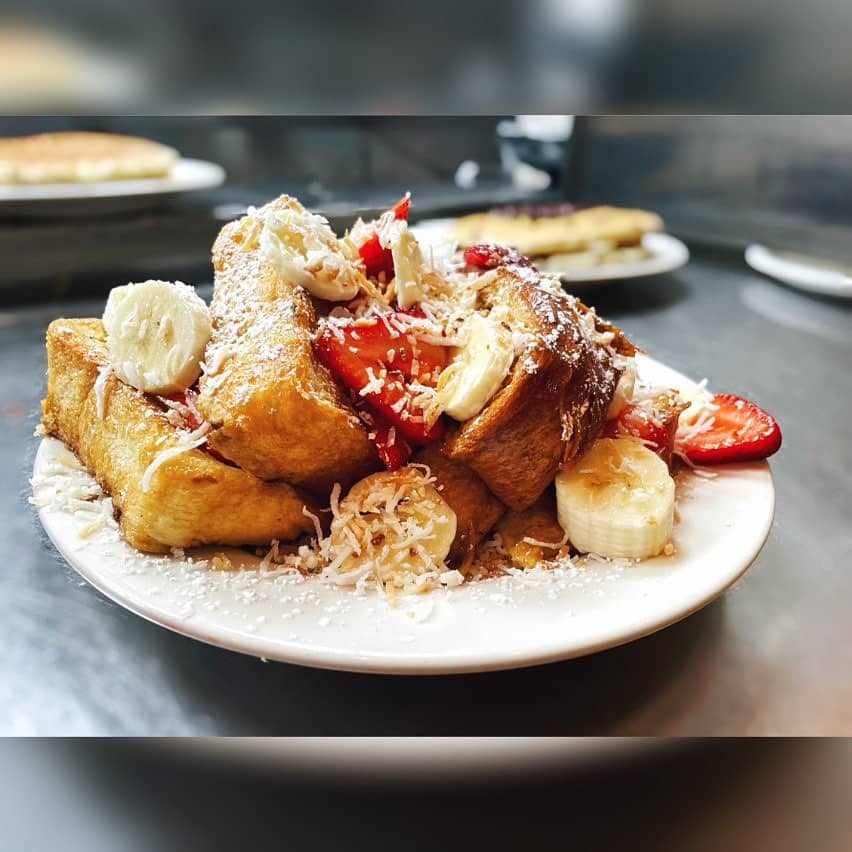 A favorite of the iconic Route 66 since 1923, Lou Mitchell's is a Chicago landmark that serves amazing food to thousands of customers every single day. Still continuing to welcome patrons with free Milk Duds, the place is warm, friendly, and all about reminiscing and creating great memories.
Lou Mitchell's Grilled Thick French Toast is fluffy, filling, and delicious. Pair it with a glass of their freshly squeezed, tangy, and pulpy Orange Juice.
The Greek Sausage Special Omelet is perfectly hearty. The omelet is cooked to fluffy perfection, and the Greek sausage in it adds a real kick to every bite.
The Egg Sandwich with hash brown potatoes and bacon is as delicious as it is filling. If you like your sandwich a bit spicy, get the Spicy Midwest Egg Sandwich.
What to order: Grilled Thick French Toast, Greek Sausage Special Omelet, Egg Sandwich, Spicy Midwest Egg Sandwich, Orange Juice
Address: 565 W. Jackson Blvd, Chicago, IL 60661
Website | Instagram | Facebook
4. Batter & Berries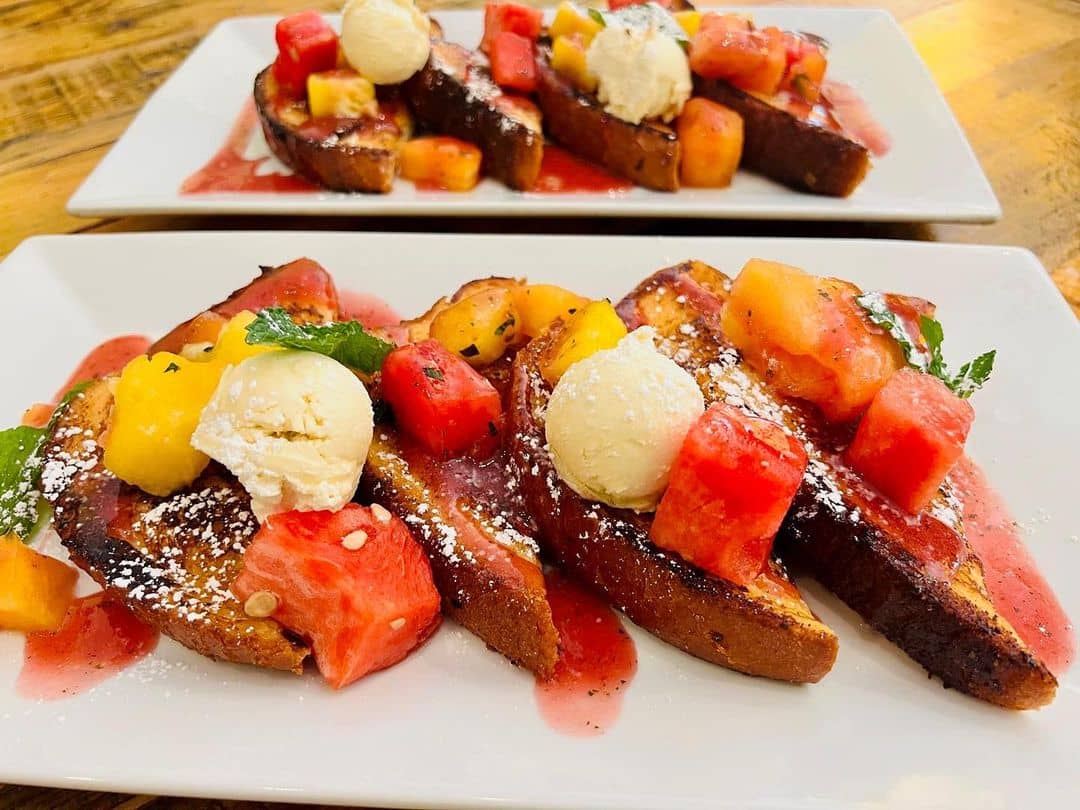 A popular Lincoln Park brunch nook that serves innovative classics in a bright and friendly setting. This eclectic place also serves breakfast and lunch and has earned the likes of even the rich and famous with its delicious food offerings.
When you visit Batter & Berries, your first order MUST be their world-famous French Toast Flight. This is a sample plate of all of the restaurant's French toast variations – Strawberry, Lemon, Caramel, and Blueberry. Made with locally baked brioche and served with B&B maple butter, these creations will open the doors of heaven!
Have you tried Cluck-N-Gaufre before? No? Well, you have to, at B&B. This is chicken & waffles, redefined! On your plate will be a sweet potato waffle stuffed with pieces of fried chicken, and topped with a crunchy and delicious buttermilk herb fried chicken breast. The nutmeg hot sauce contributes to making this dish a clear winner!
Their deconstructed omelets are AWESOME! Especially the Lobster Omelet and Chicken Fajita Omelet.
The Lobster Omelet is made with egg whites and comes stuffed with Asiago cheese. It is then topped with chunks of lobster meat and veggies, and drenched in saffron cream sauce. It is rich, filling, and decadent!
The Chicken Fajita Omelet is very flavorful and tasty, and the house-made hot sauce makes it taste even better.
What to order: French Toast Flight, Cluck-N-Gaufre, Lobster Omelet, Chicken Fajita Omelet
Address: 2748 N. Lincoln Avenue, Chicago, IL 60614
Website | Instagram | Facebook
5. Brunch N Burgers Chicago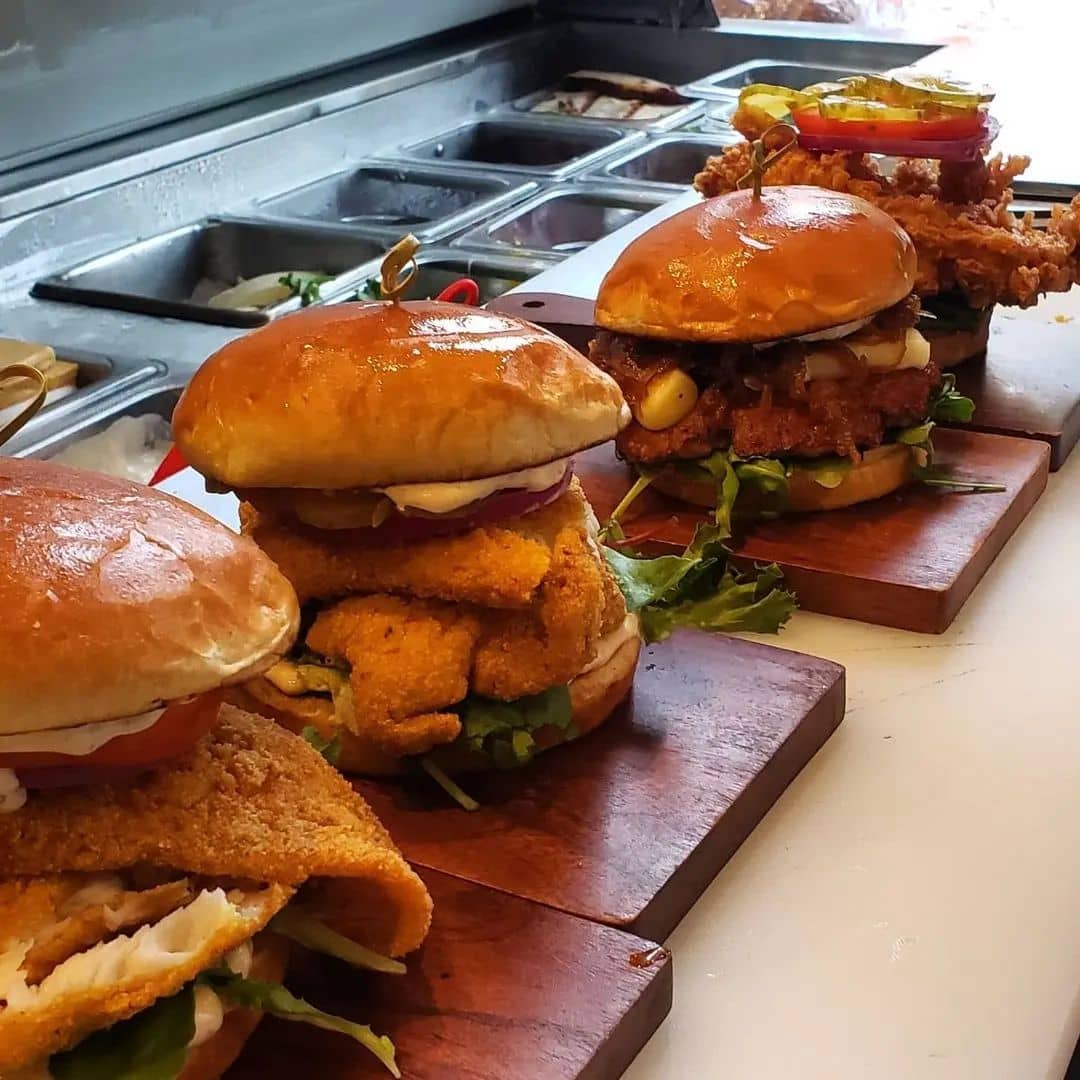 Located in Chicago's Little Italy neighborhood, Brunch N Burgers is a relatively new "Social Vibe" restaurant serving enjoyable brunch and gourmet burgers. Perfect for a lazy weekend brunch, this place is best to visit when you have your appetite built up. The condominium-style space is homey and relaxed.
Now, if you listen to us and build an appetite before visiting the place, you should get BNB's Signature burger. This top seller comes with two smashed steak patties and is layered with their signature bacon jam, creamy cheese sauce, fries, mayo, and a sunny side up, all nestled between a brioche bun. Try and get every element in your mouth at once, and brace yourself to be stunned!
The Waffled French Toast is pure decadence! The challah bread is rich and spongy, and the addition of sweet elements like brown sugar peaches, house-made caramel, and maple syrup makes this dish extremely rich, and in turn, making your brunch affair purely indulgent!
The Fiyah Yardbird Sammich comes with two large deep-fried, crispy, juicy, and perfectly seasoned chicken thighs tossed in buffalo sauce. The ranch slaw cuts down the heat from the sauce, and the whole sammich is abundant and delicious.
Not to forget, the handmade Vegan Burger is a godsend for vegetarians and vegans. The roasted poblano mayo is just the perfect sauce for this burger.
What to order: BNB's Signature, Waffled French Toast, Fiyah Yardbird Sammich, The Vegan Burger
Address: 2255 W. Taylor Street, Chicago, IL 60612
Website | Instagram | Facebook
6. The Breakfast Club and Grill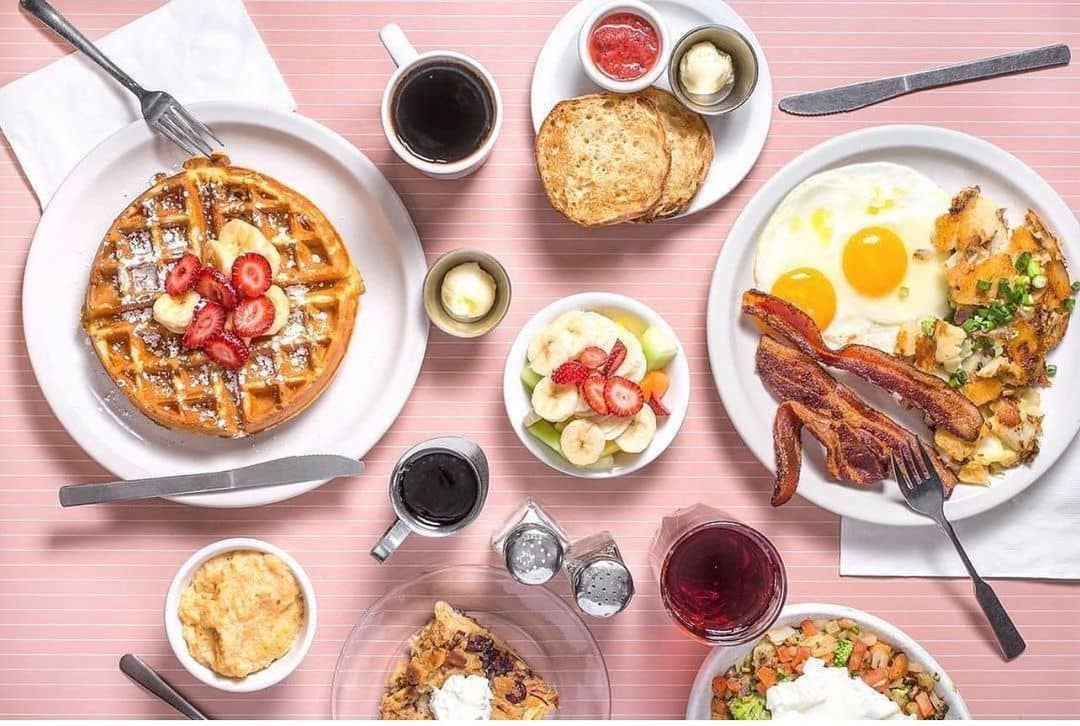 Opened 35 years ago, The Breakfast Club and Grill is tucked away in Chicago's West Town and offers incredible brunch eats in a warm, cozy, and comfortable atmosphere. The menu includes several American classics, and the space also has one of the best patios in Chicago.
The Denver omelet is a favorite from the menu. Stuffed with ham, bell peppers, onions, and cheese, this large omelet will become your go-to order every time you visit the place.
The Pancake Sandwich is essentially egg and bacon, ham or sausage stuffed between two fluffy buttermilk pancakes. Eating your pancakes, eggs and bacon this way is a new experience, and the sandwich tastes great.
Pigs in a Blanket – how many of you remember this traditional favorite? These are sausage links wrapped in Swedish pancakes; dusted with powdered sugar and drizzled with maple syrup, these little rolls are such a crowd-pleaser.
What to order: The Denver omelet, Pancake Sandwich, Pigs in a Blanket
Address: 1381 W Hubbard Street, Chicago, IL 60642
Website | Instagram | Facebook
7. Beatrix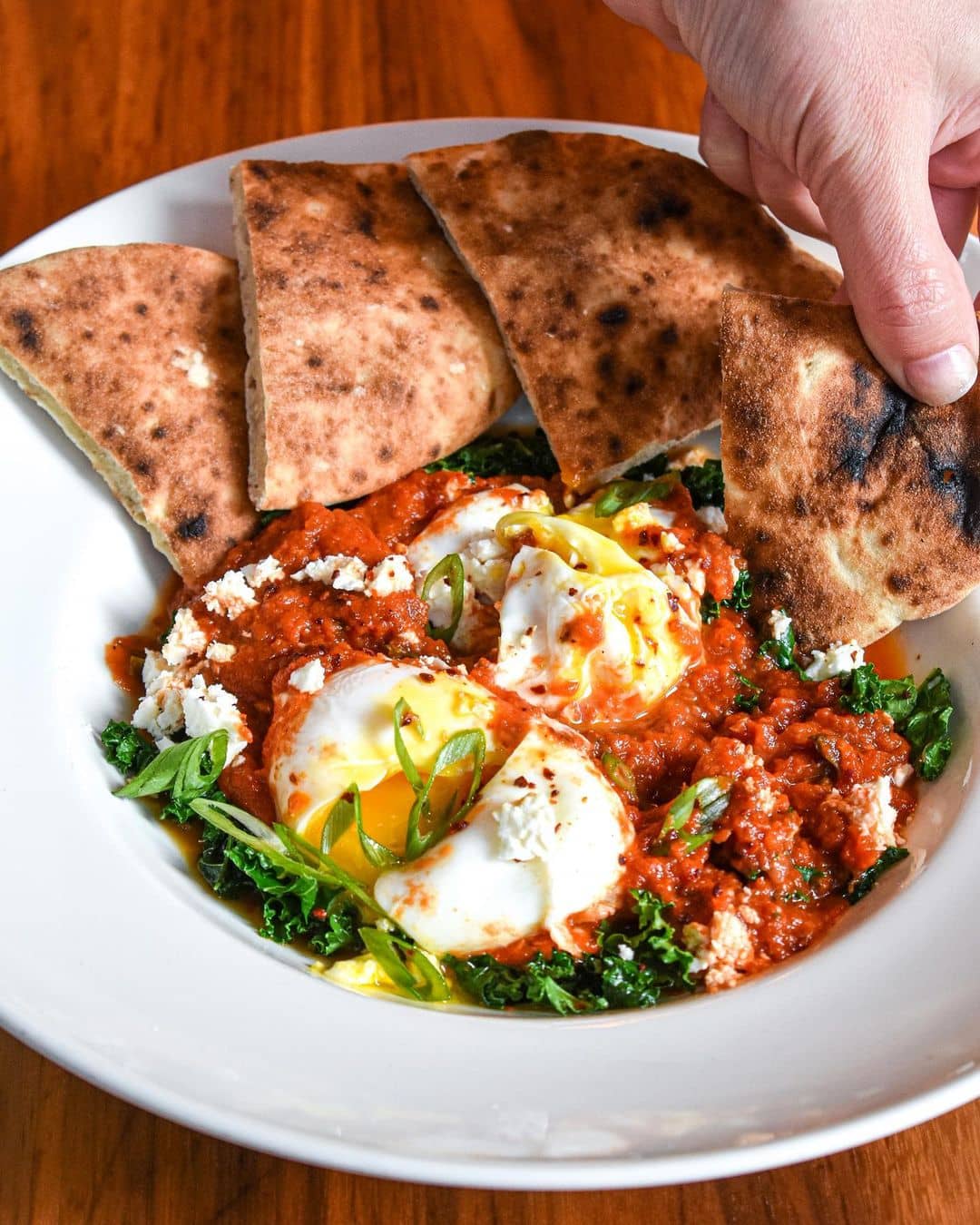 With multiple locations in Chicago's different neighborhoods, Beatrix is a neighborhood favorite coffeehouse and restaurant offering a variety of healthy and delicious options. The elegant and refined space is ideal for casual and professional meetings, and also friendly get-togethers.
Served with warm naan, the bright red and spicy Shakshouka will make your taste buds sing. Cut open the perfectly poached egg and let the yolk run, and use the naan to scoop up all the deliciousness together – spicy, creamy, chunky goodness!
The Light & Fluffy Lemon Pancakes are light and fluffy (duh!), and taste wonderful with the lemon syrup and fresh blackberries.
You'll also love the Smashed Avocado Toast. Made with sprouted wheat bread and loaded with all things healthy, this brunch classic is protein-packed and delightful.
The Pineapple Habanero Margarita is the one drink you should try during brunch. It's sweet, spicy, and refreshing.
What to order: Shakshouka, Light & Fluffy Lemon Pancakes, Smashed Avocado Toast, Pineapple Habanero Margarita
Address: 519 N Clark Street, Chicago, IL 60654
Website | Instagram | Facebook
8. Evette's Chicago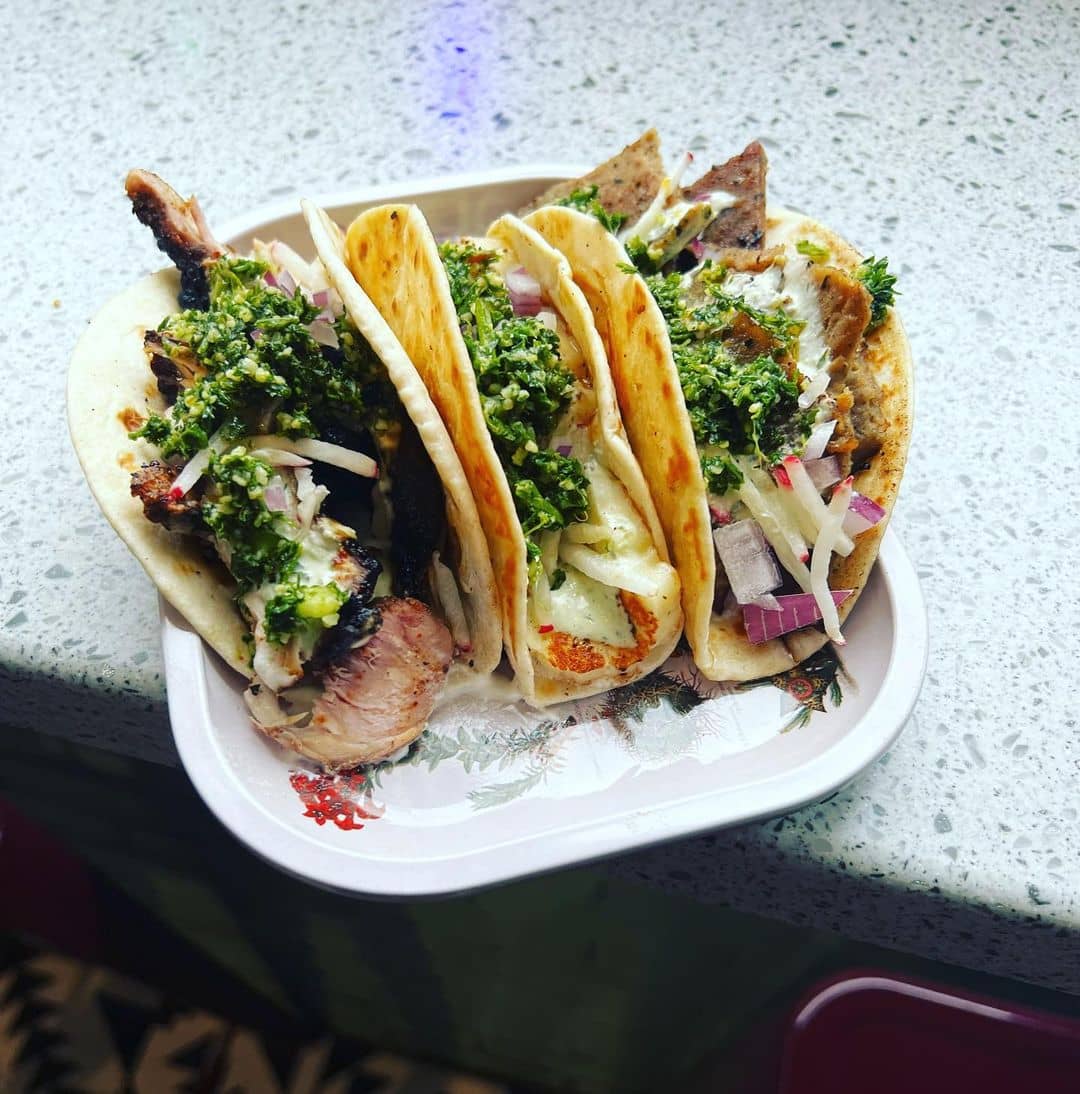 With a solid spot in Chicago's Lincoln Park neighborhood, brunch at Evette's brings to you beautiful Mediterranean flavors combined with their midwestern roots. The place is small, sunny, and lively; grab a windowside spot to enjoy a memorable brunch.
One dish at Evette's that will be completely satisfying and soul-soothing is the Chicken Shawarma Roll. Filled with juicy chicken pieces tossed in a creamy sauce, this roll could easily be one of the best brunch dishes you've had in a long time.
The Waffle Hashbrown Sandwich is likely to become your new favourite brunch sandwich. It tastes amazing with chipotle mayo, salsa verde, and cheese; add your choice of sausage or bacon to make it "meatilicious"!
The Halloumi Tacos are nothing like anything we've had before! It's rich and creamy, and finger-licking good!
What to order: Chicken Shawarma Roll, Waffle Hashbrown Sandwich, Halloumi Tacos
Address: 350 W. Armitage / 916 W. Fulton Market / 2807 N. Sheffield, Chicago, IL
Website | Instagram | Facebook
9. Tweet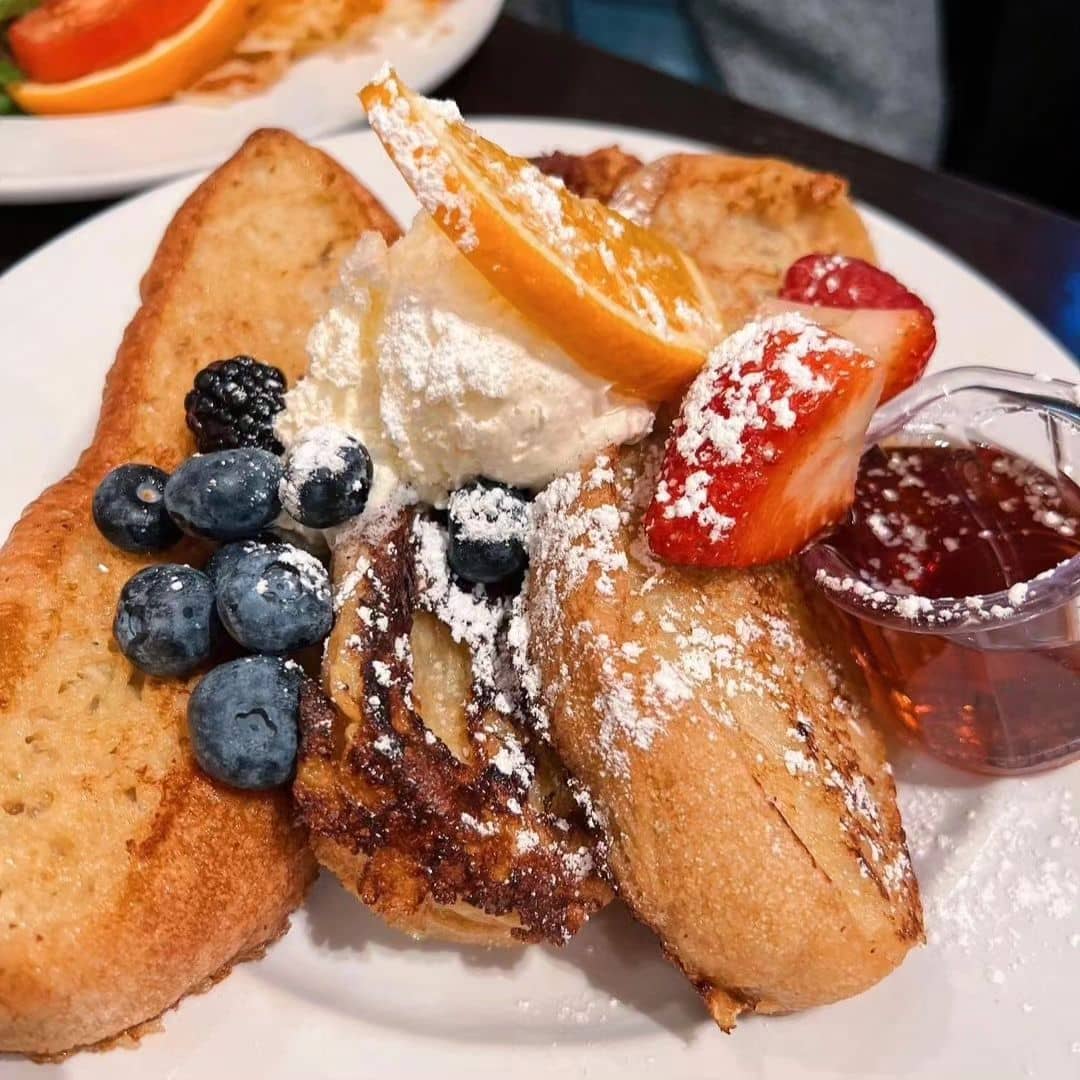 A sister restaurant to Big Chicks, Tweet offers an extensive menu with both classic and unique dishes made with fresh ingredients. The interior and exterior are vintage, adorned by beautiful art, and the vibe is casual and family-friendly.
The Country Benedict, with 2 country sausage patties and 2 poached eggs, is impossibly good! Smothered in mouthwatering sausage gravy and sitting atop a fluffy biscuit, everything on the plate is a celebration for your palate.
One of Tweet's signatures is Chilaquiles. Something not typically found in a brunch place, these are crispy corn tortilla strips smothered in homemade roasted tomatillo sauce, and topped with eggs, cheese, beans, and more. Every bite you take will introduce a burst of flavor in your mouth, and this dish could be a light starter to your brunch.
The gluten-free Corn Arepas are light, fluffy, and savory, and taste excellent with the slightly smoky and spicy house-made guajillo sauce.
And when it comes to drinks, a Tweet staple is the classic Bloody Mary. Of course, how can you go wrong?!
What to order: Country Benedict, Crab Cake Benedict, Corn Arepas, Chilaquiles, Bloody Mary
Address: 5024 N Sheridan Road, Chicago, IL 60640
10. Irene's Chicago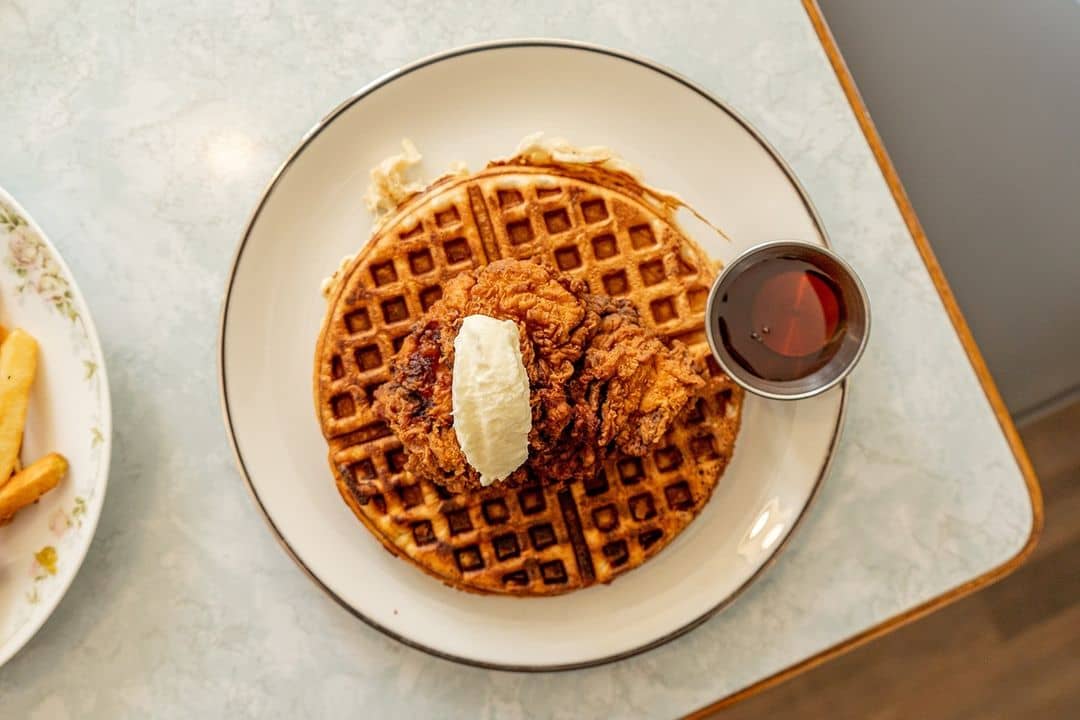 Irene's Finer Diner, as its name suggests, aims at bringing the nostalgic diner experience but with a refined menu to meet people's evolved taste buds and preferences. Matching its motto, the interior is styled like a classic diner, and the place is perfect for families.
Breakfast/brunch skillets at Irene's are simply mind-blowing. The Chorizo Skillet, especially, with house-made chorizo, jalapenos, and avocado, is in a league of its own.
The Chicken and Waffle with chili maple syrup is a balanced medley of sweet and savory. The waffle is light and fluffy, and the chicken is perfectly crispy on the outside and juicy inside; drizzle some chili maple syrup on top, and enjoy this divine intervention!
The Cookies and Cream pancakes with crushed oreo and cookies and cream frosting are just glorious!
Served hot or cold, the Cold Brew Grapefruit Grove Elixir from their Rare Tea Cellar is the perfect drink for a hot day.
What to order: Chorizo Skillet, Chicken and Waffle, Cookies and Cream pancakes, Cold Brew Grapefruit Grove Elixir
Address: 2012 W. Irving Park, Chicago, IL 60618
Website | Instagram | Facebook
11. Roux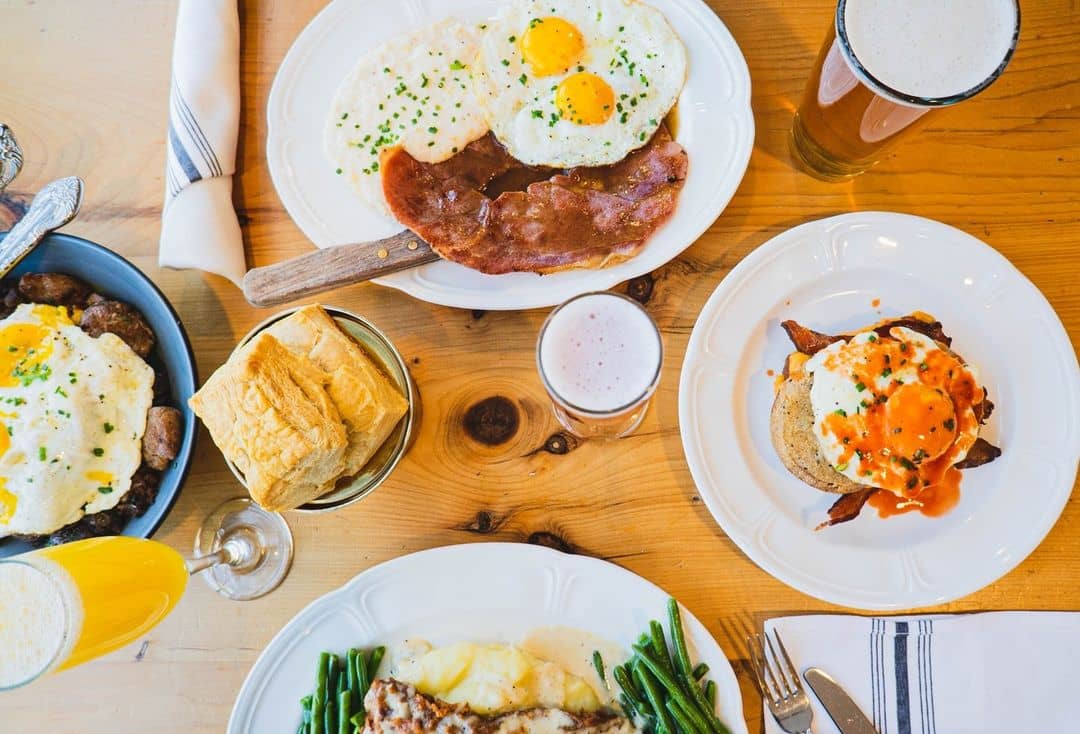 Located in one of Chi-Town's most historic neighborhoods, Roux is an all-day breakfast spot, with a New Orleans-inspired menu. The space is modern, warm, and charming, and the food is inviting, soulful, and just yum.
The Fried Green Tomato Tartine is one dish you'd be happy you found! Layered on a brioche Texas toast are pimento cheese, bacon, fried green tomato, and a fried egg; take a bite of everything together to enjoy this spectacular dish.
Served with whipped butter and syrup, the Hot Chicken and Waffle is a solid 10/10. The chicken is huge, crispy, crunchy, juicy, and spicy, and the waffle is light and fluffy. The spiciness from the chicken is cut down with a drizzle of the syrup, and the sweet/savory flavor works really well.
Biscuits and Gravy – buttery and flaky biscuits smothered in smooth, creamy, and rich sausage gravy – hearty and yummy!
Don't forget to get their popular Cinnamon Roll. It's huge, fluffy, sweet, and EPIC!
What to order: Fried Green Tomato Tartine, Hot Chicken and Waffle, Biscuits and Gravy, Cinnamon Roll
Address: 1055 E 55th Street, Chicago, IL 60615
12. Kitsch'n On Roscoe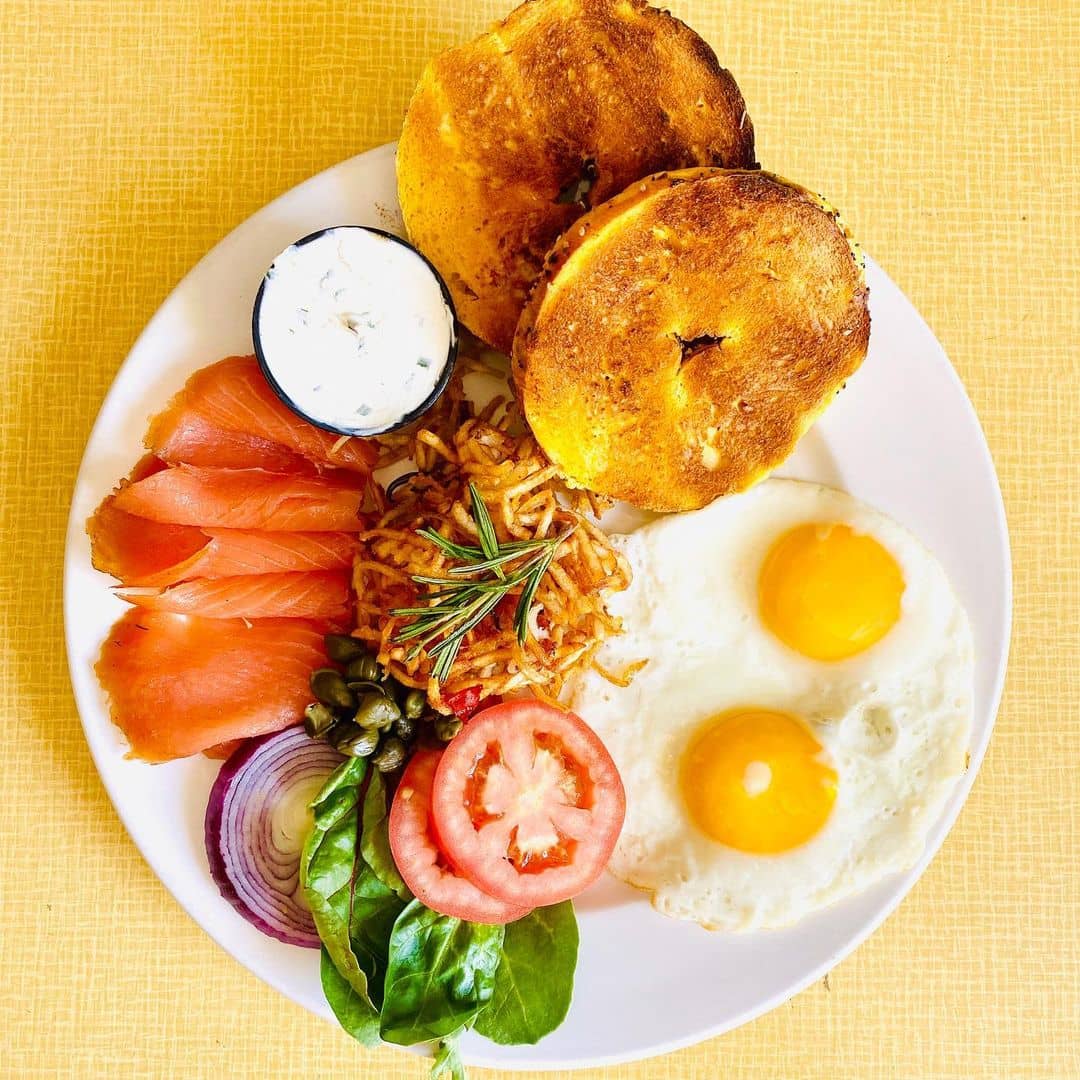 Serving "Chicago's original hangover brunch" since 1998, Kitsch'n On Roscoe is a sidewalk cafe with a backyard patio, serving breakfast, brunch, and lunch all days of the week. The restaurant is casual and relaxed with a 70's retro vibe, and the food takes you back to remembering the classics you grew up on.
Green Eggs n' Ham is a unique scrambled eggs creation and one of their specialties. These are nut-free basil pesto scrambled eggs, served with smoked ham, spinach, scallions, and rosemary hashbrowns. There's not one thing on this plate you wouldn't love!
The Coconut French Toast is a hit. It's fluffy and rich and tastes extraordinary with the raspberry sauce.
While the Breakfast Tacos are incredible on their own, you could add some pulled pork to make them even more exquisite.
If you're getting sides, Candied Smoked Bacon should be on your table. It is so good, it'll punctuate your memories with happiness!
What to order: Green Eggs n' Ham, Coconut French Toast, Breakfast Tacos, Candied Smoked Bacon
Address: 2005 W Roscoe Street, Chicago, IL 60618
Website | Instagram | Facebook
Craving Italian? Chicago has some damn good Italian restaurants offering both classics and passionate new creations. Check out our list of the city's destinations for the best Italian food.