If words like Laksa, Salted Egg Yolk Fried Chicken Sandwich, Nasi Goreng and Roti Canai give you a rush of the cravings and make you salivate…well, you're in luck.
Because there's a new Southeast Asian spot in Vancouver's Cambie Village neighbourhood that's ready to jazz up the area – and the whole city.
Potluck Hawker Eatery is the restaurant child of two long-time friends Chef Justin Cheung and Chef Dominic Sai, whom met each other at Longtail Kitchen. The Vancouver restaurant will serve both classic and innovative dishes that you'd find at hawker markets (similar to food courts) throughout Singapore, Malaysia, Vietnam, and the rest of Southeast Asia.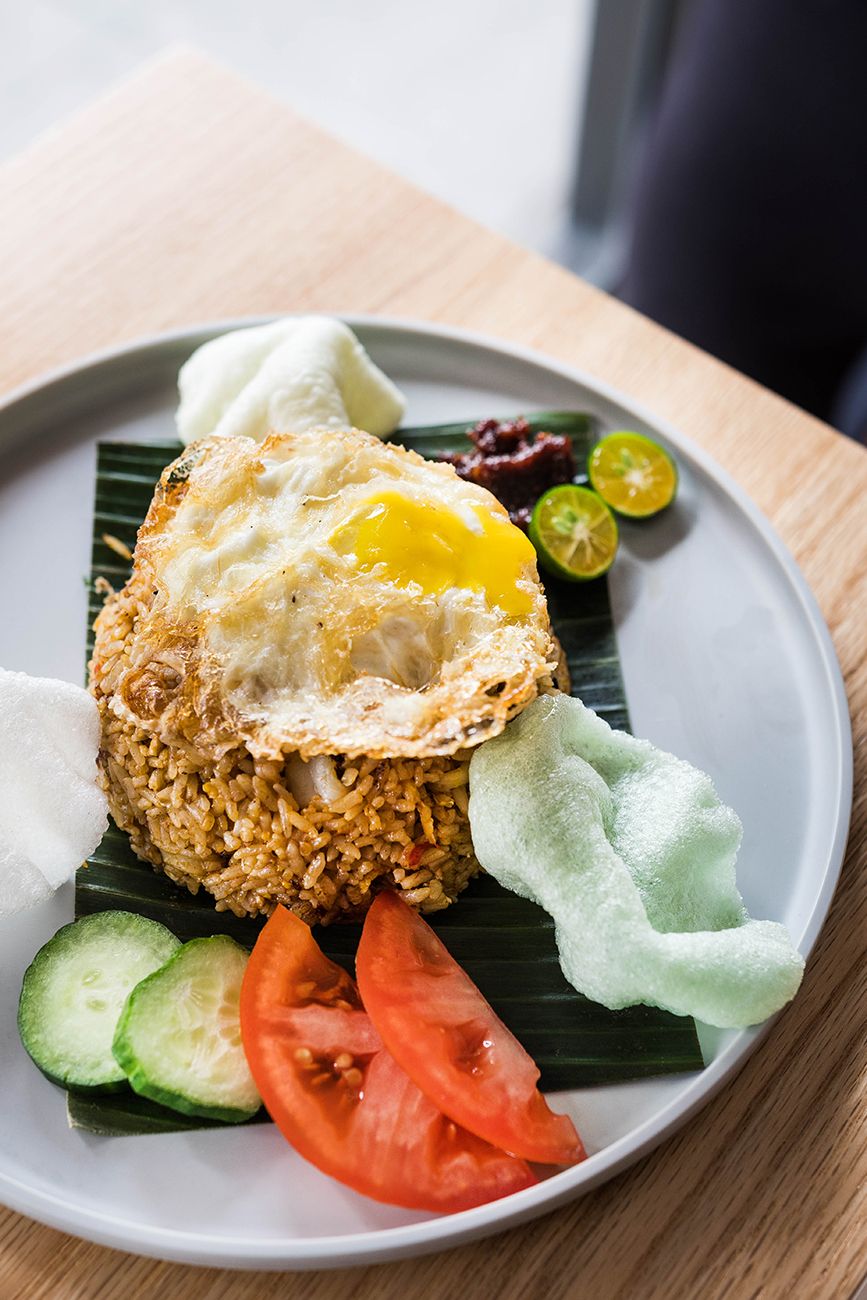 At the helm of the kitchen, Chef Justin, who built his cooking career at multiple award-winning restaurants like Maenam in 2012, Longtail Kitchen in 2013, and Freebird Chicken Shack will be crafting flavours that pays tribute to his mom's home cooking (ie. Mama Cheung's Laksa) and recently-retired uncle's char kuay teow hawker stall in Penang.
The restaurant interior itself has the same vibrancy and playfulness that Southeast Asian flavours embody. Expect bottles of fish sauce and jugs of Milo displayed on the wall. An Instagram-worthy colourful floral mural and neon stools that are crying to be part of your selfie.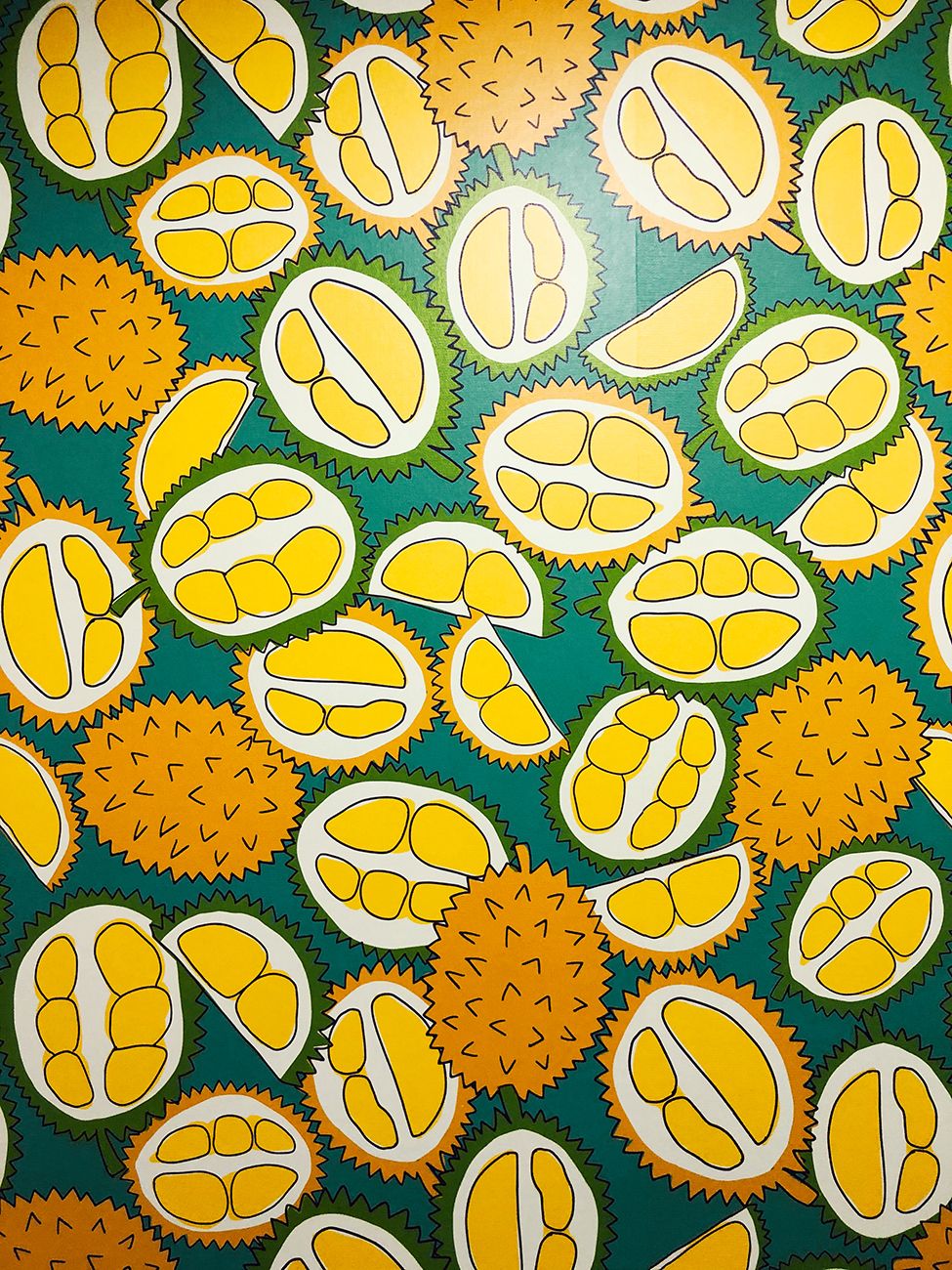 And best of all…the durian wallpaper in one of the washroom that Justin and the team calls the 'stinky room'.
Very appropriate. ?
Anyone who has been to Southeast Asia knows how delicious some hawker stalls are. We're excited to have more of this type of cuisine land in the city.
The massive public interest in Potluck Hawker Eatery are evident the city feels the same.
We spoke with Co-owners Justin and Dominic to learn a bit more about how this restaurant started, their memories of hawker markets, and the dishes YOU need to order:
Can you first tell us about yourself?
[Justin]: My background is Malaysian Chinese. My mom was born in Penang, and my dad is from Hong Kong. So a lot of my influence, you know, growing up, eating dim sum and more on Cantonese side. All my dad's relatives, uncles and my aunts and stuff all live here.
But my mother's side was more intriguing to me. They all live in Southeast Asia, Singapore and Malaysia – even Australia.
[Dominic]: And I'm originally from Myanmar, but lived in Singapore for 11 years. My father is Chinese and my mom is Burmese. So since young I've always been exposed to different multicultural food. Being in Singapore as well helps.
And when I came to Canada as an international student, I had to cook for myself right and I lived with roommates. I don't want to clean but I don't mind cooking every day for everybody.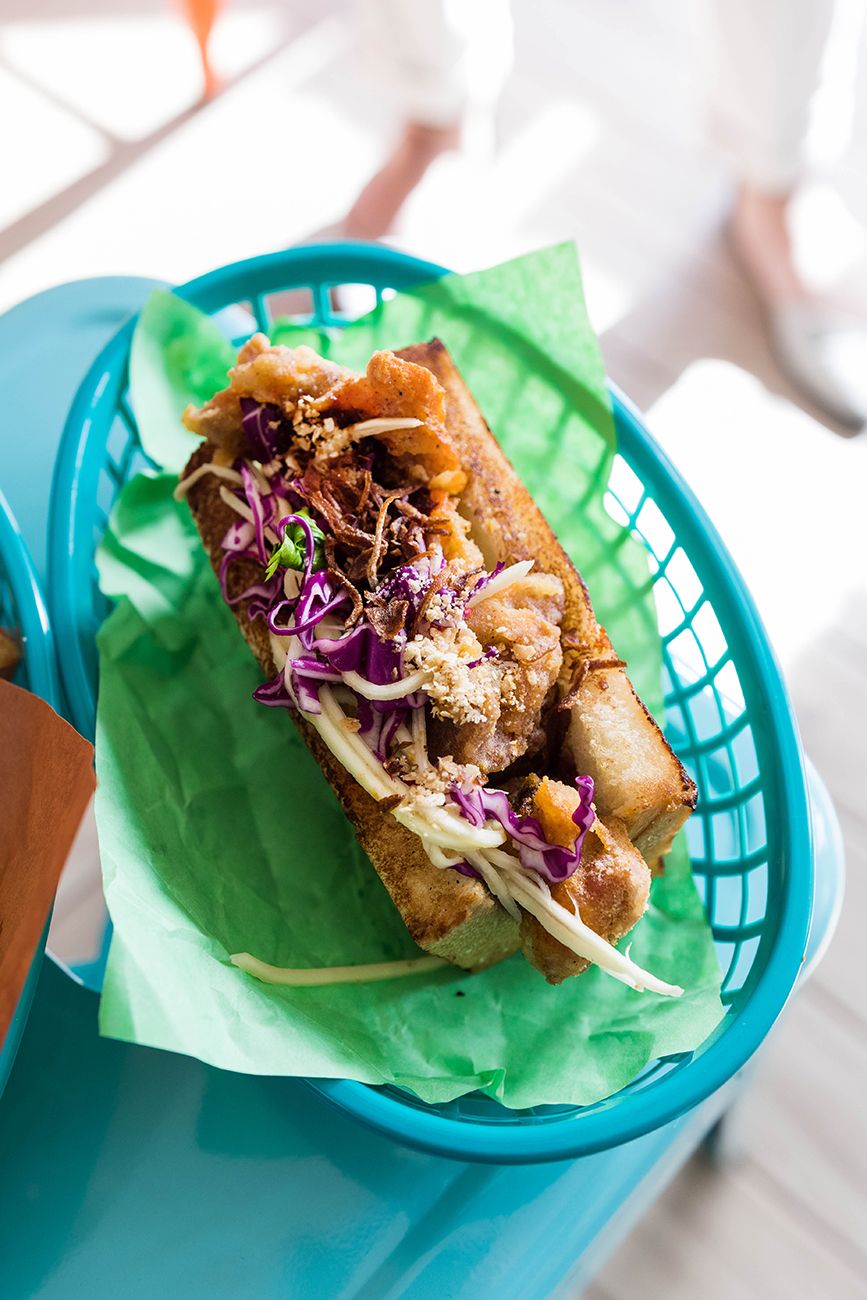 So that's how I started to play around with the food during the university. One summer I chose not to go to school but I made some Burmese style noodles and just surveyed people on what they thought. Also to introduce them and myself of my country, taste, and cuisine.
It made me think: Are they familiar? Would they come back to eat every week?
Because back home we do eat every day those noodles. But will local people here eat every day? Or how many times a week?
I just wanted to market it out and test the market.
So cooking has always been like a big passion to me. Even though I don't come from a culinary background, I studied biochemistry.
And I've always wanted to open a restaurant. Funny enough, in my first job I met Justin. He was my head chef. He was the one that hired me.
And ever since then we became like good friends. And here we are.
So what's the story behind the name and this place?
[Justin]: So yeah, the idea of Potluck Hawker Eatery really stems from the word "potluck". You know, we're very multicultural here in Vancouver and growing up, eating together was a big part of the enjoyment of discovering food, talking about food, and exploring different regions.
Even if you talk for example, about Laksa, you know we're not just accustomed to one style. There's many different styles throughout Southeast Asia.
Even in just one country, there are differences.
A lot of people are critical about what's truly authentic and what's not authentic. But I can ask my mom, I can ask my grandpa and they're gonna have two different opinions.
So the idea of potluck really is, and once again, it kind of goes back to myself being born here and being influenced by a lot of different experiences.
My background is in cooking French and Italian food. But through time, I've discovered more about Malaysian food and my own heritage. Whether that be through cooking at Maenam and other Southeast Asian restaurants.
So it's really sharing that knowledge and influences from different cultures.
And that would mean bringing influences from Burma from Singapore from Thailand from Vietnam. My wife, her family's from the Philippines. And you know, they use a different type of shrimp paste.
I guess you could call it a celebration of Southeast Asia food.
I guess you could call it a celebration of Southeast Asia food.

Chef Justin, Co-owner of Potluck Hawker Eatery
Can you explain what a hawker market is?
[Dominic]: It comes from Singapore or Malaysia, They use this word Hawker a lot.
It's direct translation here would probably be "food court".
But in Malaysia and Singapore, its Hawker center.
It's a huge open space with vibrant colors, different stalls, fixated tables that are light, easy to wipe down and clean. The idea is that you can always grab a seat, it's never going to be full. It's such a big place and you can go for different kinds of stalls, any different kind of food, any different kind of cuisines. It's fast and it's cheap.
That is why in Malaysia and Singapore, Hawker center are like the go-to places.
But of course, time has kind of changed it a little bit.
So what happened now is rent is getting more expensive and because of the modern food culture, higher class restaurants are now getting popular in these countries.
But these Hawker centers still are the go-to place for daily lunch, evening dinner, night meals, and all sorts of things.
Do you guys have a specific memory of going to these hawker markets?
[Justin]: I mean, it's been a long time since I went to Malaysia. That was probably about 20 years ago. So I'm sure it's changed quite a bit.
But I do remember my uncle in Penang cooking char kuay teow. And he also had a soup version as well. And just the simple flavors.
When you're at a hawker center you literally go to the busiest hawker stall and the one with the biggest lineup. That's because you know the food's gonna be fresh and it's going to be very high quality.
[Dominic]: For me, like living there…every day I would go to hawker center.
As a teenager like growing up in Singapore, I never really wanted to eat at home. Part of it is because hawkers were so affordable and had very good food like what Justin said.
But they are certain shops that will have a line up like right across throughout the market. And then there will be some stalls that are super empty, right?
Like what Justin said, you sometimes follow the crowd. If there's a long lineup, automatically you just want to join the line because you know, you're seeing the truth before you even taste it right.
Like there are some that are even awarded a Michelin Star!
[Justin]: Yeah
[Dominic]: Exactly the quality is there.
[Justin]: In one of my recent travels, before having a family, was to Thailand. And I think what you also see with hawker markets is people pushing each other to be better.
It's different than here, since you can't have five coffee shops in a row. But over there, you might have, you know, five pork hock hawker stalls in a row. You're gonna have five specialized dishes in five separate hawker stalls, and they're all competing against each other.
And a lot of times they need to make themselves kind of memorable.
So a lot of times, you'll see someone wearing goggles or wear a specific hat because they want to be remembered. You're going to go to this Hawker center and you're going to try to find that famous place.
Justin you sort of talked about this already but can you tell us about the vision of the food here?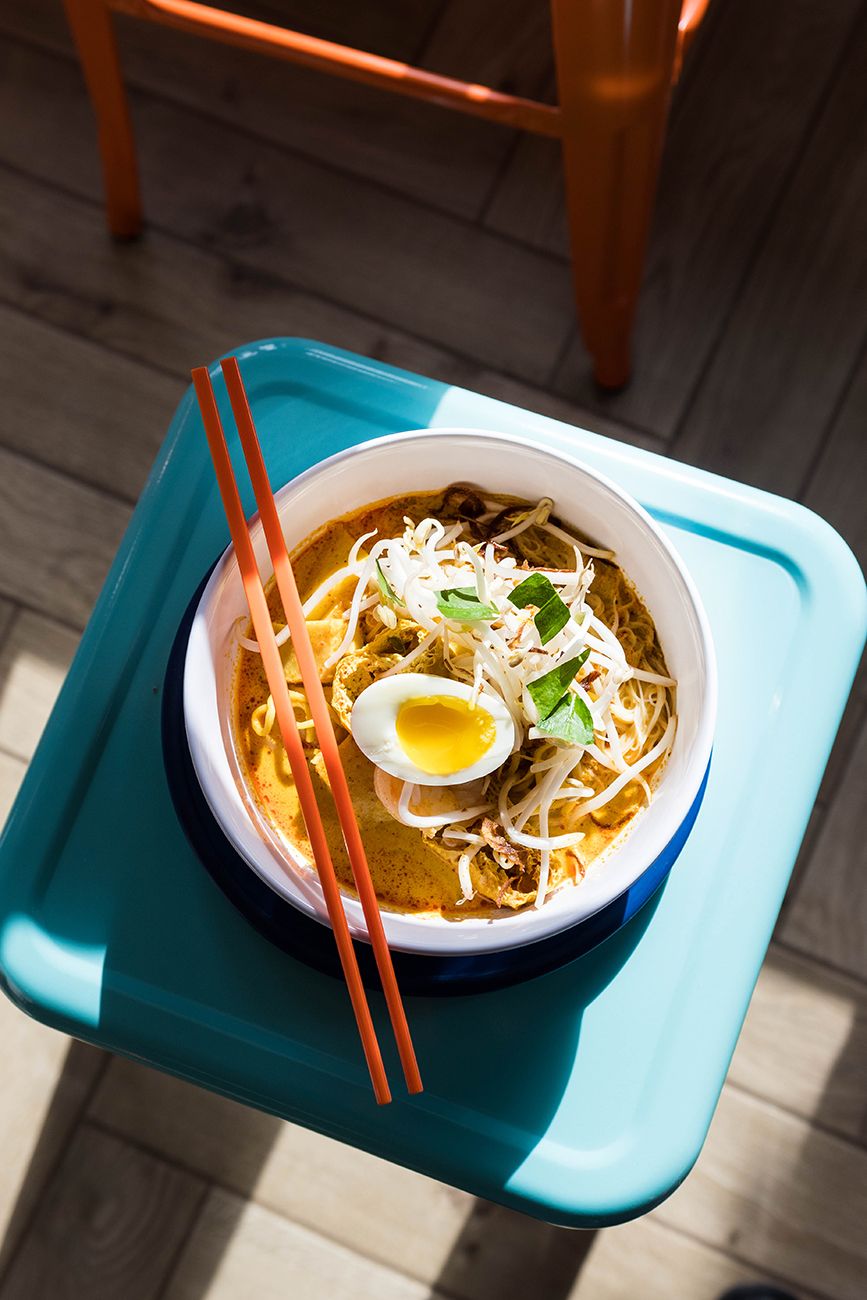 [Justin]: I think we try to keep a lot of the traditional techniques. But that being said, you know, we're also using local ingredients. And as well imported ingredients. Nowadays it's a little bit harder to find some of the imported ingredients due to COVID. A lot of the timing of some of the deliveries is definitely off.
But we try to maintain some of the traditional aspects of nostalgic dishes and some of the traditional techniques.
Such as using a mortar and pestle to make curry paste. Also the way we fry curry paste.
Can you go more into the ingredients you import?
[Justin]: Yeah, so we import a lot of dry noodles. We imported various fish sauces. Also a lot of shrimp paste. Many different things.
[Dominic]: There's some certain produce like, vegetables that we have to import in order to make that dish complete, right? Otherwise, even though you might think it's just for garnishing, but it's actually the aroma of it. And the taste infused with the sauce…that's what makes it like special from a regular noodle soup.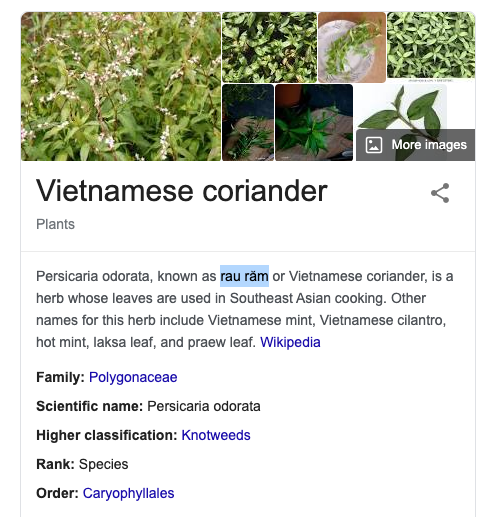 For example…for the Laksa right.
You can like put some greens like green onions or whatever.
But it's not gonna be the same as opposed to putting the actual herbs like rau răm (Vietnamese coriander/Laksa Leaf). Rau răm is like a curry leaf but a little bit slimmer.
But that will make the whole taste of the Laksa super different, even though the rest of the ingredients are pretty much what you can buy here like bean sprouts and stuff.
[Justin]: Yeah, so it's really important that we try our best to source ingredients straight from Malaysia and Thailand; since a lot of times, you can't really substitute the same flavour.
But that's the defining point, right?
Coming here you'll get that special sort of mix between traditional and your vast cooking experience. And it's those ingredients where you won't be able to go to another spot, get a Laksa and get the same flavour as here, right?
[Justin]: Yeah, exactly.
I wouldn't say there's a huge Malaysian population here. What we make may not be exactly the same as what you'd get there, but definitely we try our best. Vancouver does have a big Vietnamese population and luckily, they use rau răm as well. That's the same way as we call in Malaysia is called Laksa Leaf. So that adds the same flavor.
[Dominic]: And those chilies! Different type of chilies makes everything different as well, right?
Because some chillies you can get locally may not even be that spicy at all and we use a lot. We want that spiciness for all our food, and you definitely need like real good chilies from Asia that's for sure.
[Justin]: Yeah spice is really addictive. We're mindful that some people cannot handle tolerate any spice so there are dishes that we can make that doesn't change the flavor by not adding a certain spice
But we want to have that same feel as if we're back home and that's the level remains quite similar.
We want to push people to eat as spicy as they can and with the enjoyment as well, without going overboard. I think a lot of restaurants here take it very safe with spice.
And they don't use as much fresh chilies or dried chilies. But it doesn't mean that people can't take it you know, they're just playing it safe.
Dominic, do you have any funny stories that happened while you guys were building this place? Any funny or memorable ones?
[Dominic]: So when we were looking for a place, our main focus was Main street and Commercial Drive area. We never really consider this Cambie Village area.
I remember one evening with our realtor and we went to look at one of the spots at on Broadway.
We were kind of like…well, once again after so many places, we were disappointed. And we were like, okay, let's just go have a drink and let's rethink of a different strategy. Maybe these areas may not work, you know, we're not sure but let's just go for a drink,
One of the main problem was the having the right kitchen that we wanted, you know. It's important because we do a lot of stir fry and we produce a lot of grease. So it has to accommodate this type of cooking. And a lot of places do not come to accommodate that.
So that was our biggest challenge.
While we were having the drink, we talked to the realtor and we said, okay, we focus on finding a place with the proper ventilation exhaust fan that can accommodate our style of cooking.
Maybe the price range might go up, but if it is already there, it's worth the consideration.
So he pull up some options and bang! We found this location and it used to be a Chinese restaurant. So I'm like right away, Hey, can you schedule to see within the next hour? Can we go see it?
And we call them and the owner was like, okay, cool about it (us coming to see it). And we came in and took a look.
Big exhaust fan.
Everything was kind of like almost ready for our type of cooking and we're like, there you go. Why don't we a beat did the asking for I was quite high. So we like can't afford that but we made an offer and the realtor got back to us and you know, we might have found a deal.
What's your favourite item on the menu? And what's the reason?
[Justin]: Ohhh that's a hard question…
[Dominic]: All our favourites are on there haha.
[Justin]: A lot of our favourites are on here.
What made me love Malaysian food growing up was my mom making certain dishes. And char kuay teow was a dish that really I grew to love because I remember eating it in Malaysia. My uncle had his own stall and that's what he specialized in. I mean, he's great at cooking everything else. But that was one of my very first memories.
If I was to say that was my favorite dish, I still can't get over that my mom also made really good Hainanese chicken and very good laksa as well.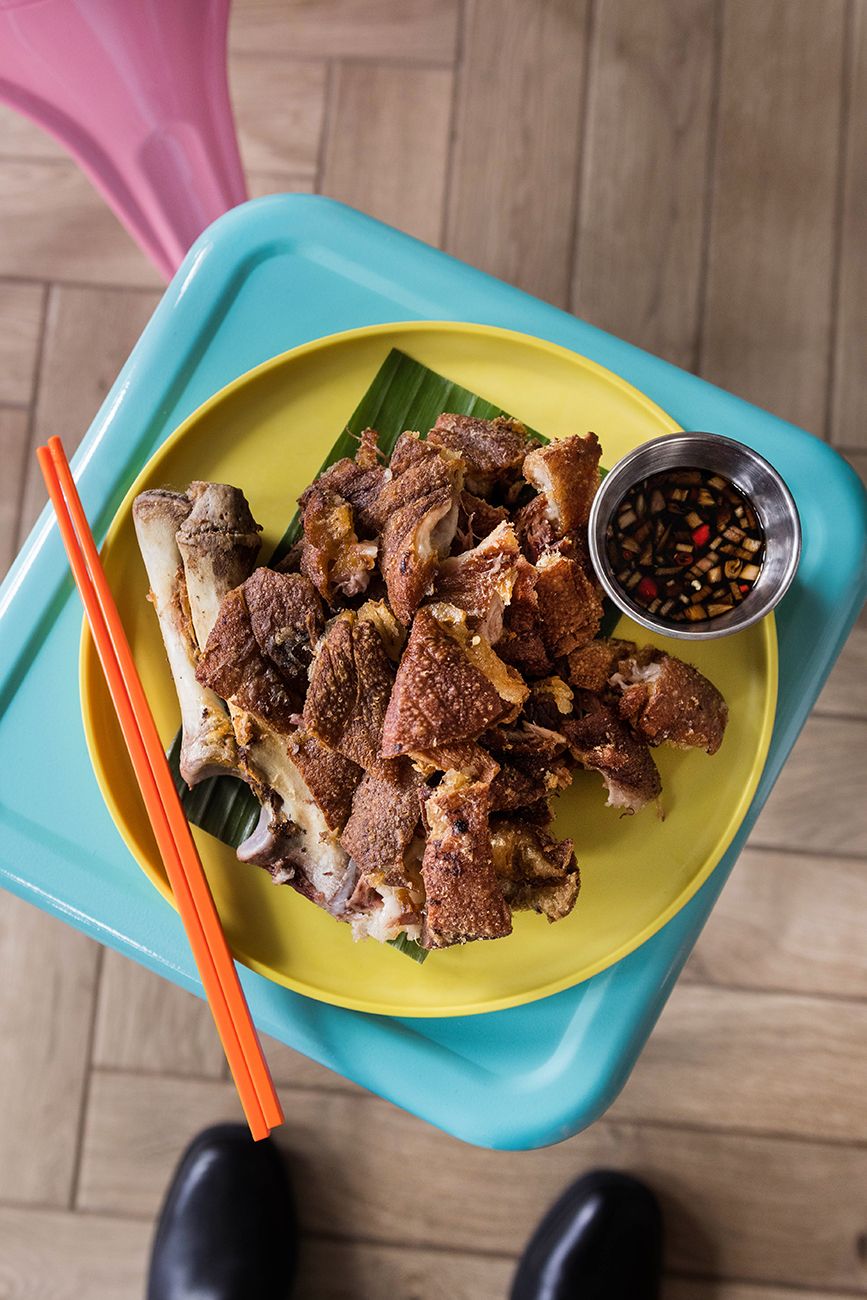 [Dominic]: Well, like he said, we put all our favorites in here and we are going to keep improving on all of these.
Our job is to introduce all these Southeast Asian street food to the local people. So definitely we're going to be switching around. There is not going to be a specific fixed signature. Everything to me: whatever goes on the board is going to be pretty much unique in their own way.
Our job is to introduce all these Southeast Asian street food to the local people.

Dominic Sai, Co-owner of Potluck Hawker Eatery
You know, when the fall and winter comes, we're going to have more noodle soup. When summer comes: more salad.
Whatever goes on there will be all our signatures.
Lastly, for someone who is new to this type of cuisine, what's a good dish to start off with?
[Justin]: Definitely, we're pretty proud of our chicken wings and I think has a really good coating. We've been able to make different flavors so just choosing one was to put on the menu was pretty tough. We have two or three very signature ways of cooking chicken wings, but also unique sauces.
So for example, the salted egg yolk chicken wings.
Like I love it.
It's full of umami from the salted, pure egg yolks, and there's a lot of butter in there as well. Curry leaves too.
So that one would be one of my favorites.
It's also what kind of pushed me to start making something different from my previous restaurant as well. And that's a dish a lot of people came by to eat. It kind of pushed me to say like, Hey, I have a lot of different ideas. You know, let's open a restaurant and make that happen.
We wanted the pure, traditional way of cooking in a wok, the proper wok hei (heat) and all that fragrance and using a sambal and, and roasting over the fire to really create that unique flavor.

Chef Justin, Co-owner of Potluck Hawker Eatery
I would also suggest a lot of our wok fried dishes.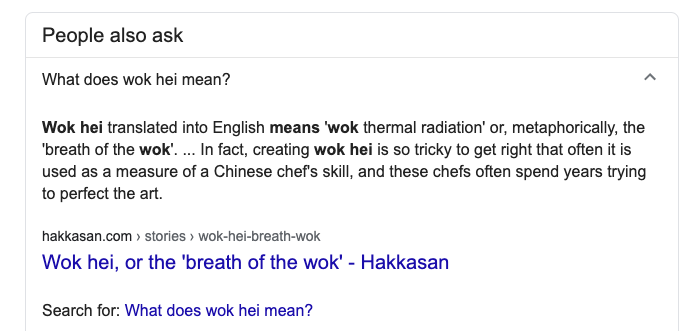 So I mean, like Dominic said, we definitely invested in a place with a proper hood because we wanted to use these traditional techniques. We couldn't just cook it on a regular stove or electric stove. We wanted the pure, traditional way of cooking in a wok, the proper wok hei (heat) and all that fragrance and using a sambal and, and roasting over the fire to really create that unique flavor.
So I think a lot of dishes that we serve will incorporate our sambal because that's what makes our flavor unique.
---
The options for top-notch Southeast Asian food in Vancouver aren't plenty.
But with Potluck Hawker Eatery, we know that this will change as more and more people get a bite and get addicted to Laksa, Salted Egg ANYTHING, Roti Canai, and more.
Potluck Hawker Eatery is now in soft opening and will have take out available.
Location: 3424 Cambie Street, Vancouver, BC, V5Z 2W8
The following two tabs change content below.
Latest posts by Noms Magazine (see all)