Looking for the best hikes near Seattle? Well you're in the right place!
Hiking is our thing – and with a lush greenery scattering from the city core out to suburbans, Seattle is truly a paradise for outdoor worshippers like us to make a bucket list.
Here we listed down the ten best hikes near Seattle. They are not only scenic but also moderate on the core for a great workout.
1. Saint Edward State Park
Best Hikes In Seattle Metropolitan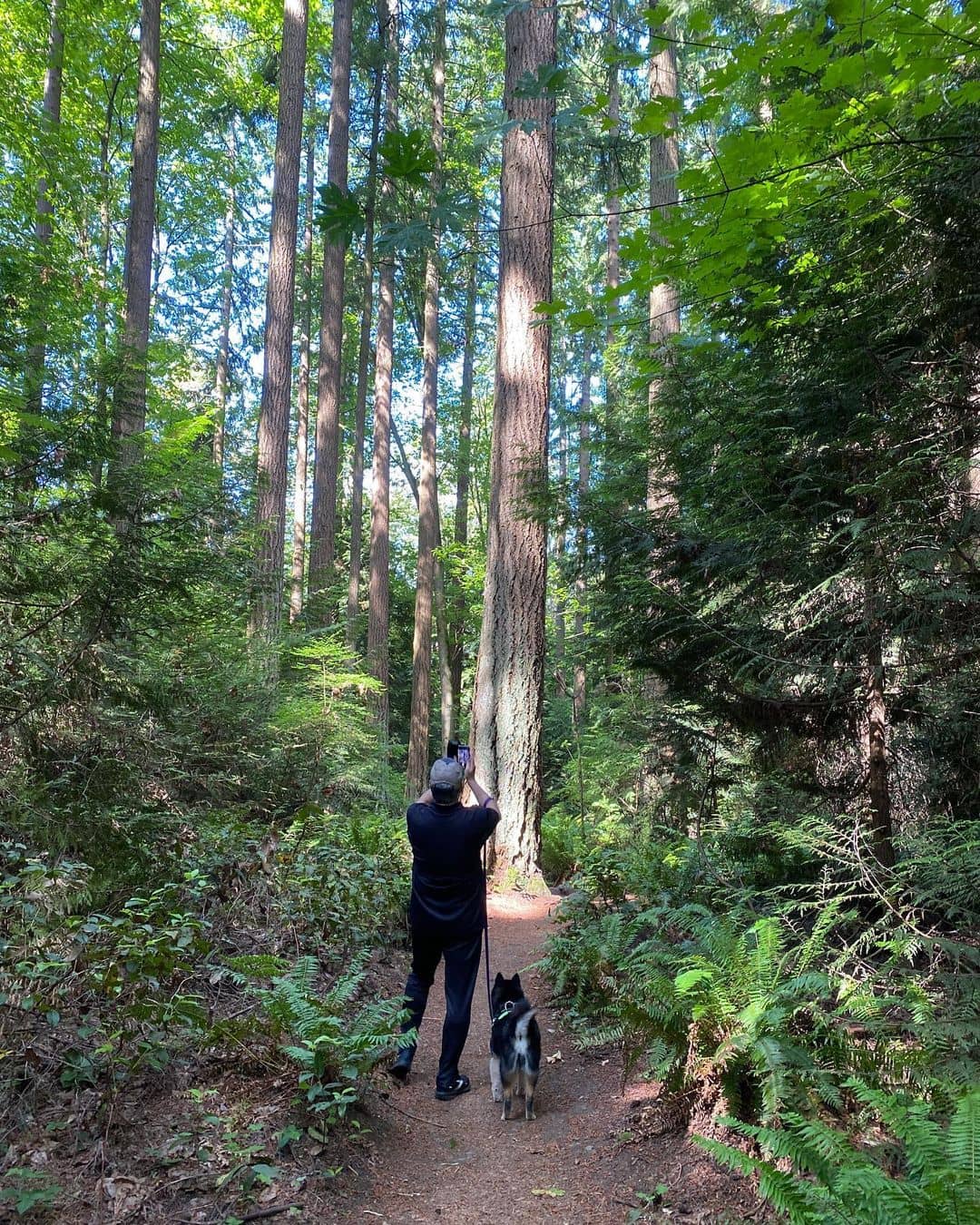 Facing the majestic beauty of Lake Washington in the east, this is home to six different trails surrounding the Saint Edward State Park and Bastyr University Seattle in the middle.
With this massive concentration of hikes for various fitness levels, you don't have to travel further afield to work out with the scenic landscape.
At a glance, you have somewhere between 314 to 692 feet in elevation gains. North Trail, Perimeter Trail, Beach Trail, and South Canton Trail take over the west side of the park while Water Tower Trail and South Ridge Trail occupy the eastern half.
If you get here in a car, check out one of the two parking lots at either the Bastyr University Seattle or the State Park and start your hike from there.
The first leg of the hike is easy but it soon challenges you when you get deep into the century-old second-growth forest. On the flip side, the undeveloped lakeshore start will have your mind detoxed.
One of our favorite hikes here takes you straight to the shoreline. Start at the junction of Perimeter–Seminary trailheads west of Saint Edward State Park. This hike is not too hard on the core as it goes about 360 feet downhill and opens out to a small beach.
2. Schmitz Park Trail
Best Hike Near Seattle In An Old-Growth Forest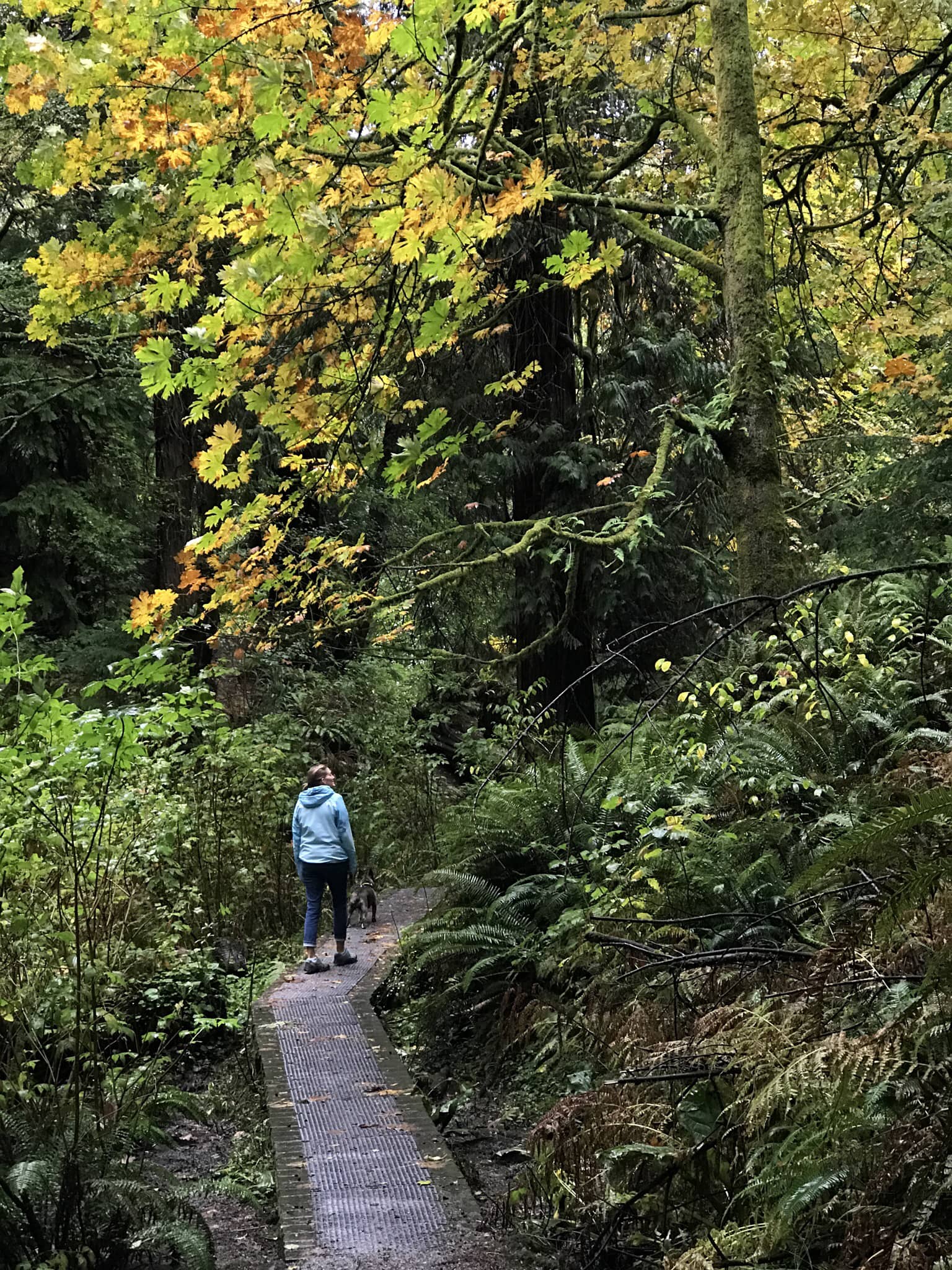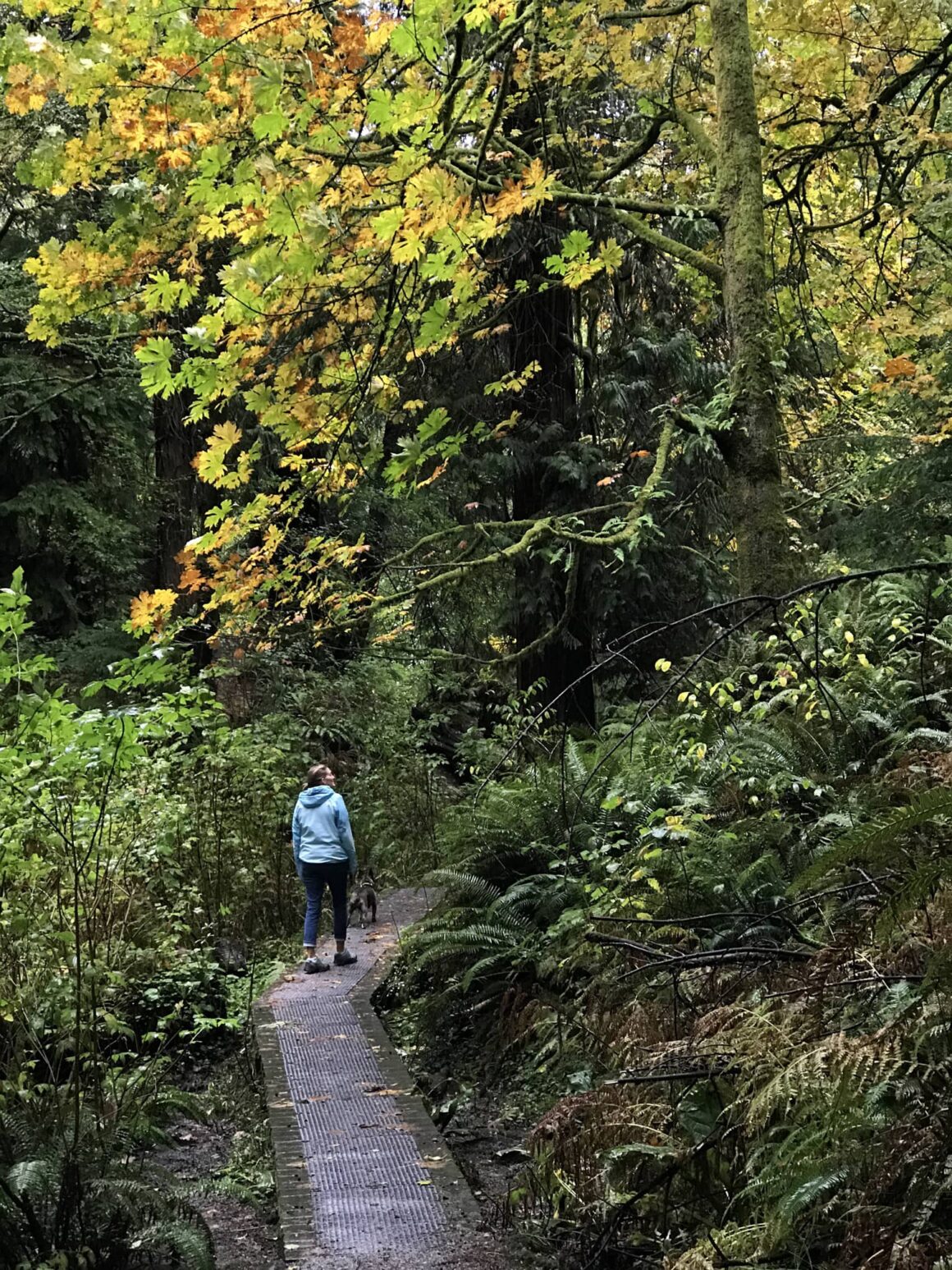 Hop on a 15-minute ride southwest of Seattle downtown and you'll end up at Alki Beach, the most common trailhead to take on the Schmitz Park trail. This little green oasis is blanketed with dense canopies of old-growth trees and never limits you to any season.
One of our favorite things about this hike is the duration. You don't need over 30 minutes to complete the hike one way.
Ironically, you're guaranteed a whale of a time unveiling everything from streams and towering trees to ferns and winding paths within this short amount of time.
The ancient forest floor is densely covered with large conifers with about two to three major paths cutting through the forest, making a point-to-point well-marked section that connects Alki Beach and SW Hinds Street north of Schmitz Park Elementary School.
About halfway into the hike, the paths start to split into smaller turns. Right in the middle of the park is a wooden bridge crossing a babbling brook.
3. Seward Park Trail
Short Loop Trail Near Seattle For Families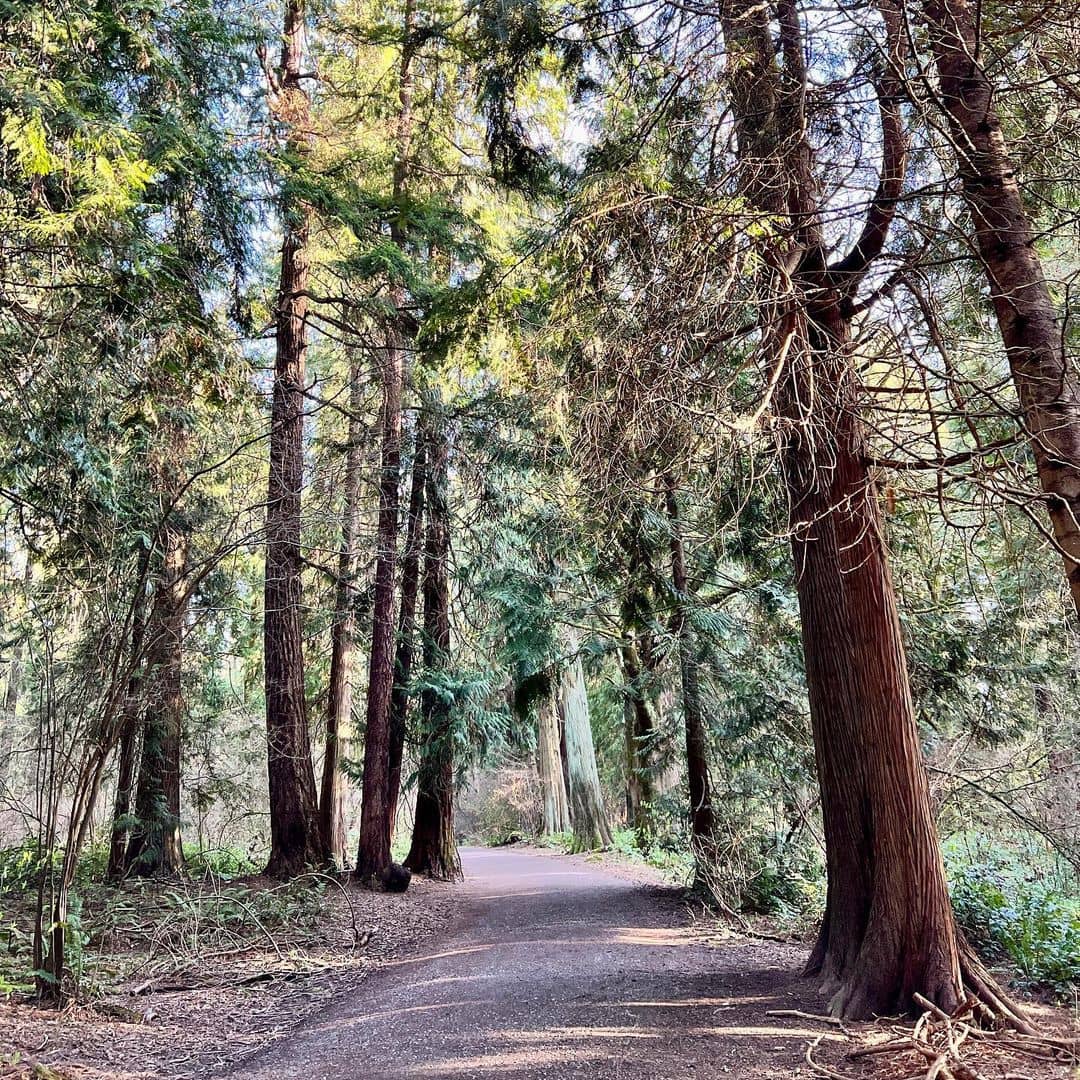 Why would we say Seward Park has the best trails in Seattle? Easy-peasy, it always has something for everyone. On top of that, it's quiet and only 40 feet in elevation gain.
With a short ride southeast of Seattle downtown for 15 minutes, you end up at the southern leg of Lake Washington.
Here, Seward Park shows up as a big stomach hanging upside down, jutting out to the waters – and that means you're guaranteed some incredible views right there.
The trails here are amazing for families as it begins at the park with playgrounds near a parking lot. Then meander into the flat walking path and you'll see plenty of picnic spots around. Leave your car at either the Southside Booty Camp or Seward Park Clay Studio and walk up north from there.
Otherwise, drive further past the Clay Studio and there's another parking lot after the U-turn. Right here you'll see the trailhead of Fairy Tree Loop Trail.
A little further north is a mixture of roughly three other wooded trails that run along the spine of the park.
At the end of Huckleberry Trail, turn back following the shoreline to complete the waterfront loop.
Despite its proximity to the city core, Seward Park trail is a perfect place to do a "noise detox".
We highly recommend you hit the trail early in the morning when the views over Mt. Rainier are perfectly clear.
4. Loop Trail Of Discovery Park
Best Hike Near Seattle With Diverse Landscape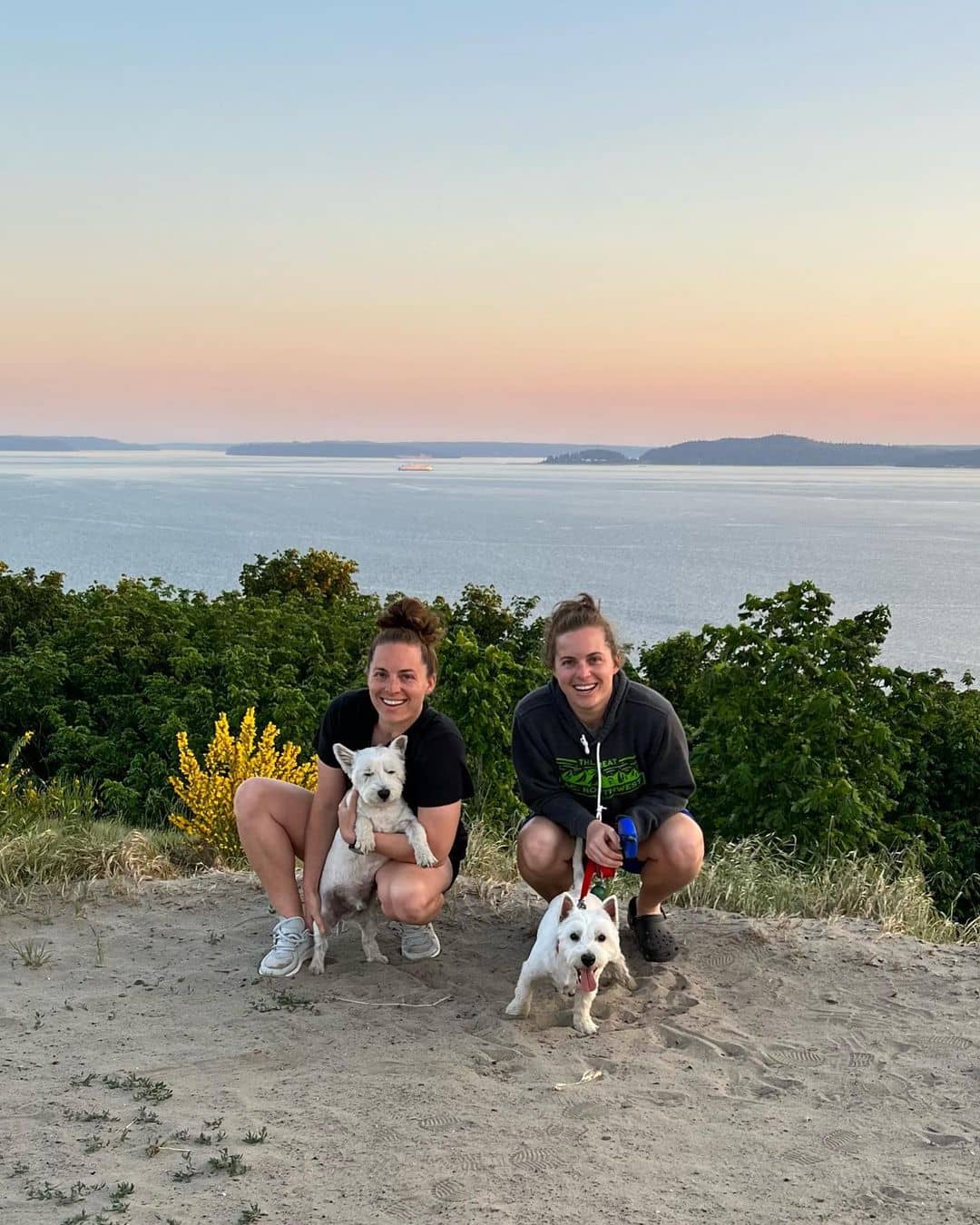 Who would have thought a 20-minute ride north of the city core can expose that many terrains?
From the hilly peninsula of Magnolia Bluff overlooking Puget Sound to the sandy shore jutting out from the west of the shoreline – but those are just two to be named.
You will encounter a thick forest right in the middle of the Discovery Park right after you go past the empty fields. If you decide to include the beach loop (which we think you should), then you have just over five miles to complete. The elevation gain is moderate so try to cover as many scenes as you can.
When you make it that far to the water – and if you're lucky to catch the crispy weather of Seattle, we ensure some stunning views over the snow-capped Mt. Rainier and the Olympics from afar.
Overall, the trail is easy for most people, well-marked (at least that's what we found on the main loop) even though it gets a little confusing when you're way deeper into the woods with so many little trails radiating out.
Leave your car at the Discovery Park South Parking Lot from W Emerson Street and start walking clockwise from there. It's less steep that way.
5. Coal Creek Falls
Moderate Hike Near Seattle To See Wildflowers And Dense Vegetation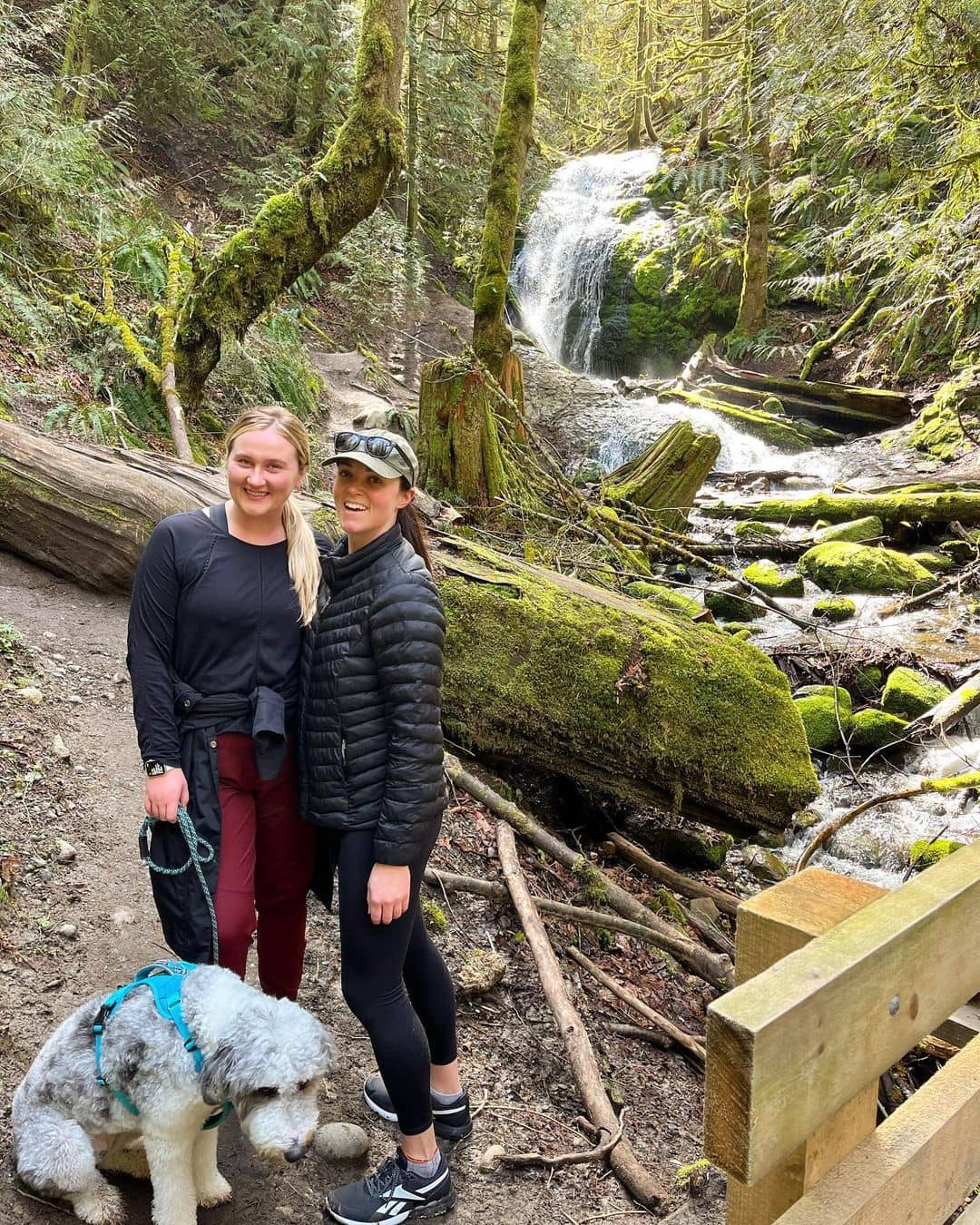 Now let's take a look at West Seattle! Here we have Coal Creek Falls as one of our favorite trails if you stay somewhere around the Bellevue or Redmond area. A car ride to the falls barely gets over half an hour. Tag your whole family along as this moderate trail hide is perfectly covered by a thick vegetation of maple, alder, and cedar trees.
When the rainy season is over, the paths tend to get muddy and a bit slippery on some large boulders and rocks but at the end of the day, it's still a well-maintained trail overall.
With ferns and numerous wildflower species skirting the paths, the trail down to the falls is perfect to forest bathe and wind down.
There are multiple trailheads to start from all four sides of the Cougar Mountain Regional Wildlife Park and this network of trails creates an immense criss-cross further deep into the woods before you finally reach the falls.
Make sure to have a map of the park before venturing out.
The best way to mount upward the falls is the Cave Hole Trail, which opens to a 600-ish feet waterfall that looks like a bride's veil.
6. Taylor Creek & Trail
Best Short Trail Near Seattle With Archaic Fell And Shallow Waterfall
At the very end of Lake Washington, just an eight-minute ride south of Seward Park, we have Taylor Creek trail.
Unlike some other forests with a crisscross of tiny confusing trails, this one is a better call so you won't have a hard time navigating.
From above, the trail emerges as a lasso rope running one way south from the end of 68th Ave S. The trail is part of Lakeridge Park which was formed by the deep, north-facing gorge called Dead Horse Canyon. For that reason, the lush flora species housing various wildlife ensures peace of mind at each of your steps.
Taylor Creek is more like a walk in the woods rather than an intense trail in a temperate rainforest. Wooden bridges are highlighted over a small creek, with moss and ferns ruling the entire space. Keep going along the steep walled ravine and that's how you complete the length of the stream.
It's incredible to keep up with such archaic, calming near-wilderness amidst this bustling neighborhood.
Though the trail isn't flat throughout, it's still a short hike for families and pet walkers at the end of the day.
7. Cedar River Trail
Best Hike Near Seattle With A Rural River Walk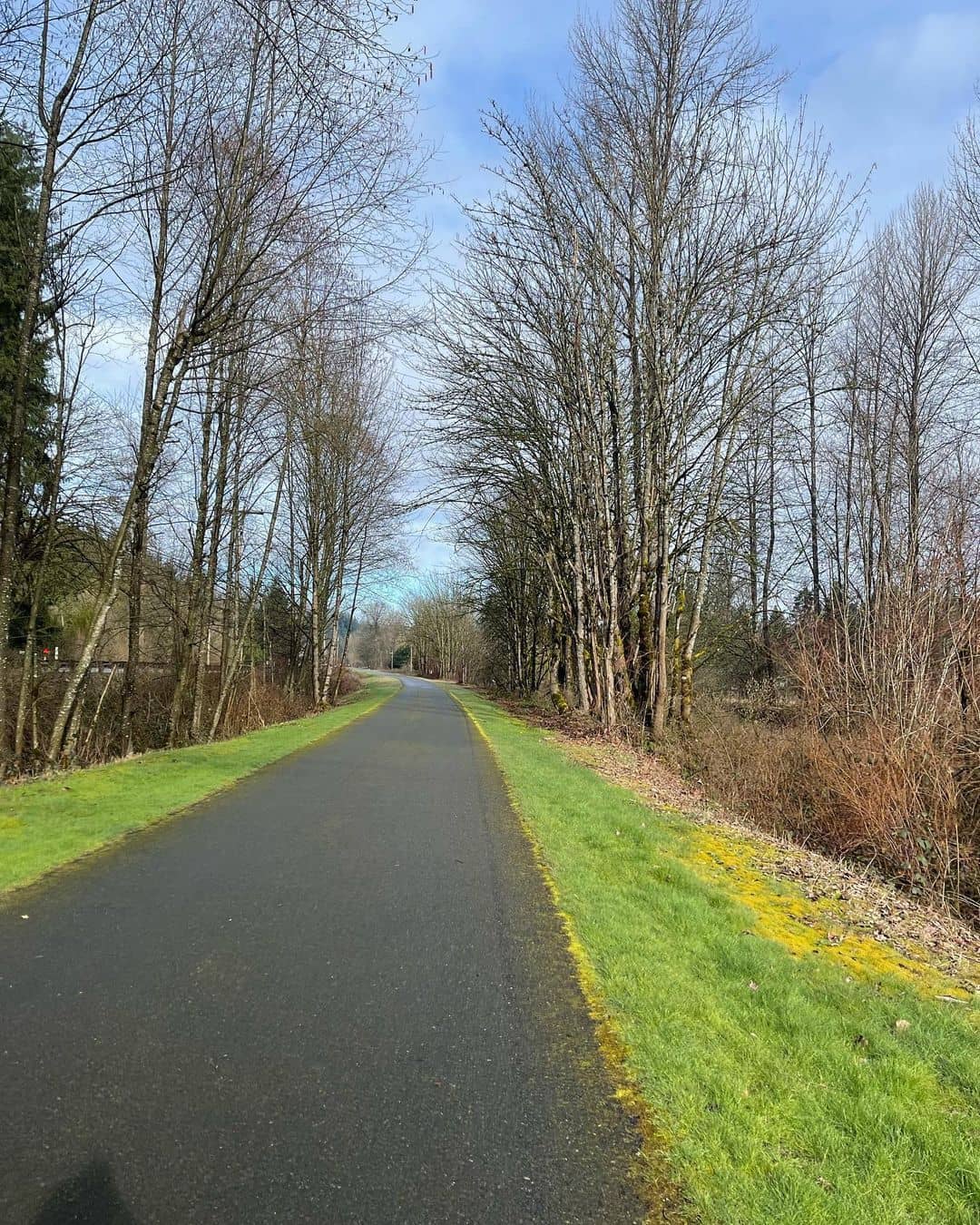 A 25-minute ride southeast of Seattle isn't bad at all. It's even better as this little commute takes you to a rich diversity of plants, animals, and habitats in the heart of a rural neighborhood of the Renton area known as Cedar River Trail.
As the hike is close to a residential area, it's not hard to encounter local individuals taking their pooches out on a morning walk as well as bikers and joggers.
The entire trail is less than 18 miles, shaping a small U-turn at the beginning starting from the Cedar River Watershed's western boundary, flowing north past the Cedar Grove Nature Area before emptying into Lake Washington.
The trail is crazy long, we know, but a small loop around Larry Phillips Natural Area is great to give you a fine workout.
Those who don't want to leave their hike unsettled, break the trail into smaller sections.
Complete the east bank first and check out the north bank later on. The latter parts have bridges throughout but you can choose to cross them or not.
Before you reach SE Jones Road, turn right into Belmondo's Reach with a short walk to the rough riverbank where bald eagles and hawks roost on quiet mornings.
8. Mount Si Trail
Best Hike Near Seattle For Rock Climbers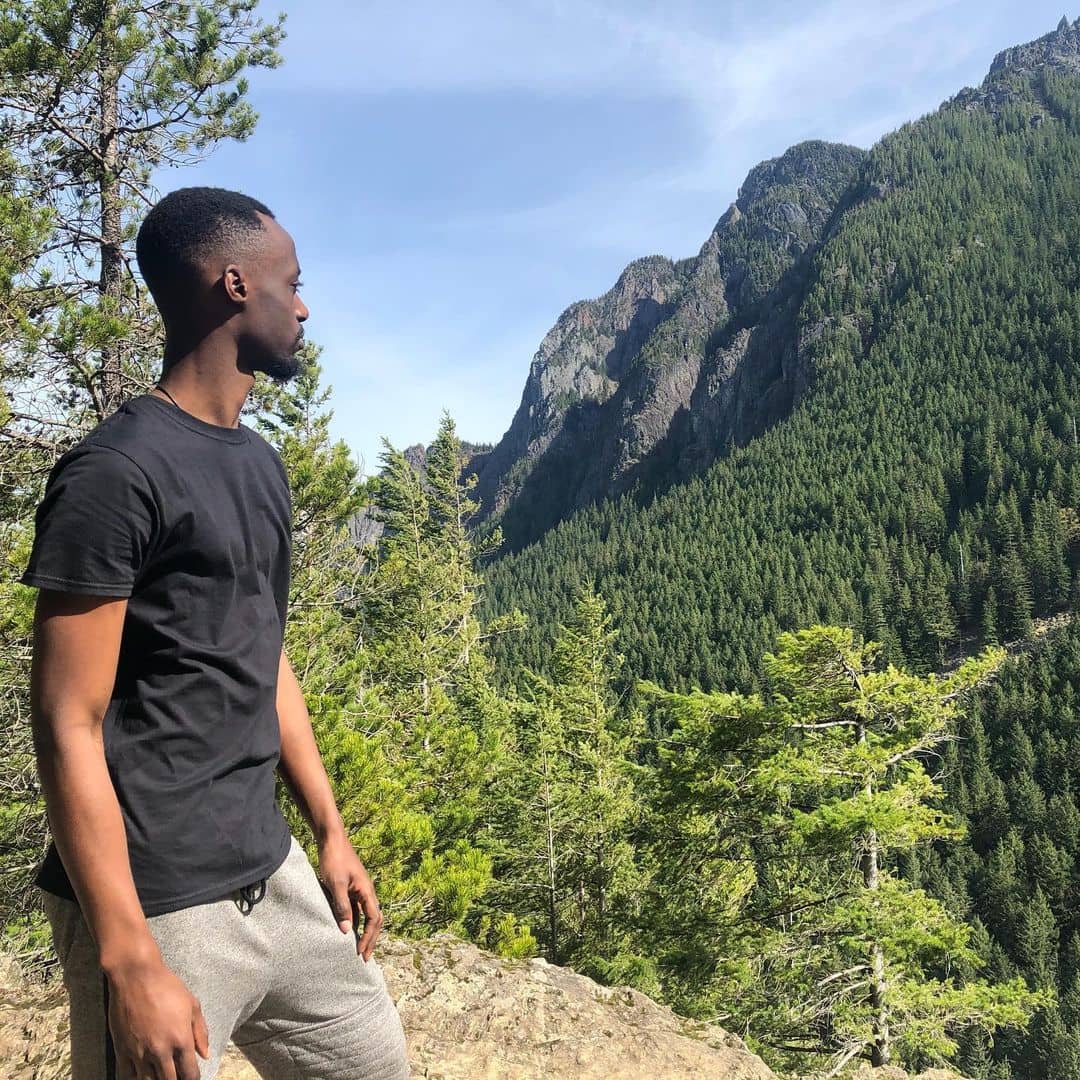 Ready to take on a challenging hike to game up your outdoor skill? Mount Si, home to a 7.5-mile out-and-back trail with over 3336 feet of elevation will have you stunned.
A short 40-minute ride east of Seattle finally opens out to a majestic mountain peak with a view over Mount Rainier, Puget Sound, and the Upper Snoqualmie Valley.
The trailhead begins behind an off-road turn from SE Mt Si Rd with a parking lot right next to it.
From there, the hike mostly goes ascent with constant steepness, and you should spare at least four hours for a round trip if you wanna make it to the summit.
To give you a sneak peek, a majority of Mount Si Trail is perfectly shaded and you only get exposed to the sun at the very end near the summit.
However, its steep incline requires you to pack a good amount of water along, knowing that only the first two miles of the hike are moderate.
Ultimately, you know you're there at the top when you see a meadow after conquering all the switchbacks.
From there, you can choose to follow the northeast direction further to a wooden bench. This is the beginning of a more strenuous hike. People call it the Haystack scramble. It's rough but you should find a handful of holds and substantial rocks.
9. Mailbox Peak Trail
Strenuous Hike Near Seattle With Big Summit View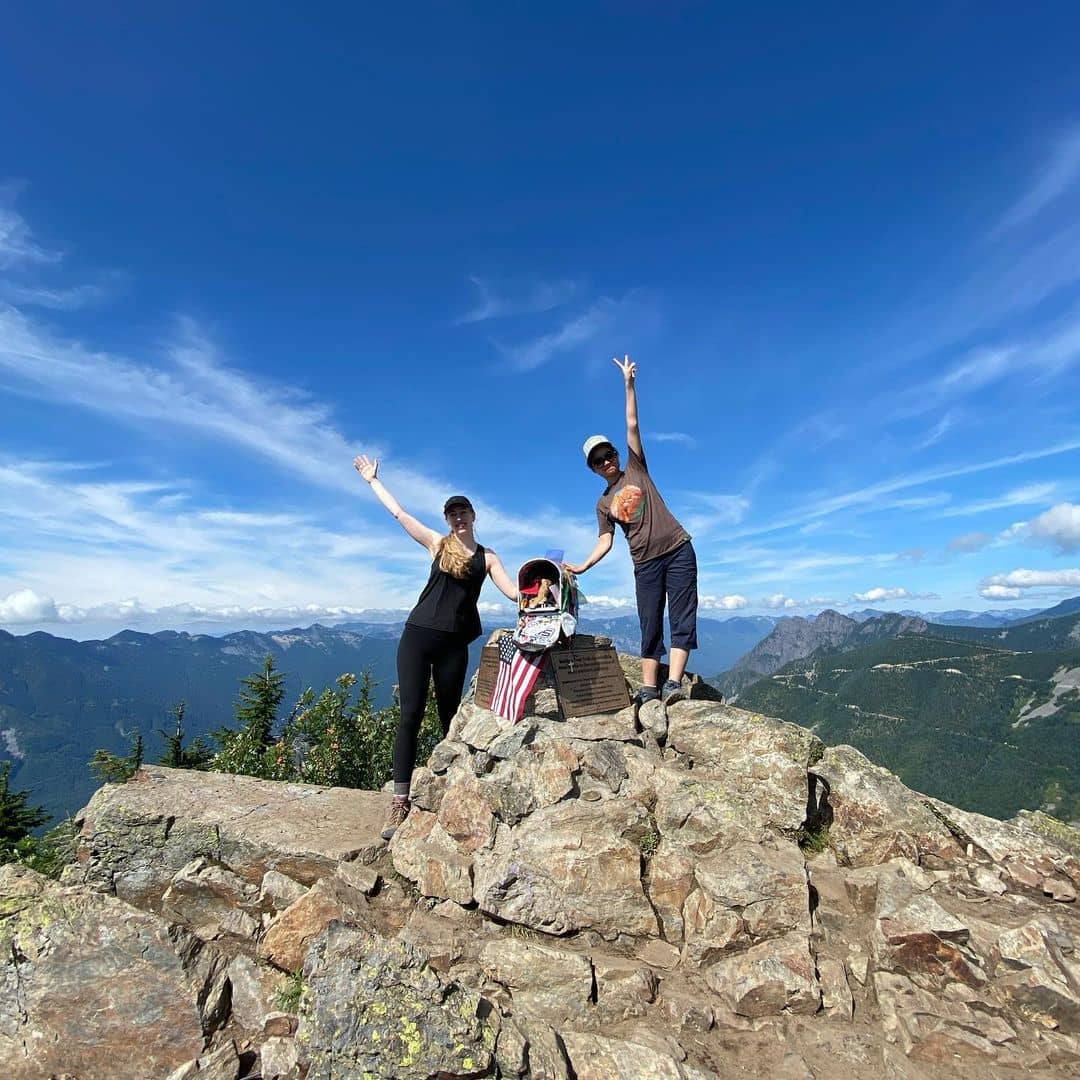 What else can you get other than a scenic view at the end of the hike? For us, the best rewarding gift for a hike near Seattle is choosing your own treat out of a mailbox.
Just outside of North Bend, the Mailbox Peak Trail is dubbed as the quirkiest trail near Seattle. The steep incline runs eight miles of the loop with over 4000 feet in elevation gain is no joke.
The dense forest makes it even more unforgiving, probing your ankles and knees using its right wing as a sheer climb. Note that distressed hikers usually hit up the rescue teams on the old trail.
For that reason, they started to build a new trail following the left wing of the mountain. This one has at least five big zig-zags and a lot longer to complete.
However, the plentiful switchbacks come to the rescue in case you fail to deal with the steep incline of the old trail.
If you have more time to spend, take the short trail up and the long trail down. Both trails begin at Middle Fork Road.
No matter which way you take, the view up there is guaranteed to have you in awe.
Some parts of the new trails are exposed to clearings so you can catch up on what's happening along the way.
10. Mason Lake Trail
Best Seattle Hike To Workout With Scenic Celebration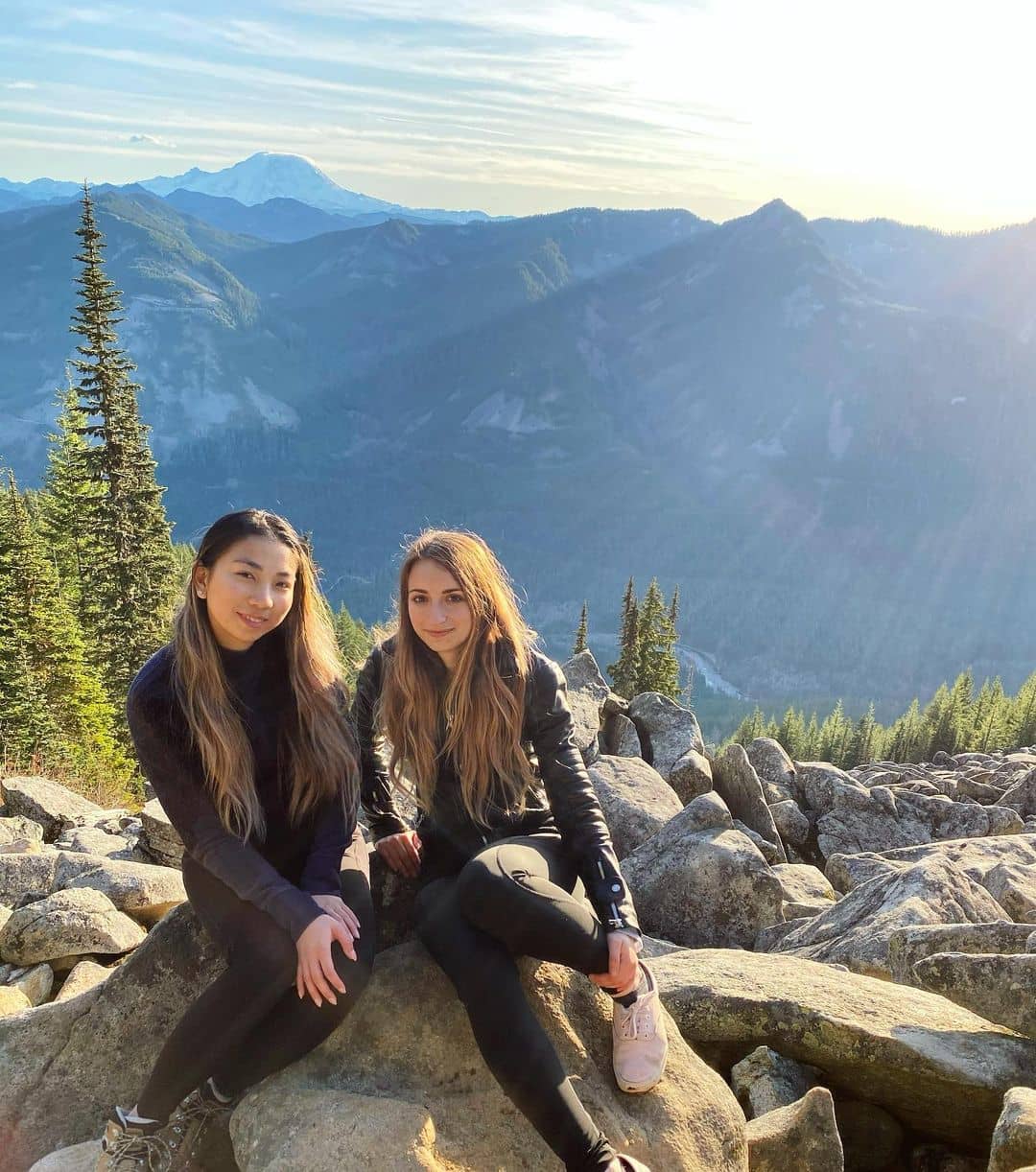 A 50-minute ride far east of Seattle shouldn't be a hassle when you know an absolutely stunning landscape is waiting ahead.
While the gigantic Lake Washington is the most talked-about body of water around the city's main happenings, Mason Lake promises a refreshing feel to treat your eyes.
A huge diversity of blooming trillium, sun-kissed ridgelines, and turquoise water at a calm lake are just a few to be named.
Mason Lake trail is only one of the two major hikes we found around the namesake lake, with Bandera Mountain as another great hike to top up your bucket list the next time you venture out this far.
Getting here may be a daunting task for first-timers as the trailhead is out of sight. If you depart from Seattle, take a left U-turn after you go past the Bandera State Airport and keep going along Mason Lake Road until you end up at a small parking lot. The wooded trail begins right there.
Considered a challenging out-and-back trail, this hike needs you to lock down at least five hours on your calendar to complete the whole length. Most of the trail is well-shaded with an elevation gain of over 2309 feet. The dense forest blankets plenty of switchbacks.
Do you know what's the best thing that happens after a long hike? Tasty bites!
Yeap, right here in this ultimate collection, we revealed 11 best waterfront restaurants in Seattle. Imagine chilling out by the sparkling lake with fresh seafood or munching on Coconut Curry Mussels by a calm bay! Check it out now!