How I Cook is a Q&A series that peels back the curtains so you get a glimpse of the backgrounds and stories of some of the best chefs, pastry chefs, mixologists, and food specialists in Vancouver.
---
If you've wandered around Yaletown's waterfront area, there's a good chance you've been to or seen Provence Marinaside. With its picturesque view and award-winning experience, it is one of the best restaurants in the Yaletown neighbourhood.
But who's the mastermind behind such a restaurant? The talented and energetic Chef Jean Francis Quaglia.
We spoke with Chef Jean-Francis to hear about his culinary journey, the challenges and the rewards of the job, and his true feelings towards the Vancouver food scene.
How did you get into cooking?
[Jean-Francis]: Since I was 8 years old I was baking and my mother opened her first restaurant when I was 16 and I found my love of cooking. I was making special cakes for her guests since I was 8.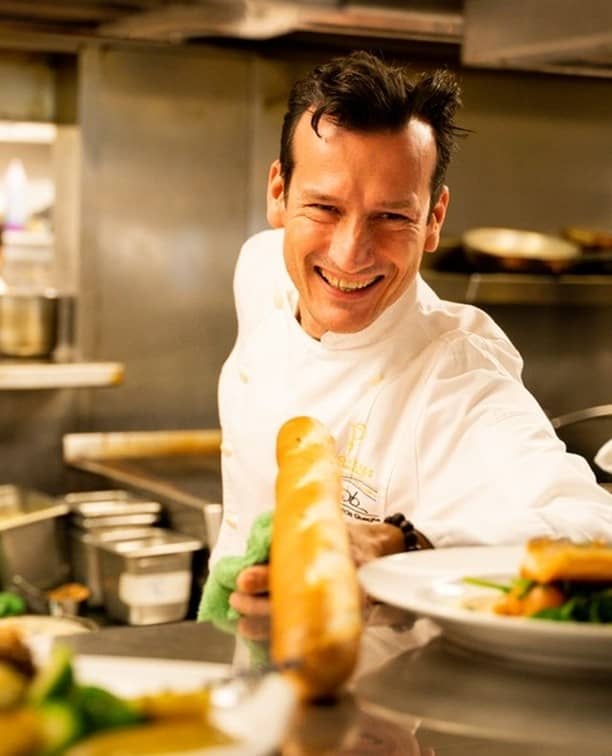 How did your career get you to where you are today?
A native of Marseille, France, Jean-Francis comes naturally to the culinary world as his mother is acclaimed Chef Suzanne Quaglia of Marseille's famed Le Patalain and one of the very first female chefs in France. At age eight, he made his first 'Tarte au Citron' from his mother's recipe. This same tarte is now featured on Provence's menu.
When Jean-Francis was 16, Chef Suzanne opened her first restaurant and Jean-Francis decided that he too wanted to become a chef, enrolling at the École Hôteliere de Marseilles. Hôtel Sorbitel in Marseille was the location of his first apprenticeship following graduation. From there he had a brief stint in his mother's restaurant before heading off to the Côte d'Azure and Monte Carlo where he started as Commis de Cuisine under the direction of Chef Bruno Caironi (formerly Sous Chef to Alain Ducasse).
Jean-Francis then went on to work with Chef Elie Mazot at Relais et Chateau's Le Chateau de la Chevre D'Or in Eze. As Chef de Partie Tournant, Jean-Francis mastered every station in the kitchen while working under the direction of Chef Dominique LeStanc at Hôtel Negresco in Nice (2 Michelin stars). Hôtel Negresco was to be a turning point in his life as it was there, in 1990, that he met a young Canadian chef, Alessandra Mossa.
He didn't speak any English and she didn't speak much French, so he did what any red-blooded young French chef would do – he wooed her with food and it had the desired effect. In 1991 Jean-Francis (with Alessandra) returned to Marseille to work as Sous Chef in his mother's Le Patalain. The next year he and Alessandra moved to Canada and were married.
Jean-Francis' Canadian career began as Sous Chef under Bruno Born at Le Coq D'Or in Vancouver's Kitsilano neighbourhood. During Jean-Francis tenure there, the restaurant won the coveted award of Best French Restaurant at the annual Vancouver Magazine Restaurant Awards. In 1994, Born closed Le Coq D'Or to head up food and beverage for the soon-to-be-opened Sheraton Wall Centre Hotel.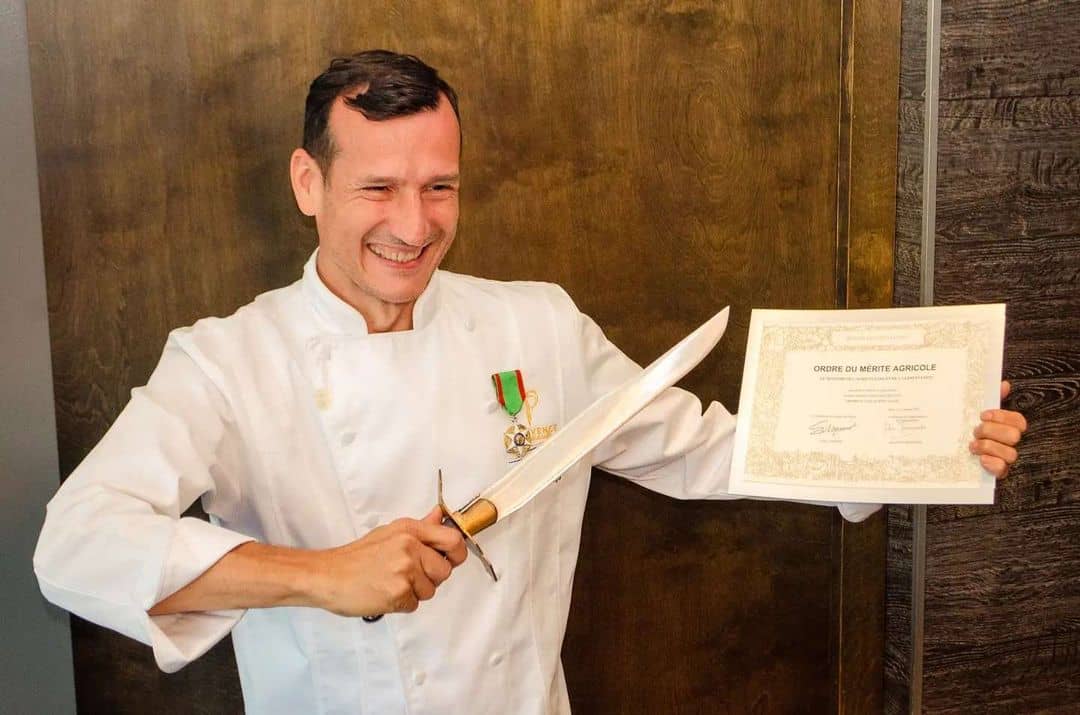 He took Jean-Francis with him to be Chef de Cuisine at one of the hotel's two restaurants – Azure Seafood Restaurant. When the hotel's owner later decided to consolidate food services in one restaurant and closed Azure, Jean-Francis was picked to become Chef of the hotel's remaining restaurant – Indigo Bistro Moderne. Pursuing a life-long dream, Jean-Francis left the Sheraton Wall Centre to open a place of his own.
The result – Provence Mediterranean Grill – opened its doors in the Point Grey neighbourhood of Vancouver on December 17, 1997. In 2002 he and Alessandra took the plunge, opening a second location – Provence Marinaside, on the sea wall in Yaletown. Marinaside, as locals affectionately call it, focuses its menu on seafood featuring a fresh seafood bar, catch of the day as well as a wide selection of fish and shellfish.
When the sun shines, and with the view of the adjacent marina, you'd swear you were on the Côte d'Azure. In 2007, to mark Provence Mediterranean Grill's 10th anniversary, Jean-Francis and Alessandra co-authored the book New World Provence – Modern French Cooking for Friends and Family. Early in 2012, there was another celebration as Provence Marinaside celebrated its 10th Anniversary on February 23rd.
Later in the same year (mid-December 2012) the Provence 'family' expanded once more when Jean-Francis developed and opened TWB-The Wine Bar adjacent to Provence Marinaside. The casually elegant Wine Bar serves wines by the glass and light tapas-style plates called 'Bites.' It has rapidly become a neighbourhood favourite for its value-priced great food, good wine and fabulous people-watching.
Where do you get your culinary inspiration from? (cultural heritage/family/mentor)
[Jean-Francis]: My cooking style came from my mentors in the South of France and of course my mother.
What would we find you doing when you're not in the kitchen?
[Jean-Francis]: I would be riding my motorcycle, doing yoga and spending time enjoying my grandkids.
What is your favourite part of your job?
[Jean-Francis]: My favourite part of my job is seeing the restaurant buzzing with guests enjoying our food and service. This is the best feeling and the reason I love to cook.
What is your favourite dish to make and why?
[Jean-Francis]: My favourite dish to make is roasted Dungeness Crab. I love to do this dish especially at home, it keeps family at the table longer as we share the experience of this great meal.
How do you balance your work time and personal time?
[Jean-Francis]: This is a hard thing to do, I am an extremely hands-on person and always connected with my staff. I do my best to keep 2 days off a week and take a few days out of town when possible on my motorcycle. My yoga practice keeps me sane.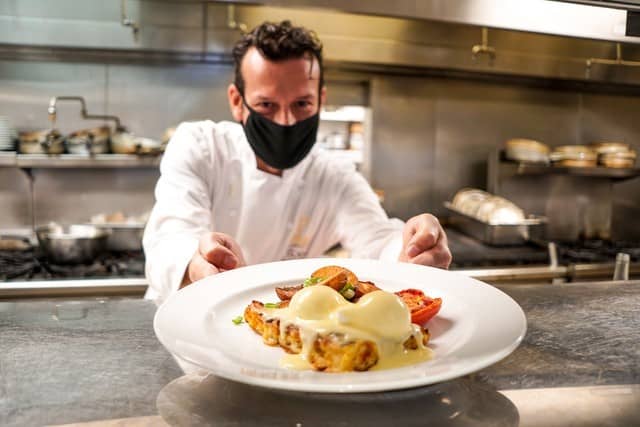 What was the biggest challenge you faced to get to where you are today?
[Jean-Francis]: Learning how to cook doesn't teach you how to run a business and this is an essential part of owning a restaurant. Renovating teaches many lessons as well, as everyone who has done this knows.
If you could give a piece of advice to your past self, what would you say?
[Jean-Francis]: Try and get business advice from other restauranteurs or someone you admire in the industry.
What is your under-the-radar food spot in Vancouver?
[Jean-Francis]: Grub on Main St.
What do you love and hate about Vancouver's food scene?
[Jean-Francis]: I love the diversity of food and restaurant-style that Vancouver has to offer, we are so fortunate.
I don't like the lack of opportunity for late-night dining.
---
This is only a small bite into the successes of Chef Jean-Francis Quaglia.
But the next time you visit the Provence Marinaside, you will know a little bit more about the effort served into the food in front of you. 
Address: 1177 Marinaside Crescent, Vancouver, BC V6Z 2Y3
Website | Instagram | Facebook
A rundown of all the best restaurants, cafes, drink spots, shops, and places to stay in the Yaletown area.
This piece has been prepared with the help of Kameela Nash and Nancy Wong
The following two tabs change content below.
Latest posts by Noms Magazine (see all)