Looking for the best pizza spots in Chicago? We've got you covered!
Renowned for its deep-dish delights, Chicago's pizza scene is as diverse as its skyline. From thin-crust wonders to innovative artisanal creations, the best pizza in Chicago is a hotly debated topic.
If you're wondering where to start, listed below are 12 of the best pizza spots in Chicago to satisfy your pizza cravings.
🍩 Are you a foodie? Explore Chicago's culinary scene with one of these top-rated food tours!
1. Forno Rosso Pizzeria Napoletana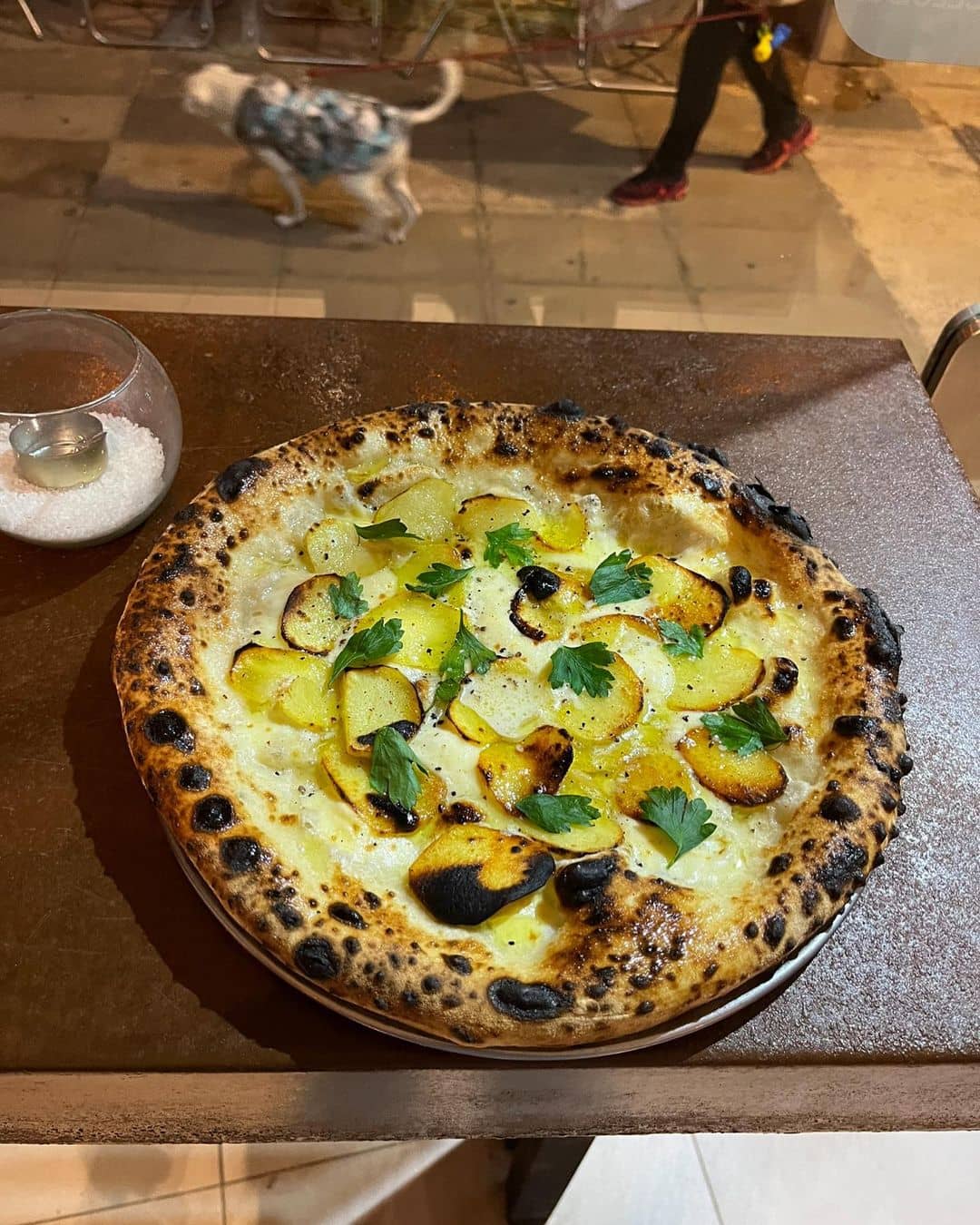 Forno Rosso Pizzeria Napoletana is a pizza hot spot in Chicago serving authentic Neapolitan pizza that will transport your taste buds straight to Italy.
The unique wood-fired oven gives their pizzas a distinct, smoky flavor. Specializing in the art of crafting traditional Neapolitan-style pizza, you surely can't go wrong with anything you order here.
For starters, the Burrata in Forno Rosso is more than your average. Imported from Italy, this features a buttery and creamy center that pairs perfectly with the light and airy focaccia. Get this and it will instantly turn you into a Burrata fan if you aren't one yet!
Their Margherita Pizza is a crowd favorite, with a perfect balance of San Marzano tomatoes, fior di latte mozzarella, basil, and pecorino romano. The crust is light and airy, with a delightful char that adds depth to the flavor.
Another must-try is their Diavola Pizza, topped with hot soppressata that gives it a fiery kick.
Regulars constantly rave about the quality of the ingredients and the skillful balance of flavors.
What to order: Burrata, Margherita Pizza, Rosso Diavolo Pizza
Address:
-3719 N Harlem Ave, Chicago, IL 60634
-1048 W Randolph St, Chicago, IL 60607
2. Spacca Napoli Pizzeria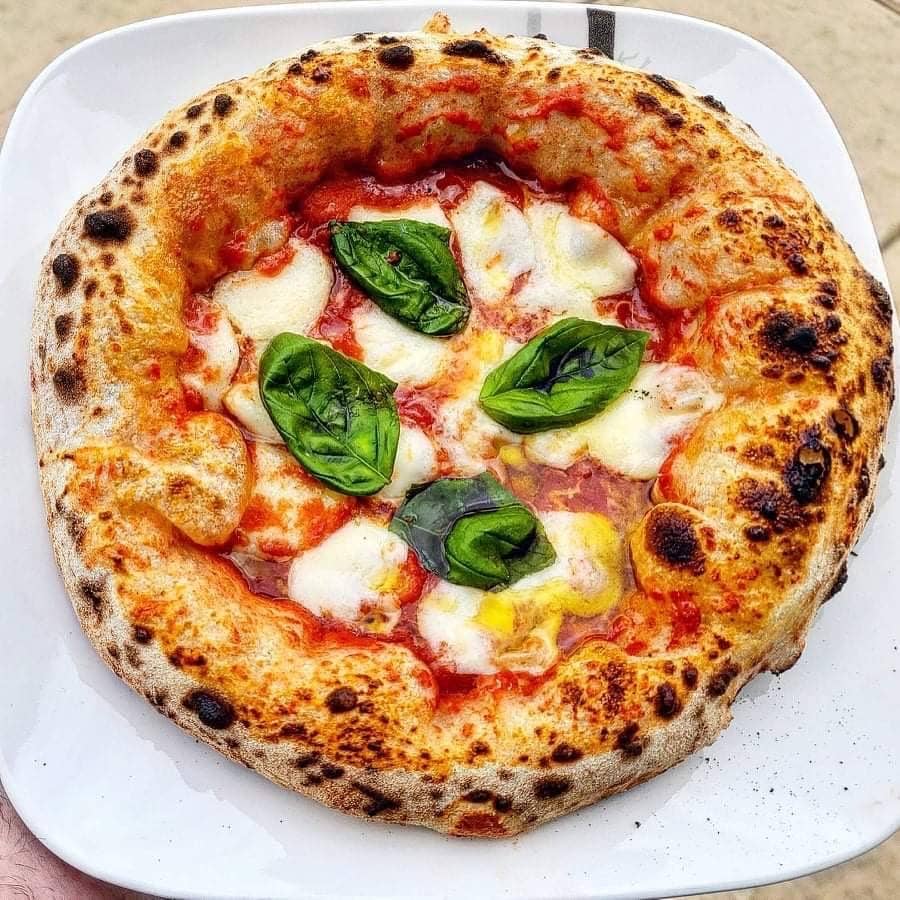 Spacca Napoli Pizzeria is a slice of Naples in Chicago. The rustic interiors and warm ambience make it a perfect spot for cozy pizza days. This spot is known for its traditional Neapolitan pizzas, baked in a wood-fired oven.
At Spacco Napoli, the art of pizza-making is a labor of love and craftsmanship, with dough tended daily and baked in traditional ovens crafted by skilled artisans from Naples.
With a commitment to sourcing ingredients from trusted vendors, Spacco Napoli ensures an unparalleled pizza experience, transporting you to the spirited markets of Naples.
The star of the show, Spacca Napoli's Bufalina is everything you need in a pizza. This standout features creamy buffalo mozzarella, tomatoes, and basil. The crust is thin and crispy, with a slightly chewy interior.
The Prosciutto e Rucola is another popular choice, topped with prosciutto, arugula, and parmesan cheese.
What to order: Bufalina Pizza, Prosciutto e Rucola, Puttanesca
Address: 1769 W Sunnyside Ave, Chicago, IL 60640
3. Bonci Pizzeria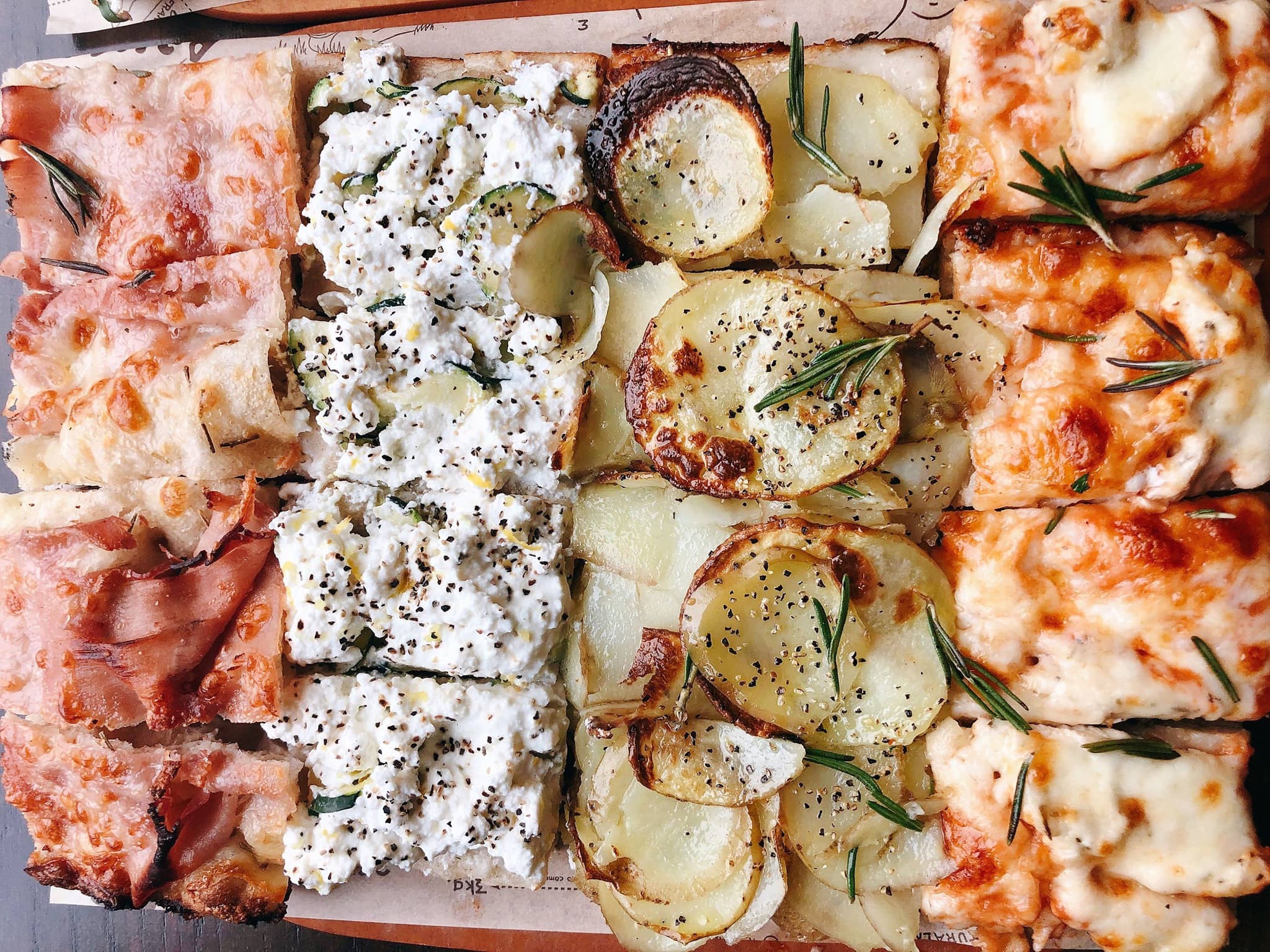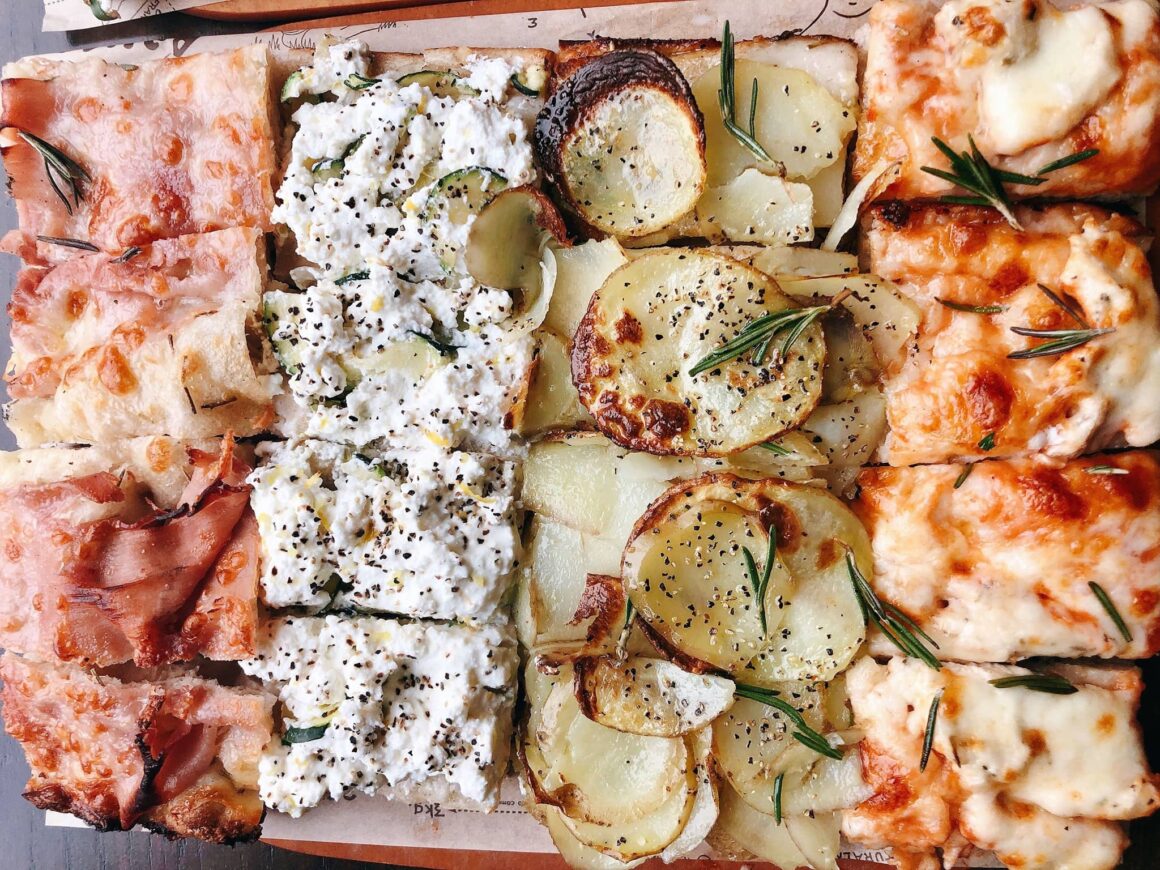 A true haven for pizza enthusiasts. Bonci Pizzeria brings a unique pizza experience to Chicago with its Roman-style "pizza al taglio" or pizza by the cut. The ability to choose the size of the slice makes this pizza spot a standout.
The pizza is then priced by weight, making it a great option for those looking to try multiple flavors.
The excitement lies in the ever-changing lineup of their pizza creations. With a menu that evolves throughout the day based on the availability of seasonal produce and toppings, Bonci Pizzeria offers a truly dynamic and unpredictable pizza experience.
Each visit promises playful permutations of cured meats, cheeses, and fresh seasonal produce that will surprise you. 
The dedication to using the finest ingredients ensures that every slice showcases the vibrant flavors of each moment. Embrace the spontaneity and savor the joy of discovering unique combinations that make each visit to Bonci Pizzeria a gastronomically memorable adventure.
What to order: Daily Changing Pizza
Address: 161 N Sangamon St, Chicago, IL 60607
Website | Instagram | Facebook
4. Lou Malnati's Pizzeria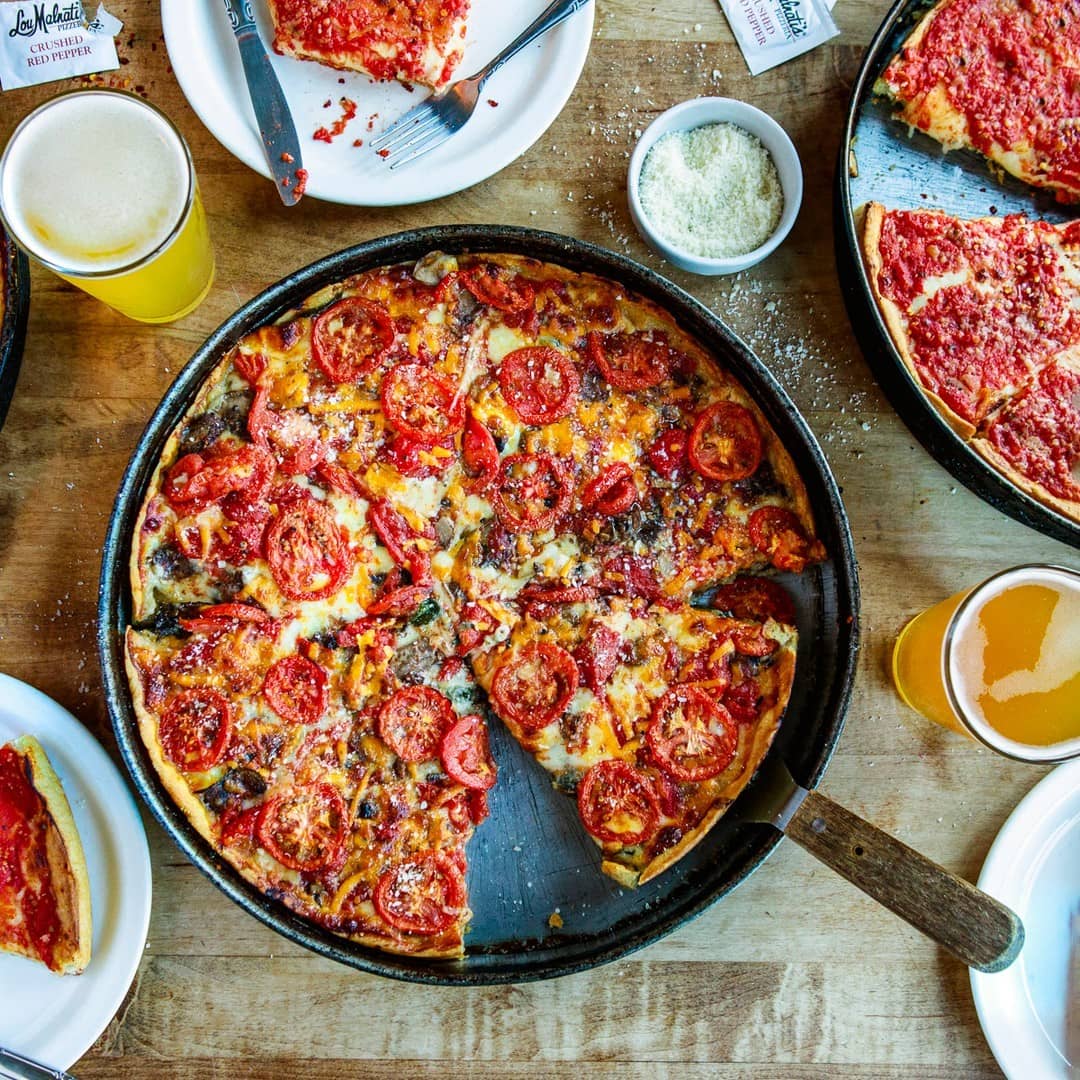 Lou Malnati's Pizzeria stands proud as the home of the world's BEST Chicago-style deep-dish pizza. With a legendary reputation that precedes it, Lou's has become an iconic destination.
Each handmade pizza at Lou Malnati's is crafted with utmost care and precision, ensuring that it is made just the way you like it.
Come visit Lou Malnati's Pizzeria and discover why their deep-dish pizza has been engraved in the rich culinary heritage of Chicago!
Their signature dish, The Lou, is a deep-dish pizza with a buttery, flaky crust, topped with fresh spinach, mushrooms, and sliced tomatoes, covered with a blend of mozzarella, Romano, and cheddar cheese. Get this and you will have no regrets.
Another crowd favorite is the Malnati Chicago Classic which features lean sausage, extra mozzarella cheese, and vine-ripened tomato sauce on butter crust. Their renowned Buttercrust crust ensures that the Malnati Chicago Classic is an absolute must-try for anyone seeking an authentic taste of Chicago's pizza heritage.
What to order: The Lou, Malnati Chicago Classic
Address: (Multiple Locations in Chicago)
-439 N Wells St, Chicago, IL 60654
-4340 N Lincoln Ave, Chicago, IL 60618
-410 N Michigan Ave, Chicago, IL 60611
-1120 North State Street (at State & Rush) Chicago, IL 60610
-3859 West Ogden Avenue Chicago, IL 60623
Website | Instagram | Facebook
🍕 Get a taste of the best downtown Chicago pizzas with this pizza tour!
5. Pequod's Pizza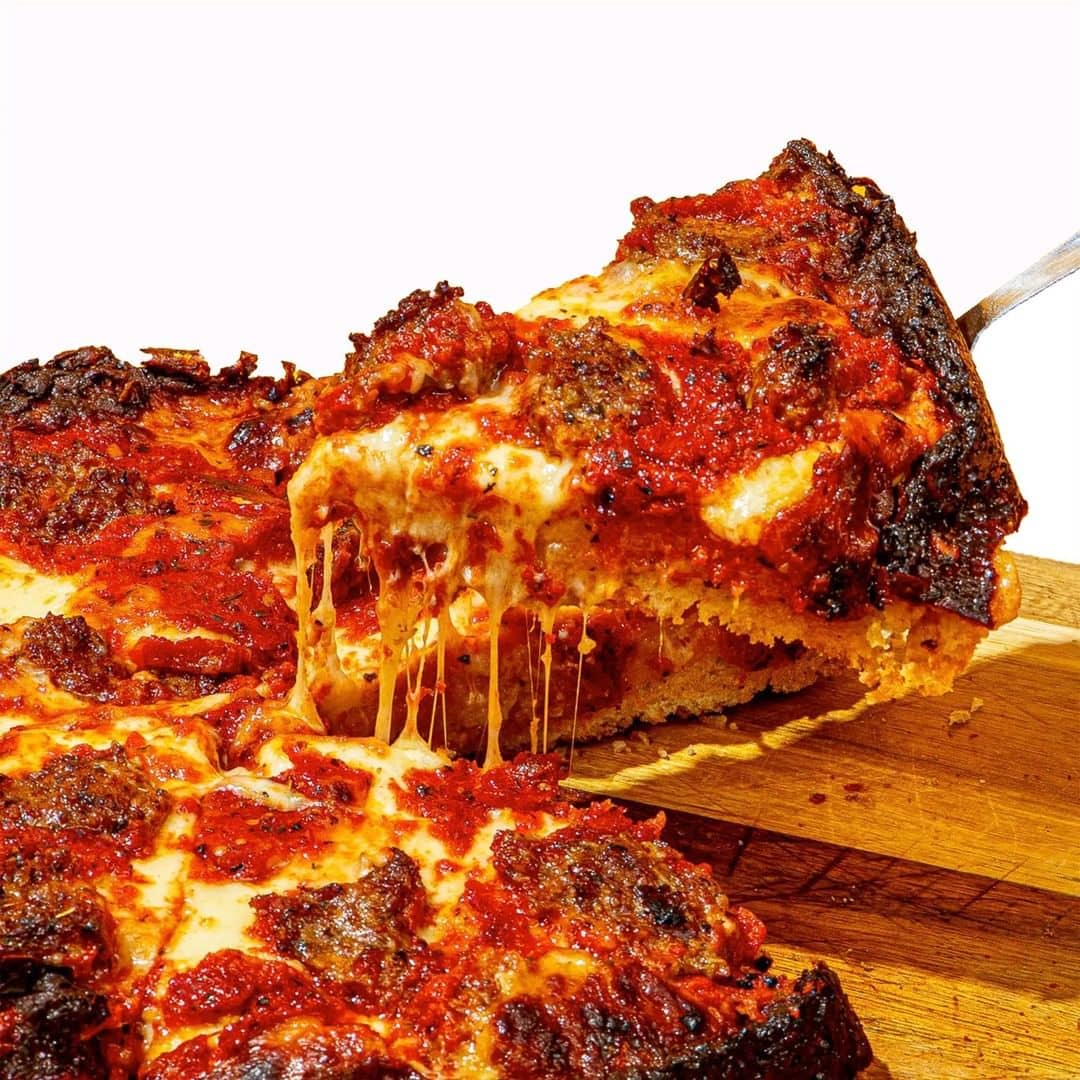 Pequod's Pizza is a beloved Chicago pizza spot known for its unique caramelized crust. With their pizzas being regularly featured on television shows, expect only the best here!
Whether you opt for dine-in or delivery, Pequod's Pizza will give you consistently exceptional pizza!
One bite of Pequod's Pizza and you'll understand why it has become an institution in the Windy City. The crust is caramelized to perfection, coming out piping hot, gooey, and with a generous amount of toppings.
Pequod's offers a delicious array of toppings to suit every taste. Here, the possibilities for customization are endless. If you're dining with vegetarians, opt for a delightful combination of mushrooms, green peppers, onions, and basil, bypassing the famous sausage and pepperoni.
The star of the show is undoubtedly the caramelized crust, which adds an extra layer of joy to every bite. Described as a "halo of goodness," this crust is a testament to the craftsmanship and dedication of Pequod's.
What to order: Customizable Pizza
Address: 2207 N Clybourn Ave, Chicago, IL 60614
6. Five Squared Pizza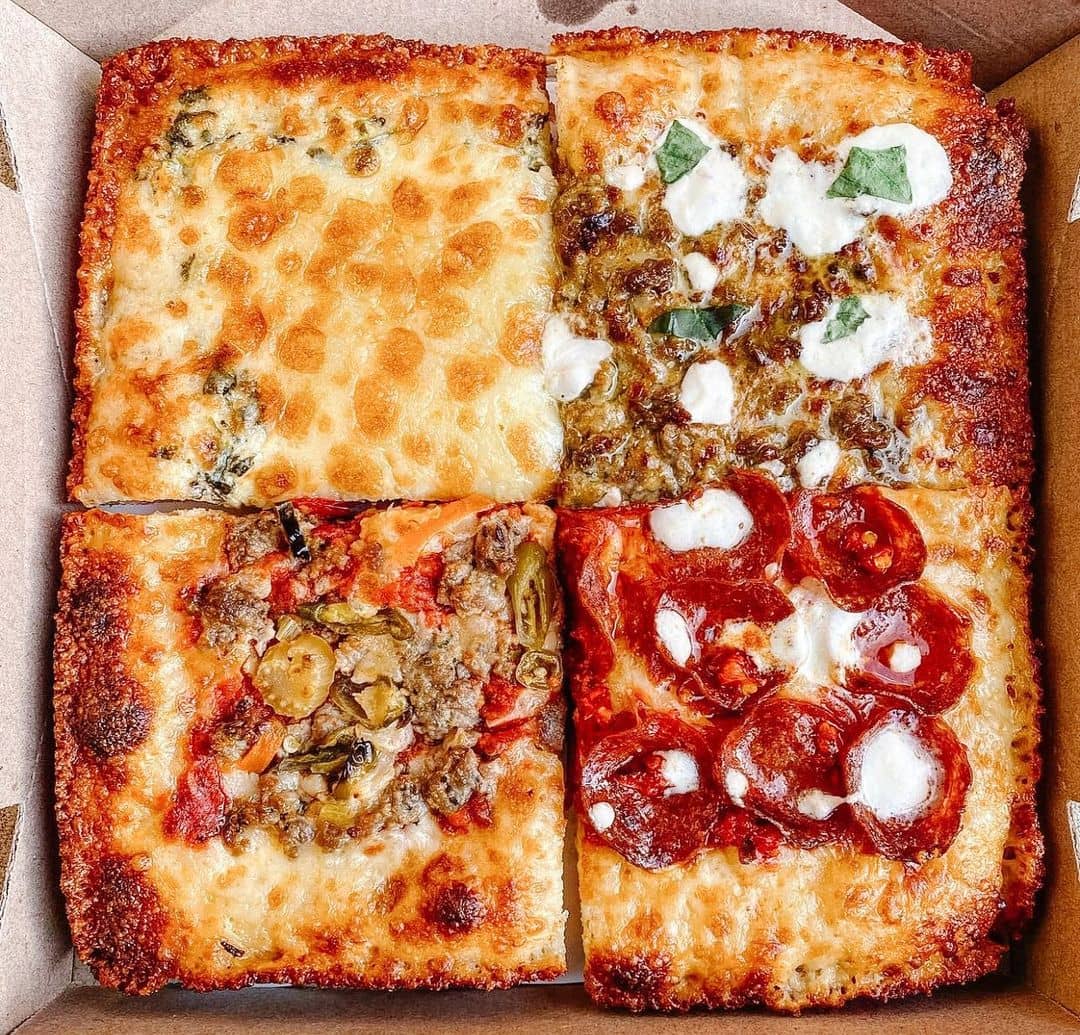 Operating out of a virtual kitchen in Garfield Park, Five Squared Pizza is not your ordinary pizzeria— this culinary gem has carved a niche by serving up some of the finest Detroit-style pizza outside of Michigan.
Stepping into Five Squared Pizza, you'll immediately notice that this is no standard tavern, New York, or deep-dish pizza joint.
Instead, you'll discover a world where creativity and quality collide to create an extraordinary pizza adventure.
At Five Squared Pizza, variety is their specialty. Their weekly menu features a rotation of 10-15 different pizzas, ensuring that every visit brings a new and exciting flavor adventure. Each square pizza is a testament to their commitment to using organic ingredients and scratch-making everything.
From the moment you take your first bite, the dedication to quality shines through, elevating the taste experience to new heights.
Some of the favorites include the classic Pepperoni, loaded with ezzo pepperoni and its delicious red sauce. The Buffalo Chicken, which features chicken tenders and homemade buffalo sauce, is another popular option when it's available.
What to order: Italian Beef Pizza, BBQ Chicken Pizza
Address: 1332 N Halsted St, Chicago, IL 60642
Website | Instagram | Facebook
7. Coalfire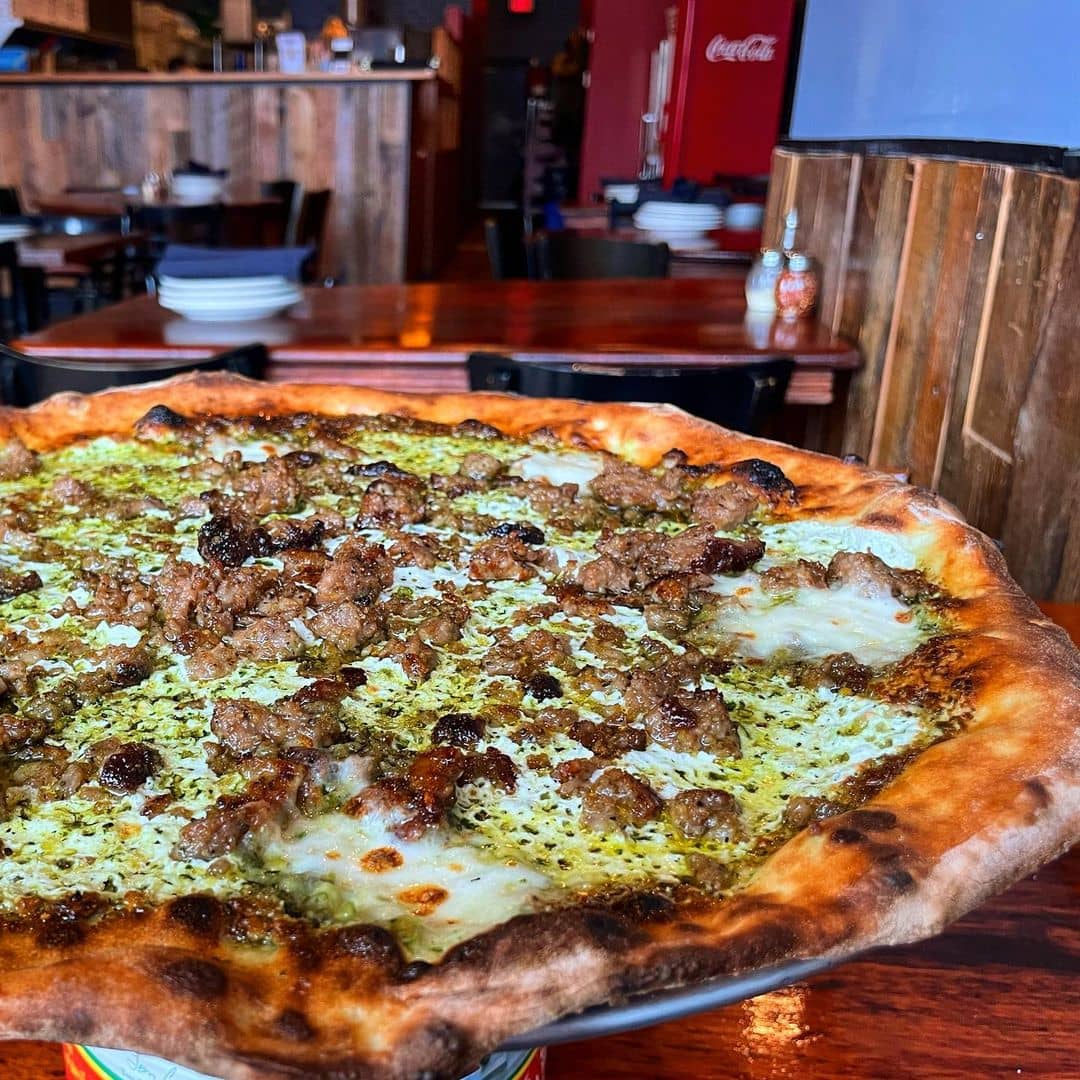 Coalfire Chicago is a pizza haven that defies categorization, transcending traditional styles to create a truly unique pizza experience.
With an inviting ambiance and crackling wood-fired ovens, the restaurant perfectly captures the essence of artisanal pizza craftsmanship. 
Their signature pizzas, cooked to perfection in their coal-fired oven, showcase a bubbly crust with leopard-like spots and a delectably thin and flexible center. Combining the best elements of various pizza styles, pizzas here are definitely one-of-a-kind.
Coalfire Chicago's pizza offerings include two standout options that are guaranteed to please pizza connoisseurs. The Pepperoni & Whipped Ricotta pizza combines Berkshire pork pepperoni, mozzarella, smoked mozzarella, whipped ricotta, garlic, and chopped basil.
On the other hand, the White Pizza showcases a luxurious blend of mozzarella, cream, garlic, basil, and whipped ricotta.
What to order: Pepperoni & Whipped Ricotta, White Pizza, Margherita
Address:
-1321 W Grand Ave, Chicago, IL 60642
-3707 N Southport Ave, Chicago, IL 60613
Website | Instagram | Facebook
8. Connie's Pizza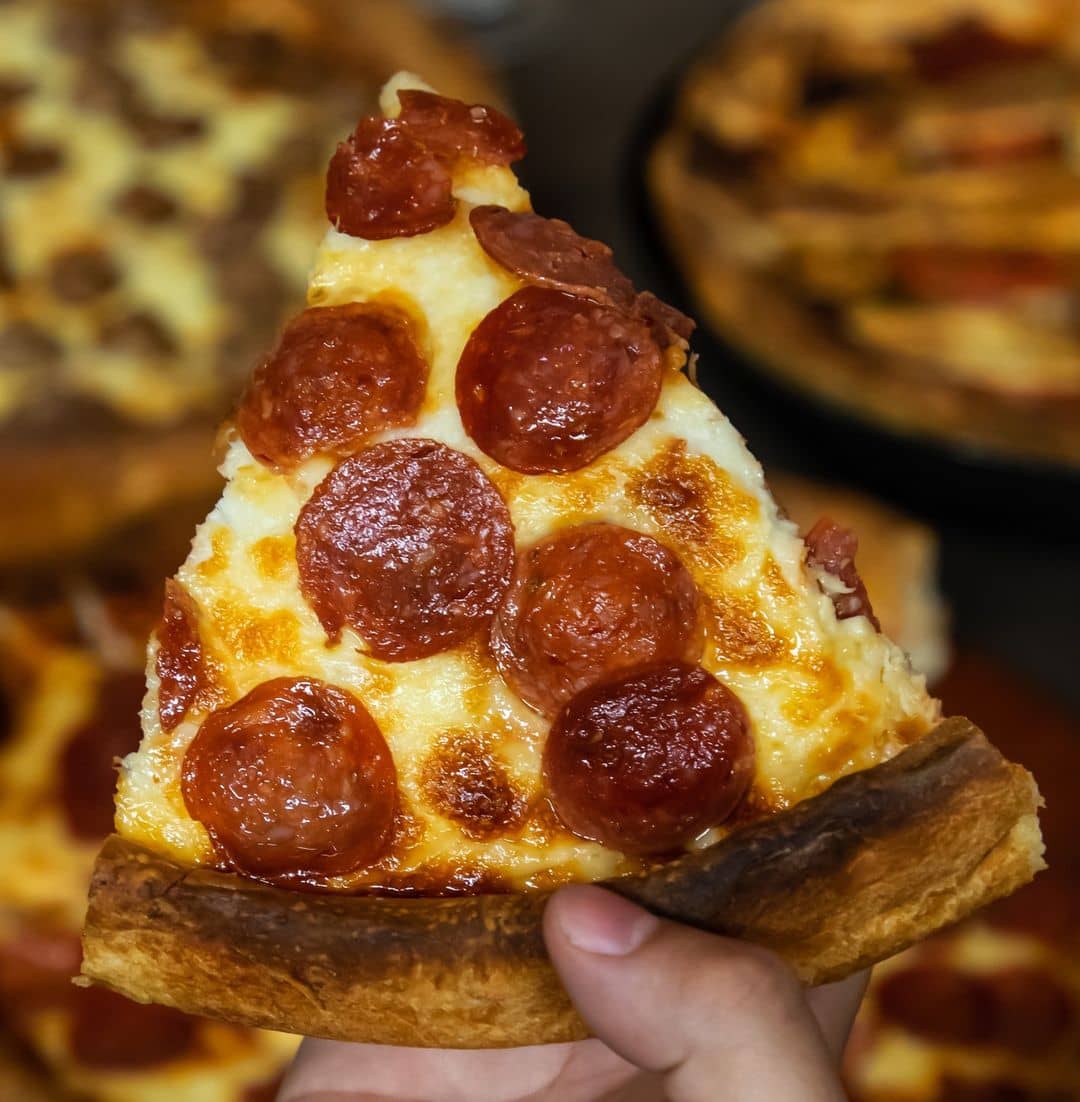 Connie's Pizza is a cherished local chain in Chicago, known for serving a range of pizza styles in a nostalgic and old-school setting since 1963. Known for its family-friendly atmosphere and commitment to quality, Connie's offers a range of pizzas, from traditional thin crust to their famous deep-dish.
Their Special creation is a highlight on their menu with its special-blend Italian sausage, mushrooms, sweet onions, bell peppers, and gooey mozzarella cheese. The ingredients are fresh, and the crust is perfectly crispy.
If you're looking for something more hearty, indulge in the legend that is Connie's Deep Dish pizza and discover why it has become a cherished favorite among locals and visitors alike.
Whether you're dining in at one of Connie's locations or taking a pie home to savor, you'll be treated to a pizza experience that epitomizes the essence of Chicago-style deep-dish pizza. 
What to order: Connie's Special, Deep Dish, Veggie, Margherita
Address:
-2373 S Archer Ave, Chicago, IL 60616
-2301 S Lake Shore Dr, Chicago, IL 60616
Website | Instagram | Facebook
9. Gino's East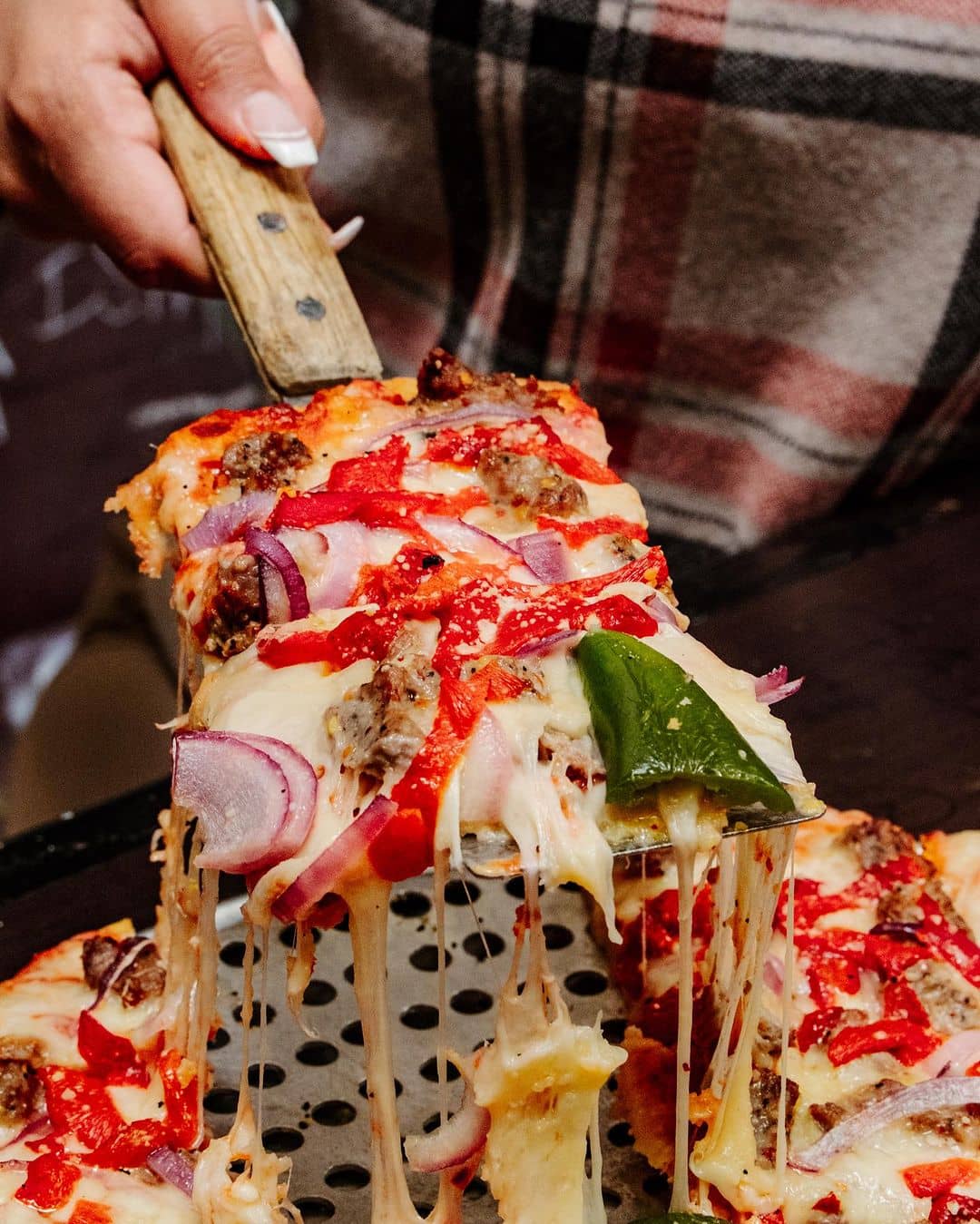 Just steps away from the vibrant Magnificent Mile, Gino's East has been serving up some of Chicago's best deep-dish pizza since 1966. The graffiti-covered walls and friendly atmosphere make it a unique and fun dining experience.
Situated near iconic hotels, this is the perfect spot to treat yourself on a Chicago-style deep-dish pizza adventure.
Gino's legendary deep-dish pizza comes with a golden, buttery crust, chunky tomato sauce, and heaps of cheese. The Meaty Legend loaded with pepperoni, Italian sausage, and Canadian bacon, is a meat lover's dream.
For a twist on the traditional, try the Spinach Margherita which combines fresh spinach, cherry tomatoes, fresh mozzarella, and basil for a lighter, yet still satisfying option.
What to order: Meaty Legend, Spinach Margherita, Gino's Supreme
Address:
-162 E Superior St, Chicago, IL 60611
-521 S Dearborn St, Chicago, IL 60605
Website | Instagram | Facebook
10. Robert's Pizza and Dough Company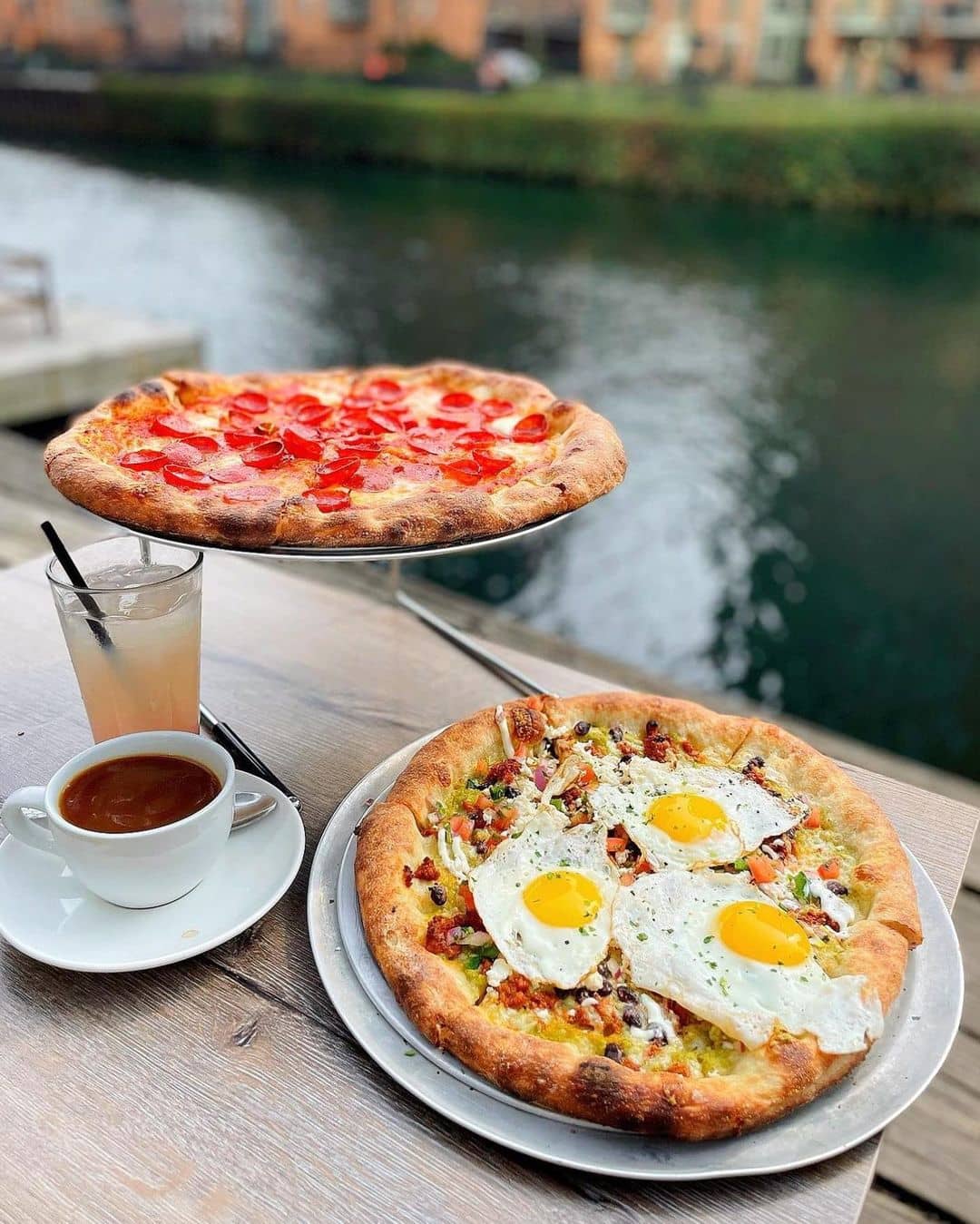 Robert's Pizza and Dough Company is a charming pizza joint located in Chicago. Growing up in New York, pizza was an omnipresent delight, with each slice offering its own distinct character.
However, upon his relocation to Chicago, his passion for crafting the ultimate pizza grew exponentially. This fervor led him on a relentless two-decade quest to refine his signature recipes, culminating in the birth of his cherished restaurant. 
The Lia at Robert's Pizza and Dough Company is a classic cheese pizza that celebrates the simplicity and quality of its ingredients. With its perfect marriage of mozzarella cheese and fresh tomato sauce, each bite delivers a burst of flavor.
The attention to detail makes The Lia a must-try for cheese pizza enthusiasts!
Another famous item on their menu, Robert's Caramelized Onion is a remarkable pizza creation that unites the sweetness of caramelized onions with creamy mozzarella and tangy tomato sauce.
This pizza is a must-try for those who like sweet and savory pizza.
What to order: The Lia, Caramelized Onion, Three Cheese
Address: 465 N McClurg Ct, Chicago, IL 60611
Website | Instagram | Facebook
11. Stix n Brix Pizza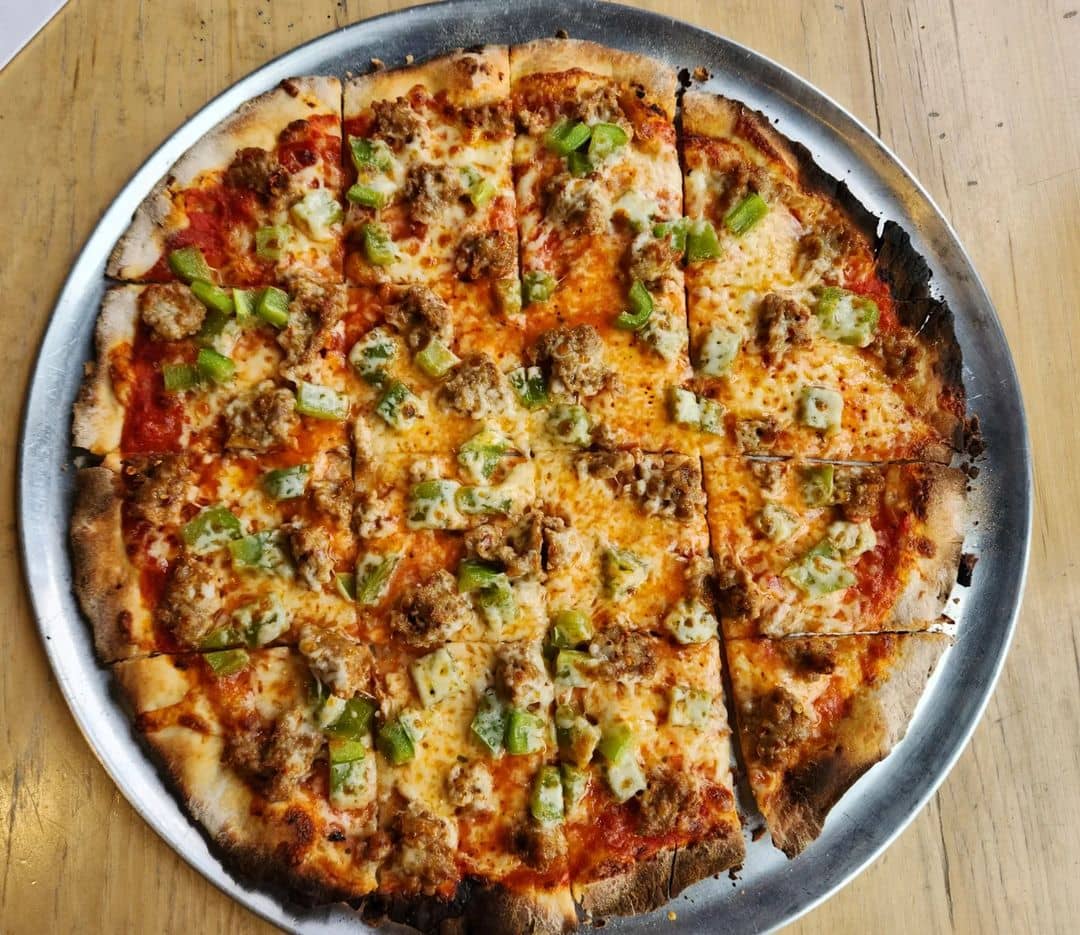 Nestled in an industrial, brick-lined space, Stix n Brix Pizza is a culinary haven where wood-fired pies are the star of the show. The alluring aroma of their oven permeates the air, hinting at the mouthwatering flavors to come.
From classic favorites to innovative combinations, their menu aims to suit every pizza lover's cravings! 
Have a fiery fiesta of flavors with the Sausage N Peppers pizza at Stix n Brix Pizza. This pizza delight combines a melty shredded cheese blend, savory house-made sausage, and vibrant green peppers– the perfect balance of bold, tangy, and crunchy!
If you want a burst of freshness, the Pesto Burrata is your best bet. This pizza boasts a basil pesto base, shaved parmesan, roasted tomatoes, and a generous dollop of creamy burrata.
All the flavors that come from the ingredients are expertly elevated by the creaminess of the burrata!
What to order: Sausage N Peppers, Pesto Burrata, BBQ Chicken
Address: 218 W 33rd St, Chicago, IL 60616
12. Milly's Pizza In The Pan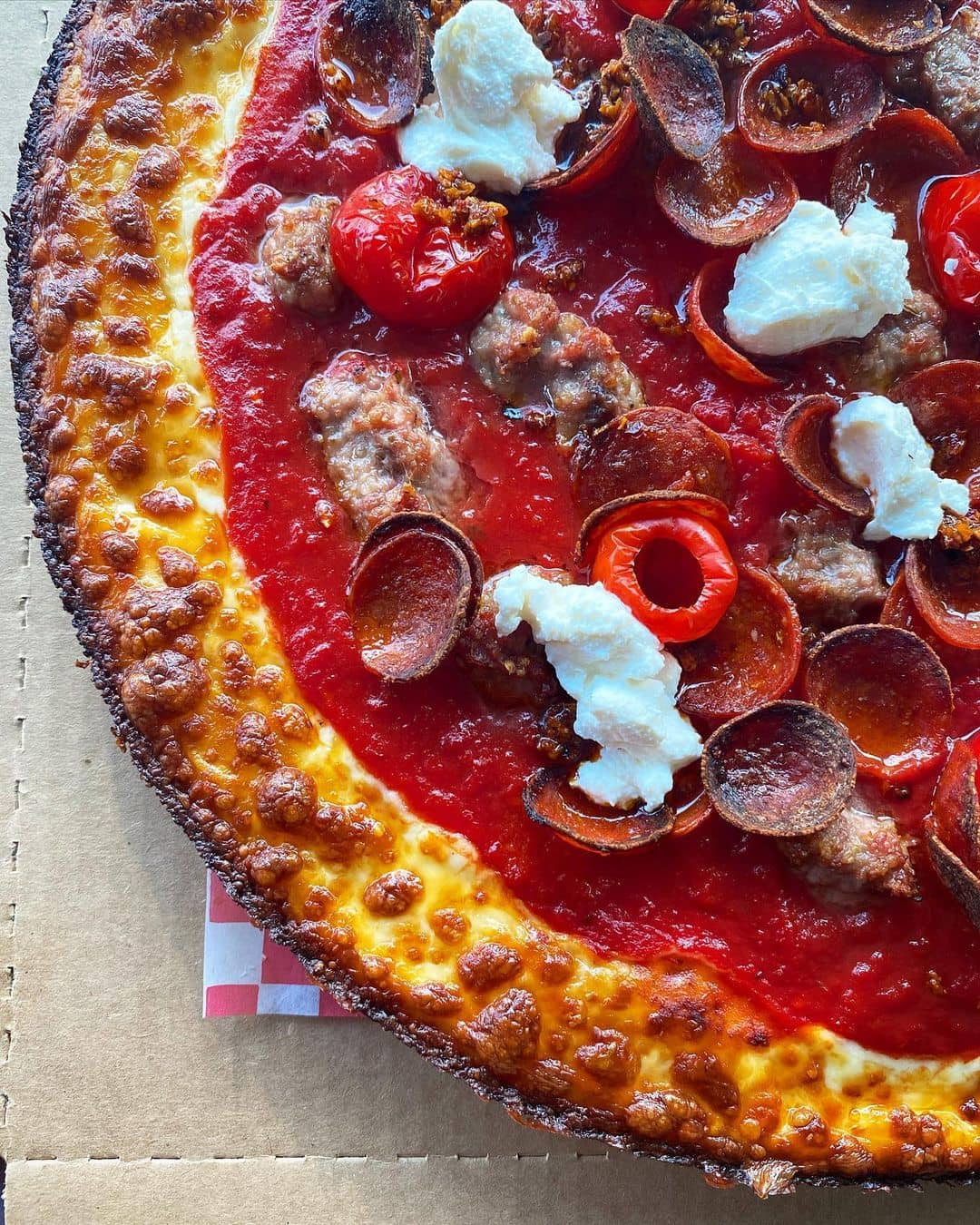 Milly's Pizza In The Pan is one of the most popular pizza spots in Chicago. The restaurant was opened by Robert Maleski in 2020 as a ghost kitchen in Logan Square. It has since been upgraded to a permanent spot in Uptown.
The restaurant is named after Robert's grandmother, Emily, who taught him to cook.
The pizzas are handcrafted with the best ingredients available, ensuring a quality that would make Grandma Emily proud.
The two most popular items on the menu are the Clickbait and the Untitled #1. The Clickbait comes with olives, red onion, mushrooms, mini peppers, kumato tomatoes, jalapeno, Calabrian chilis, and fresh ricotta cheese. This one is highly recommended for those who want the perfect kick of spiciness!
If you like something less spicy, the Untitled 1 is a must-order. This classic pepperoni pizza is topped with jalapeno, fresh whole milk mozzarella, fresh oregano, and Glory's tomatoes.
What sets this pizza apart is the use of fresh oregano, which adds a herbaceous note that elevates the overall taste profile. Combined with the vibrant sweetness of Glory's tomatoes, the result is a burst of delicious goodness that brings the pizza to life.
What to order: Clickbait, Untitled #1
Address: 1005 W Argyle St, Chicago, IL 60640, United States
There you have it, our best picks for mouthwatering pizza in Chicago. Each restaurant offers a distinct take, reflecting the city's rich history on pizza. May it be thin-crust, deep-dish, or something entirely different, there's a pizzeria in Chicago for you!
And if you're an Italian food lover, don't worry. Check out our guide to the best Italian restaurants in Chicago to satisfy your cravings. Happy dining!