Looking for the best pizza in Manhattan? Well, you've found the right place!
New Yorkers take their pizza seriously – and with good reason! Whether it's grabbed from a bustling joint on the corner or savored in a sophisticated Italian eatery, the promise of pizza in Manhattan never fails to excite the taste buds.
The Manhattan pizza scene is a culinary kaleidoscope, offering everything from traditional triangle pies, genuine Neapolitan pizzas, to indulgent deep-dish delights. Prepare yourself to embark on a gastronomic journey, as we reveal the ten outstanding spots for pizza in Manhattan.
🍕Are you a foodie? Check out these NYC food tours!
1. Prince Street Pizza
Ever dreamt of a pizza haven? Well, the dream is real at Prince Street Pizza. With its roots firmly planted where the iconic Ray's Pizza once stood, this family-owned pizzeria has become a sought-after neighborhood treasure.
The walls are adorned with photos of celebrities, marking the fame and love this place has amassed. With a constant influx of patrons, you might spot a line, but the rapid, friendly service ensures you're tucking into a pizza slice in no time.
It's a grab-and-go place, with outdoor seating inviting you to soak up the sun with your pizza. Renowned for its fluffy square slices with a crunchy bottom and soft interior and the classic round pizzas, every bite is an ode to the craft of pizza making.
Try their Margherita, The Fancy Prince, with its refreshing fresh taste and the Spicy Spring Pepperoni Cups Pie, which brings together spice and creaminess in a delightful dance.
And if you're a fan of vodka sauce, the Boozy Broome Pizza or the spicy Vodka Fra Diavolo are must-haves.
What to Order: The Fancy Prince, Spicy Spring Pepperoni Cups Pie, Boozy Broome Pizza, Vodka Fra Diavolo
Address: 27 Prince St, New York, NY 10012
Website | Instagram | Facebook
2. Rubirosa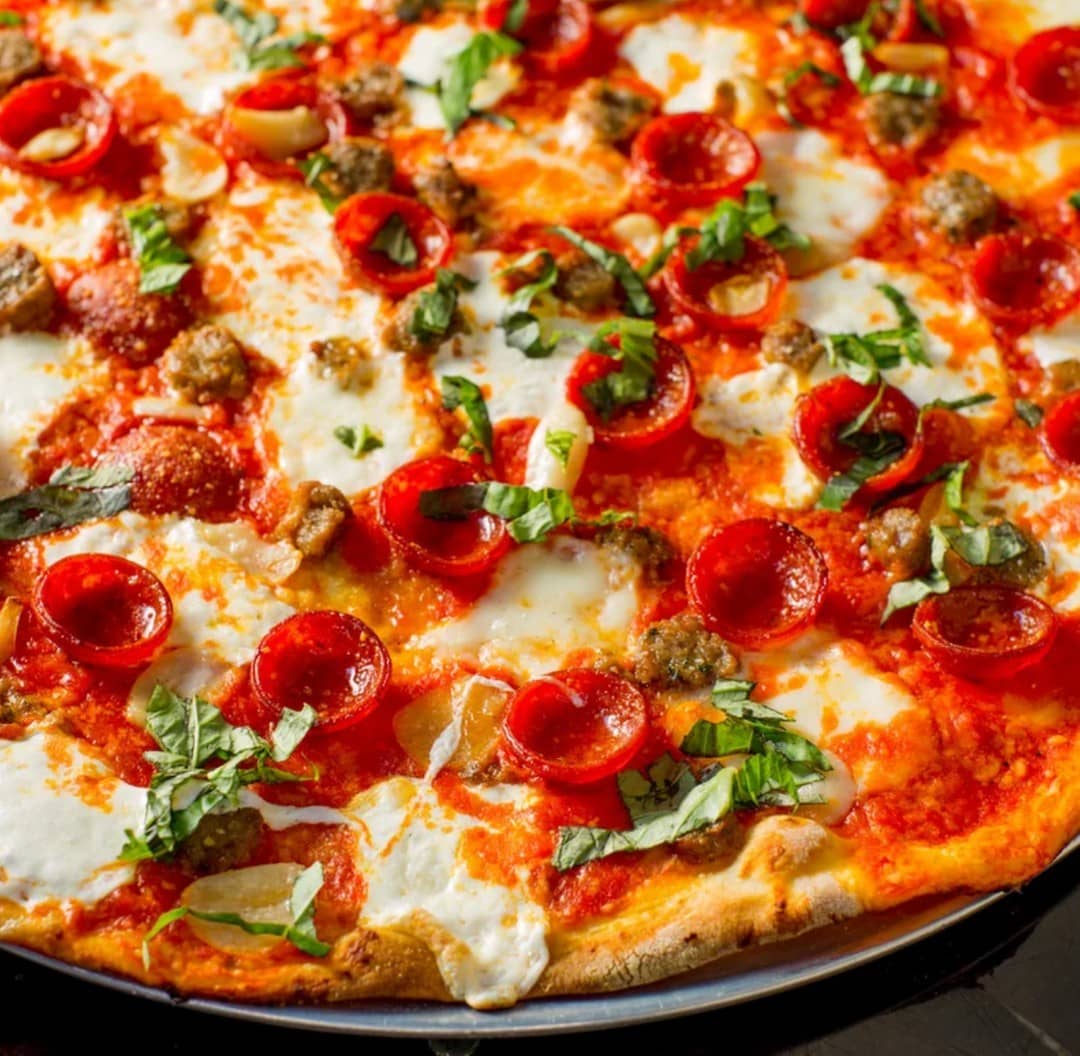 When the craving for American-Italian comfort food kicks in, Rubirosa is your destination. A master of thin-crust pizza, this restaurant wraps you in a rustic, cozy atmosphere with intimate vibes, perfect for that dreamy date night.
The friendly and attentive staff is always at your service, ensuring a delightful dining experience. However, with popularity comes a crowd, so booking a reservation would be a smart move.
Their pizza is a tribute to the Pappalardo family recipe, and each bite is an explosion of flavors that tells a beautiful story.
The Sausage Broccoli Rabe offers a unique combo of bitter and sweet tastes, while TIE DYE pizza harmoniously combines pesto and vodka sauce. For those with a sweet tooth, the Honey Pie pizza topped with spiced honey and smoky toppings is a must-try.
What to Order: Sausage Broccoli Rabe, The TIE DYE, Honey Pie
Address: 235 Mulberry St, New York, NY 10012
Website | Instagram | Facebook
3. Vezzo NYC Thin Crust Pizza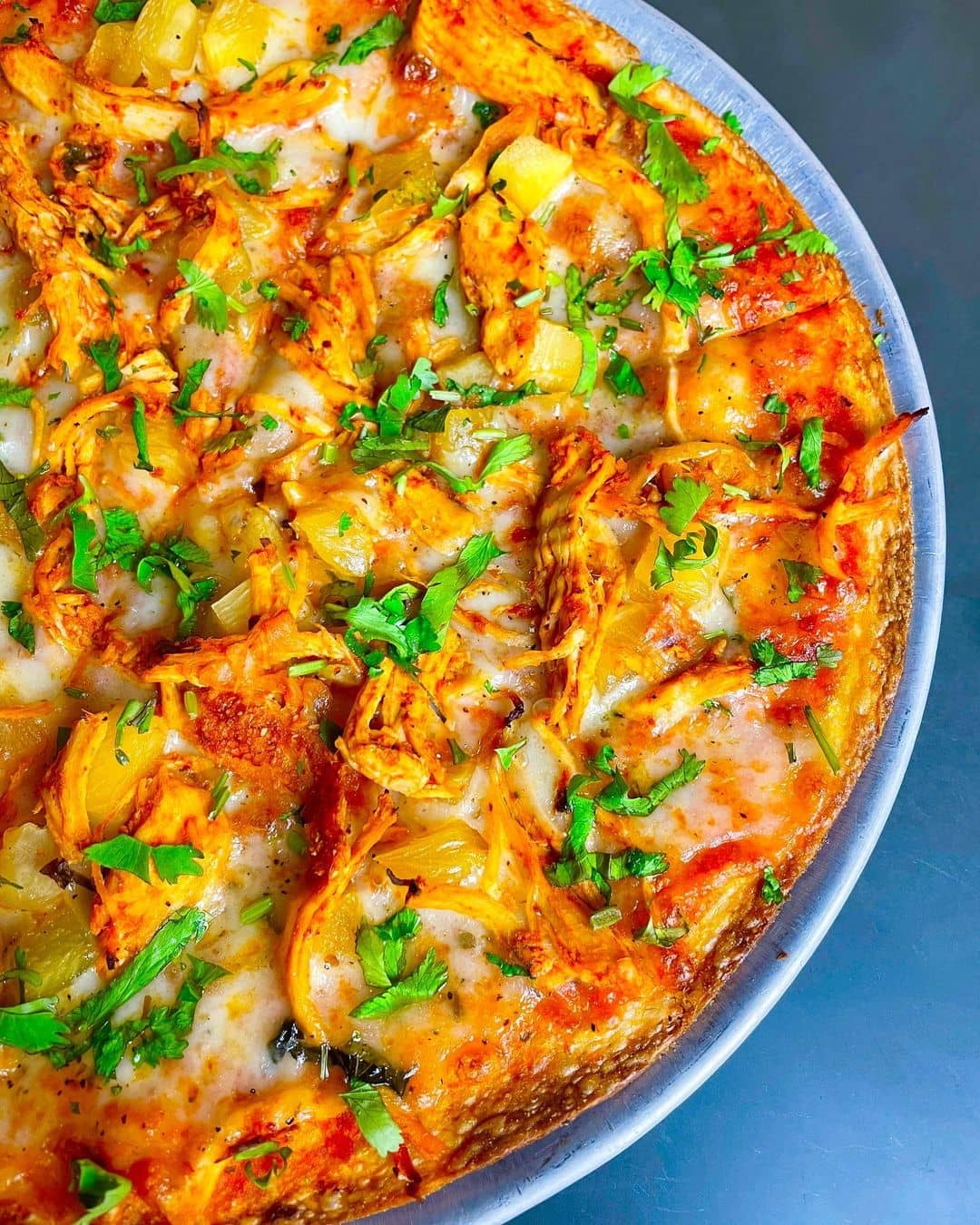 Are you on a hunt for a thin crust pizza with just the right amount of sauce and cheese? Look no further than Vezzo NYC Thin Crust Pizza.
Encased in warm bricks and dim lights, the place exudes a casual, intimate vibe that's perfect for a relaxing dinner or special celebration. And when it comes to service, they make you feel like royalty!
Among the marvelous thin-crust pizzas they serve, the Chickpotle is a standout, tantalizing your palate with shredded chicken and housemade chipotle sauce. If mushrooms are your thing, the Shroomtown pizza loaded with fresh mushrooms and oozing with hot, melting mozzarella is your ticket to paradise.
Also, don't miss out on their Salsiccia Dolce, a heavenly creation featuring caramelized onions and sweet Italian sausage.
What to Order: Chickpotle, Shroomtown, Salsiccia Dolce
Address: 178 Lexington Ave, New York, NY 10016
Website | Instagram | Facebook
4. John's of Bleecker Street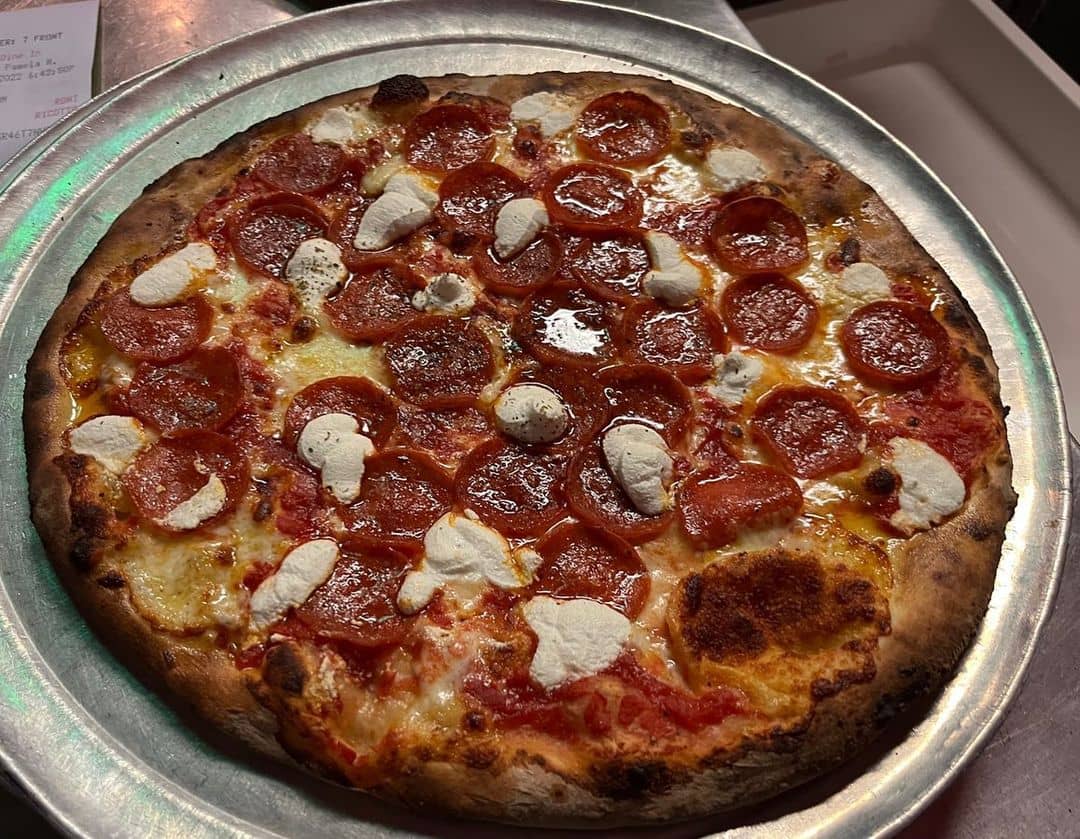 Step back in time at John's of Bleecker Street, a family-run pizzeria that's been winning hearts since 1929 with its coal-fired brick oven pizzas.
The vintage charm of the place, paired with the friendly and efficient service, ensures a memorable pizza outing.
If you're keen on exploring what the locals love, try "John's Original," which masterfully blends crispy, charred thin crust, stringy cheese, and tangy tomato sauce.
The "Fifty" pizza is a savory feast, loaded with pepperoni, sausage, mushrooms, and much more. If you're a spice-lover, The Piccante Pie, with cherry peppers and jalapeno, will definitely keep you coming back for more.
What to Order: The "John's Original", The "Fifty", The Piccante Pie
Address: 278 Bleecker St, New York, NY 10014
Website | Instagram | Facebook
5. Joe's Pizza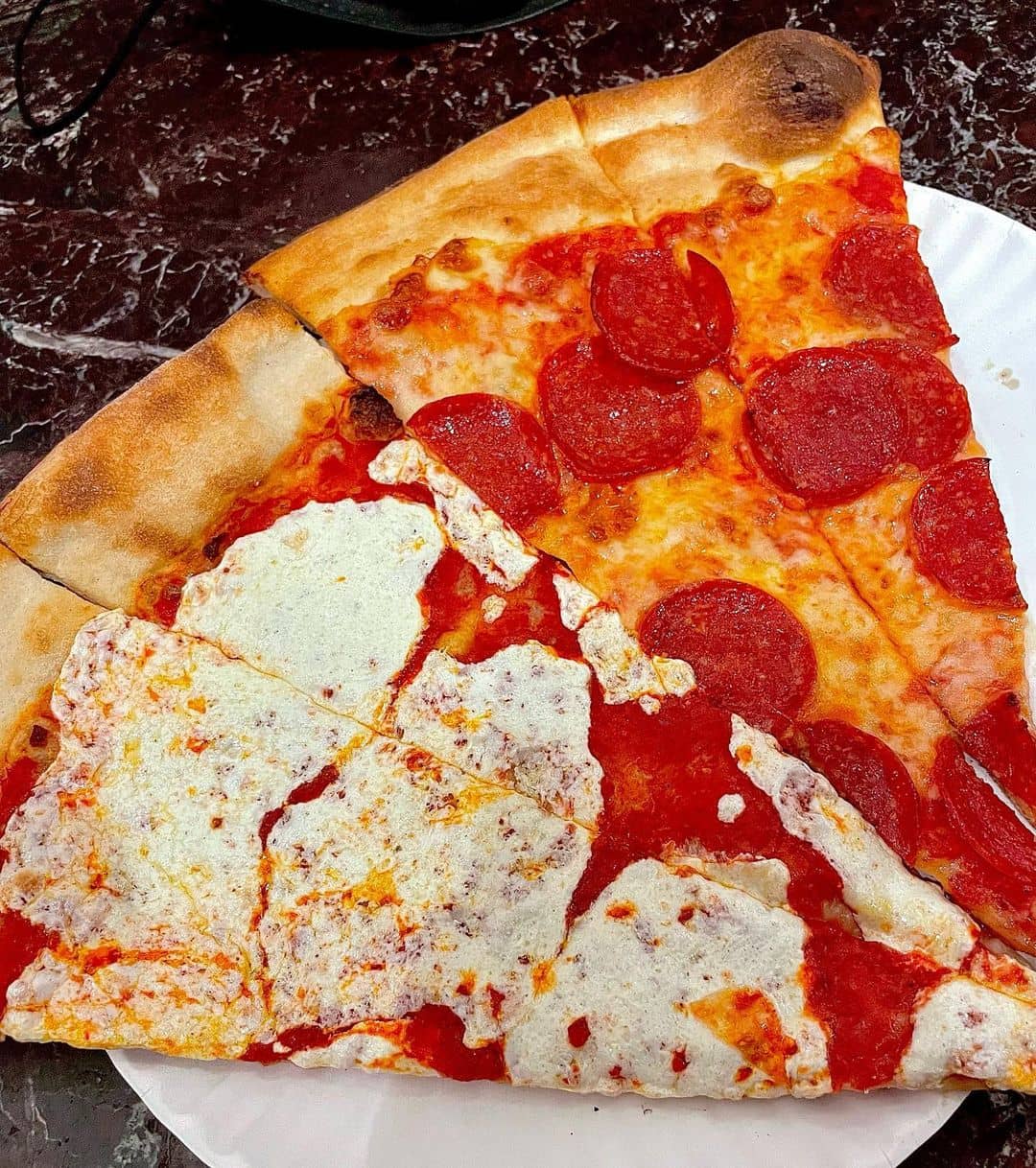 Joe's Pizza is a famous staple in Manhattan that showed up in the big screens for the Spider-Man movie. It is a small but bustling pizzeria renowned for its authentic New York-style pizzas.
Their legacy traces back to 1975, when a true Italian, Joe Pozzuli, took it upon himself to introduce the Big Apple to a slice of Italy. The ambiance is as authentic as the food – a few standing tables squeezed into a cozy place brimming with the chatter of satisfied customers.
Each pizza slice served at Joe's is a ticket to a culinary trip to Italy – straight out of the oven, with a crust that's a perfect combination of crispy and soft, making this a favorite among locals and tourists alike.
Their menu might not be extensive, but what they do, they do best – like their classic Plain Cheese with pepperoni that promises a taste that's a blend of greasy, creamy, and crispy in each bite.
What to Order: Plain Cheese with One Topping, Sicilian Pizza with One Topping, White Pie with One Topping
Address:
150 East 14th Street, New York, NY 10003, Union Square
7 Carmine Street, New York, NY 10014, Greenwich Village
6. Famous Ben's Pizza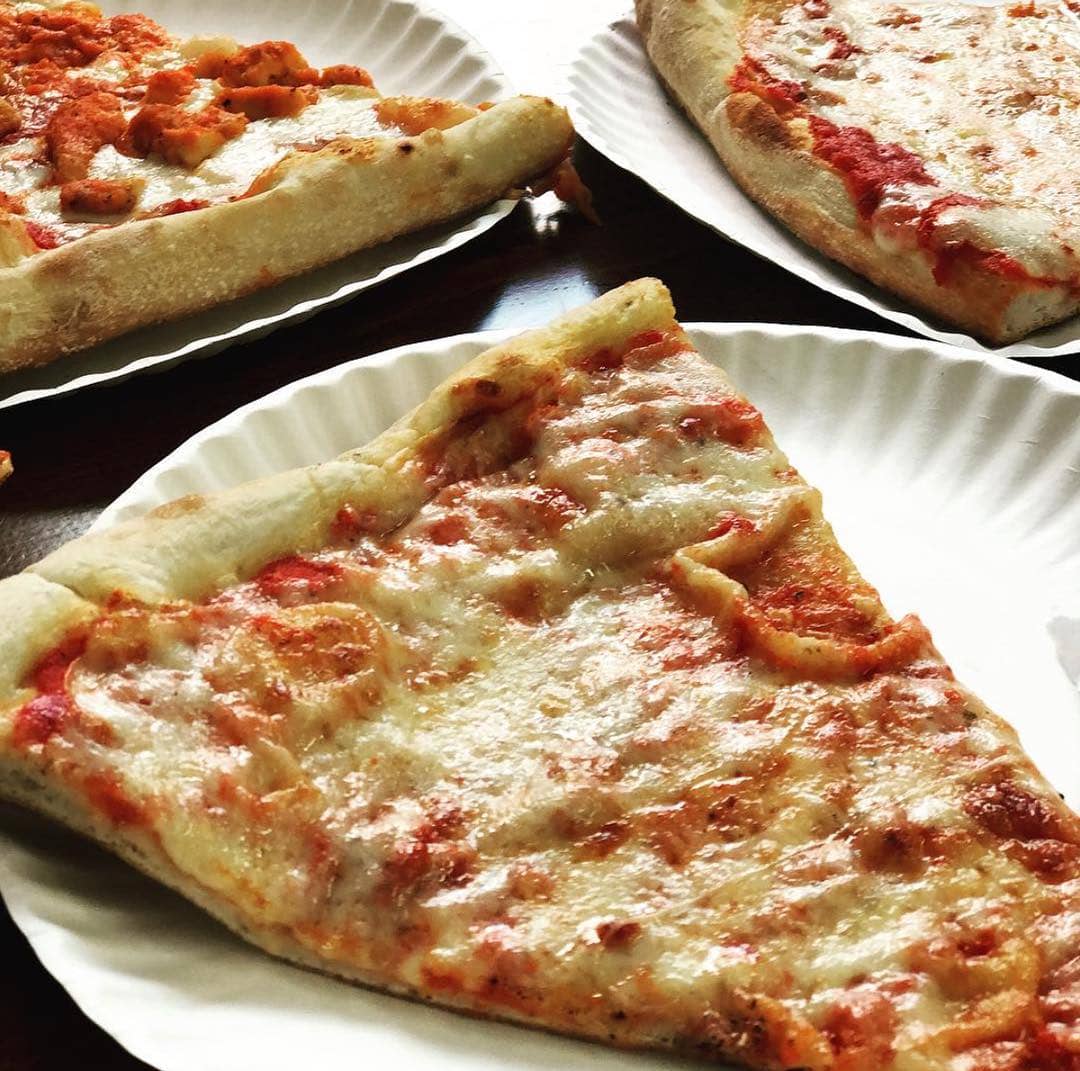 As if straight out of a film scene, Famous Ben's Pizza in Manhattan is known for its Sicilian-style pizza that's topped with a generous layer of strong cheese.
The pizza joint, featured in a movie, oozes a warm and rustic charm, creating an inviting atmosphere for its patrons. There's outdoor seating available too, perfect for people watching while you savor your pizza.
Each square-cut, crunchy piece of their Sicilian Cheese Pizza ticks a lot of boxes off our list. Truly a timeless ode to their culinary expertise, combining a rich sauce, gooey cheese, and a crust that strikes a balance between crispy and chewy. And if you're a fan of onions and breadcrumbs, their Palermo Sicilian Pizza is a must-try.
What to Order: Sicilian Cheese Pizza, Palermo Sicilian Pizza
Address: 177 Spring St, New York, NY 10012
7. Scarr's Pizza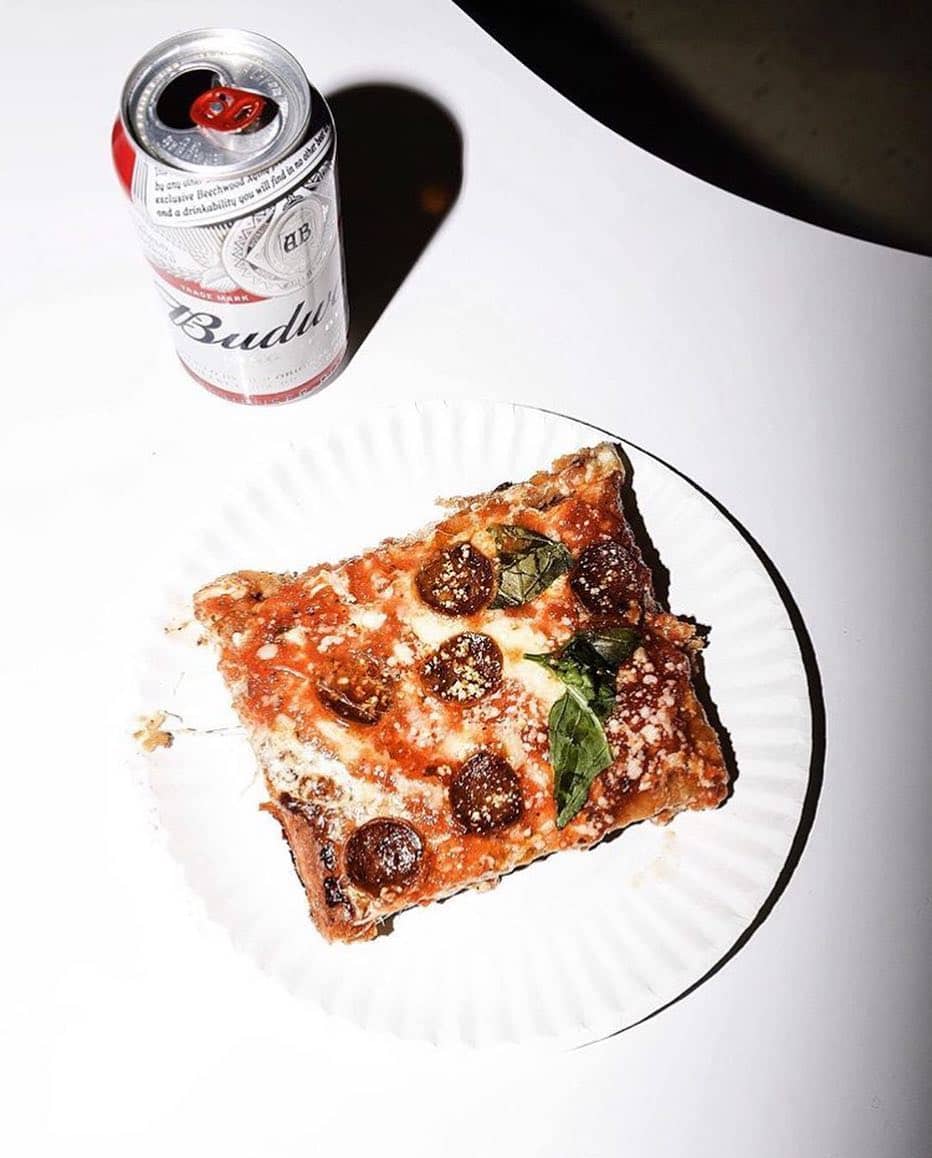 Among Manhattan's constellation of pizzerias, Scarr's Pizza shines brightly. Newly relocated to 35 Orchard St, they already have a growing queue of pizza enthusiasts keen to sample their offerings.
The new location strikes a delicate balance between a casual and intimate vibe, offering both indoor and outdoor dining areas. Even during peak hours, the staff are always ready with a smile and efficient service.
The food selection is just as diverse, featuring an array of regular, Sicilian, and Grandma style pizzas. Their Hotboi pizza is a talking point – a spicy, drippy delicacy that can be ordered New York-style or Sicilian.
And of course, the classic Pepperoni Pizza is there to save the day, a timeless combination of crispy crust, creamy cheese, and tangy sauce.
What to Order: Hotboi, Regular Pepperoni Pizza, Grandma Pepperoni Pizza
Address: 35 Orchard St, New York, NY 10002
8. Tappo NYC Thin Crust Pizza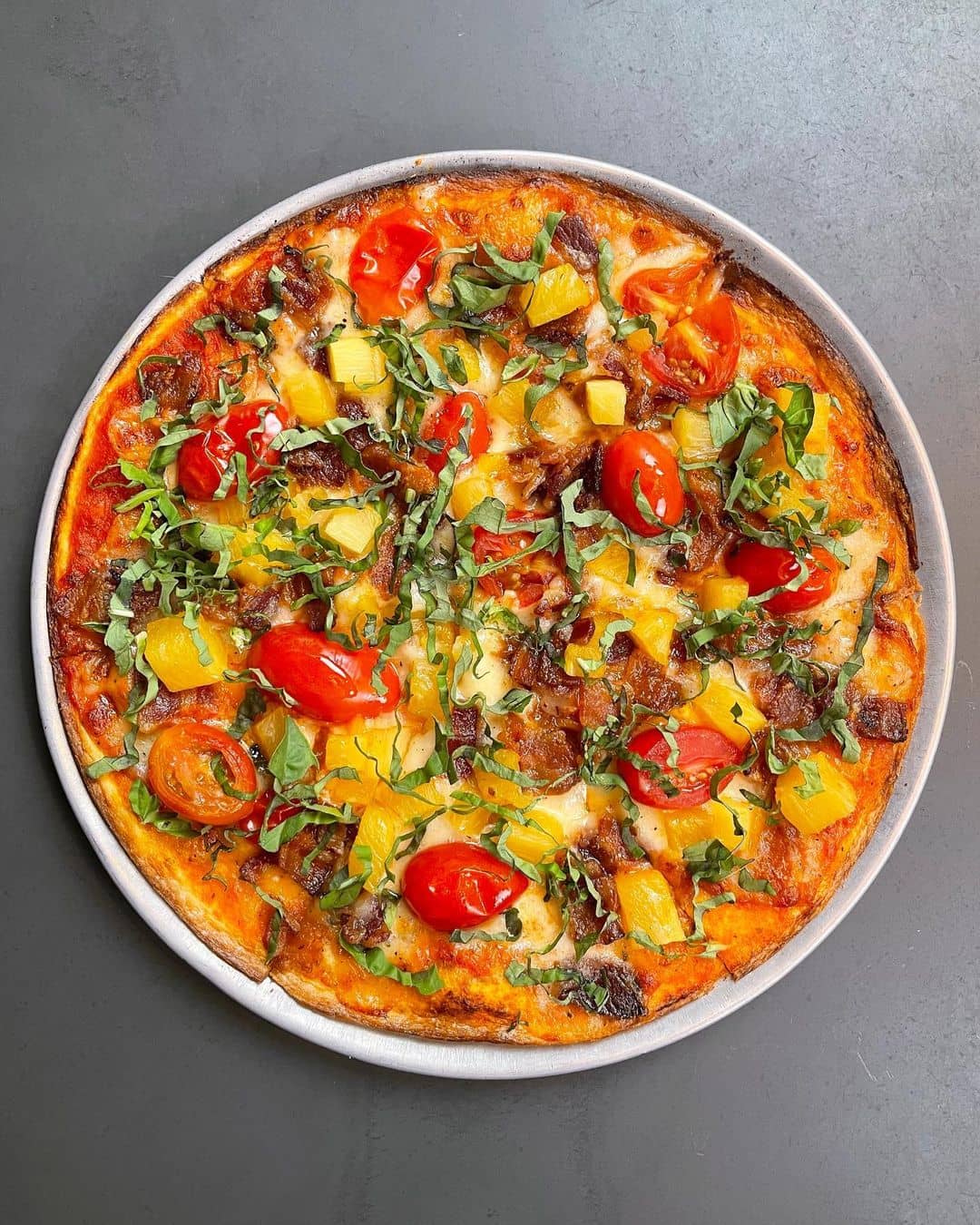 Tappo NYC is a member of the Thin-Crust Pizza Family that's known for super crispy, mouth-watering pizzas. The inviting atmosphere is the best choice for a laid-back evening with friends or a family meal.
They take their time with your order, and that's because they're ensuring every pizza is made from scratch and served hot! The Meat Lover's Pizza is a carnivore's dream come true, stacked high with juicy meats, while their Cheese Pizza is an irresistible blend of stringy cheese that goes fantastically well with a chilled beer.
For veggie enthusiasts, the El Greco pizza, topped with fresh tomatoes, green bell peppers, and sweet red onions, is a flavorful delight.
What to Order: Meat Lover's, Cheese Pizza, El Greco
Address: 49 W 24th St, New York, NY 10010
Website | Instagram | Facebook
9. My Pie Pizzeria Romana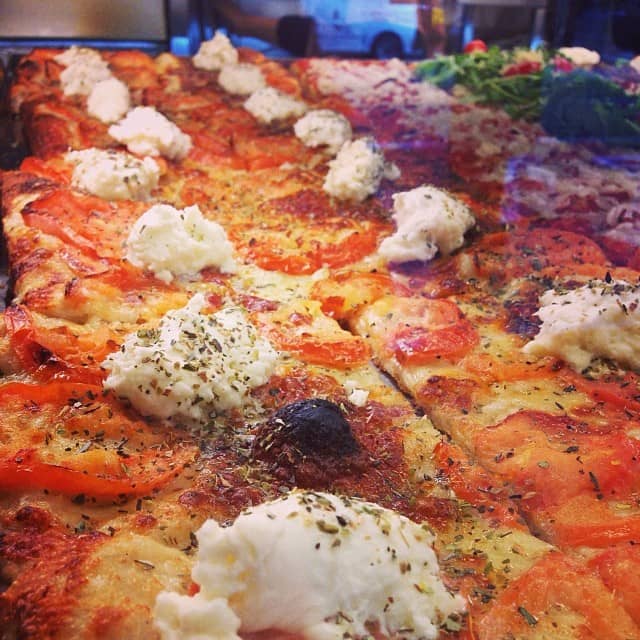 In the mood for something different from the traditional New York-style pizza? My Pie Pizzeria Romana awaits with a pizza recipe that comes straight from Italy.
The decor at this place is modern and inviting, and the staff are courteous, enhancing your dining experience. Each pizza here is an authentic Italian masterpiece, created using ingredients imported from Italy, resulting in a taste that transports you straight to Rome.
The Truffle Oil and Mushroom Pizza is a noteworthy departure from traditional offerings, featuring a savory taste with a unique twist. The Grandma "Nonnina" Pizza and Chicken Buffalo are also worth the detour, thanks to a harmonious blend of fresh basil, mozzarella, organic Italian tomato sauce, and marinated chicken with spicy buffalo sauce.
What to Order: Truffle Oil and Mushroom Pizza, Grandma "Nonnina" Pizza, Chicken Buffalo
Address: 690 Lexington Ave, New York, NY 10022
Website | Instagram | Facebook
10. Artichoke Basille's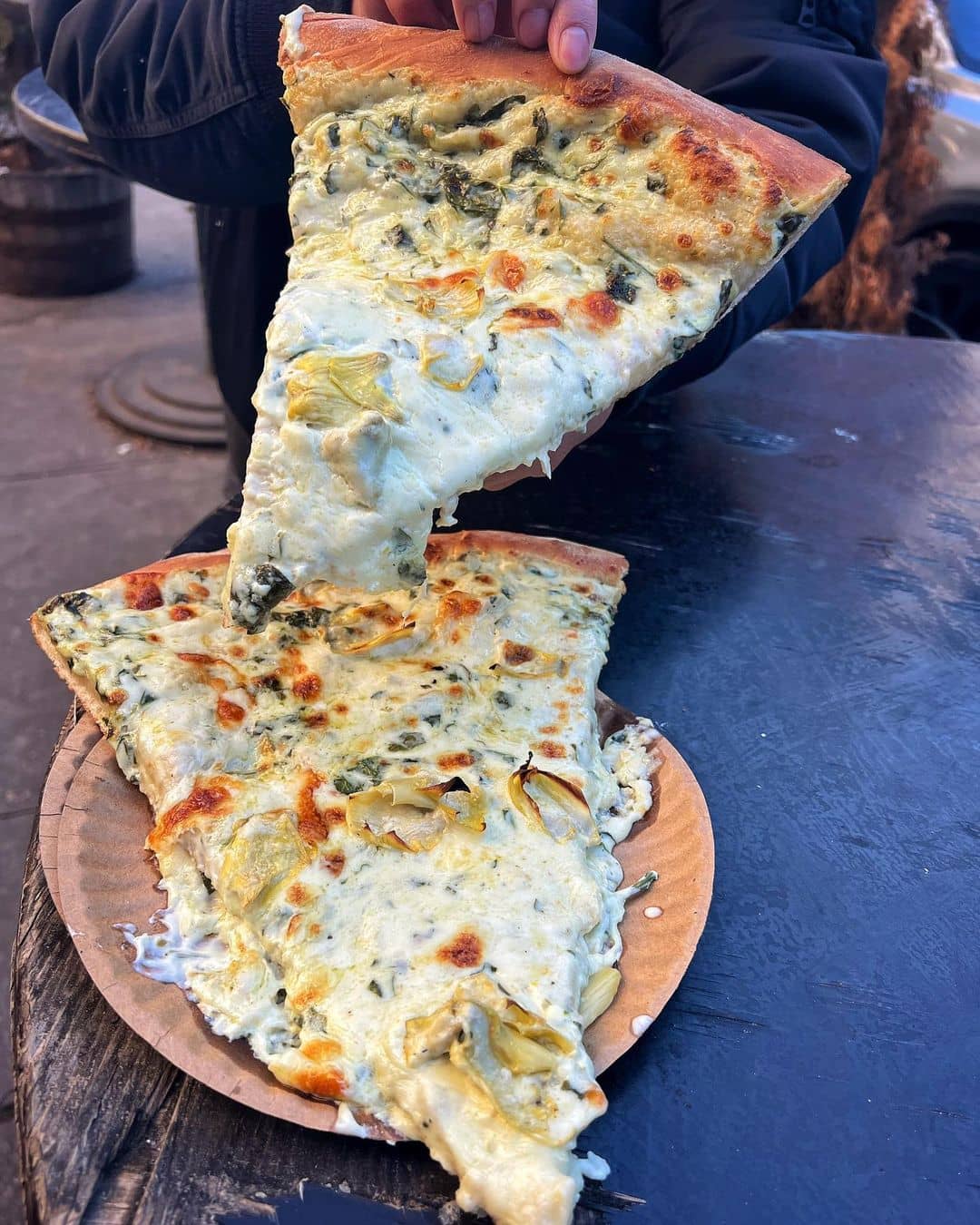 Artichoke Basille's has been turning heads and winning hearts, thanks to their Artichoke Slice. The pizzeria, featured on The Tonight Show with Jay Leno and in The New York Times, is a beloved destination for pizza aficionados in the city.
Despite its popularity and usual crowd, Artichoke Basille's has a serene and elegant indoor seating area where customers can enjoy their slices in peace.
Among their eight pizzas, Staten Island, Crab, and Artichoke Slice particularly stand out. Staten Island features savory meatballs and sweet red onions, while the Crab is a seafood lover's delight, with a crab sauce instead of the typical tomato sauce, made with fresh crab meat.
And let's not forget their famed Artichoke slice, a healthy but filling alternative that combines the unique flavor of artichoke with spinach.
What to Order: Staten Island, Crab, Artichoke
Address: 321 E 14th St, New York, NY 10003
And there you have it – our top picks for the most mouth-watering pizza in Manhattan! Trust us, narrowing down this list wasn't an easy task, given Manhattan's impressive array of pizzerias that guarantee to satiate your cravings and leave you blissfully satisfied.
If your foodie adventures take you to Brooklyn next, be sure to take a peek at our selection of the finest Brooklyn restaurants.