Are you roaming around in Vancouver looking for a Vietnamese restaurant that is flavourful and packs a punch to satisfy your cravings?
Fortunately for you, the legendary Vietnamese food vendor that appeared on Anthony Bourdain's 2009 episode of 'No Reservations', the Lunch Lady is making its way from Ho Chi Minh city to Vancouver, ready to fill your stomach.
On that episode, Bourdain expressed his great love for Vietnam and Vietnamese food. At the Lunch Lady, he had the pleasure of eating the bun bo hue, known as a spicy beef and pork noodle soup. This amazing dish comes with a dark broth filled with beef and pork. Along with that, a large piece of Vietnamese sausage, called the Cha Lua, is included, ensuring that you leave fully satisfied.
Vietnam. It grabs you and doesn't let you go. Once you love it, you love it forever

Anthony Bourdain
After the airing of the episode, the Lunch Lady saw a constant surge of international guests that still happens today. This includes big food Youtubers like Mark Wiens, Best Ever Food Review Show and more.
Aside from having fantastic food, what made Lunch Lady different are two things:
They serve a different noodle dish every single day of the week. Meaning that dining at the Lunch Lady on a Friday would mean the noodle of the day would be bun bo hue. Dining on a Monday may mean Bun Thai.
When the broth is out, the shop closes for the day. This meant that you had to go early or you'll have to move along.
While the Lunch Lady itself was a stall in Vietnam, the birth of its first North American outpost was one that dates back to 2012, when Vancouver restaurateur Michael Tran visited his home country to connect to his roots.
Like Bourdain, the ambiance and street culture of Vietnam made a lasting impression for Michael. This included the first experience at the bustling alleyway where Mrs. Nguyen Thi Thanh, dubbed as the Lunch Lady by Bourdain, was crafting her fresh bowl of noodle soups.
It has made such an impact on Michael that he decided to take his mother, Victoria Tran, who has been a restaurateur for 30 years and owner of Commercial Drive's Five Elements, to go back to their homeland every year. They inevitably fell in love with the food and grew a bond with Mrs. Nguyen Thi Thanh.
After several talks, Michael and Victoria will be helping Mrs. Nguyen Thi Thanh's dream come true in spreading her food around the world and decided to bring the flavours back to Vancouver.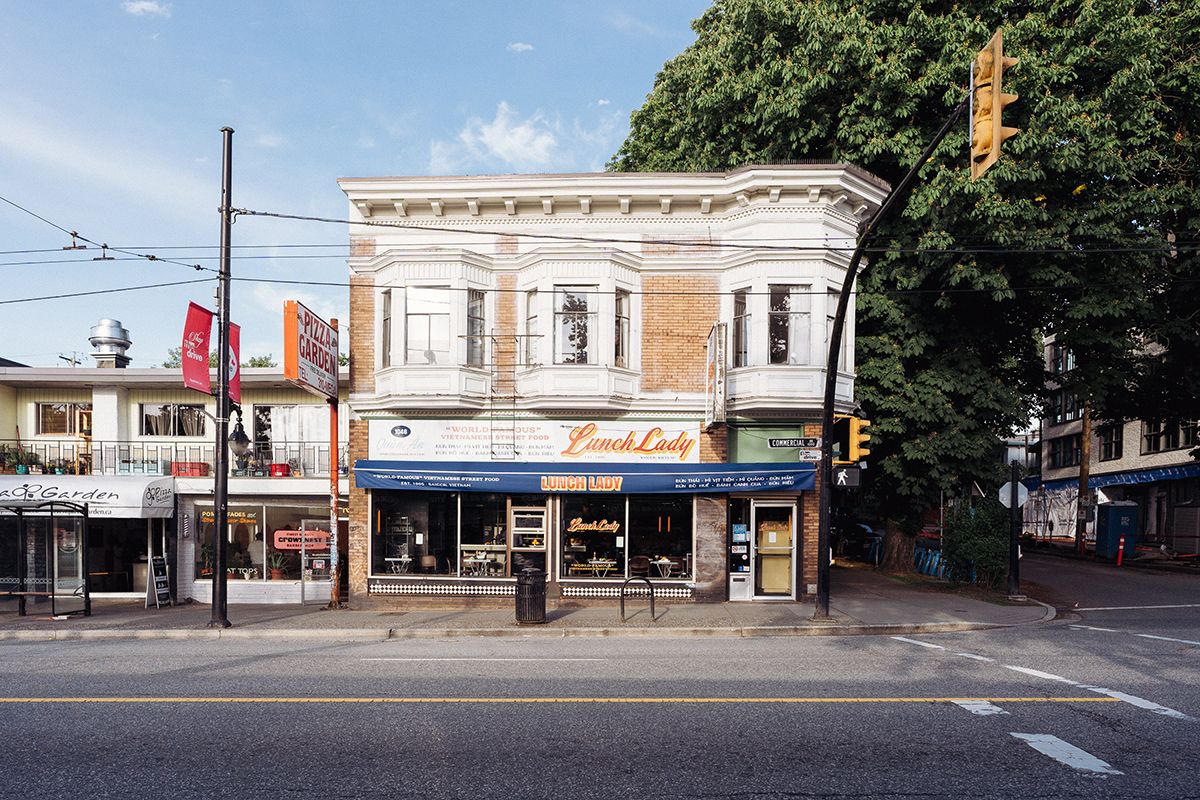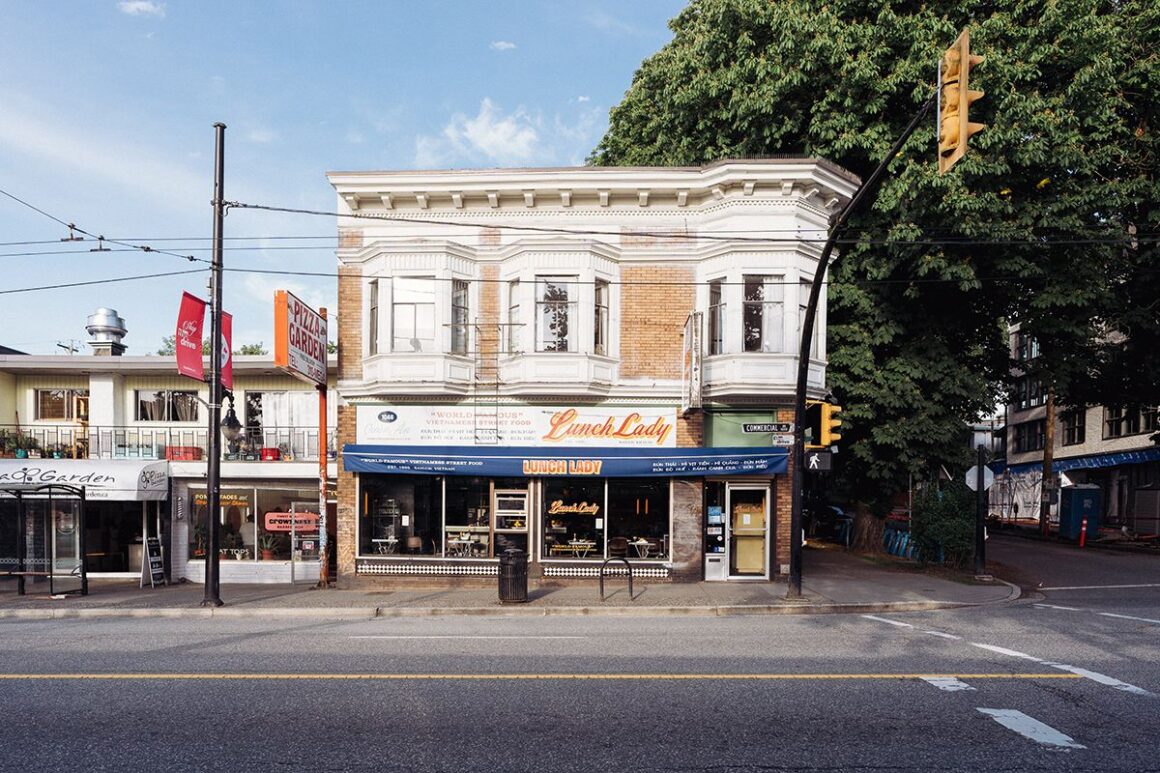 With that, Victoria's Five Elements restaurant on Commercial Drive will transform and be the home of Lunch Lady in Vancouver. Regulars of Five Elements will be happy to hear that some of the dishes will remain on the menu (ie. the Satay peanut soup, and sizzling hot plates).
When we were invited to get a sneak peek of the restaurant back in early June, we were amazed at the level of detail the team put in recreating that ambiance and street culture where the original Lunch Lady is.
Like importing tables, chairs, and flooring straight from Vietnam.
To bringing back a legit sugar cane machine, where Michael joked about needing to get it rewired so it would work in Canada.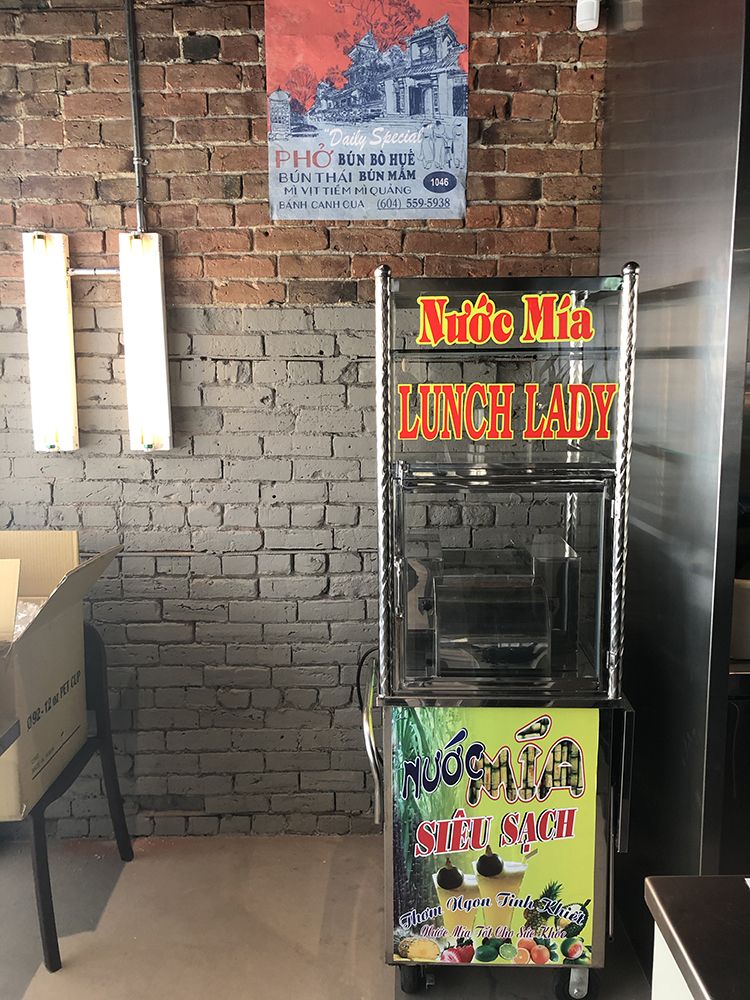 To having curated pictures of views like fire-breathers and legions of mopeds you'd expect to see if you were walking along the alleyways of Ho Chi Minh City.
And even a framed picture of the Lunch Lady's first business card, which she mistakenly misspelled.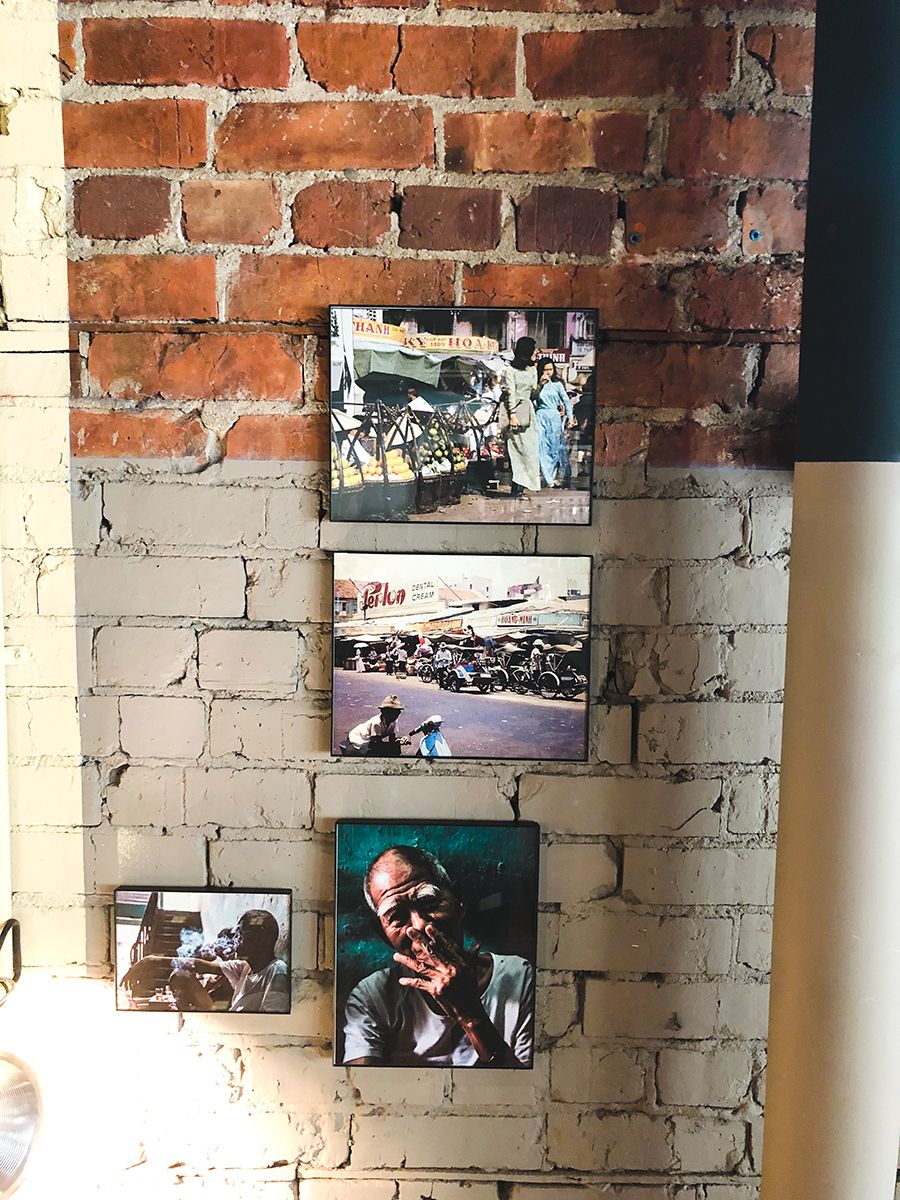 Although you won't be sitting on any brightly coloured plastic chairs in the restaurant (Michael imported some as well), the effort to bring a similar ambiance as you would experience at legendary food hawker in Vietnam will be no doubt felt.
Just close your eyes and hear all the sizzling and clinking and clanging from the people cooking. We want to make you feel like you're actually in Vietnam.

Michael Tran, Cofounder of The Lunch Lady Vancouver
And to give Vancouverites the most authentic Lunch Lady experience, the Commercial Drive location will have the same exclusive rotating menu set up, where they'll be only serving a special noodle dish each day.
Meaning that if you're craving for Bun Bo Hue, you'll need to go on Fridays. And if Bun Thai is your thing, you'll only be able to get it on Mondays.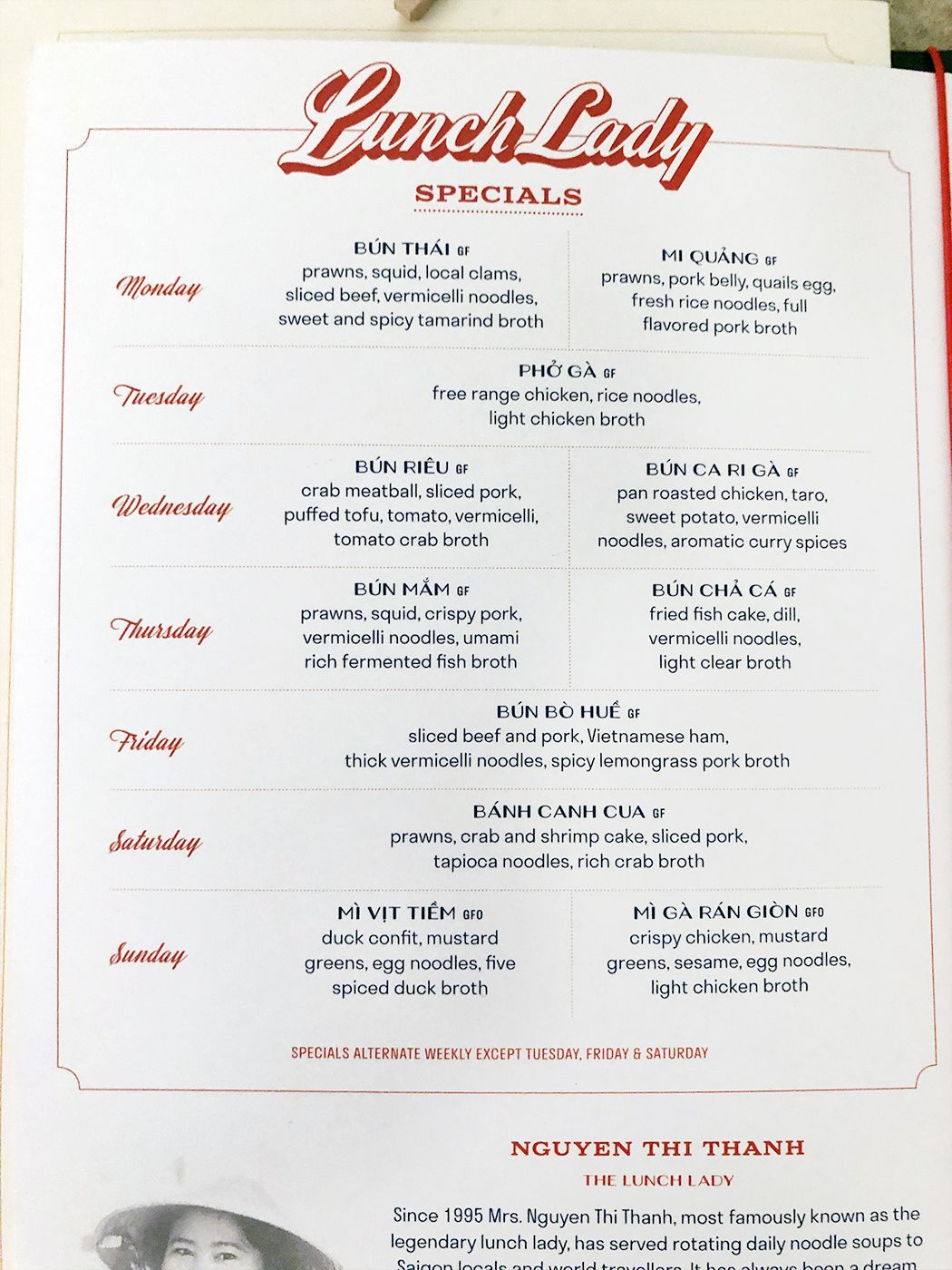 We spoke with Michael and Chef Benedict Lim to get the full picture of Vancouver's the Lunch Lady:
Can you first tell us who you are and your background?
[Michael]: My name is Michael Tran, I was born and raised in Vancouver BC. My parents are of Vietnamese descent and came to Canada in 1980. My family has been in the restaurant business since they immigrated here. In 2016, I co-founded Pacific Poke and that was when I really stepped into Restaurants, taking after my family roots.
My mom, Victoria, was the owner of Five Elements Cafe and is now the Co-Founder of Lunch Lady Vancouver. She was born in Saigon and moved to Canada after the way in 1980s.
Before thinking about bringing The Lunch Lady over, Michael you were going back to Vietnam each year. Can you share what led you to do that and what you've taken out of that experience?
[Michael]: I've always heard so many stories about Vietnam growing up. My parents would always talk about how important it was to experience the tradition and culture they had growing up. They would always tell me you haven't tried good traditional food until you've had it in Vietnam. One day, I finally made the decision to book my ticket and see it all for myself.
Experiencing the culture was amazing, to go back and immerse myself in my parent's roots and tradition really made me feel grateful. This was the first time I truly tried authentic Vietnamese food on the street, on a red plastic chair. Hearing the sound of scooters, watching the unfamiliar around me was truly exciting. I knew I had to return, and so I did every year after that.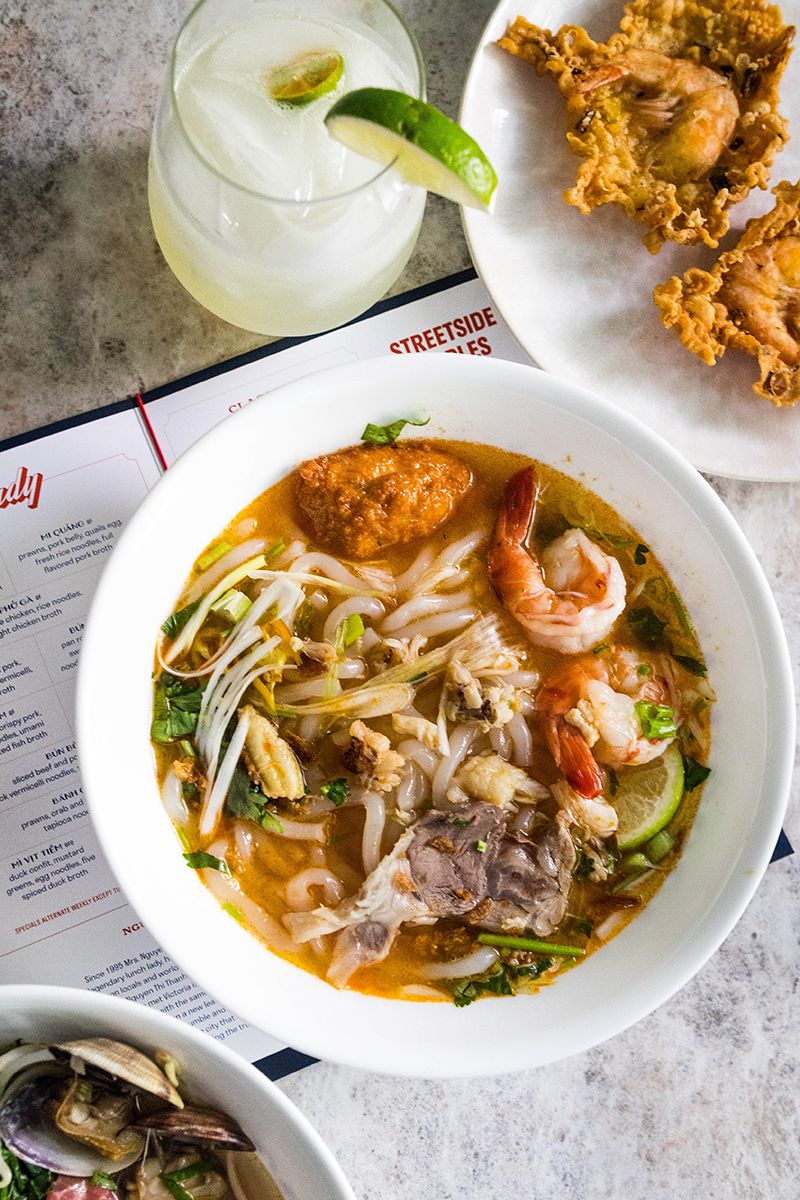 What was that special thing about The Lunch Lady in Vietnam that made a lasting impression on you? Can you share a specific memory?
[Michael]: It was her. It was her cheerful, sweet and humble personality that made you feel at home. I loved that she had delicious rotating noodle soups that kept my taste buds wanting more. I love how she would always manage to save some soup, even after it was sold out. It was as if I was her son.
Why did you want to bring this now iconic restaurant to Vancouver? How do you think it will fit in?
[Michael]: Vancouver was missing a different take on Vietnamese food – aka. Street Food.
There is so much more than just Pho, and I wanted to bring real authentic street food to Vancouver.
Can you walk me through the concept of the Lunch Lady?
[Michael]: The Lunch Lady isn't just about her food, it's about her neighbourhood. As she starts to close down for the day, other vendors start to set up their stand and begin serving late-night street food. Our concept brings the culture and food out of the neighbourhood.
We want to introduce Vietnams street food, in other words, its called 'An Choi', that means "eat for fun". In Vietnam, many people like to gather together after work and drink beers, eat food together. It's as popular as going for coffee in western culture. 
Both of you have experience in owning restaurants. What is the feeling you want for customers entering The Lunch Lady in Vancouver?
[Michael]: We wanted to bring a piece of Vietnam to Vancouver and all the senses that came with it. From the details of the tables that have been imported straight from Vietnam to the sounds of pots and pans cooking up authentic street food.
Can you give us a crash course in Vietnamese food and what will be offered at The Lunch Lady?
[Michael]: You will be eating unique flavours that rarely offered in one place. You will be tasting flavours from all over Vietnam, meaning, Northern, Central Hue and Saigon.
[Chef Benedict Lim]: Vietnamese food is bold and dynamic. Each dish has its own personality. We made sure to highlight our favourites, as well as what we thought our guests would enjoy the most. Vietnamese food is not just about the flavour but also about the surrounding scope of people and sounds that are constantly teasing your senses. The only way to fully understand the food is to embrace its entirety. Immerse yourself into the culture. Try something different. You won't regret it.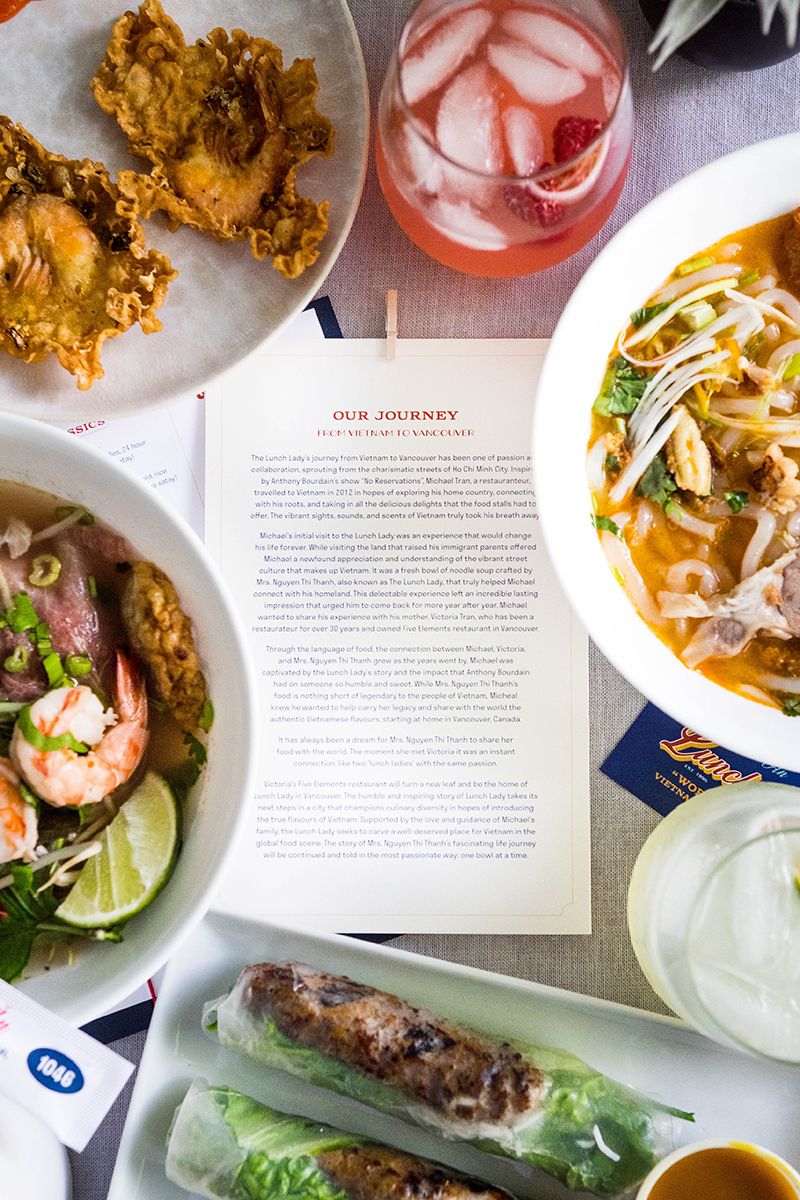 We want you to feel like you're sitting on the streets of Vietnam, sipping on your beer, eating this amazing food, and seeing people go by.

Benedict Lim, Chef and Operator of The Lunch Lady Vancouver
What items would you recommend for first-timers?
[Michael]: All the rotating noodle dishes are a must-try, it would be best to look at our menu and find a day that suits your pallet.
Brunch – Bo Ne or the Banh Mi Op La
Lunch – Rotating noodles
Dinner – Black Tiger Prawn Salad, Garlic Noodles, and Pork Belly Skewers
Drinks – Spiked Soda Chanh and Lychee Passion
---
Many people find their food amazing, especially for a certain Bourdain. Anthony Bourdain loved Vietnamese food, and if he loved what Lunch Lady had to offer, then we guarantee that it is a spot worth adding to your "to-eat" list.
The Lunch Lady opens for dine-in on July 1st 2020.
Location: 1046 Commercial Dr, Vancouver, BC V5L 3W9