Looking for the best speakeasy bars in NYC? Well, you're in the right place!
Hidden entrances, Edison light bulbs, live music, cutting-edge cocktails, mouth-watering food, and glamorous nightlife – the Big Apple's speakeasies are here to stay, and transport you to a bygone era. These places are often found in interesting locations, like being tucked away in a basement or backroom.
If there's one thing all these establishments have in common, it is to offer you unique experiences that you'll seldom find anywhere else.
Spotting a speakeasy on your own in a city like New York can be difficult. We're here to help. Our speakeasy NYC list below has some of the coolest spots in the city you should definitely check out.
1. Please Don't Tell
Hitched to Crif Dogs, one of New York's favorite hot dog restaurants next door, Please Don't Tell or PDT is a pioneering speakeasy, where you get access when you call from a payphone inside the former establishment. The wide array of spirits, fresh juices, and toppings, and not to forget, amazing bar food, will keep you occupied all night long.
To start your night at PDT, why not go with the classic Old Fashioned, redefined? This is Benton's Old Fashioned, which tastes different (in a good way!) than the classic; it is strong but not overwhelmingly so, and you get a charred/smoky aftertaste because of the bacon-infused whiskey. This might become your new go-to drink!
Paddington is another popular drink here. The highlight of this cocktail is the addition of the infamous liquor – St George Absinthe, which adds light citrus + anise notes to it, making you want to order one more.
And when your hunger kicks in, you can get AMAZING hot dogs, tots, burgers, and more. Our favorite is the Chang Dog, which is a deep-fried hot dog wrapped in smoky bacon, and topped with flavorsome Momofuku kimchi.
The Truffle Shuffle Tots here are amazing too!
What to order: Benton's Old Fashioned, Paddington, Chang Dog, Truffle Shuffle Tots
Address: 113 St Marks Place, New York, NY 10009
2. Nothing Really Matters
"Hidden" in a subway station, Nothing Really Matters is where you should be after a long day at work, to relax before hopping on the train. With a cinematic subway entrance, hundreds of illuminated bottles, and a speakeasy vibe, this cool subway bar serves upscale drinks in a fun atmosphere.
The menu at Nothing Really Matters features many classics, as well as low- and no-ABV options.
One of the most popular drinks here is the Fearless Girl. With pear and apple gin as its base, it slightly resembles a mimosa but is elevated, with a hint of spice.
Espresso Martini, the classic coffee cocktail, at Nothing Really Matters has the distinctive and limited-production Patrón Sherry Cask Tequila for its liquor, which gives the cocktail a vanilla and caramel-flavored aroma with nutty notes. This could be exactly what you need after a productive yet tiring day at work.
Time Out, mixed with Jamaican hibiscus, Ginger, and soda, gets a complex part grape – part citrus flavor from the first ingredient, a warm and spicy note from ginger, and along with the soda, tastes absolutely refreshing.
What to order: Fearless Girl, Espresso Martini, Time Out
Address: In the Subway, 210 W 50th Street, New York, NY 10019
3. Little Branch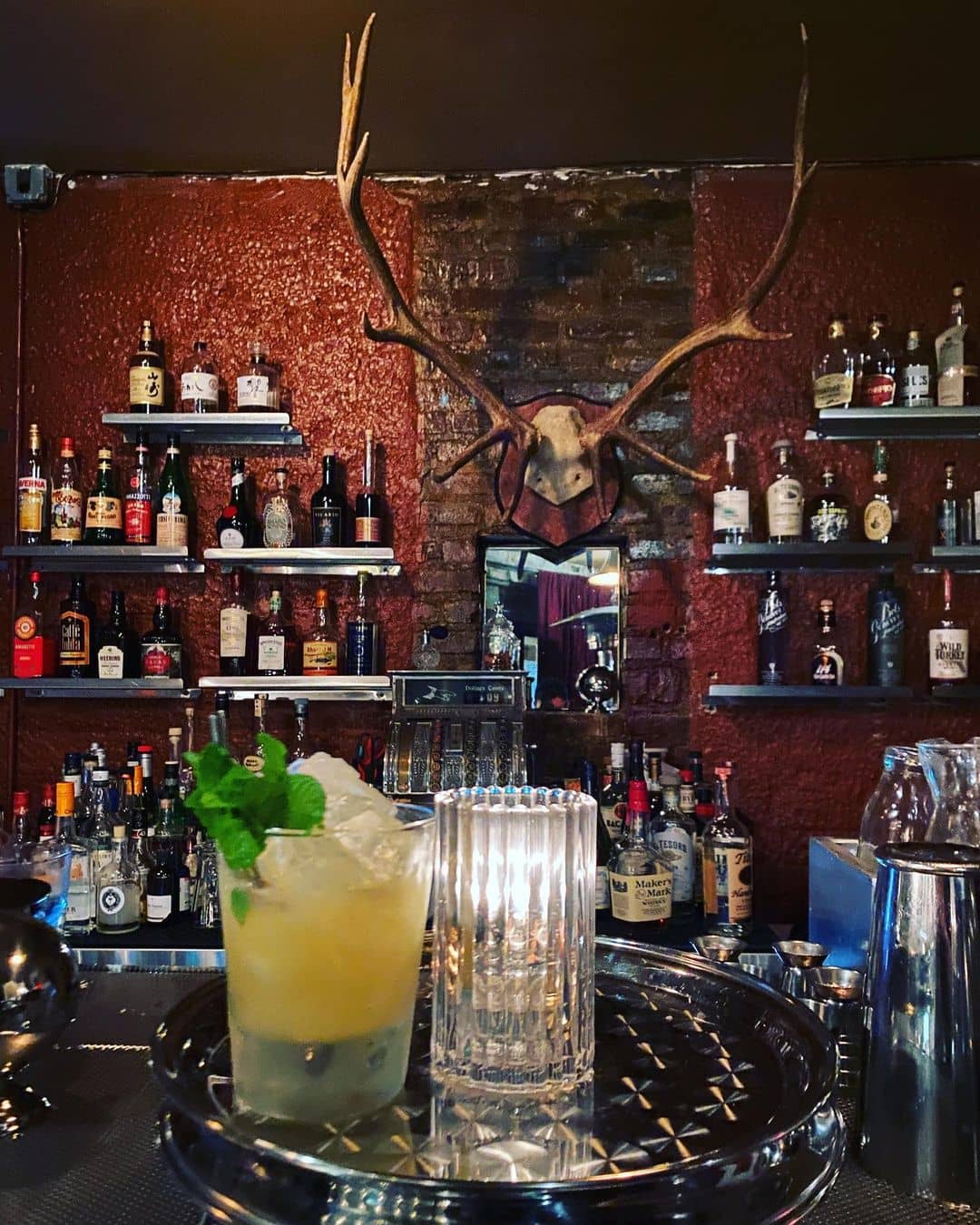 Hidden below a mousy building, Little Branch (LB) is your classic speakeasy-style bar that brings to you amazing cocktails and live music performances. With bright yellow walls, dim lighting, a warm and intimate vibe, and sharply dressed bartenders, this place screams date night.
You can find a killer Mint Julep at LB. Tasting a little sweet, the drink has just enough booze to wake you up. This minty and cold cocktail can be best described as summer in a glass!
LB has quite some fan following for its Mojito. Loaded with hand-crushed ice, the drink always comes perfectly proportioned, with just the right level of sweetness.
Looking for a straightforward, no-nonsense drink? Tom Collins, it is! This refreshing cocktail combines lemon juice, simple syrup, carbonated water, and gin. The addition of the chilled metal spoon straw is a nice touch.
You could have your Tom Collins in different variations as well, one of which is Grapefruit Collins, which has the rich and thick flavor of Fords Gin.
Don't forget to ask for complimentary snacks – pretzels and nut mix – to munch on alongside your cocktails. Don't be shy!
What to order: Mint Julep, Mojito, Tom Collins, Grapefruit Collins
Address: 20 7th Avenue S, New York, NY 10014
4. Attaboy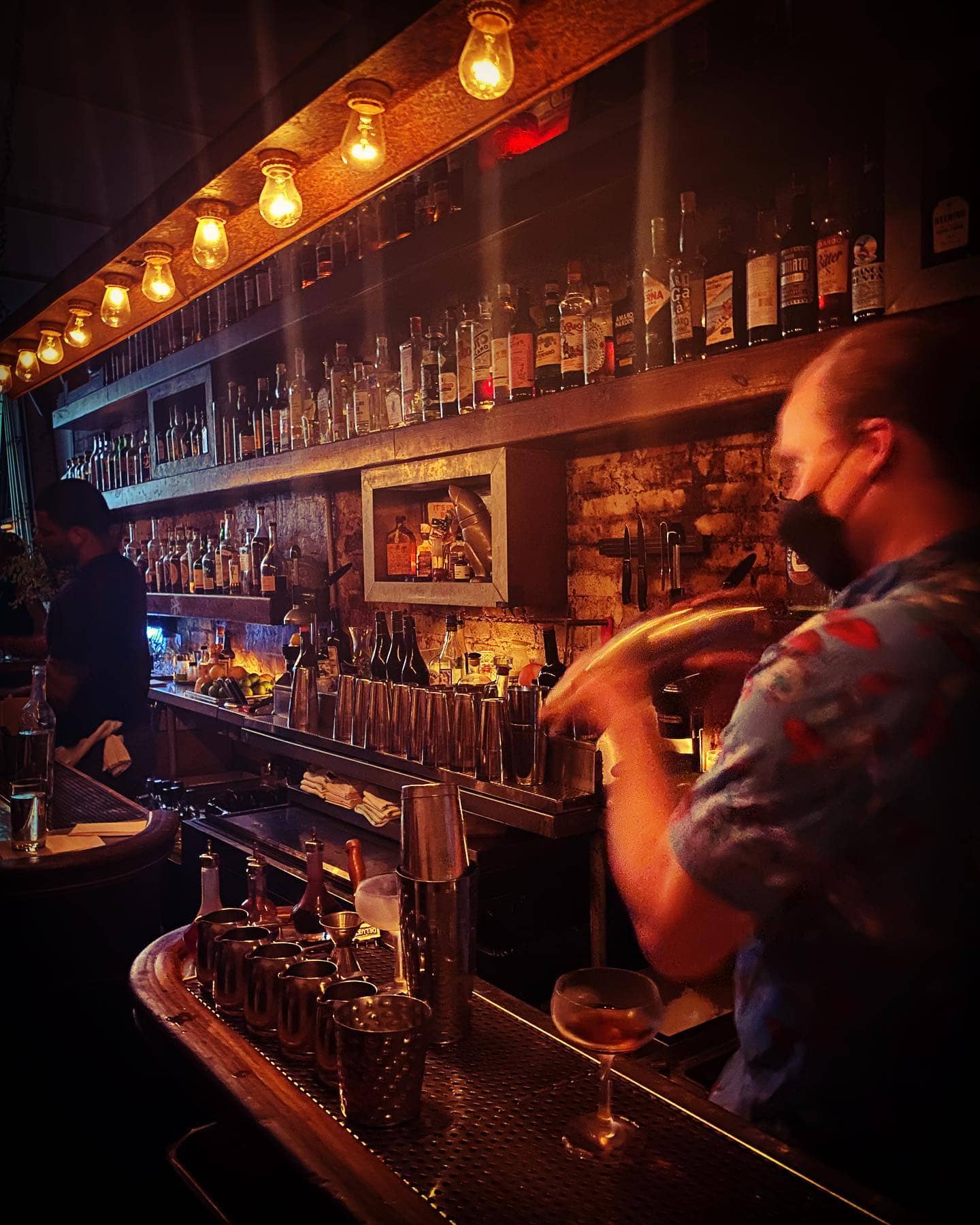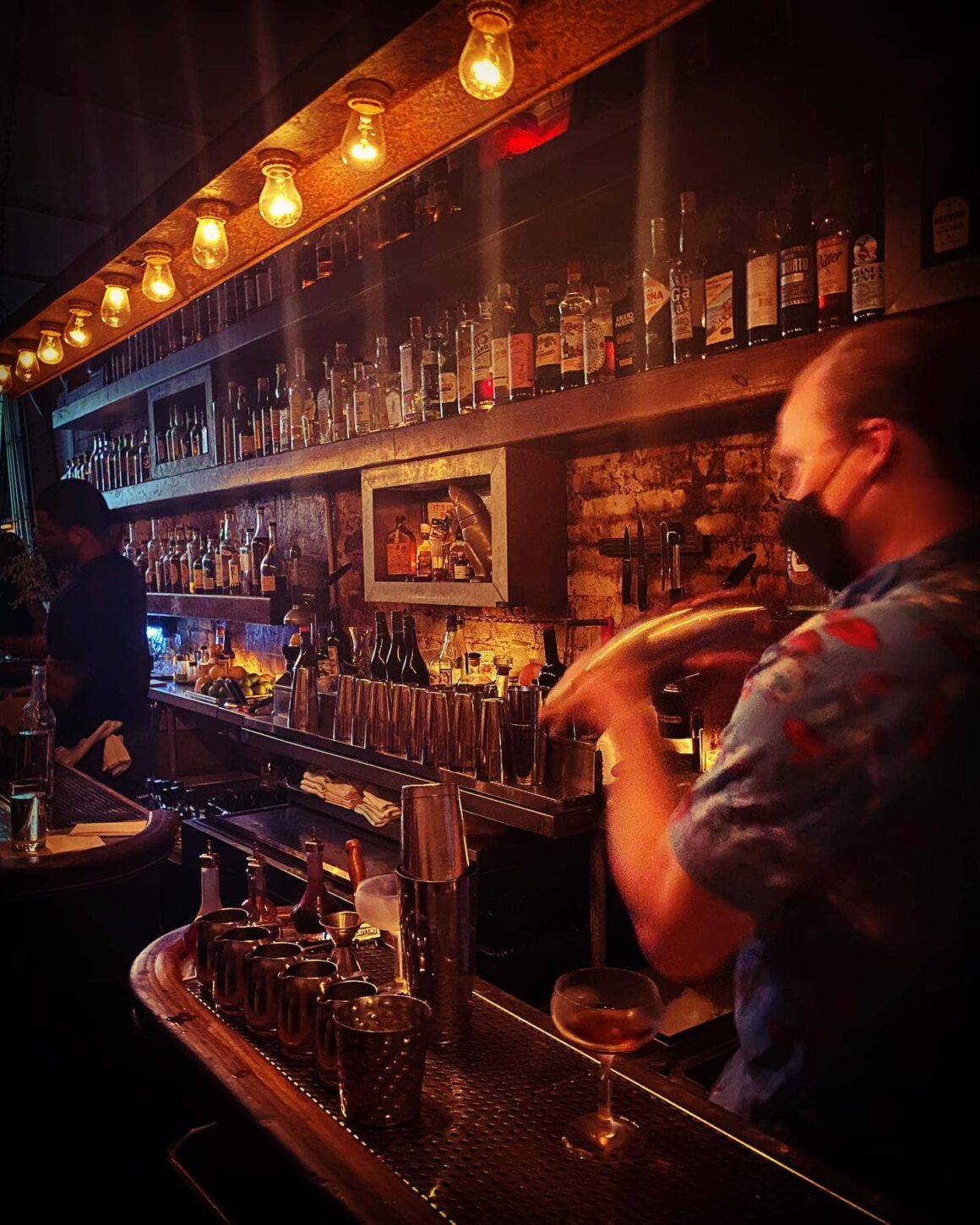 A stylish, low-key lounge, Attaboy is a casual cocktail speakeasy where you don't have to make reservations and can have cocktails made to your liking instead of ordering from a menu. With a narrow space and dim lights, this cocktail world is highly welcoming and is almost always full even on weeknights.
The menu-free environment here gives you the confidence to bring out your inner cocktail nerd, and have a drink made to match your taste. But, if you'd rather try something new, we have a few recommendations.
Penicillin – invented by the founder/co-owner, Sam Ross, is a combination of lemon, ginger, honey, and scotch. Though the drink is copied by bars around the world, this original at Attaboy is certainly the best you can have.
Paper Plane – another original from Sam Ross, this is a beautiful concoction of the uniquely flavored Nonino Amaro, zesty and aromatic Aperol, bourbon, and lemon. If you're not a big fan of the boozy flavor of whiskey, this drink is for you.
Old Fashioned – smooth and sophisticated.
What to order: Penicillin, Paper Plane, Greenpoint
Address: 134 Eldridge Street, New York, NY 10002
5. Sincerely, Ophelia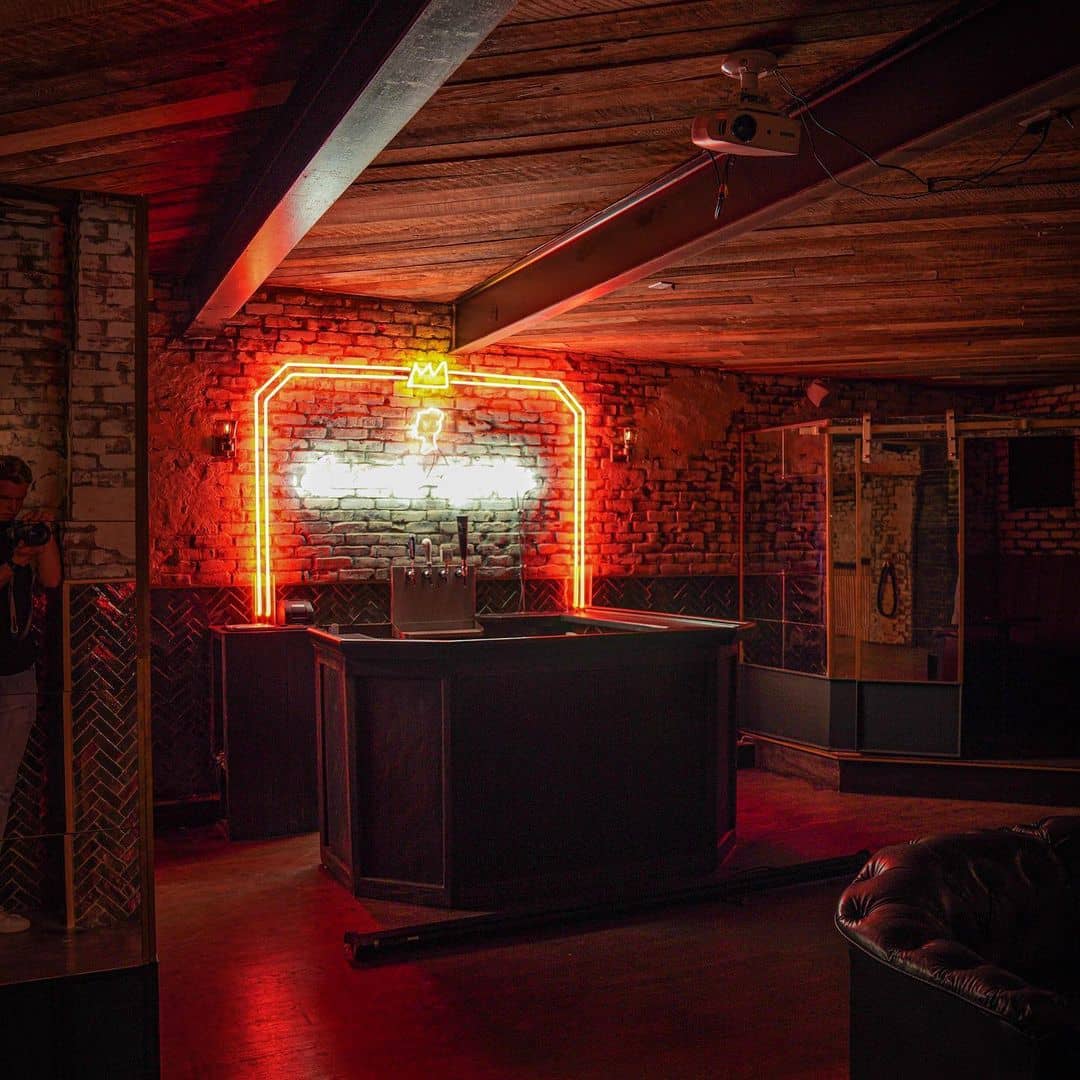 With music and vibes that connect with the millennial and gen Z audience, Sincerely, Ophelia gathers attention with its large space and unique art choices. The speakeasy's entrance is located beneath the sign for Chicken and The Egg, its sister establishment. VIP rooms with enclosed booths and glow-in-the-dark bathrooms make this place a perfect hangout spot for friends.
Sincerely, Ophelia is popular for its housemade flavored hard seltzers. Our favorite from this list is the Moscow Mule. With enough fizz and punch, this drink is sweet and spicy, and delightfully strong.
Earth, Wind & Fire – choose between mezcal or tequila (mezcal for a stronger drink) for the base, which is then combined with passionfruit, and jalapeno for a kick.
The Chaco Taco's Revenge is way more phenomenal with Bourbon, Campari, Sweet Vermouth, Banana, and Cacao. What a good choice to end the night!
What to order: Moscow Mule hard seltzer, Earth, Wind & Fire, Chaco Taco's Revenge
Address: 221 2nd Avenue, New York, NY 10003
6. The Ragtrader & Bo Peep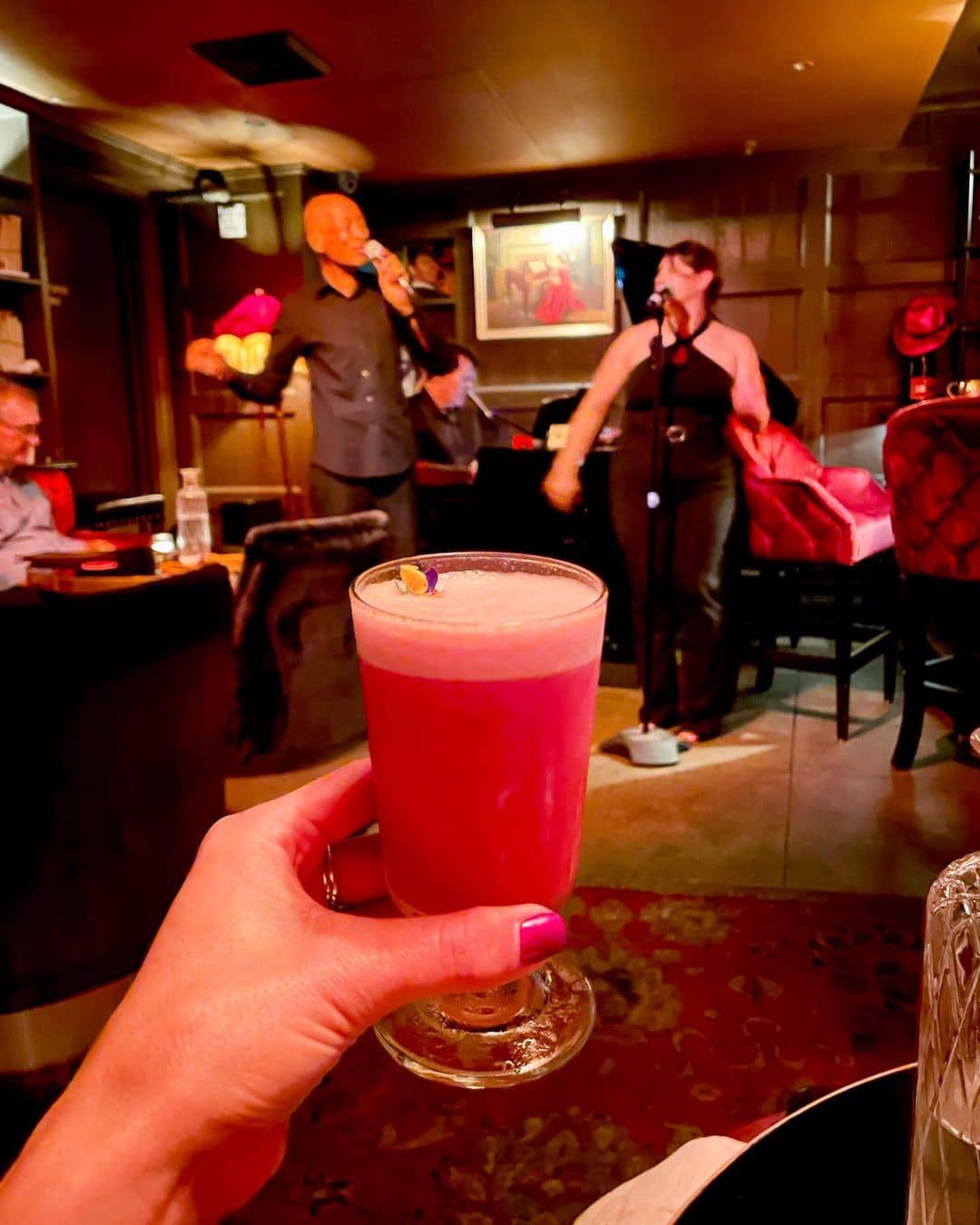 Named one of New York's best speakeasies, Bo Peep is located below The Ragtrader and is a place where you can sip artisan cocktails and nibble on delicious small plates while live music. The lush decor and warm atmosphere here make it a casual yet elegant night-out spot.
Let's start with drinks, shall we?
If you want to start the night really lightly, get the Foxy Lady, which has a hint of lime and raspberry, and rose water. Super mouth-watering. For a tropical-tasting one, you can try their Havana Nights made with pineapple rum, Chartreuse Verte, lime, pineapple, and Vanilla Coco Cream. Trust us, you'll love this drink!
Unlike other speakeasies, Bo Peep has its own food menu.
The Fried Chicken Sliders has crispy, tender, and juicy chicken, with bright, tangy, creamy, and spicy sriracha aioli for its sauce.
The pizzas here are top notch too. Their House-made Sausage pizza has a soft and crunchy base, is super cheesy, and also has a nice freshness from the arugula (but not overpowering).
What to order: Foxy Lady, Havana Nights, Fried Chicken Sliders, House-made Sausage pizza
Address: 70 W 36th Street (Between 5th & 6th), New York, NY 10018
Website | Instagram | Facebook
7. The Hidden Pearl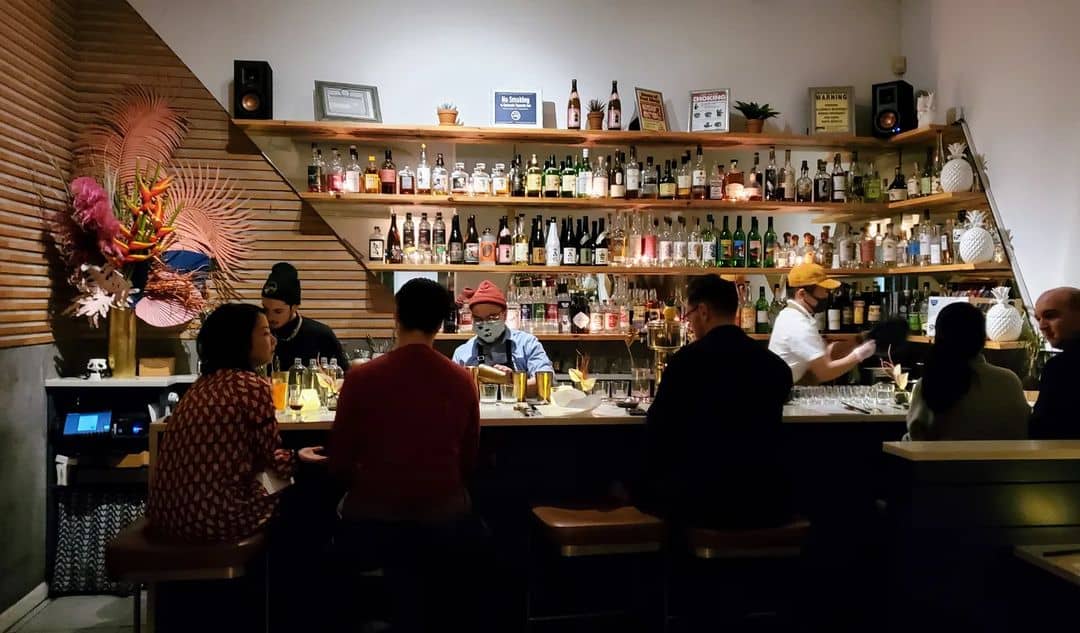 Located in the back of the ramen restaurant, Wanpaku, The Hidden Pearl is a hip spot with an exciting cocktail list and sake, which can be accompanied by Japanese small plates. Unlike typical speakeasies with dim lighting and a cavernous atmosphere, this place is bright, airy, elegant, and welcoming.
For drinks, we highly recommend you to try the Last Samurai, which is full of surprise when containing gin, yuzu, lemongrass, shochu, aloe, lime, Chartreuse, Marashino, cucumber, and egg white. It has such a wholesome taste and silky body in your palate but we have to warn you, its power is no joke!
In case you want to try something unique, get their famous Tom Kha Margarita, a new drink inspired by Thai cuisine. You'll find hints of lemon leaves, lemongrass, kafir lime, and chili too! End the night right with A Screaming Monk, which is a sweet yet strong drink made with absinthe and a but of strawberry liqueur.
What to order: Last Samurai,  A Screaming Monk, Tom Kha Margarita
Address: 621 Manhattan Avenue (inside Wanpaku), Brooklyn, NY 11222
8. Fig. 19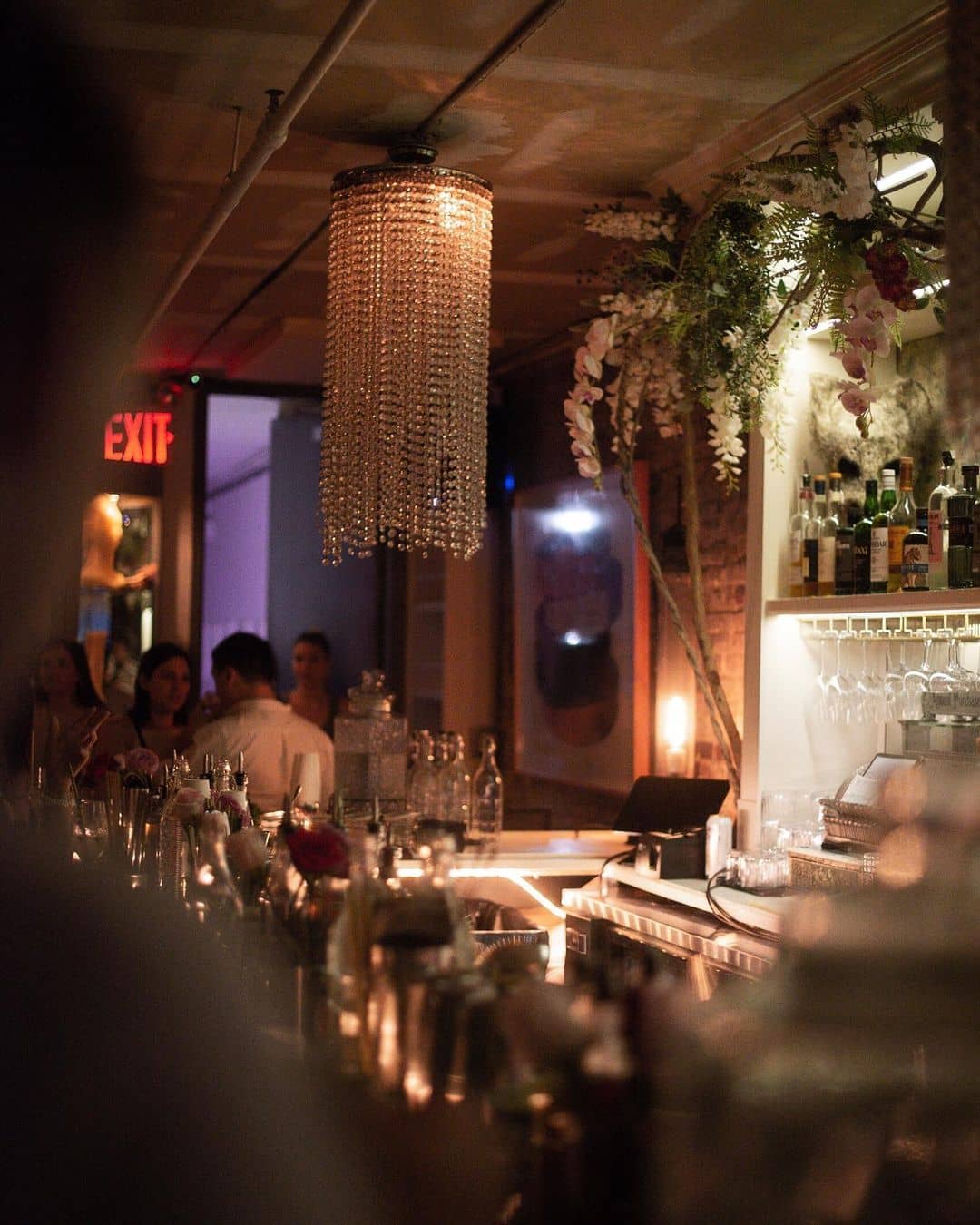 With a secret entry via an actual art gallery space, Fig. 19 is a fancy speakeasy with a cozy, lively, and sophisticated atmosphere. The place functions as a chill hangout spot for friends and fun date nights during the early evening, and as the night progresses, it transforms into an active party scene.
Vanishing Point is a perfect holiday drink. The combination of vanilla and cinnamon gin with egg white makes the drink sweet, smooth, rich, and more like a sublime version of eggnog.
Rose Selavy has a subtle rose flavor from the rose syrup and tastes sweet but not staggeringly sweet, and the lemon and cucumber leave a refreshing aftertaste.
With floral and citrus notes, Polly Jean is a fresh, vibrant, and highly aromatic drink that will make you want to come back for more.
What to order: Vanishing Point, Rose Selavy, Polly Jean
Address: 131 Chrystie Street, New York, NY 10002
9. Peachy's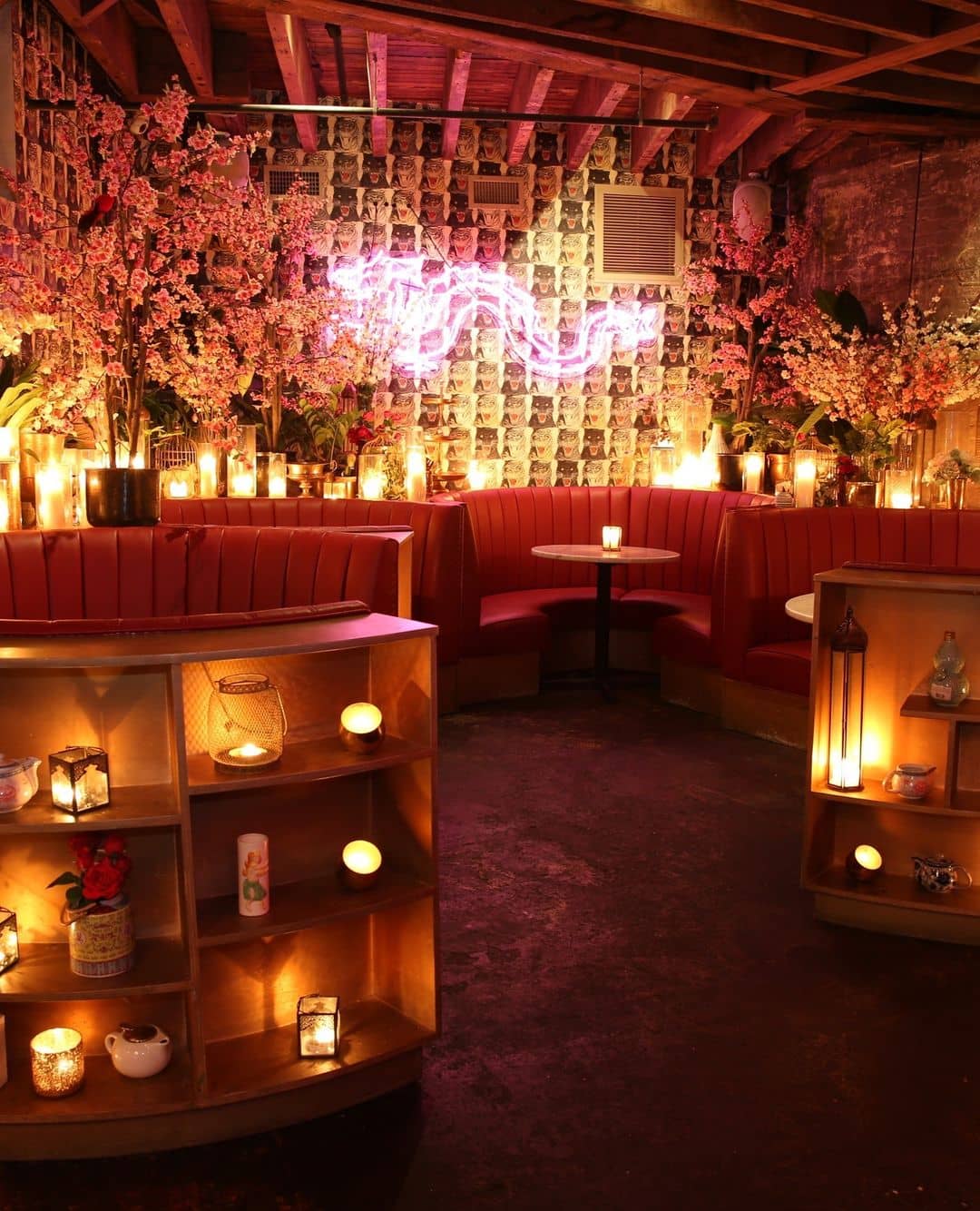 Located beneath one of the favorite restaurants in Chinatown, Chinese Tuxedo, Peachy's welcomes you with pink neon signs and towering cherry blossom trees. The whole space is dim, with only candle lights surrounding you, and they serve a variety of unique cocktail blends.
Their signature cocktails is a must! Settle down with the Let That Mango with taste of ripe mango, highlighted by the spicy pepper, and aromatic hibiscus tea! The Kiwi Me Softly is no less stunning, made with Tanqueray London Dry Gin, kiwi, Green Chartreuse, and lime. Mouth-watering as ever!
Don't hesitate to order some food to accompany you along the night! The Pan-Fried Chicken & Mushroom Dumplings and Braised Black Pepper Oxtail Buns are the two most popular choices here. Make your way throught it!
What to order: Let That Mango, Kiwi Me Softly, The Pan-Fried Chicken & Mushroom Dumplings, Braised Black Pepper Oxtail Buns
Address: 5 Doyers Street, New York, NY 10013
10. Mezcalería la Milagrosa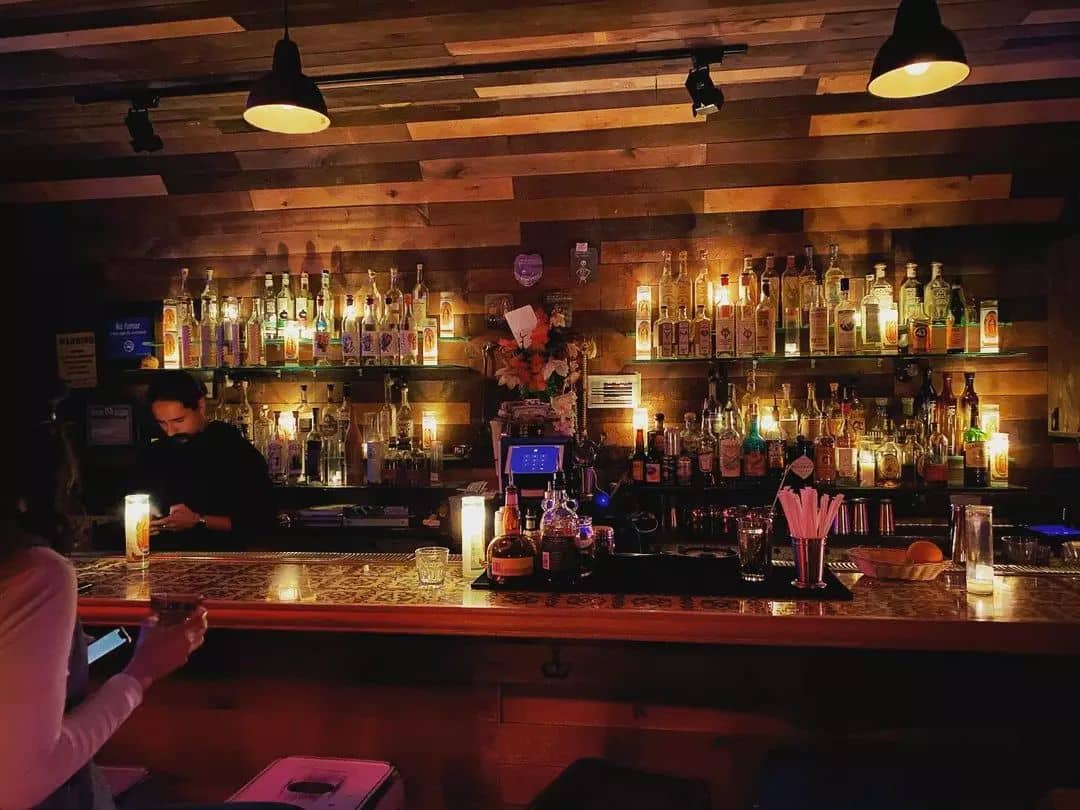 Milagrosa is hidden behind a freezer door of a laundromat-turned-Mexican grocery store. The actual speakeasy is quite small and narrow, or let's say intimate, with a disco ball, good music, and of course, strong cocktails, many of which are agave-based.
Mezcal Mule – a Mexican version of the classic and popular Moscow Mule, this drink has a smoky sharpness in every sip, which is balanced and smoothened by tequila.
New Fashioned – a modern version of the traditional Old Fashioned, this one is just as tart but gets a smoky finish from the mezcal.
Margarita Jamaica – this drink gets a fragrant floral flavor from the house-made hibiscus-infused tea (hibiscus is called jamaica in Mexico). You can taste a hint of the tea flavor in the background, and combined with all the other elements, you get a bouquet of flavors in your drink.
What to order: Mezcal Mule, New Fashioned, Margarita Jamaica
Address: 149 Havemeyer Street, Brooklyn, NY 11211
11. Employees Only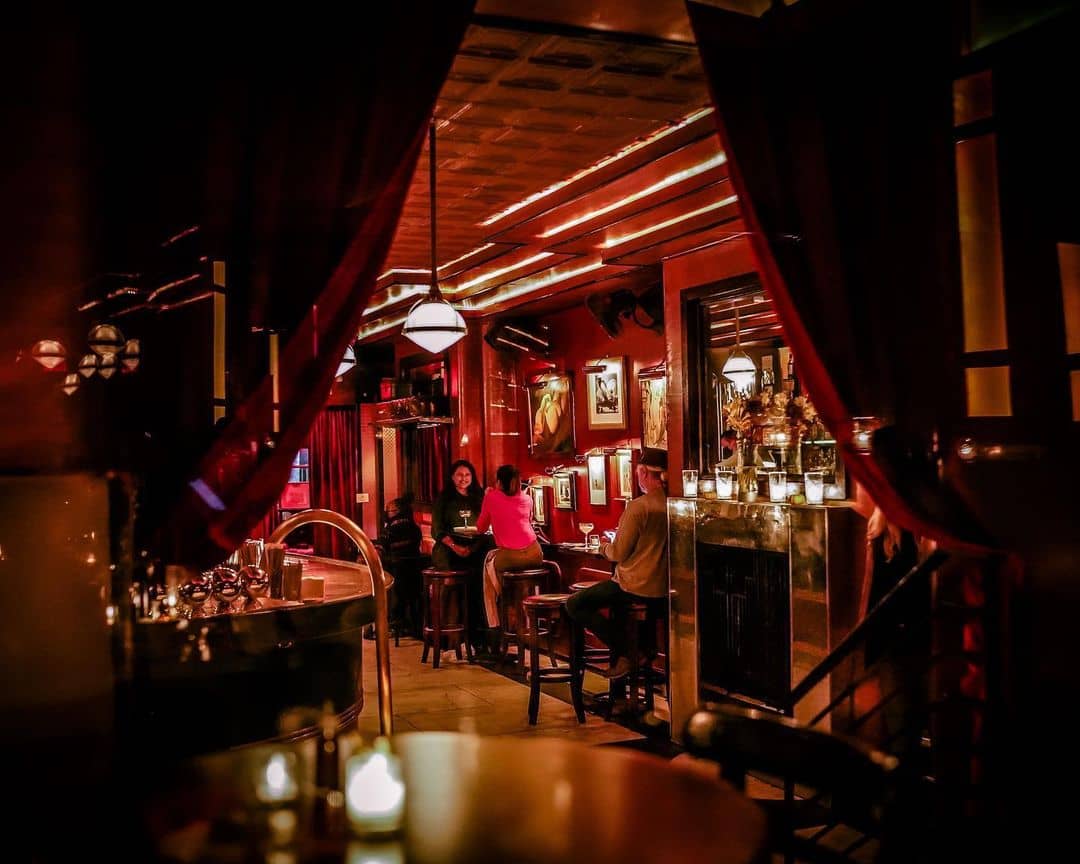 Employees Only is a legendary New York speakeasy based in the heart of the West Village. This is a restaurant and bar setting where you can enjoy cleverly executed cocktails, and delicious New American fare with Eastern European touches, served in a beautiful, mysterious, and cheerful setting.
The Manhattan Cocktail at Employees Only is the bar's popular twist on the classic drink. Here, they add Grand Marnier, which seamlessly combines with the spice of the Rittenhouse Rye, and delivers a complex and powerful flavor.
The Amelia features premium Japanese vodka, the Haku Vodka, and the finely crafted St. Germain, which together give the cocktail light, floral favors, and a balanced, fruity finish. Shaken with puréed blackberries and fresh lemon juice, this is one revitalizing concoction.
The Lazy Lover is a crowd-pleaser from their Modern Hits menu. This drink is so intriguing because of the jalapeno-infused green chartreuse; shaken with Leblon Cachaça, and other components, what you get in your glass is a full-bodied, smooth drink with prominent flavors of herbs, spices, and citrus, and an undertone of vanilla.
The Bone Marrow Poppers are their unique take on bone marrow. Served on crispy pastry shells, and with intense and earthy bordelaise sauce, this makes for a scrumptious concomitant for any cocktail you choose.
What to order: Manhattan Cocktail, Amelia, Lazy Lover, Bone Marrow Poppers
Address: 510 Hudson Street, New York, NY 10014
Website | Instagram | Facebook
12. Basement
A carnival-themed speakeasy, Basement is located in the heart of Chinatown, serving specialty cocktails in a chill environment, with lots of games (inspired by Hong Kong game bars) for a fun and exciting night. Their entire cocktail menu is crafted in-house, and they also offer small bites for patrons to munch on.
The Chinatown Old Fashion is a strong and well-balanced drink. The uniqueness of this drink lies in the popcorn-infused Hibiki Japanese whisky, which gives it a nice salty flavor to the otherwise complex flavor of the whisky.
If you're a bubble tea enthusiast, the HK Milk Punch is sure to please you. This is fine, sweet, smooth, and ends with spicy notes.
The Shanghai Mule is the Basement's reinvention of the classic Moscow Mule. With vodka, goji berry, house ginger, lime, and sparkling water, this cocktail packs a punch!
What to order: Chinatown Old Fashion, HK Milk Punch, Shanghai Mule
Address: 45 Mott Street, New York, NY 10013
Website | Instagram | Facebook
How about an exquisite dinner before you head to one of these speakeasies? You ought to find a favorite spot on our best restaurants in NYC list.