Looking for a nice beach in Victoria BC to relax and enjoy? Well, there are not only one, but dozens of pristine beaches in and around Victoria to bond with your family and pooches. On any given sunny day, you'll find families with kids dipping their toes in the sand, watching the migrating birds by a turquoise lagoon, or setting sail on a kayak.
If you wanna swim, the Main Beach at Thetis Lake and Esquimalt Lagoon are stellar spots to beat the heat. Looking to camp on the shore? Look no further than Island View Beach at Cordova Channel this upcoming weekend!
But that's not all! Read on to discover more water activities, wildlife, and hidden gems to get ahead of the crowds.
1. Witty's Lagoon Beach – Shallow Water Beach and Birders' Paradise with Waterfall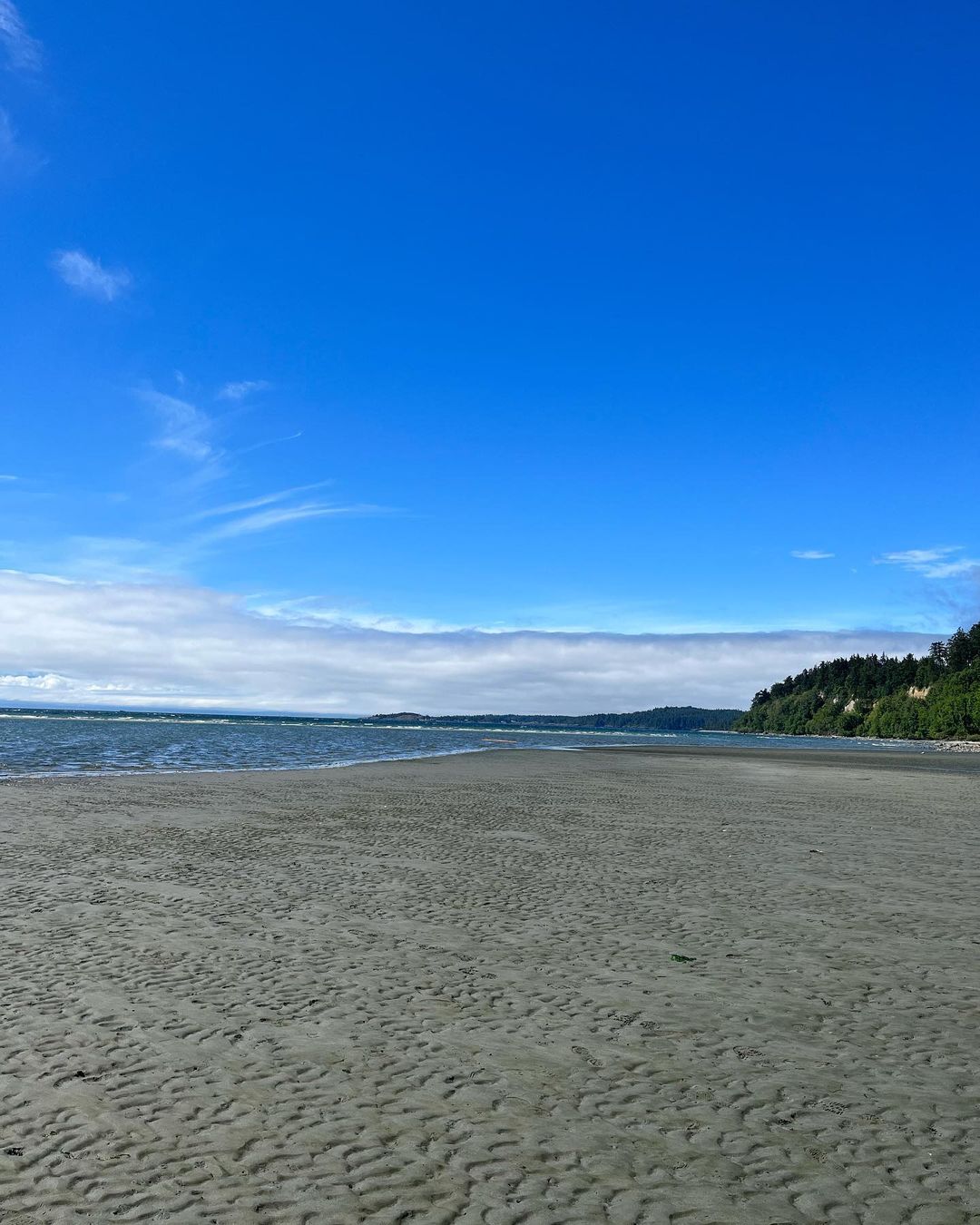 On any given summer day, Witty's Lagoon Beach beckons beachgoers of all types to celebrate the gorgeous views of Juan de Fuca Strait and the Olympic Mountains of Washington state. This beautiful slice of nature is a shallow water beach steeped in outdoor possibilities and stunning views of the rocky outcroppings of Tower Point and intriguing nearby islets.
The abundant sea life has become a big hook for over 160 species of birds sharing the lush environment around this tidal lagoon. Other than that, visitors can also explore one of the five archeological sites.
One of the best things to do at Witty's Lagoon Beach is skimboarding to benefit from the shallow waters, soft sand, and consistent low swells the lagoon provides. As the beach is heavily affected by the tide, check out the tide chart ahead of your visit. The beach tends to shrink to silver when the tide is high but retreats to expose the extensive sand bar at low tide.
If you have more time to spend, check out the cascading Sitting Lady Falls plunging into the lagoon from the chunks of volcanic rocks after taking on a short forest trail. On top of the fall is a scenic viewpoint. To embrace the beauty of the fall at its finest, visit it in winter. This is when the water becomes the most powerful, dropping to an underwhelming trickle after the summer months. Dogs are allowed anywhere both on and off-leash.
Parking lot address: 3934 Olympic View Dr, Victoria, BC V9C 4B1.
2. Esquimalt Lagoon Beach – Famous for Driftwood Creatures, Beautiful Trails, Birdwatching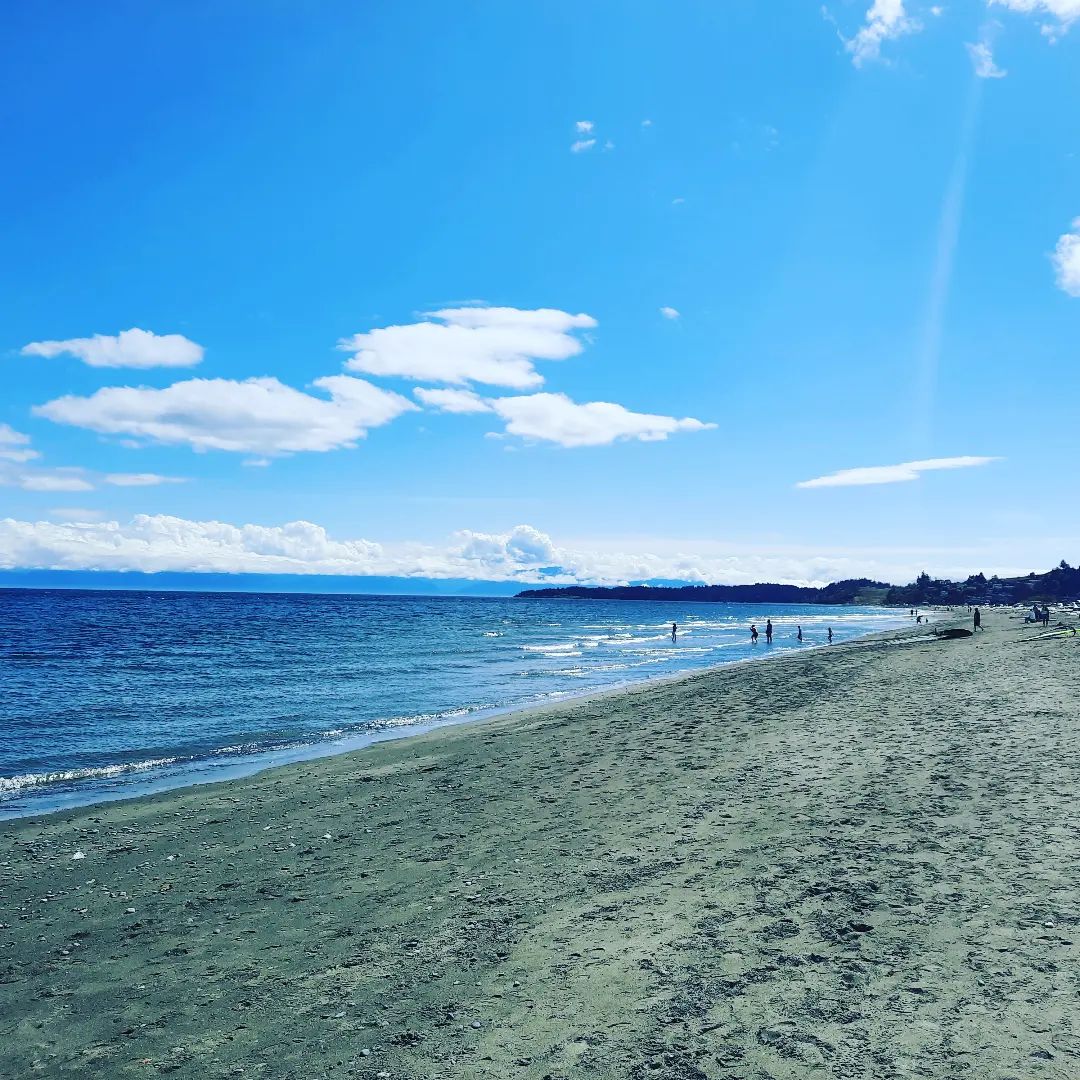 As one of the most talked-about beaches with proximity to downtown Victoria, Esquimalt Lagoon Beach is a heap of outdoor pursuits to please all kinds of beachgoers. From a rich collection of quirky, large man-like mythical sculptures to beautiful trails and bird habitats, Esquimalt Lagoon is a short, dream-like stretch of soft sandy beach with lots of photo-ops. Looking over to the distant Olympic mountains over the Juan de Fuca strait becomes a whimsical outing idea to cleanse your mind and recharge.
Conquer one of the scenic trails passing massive ancient trees and meadows with blackberry thickets before running into the Fort Rod Hill and Fisgard Lighthouse nearby or prosperous wildlife along the way.
Even if you're not in the mood for a hike, there are still plenty of things to do. Swim in the chilly water, beachcombing, sunbathing, or launch a boat to kayak and paddleboard.
During the migration season from October to May, birders in town flock here to embrace the vibrant migrating culture with thousands of birds along their Pacific Flyway. Walk to the Colwood Creek, you'll find this estuary of saltwater and freshwater becomes a spawning area for fish along with clams, mussels, and oysters.
Dogs are allowed at the lagoon, the beach along Ocean Boulevard, and Hatley Castle throughout the year but must keep on a leash.
Parking lot address: 3384 Ocean Blvd, Victoria, BC V9C 1W7.
3. Main Beach – Thetis Lake: Best Freshwater Beach for Paddling, Hiking, Fishing, and Swimming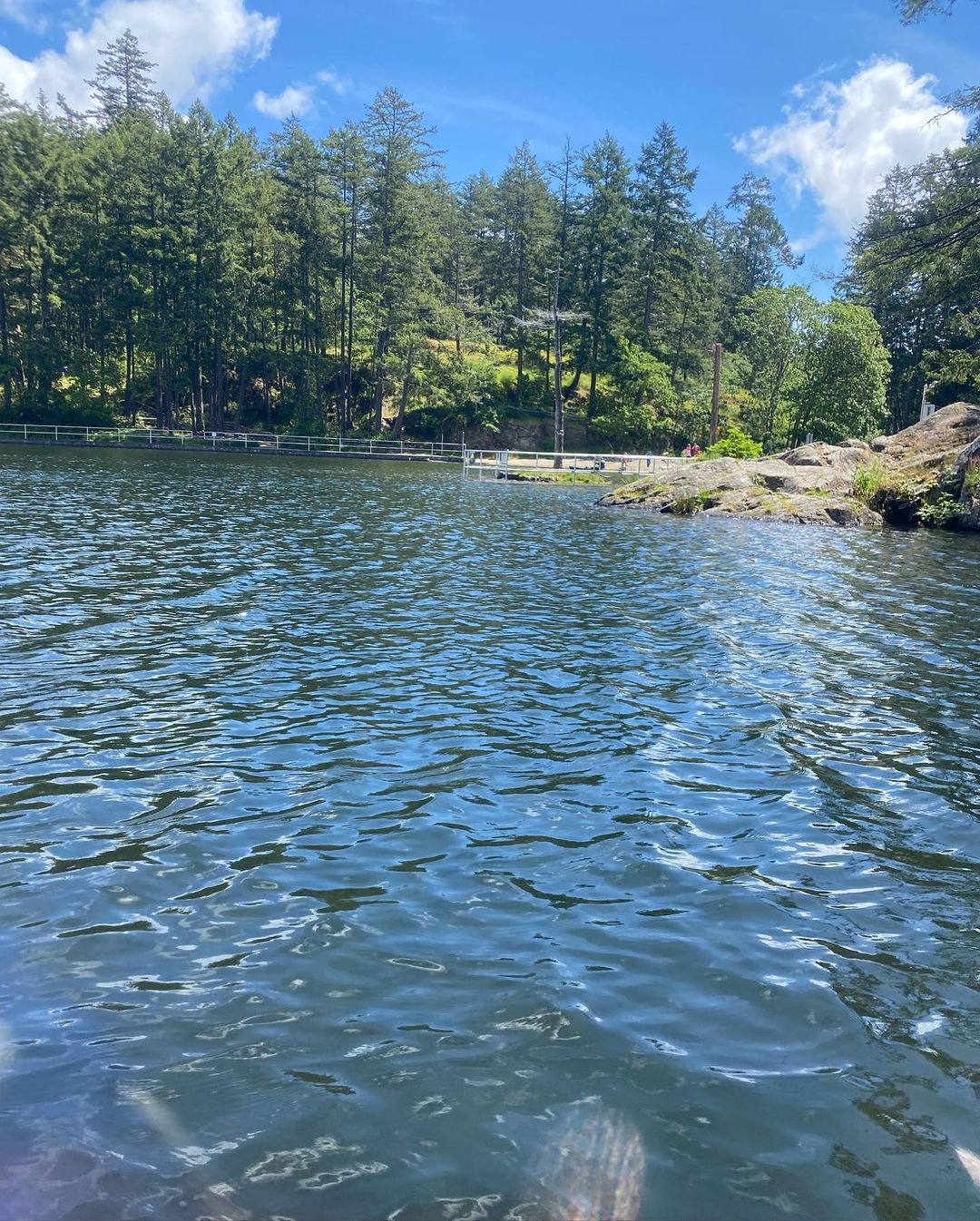 The freshwater beach south of Thetis Lake is a hidden gem for outlanders but the local families treat it as an amusing getaway for a picnic or refreshing swim. Bathrooms and change rooms are found along the beach with seasonal kiosks selling yummy snacks like hamburgers, chips, pop, and ice cream sandwiches for a quick bite.
May is the peak season for swimming in summer. But if you manage to get a canoe or kayak for yourself, get there early in the morning for a scenic paddle trip and you may have the entire lake for yourself.
Surrounding the Main Beach is a lush natural park with well-groomed trails on both upper and lower lakes. Take on a scenic workout with a moderate elevation climb or get on a bike into the woods. For a more challenging hike, follow the trails up Seymour or Scafe hills where the views are more panoramic looking out to the lakes and surrounding hills. Fishing is also a norm here with catchable Rainbow Trout.
As the beach at Thetis Lake is only a 20-minute drive from downtown Victoria, bring your pooch along to give them some fresh air and a run at the designated dog beach along the north side of the lake or on the trails and must be kept on a leash. From June to mid-September, dogs must stay away from the beach and picnic areas.
Parking lot address: Thetis Lake Regional Park – Main Parking Lot: Six Mile Rd, View Royal, BC.
4. Island View Beach – Panoramic Seascape Views, Birdwatching, Self-Contained RV and Tent Campground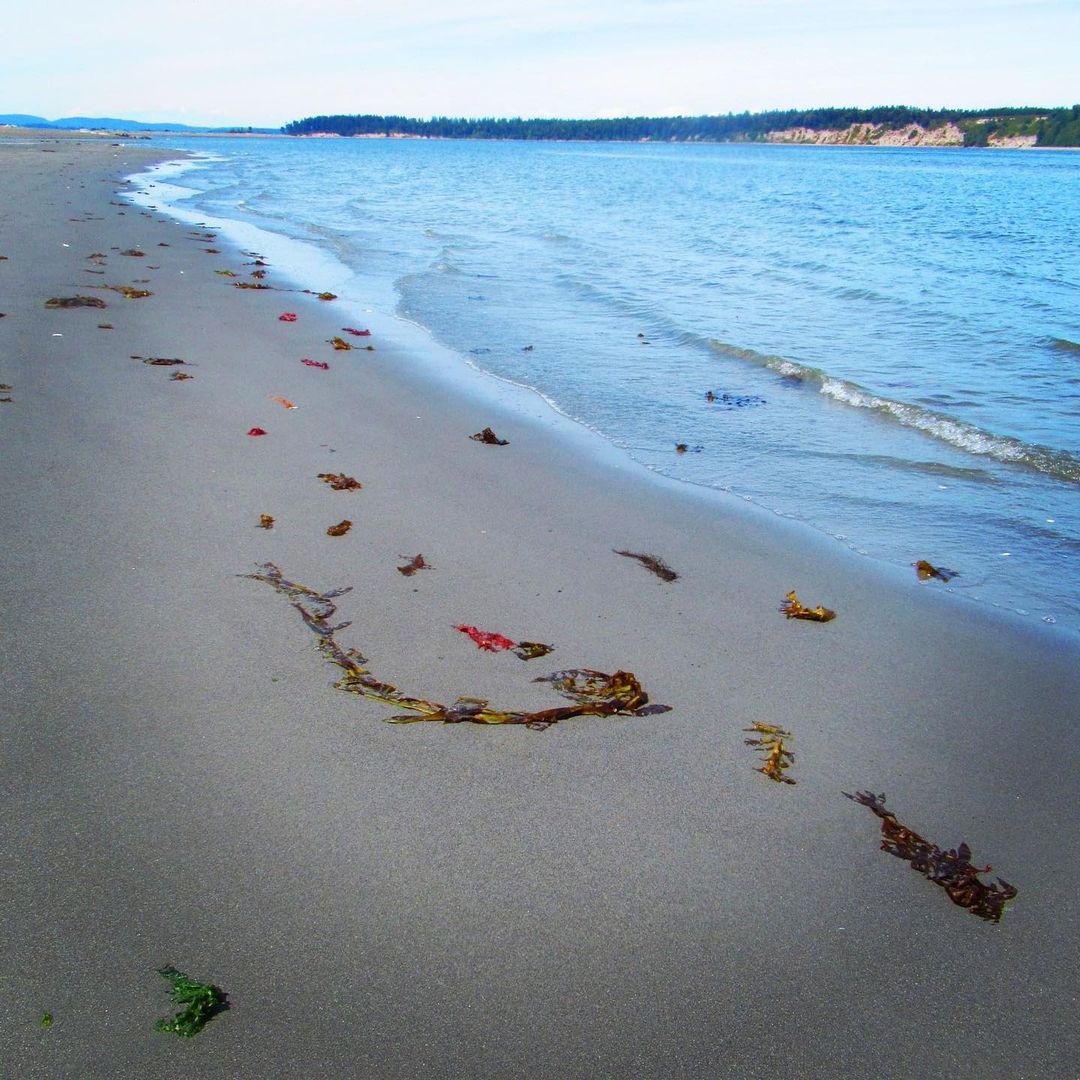 The extensive, graveled beach pressed against the deep blue water is part of the Island View Beach Regional Park where the gorgeous views across Cordova Channel and Haro Strait become the biggest hooks.
When the tide is low, the shore exposes the huge sand flats where you can walk for miles, explore the bird habitat, put a tarp down at one of the park benches or picnic tables, or swim in the cold water. Right next to the parking lot, you can find a sun-kissed grassy knoll where people hang out in the sun playing frisbee, flying kites, or walking their dogs.
Island View Beach is also a birders' haven, boasting an exciting birding opportunity with passerines feeding on eel beds and worms along the shore at low tide in the spring and fall. In the surrounding fields and shrubs, you'll see diurnal and nocturnal raptors waiting patiently in silence on a hunting journey.
33 meters north of the beach, the Island View Beach Regional Park Campground is open from May to September, hosting a series of beachfront RV sites, tent trailer sites, and 24 treed tent sites operated on a first-come-first-served basis.
Dogs are allowed on the beach from mid-September to the end of May. Outside of this window, they must be kept on a leash and stay away from the beach and picnic areas.
Parking lot address: 3215 Island View Rd, Saanichton, BC V8M 1W3.
5. Arbutus Cove – Hidden Quiet Beach to Hike and Soak in Nature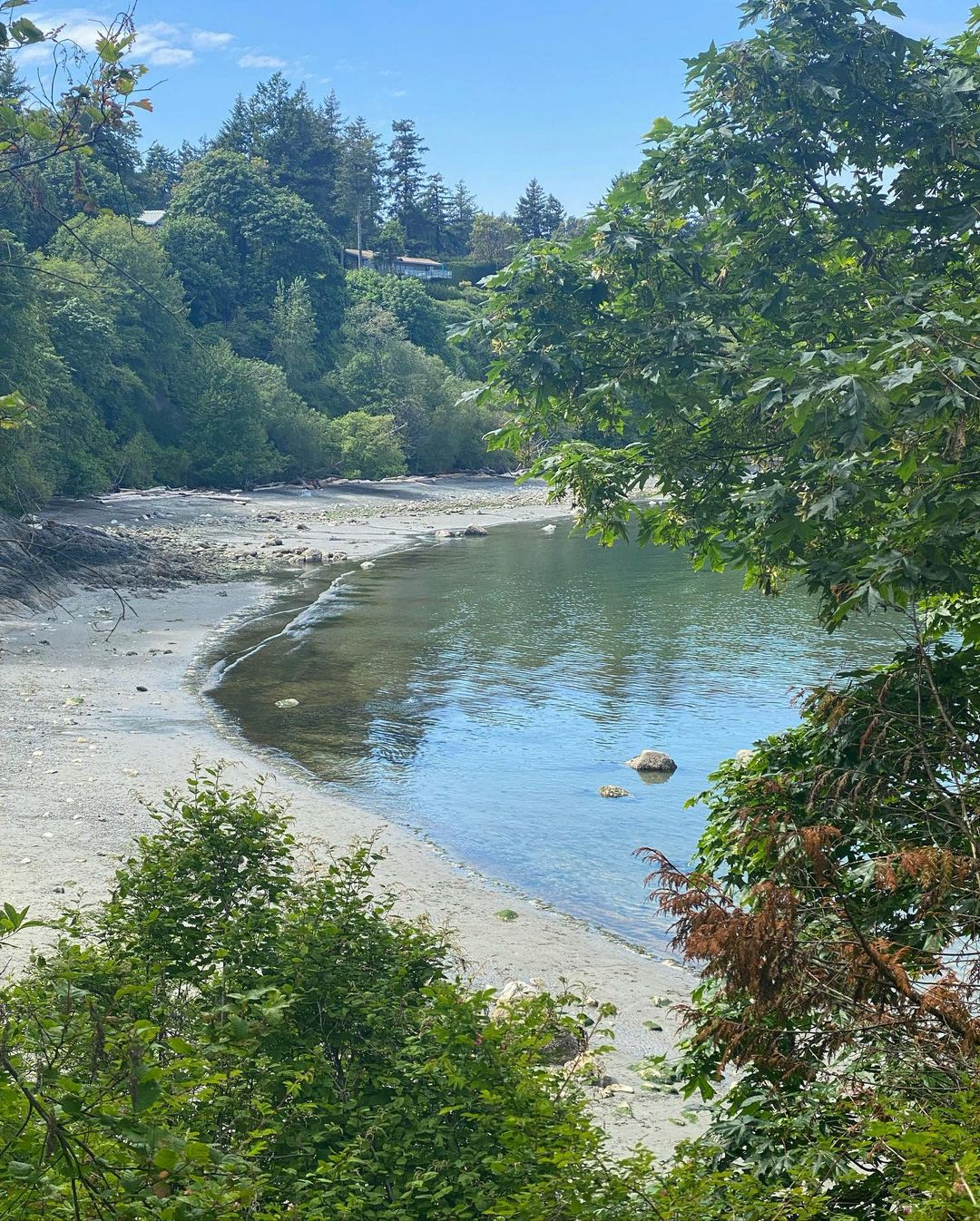 The sheltered, naturalistic beach surrounding Arbutus Cove is quiet, serene, and idyllic skirted by a rocky shore. It's connected to the namesake park via a set of hiking trails opening out to stunning views of the mountains on a clear day.
The best time to hit the beach is in the first half of the day when the sun is about to hit its peak. The warm weather accompanies the dazzling sunlight to inspire your outing day. In the afternoon once the sun leaves its peak position, the dense forest begins to cast a shadow on the shore.
For those who want to get on a hike, pick one out of the two scenic trails. One gets you through the forest while the other one heads down to the cove. The second option features a set of wooden stairs before it opens out to the rocky shore so it's not wheelchair accessible. Both of the trails are easy to complete on a short hike in approximately 15 minutes.
The only downside is that there are no washrooms or change room facilities at this park, so you'll want to plan accordingly. After the beach was temporarily closed due to slope failures in 2021, access the beach with caution. Dogs are allowed off-leash throughout the year.
Parking lot address: 4038 Locarno Ln, Victoria, BC V8N 1V3.
Looking for more outing ideas? Find a new inspiration with these curated lists:
Vancouver Beach-ing: 5 Best Beaches in Vancouver to Unleash Your Free Spirit
Hiking: 12 Top-Rated Beginner And Moderate Hiking Trails In Victoria, BC And Vancouver Island For A Scenic Outdoor Workout
Camping: 5 Best Campgrounds in Vancouver Island To Be One With Nature
Dining: 15 Best Victoria Restaurants To Dine At For A Stellar Meal
The following two tabs change content below.
Latest posts by Noms Magazine (see all)