People say that breakfast is the most important meal of the day. But we say that brunch is no doubt the most comforting one. That's why egg bennies, fried chicken, mimosas, and good vibes dominates the standard ideal brunch set up.
And if you're looking for just those things and more…well we've compiled the 12 best brunch restaurants in Edmonton Alberta for a comforting and heart meal below!
1. Highlevel Diner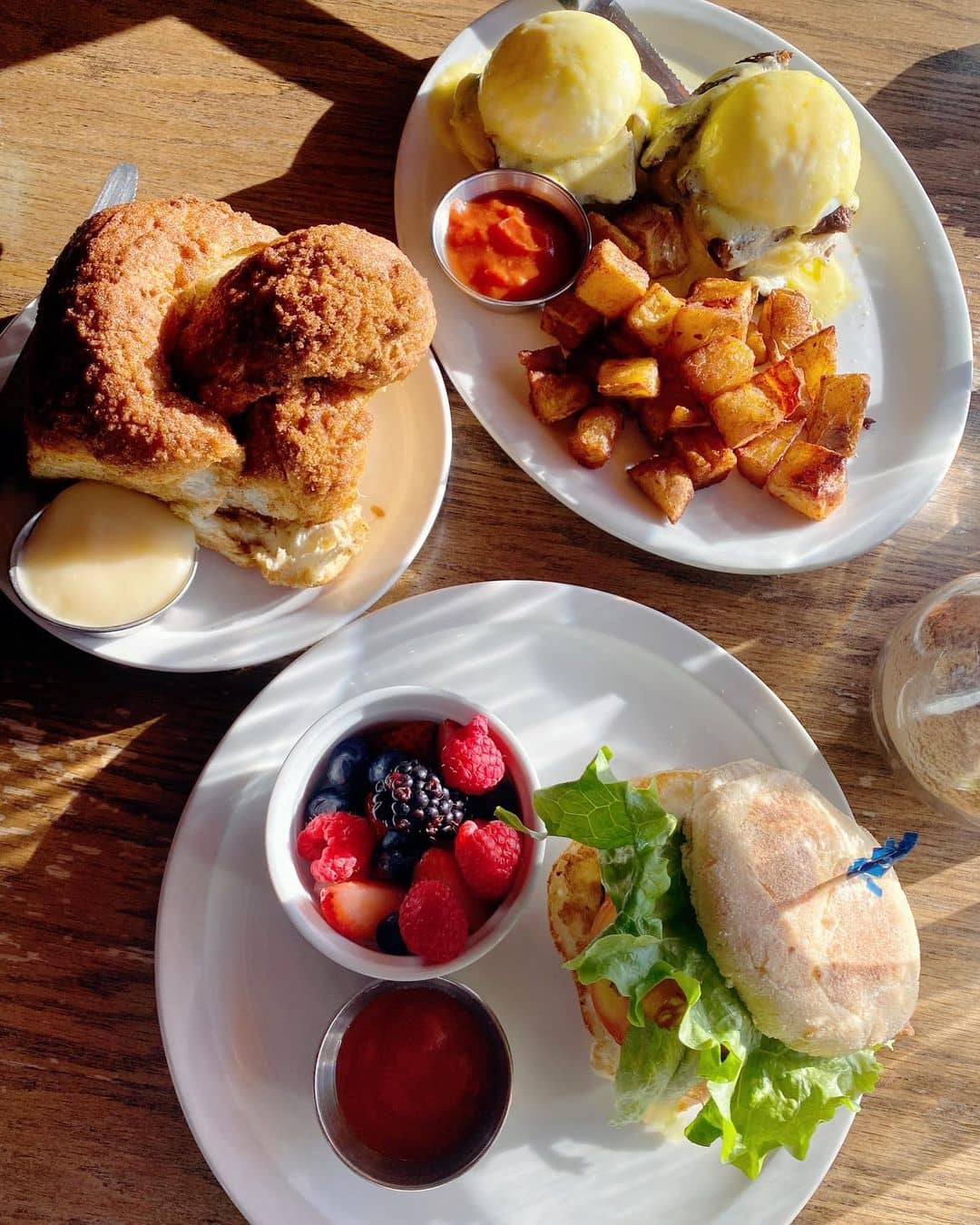 Highlevel Diner is your classic Edmonton restaurant that the locals frequent. Operating since 1982, the place serves comfort food in a casual setting. One of the highlights here is that everything is priced moderately, and there is no compromise on taste or quality.
Before anything, know that there is always a huge lineup at Highlevel Diner during brunch time; therefore, plan your brunch accordingly.
One thing that this Edmonton brunch spot is known for is its bennies, offering different varieties for diners to choose from. Apart from the classic benny, their Margherita Benedict and Florentine Benedict are widely popular.
The Margherita Benedict comes with an acidic hollandaise sauce, which is lip-smackingly good. With the Florentine Benedict, the hero is the deliciously creamy spinach.
The Hash Side potatoes here are quite special too!
Don't forget to leave room for their AMAZING Cinnamon Buns. Served with your choice of cream cheese icing or caramel bourbon sauce (our choice is definitely the caramel bourbon sauce!), these are to die for.
What to order: Florentine Benedict, Margherita Benedict, Hash Side, Cinnamon Buns
Address: 10912 88 Avenue NW, Edmonton, AB
Website | Instagram | Facebook
2. OEB Breakfast Co.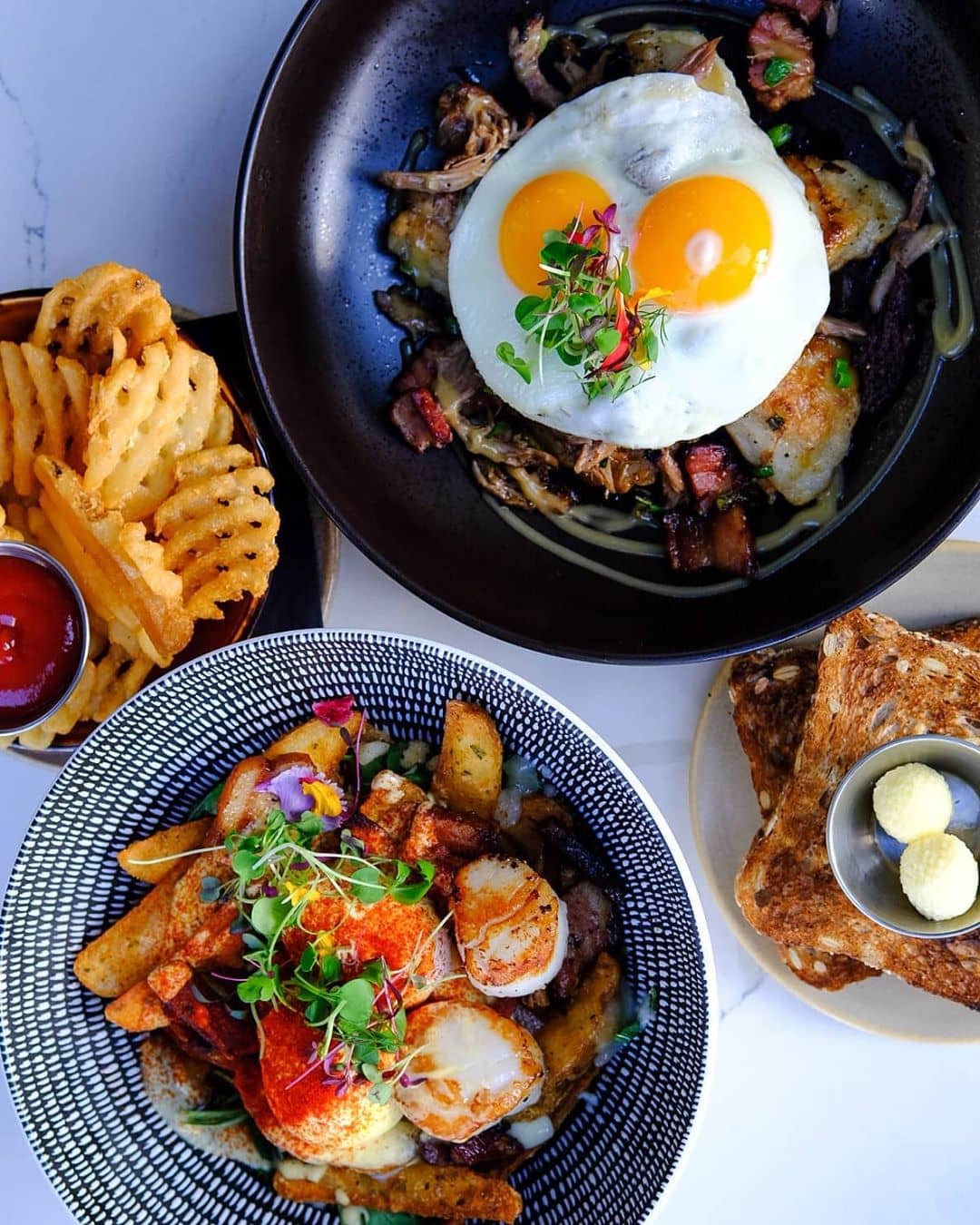 Talk about breakfast/brunch in Canada, and you cannot go without mentioning OEB Breakfast Co. Spread across the country, this breakfast & brunch restaurant chain serves brunch like no other, with several unique and creative offerings too.
When you choose OEB Breakfast Co. for brunch, your first order should definitely be from their Breakfast Poutines menu. Our first choice – Hog & Scallops poutine.
Available only in limited quantities daily, this bowl has slow-cooked bacon, duck fat fried herb potatoes, seared scallops, and more such mouthwatering elements. The brown butter hollandaise on top does an excellent job of bringing everything together.
If you don't like scallops in your bowl, go with The Soul in a Bowl.
The Croque Madame is most likely to be among the top 3 you've ever eaten. From the orange egg yolks that steal your attention in an instant to the rich truffle flavor that hits you in every bite, this dish is quality + deliciousness multifold.
Another limited quantity item that made it to our best brunch restaurants in Vancouver list is the Canadian Lobster & Shrimp Crêpe. The perfectly thin crêpe comes with a generous filling of lobster meat and shrimp, and again, the brown butter hollandaise just elevates the taste.
What to order: Hog & Scallops Poutine, The Soul in a Bowl, Croque Madame, Canadian Lobster & Shrimp Crêpe, French Toast Trifle
Address:
-56-10240 124 Street, Edmonton, AB T5N 3W6
-10174 100A Street NW, Edmonton, AB T5J 0R6
Website | Instagram | Facebook
3. Pip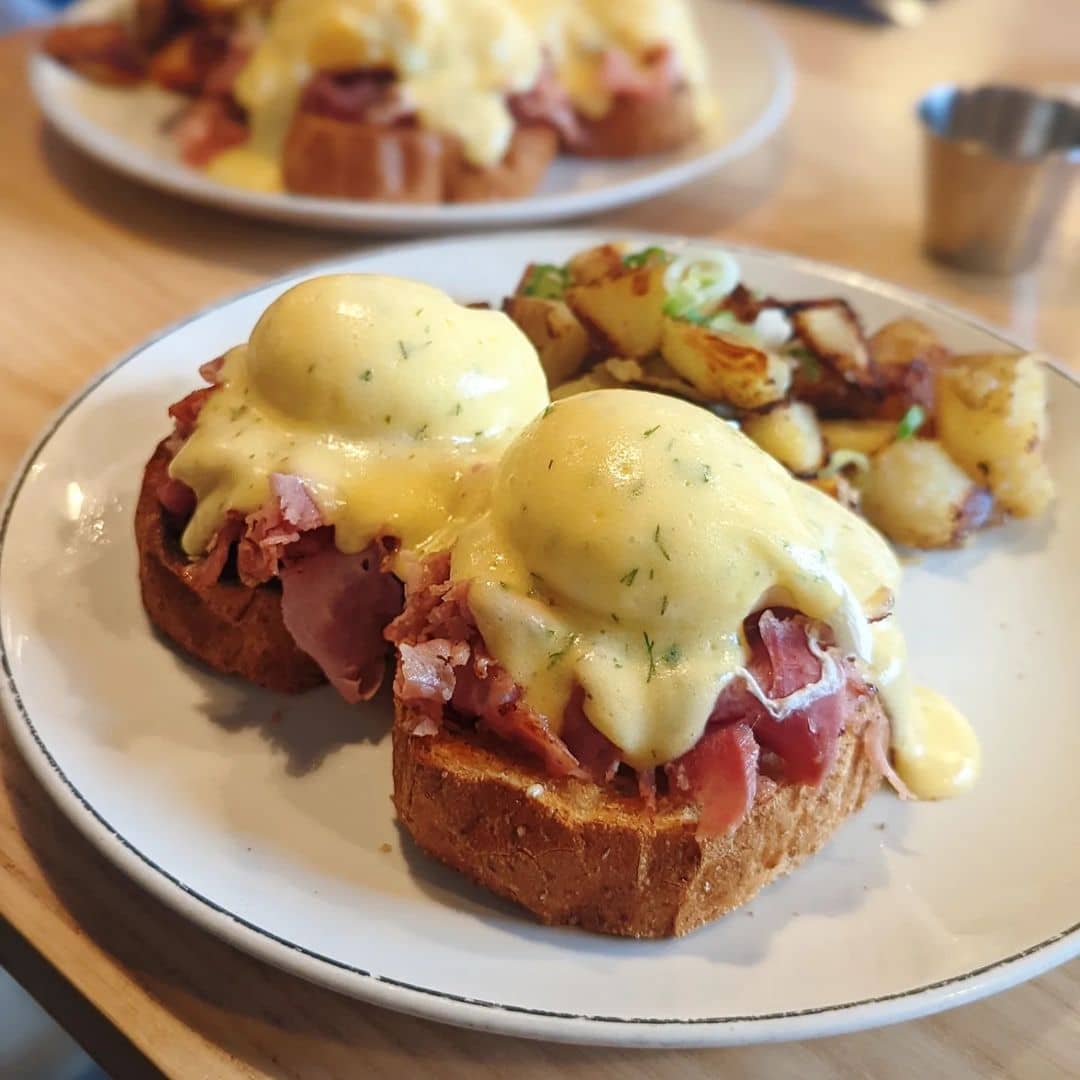 Located in the heart of Old Strathcona, Pip is an intimate space serving brunch, dinner, and wine every single day. The place is small, cute, and homey, and the food is simple, straightforward, and hearty. From sandwiches to salads to bennies to special brunch cocktails, Pip offers everything you'll ever want for brunch in Edmonton.
Their Sweet French Toast Bake will be the perfect start to your day if you have a major sweet tooth! While the French toast on its own is huge and filling, the strawberry rhubarb jam and maple cream cheese that it is served with add a new dimension to this simple breakfast/brunch classic.
The Mushroom Toast on toasted fresh sourdough is delightful. The sauteed mushrooms add a nice earthiness to the toast. Add a few strips of bacon to your toast and enjoy a satisfying brunch.
For your shot of espresso in the mid-morning, Pip's Cold Shoulder is the way to go. With a hint of amaro, you get a bitter-sweet flavor along with the caffeine kick you need.
What to order: Sweet French Toast Bake, Mushroom Toast, Cold Shoulder
Address: 10403 83 Avenue NW, Edmonton, AB T6E 2C7
4. Juniper Cafe & Bistro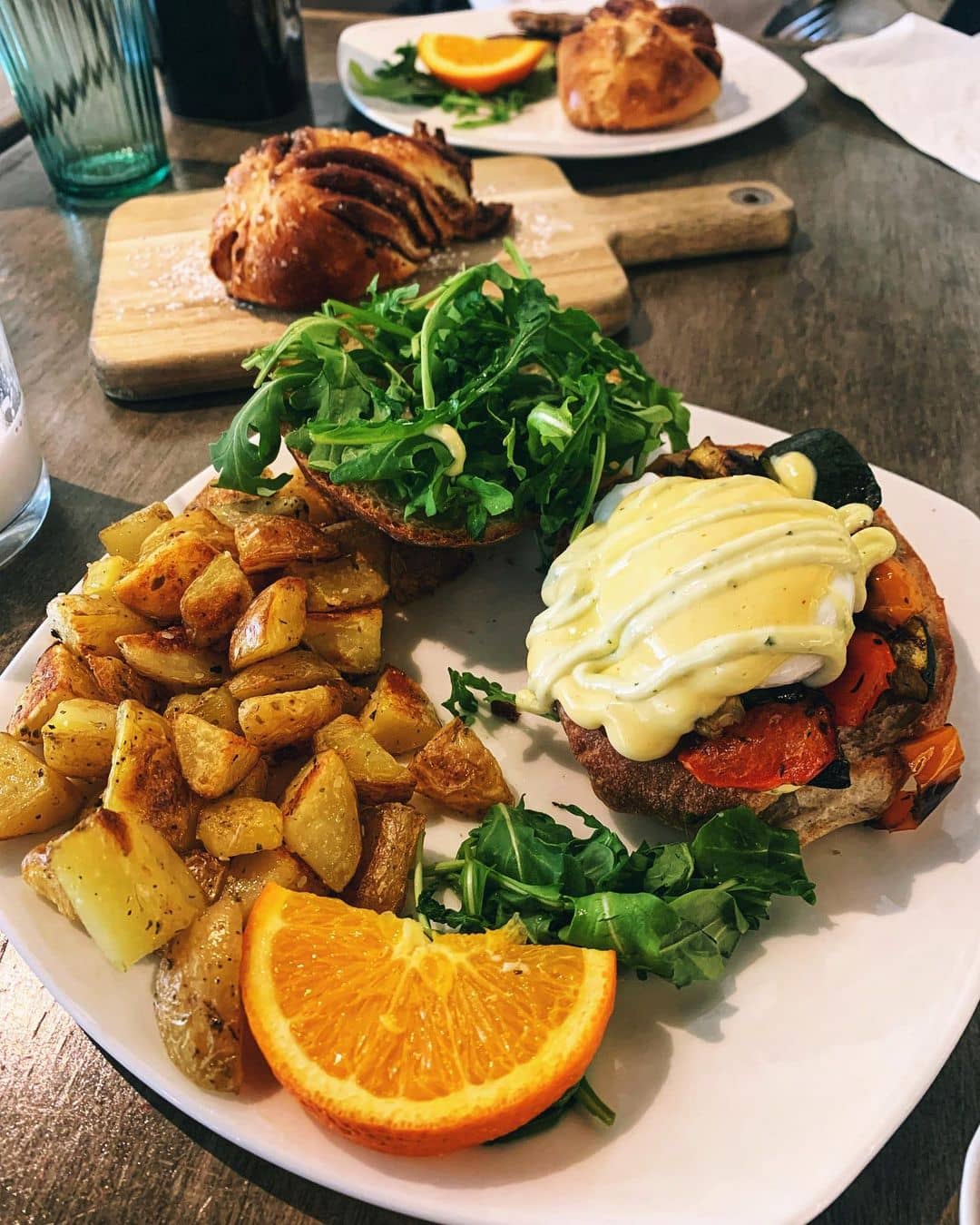 Serving fresh, seasonal, and homemade food, Juniper Cafe & Bistro is, without a doubt, "your local resource for fresh food and great coffee". Loved by the locals, this cozy brunch place is known to be one of the most kid-friendly places in the neighbourhood.
Right off the bat, start your brunch with fresh and warm scones served with honey or lavender butter and berry compote. This little appy is so fresh and delightful that it will hone your taste buds for what is to follow.
Juniper Cafe & Bistro's signature dish is the Juniper's Handheld Bennie. The bennie is built on a Portuguese water bun, which has a thick and crispy crust, and you can choose between spicy pulled pork, bacon, or roasted veggies for topping. There is a perfectly poached egg on top, covered with housemade hollandaise, and go with the chipotle aioli (instead of lemon-garlic aioli) for a little spice kick.
No wonder this breakfast/brunch sandwich is called a masterpiece!
For a gluten-free option, the Huevos Rancheros would be a great pick. The base here is fresh corn tortillas, which are topped with black beans, spicy rancheros sauce, feta cheese, and two poached eggs.​ This will be an absolute fiery meal for a brunch; make it hearty by adding some pulled pork to your plate.
What to order: Fresh scones, Juniper's Handheld Bennie, Huevos Rancheros
Address: 9514 – 87 Street, Edmonton, AB​​ T6C 3J1
Website | Instagram | Facebook
5. Toast Culture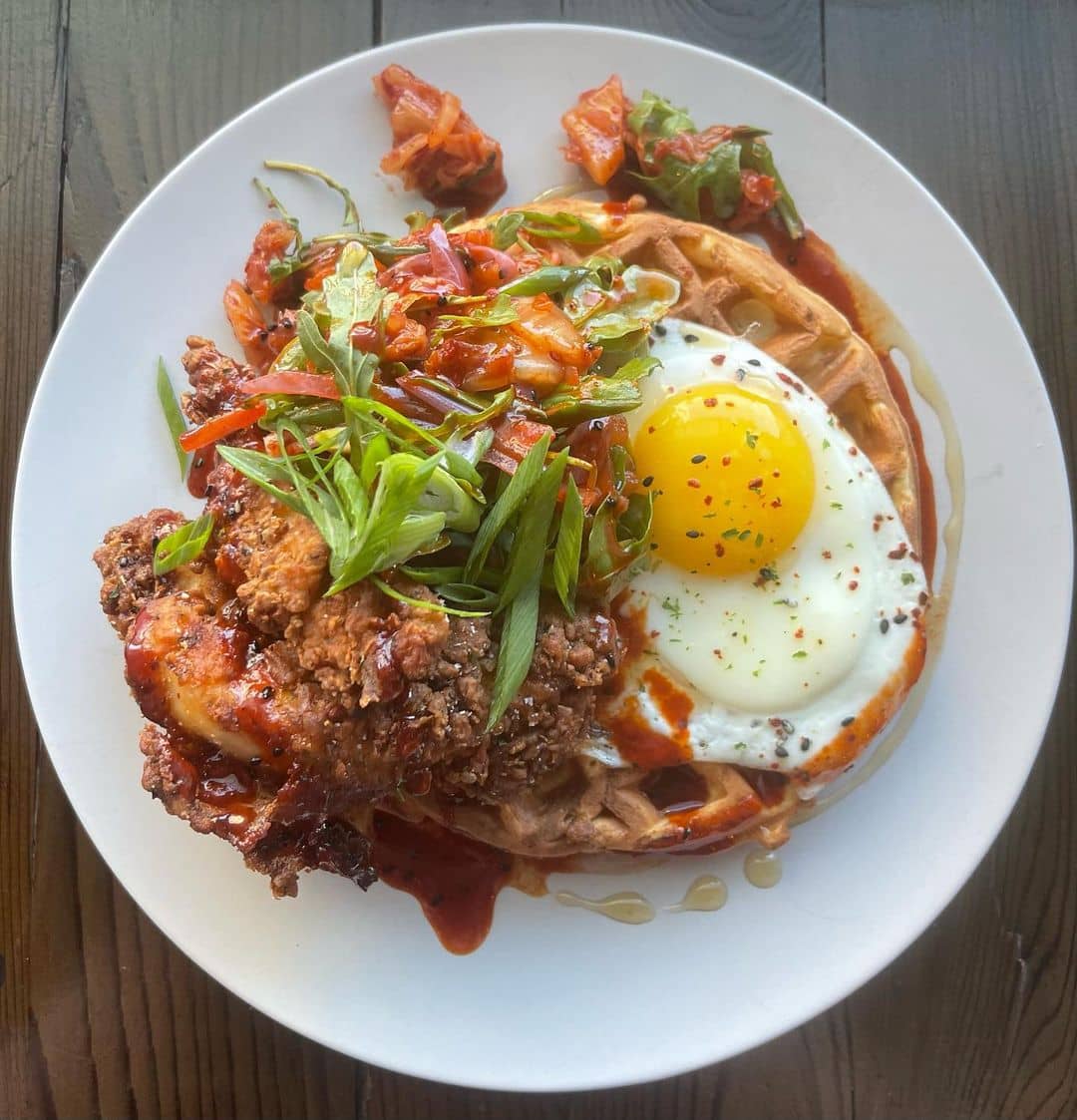 Toast Culture is a relatively new restaurant, or rather a toast bar, that offers satisfying, made-from-scratch food. With artisan breads from Bon Ton bakery and locally roasted coffee from the Colombian, you can never go wrong with toast and coffee at this cool space.
When you're at Toast Culture, of course, you should have their toast. But, where do you even start with so many varieties on the menu?
The Avocado B.L.T – with a thick slice of toasted sourdough as its base, this dish has avocado in plenty, capicola with a little saltiness, guacamole, arugula, and tomato, served with basil aioli. The flavors are well-balanced, and all the individual elements taste wonderful together.
Craving something other than toast? Try the Jerk Chicken & Bacon Naan Wrap. The jerk chicken comes packed with flavor and heat, and there is also a nice smokiness from both the chicken and the bacon.
Together with the creamy guacamole, unami-ness from the kimchi slaw, and everything wrapped in the soft naan, you get a completely packed meal.
What to order: Avocado B.L.T., Jerk Chicken & Bacon Naan Wrap
Address: 11965 Jasper Avenue NW, Edmonton, AB T5K 0P1
Website | Instagram | Facebook
6. Hathaway's Diner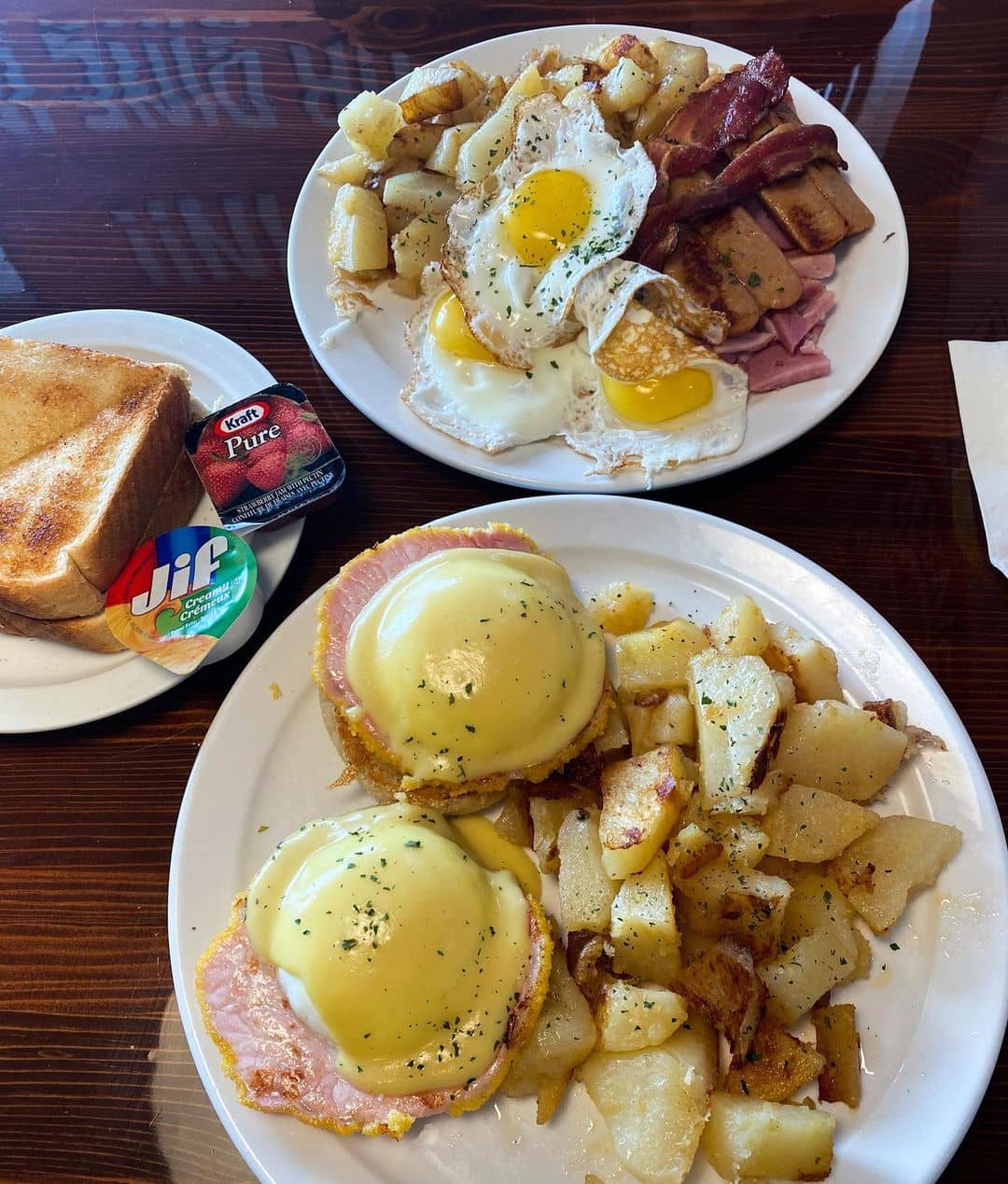 Known for their breakfast and burgers, Hathaway's Diner is a cozy little spot delivering homemade quality in every plate of food that comes out of their kitchen. Delicious food + quick & efficient service is always a recipe for success, and Hathaway's Diner does it effortlessly.
Recommended by regulars is the Sunrise Skillet. Perfectly crispy bacon, sauteed mushrooms, cheese, and green onions come on a bed of homemade hashbrowns, scrambled eggs, and toast – a complete brunch bundle!
The Hamburger Steak & Eggs comes with a fresh, homemade patty – perfectly seasoned; served alongside are grilled onion and 2 eggs in a style of your choosing, toast, and pancakes or their popular homemade hashbrowns.
When you visit Hathaway's Diner, you cannot leave without trying at least a slice of one or more of their fresh homemade pies. So, if there is any available during your brunch time, just go for it, you wouldn't regret all the extra calories!
What to order: Sunrise Skillet, Hamburger Steak & Eggs, Classic Benny
Address: 13225 132 Street NW, Edmonton, AB T5L 1R9
Website | Instagram | Facebook
7. Barb & Ernie's Old Country Inn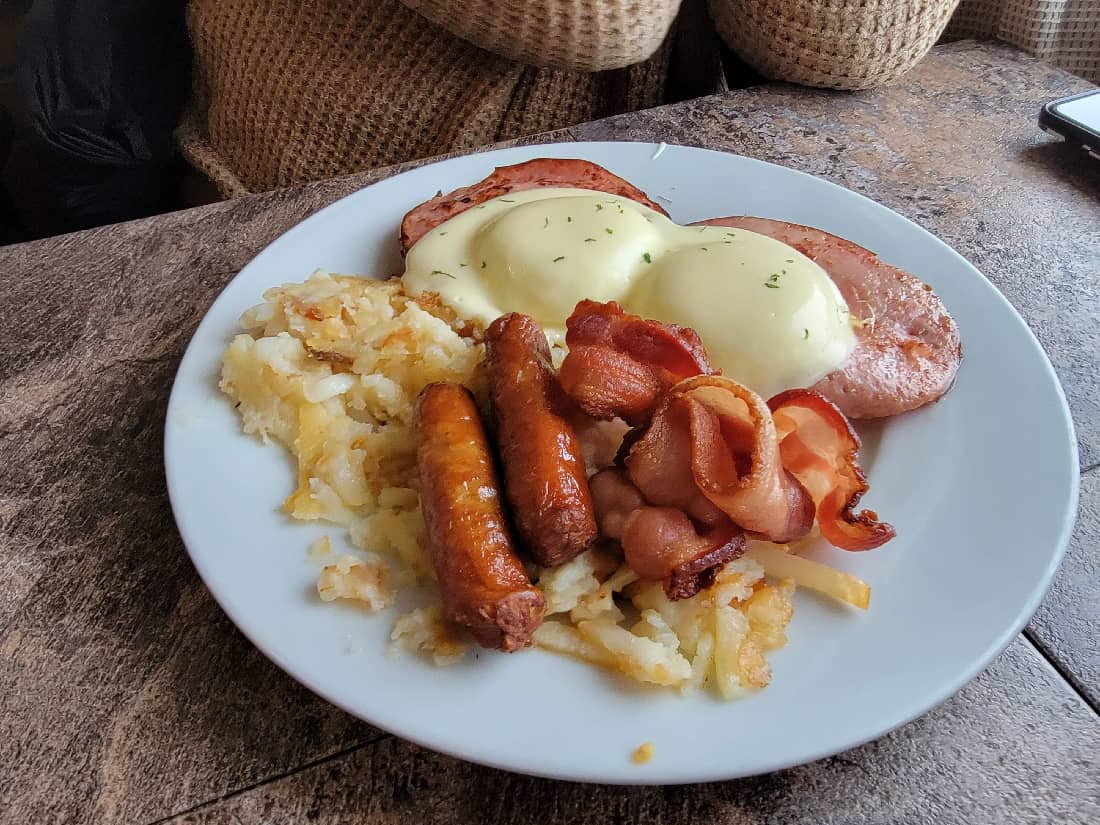 Barn & Ernie's Old Country Inn has been a go-to spot in Edmonton's food scene since 1975. This is a unique country-style restaurant that serves some amazing breakfast options, including many German specialties.
From their Meat n' Potato Breakfasts menu, the most popular choice is the Breaded Pork Schnitzel. The thin breaded pork chop is so inviting with its golden brown color, and is cooked crispy on the outside and juicy and tender on the inside.
No matter what you choose from this menu, it will be served with loads of sides, including eggs, baked beans, tomatoes, and toast.
Known to offer the biggest hot cakes in town, it would be a sin to not order from their Hotcakes menu. You could go with a Single Hotcake Plain and add a filling or topping of your choice, or their Belgian Waffle or Vegan Waffle, again with a filling of your choice.
If you prefer to go the German way, you have German Bacon Pancakes, which taste excellent with syrup and butter, or the German favorite Potato Pancakes served with apple sauce or sour cream.
What to order: Breaded Pork Schnitzel, Hotcake Plain, German Bacon Pancakes, Potato Pancakes
Address: 9906 – 72 Avenue NW, Edmonton, AB T6E 0Z3
8. Tiramisu Bistro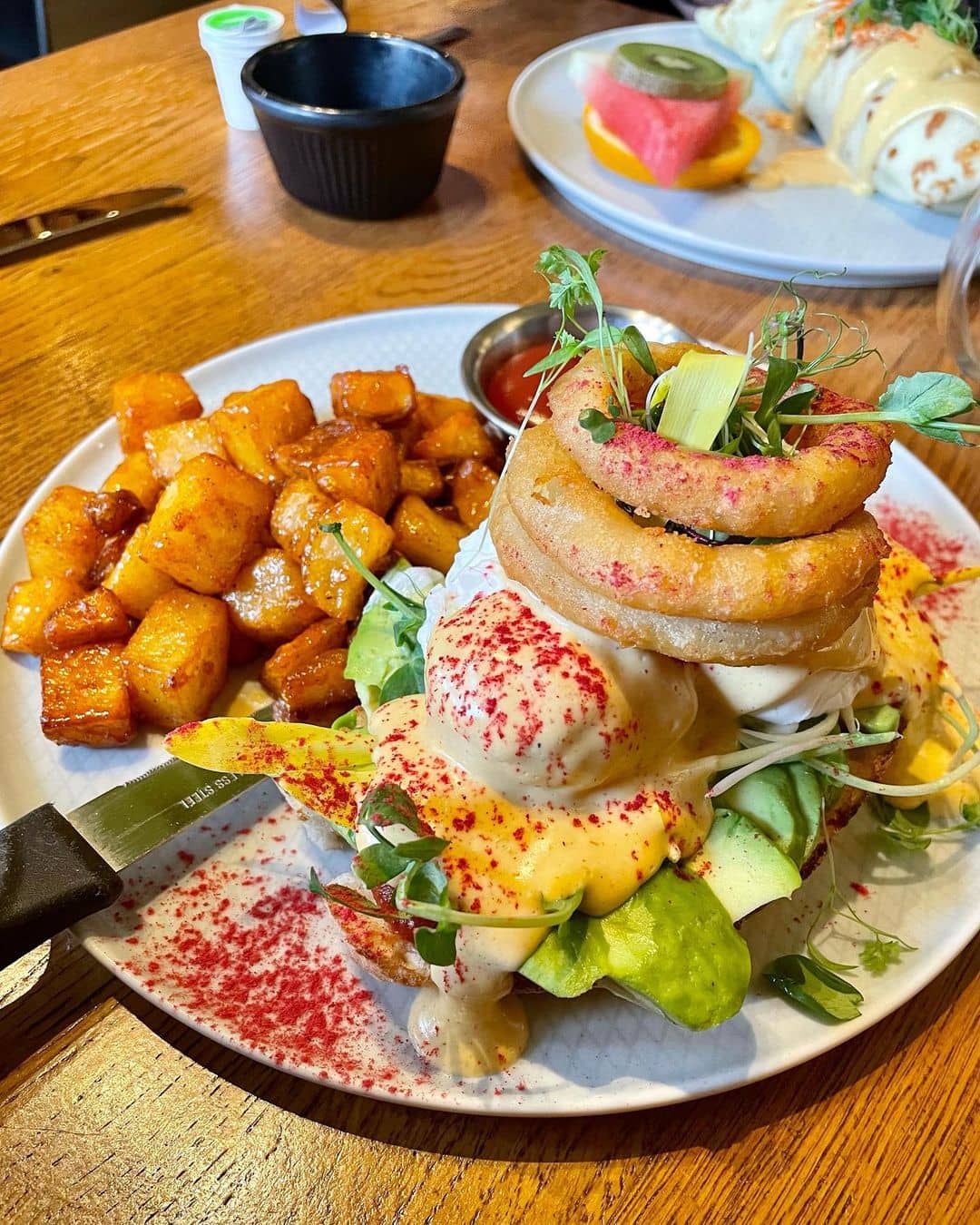 Evident from its name, Tiramisu Bistro serves traditional Italian food with a modern twist. Their menu focuses on fresh ingredients and locally sourced wine, and their brunch menu goes beyond just Italian. This is a place where you can enjoy brunch with your family and friends in a home-like atmosphere.
Bourbon Madagascar Cinnamon Brioche French Toast – basically, a cinnamon bun French toast that tastes out of this world. You get a house-made cinnamon bun that is baked, which gives it a slightly crispy exterior and chewy interior. While the bun itself is subtly sweet, you also get a raspberry compote with it for extra sweetness along with a tangy note.
The Eggs Benny here has an enjoyable spicy twist to it. It contains spicy Havarti cheese, prosciutto, poached eggs, and also spicy adobe hollandaise. The spicy hollandaise pairs well with the maple spiced potatoes on the side.
What to order: Bourbon Madagascar Cinnamon Brioche French Toast, Eggs Benny
Address: 10750 – 124 Street. Edmonton, AB T5M 0H1
Website | Instagram | Facebook
9. Sugarbowl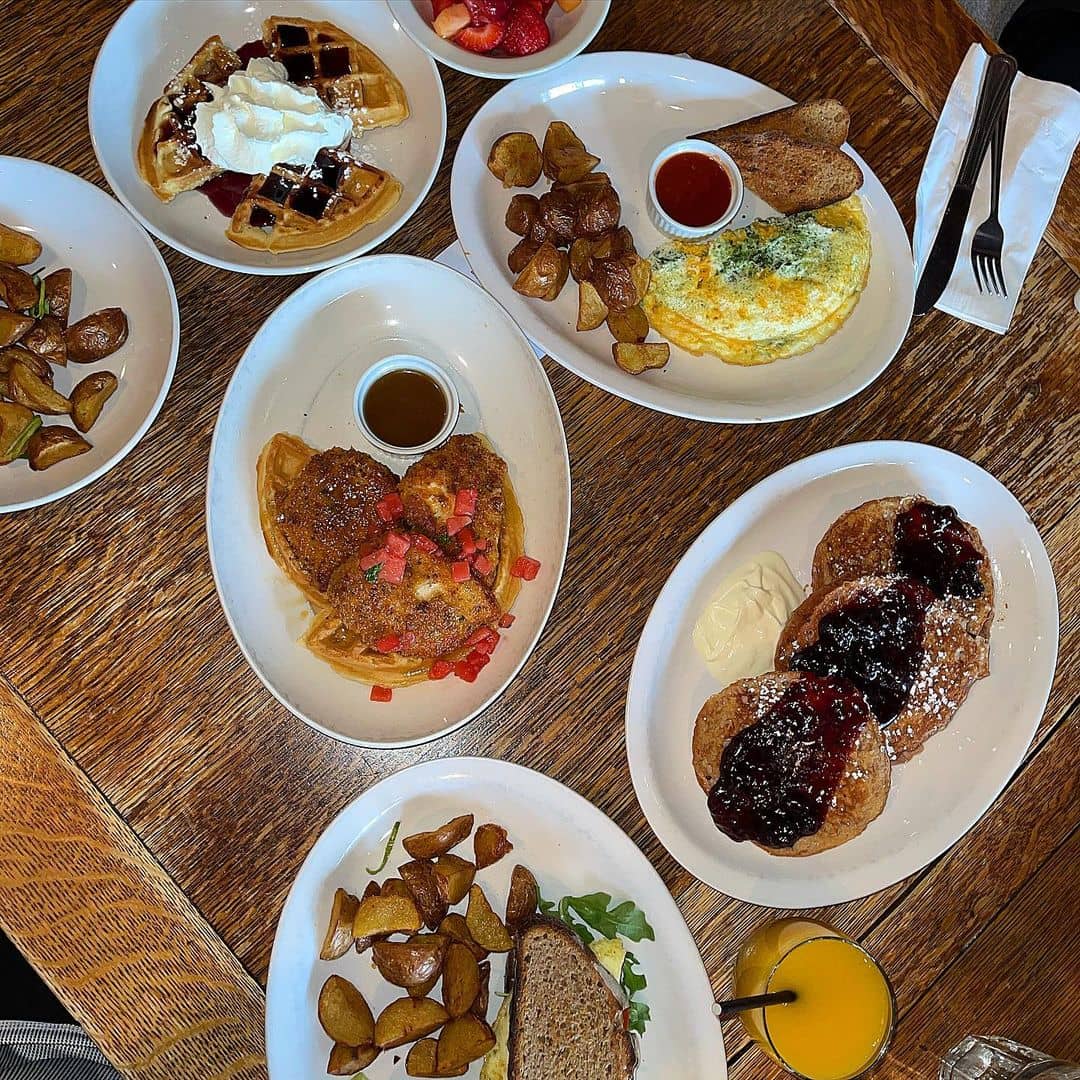 The Sugarbowl was once a burger joint and then a coffee house, is now a full-service bistro and pub that serves all three meals, in a retro western-style interior.
Among the best food items you can source in Edmonton, Sugarbowl's Cinnamon Bun holds a solid spot. Baked daily, these buns are huge, warm, pull apart effortlessly, and just melt in your mouth. The sticky cinnamon sugar in every layer of the buns makes for a messy yet memorable bite, in every single bite.
This Cinnamon Bun is legendary!
The Sugarbowl Benny substitutes traditional English muffin with house-made cornbread. The thick slice of cornbread comes topped with two slices of bacon and poached eggs, and everything is smothered in silky and creamy bechamel sauce.
Do check out their daily feature Breakfast Sandwich on the chalkboard.
Before we forget, pair your cinnamon bun with the House-Made Chai Latte – the aroma of the herbs and spices infused in the chai works beautifully with the sweet cinnamon bun.
What to order: Cinnamon Bun, Sugarbowl Benny, Breakfast Sandwich, House-Made Chai Latte
Address: 10922 88 Avenue NW, Edmonton, AB T6G 0Z1
Website | Instagram | Facebook
10. Canteen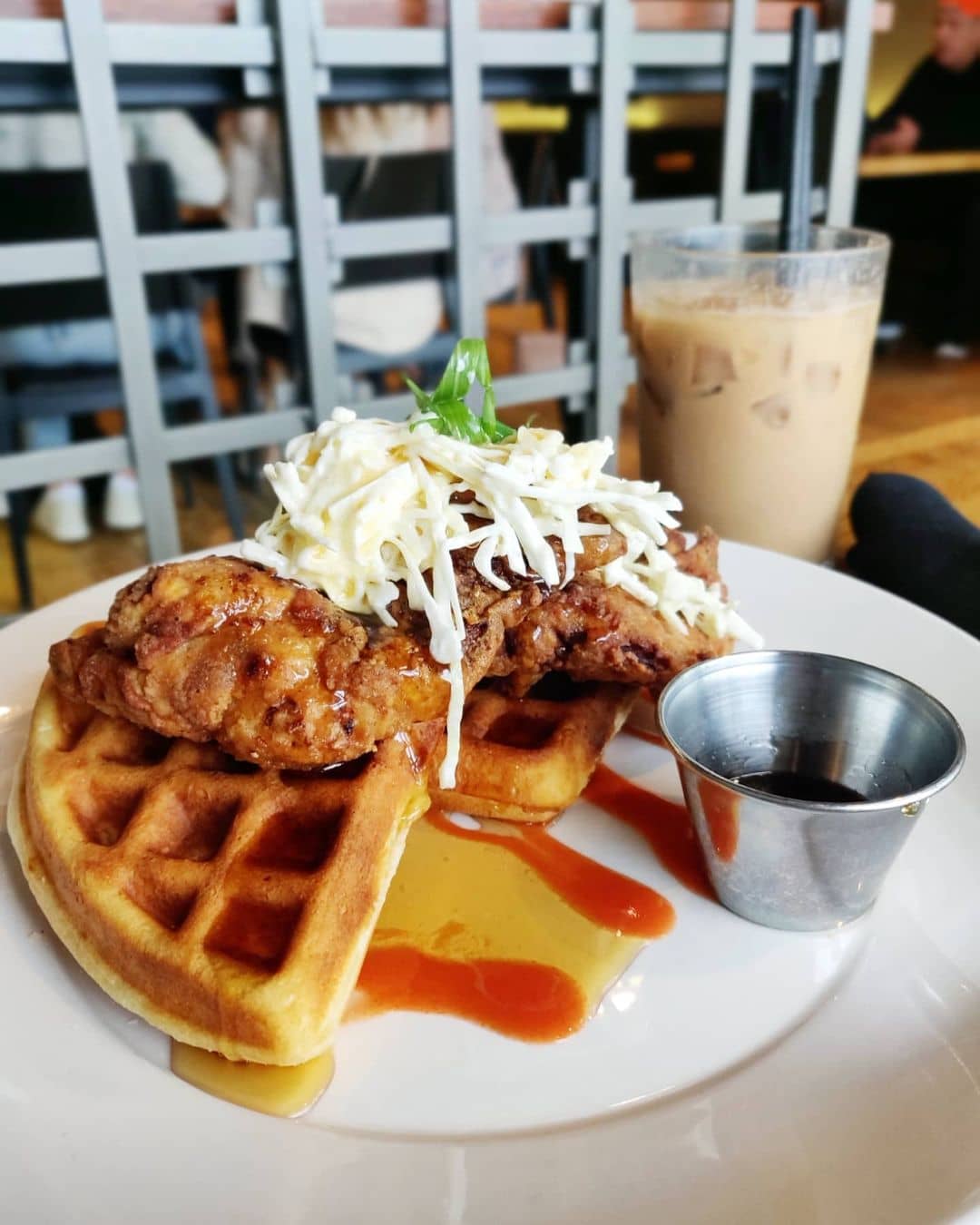 Canteen is a modern and casual frontier for brunch and dinner, serving internationally-inspired small plates and mains, along with craft beer, cocktails, and more. The place has a high-end yet friendly vibe, and this is the type of restaurant where your high expectations from seeing all the positive Google reviews will be met!
Kick-off your brunch at Canteen with the Waffle Stix small plate. It comes with cinnamon sugar and luscious chantilly cream, and obviously is finger-licking good!
A fine example of Canteen's unique and interesting menu is the Dutch Baby Pancake. Unlike your traditional pancake, this one looks and tastes like a combination of a pancake and a crepe. It is puffy and crunchy on the outside, and thin and chewy in the middle. Served with maple sage sausage and summer berry compote, this is easily an A+ brunch dish.
A non-traditional brunch item that will impress you is their Huevos Canteenos. You get a generous portion of tender pulled pork on your corn tortillas, which works hand-in-hand with the perfectly poached eggs. The addition of the avocado salsa, pico de gallo, and herbed ricotta will take you on a ride to flavor town!
What to order: Waffle Stix, Dutch Baby Pancake, Huevos Canteenos
Address: 10522 – 124 Street, Edmonton, AB T5N 1R9
Website | Instagram | Facebook
11. Whistling Kettle Cafe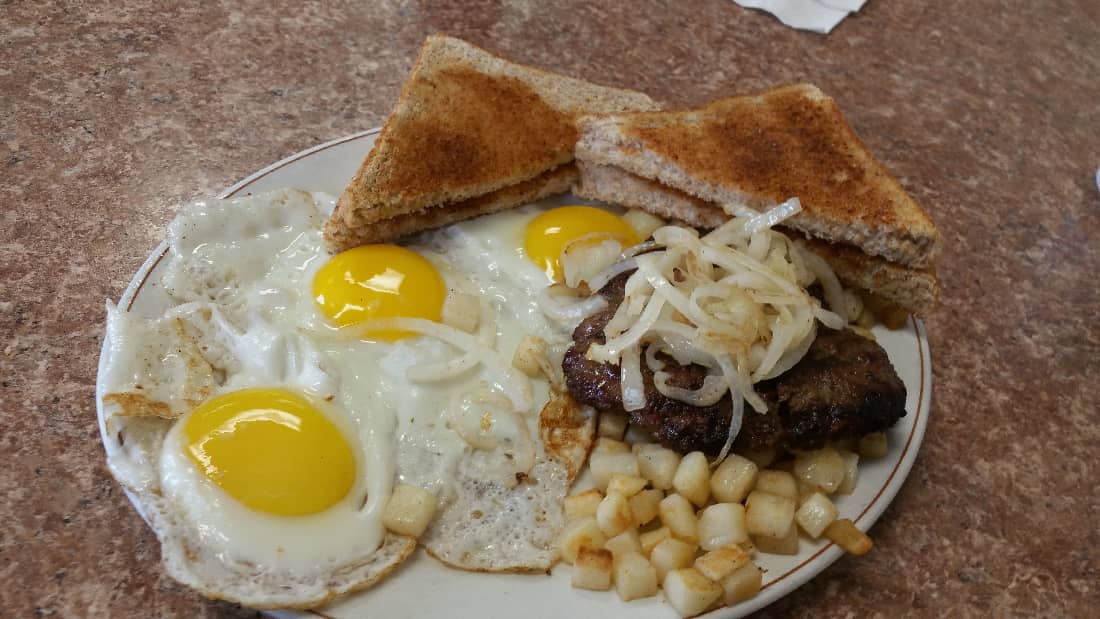 Whistling Kettle Cafe is a little hidden gem that has been around forever. Even with no website and super minimal social media presence, this diner manages to attract a crowd with its old-school charm, friendly service, and a great selection of breakfast/brunch items at affordable prices.
At a place like Whistling Kettle Cafe, you should always choose the day's specials. Here, you could do that by choosing off their white board with breakfast specials.
One of the popular choices is their French Toast – three slices of classic and traditional golden French toast, nothing fancy, but highly satisfying.
Served with toast and hash browns, their Vegetarian Scrambler, with two eggs, mushrooms, and more healthy stuff is ideal to share with a friend.
And if you're a steak-any-time-of-the-day kind of person, the Sirloin Steak and Eggs must be your choice. Juicy steak and eggs with toast and hash browns – picture perfect!
What to order: French Toast, Vegetarian Scrambler, Sirloin Steak and Eggs
Address: 13022 50 Street NW, Edmonton, AB T5A 4V9
12. Tasty Tom's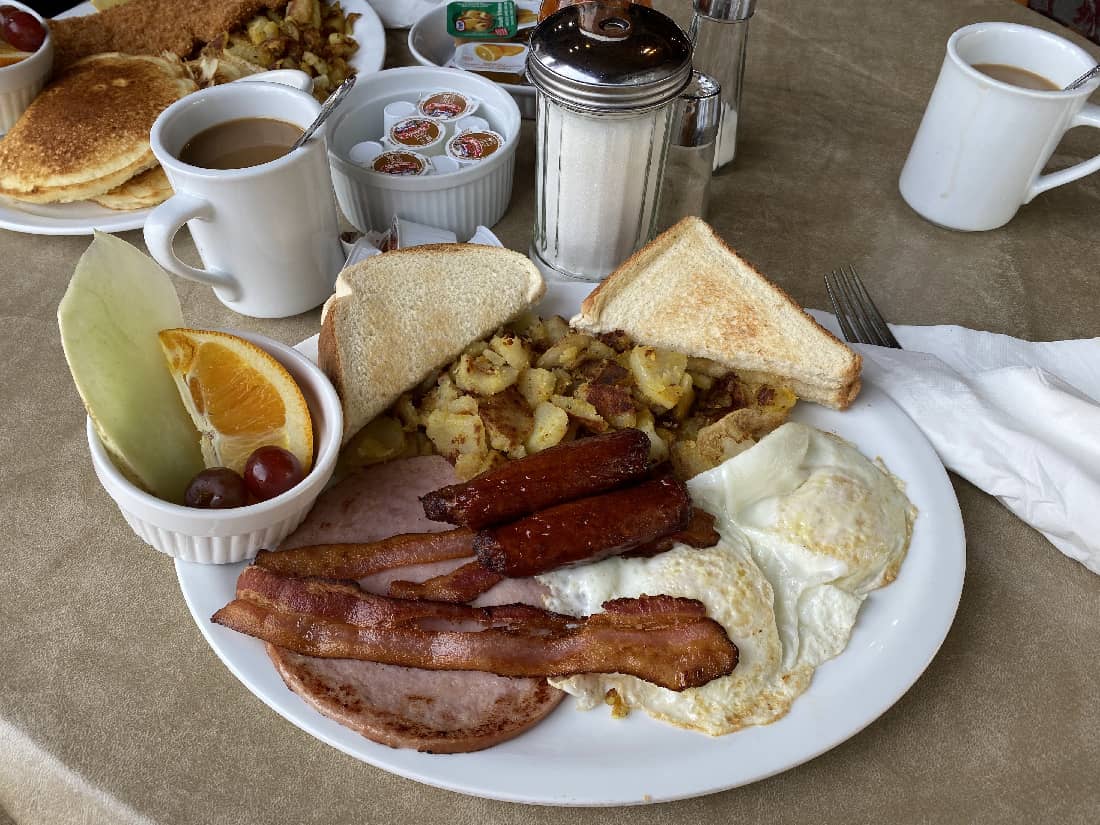 A family-style restaurant/diner, specializing in breakfast/brunch, with a cozy and retro atmosphere, featuring a bar counter, large portions, and pocket-friendly prices. That sums up Tasty Tom's!
Try Tasty Tom's new French Toast Sandwich. Beautifully golden, thick slices of French toast, sandwich-ing crispy bacon, scrambled eggs, and mozzarella cheese, topped with house-made caramel sauce – you will crave more!
This restaurant is famous for their Wiener Schnitzel. Served with pancakes, pan-fried potatoes, and fresh fruits, the meat is thin, juicy, and tender, with a crispy exterior.
At Tasty Tom's, they also serve HUGE omelettes (made with four eggs), and you can choose from different variants, like chilli-cheese, bruschetta, and more.
What to order: French Toast Sandwich, Wiener Schnitzel, Omelettes
Address: 9965 82 Avenue NW, Edmonton, AB T6E 1Z1
Apart from these incredible brunch spots, Edmonton also has a wide assortment of dynamic restaurants to show off.
Check out our best restaurants in Edmonton list to know more about the fascinating food journey you can experience in the city.
How We Create Our "Best" Lists
All Noms Magazine's "best" lists are created using multiple factors and signals to help readers find the best restaurants, things to do, and places to stay at. Some of these factors and signs include personal experiences, correspondence with locals, and compiling experiences from review sites.
Each list is also created to be balanced (in terms of price, cuisine type, ambiance, and more) as possible. This means that the lists are not specifically created in ranking order. You should be comfortable picking from any of the spots on the list and generally have a good time. But of course, YMMV (your mileage may vary) and everyone may have different experiences/palates.