Looking for the best coffee shops in Gastown? Well, you've come to the right place!
From homegrown cafes, serious roasters, and boutique cafes, Gastown coffee shops offer everything from lattes and macchiatos, to cold brews, double espressos, desserts, confectionery, and delicious light snacks.
So, for your next walk-in-off-the-street coffee experience, let the charming Gastown coffee shops wow you with their ambiance, expertise, and naturally… their coffee.
Here's a list of the best coffee shops in Gastown we've rounded up just for you.
1. Revolver Coffee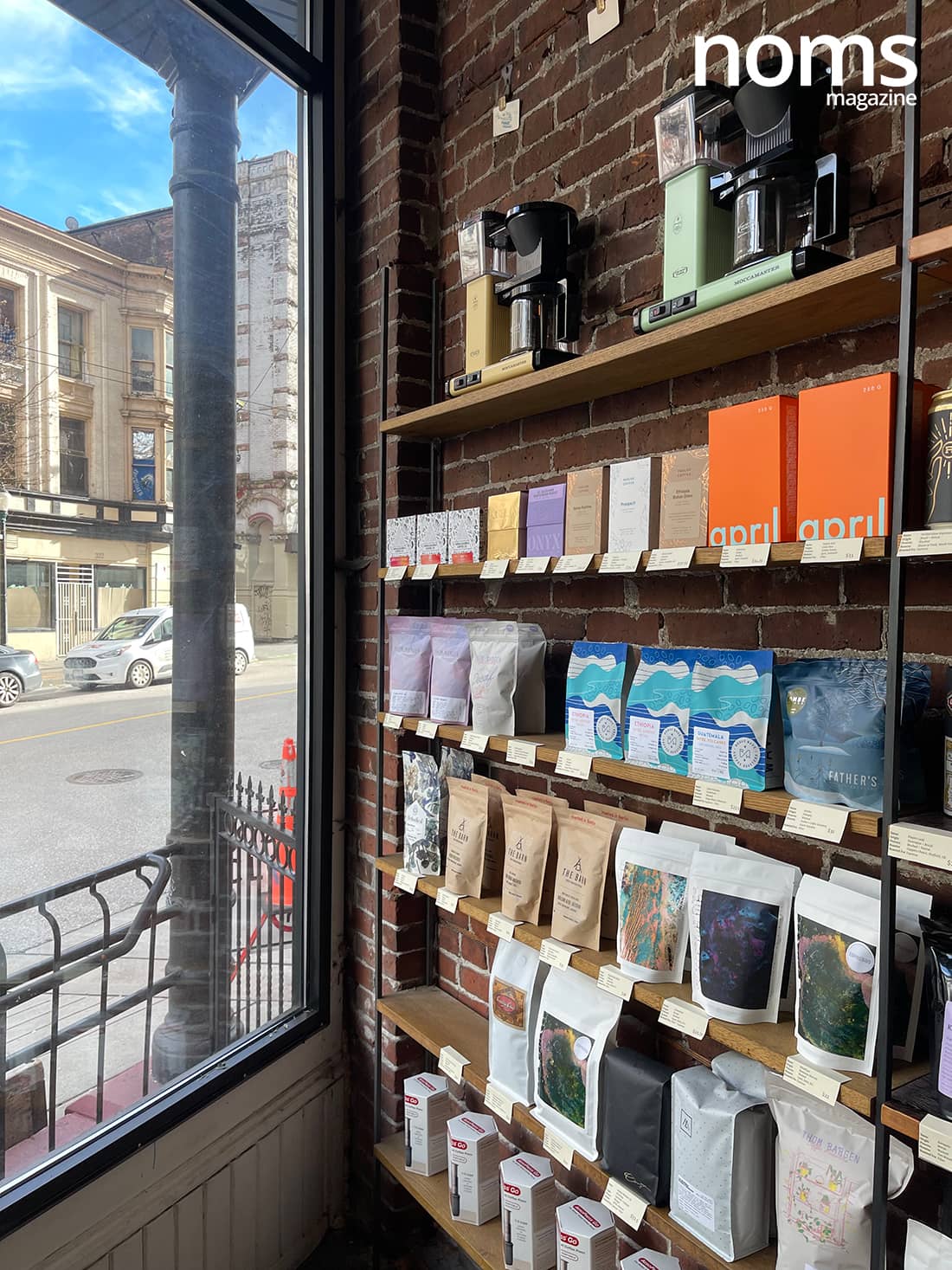 Revolver is crazy popular and it seems to be one of those never-dying Vancouver brands. Here you'll find some of the finest coffee, and coffee offer that is always rotating.
They source their beans from the best roasters around North America. Put this place on your bucket list especially if it's your first time in the city.
Watch out for their tasty latte with a perfect layer of micro-foam and eye-catching latte art. Order a flight of espresso and you get to choose from two out of the three options listed on the Espresso menu.
It can really get crowded during busy hours but the service is quick and friendly.
Revolver is also on our list of best coffee shops in Vancouver.
What to order: latte, espresso
Address: 325 Cambie St, Vancouver, BC V6B 2N4
Instagram | Facebook | Website
2. The Birds & The Beets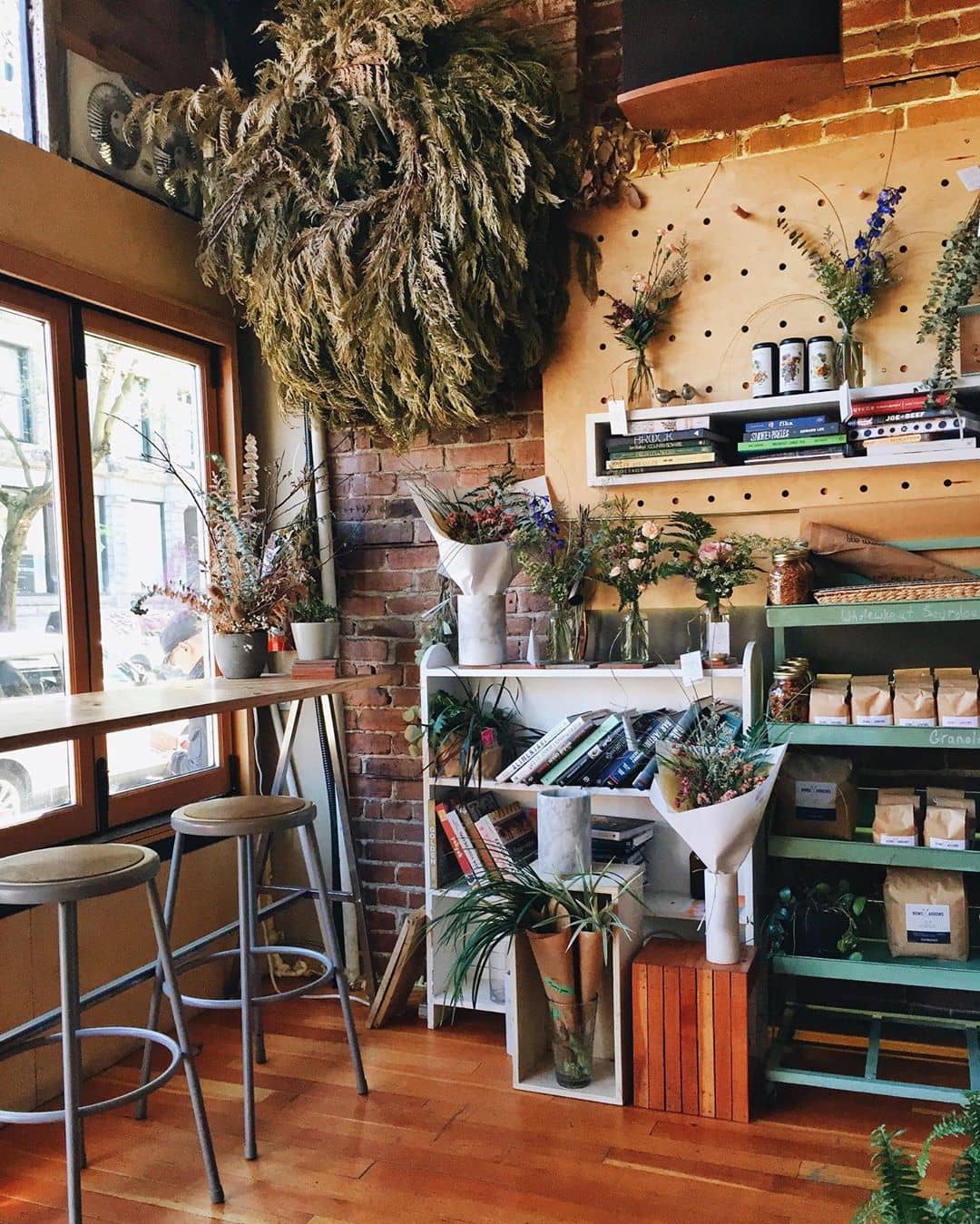 This is a popular and cozy brunch cafe spot, charmingly nestled in between Powell Street and Alexander Street.
A perfect spot to refresh from your Gastown touristing with a yummy cup of cappuccino with almond milk or perhaps an oat milk latte. It also has one of the most aesthetic corners in this part of the city.
If you are a vegan you may particularly like it here. They also serve some great food and their meals are hearty.
Get an avocado toast and feast on the pile of avocado you'll get.
What to order: cappuccino, oat milk latte, avocado toast, miso barley bowl
Address: 55 Powell St, Vancouver, BC V6A 1E9
Instagram | Facebook | Website
🍕 Foodie? Check out these top-rated Vancouver food tours!
3. Milano Espresso Lounge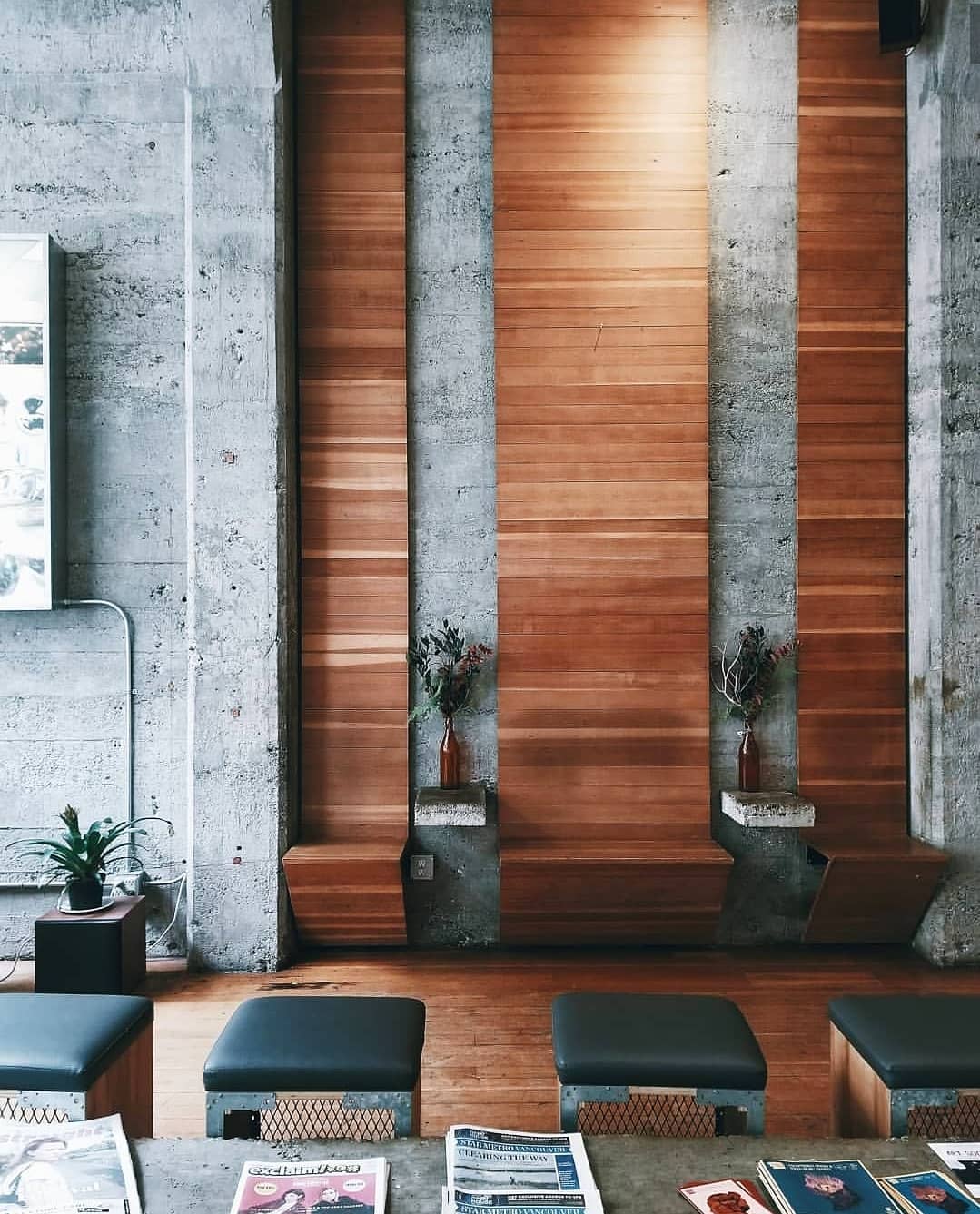 A great majority of coffee shops in Gastown serve 49th parallel, which is awesome, but in case you want different roasts, head to Milano Espresso Lounge.
Their La Futura blend is an award-winning, and it tastes fantastic both as a latte and espresso.
It's a cafe of ample size, with a sense of modern-industrial style, and since there are so many tables and chairs inside, you'll never feel like the place is too full of people.
It's in the center of the neighbourhood, but enough away from all its super-busy intersections so it doesn't feel too busy outside the cafe either.
What's also great here is that you can pick the espresso beans you'll have in your drink. The dark roast pour over is excellent.
They also serve amazing mocha, such as Hedgehog mocha (hazelnut) or Lavender white chocolate. If you like your mocha a bit on the sweet side, here it just might be the perfect deal for you.
What to order: dark roast pour over, Hedgehog mocha, Lavender white chocolate
Address: 36 Powell St, Vancouver, BC V6A 1E7
Instagram | Facebook | Website
4. Nemesis Coffee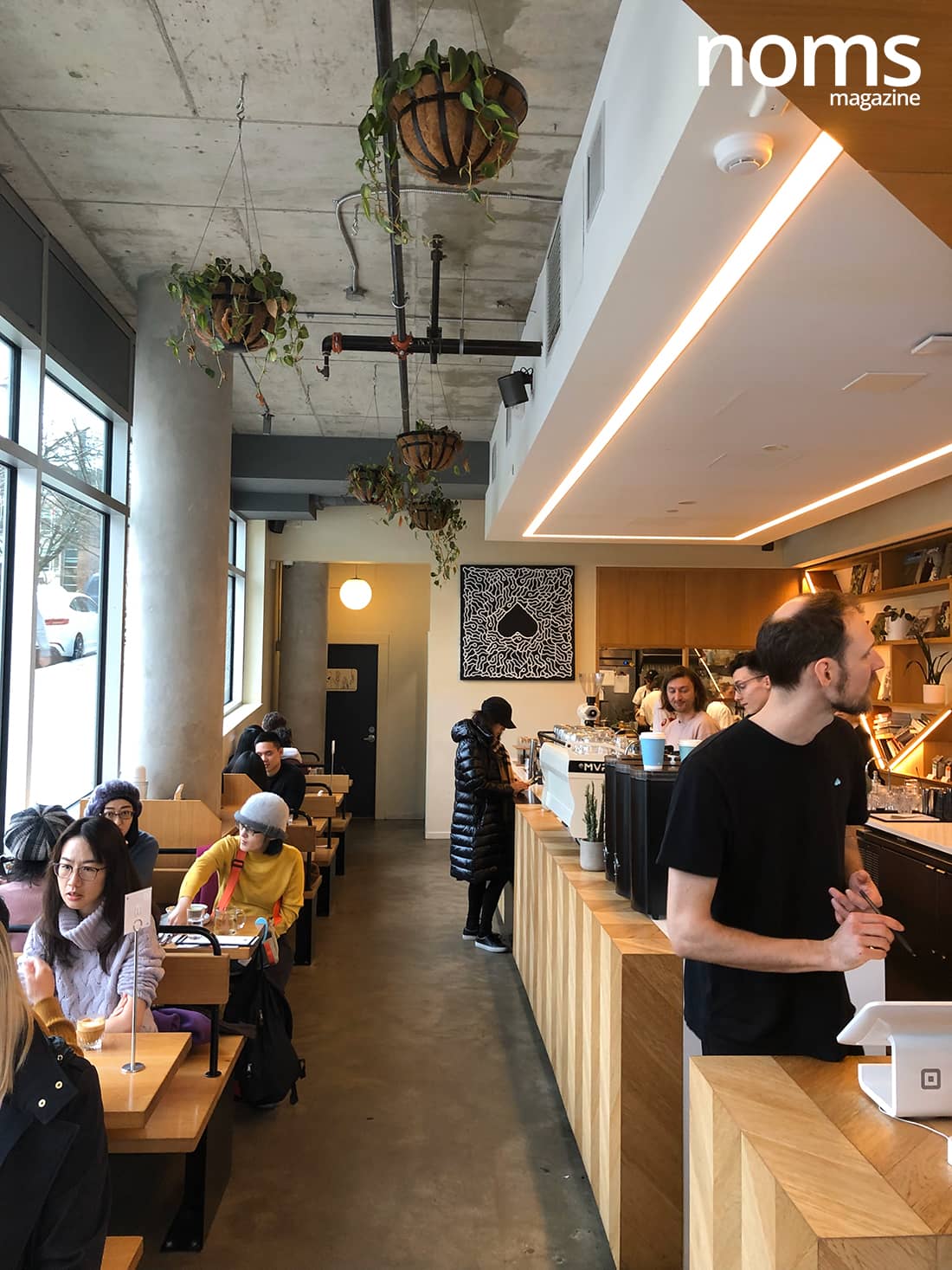 What can be better than coffee and cookies? It's coffee and cookies at Nemesis in Gastown.
Nemesis is one of the best coffee shops you can find in town and because their coffee is really special, coming from a rotating selection of beans.
Try some of their pour overs or some of their espresso. Combine your coffee with their stunningly luscious chocolate cookie.
And if you are a bit more hungry than that, a salad, avo or french toast will do it.
P.S. their Great Northern Way location is jaw-droppingly beautiful.
What to order: pour overs, espresso, chocolate cookie, salad, avo or french toast
Address: 302 W Hastings Street
Instagram | Facebook | Website
5. Nelson the Seagull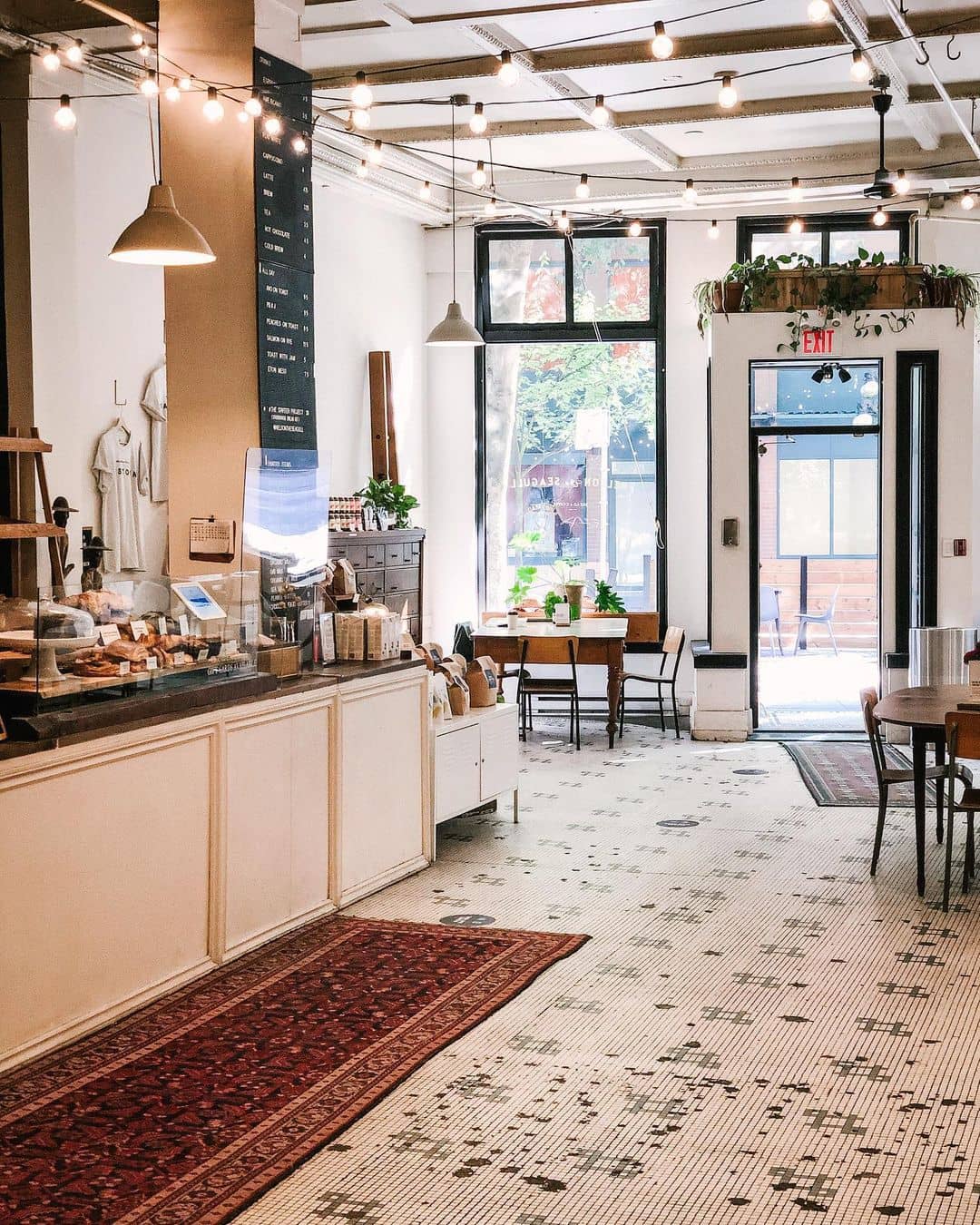 Nelson the Seagull is a chill coffee shop that alongside delectable coffee, serves some mouth-melting pastries as well. Get a coffee with oat milk or perhaps an iced americano.
At their open kitchen, you can catch the action and order fresh bread and tasty baked goods. But what they are best known for and what you really MUST have while at Nelson the Seagull is the avocado toast, which we listed in our ultimate Vancouver food bucket list.
For your sweet tooth, perhaps chocolate chunk macadamia nut oatmeal cookie or their warm, freshly-baked croissants.
Whether you were wondering about the name of the cafe, it's inspired by an old English folksong and Nelson Mandela.
What to order: avocado toast, chocolate chunk macadamia nut oatmeal cookie, croissants
Address: 315 Carrall St, Vancouver, BC V6A 0A7
Instagram | Facebook | Website
6. Timbertrain Coffee Roasters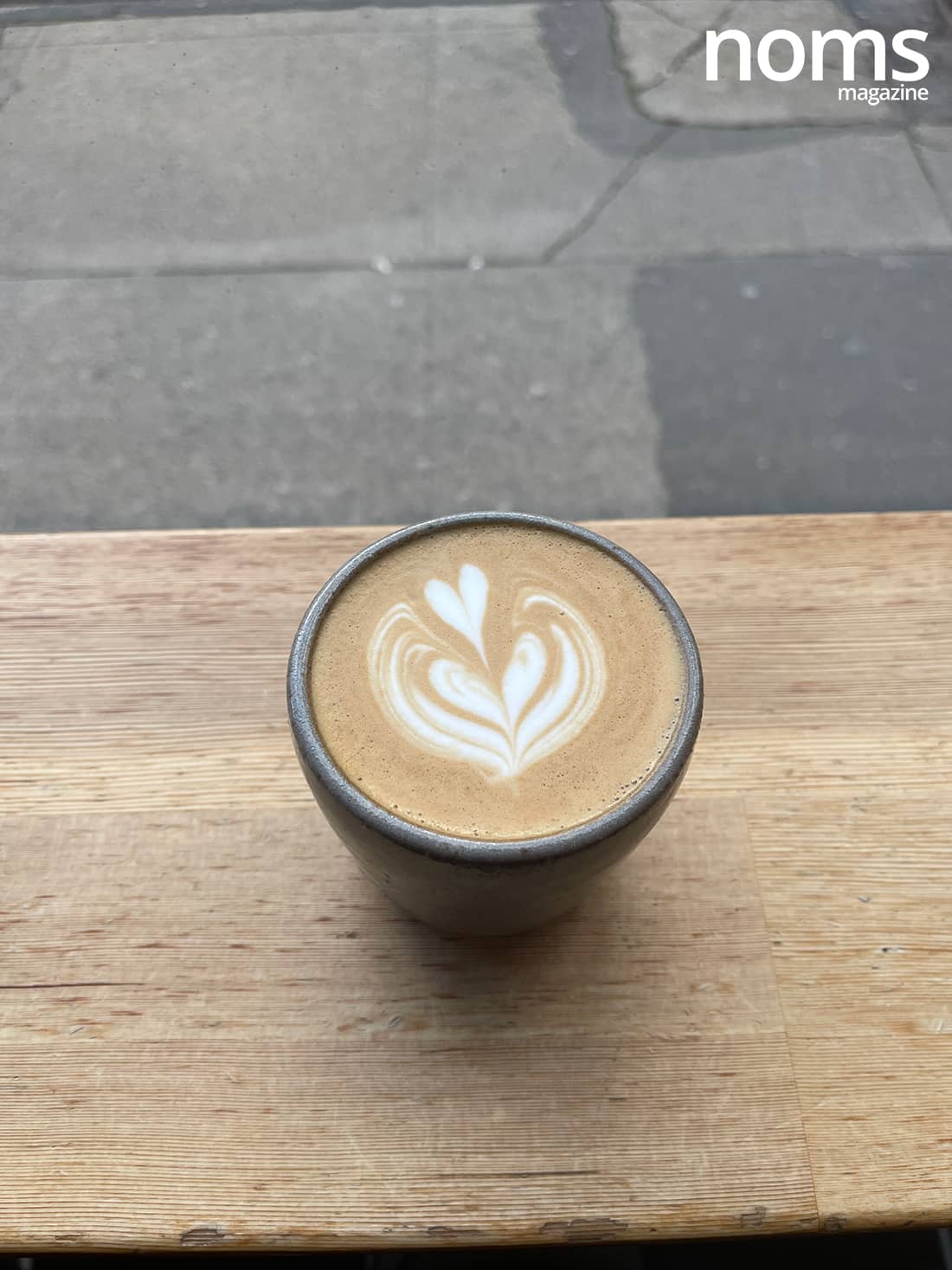 Timbertrain serves some of the best coffee in Vancouver, and it's on our best coffee shops in Vancouver list. The cafe is inside a big Gastown heritage building and the atmosphere is always jubilant.
Watch out for their fancy coffee machines that make brewing look like almost an attraction, and enjoy some of the best pour overs in town.
Their almond milk latte is perfect, stirring a smooth coffee flavour and some of the best almond milk you'll find around.
Their nitro cold brew with rich foma is also fantastic. Don't miss their marshmallow cookie either.
What to order: almond milk latte, nitro cold brew, marshmallow cookie
Address: 311 W Cordova St, Vancouver, BC V6B 4K2
Instagram | Facebook | Website
7. Saunter Coffee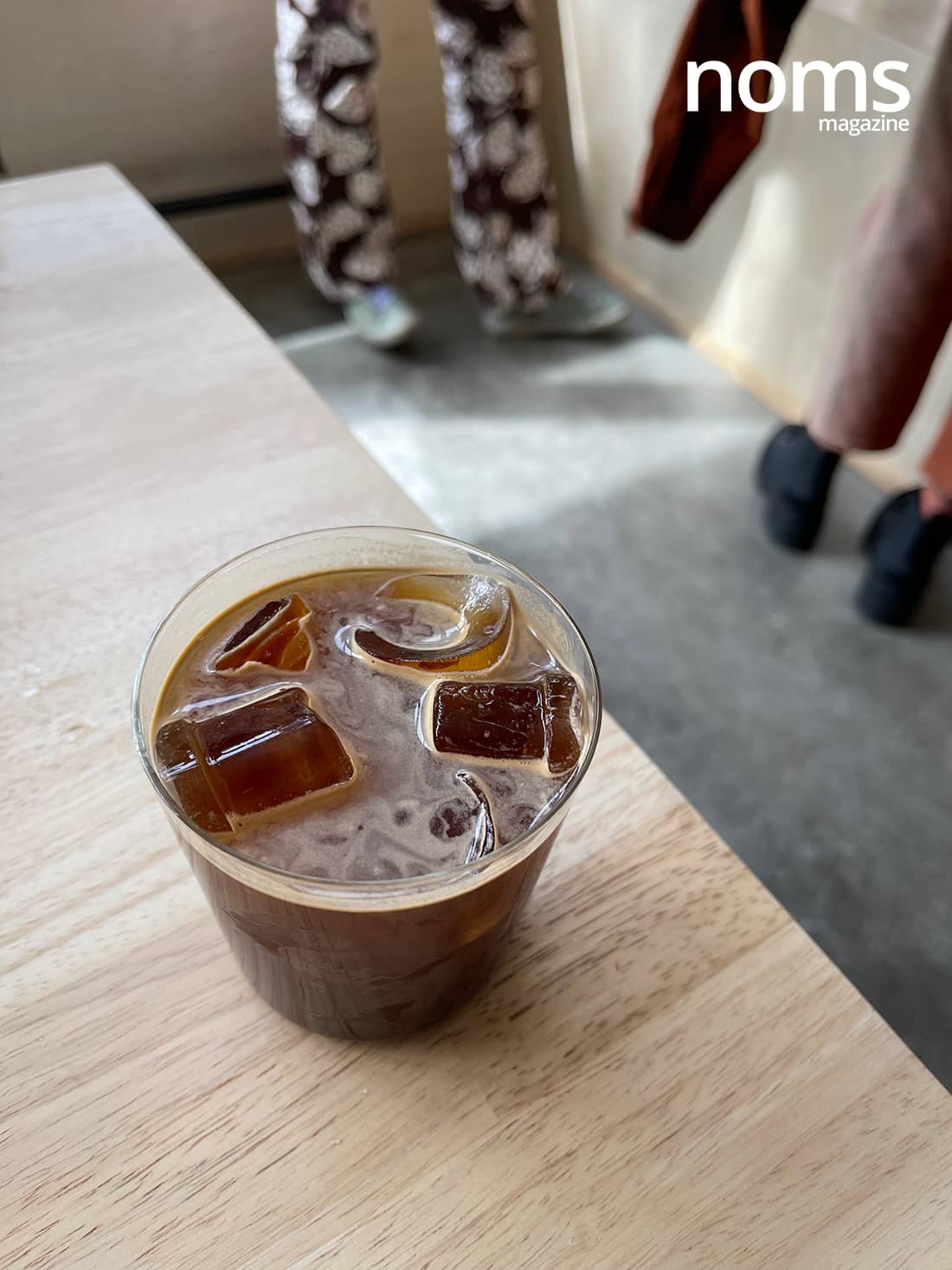 Located on West Pender Street in Downtown Vancouver, Saunter Coffee is a little hidden gem that is a must-see and must-taste!
The place is cozy and lovely in every corner, bonus a secret little garden patio at the back. Absolutely perfect for an escape from the city bustling!
They only serve classic drinks here at Saunter Coffee, but they are just delicious and so enjoyable.
Choose to start your day with some Iced Latte or Mocha, while the latte is super smooth and velvet with a fluffy texture, the mocha has a richer, sweeter, and nuttier taste that you'll love.
The Matcha Latte is also a must-try with a rich earthy taste, sweet nuttiness, and pleasant bitter undertones.
If you love the flavor of Earl Grey tea, you'll love the taste of a London Fog with savory hints of floral black tea swirled through it!
What to order: Iced Latte, London Fog, Matcha Latte, Mocha
Address: 321 W Pender St, Vancouver, BC V6B 1T3
8. Aiyaohno Cafe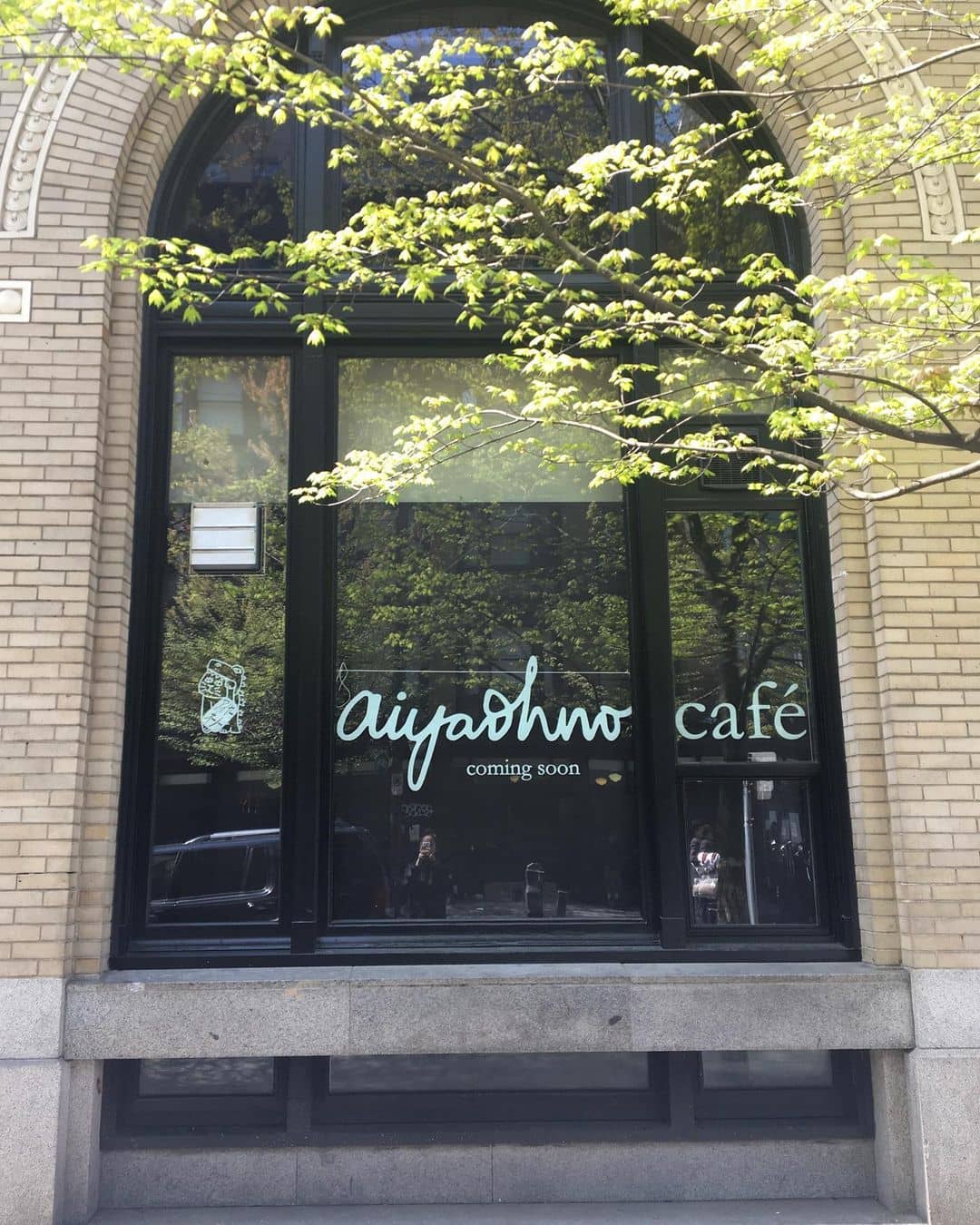 Located inside the historic BC Electric Railway Building, Aiyahohno Cafe is a rustic, cozy spot to enjoy your favorite cup of coffee, along with unique dishes ranging from vegan, and vegetarian, to pescatarian diets.
The atmosphere inside is relaxing, where plants oversized pottery, and raw wood countertops give the space a peaceful feel!
This place is best known for its Sakura Latte, which has a distinct salted flavour that mixed wonderfully with the floral notes of the cherry blossom.
You can also try their Iced Yuzu Ginger, which is super fresh and enjoyable, just the right one to cool down the heat!
Never miss their cookies, which are awesome, especially the Matcha Pecan, Chocolate Roasted Walnut, and Birseed. Their Birdseed cookies are pretty cool with oatmeal, raisin, hemp seeds, pumpkin seeds, and the secret ingredient: millet!
They all have a satisfying chew in the center surrounded by a slightly crispy exterior. You just can't say no!
What to order: Sakura Latte, Yuzu Ginger Ice Drinks, Matcha Pecan Cookie, Chocolate Roasted Walnut Cookie, Birseed Cookie
Address: 425 Carrall St, Vancouver, BC V6B 6E3
Website | Instagram | Facebook
9. Di Beppe Caffe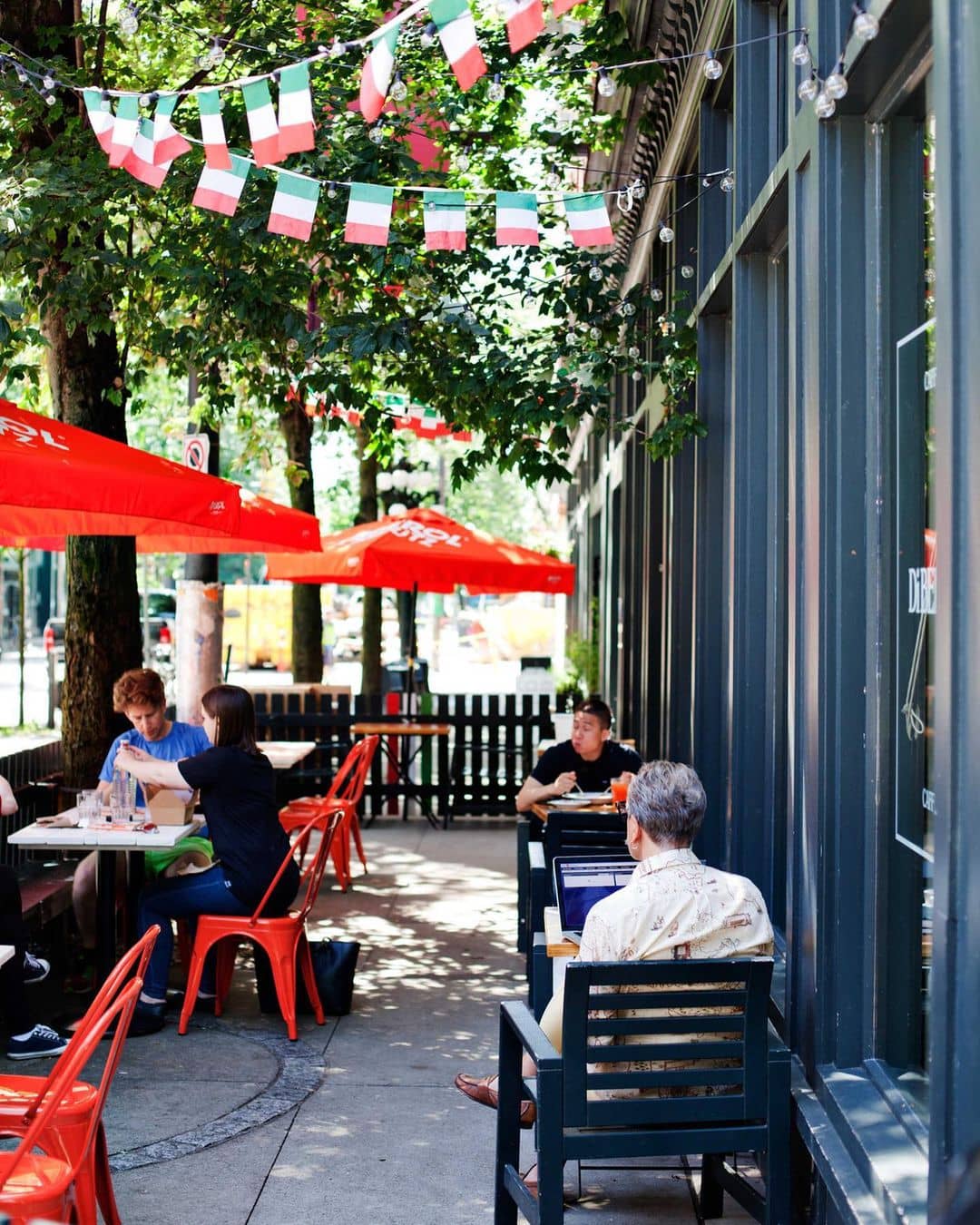 Di Beppe Caffe is a charming Italian cafe that serves coffee, sandwiches, salads, pastries, and other small bites in a beautiful European-inspired space.
The cafe sits on the corner of Cordova and Carall Street, from which you can have a supreme view of Gastown.
There's no better place to enjoy your people-watching while sipping on your favourite cup of coffee than Di Beppe Caffe!
In the morning, this place is open for espresso, transitioning into a wine bar by night. So if you're coming by day, make sure you'll get the classic Cappuccino, which has a cute head of foam with a meticulous espresso edge and is also served with an almond cookie.
The Affogato is no less stunning with soft serve ice cream drowned in a shot of espresso and dashed with cocoa powder.
Don't hesitate to stay for lunch as Di Beppe Caffe's sandwiches are out of this world! People's favourite is the Mortadella Sandwich, which has the richness and complex flavors of funky, cured meat and quality melted cheese. Yummy!
What to order: Cappuccino, Affogato, Mortadella Sandwich, Salumi Pizza, Antipasti Salad
Address: 2 W Cordova St, Vancouver, BC V6B 1C9
Website | Instagram | Facebook
10. Cafe Kitsune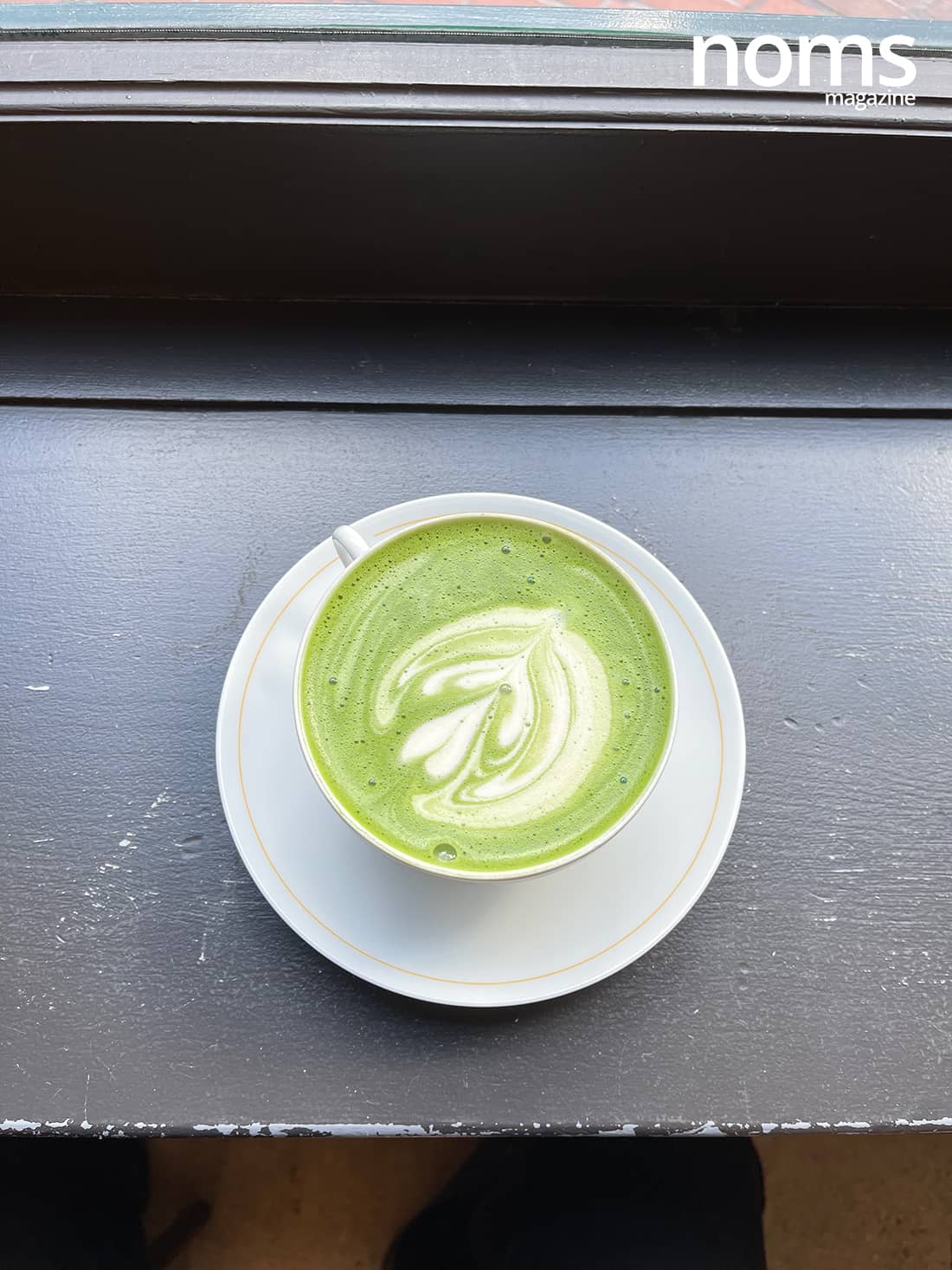 How to get a taste of Parisian café culture right here in Vancouver? Pay a visit to Cafe Kitsune!
This lovely spot has immediately been the favorite hangout spot for locals since it first opened its door, not only for great coffee, and chic ambiance but buttery pastries and delightful lunch plates as well!
You can settle down with some classic options like latte or cappuccino, they are good enough to light up your day.
Or you can make try their Turmeric Latte, which has a very mild earthy, and slightly bitter taste that is hard to describe. But trust us, it's worth your pennies!
In case you still have some time for a plated lunch, we would highly recommend the Smoked Salmon Croque Madame, which is topped with a fried egg and comes with an organic green salad with carrot ginger vinaigrette.
The texture can really surprise you and the taste is simply phenomenal! Satisfy your sweet tooth with the famous Butter Croissant and Black Sesame Cruffin, they have the best of the treats in the city!
What to order: Turmeric Latte, Iced Matcha Latte, Butter Croissant, Black Sesame Cruffin, Smoked Salmon Croque Madame
Address: 157 Water St, Vancouver, BC V6B 1A7
Website | Instagram | Facebook
11. Purebread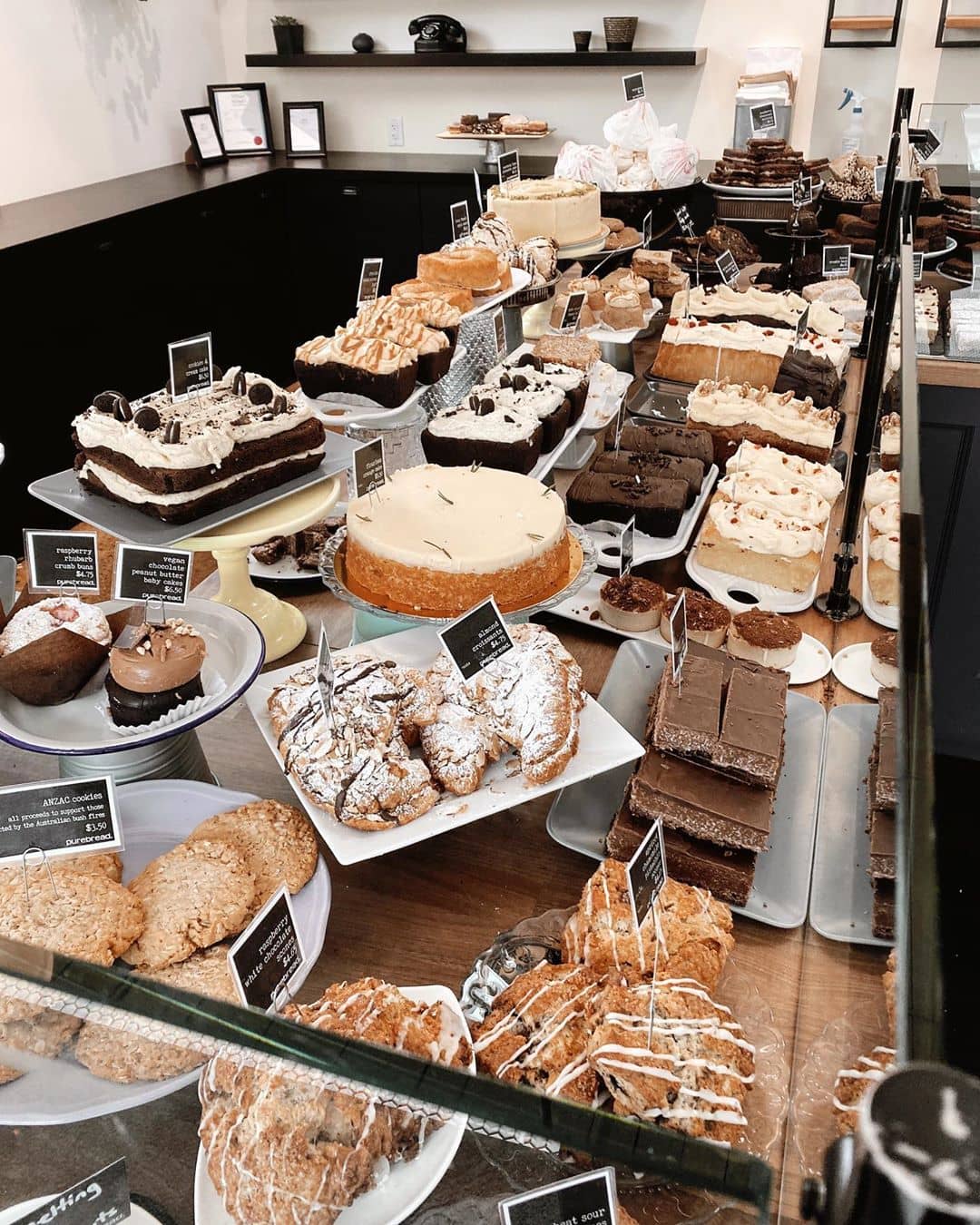 This Gastown location is a glorious deliciousness of pastries, of creme brulee buns which make a cracking sound as you take a bite, of butter tart that is flawlessly crumbly but not extra luscious, of massive amounts of pastries abundantly glazed with fruits or frostings. And whatnot.
So, you can have a brunch + coffee at Nemesis or any of the other Gastown coffee shops and brunch spots and then drop by at Purebread and satisfy your sweet tooth and pastry cravings (or just come directly here).
Besides the incredible spread of baked goods, anticipate a lovely decorated venue and an overwhelming, all-consuming smell of vanilla and baking.
What to order: creme brulee buns, butter tart
Address: 159 W Hastings St, Vancouver, BC V6B 1H5
Well, there you have it, the best Gastown coffee shops for your next caffeine fix! We hope you visit them all and enjoy the great coffee.
Looking for great spots to eat at? Well check out our picks of the best restaurants in Vancouver!
How We Create Our "Best" Lists
All Noms Magazine's "best" lists are created using multiple factors and signals to help readers find the best restaurants, things to do, and places to stay at. Some of these factors and signs include personal experiences, correspondence with locals, and compiling experiences from review sites.
Each list is also created to be balanced (in terms of price, cuisine type, ambiance, and more) as possible. This means that the lists are not specifically created in ranking order. You should be comfortable picking from any of the spots on the list and generally have a good time. But of course, YMMV (your mileage may vary) and everyone may have different experiences/palates.