Looking for the best coffee shops in Portland? Well, you're in the right place!
When it comes to coffee culture, Portland is well known for its contribution and innovations. And for that reason, coffee lovers will be spoiled with options when they are in the city.
So whether you're looking for a standard pour over or something a bit more special, there's a cafe in Portland that you will fall in love with.
To make your life easier, we've curated a list that will fill you in on all the details you need to know on the 12 best coffee shops in Portland!
This article contains affiliate links where we may get a small commission if you click on the link and purchase. No extra cost is added to you.
☕️ Check out this guided coffee & donut tour around Portland!
1. Ovation Coffee & Tea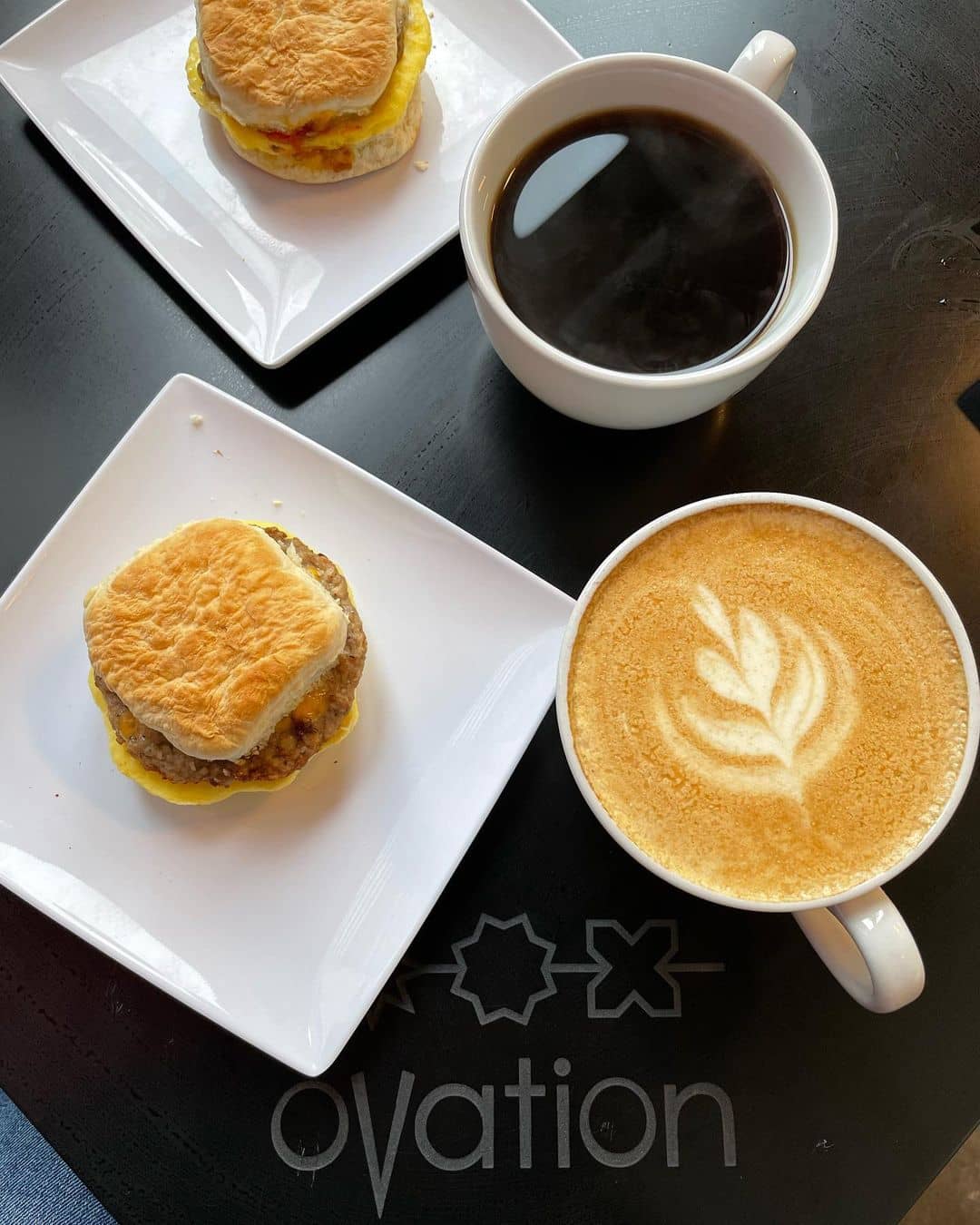 Ovation Coffee & Tea is Portland's modern & aesthetic-looking coffee shop that has a unique twist to the usual coffee shops.
Moroccan coffee is what they're known for and they make sure that they serve the finest Morrocan teas and coffee ever.
Situated in an exquisite residential area, this lovely coffee shop highlights a comfy atmosphere with its glass-walled interior.
When it comes to magnificently crafted drinks and a ravishing ambiance, indeed Ovation Coffee & Tea is the blueprint! 
What the people come here for the most is their Moroccan Mint Tea. The Morrocan influence hits especially strong with its notoriously sweet taste with a dash of pungency that kicks in smoothly.
Coming in a little ornate teapot that adds to the whole Morroccon vibe, it's one of their cutest drinks that will urge you to snap an Instagram photo! 
For another top-grade drink, their Pistachio Latte is the drink you'll never regret. That ​​tasty nutty and lightly sweet flavor does the trick in giving you a heavenly-like latte.
Now for their homemade scones, don't miss out on its fresh baked goodness. Specifically, their Coconut Scone and Pumpkin Scone. It's a masterpiece.
What to order: Moroccan Mint Tea, Pistachio Latte, Coconut Scone, and Pumpkin Scone.
Address:
-Pearl District 941 NW Overton St, Portland, OR
-South Waterfront 3730 S Bond Ave, Portland, OR
Website | Instagram | Facebook
2. Heart Coffee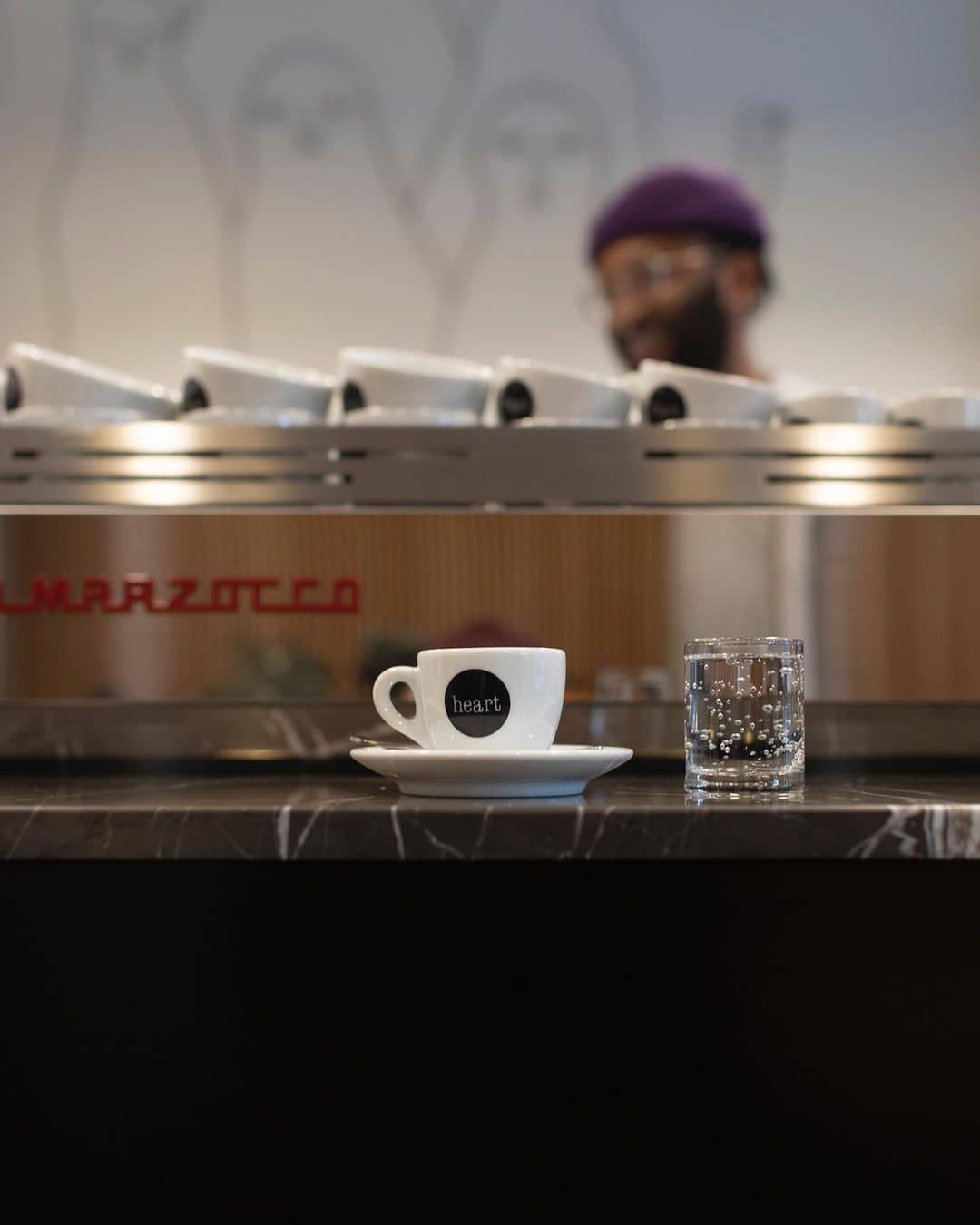 Looking for a bustling coffee shop serving sophistication in their intricate espresso drinks? Heart Coffee is the place to go.
What makes this place a crowd-favorite is its minimalist interior which gives its customers a snug feeling.
Quality pastries and a 10/10 ambiance, drop by here and let that phenomenal coffee and atmosphere amaze you. 
Heart Coffee's Stereo Blend Espresso never fails the crowd because of its strong notes of nougat.
Not only that but the heat is just right and the strength of caffeine hits the spot for all coffee lovers. Ordering this will take you to a whole new level of smoothness, that's for sure. 
Try out their Vanilla Latte too for some marshmallowy delight on your palate. The caffeine still makes an impact but is overwhelmed by a sweet pinch that's perfect for the taste.
With their coffee, it's never complete with some pastries. 
Their blockbuster pastry that's bound to make you drool all over is their Scandinavian Cardamom Cinnamon Roll, a traditional Swedish gem and their Pistachio-Rose Croissant, a dream-like pastry filled with pistachio and cardamom cream slathered with some rose syrup glaze!
What to order: Stereo Blend Espresso, Vanilla Latte, Scandinavian Cardamom Cinnamon Roll, and Pistachio-Rose Croissant.
Address: 2211 E Burnside St, Portland, OR
Website | Instagram | Facebook
3. Tov Coffee & Tea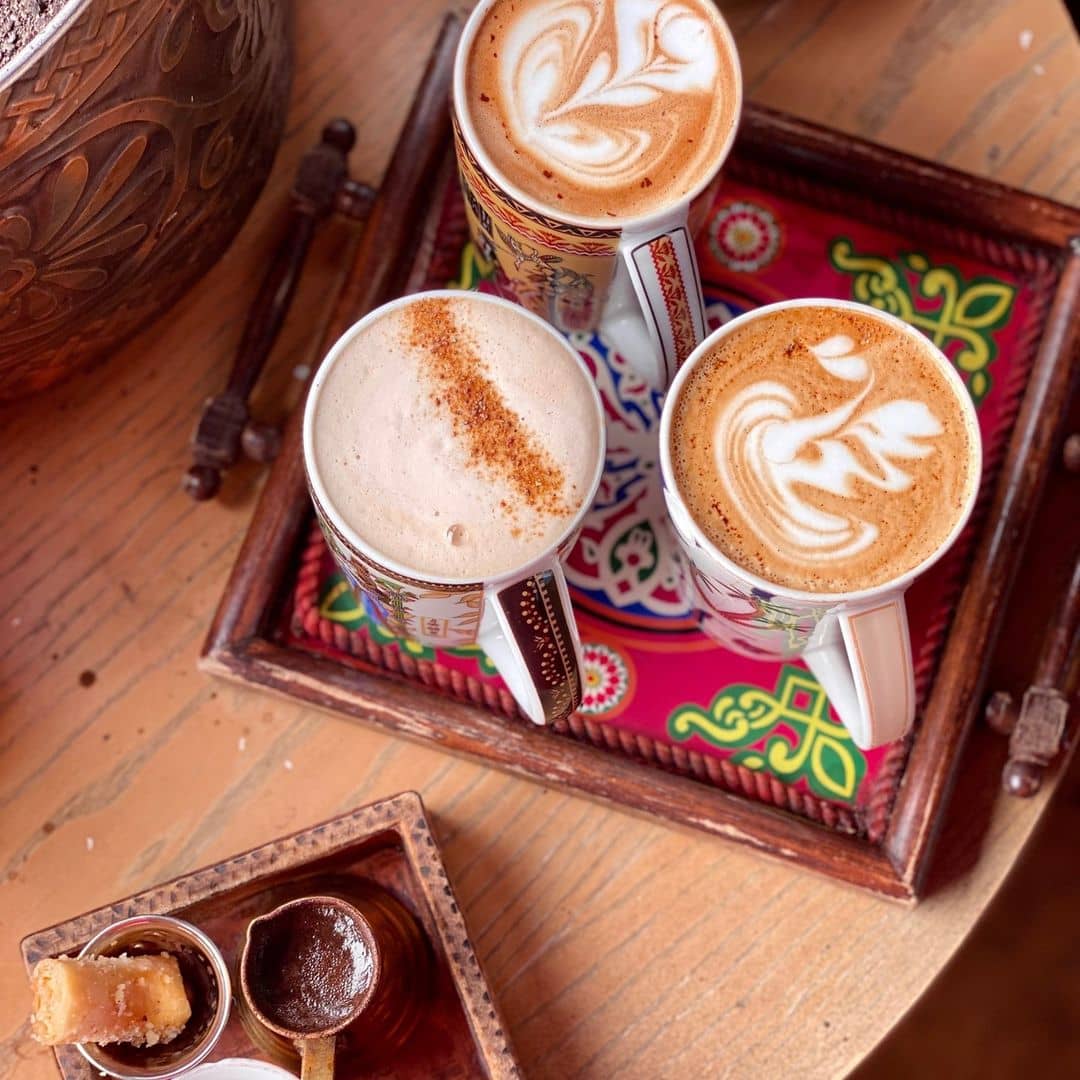 This quirky cafe in a double-decker bus is the king of Egyptian- & Turkish-style coffee & tea drinks.
Both the coffee and the atmosphere is top-notch making sure that you'll always want to come around.
Unique decorations and the classic aroma of Egyptian coffee are what you can expect as you enter this friendly coffee bar.
What pulls the crowd in Tov Coffee & Tea is their Egyptian Coffee, known as one of the best coffees in town.
Fresh, robust, and is an exemplary coffee at its finest. Even with its simplicity in flavors, you'll be surprised at how bold it tastes.
With its strong taste, this coffee is nothing to joke around with.
Other than coffee, their teas are also exceptional. Try out their Hibiscus Tea Drink for a perfectly sweetened tea that drizzles fruity and astringent notes. A total charmer for those who like to kick off their day with some flavorful drinks.
Matching with their ethnic atmosphere, they serve one of the best ethnic goodies–Turkish Delights.
In between your sips of coffee, a turkish delight is what makes this simple experience feel like magic.
What to order: Egyptian Coffee, Hibiscus Tea Drink, Turkish Delights and Turkish Coffee.
Address: 3207 SE Hawthorne Blvd #5044, Portland, OR
Website | Instagram | Facebook
4. Less and more coffee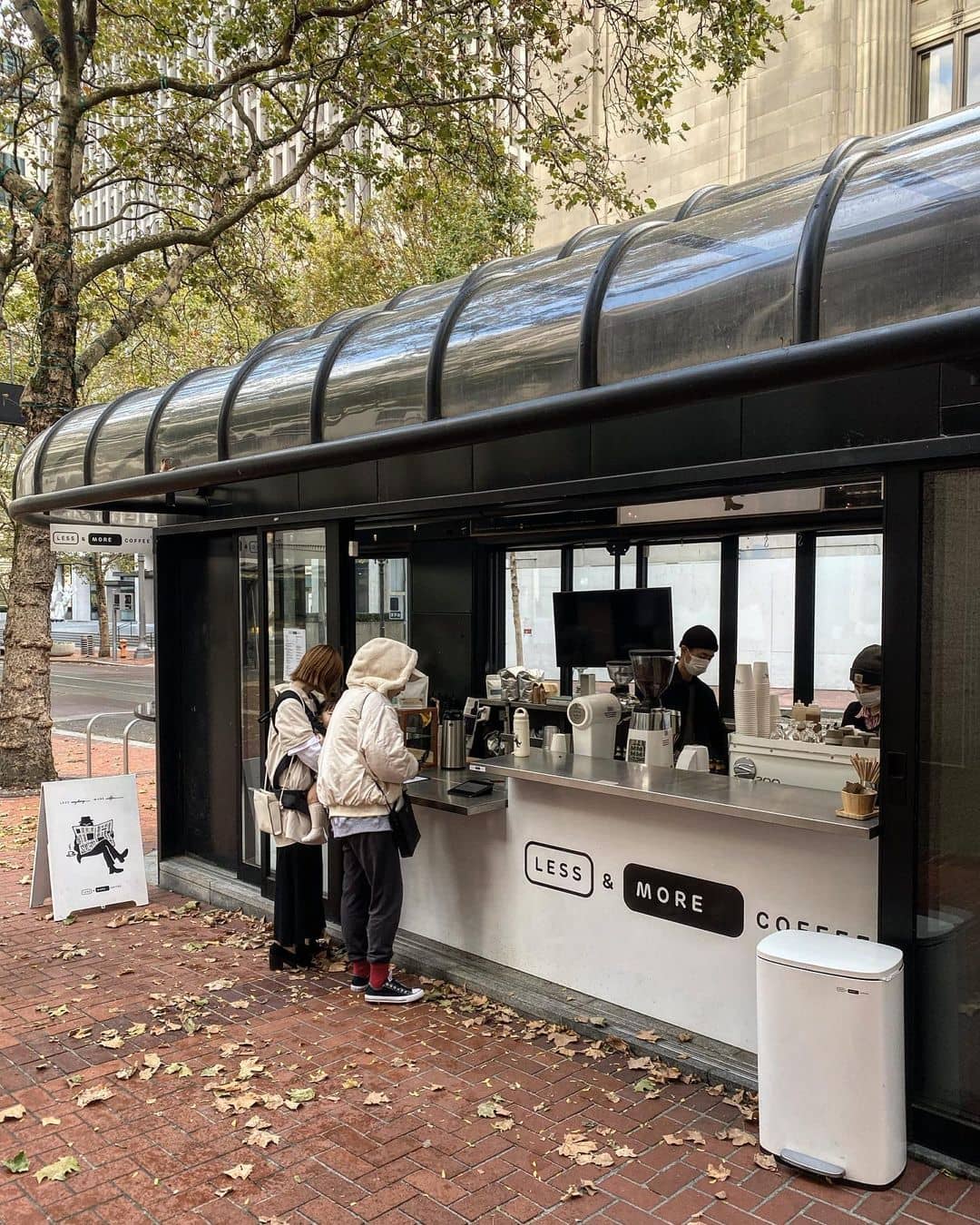 A simple kiosk that serves outstanding coffee and drinks is what defines Less And More Coffee.
This cool bus stop cafe makes sure that each and every customer leaves with a perfectly crafted cup of coffee and a wide smile on their face.
From the first look, the aesthetic interior and the way it pays homage to what used to be a simple bus stop, there's no doubt that it will catch your attention.
Their Tiramisu Coffee is what you should get if you want a sweet but not overly sweet caffeinated drink.
The balance of sweet and bitterness of coffee beautifully blends in together and what makes it even better is its creaminess that makes sipping it feel like just a dream. 
For the matcha lovers out there, one that will add to the list of your faves is their Matcha Latte.
What makes it special is its packed with oat milk. Called one of the best matcha lattes in Portland, just know that its mellow vegetal grassy notes ending with a touch of savoriness and bitterness will make you understand how and why it earned its hype.
If you want a non-caffeinated drink, go for their Ube Latte. It's too good to pass up, especially with its slightly sweet flavor, it's nothing but a sugar delight in a bright purple drink!
What to order: Tiramisu Coffee, Matcha Latte, and Ube Latte.
Address: 1003 Sw 5th Ave. Portland, OR
5. Roseline Coffee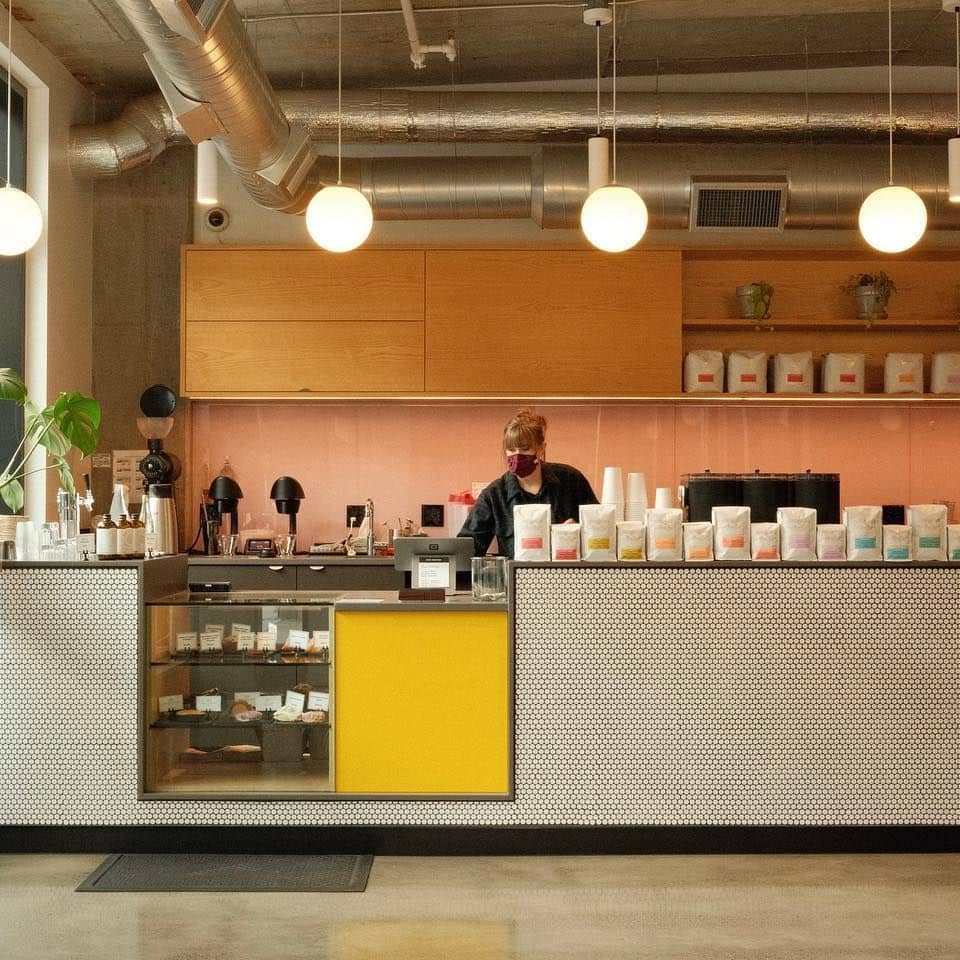 Boasting coffee that stays delicious every day and all day, Roseline Coffee strives for consistent coffee and it's an objective that stays true in every sip.
This small coffee shop features simplicity in its finest form. Not too overwhelming lights and never too flashy decors, just consistent good coffee and an ever-so-cozy chill spot for everybody.
Their Ethiopia Teshome Gemechu beats no other coffee when it comes to Jasmine-flavored coffee.
Indeed no one does it better as its mixed with other unique and delicious ingredients such as Milk Chocolate & Nectarine. If you want a drink that will surely relax you with its calming flavors, this is it!
Another one of their coffee that has earned the shine from many coffee lovers is their Kenya Gaturiri AB coffee.
Made with Peach, Kumquat & Wildflower Honey, and a beautiful fermentation proceess, this unique-flavored coffee has a taste of distinct citrus and sweetness and is worth every penny in your wallet. 
For some fun drinks, their Rose Honey Latte is a go-to. The dash of floral goodness mixed with the bitterness of the caffeine is a stellar combination that makes this drink addicting to the taste.
If you love the taste of coffee, this drink will make you fall harder for it.
What to order: Ethiopia Teshome Gemechu, Kenya Gaturiri AB coffee, and Rose Honey Latte.
Address: 1015 SE 11th Ave #100, Portland, OR
Website | Instagram | Facebook
6. Deadstock Coffee Roasters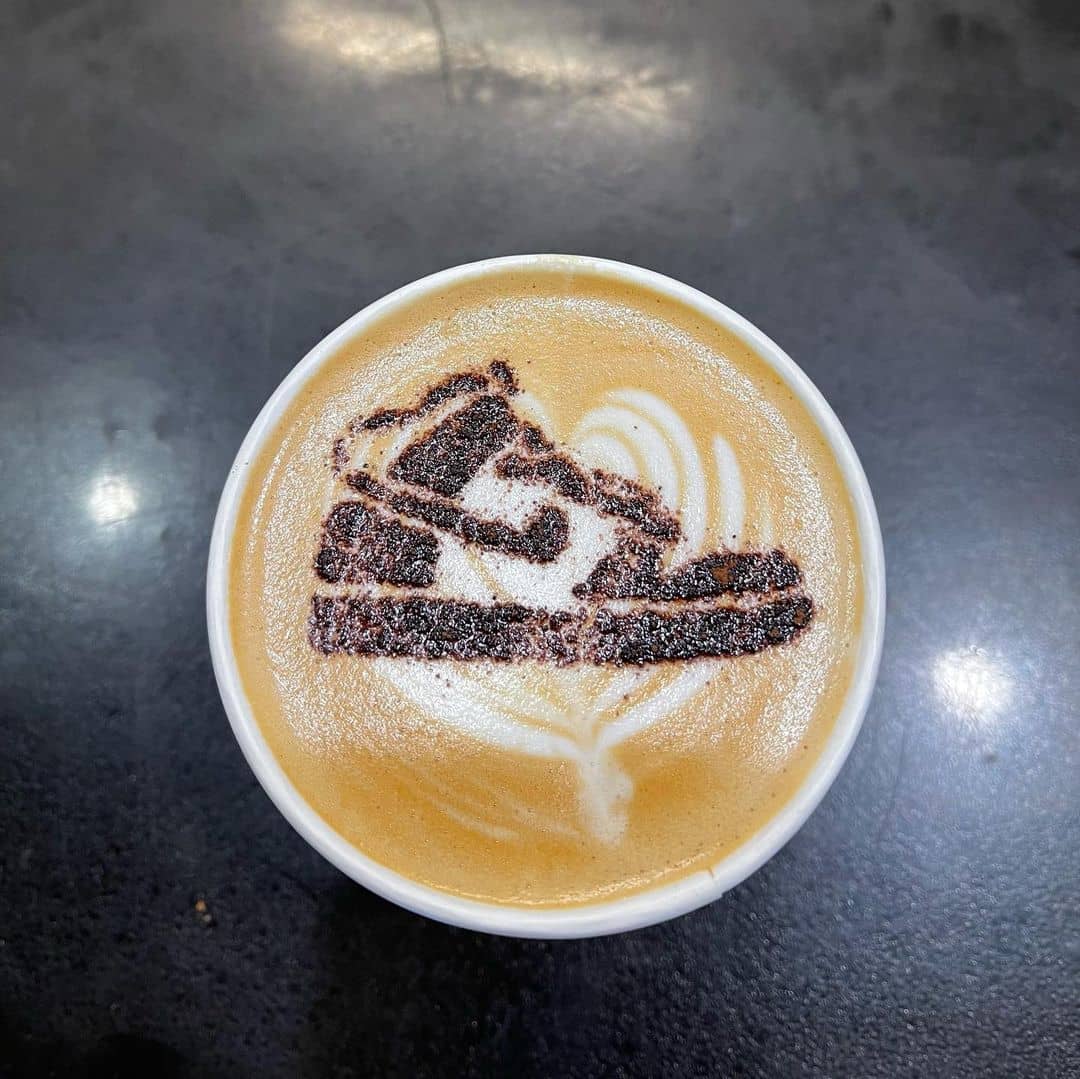 Want a chill coffee shop where you can lounge in while you sip some classic and signature drinks?
Deadstock Coffee Roasters is the coffee shop for you.
Deadstock Coffee Roasters is a sneaker-themed coffee shop that does the job in making sure that creativity is seen in every wall of their shop.
Filled with graffiti, cool neon lights, and sneakers everywhere, this isn't your typical coffee shop.
Try out their Iced Vanilla Latte and their Pistachio Latte if you want to give yourself a strong caffeine-infused drink.
The best part about their latte special is their sneaker latte art! It's something you definitely don't see everyday. The intricacy of the crafted latte art is exceptional!
When it comes to the taste, the vanilla latte comes through with a strong vanilla taste.
If you love sweet drinks, this is going to be your favorite. Their pistachio latte is not too sweet but has a unique flavor of a toasted, nutty, and earthy edge. 
For the hard coffee drinkers, their Americano is for you! You can also opt for an Iced Americano if you prefer cold.
Their Americano has that classic coffee taste with an added bitterness from the shot of espresso. This well-rounded drink is sure to keep you up and going from the morning until the night! 
What to order: Iced Vanilla Latte, Pistachio Latte, Americano, or Iced Americano.
Address: 408 Northwest Couch Streetportland, OR
7. PUSH X PULL COFFEE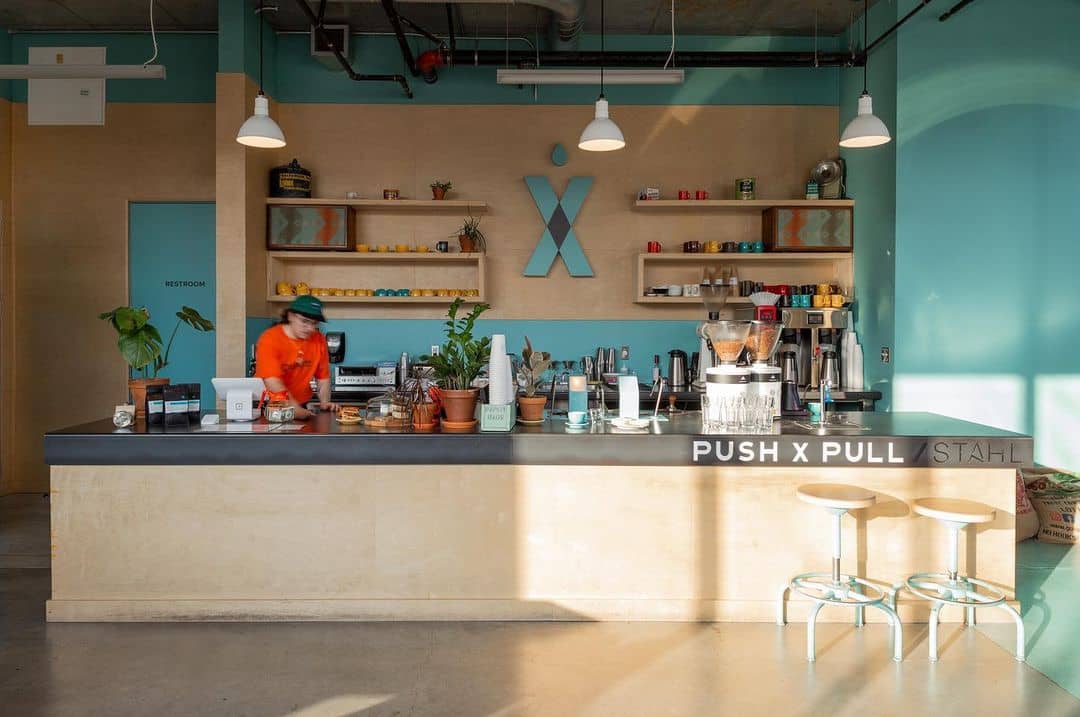 Push x Pull Coffee is all about a feel-good and do-good place that lets you enjoy the premium taste of their coffee in an environment of pure relaxation.
From the interior that highlights the color of turquoise in every corner you look, you'll feel alive the moment you enter.
Honoring the integrity of premium coffee, Push x Pull Coffee values the overall process from farming, harvesting, and brewing, they make sure that everything is made delicately.
Pull up to Push x Pull Coffee, and spend a time of comfort and a cup of coffee with a story. 
Their Ethiopian Coffee is to-die-for and it's the perfect drink to have if you want to have an energy booster for the whole day.
The strong taste of their coffee beans hit differently, especially with its good balance of sweet, bitter, and acid flavors on the tongue. It comes down all smooth with absolutely no off-notes.
You should also get their raw honey latte called The Suzy. This latte is simply stellar and you'll never go wrong with it.
Raw honey, cinnamon, plus some Himalayan salt–all these unique flavors morphed into one whole drink make The Suzy a divine drink you're going to want to come back to every single time. 
What better way to pair The Suzy is by munching on their homemade English Muffin?
Made extra buttery with a slight tang, these English Muffins are the bomb. From its crusty outer texture and yummy moist finish on the inside down to its sweet and tangy taste.
What to order: Ethiopian Coffee, The Suzy, and English Muffins.
Address: 821 SE Stark St, Portland, OR
Website | Instagram | Facebook
8. Stumptown Coffee Roasters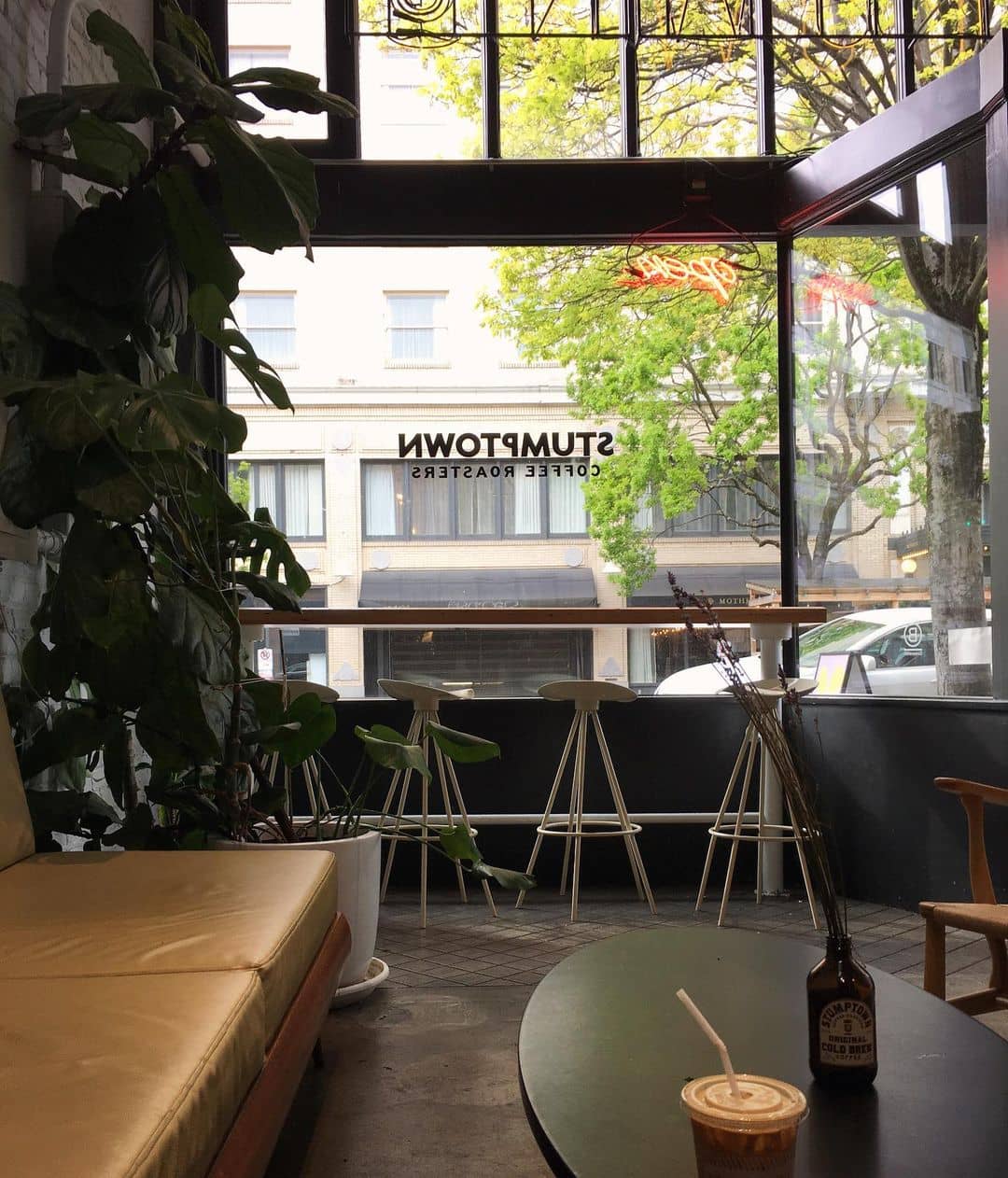 The highest quality coffee beans are found in no other than Stumptown Coffee Roasters.
This popular locally owned coffee shop and roaster show excellence in their well-crafted coffee and the comfort they offer in their snug little shop.
In this cafe, you get a comfy vibe as you walk in and the alluring aroma of coffee just makes the entire place even more relaxing.
It's the perfect place for a quick study sesh with friends or a moment to catch up with long-time friends!
Taking pride in their Cold Brew Nitro Coffee, this one is a must-try. Shots with very strong citrus notes, the distinctive taste is legendary which is why it's always been a go-to drink for the locals!
For the strong drinkers, their Americano is worth the shot. It isn't all bitterness but has a rich flavorful addition and in every gulp, you're met with smoothness down the throat.
A total hitmaker, you won't ever regret it! 
For the meat lovers, their Bacon Breakfast Sandwich is an absolute must-try. It's a hearty feast of an English muffin featuring flavorful fried eggs, crispy bacon, and creamy provolone cheese, all capped off with a tangy arugula aioli.
For those favoring a vegan or healthier start to the day, don't miss out on the Vegan Breakfast Sandwich.
This innovative creation sports plant-based bread, a sizzling Impossible sausage patty that will make you question its plant-based origins, sweet tomato jam, aromatic arugula pesto, and indulgent vegan Mozzarella.
It's a masterclass in flavor and satisfaction, proving that plant-based options can be as scrumptious as their meaty counterparts.
What to order: Cold Brew Nitro Coffee, Hot Americano, and Bacon Breakfast Sandwich
Address:
-Downtown 128 SW 3rd Ave, Portland, OR 97204
-Ace Hotel 1026 SW Harvey Milk St, Portland OR 97205
-Belmont 3356 SE Belmont St, Portland OR 97214
-Division 4525 SE Division St, Portland OR 9706
-7000 NE Airport WayPortland, OR 97218
Website | Instagram | Facebook
9. Good Coffee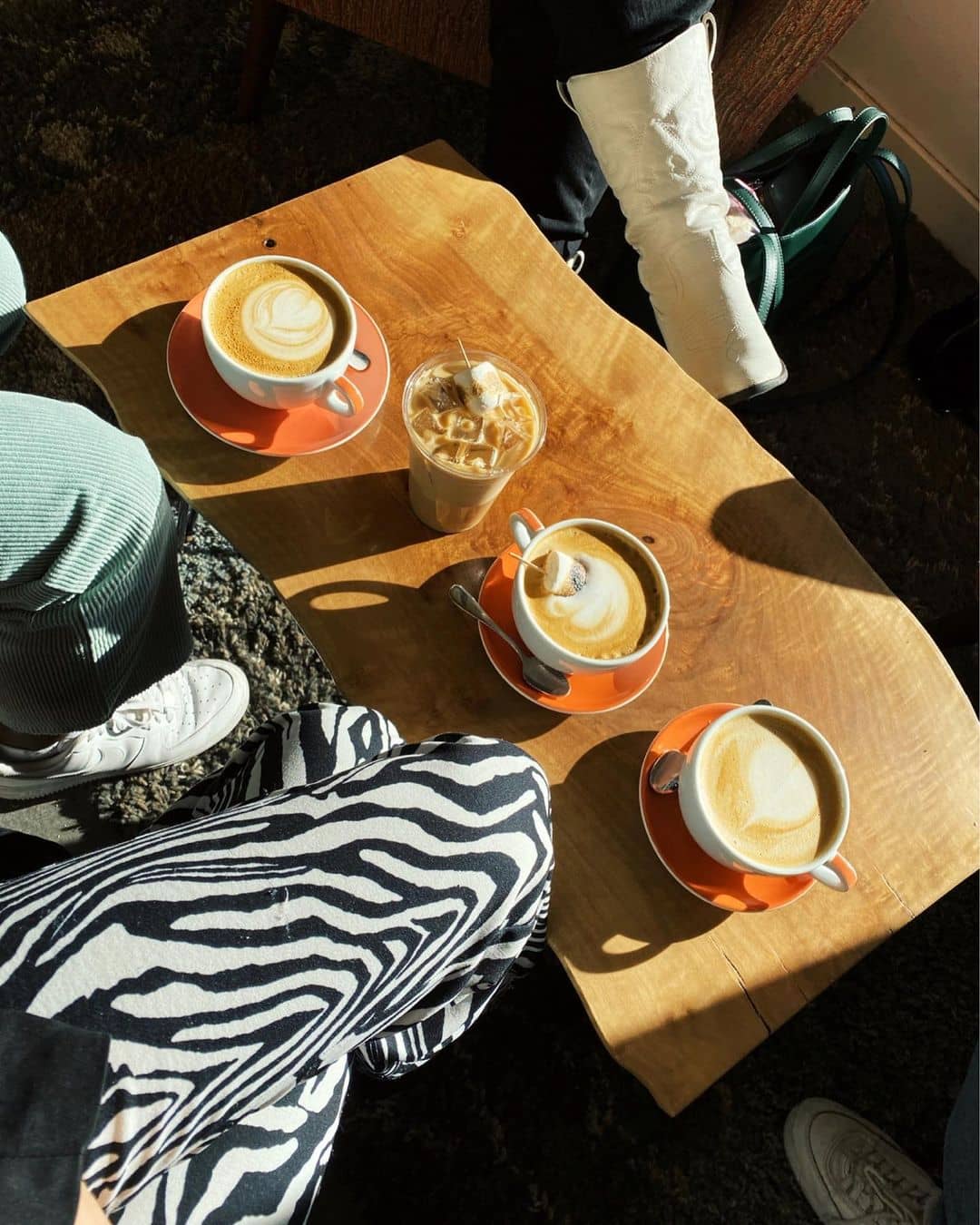 Good Coffee is exactly what its name suggests–a coffee bar that makes and serves only good coffee and a good time!
From its beautiful storefront, this cute coffee bar ensures that its guest feel refreshed and at ease in every moment spent here.
Their outdoor area gives just the right amount of sunshine to give you the energy you need & boost up your mood!
With tranquil surroundings & some tasty coffee to start your day, get ready for a fun-filled morning ahead.
A latte a day keeps the worries away and with Good Coffee's fig latte, its goodness keeps the worries way even farther.
The glories of this fig latte comes in a sweet & smoked bitter flavor. Blended in the right way, this flavor just leaves you wanting more and more after each sip. 
Another option for you to try out is their Chai Tea Latte. Luxurious, creamy spiced, and simply unforgettable are the three words to describe this Chai Tea. A warm sweet flavor after each taste is what you'll expect, plus, a delicately fragrant aroma!
A pastry that won't disappoint you is their Almond Croissant, especially with its perfect mixture of butter, sugar, and almond flour. Super rich in almond filling, it's like an overflow of creamy almond paradise in your mouth.
Paired with their Smoked Cardamom Assam Latte, the drink's taste is similar to gingerbread or pumpkin spice with an added slight smokey tang, go crazy over how phenomenal the combination of these two are!
What to order: Fig Latte, Chai Tea Latte, Almond Croissant, and Smoked Cardamon Assam Latte.
Address:
-Slabtown 2175 NW Raleigh St. Portland, OR
-Woodlark 813 SW Alder St. Portland, OR
-Richmond 4747 SE Division St. Portland, OR
-Buckman 1150 SE 12th St. Portland, OR
-PDX Airport 7000 NE Airport Way, Portland, OR
10. Proud Mary Cafe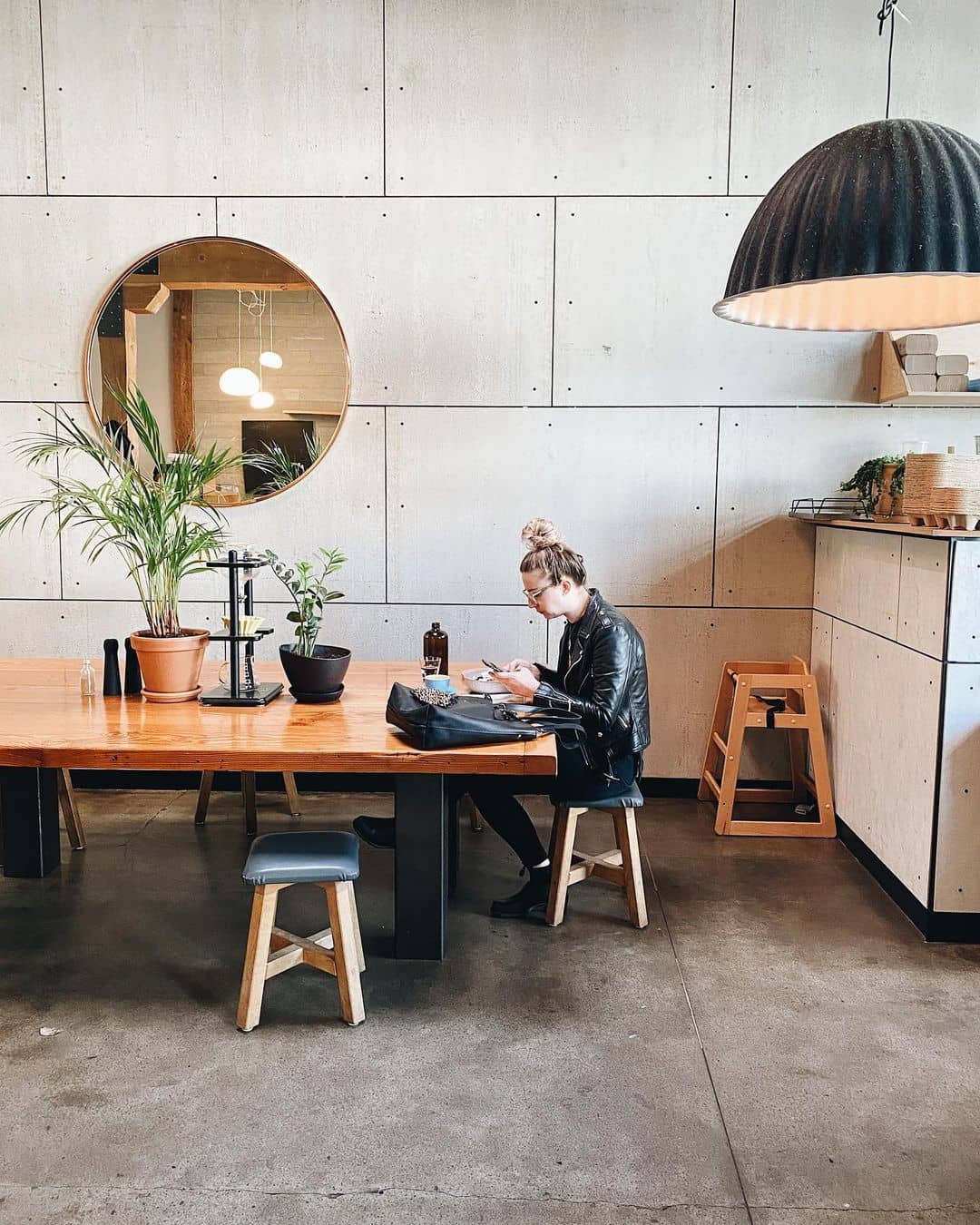 Offering craft coffee, brunch, and smoothies in an industrial-chic setting in this trendy Australian cafe, Proud Mary Cafe has definitely got it all.
The best part here is that you get to drink amazing coffee and stuff your tummy with some of the most jaw-dropping breakfast meals that you'll ever find in Portland.
Try out their Iced Latte with Honey, this is perfect for those who aren't into sweet drinks but still want to cheat with just a dash of sugary fun. This honey latte isn't too sweet but isn't too bland at the same time.
You'll get the best of both worlds by still tasting a slight sweetness, just enough to satisfy your sweet tooth while getting your caffeine fix ticked off.
If you do want something extra sweet, don't miss out on their Iced Mocha. The shot of espresso adds a robust flavor to it but with the creamy touch of whipped cream and the chocolate sauce, it all balances the flavors perfectly well.
From the citrusy taste of their oatmeal down to their pancakes, their breakfast menu is indescribably out of this world.
Everything is fresh and cooked with intricate flavors, most especially their Cauliflower-Power which is a dish of spiced cauliflower and chickpea dal. The chickpeas are made crispy and the flavors explode in the mouth beautifully.
What to order: Iced Latte with Honey, Iced Mocha, Cauliflower-Power, and Potato Hash.
Address: 2012 NE Alberta St, Portland, OR
Website | Instagram | Facebook
11. Prince Coffee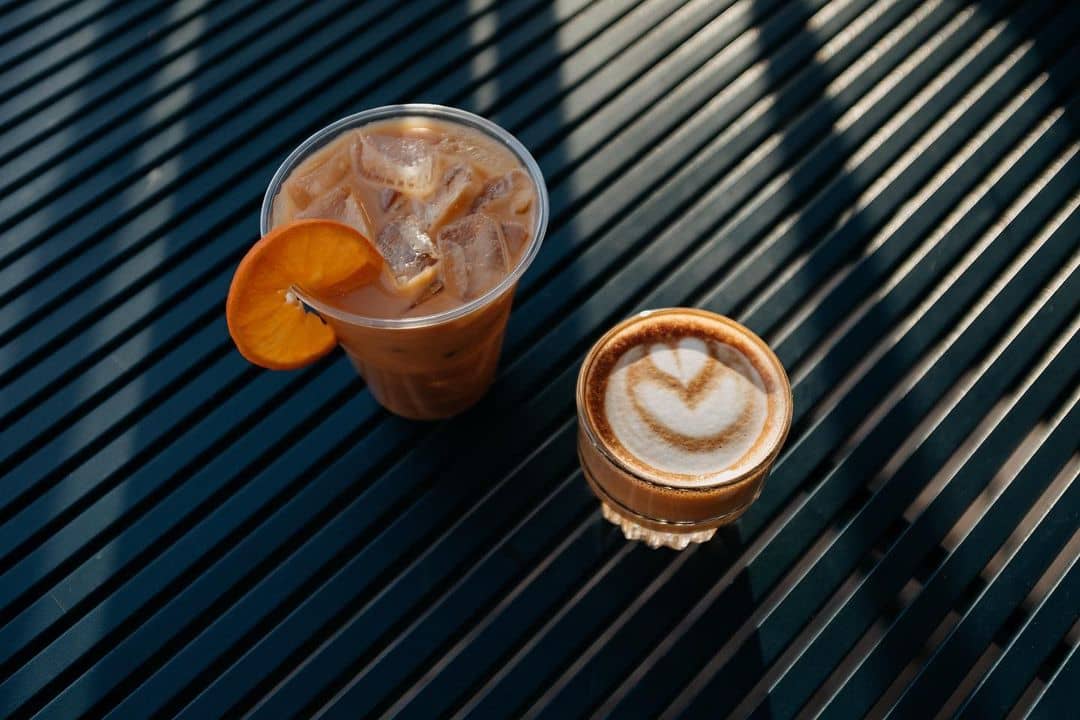 Prince Coffee is a modern glass-walled cafe that specializes in all your home brew needs, whether it's coffee or tea, they have it available and best believe that they have it good!
Giving you an aesthetic, cozy, yet industrial vibe to its interior, you don't only get a dose of the coffee fix you need but it's also an ideal cafe to get some photos for your Instagram feed.
With minimalist plants everywhere and a chill ambiance like no other, Prince Coffee shop has definitely earned a spot in the hearts of many locals. 
Their lattes are to die for so if you're here, what you should never miss out on is their Oatmilk Latte and their Soy Latte.
Two of their lattes that has a nice and balanced nutty flavor with a subtle hint of sweetness to it.
Now for pastries, no one does it better than Prince Coffee! One of their most sought-after pastries is called Stroopwafel, a Dutch small crunch overstuffed with cinnamon and caramel sauce.
It's simply the best pastry for any type of drink! Preferably, dip it with your hot espresso and let it change your life!
What to order: Oatmilk Latte, Soy Latte, Stroopwafe, and Hot Espresso
Address:
-4523 NE Fremont St, Portland, OR
-915A NW 19th Ave, Portland, OR
Website | Instagram | Facebook
12. Never Coffee Lab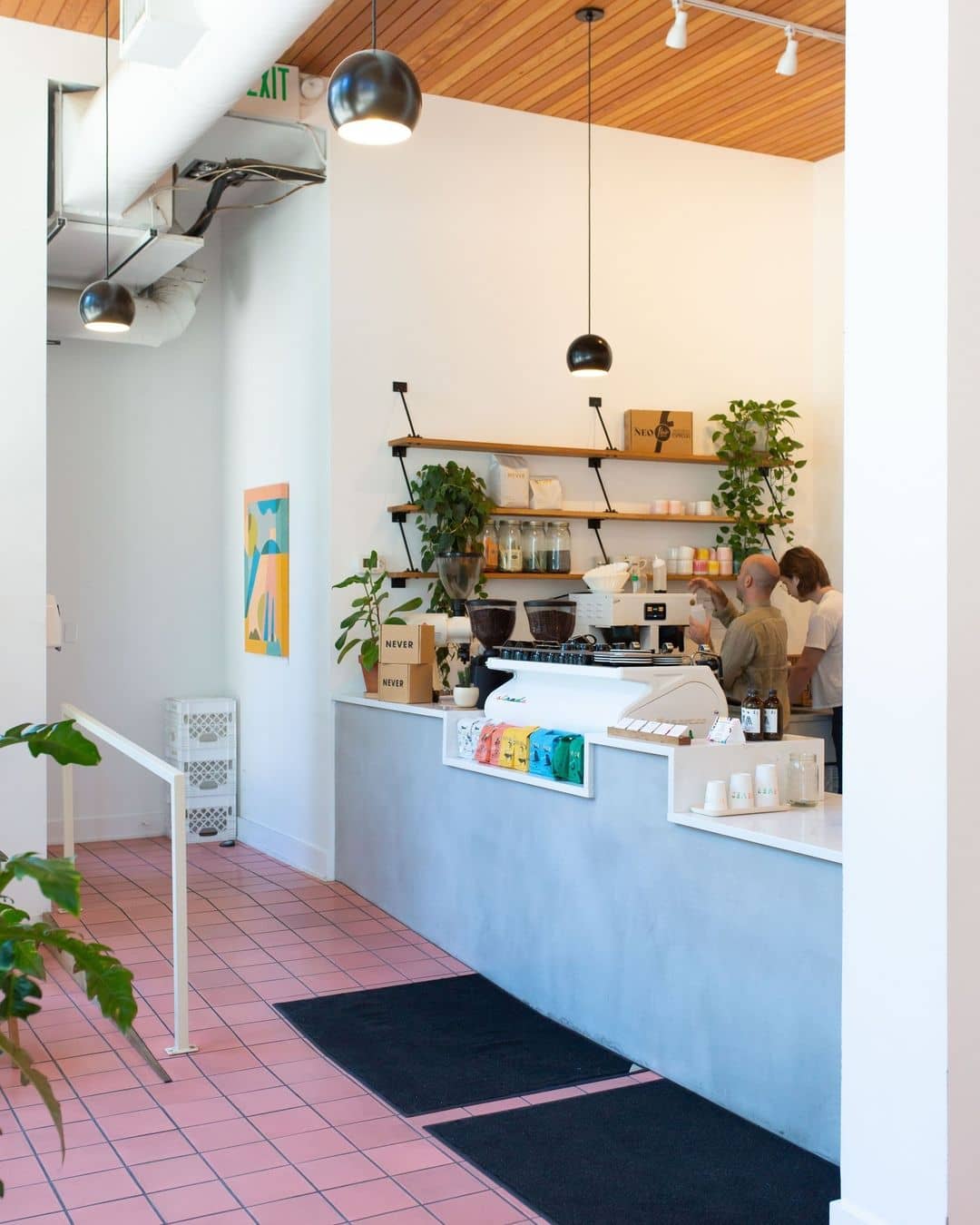 Serving freshly-pulled espresso-based coffee paired with premium baked pastries, Never Coffee Lab does it best.
This color-filled and picturesque shop is your go-to stop not only for the warm and welcoming ambiance but you just won't get enough of their artisan coffee, retail beans & distinctive drinks made special with herbs, cocoa, & more premium ingredients. 
If you're looking for inventive lattes, count on Never Coffee Lab to exceed your expectations. Offering you lattes you've probably never seen and heard before, you're bound to get hooked.
Try out the Hug Latte which is a latte infused with spicy cacao, chilis, and cinnamon.
You wouldn't expect spicy cacao to be a key ingredient that makes lattes super duper fun and delicious but this Hug Latte definitely beats the odds. It has excellent flavors that blend all smoothly together. 
Another one of their creative lattes is called the Holy Grail, made with cherrywood smoked honey, sea salt, and pepper.
With the combination of cherrywood smoked honey and seasalt, the sweetness is tamed down a bit. The pepper also stands out in the drink but doesn't overly power all the other flavors.
What to order: Hug Latte, Holy Grail, and Rosewater-Cardamon Latte.
Address: 4243 SE Belmont St UNIT 200, Portland, OR
Website | Instagram | Facebook
That's about it for our list of the best coffee shops in Portland. Done with coffee and headed next to meals that will fill you up?
We've got the list you need. Check out our list for the best restaurants in Portland!
Looking for a place to stay in Portland?