Looking for the best Portland restaurants? Well, you've come to the right place!
One of the rising food cities of the world, Portland gives foodies access to not just award-winning restaurants, but more importantly, to more than 500 food carts.
The city is also home to tons of amazing brewery food, dessert bars, and more. The highlight here is that most of these food spots feature local produce.
So, to reap the rewards of Portland's best food, here is a list of the 15 best restaurants in Portland to eat at:
This article contains affiliate links where we may get a small commission if you click on the link and purchase. No extra cost is added to you.
🚌 Explore Portland's food scene with these guided food tours!
1. Canard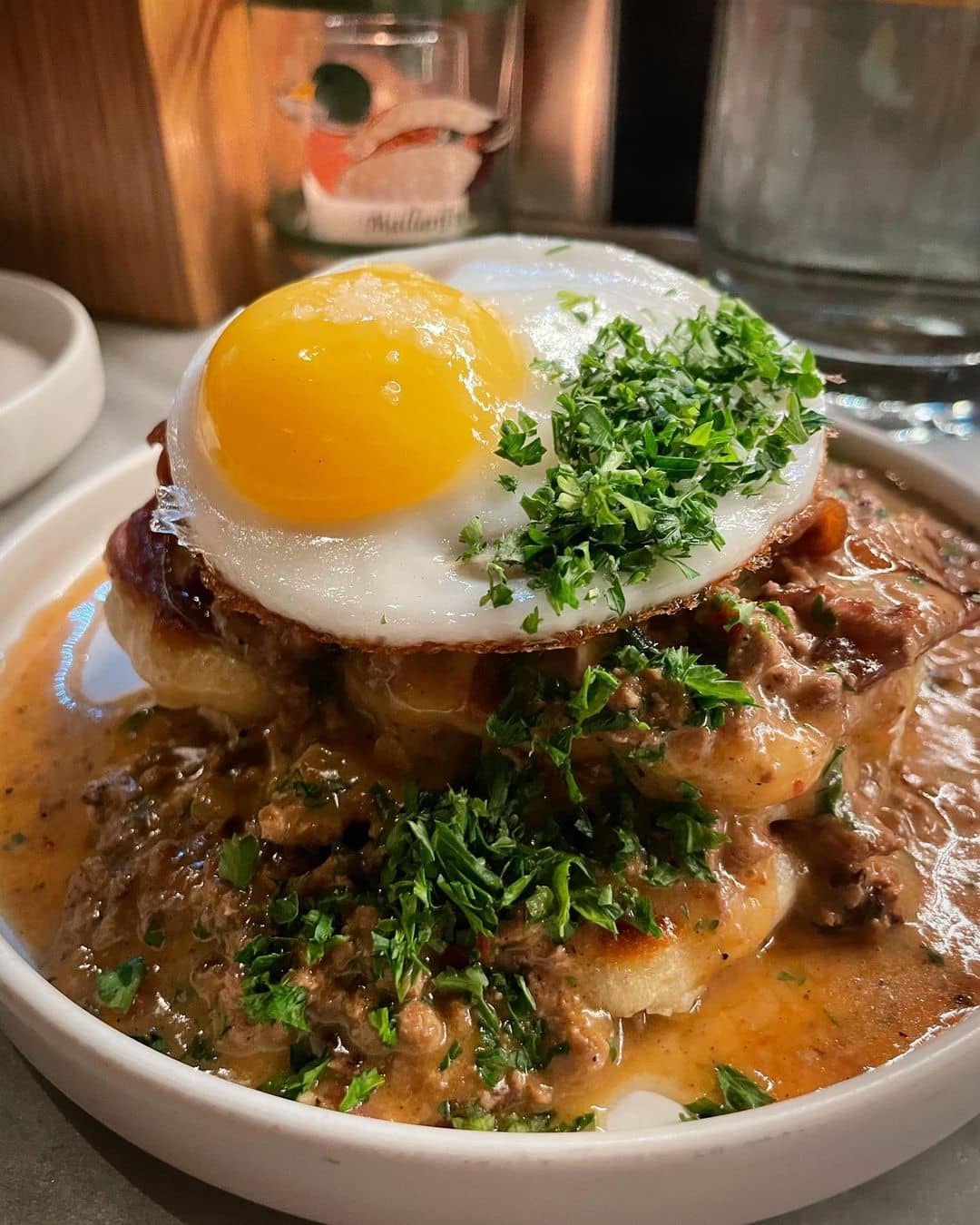 Known for its foie gras dumplings and brunch, Canard has been a stunner since its inception.
The restaurant functions as an all-day cafe/restaurant by day, and a wine and cocktail bar by night, serving French-inspired food, in a casual and warm setting.
Available for both lunch and dinner, Canard's Duck Stack has some serious following. This delectable plate comes with fluffy pancakes covered in delicious and flavor-packed duck gravy, with a hint of spiciness from tobasco onions. 
This dish is a perfect balance of sweetness and savoriness.
Foie Gras Dumplings – one of the first dishes Canard became popular for. The dumpling simply explodes in your mouth and the foie gras just melts away, followed by the earthy and complex notes of the truffle vinaigrette.
For all you foie gras lovers out there, this dish can easily steal a spot on your top 5 favorites list.
Oh, and don't forget to end your meal with one of their sundae creations, with their most popular soft-serve ice cream. It is A-M-A-Z-I-N-G!
What to order: Duck Stack, Steam Burger, Foie Gras Dumplings, Sundae
Address: 734 E Burnside Street, Portland, OR 97214
Website | Instagram | Facebook
2. Nostrana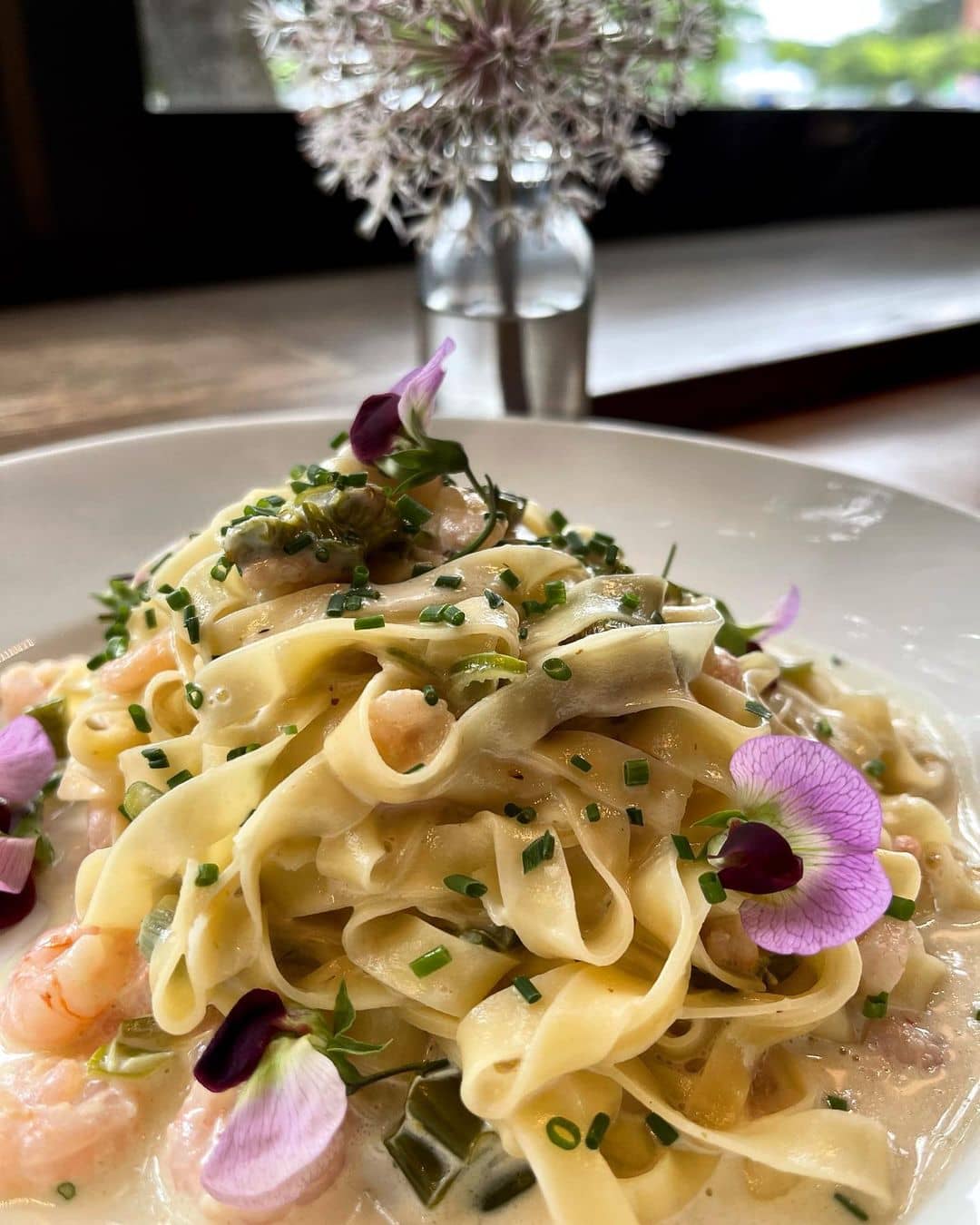 Established in 2005, Nostrana is well-known for its menu developed "by the farmers and ingredients".
This Italian place specializes in wood-fired, hand-tossed pizzas, seasonal pastas, and an award-winning selection of wines from the Northwest and Italy.
You can savor all this deliciousness in a fancy, lodge-like ambiance.
Though all their pizzas taste fantastic, start with the classic Margherita. Before anything, you will enjoy the thin crust of the wood-fired pizza – mind-blowingly delightful.
And the taste – simple, straightforward, and YUM!
Salumi is another one of Nostrana's best-selling pizzas. Again, you get a thin crust, and the salami slices are huge.
You will definitely taste the freshness of the pizza.
Also, their pizzas don't come precut (the traditional Italian way); instead, you will be given special pizza scissors to cut them yourself.
If you're a fan of meat, get yourself their Charcuterie board.
From prosciutto to smoke sablefish mousse, you get an immense variety of meats, which can be paired with fig jam, grain mustard, and other condiments.
What to order: Margherita, Salumi, Charcuterie
Address: 1401 SE Morrison Ste. 101, Portland, OR 97214
Website | Instagram | Facebook
3. Eem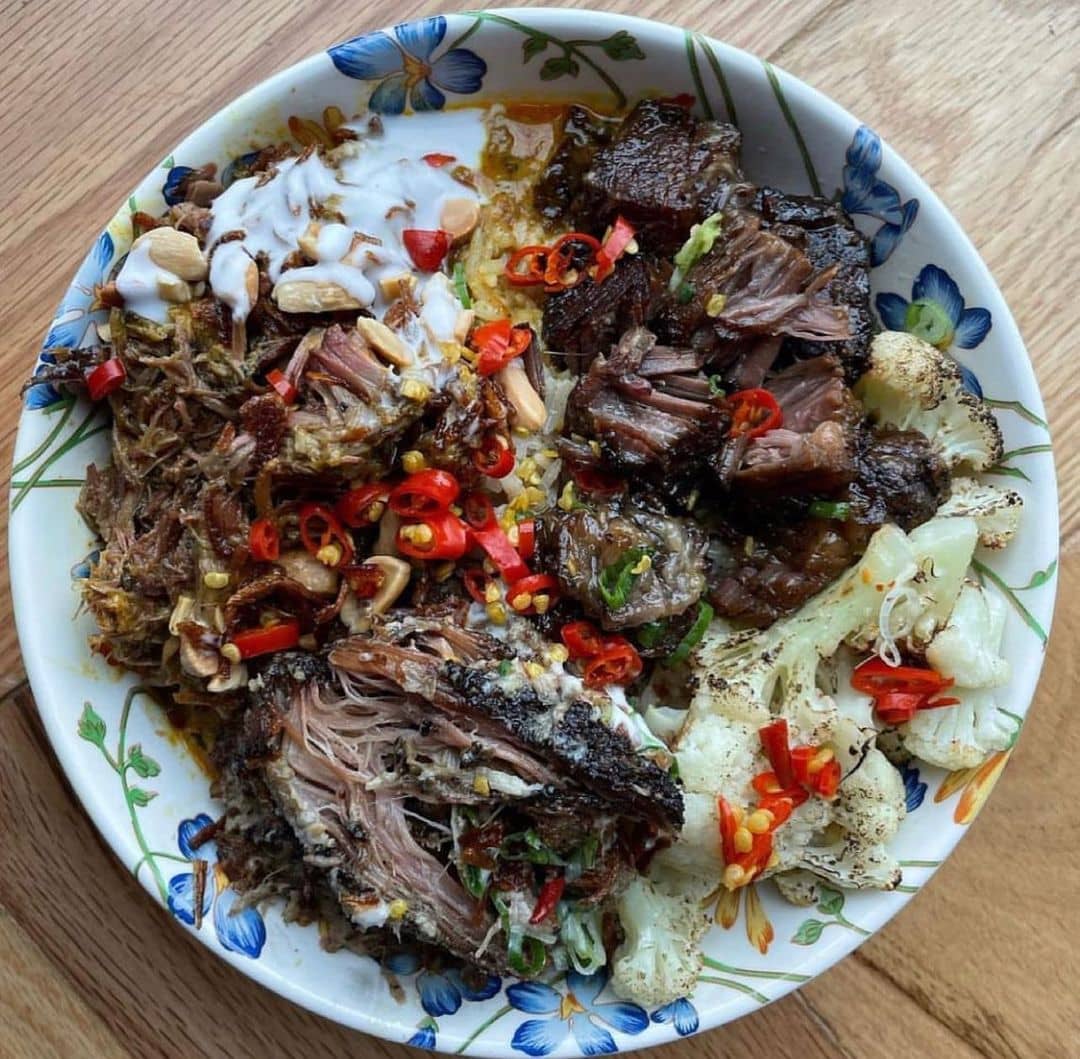 A Thai eatery serving enticing curries, creative BBQ, and island-inspired cocktails, Eem is a place where you can enjoy foreign flavors in style.
The interior is modern and casual, and the service is quick and friendly. If the weather permits, find a seat at their outdoor mini cabanas for some extra fun.
Eem's signature dish – White Curry w/ Brisket Burnt Ends & Roasted Cauliflower will most certainly be one of the best Thai curries you've tasted so far.
The white curry is creamy, rich, spicy, and full of flavor; but, what steals the spotlight is the brisket with burnt ends – tastes outstanding. This curry is so good that you'd probably drink it straight from the bowl!
Their Sweet & Sour Fried Chicken is another splendid creation.
You get boneless chicken thighs that are cooked to be crunchy on the outside and dripping juicy inside; sprinkled with some red curry powder and tossed in a sweet and sour dressing, the chicken ticks all the boxes.
The BBQ Fried Rice, available with brisket or mushroom, is a lovely dish. The rice is exactly how fried rice should be – perfectly soft and crispy, not too oily, and no mushy rice.
What to order: White Curry w/ Brisket Burnt Ends & Roasted Cauliflower, Sweet & Sour Fried Chicken, BBQ Fried Rice
Address: 3808 North Williams Avenue, Portland, OR 97227
Website | Instagram | Facebook
Looking for a place to stay in Portland?
4. Coquine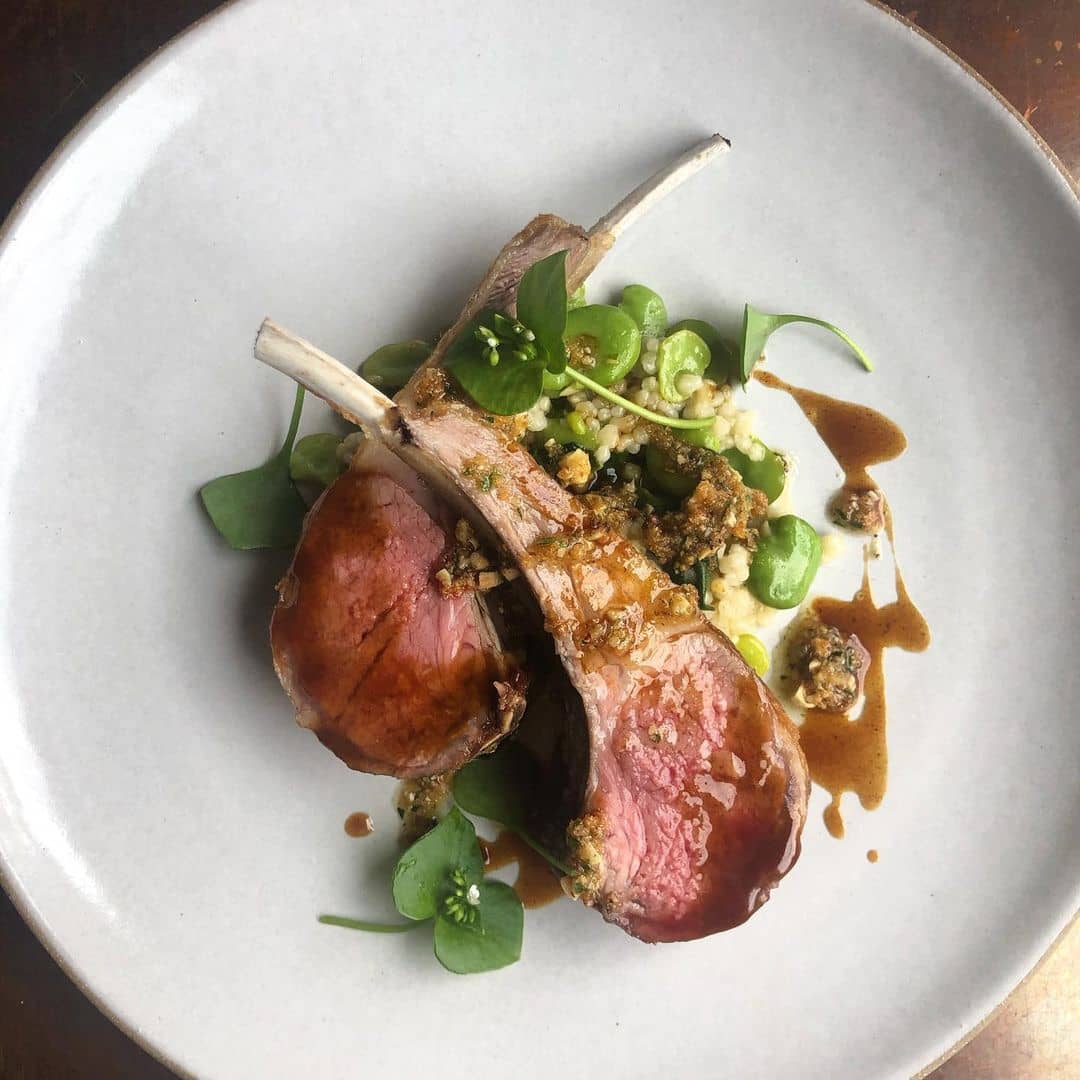 Located at the top of an extinct volcano, Coquine is a neighborhood restaurant featuring seasonal food and drink menus.
Their ingredients are responsibly sourced from local farmers, which contributes to their farm-to-table approach.
Their Black Cod dish is a well-balanced dish; the fish comes with crispy skin and rich, melty, and buttery flesh on the flipside.
It is served with new potatoes – crisp and soft, wakami – salty with a touch of umami flavor, pickled mustard seeds – tart and pungent + added texture, and crispy shallots.
The Lamb Loin with Charred Onion-Eggplant Soubise and vegetables is highly recommended by the restaurant's staff. The lamb is so well-cooked that it is destructively soft and tender and simply melts in the mouth.
The soubise sauce (cream sauce) has a nice charred flavor, and its rich and velvety nature makes it the ideal accompaniment for the lamb.
Before you leave, grab a Coquine Chocolate Chip Cookie, you won't regret it!
What to order: Black Cod, Lamb Loin with Charred Onion-Eggplant Soubise
Address: 6839 SE Belmont Street, Portland, OR 97215
Website | Instagram | Facebook
5. Tusk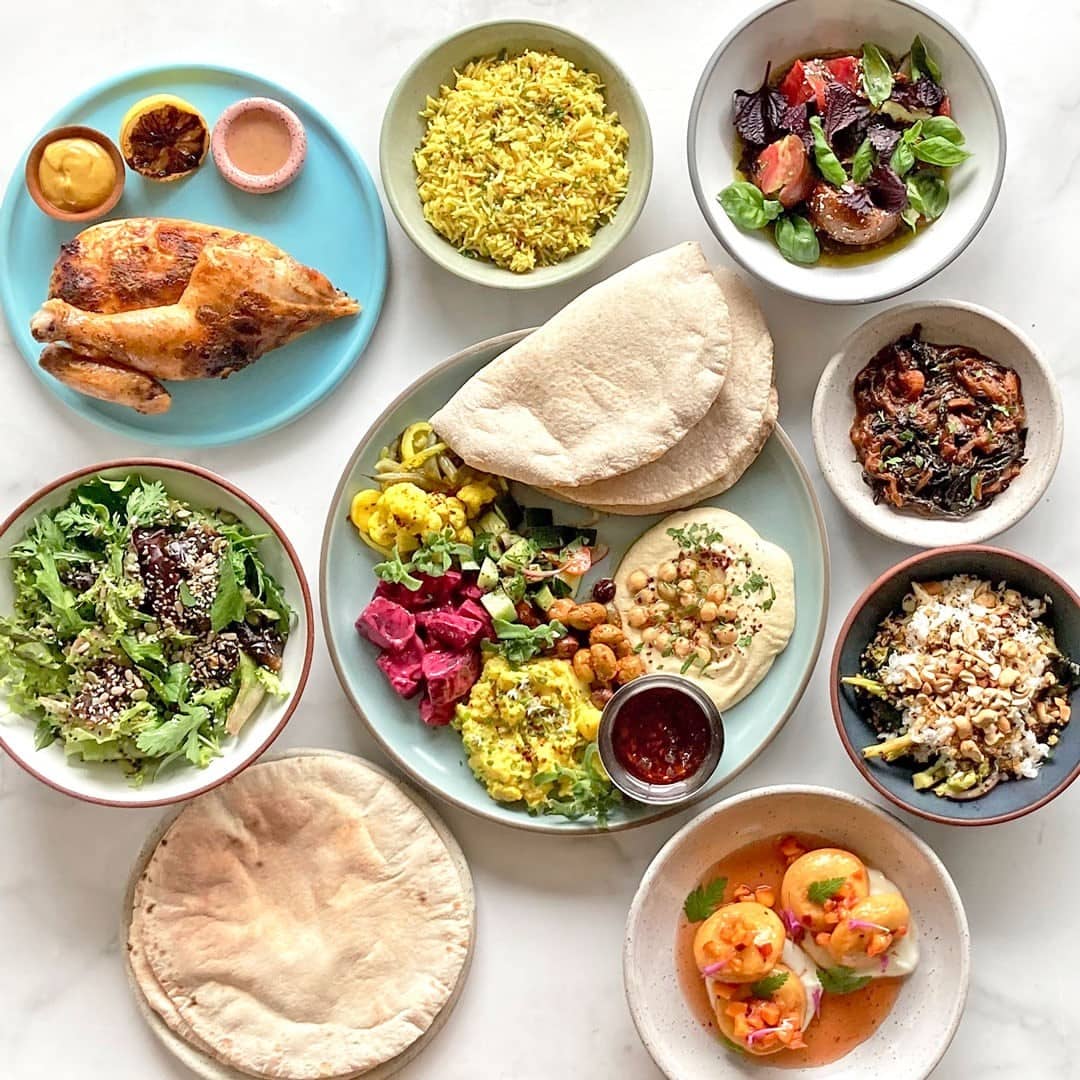 Tusk is a modern and busy restaurant with a menu that draws on the flavors of Middle Eastern and Mediterranean cuisines, highlighting the freshest seasonal local produce.
With beautiful interiors and a relaxing and cozy outdoor dining space, the restaurant is perfect for special occasions.
Though it is known as one of the go-to brunch spots in Portland, Tusk offers much more.
Now, before you order any main, you NEED to try their Classic Hummus with Flatbread. It is rich, creamy, full of flavor, and goes excellently well with the flatbread; don't be surprised if you lick the bowl clean all by yourself!
If you're vegan, or just looking for something healthier, go with their Mezze Platter.
Served with two flatbreads, the platter has all things delicious and healthy – beets, asparagus, pears, charred brussel sprouts, and more, along with their delicious hummus and tahini.
Make a wrap with everything, add some aleppo chili oil to add some kick, and devour your hearty wrap.
An interesting offering at Tusk is their Half Roasted Chicken. While the chicken comes juicy and tender, what will make you love the dish is the muhammara – a roasted red pepper and walnut dip that is slightly sweet, spicy, and smoky, and tastes riveting with the chicken.
What to order: Classic Hummus, Mezze Platter, Half Roasted Chicken with Muhammara
Address: 2448 East Burnside Street, Portland, OR 97214
6. Nong's Khao Man Gai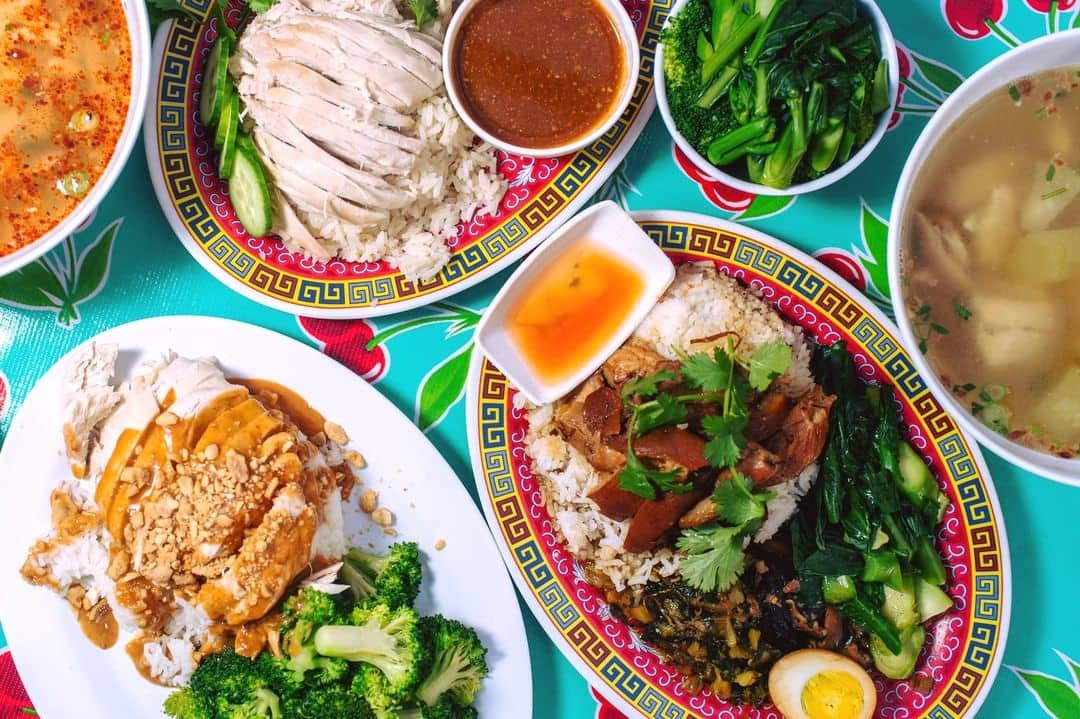 How many times have you heard people say, "do one thing and do it right"? At Nong's Khao Man Gai, the focus is on one thing – Khao Man Gai (chicken and rice), and they do it SO DAMN RIGHT!
This is a classic Thai concept where restaurants focus on one dish only, and chef Nong has everyone smitten with her one dish.
So, of course, Khao Man Gai should be your first order here. This is Thai chicken & rice served with Nong's signature sauce; it's simple, delicious, healthy, comforting, and well-balanced in flavor.
The dish is also available in gluten-free and paleo versions.
Super Soup – Khao Man Gai served in a large bowl of soup. The soup is super flavorful and indulgent, and with the chicken and rice in it, you'll crave it multiple times a week, and not just on rainy days!
Prefer pork to chicken? Nong's Khao Kha Muu is for you! This is Thai pork & rice served with a boiled egg, Thai chili sauce, and pickled mustard greens.
The pork is juicy, gelatinous, and packs in a punch; but, the best part is that all the juices from the pork soak the rice, making it much more fragrant and flavorful.
Note – Khao Kha Muu is available only at their SE location.
Do yourself a favor and get their Thai Tea Float – so cold, refreshing, and perfect to cool down after a spicy and lush meal.
What to order: Khao Man Gai, Super Soup, Khao Kha Muu, Thai Tea Float
Address:
-SE Portland – 609 SE Ankeny Street, Suite C, Portland, OR 97214
-Downtown – 417 SW 13th Avenue, Portland, OR 97205
Website | Instagram | Facebook
7. Masu Sushi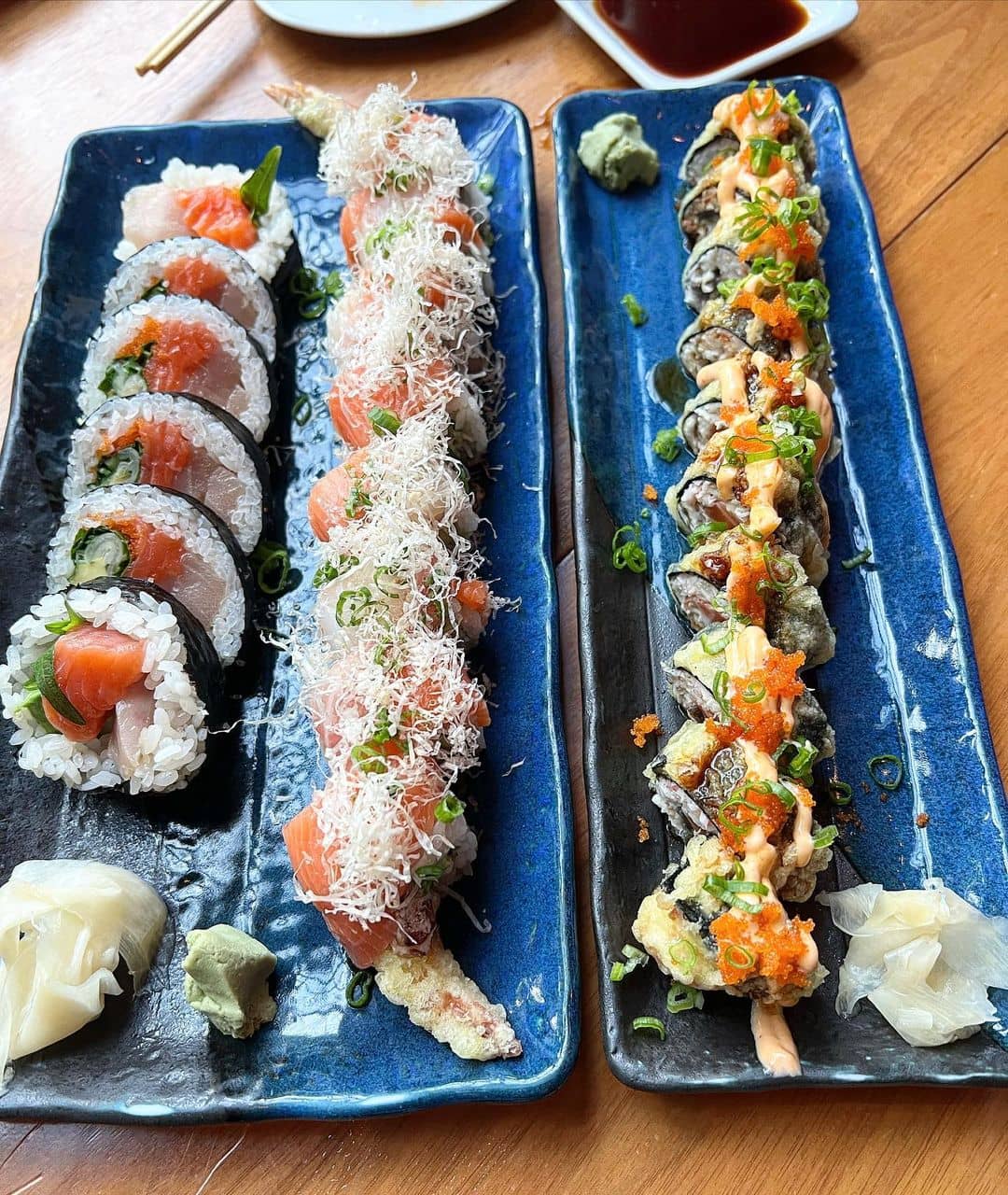 Masu Sushi is one of the top spots in Portland to feed your sushi craving.
With fresh fish, creative rolls, small plates, and an extensive selection of authentic sake, this posh restaurant served food that is extraordinary in quality and taste.
From their Specialty Maki list, the Death by Sushi roll does justice to its name.
Everything is incredibly fresh and expertly rolled; you can taste the individual elements in the roll, such as unagi, cream cheese, crab salad, etc., and the spicy mayo and eel sauce make the roll burst with flavor.
The Japanista roll is unique to Masu Sushi. It has spicy tuna and spicy crab salad as its main components, which when combined with the sweet chili sauce and hana sauce makes you want to have this roll every day for the rest of your life.
Try the Calamari plate from their kitchen; it is spicy, citrusy, and meaty.
What to order: Death by Sushi, Japanista, Calamari
Address: 406 SW 13th Avenue, Portland, OR 97205
Website | Instagram | Facebook
8. Han Oak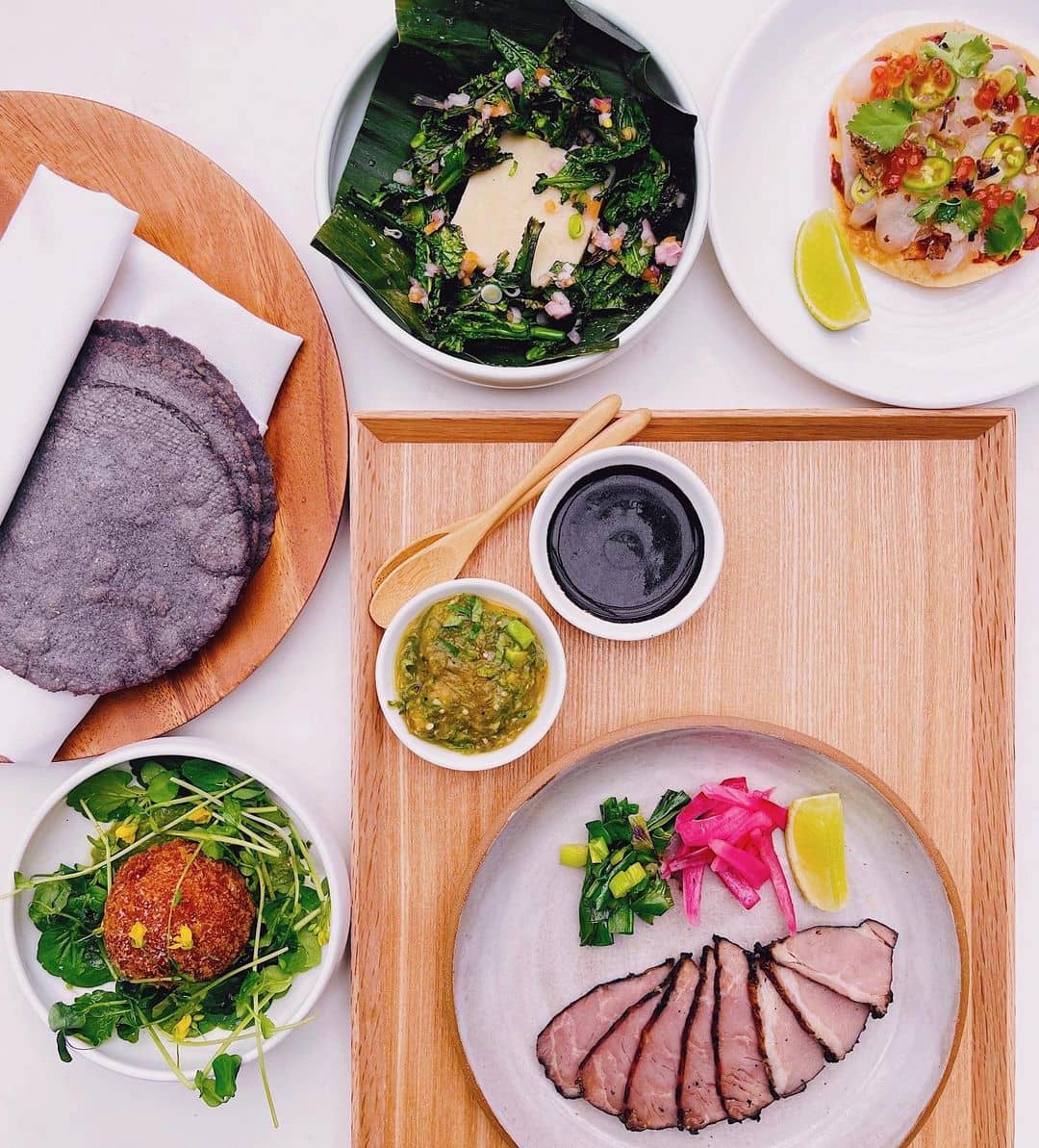 Han Oak is a Korean-owned family restaurant with an ever-changing menu inspired by the owner's Korean roots and American upbringing.
This nationally renowned chic spot has recently reopened as a prix fixe hot pot place.
For a fixed price, you get a set menu of snacks and shaved meats and veggies that can be grilled table-side.
You will also have a pot of broth table-side, boiling away, for you to dip your meat in.
While their menu keeps changing slightly, their bone broth always comes with loads of flavor and will be the foundation for all your courses.
The Egg Jjim – Korean steamed eggs – is light, fluffy, and custardy, and is almost always included in their set hot pot menu.
What to order: Set menu
Address: 511 NE 24th Avenue, Portland, OR 97232
Website | Instagram | Facebook
9. Screen Door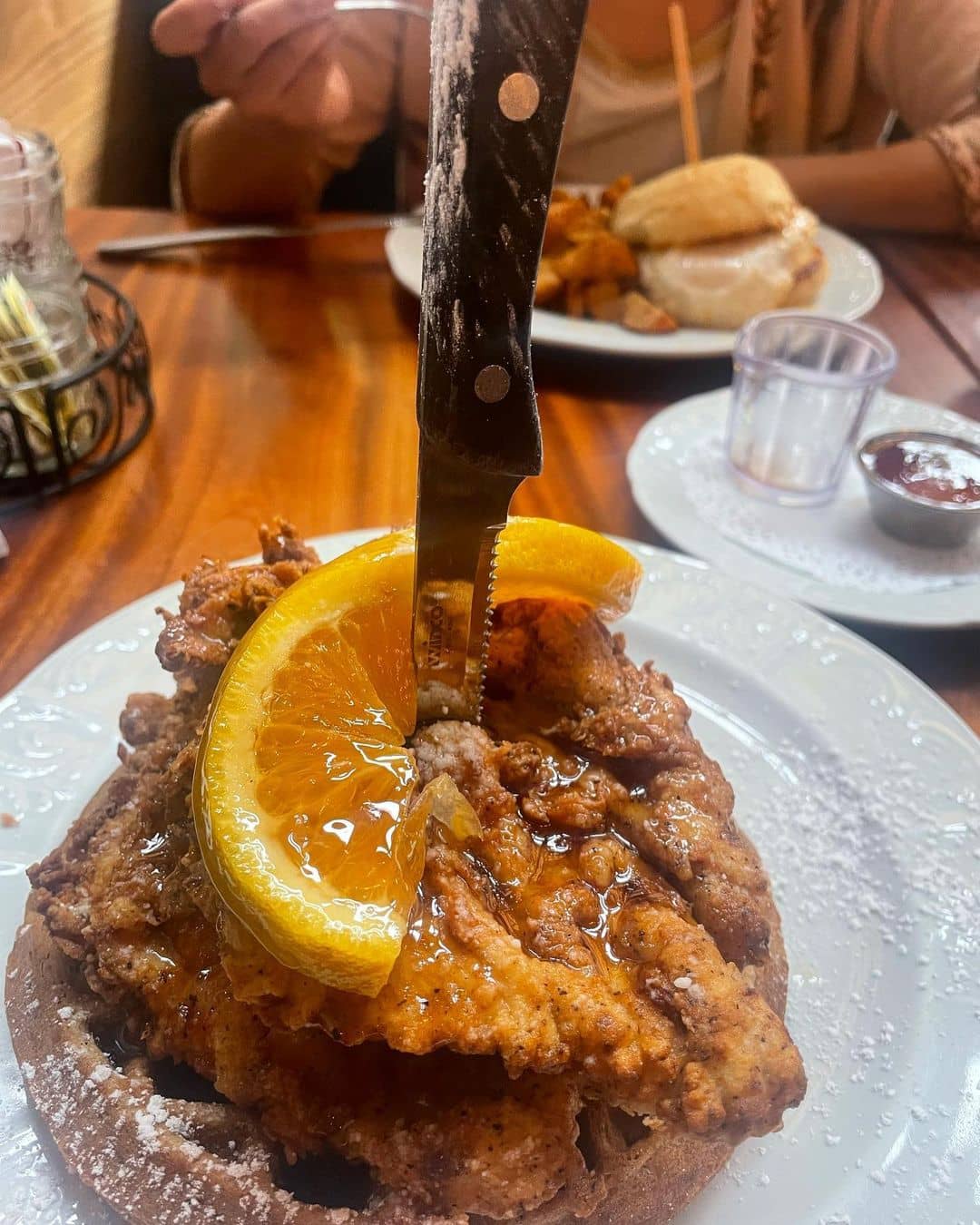 Screen Door celebrates Southern cuisine, from the soulful and hearty fare to everything fresh and local.
All the produce and meat served at the restaurant are local, natural, and organic, and the place itself is lively, with an open kitchen, and friendly and timely service.
Remember, everything you order at Screen Door should have Fried Chicken in it, because it is that good, and it is what they are known for.
The chicken is buttermilk-battered and has a crispy and peppery exterior and a nice and juicy inside.
They have a wide variety of house-made sauces you can select from. Our favorite is the Creole Honey Mustard and Crystal Hot Sauce Mayo.
If you visit Screen Door for brunch, do try their Praline Bacon; it is an excellent balance of sweet and savory.
For something sweet during mid-morning, their Banana Foster French Toast would be perfect.
From the rich vanilla custard flavor in the griddled brioche to the rum-flamed caramelized bananas and whipped cream, this dish fills your heart with happiness.
What to order: Fried Chicken, Praline Bacon, Banana Foster French Toast
Address: 2337 E Burnside Street, Portland, OR 97214
Website | Instagram | Facebook
10. Le Pigeon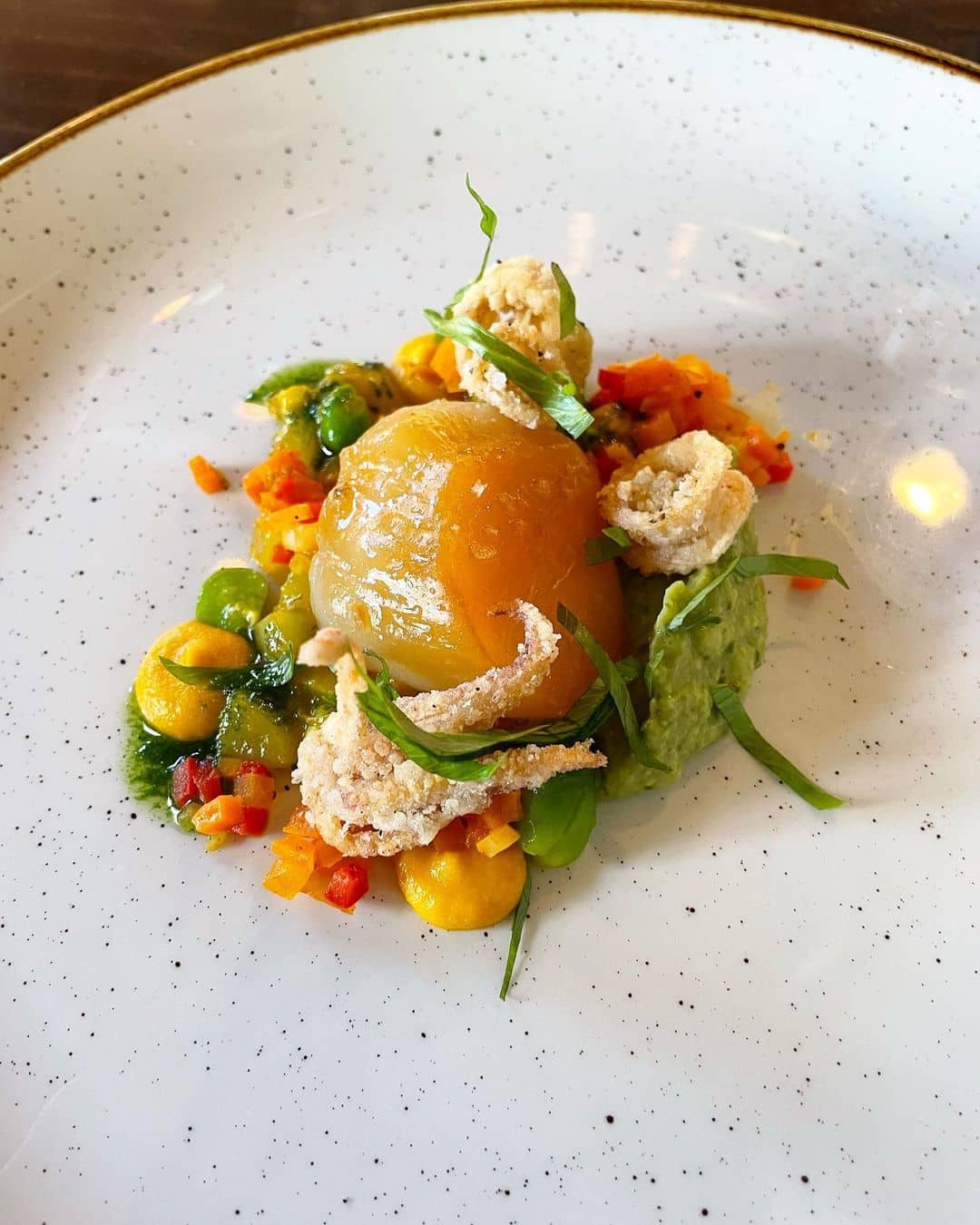 A sister restaurant of Canard, Le Pigeon also serves creative French-inspired food in a cute, snug space in downtown Portland.
Their Chef's Tasting Menu is very popular in the area, and their menu evolves with the season.
Currently, Le Pigeon offers only the Chef's Tasting Menu, which is a pre-set menu featuring their chef's finest creations. This menu does contain some of the most popular items from the restaurant's usual a-la-carte menu.
The Seared Foie Gras is an elegant starter dish that will surprise you even if you were never a fan of liver dishes.
While the accompaniments on your plate keep changing to accommodate seasonally available produce, the main attraction – the foie gras – always stays, and is delicate, rich, and buttery.
If you happen to see Beef Cheek Bourguignon, just get it! The gelatinous quality of the beef cheeks makes it so tender yet rich.
The addition of creamy cheddar and applesauce gives a whole new dimension to the dish.
What to order: Seared Foie Gras, Beef Cheek Bourguignon
Address: 738 E Burnside Street, Portland, OR 97214
Website | Instagram | Facebook
11. Murata Restaurant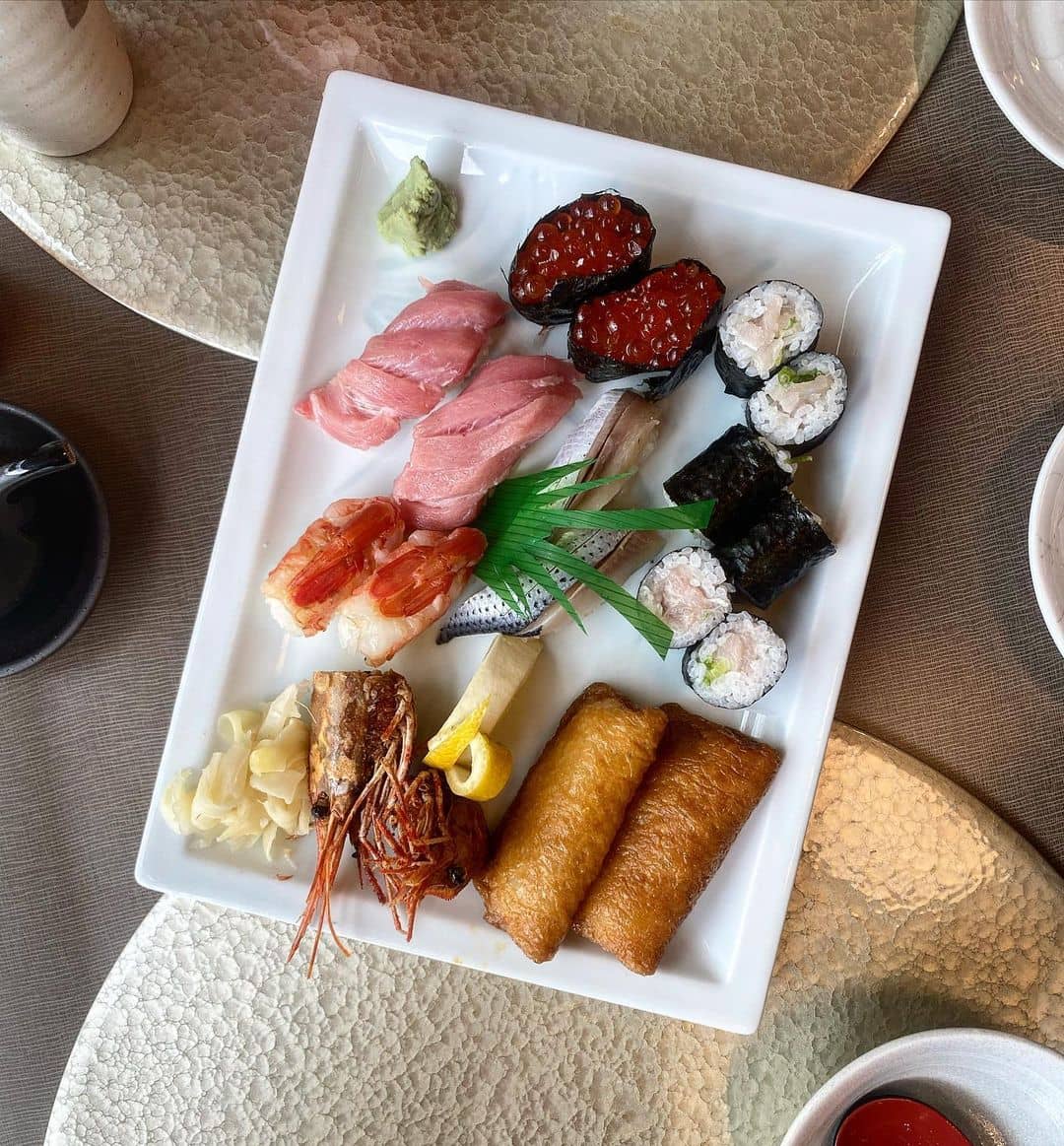 Established in 1988, Murata is a family-owned and -operated restaurant serving authentic Japanese food, including sushi and sashimi.
With unique tatami rooms for diners to have their privacy and traditional decor, this is certainly a place where you can have one of the best Japanese dining experiences in Portland.
The Spicy Tuna roll at Murata will exceed your expectations in terms of flavor, texture, and freshness. It is distinctly flavorful and literally melts in the mouth.
Their Uni Nigiri and Hamachi Nigiri are two classic favorites, both masterfully prepared with the freshest of ingredients.
They have beautifully delicate flavors, and a creamy and buttery texture but are unique in their own way.
What to order: Spicy Tuna Roll, Uni Nigiri, Hamachi Nigiri, Deep-fried Amaebi Head
Address: 200 SW Market Street, Portland, OR 97201
Website | Instagram | Facebook
12. Phuket Cafe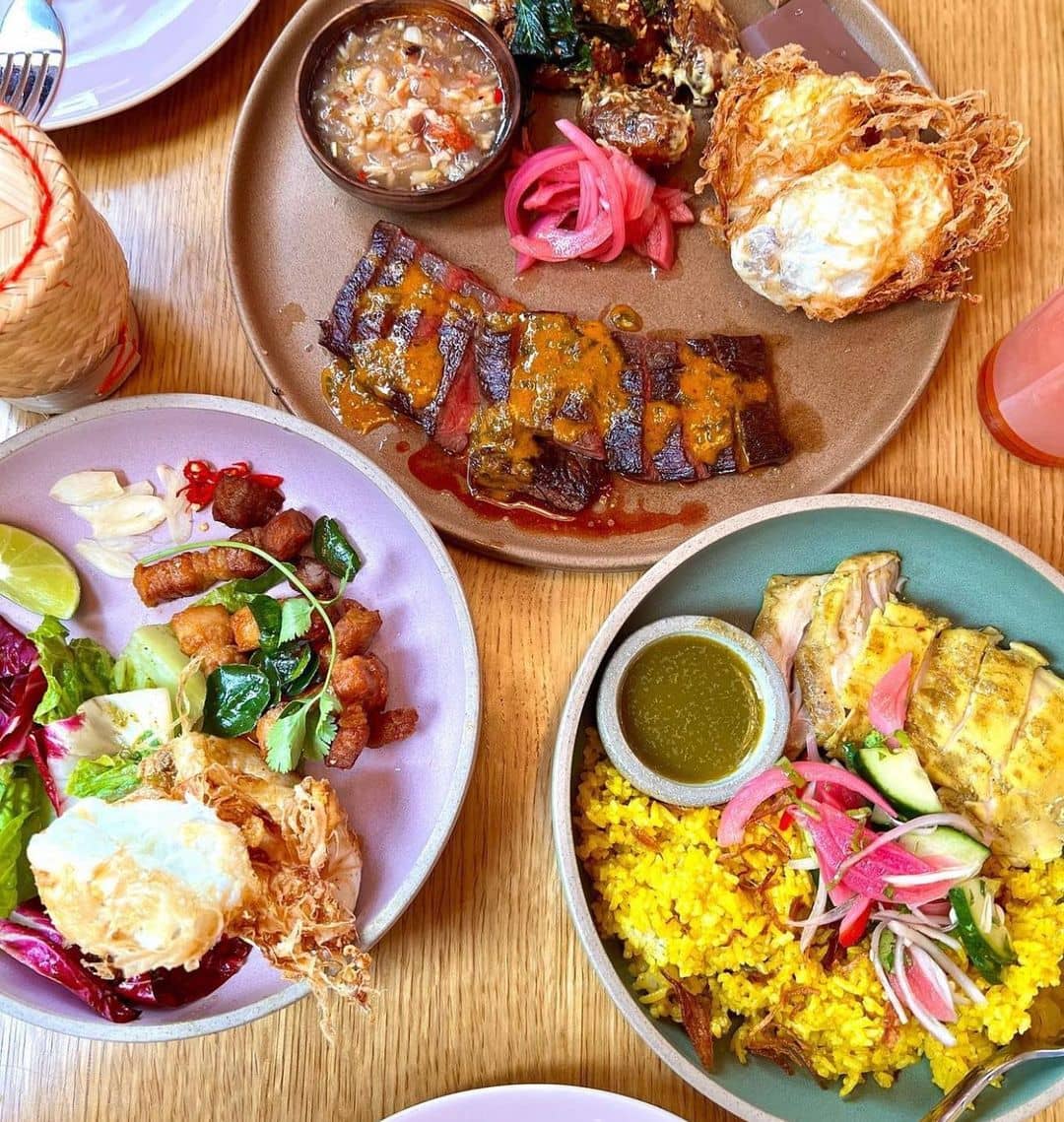 Phuket Cafe offers you a Thai dining experience in Portland like no other. The space is designed to help diners reminisce about the colorful streets of Old Phuket Town, and buzzes with energy.
The food is traditionally cooked, and available for both brunch and dinner.
Available for dinner, Phuket Cafe's Pandan Cheese Roti has quite some following.
The roti is slightly sweet and the texture is chewy, more like mochi. You can also add cured salmon roe and coconut crème frâiche for added flavor.
Thai Paella is an interesting twist to the popular dish. No doubt, the dish here is beaming with Thai flavors; nice and crisp rice and a slight spice kick to relish.
From their brunch menu, don't forget to order Muu Kua Grua – crispy and juicy pork belly bites that are as satisfying as they are addicting.
What to order: Pandan Cheese Roti, Thai Paella, Mua Kua Grua
Address: 1818 NW 23rd Place, Portland, OR 97210
13. Ken's Artisan Pizza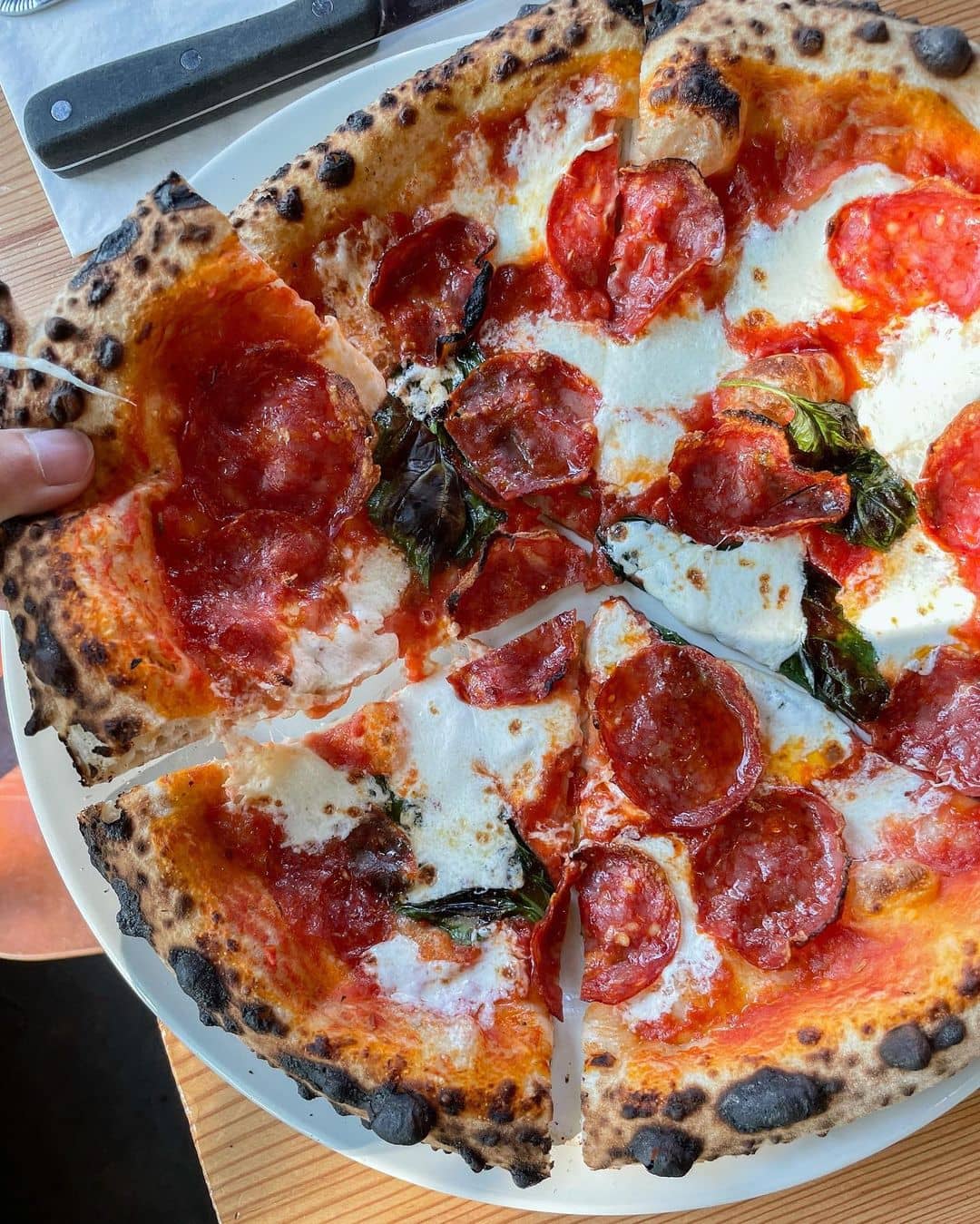 How can we not have a pizza place on our list, especially when it's a bustling spot like Ken's Artisan Pizza?!
The pizzas here are "Italian-inspired with an American accent"; everything is wood-fired, with hand-stretched mozzarella, and a yummy array of toppings.
The place has a rustic and casual vibe, perfect for everyone.
The Fennel Sausage & Onions pizza has a distinctive fennel flavor without being overwhelming.
If you like your pizza to have a spicy and smoky flavor, you could add Calabrian chilis as one of the toppings.
The New Yorker is a simple and classic version; add pepperoni for some meatiness, and enjoy it with the pizza's glorious wood-fired crust.
To everyone's surprise, the Caesar Salad at Ken's is quite popular. Who thought people would love a salad at a pizza place?!
What to order: Fennel Sausage & Onions pizza, New Yorker pizza, Caesar Salad
Address: 304 SE 28th Avenue, Portland, OR 97214
Website | Instagram | Facebook
14. Gado Gado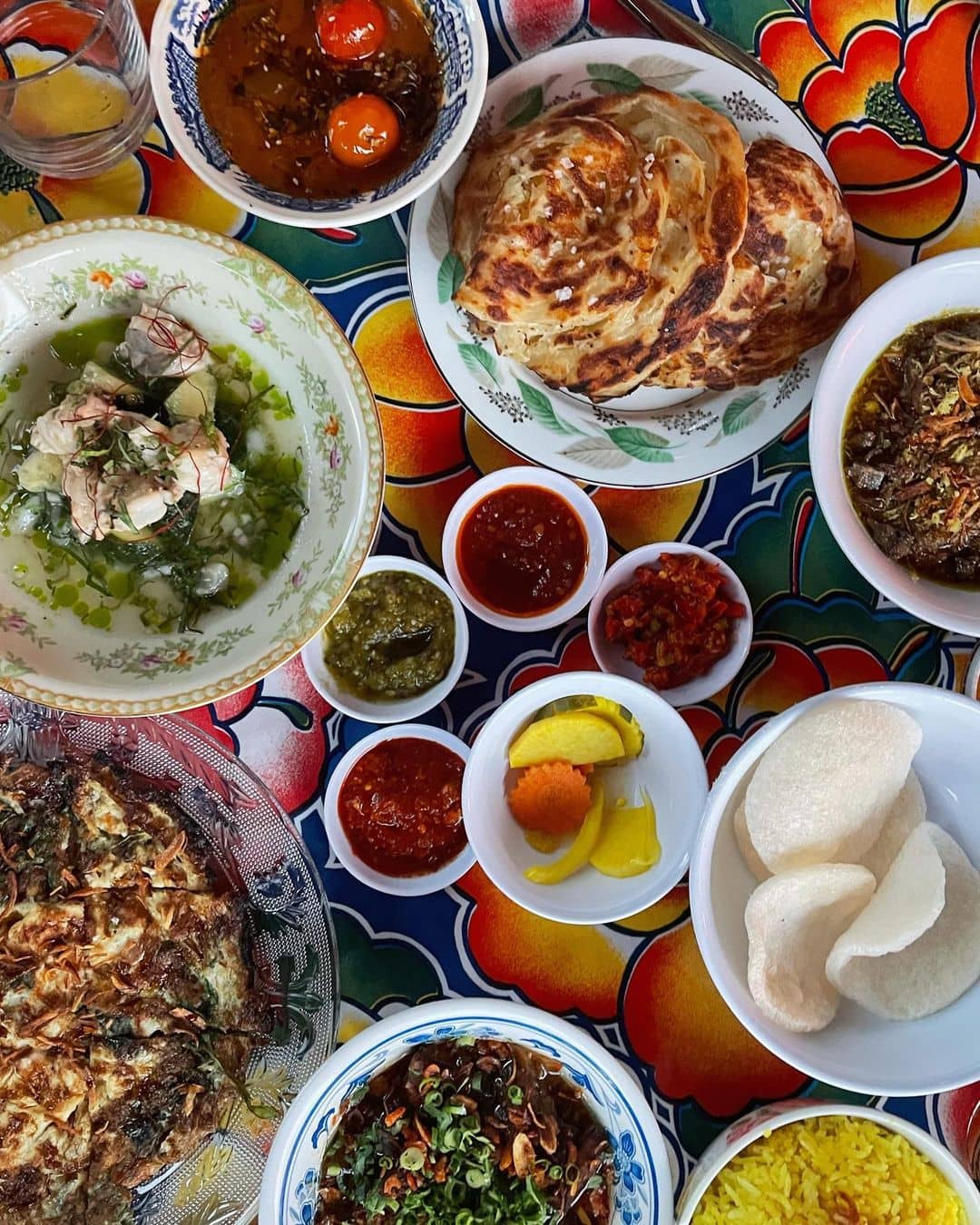 A live and active hangout spot, Gado Gado's menu is very unique; it is a combination of Chinese Indonesian and Dutch Indonesian cuisine.
With eclectic decor and a colorful ambiance, the dining space transports you to a different happy place.
Sumatran Style Beef Rendang – this is the real deal when it comes to the most authentic Indonesian beef curry.
Yes, rendang is beef curry cooked in coconut milk; you can taste the coconut flavor in the beef, and the fact that it is fully reduced in the curry until dry gives it an amazing depth of flavor.
The Chinese Sausage & Shrimp Siu-Mai is simply outstanding; you get a generous filling of meat, which, of course, is mouthwateringly flavorful, and the hot mustard adds a sharp taste to the siu-mai.
Gado Gado also offers a family-style Rice Table for a set price, and this menu includes a lot of exciting dishes, like dumplings, curries, breads, sambals, rice, and more.
What to order: Sumatran Style Beef Rendang, Chinese Sausage & Shrimp Siu-Mai, Roti Canai
Address: 1801 NE Cesar E Chavez Blvd, Portland, OR 97212
15. OX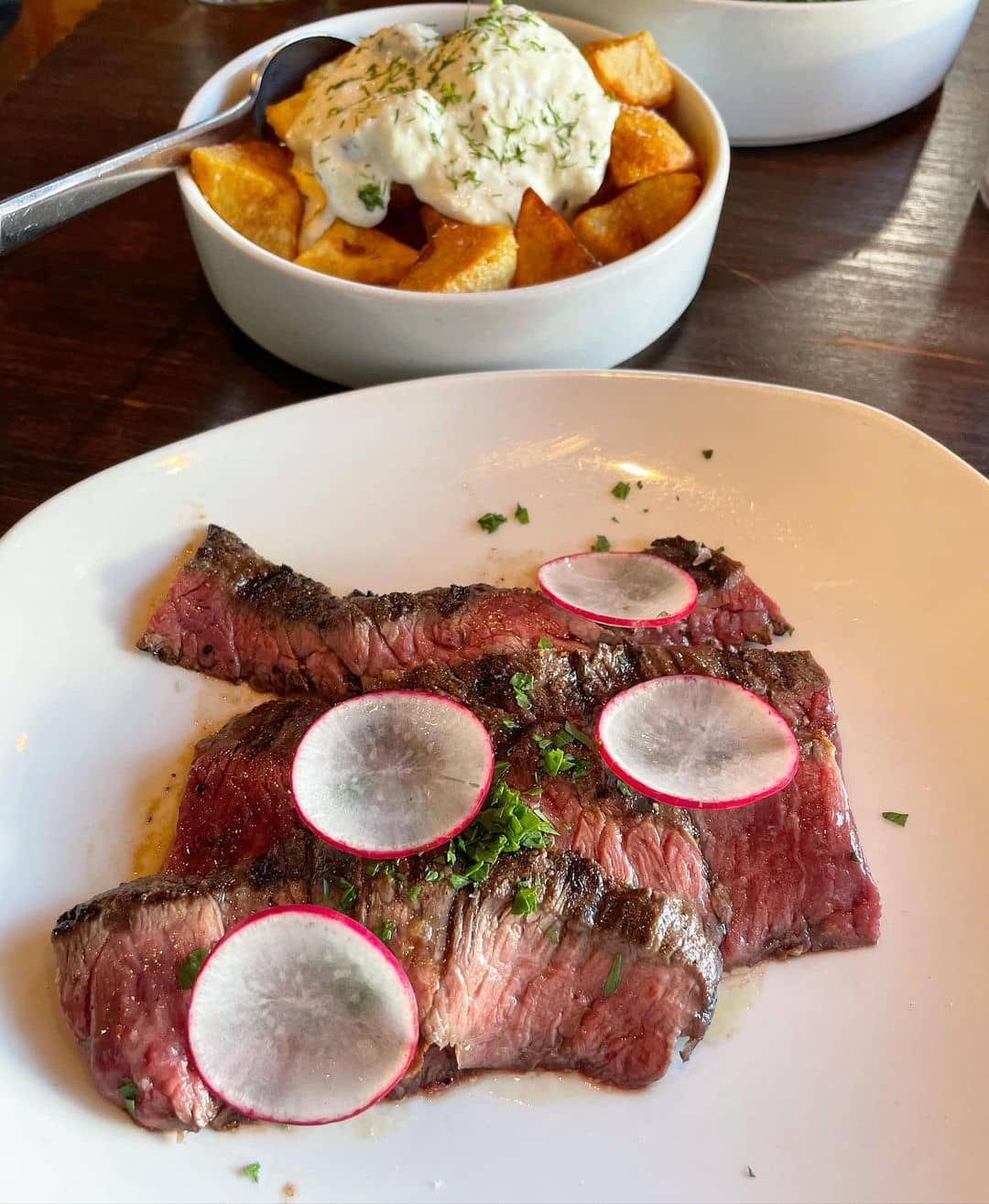 OX Restaurant is a friendly and comfortable neighborhood restaurant, which finds inspiration in the Argentinian wood-fired grilling tradition.
Their menu showcases the culinary heritage of Spain, France, and Italy as well, and the dishes showcase prime local meats and fish, and seasonal produce.
Write this down – Fresh Clam Chowder with Smoked Marrow Bone; this is going to be your first order at OX.
This clam chowder has all the signs of becoming the best you've ever had, and why is there smoked bone marrow in it?
We don't know but we do know that it adds a delicious richness and a whole other flavor profile to the chowder.
OX Restaurant is widely famous for their meat offerings. May it be their Beef Ribeye Steak, Beef Skirt Steak, or any other cut of meat, it is guaranteed to be of the highest quality and cooked to absolute perfection – tender inside and crispy, charred, and smoky outside.
If you're looking to have a side dish with your steak, the fitting option would be Fried Russet Potatoes – crispy outside and soft inside, dip them in the horseradish aioli for a zesty kick, and find yourself in heaven!
What to order: Fresh Clam Chowder with Smoked Marrow Bone, Beef Ribeye Steak, Beef Skirt Steak, Fried Russet Potatoes
Address: 2225 NE Martin Luther King Jr. Blvd, Portland, OR 97212
Website | Instagram | Facebook
As you probably noticed, Portland has a lot of places that offer a hearty brunch menu. If you're in the city and looking for an awesome brunch spot, we got you covered with our Best Brunch Spots in Portland list.
How We Create Our "Best" Lists
All Noms Magazine's "best" lists are created using multiple factors and signals to help readers find the best restaurants, things to do, and places to stay at. Some of these factors and signs include personal experiences, correspondence with locals, and compiling experiences from review sites.
Each list is also created to be balanced (in terms of price, cuisine type, ambiance, and more) as possible. This means that the lists are not specifically created in ranking order. You should be comfortable picking from any of the spots on the list and generally have a good time. But of course, YMMV (your mileage may vary) and everyone may have different experiences/palates.