Located to the east of Burnaby, Coquitlam is where you'll find ​​bustling urban landscapes, our so called K-town, shopping enclaves, and more. Being a multicultural city, where flavours from every corner of the world are gathering, no doubt that you can certainly find numerous cultural influences in most Coquitlam restaurants.
From traditional grills to Asian-fusion restaurants, fine dining to casual, street food, here are the 14 best Coquitlam restaurants waiting for you to explore.
*Noms Members are part of our exclusive paid membership. Only food spots we personally recommend are accepted as members. 
1. Kimbab Cheonguk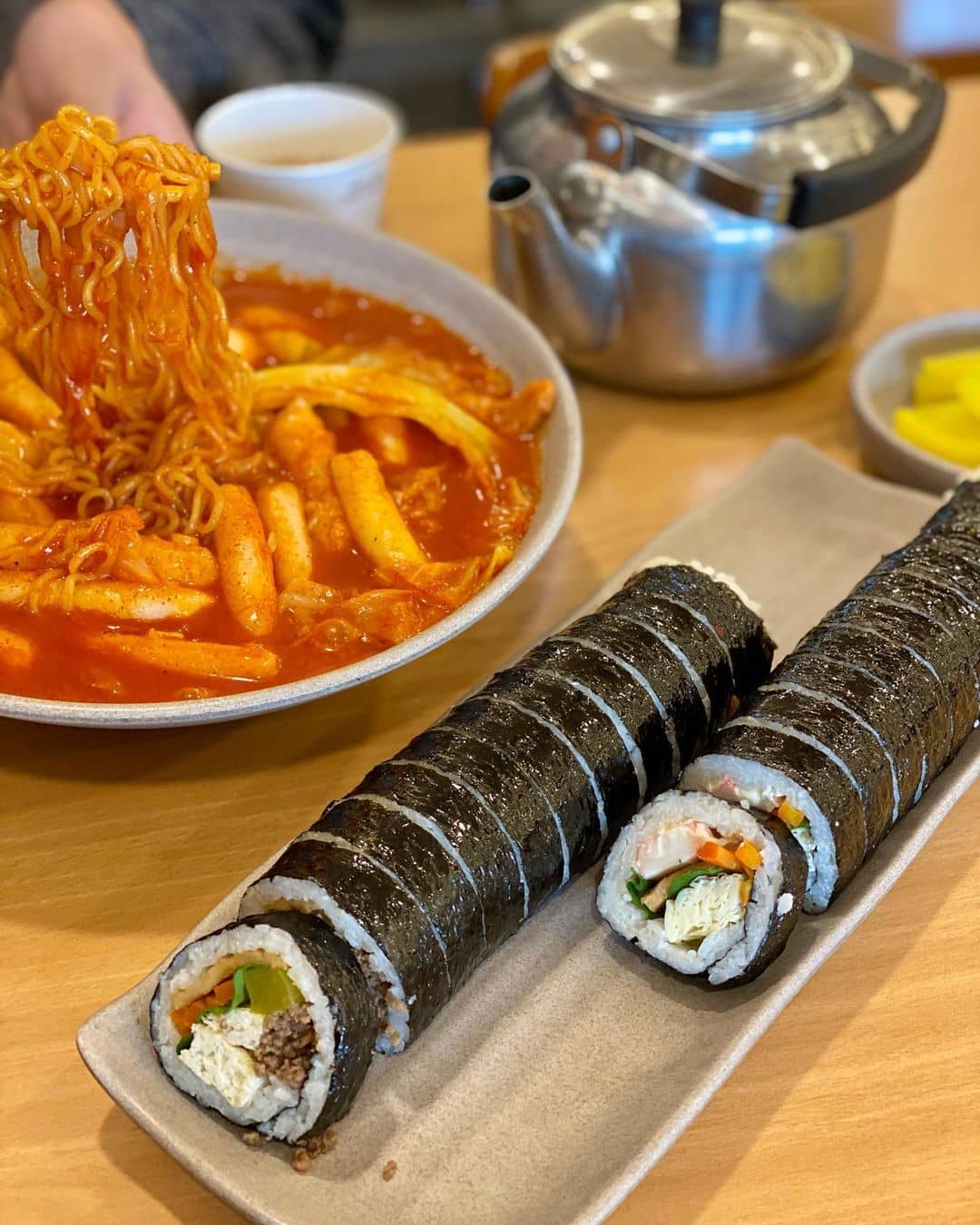 If you're a big fan of kimbap and Korean cold noodles (mul naengmyeon), then this place is for you! Being one of the most outstanding spots that serve incredibly good Korean food, Kimbab Cheonguk can surprise you with its classic to modern Korean dishes. Come by and this adorable place can certainly satisfy your hunger!
Complement your main dish with one of their mouth-watering Ddock-Bok Ki, which has a famous chewy texture from the rice cakes, and spicy-sweet soup. This dish is enormously popular, and at Kimbab Cheonguk, they have done Ddock-Bok Ki so well that you'll scream for more after having a bite.
For kimbab, try out their Beef Kimbab and Tuna Kimbab, which are top-notch! The Beef Kimbab includes sweet-savory ground beef wrapped tightly with egg, veggie, and perilla leaves in roasted seaweed and rice; while the Tuna has a creamier taste when mixed with mayonnaise. Absolutely a chef kiss!
And if you're looking for something to cool down during the summer, their mul naeng myung is perfect. It is a cold noodle with broth, that is refreshing and tasty. Be sure to add several splashes of vinegar and mustard to really elevate the taste.
What to order: Tuna Kimbab, Beef Kimbab, Chicken with Cheese Ddock-Bok-Ki, Spicy Pork Rice Stone Bowl, Mul Naeng Myeon.
Address: 341 North Rd A, Coquitlam, BC V3K 3V8
2. Pasta Polo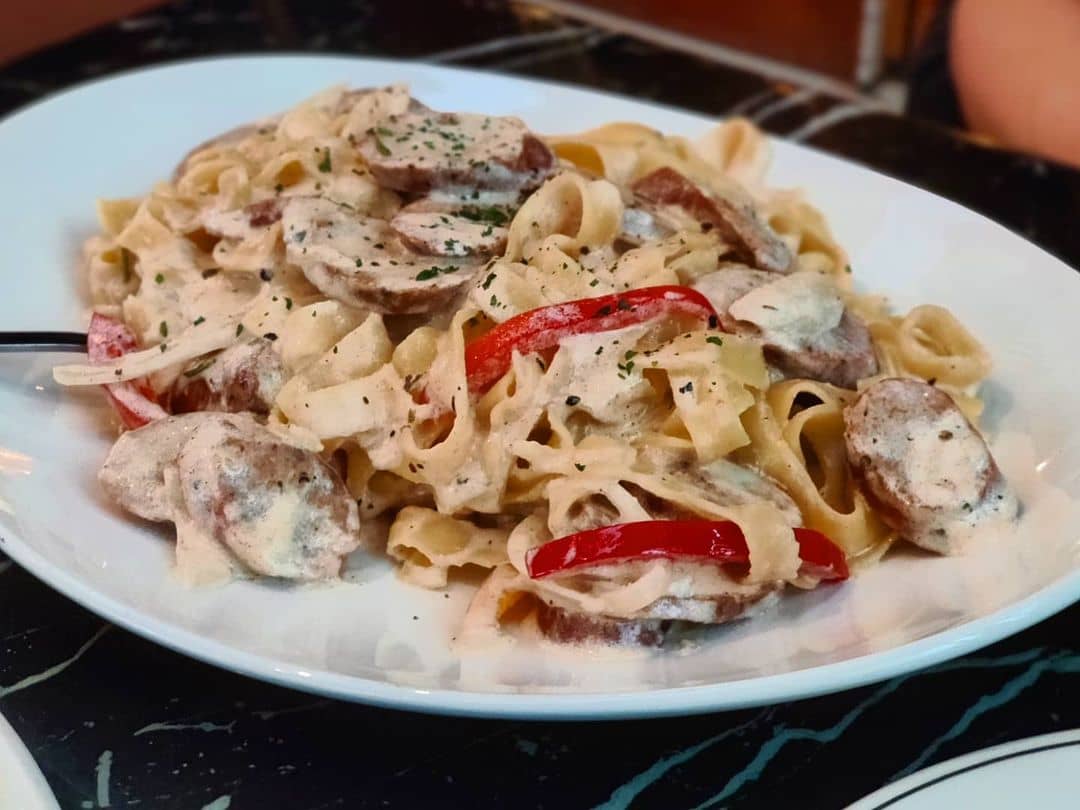 Operating for more than 20 years, Pasta Polo has been a part of the Tri-City community life when serving excellent freshly-made pasta, brick oven pizza, and other signature Italian favorites. From food to ambiance, there is nothing we would want to change about Pasta Polo, everything is just so right. A local legend, we must admit!
Stars of the menu include Baked Chicken Parmigiana, Chicken Penne, Cafanata Pizza, and Seafood Cannelloni. While the Baked Chicken Parmigiana has a deliciously crispy coating, smothered in a rich homemade tomato sauce and melted mozzarella cheese; the Chicken Penne comes with perfectly seared chicken, which is sliced and tossed into a creamy white sauce with penne pasta.
If you're coming in a group, Seafood Cannelloni is an absolute crowd pleaser with a light and fresh taste, or go for Cafanata Pizza to share. Pick a bottle of wine, and you are all set!
What to order: Baked Chicken Parmigiana, Chicken Penne, Seafood Cannelloni, Cafanata Pizza, Herb and Cheese Tortilla
Address: 2754 Barnet Hwy, Coquitlam, BC V3B 1B9
Website | Instagram | Facebook
3. Hee Rae Deung Korean Chinese Restaurant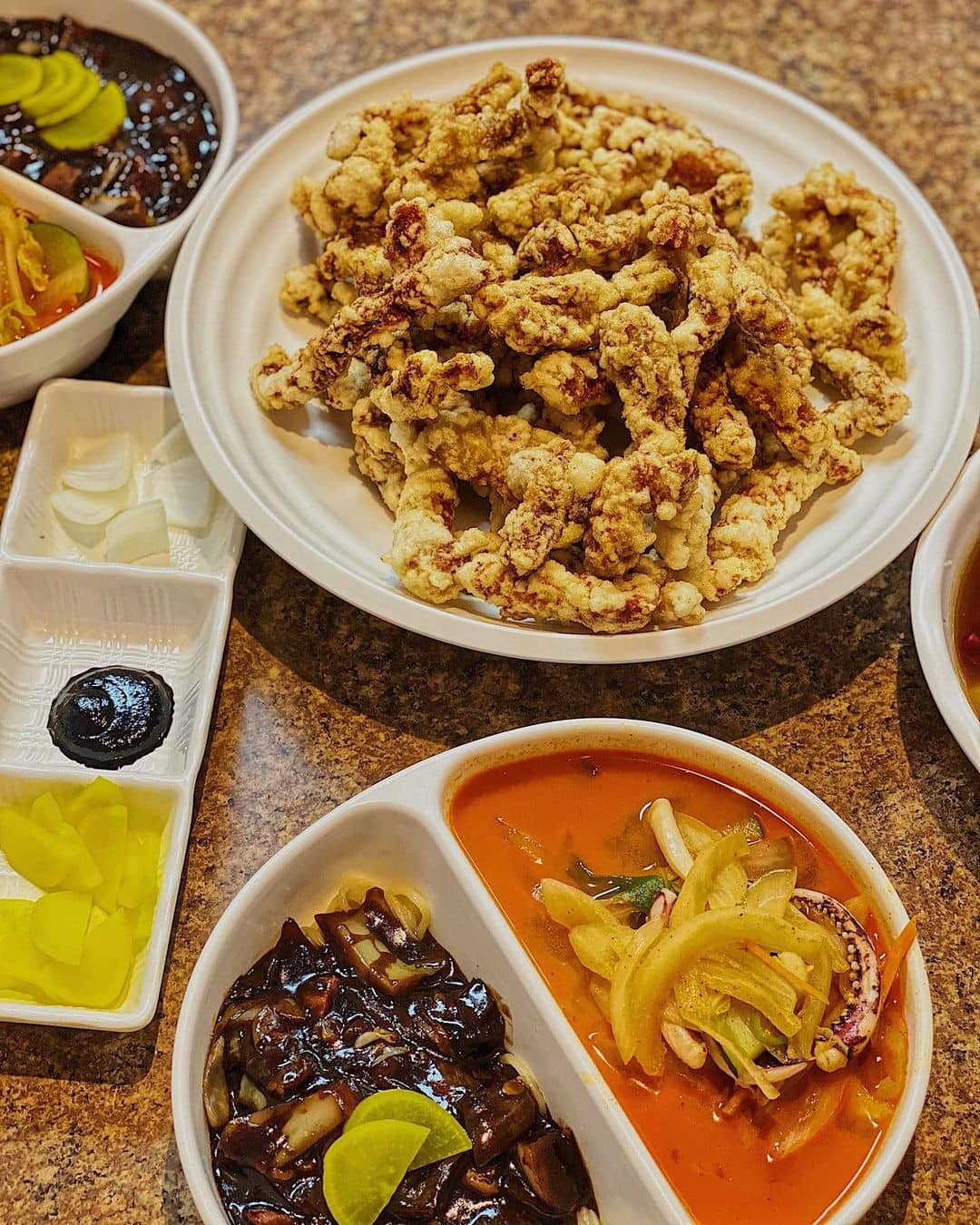 Looking for a spot that is tasty, yet affordable? Hee Rae Deung Korean Chinese Restaurant is the answer! Located closed to Lougheed Skytrain station, this is the spot you'd love to revisit all over again for traditional and comfortable Korean dishes in such a cozy, homey ambiance.
There is a reason why this place is ALWAYS busy, and their Black Bean Sauce Noodle (Jjajangmyun) and Sweet & Sour Pork (tansuyuk) is one of them. The noodle is stir-fried with sugar, soy sauce, and black bean sauce until lightly caramelized, then topped with savory pork cubes and veggies, from which you might find that heavenly balanced taste of sweet-salty and soft-chewy-crunchy texture.
Don't miss a chance to try their Seafood Jjampong as well! This Korean spicy noodle soup is loaded with seafood that tastes so addictive, a little bit complex, but refreshing and comforting!
What to order: Black Bean Noodles, Sweet and Sour Pork, Seafood Jjampong, Sweet and Sour Chicken, Pork Bean Sauce Noodle
Address: 435 North Rd #24, Coquitlam, BC V3K 3V9
Website | Instagram | Facebook
4. Marutama Ramen Coquitlam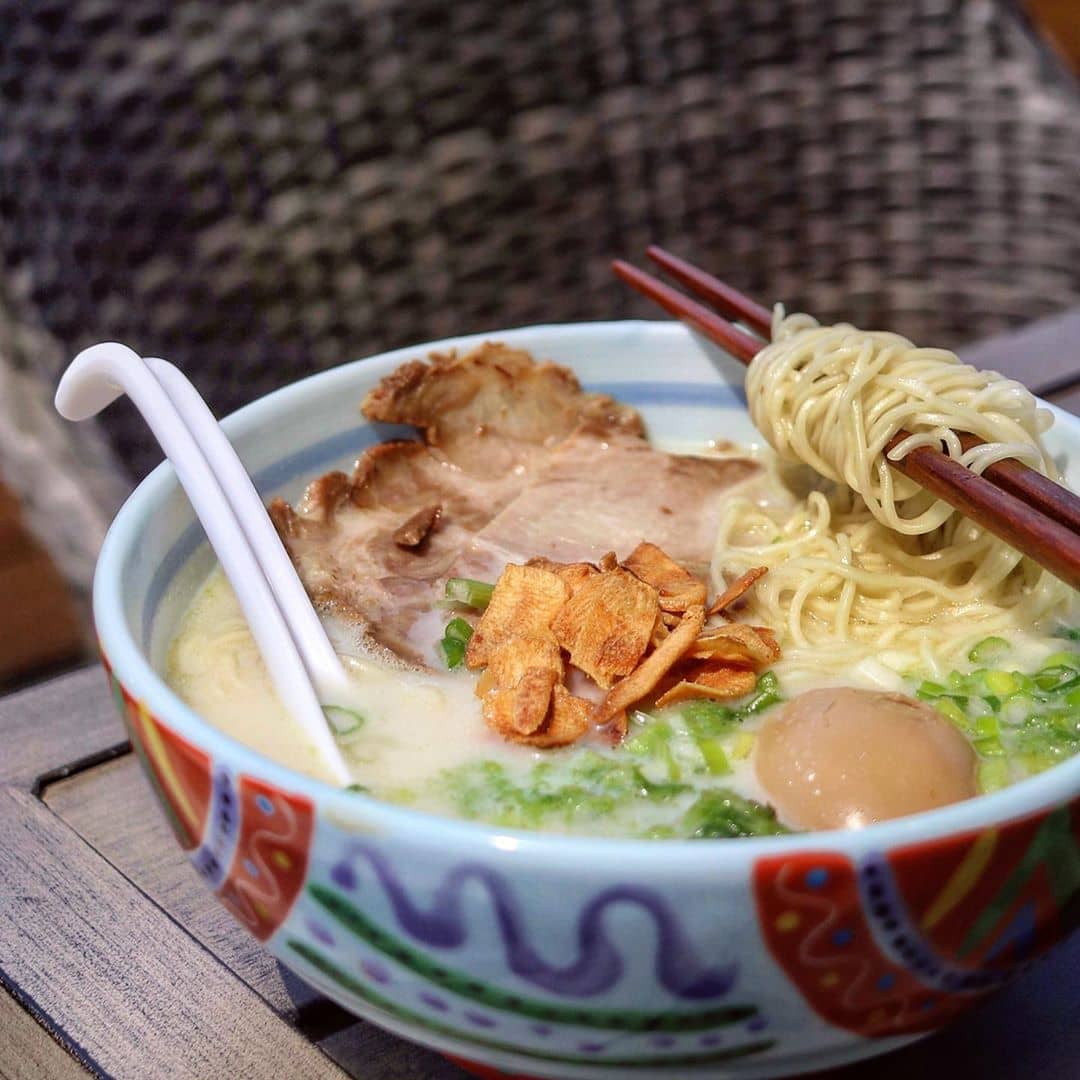 Craving a bowl of luscious, authentic Japanese ramen but can not go to Japan right away? Well one of the best ramen in Vancouver, Marutama Ramen is also available in Coquitlam and will transport you to Tokyo with its bomb ramen! Specializing in simple and light-tasting ramen with house-made ingredients, you are promised to have the best bowl of ramen ever when visiting Marutama!
Tamago Ramen is the crowd favorite, a must get. It consists of Marutama's signature creamy chicken broth, and chewy noodles, and is topped with sliced cha-shu, seaweed, green onions, and the semi-runny soft-boiled soy sauce eggs.
To make this magical bowl, every morning at 6:00 AM, their team prepares the soup and makes their chewy ramen noodles from scratch. Each day they make 1500 batches of noodles and still sell out before closing!
Pro tip: When you receive your bowl of ramen, always add the garlic chips. You will never be the same again after trying it.
Want to see how Marutama Ramen Vancouver makes their ramen? Watch our feature below:
What to order: Tamago Ramen, Cha-shu Tamago Ramen, Aka Ramen, Aosa Ramen, Shoyu Ramen
Address: 1190 Pinetree Way #108, Coquitlam, BC V3B 0J5
Website | Instagram | Facebook
5. Singapore Hawker
Located just behind Coquitlam Centre, Singapore Hawker is a Singaporean family restaurant that offers a diverse menu with satiating and flavorful options for groups of all sizes. Whenever you're searching for a new dining experience with friends and family, Singaporean Hawker is your next go-to!
Every dish here is meant to be shared and you will want to go for the Tofu Goreng, Vegetable Spring Rolls, Mee Goreng, Nasi Goreng, and Singaporean Laksa. Tofu Goreng is fried tofu served on a bed of cabbage, bean sprouts, tomatoes, and dressed with peanut and sweet soy sauce-based dressing. This is basically street food but at Singapore Hawker, this dish is seriously delicious and lovely to enjoy!
Mee Goreng is a stir-fried noodles dish with a sweet, savory, light spicy taste that is irresistible, and Nasi Goreng is fried rice with spring onions, minced meat, fresh chili, green beans, and eggs. Stunning!
What to order: Tofu Goreng, Mee Goreng, Nasi Goreng, Singapore Laksa, Gado Gado Malaysian Salad, Vegetable Spring Rolls.
Address: 1169 Pacific St #120, Coquitlam, BC V3B 0J1
Website | Instagram | Facebook
6. Smoking Pig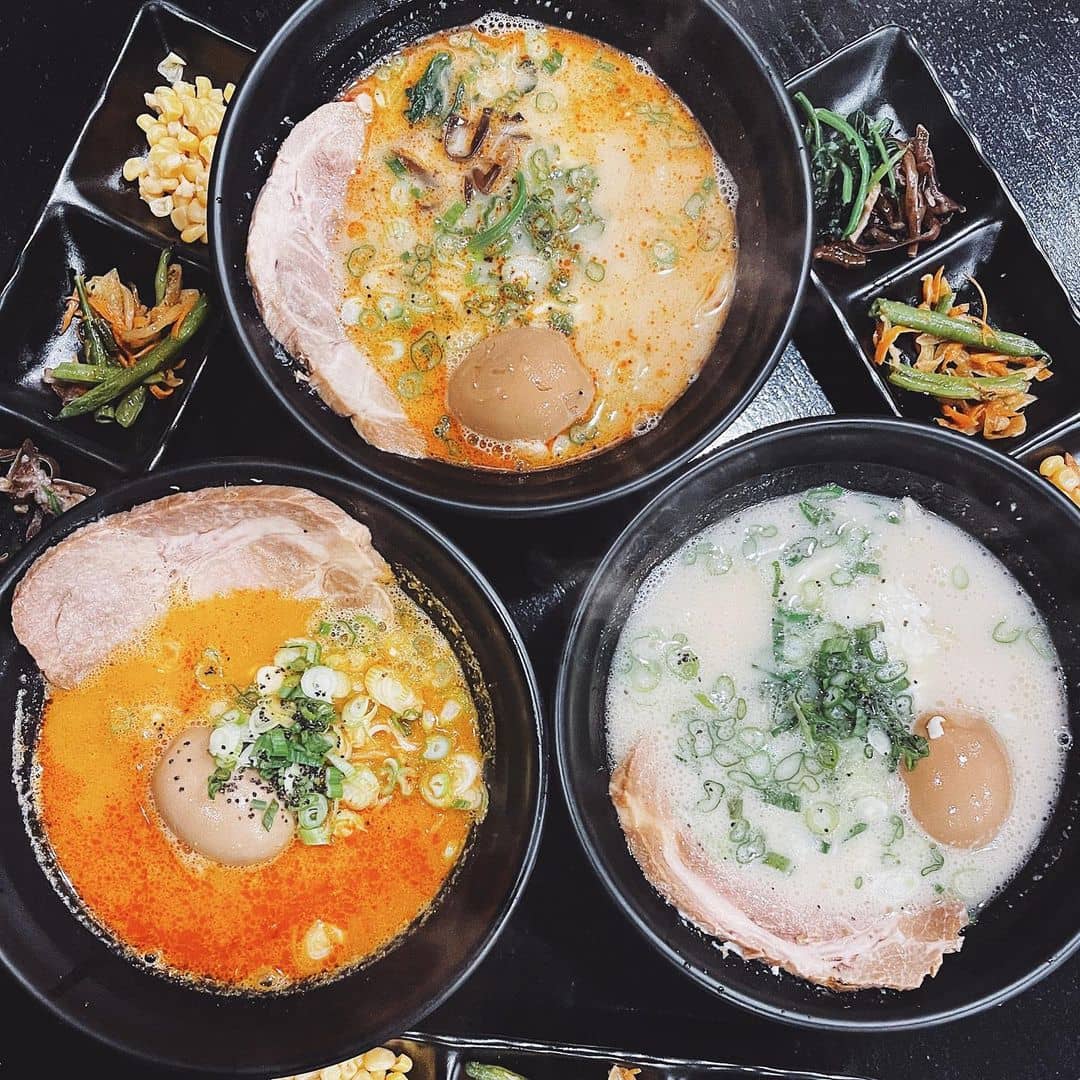 Ramen and signature Korean bites with a twist? Smoking Pig is the place! Besides serving one-of-a-kind ramen, especially the broth, Smoking Pig is also well-known for its unique cartoon characters' decoration, and energetic ambiance, from which you can tell right away that the experience you'll have at Smoking Pig ain't going to be like any other traditional ramen store you've been to!
Don't leave without having the Ramengers Ramen, its taste is no joke! With a very rich, creamy broth made from egg yolk and cheese, Ramengers is so delicious with the tender cha shu pork that has a nice smoky taste without masking how juicy and sweet the pork is. This is the best-seller of Smoking Pig, and we bet you'd never want to miss this!
For a dish to share, have yourself the Honey Garlic Fried Chicken or Smoked Pork, a savory, tasty, flavoursome dish that will make your mouth water from the first bite!
What to order: Cheese Ramen, Honey Garlic Fried Chicken, Ramengers Ramen, Perilla Ramen, Smoked Pork
Address: 1043 Brunette Ave, Coquitlam, BC V3K 1E7
Website | Instagram | Facebook
7. The Golden Boot
Located on the corner of Ridgeway and Nelson, The Golden Boot has been serving excellent Italian cuisine in Coquitlam since 1997. Here, the menu showcases the unique flavours and flare of Northern Italian, from which you may find yourself a dish of spaghetti carbonara, tagliatelle gamberoni, to a whole range of freshly made pizzas, special meat dishes, and delicious desserts!
Settle down with the Veal and Spinach Cannelloni, delicate sheets of egg pasta stuffed with a veal and spinach center, and finally topped with creamy bechamel sauce. Or the Spaghetti Freschi, which is mild and delightful yet tasty enough to light up your palate. Try these with a glass of red or white wine from the Golden Boot Caffe's wide selection!
For pizza, never miss the Maranello and Modonese Pizza! While the Maranello has a thin base with ripe tomatoes and cheese toppings, the Modonese is herbal-ish and refreshing to enjoy!
What to order: Maranello Pizza, Modonese Pizza, Penne con Salsicce, Spaghetti Freschi, Veal and Spinach Cannelloni
Address: 1028 Ridgeway Ave, Coquitlam, BC V3J 1S5
Website | Instagram | Facebook
8. My Greek Taverna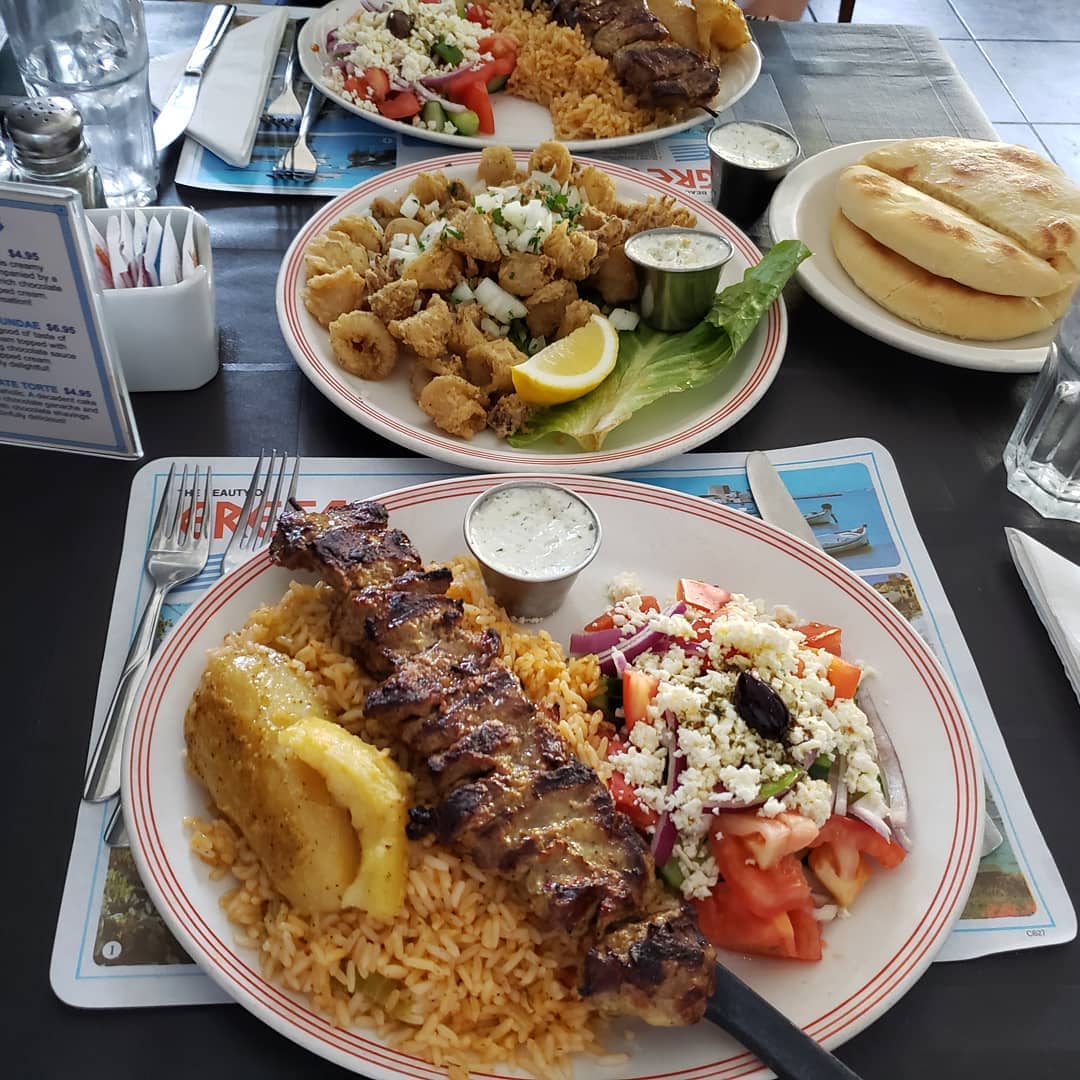 Big chance you've enjoyed some of the Greek restaurants in Vancouver already. Well, My Greek Taverna is going to ruin your Greek restaurant rankings! Being a fine-dining restaurant and offering delightful lunch, dinner, and late-night menu, My Greek Taverna ensures a fantastic experience, so don't you miss this wonderful gem in Coquitlam!
Savour their most fabulous dishes like Chicken Santorini, Saganaki Dinner, Halibut Steak, and Spanakopita. The Chicken Santorini comes with crispy chicken thighs baked with lemon, garlic, tomato, oregano, olives, and finally topped with creamy feta! While the Halibut Steak is packed with flavors and super tasty! They are the reason why this place is always busy.
You would love to also try the traditional Roast Lamb, Chicken Souvlaki, or Kalamari. Just need to make sure that you're having company because these portions are enormous!
What to order: Chicken Santorini, Saganaki Dinner, Halibut Steak, Roast Lamb, Chicken Souvlaki, Kalamari
Address: 946 Brunette Ave, Coquitlam, BC V3K 1C9
9. Onggi Korean Cuisine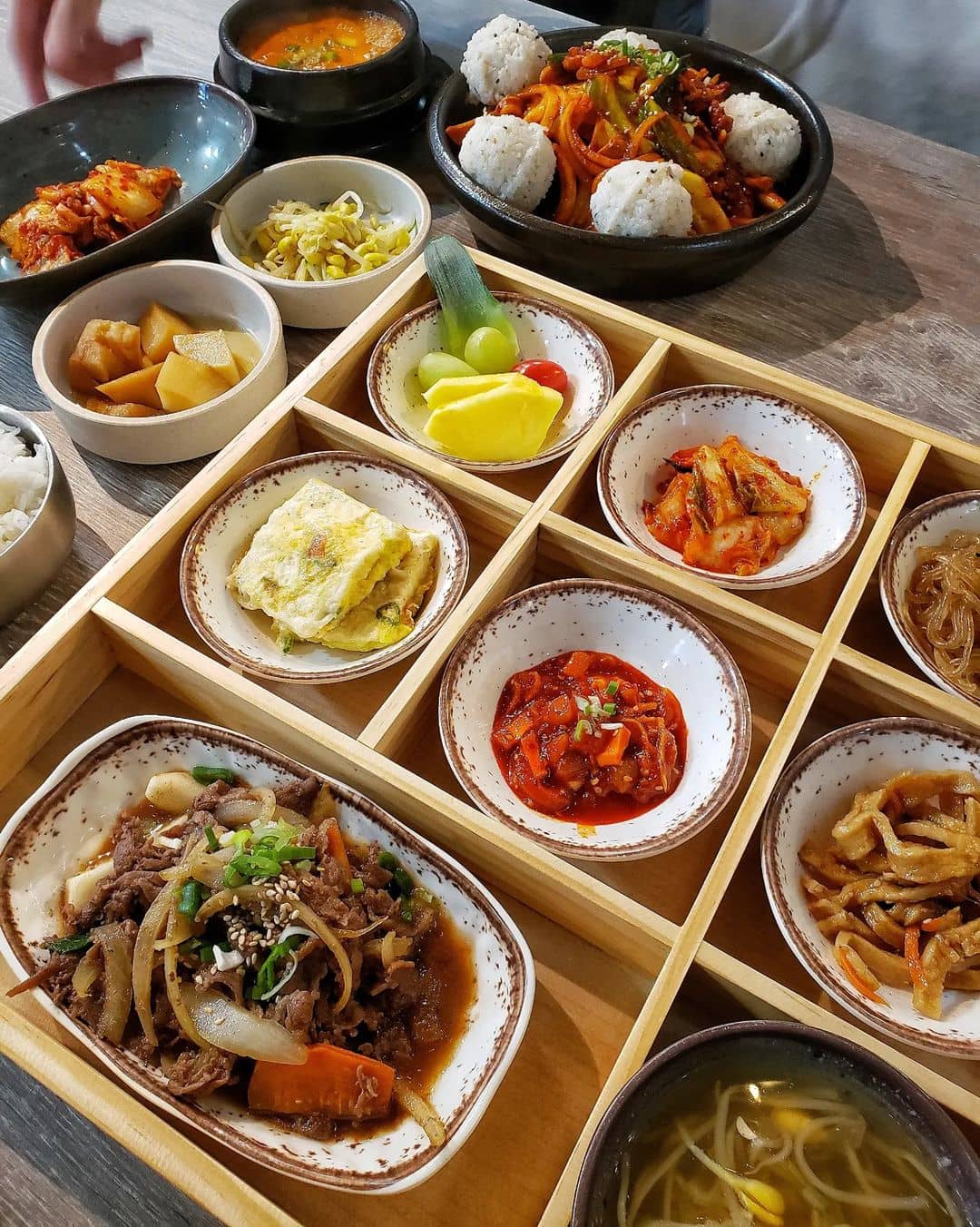 Located inside a small shopping complex on North Road, Onggi Korean Cuisine is a casual, bright, and energetic Korean eatery. Here at Onggi, you'll get the chance to enjoy your favourite K-dishes at a whole new level. Don't judge them yet based on the size, because the food quality is top-notch!
The star of the menu is definitely the Stir-fried Spicy Squid and Pork Belly. Whenever you want to grab a quick lunch or dinner, this is your go-to. Huge portion, excellent taste, fast service, what else on earth would we need? The dish comes with stir-fried spicy squid & pork belly with rice balls and a side of soybean stew. The pork is super flavourful, the squid has that perfect soft-chewy texture, and the soybean stew has a nice, deep flavor that helps break up the richness of the stir fry!
If you're coming in a group, make sure to have the signature Seafood Pancake or Kimchi Fried Cake. They are both so tasty, crispy, and full of toppings that we can barely wait to revisit Onggi!
What to order: Stir-fried Spicy Squid and Pork Belly, Spicy Cold Noodle, Seafood Pancake, Kimchi Fried Cake, Grilled Pork Bulgogi
Address: 4501 North Rd #103, Burnaby, BC V3N 4R7
Website | Instagram | Facebook
10. Kook's Cooks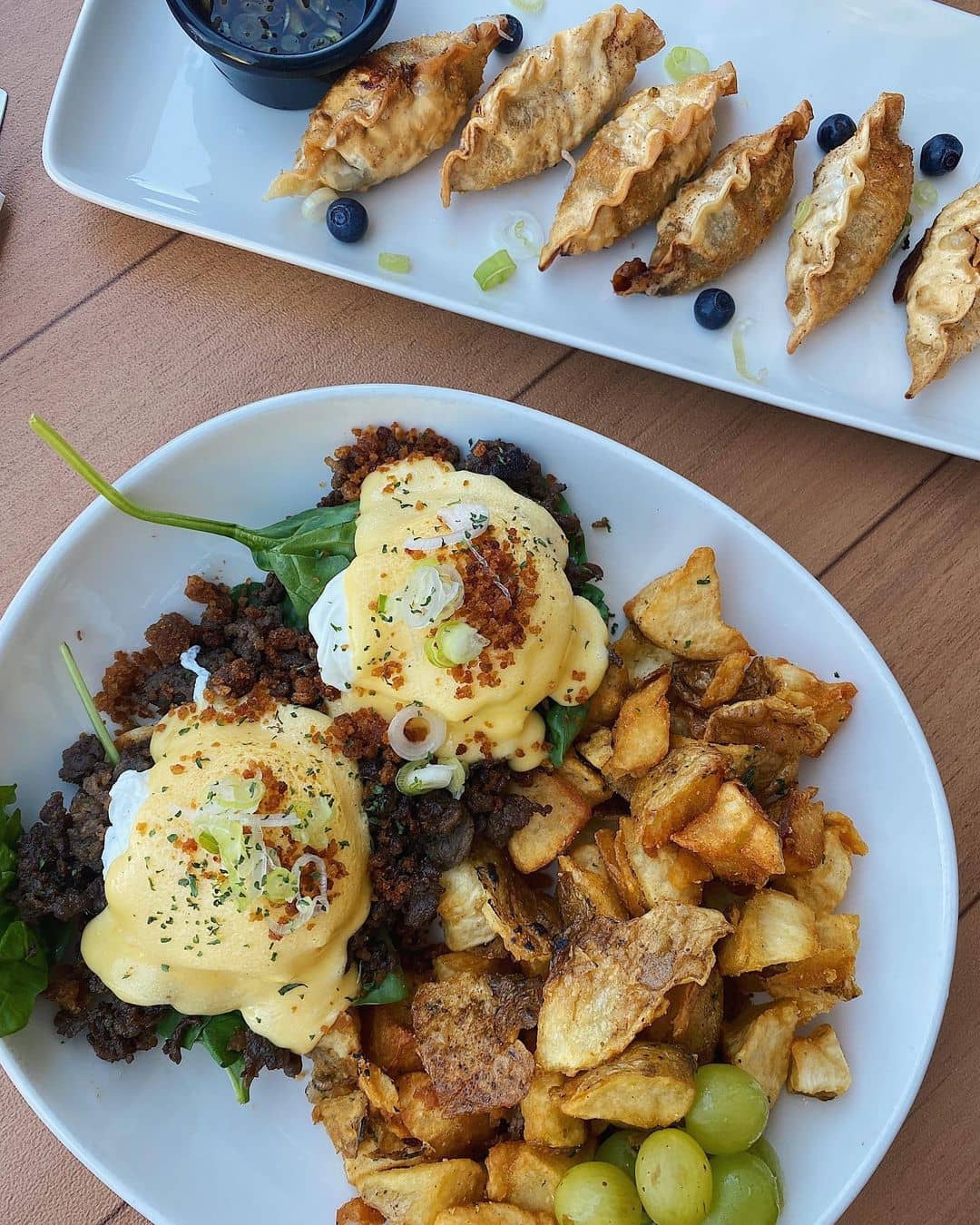 How to have breakfast with style? Pay a visit to Kook's Cooks and you'll get your answer! Being a small breakfast and brunch restaurant in Coquitlam, Kook's Cooks will impress you not by size, but by the authentic Canadian brunch style with a creative touch of Asian influence! Come and feast on your palate with their daily soup, waffles, salads, Sandwiches, Pancakes, Benedict, Pasta, and much more.
To start your day, try their Smoked Salmon Benedict, which is soft and buttery, with a lightly salty, pleasantly sweet taste! You can also have the Bulgogi Beef Burrito for breakfast with layers of tender beef, daikon pickles, kimchi, and veggie wrapped in a warm tortilla.
In case you're coming for brunch, never miss a chance to have their Crab & Prawn Cream Pasta or Kimchi Burger. While the paste is elegant, creamy, and savory, the burger is way bolder, more flavorful, and finger-licking good!
What to order: Smoked Salmon Benedict, Bulgogi Beef Burrito, Crab & Prawn Cream Pasta, Kimchi Burger
Address: 2120 Austin Ave, Coquitlam, BC V3K 3R8
Website | Instagram | Facebook
11. Nadri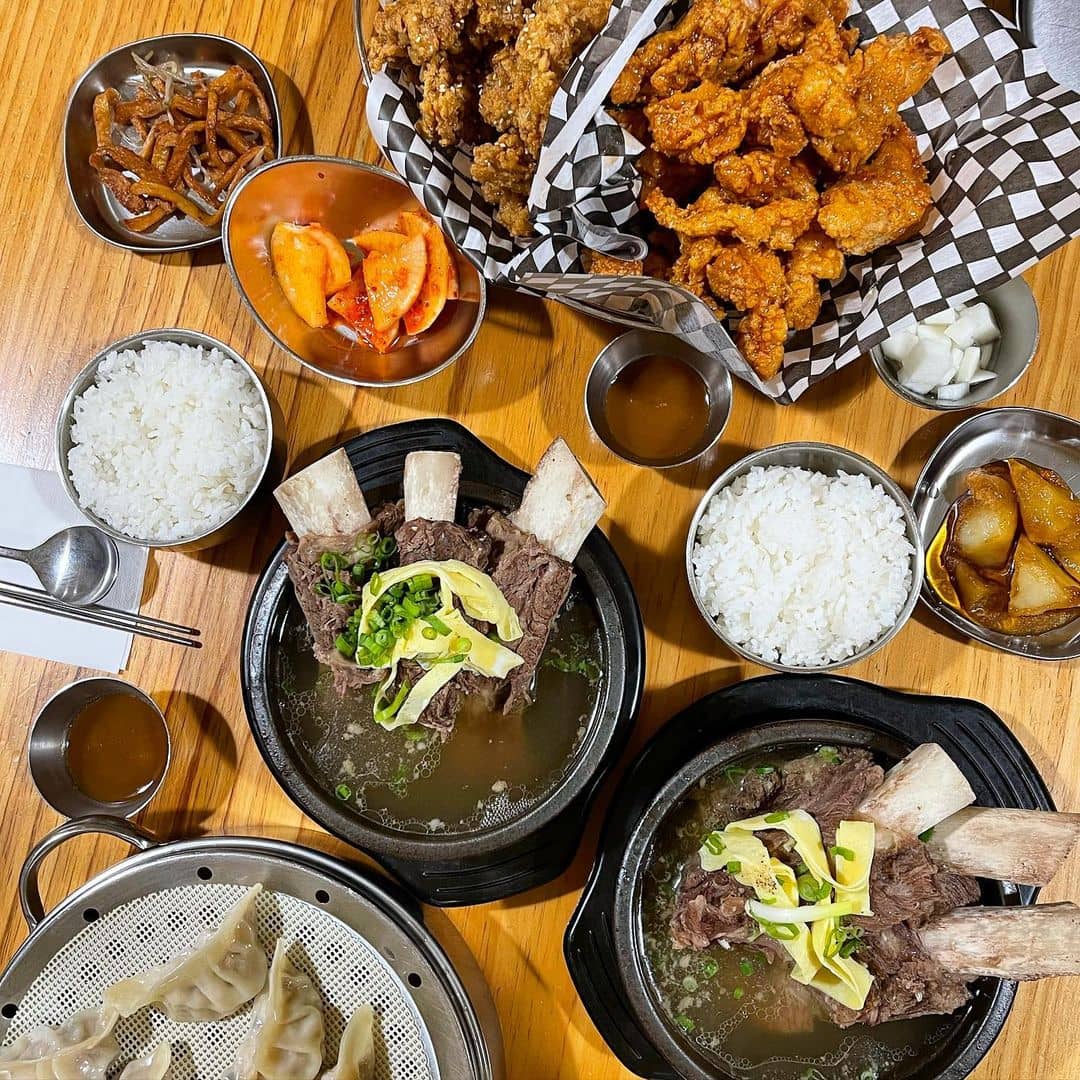 Located in the hidden unit with Maison Mori and in the same big plaza as Han Nam Supermarket, Nadri is a casual Korean mom and pop joint that is known for its fried chicken, dumplings, and gigantic pork bone soup.
People keep coming back again for their Steamed Kimchi Dumplings, which are filled with minced pork, tofu, chopped Kimchi, and mung bean sprouts. You will love how the dumplings themselves hold so much texture, and flavour, together with a serious savory kick that can make your mouth water!
Another star here is the Galbi Tang, which features 3 big pieces beef bones where the meat slides off easily and tastefully into your mouth. Soup-wise, it is flavourful and not super oily like some other spots.
What to order: Steamed Kimchi Dumplings, Galbi Tang, Sweet & Spicy Fried Chicken, Stone Bi Bim Bap
Address: 4501 North Rd Unit 111F, Burnaby, BC V3N 4R7
Website | Instagram | Facebook
12. Kulinarya Filipino Eatery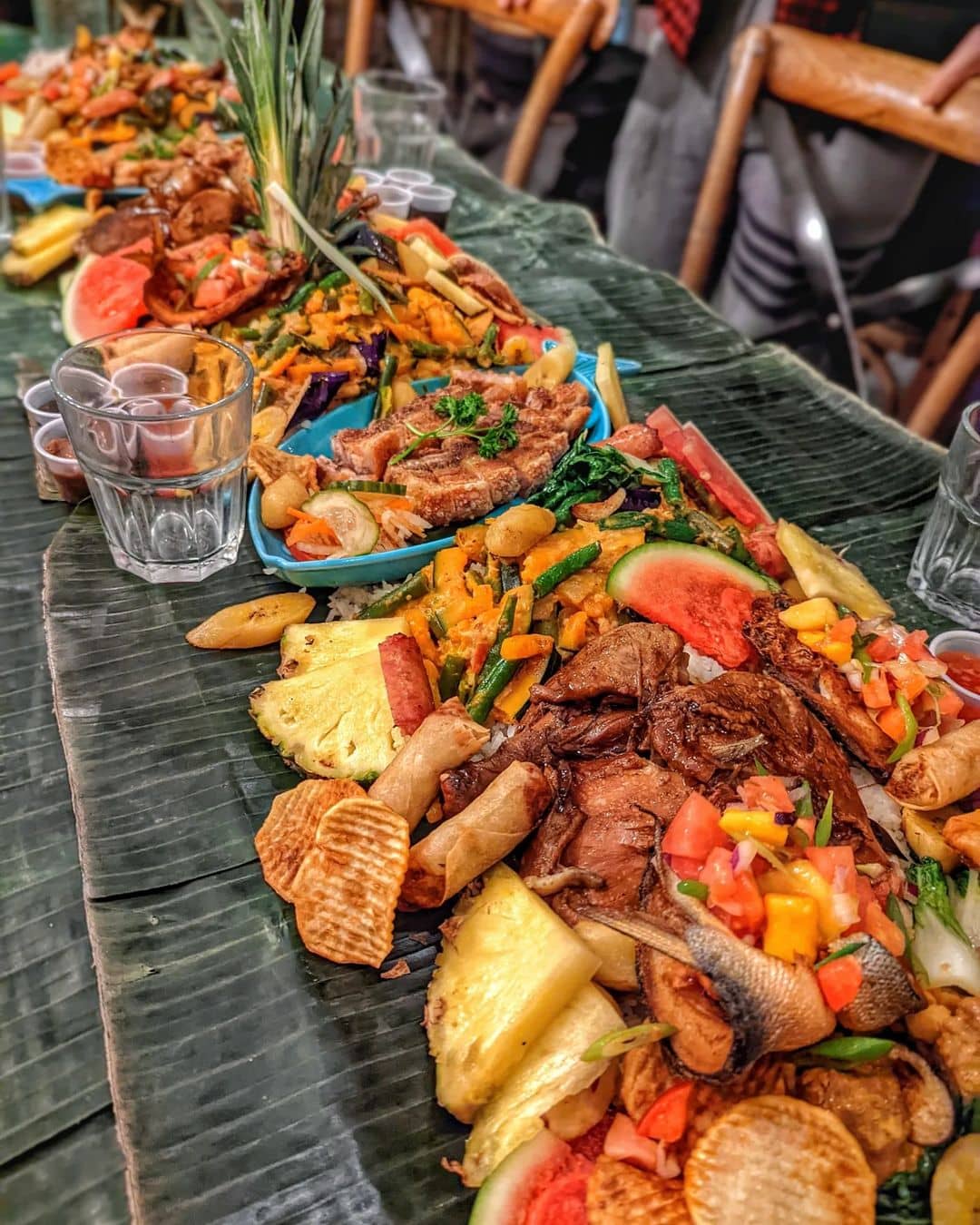 Located in Coquitlam Square right across from Coquitlam Centre, Kulinarya Filipino Eatery is where you can find the most authentic and stunning Philipino food in the area. Once stepping inside Kulinarya, you'll be welcomed with the aromas of spices, bright and colourful interior with tropical vibes.
Settle down with their famous Kalderata, Sizzling Tofu Sisig, Kare-Kare, and Crispy Pata. They are the highlights on the menu, so don't leave without having them on your table! The Kalderata is a spicy tomato-based beef stew cooked until fork-tender, which is flavoursome in every bite and also only served on special occasions or holidays back in the Philippines.
Sizzling Tofu Sisig can be a great choice as a side dish when coming up with crisp-fried tofu, chili peppers, and mayonnaise. They are just creamy, spicy, and tasty little goodness cubes that you would never want to miss!
What to order: Kalderata, Sizzling Tofu Sisig, Kare-Kare, Crispy Pata, Cassava Cake
Address: 2922 Glen Dr, Coquitlam, BC V3B 2P5
Website | Instagram | Facebook
13. Sushi California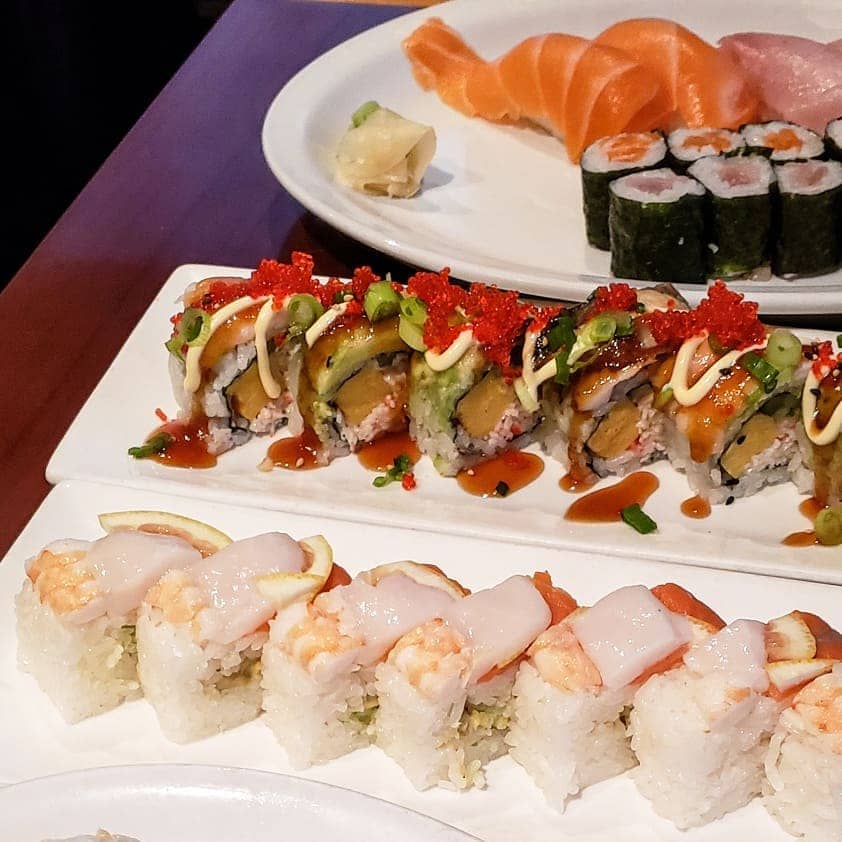 Craving sushi but don't have much time for a proper dining experience? Sushi California has got your back! Being famous for serving the fastest and most affordable sushi in Coquitlam, this place is also the locals' favourite when offering an extensive selection of sushi, special rolls, nigiri, and donburi. With a laid-back, comfortable atmosphere, and decent-priced sushi, this spot is always a good idea to stop by!
It's never a miss to have yourself some Cheese Kimchi Udon or Salmon Sashimi Donburi! While the udon is loaded with kimchi, onion, pork belly, and udon noodles, all coated in an intensely flavorful sauce to pamper your palate, the donburi is light, refreshing, and tasty with salmon and ikura roe. Just one bite and you will know what heaven tastes like!
You can satisfy your sushi cravings with their large-portion Deluxe Assorted Sashimi, which you would love to share with others. Or choose to give your taste buds a kick with Tuna Tataki, a combination of delicate, gently-seared tuna and citrus-soy sauce that gives a gentle ginger kick.
What to order: Cheese Kimchi Udon, Salmon Sashimi Donburi, Deluxe Assorted Sashimi, Spicy Chopped Scallop Cone, Tuna Tataki
Address: 501 North Rd, Coquitlam, BC V3J 1N7
14. Chada Thai Fine Cuisine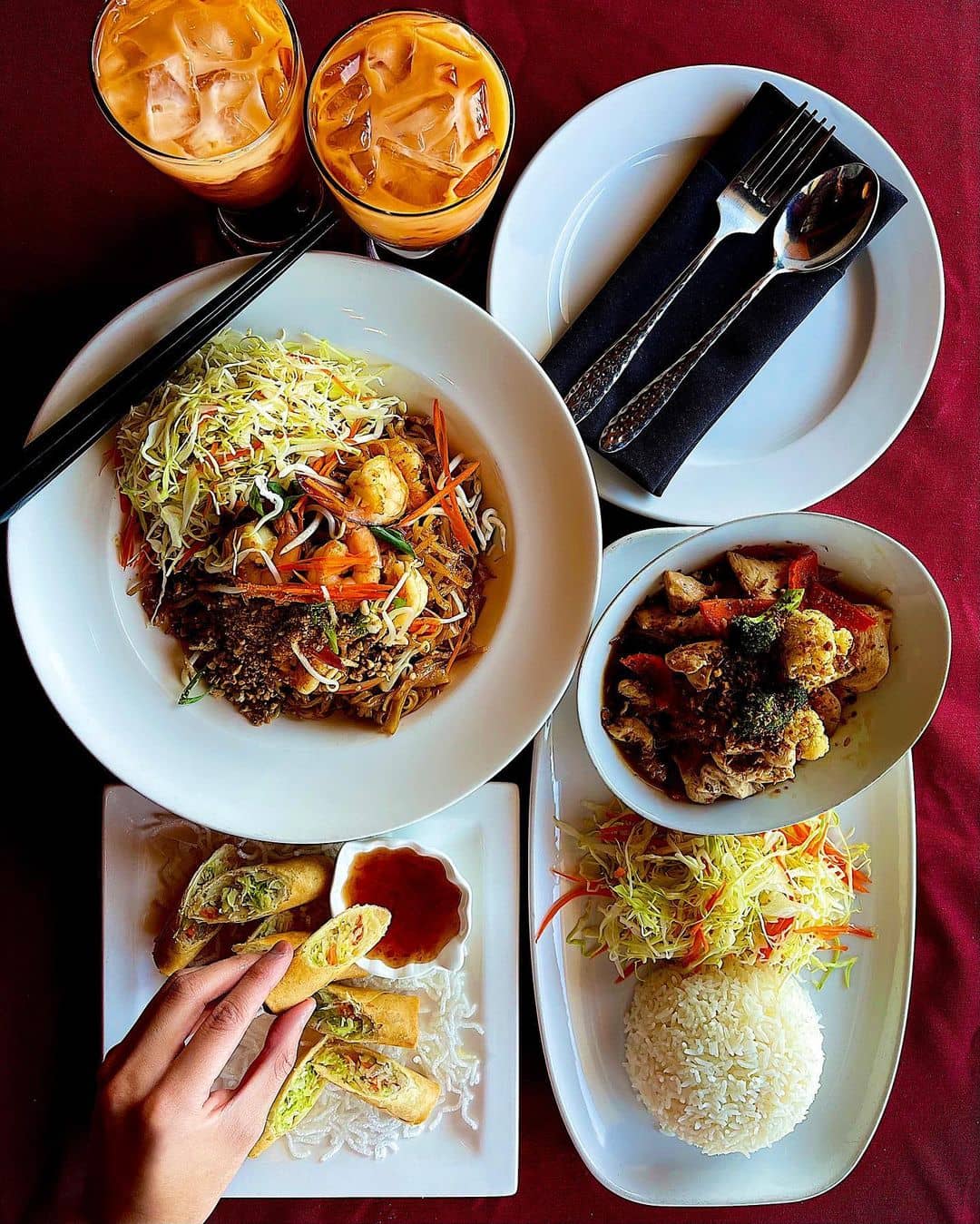 Whenever you think of Thai food in Coquitlam, think of Chada Thai! Over the years they have gained its reputation for the balanced sour, spicy, and salty taste of traditional Thai dishes. With an easy-going yet elegant ambiance, Chada Thai Fine Cuisine can be perfect for a friend gathering to a casual date!
Go for the Pineapple Fried Rice, Pad Thai, Papaya Salad, Tom Yum Soup, or Green Curry. They are simply top-notch! Always start with the fresh, crunchy, and a little tart Papaya Salad. Unlike many other types of salad that you've tried before, this Thailand's famous salad will tease your taste buds with a tantalizing combination of spicy, sweet, salty, and sour elements!
Go on with Pineapple Fried Rice, which is made from stir-fried rice, herbs, fish sauce, and oyster sauce with tantalizing bursts of buttery, crunchy cashews and balancing pops of sweet caramelized pineapple. Stunning!
What to order: Pineapple Fried Rice, Pad Thai, Green Curry, Papaya Salad, Tom Yum, Chicken Satay
Address: 2991 Lougheed Hwy. #107, Coquitlam, BC V3B 6J6
Website | Instagram | Facebook
We hope the suggestions above can help you prepare for a better trip to Coquitlam. If you do have some more time, why don't we just head to Burnaby and explore some of the best restaurants in Burnaby? Let's dive right into it, shall we?
The following two tabs change content below.
Latest posts by Noms Magazine (see all)