Looking for the best gooseneck kettles on Amazon? Well here are our best picks from the best stovetop gooseneck kettles to smart ones to quick heating ones:
This article includes affiliate links where we may get a small commission if you use our link. No extra cost is added to you.
Pros:

Temperature Control: 4/5

Capacity: 3.5/5

Design: 4/5

Heating Speed: 4/5

Pros:

Temperature Control: 5/5

Capacity: 4/5

Design: 4/5

Heating Speed: 4/5

Pros:

Temperature Control: 3/5

Capacity: 3.5/5

Design: 3/5

Heating Speed: 3/5
Best Quick Heating
Pros:
Temperature Control: 4/5

Capacity: 3.5/5

Design: 4/5

Heating Speed: 4/5
Best For Techies
Pros:
Temperature Control: 5/5

Capacity: 4/5

Design: 4/5

Heating Speed: 4/5
Best Budget-Friendly
Pros:
Temperature Control: 3/5

Capacity: 3.5/5

Design: 3/5

Heating Speed: 3/5
Gooseneck kettles are some of the most game-changing household inventions. It was born with a clear vision in mind: making pour-over coffee a breeze with an excellent cup every single time. This is something a regular kettle can barely do.
But gooseneck kettles are not made for coffee only. Flow rate also contributes to the success of the drinks. Having full control over the pour no matter what drink you're making is a key to game up your recipes.
Even though most gooseneck kettles are made for single use as they can't accommodate over 1.5 liters of water, they will definitely come in handy if you're on a camping trip, living alone, or finding a perfect birthday gift for your loved ones.
We've compiled a list of the 5 best gooseneck kettles you can find on Amazon at every price point so you don't have to search for them yourself.
What Is A Gooseneck Kettle?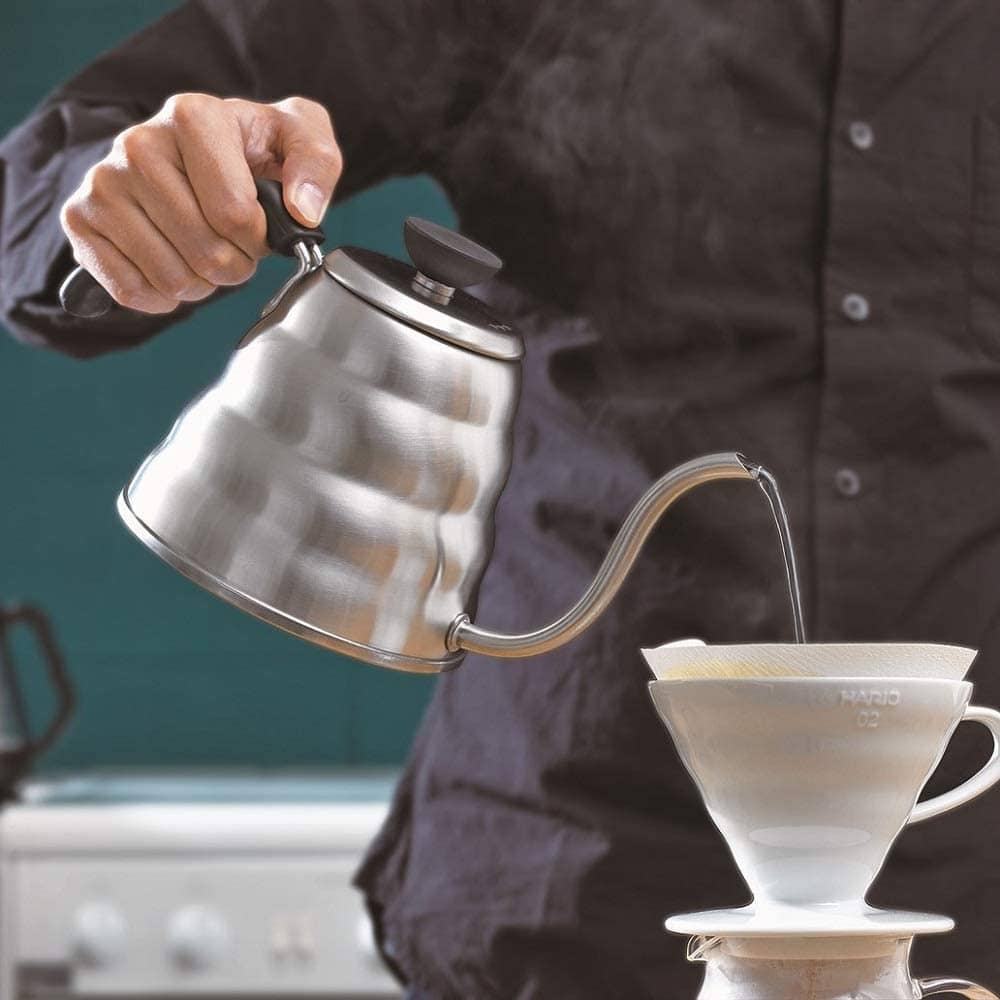 As the name suggests, a gooseneck kettle comes with an angled, thin, narrow neck that gives you full control over the flow rate.
Instead of rushing out of the spout, the flow rate coming out of a gooseneck is optimal and consistent thanks to the thoughtful design.
The spout is positioned towards the bottom of the kettle's base, giving you a better hand feel when pouring over coffee, brewing tea, or other warm beverages alike.
The gooseneck kettles are broken down into a stovetop and an electric kettle. The best items you can find in the market are built-in with multiple temperature presets and a Hold Temperature function that keeps water at the same temperature for as long as an hour, which you barely see in a traditional kettle.
The Best Gooseneck Kettle Reviews
Best Gooseneck Kettle for a Smart Home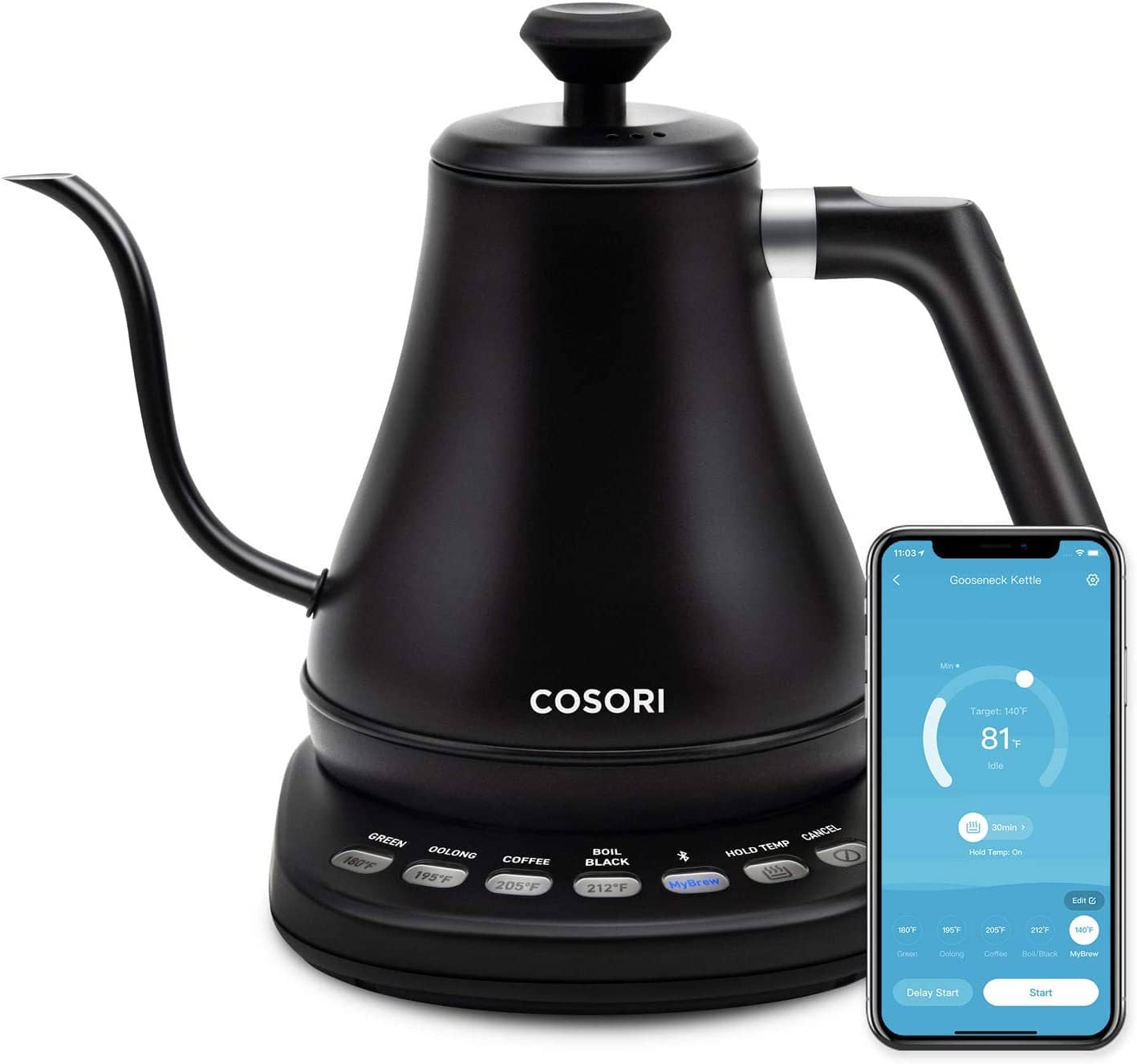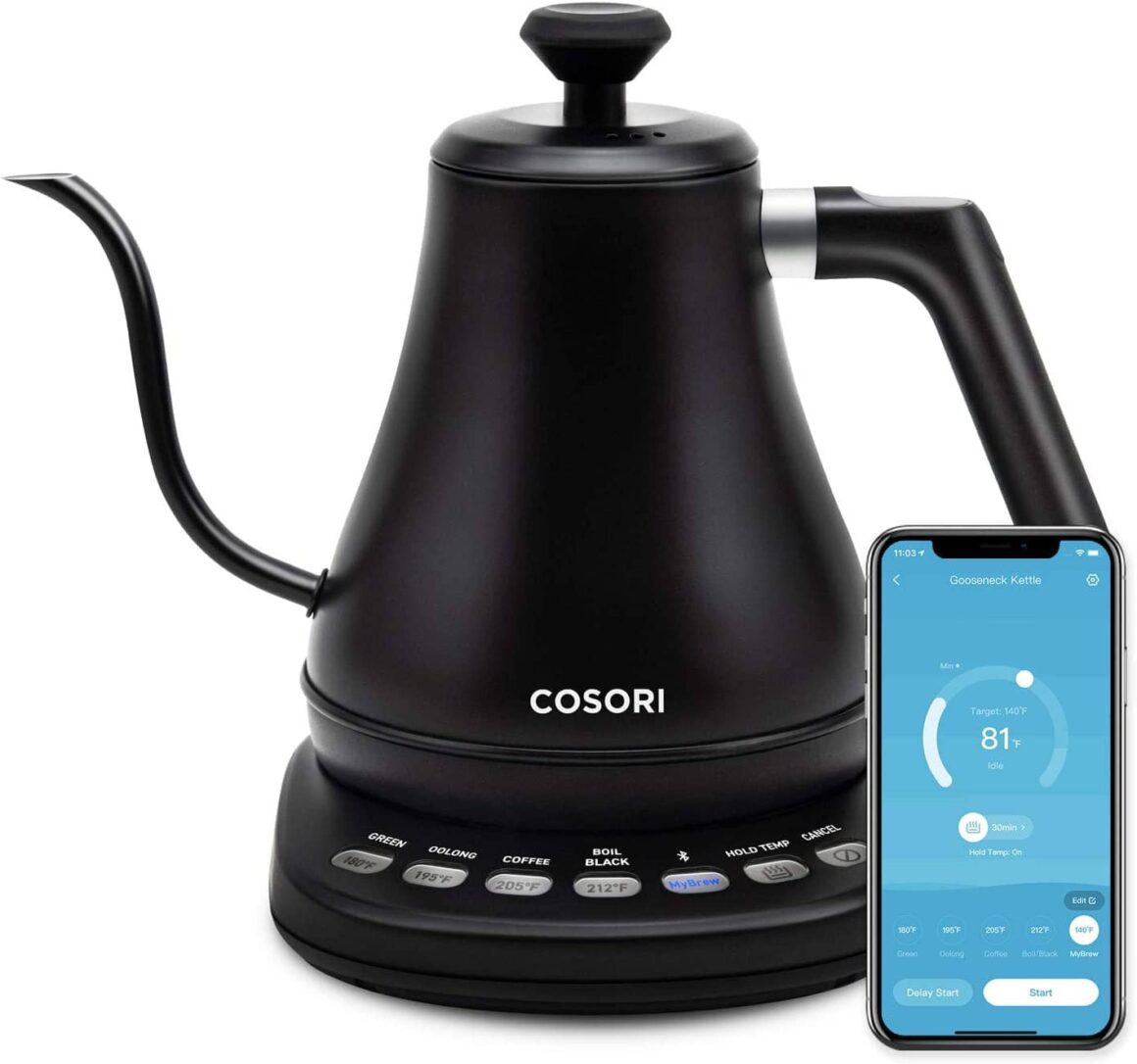 This is one of my favorite gooseneck kettles. If you don't need a large kettle for your coffee business or feed a large family, this one will totally do the trick.
The first thing you'll notice about this handyman is the tech-smart device. It lets you adjust all the functions from afar via a free app called VeSync.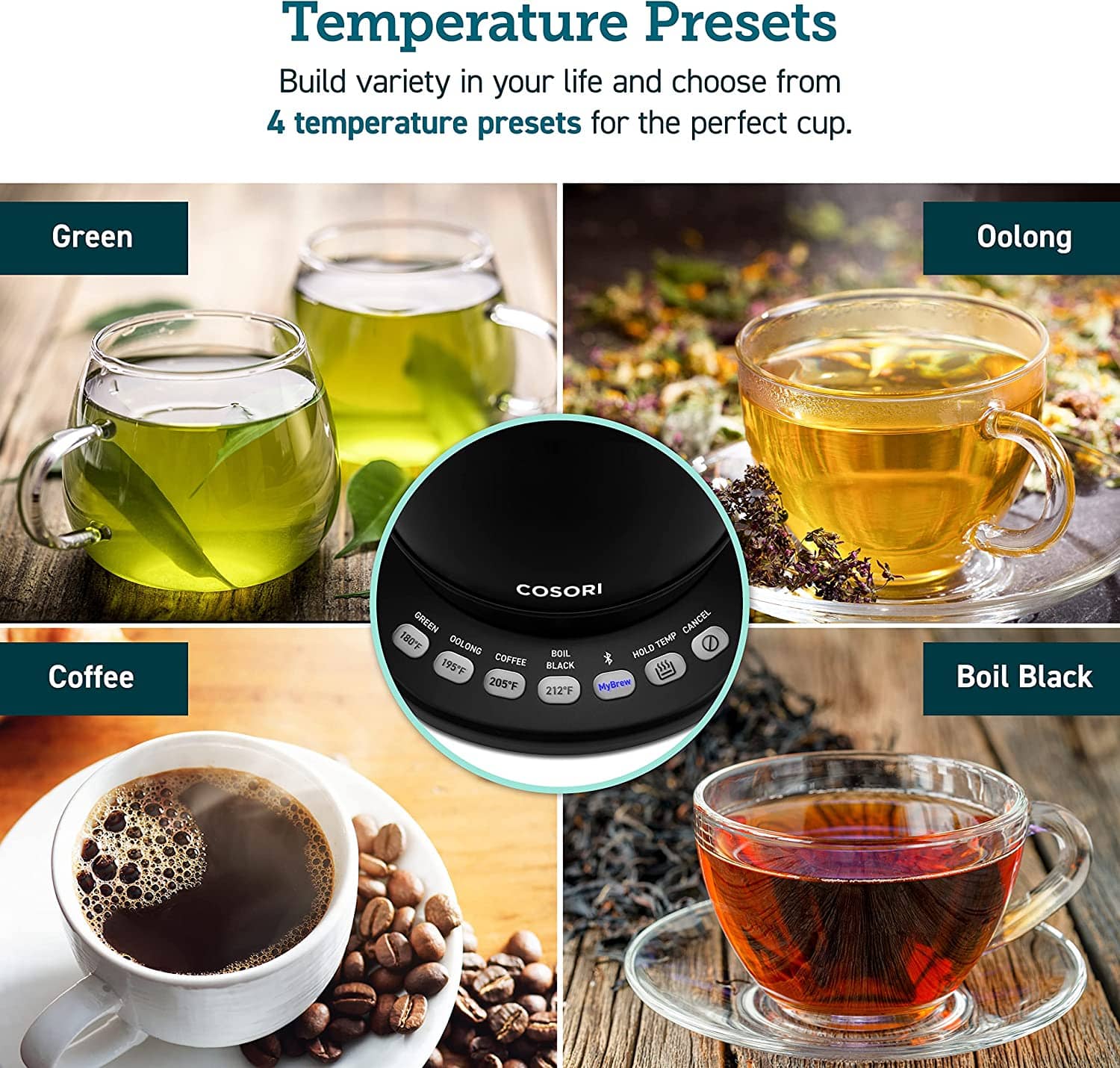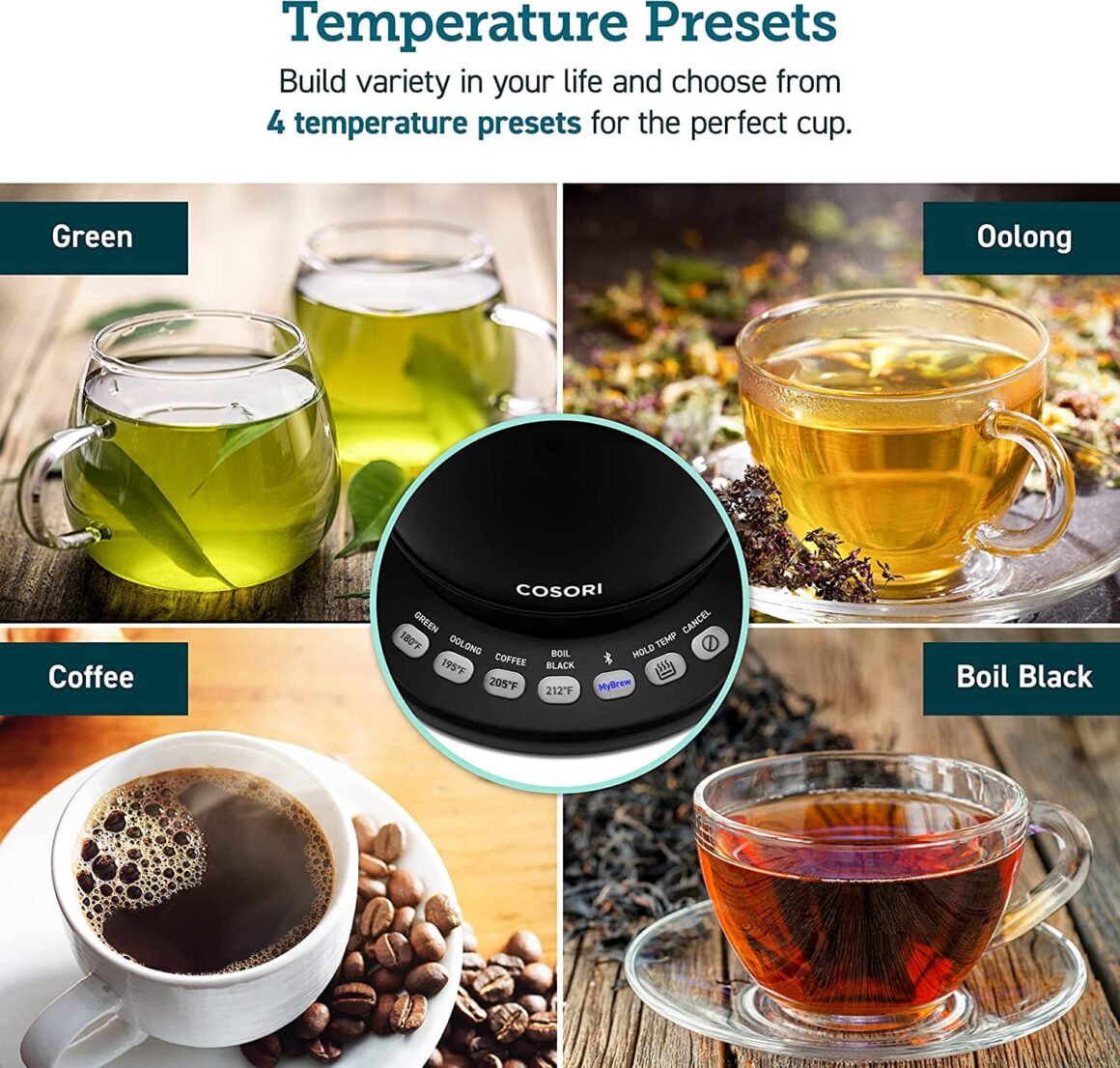 It integrates everything from the 5 temperature presets, a Hold Temp button that keeps it hot for up to an hour, and a boiling schedule (now this is a win for busy bees out there).
I love it when the app is straightforward and user-friendly. It took me only a few minutes to navigate between the functions.
Small but mighty, this COSORI kettle runs on 1200 watts, leaving you a quick heating task that doesn't need over 5 minutes to get things done.
One more thing to address in this review is the look. Its trendy all-black look from the stainless steel body gives it an ovation wherever it sits. But the metal finish is also the downside itself. It will burn your fingers if you happen to touch it as the power doesn't shut off after it's done.
As long as you give it high maintenance, the body won't collect fingerprints.
​​Features:
Easy to control on your smartphone via the free VeSync app
1°F Precise Temp Control
4 Easy Presets and Baby Formula Mode to cool the water and set temperature after boiling for safely heated baby formula.
Quick heating with 1200W power.
The kettle's durable interior, lid, and spout are made with food-grade 304 stainless steel and have no Teflon or chemical linings.
A curved opening and spout create a 90° angle for steadier pouring while the handle stays cool.
Comes with elegant gift boxes
Best Gooseneck Kettle for a Smart Home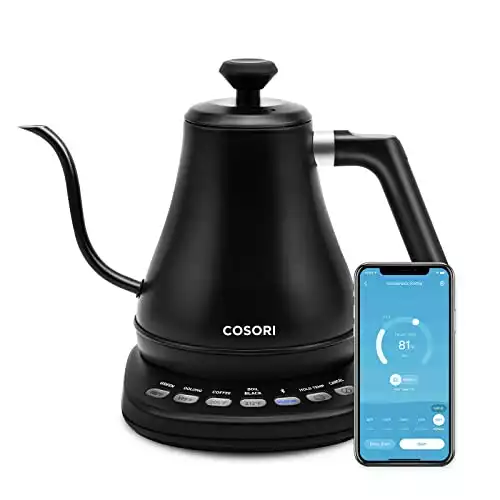 Best Large Capacity Gooseneck Kettle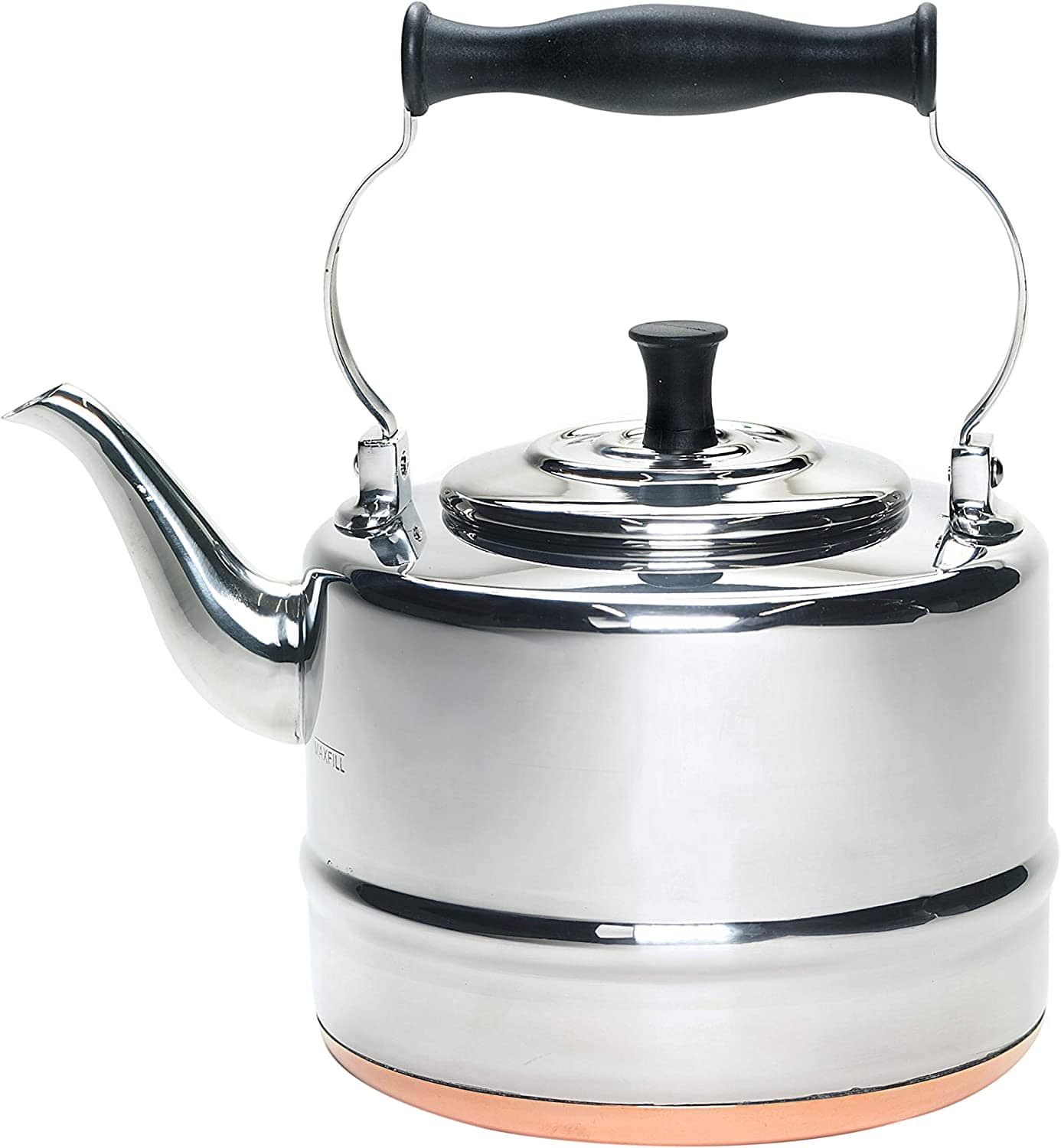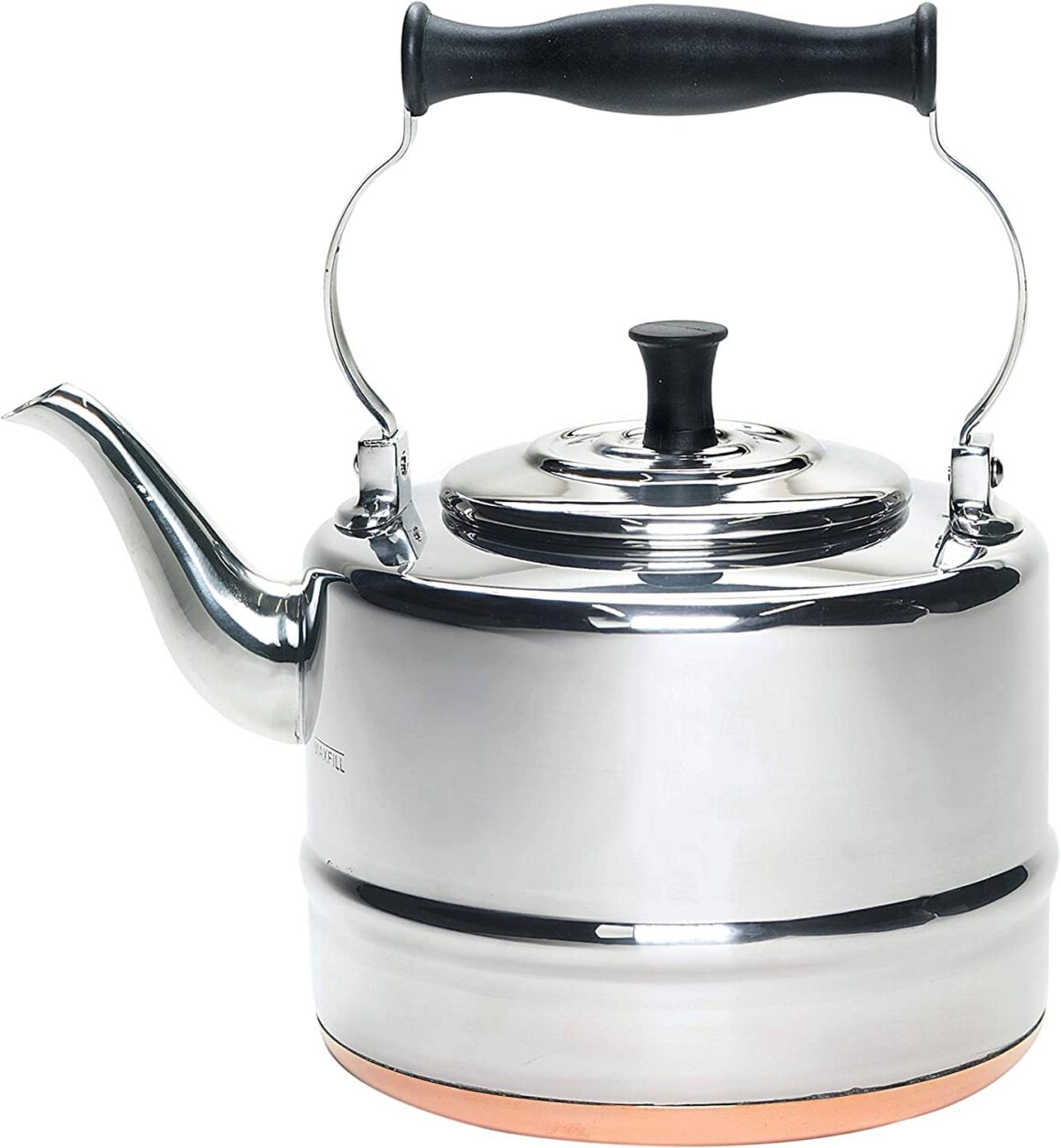 At first look, it doesn't look like a 'real' gooseneck kettle like what you would expect from other equivalents. But there are a few things that encouraged me to give it a try.
First off, it eliminates all the doubts when dealing with a small-size gooseneck. The largest capacity I've seen so far is about 1.2 liters. However, this Bonjour can accommodate up to 2 liters. Now, this is the best solution for a big family. I could easily make over 4 batches of drip coffee every day at one go.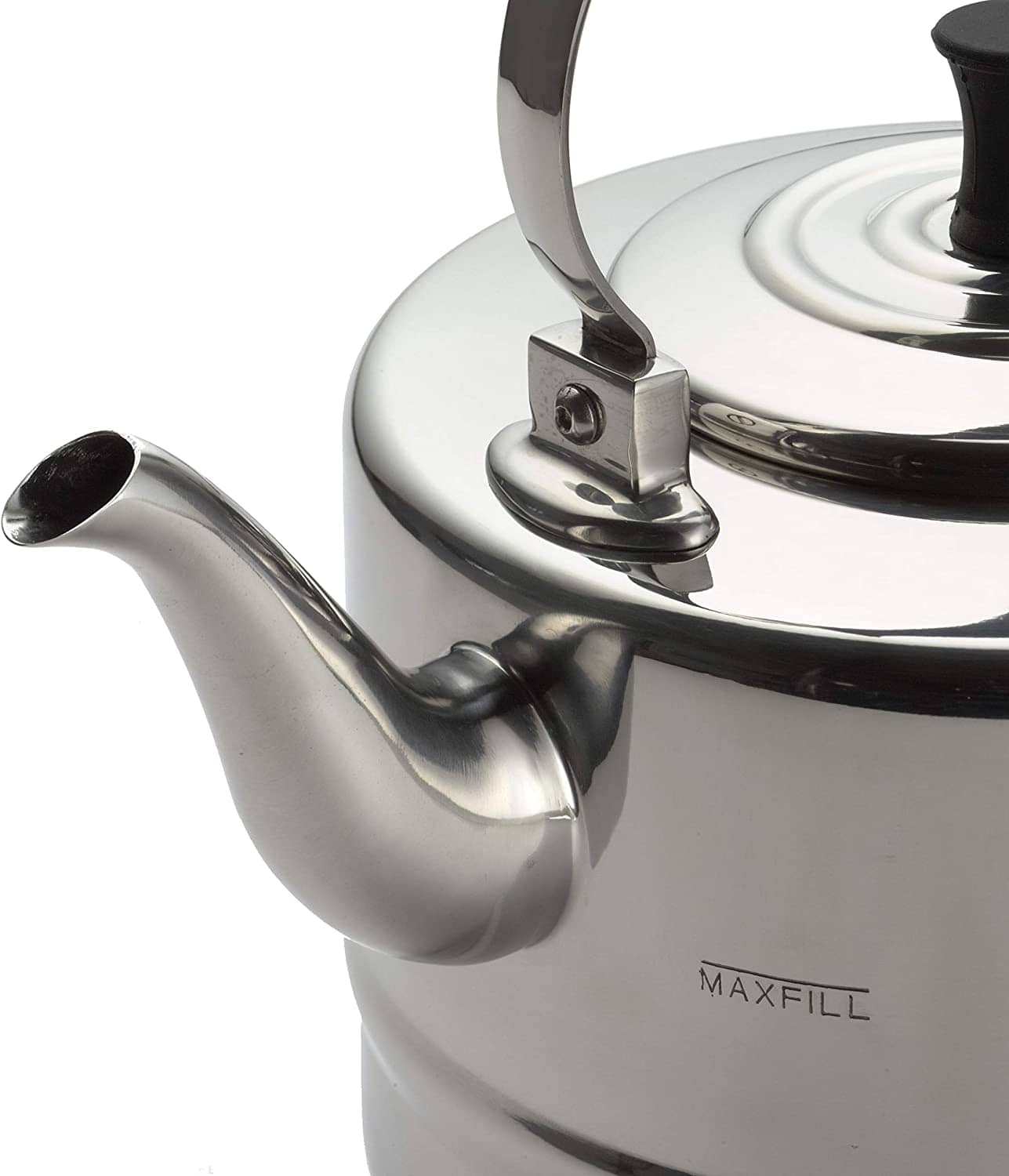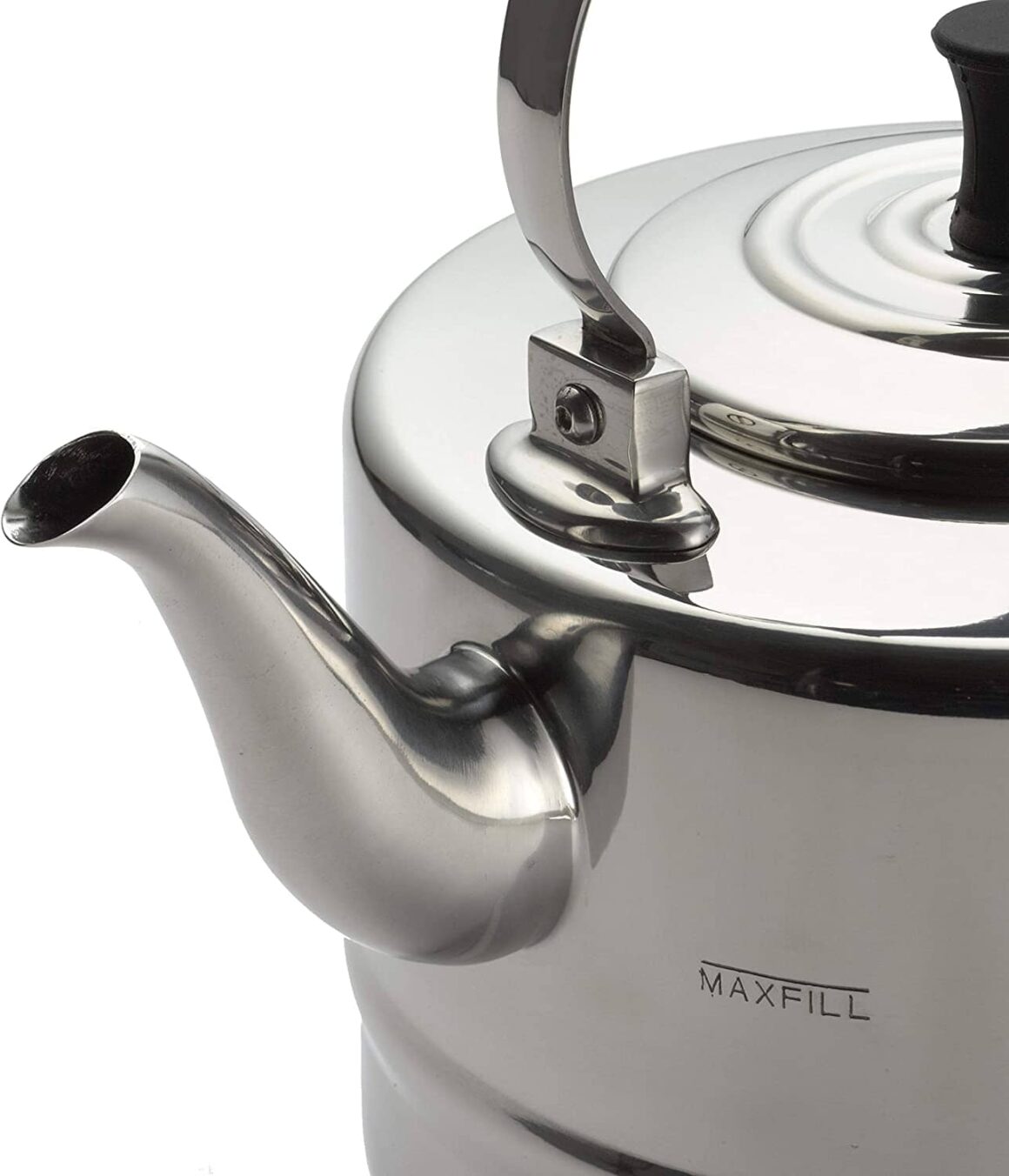 Second, the spout is not too narrow as a regular gooseneck but it has a beautiful, decent curve to control the flow rate the way I want. However, this is not the one you want for a pour-over given such a big wide spout.
On the flip side, it will stay on the stovetop just the way you want it – no electricity needed and easy to use. Even the copper base gives it a nice finish too.
In the long run, I could see that it heats evenly and pours smoothly. I never experienced splashes or burns. Overall, this is a great purchase if you need a large gooseneck kettle and not just one to make a pour-over coffee.
Features:
2-quart capacity
Stainless Steel and Copper-Base Gooseneck
Tight-fitting lid seals in heat
Heat-resistant knob
Vintage style to add a touch of heirloom tradition to tea time
Suitable for all stovetops except induction
Best Large Capacity Gooseneck Kettle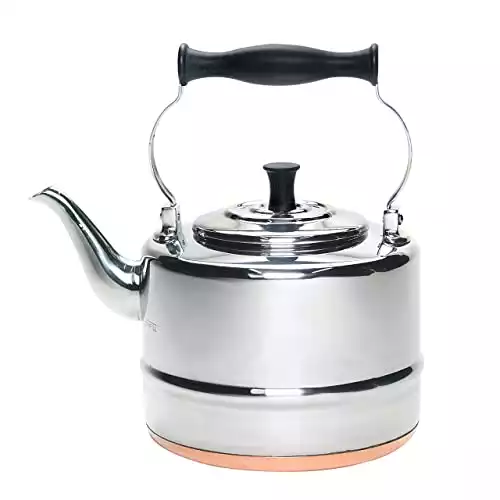 Best Stovetop Gooseneck Kettle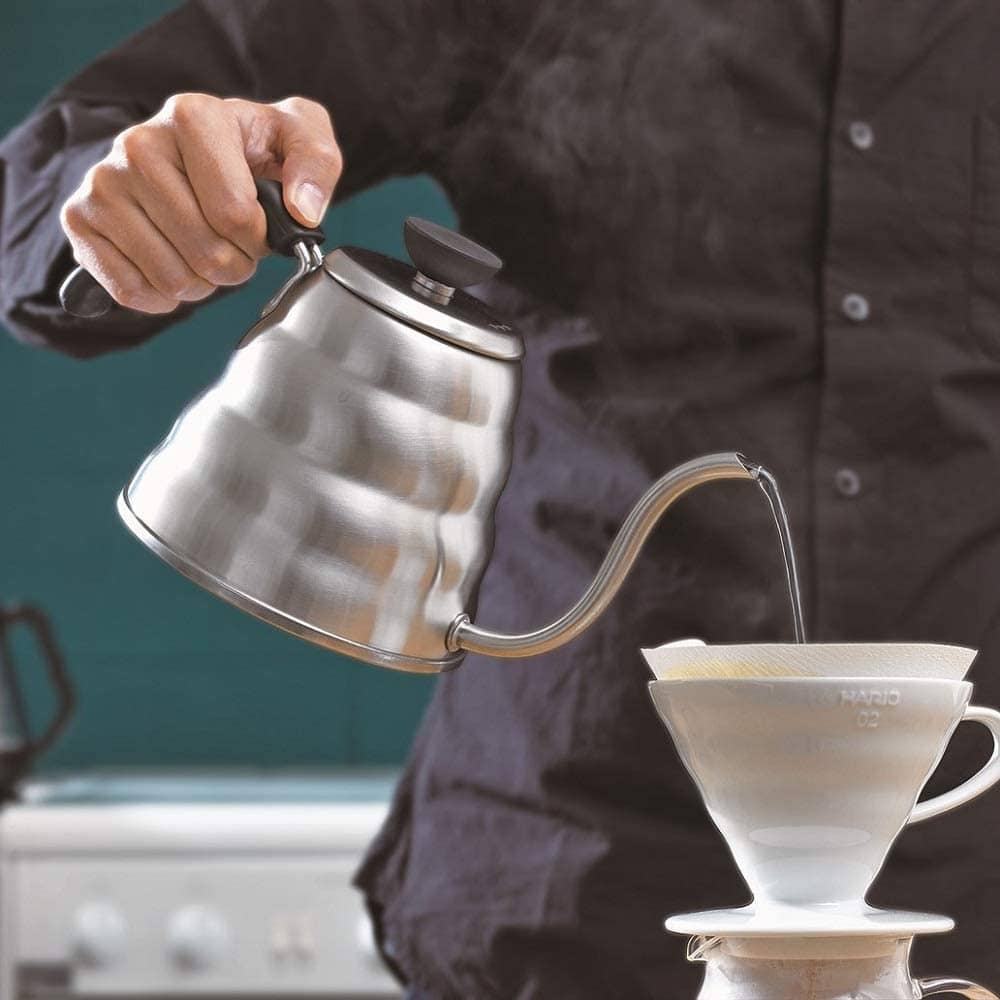 If you're a coffee connoisseur, Hario is probably one of the first brands ringing in your mind. Standing behind iconic product lines such as V60 Dripper, Buono Pour Over Kettle, Skerton Coffee Grinder, and Technica Coffee Syphon, Hario now offers its own gooseneck kettle tailor-made to coffee makers around the world.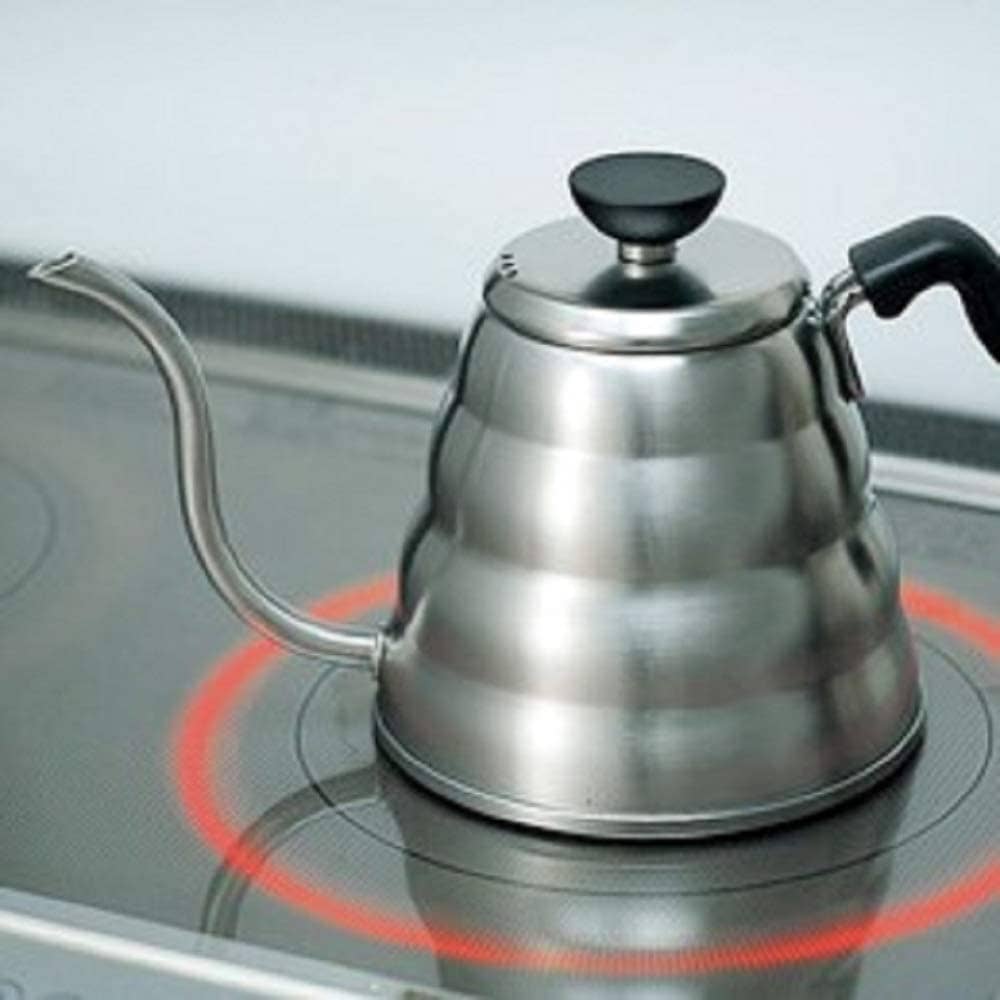 The beautiful, classic stainless steel design sits perfectly on the stovetop so you don't have to sacrifice your coffee fix when the electricity is out. I love the feel when holding the ergonomic handle. It aligns perfectly with my palm and gives me the 'just right feeling at every pour.
It comes in 4 different sizes, ranging from 800ml to 1.2 liters, with the smallest one powered by an electric cord. I got the 1-liter size and it works well to brew two pour-over servings every morning. All you need to remember is to not fill up the kettle all the way to the brim or it spills.
Last but not least, the stainless steel body has a nice brushed texture with a classic silver color although it does collect calcium buildup over time.
Features:
27-Ounce capacity
Easy to use directly on IH range, gas, or electric stoves
Perfectly compatible with Hario's V60 Coffee Drippers
Best Stovetop Gooseneck Kettle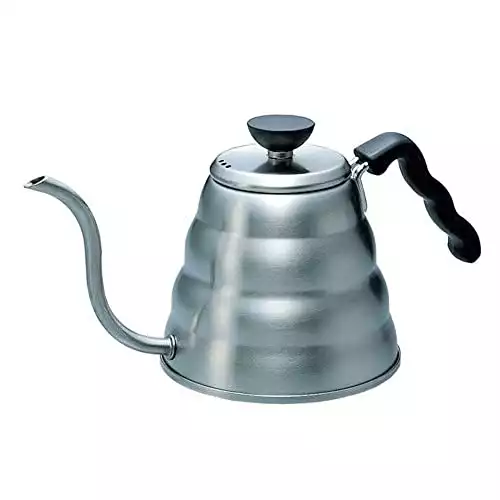 Best Quick Heating Gooseneck Kettle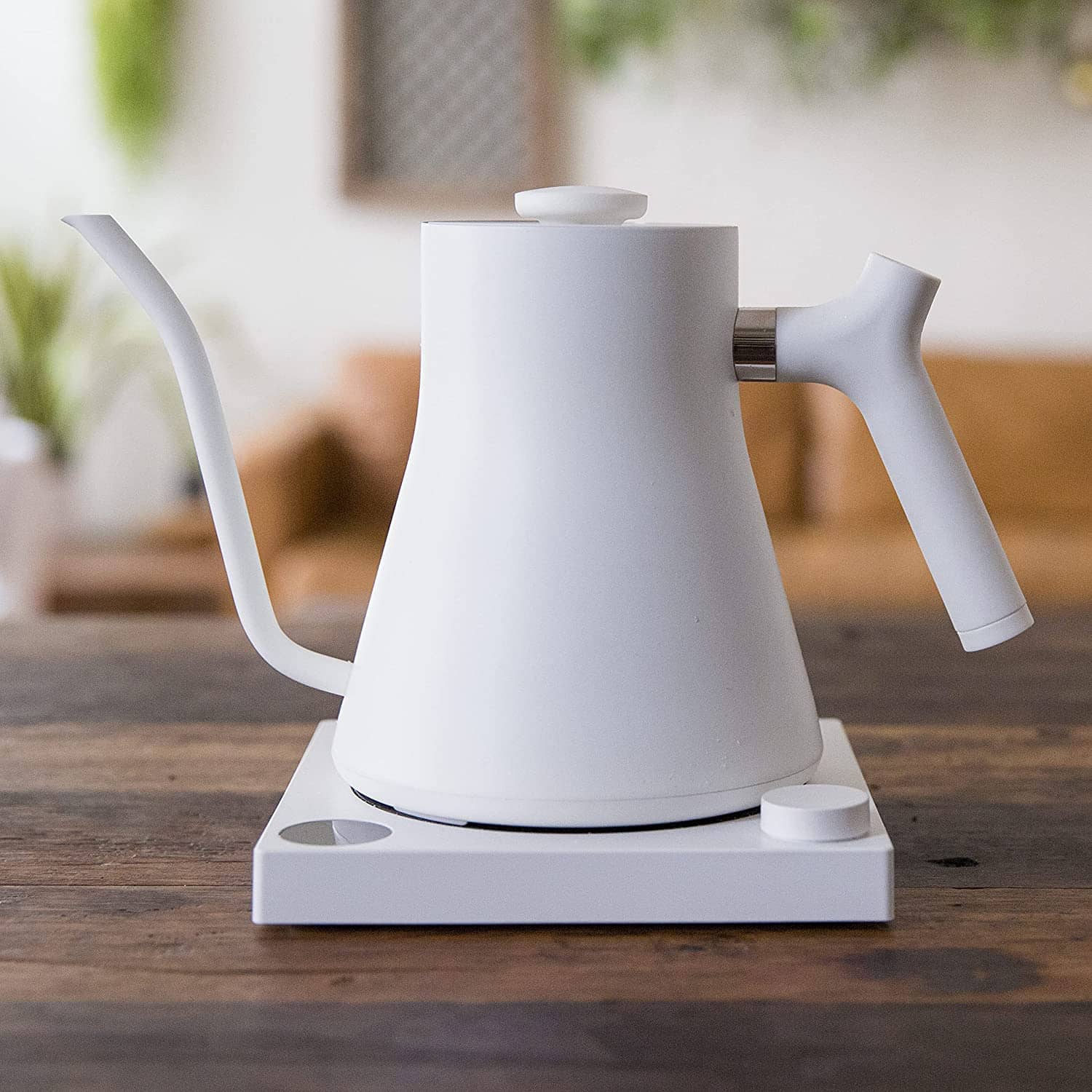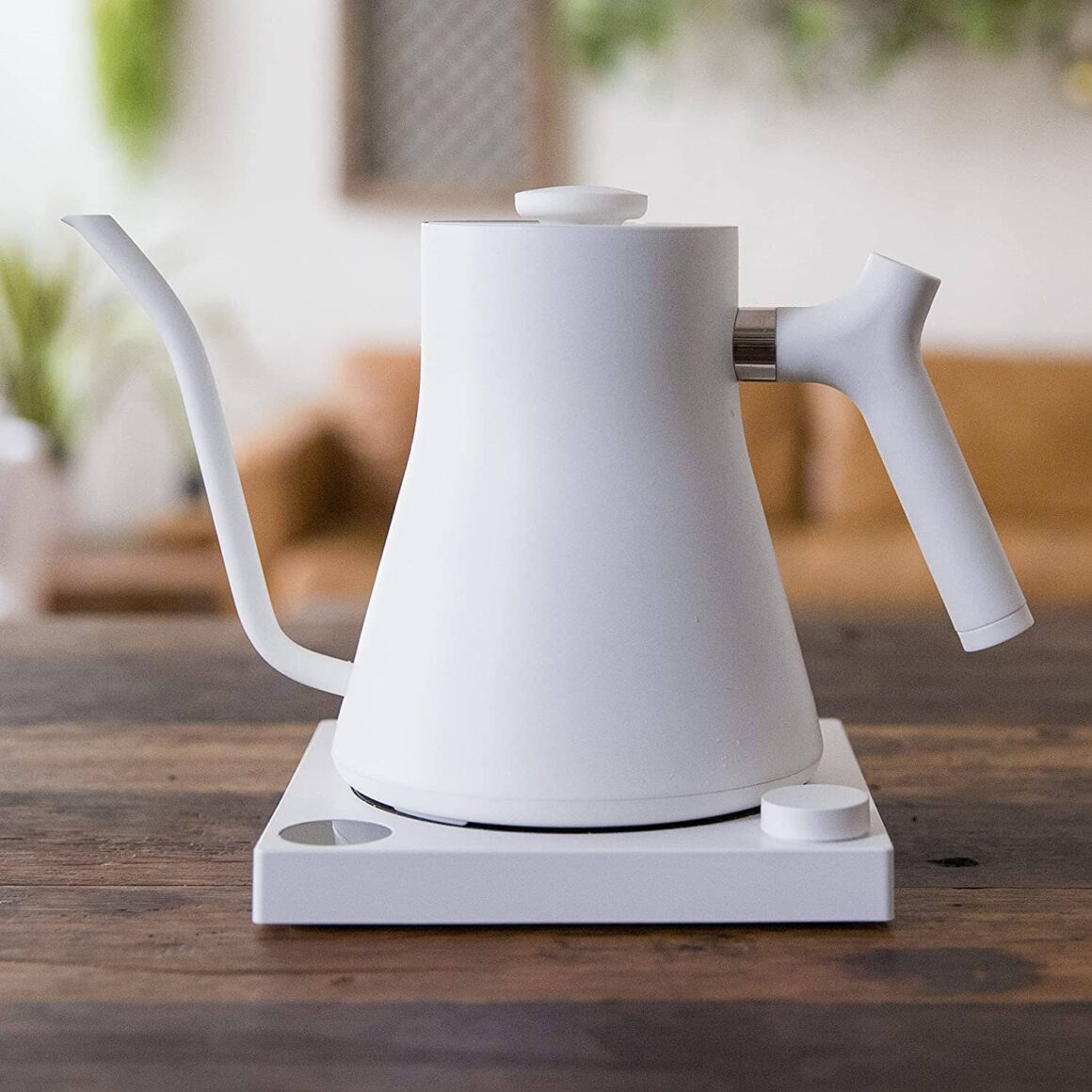 This is one of the most beautiful purchases I've ever owned for my kitchen so far. No matter which color you choose, you'll be happy with it. On top of the look, the 1200W power totally nails its job. It heats like a charm within a matter of minutes.
The EKF kettle has a really nice polished copper finish and a black, well-wrapped handle that comes with a unique design where I can lay my thumb on the top for a firmer hold. Even the base stays nicely on my counter and the entire gadget doesn't take up much space either.
There's one thing I noticed about the lid. It slips on and off easily but doesn't fall off the body when I pour. This is what I experience with other kettles all the time as I have to keep the lid in place with one hand while pouring with the other hand.
The lid on this kettle is really smooth to remove and stays pretty cool to the touch. It's not plasticky or too light either.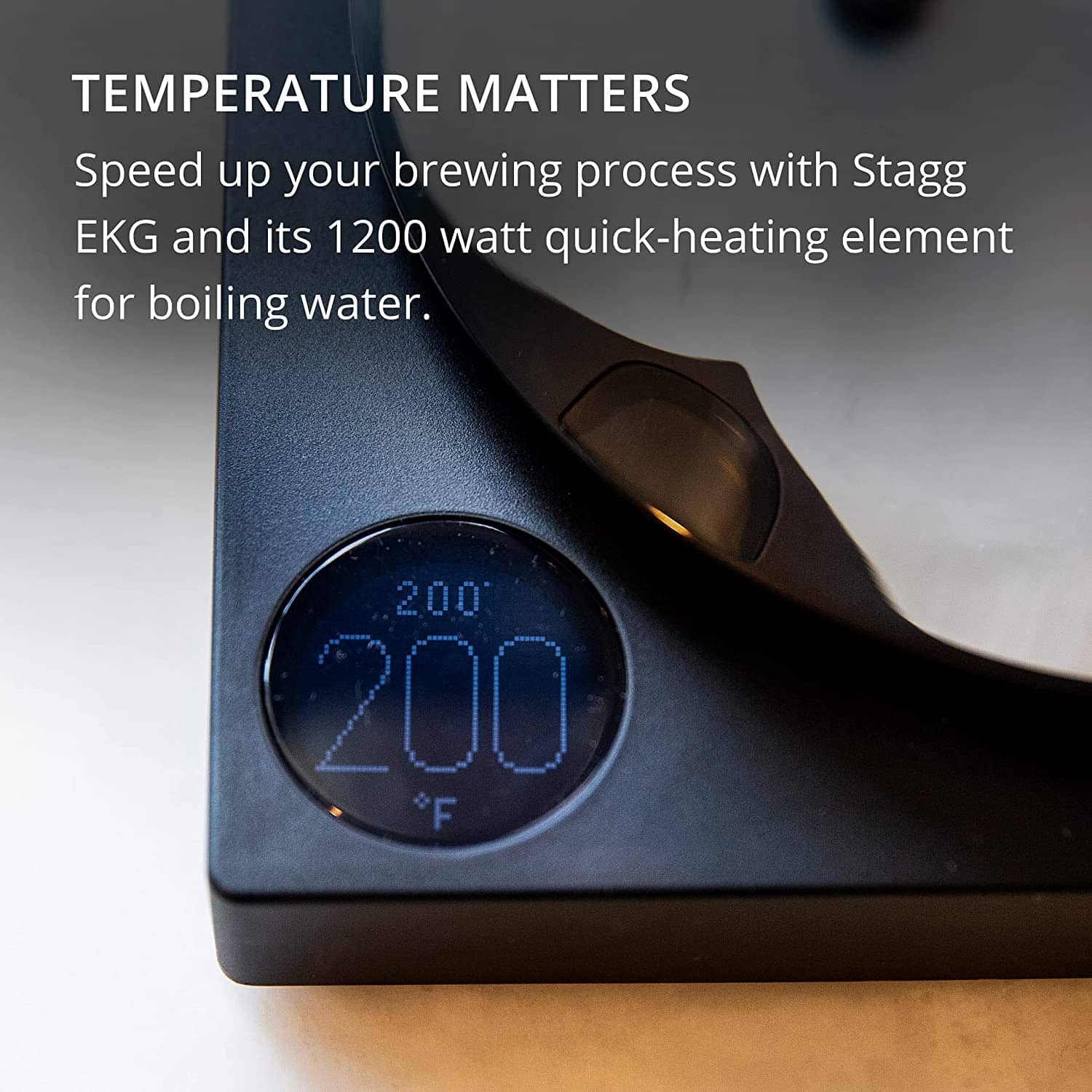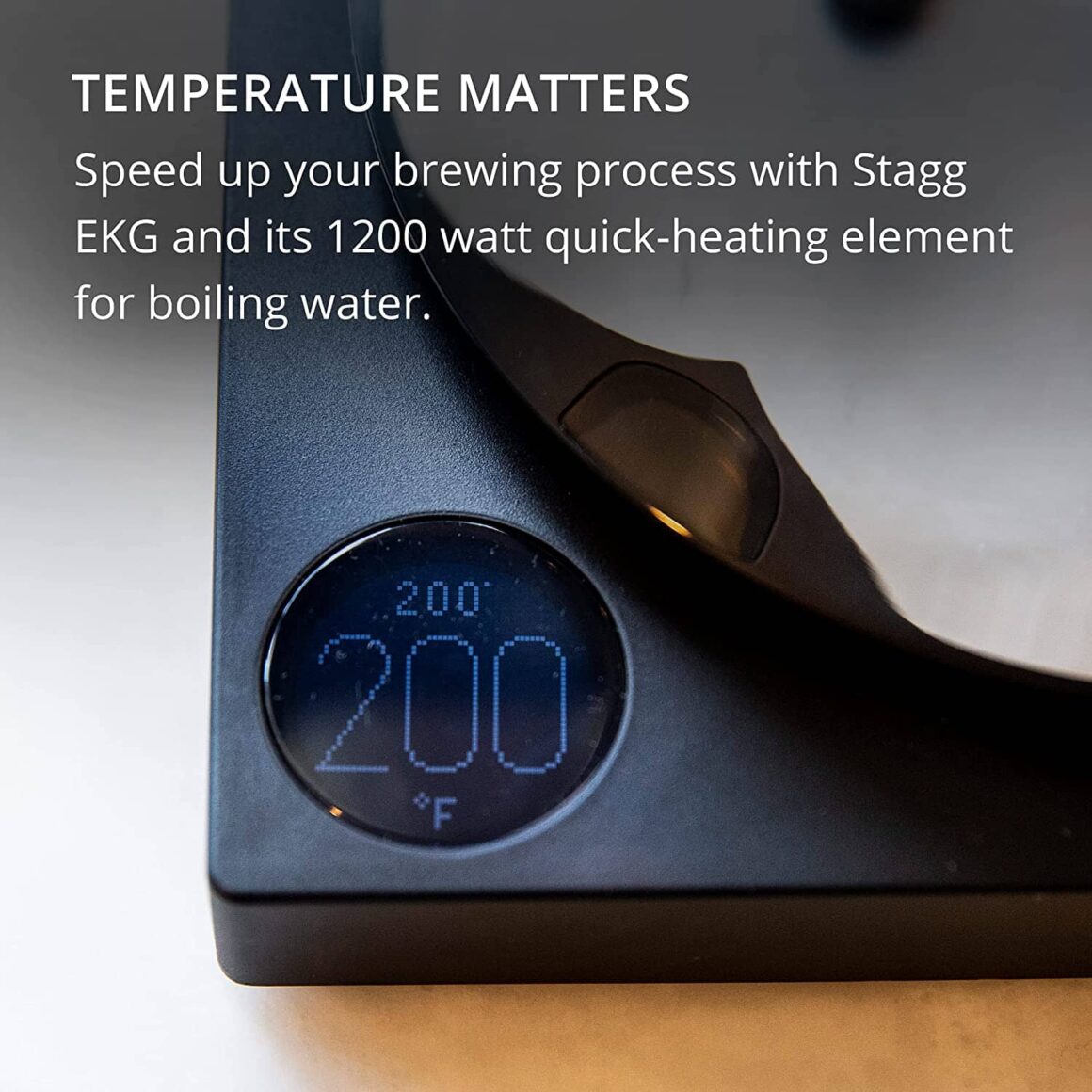 This item also comes with a HOLD WARM button. When the toggle on the back is switched to HOLD mode, it keeps your desired temperature the same for an hour.
If you turn it off, the base will stop heating and go to sleep. If you don't mind buying something nice on the higher end of the price spectrum, this kettle will surely blow your mind.
Features:
8 colors to choose from with aesthetic design
1200 watt quick-heating element for boiling water
A counterbalanced handle provides a sturdy grip encouraging a slower pour
A sleek LCD display screen indicates the desired Set Temp & Real-Time Temp
A built-in Brew Stopwatch to time your tea or coffee extraction
304 stainless steel kettle body and lid with a minimalist base
0.9 Liter boiling capacity
60 Minute HOLD Option
Best Quick Heating Gooseneck Kettle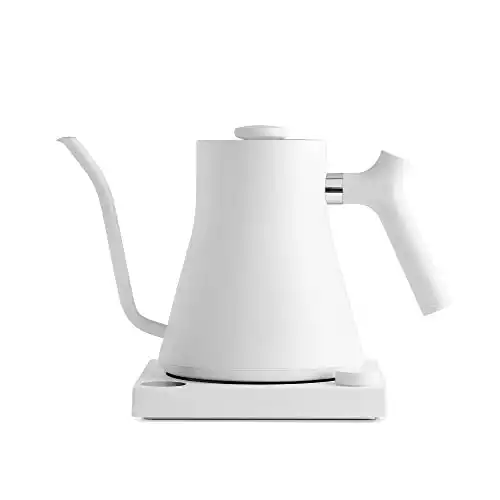 Best Budget-Friendly Gooseneck Kettle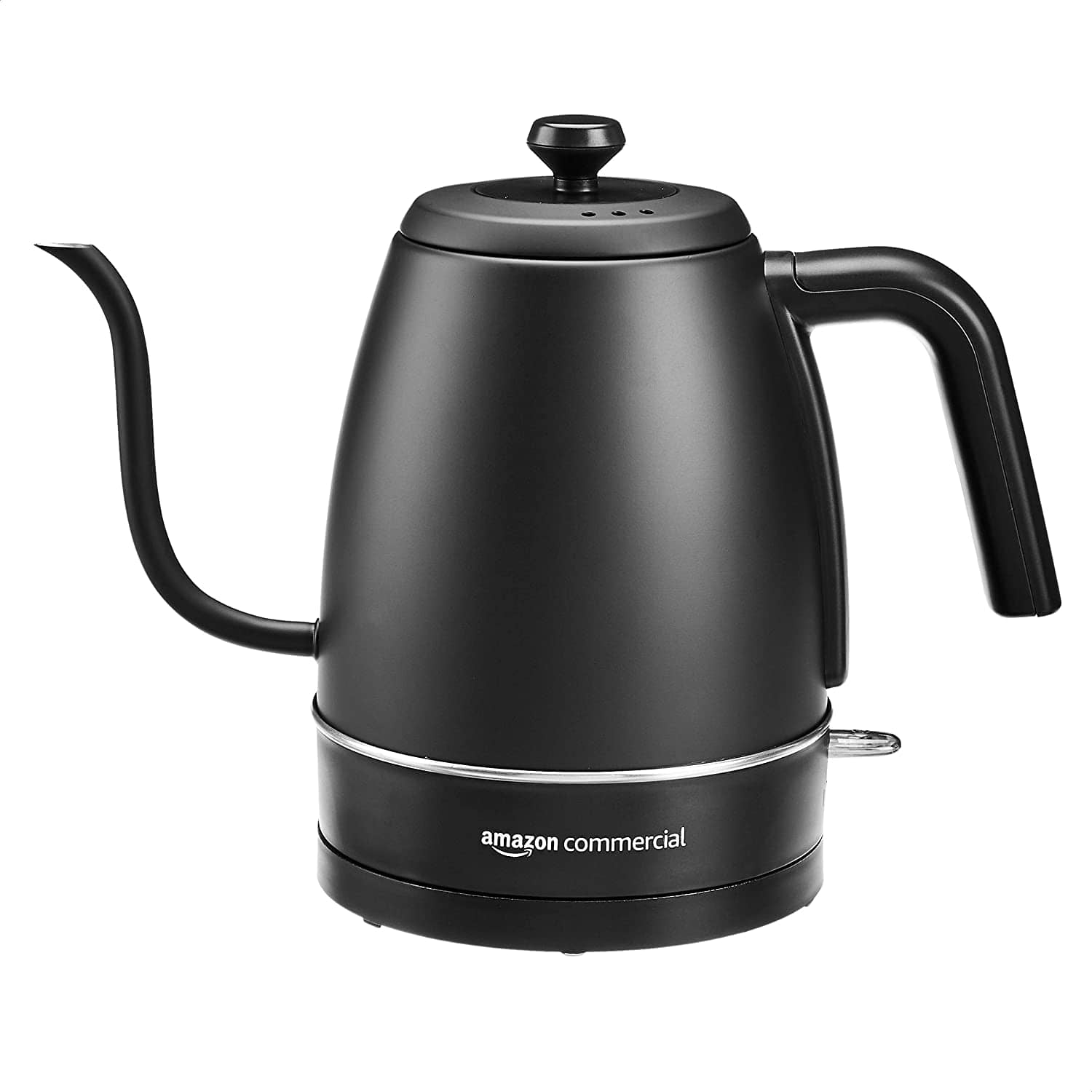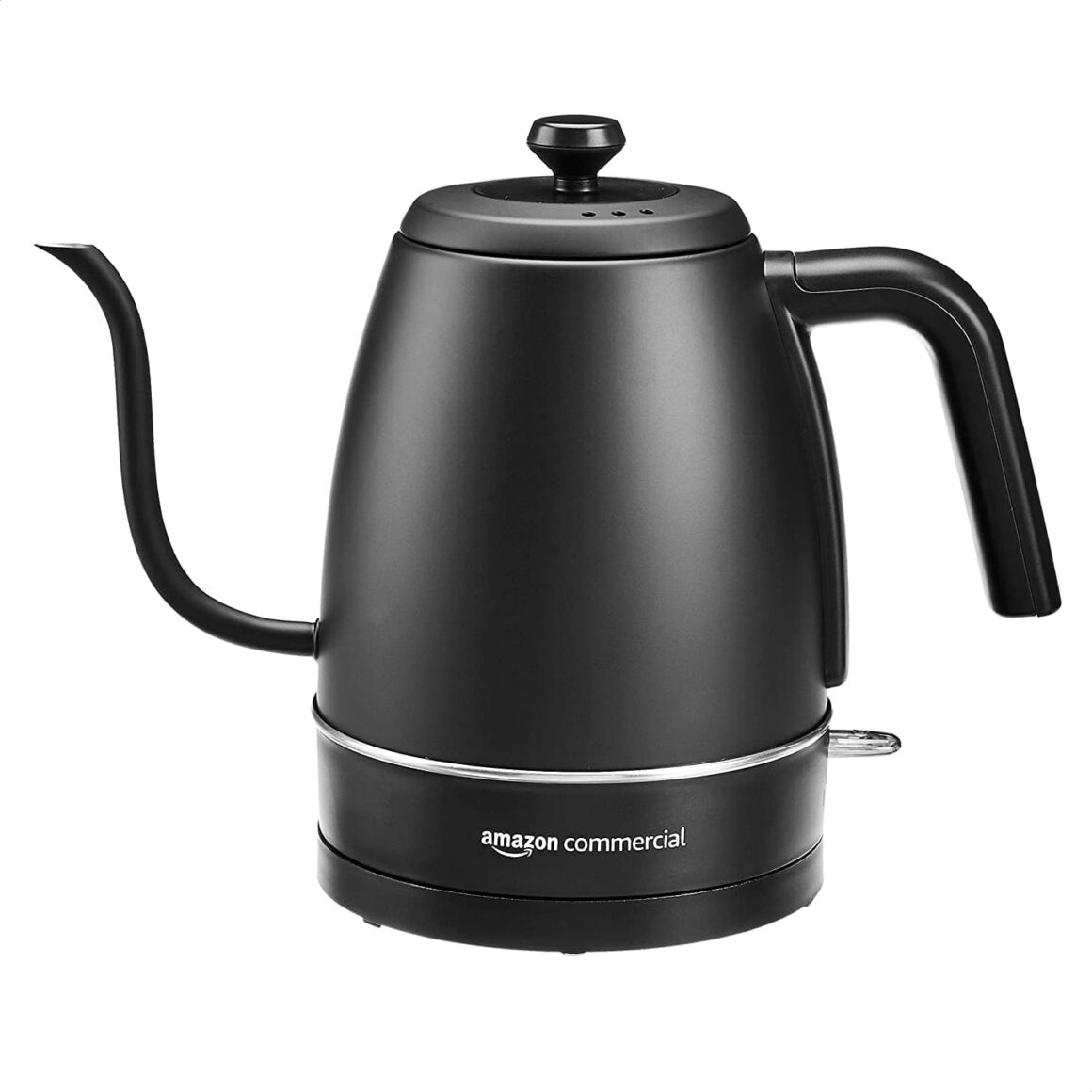 At the moment I purchased, this gooseneck kettle from Amazon was only offered at $50 to bring home. It has a sturdy construction and is easy to use with one touch button to start.
While most gooseneck kettles in the market are commonly offered at a hefty price with all the bells and whistles, this Amazon electric kettle boils water fast and is straight to the point.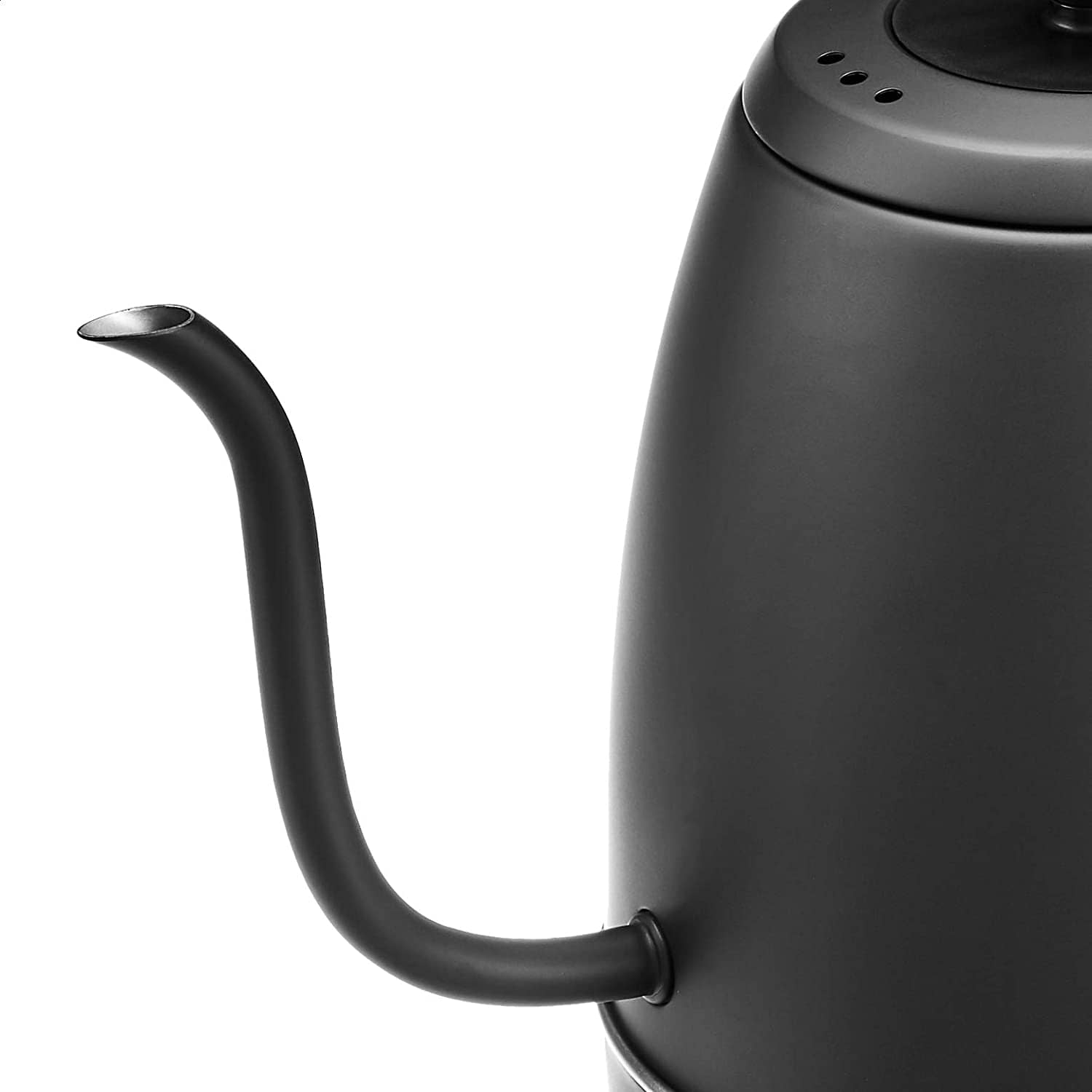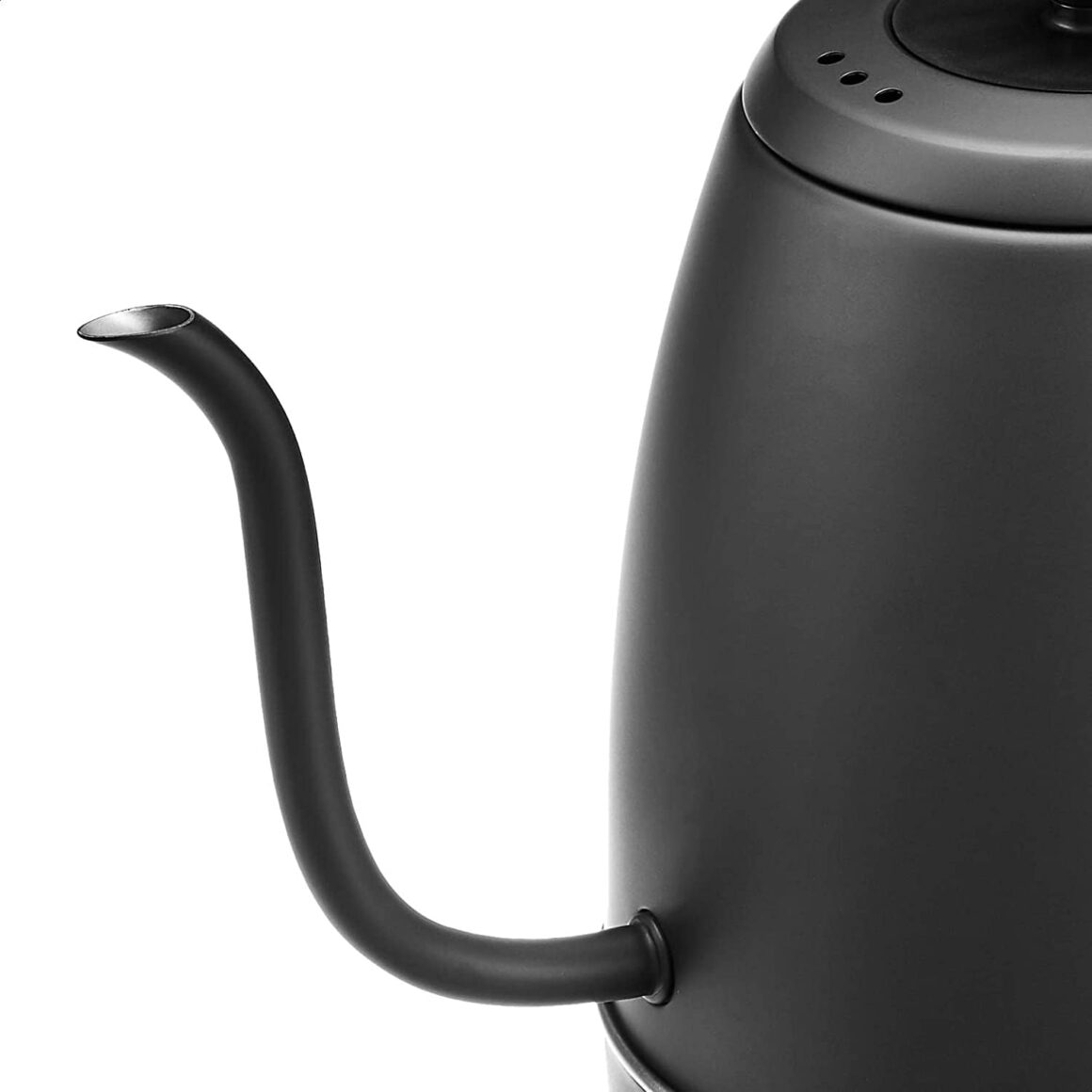 All you need is to plug it in, choose the heat setting and press the power. It definitely boils water fast even though it needs attending to as the unit will not shut off automatically. Plus, it's lightweight and easy to carry.
That being said, all it does is exactly what you should expect from a gooseneck kettle: perfect flow rate, preset temperatures for coffee and two for tea, quickly heating, and holding temperature – all of which only come at $50.
Features:
Stainless steel construction with the black painted finish; plastic cool-touch handle
Precision gooseneck pour spout allows exceptional control of water flow and direction
Removable vented lid with secondary ring-shaped handle for easy disposal of excess liquid
One-touch control for easy on/off boiling
Best Budget-Friendly Gooseneck Kettle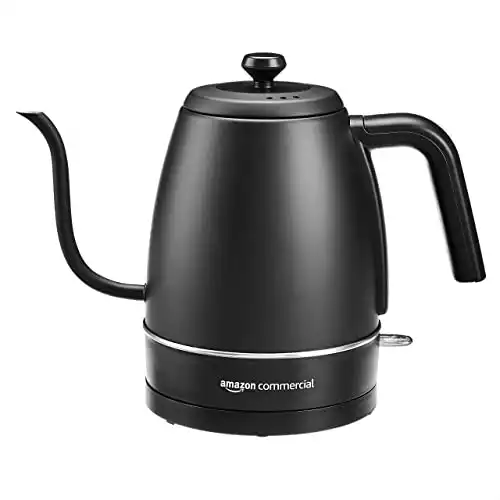 What to Look for In A Good Gooseneck Kettle?
1. Comfortable Handle
The best comfort of the hold results in the best comfort of the pour, especially if you purchase one for professional brewing business on a day-to-day basis. Some kettles are made to keep up with fashion but the handles are the pains in the neck.
What I recommend is an ergonomic handle that has a slightly oval shape in the section. Or even better, you can opt for one that tapers from thin at the point of connection to thick at the end. To provide your palm with generous surface area contact.
2. Stovetop VS Electric
A stovetop model is usually on the lower end of the price spectrum. It may not be able to compete with the handy electric one due to the absence of preset features and boiling speed but they surely guarantee a long shelf life since there are no built-in electronics.
Now if you're looking to buy a handy item for your coffee business, bring it along on a camping trip or tuck it in a hotel room, well, a stovetop kettle can never do the trick in these cases. That's when an electric kettle comes into play. They ensure powerful performance and precise boiling every single time. When it's done, the machine is automatically shut off. All you need to do is plug it into the core, turn it on, walk away, and get back when it's ready for use.
Even if you're in the middle of something important, the water remains hot at the same temperature for the next 60 minutes like this COSORI electric gooseneck.
3. Temperature Control
This is something you cannot find in a traditional kettle. In the race of electric kettles, some provide as many as five presets while some others offer one standard fixed temperature. If you don't have anything to do with the coffee brewing technique, opt for a simple one and it will work just fine.
However, different beverages demand different boiling points to perform at their best. So I recommend paying a little extra and bringing home a handy kettle that allows you to have fun experimenting with different temperatures with your brews.
You may not need this extra function at the moment but it will come in handy somewhere down the road and you don't have to get out buying a new one.
4. Capacity
Most gooseneck kettles strike within the one-litter capacity range. Some offer a more compact capacity as low as 0.8 liters while some can be as large as 2 quarts (2 liters) like this Bonjour kettle.
If you live alone, a small one is acceptable. But if you run a coffee or tea business or feed your big family every day, a bigger one will allow you to keep on brewing without constant refills of unheated water.
5. Heating Speed
Look at the wattage if you prioritize heating speed. An 800-watt kettle is not going to do the job as fast as a 1200-watt which is capable of firing up a full kettle in as quickly as 3 minutes. On the flip side, the low-wattage kettles will save you energy and electricity bills.
6. Material and Design
Design and finishes are oftentimes the first factors that affect buyers' behavior. The pleasant and aesthetic appeal of the kettle will turn your kitchen into a conversation starter and it will affect your mood every time you make your coffee.
The Fellow Stagg EKG electric kettle I recommend above is made with a 304 stainless steel body while the lid boasts a minimal design. Such a smooth finish is also easier to clean and doesn't harbor bacteria. Once you're using it to make a drink, you don't want the material to contain Teflon or chemical linings that result in a plastic taste.
Gooseneck Kettle FAQ
What Is the Point of a Gooseneck Kettle?
It all boils down to consistency, flow rate, and filtration. These are something I barely get with a regular sprout spout kettle. The gooseneck makes the control and precision of the pour easier, especially in the coffee industry.
When making a pour-over, 98% of the brewing quality is defined by water ( or flow rate), allowing for more complex flavors and aromas. This is exactly what a barista needs. A gooseneck gives you more margin with the flow while some others will make you stick to a defined flow.
The gooseneck kettle was born to eliminate all the hassles brought by traditional kettles. The wide-open spouts of a traditional kettle leave too much water over the grounds at once. If you can't control the minimal speed, exceeding the flow rate will send the coffee grounds wayward. This is a big no-no.
Instead, you want to achieve the best turbulence as much as possible. When you work with a gooseneck, the turbulence provides more micro-particles flowing through the filter and into the final brew, which eventually defines the success of the coffee quality.
If your home kitchen is your playground, then a gooseneck kettle will change your life for good. It's not only made for pour-over but also tea, hot chocolate, and other warm beverages.
I recommend looking at one with at least three unique flow rate settings so you plan to play around with different recipes at home.
Does A Gooseneck Kettle Whistle?
Most of them don't have this feature unless you go for this Whistling Pour Over Gooseneck Kettle.
A whistling kettle is usually built with a pre-installed mechanism on the lid where the steam shoots straight out through the top that allows them to whistle while boiling to avoid guesswork.
Can You Boil Water in A Gooseneck Kettle?
Yes, even though a gooseneck kettle is specifically implemented for brewing tea and pour-over coffee, it can also be used for the basic task including boiling water.
However, I only recommend you boil water with a gooseneck only when you don't have any other option or if your kettle is made of heavy-duty stainless steel.
Plus, make sure you cover the spout completely so there's no way the water can leak out. If you have a glass gooseneck kettle, I don't recommend it as it can break over high heat at any time.
On a treasure hunt for the best kitchen gadgets to make your life easier? Check out these must-have accessories and tools you will be happy that you've found: