I think you'll agree with me when I say:
There's NOTHING better than a nice cold ice cream cone on a hot sunny day (or a cold day).
Well, you're in luck because we're coming at you with the 11 best ice cream shops in Vancouver that will satisfy your sugar tooth.
So if you're hanging around (safely) in the Metro Vancouver area – namely Downtown Vancouver, Kitsilano, The Drive, or Steveston – you got to hit up these ice cream shops:
This article includes affiliate links where we may get a small commission if you use our link. No extra cost is added to you.
1. Elephant Garden Creamery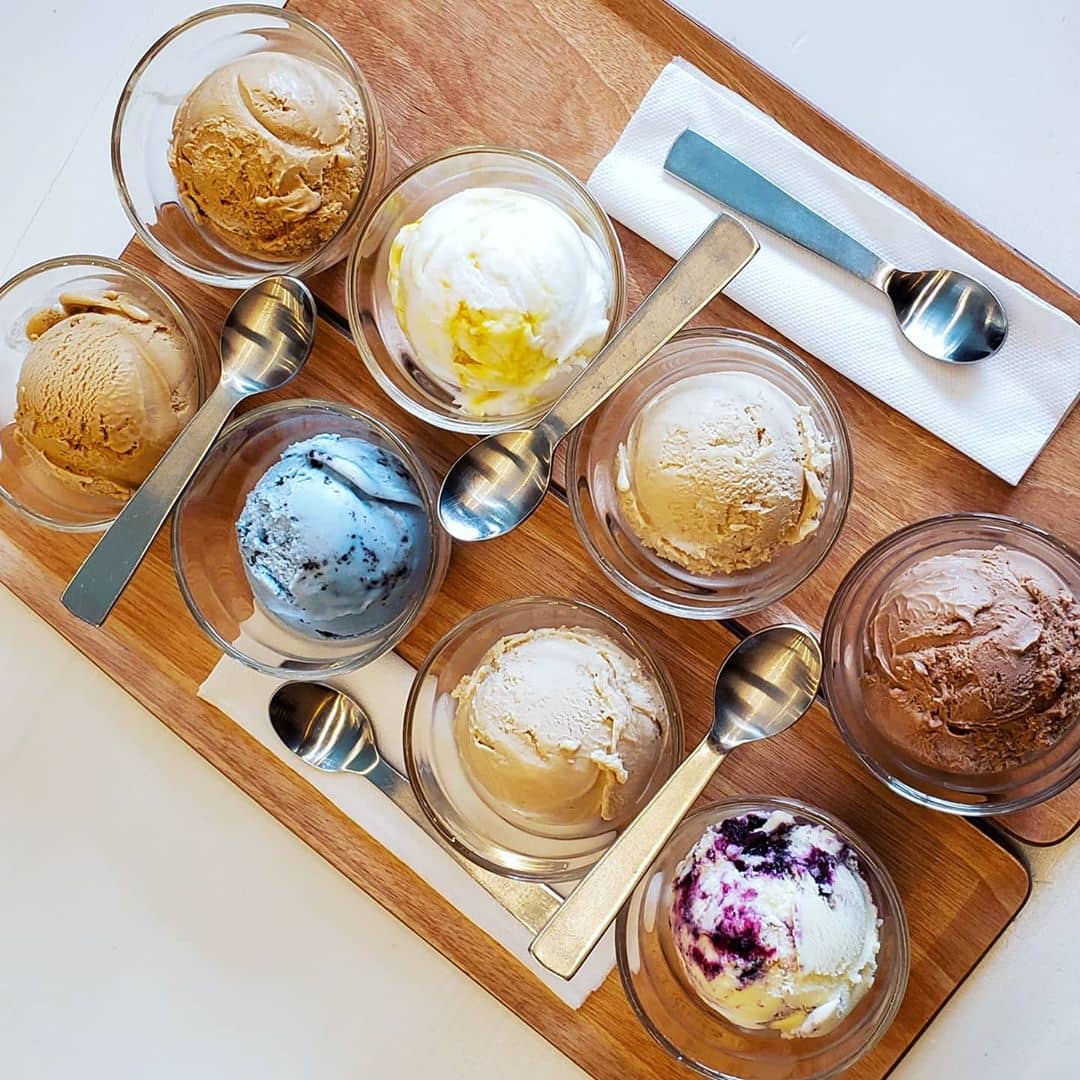 Sometimes, it's absolutely okay to overindulge – especially when it comes to ice cream.
With a MEAN (like good) flavour menu lineup like Mango Coconut Sticky Rice, HK Milk Tea, Blueberry Cheesecake, and Vietnamese Coffee, it's hard picking just 2 for the standard 1 – 2 scoop.
This is why we love Commercial Drive's Elephant Garden Creamery's flights (four scoops) since it works wonders if you're flying solo, on a date or even with the fam jam.
Their ice cream is on the lighter side, but that won't stop you from thoroughly enjoying the magic that happens with each lick or spoonful.
P.S. Get the Mango Coconut Sticky Rice. It is vegan so hola at your lactose buddies.
What to order: Mango Coconut Sticky Rice, HK Milk Tea, Blueberry Cheesecake, Vietnamese Coffee
Address: 2080 Commercial Dr, Vancouver, BC V5N 4B2
Website | Instagram | Facebook
2. Earnest Ice Cream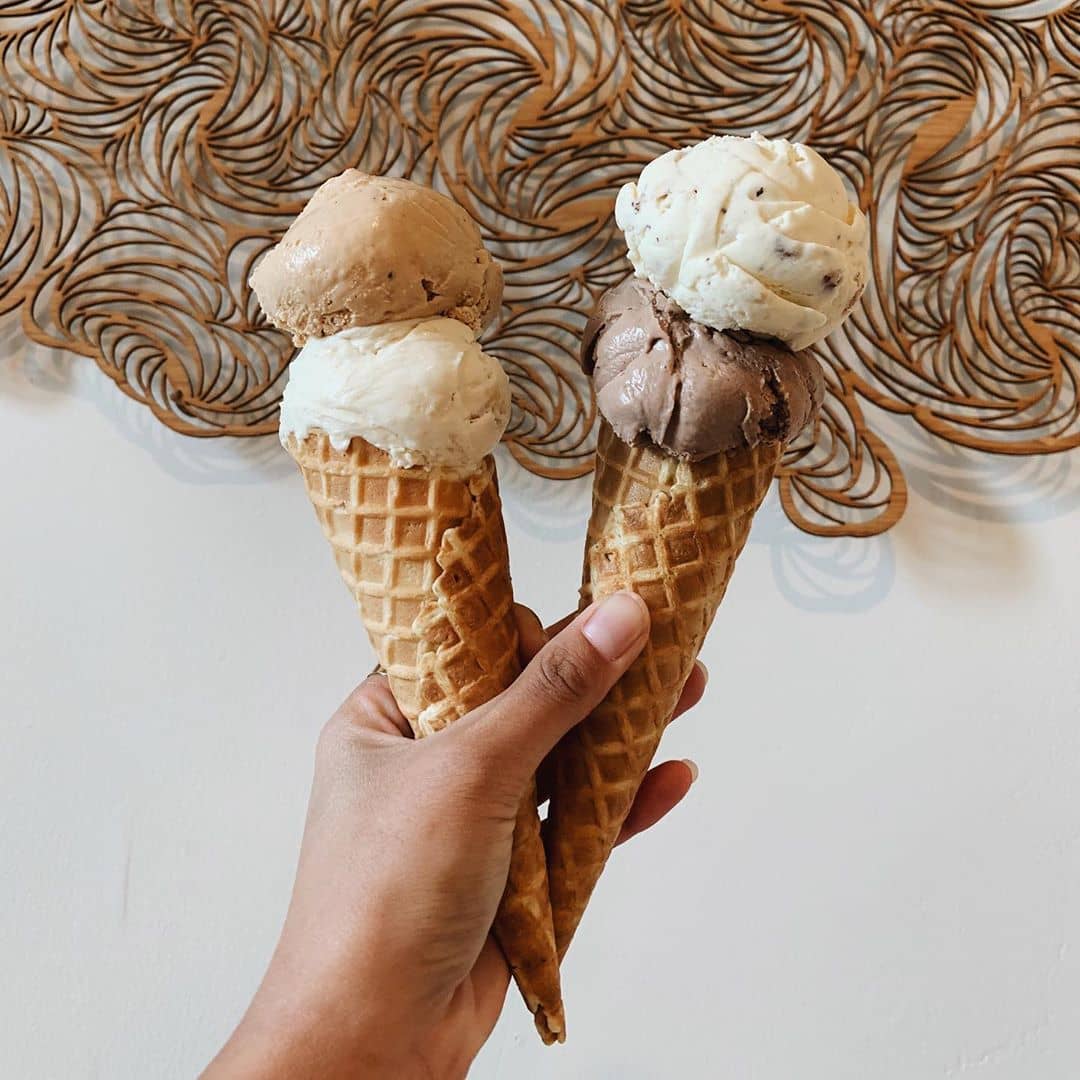 Whenever you talk to a Vancouverite about ice cream, one name ALWAYS pops up. Freaken EARNEST.
Why?
One, their staff are so darn nice. AND two, their ice cream is SO DARN good.
Like every ice cream shop on the planet, you can sample all the flavours before picking your 2 scoopers (always get 2). Do this. But if you're basic like us, you'll just end up getting their signature Whiskey Hazelnut or London Fog every time.
Not cause their seasonal flavours are bad (not even close) or their collaboration ones. Those two flavours just specifically hit us in a different way.
Word of caution: Lines get REALLY long during the summer. So be prepared for that. If you're semi-allergic to long lines like us and know the flavour you fancy, squeeze past everyone and head straight to the side counter to buy a pint instead.
Not only will you be the envy of everyone in that line, you also get the jar to take home if you somehow (note emphasis) don't finish the pint in one go. Clean it and use it to grow some green onions or return it to Earnest for a $1 refund.
What to order: Whiskey Hazelnut, London Fog
Address:
-3992 Fraser St, Vancouver, BC V5V 4E4
-1829 Quebec St, Vancouver, BC V5T 2Z3
-1485 Frances St, Vancouver, BC V5L 1Z1
-127 W 1st St, North Vancouver, BC V7M 1B1
Website | Instagram | Facebook
3. Passione Gelato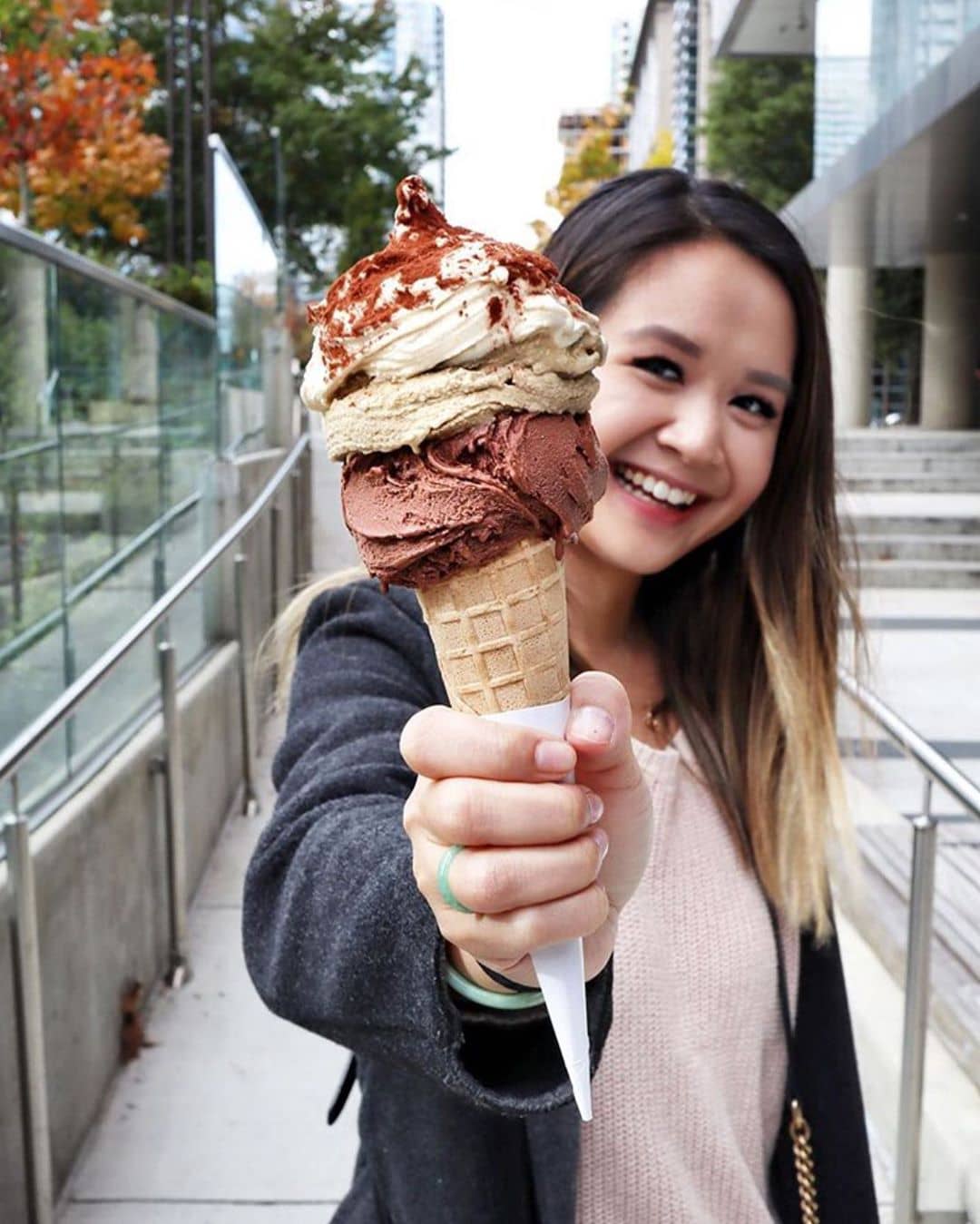 When it comes to Passione, you get the vibe of a small neighbourhood gelateria with its tiny storefront in Yaletown, generous portions and the oh-so-friendly & soft-spoken Italian owner (Salvatore Boccoarossa) serving you behind the counter.
But then you add in the expertise and international accolades of Salvatore (graduate of Carpigiani Gelato University and winner of the Grand Title of North America Champions) and the unrelenting focus on only using fresh organic seasonal ingredients…
You get Passione Gelato in its entirety.
Their gelato is rich, creamy, hella aromatic. You'll find a rotating list of flavours but some fan favourites include Pistachio, Tiramisu, and Sesame. Seasonal flavours like Fresh Mango, Yuzu, Thai Tea and Passion Fruit are also really popular.
Sal's current favourites? Coconut and Amarena Cherry.
What to order: Pistachio, Tiramisu, Sesame, Fresh Mango, Yuzu, Thai Tea, Passion Fruit, Coconut, Amarena Cherry
Address: 55 Smithe St, Vancouver, BC V6B 0R3 (under Parq Vancouver)
Website | Instagram | Facebook
4. Timothy's Frozen Yogurt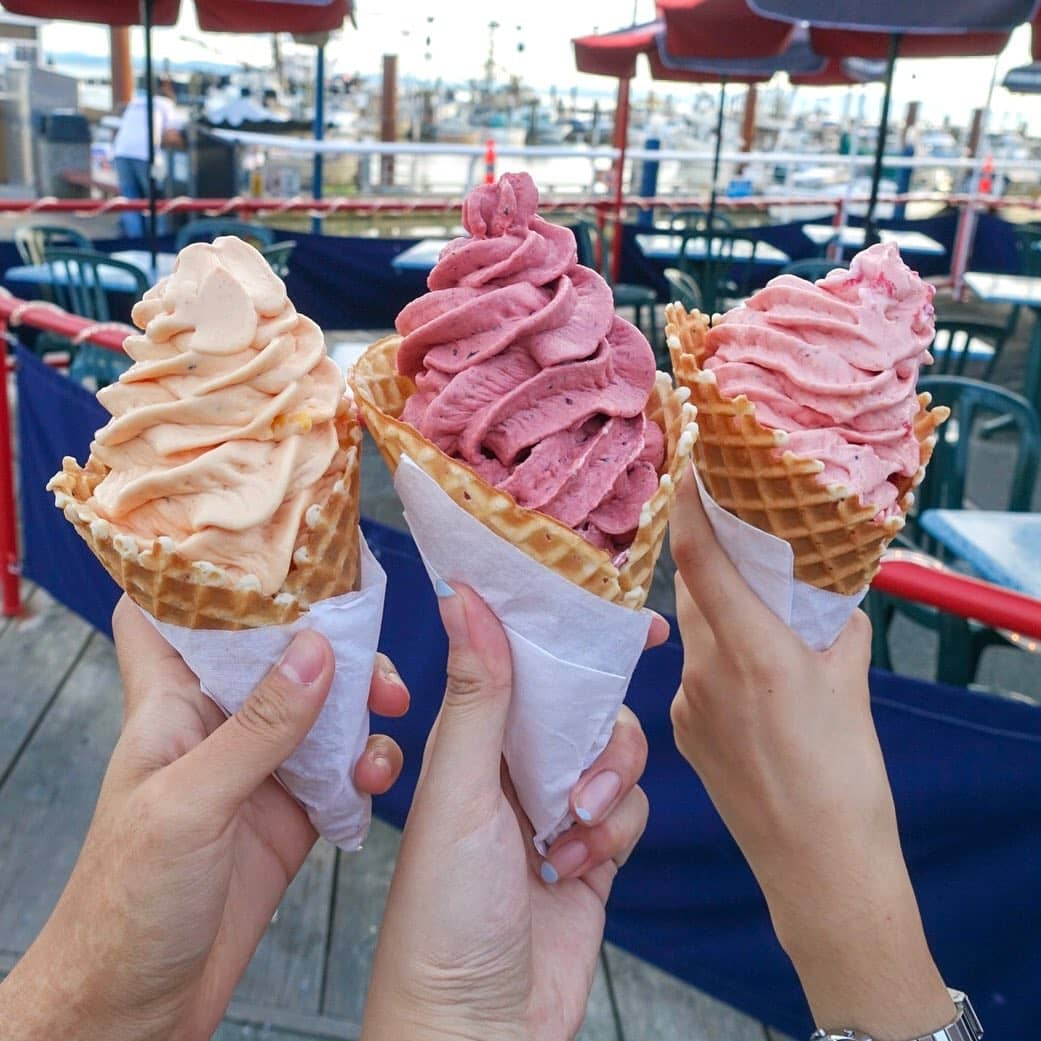 When it comes to grabbing a frozen treat in Richmond's Steveston Village, Timothy's is THE place every Vancouverite will scream for. Although they offer your classic ice cream and gelato, the real star (let's be honest) is their amazingly fresh real fruit frozen yogurts.
Timothy's froyos are made-to-order and have been operating since 1989. Choose from a variety of frozen fruits and they'll blend it up to make the frozen yogurt!
Popular combinations include peach & mango, mixed berries & mango, strawberry & peach, or blackberry & mango.
And for the full Timothy's experience, make sure you get your froyo in a waffle cone!
It's 100% worth it for the extra cost since they make the waffle cones inhouse and right in front of your eyes!
Is there anything better than walking around Steveston Wharf with froyo? We think not!
What to order: peach & mango, mixed berries & mango, strawberry & peach, blackberry & mango
Address: 3800 Bayview St, Richmond, BC V7E 5W3
5. La Glace Ice Cream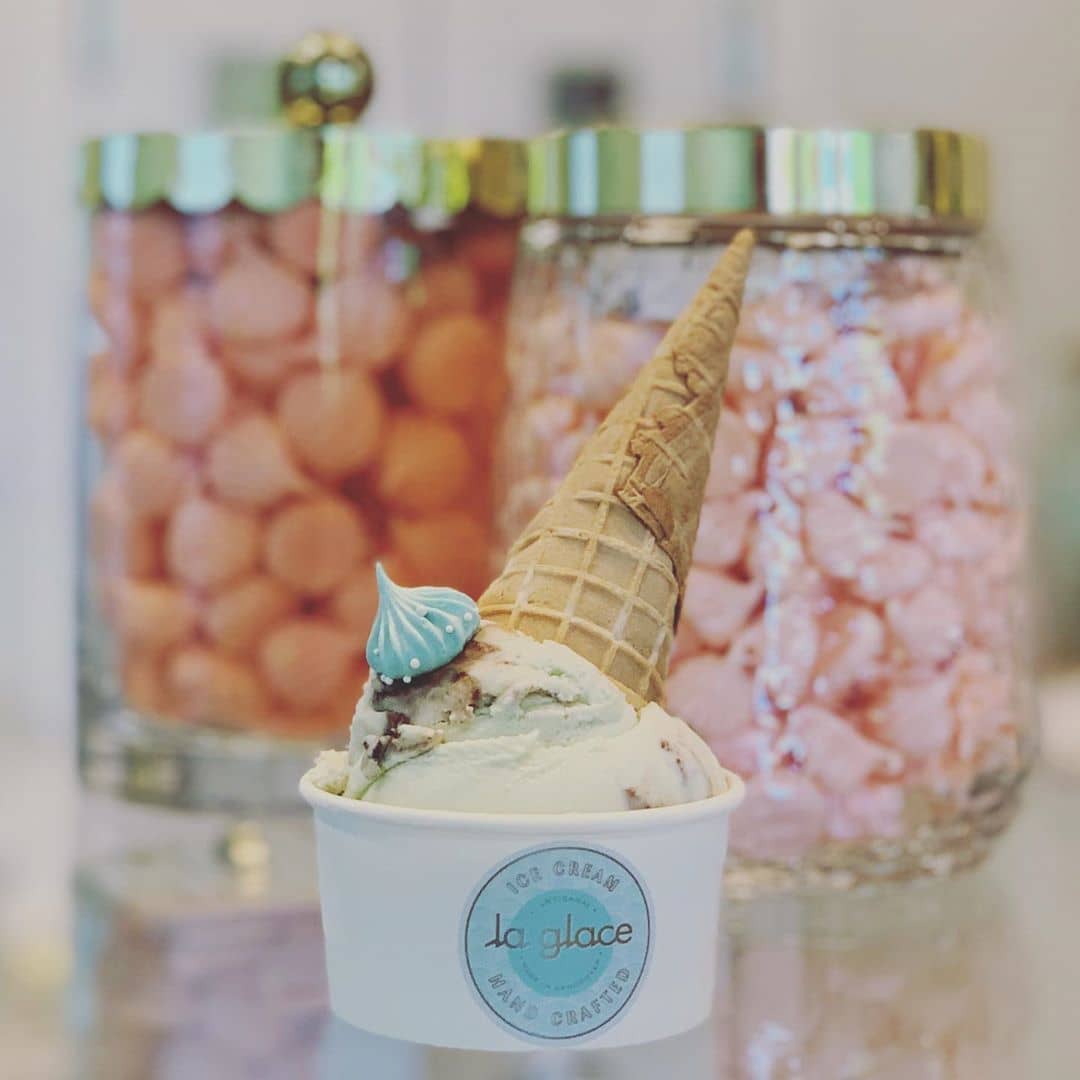 If you're feeling a little bit fancy and want to be magically transported to a cafe in Paris, a quaint little shop over in Kitsilano, called La Glace with their premier line of French ice cream will surely hit the spot.
Their award-winning ice cream is made from scratch out of a Creme Anglaise base: basically a thick custard made out of egg yolks and heavy cream.
What you get is a richer and fuller mouthfeel.
On the menu, you'll find Cofounder Mark Tagulao's creative spin on common ice cream flavours and an emphasis on seasonal local ingredients.
Like their Matcha Strawberry using BC grown strawberry compote or Lemon Ricotta & Blueberry Sherbet made with Emmalea Farms local blueberries.
Besides just your standard scoop of ice cream, they also have ice cream cakes, flights, pastries and coffee for you to further indulge and spend more time being in awe at their whimsical decor.
Even one of our fav local foodies itsjosheats picked La Glace as one of his favourite summer spots to eat at!
What to order: Matcha Strawberry, Lemon Ricotta & Blueberry Sherbet
Address: 2785 W 16th Ave, Vancouver, BC V6K 4W7
Website | Instagram | Facebook
6. J Squared Ice Cream
How do tea-based ice cream flavours sound to you? If it sounds amazing, then J Squared Ice Cream is your next stop! So many people talk about its unique flavors that J Squared has made its reputation all over the Lower Mainland.
Highlights must be Oolong Cheesecake, Thai Milk Tea, Matcha Green Tea, Vietnamese Coffee, and Shanghai Fog.
It tastes just exactly how you drink it or even better, and that's what makes J Squared so special.
Some seasonal flavors like Lychee Mango and Peach Passionfruit are no less stunning, we bet your mouth will water the moment you smell them.
Choose to have waffle cones if you're eating close by, or pints so you can slowly enjoy them at home.
What to order: Oolong Cheesecake, Thai Milk Tea, Matcha Green Tea, Vietnamese Coffee, Shanghai Fog, Lychee Mango,
Address: 405-9100 Blundell Rd, Richmond, BC V6Y 3X9
Website | Instagram | Facebook
7. Rain or Shine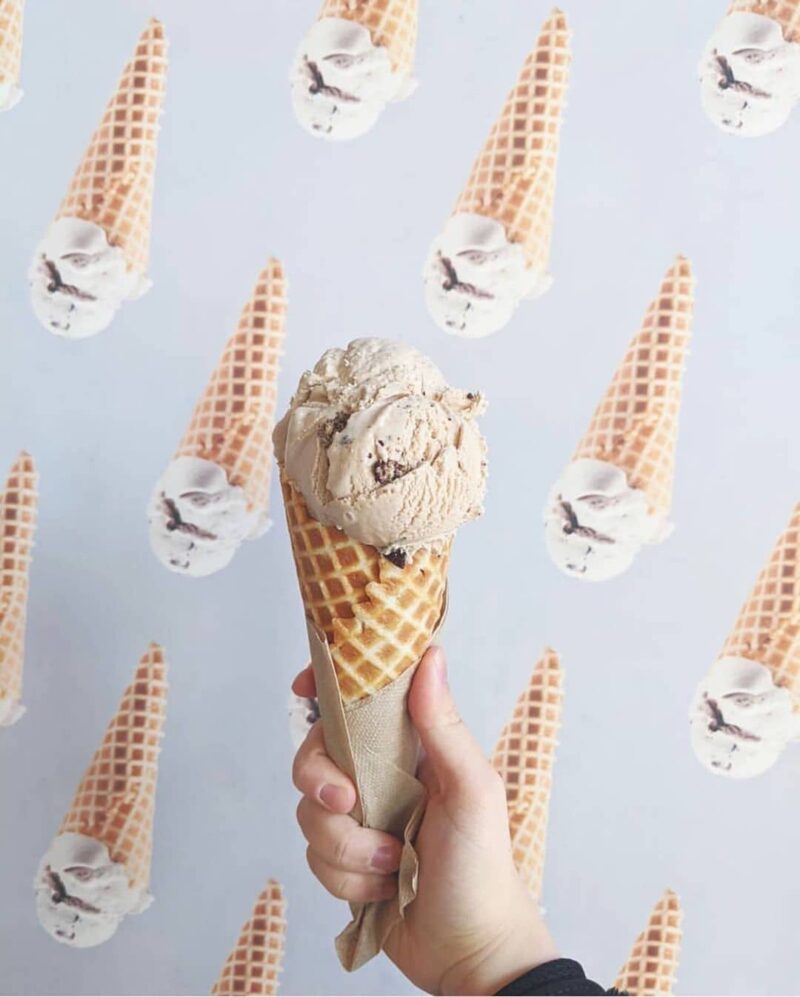 Cofounder and owners Blair and Josie had one goal in mind when starting up Rain or Shine: create delicious ice cream without all the chemical crap you see in processed food. And that's exactly what they did.
Now with multiple locations and a truck roaming the city, Rain or Shine has spawned a legion of fans who go wild for their locally and organically sourced ice cream.
Fan favs include London Fog, Blueberry Balsamic, and Cranberry Cheesecake.
And unlike other ice cream shops, they let you get two flavours in one scoop.
That's a major win for those who are always stuck on choosing which flavour to get!
Pro-tip: They have ice cream taco Tuesdays too!
What to order: London Fog, Blueberry Balsamic, Cranberry Cheesecake
Locations:
-3382 Cambie St, Vancouver, BC V5Z 2W5
-1926 W 4th Ave #102, Vancouver, BC V6J 1M6
-6001 University Blvd, Vancouver, BC V6T 0C5 (UBC)
Website | Instagram | Facebook
8. Mister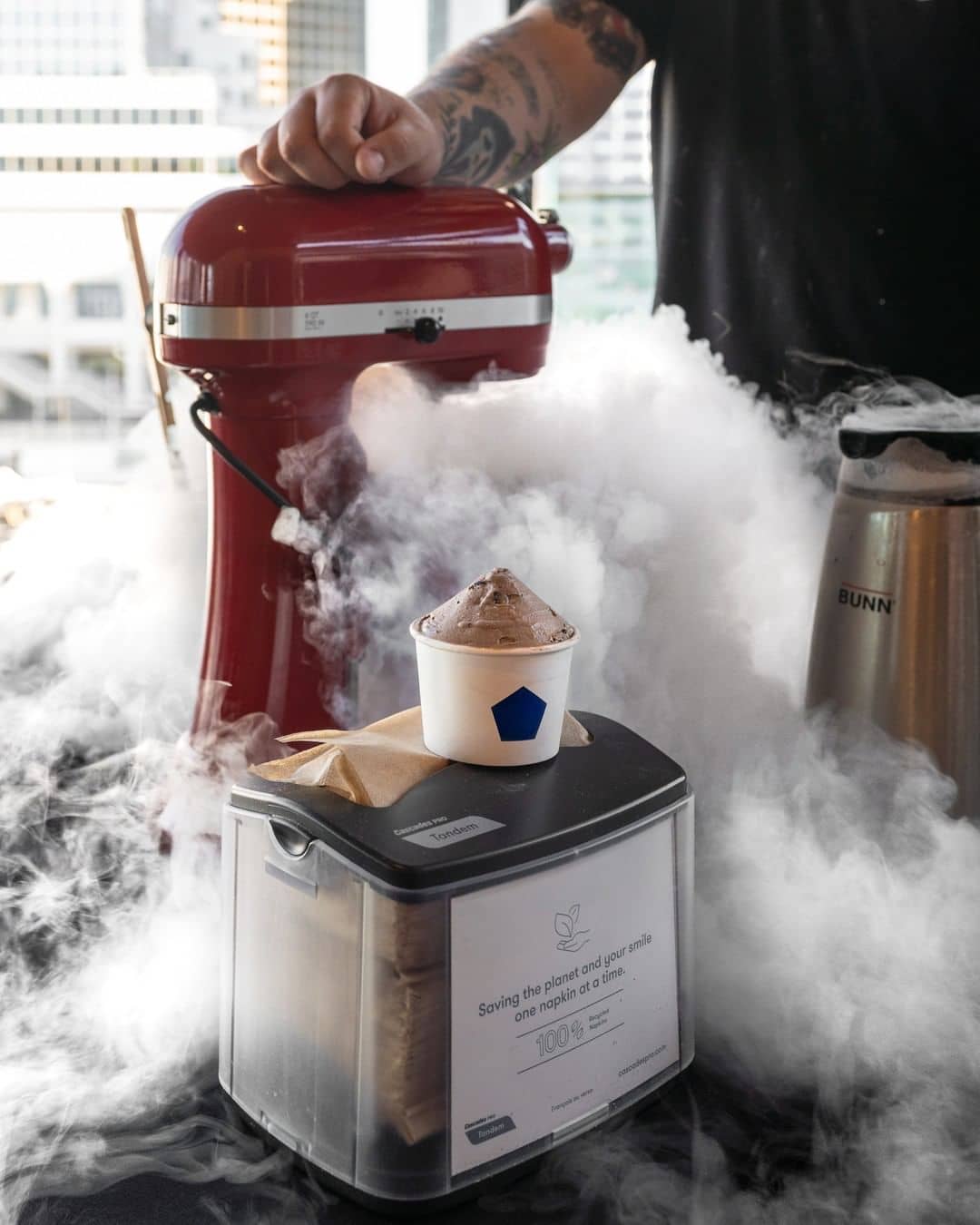 This list wouldn't be complete without mentioning Mister, a tiny liquid nitrogen ice cream shop located just steps from the Yaletown Canada Line Station.
Unlike regular ice cream, using liquid nitrogen freezes the cream and creates a frozen treat that is denser, smoother, and creamier.
And since each ice cream is made-to-order, it's a fun sight to see as the gas flows out of the bowls and down the counter – something that entertains both kids and adults!
Like other ice cream shops in Vancouver, Mister has an emphasis on sourcing ingredients from local farmers and suppliers (support local!).
So you'll find a menu that has seasonal item and ones that are around year-long like Matcha, Creme Brulee and Thai Milk Tea.
But what really makes Mister shine and a league of their own is their willingness to step out-of-bounds and "drop" new unique flavours in ice cream or ice cream sandwich form. Some previous ones include…
Jalapeno Honey Chicken Skin Sandos
Ritz Cookie Ice Cream
Flaming Hot Cheetos Ice Cream Sando
Citrus Beet Ice Cream
Hong Kong Style Milk Tea Sandwich Between Pineapple Bun
So whether you opt for the gasly spectacle of their liquid nitrogen ice cream or a sando, you'll be in good hands.
Although there aren't many seats available, we recommend taking your epic frozen treat on a stroll down Mainland Street or to the waterside.
What to order: Jalapeno Honey Chicken Skin Sandos, Ritz Cookie Ice Cream, Flaming Hot Cheetos Ice Cream Sando, Citrus Beet Ice Cream, Hong Kong Style Milk Tea Sandwich Between Pineapple Bun
Address: 1141 Mainland Street, Vancouver, BC V5V 3N7
Website | Instagram | Facebook
9. Nana's Green Tea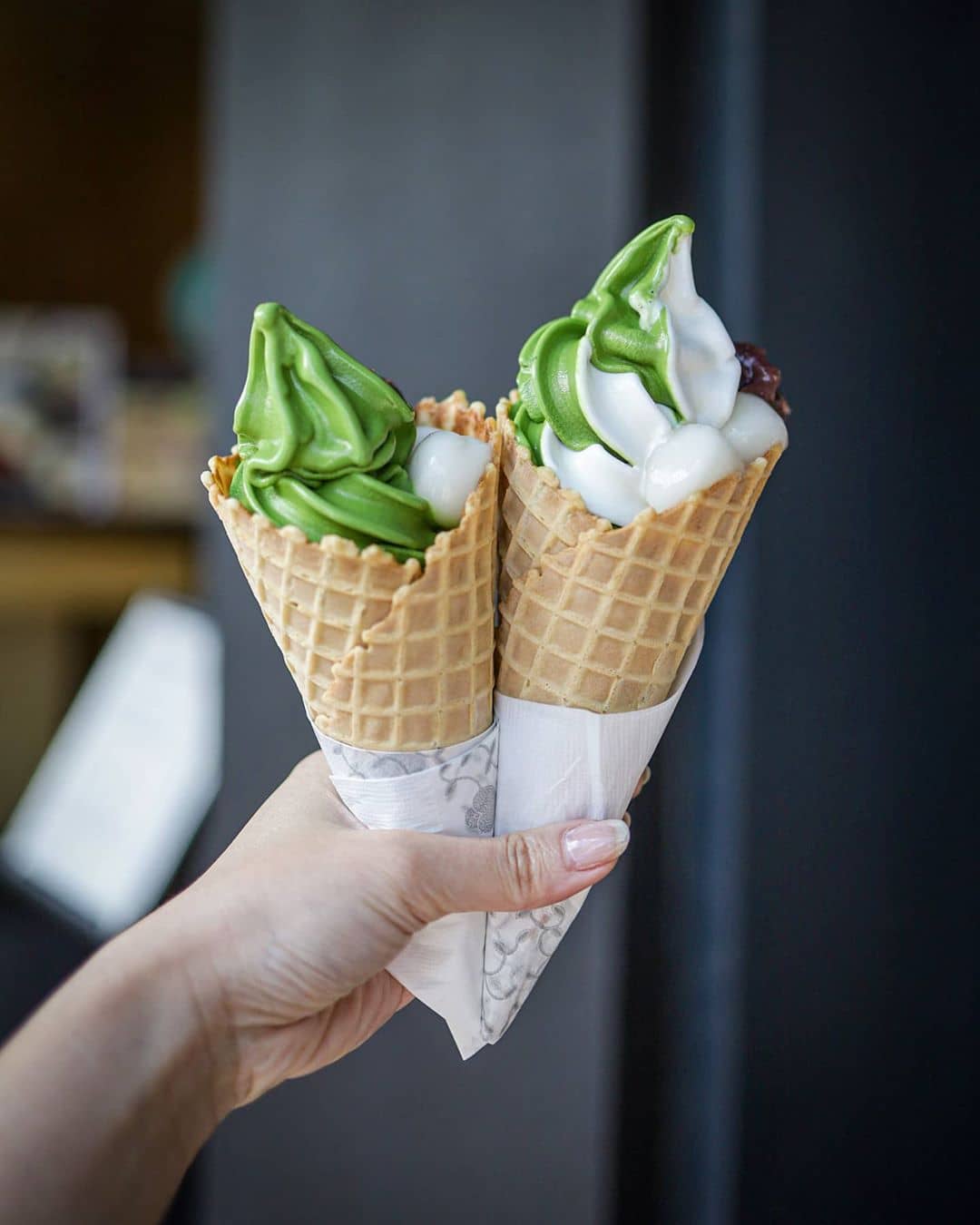 Vancouver is matcha crazy. We're matcha crazy.
And if you're looking to satisfy your craving, popular Japanese Matcha brand, Nana's Green Tea in Kerrisdale will have that deep green tea flavour that will make your heart sing.
Get the Matcha Soft Serve with Shiratama (mochi balls) and you won't be disappointed. Or if you fancy an ice cream float, try their Matcha Shiratama Float or towering Signature Matcha Parfait with Shiratama.
You can opt to dine-in or grab the soft serve to go on a stroll around the relaxed and carefree Kerrisdale neighbourhood.
What to order: Matcha Soft Serve with Shiratama, Matcha Shiratama Float, Signature Matcha Parfait with Shiratama
Address: 2135 W.41st Avenue, Vancouver, BC, Canada V6M 1Z6
Website | Instagram | Facebook
10. Bella Gelateria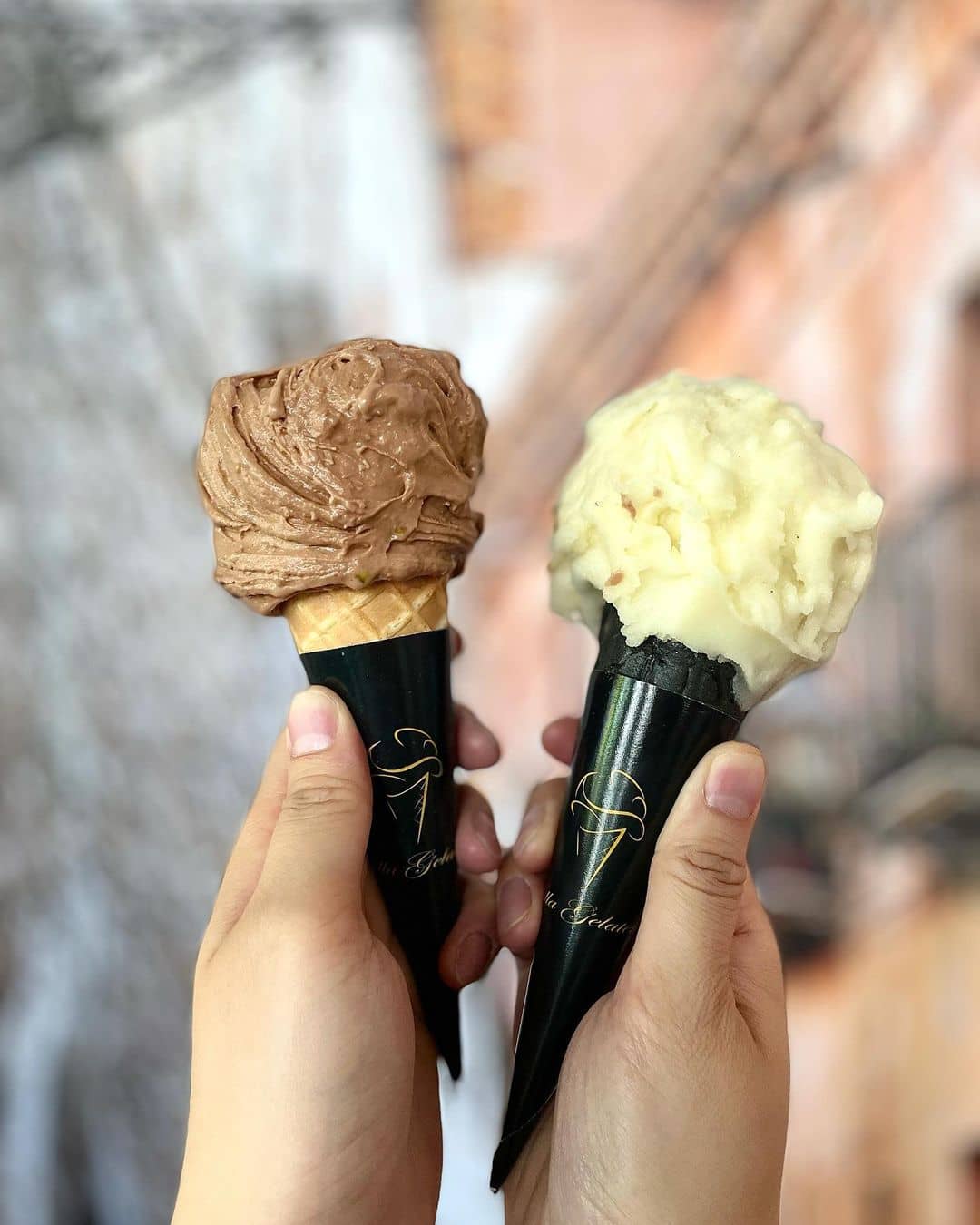 Bella Gelateria is Vancouver's favourite place for old-world-inspired gelato, they serve up their award-winning frozen dessert awesomeness with no added colors, flavours, or preservatives.
There are as many flavours as you can ever imagine, and every bite will bring you straight back to Italy.
Don't hesitate to go for their best-selling item – Akbar Mashti – a version of traditional Persian ice cream made with rosewater, saffron, and garnished with roasted pistachios.
Mild taste and light floral scent thanks to the saffron. Definitely a must-try!
Wickedly Burnt Caramel is also a unique choice to consider, with slow-cooked caramel until it gets dark, creating a slightly smoky, velvety smooth deep flavor that's rich yet not overly sweet.
Choose to enjoy their gelato in a cone or a cup, Bella Gelateria also serves gelato-based drinks, such as affogato, Hot-Chocolat-O, and traditional Italian milkshakes
What to order: Akbar Mashti, Earl Grey Tea, Salted Caramel, Wickedly Burnt Caramel, Nocciola
Address:
-1752 Davie St, Vancouver, BC V6G 1W3
-1301 Robson Street, Vancouver, BC V6E 1C6
-K3 -4700 Kingsway, Burnaby BC, V5H 4N2
Website | Instagram | Facebook
11. La Casa Gelato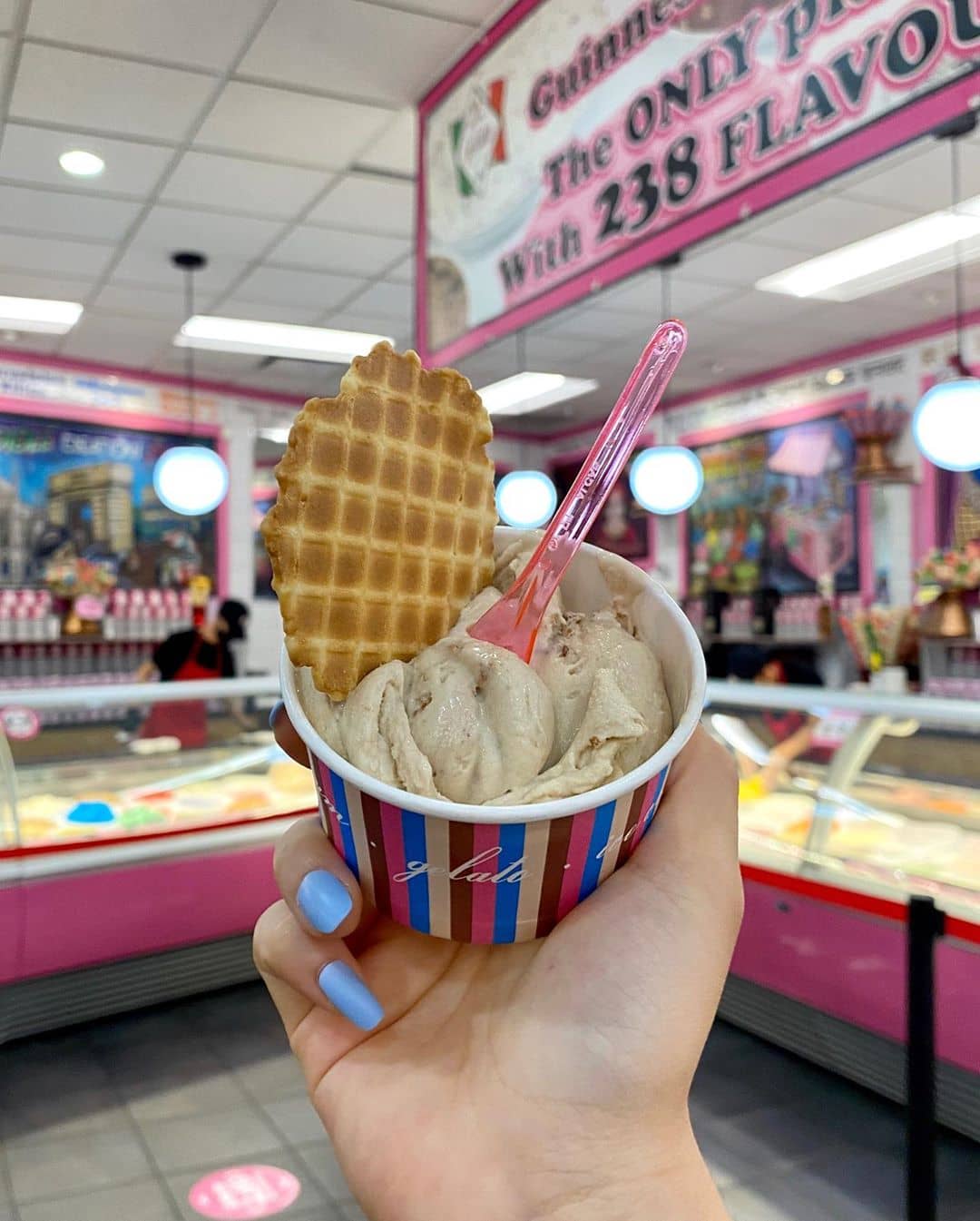 If you're looking for a memorable experience with friends or a partner, La Casa Gelato is the place to visit.
Aside from its iconic pink wall, that is perfect for your Instagram photos, inside you'll find over 200 flavours to choose from. Yup – over 200 (238 to be exact). In fact, they are a Guinness World Record Holder!
The fun and longlasting memories come from testing some of the ODD and unexpected flavours there. Like Sake, Curry, Durian, Roast Garlic or Maple Bacon and then telling your companions to try it as well.
If you're an adventurer, you'll find yourself exploring La Casa Gelato for a good hour before deciding on your scoops.
What to order: Sake, Curry, Durian, Roast Garlic, Maple Bacon
Address: 1033 Venables Street, Vancouver, BC V6A 3R9
Website | Instagram | Facebook
You're in luck that Vancouver has a ton of amazing ice cream shops around. But if you're the type that doesn't fit in the "dessert first" mold and are looking for some good grub to get you going, consider these stellar fried chicken or sushi spots that will surely hit the mark.
Looking for more food spots? Well, take a look at our picks of the best restaurants in Vancouver!
How We Create Our "Best" Lists
All Noms Magazine's "best" lists are created using multiple factors and signals to help readers find the best restaurants, things to do, and places to stay at. Some of these factors and signs include personal experiences, correspondence with locals, and compiling experiences from review sites.
Each list is also created to be balanced (in terms of price, cuisine type, ambiance, and more) as possible. This means that the lists are not specifically created in ranking order. You should be comfortable picking from any of the spots on the list and generally have a good time. But of course, YMMV (your mileage may vary) and everyone may have different experiences/palates.