Looking for the best Indian restaurants in NYC? You're in the right place!
The Indian subcontinent offers a cuisine as diverse as its culture, and New York City is home to some of the best Indian restaurants (even better than London, yes!).
In the last few years alone, the city has welcomed many remarkable spots serving Indian cuisine, many of which are run by popular chefs, and deliver an unapologetic Indian vibe.
From authentic South Indian fare to elevated and creative North Indian classics, the following best Indian restaurants in NYC are totally worth the hype.
1. Masalawala & Sons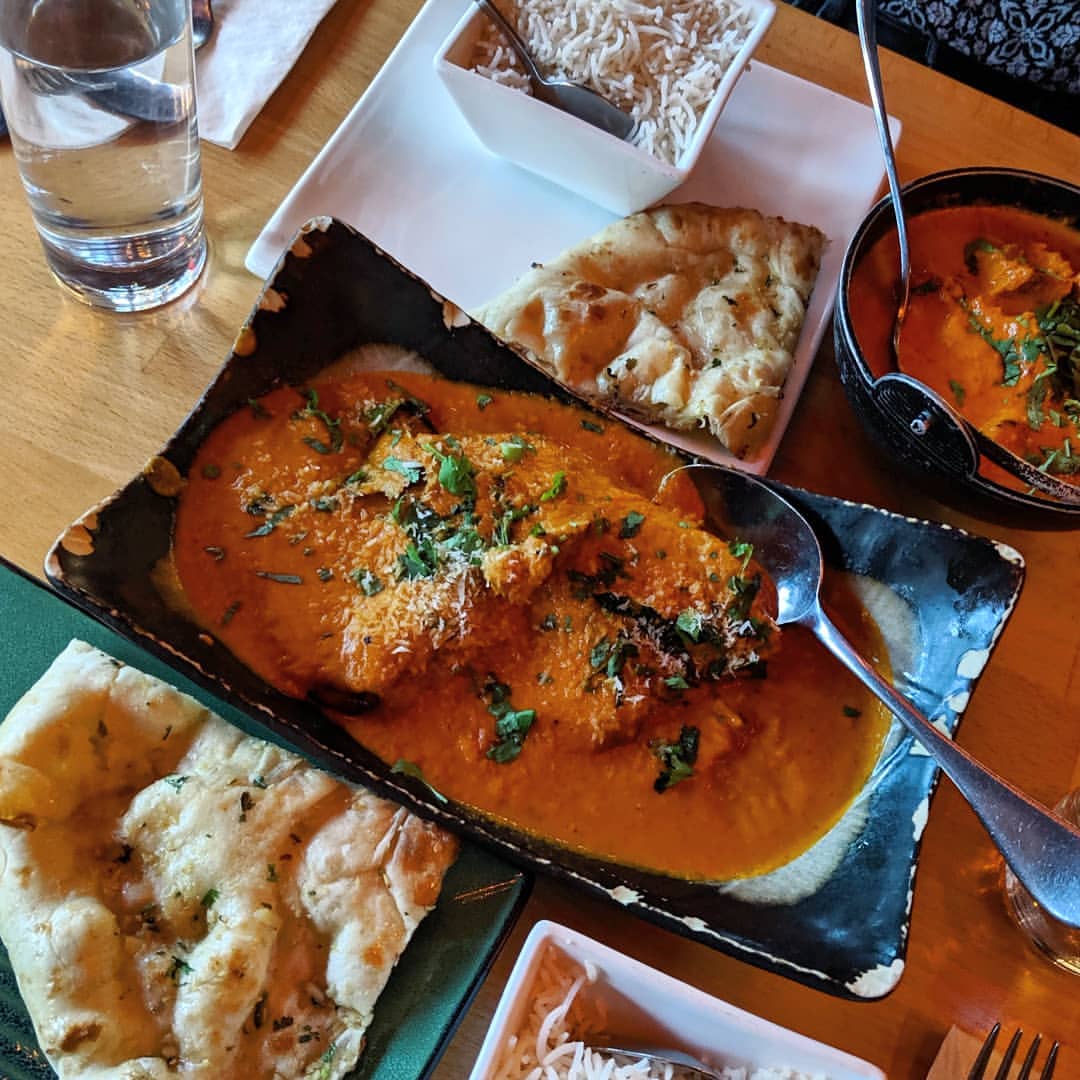 Masalawala & Sons sets the bar really high for quality, one-of-its-kind Indian food in New York. This restaurant reimagines some of the classic staples of Kolkata, and other regions of West Bengal, and enables diners to experience homestyle Indian cooking. The space itself is colorful and fun, and the food is spectacular, to say the least.
While you watch everyone around you order Macher Dim (crispy and delicious Bengali fish roe fritter) and think you should probably get that too, we urge you to go with Dahi Vada, the less-sung star of the restaurant.
This is a spongy fermented lentil dumpling that is made to soak in creamy, sweet, and spice-sprinkled yogurt; the mild tang, sweetness, and coolness of this dish make it a perfect start to the more pronounced flavors that are to follow.
One of their most popular dishes is Kosha Mangsho, a traditional Bengali-style mutton curry; the meat is slow-cooked along with spices for hours, which makes it melt-in-the-mouth tender, and you can also taste the deep-rooted flavor of the spices.
Order a portion of Chapati (whole wheat flatbread), or Ghee Bhat (Bengali aromatic rice) to go with the mutton curry – you will love it!
Daab Chingri is a Bengali treasure! This is essentially prawns cooked in a young coconut shell; you will notice your mouth watering as your waiter scoops the content out of the coconut shell. The prawns come cooked to perfection, and the curry is creamy and tastes like a dream.
Do try the coconut scrapings from the inside of the coconut, which comes out seeped in flavor, and have a unique and interesting texture.
What to order: Dahi Vada, Kosha Mangsho, Daab Chingri, Chapati, Ghee Bhat
Address: 365 5th Avenue, Brooklyn, NY 11215
Website | Instagram | Facebook
2. Saar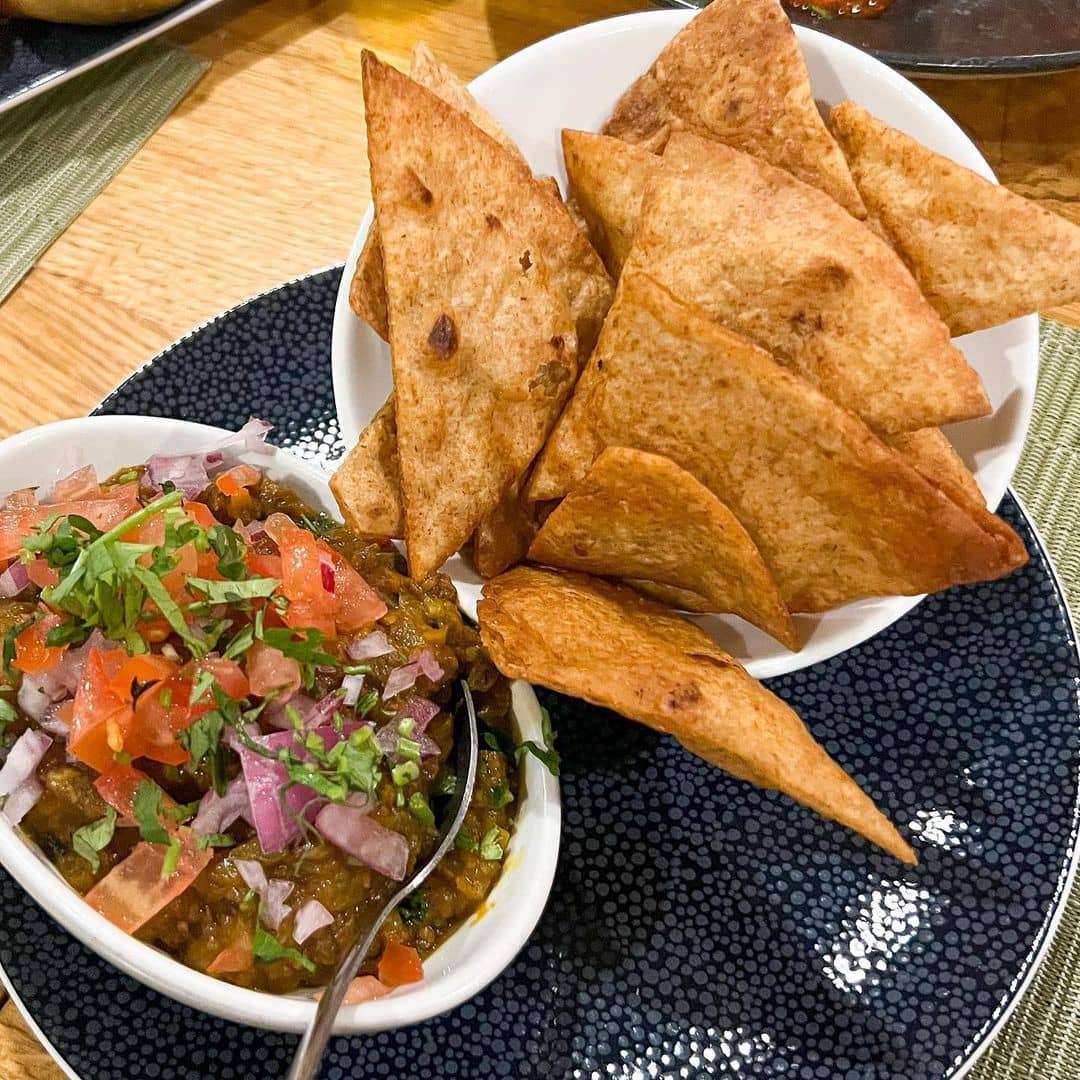 From America's first Indian chef to be awarded a Michelin Star, Chef Hemant Mathur, Saar offers a combination of Indian street foods and traditional home-cooked dishes. The menu cleverly reflects the subcontinent's multicultural influence, and everything is presented in a colorful and modern setting.
The Biryani here is not only plentiful but will also exceed your expectations in terms of flavor. The mint yogurt on the side cools down the palate, making it ready for the next spoonful.
The Cochin Black Pepper Chicken is outstanding. Served with soft dosas to go with it, the dish takes a different route from what you usually find on an Indian restaurant's menu – it's peppery, intense, and sure to make you drivel.
And finally, the Moong Dal Halwa at Saar is so very good that it will put you in a food coma!
What to order: Biryani, Cochin Black Pepper Chicken, Moong Dal Halwa
Address: 241 W 51st Street, New York, NY 10019
Website | Instagram | Facebook
3. Semma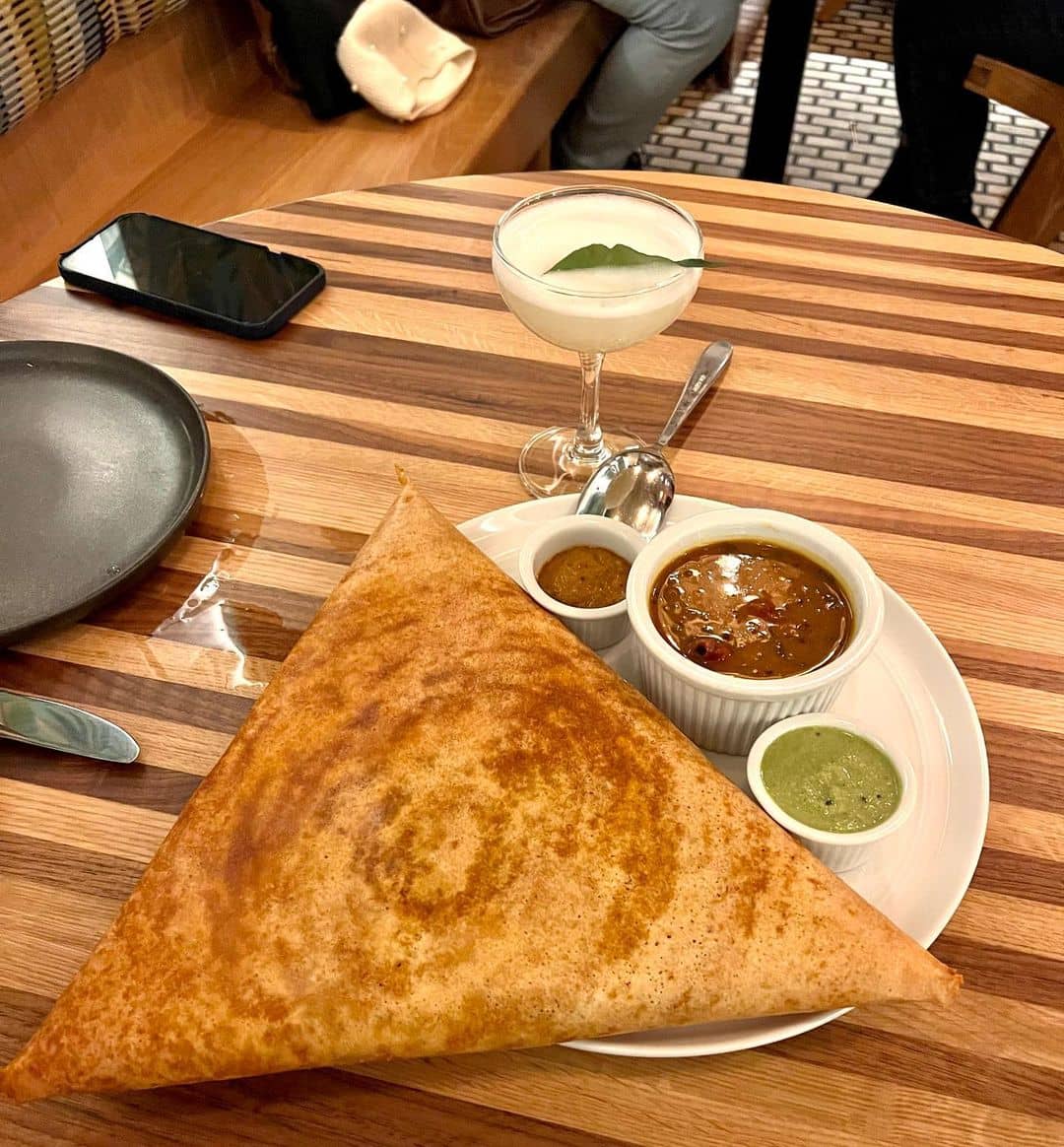 West Village's Semma – which means "fantastic" is indeed true to the name! It is an exploration of heritage Southern Indian cuisine that has rarely been seen outside of local homes and neighborhoods, bringing you to the soul of Southern India with explosive flavors and regional ingredients in every dish. They also provide you with a diverse menu in 3 different sizes in portions so don't worry!
For a Small menu, try the Eral Thokku which comes with tender tiger prawn and spicy green chili, fenugreek and curry leaves giving an explosive flavor to every bite.
For Medium ones, ask for Attu Kari Sukka to enjoy their top-notch lamb that is made to perfection. The juicy meat is elevated with the lightly sweet, spicy, and piney scent of the cardamom and Tellicherry peppers.
And for their largest option, try the Valiya Chemmeen Moilee with delicious lobster tail covered with creamy, spicy mustard, turmeric, and rich coconut milk creating a balanced flavor in spices. If you're looking for something hearty and flavorful, this dish will no doubt be a perfect match!
What to order: Eral Thokku, Attu Kari Sukka, Valiya Chemmeen Moilee
Address: 60 Greenwich Ave, New York, NY 10011
Website | Instagram | Facebook
4. Delhi Heights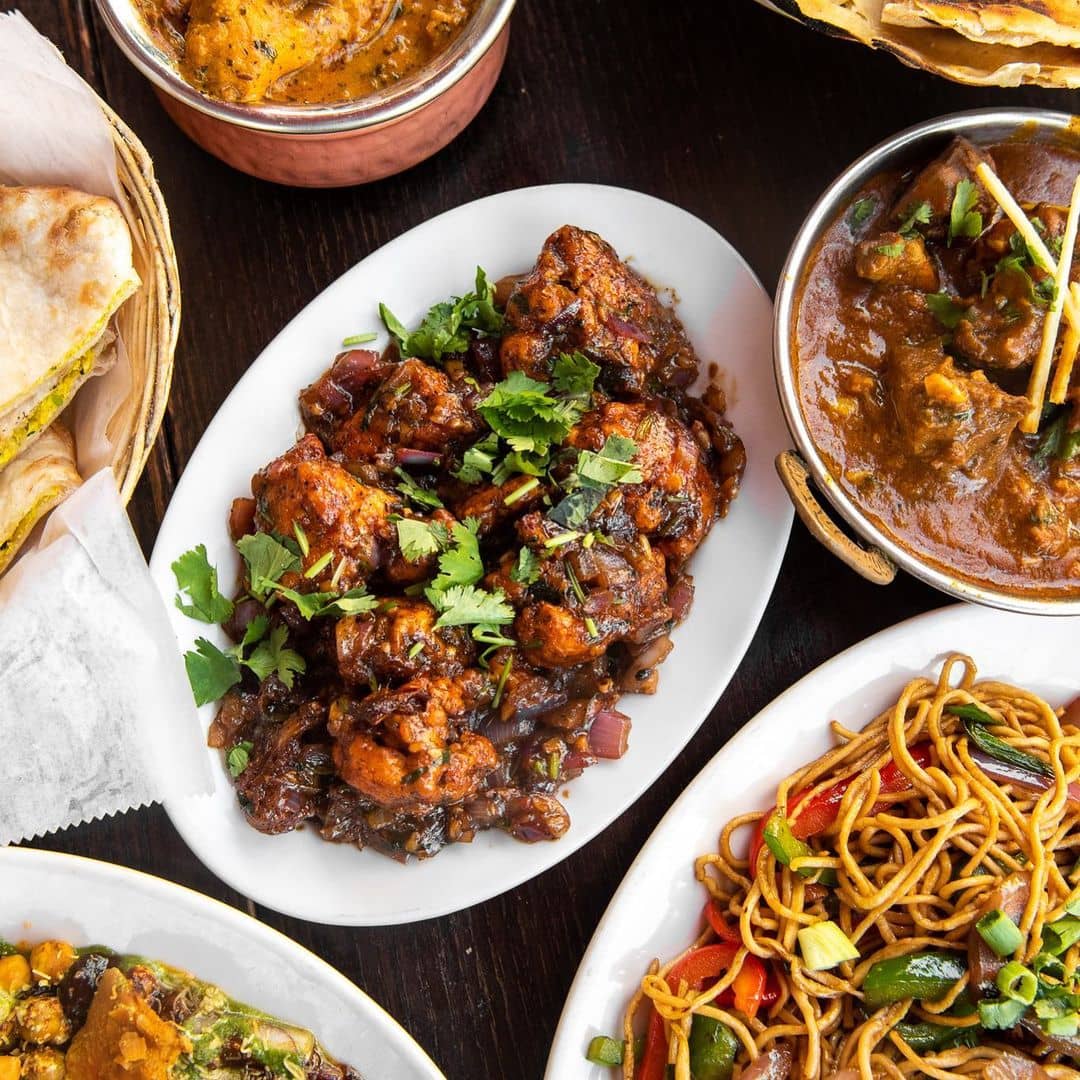 Delhi Heights is an Indian – Nepali/Chinese restaurant, buffet, and bar. The majority of the menu here features North Indian staples, along with some mesmerizing Nepali/Chinese-influenced dishes. The place is neat, clean, and spacious, and sports a casual vibe.
If you've been craving Indian chaats lately, Delhi Heights is the place to be in NYC. The highlight of their Chaat Special menu is definitely the Samosa Chaat. You get big pieces of crispy and crunchy samosa shells in your chana masala, which tastes amazing with the mint chutney. The addition of thick and creamy spiced yogurt on top is a soothing refresher to the palate.
Delhi Heights serves a fantastic Chicken Tikka Masala. Served with white rice or plain naan, the flavors of the masala are on point.
Vegetarian or not, we highly recommend that you try their Palak Paneer. A spinach-based gravy with soft and bouncy Indian cottage cheese. This classic Indian curried dish is originally mildly spicy (you can request an increased level of spice), with hints of herbs and spices, and the cheese cubes are succulent.
You can also taste incredible momos here. Don't miss their Steamed Beef Momos, and Mokthuk; the former comes with a stretchy and chewy shell, and tastes extraordinary topped with spicy mustard and hot pepper vinegar (available at the table). The latter comes swimming in a bowl of spicy, flavor-packed, and nourishing soup.
What to order: Samosa Chaat, Chicken Tikka Masala, Palak Paneer, Steamed Beef Momos, Mokthuk
Address: 3766 74th Street, Queens, NY 11372
Website | Instagram | Facebook
5. Junoon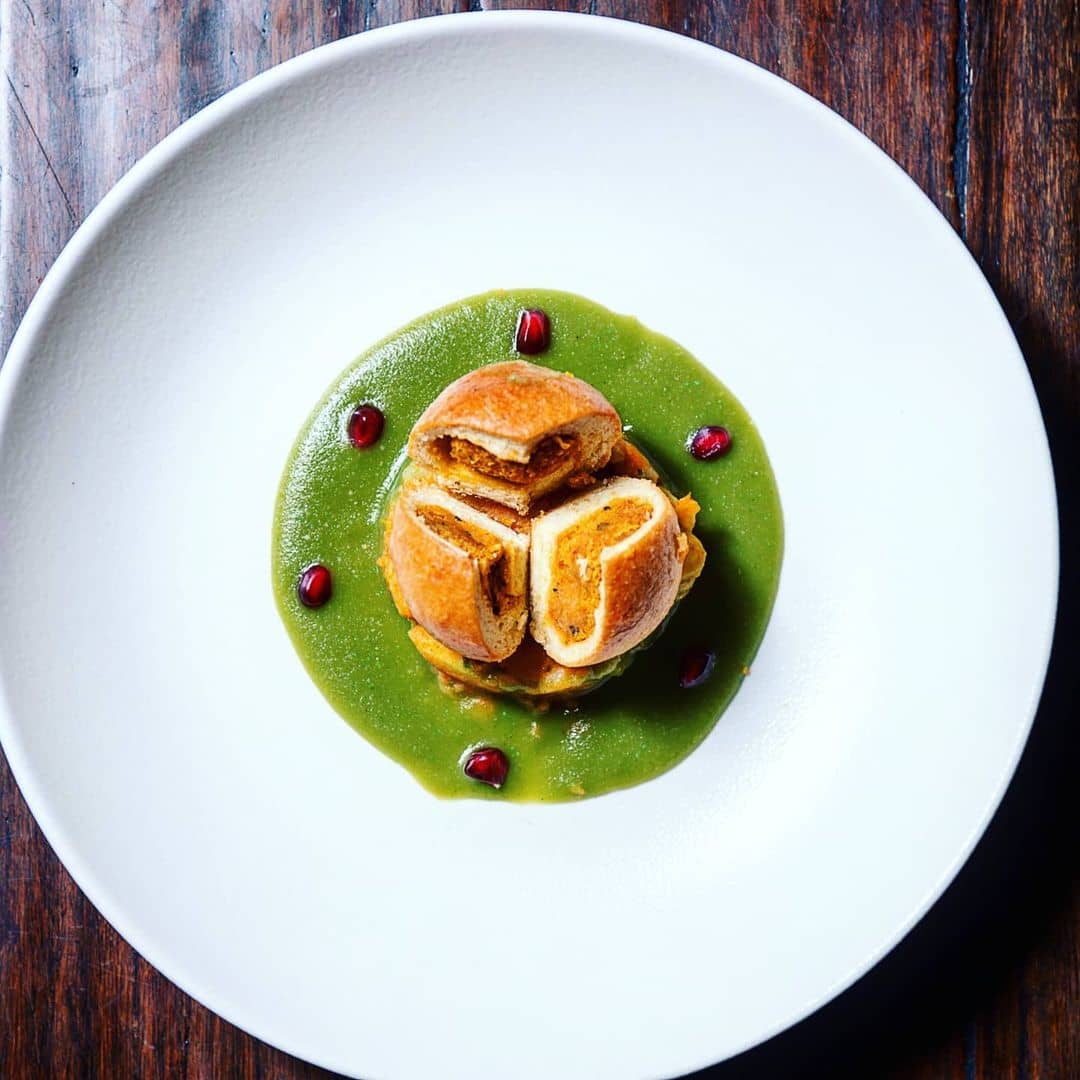 The new revamped Junoon is an Indian fine dining restaurant that showcases the time-honored Indian cuisine in an elegant and modern way. The space is intimate, with vintage mirrors, pendant lights, and a lustrous white marble-top bar serving top-notch cocktails.
The Eggplant Chaat is a super delicious appetizer. The crispy eggplant is savory goodness, which tastes extremely yum with the creamy raita and sweet tamarind chutney.
A classic Junoon dish since its start is the Tellicherry Duck. It is made with dry-aged normandy duck breast, which remains moist and rosy till the last bite. The beautiful, tender meat is complemented by the extremely fragrant and rich tellicherry peppercorn sauce.
The Ghost Chili Murgh Tikka is a fiery take on the famous tandoor recipe. The chicken thigh has a nice char on it, the meat is juicy and tender, and of course, has the expected level of heat. The smoked coconut-carrot puree gives a delicate sweetness to compensate for the heat from the chicken tikka.
Feeling lavish? Go for the 6-Course Chef's Tasting Menu. Available for dinner Tuesday through Saturday, some of the dishes are exclusive to this menu.
What to order: Eggplant Chaat, Tellicherry Duck, Ghost Chili Murgh Tikka, Chef's Tasting Menu
Address: 19 W 24th Street, New York, NY 10010
Website | Instagram | Facebook
6. Adda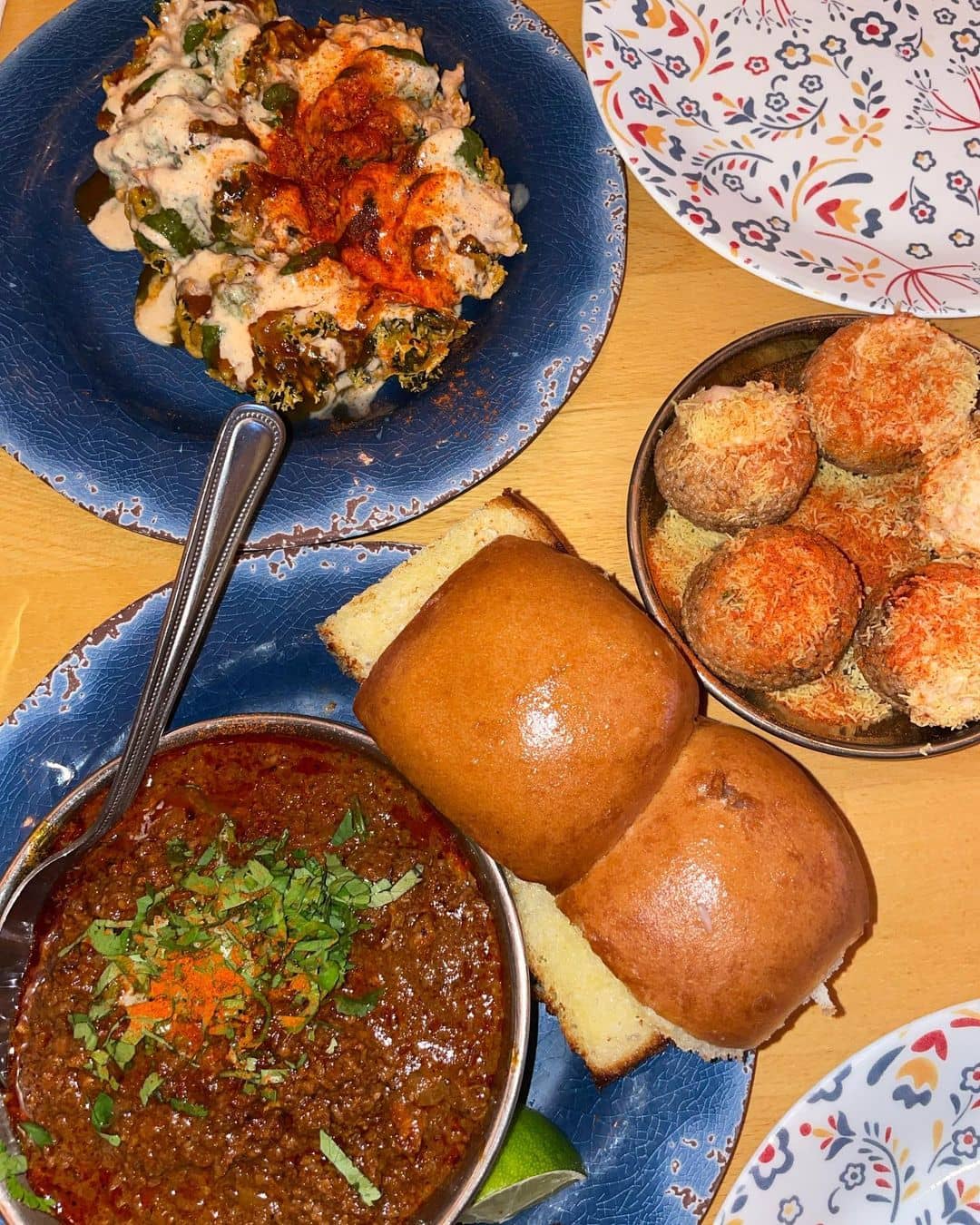 Focused on authentic regional Indian home cooking, Adda is one of the few places in New York where the food is worth traveling for. The restaurant consistently ranks among the top restaurants in the country, and their ingredient-focused menu stays true to traditional Indian dishes, which can be enjoyed in a bright and casual atmosphere.
Adda's Snacks menu comes with a "highly addictive" warning, and rightly so, especially the Dahi Batata Puri.
Though the four pieces of crispy puri shells don't like much when they arrive at the table, they come bearing layers of flavors and textures, with the different chutneys and potato stuffing, and it is a delight when the puris burst open inside your mouth.
If we had to recommend one BOMB food combination you shouldn't miss here, it would be the Amul Cheese & Chili Naan with the most popular Dilliwala Butter Chicken.
Now, before you think butter chicken is boring, let us clarify that this one at Adda's is so complex in flavor, we guarantee you'll enjoy it. Pair it with the Amul cheese (Indian processed cheese) and chili-stuffed naan for the best output!
The Lucknow Dum Biryani is a must-have at every table in the restaurant. While you will be enchanted by the beautiful aroma of the biryani, the tender fall-of-the-bone goat meat along with the flavor-packed rice will transport you to a magical wonderland!
What to order: Dahi Batata Puri, Amul Cheese & Chili Naan, Dilliwala Butter Chicken, Lucknow Dum Biryani
Address: 31-31 Thompson Avenue, Queens, NY 11101
Website | Instagram | Facebook
7. Seva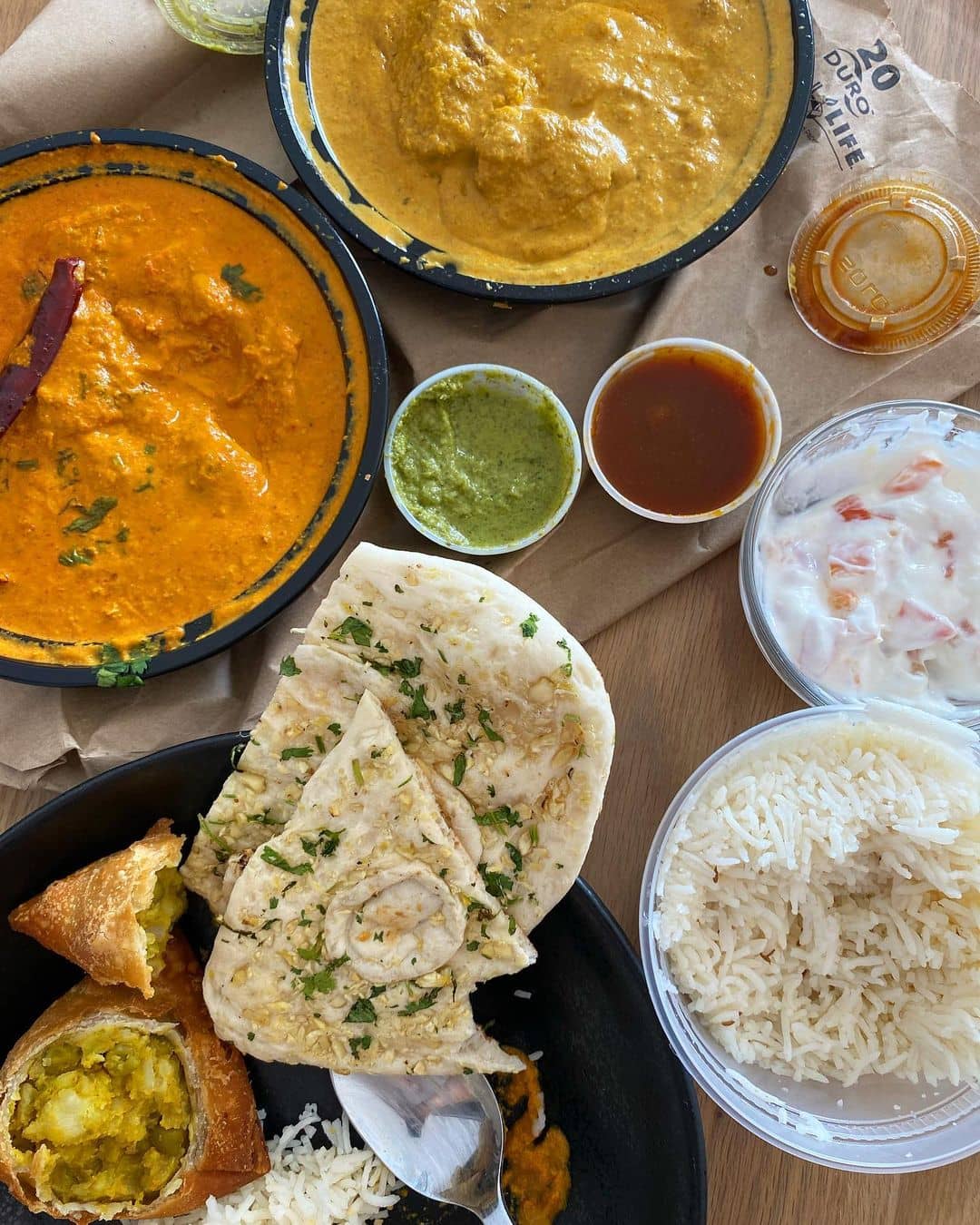 Serving the Astoria community since 2008, Seva offers a congenial dining experience with a diversified and well-balanced menu. With pocket-friendly pricing, a relaxed atmosphere, friendly service, and extraordinary food, Seva is a complete package.
If you want to go easy on your wallet, you can choose their extremely affordable 3-Course Prix Fix meal; this includes one appetizer, one entrée, and one dessert of your choosing, from a variety of vegetarian and non-vegetarian options.
If you choose the a-la-carte route, there are some amazing dishes you should try out.
The Seva kitchen is known to turn out the best Vegetable Samosa and Chicken Samosa in town. They are crispy and crunchy, perfectly seasoned, and flavorful, and come with the most delicious mint and tamarind chutneys.
If you prefer something mild, go with the Chicken Tikka Masala – creamy, slightly sweet, and tender clay oven-cooked chicken.
On the other hand, if you can tolerate heat, there's Green Chili Chicken – ginger-garlic sauce base loaded with hot green chili, and aromatic garam masala.
They also offer plenty of options for vegetarians, like the deliciously spicy Saag Paneer, and they also serve the best Butternut Squash Soup – thick, smooth, slightly sweet, and savory.
What to order: Vegetable Samosa, Chicken Samosa, Butternut Squash Soup, Chicken Tikka Masala, Green Chili Chicken, Saag Paneer
Address: 34-11 30th Avenue, Astoria, NY 11103
8. Indian Accent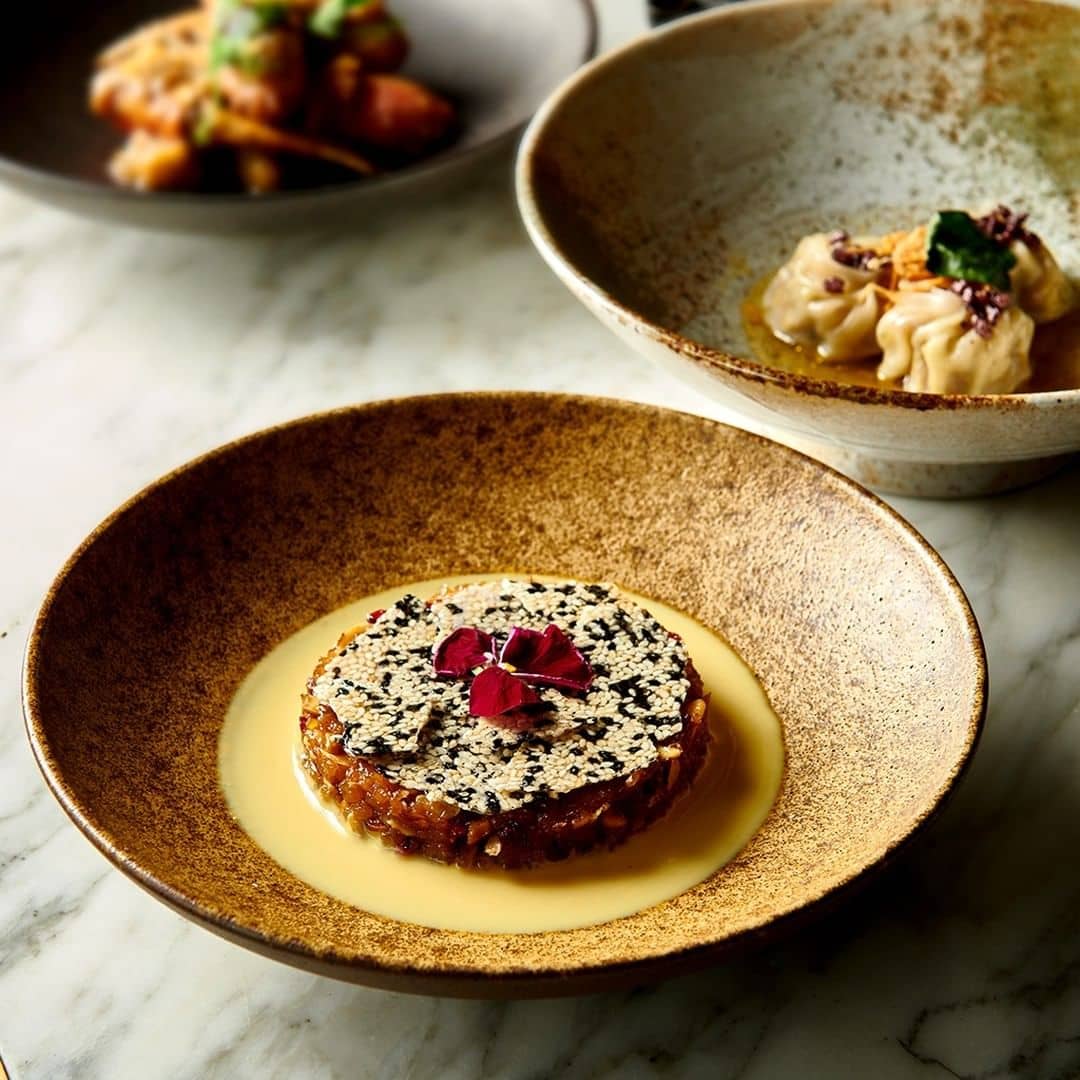 A highly acclaimed New Delhi restaurant, Indian Accent in New York is the second establishment from celebrity chef Manish Mehrotra, where the menu explores classic Indian dishes and street food with an elevated twist. The space is contemporary and elegant and is ideal for date nights as well as corporate luncheons.
One of the most unique dishes here is the Soy Keema Pao. This vegetarian keema is light, with a decent level of spice; it comes topped with a runny quail egg and tastes great with the soft and buttery pav buns.
The Ghee Roast Lamb served with roomali roti pancakes is one strong dish at Indian Accent. This is a rich dish with a prominent ghee flavor, and the meat is absolutely tender and just melts in the mouth. The roomali rotis that it is served with are soft, buttery, and very tasty.
You can find a variety of stuffed kulcha breads at the restaurant, and two of our favorites are the Butter Chicken Kulcha, and Wild Mushroom Kulcha.
What to order: Soy Keema Pao, Ghee Roast Lamb, Butter Chicken Kulcha, Wild Mushroom Kulcha, Makhan Malai
Address: 123 W 56th Street, New York, NY 10019
Website | Instagram | Facebook
9. Temple Canteen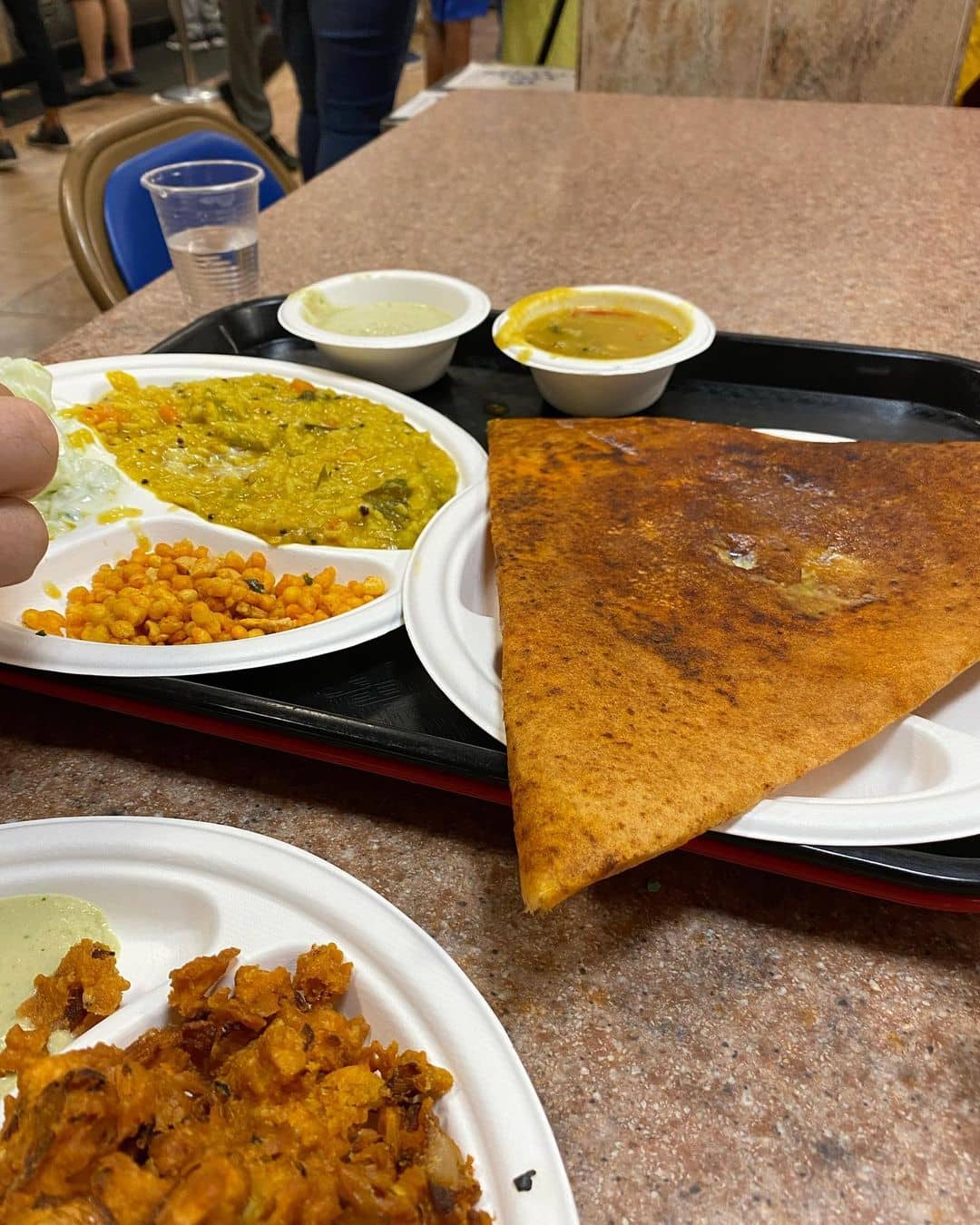 Hidden in the basement of a Hindu temple, the Temple Canteen is believed by many to serve some of the best South Indian food in the whole of NYC. This brightly lit, cafeteria-style restaurant has cultivated a strong following not just of South Indians but the locals alike.
People go gaga over the Temple Canteen's dosas, and one of the favorites is the Masala Dosa. The dosa (Indian-style crepe made from fermented rice and lentil batter) is evenly cooked and crispy, and the masala (filling) is spice potatoes with onions, cilantro, and a little bit of chilies for heat.
Butter Masala is a variation of the above, where butter is prominently used while making the dosa, and also topped over the same.
Mysore Masala is yet another variation, which contains a spicy red chutney spread on the inside, along with the potato masala.
You get Sambar and Coconut Chutney to go with your dosas. The former is a spicy and delicious Indian vegetable and lentil stew, and the latter is a refreshing condiment to cut the spiciness from the sambar, made with ground coconut, ginger, and green chilies.
Don't forget to add a Vada to your plate. This popular Indian snack/accompaniment is a savory doughnut-shaped fritter that is crispy on the outside, and soft and fluffy inside. It tastes awesome with sambar and chutney.
What to order: Masala Dosa, Mysore Masala, Butter Masala, Vada, Madras Coffee
Address: 143-09 Holly Avenue, Flushing, NY 11355
10. Dosa Royale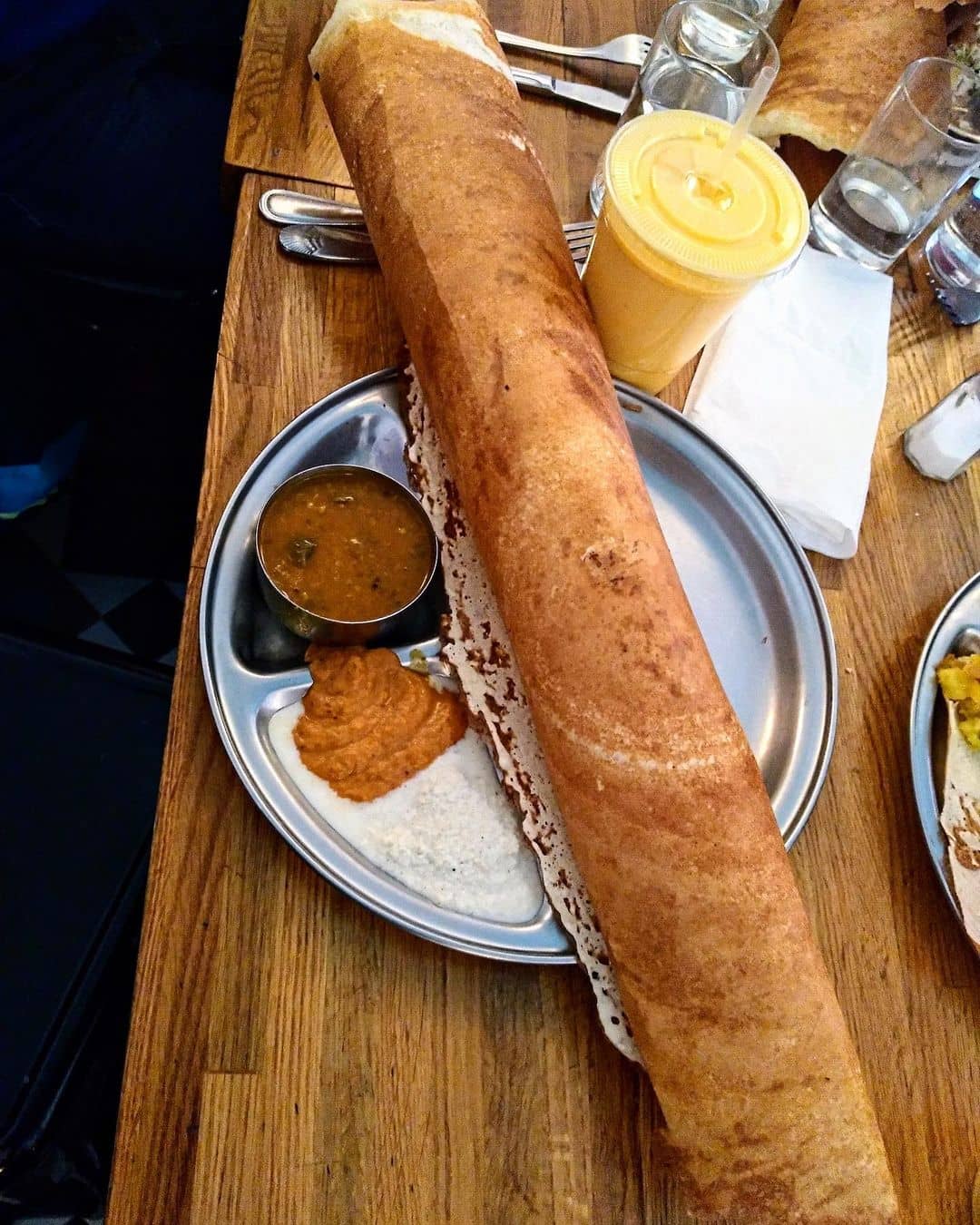 What started as a humble stall at the Flea, the Dosa Royale you see today is a testimony to the chef/owner's passion to connect with his culinary roots. This casual and trendy brick-walled space serves magnificent South Indian cuisine with an expanded menu containing many traditional favorites.
No South Indian restaurant is essentially "South" without at least half a dozen dosa varieties on its menu. Dosa Royale is authentically "South" on that front.
Their Rava Masala – semolina dosa with herbs and aromatics, and a curried potato filling – has the potential to leave you astounded. With equal proportions of crispy and soft, the dosa tastes excellent with sambar and chutneys.
To try a different style of South Indian bread, go with the Mixed Veggie Uttapam. This is thicker than the regular dosas and has a pancake-style thickness to it. Stuffed with seasonal vegetables, the uttapam is fluffy, hearty, and comforting – perfect for cold days!
The Chennai Fish curry is a spicy and tangy onion, tomato, and tamarind-based curry, which tastes lip-smackingly good with some plain white rice.
What to order: Rava Masala, Mixed Veggie Uttapam, Chennai Fish curry
Address: 258 Dekalb Avenue, Brooklyn, NY 11205
Website | Instagram | Facebook
11. Veeray da Dhaba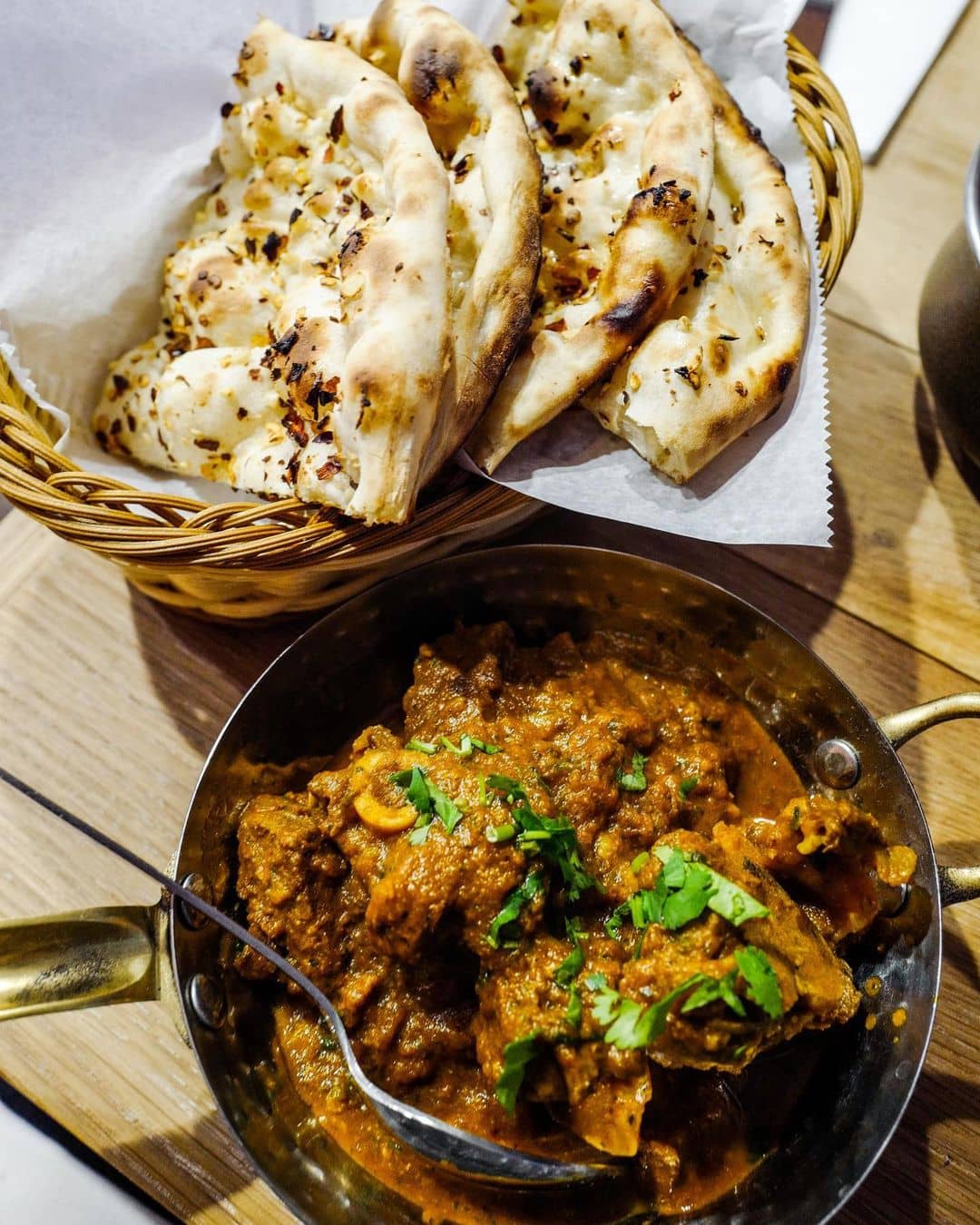 Veeray da Dhaba brings to New York dhaba-style (casual roadside eatery) Punjabi food, curated by a Michelin-starred team. From samosas to tandoori chicken, this place offers a laid-back atmosphere where you can simply "roll up your sleeves and indulge!".
Punjabi Kadi and Amritsari Macchi are local fav vegetarian and non-vegetarian appetizers here.
While both are deep-fried dishes, the former contains vegetables coated in a thick chickpea batter, and the latter is classic deep-fried fish sprinkled with Punjabi spices. The mint chutney that comes with both the plates makes them even tastier.
The Goat Biryani at Veeray da Dhaba is a star dish! The use of goat on the bone gives this basmati rice dish a special flavor and taste, and all the spices, along with rose water and saffron make the biryani extremely fragrant and flavorful. This is most definitely one of the most spectacularly sumptuous biryanis you can find in NYC.
Increase your veggie intake with the Lamb Saag! This is a lamb curry loaded with spinach and flavored with rich aromatics. You get a hearty helping of boneless lamb cubes, which are cooked to perfection, and the curry pairs well with any Punjabi bread of your choosing.
What to order: Punjabi Kadi, Amritsari Macchi, Goat Biryani, Lamb Saag
Address: 222 1st Avenue, New York, NY 10009
Website | Instagram | Facebook
12. GupShup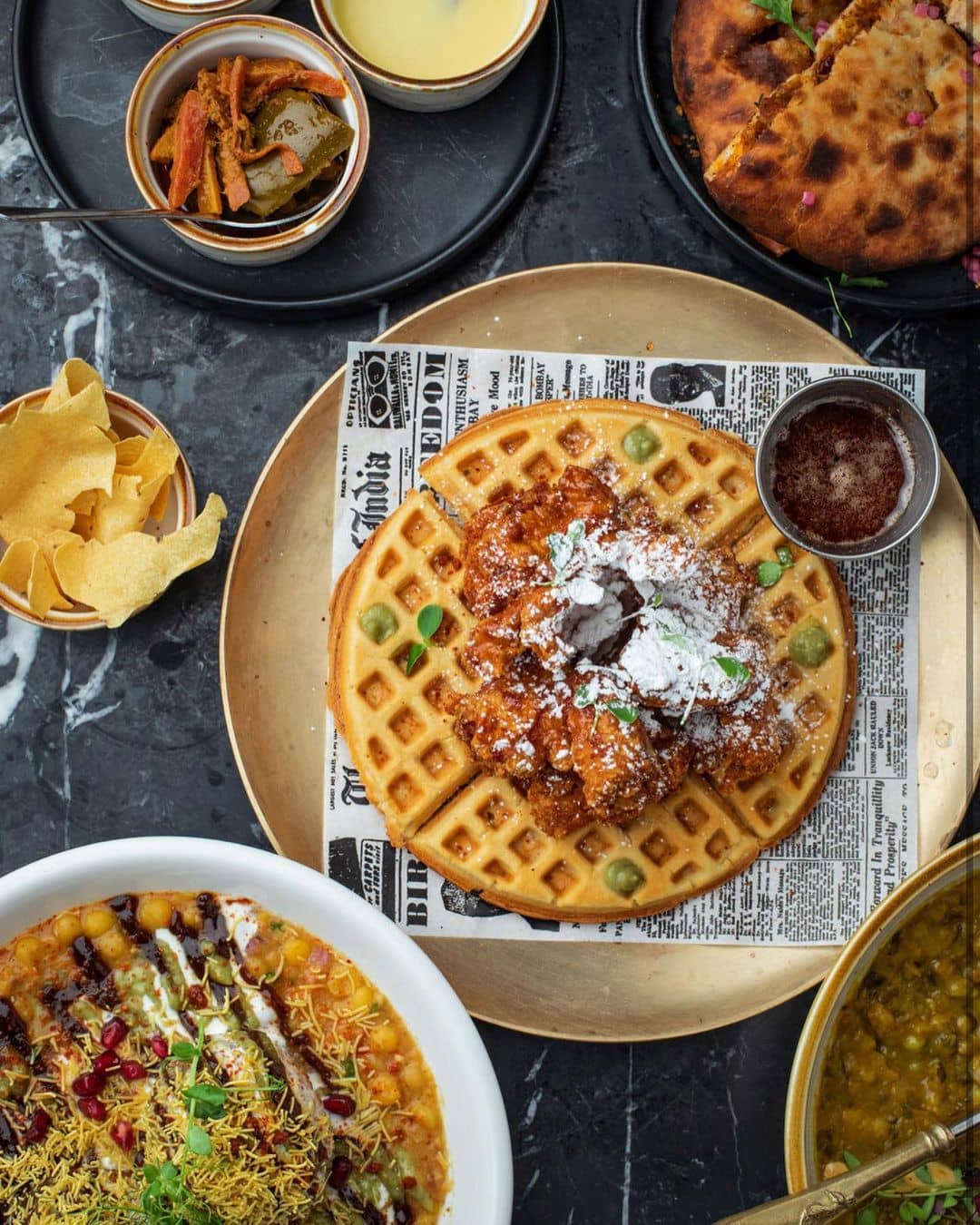 A highly-regarded Indian restaurant and cocktail bar in NYC, GupShup serves updated Indian fare to please the upgraded palates of modern Manhattan. Everything at the restaurant, from the rich design details to the delicious food and unique Indian-themed cocktails, emanates the spirit of Bombay.
The Paneer Cheese Rolls here can be rated among the best from their menu. The paneer (cottage cheese) is fluffy and light, and the coriander pesto adds a refreshing taste to the dish. Dip the rolls in the chili mango chutney to enjoy a sweet and sour taste with a tinge of heat.
You've probably heard of or even tasted butter chicken; but, how about Butter Chicken Wings? These are fried chicken wings tossed in creamy, rich, and sweet makhani sauce – literally finger-licking good (sorry not sorry, KFC!).
The Himalayan Morels could easily become the best mushroom dish you've ever tried. For something that looks pretty simple, this masterpiece of a dish carries a good mix of flavors.
The Pulled Jackfruit Taco is freaking good! You get a buttery and flaky paratha as the taco shell, which by itself is yummy, and the pulled jackfruit filling is just so so good.
What to order: Paneer Cheese Rolls, Butter Chicken Wings, Himalayan Morels, Pulled Jackfruit Taco
Address: 115 E 18th Street, New York, NY 10003
Website | Instagram | Facebook
13. Sathi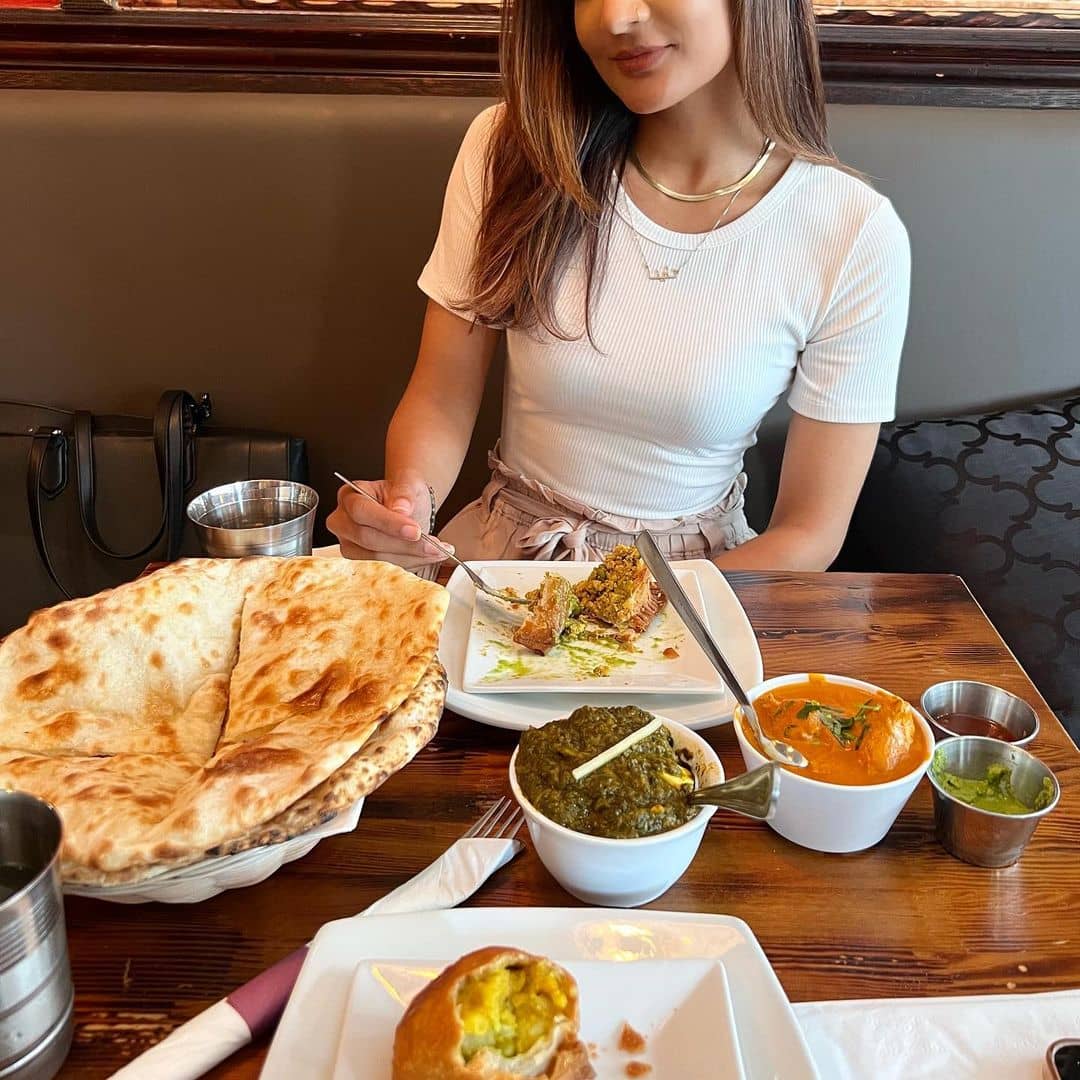 Sathi is an Indian/Himalayan kitchen delivering homestyle taste with beautiful flavors, generous portions, and reasonable prices. This restaurant is where you can enjoy heartwarming meals in a comfortable, family-friendly environment.
The Chicken Tikka Kebab, grilled to perfection, has juicy, tender, and flavorful cubes of chicken with delicious charred corners – a delightful way to start your meal!
The Tikka Masala at Sathi is out of this world. No matter which protein you choose – paneer, chicken, or lamb – you are guaranteed to savor every mouthful.
If you love spicy food, Lamb Vindaloo is for you. The curry is intensely spicy yet flavor-packed and has tender chunks of meat. Scoop it up with Naan of your choice, and get stuffed with no guilt!
What to order: Chicken Tikka Kebab, Paneer/Chicken/Lamb Tikka Masala, Lamb Vindaloo
Address: 216 3rd Avenue, New York, NY 10003
Website | Instagram | Facebook
When it comes to the food scene in New York, it isn't fair for Manhattan to steal the spotlight when there is also Brooklyn. Yes, there are a lot of exciting places to try in this highly populated borough of NYC. So, of course, we did the research on the best Brooklyn restaurants for you to feast in.
Looking for a place to stay in NYC?
This article includes affiliate links where we may get a small commission if you use our link. No extra cost is added to you.