Looking for the best Japanese restaurants in NYC? You're in the right place!
New Yorkers are spoiled with some of the top Japanese restaurants in the continent. The ever-changing Japanese restaurant scene in the city is living proof, with top spots serving everything from Michelin-quality sushi to authentic izakaya pub fare to piping hot bowls of ramen.
If you're one of the people who love Japanese food, New York City won't disappoint you. From sushi, sashimi, and miso soups, there are lots of options for you to choose from. With that said, here is a list of the 15 best Japanese restaurants in NYC.
1. Masa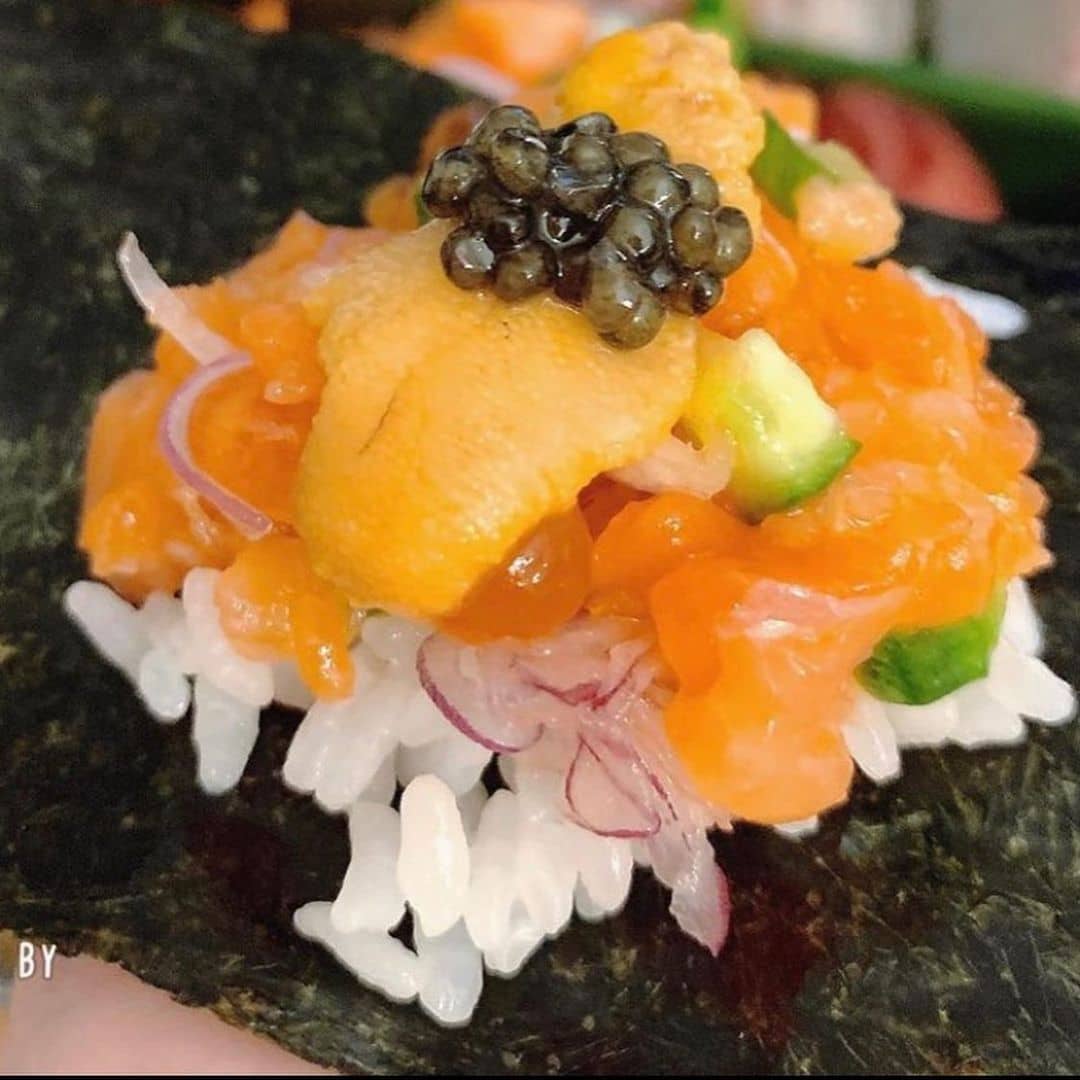 The only three-star Michelin-rated Japanese restaurant in New York, Masa is a once-in-a-lifetime experience all sushi lovers deserve. The omakase you'll have at Masa just doesn't compare to anywhere else. Their sushi counter made of Hinoki, sanded to perfection daily, is a work of art in itself. If you want the best high-end Japanese dining experience ($$$) in New York, Masa is your best bet.
The Toro Tartare is one of the best things you'll ever eat, and it's highly regarded by food critics and diners alike. The Osetra they picked isn't as salty as it usually is, and it complemented the toro beautifully. In other words, the perfect savory parfait.
Masa's Uni Sushi Course is an exceptional sushi experience. You'll be served masses of uni (sea urchin) expertly prepared in multiple ways. Each dish you taste will give you an intense burst of uni umami that your taste buds will feast on.
What to order: Omakase
Address: The Shops at, 10 Columbus Cir Floor 4, New York, NY 10019
Website | Instagram | Facebook
2. Torishin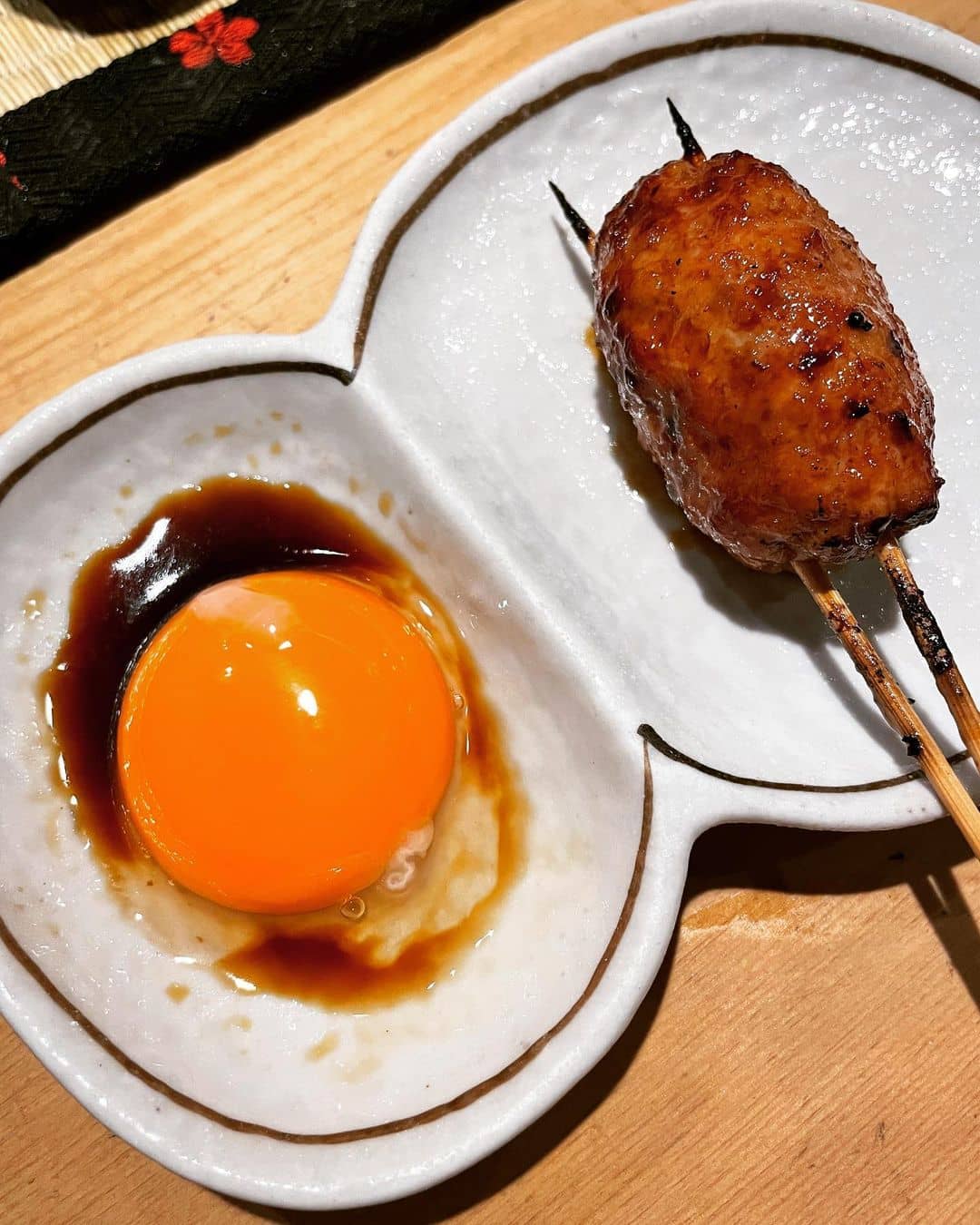 Awarded a star from the Michelin Guide, Torishin is the best yakitori place in the whole of NYC. This Japanese restaurant is the real deal in all things grilled, grilling every piece of meat to perfection over Binchotan charcoal. Even those who don't like yakitori will be instantly converted. In particular, dining at the chef's counter will kickstart your love story with chicken, and the whole Michelin experience will enlighten your palate.
The most favored cut of yakitori, the Chicken Oyster, is simply one-of-a-kind. You won't usually find this cut in other restaurants, and Torishin makes them super big and juicy. The skin wrapped around the chicken especially gives a nice touch of texture and flavor.
A Pork Belly that's not overly fatty? Count us in! Torishin seems to grill them with magic. The sauce they put on top packs a ton of flavors. You may think the food doesn't look a lot, but you'll end up full right after you devour your meal.
What to order: Chicken Oyster, Pork Belly
Address: 362 W 53rd St, New York, NY 10019
Website | Instagram | Facebook
3. Sushi Amane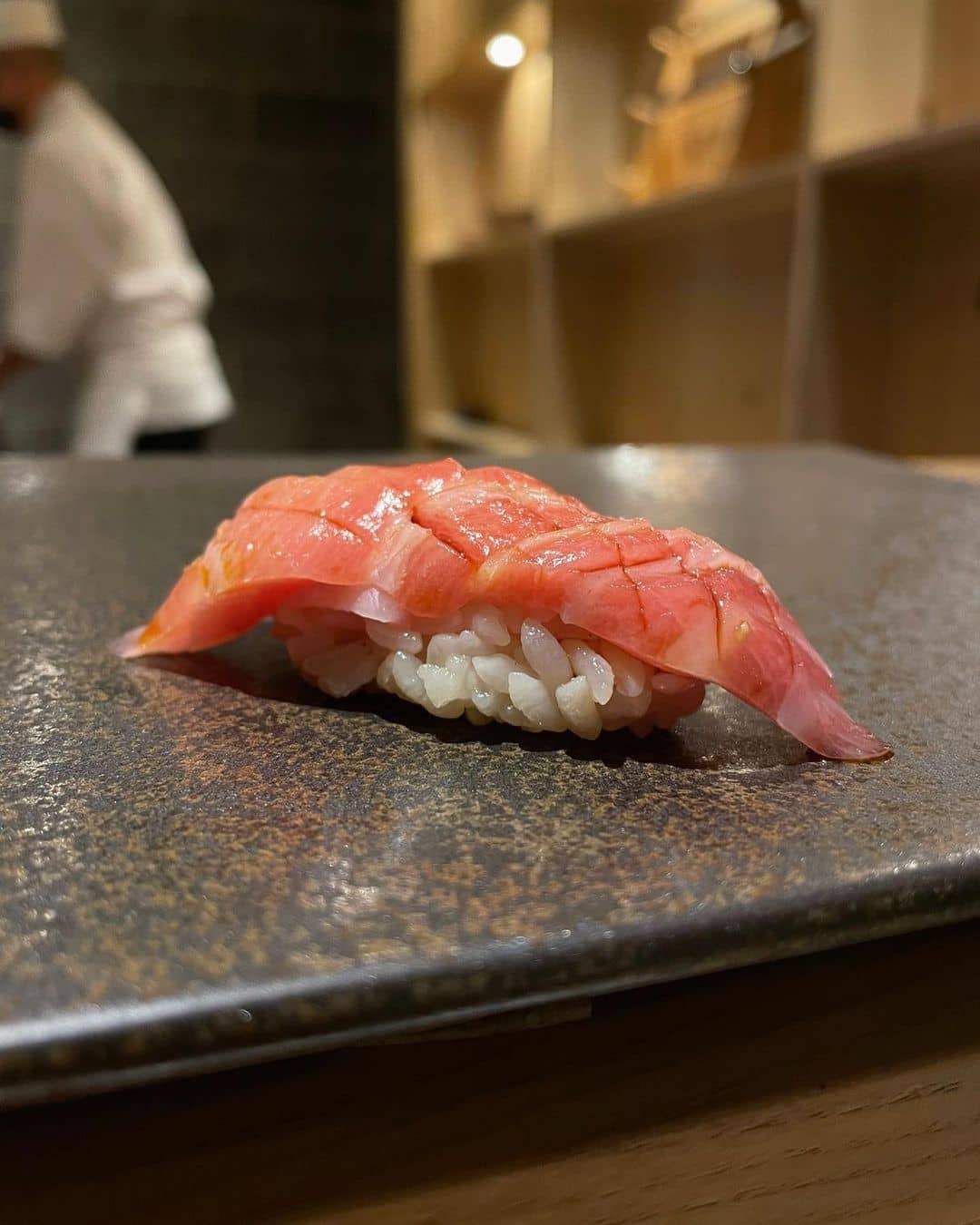 Located in the basement level of Mifune lies the small signage that says Sushi Amane. This small Japanese restaurant is intimate and special in a way that it only has nine seats at the counter where you can see all the magic happen. Here, you will be attentively served by one of the best chefs with high-quality ingredients that are worth every penny.
Sushi Amane sources a good number of its top-notch ingredients from Japan, and their Hairy Crab is no exception. Shipped straight from Hokkaido, this one is served in its own shell in a sauce of Japanese black vinegar, which tastes mind-blowing.
Their Uni Trio is one of the best and most fresh-tasting sea urchins you'll ever have. It comes with delicious Kyushu Murasaki, Hokkaido Murasaki, and Hokkaido Bafun. Once you get a taste of this, you'll start to appreciate the difference between these mini sea urchins.
What to order: Hokkaido Hairy Crab, Uni Trio
Address: 245 E 44th St, New York, NY 10017
Website | Instagram | Facebook
4. Sushi Nakazawa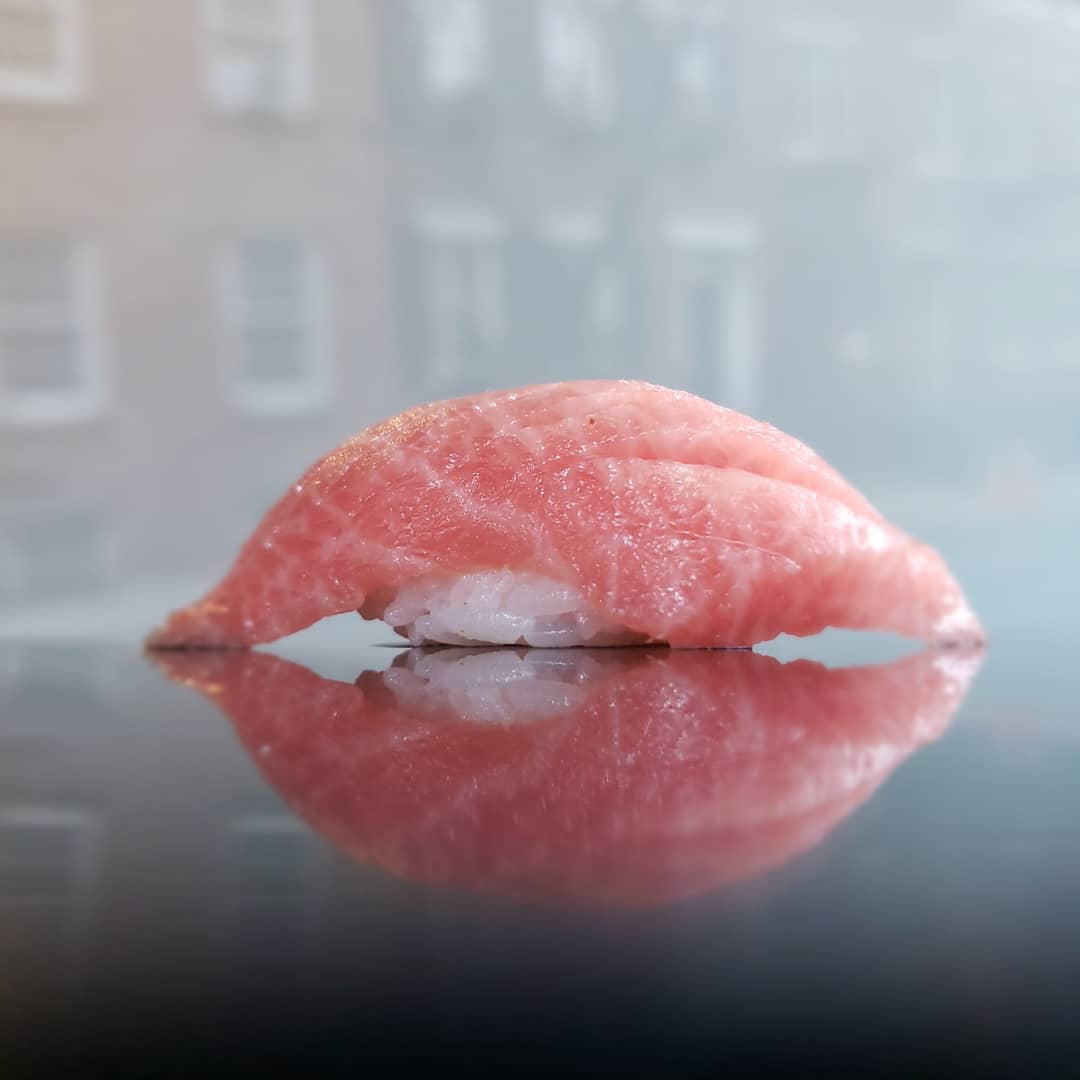 Chef Nakazawa's take on omakase sushi aptly exemplifies the Japanese tradition and artisanship gestured with supreme hospitality. MICHELIN-starred Sushi Nakazawa hosts a mostly black-and-white space where sushi masters display their exemplary skills in creating out-of-this-world morsels of this Japanese staple.
Surrender to a blissful omakase — a work of art, dare we say — as you savor a Nigiri-exclusive lineup of roughly 20 varieties of sushi made from the highest quality ingredients sourced globally, particularly Japan.
Feast your eyes on enticing smoked mackerel, fatty tuna, and other delectable slabs of seafood atop expertly prepared rice. Every bite delivers a burst of flavor, thanks to the Chef's expertise in using the right choice and levels of ingredients.
Oh, and since Nakazawa is perpetually booked with sushi aficionados, it's best you reserve a table in advance.
What to order: Omakase Menu, Bottles of Sake, Tea
Address: 23 Commerce St, New York, NY 10014, United States
5. Tonchin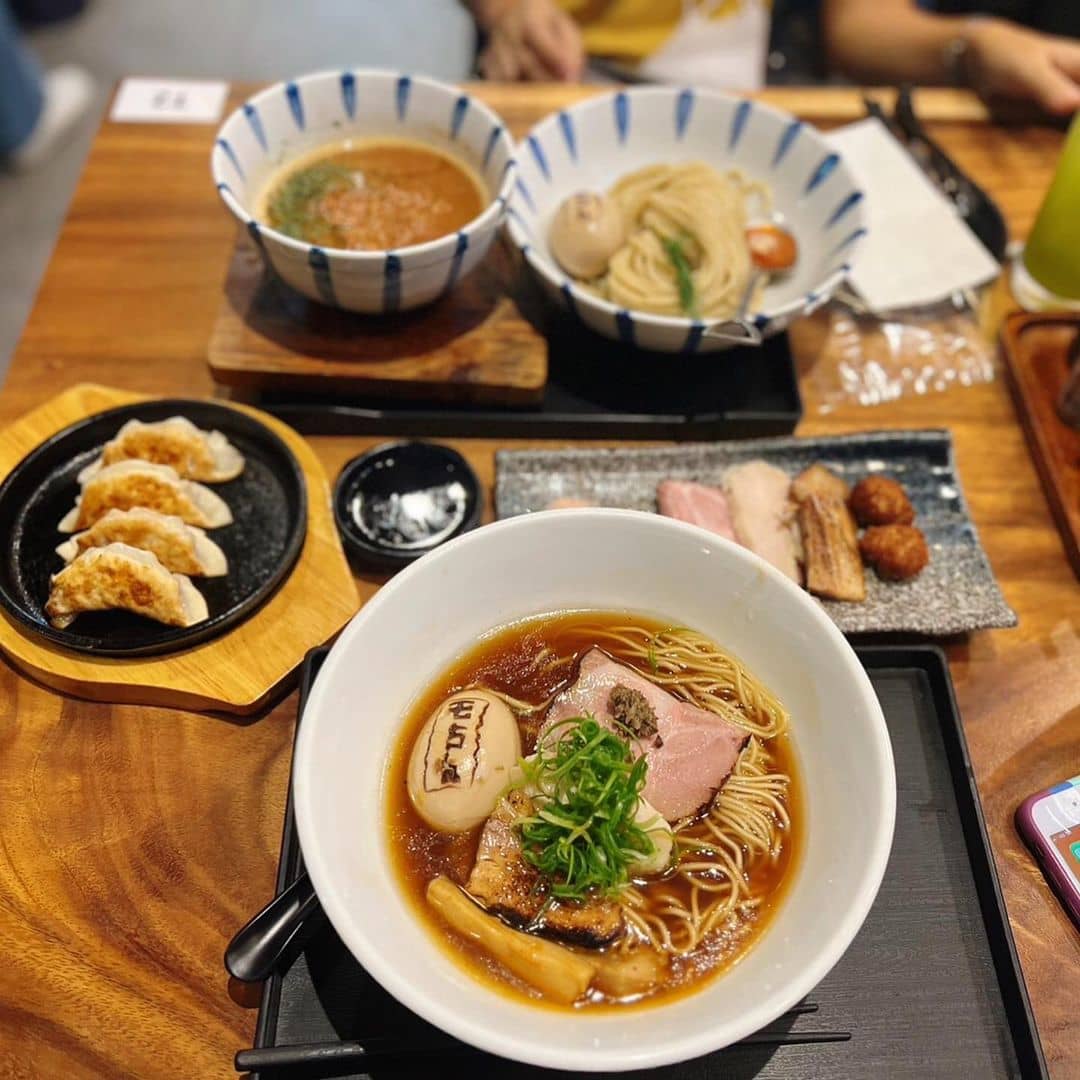 How good can a ramen place like Tonchin be to get a Michelin Bib Gourmand? Well, you'll find out when you get there. The brightly lit working kitchen feels like heaven as you wait for your food in a dark, intimate space. With delicious handmade noodles, this is where you should get your next ramen fix.
Every ramen place has its own Tonkotsu offering, but Tonchin makes them in Tokyo-style and extra, extra special. The broth is rich without being too salty, and the noodles allow a nice chew due to their amazing texture. Pair that with half an egg, bamboo shoots, chopped scallion, and thin slices of lean pork, and BOOM! It's ramen nirvana.
If you're a brave warrior who can brace spiciness, Tonchin's Spicy Tan Tan Ramen is the perfect combination of Chinese dan dan noodles and Japanese ramen. The Sichuan peppercorn oil swimming on top provides a mouth-numbing sensation but fret not; you'll be slurping this dish down to the last drop.
What to order: Tonchin Classic Tokyo Tonkotsu Ramen, Spicy Tan Tan Ramen,
Address: 13 W 36th St., New York, NY 10018
Website | Instagram | Facebook
6. Soba Ya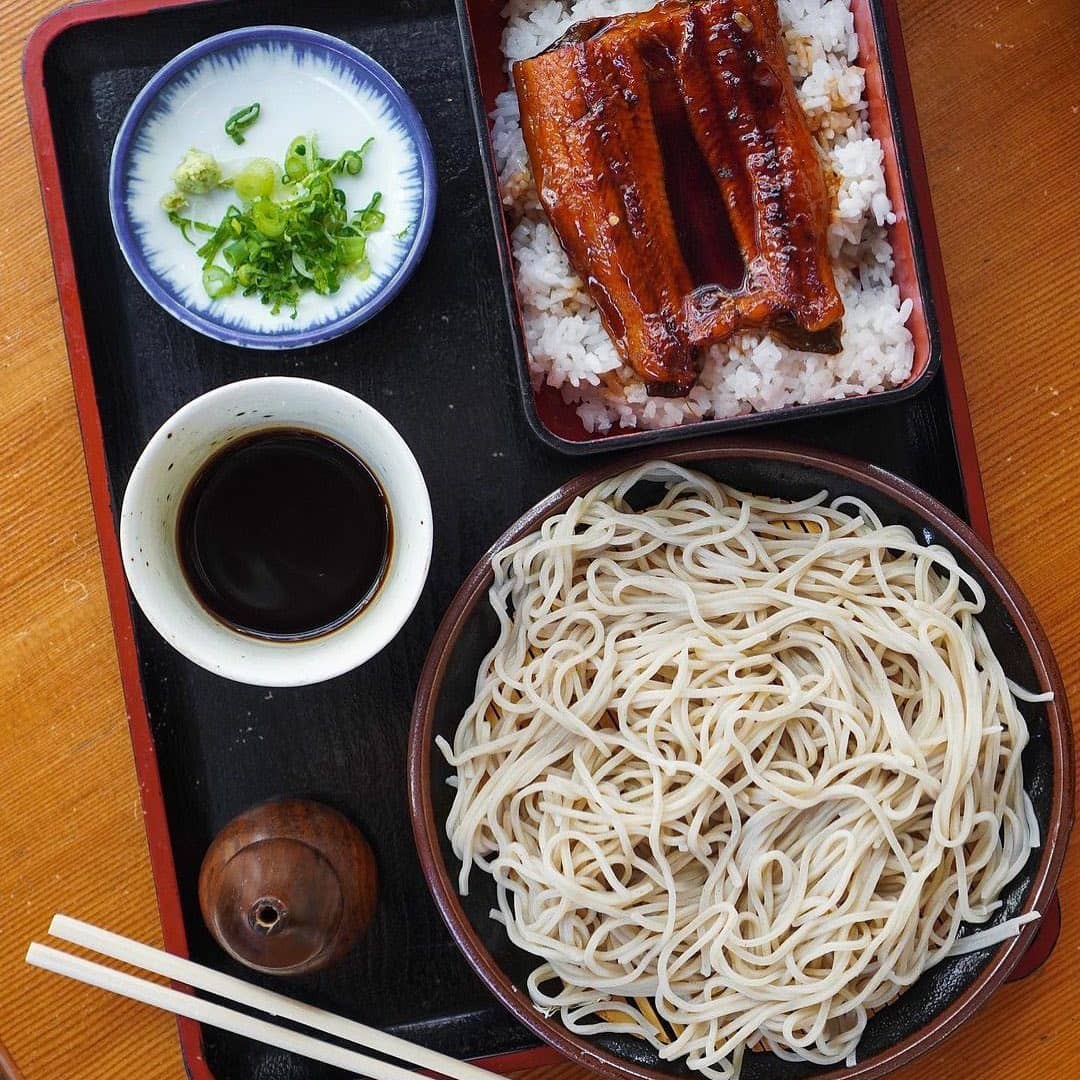 Soba Ya offers authentic Japanese noodle fare in a traditional Japanese setting, allowing you to visit Japan without a passport. The dining room has a clean and straightforward ambiance with classic Japanese hues. With Michelin Bib Gourmand-worthy homemade soba noodles, Soba Ya easily takes the crown from other spots.
Nothing beats slurping on some cold Ikura Oroshi soba on a warmer New York day. With the salmon roe's light and refreshing taste, you'll be forgetting all of your problems for the day.
Seared tuna steak over rice, Soba Ya's Tuna-Steak Don is another crowd favorite. The buttery garlic flavor goes so well with the tuna's freshness. Don't forget to ask for extra sauce for an additional OOMPH.
What to order: Ikura Oroshi Cold Soba, Tuna – Steak Don
Address: 229 E 9th St, New York, NY 10003
Website | Instagram | Facebook
7. Sushi Ginza Onodera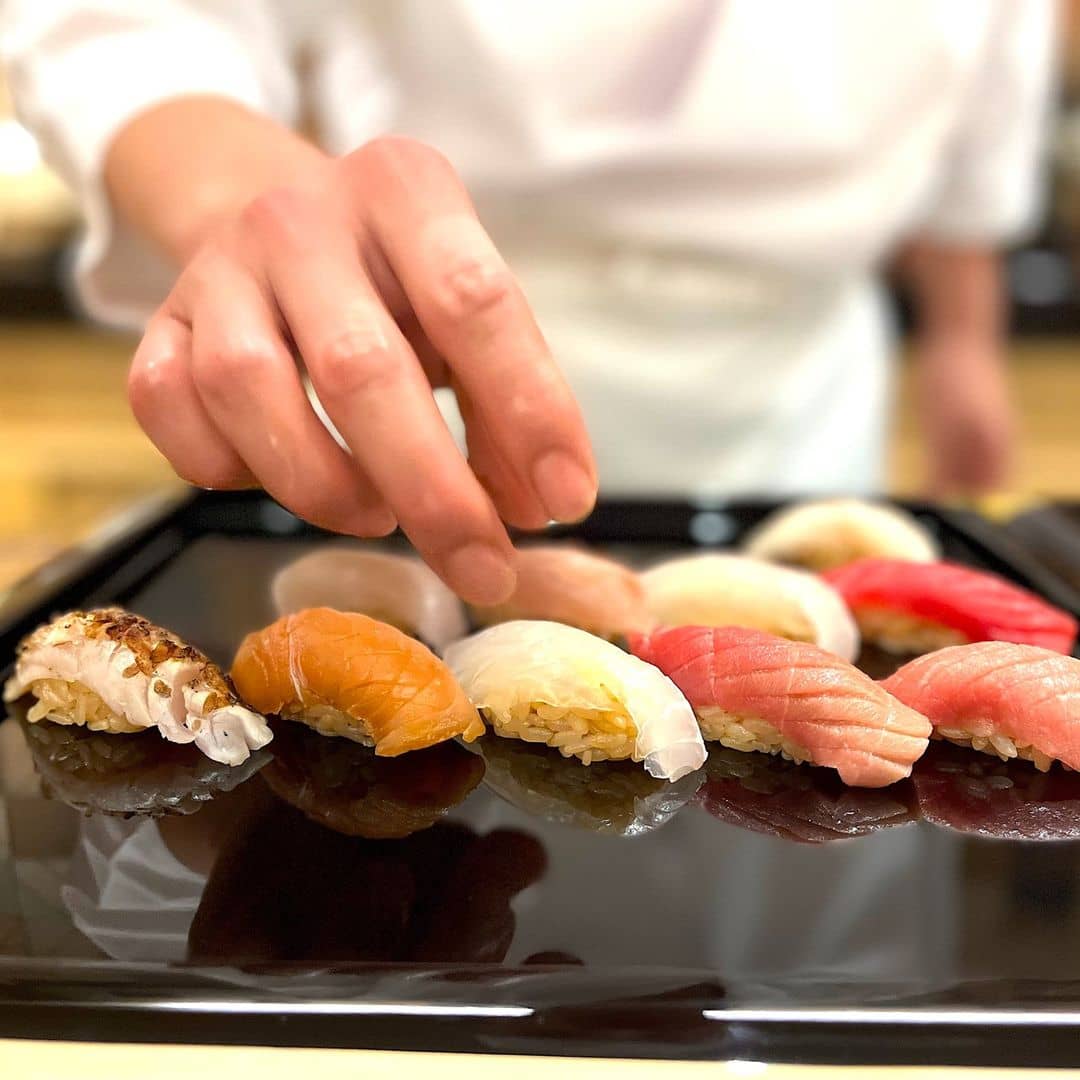 Sushi Ginza, is a 16-seater MICHELIN-starred luxe sushi spot that uses traditional Edomae techniques to preserve the fish, bringing out umami flavors and leaving an even more soft and tender texture.
Allow the itamae to decide your sumptuous fate and take you to an enchanted spectacle as you enjoy appetizers, seasonal nigiri, homemade tamago, miso soup, and desserts. Perfect for those who want to add a surprise element!
Or, if you want something more affordable, try their seasonal omakase lunch, which features the same lineup, but with seasonal fish. Because the restaurant gets its fish straight from Japan, some may be replaced with an equal substitute.
The fish is perfectly complemented by the yuki-tsubaki koshihikari rice from Niigata Prefecture, which has been seasoned with red vinegar. It's truly amazing how each piece is executed flawlessly to bring out natural flavors.
Ginza Onodera's impeccable service doesn't stop with their sushi; they offer sake pairings to elevate your experience a notch higher by providing you with the best sake that complements your order. Impressive!
What to order: Chef's Selection Course, Seasonal Omakase Dinner, Sake Pairing
Address: 461 5th Ave, New York, NY 10017, United States
Website | Instagram | Facebook
8. Tsukimi
Located in the heart of the East Village, Tsukimi offers a modern take on kaiseki, a multi-course Japanese dinner. Once stepping inside, you'll be amazed by the intimate space filled with cozy lights and wooden interiors. Be aware that the whole dining experience will take you up to 2.5 hours, make sure that you have time to enjoy it to the fullest!
The innovative cuisine at Tsukimi is prepared by Executive Chef Takanori Akiyama, who follows the traditional ebbs and flows of Kaiseki. Here, you'll be served a signature 12-course Japanese tasting menu which may include uni, bluefin tuna, caviar and washu beef. Our most favorite part is that you can watch the chef and his team in full view preparing the dishes!
They offer a wide range of sake to accompany with you along the coure. The sake menu is divided into 5 parts, and don't hesitate to try their aged specialty sake like the Hanahato Kijoshu, definitely the star of the show!
What to order: 12-course Japanese tasting menu, Specialty Sake
Address: 228 E 10th St, New York, NY 10003
Website | Instagram | Facebook
9. Suki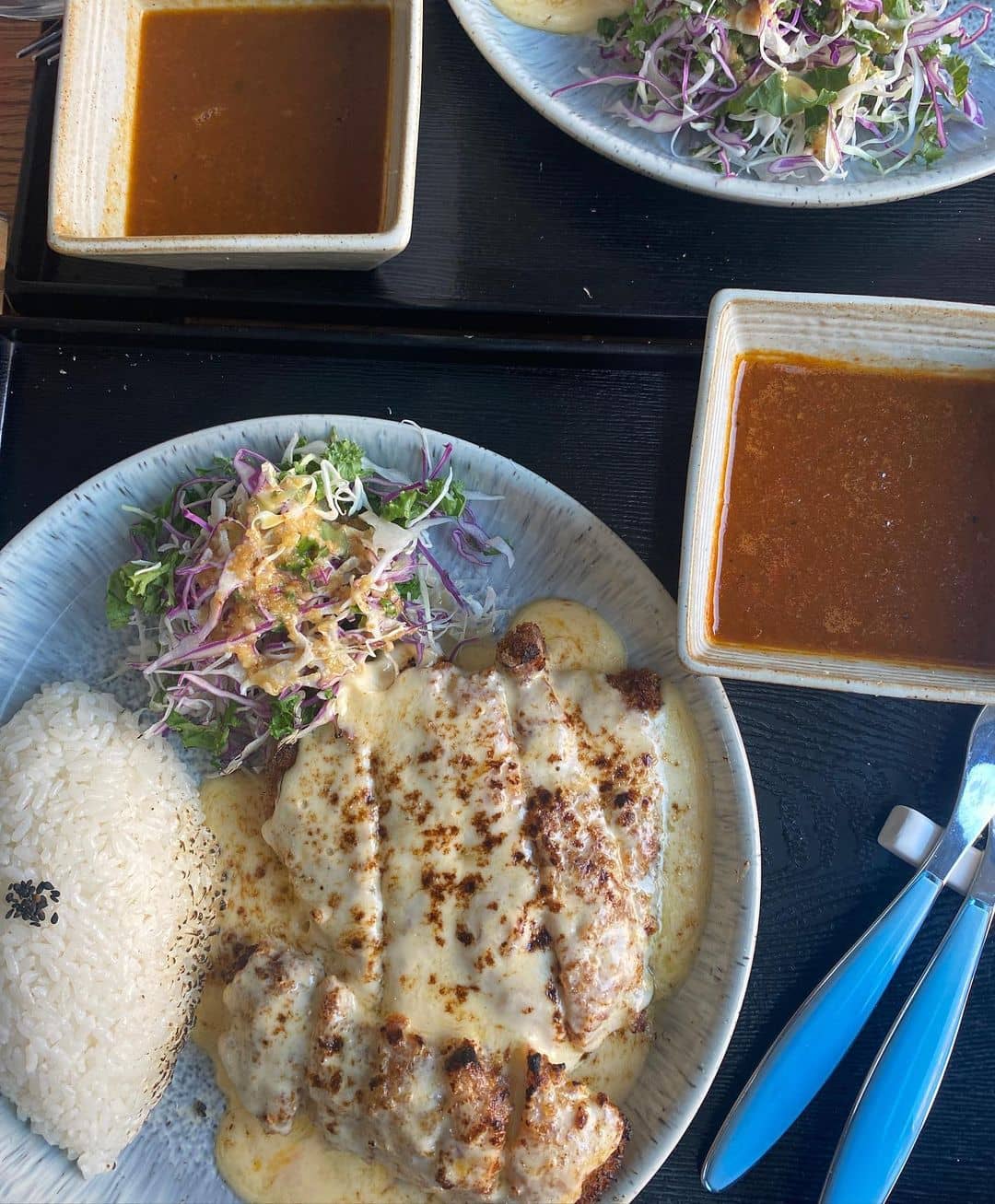 Suki is an outstanding Michelin Guide restaurant serving NYC's best Japanese Curry. This hidden gem offers five levels of spiciness for its curries, five being the highest. With long wooden tables, plain walls, and a quiet environment, Suki focuses on exceptional service and bringing the best out of their food.
Suki's Pork Katsu Curry and Chicken Katsu Curry are phenomenal options if you're a fan of Japanese katsu-curry combinations. The curries are perfectly spiced to your level of choice and made with savory cayenne flavors that complement the katsu's tenderness.
More on the salty side, Suki's Pork Belly Udon comes with thin strips of pork belly and a comforting warm broth that will remind you of your grandmother's cooking. You'll love this one even with no spice level.
What to order: Pork Katsu Curry, Chicken Katsu Curry, Pork Belly Udon
Address: 32 St Marks Pl, New York, NY 10003
10. Ichiran NY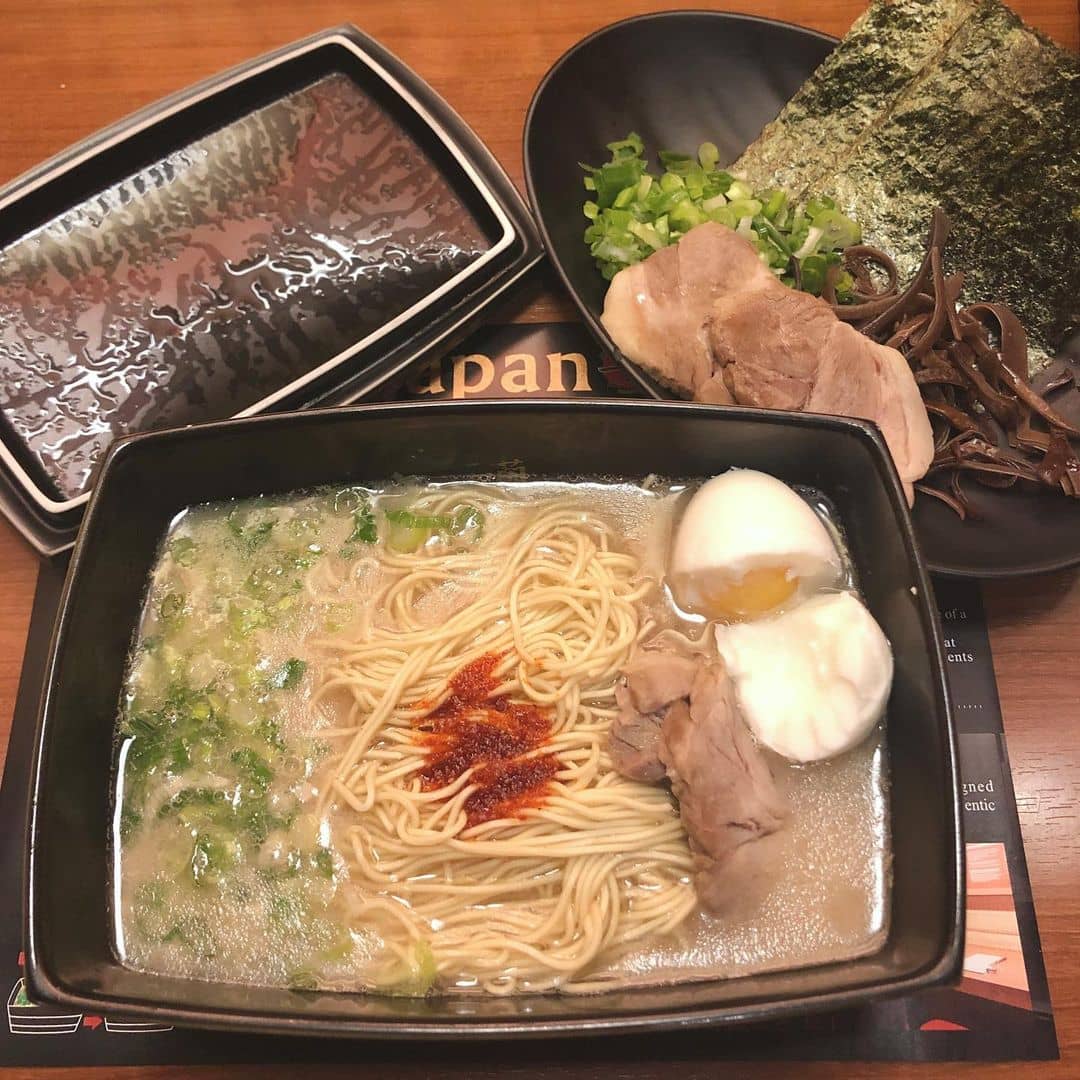 Introverts, rejoice! The famous Japanese chain offering individual booths for privacy is in New York. Ichiran is found in different places worldwide simply because they're so good. Not only are they known for their solo booths, but they also allow you to customize your Tonkotsu Ramen to your own liking. What else could be better than this?
When in doubt, nothing beats Ichiran's Classic Tonkotsu Ramen. The broth is simply golden, and everything will be sparkly in your eyes. You can tell they don't skimp out on the pork, either. Don't forget to order a side of Gyoza for the full ramen experience.
Good news for vegetarians, you can also enjoy the exquisite taste of Ichiran through their Veggie Ramen. No, this is not your typical bland veggie broth. This is a vegetarian-and-ramen lover's haven.
For dessert, end your meal with a Matcha Pudding to put a satisfying stop in your tour of Japanese flavors.
What to order: The Classic Tonkotsu Ramen, Ichiran Veggie Ramen, Matcha Pudding
Address:
-374 Johnson Ave, Brooklyn, NY 11206
-132 W 31st St, New York, NY 10001
-152 W 49th St, New York, NY 10019
Website | Instagram | Facebook
11. Shion 69 Leonard Street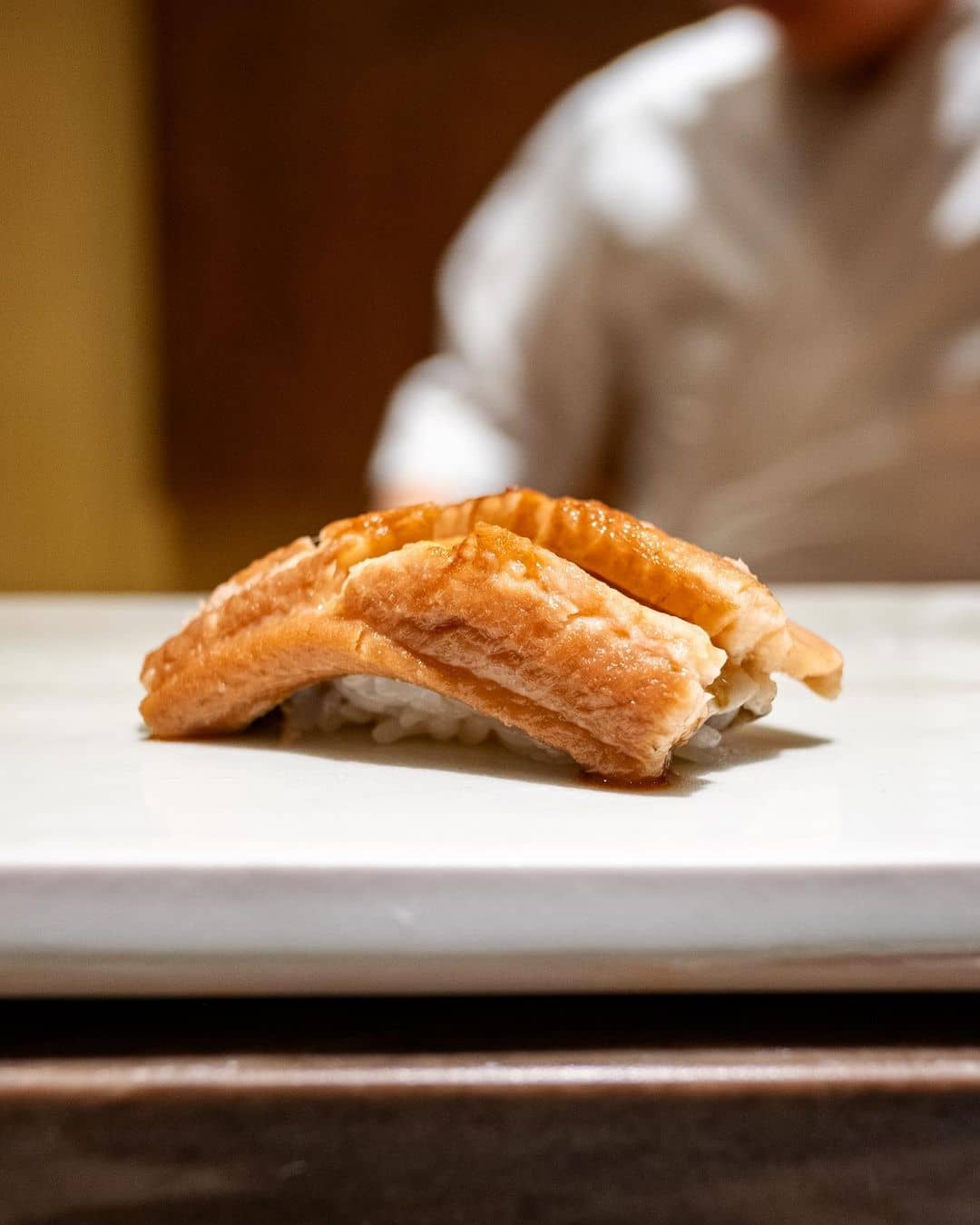 Headed by Executive Chef Shion Uino, Shion 69 Leonard Street is a Michelin-starred, traditional, and intimate Edomae-style sushi-ya. Only a select few sushi restaurants with an Omakase menu are talked about in the city's culinary scene; this is the case with 69 Leonard Street. If supremely high-quality imported Japanese ingredients prepared impeccably interest you, treat yourself to 69 Leonard Street.
A unique egg custard dish, the Chawanmushi in this place is made even more striking with light dashi and the yummiest mushrooms. The egg is warmly supple, like a comforting hug when you have no one else.
Flown literally across the world to be laid in front of you, the Hokkaido Uni is the most authentic piece of sea urchin you can get. This one screams luxury in every way, making you feel like royalty with every bite.
What to order: Chawanmushi, Hokkaido Uni
Address: 69 Leonard St, New York, NY 10013
Website | Instagram | Facebook
12. Raku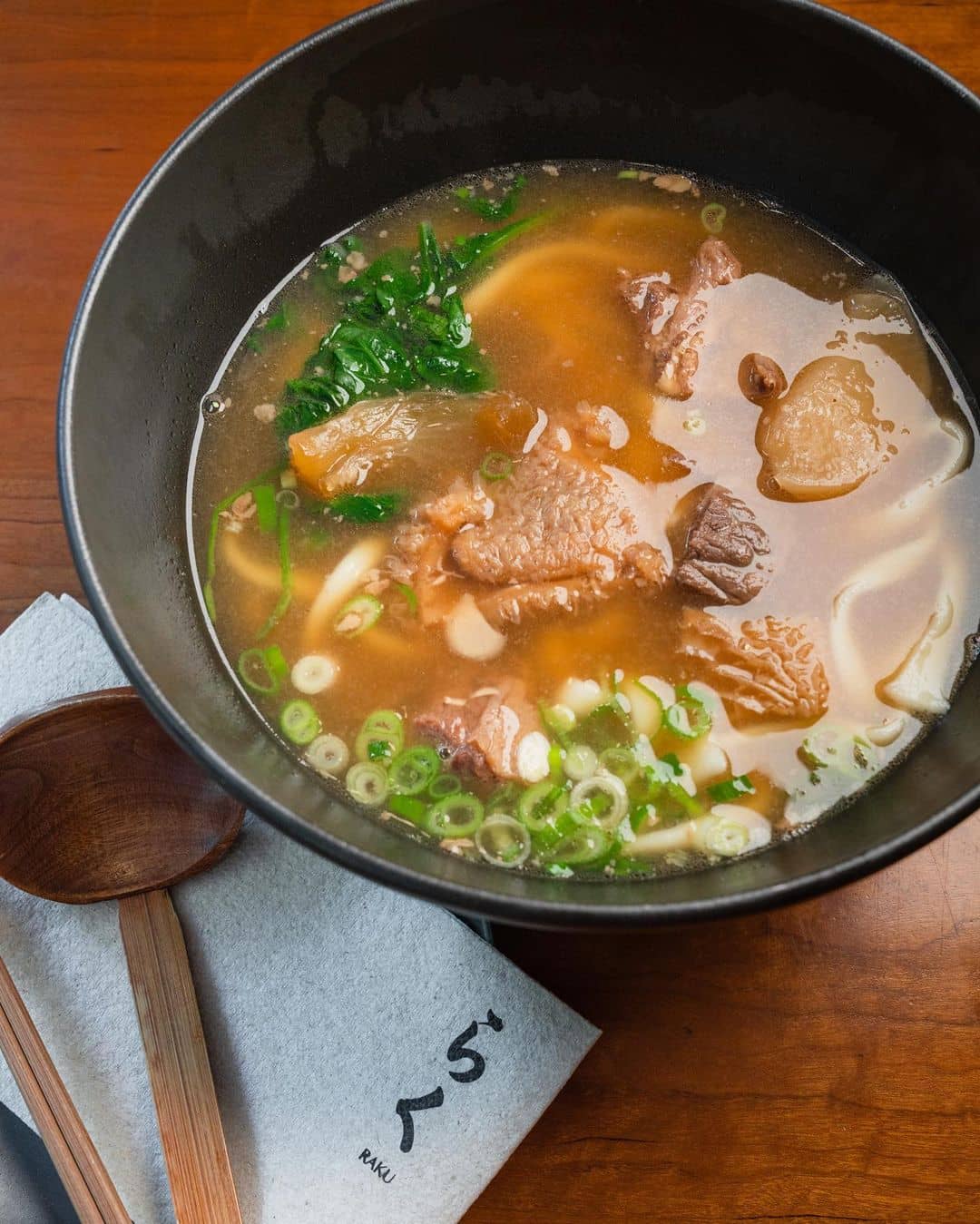 Bringing a touch of authentic Japanese flavors to New York City, Raku is a popular udon restaurant with some of the best noodles in the big apple. This is the spot to take new people when they're visiting the city. The restaurant is small and intimate, with a minimalist aesthetic. You'll be relaxed all over with white walls, paintings, and simple wooden tabletops as you slurp your udon here.
Potentially the most unique and special chewy udon in the whole of New York, Raku's Niku Hot Udon is a star. The beef short ribs are juicy and tender. This udon dish will have you craving Raku's at any time of the day, even in hot weather.
Deep-fried, piping hot, and all that crispy goodness, the Chicken Tatsuta-age is something you shouldn't miss out on. Despite the crispiness, the chicken is magically soft and savory on the inside.
What to order: Niku Hot Udon, Chicken Tatsuta-age
Address:
-East Village 342 E 6th St, New York, NY 10003
-Soho 48 MacDougal St. New York, NY 10012
Website | Instagram | Facebook
13. KazuNori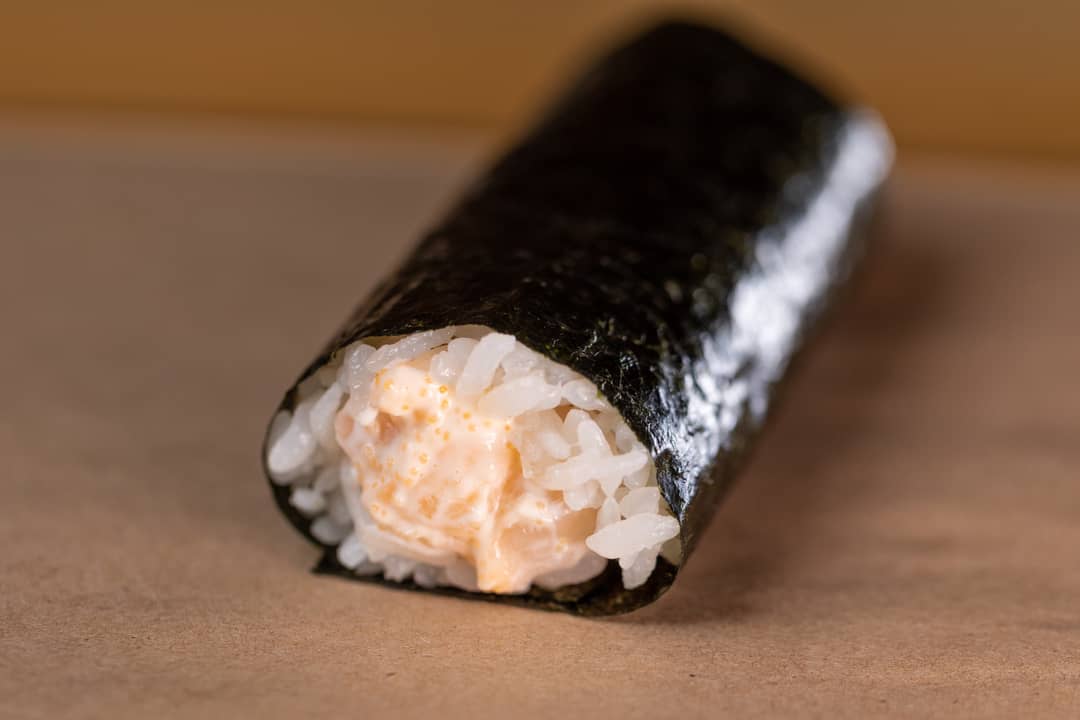 A chic and stylish restaurant with industrial vibes, KazuNori specializes in Japanese seafood rolls. There is only sushi kitchen bar-style seating available here, and you can choose to be seated at the front of the restaurant or at the back. All stools face the sushi chef, and you'll be watching him make the yummiest rolls as you wait for yours.
In KazuNori, you can order assorted sets to get a taste of the chef's many creations. However, the Bay Scallop Hand Roll is a standout. This one is "melt-in-your-mouth" quality and is highly recommended if you love mayo because it contains lots of it.
Another favorite among KazuNori's signature hand rolls is the Lobster. You can tell the seafood is sourced fresh as you devour each chunky piece. With how good it tastes, you'll be eating this one like candy.
What to order: Bay Scallop Hand Roll, Lobster Hand Roll
Address: 15 W 28th St, New York, NY 10001
Website | Instagram | Facebook
14. Jin Ramen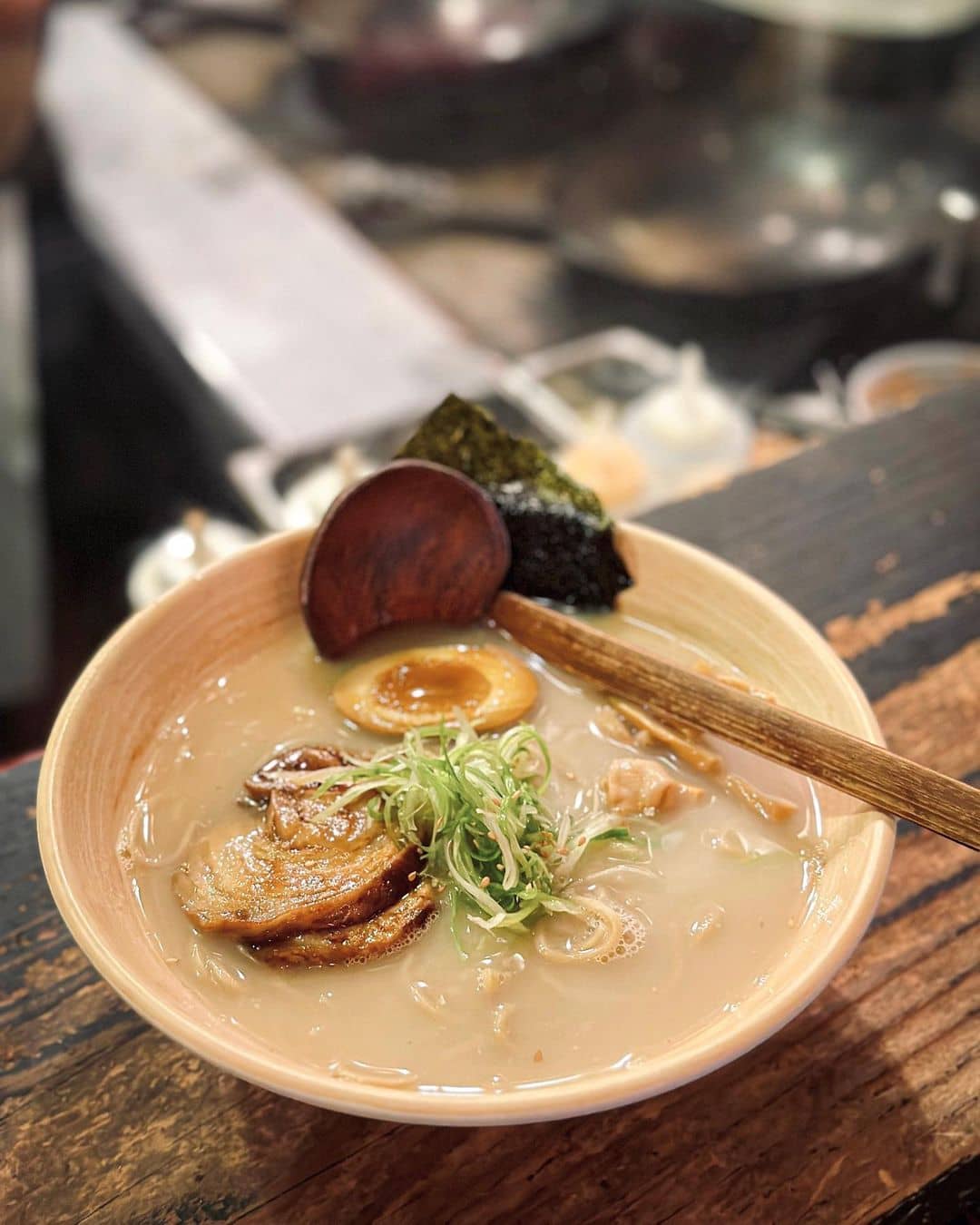 A bustling spot serving beloved Japanese rice bowls and ramen noodle dishes, Jin Ramen proudly boasts a Bib Gourmand from the Michelin Guide since 2013. One thing to note about Jin, they always deliver. Famous for its fresh noodles made daily, this will be your next go-to ramen spot for a quick fix.
A clear winner when it comes to starters, Jin Ramen's Steamed Gua Bao Pork Buns are worth every effort it takes to devour the two buns down without making it messy. Soaking up the hot sauce, you may want to use your hands for this one.
Tried and tested, nothing beats a classic Tonkotsu Ramen. What more if you make it spicy? Jin Ramen perfectly cooks its noodles by soaking them in ice-cold water when it's done to put a complete stop to the cooking process. How cool is that?
What to order: Steamed Gua Bao Pork Buns, Tonkotsu Ramen, Spicy Tonkotsu
Address:
-3183 Broadway, New York, NY 10027
-3599 Broadway (148th st/Broadway) New York, NY 10031
-462 Amsterdam Ave (82nd/Amsterdam) New York, NY 10024
Website | Instagram | Facebook
15. Ramen Ishida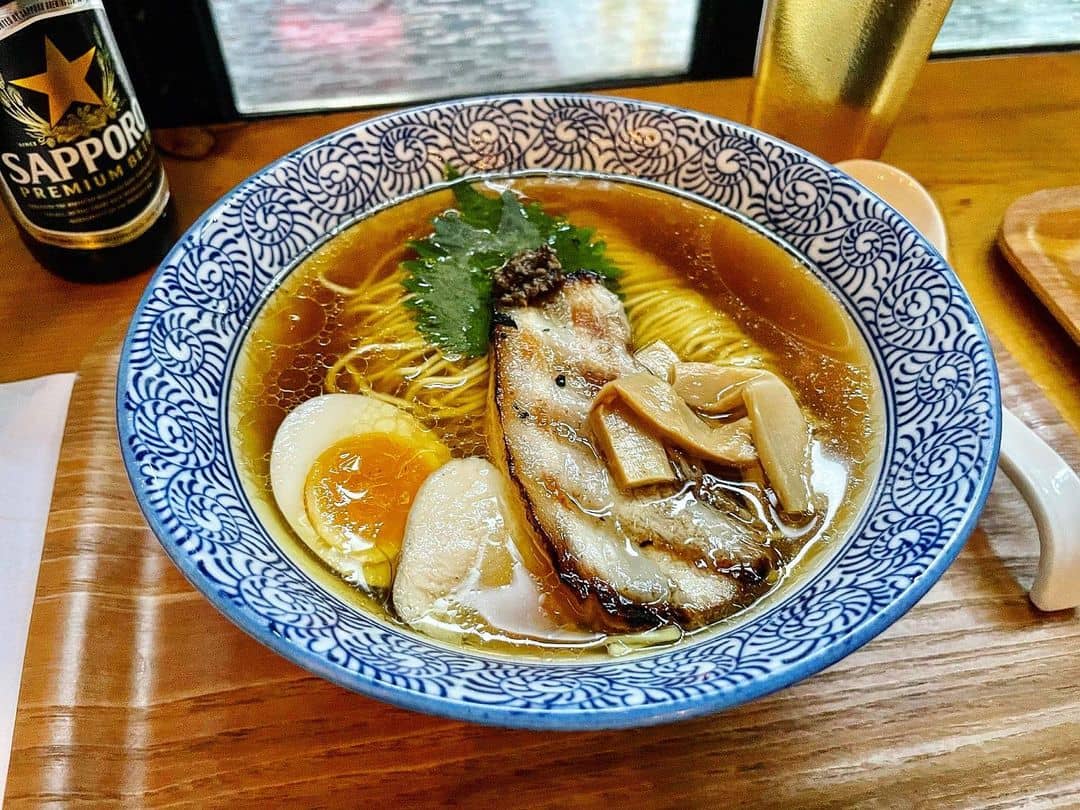 If you've only tried Tonkotsu Ramen – the most popular ramen, Tokyo Shoyu Ramen will show a new view of the Ramen world to any ramen lovers and be ready to be amazed. This hole-in-the-wall gem in East Village offers you the depth and richness hidden inside the clear broth and the absolute best ingredients that come along.
For our New York friends, Tokyo Shoyu Ramen is the most pleasant gift that you can get at Ramen Ishida with the fresh, sweet broth from chicken and earthy truffle covering the thin and smooth noodles. The chicken breast and chashu that come along are so finger-licking good with signature tenderness and juiciness. Delicious and approachable!
Spicy Mushroom Pork is another crowd-fav with an addictive aroma and savory broth, yet creamy texture due to the six different kinds of mushrooms used. The signature umami scent is nicely balanced with a kick of spice from the homemade chili oil. This ramen is a must for our mushroom lovers!
Oh, they do have a vegan option by replacing the pork with nutty tofu, too!
What to order: Tokyo Shoyu Ramen, Spicy Mushroom Pork/Tofu, Classic Shio
Address: 122 Ludlow St, New York, NY 10002
Website | Instagram | Facebook
Japan is a country known for its vibrant food scene. Thankfully, our world today allows us to taste such rich culinary magic without the hassle of visiting the country. If you're still hungry, check out our list of the best restaurants in NYC for more recommendations.
Look for a place to stay in New York City?
This article includes affiliate links where we may get a small commission if you use our link. No extra cost is added to you.