The Lower East Side has always been an exciting neighborhood, which is filled with top-notch restaurants, ranging from classic New York sandwiches, and traditional Malaysian brunches to vegetarian dishes with a twist. Whatever your palate is craving, this lovely hood has you covered!
Get ready to eat your way through some of the best Lower East Side restaurants in NYC:
🍕Are you a foodie? Check out these NYC food tours!
1. Cervo's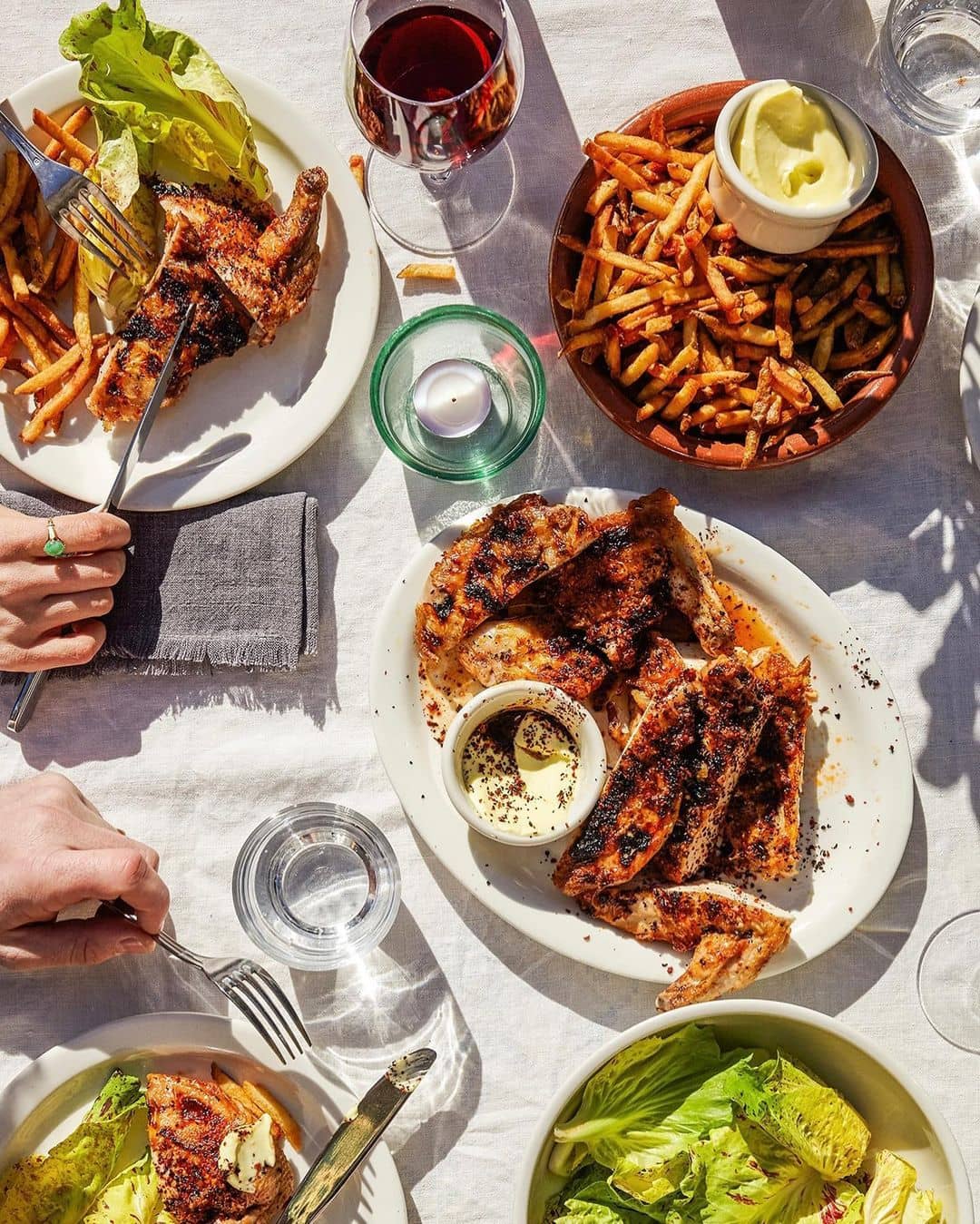 Cervo's is a casual, fun wine and seafood bar at the eastern end of Canal Street. Thanks to its stunning Portuguese & Spanish food and lovely wine list, Cervo's is always busy. They don't take reservations, so you might have to wait for at least 1 hour when coming at weekends. Trust us, it's all worth it!
Much of the menu remains unchanged from the early days, expect to get some of the top-notch classic ones like white Louisiana Prawns kissed on the plancha, half of a Roast Chicken smothered in Piri-Piri sauce, or a Lamb Burger blanketed.
The Louisiana Prawns are perfectly seared, and soaked in a lemon-and-pepper olive oil bath, while the Roasted Chicken has a smoky taste, accompanied by shoestring fries for dipping in chicken juice and pale yellow aioli. And don't forget the Crispy Shrimp Heads that can blow anyone away who has ever proclaimed a love of shellfish!
What to order: Lamb Burger, Half Chicken With Piri Piri & French Fries, Louisiana White Prawns, Crispy Shrimp Heads
Address: 43 Canal St, New York, NY 10002
Website | Instagram | Facebook
2. Saigon Social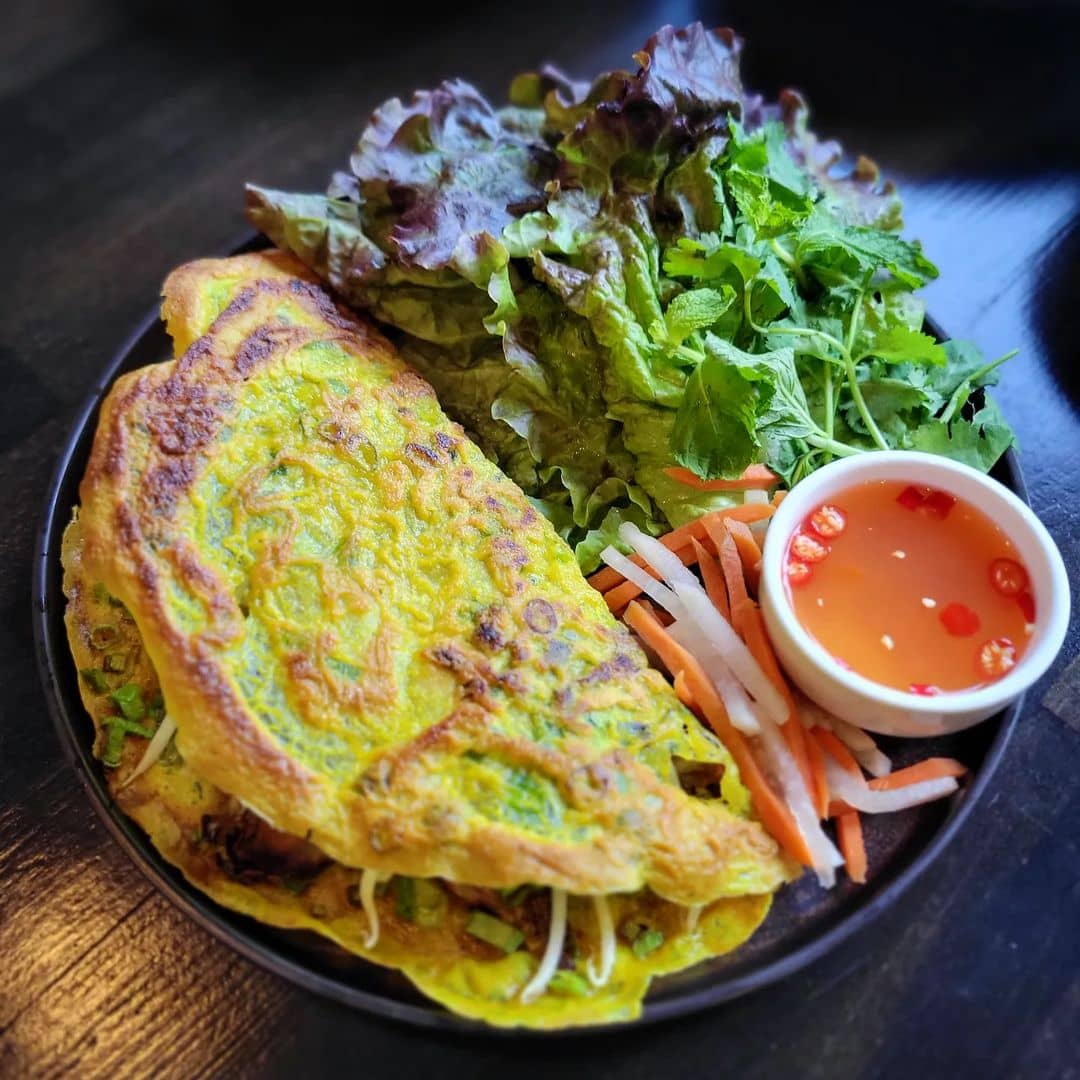 After opening its door at the beginning of 2020, Saigon Social has quickly gained a huge reputation for its delicious Vietnamese dishes with a twist. Stop by for casual sidewalk seating in such a cozy, friendly ambiance.
Make sure to try their excellent Banh Mi Thit Nuong with marinated grilled pork melts right in the bottom of the fluffy, soft bun. Or order the Banh Beo Chen with steamed rice flour topped with powdered shrimp, fried shallots, scallion oil, browned cubes of pork fatback, and chewy shards of steamed mung bean. You can never go wrong with these!
If you still have room for some snacks, then go for Nem Cua Be which comes with four crispy rice paper rolls filled with ground meat, crab, glass noodles, and mushrooms. Dip it into the vinegar sauce to see the flavors explode!
What to order: Banh Beo Chen, Banh Mi Burger, Bun Cha, Banh Mi Thit Nuong, Nem Cua Be
Address: 172 Orchard St, New York, NY 10002
Website | Instagram | Facebook
3. Kopitiam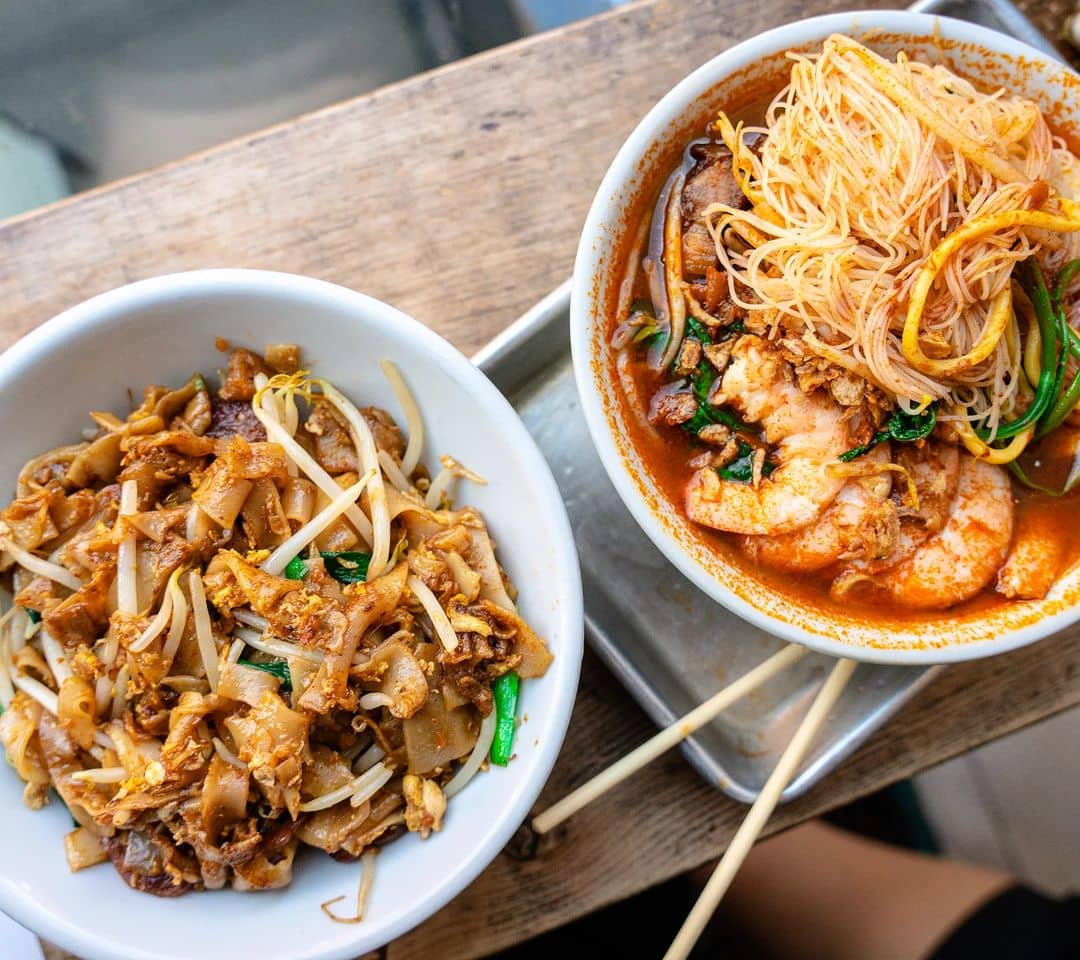 Kopitiam is an all-day Malaysian cafe on East Broadway serving comforting Malaysian national dishes, including sweets, drinks, and savory snacks. Whenever you think of a casual spot to stop by for any type of low-key meal – not just takeout lunch or coffee and a snack, think of Kopitiam!
If you're craving something sweet, grab the Malaysian-style Egg French Toast dusted in sugar, and order a cup of latte, then you're all set for breakfast! Or you can settle down with a big bowl of Pan Mee soup with hand-pulled noodles and dried fish that add great texture to the sweet-ish broth!
Nasi Lemak and Char Kway Teow are no less stunning! While the Nasi Lemak involves coconut rice topped with fried anchovies, peanuts, cucumbers, and hard-boiled eggs; Char Kway Teow is a flat rice noodle stir-fried with homemade dark sauce and chili paste, which can make your palate scream for happiness!
What to order: Pan Mee, Nasi Lemak, Char Kway Teow, Malaysian-style Egg French Toast
Address: 151 E Broadway, New York, NY 10002
Website | Instagram | Facebook
4. Wu's Wonton King
Wu's Wonton King is a legendary Cantonese restaurant on East Broadway, where you'll be filling your tummy with flavorful wontons, and suckling pig in a casual, bustling ambiance. If you're also in search of group dinners, this spacious spot is just for you!
Always order the famous Pork Wontons, the little parcels of juicy, mouthwatering goodness, jazzed up with a delicious touch of ginger. These bites are perfect just on their own! Suckling Pig is also a star of the menu with brown, crisp skin and juicy, tender meat inside.
End it right with two Dungeness Crabs face off on the plate, one is deep-fried and propped on the rubble of garlic shards; the other is steamed and shimmers with ginger, scallions, and Shaoxing wine.
What to order: Pork Wontons, Sesame Chicken, Suckling Pig, Jumbo Shrimp & Walnuts in Mayo Sauce, Ginger Scallion Lobster, Dungeness Crab
Address: 165 E Broadway, New York, NY 10002
Website | Instagram | Facebook
5. Wildair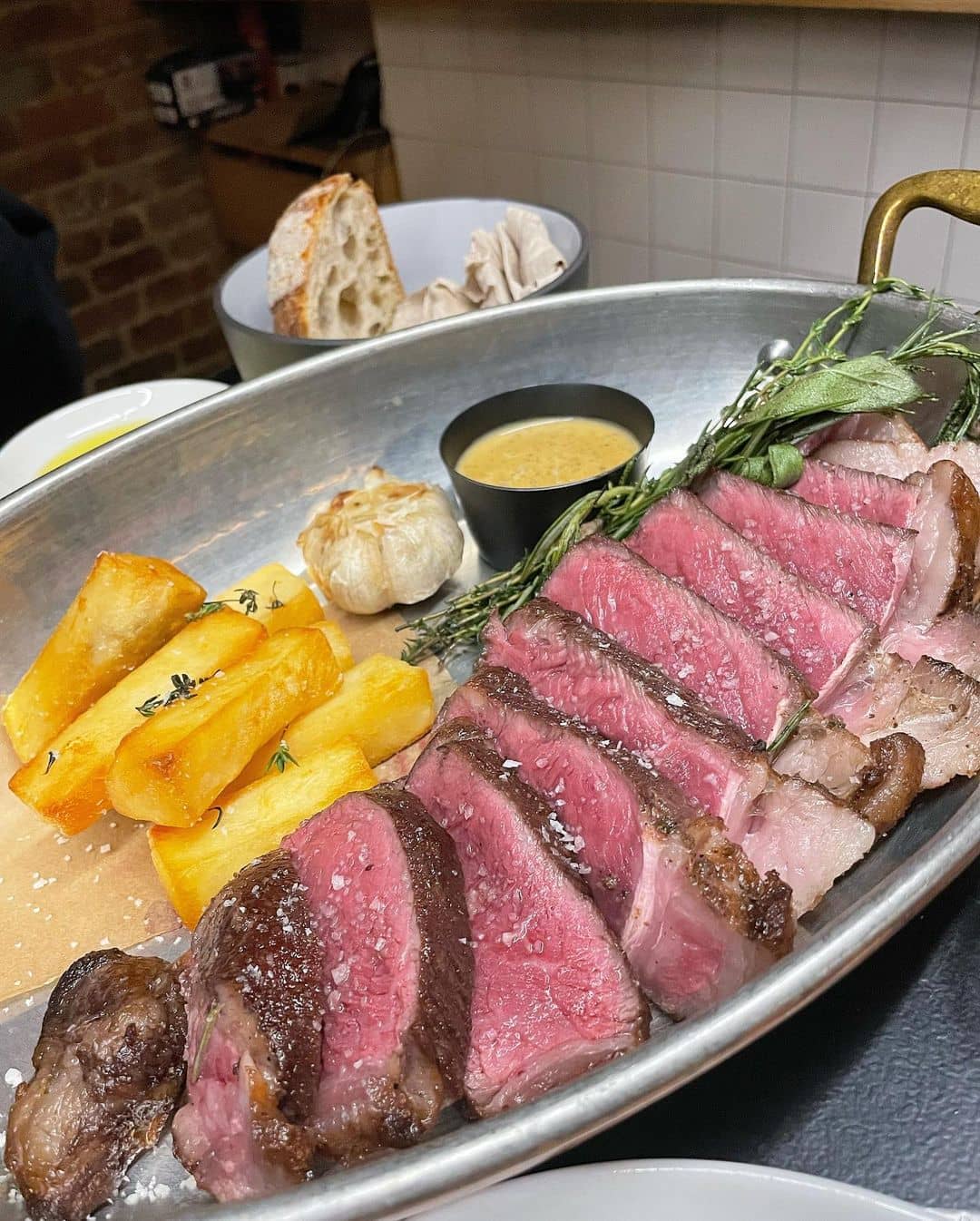 If you're looking for a special occasion night out in the neighborhood, Wildair should be on your list. Being a casual spot to snack and drink something incredible, this place can also amaze you with its intimate atmosphere and elegant settings. Give it a try and you'd wish you know this place sooner!
Settle down with their famous Spicy Tuna bursting with both spicy and refreshing flavors. Or the Beef Tartare with a rich, meaty taste with cheddar on top, takes the whole dish to a totally different level!
You can also go for their much-loved Fried Squids and be amazed by their sweet, borderline nutty flavor, and crunchy exterior, while still remaining tender on the inside. Don't go home without having Vanilla Custard & Rhubard Granita for dessert, this is definitely a chef-kiss one!
What to order: Spicy Tuna, Beef Tartare, Fried Squid, Vanilla Custard, Fluke Crudo
Address: 142 Orchard St, New York, NY 10002
6. Cibao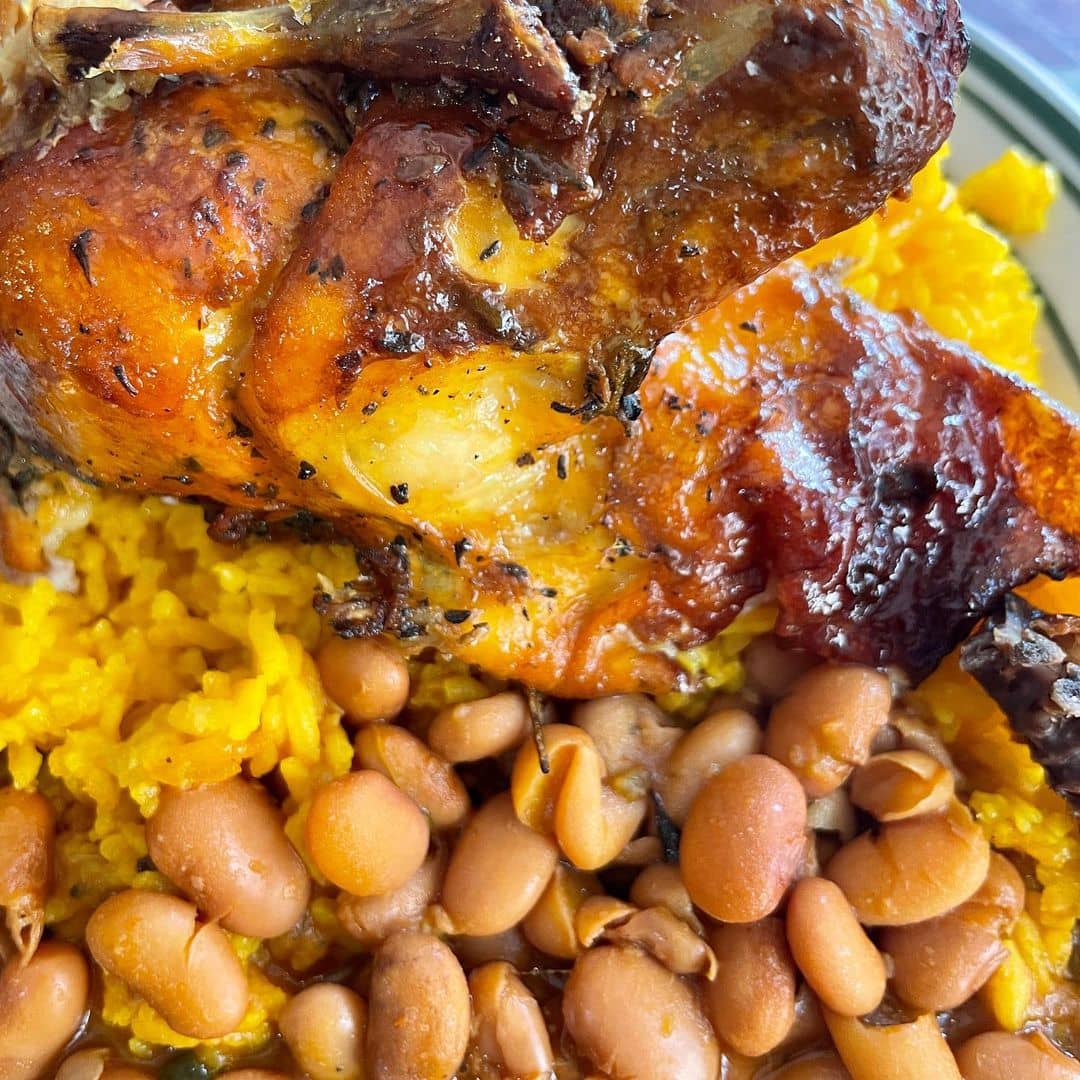 Located on the corner of Clinton and Rivington, Cibao has been serving comforting, mouth-watering Dominican cuisine for over 40 years. Whenever you're looking for a handful sandwich with much of a reasonable price, Cibao is your place to go!
Must-try includes the Cuban Sandwich, obviously! With roast pork layered with ham, Swiss cheese, pickles, and tangy yellow mustard making for an addictive combo on its own, their sandwich is simply amazing! Consider before having one because once you did, you ain't gonna stop visiting Cibao again and again!
If you still have room for some more, try the Garlic Shrimp or Shrimp Coquette for some really fresh, buttery, aromatic, fresh-bouncing shrimp that are hard to resist!
What to order: Cuban Sandwich, Cheese & Salami Mofongo, Garlic Shrimp, Shrimp Coquette
Address: 72 Clinton St, New York, NY 10002
Website | Instagram | Facebook
7. Gem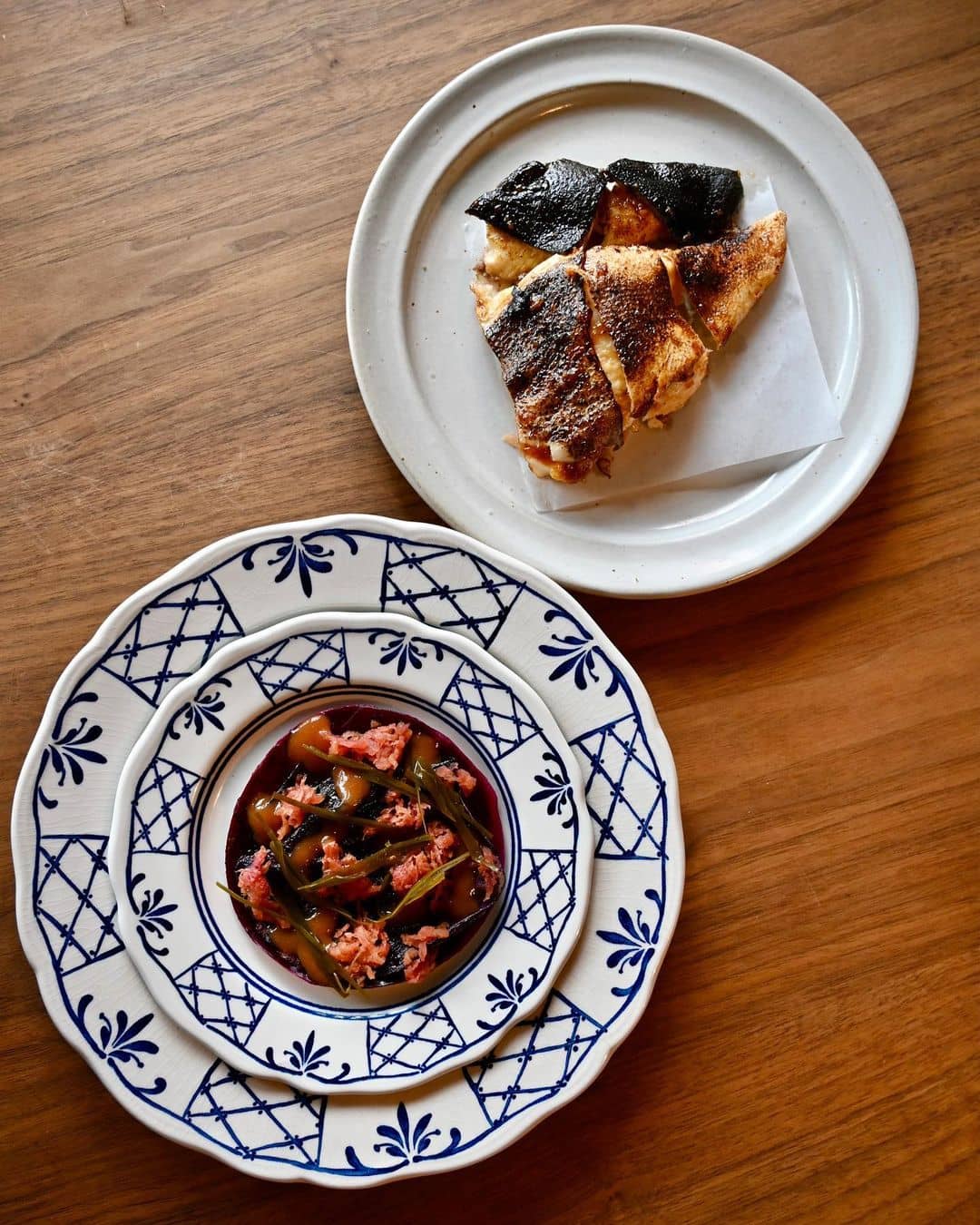 First opened its door in 2018, Gem has been offering the locals the best-tasting experience in a charming flower-and-art-filled space. Their tasting menu changes three times a year with exclusively vegetarian dishes during the summer. Expect the most unexpected when dine-in at Gem!
You will have two options, the classic Tasting Course consists of 12-15 courses for about two hours, broken into a few parts consisting of small bites, composed plates, and a few family-style dishes. The other one is Gem Burgundy Dinner with fine food and wine consisting of 5 courses and 5 wines.
The menu is always rotating. If you're lucky enough, you'll get to try some Uni Sprinkled with pumpkin seeds, Diver Scallops wrapped in shisho leaf, truffle-rolled carrots, or Nimono – a fluke mousse in a shitake mushroom served in charred garlic and ginger broth that left one wanting more.
What to order: Tasting Course, Gem Burgundy Dinner
Address: 116 Forsyth St, New York, NY 10002
8. Dirt Candy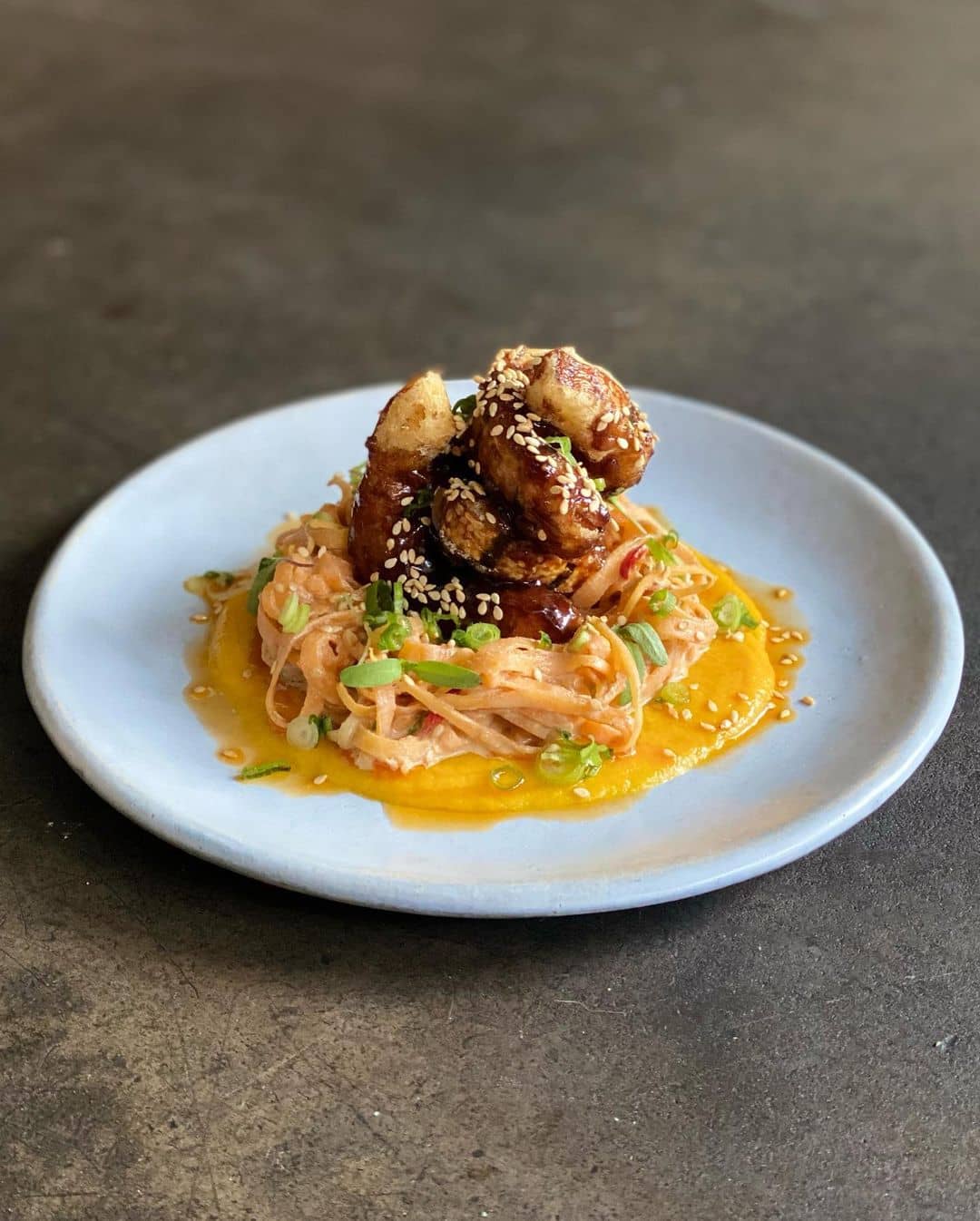 New York is never short of choices for vegans on the Lower East Side, but Dirt Candy is the most outstanding one of all! This place with a wonderful tasting menu features ever-changing whimsical presentations of vegetables that are sure to impress you!
The tasting menu consists of 5 courses. Highlights include a creamy Sunchokes Flan covered in a layer of salty seaweed caviar and topped with crispy artichokes. Then comes the delicate Crepé layered with portobello mousse, topped with housemade bing cherry jam, and an assortment of sauteed wild mushrooms.
If you're lucky enough, you'll have the chance to catch the hearty, rustic dish of Kale Spaghetti and packed-with-flavor Bell Peppers cooked in heavy sauces that are absolutely a 10 out of 10!
What to order: Tasting Menu
Address: 86 Allen St, New York, NY 10002
Website | Instagram | Facebook
9. Spicy Village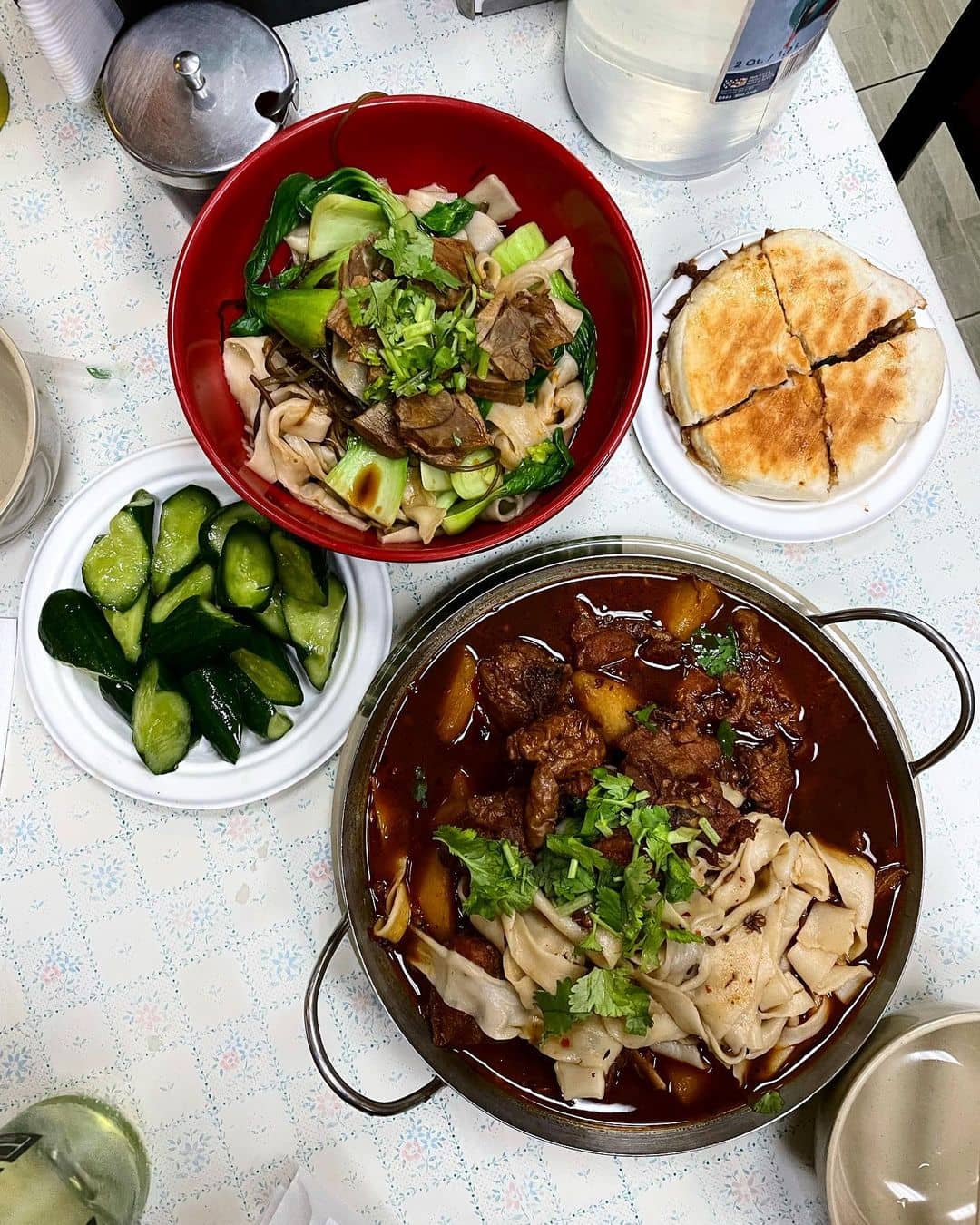 Spicy Village is one of the city's most iconic restaurants that serves famous big trays of chicken that are finger-licking good! This place is ideal to stop by with a few friends for a fun, delicious meal that probably won't break the bank.
Always have the Spicy Big Tray Chicken when coming here! A big tray of chicken and potatoes covered in a rich sauce made with Sichuan peppercorns, star anise, and other spices. You have the option to add noodles, and you're going to want to do that!
If you've tried their chicken tray before, now get some Grilled Pepper Chicken grilled in a spicy sauce served over rice or noodles. While waiting for your chicken, get some Spice Scallion Sauce Dumplings or Soup Dumplings, they are no less impressive!
What to order: Spicy Big Tray Chicken, Spice Scallion Sauce Dumplings, Grilled Pepper Chicken
Address: 68 Forsyth St B, New York, NY 10002
10. La Contenta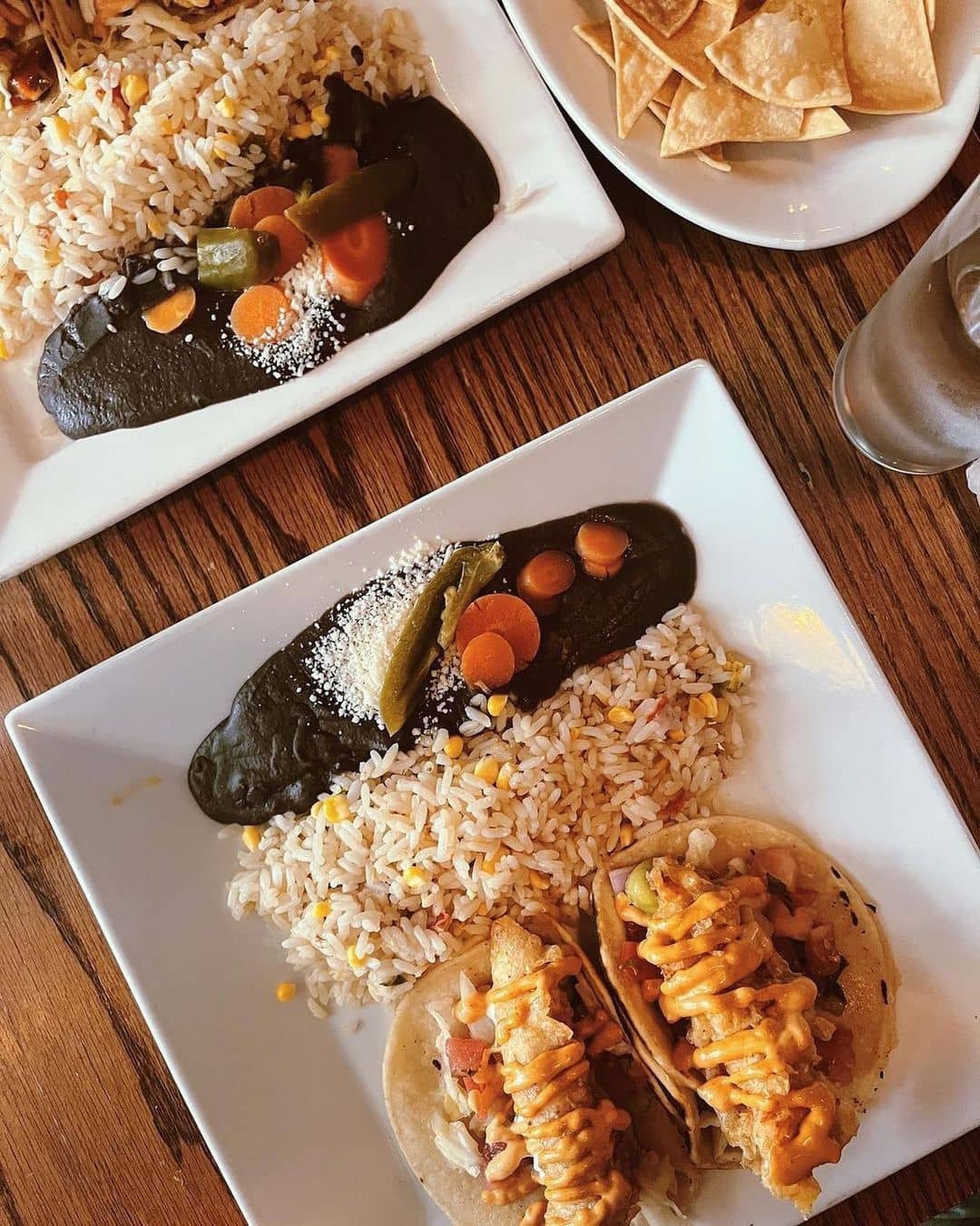 La Contenta is considered the best Mexican restaurant with excellent cocktails on the Lower East Side to enjoy your favorite Margaritas while munching on a mouth-watering fish taco. This spot is relatively casual which is pretty cool for any friend gatherings or dates.
Settle down with their Fish Tacos, our favorite things on the menu! Made with fried beer-battered cod, served in crispy corn tortillas, and drizzled with secret house sauce that is a little bit tangy, spicy yet fresh, you can't say no to this piece of goodness!
You can also find some really excellent Pork Belly Tostada that is perfectly cooked with a sweet, smoky taste; Crab Enchiladas stuffed with flavorful shredded crab, and juicy Skirt Steak served with a buttery mashed potato. Incredibly satisfying!
What to order: Guacamole, Pork Belly Tostada, Fish Tacos, Skirt Steak, Crab Enchiladas
Address: 102 Norfolk St, New York, NY 10002
Website | Instagram | Facebook
11. Rebel Restaurant and Bar
Bringing thrilling Haitian food to the Lower East Side, Rebel Restaurant and Bar is definitely your next go-to place if live music and DJ sound great to you. Inside, there are big windows that allow you to see everything that's going on outside on the street, brick-walled and decorated with colorful paintings. Get ready to go right into a fun night!
The Griot is a popular order, this confit of fatty pork chunks first marinates in a solution of shallots and citrus then boiled to dryness in the marinade, and finally comes up with a dish that is so flavorful and richly textured; not soft, but fibrous and chewy!
Then, have yourself the Barbancourt mussels in a pool of spicy and garlicky broth. Pair with The 1971 – a famous drink at Rebel – and you'd never regret doing so!
What to order: Pork Shoulder Chunks, Barbancourt Mussels, The 1971, Lambi, Griot
Address: 29 Clinton St, New York, NY 10002
Website | Instagram | Facebook
Don't let your food journey stop here, keep it up with our suggestions on the best Soho restaurants in New York that are sure to satisfy your greedy palate!
Looking for a place to stay in New York?
This article includes affiliate links where we may get a small commission if you use our link. No extra cost is added to you.