Looking for the best pizza in Portland? Well, you've come to the right place!
Portland is known for arts, food trucks, Saturday Markets, and a lot of beautiful things! Foodwise, the city boasts some of the most renowned restaurants offering top-notch quality food and impeccable service along with Instagrammable spots.
And Portland is dotted with a large number of pizzerias serving delicious pies and Italian cuisine. We've compiled a list of some of the best pizza spots in Portland to help you narrow down your options and guide your palate.
This article contains affiliate links where we may get a small commission if you click on the link and purchase. No extra cost is added to you.
🍕 Check out this guided pizza tour around Portland!
1. Gracie's Apizza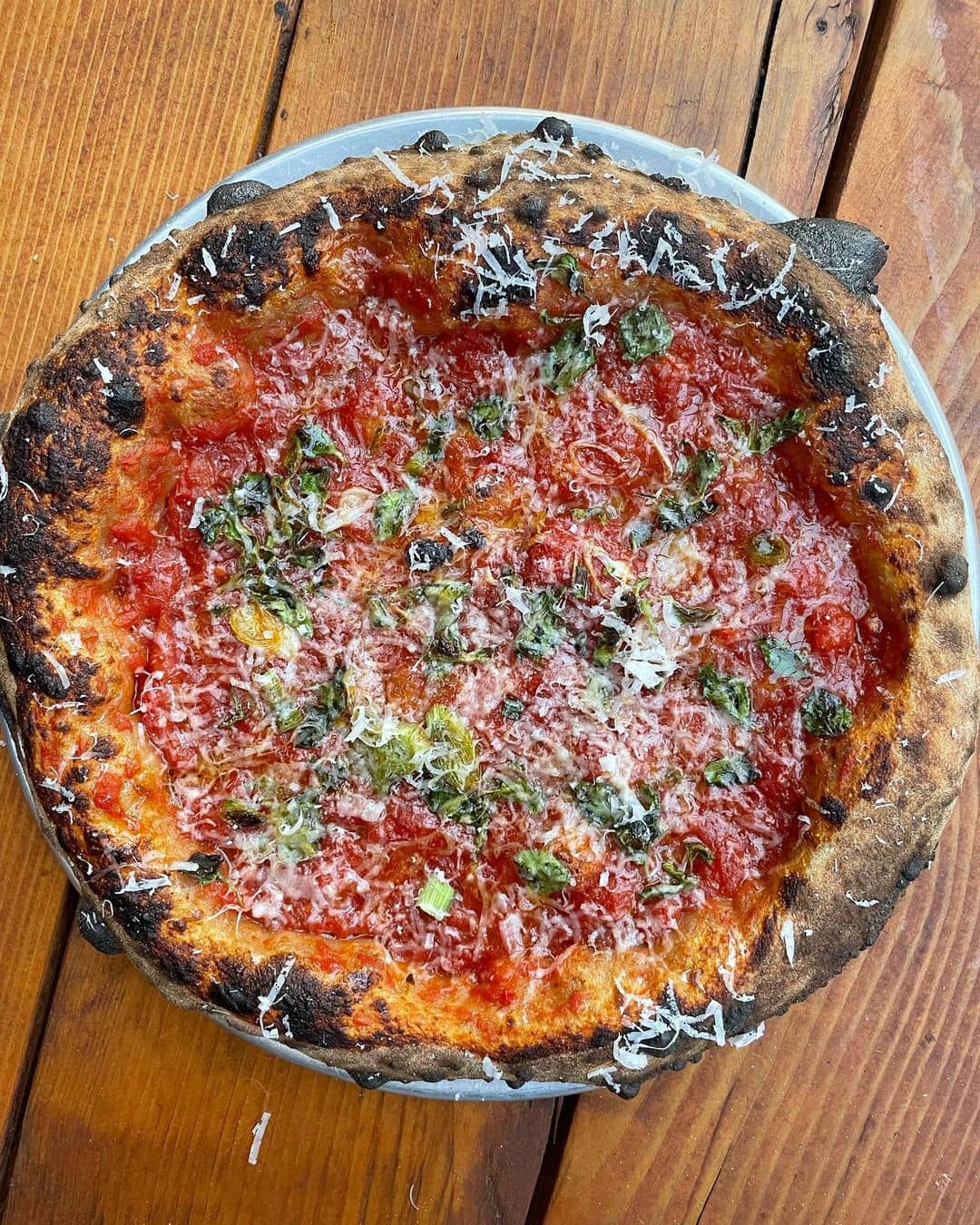 Have you ever heard of a pizza one-man show? In fact, that is how Gracie's Apizza got its start! Craig Melillo, who produces over 70 pizzas per night and sells out most nights, is the true star of the show. Wow!
Any item on Gracie's menu is worthwhile trying, but their calzone and ricotta pies are a must.
Ricotta, mozzarella, pecorino, salami, sweet peppers, Calabrian chilis, and side sauce for dunkin are the ingredients in the calzone. Just wonderful!
The customized blend of shiso, pepper, lemon oil, and fresh onions adds a special touch of deliciousness to the ricotta, a dish that is a fan favorite.
We don't know how he does it, but this man's pies inspire admiration! The dough is cooked to perfection, coming out chewy and crunchy.
Craig has Very Vegan for you if you're a vegan! Oh, and request a wine recommendation, then sit back and let the exquisite magic speak for itself.
What to order: Calzone, Ricotta, Very Vegan, Wine
Address: 7304 N Leavitt Ave, Portland, OR 97203, United States
2. Cafe Olli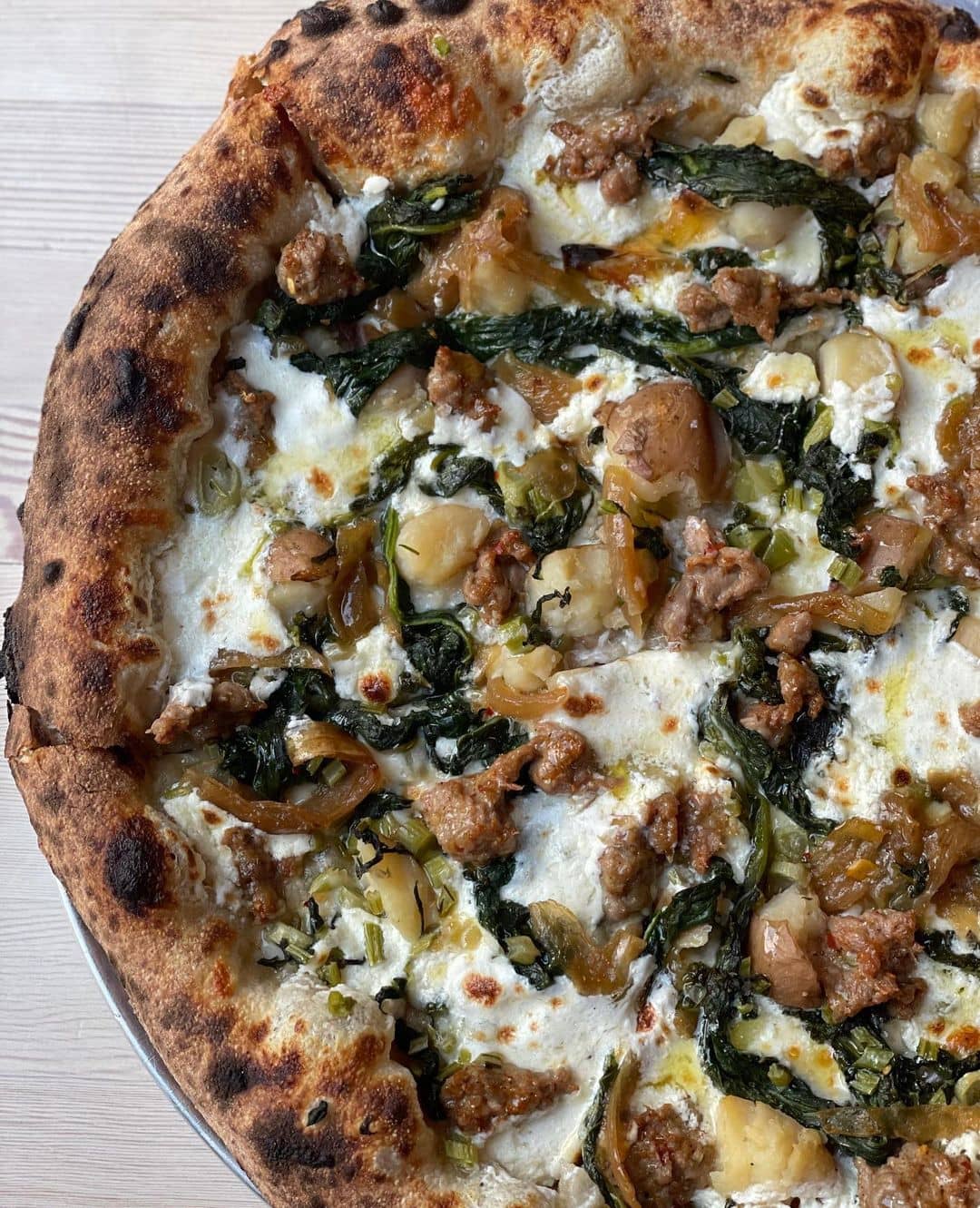 One of Portland's iconic pizzerias, Cafe Olli serves incredibly excellent wood-fired pizzas with sauce that is to die for.
While strolling through Portland, you must not miss Cafe Olli, which is run by a team of experts that have expertly designed an artisanal cuisine including salads, pizzas, pastas, coffees, and beer!
The cafe features an array of wooden tables and chairs perfectly complemented by white walls and light-colored fixtures. You'll get a glimpse of the brick oven where they create their wood-fired pizzas and other dishes.
Their Pomodoro pizza, which has garlic, oregano, stracciatella, and anchovies on top of the ultimate tomato sauce, is the definition of delicious pleasure.
The prairie creek potato, which is especially good when prepared with fantal, ricotta, mozzarella, leeks, thymes, and Calabrian chili oil, is another that deserves to be mentioned.
From their daytime menu, you ought to order a daily frittata sandwich — greens, hot sauce, mayo, and cheddar gently embraced by a milk bun.
You can eat their pizzas whenever you want because they are available all day.
What to order: Pomodoro Pizza, Prairie Creek Potato, Frittata Sandwich, Chocolate Fudge Cake, Cauliflower Salad
Address: 3925 NE Martin Luther King Jr Blvd, Portland, OR 97212, United States
3. Nostrana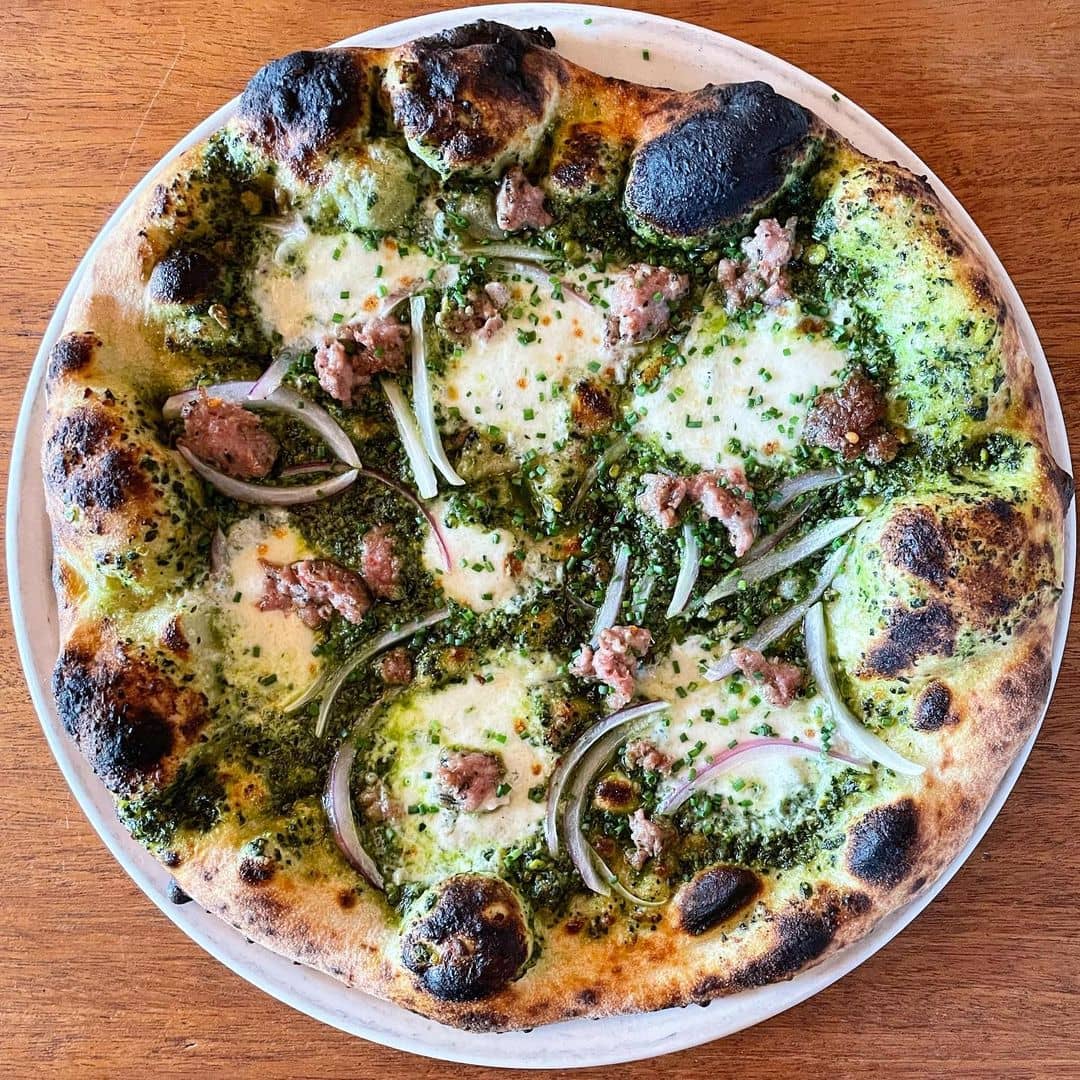 Derived from the Italian word which literally means "ours," Nostrana is a Portland staple of Italian fare established in 2005.
Helmed by the acclaimed duo of a six-time James Beard Award finalist and a co-owner of another pioneering Italian restaurant in the city, Nostrana captures the essence of Italy by simple, family-style cooking.
Since the restaurant is perpetually busy, it's highly recommended you book a table in advance.
They have both indoor and outdoor dining options, but no matter where you are sitting, you may enjoy the company of good friends or family. You can praise the welcoming ambience and cozy atmosphere for that!
Nostrana is well known for having some of the best wood-fired pizzas in Portland! So don't pass up the chance to order their Vongole Picante and Margherita.
A well-guarded tomato sauce recipe and a unique touch of excellent cooking elevate the traditional Margherita to the next level of taste.
Manila clams, calabrian chili, broccoli, mozzarella, provolone, lemon, and other toppings are included on the Vongole picante pizza; even if you don't normally like this style of pizza, after one slice, you will.
Ask their skilled sommelier about their wines; he or she only wants to provide you with the finest selections suitable for your preference!
What to order: Margherita Pizza, Vongole Picante Pizza, Wine
Address: 1401 SE Morrison St Ste 101, Portland, OR 97214, United States
Website | Instagram | Facebook
4. Lovely's Fifty Fifty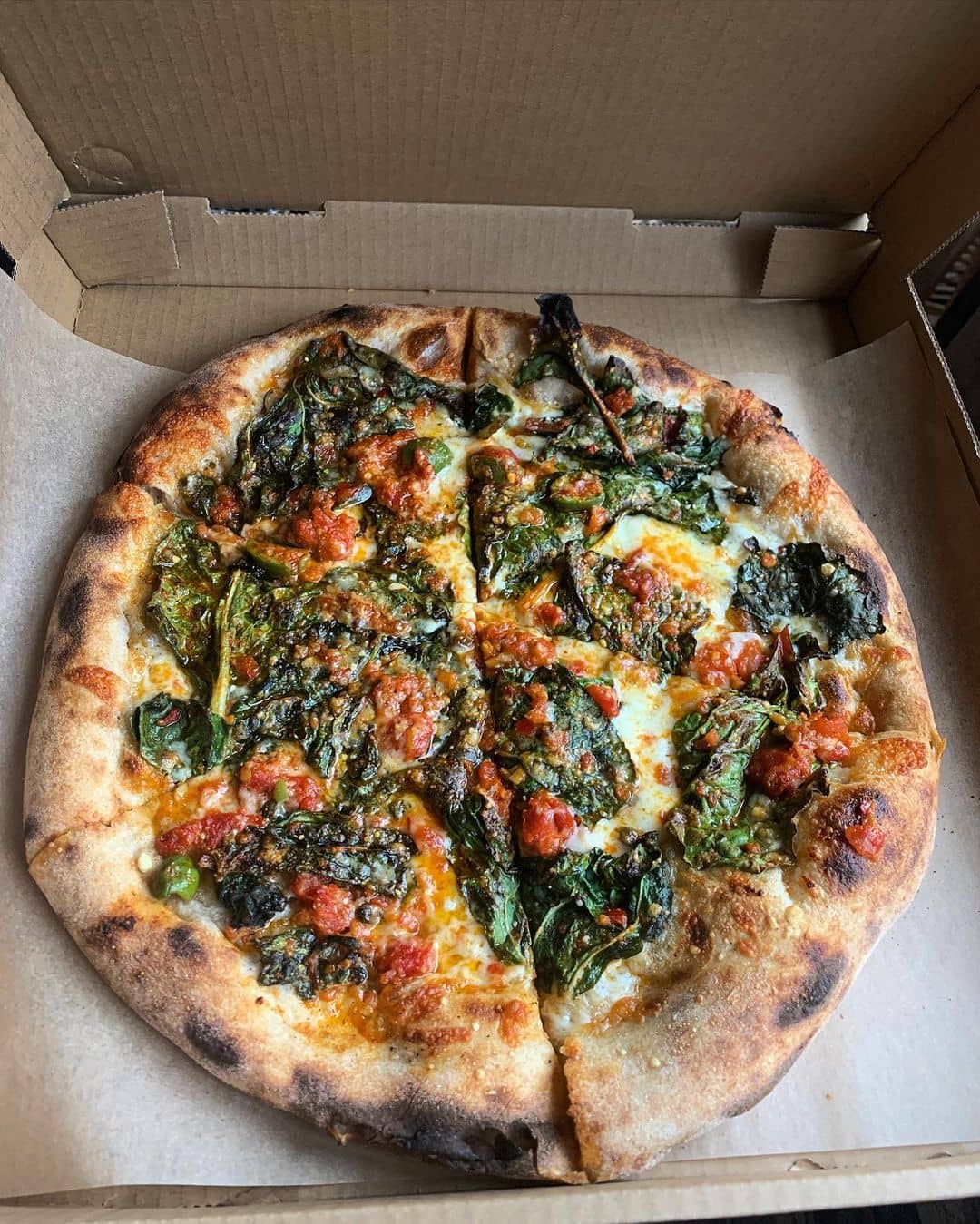 Ice cream, pizza, and wine? Surely not the trio you'll see anywhere, but Lovely's Fifty Fifty excels in making this combination work best.
A family-run restaurant, Lovely's Fifty Fifty was founded in 2010 and formerly combined the tradition of West Coast farmers with methods for making whole-grain sourdough bread.
They use fresh greens, wild flowers, mushrooms, and veggies to make their pizzas. We must admit that's really creative!
You must try their Astiana pizza, which combines sundried astiana tomatoes with curly kale, orange agrumato, and fresh mozzarella, as it may be difficult to locate another pizzeria selling flavors identical to these.
Although the combination of these flavors is fairly unusual, it is incredibly flavorful!
Their rainbow chard pizza with fermented tomatoes, chilies, capers, castelvetrano olives, chiles, and reggiano is another must-try.
Next, we get the Corrina potatoes prepared two different ways with kale and parsley pesto from Bear Necessities. You won't understand why we have such a huge love for these choices until you give it a try!
They have a variety of flavors for their organic ice cream, but we especially like the salted caramel!
You can ask Lovely's Fifty Fifty for a wine that pairs nicely with your pizza from their extensive wine list.
What to order: ASTIANA, CHARD, and CORRINA potatoes Pizzas, Ice Cream, Wine
Address: 4039 N Mississippi Ave, Portland, OR, United States
Website | Instagram | Facebook
5. Apizza Scholls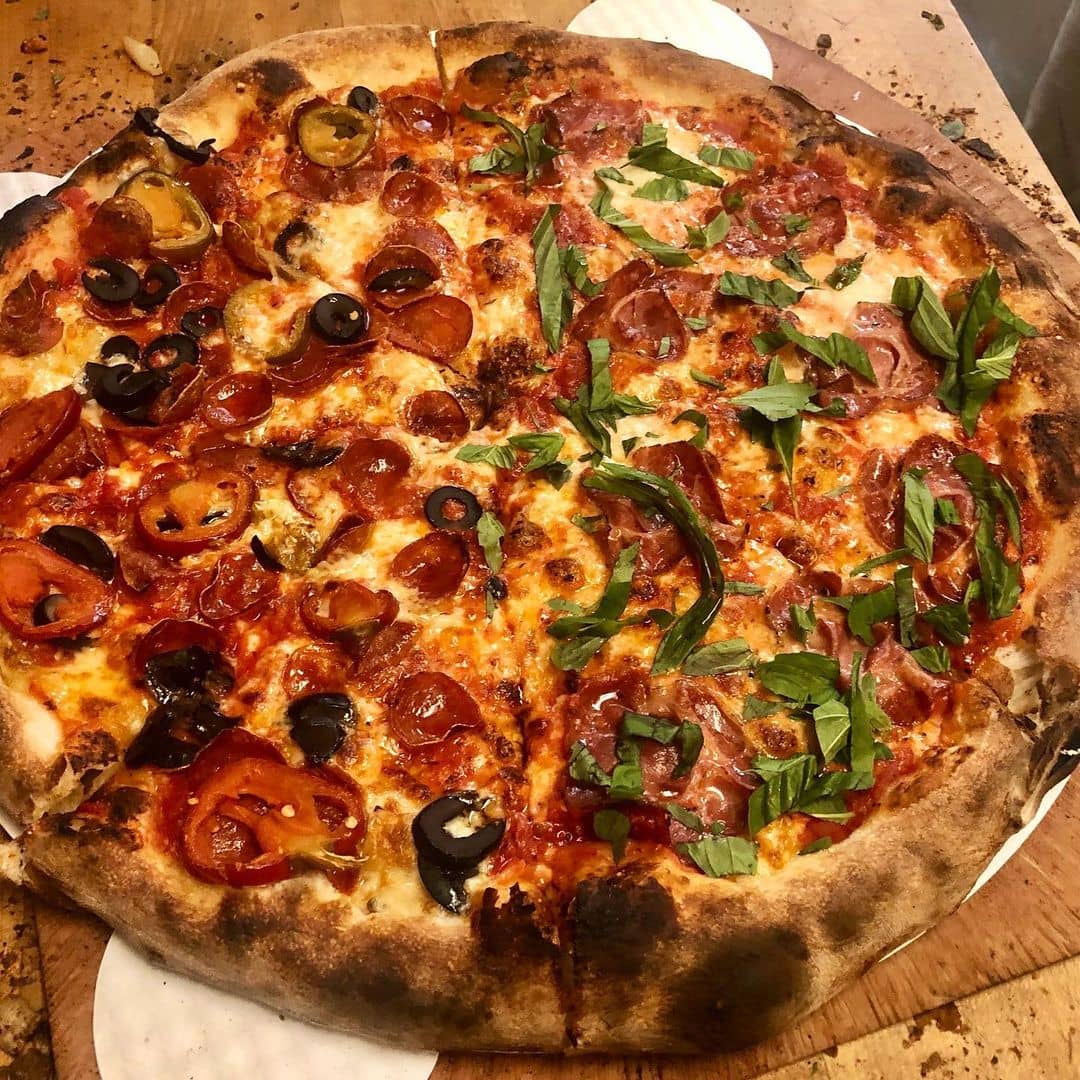 Apizza Scholls was established in 2004 and prides itself on serving authentic Neapolitan pizza.
A masterpiece with a crisp surface and very soft interior is produced by cooking under high heat for a little period of time.
Pizza Scholls' offers a wide selection of inventive pizzas. We heartily endorse their incredible Paulie Gee, which is made with hot soppressata, ricotta, oregano, Mikes Hot Honey, and other toppings, as well as their New York White, which is made with fresh mozzarella, grana padano, ricotta, black pepper, and olive oil.
If you want to add anchovies—another must-have order from the pizza joint's menu—your Margherita becomes the coastal variation.
Their deconstructed Caesar salad, which consists of just romaine, croutons, and the ideal dressing with the option to add anchovies, will undoubtedly take your breath away.
Oh, and in case we forgot, the restaurant has a little arcade room. So now you know what to do if you want to enjoy playing games and eating lots of pizza!
What to order: Paulie Gee, New York White, Caesar Salad, Coastal Margherita, Draft Beer
Address: 4741 SE Hawthorne Blvd, Portland, OR, United States
Website | Instagram | Facebook
6. Assembly Brewing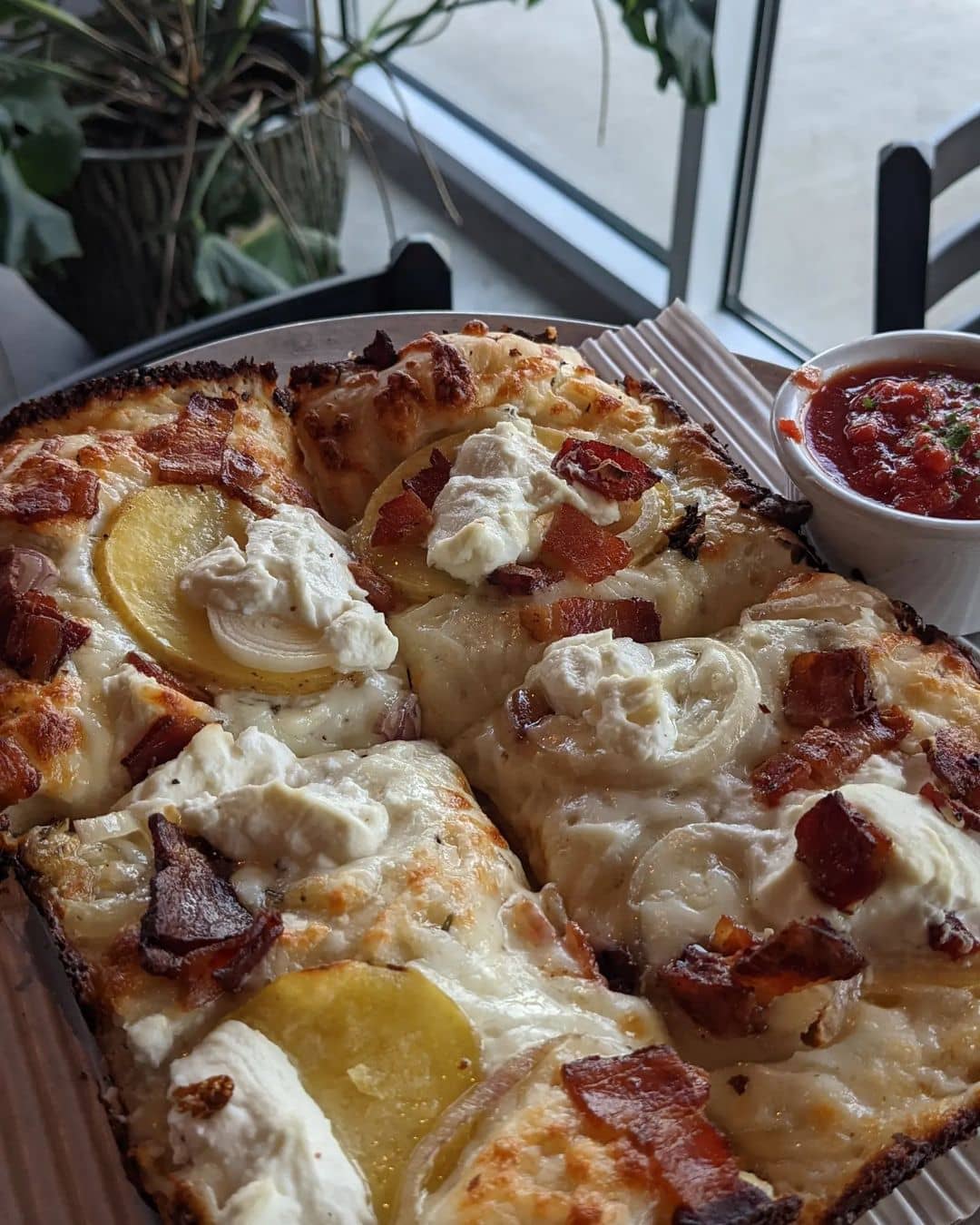 Assembly Brewing is what you get when beer meets pizza. George, the creator and chief brewer as well as the pizza cook, has been wanting to open a local craft brewery for his whole life.
As a tribute to George's background, Assembly Brewing, which opened in 2019, serves their own brewed beer and Detroit-style pizza.
A square, Wisconsin brick cheese, caramelized cheese fuses, and 70% hydrated dough make up a genuine Detroit-style offering.
Assembly Brewing's pizza ticks all checks of those traits, making their food one of the most sought-after pizzas in Portland. Their Meat Lovers, Popeye, and Supreme are three of the many reasons to go there!
A meat lover's dream on a plate, the meat lovers include pepperoni, Canadian bacon, salami, bacon, and Italian sausage. 
Then we have the Popeye — spinach, feta cheese and black olives. Lastly, the Supreme pizza is the union of pepperoni and sausage, bell peppers, mushrooms, onion, and black olives. It's like eating heaven with every mouthful!
Every pizza flavor can be paired with one of their many beers, as they offer a wide range.
They also have excellent sandwiches and appetizers in addition to their pizza menu.
What to order: Supreme, Meat Lovers, Popeye, Beer
Address: 6112 SE Foster Rd, Portland, OR, United States
7. Dimo's Apizza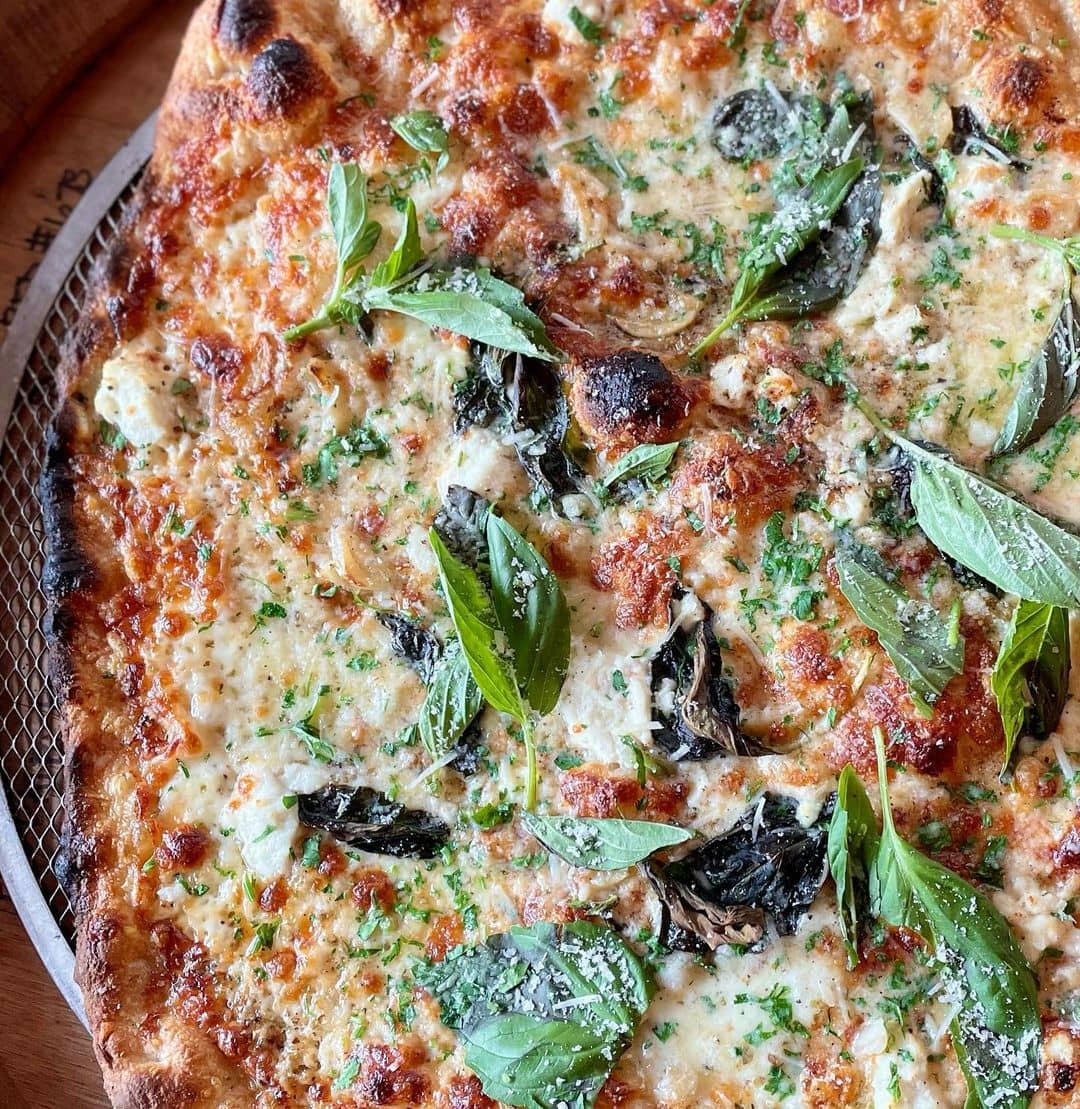 Need some local pizza? Your best option is Dimo's, especially if you enjoy pizza with thin, crispy crusts that are topped with excellent ingredients.
You can enjoy the wonderful meals while taking in the outdoor scenery in the spacious restaurant.
Dimo's stands out from the competition due to its well-seasoned toppings, sauce, and freshly cooked dough, which is the ideal balance of flavor for a New Haven pizza.
The Cacio E Pepe, which means cheese and pepper in Italian, is a must-have! It has a fantastic toppings layer that includes mozzarella, pecorino cream, chile flakes, garlic, and black pepper.
Other popular pizzas include Tie Dye Pie, which has tomato sauce, parmesan, pecorino, shredded mozzarella, arugula pesto, and more.
The White Clam features wood-roasted clams, clam aioli, clam liquor, parmesan, and lemon.
What to order: Cacio E Pepe, The Tribute A.K.A. White Clam, The Tie Dye, Little Gem Caesar, Dimo's Fries
Address: 701 E Burnside St, Portland, OR, United States
Website | Instagram | Facebook
8. Pizza Thief
Pizza Thief, a small-town joint, is one of Portland's most well-known pizzerias and is renowned for elevating traditional flavors to the pinnacle of excellence.
You're in for a wonderful time in this restaurant with its warm service and chic decor!
The recipe for the pizza that achieves the perfect harmony of moist, chewy, and crunchy is found in Pizza Thief. The thin crust of the bread is a pillow of doughy bliss since it is light and airy.
Their seasonal pizza, the Baller, and vegan special are excellent examples of this.
The seasonal pizza is a cream-based heaven with aged provolone, delicata squash that has been roasted in brown sugar, sheep's cheese, rosemary, and chili flakes.
The Baller, also known as the all-meat pizza, consists of tomato sauce, ricotta, meatballs, mozzarella, provolone, and other ingredients.
Last but not least, the Vegan special consists of roasted mushrooms, calabrian chili-garlic oil, and mustard greens. It's so tasty that even folks outside the board adore it!
What to order: Seasonal Pizza, The Baller, Vegan Special
Address: 2610 NW Vaughn St, Portland, OR, United States
Website | Instagram | Facebook
9. Pop Pizza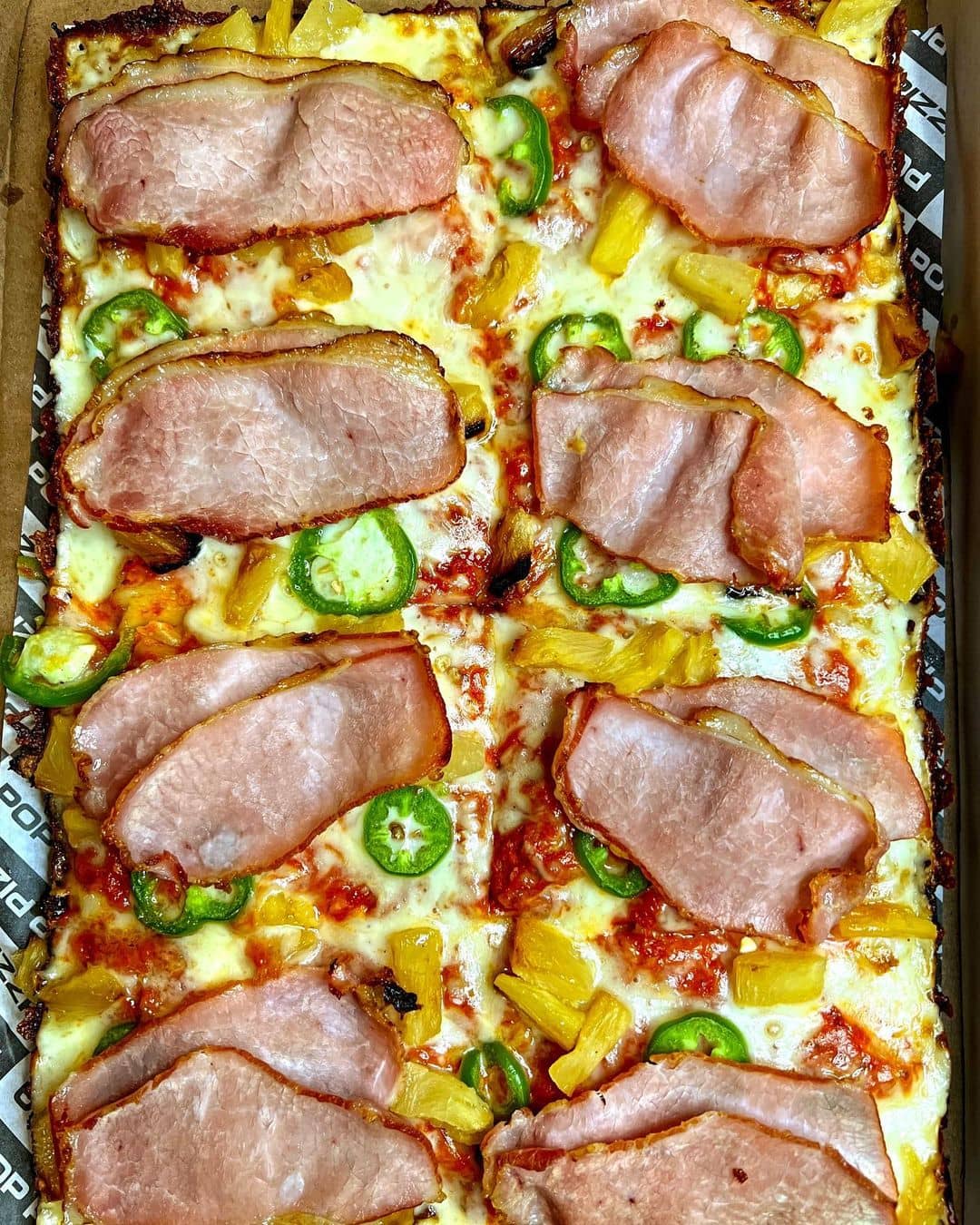 Pop Pizza is now a take-out and delivery-only establishment, but that hasn't stopped people from hailing its pizza as some of Portland's greatest.
If you're traveling, Pop Pizza gives you the option to savor delicious Detroit-style pizzas in the convenience of your hotel room.
Pop Pizza makes sure that everything is cooked and prepped to perfection in order to create a unique, delectable, and fluffy crust.
Also outstanding is the topping sauce, which has the ideal proportions of ingredients to highlight the fresh toppings.
The presence of mozzarella, Wisconsin brick, cheddar, coupled with red sauce and basil, enhances the triple cheese pizza and will catch you off guard.
The spicy Italian sausage, red onion, mushroom confit, and red sauce on the sausage pizza give it a slight kick of heat. Glorious!
Despite the fact that you might assume all pepperoni pizzas taste the same, Pop Pizza begs to differ!
A variety of cheeses and the distinctive red sauce go incredibly well with the Ezzo pepperoni. Heavenly!
Pro-tip: Place your orders during happy hours and receive their best-tasting pizzas at a discount!
What to order: Pepperoni Pizza, Triple Cheese Pizza, Sausage Pizza
Address: 610 SE Morrison St, Portland, OR, United States
Website | Instagram | Facebook
10. Scottie's Pizza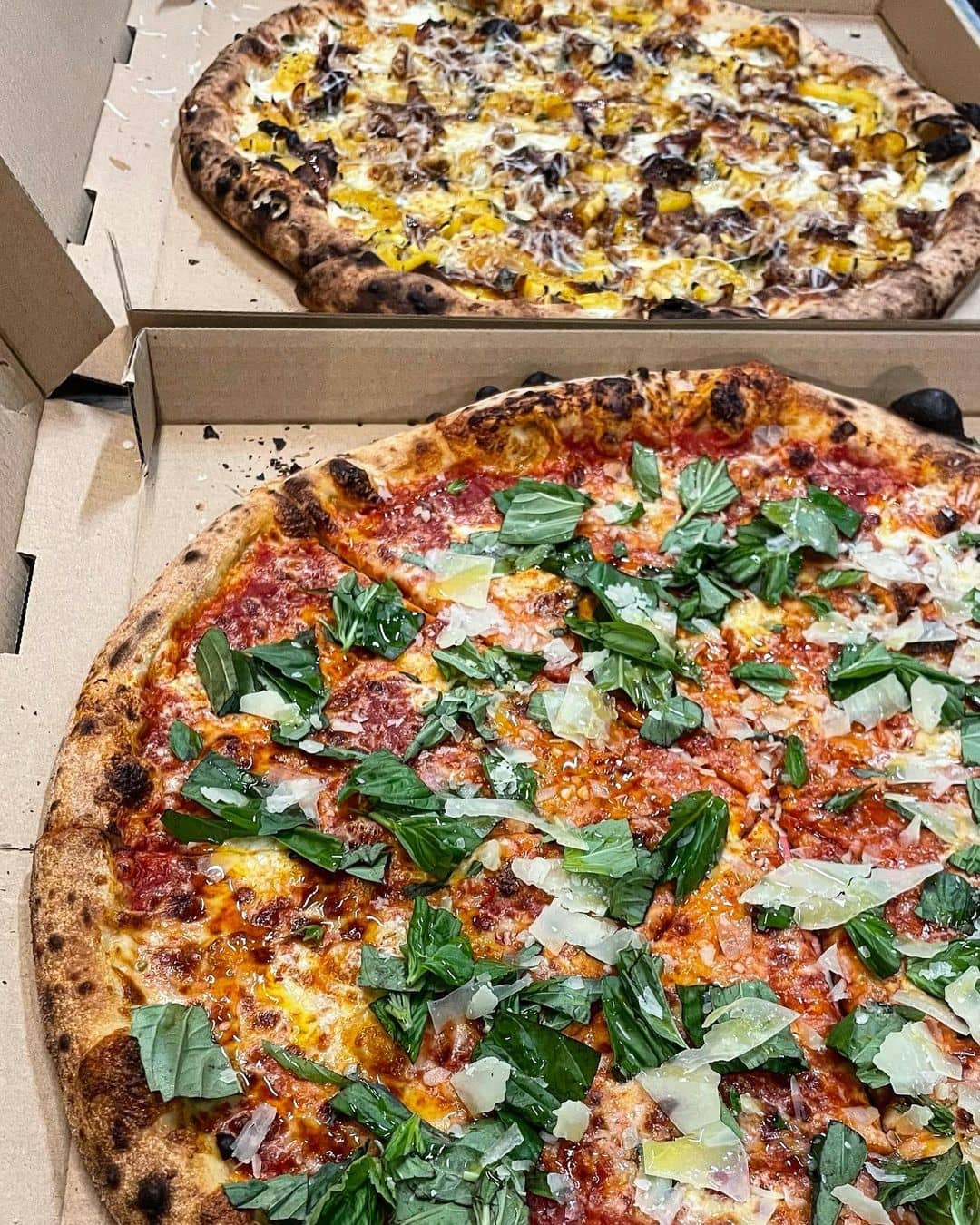 Square or round pies of well made New York Style pizza are available at Scottie's Pizza.
The best ingredients are used to make their naturally-leavened pizza dough, which includes Pacific Northwest wheat that has been slowly fermented before baking for an extra dash of greatness.
When possible, the restaurant purchases its ingredients locally and organically. Everything on your dish is therefore brand-new, handmade, and produced from scratch.
The fact that they don't sell pizza by the slice is the only drawback. But can this truly be considered a disadvantage when all it means is that you get to enjoy 18 inches of unadulterated bliss? Your choice!
Don't pass up the opportunity to try their acclaimed pizza, The #1, which is made with tomato sauce, fresh and aged mozzarella, pecorino romano, fresh basil, shaved parmesan, and olive oil.
Its favorable reviews are more than sufficient, but we can also see that this pizza has developed a devoted following of its own!
A 16″ square grandma-style thin crust Sicilian pizza cooked with love, fresh toppings, and tomato sauce on top is called Scottie's Defino. If you see this available, we strongly advise placing your order right away because it sells out quickly.
What to order: The #1, Suprema, Defino, Beer, Creamy Herb Dip
Address: 2128 SE Division St, Portland, OR, United States
Website | Instagram | Facebook
11. Life of Pie Pizza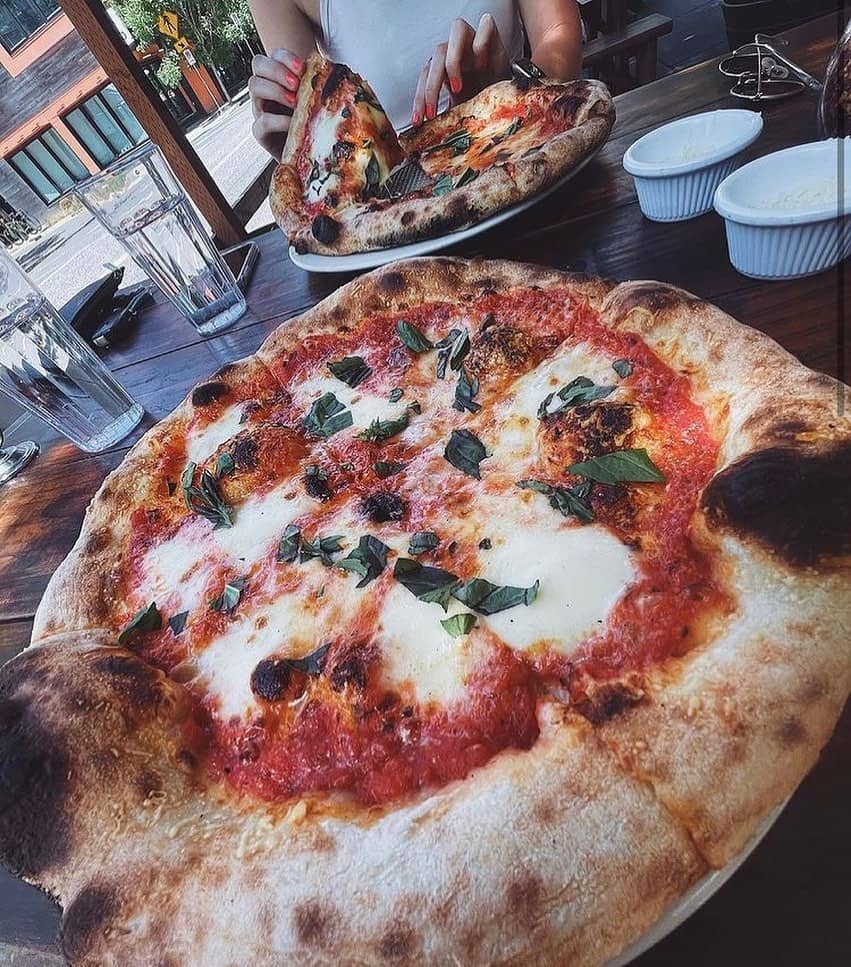 Life of Pie gives a distinctive spin on a variety of traditional flavors, and their secret sauce guarantees you're in for a wild treat! 
There's something in there that produces a little kick towards the end.
Their margherita and seasonal mushroom pizza are outstanding. The margherita is baked to maintain the rich assortment of toppings and sauces while striking an exceptional balance between crunchy and chewy.
The restaurant's happy hours let you save money on the traditional Margherita!
Additionally, make sure to get the seasonal mushroom pizza! This one makes the deal, even for those who are not fond of mushrooms. Truly amazing!
You may also build your own pizza and choose toppings you'd like — take the reins of control over your pizza fate!
The toasted four cheese ravioli with marinara, a delectable treat meant to be shared by all, is located outside the pizza menu. 
What to order: Toasted Four Cheese Ravioli with Marinara, Margherita, Seasonal Mushrooms, Build Your Own
Address: 3632 N Williams Ave, Portland, OR, United States
Website | Instagram | Facebook
There you go; that sums up our best pizzas in Portland. Craving for other delights? Head on over to our list of best Portland restaurants you gotta try!
How We Create Our "Best" Lists
All Noms Magazine's "best" lists are created using multiple factors and signals to help readers find the best restaurants, things to do, and places to stay at. Some of these factors and signs include personal experiences, correspondence with locals, and compiling experiences from review sites.
Each list is also created to be balanced (in terms of price, cuisine type, ambiance, and more) as possible. This means that the lists are not specifically created in ranking order. You should be comfortable picking from any of the spots on the list and generally have a good time. But of course, YMMV (your mileage may vary) and everyone may have different experiences/palates.