When in Canada, you've got to have poutine. After all…Cheese, gravy, and chips? It is a comfort food lover's dreams!
With poutine being Canada's national dish, you bet that you need to have it atleast once when you're in the country.
And when it comes to Vancouver, there are several spots to get the best ones. From the classics to the reinvented versions, you'll find all sorts of takes on the poutine wheel!
If you're looking for the top poutine spots in the city, you've come to the right place! Here are 9 best poutine spots in Vancouver you gotta try and what to order at each!
*Noms Members are part of our exclusive paid membership. Only food spots we personally recommend are accepted as members. 
1. La Belle Patate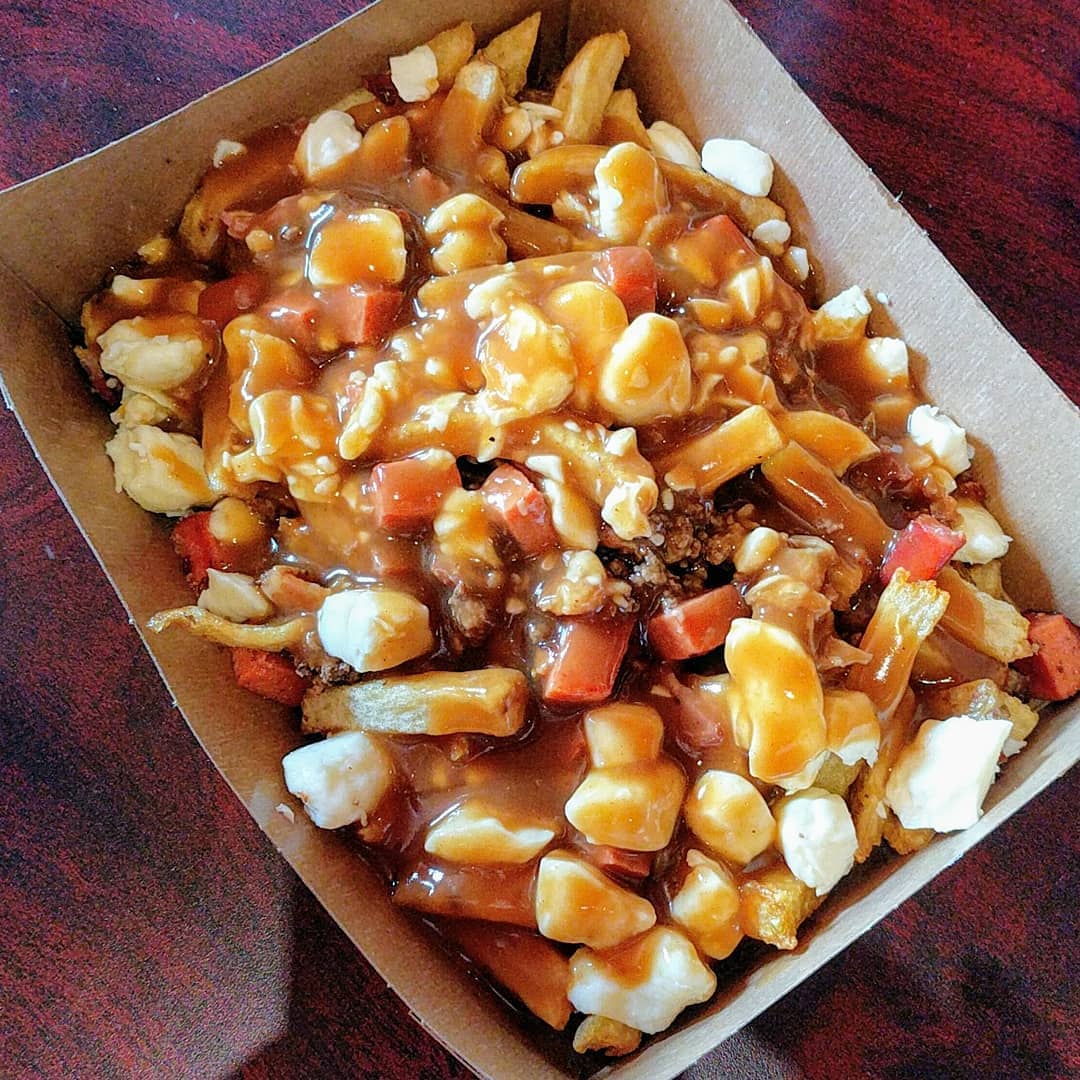 Established in 2009, La Belle Patate sits atop the poutine ladder in Vancouver. With over 38 varieties of this Quebecois delicacy, the restaurant is known for their interesting takes on the classic cheese, gravy, and fries trio.
Ask any local for the top poutine in town, and they'll vouch for La Belle—that's how reputable and renowned this joint is. They're widely famous not just in Vancouver, but in the rest of the North!
Poutines at this joint are meant to be shared with friends. Besides, you can't resist ordering more than one variety! And their sandwiches are as stellar as their poutine selections.
We absolutely love a lot of items from La Belle! But of course, nothing beats the classic, original Quebec-style poutine–-piping hot fries and fresh cheese curds deliciously embraced by savory gravy.
Their smoked meat, meat lover, and breakfast poutines are head-turners, as well! So, if you want some solid, community-loved poutines, head on over to La Belle!
Oh, and their smoked meat sandwich is amazing! You should definitely try it out, too!
What to order: Traditional Poutine, Smoked Meat Poutine, Meat Lover Poutine, Breakfast Poutine, Montreal Smoked Meat Sandwich
Address: 1215 Davie St, Vancouver, BC V6E 1N4, Canada
Website | Instagram | Facebook
2. Belgian Fries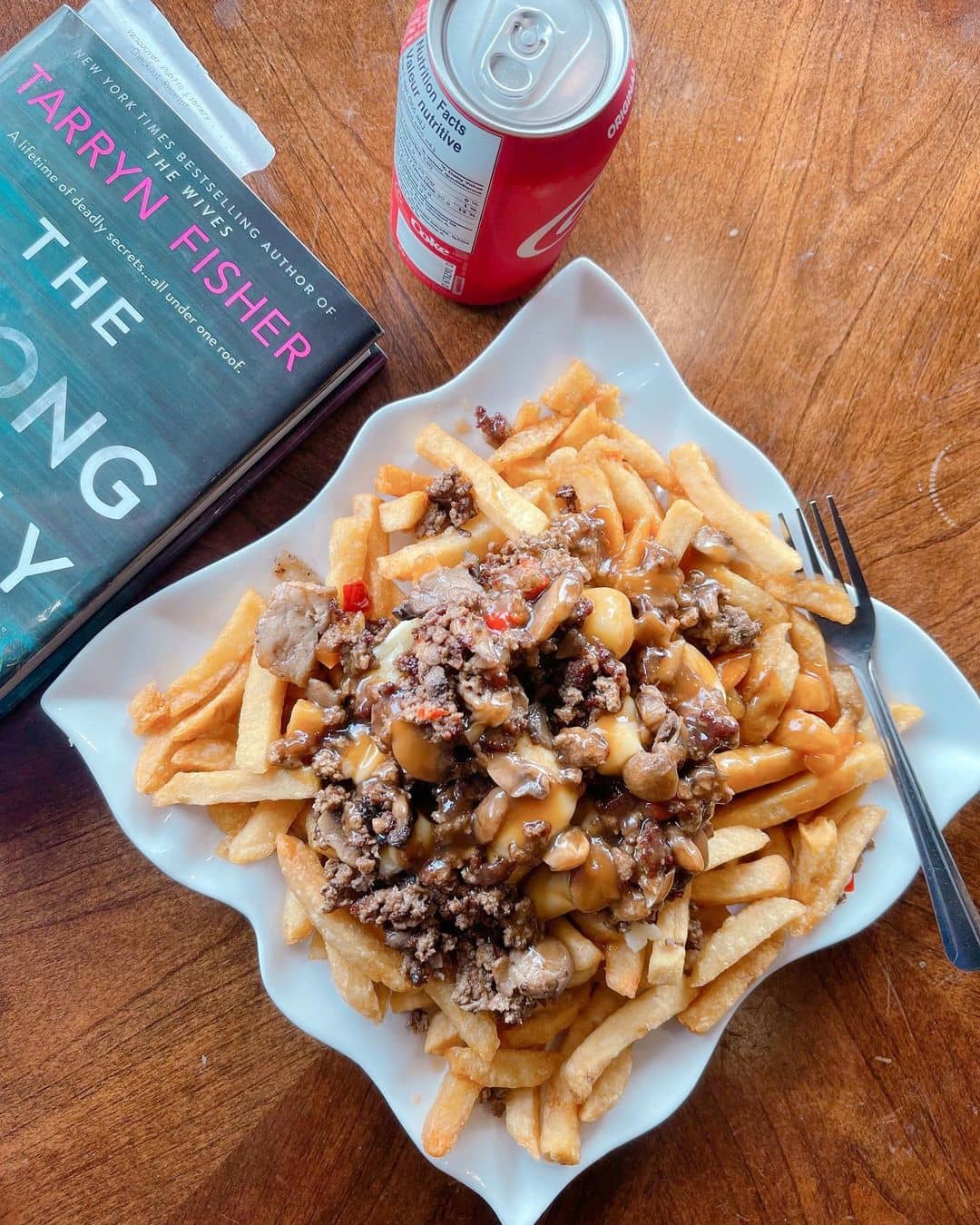 Belgian Fries has been serving nothing but the finest poutines for years! They offer both classic and specialty poutines that highlight the trifecta of crispy fries, squeaky cheese curds, and vegetarian gravy!
Their poutines are best enjoyed by the outdoor seating—you can marvel at the bustling Commercial Drive scene while indulging in the goodness of the food and the cozy vibes.
All poutines at Belgian Fries are fantastic! But we've fallen in love with their divine, butter chicken, and beef brisket!
The aptly named divine poutine is tender, roasted pulled pork sitting prettily and deliciously atop a hot and steamy classic poutine—perfect for the purists who love to try something meaty!
The butter chicken poutine hits home! The butter perfectly fits in this gravy-less poutine equation. Lastly, their beef brisket offers a melt-in-your-mouth sirloin beef topping, expertly cooked to perfection.
What to order: Butter Chicken Poutine, Beef Brisket Poutine, Divine Poutine
Address: 1885 Commercial Dr, Vancouver, BC V5N 4A6, Canada
Website | Instagram | Facebook
3. Fritz European Fry House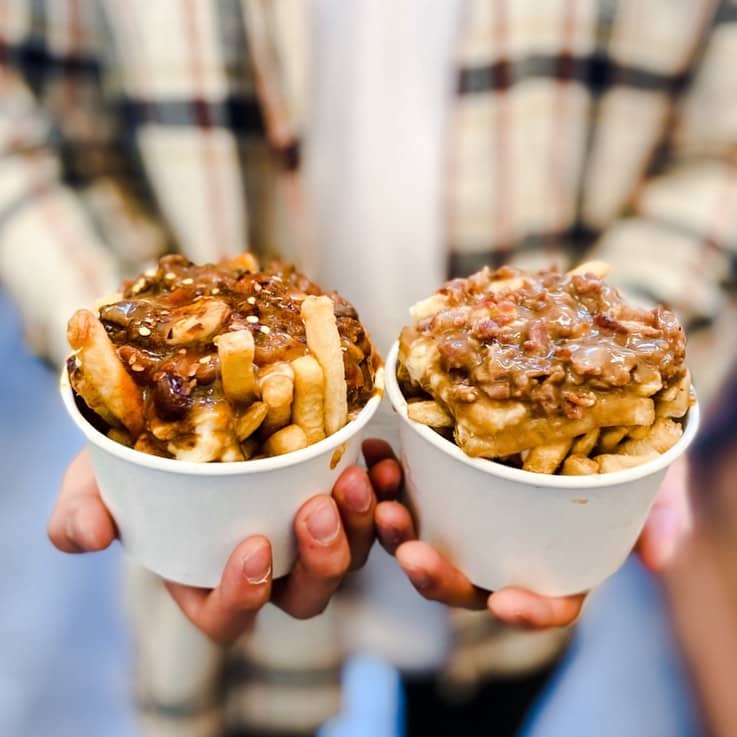 Fritz is another restaurant offering amazeballs poutines in downtown Vancouver, particularly if it's 2AM and you're looking for something to recover from the booze.
Affordable food, amazing taste, and large proportions — that's how we sum up poutines at this small Yaletown diner. They offer a wide array of poutines served with crispy fries and the perfect gravy to cheese ratio!
But what's really unforgettable at Fritz—besides their drool-worthy poutines in a bucket—is you get to see the dish being prepared right in front of your very eyes! Their dips are noteworthy, too!
So, you should definitely try their pulled pork, Montreal smoked meat, and bacon crumble poutines! Pro tip: dip them in their chipotle aioli or curry chutney sauces, and thank us later!
For our vegan friends, Fritz offers a vegan option for their cheese and gravy. So, try their classic poutine and prepare to be mind blown!
What to order: Pulled Pork Poutine, Montreal Smoked Meat, Bacon Crumble Poutine, Classic Poutine
Address: 718 Davie St, Vancouver, BC V6Z 1B6, Canada
4. Mean Poutine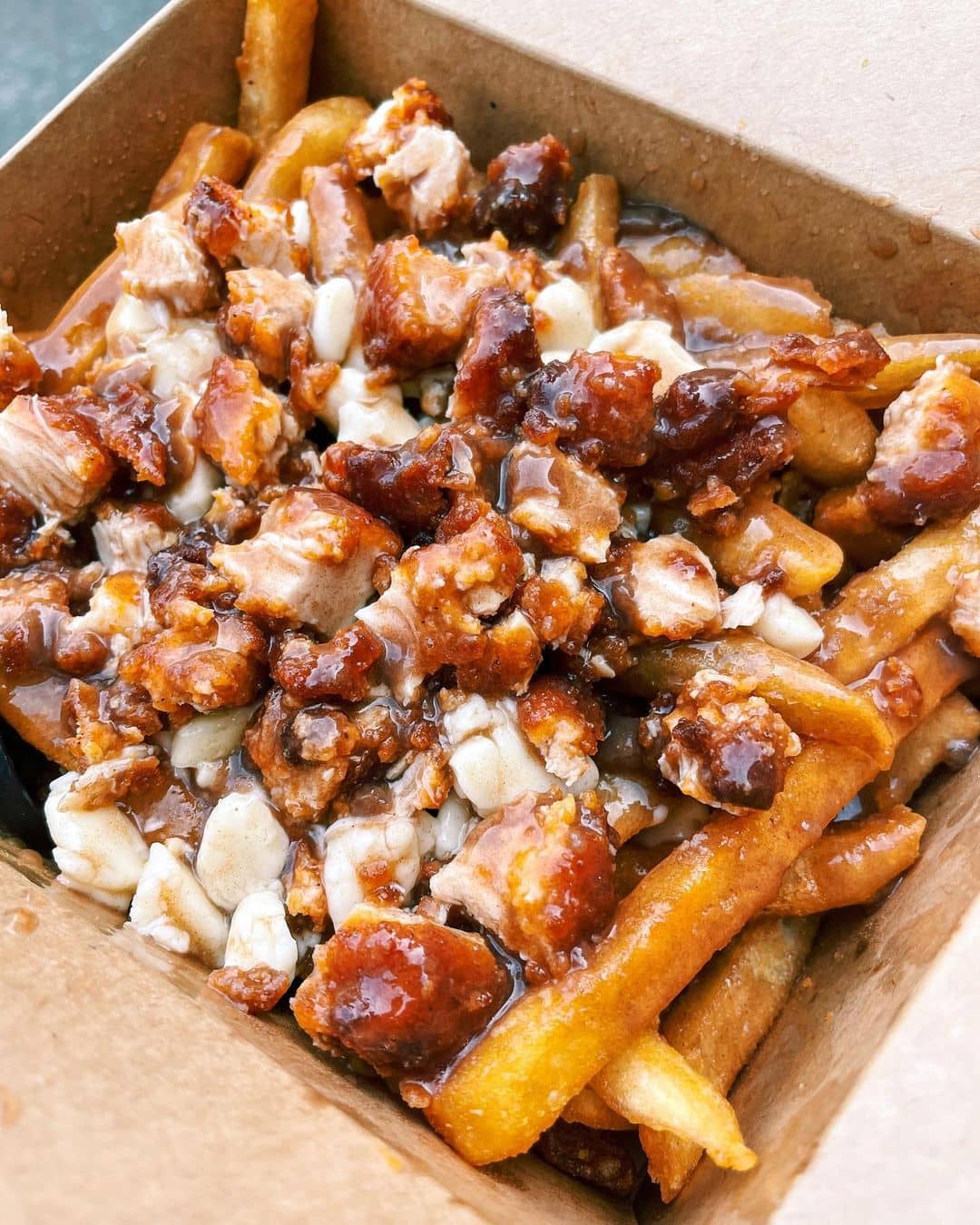 At the heart of Granville lies Mean Poutine, specializing in infusing Quebecois cuisine with west coast flair. The brainchild of two football players has become a must-go spot for hungry visitors wanting to satisfy their poutine fix!
Their location is easily accessible, perfect spot if you're looking for something to grab a poutine from and continue your adventures in the city. The joint is also famous for their friendly service—always serving you with warm smiles!
Their poutines and hotdogs are far from mean at all. Try their Chicago dog, chili and southern BBQ poutines, you'll know what we're talking about. Don't forget the peanut sauce!
If you want something lighter, go for their mean and green, a meatless variety but tastes just as good! But if you want to challenge your poutine prowess, you can build your own mix of toppings!
What to order: Chili Poutine, Southern BBQ, Mean and Green,
Address: 718 Nelson S, Vancouver, BC V6Z 1L2, Canada
Website | Instagram | Facebook
5. The Templeton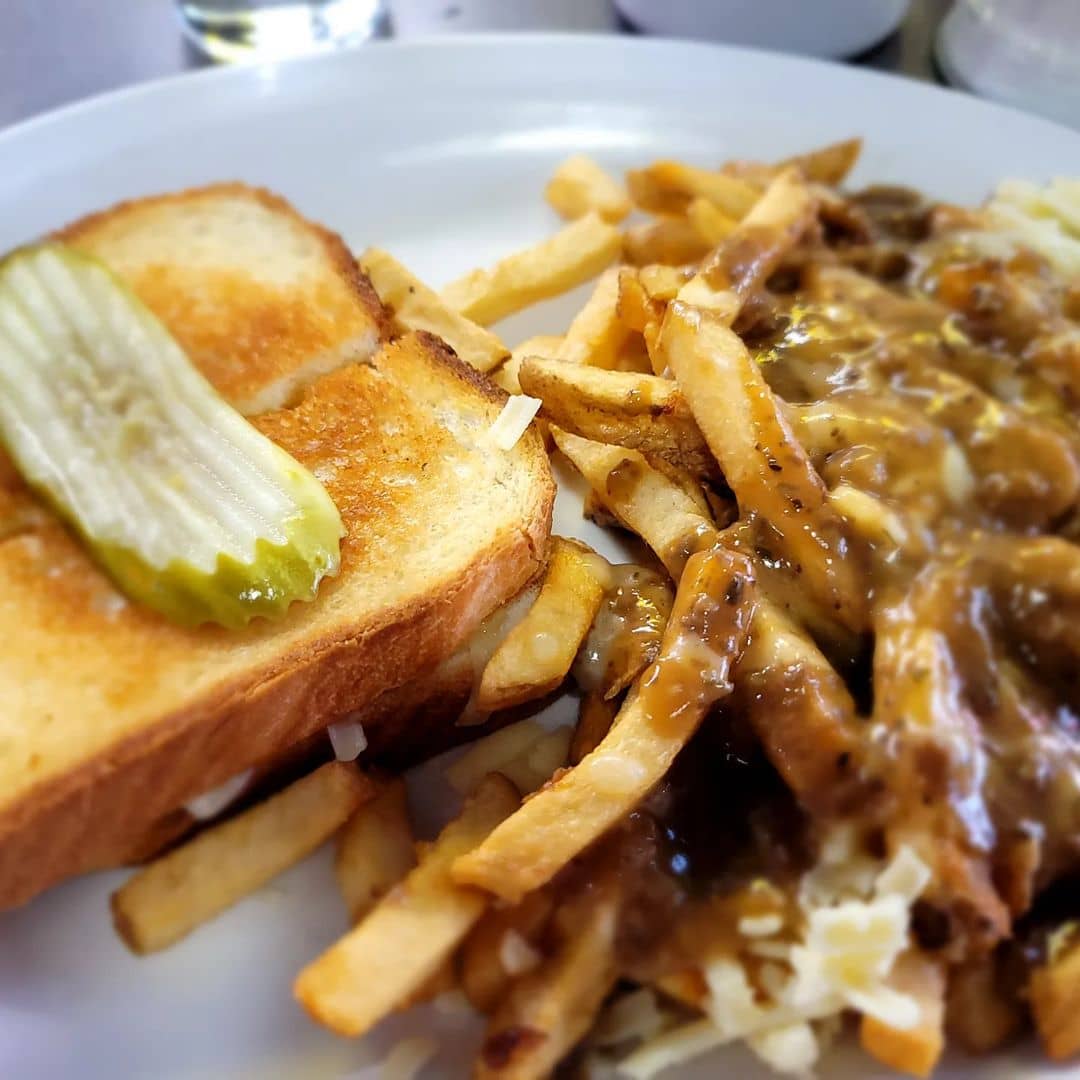 Vancouver OGs have known The Templeton since the 90's as THE breakfast spot in Downtown Vancouver. Dining at the restaurant means you are sitting in a puzzle piece of history! Wow.
Locals may have been used to seeing the little spot, but they're never bored of The Templeton's vast range of offerings! From gourmet burgers and hearty breakfast to delicious sandwiches and cheesy poutines, you can enjoy them all here while appreciating the retro classic feels.
If you're planning to stop by on the weekends, expect a queue of visitors and patrons. But trust us, it's worth the wait!
Since you have the widest options here, you can definitely explore their menu outside the classic and pulled pork poutines, which are both amazing and flavorful, btw.
With that said, their pulled pork pancakes and "big ass" breakfast is the way to go!
What to order: Classic Poutine, Pulled Pork Poutine, Pulled Pork Pancakes, Big Ass Breakfast
Address: 1087 Granville St, Vancouver, BC V6Z 1L4, Canada
Website | Instagram | Facebook
6. MeeT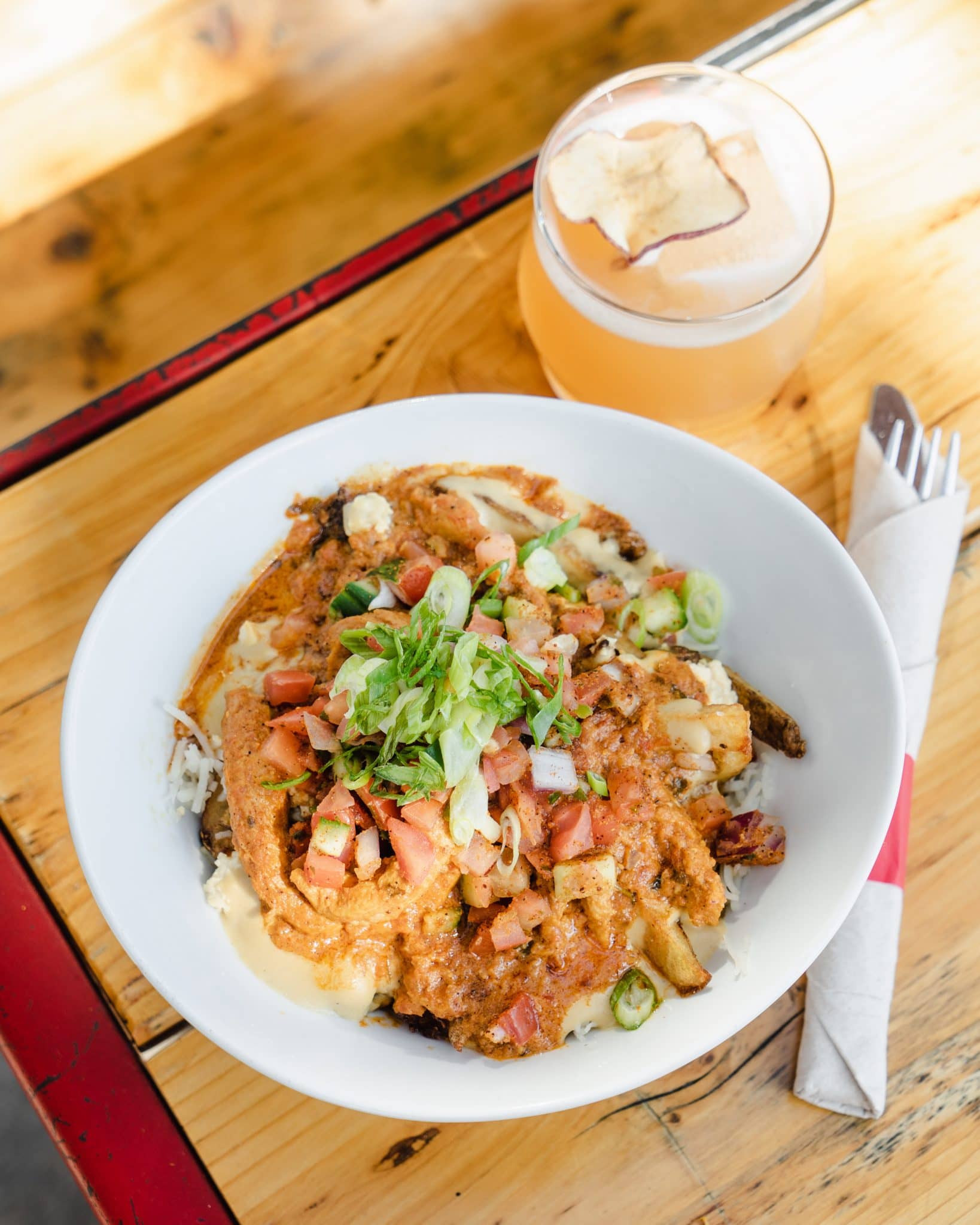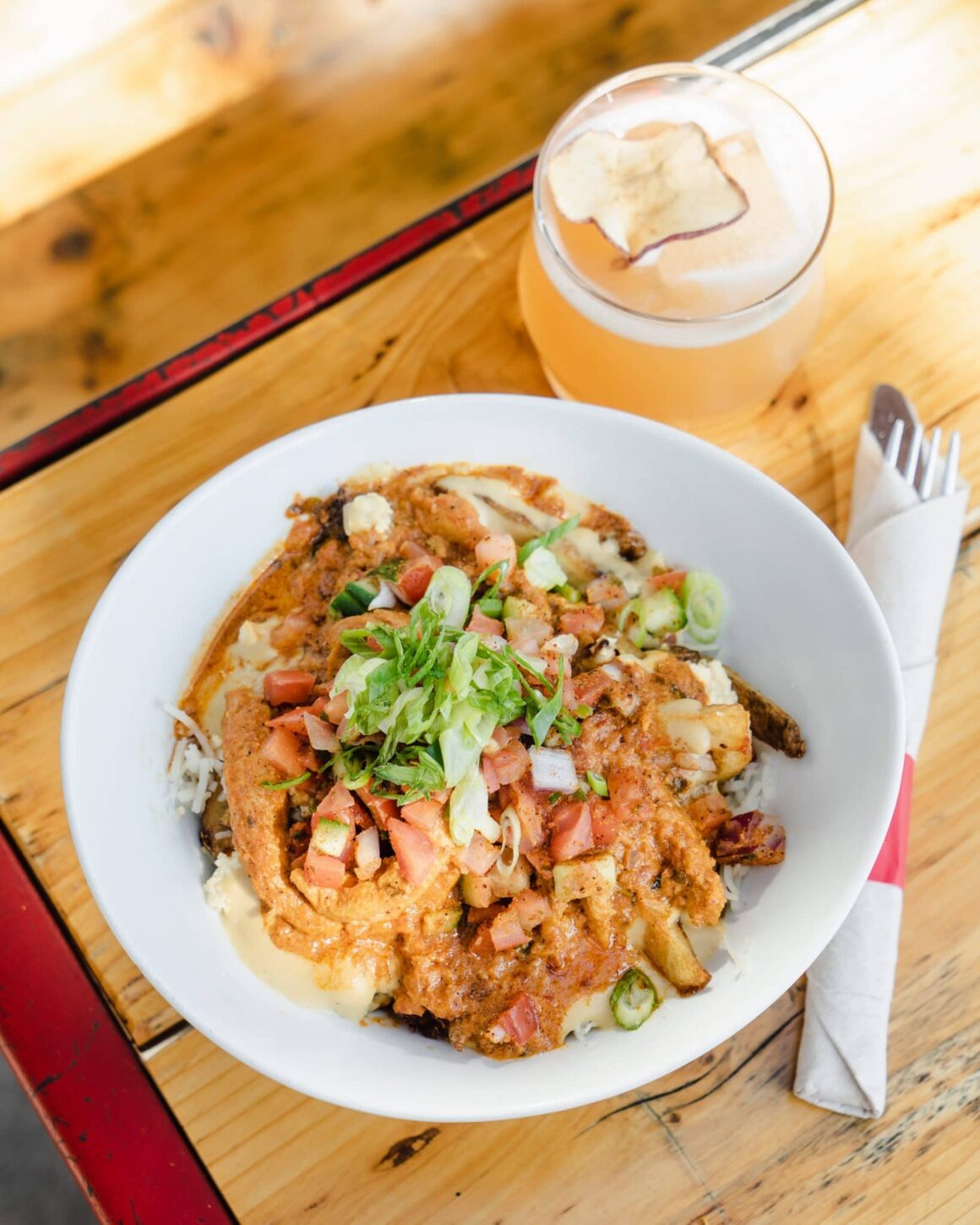 MeeT is arguably one of the most remarkable Vancouver restaurants offering innovative comfort vegetarian food that can be enjoyed by everyone! You can rarely spot them empty—they're always jam-packed with visitors wanting to take a bite of their healthy choices.
They stay true to their word of serving unrivaled comfort food. Proof of that is their consistent quality, be it dine-in, take-outs, or deliveries. Kudos!
MeeT's butter chikkin poutine is a decadent bliss of the richness of tomato curry and gravy, and the goodness of mozza and their special curried salsa. You thought you'd tasted all the mac and cheese, but wait until you try MeeT's. You'll be blown away by its awesomeness!
Their mucho gusto burger boasts the flavorful black bean patty topped with the perfect combination of ingredients embraced by gluten-free buns.
What to order: Butter Chikkin Poutine, Mac N Cheez Bowl, Mucho Gusto Burger
Addresses:
-MeeT in Main: 4288 Main St, Vancouver, BC V5V 3P9, Canada
-MeeT in Gastown: inner Courtyard, 12 Water St, Vancouver, BC V6B 4K7, Canada
-MeeT in Yaletown: 1165 Mainland St, Vancouver, BC V6B 5P2, Canada
Website | Instagram | Facebook
7. The Flying Pig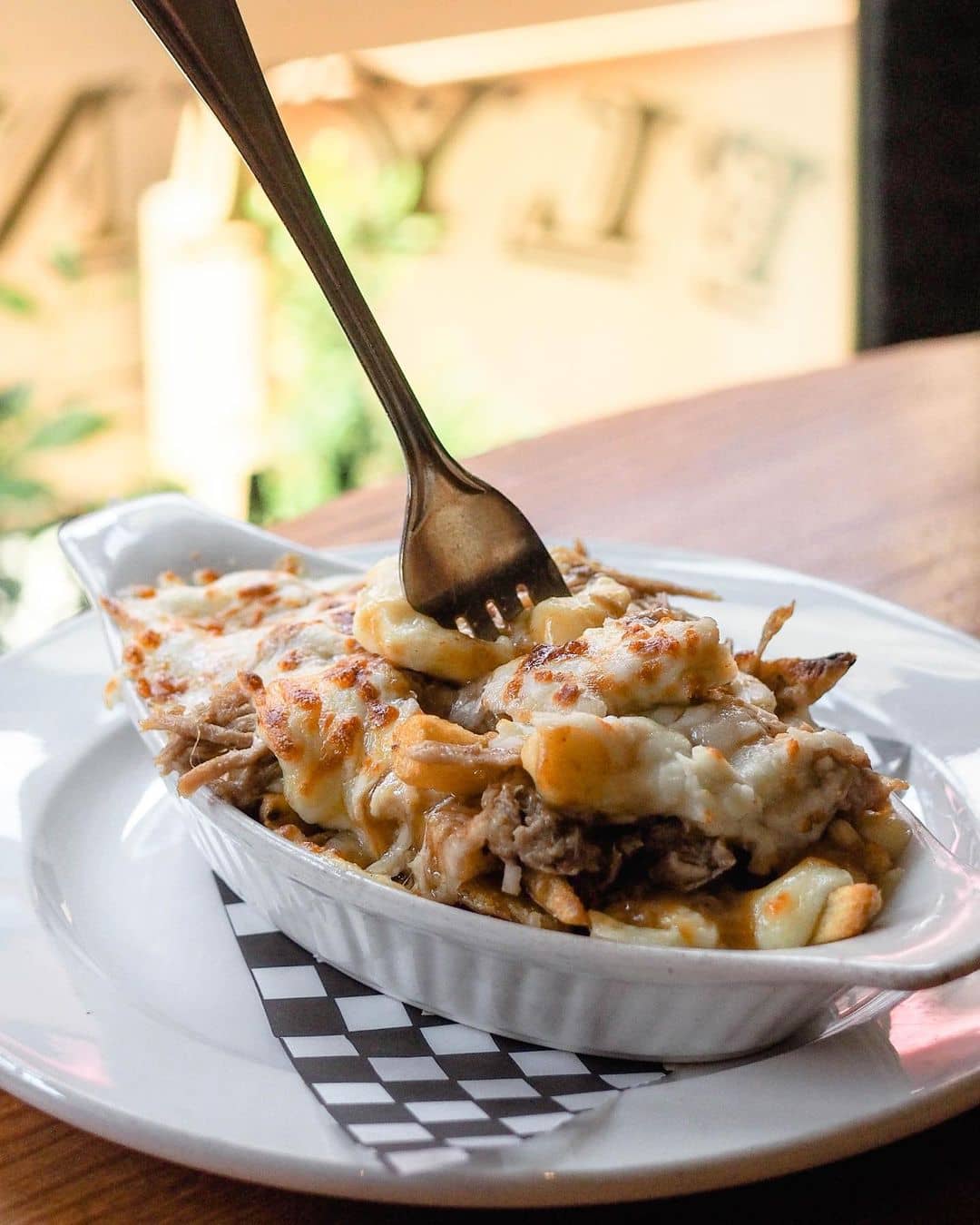 The Flying Pig is your best bet if you're looking for a restaurant offering great Canadian fare. Their menu is masterfully crafted featuring locally sourced ingredients to ensure the highest quality of food.
They're famous for their extensive selection of brunch, dinner, and lunch delicacies, expertly prepared with satisfying all kinds of palates in mind. The Flying Pig is known for a lot of good things—eye-candy presentations, neat interior designs, and a fancy heated patio—but their flavoursome dishes carves a mark on whoever tries them!
You can literally order anything from them and you'll be satisfied, particularly if you order their famous side dishes: pulled pork poutine, bone marrow bread, and brussel sprout. No lies there!
But you should surrender yourself to their crab and shrimp croquettes and braised beef short rib for a scrumptious dinner!
What to order: Crispy Brussel Sprout, Crab & Shrimp Croquettes, Andrew's Pulled Pork Poutine, Bone Marrow Cheezy Bread, Red Wine Braised Beef Short Rib
Addresses:
-1168 Hamilton St, Vancouver, BC, Canada
-127 W 2nd Ave, Vancouver, BC V5Y 1B8, Canada
Website | Instagram | Facebook
8. Steamworks Brewpub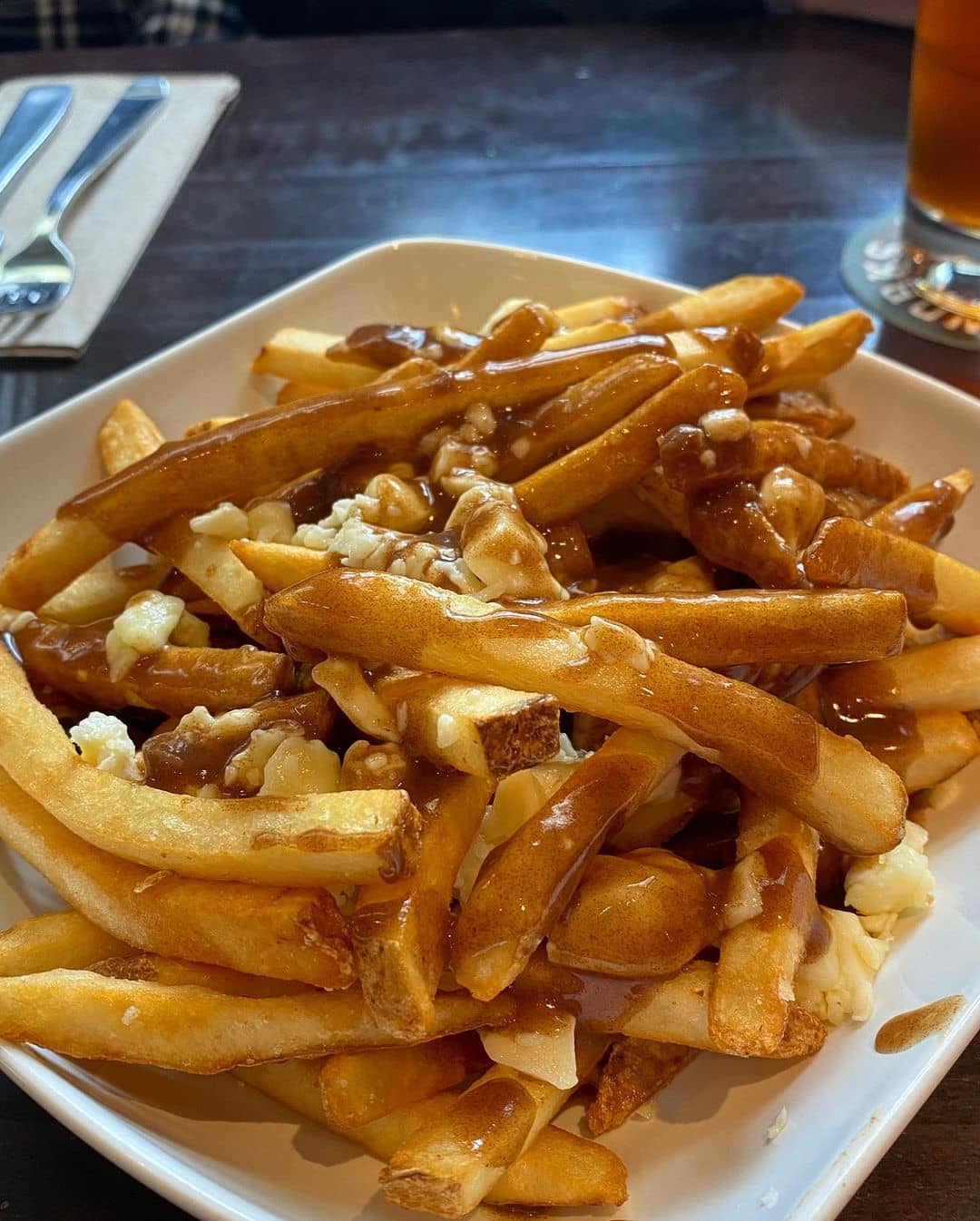 A Gastown royalty serving tasty beers and exceptional dishes, Steamworks Brewpub is an ideal option standing on par with the must-try poutineries you'll find! On the outside, you'd think they're a one-storey restaurant; but wait until you see their downstairs pub and be surprised at how spacious the place is!
Besides their superb poutine and local beers, don't miss out on Steamworks' HUGE pretzels, Hawaiian pizza, and risotto! They're some of the delicious reasons people keep on coming back!
What to order: Poutine, Cajun Salmon & Risotto, Hawaiian Pizza, Oktoberfest Pretzel
Address: 375 Water St, Vancouver, BC V6B 1B8, Canada
Website | Instagram | Facebook
9. Fable Diner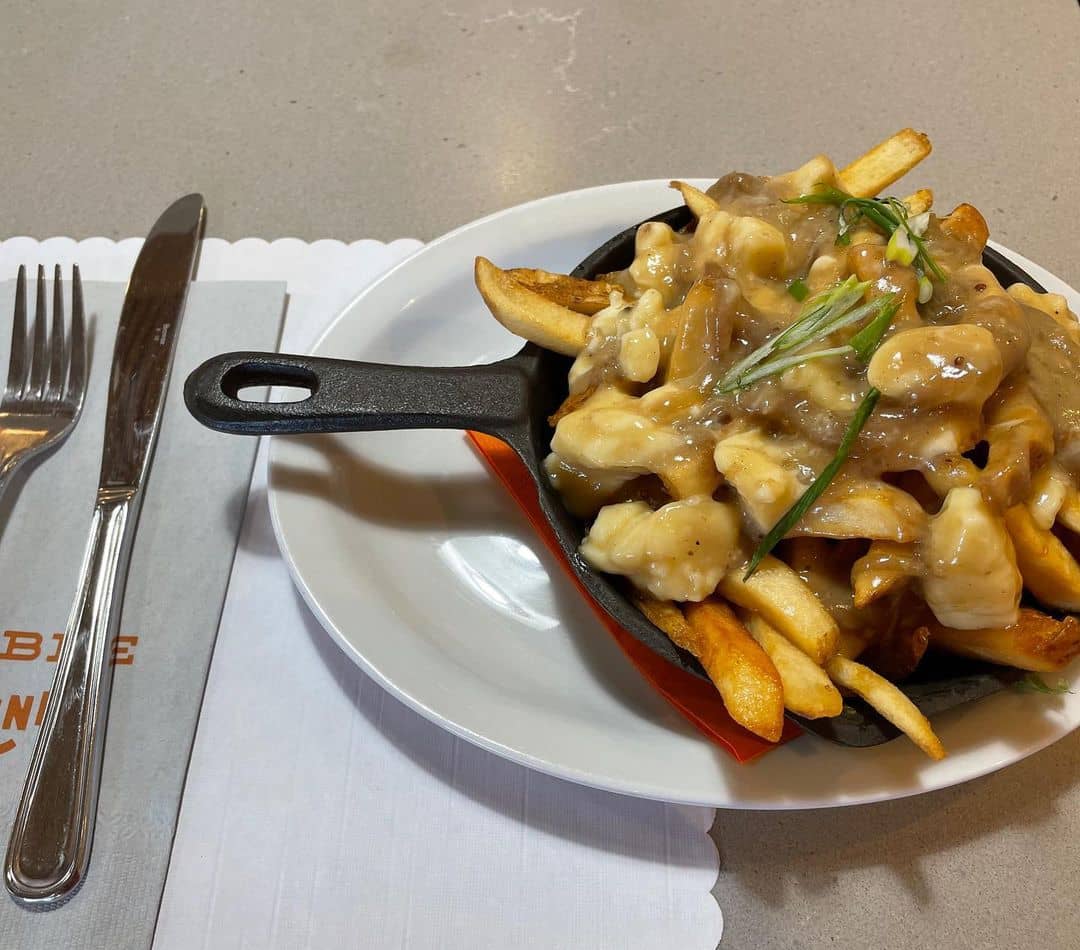 If you're like us who would go bonkers over poutines, then Fable Diner is one of your best options. But that's not only what you can expect from them!
Inside is an elegantly designed wooden interior showcasing the beautiful hues of earth tone colors! The bar boasts an all-white tile perfectly complemented by the dark-colored stools. Picturesque and Instagrammable all over—we might say!
They have a stellar all-day menu featuring breakfast and brunch, soups, salads, burgers, and more. They're even featured in one of Food Network's food documentation for their flavorful selections! Talk about being industry-renowned AND community-supported.
Start your day with a smile with Fable's roast duck pancake, rosti, and poutine; and seal your Fable deal with a fancy or a classic milkshake! You can choose between mocha dalgona or vanilla caramel dalgona. We're already drooling just by thinking!
What to order: Poutine, Roast Duck Pancake, Rosti, Milkshake
Address: 151 Broadway East, Vancouver, BC V5T 1W1, Canada
Website | Instagram | Facebook
And that wraps our list of the best poutine in Vancouver that will make your day better! The city is home to myriads of specialties, so you might want to check out our list of the best restaurants in Vancouver for more choices!
The following two tabs change content below.
Latest posts by Noms Magazine (see all)