Looking for the best restaurants in Hell's Kitchen? Well you're in the right place!
This iconic Manhattan neighborhood has earned its reputation as a dining destination.
From delectable comfort food to awe-inspiring creations, here's a curated list of the best restaurants in Hell's Kitchen that you absolutely must try!
1. Il Melograno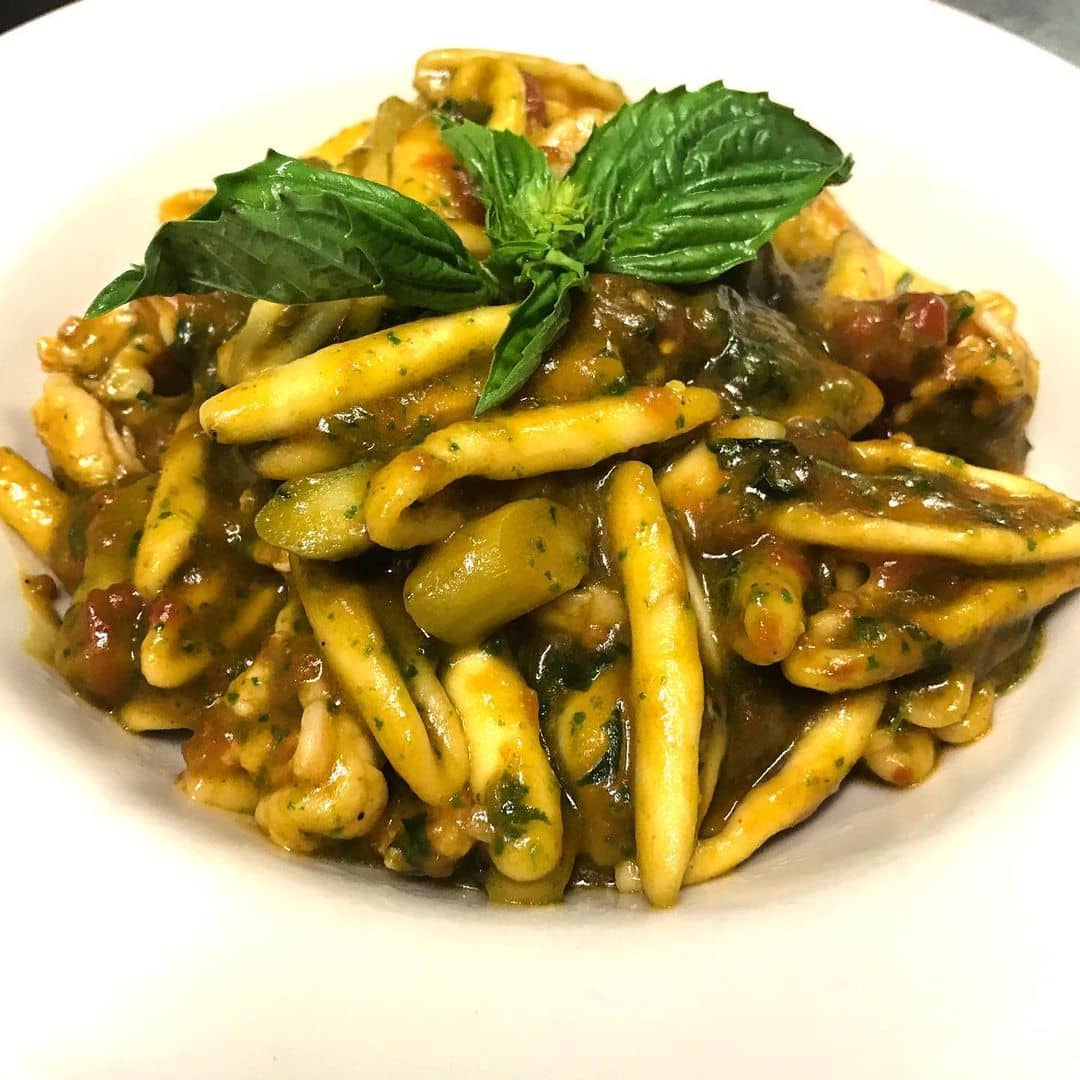 Il Melograno is a hidden gem in Hell's Kitchen, offering an authentic Italian dining experience. The restaurant is loved for its cozy atmosphere, complete with rustic wooden tables and soft lighting.
The menu is a blend of traditional and modern Italian dishes, with a focus on fresh ingredients and bold flavors.
A dish that transports you straight to the heart of Italy, Il Melograno's Pappardelle al Ragout di Salsiccia is a pasta lover's dream. The homemade pappardelle, with its comforting thickness, provides the perfect canvas for the sweet and spicy Italian sausage ragu.
As you twirl the pasta around your fork, the fragrant fennel seeds in the sauce release their aromatic charm.
For those who prefer the ocean's treasures, the Filetto di Salmone is an impeccable choice. The crispy skin salmon filet, cooked to perfection, arrives at your table with a mouthwatering butter-lemon sauce that glistens like liquid gold.
Paired with a velvety cauliflower purée and the earthy embrace of grilled asparagus, every bite is like a much-needed nature trip.
What to order: Pappardelle al Ragout di Salsiccia, Filetto di Salmone, Parmigiana Siciliana
Address: ​501 W 51st St, New York, NY 10019
Website | Instagram | Facebook
2. Añejo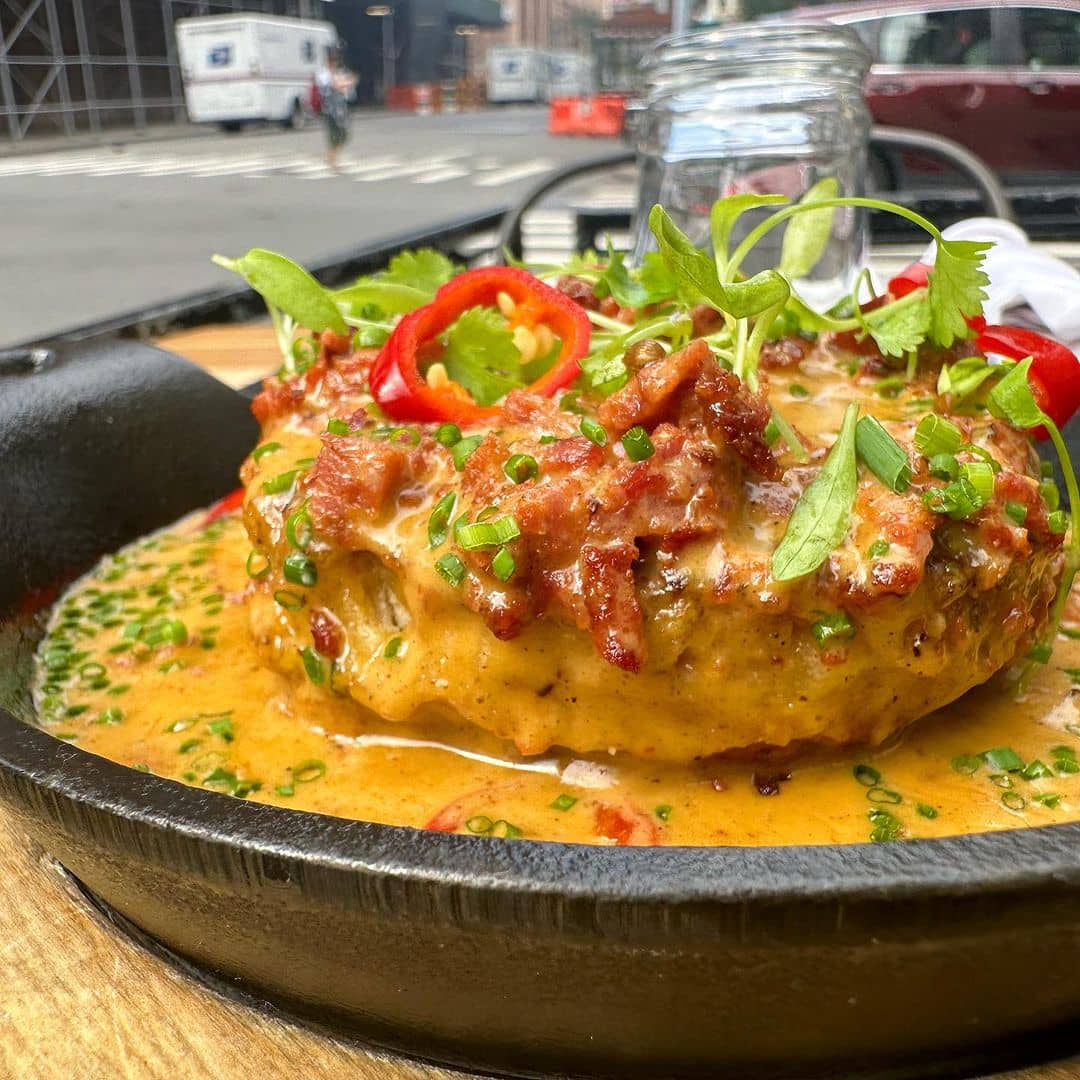 Añejo brings the vibrant flavors of Mexico to Hell's Kitchen. The restaurant is known for its extensive tequila selection and inventive Mexican cuisine.
The ambiance is lively, featuring colorful murals and a bustling open kitchen. While the food is not the sole focus, the tapas-style small plates are perfect for sharing and offer a variety of flavors.
Start your meal with the Guacamole & Salsa Combo. The traditional guacamole boasts the creamy richness of perfectly ripe avocados, elevated by the brightness of lime and the earthy depth of cilantro.
Paired with the Salsa Cuatro, a quartet of vibrant salsas that range from mild to fiery, the combo is a delightful exploration of Mexican flavors. Each dip of the spiced chips is a taste of Mexico's diverse culinary landscape.
For those craving bold and unforgettable flavors, the Añejo's Pork Belly Tostadas are a must-try. Featuring caramelized Niman Ranch Pork Belly, these tostadas are a harmonious blend of sweet and savory.
The pork belly's tenderness is complemented by the guacamole and the coolness of cilantro crema.
With each bite, you are taken through a tour on Mexico's culinary heritage, where flavors meld and taste lingers long after the last morsel is savored.
What to order: Guacamole & Salsa Combo, Pork Belly Tostadas
Address: 668 10th Ave, New York, NY 10036
Website | Instagram | Facebook
3. SESAMO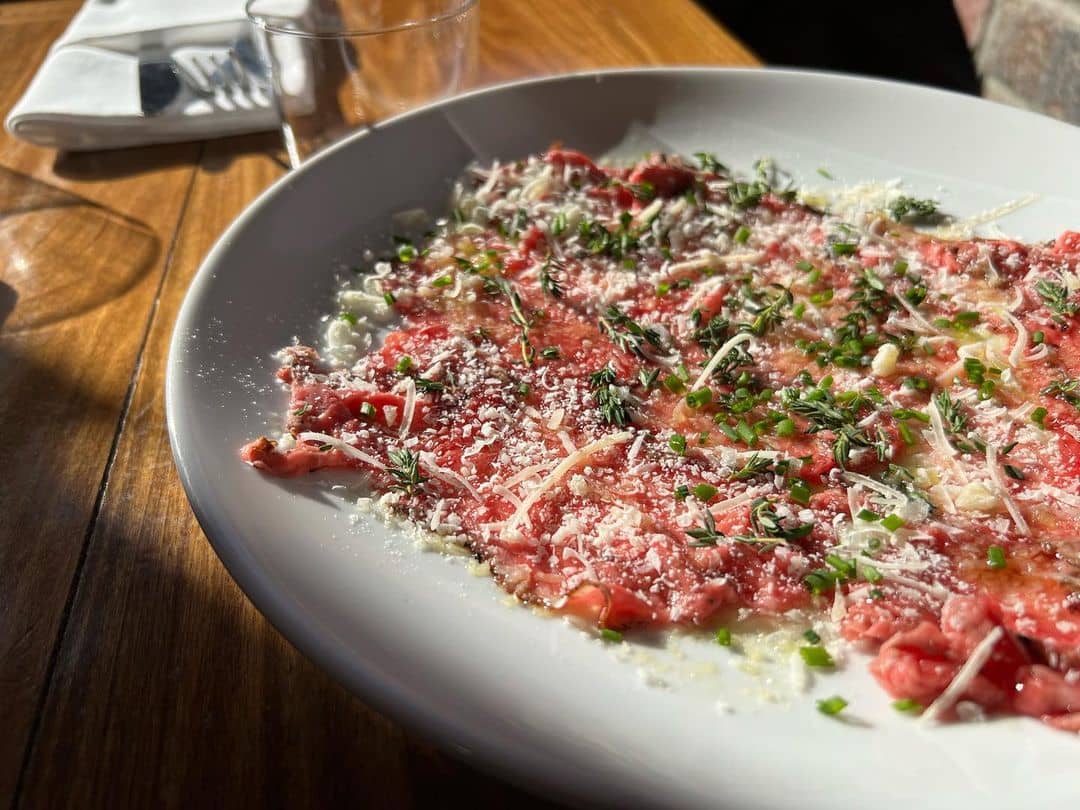 SESAMO offers a unique blend of Italian and Asian cuisines in the heart of Hell's Kitchen. The restaurant's ambiance is a mix of casual and chic, making it a versatile dining option.
The Italian-Asian fusion dishes are the highlight, offering a unique culinary experience you can't find anywhere else.
SESAMO's prowess shines brilliantly through their Coconut Miso Salmon. The perfectly seared salmon, tender and flaky, rests atop a bed of black rice, creating a visual masterpiece that's as appetizing as it is exquisite.
But it's the coconut miso sauce that steals the show, infusing the dish with a hint of tropical sweetness and a heavenly umami depth.
Their Truffle Mushroom Lasagna transcends expectations with its delicious blend of flavors and textures. Layers of fresh pasta are lovingly intertwined with truffle-infused wild mushrooms and vegan mozzarella, creating a lasagna that's both comforting and luxurious.
The velvety truffle and the earthy essence of the mushrooms are perfectly complemented by the fresh tomato sauce.
What to order: Coconut Miso Salmon, Truffle Mushroom Lasagna, Japanese Eggplant
Address: 764 10th Ave, New York, NY 10019
Website | Instagram | Facebook
4. Kochi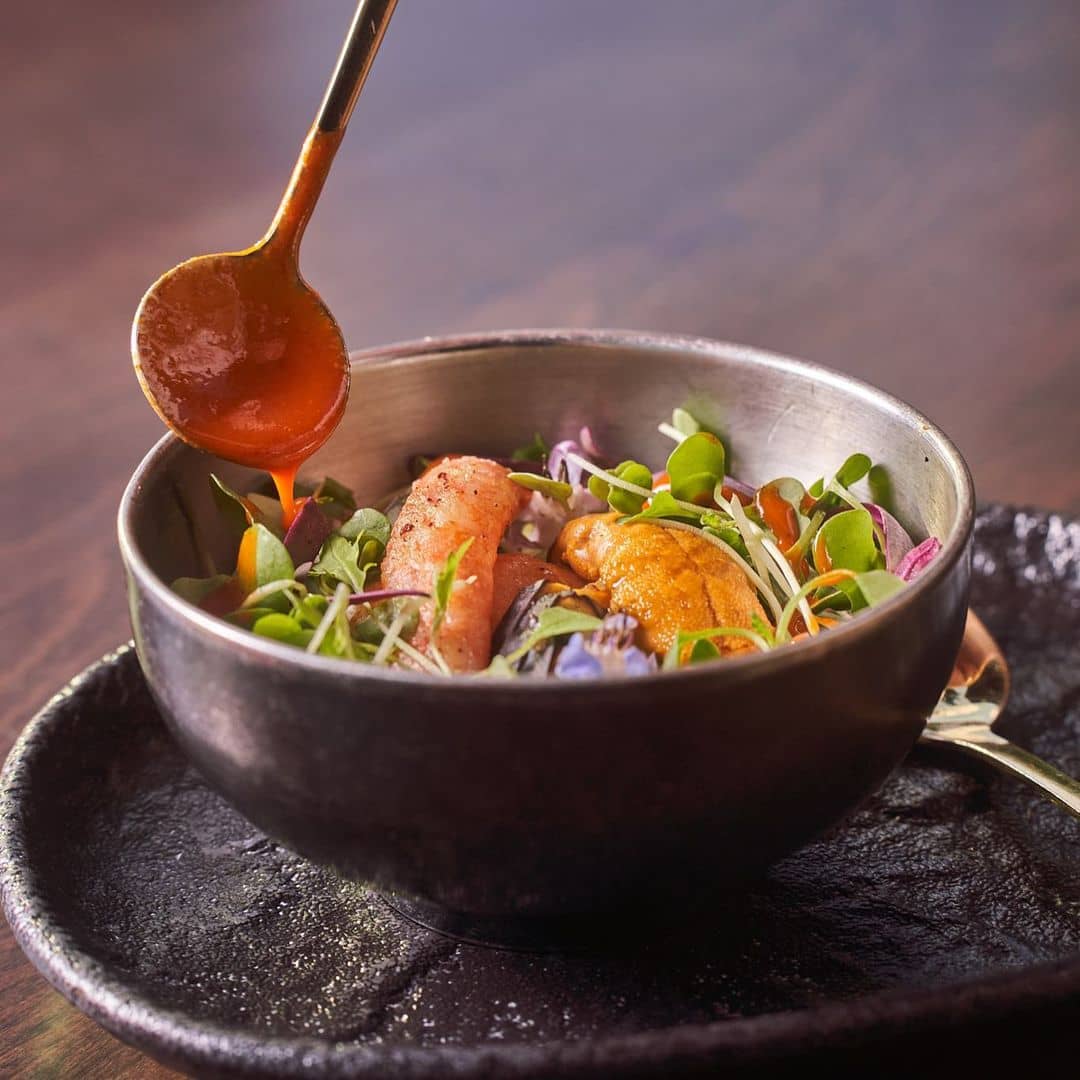 Kochi offers a unique dining experience that focuses on Korean skewers inspired by the royal cuisine of the Joseon Dynasty.
The restaurant has a modern, minimalist design that complements its innovative menu. Kochi NYC seamlessly blends traditional Korean flavors with contemporary flair to make sure you'll be loving every bite.
Craving for some deliciously juicy Korean chicken? Kochi NYC's Chicken dish features Pennsylvania Golden Chicken that practically melts in your mouth.
It's paired with sweet potatoes and heirloom carrots, and Soy Jus— a savory, umami-rich sauce that ties everything together. Trust us, you won't regret getting this one!
Another showstopper, their Snow Crab Bibimbap comes with soy-marinated snow crab, offering a delectable contrast of sweet and briny notes. It's complemented by seasonal sprouts, adding a fresh and crisp element.
The candied anchovy introduces a hint of sweetness, while the charred avocado provides a creamy, smoky richness. All of this is presented atop seaweed rice, the perfect base for this culinary work of art.
What to order: Chicken, Snow Crab Bibimbap
Address: 652 10th Ave, New York, NY 10036
5. Pure Thai Cookhouse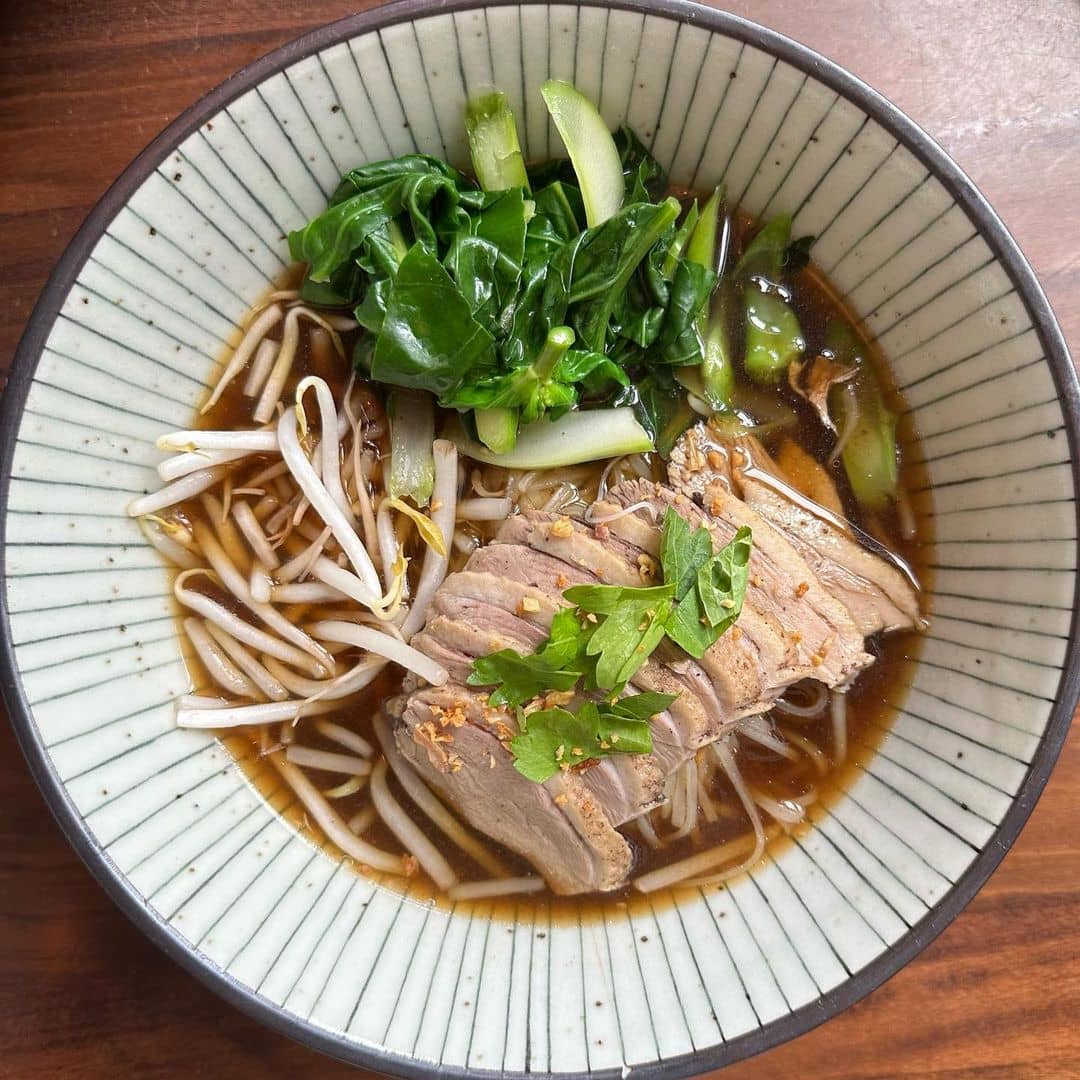 Looking to satisfy your Thai food cravings? Pure Thai Cookhouse is a must-visit for Thai food enthusiasts!
This Hell's Kitchen restaurant is renowned for its authentic Thai dishes, prepared using traditional cooking techniques. The ambiance is casual yet inviting, with wooden furnishings and Thai decor adding to the experience.
A true masterpiece of Thai gastronomy, Pure Thai Cookhouse's Pad Thai with Shrimp will take you on a journey through the streets of Thailand. The rice noodles, delicate and slightly chewy, form the perfect canvas.
As you take your first bite, you're greeted with the crunch of dried shrimp, the creaminess of egg, and the freshness of bean sprouts. The tamarind sauce steals the spotlight, infusing every component with sweet, sour, and savory notes.
Pure Thai Cookhouse's Wok Curry Paste with Pork pays homage to the bold and fiery flavors of Thai cuisine. This dish is an adventure for the palate, where tender pork mingles with vibrant ingredients.
The string beans add a delightful crunch, Thai eggplant imparts a rich, earthy note, and bamboo shoots provide a subtle sweetness. But it's the green peppercorns and basil that make this dish truly extraordinary, infusing it with a burst of herbal and spicy complexity.
The kaffir lime curry sauce ties everything together, creating a dish that's both comforting and exhilarating, much like the bustling streets of Thailand.
What to order: Pad Thai with Shrimp, Wok Curry Paste with Pork
Address: 766 9th Ave, New York, NY 10019
Website | Instagram | Facebook
6. Bocca di Bacco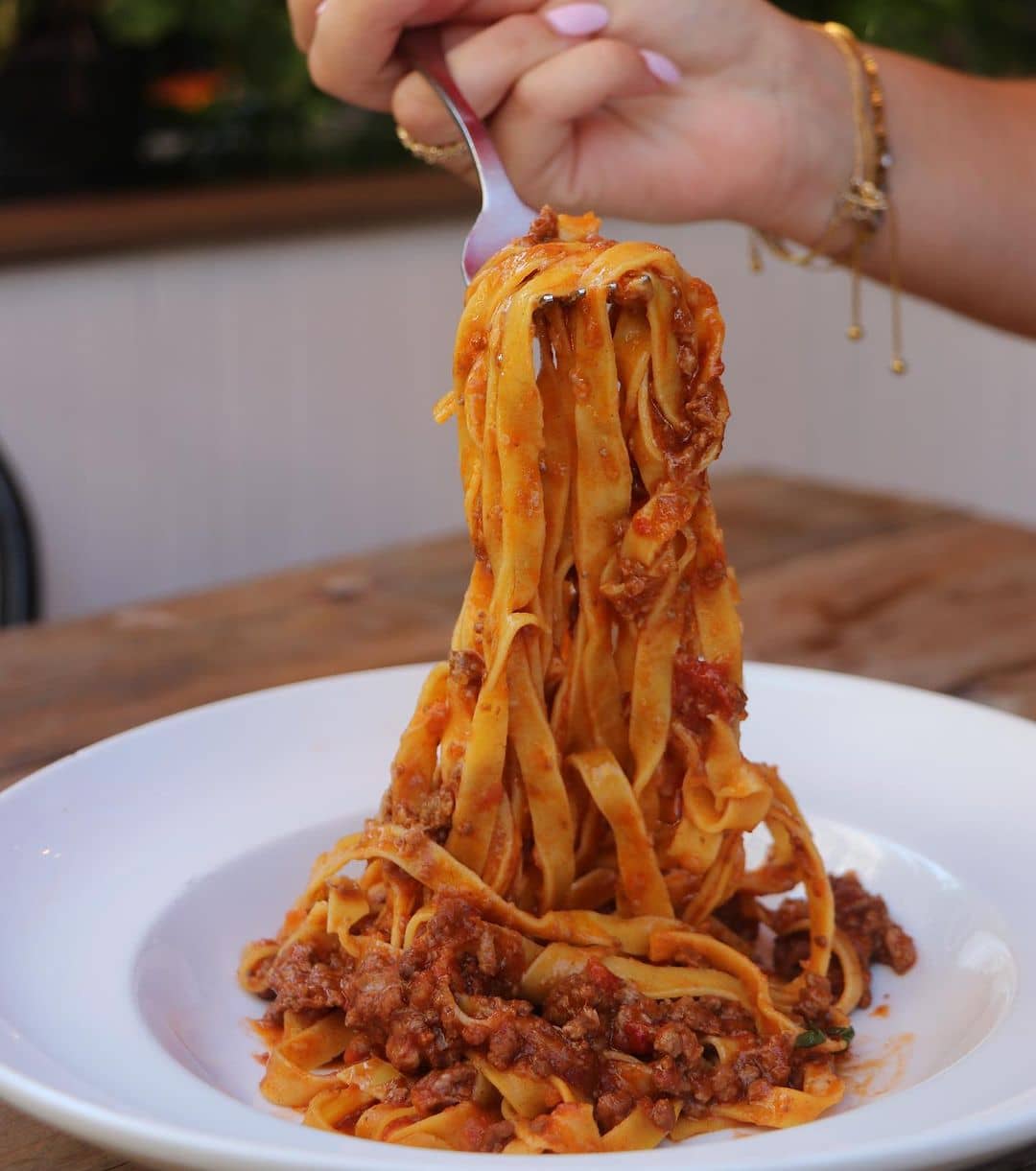 Bringing a touch of elegance to Hell's Kitchen, Bocca di Bacco is one of the best Italian restaurants in town.
This spot is known for its extensive wine list and classic Italian dishes. The romantic ambiance makes it a perfect spot for date nights.
In the world of Italian gastronomy, less is more, and Bocca di Bacco's Spaghetti Pomodoro is the perfect embodiment of this philosophy. This seemingly straightforward dish transforms into a flavor explosion on the palate.
The San Marzano tomatoes, celebrated for their rich sweetness and low acidity, are masterfully combined to create a sauce that's both vibrant and comforting.
When this elixir of tomatoes coats the perfectly cooked spaghetti, magic happens.
Bocca di Bacco's Ahi Tuna Tartare is a testament to their commitment to elevating traditional Italian fare with a dash of innovation.
This dish marries the freshness of Ahi tuna with the creaminess of avocado. The chipotle mayo adds a hint of smokiness and a gentle kick of heat, while the fresh potato provides a crunch that contrasts with the silky tuna.
What to order: Spaghetti Pomodoro, Ahi Tuna Tartare
Address: 836 9th Ave, New York, NY 10019
Website | Instagram | Facebook
7. The Marshal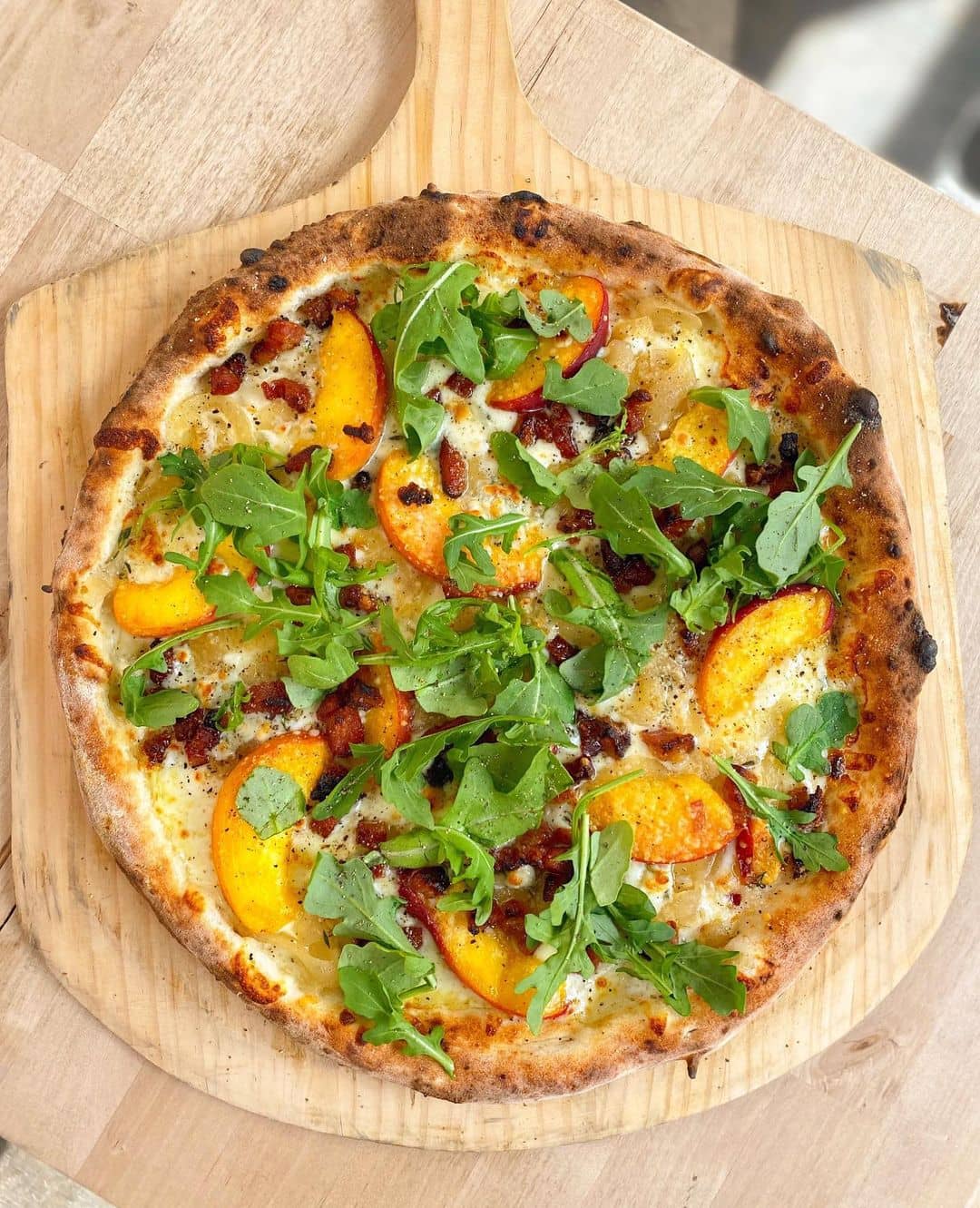 The Marshal is a farm-to-table restaurant that focuses on sustainability and locally sourced ingredients.
The restaurant has a rustic charm, with wooden tables and vintage decor. Their menu is American with a focus on fresh, organic ingredients.
The Marshal's Wood Oven Roasted Chicken Wings are not just wings; they're a living testament to the art of flavor!
Local chicken, carefully selected for its quality and ethical sourcing, is roasted to perfection in a wood oven. The chili maple glaze truly sets these wings apart.
It's a dance of sweet and spicy on your taste buds, a union that elevates the humble wing to a gourmet experience. As if that weren't enough, a side of homemade ranch dipping sauce adds a cool, creamy contrast that keeps you coming back for more.
When you're seeking comfort food, The Marshal's Famous Wood Fired Meatloaf is your best bet. Crafted with Hudson Valley beef, this dish is a proof of their commitment to supporting local farmers.
The meatloaf is generously stuffed with kale, root vegetables, fresh herbs, and local blue cheese, creating an assortment of savory, earthy, and creamy notes.
All of this is bathed in a luscious onion gravy that ties it all together.
What to order: Wood Oven Roasted Chicken, The Marshal's Famous Wood Fired Meatloaf, Veritas Farms Deviled Eggs
Address: 628 10th Ave, New York, NY 10036
Website | Instagram | Facebook
8. Mamasita Bar & Grill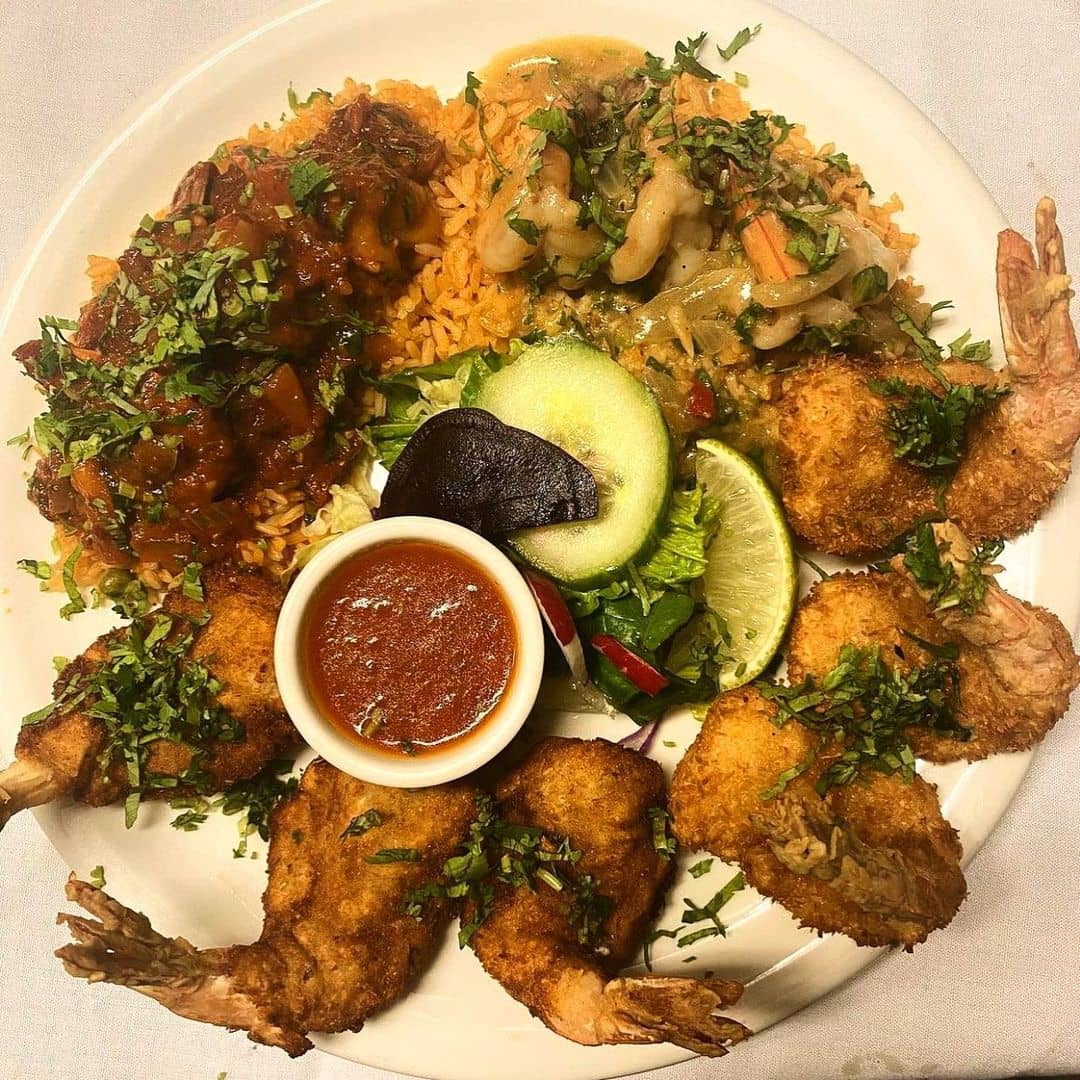 THE go-to spot for Mexican comfort food in Hell's Kitchen, Mamasita Bar & Grill offers a vibrant atmosphere with colorful decor and lively music.
Their menu features a wide range of Mexican classics, from tacos to enchiladas, all prepared with fresh ingredients. If you're looking forward to visiting Mexico without a passport, Mamasita is your best bet!
Chef's Special Fajitas at Mamasita are a true celebration of sizzle and flavor. Filled with grilled onions, bell peppers, broccoli, and mushrooms, the aromas alone are enough to trigger your appetite— a true fiesta for your taste buds!
The Trio Cancun Burrito is another excellent choice. This burrito features a trio of proteins: grilled chicken, steak, and jumbo shrimp— all expertly sautéed with fresh spinach.
The delicious mixture is then enveloped in a warm tortilla, creating a burrito that's both hearty and satisfying. It's a melody of tastes with the chicken, steak, and shrimp singing together in perfect harmony.
What to order: Chicken Enchiladas, Margaritas, Extra Chips & Salsa
Address: 818 10th Ave, New York, NY 10019
Website | Instagram | Facebook
9. Norma Hell's Kitchen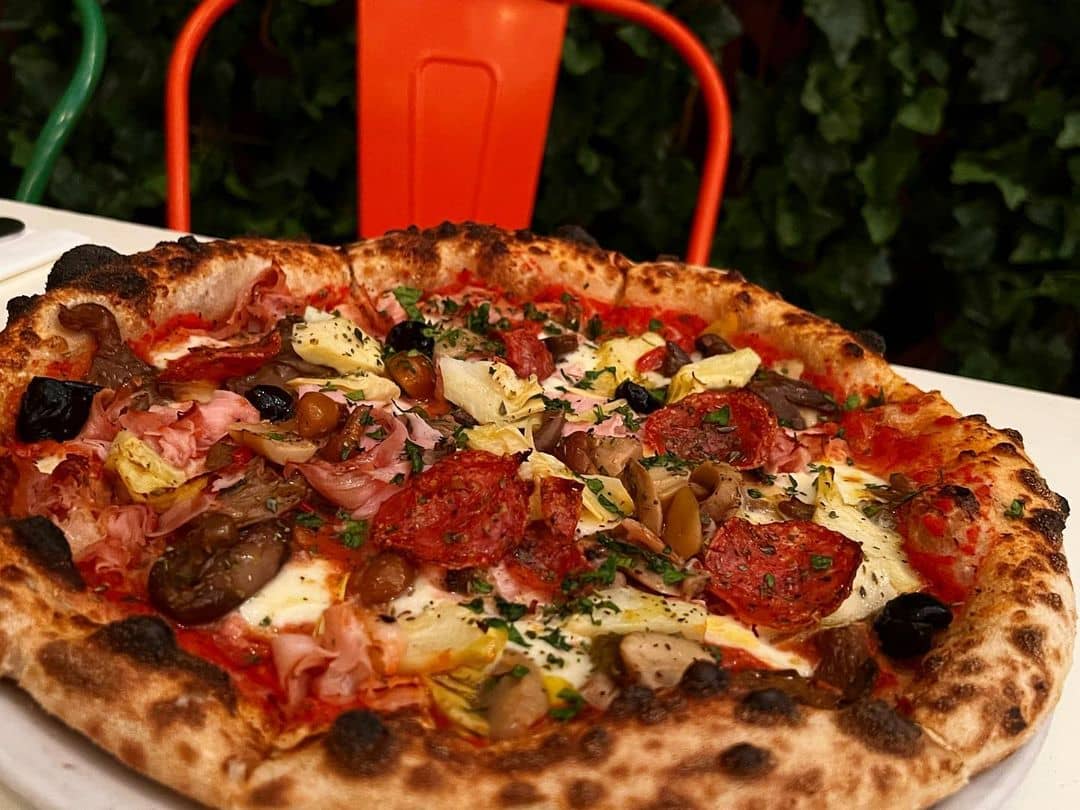 Norma offers a slice of Italian elegance in the heart of Hell's Kitchen. The restaurant is known for its house-made pasta and wood-fired pizzas.
The interior is chic and stylish, a perfect choice for a romantic dinner or a special occasion.
Norma's Signature Pizza will transport your taste buds straight to the heart of Italy. Perfectly thin and crispy crust adorned with a vibrant red tomato sauce, a generous layer of creamy mozzarella, and fragrant basil leaves— what more could you ask for?
The addition of tender, roasted eggplant slices brings a delightful smokiness, while the ricotta salata adds a subtle saltiness that makes this a pie of pizza perfection.
Their Gnocchi al ragù Bolognese is like a comforting embrace. Each potato gnocchi is a pillowy delight, handcrafted to perfection. Paired with a rich and hearty pork and beef ragout, this dish takes comfort food to new heights.
The ragout is a labor of love, simmered slowly to develop deep, meaty flavors that cling to every gnocchi. Each bite is a reminder that the simplest ingredients, when treated with care and expertise, can create culinary magic.
What to order: Norma Pizza, Gnocchi al ragù Bolognese
Address: 801 9th Ave, New York, NY 10019
Website | Instagram | Facebook
10. Palermo NYC Argentinian Steak House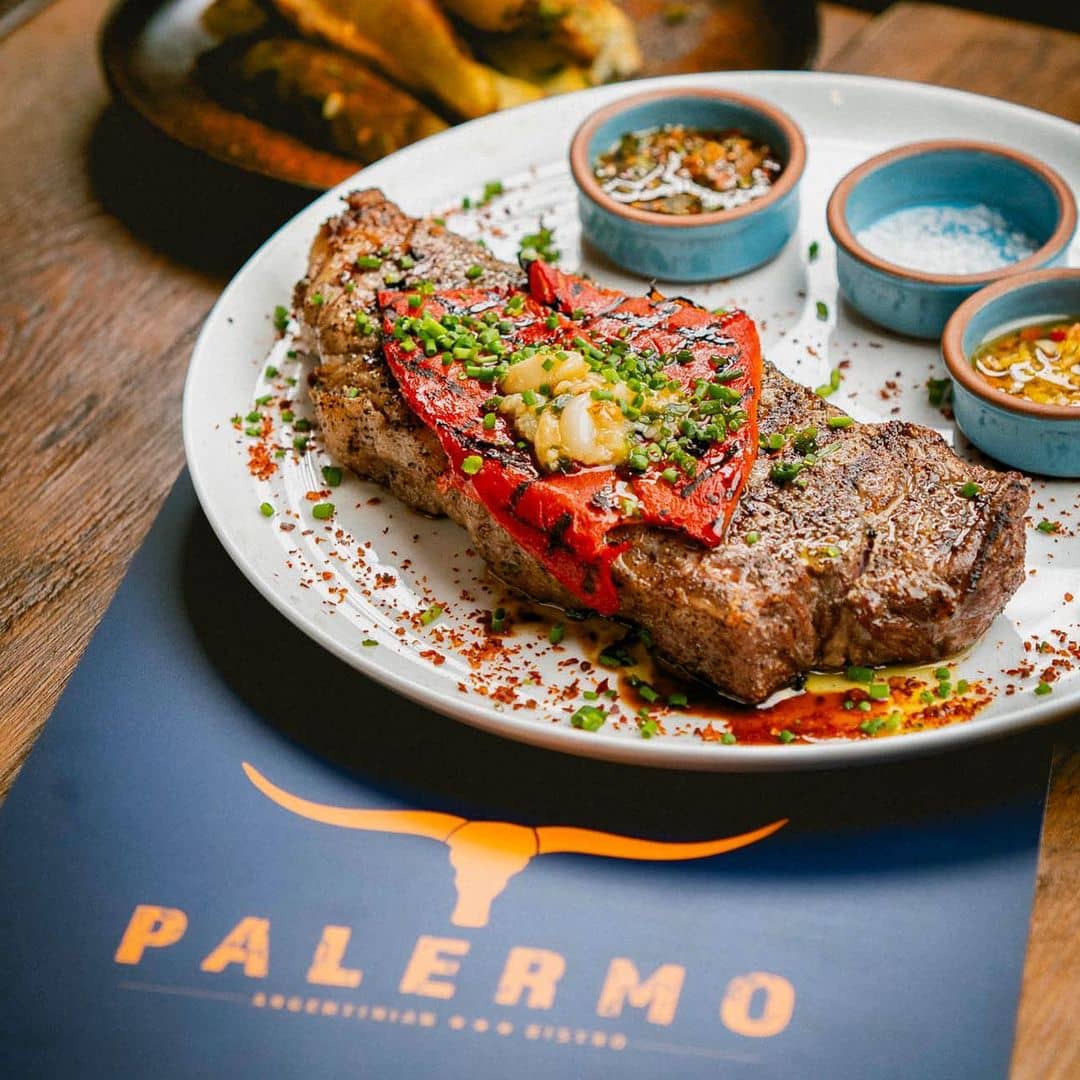 Palermo NYC specializes in Argentinian steaks, offering a variety of cuts cooked to perfection.
The steakhouse has a rustic yet sophisticated atmosphere, making it ideal for both casual and formal dining. They also boast an extensive wine list, featuring selections that pair excellently with their steaks.
The Palermo Salad is a must-have introduction to your Argentine feast. It's refreshing and carefully crafted to awaken your taste buds. Crisp butter lettuce provides the foundation for this masterpiece, adorned with tender hearts of palm, sweet carrots, and juicy cherry tomatoes.
The true star of the show, the house vinaigrette is a blend of tangy and savory notes. This is a salad that doesn't just tease your senses; it captivates them.
Their NY Strip Milanese features succulent New York strip steak, perfectly seasoned and grilled. But the magic doesn't stop there.
It's elegantly paired with a creamy mashed potato purée that's velvety perfection. The green salad adds a refreshing contrast, while the saffron aioli drizzle infuses a touch of sophistication.
Don't forget to save room for dessert and get the Tres Leches!
What to order: Palermo Salad, NY Strip Milanese, Tres Leches
Address: 373 W 46th St, New York, NY 10036
11. Valla Table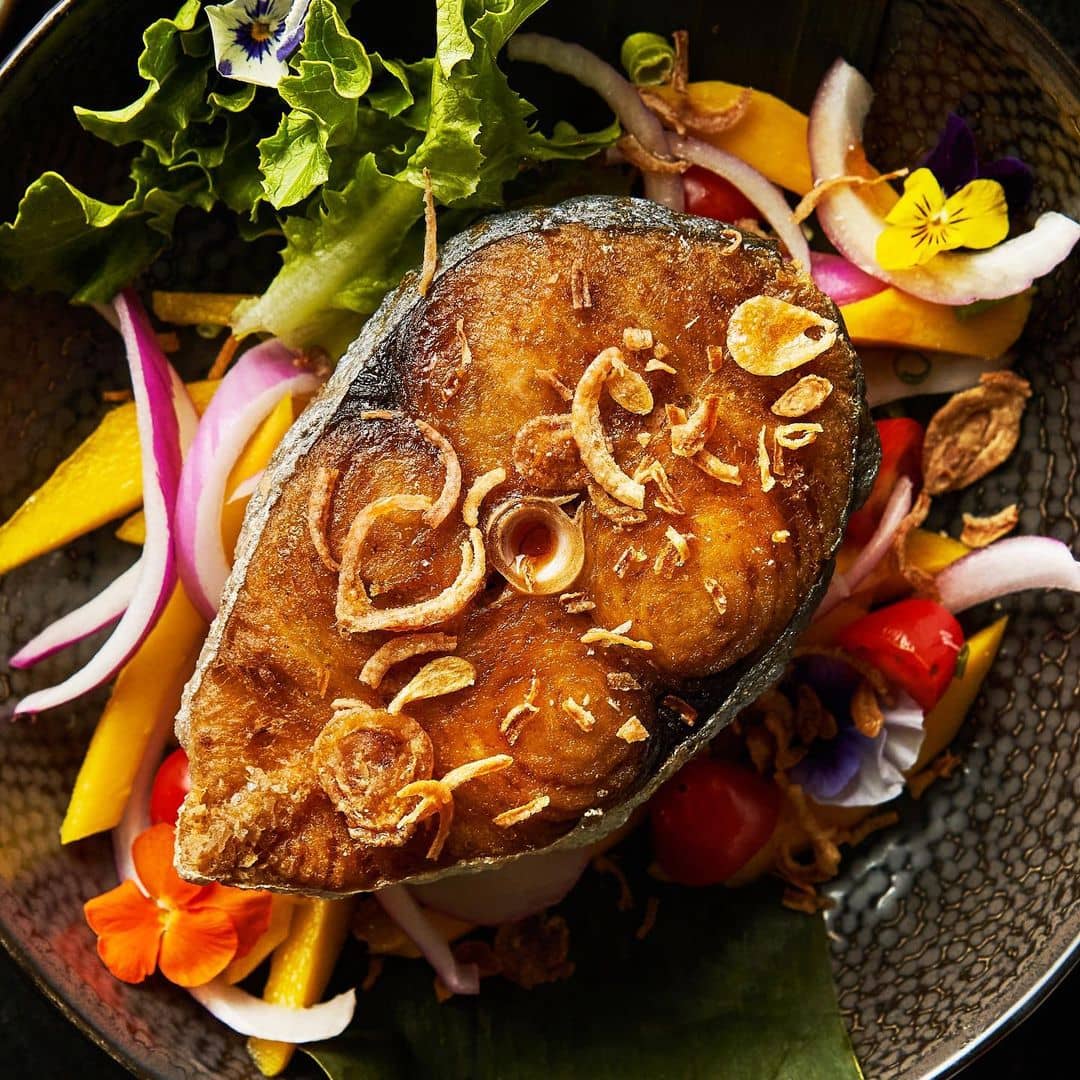 Valla Table is a Thai restaurant that has quickly made a name for itself in Hell's Kitchen. A must-try for Thai food lovers, the restaurant offers dine-in, takeout, and delivery options.
The atmosphere is modern and inviting, the best for a casual Thai food fix or a special occasion.
"Mom's Pad Thai" is a dish so iconic that it's like a familiar embrace from your mom.
A bed of stir-fried rice noodles glistens with the promise of coconut sugar and tamarind sauce, topped with tender egg, scallions, and crunchy bean sprouts— sweet, tangy, and savory, all in one glorious bite. You might just find yourself asking for seconds.
Known as "Drunken noodles," the Pad Kee Mao is a bold rebellion against culinary norms. Stir-fried flat rice noodles are infused with the fiery dance of fresh Thai chili and garlic.
Onions, bell peppers, and fragrant Thai basil leaves join the party, further intensifying the sensory experience.
The chili basil sauce adds layers of complexity, making every mouthful a rollercoaster of sensations. If you dare to challenge your taste buds, take a thrilling journey through Thai cuisine's wild side and get this one.
What to order: Mom's Pad Thai, Pad Kee Mao
Address: 641 10th Ave, New York, NY 10036
Website | Instagram | Facebook
12. Etcetera Etcetera Restaurant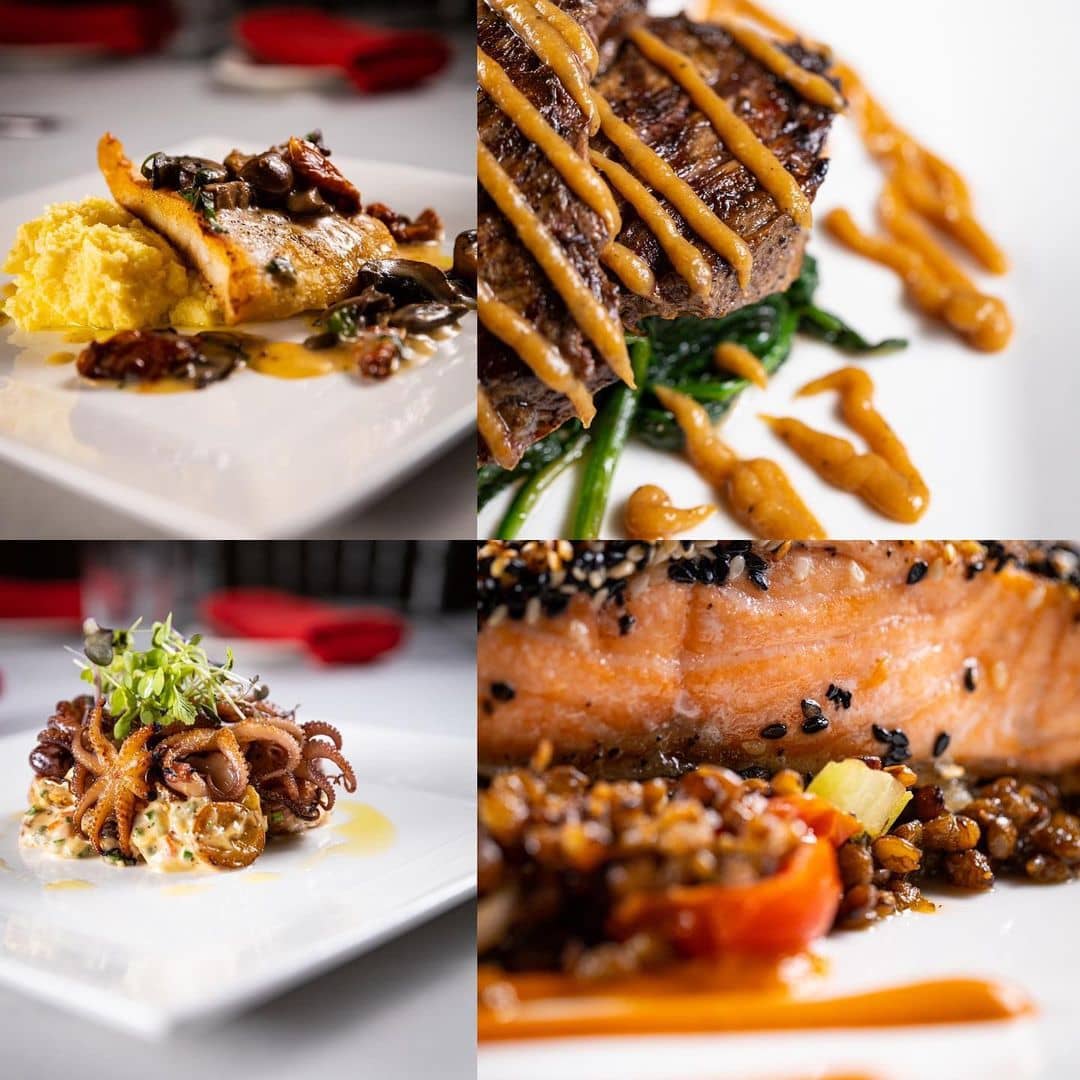 In the heart of Manhattan's lively Hell's Kitchen where culinary excellence is the norm, Etcetera Etcetera emerges as a true Italian gem.
With its welcoming ambiance and an extensive menu crafted to perfection, this restaurant embodies the essence of Italy, making it a culinary haven for both locals and visitors alike.
Italy is known for its mastery of simple yet profound flavors, and Etcetera Etcetera's Risotto Caprese is the embodiment of this artistry.
Imagine a creamy risotto, rich in texture and infused with the lusciousness of buffalo mozzarella. Roasted tomatoes add a burst of sweetness, while fresh basil elevates each bite with its aromatic freshness.
No journey through Italian cuisine is complete without indulging in a Classic Eggplant Parmigiana. Etcetera Etcetera's rendition of this Italian classic is nothing short of extraordinary.
Layers of tender eggplant are embraced by the loving duo of mozzarella and tomato sauce, creating a comforting and hearty dish.
The eggplant is delicately breaded, adding a satisfying crunch to contrast with the velvety richness of the cheese and sauce.
It's a dish that embodies the warmth of Italian kitchens, where recipes are passed down through generations, and every bite is like a warm hug from nonna.
What to order: Risotto Caprese, Classic Eggplant Parmigiana
Address: 352 W 44th St, New York, NY 10036
Website | Instagram | Facebook
Exploring Hell's Kitchen is a one-of-a-kind gastronomic adventure one should not miss out on.
Looking for more recommendations? Check out our picks of the best Brooklyn restaurants!