Looking for the best River North restaurants? You're in the right place!
River North in Chicago exudes a harmoniously contrasting nature that entices anyone.
The neighbourhood is home to a plethora of stylish nightclubs, posh eateries, elegant shops, remarkable art galleries, and historic buildings that perfectly complement the best views of the river.
If you're looking for spots to eat here, we've compiled the 12 best River North restaurants to eat at below!
🍩 Are you a foodie? Explore Chicago's culinary scene with one of these top-rated food tours!
1. Beatrix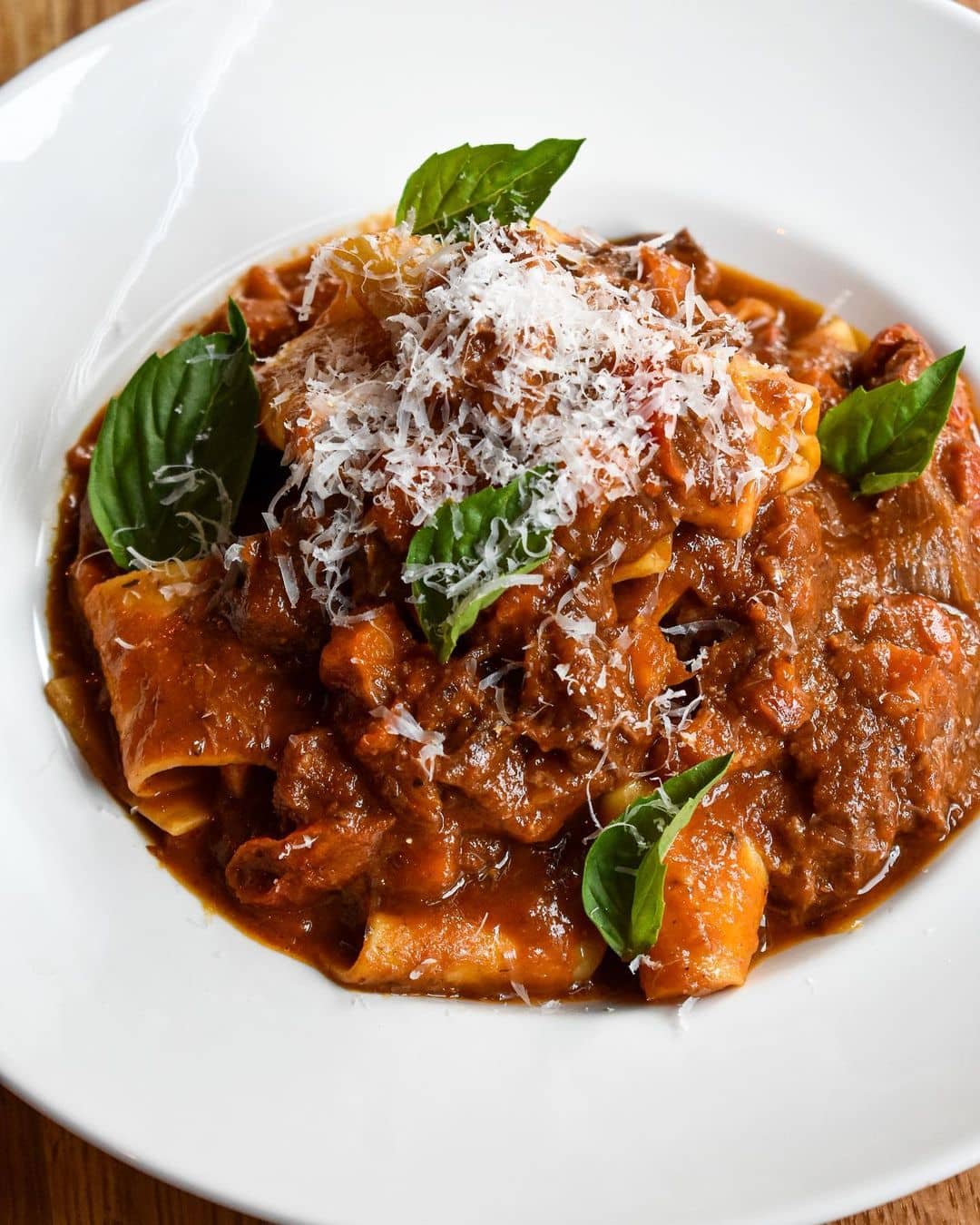 The Lettuce group of restaurants opened a new chapter with Beatrix, a coffeehouse that takes the wellness ethos to heart and makes healthy eating so accessible and enticing.
Located at Aloft hotel, this restaurant is a famous breakfast/brunch spot (though dinner is also exceptional), featuring a relaxing chic feel, large panel windows, hanging industrial lights, and wooden accents.
Beatrix's strength lies in the perfect coordination of food, service, and ambiance.
With that said, their Lemon Pancakes with blackberries and lemon syrup is an ideal breakfast to start your day right. On the other hand, you have the Chicken Tinga with guajillo chili pulling the strings for you to enjoy the right amount of spicy levels.
For lunch, go into the light with an Enlightened Caesar that is made more special with a greek yogurt dressing. Add a Prime Steak, and voila, a complete meal you can't miss!
Lastly, have some Attitude Adjustment, not literally, but a vodka mixed with hibiscus-pomegranate soda.
What to order: Light & Fluffy Lemon Pancakes, Spicy Chicken Tinga, Enlightened Caesar, Slow-Cooked Short Rib, Attitude Adjustment
Address: 519 N Clark St, Chicago, IL, United States
Website | Instagram | Facebook
2. The Smith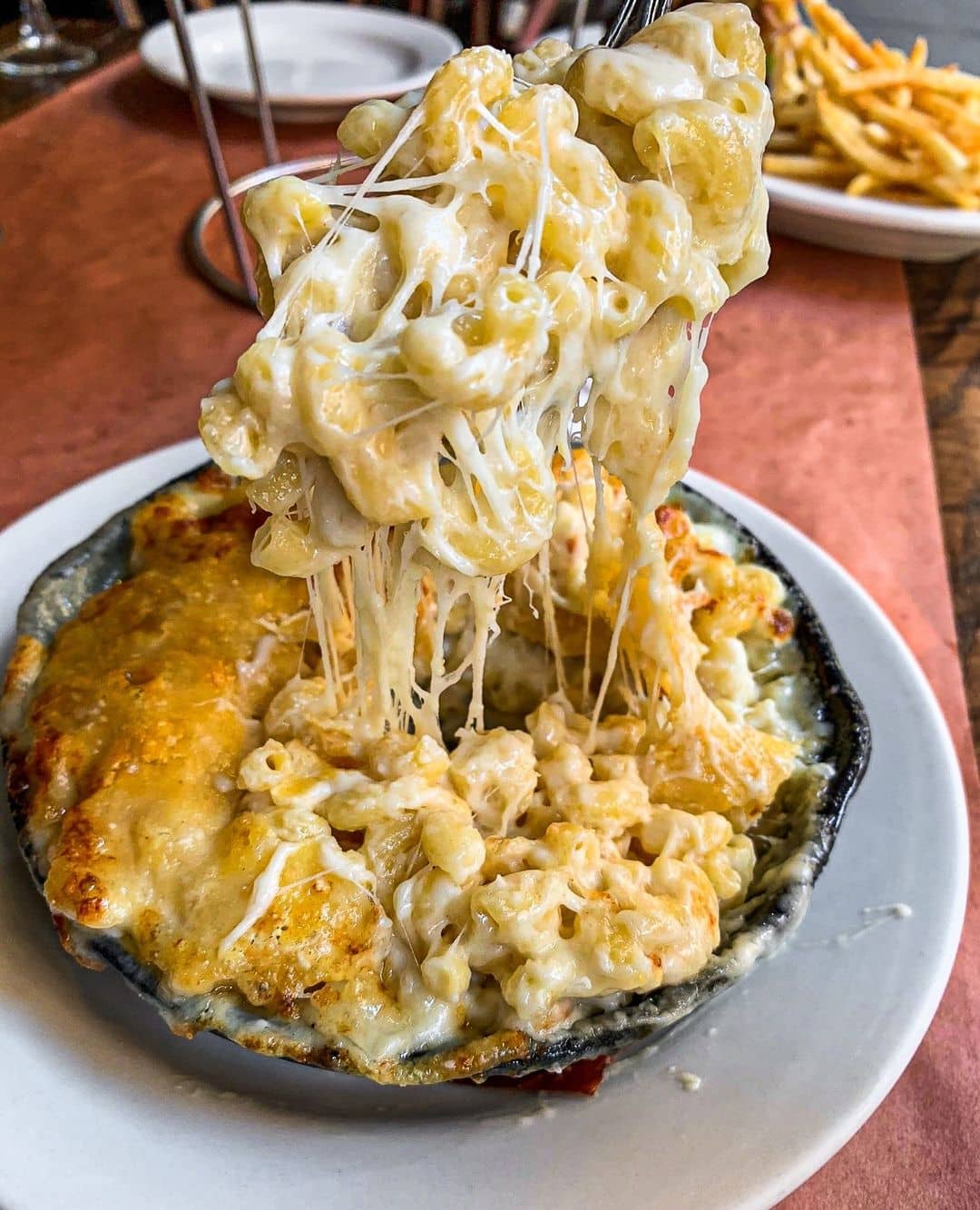 Chain restos can be a hit or miss, but not this one — quality food and a penchant for continuously improving their craft make The Smith a culinary force to be reckoned with.
The Smith takes its name from a maker skilled in crafting happiness through food and hospitality and packaging them into an unforgettable experience. Its River North branch maintains a solid reputation.
White tiles depicting a familiar subway scenery, huge wall mirrors, and a bar showcasing hundreds of colorful liquors are just some of the amazing features The Smith offers on top of masterfully created food and drinks.
The menu focuses on heart comfort food with classic and creative cocktails to match. There are numerous notable selections, but most tables have fresh Oysters, Benedict Johny, Mac + Cheese, and Ricotta Gnocchi.
The roasted tomato hollandaise in the Benny is heavenly, and the poached eggs run a torrent of glorious yellow once poked. Their Mac + Cheese is roasted directly in the skillet. Divine!
What to order: Oyster of the Day, Ricotta Gnocchi, Mac and Cheese, Benedict Johnny
Address: 400 N Clark St, Chicago, IL 60654, United States
Website | Instagram | Facebook
3. Obelix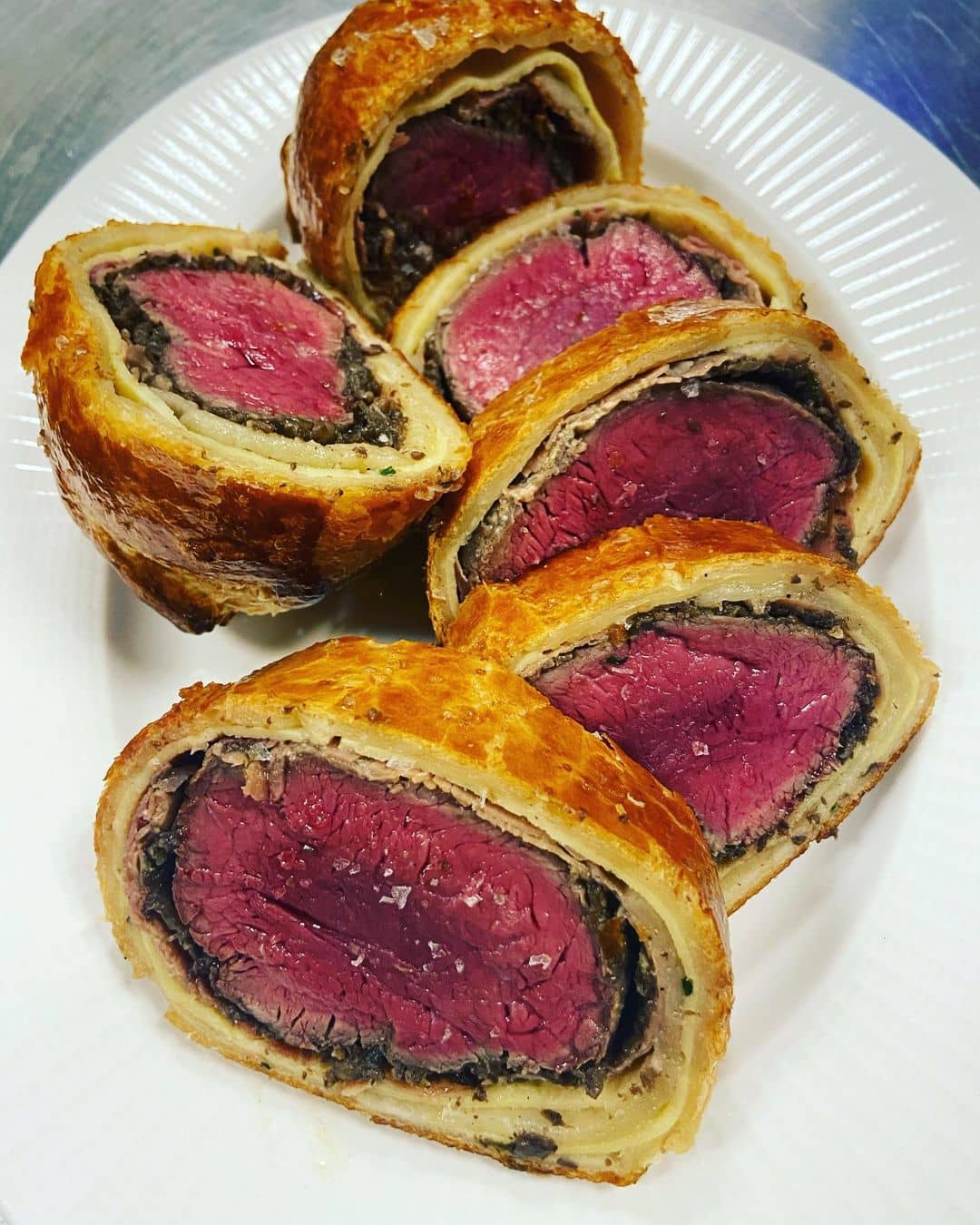 From the brains behind Bucktown bistro Le Bouchon is Obelix, a mostly-blacked building with a simple Obelix sign outside.
Surely, you could pretty much say that this is Parisian vibes in Chicago: white table cloths with napkins folded in style, white and black diamond squares on the floor, and a long red velvet couch.
But here's a catch: the more French you think Obelix is, the less French it gets. Although you frequently see French dishes (duck is a common sighting) on the menu, international-inspired items pop in from here and there, such as a scallop with Okinawan sweet potato or the carrot salad prepared Moroccan-style.
This only means one thing: Obelix is not confined to limited options; they keep on evolving…all in the name of culinary excellence.
Be comfortable chatting with friends or a lover over the sweet and savory union you can get from the Macaron Au Foie Gras. A chewy middle layer with delicious filling is tucked away inside a crisp outer shell.
Or, you may share an order of Beef Wellington, cooked to perfection with all the proper levels of tenderness and juiciness. The mushroom duxelle, puff pastry, and prosciutto add layers of blissful goodness, making this dish a superb choice for any occasion.
What to order: Macaron Au Foie Gras, 10-Day Dry-Aged Duck Breast, Beef Wellington, Macaroni Gratin
Address: 700 N Sedgwick St, Chicago, IL 60654, United States
4. Gilt Bar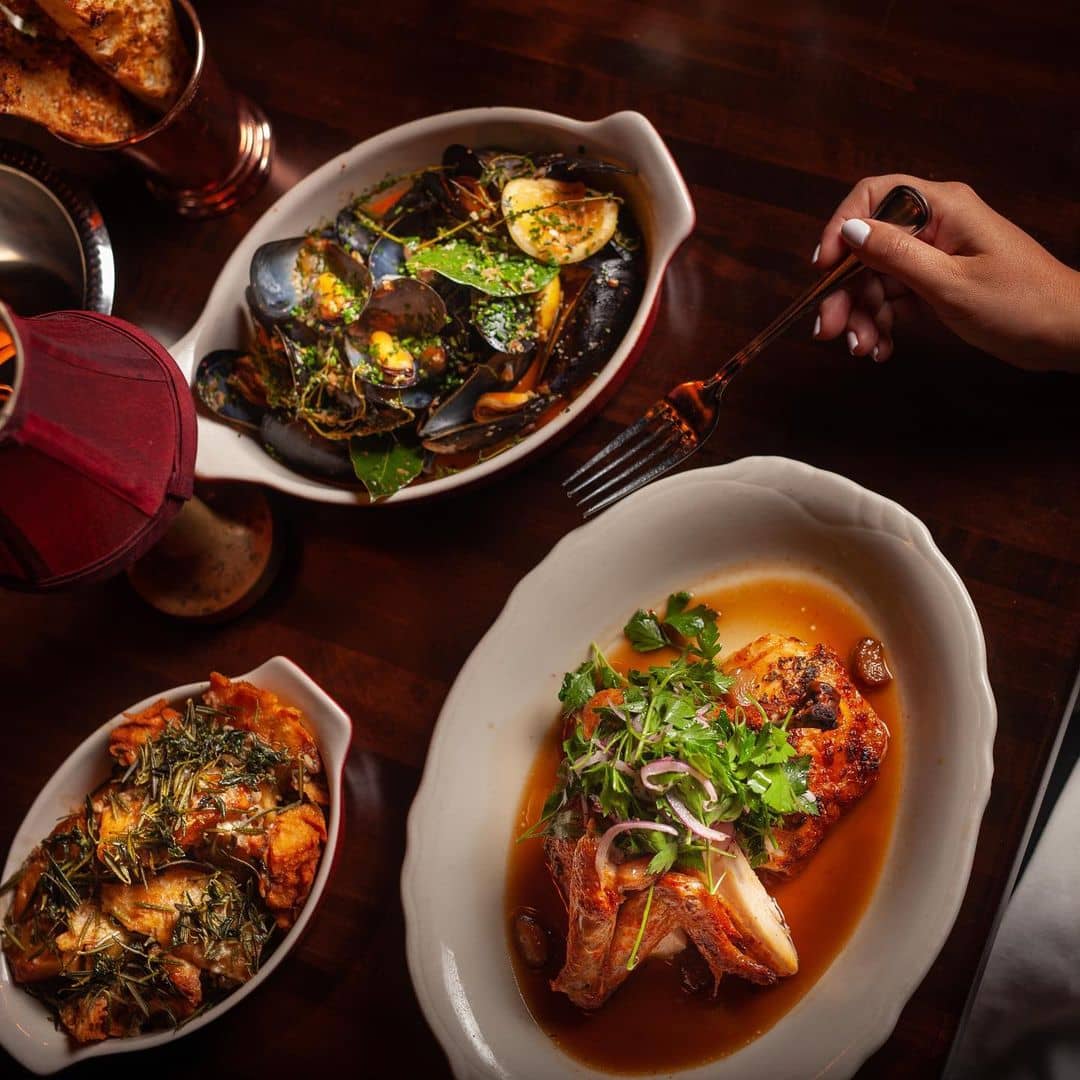 Marble floors paving the way to a hidden basement library, renovated wooden ceilings, vintage decors, and ornate amber lights? Sounds like the perfect rendezvous for a secret meetup back in the old days.
But no, we're talking about Gilt Bar, a River North speakeasy spot known for their fun and laid-back atmosphere in the midst of dim lights, unpretentious vibes, delectable food, and creative drinks.
Following no prominent theme, Gilt Bar's menu is expertly curated with all sorts of amazing dishes: from housemade pastas and salads to chicken, seafood, and steak.
Trying out everything all at once can be quite daunting and definitely not the best choice for first-timers. So, I highly suggest you try their Tenderloin Steak Tartare featuring slow-cooked egg yolk custard and toasted bread.
Oh, boy, don't get me started with their Roasted Bone Marrow, mind-blowing from all angles that will surely make you forget all the other bone marrow you have tasted in the past.
What to order: Tenderloin Steak Tartare, Wood Fired Bone Marrow, Steamed Mussels, Ricotta Gnocchi, Chocolate Layer Cake
Address: 230 W Kinzie St, Chicago, IL, United States
Website | Instagram | Facebook
5. Indienne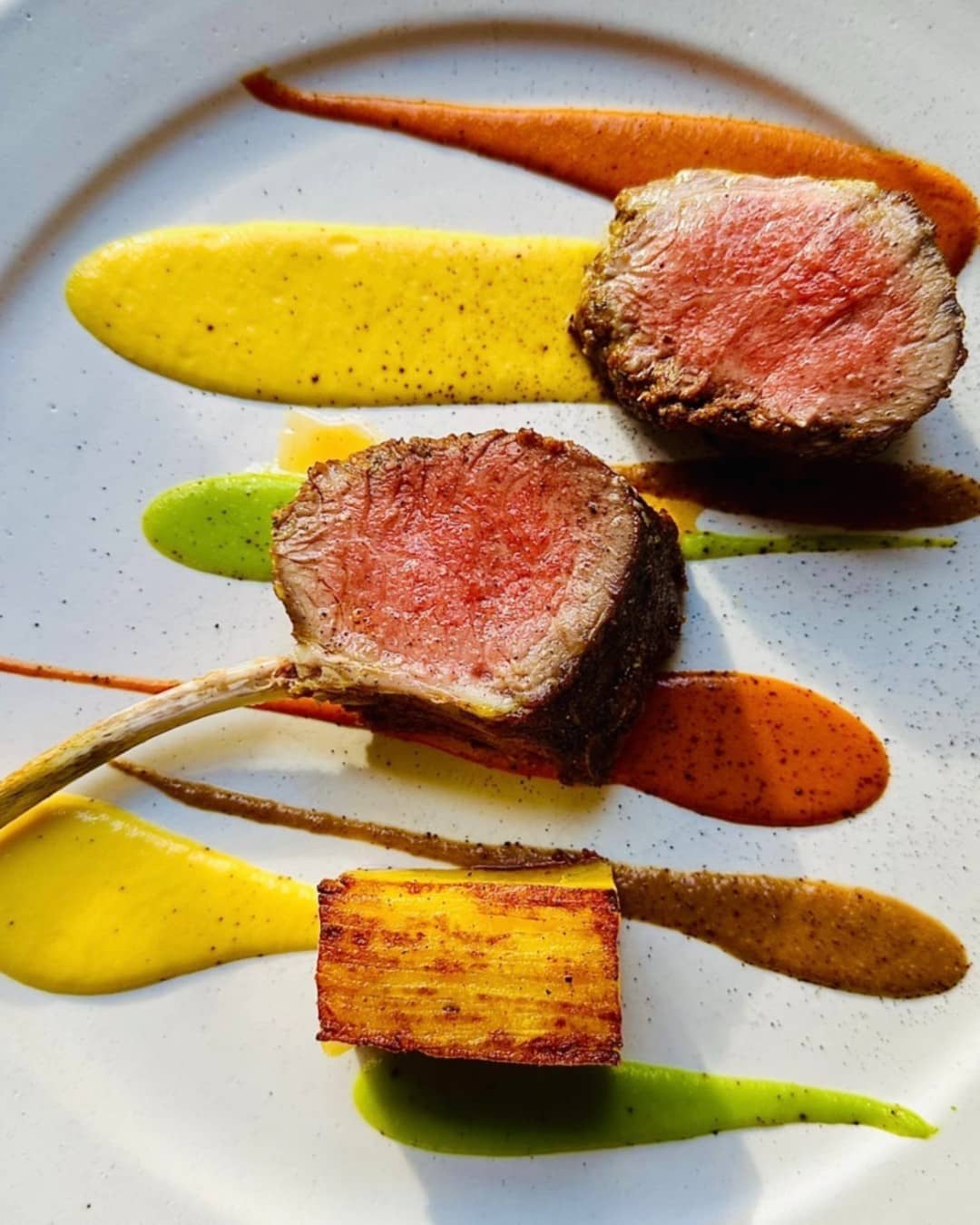 Indienne redefines Chicago's fine dining by adding Chef Sijan Sarkar's magic touch that translates into a pleasurable tasting menu experience.
Even if you are not a fan of multi-course dining, this will be your entry into the colorful, flavorful world of culture, spices, and everything nice.
Experiences as grand as Indiene are not about the price but more like a transformative, life-changing walk through what makes Indian cuisine a most-revered fare anywhere in the world: one course at a time.
In about three hours, different courses come out in a smooth procession that's neither overly rushed nor too slow — it's as if they are programmed to serve at the right moment, at the exact point when you need it.
You can expect the classics but elevated with an interesting take, such as the Garlic Naan and a Passion Fruit Pani Puri. However, their menu rotates regularly, so expect changes. But who doesn't love an element of delicious surprise?
From their ala carte menu, you can add more items such as the Jackfruit Katsu — shredded jackfruit with sour cream and a rice cracker, bathing in a delicious gravy.
What to order: Tasting Menu (eight-course, vegan or non-vegan), Jackfruit Katsu
Address: 217 W Huron St, Chicago, IL 60654, United States
Website | Instagram | Facebook
6. RPM Italian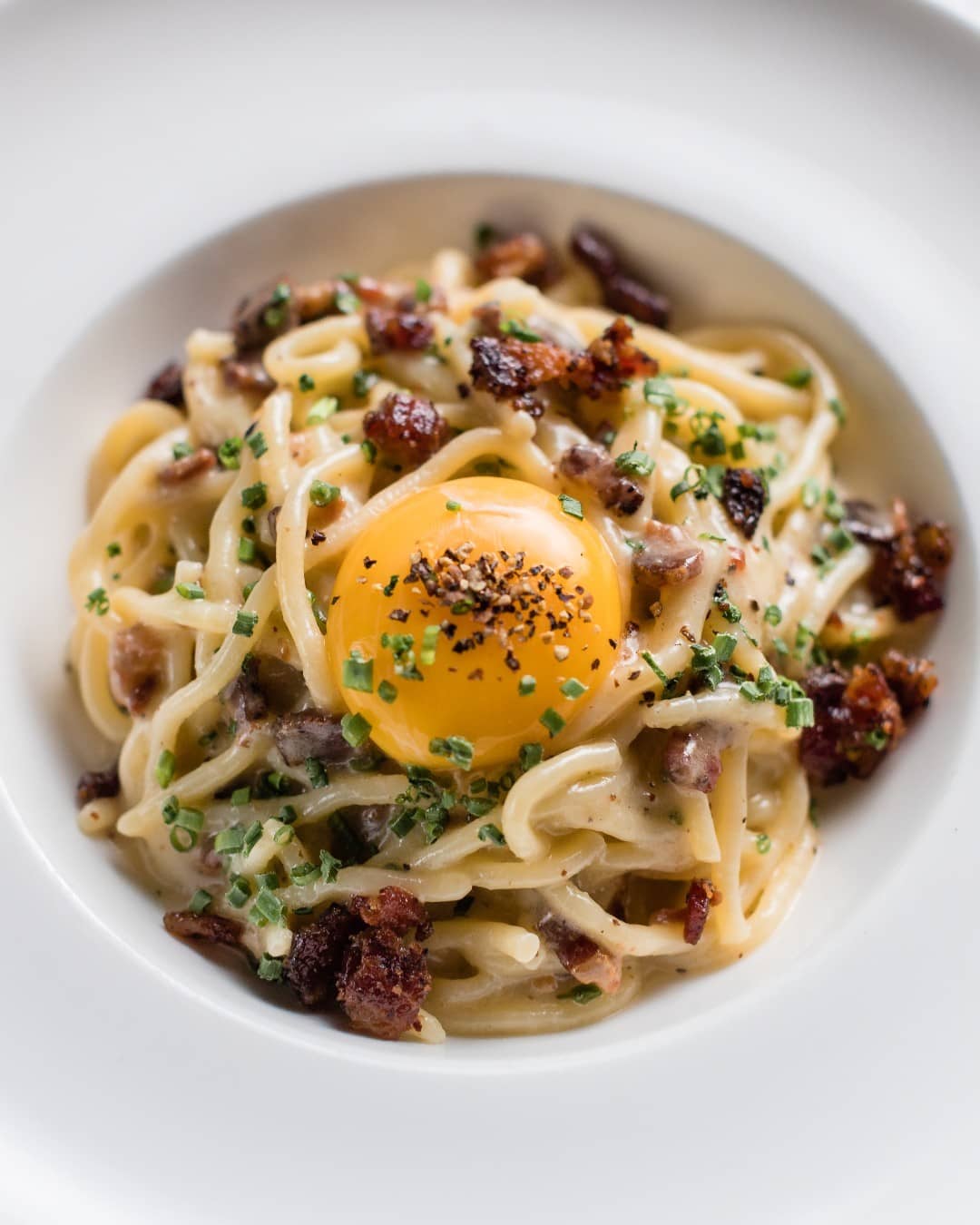 When Italian classics meet modern fare, you get RPM Italian, yet another sister collaboration of the famous RPM restaurants in the city.
Step into a space of black, white, and opulent wood and leather accents, with circular disks of light spanning across the ceiling, perfectly arranged to suit any aesthetic taste. Here you'll be spoiled with some of the best Italian food in the city.
With impeccable staff always eager to make you feel comfortable at every move, along with all the checks from our list, you can only expect RPM Italian to be one of the few places where celebrities, tourists, and locals dine comfortably without a care in the world, and with an unforgettable dining experience their only focus.
Fine dining is elevated to the next level with RPM Italian's star-studded menu. It features head (and palate) turners such as the Maine Lobster Ravioli made with housemade pasta and ragu that hits home and the Spicy King Crab in squid ink pasta, with all the right spices enhancing the flavor.
The Brussel Sprouts would be an amazing side character to this beautiful story: crispy and flavorful. Roll the curtains down with the sweet flavor and tangy notes of the RPM Cheesecake, along with a glass of Pinot Noir.
What to order: Ricotta Cavatelli, Crispy Brussel Sprouts, Spicy King Crab, Charred Pepperoni Pizzette, RPM Cheesecake
Address: 52 W Illinois St, Chicago, IL 60654, United States
Website | Instagram | Facebook
7. RPM Steak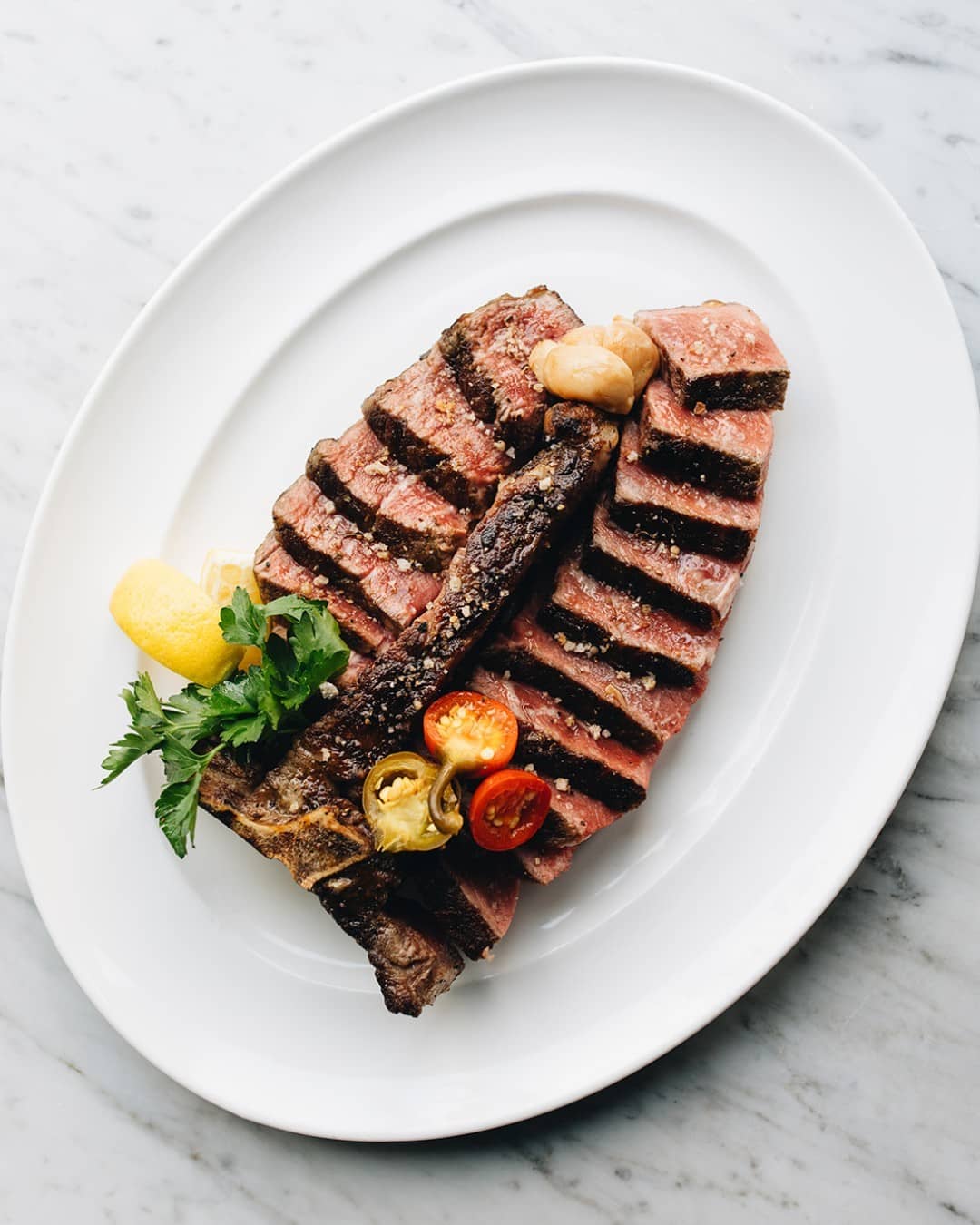 Featuring nearly two dozen different cuts of beef from all around the world, you have RPM Steak, one of the pillars of the RPM brand's rise to renown and fame.
As one of the best steakhouses in Chicago, you could already expect what RPM Steak readily offers: upscale dining, an expensive-looking setup, a not-so-wallet-friendly menu, and a table that needs to be reserved weeks in advance.
But they shattered the stereotype and lived up to the surrounding hype. Under all the layers of what a high-end steakhouse should be lies a forgotten quality that far surpassed even the most celebrated names before the RPM monogram: classic steak.
Everything inside shouts sophistication and elegance: mahogany walls, dark-wooden floors, moody lights, and servers donned in white jackets and black chalecos.
Their menu is vast but is arranged in a manner that's easy to navigate. Start something light with Gruyere Popovers — don't judge them by their large size; they are light and fluffy!
Then have a taste of heaven with their Chateau Uenae Snow Wagyu featuring the rarest imported ribeye straight from Hokkaido, Japan. The provocative outburst of flavors gloriously stings every corner of your palate.
Finish this one-of-a-kind gastronomic feat with a glass of wine — ask the knowledgeable staff who know how to seal the real deal.
What to order: Gruyere Popovers, Chateau Uenae Snow Beef, Millionaire's Potato
Address: 66 W Kinzie St, Chicago, IL 60654, United States
Website | Instagram | Facebook
8. Sushi-san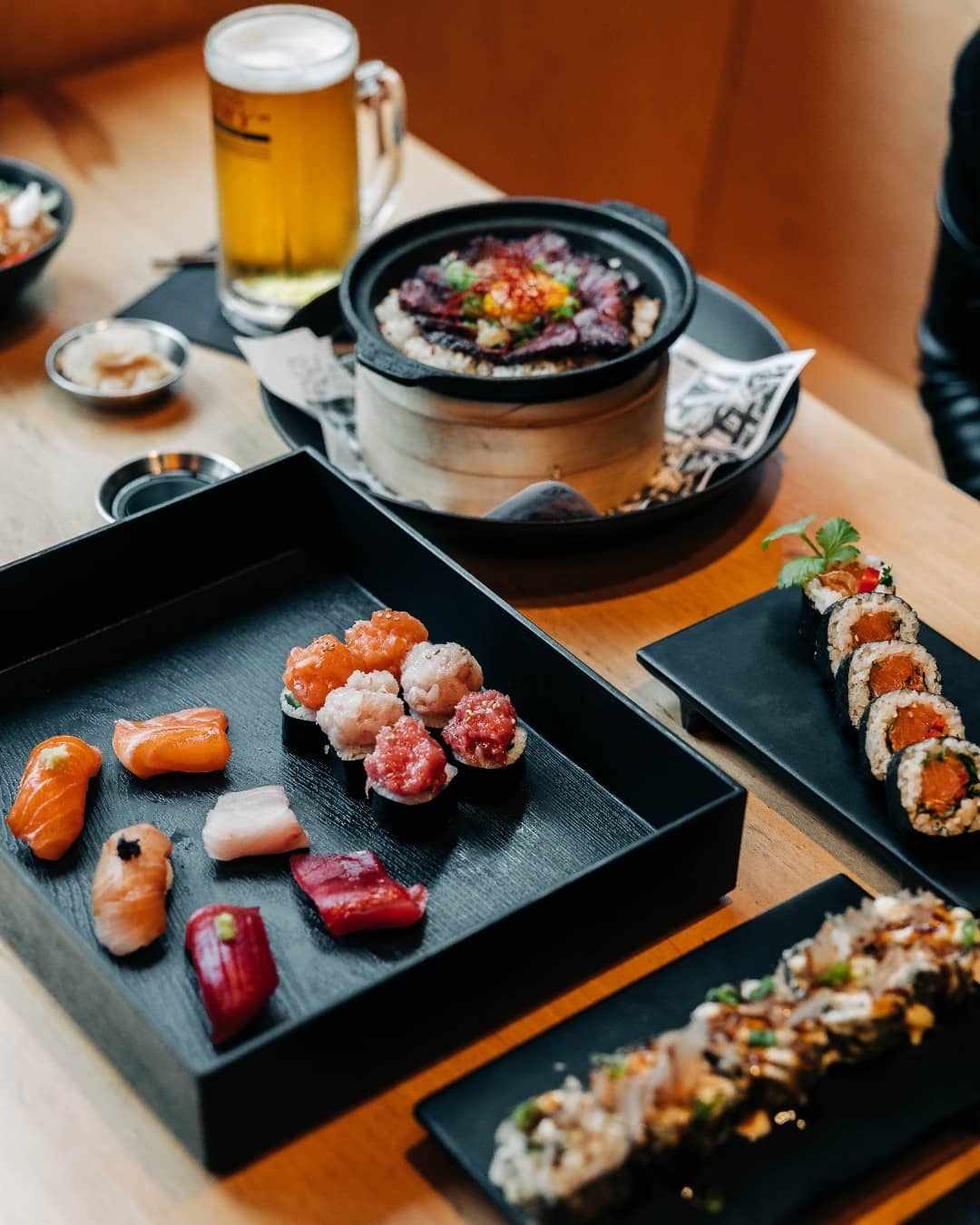 Sushi-San fuses inventiveness with tradition, carving a path towards unconventional Japanese fare without completely shutting down its roots.
What I mean is you get a blast of hip-hop music, fixed wooden tables and chairs, an all-black wall and ceiling, a comic-style dessert menu, and a "poop" emoji for the restroom sign.
An ironic hodgepodge that goes phenomenally well, particularly if we're talking about setting traditional Japanese food in a modern blaze.
Order a Spicy Tuna from their specialty makis. The spicy kick is definitely there, but not so much to unleash a hellish aftermath. If you want an assortment of sushi from fresh seafood, go for the Megatron San-Set.
Another signature dish that has amassed its own base of loyal fans is Sushi-San's Tako Tacos, a unique marriage between spicy octopus and crushed avocado, veiled in a crispy nori shell. Talk about creativity!
Book a table in advance if you want to jump into the dining experience right in. And if there's one more thing to add, prepare to take a lot of gram-worthy pics since everything here is aesthetically arranged to please all eyes.
What to order: Spicy Tuna, Megatron San-Set, Tako Taco, Japanese Breakfast
Address: 63 W Grand Ave, Chicago, IL 60654, United States
Website | Instagram | Facebook
9. Bavette's Bar & Boeuf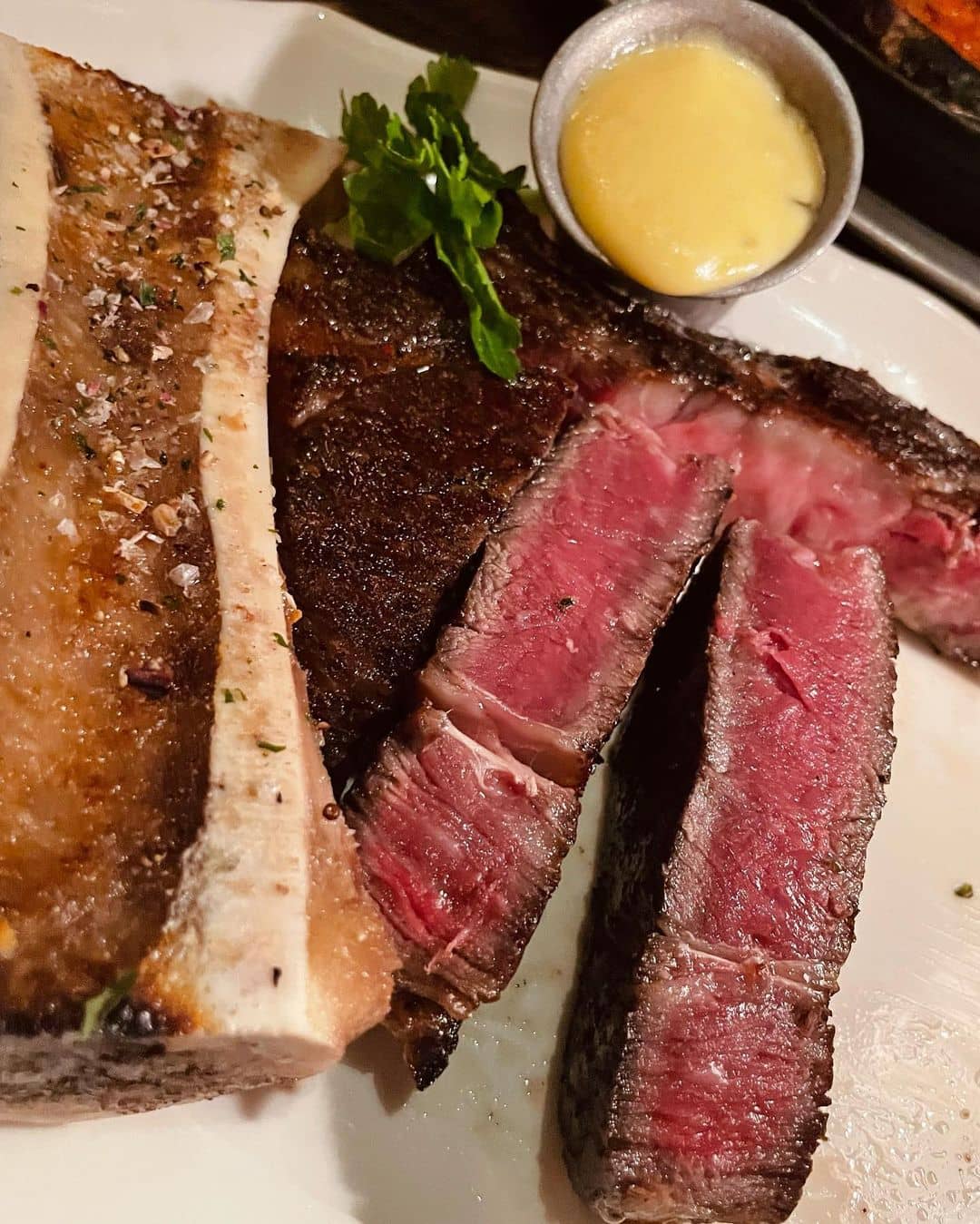 Bavette's Bar & Boeuf is known to locals as one of the fanciest steakhouses in the neighborhood — perfect for date nights, group dine-outs, or simply a casual steak fix.
With beautiful chandeliers, dimly lit wood-and-brick setups, and elegant banquettes, you might have expected to step into a suffocating formality most upscale French restaurants have.
But not here — the speakeasy ambiance makes it possible to be yourself while indulging in a slab of melt-in-your-mouth steak, fresh seafood, decadent desserts, and flavorful drinks.
Sink your teeth into some of their favorites: the Dry-Aged Bone-In Rib-Eye Steak; and the Roasted Bone Marrow, perfectly cooked and well-seasoned with a pinch of sweetness from the caramelized red onion.
Pro-tip: I highly recommend you choose the Truffle Mac & Cheese or the Buttery Mashed Potatoes for the sides. Mind-blowing!
What to order: Dry-Aged Bone-In Rib-Eye Steak, Roasted Bone Marrow, Tenderloin Steak Tartare
Address: 218 W Kinzie St, Chicago, IL 60654, United States
Website | Instagram | Facebook
10. Portillo's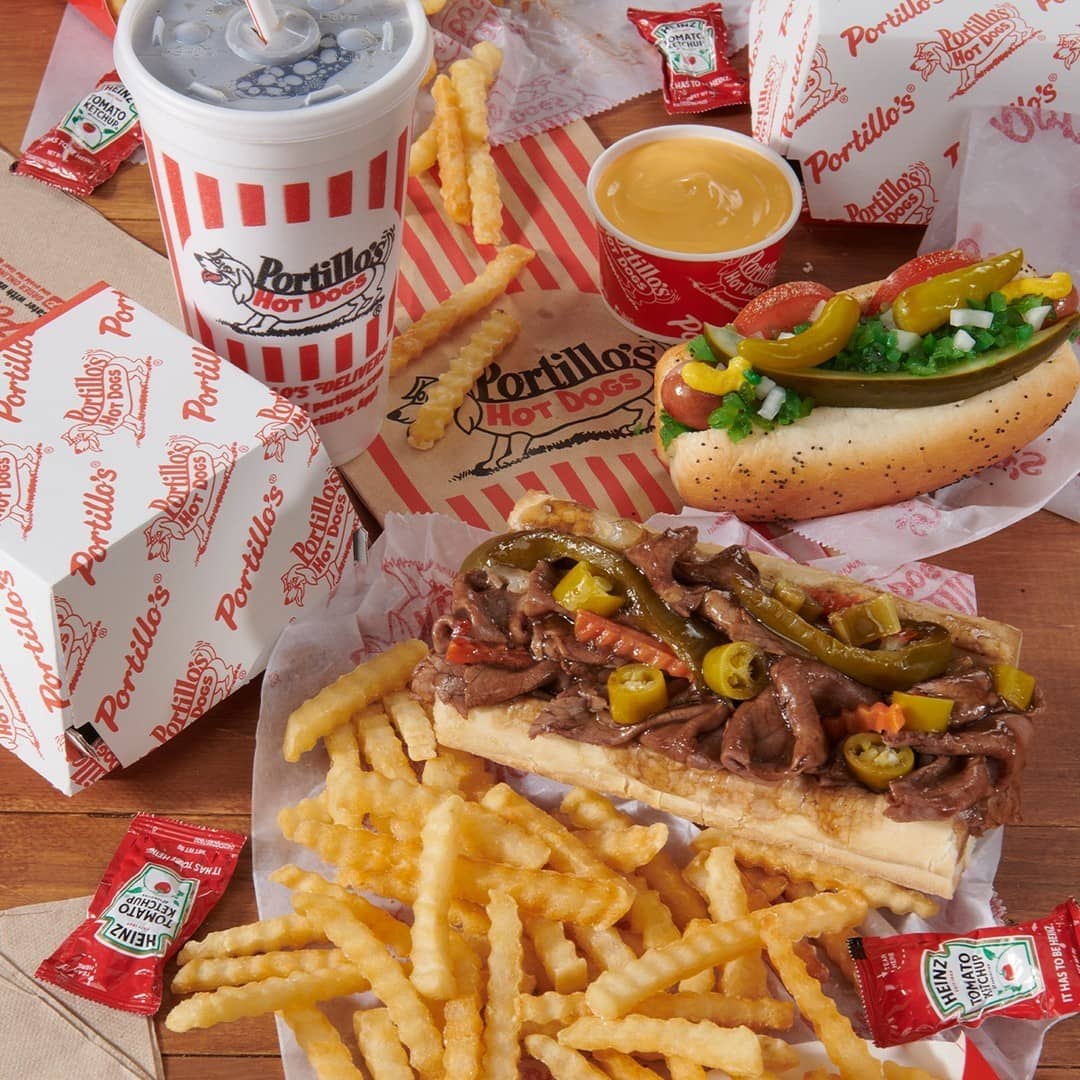 Portillo's is a staple that locals grew up very familiar with. What started as a small trailer dubbed "The Dog House" in 1963, they have become a comfort food brand attached to Chicago itself.
One could say Portillo's is a rite of passage for anyone who sets foot in the city. I mean, have you truly visited Chicago without grabbing a bite of Portillo's? Definitely not!
With mouth-watering hotdogs, beefed-up sandwiches, and char-broiled burgers served Chicago-style, as well as friendly staff with all smiles, you're in for a wild ride!
Surrender to the aromatic smell and savory taste of the Italian Beef Sandwich with a secretly spiced gravy, freshly baked French bread, and slow-roasted beef — a recipe passed down from one generation to another.
The Char-Grilled Polish Sausage is another can't-miss item featuring a Chicago-style hot dog with the classics, kosher pickle, and sport pepper.
But whatever happens, it's a mortal sin to forget Portillo's Chocolate Cake Shake: a milkshake like no other…a god among men.
What to order: Italian Beef Sandwich, Char-Grilled Polish sausage, Chocolate Cake Shake
Address: 100 W Ontario St, Chicago, IL 60654, United States
Website | Instagram | Facebook
11. XOCO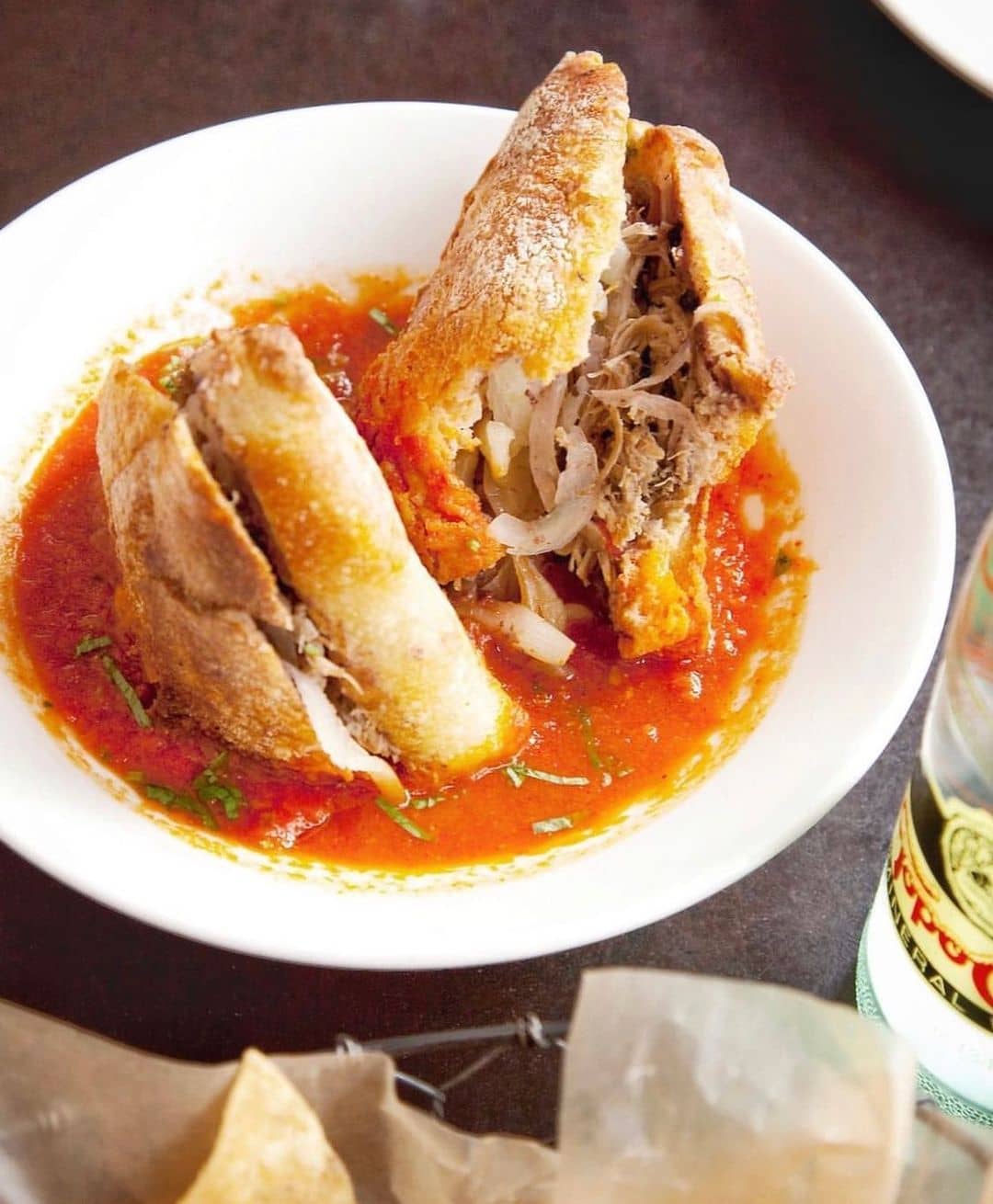 Pronounced as "SHO-ko," this well-loved Mexican restaurant made our list with critically acclaimed Rick Bayless at the helm.
The Aztec word for "little sister," XOCO is nowhere little — in fact, it's a paradise overflowing with outrageously good flavors from classic and inventive signatures.
Whether you're dining inside an enclosed blue-and-yellow space or outside a lovely patio, prepare to be swooned by your feat with the trifecta of delectable offerings, spotless service, and a comfortable atmosphere.
The Ahogada torta is golden pork carnitas bathing in a rich tomato soup; imagine all the flavors and umami dancing in delight.
Meanwhile, XOCO's Churro Chicken Sandwich features a sweet bun tucking a spicy crispy sandwich in a tight embrace so you can get the best of both spicy and sweet ends.
Oh, and you would be insane not to take a sip of their Aztec bean-to-cup chocolate drink: a meltdown for freshly ground chocolate, chile & allspice. Simply out of this world!
What to order: Ahogada, Spicy Churro Chicken Sandwich, Aztec Chocolate
Address: 449 N Clark St, Chicago, IL 60654, United States
Website | Instagram | Facebook
12. Etta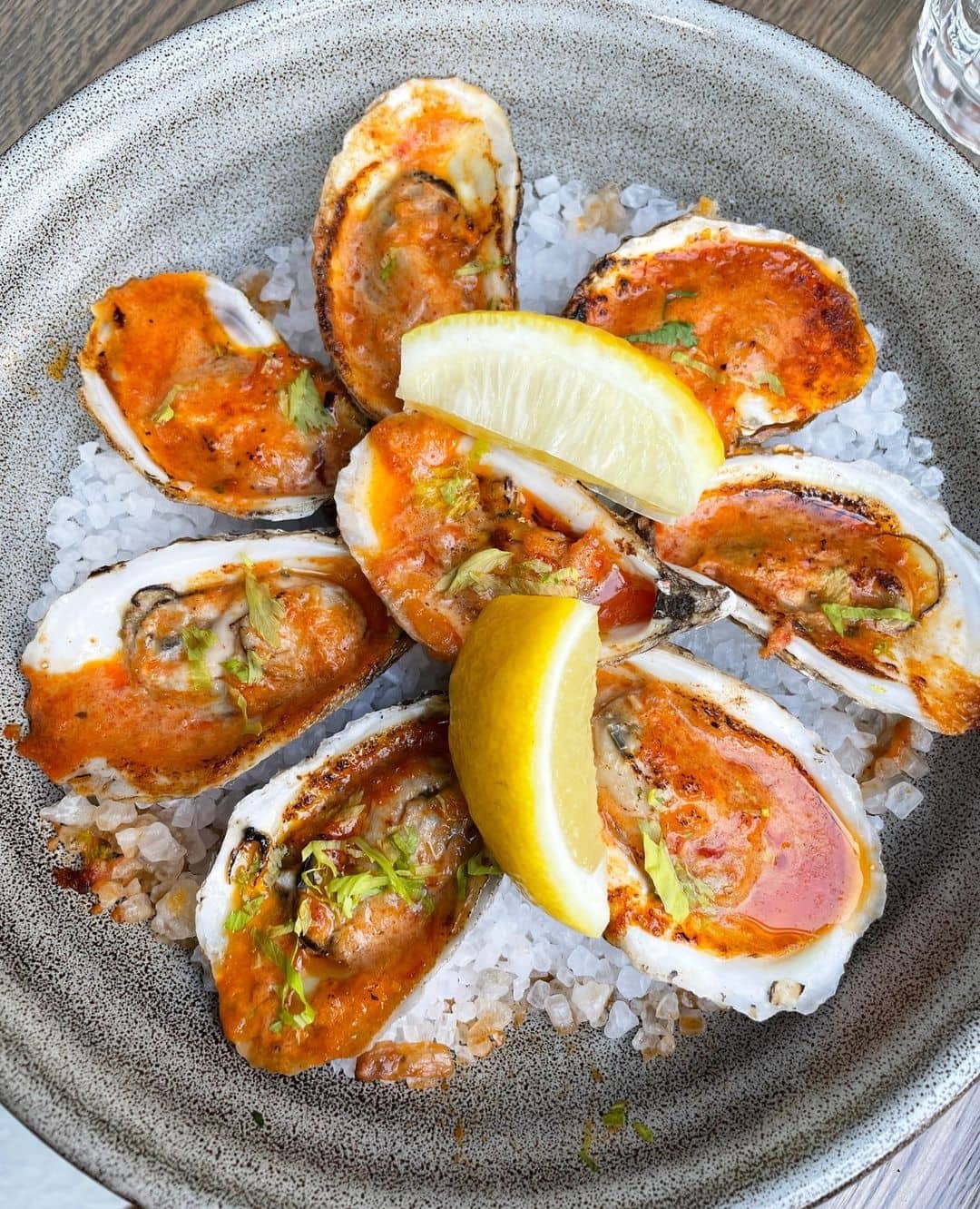 There was a point in time when Chicago restaurants were racing for the spaciest of spaces that could accommodate numerous goers all at once.
While some are overhyped and full of crowds who don't mind the mediocre service and food, few rose to prominence and royalty with their top-tier food, first-class service, and amazing atmosphere.
You could say Etta is Chicago's hearth empress.
From hearth-grilled offerings and wood-fired pizzas to roasted vegetables and all other dishes kissed by flame — you have them here, always lying in wait for hundreds of visitors, both curious tourists and loyal locals alike.
The flavor-forward approach is complemented by the homey and inviting feel that the warm interior colors exude.
This is a safe haven for brunch, lunch, and dinner, where all options can take you back to the old times: enjoying grandma's meals to your heart's content.
Anything from their menu is excellent, but I have fallen head over heels for their Fire-Baked Focaccia with honey and truffle ricotta — don't mind the tears; that's how good it is.
What to order: Fire-Baked Focaccia, Oysters, Cinnamon Rolls, Margherita, Old Fashioned cocktail
Address: 700 N Clark St, Chicago, IL 60654, United States
Website | Instagram | Facebook
To sum up River North's culinary landscape, you could say the neighborhood is an abode for world-class establishments, Chefs and cooks with creative genius, and people well-versed in the language of excellent food.
There's no other way to immerse yourself in the vibrant city culture than going around these restaurants.
Heading out to Chi-town? Here is a cheat sheet of the best Chicago Riverwalk restaurants you should not miss out on!