Looking for the best rooftop bars in Chicago? Well, you're in the right place!
Chicago is filled with buzzing and vibrant rooftop lounges for people like you to gush over stunning views and unwind. What else could be more splendid than chilling in a lounge while admiring skyline views and a drink? 
Below is a list of the 12 best rooftop bars in Chicago for you to enjoy all year round.
1. RAISED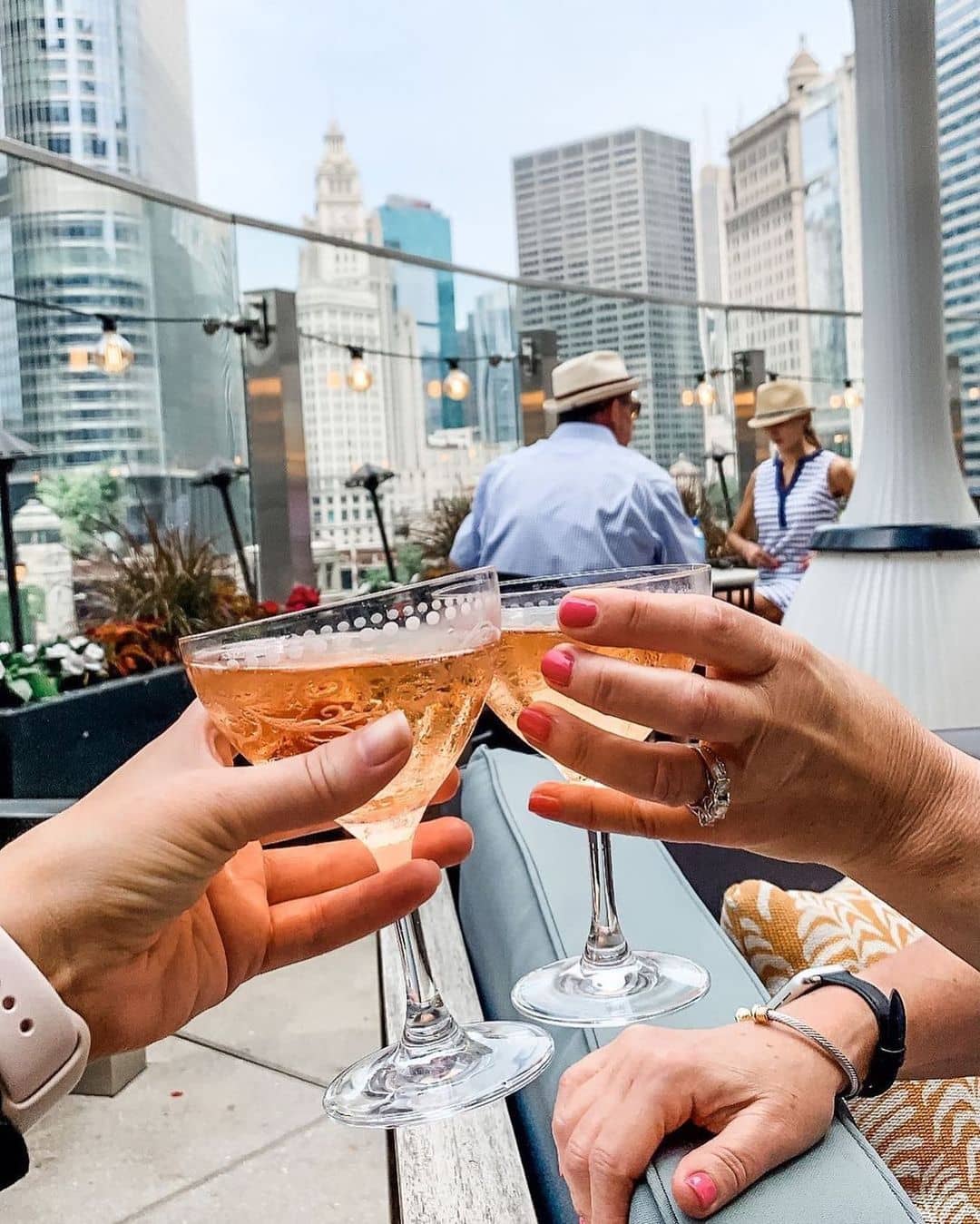 Offering the perfect setting to gather and celebrate amidst picturesque Chicago views, Raised is an urban, eclectic bar that caters to events of all sizes and vibes, from intimate to corporate gatherings.
Situated three floors above ground level, Raised has both indoor and outdoor areas as well as a roof deck where you can take in breathtaking views of the Chicago river.
Just the right amount of sweetness and sourness, the Watered Flowers cocktail in Raised is a must-have if you're looking for the perfect refreshment as you admire your surroundings. The egg white adds a nice foamy finish on top.
If you like something familiar, nothing beats the classic Old Fashioned when it comes to cocktails. This sweet whiskey cocktail is known for its slight bitterness and subtle spicy kick that will blow your mind.
Looking for the perfect food to pair with your drink? The Cheese Curds here are an excellent choice. The choice of batter gives a nice crunch and gooey cheese pull that will make your mouth water.
What to order: Watered Flowers, Old Fashioned, Cheese Curds
Address: 1 W Wacker Dr, Chicago, IL 60601
Website | Instagram | Facebook
2. VU Rooftop Bar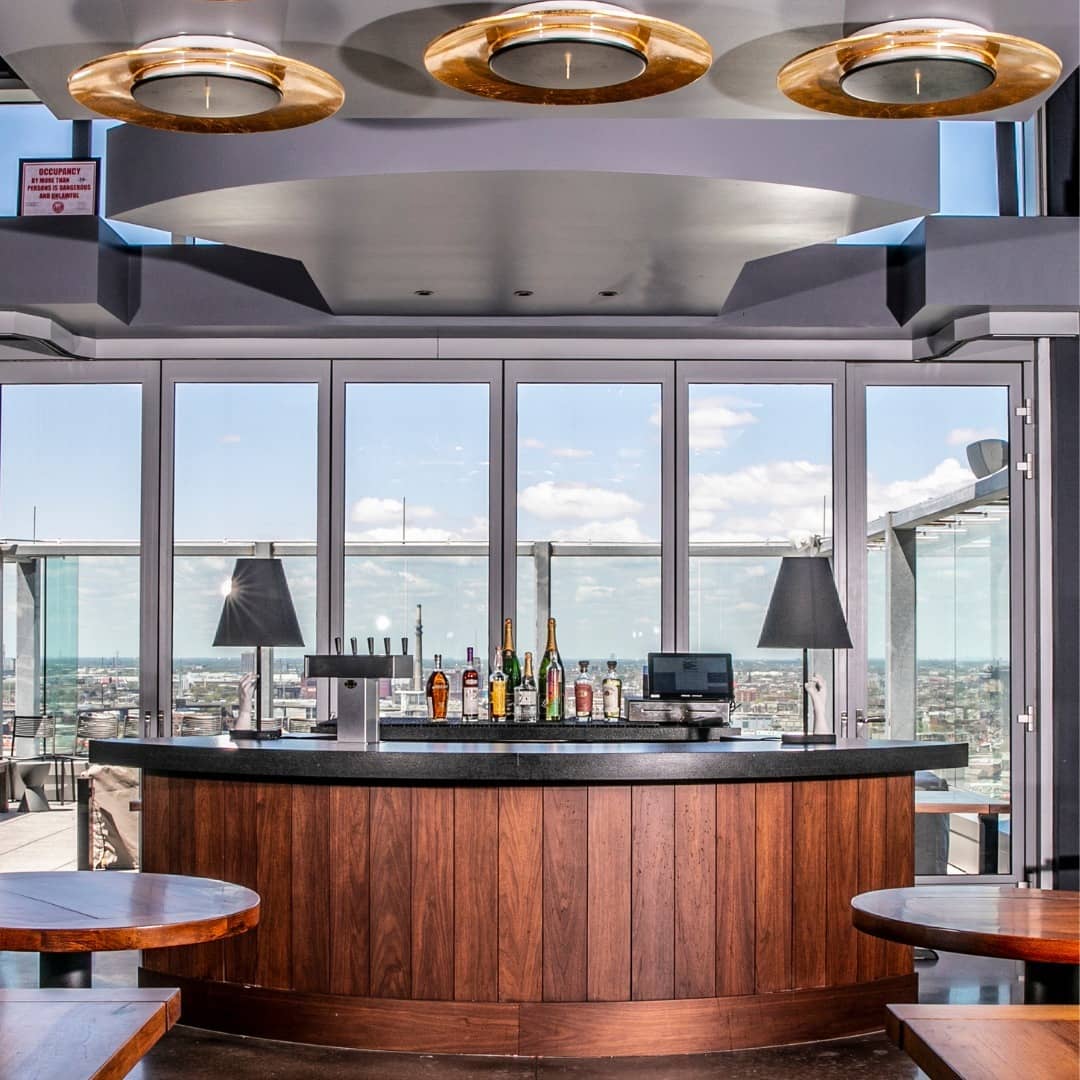 VU Rooftop Bar is a happy hour spot in the south loop that takes eating and hanging out to another level.
Enter through the right side of the hotel, through a black curtain where it feels like you're going to a secret place, and then take the elevator up to the bar. The open and friendly vibe turns into a lively club atmosphere at night.
Cocktails at VU Rooftop Bar can be made spirit-free as long as you make a request. We highly recommend getting the Blushed & Beautiful with spirits or not; it will taste absolutely amazing. The raspberry takes this cocktail to a different dimension.
One of the best fried Chicken Sandwiches you'll ever have can be found here at VU Rooftop Bar. So much juiciness and excellent flavor; this one has a slight kick that can be easily remedied by asking for sauce on the side.
What to order: Blushed & Beautiful, Chicago Hot Chicken Sandwich
Address: 133 E Cermak Rd, Chicago, IL 60616
Website | Instagram | Facebook
3. LH Rooftop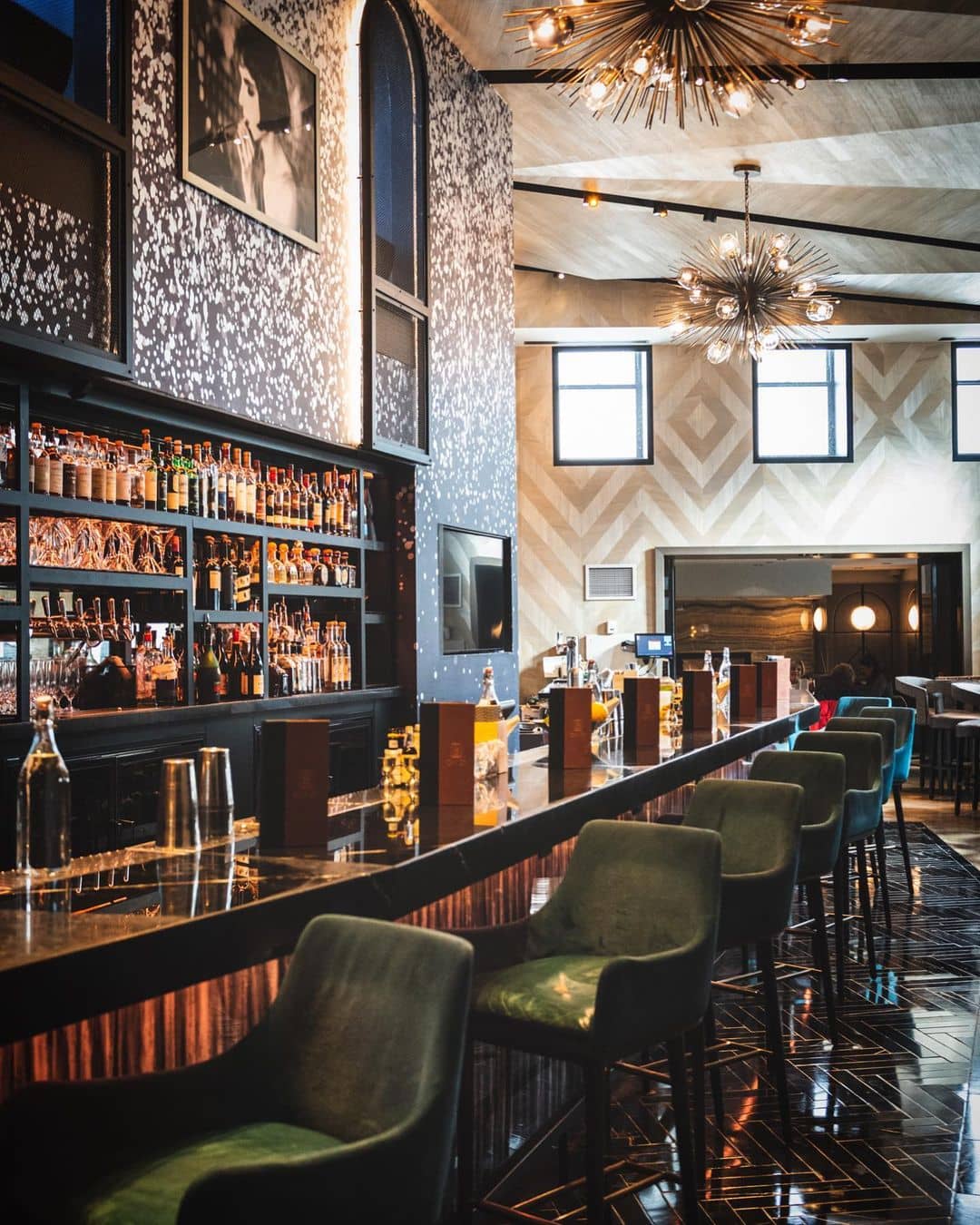 The one and only tri-level rooftop venue in Chicago, LH Rooftop, gives you the option to dine indoors or out and enjoy re-imagined American cuisine and cocktails.
Set in a space that draws in both visitors and locals, this is the place where you bring the top of your game to taste, connect, and converse. 
If you're here to take a sip and admire the views, the Smoke Show, aka Guava Margarita, sets the mood. Tart, smoky, and sweet— this drink will make you feel fancy and chic. The Peach Dream with basil hayden bourbon and the combination of peach and mandarin is also a must-try.
LH'S delicious Loco Moco will make you wish you could come here every day to have it for lunch. Tasting exactly like the ones from Hawaii, enjoy this one with breathtaking Chicago views.
What to order: Smoke Show, Espresso Martini, Loco Moco
Address: 85 E Wacker Dr 22nd Floor, Chicago, IL 60601
Website | Instagram | Facebook
4. Cindy's Rooftop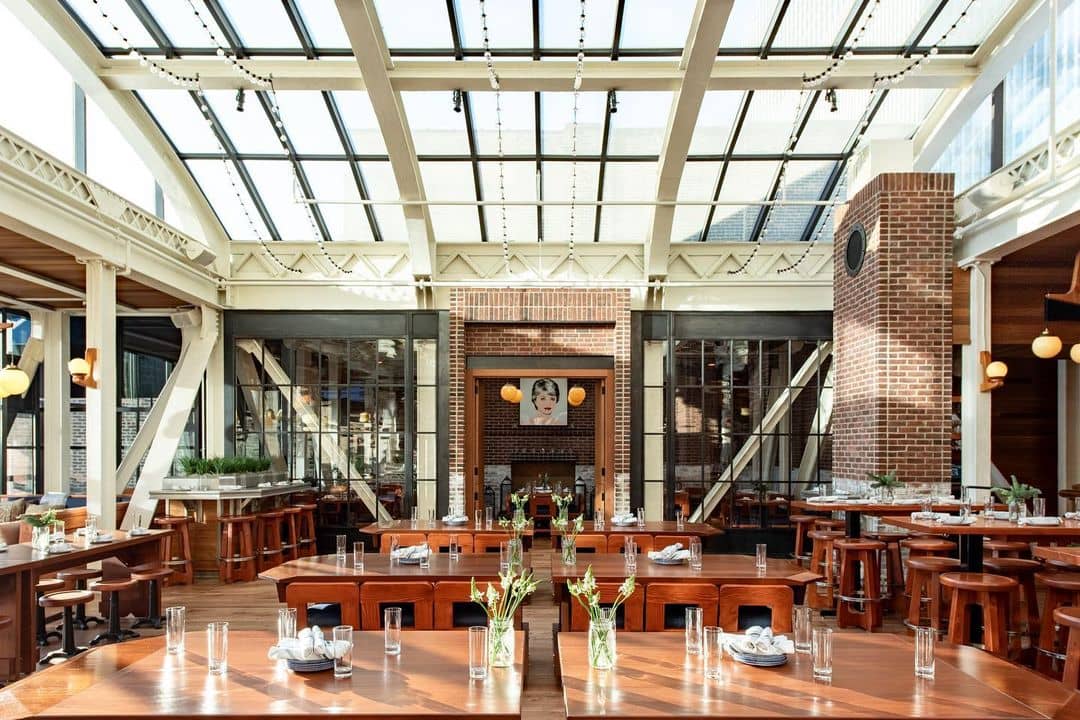 A hip and stylish rooftop bar located at the Chicago Athletic Association Hotel, Cindy's Rooftop serves seasonal fare with a stunning view of millennium park and the waters.
With the best views, top-notch service, and yummy food— Cindy's Rooftop checks off everything on the list. 
If you often find yourself leaning towards drinks without a strong alcoholic taste, the Deep Purple at Cindy's Rooftop is highly recommended. This refreshing drink might just be everything you need on a warm, sunny day as you take in the views.
Do you like drinks that will warm you right up? The No Substitutions drink in Cindy's Rooftop will let you feel the burn from the moment it enters your mouth, down your mouth, until your stomach.
Do not come here without trying the "Not So Secret" Secret Burger. If the name isn't enough to intrigue you, let this burger's taste speak for itself. The pimento cheese & aioli makes the dish even tastier.
What to order: Deep Purple, No Substitutions, "Not So Secret" Secret Burger
Address: 12 S Michigan Ave, Chicago, IL 60603
Website | Instagram | Facebook
5. The J. Parker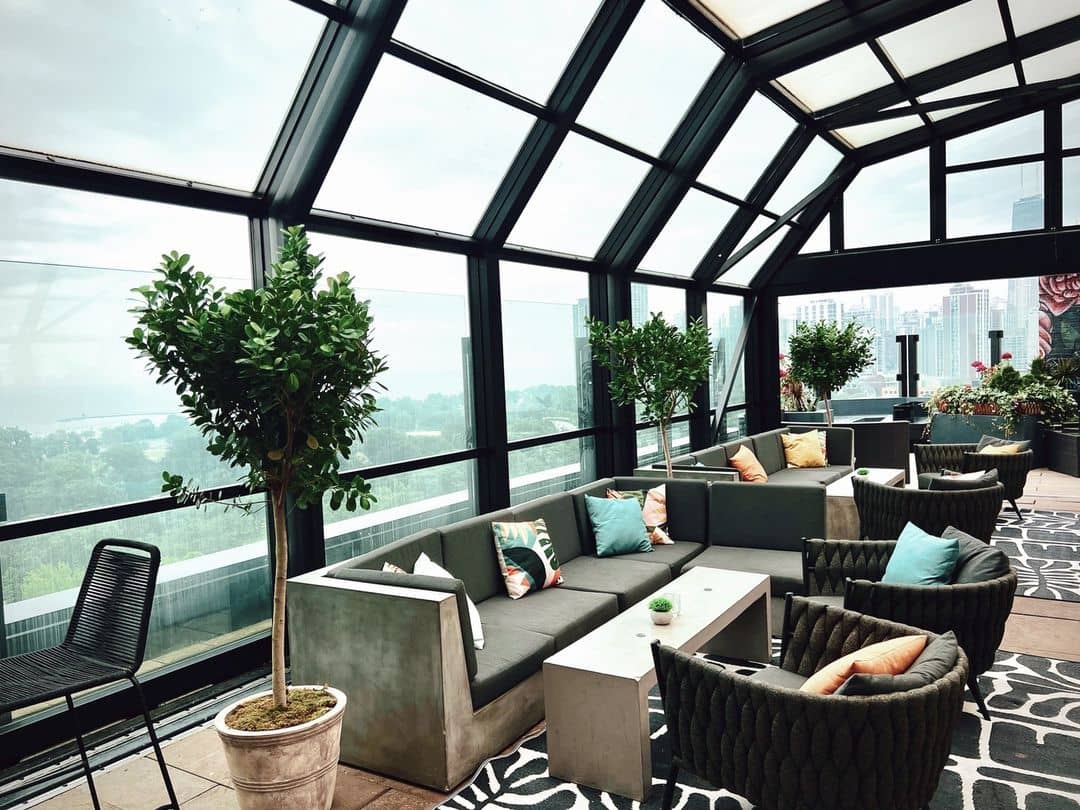 The J. Parker is a popular rooftop bar that offers open seating with an amazing ambiance. Cozy, industrial, and modern, with remarkable views of the city and lake, the place boasts a heavy hipster and millennial-style vibe that will let you keep up with the trend.
With a seasonal cocktail menu, there are almost always new things to try at The J. Parker. The fall-winter options are especially popular. When it's available, the Simple But Significant is an amazing drink that will make you feel special.
What else is better than Truffle Fries when paired with drinks? Piping hot, crisp, and a wonderful housemade ranch that you'll wish you could take home, these Truffle Fries are to die for!
What to order: Simple But Significant, Truffle Fries
Address: 1816 N Clark St, Chicago, IL 60614
Website | Instagram | Facebook
6. IO Godfrey Rooftop Lounge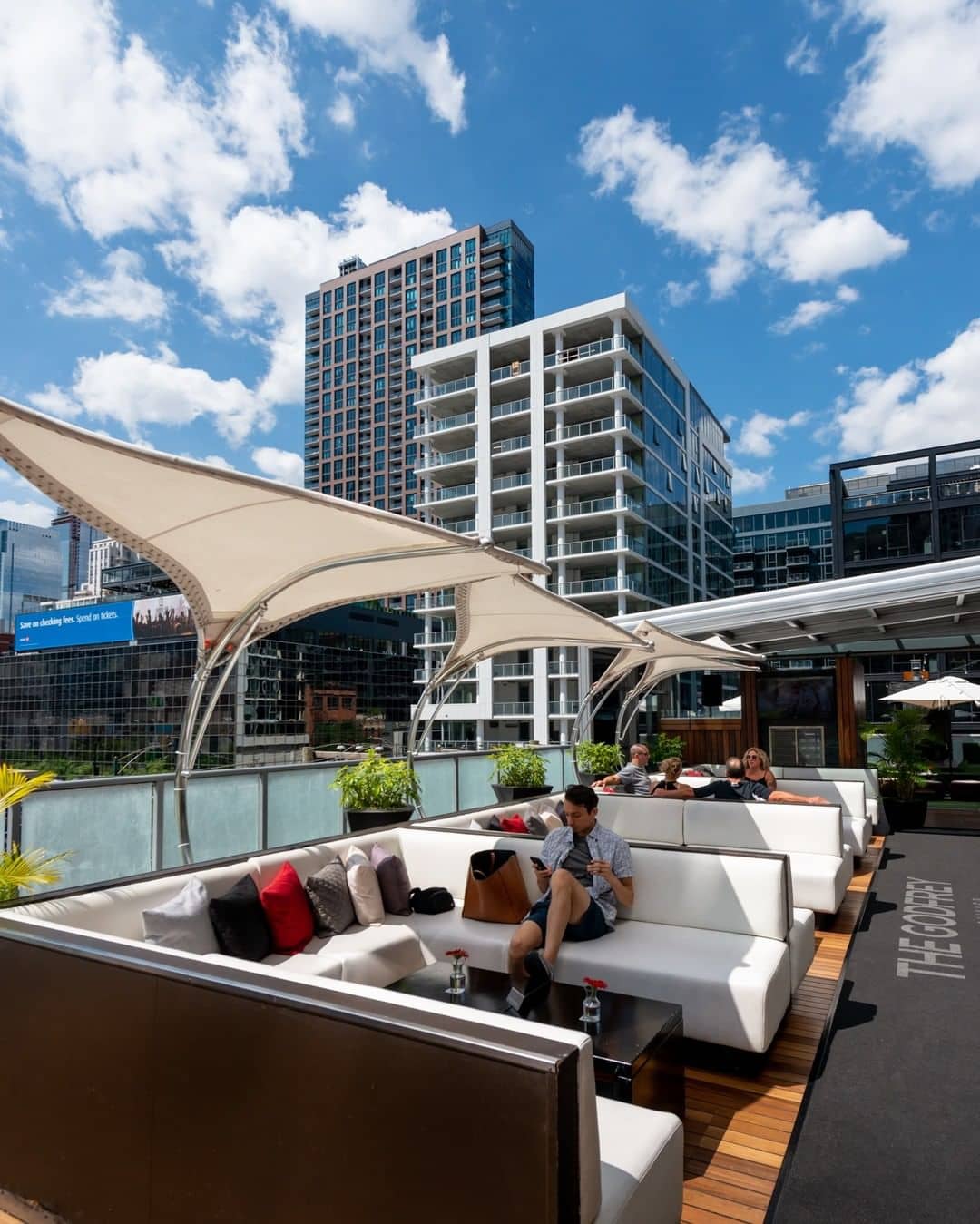 Potentially one of the best rooftop bars in Chicago, IO Godfrey Rooftop Lounge is the spot for the most relaxing rooftop vibes and happy hour. With a comfortable and lively atmosphere, get ready to keep the booze flowing!
When you come to a place like IO Godfrey, it's almost mandatory to down some drinks— alcoholic or not, to fully immerse yourself in the beautiful views of the surrounding towers. The Snowflake Sangria is perhaps the best sangria you'll ever taste in town.
While it may be surprising to have good food in a rooftop bar, IO Godfrey raises the bar with their Lamb Lollichops. Perfectly cooked and made to fall off the bone, you'll love this one even if you don't like lamb!
What to order: Snowflake Sangria, Lamb Lollichops
Address: 127 W Huron St, Chicago, IL 60654
Website | Instagram | Facebook
7. ROOF on theWit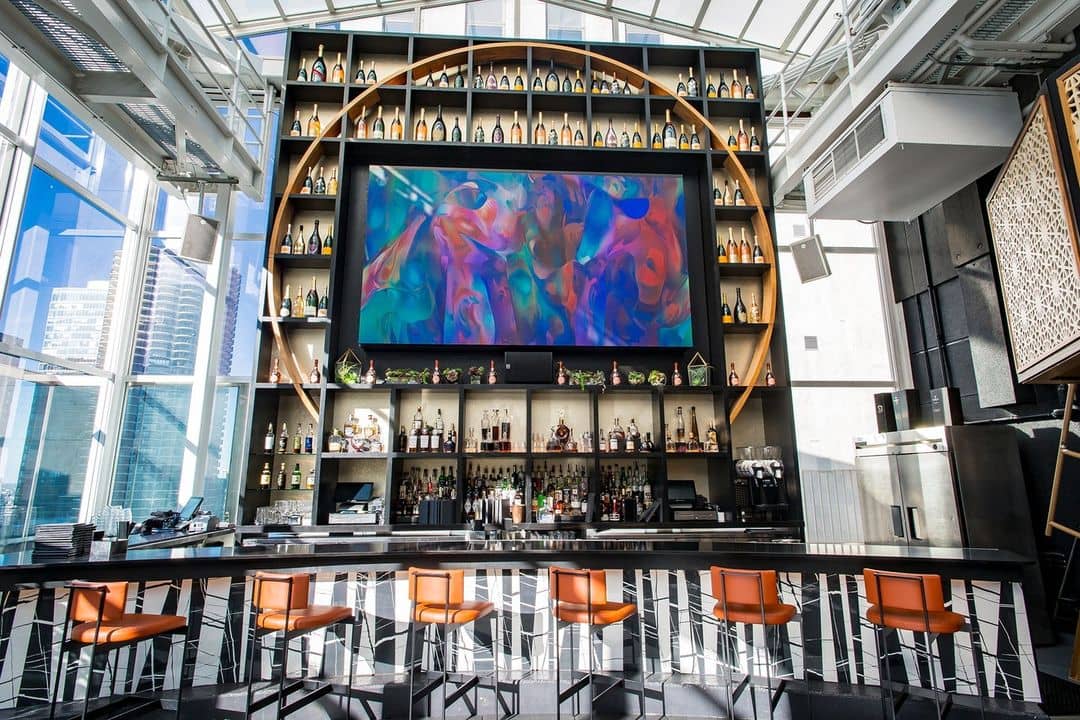 ROOF is a rooftop bar hotspot located on the 27th floor of theWit Hotel. Considered a landmark in the heart of Chicago, this rooftop bar has a very trendy atmosphere with gorgeous ceiling decor and stunning skyline views.
Known for serving upmarket cocktails, you'll never go wrong with any drink you order here. However, the Classic Margarita is a classic favorite for a reason! With the perfect kick, crisp, and not-too-sweet flavor, this lovely drink will complete your evening.
Have you ever had a mushroom pizza? For some reason, the Mushroom Pizza in this place tastes so good its mere existence is a disrespect to other mushroom pizzas. One bite is all it takes for you to be addicted.
What to order: Classic Margarita, Mushroom Pizza
Address: 201 N State St 27th Floor, Chicago, IL 60601
Website | Instagram | Facebook
8. Z Bar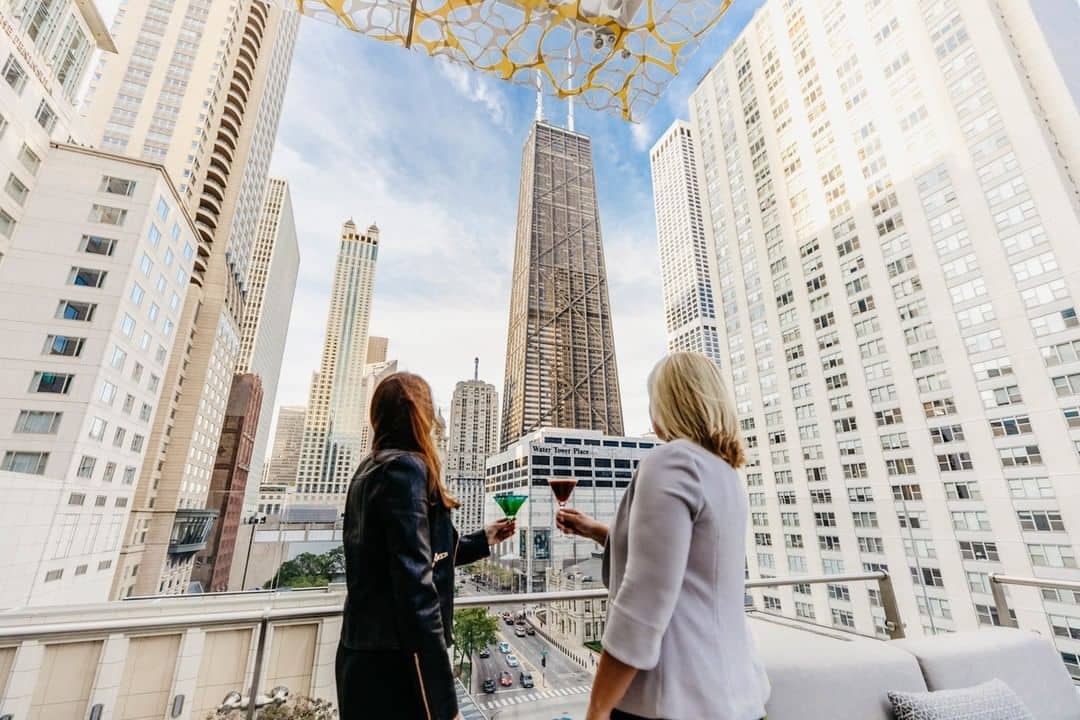 Z Bar is a rooftop lounge inspired by the world's cultural and culinary riches. With iconic views of the city, this spot is an ideal place to take in Chicago's wonders. Located in an upscale hotel, expect your drinks and food to be high-class and upgraded.
With an extensive cocktail menu that is a delightful mix of classics and innovative creations, you'll find a lot of familiar drinks and unique ones here. The Old Fashioned is beautifully rendered and especially perfect for the atmosphere.
Do you like trying new things? Z Bar's All About The Blues ironically will help you get rid of all the blues. The genmaicha and blue pea flower-infused vodka make this drink stand out from the rest.
What to order: Old Fashioned, All About The Blues
Address: 108 E Superior St, Chicago, IL 60611
Website | Instagram | Facebook
9. The Up Room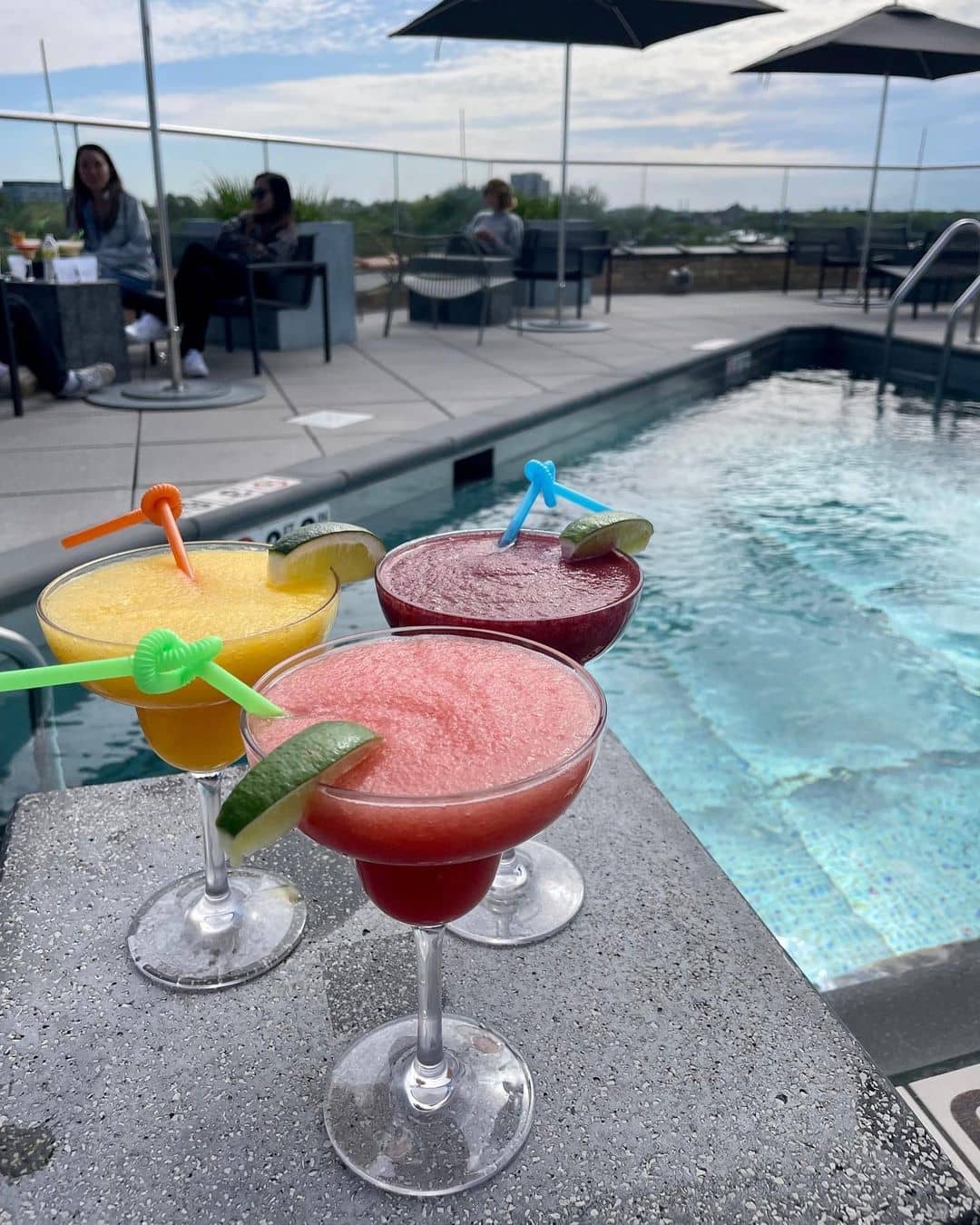 Sitting atop the Robey Hotel, The Up Room features a stunning view of Chicago from a 360 perspective. The dim lighting and quaint space create an intimate and chill vibe, perfect for a romantic dinner date where you can get to know your partner more. Watch the hustle and bustle below as you down for some drinks and indulge in great conversations.
There is no better way to enjoy the surrounding glass walls offering spectacular views of the city than with equally spectacular cocktails. The Grotto Smash with vodka, blackberry, sage, and lime is among the standouts on their list.
Old fashioned with a dash of smoked cinnamon? Count us in! The Up Room's Robey Old Fashioned screams classy and elegance in every way. Admire the twinkling skyline and take in the beautiful night breeze with this old but gold drink.
What to order: Grotto Smash, Robey Old Fashioned
Address: 2018 W North Ave, Chicago, IL 60647
Website | Instagram | Facebook
10. Upstairs at The Gwen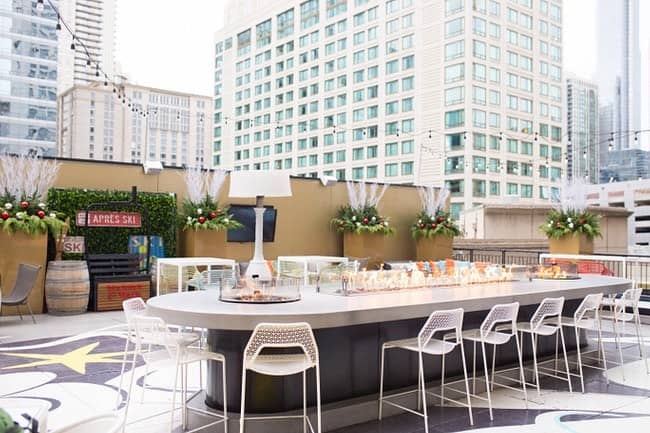 Upstairs at The Gwen is a famous rooftop bar set in a hotel that offers an upscale feel with a few fire pits around cushy and comfy seating. With string lights running across and a bar in the middle, this spot has an intimate and posh vibe that is very relaxing.
Are you looking for a multi-dimensional drink that will take your breath away? The Barrel Aged Manhattan is a perfect choice! This cocktail has a slight bitterness and a mellow sweetness that is great for people who like a simple yet strong drink.
Want something more tasty, fresh, and fun? The ZigZag with mezcal, pineapple amaro, aperol, and lime is the highlight of Gwen's signature cocktails.
What to order: Barrel Aged Manhattan, ZigZag
Address: 521 N Rush St 5th Floor, Chicago, IL 60611
Website | Instagram | Facebook
11. Kennedy Rooftop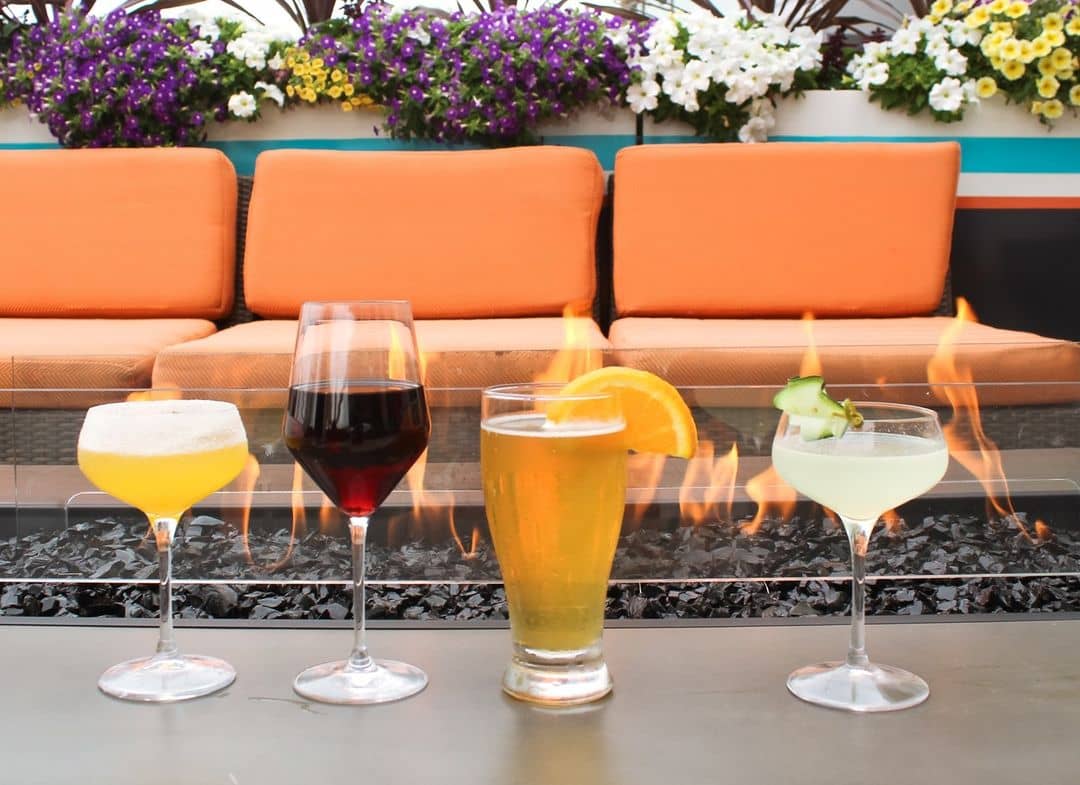 A hidden gem in Wicker Park, Kennedy Rooftop offers panoramic views of Chicago's skyline. With chef-crafted cocktails and a crave-worthy food menu, visit here once and find yourself coming back a second, third, or more times!
Widely known for their "presidential" cocktails, Kennedy Rooftop's The First Lady and The JFK are the true stars of the show. The latter is their signature drink which has a fruity and delicious flavor that you will down in an instant.
Don't miss out on Kennedy Rooftop's BBQ Pulled Pork served in mini brioche buns. These sliders are topped with cheddar cheese, grilled pineapple, and arugula. The tangy bbq sauce perfectly compliments the sweetness of the pineapple.
What to order: The First Lady, The JFK, Pulled Pork Sliders
Address: 1551 W North Ave, Chicago, IL 60622
Website | Instagram | Facebook
12. Aba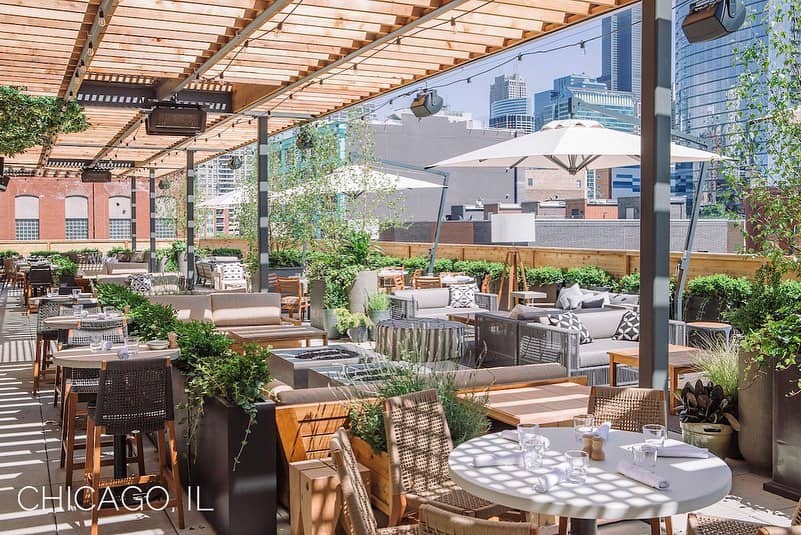 Aba is a lounge-style rooftop patio in West Loop, serving elevated Mediterranean fare and cocktails. With a fabulous and serene ambiance, your experience here will set the bar high for rooftop bar dining. Whether you're dining solo or with a group, Aba won't disappoint.
Crafted to absolute perfection, the Faux-Loma with appel's pineapple serrano cordial, lime, and three cents greek grapefruit soda is a one-of-a-kind mocktail drink that will have you thinking of it 24/7. What kind of magic did they put in this drink?
Another zero-proof cocktail that is one for the books, the Give Me Life will certainly bring life to you with lyre's classico sparkling, strawberry, rose, and bitters. This drink is so refreshing; it will give you flashbacks of your youth.
What to order: Faux-Loma, Give Me Life
Address: 302 N Green St 3rd Floor, Chicago, IL 60607
Website | Instagram | Facebook
Aside from rooftop bars, there are lots of mouthwatering Italian restaurants in Chicago that you must try! If you're hungry for some real food after downing some drinks, head on to our list of the best Italian restaurants in Chicago for more delectable options!