Looking for the best Seattle brunch spots? Well, you're in the right place!
Known for its breathtaking mountains and spectacular scenery, Seattle is widely considered a gem of the Pacific Northwest.
The Emerald City also takes pride in hosting a diverse array of restaurants, old and new, many of which have changed the city's food scene for the better.
If you're a local or planning a visit to Seattle soon, the following are some of the best Seattle brunch restaurants you could visit:
This article includes affiliate links where we may get a small commission if you use our link. No extra cost is added to you.
Looking for a place to stay in Seattle?
---
1. The Fat Hen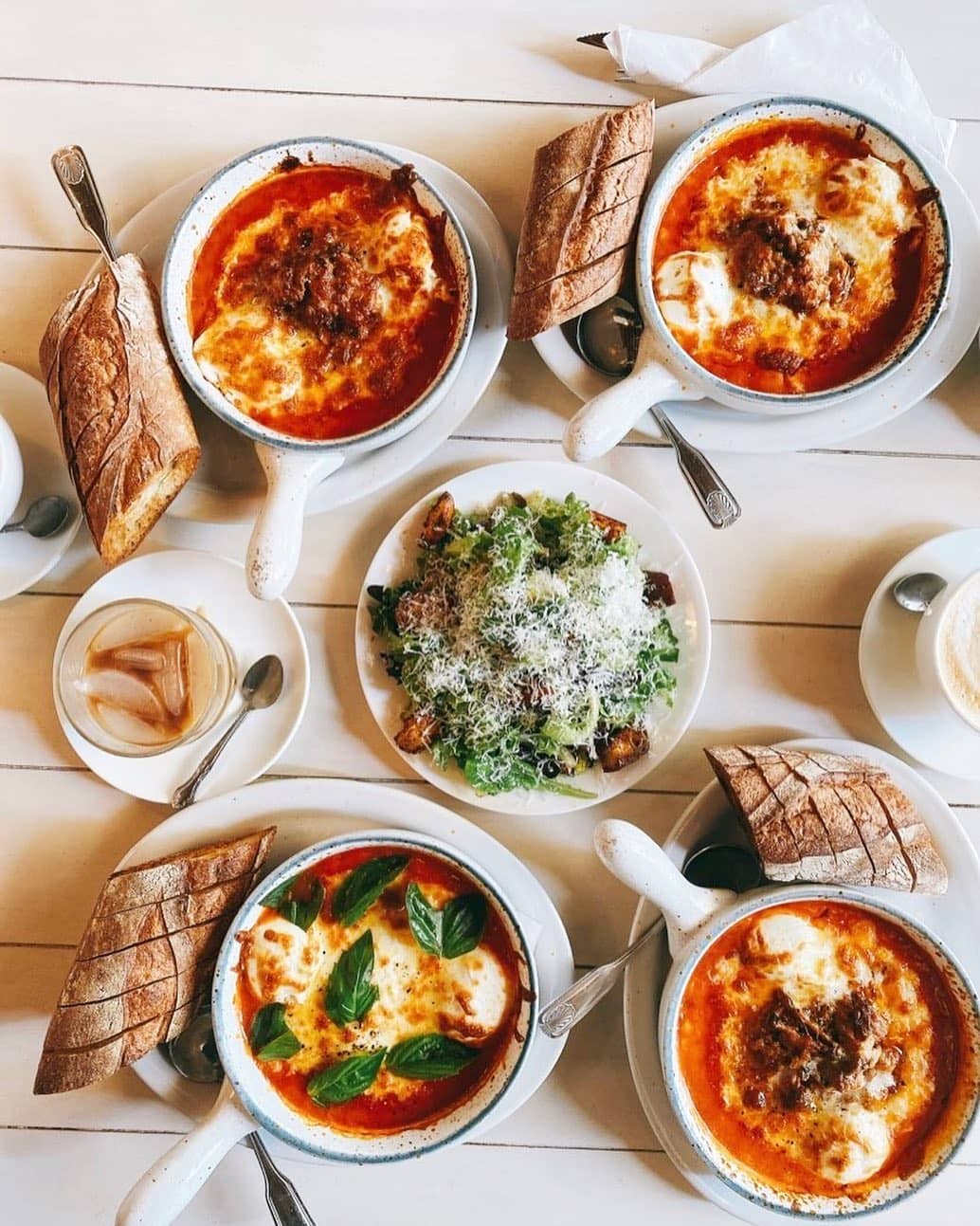 The Fat Hen is a cute and tiny neighborhood cafe serving American and Italian breakfast and lunch along with freshly squeezed juices, coffee, tea, mimosas, and more.
With rustic decor and relaxed dining space, this neighborhood fav could easily become your favorite brunch spot too!
If you're a benedict-for-brunch kind of person, The Fat Hen has some incredible options like Dungeness Crab Eggs Benedict and Pancetta Eggs Benedict.
Both the dishes are wonderful tasting, but a special mention to the delicious hollandaise that is made in-house from scratch.
The smashed fingerling potatoes on the side are golden brown and crispy on the outside and soft and fluffy on the inside.
One divine dish from their menu is the Sweet Toast.
Made with Grand Central levain – perfectly crusty, savory, and with a soft inner, and topped with ricotta cheese and citrus marmalade (both made in-house), and a sprinkle of pink peppercorns, you cannot stop smiling when you try this dish.
What to order: Dungeness Crab Eggs Benedict, Pancetta Eggs Benedict, Smashed Fingerling Potatoes, Sweet Toast
Address: 1418 NW 70th Street, Seattle, Washington 98117
2. Heyday Bar & Restaurant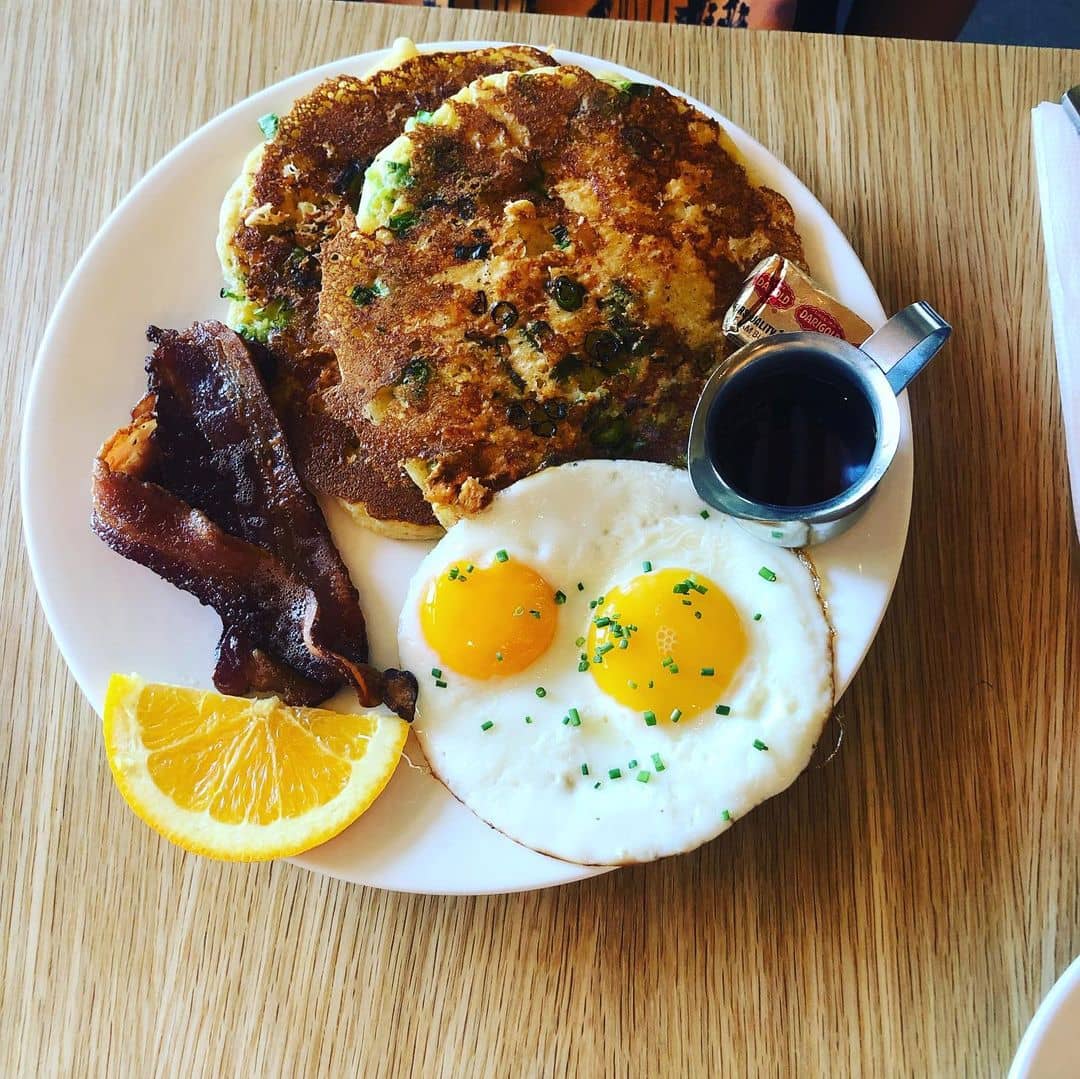 Heyday Seattle is a modern burger place, believed to deliver the best burgers in Mount Baker.
The restaurant also has a bomb brunch menu, with a myriad of options in handhelds, breakfast bowls, and a bunch of sides.
Start your brunch with their Pork Belly Barley Bowl. The pork belly is crispy, and the barley is stir-fried; along with all the other elements in the bowl, the dish is a perfect mix of savory, tangy, and zesty deliciousness with amazing flavor and texture.
One dish that the locals almost always order here is their Johnny Cakes. These are their popular cornmeal cakes with Beecher's cheddar and scallions – savory pancakes that taste heavenly with maple syrup.
Looking for a light and healthier option?
Try their Quinoa Crunch salad. Full of vegetables and crunchy quinoa tossed in a cashew lime dressing, this is a hearty salad packed with yummy flavors and textures.
What to order: Pork Belly Barley Bowl, Johnny Cakes, Quinoa Crunch
Address: 1372 31st Avenue S, Seattle, Washington 98144
Website | Instagram | Facebook
3. Morsel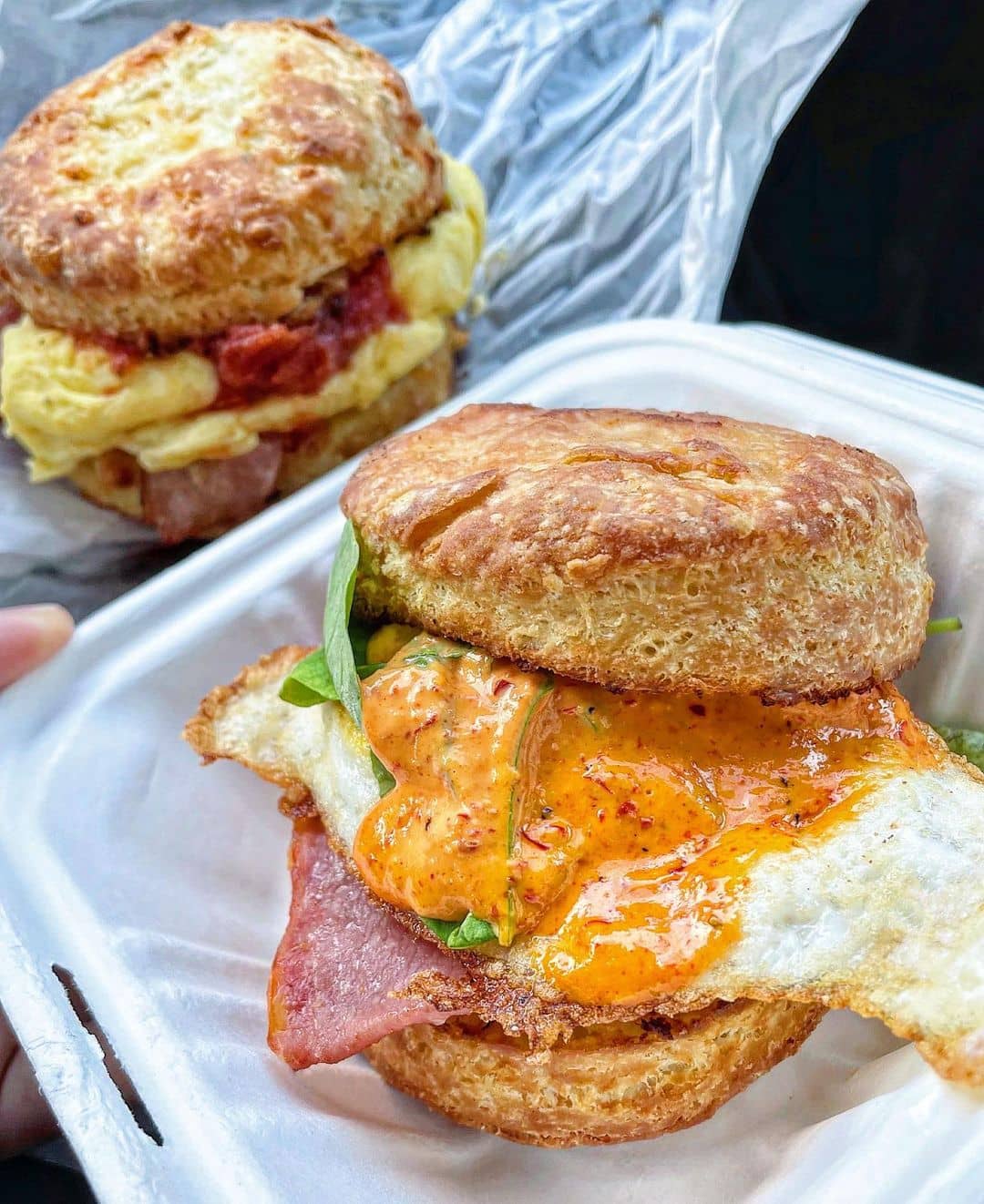 Located in Seattle's University District, Morsel is a biscuit and coffee shop well-known for its craft biscuit sandwiches.
This is the kind of place that people want to stop by at least once whenever they're in the city. With quiet corners, board games, sofas, and delicious food, Morsel is a homey spot that everyone will enjoy!
While all of their biscuits are heavenly, the Cheddar Chive one has earned its spot as the crowd-favorite.
The biscuit is soft, buttery, and delicate, without too much crunch, and with just the right level of warmth. Try it once and you'll find yourself ordering a dozen more to go!
If you wish to order one of their biscuit sandwiches, you get to choose your choice of biscuit. A favorite sandwich here is The Spanish Fly.
With pork prosciutto, manchego cheese, fried egg, and pepper aioli, it is subtly yet enjoyably flavorful.
They offer a wide selection of "fixins" or toppings, everything made in-house. While many selections are seasonal, their bacon jam tastes great with all their biscuit offerings.
What to order: Cheddar Chive biscuit, The Spanish Fly, Bacon Jam with biscuits
Address: 5000 University Way NE Suite D, Seattle, Washington 98105
Website | Instagram | Facebook
🍕 Are you a foodie? Check out these top-rated Seattle food tours!
4. Witness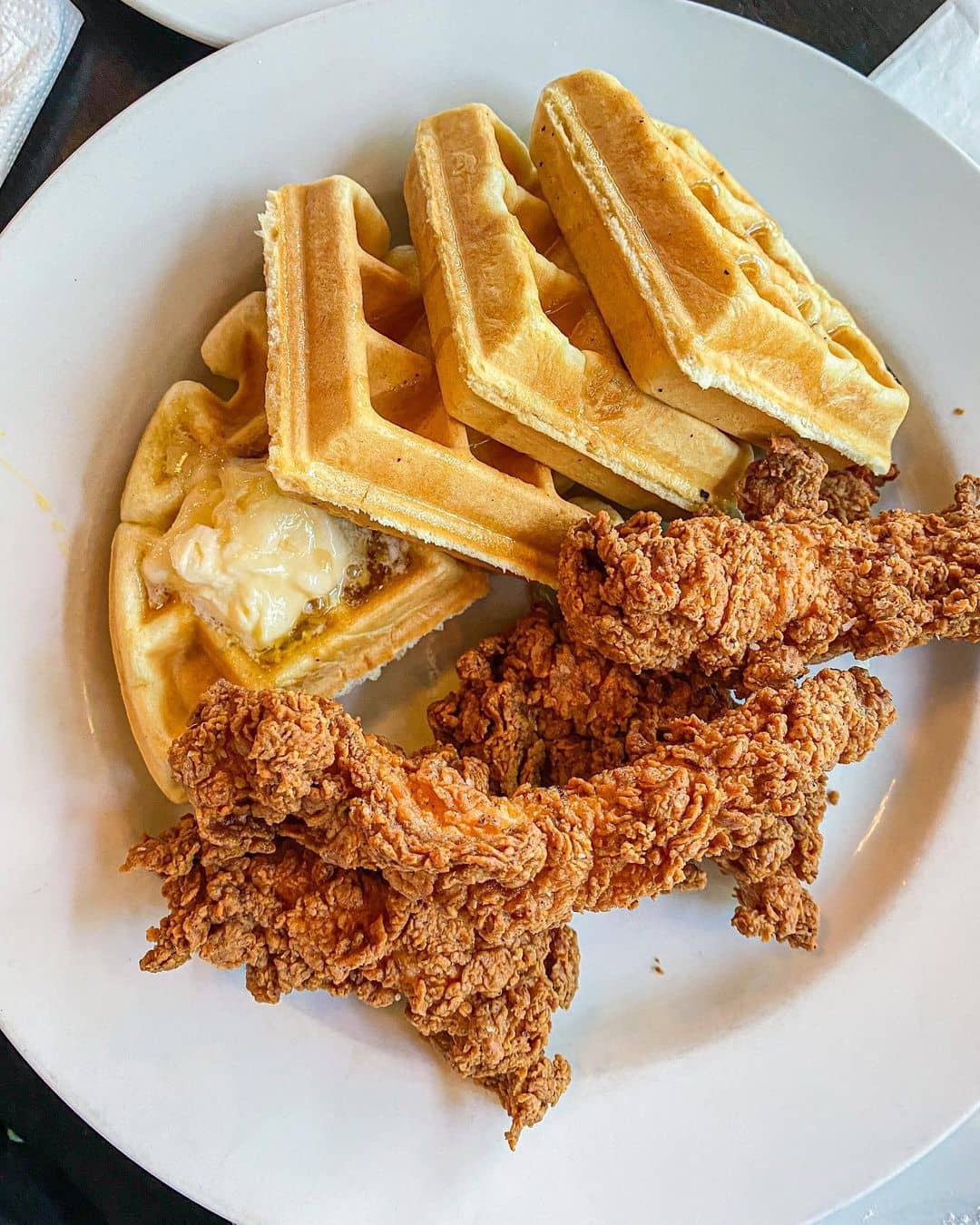 Located on Broadway, Witness offers Southern-inspired food, from fried chicken to craft cocktails.
With pews for seating and backlit stained-glass windows, the space feels like a movie set, where the food and drinks are extraordinary.
When you're in a restaurant that serves Southern fare, of course, you have to try their fried chicken.
So, your obvious first choice for brunch at Witness should be Chicken & Waffles.
The chicken comes fried to perfection – perfectly golden and crisp exterior, and completely juicy interior; the waffles are fluffy and savory, and the bourbon maple syrup ties everything together well.
Another Southern classic you get at Witness is Beignets. Crispy and fluffy on the outside with a nice dusting of powdered sugar, these beignets are so good that you'll devour them before clicking a picture for your IG.
What to order: Chicken & Waffles, Beignets
Address: 410 Broadway E, Seattle, Washington 98102
5. Fat's Chicken and Waffles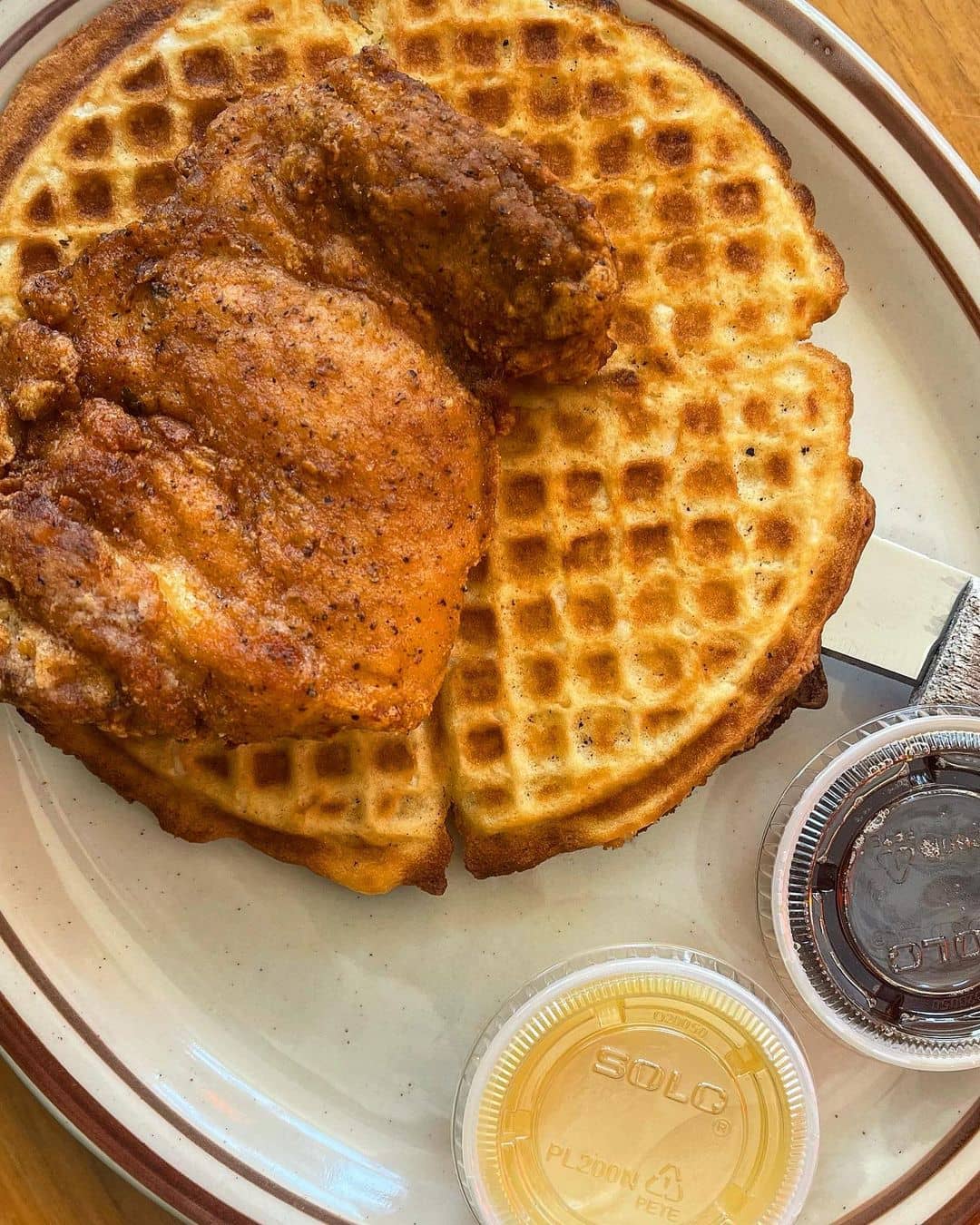 Fat's Chicken and Waffles, as the name suggests, is a Southern-style, New Orleans-inspired cafe serving Southern classics and favorites like fried chicken, catfish, and more.
The space is small and stylish, with a chill and comfortable vibe.
Get ready to witness an out-of-the-body experience when you order the Honey Butter Chicken Biscuit Sandwich at Fat's Chicken and Waffles.
The texture of the biscuit is well-balanced – crumbly yet doughy, and the chicken is crunchy and moist. What makes the dish stand out is the nice sweet honey butter.
The Shrimp & Grits with Eggs is another Southern-style brunch dish you can order here.
Creamy, cheesy, buttery, and soft, with a mild seafood flavor from the shrimp, this dish delivers warmth and soul on a plate.
What to order: Chicken and Waffles, Shrimp & Grits with Eggs, Bloody Mary
Address: 2726 E Cherry Street, Seattle, Washington 98122
Website | Instagram | Facebook
6. Seattle Biscuit Company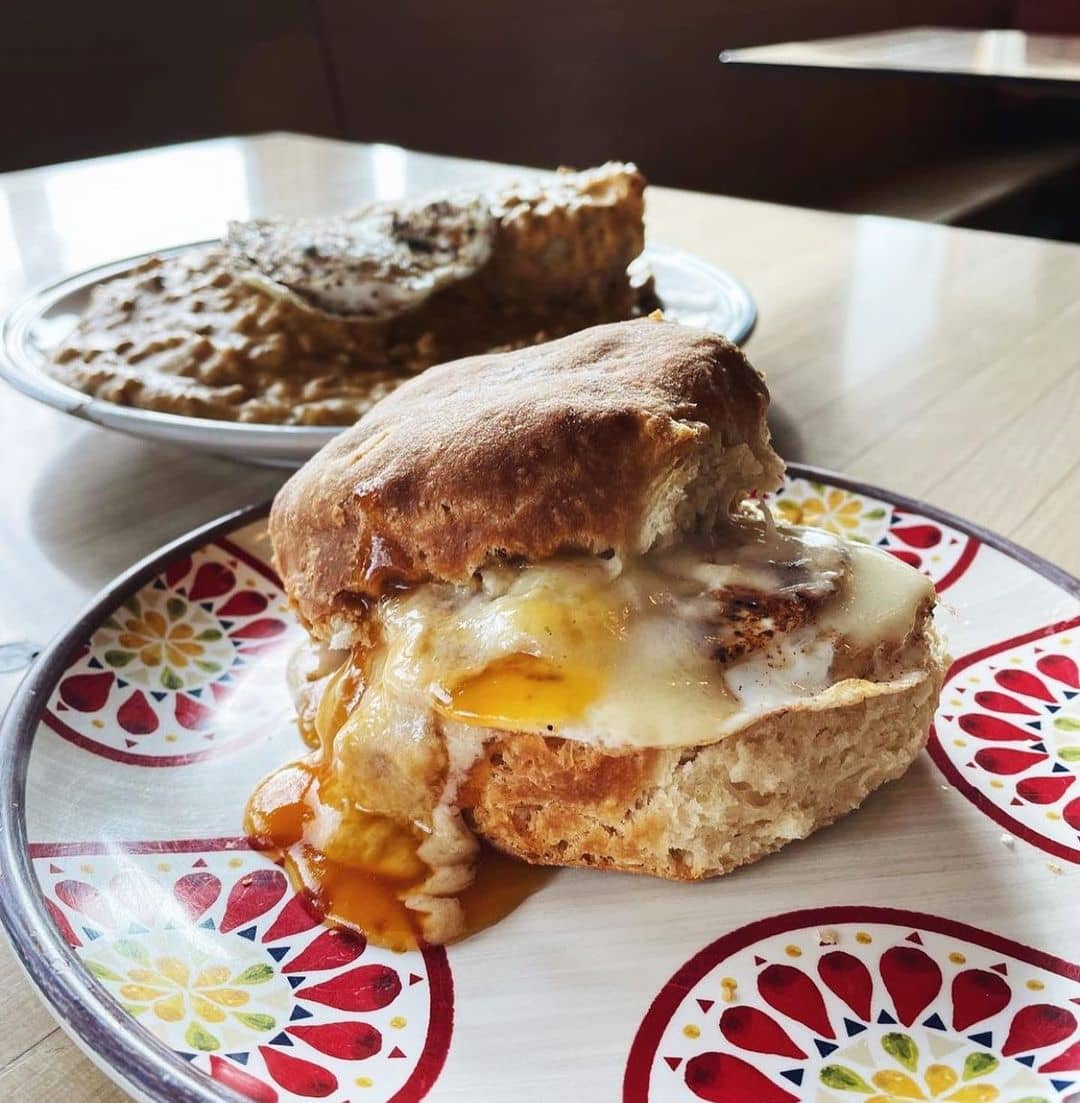 A biscuit specialist, Seattle Biscuit Company uses all local ingredients and their biscuits are made by hand, which makes them taste like home for Southerners.
The place is simple and rustic, the service friendly, and the food impressive.
Among their most popular offerings is the Gus, which has their signature fried chicken, sausage gravy, egg, sweet onion mustard, and pickles nestled between their ever-popular biscuits.
While the biscuits have a superb texture, hold their shape beautifully, and would taste great with just some butter, the addition of fried chicken and sausage gravy just takes them to the next level.
Varner – a humble yet delicious creation with Uli's Andouille sausage, Beecher's flagship cheese, and peach habanero jam made in-house.
The ratio of cheese is just right, the sausage has a light kick to it, and the house-made peach habanero is sweet and spicy with the perfect balance.
What to order: Gus, Varner, Meat 'N 2
Address: 4001 Leary Way Northwest, Seattle, Washington 98107
Website | Instagram | Facebook
7. Skalka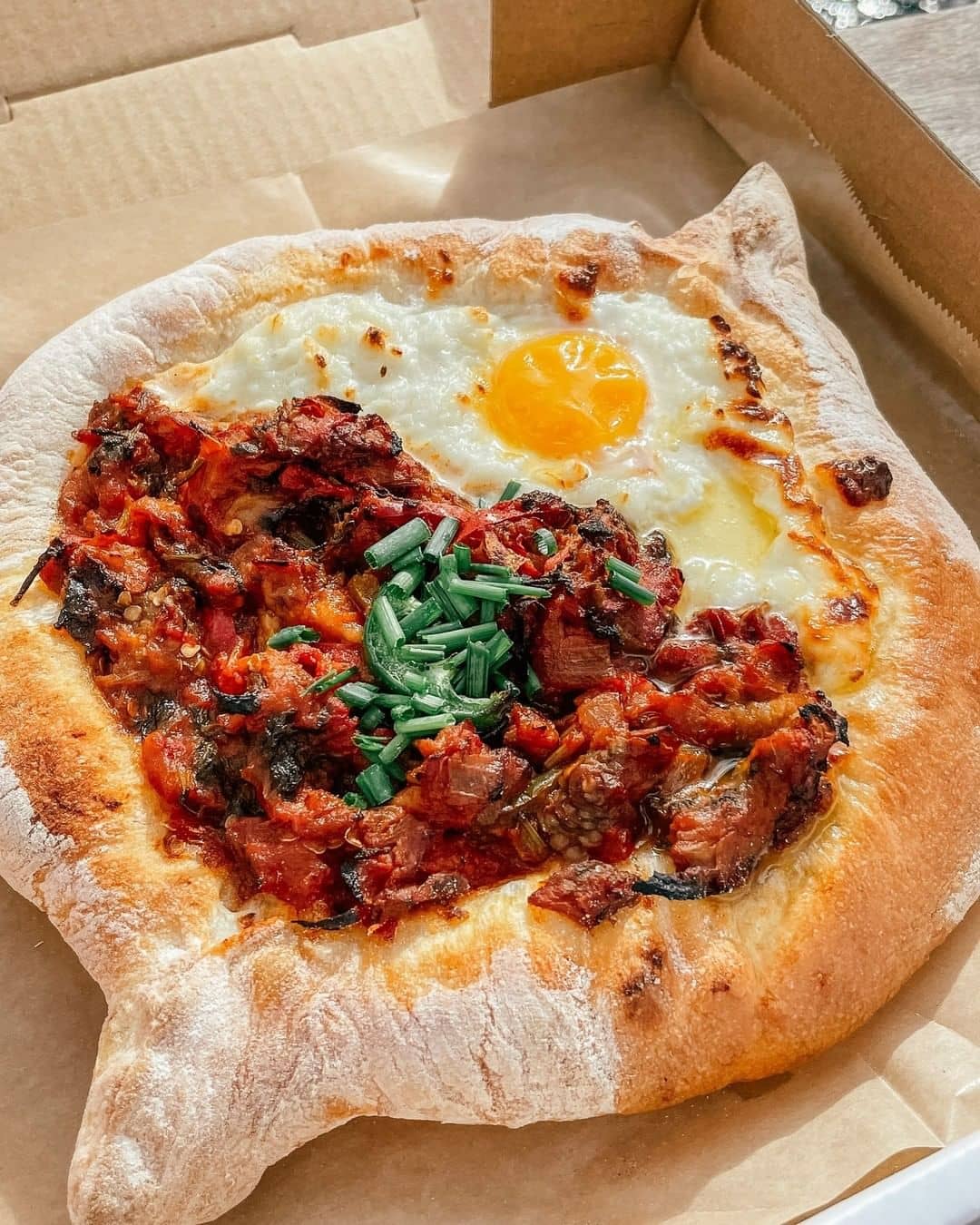 The restaurant describes itself as "Downtown Seattle's most unique breakfast and lunch restaurant", and we think the description is spot-on.
This is an Eastern European restaurant that serves one dish and one dish only – Khachapuri, something new that you'll want to experience more.
As mentioned, Skalka specializes in one dish only – Khachapuri – a boat-shaped pizza-like cheese bread that can be enjoyed with different fillings.
All their bread boats or Khachapuri are made from scratch – hand-stretched, hand-filled, and baked to order – you can literally taste the freshness.
The Chicken Khachapuri is a crazy delicious choice. You get cheesy Adjaruli – khachapuri with butter, cheese, and egg yolk, along with buttery, chicken ragu.
The freshness of the bread, cheesy and creamy topping, and fresh and delicious herby flavor from the ragu, everything makes for a rich, intricate, and fulfilling brunch.
With the Stroganoff, you get a flavorful shredded beef filling, along with mushrooms and pickles.
They also have a Veggie option, built with onions, tomatoes, and eggplants – delicious in its own way!
What to order: Chicken Khachapuri, Stroganoff Khachapuri, Veggie Khachapuri
Address: 77 Spring Street, Seattle, Washington 98104
Website | Instagram | Facebook
8. Bebop Waffle Shop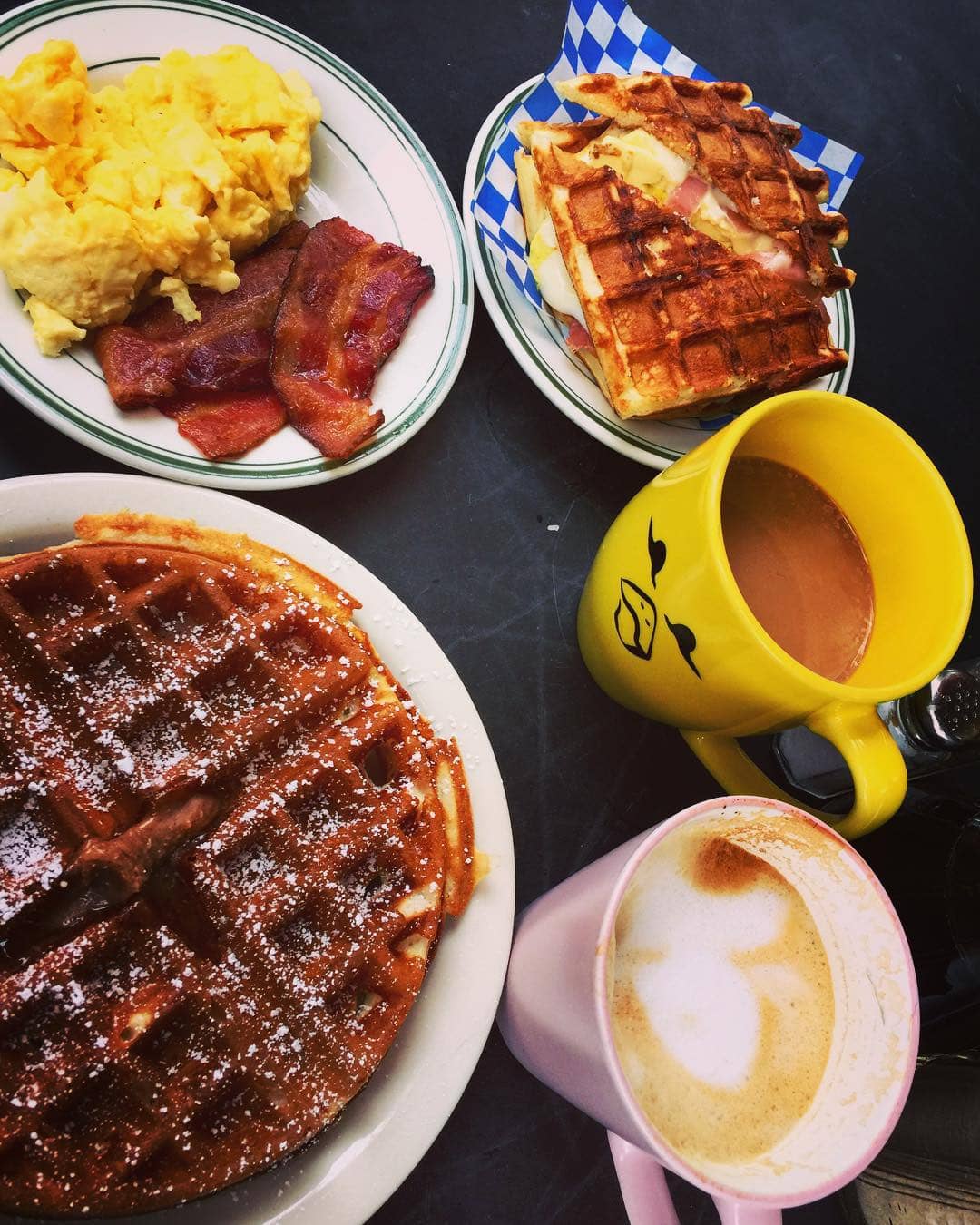 Serving waffles, organic coffee, sandwiches, breakfast bowls, smoothies, and craft beer and cider on tap, Bebop Waffle Shop is easily one of the favorite coffee and waffle bars in West Seattle.
The place is well-lit, comfortable, friendly, and perfect for people-watching while enjoying your brunch.
If you thought vegetarian chili doesn't taste great, prepare to be surprised!
Bebop's Breakfast Chili is a vegetarian chili, full of flavor, with a tangy sweetness from the sriracha aioli, creaminess from the scrambled egg and cheddar, and a hearty and soulful meal.
They also have a vegan waffle option – Field Roast Waffle. This is a cornbread waffle with grilled vegetarian Field Roast, and the sriracha aioli again.
Without a doubt, the star is the cornbread waffle – soft and savory, pairing well with the contrasting sweet maple syrup.
The Waffled Grilled Cheese is also a people-pleaser.
What to order: Breakfast Chili, Field Roast Waffle, Waffled Grilled Cheese
Address: 2600 California Avenue SW, Seattle, Washington 98116
Website | Instagram | Facebook
9. Cheeky Cafe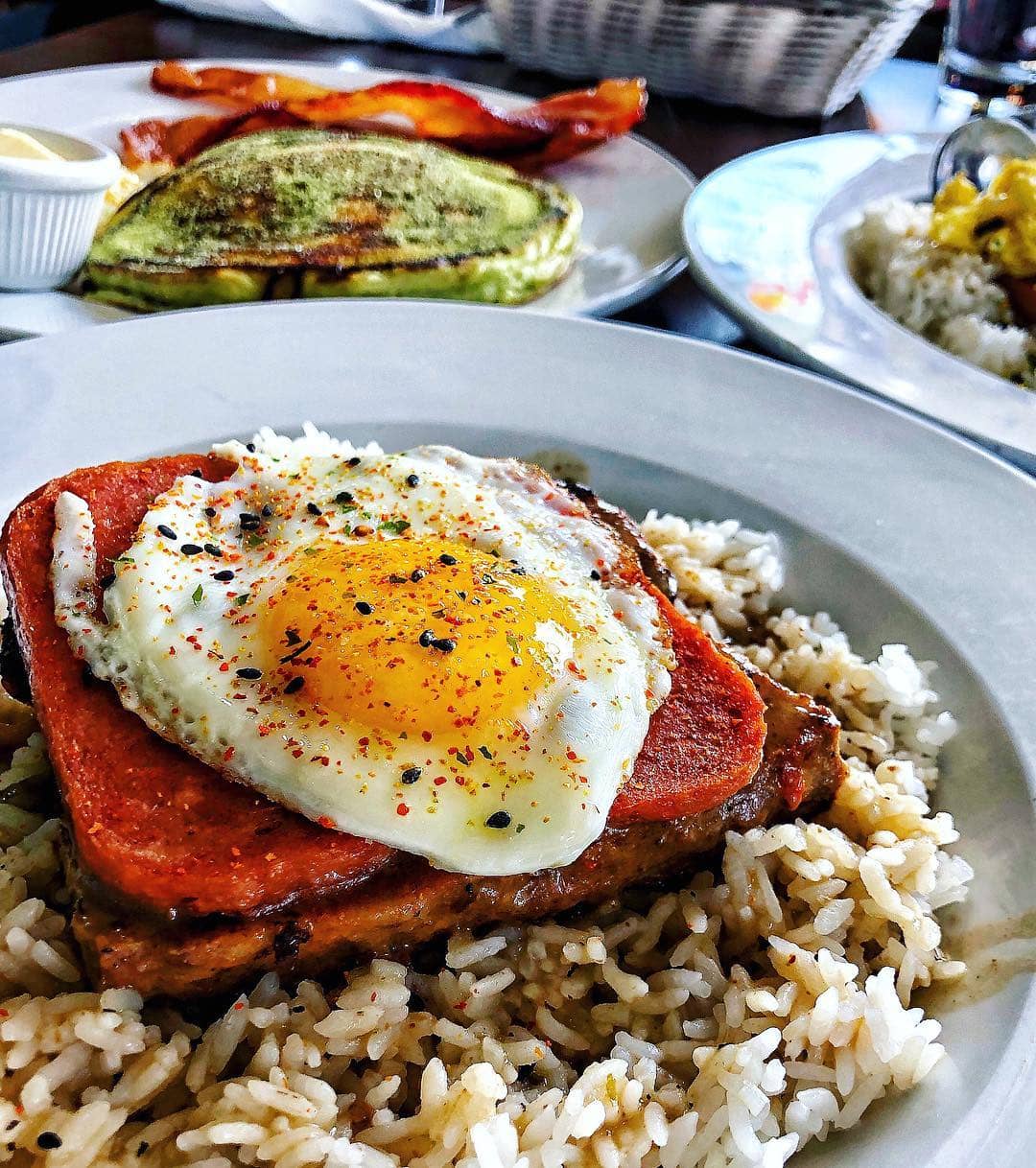 Cheeky Cafe is a quirky little eatery where you get to savor comfort food with a twist.
The cafe serves not just American comfort food but also Italian, Japanese, Chinese, and Korean, reflecting the diversity of the community they serve.
Their Meatloaf Loco Moco is an extraordinary concoction of Cheeky Cafe's signature bacon meatloaf served over rice and topped with rich and delicious homemade gravy and an egg.
This Hawaiian favorite is sure to make you drool.
The Cheeky French Toast is the indulgence you need on a slow mid-morning. It is filled with pastry cream and a fruit or peanut butter or chocolate, and fried. Yes, STUFFED and FRIED!
You know it will be delicious, but not overly sweet. It is served with eggs and bacon on the side.
Craving pasta? Cheeky Cafe's Pasta Carbonara it is! Made from scratch, your spaghetti comes tossed in a rich, creamy, and garlicky sauce, with lots of bacon.
What to order: Meatloaf Loco Moco, Cheeky French Toast, Pasta Carbonara
Address: 1700 South Jackson Street, Seattle, Washington 98144
10. Wakefield Bar & Cafe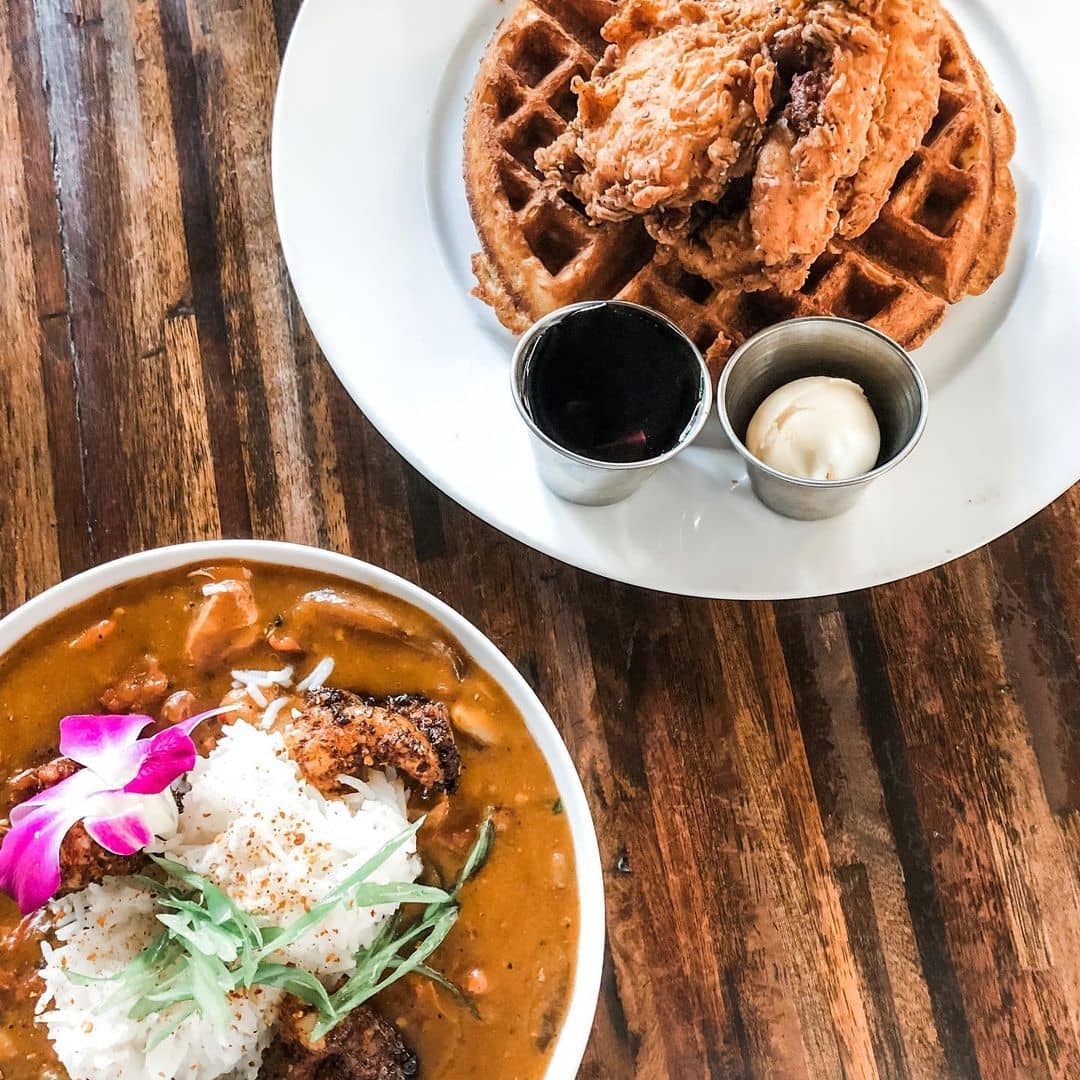 Located in the heart of Belltown, beside the iconic Rendezvous & Jewelbox Theatre, Wakefield Bar & Cafe offers inventive Southern fare and a lot of great drinks to go with it.
The cafe is located in a refurbished furniture showroom, a beautiful space, and with big TVs to enjoy your brunch bites with entertainment.
No matter how fancy or how unique a dish you have for brunch, nothing beats the satisfaction of gobbling down a simple avocado toast!
The Avocado Toast at Wakefield Bar & Cafe is made with fresh sourdough bread topped with creamy avocado and served with arugula salad, blistered tomatoes, sunflower seeds, and a sunny side egg.
Drizzle some balsamic on top for an extra kick.
If you have a sweet tooth, we would highly recommend you go for their Challah French Toast. The bread is rich and spongy and has a likable springiness to it.
The fresh berries cut down the sweetness from the bourbon maple syrup and powdered sugar.
What to order: Avocado Toast, Challah French Toast, Mimosas
Address: 2318 Second Avenue, Seattle, Washington 98121
Website | Instagram | Facebook
11. Nue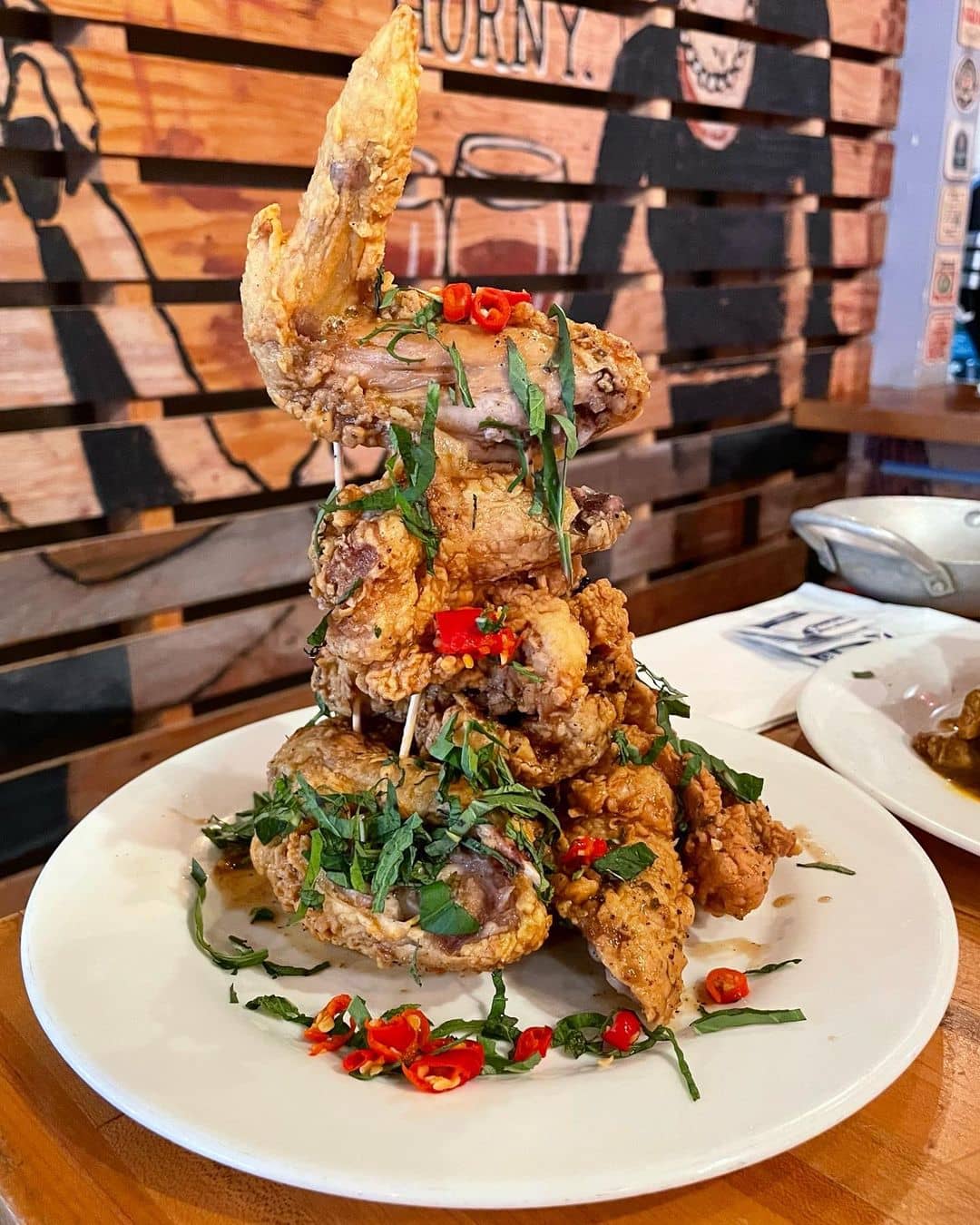 Nue happens to be a preferred spot for unique and delicious globally-inspired brunch and dinner choices.
Their menu is constantly changing to take advantage of seasonal ingredients, and the atmosphere is quite hip with loads of memorabilia.
Who would say no to chicken wings no matter the time of day?! Nue's Tower of Chengdu Wings will be your love at first sight!
Flavored with fish sauce, peppercorns, and more spices, these wings are crispy, sticky, spicy, sweet, and finger-licking good.
Tosilog – a popular Filipino breakfast dish is popular at Nue as well. The dish contains house-made tocino (cured pork) – tender and juicy, sinangag – garlic and scallion fried rice, and sunny side up egg.
The dish is both flavorful and filling.
The Dutch Patat Oorlog, also known as War Chips, is a great finger food. This is basically French fries topped with their delicious garlic mayo, peanut satay, chopped raw onions, and sambal.
You'll love every bite!
What to order: Tower of Chengdu Wings, Filipino Tosilog, Dutch Patat Oorlog (War Chips)
Address: 1519 14th Avenue, Seattle, Washington, 98122
Website | Instagram | Facebook
12. Bacco Cafe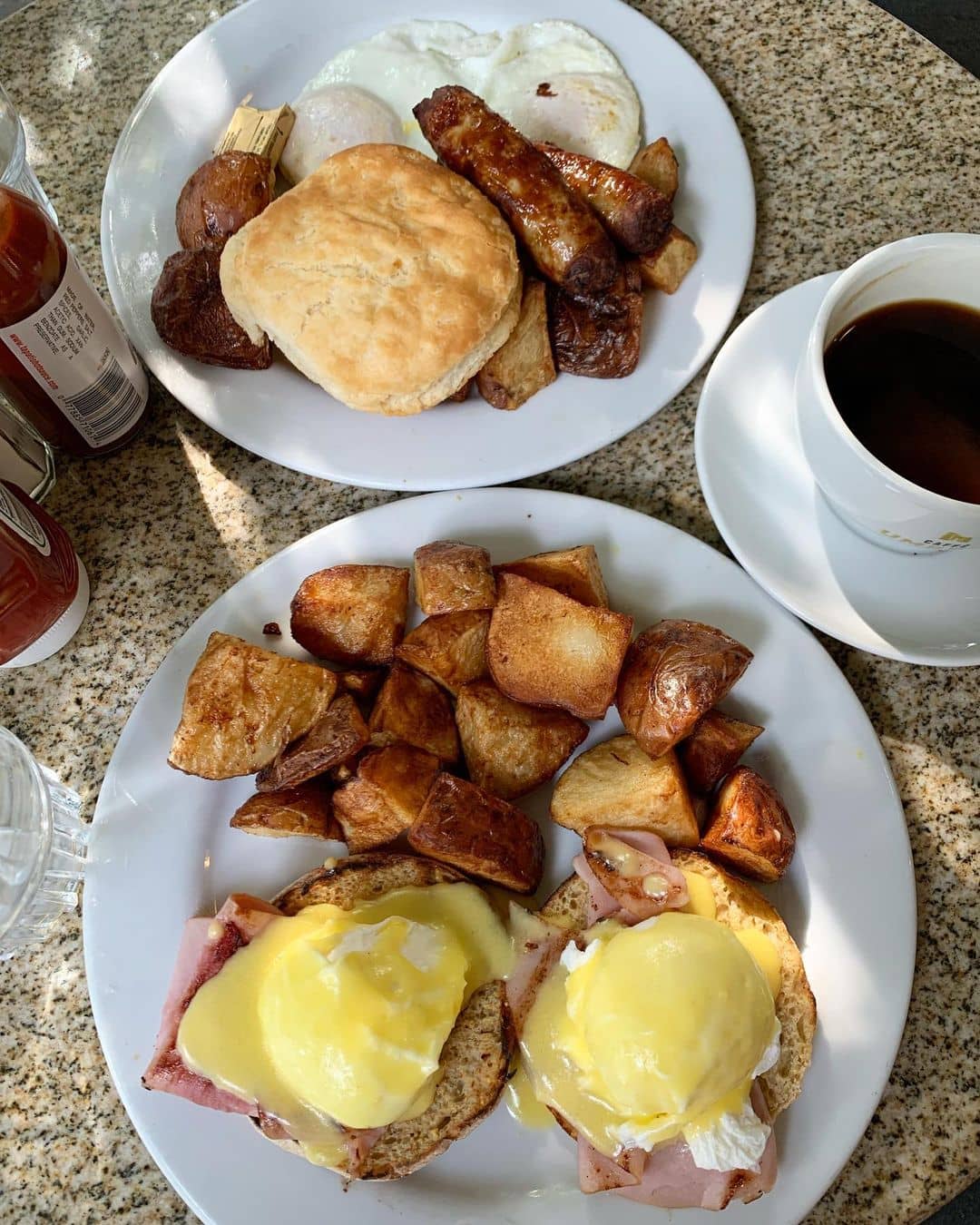 Located at Pike Place Market, Bacco Cafe specializes in local food and beverages, with a variety of choices for everyone's taste.
They also have a fresh juice bar, and serve organic coffee as well. Grab a seat on their patio and enjoy brunch with a view.
When you visit Bacco Cafe, you should definitely try at least one dish with dungeness crab.
Whether you choose their Dungeness Crab Benedict, Dungeness Crab Salad, or Dungeness Crab Sandwich, the crab is always plentiful and tasty, and we assure you that you'll leave fully satisfied.
The Brioche French Toast here looks and tastes scrumptious. In addition to being light and airy, with the perfect level of sweetness, the portion size is also generous.
If you prefer a traditional brunch, how about Lox & Bagel? The bagel comes out warm, and the lox is super-thin and cured to perfection that it melts in your mouth.
From Bacco's famous juice bar, Verona is the no. 1 drink to try.
A medley of pineapple, orange, and banana, the drink tastes fresh and energizing.
What to order: Dungeness Crab Benedict, Dungeness Crab Salad, Dungeness Crab Sandwich, Brioche French Toast, Lox & Bagel, Verona
Address: 86 Pine Street, Seattle, Washington 98101
Website | Instagram | Facebook
As discussed earlier, Seattle is home to an extensive array of locally and internationally-inspired restaurants.
Apart from these popular brunch spots, there is much more to the city's culinary scene that you're yet to explore.
Check out our best Seattle restaurants piece to learn more.
How We Create Our "Best" Lists
All Noms Magazine's "best" lists are created using multiple factors and signals to help readers find the best restaurants, things to do, and places to stay at. Some of these factors and signs include personal experiences, correspondence with locals, and compiling experiences from review sites.
Each list is also created to be balanced (in terms of price, cuisine type, ambiance, and more) as possible. This means that the lists are not specifically created in ranking order. You should be comfortable picking from any of the spots on the list and generally have a good time. But of course, YMMV (your mileage may vary) and everyone may have different experiences/palates.