Looking for the best Seattle restaurants? You're in the right place!
Welcome to Seattle – a dynamic, urban city surrounded by unmatched natural beauty. Here in Seattle, you'll find whatever your taste buds desire.
From James Beard Award-winning restaurants to budget-friendly eats, from Asian fusion fare, and classic French flavors, to everything in between, this place is never short of fantastic dining options!
Ready your forks, it's time we explore the 19 best Seattle restaurants you gotta eat at! 
This article includes affiliate links where we may get a small commission if you use our link. No extra cost is added to you.
---
Find Cheap Flights to Seattle
---
1. Cafe Juanita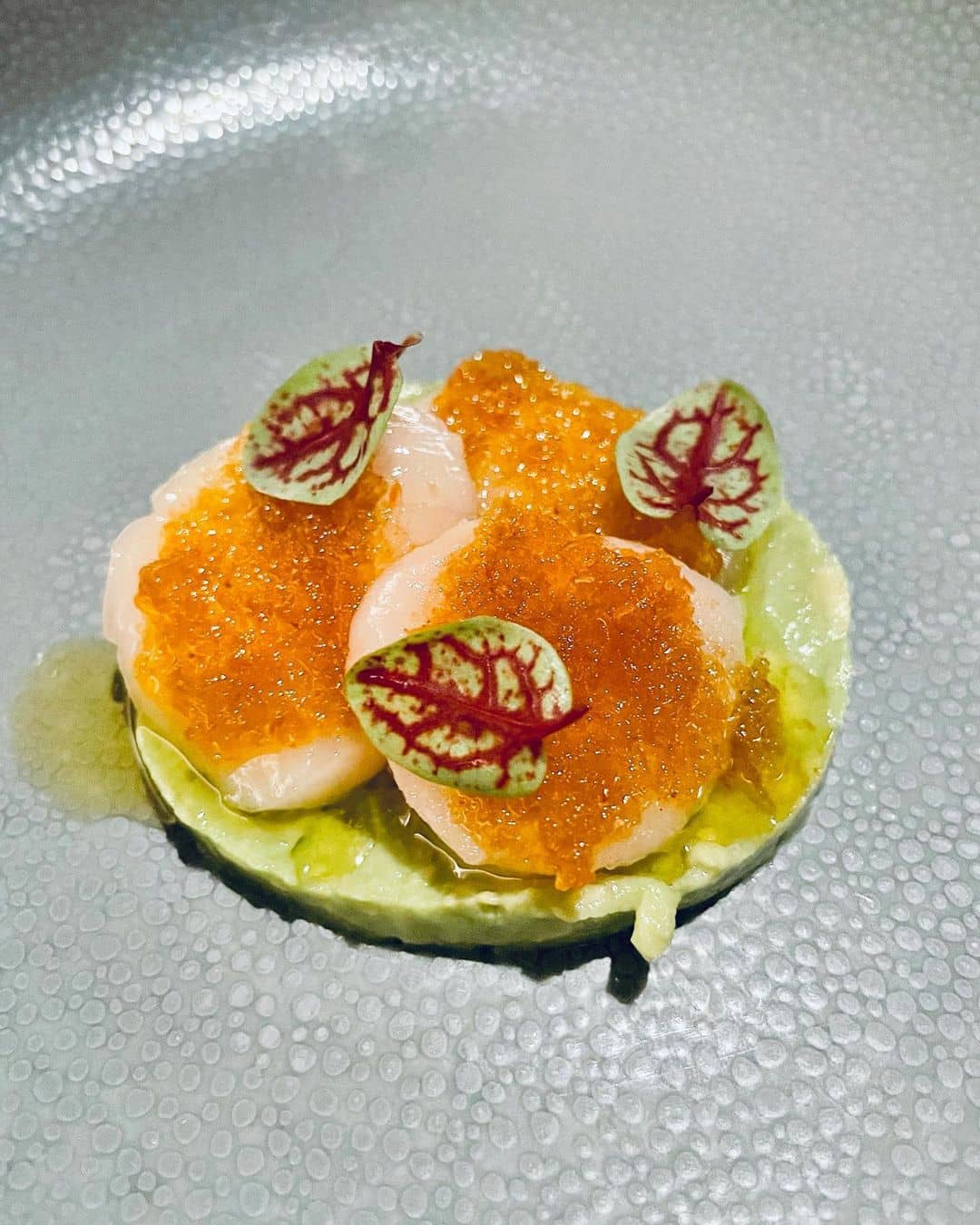 If you're a big fan of Northern Italian cuisine, then Cafe Juanita is the place to go in Seattle!
Offering a dark and intimate space, fine dishes, and an award-winning wine list focusing on Italian producers, Cafe Juanita is perfect for any special occasion dinner. 
You'll find their menu changes every month based on the seasonal produce, meats, and seafood.
This also means that you can always try new dishes any time you're here!
To explore their food and drink to the fullest, try ordering the Tasting Menu consists of the delicate A5 Miyazaki wagyu and homemade tagliatelle with chanterelles.
They also have both vegetarian and vegan options, which makes Cafe Juanita incredibly versatile for cuisine that tends to prioritize pork and butter!
Save some room for your dessert – the Vanilla Bean Panna Cotte with summer berries on top and honey drizzling!
What to order: Miyazaki Wagyu, Tasting Menu, Vanilla Bean Panna Cotta, Mediterranean Mussel Pasta
Address: 9702 NE 120th Pl, Kirkland, WA 98034
Website | Instagram | Facebook
2. Sushi Kashiba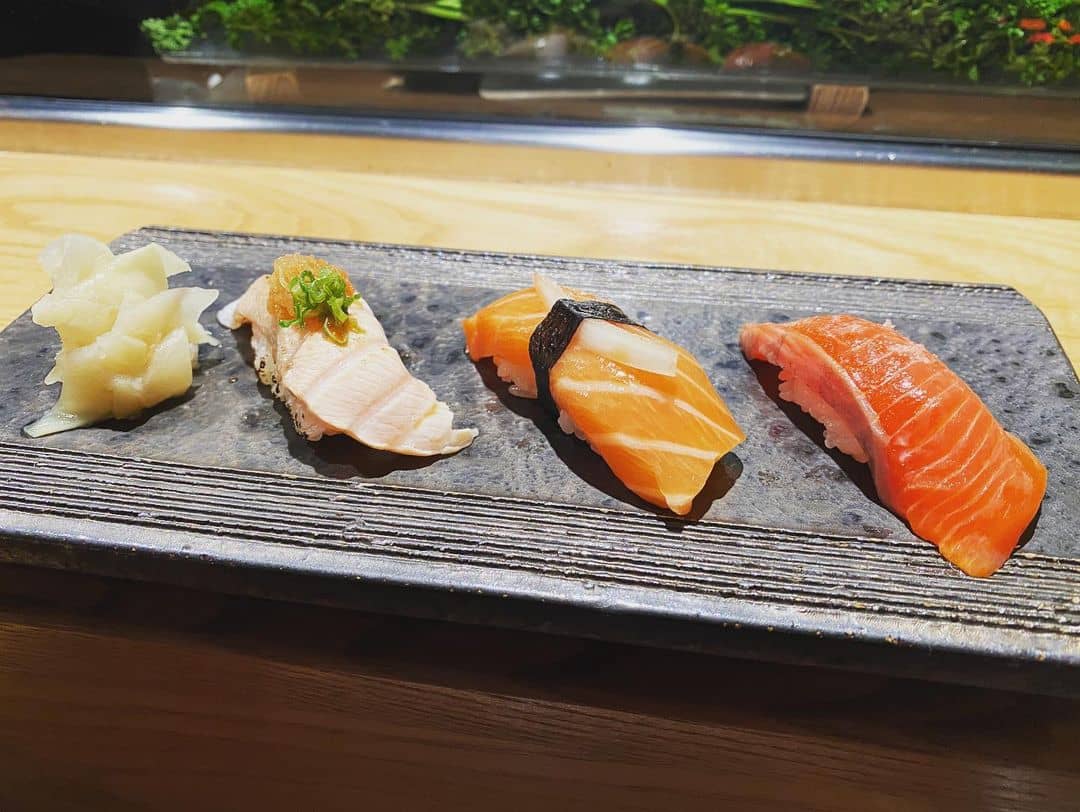 Sushi Kashiba has long been heaven for all raw-seafood lovers in Seattle, serving Japanese cuisine of the highest standards, using sustainable seafood from the region in a cozy, elegant ambiance.
Once visiting Sushi Kashiba, we bet you'll wish to know this place earlier!
The Sashimi Tuna Poke is definitely the first to try since it's the favorite one from this seafood house.
Each cubed tuna sashimi is fresh and delightful, and the house poke sauce adds a nice savory kick to the dish. What a way to start a meal!
Continue with the Black Cod Kasuzuke, which is once featured in The New York Times, marinated in sake and miso paste, which gives it a deep savory flavor, along with a hint of sweetness and richness.
You can also have Sunomono Salad as a side dish, with daily-selected seafood, sliced cucumber, and seaweed in dashi vinegar. Fresh!
What to order: Sashimi Tuna Poke, Black Cod Kasuzuke, Sunomono Salad, Chawan Mushi
Address: 86 Pine Street Suite #1, Seattle, WA 98101
Website | Instagram | Facebook
3. Musang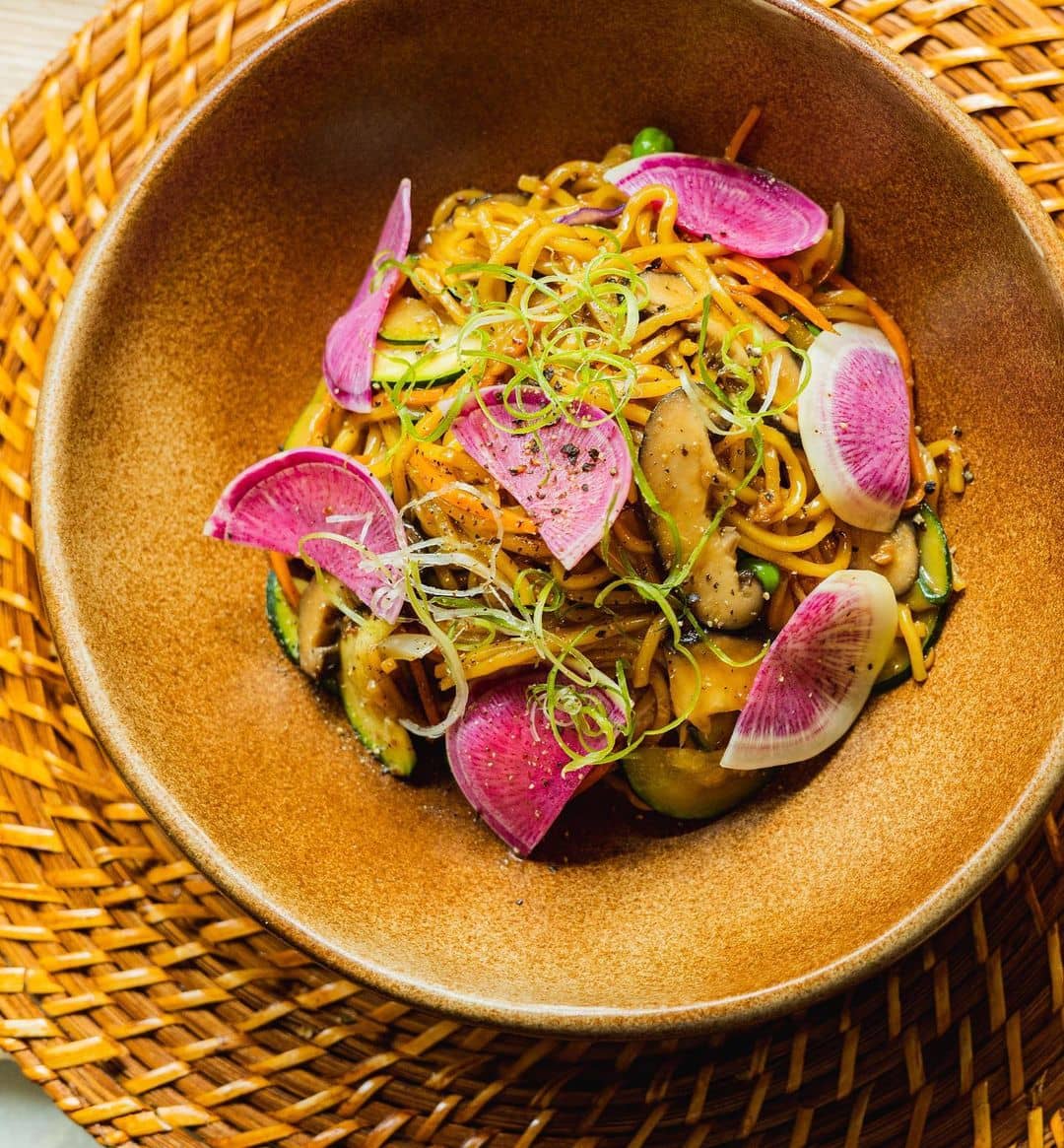 Musang is like a cozy home filled with incredible Filipino food, vintage interiors, and a loving ambiance.
If you're in need of a place to unwind during your moody day, try visiting Musang. An evening spent under this roof is so much better than even the dreamiest of intimate dinner parties!
Here, Musang offers you some outstanding classic dishes with plot twists here and there. Must-try includes Musang Joy Fried Chicken, Short Rib Kare Kare, and Lumpiang Shanghai.
The fried chicken features a buttermilk marinade, delicate rice flour dredge, and a thick, sharp, bouillon-seasoned gravy, which is nowhere else to be found, but Musang!
What really makes this house a home is the Short Rib Kare Kare with flakes like pot roast in the center while sustaining the flame-slapped swagger of a steakhouse ribeye on the outside.
Dip them in the peanut butter bagoong sauce that's rich and creamy with a touch of fermented funk. Magnificient!
What to order: Musang Joy Fried Chicken, Short Rib Kare Kare, Lumpiang Shanghai
Address: 2524 Beacon Ave S, Seattle, WA 98144
Website | Instagram | Facebook
🍕 Are you a foodie? Check out these top-rated Seattle food tours!
4. The Walrus and the Carpenter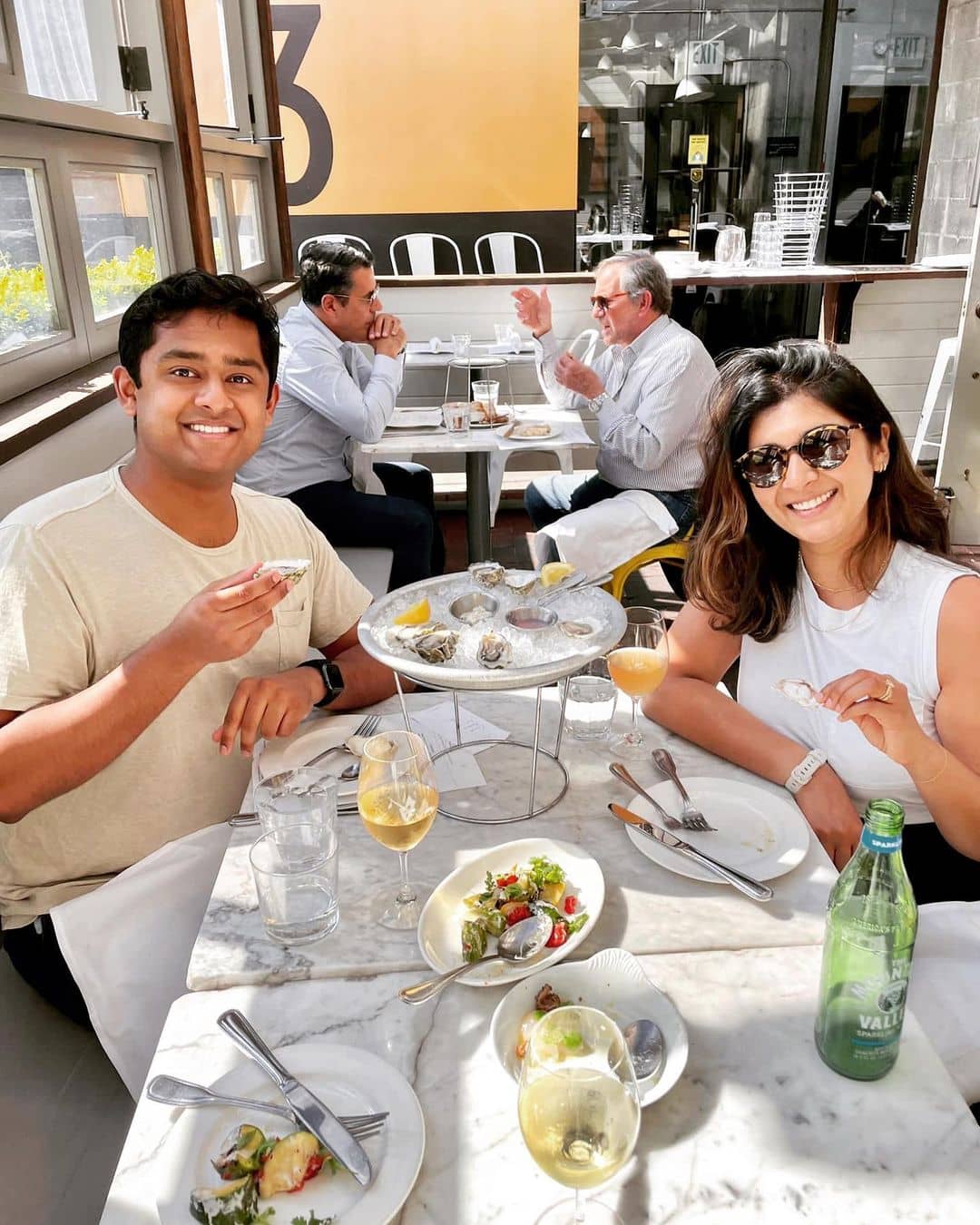 Specializing in oysters and other seafood dishes, The Walrus and The Carpenter is your next go-to place for a seafood craving day!
Their menu changes daily to use the very best seafood available that day, enjoy your finest meal in this simple, casual, and cozy space.
Always start with their Oysters! Each piece is full of umami taste with a hint of sweetness, and a fresh, bouncing texture.
If you can't handle raw oysters, try the fried ones. They are salty, briny, slightly sweet, crispy on the outside, and chewy on the inside, which is no less delicious!
The Scallop Crudo is absolutely fantastic; extremely tender, they come accompanied by mushrooms and herbs, and everything is tied together by the zesty and creamy lemon crème Fraiche.
End your meal right with a stunning Panna Cotta!
What to order: Oysters, Scallop Crudo, Uni Panna Cotta, Rock Fish Tartare, Fried Oysters
Address: 4743 Ballard Ave NW, Seattle, WA 98107
Website | Instagram | Facebook
5. Canlis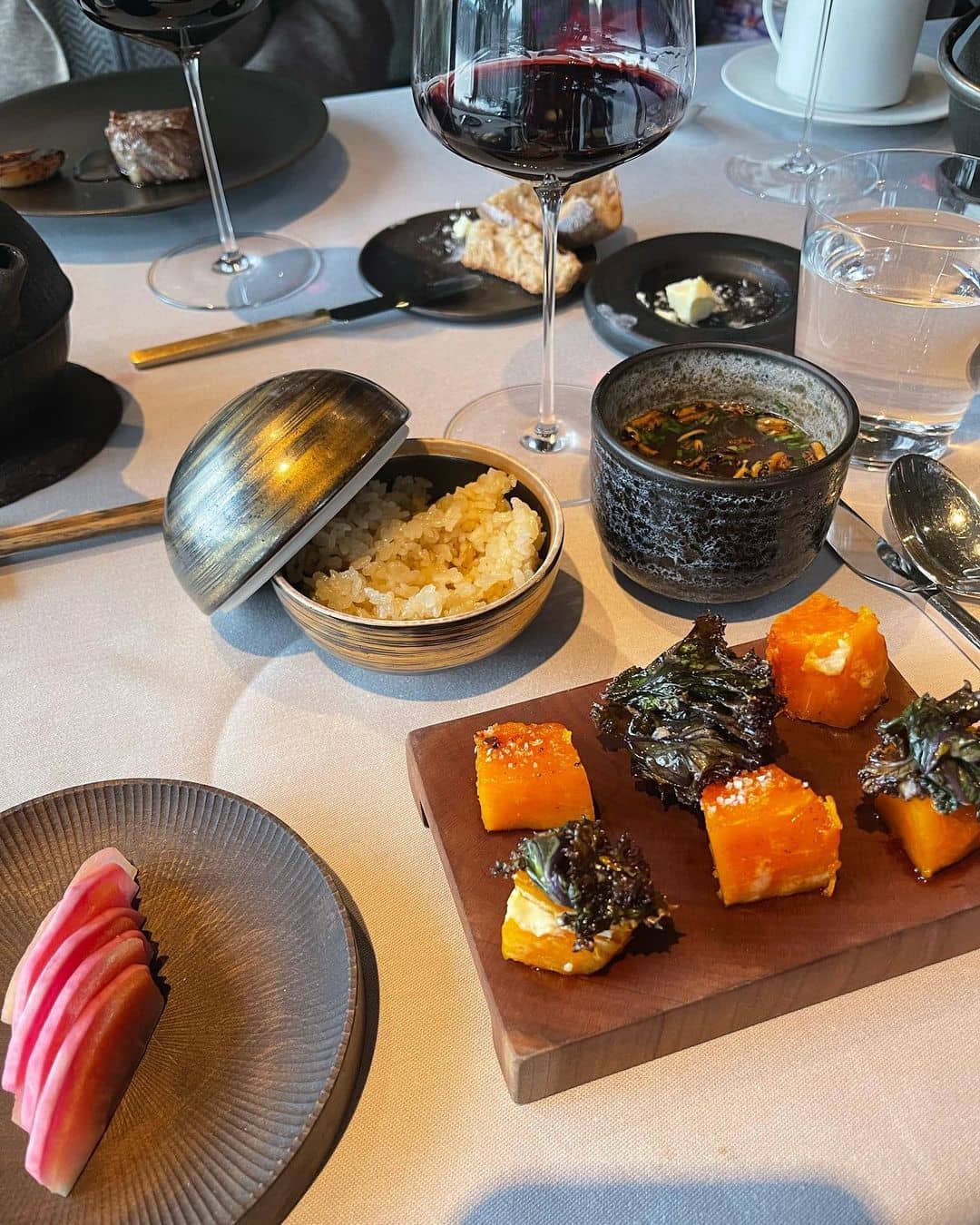 No Seattle food guide would be complete without a mention of Canlis, an award-winning fine-dining stalwart standby for special occasions and wowing visitors.
Once enter Canlis, you'll be experiencing a whole new level of seafood with a Japanese influence on the menu. 
Canlis is serving a multi-course dining experience where you choose three of the available courses, and of course, they'll surprise you with some unexpected side dishes as well!
Some highlighted items include Manila clams, grilled sablefish with matsutake mushrooms, Dungeness crab salad, winter luxury pumpkin, and so on.
Enjoy your meal paired with appropriate glasses of wine from the spectacular Canlis cellar as they are one of only 85 restaurants worldwide to have received the "Grand Award" for its wine collection.
What to order: Multi-Course Dining Set
Address: 2576 Aurora Ave N, Seattle, WA 98109
Website | Instagram | Facebook
6. Kamonegi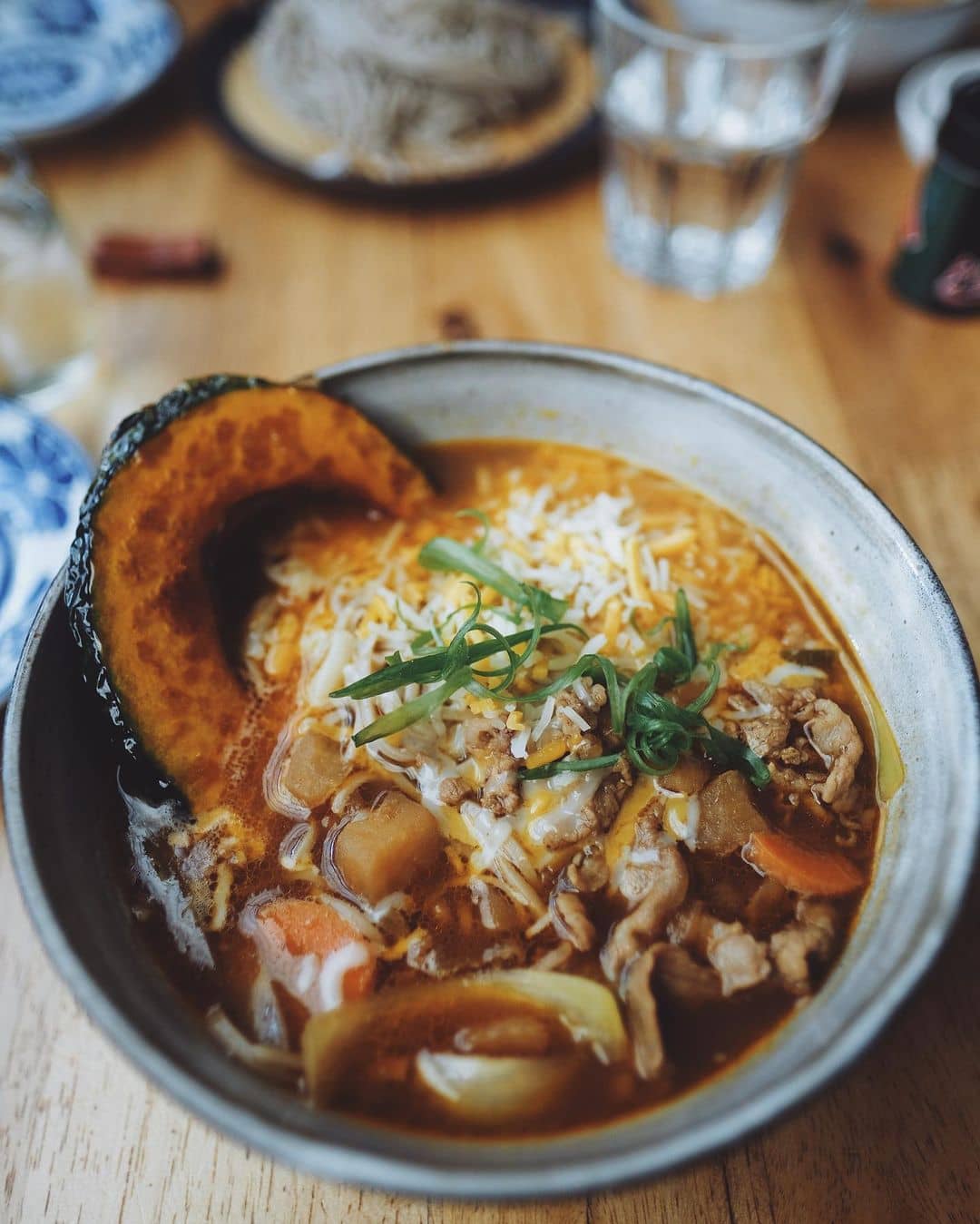 Kamonegi is a tiny, crooked warren of shadowy rooms trimmed in wood that served the best soba noodles in Seattle.
A meal at Kamonegi is absolutely memorable, not only for its relaxed mood where you could feasibly wear sweatpants while knocking back that fresh sea urchin but also for its bold, creative chef who creates the signature soba noodles.
Kamonegi is all about comfort, loveable soup combined with unexpected pairings such as fried satsuma yam dressed with honey and gorgonzola, and even extends to tempura-fried Oreos.
They all have magnificent taste profiles and wonderful presentations!
Otherwise, you can try out their non-soup items, like the phenomenal Kabocha Tempura arches tossed like chicken wings in a sticky duck demi-glace, delicately topped with custardy uni and ikura.
Or the Coffee-marinated Salmon Tartare with pork floss and a wave of chive-speckled sour cream.
What to order: Kabocha Tempura, Coffee-marinated Salmon Tartare, Black Cod Chawanmushi
Address: 1054 N 39th St, Seattle, WA 98103
Website | Instagram | Facebook
7. Archipelago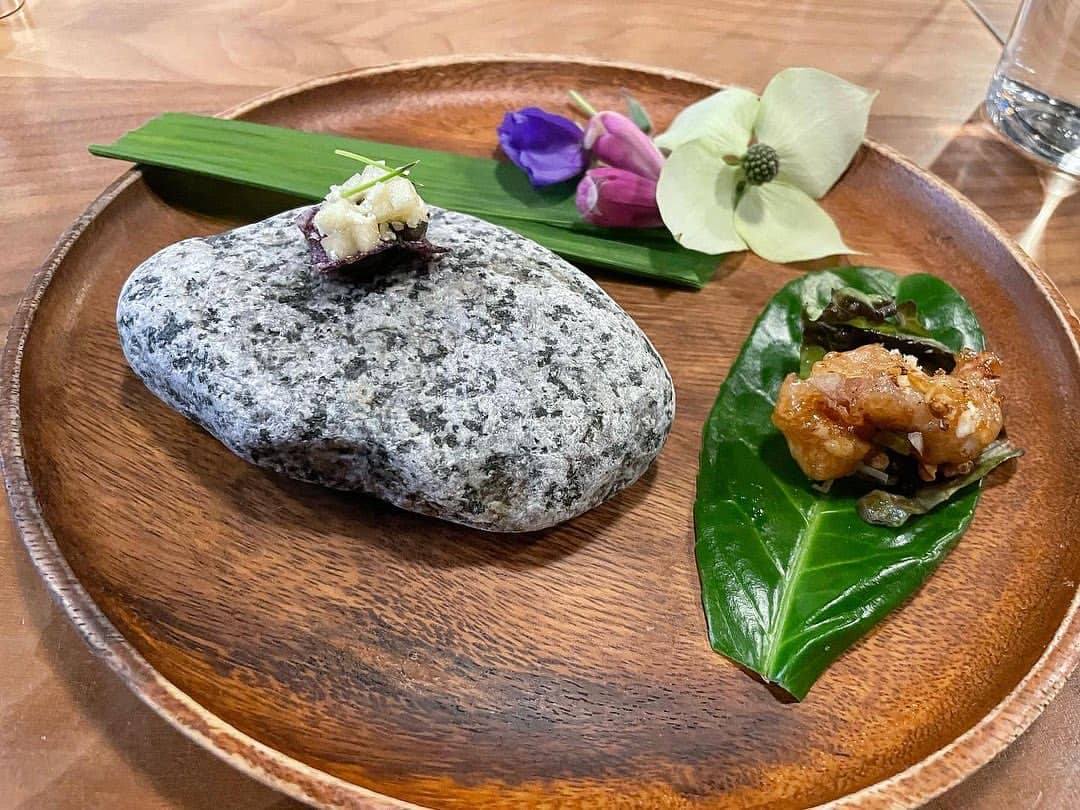 Archipelago is an upscale Filipino restaurant that offers outstanding Filipino food, and everything, down to a torched pine garnish from the owners' backyard.
Each dish comes with an explanation about how it connects to Filipino history when it is served, which can make your meal extremely memorable and unique!
Take a journey to explore their cuisine with the Seasonal Tasting Course.
The course consists of either Lechon or seared ribeye with some wild Oregon rice, and the highlight of this course is the incredible banana ketchup made with caramelized squash.
Absolutely steals the show!
The Sinigang features a plum, green apple, or rhubarb broth instead of the traditional tamarind broth, which is way more pleasant yet still flavorful.
The dining course might take you up to 2 hours, but trust us, you'll feel relaxed and enjoy all the way through.
What to order: Seasonal Tasting Course
Address: 5607 Rainier Ave S, Seattle, WA 98118
Website | Instagram | Facebook
8. Joule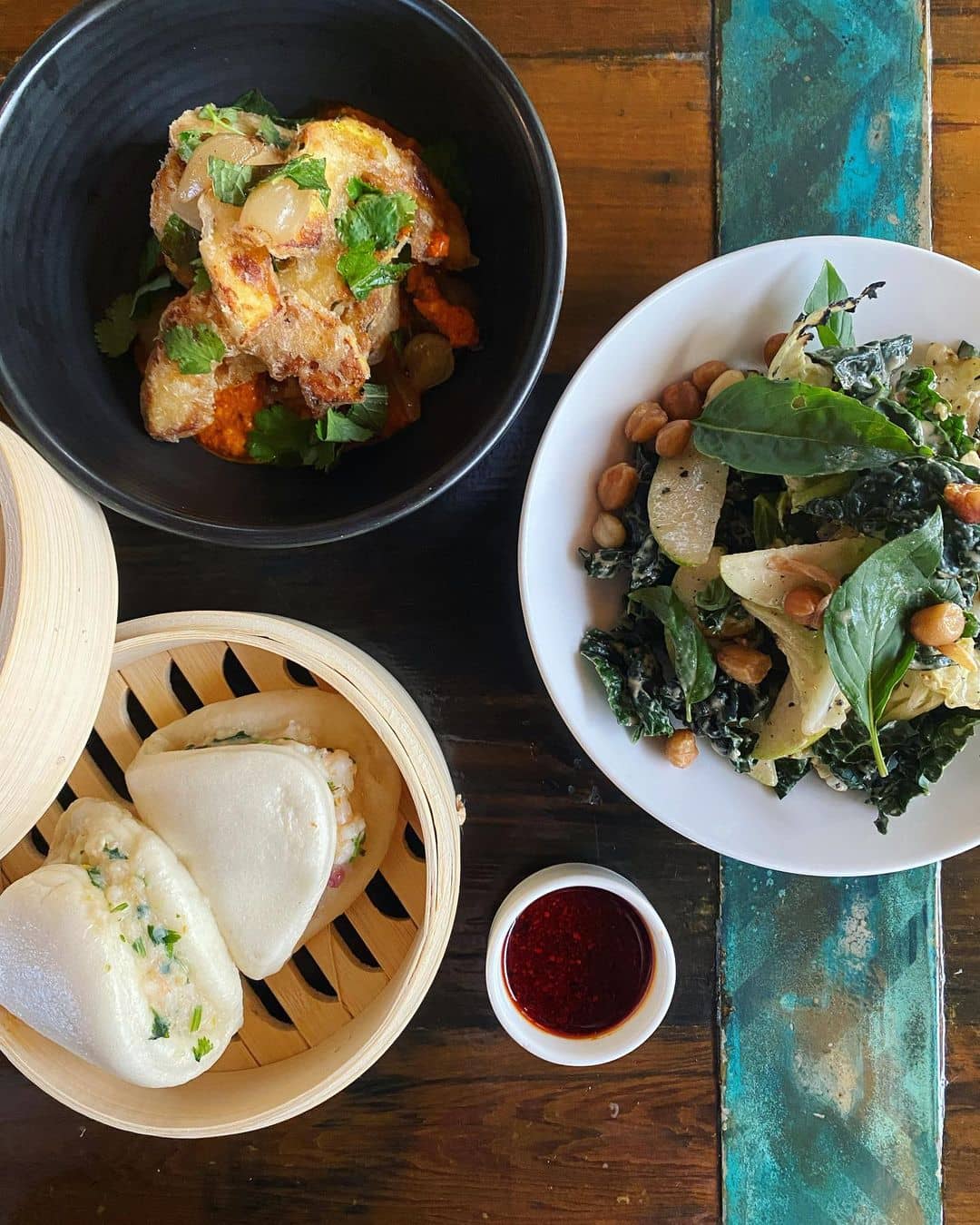 Craving steak with a twist? Joule might be the place to satisfy you! Everything about Joule is stunning steak and mouth-watering small plates, all served in an upbeat yet friendly atmosphere.
There are some flavor combinations you might not expect, but will be very excited to eat, for sure!
The menu is huge and broken up into starters, salads, rice/noodles, vegetables, steaks, and a wildcard group called "other than steak" (involving various proteins).
Try the Ribeye with spicy peanut oil and beef belly or the Corn with okra and cubes of toasted cornbread in a tomato-coconut XO sauce.
They'll amaze you!
You can also make a try with their famous Chinese Scallion Pancake with smoked salmon roe and creme Fraiche, or the Short Rib Steak served with grilled kimchi. Unique as ever!
What to order: Chinese Scallion Pancake, "That" Short Rib Steak, Grass Fed Rib Eye
Address: 3506 Stone Way N, Seattle, WA 98103
Website | Instagram | Facebook
9. The Pink Door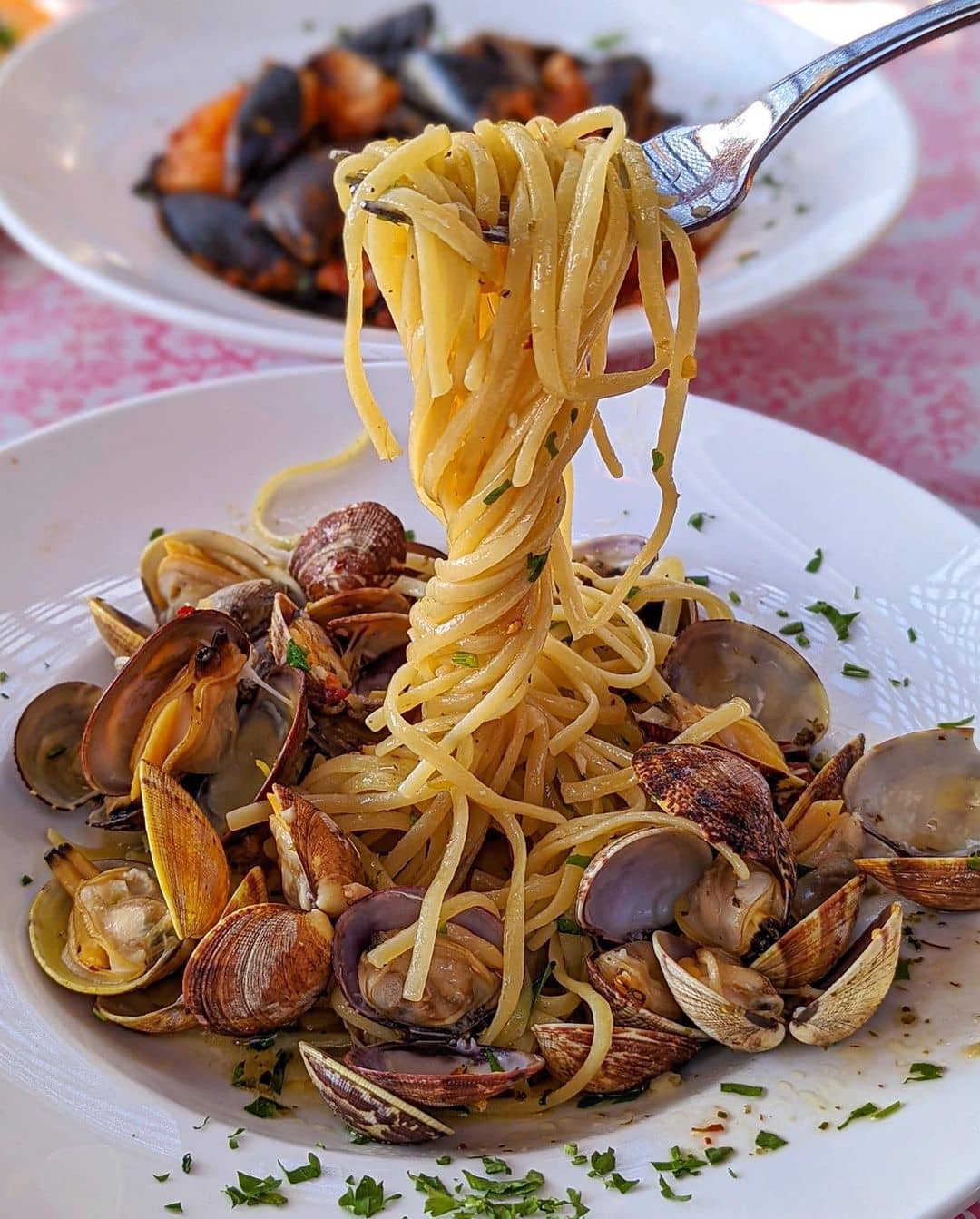 Think of The Pink Door when you need a special place to enjoy your favorite Italian dishes in Seattle.
Here inside The Pink Door, you'll find an elegant circus-restaurant mashup, with low lighting, a mural of a court jester, thick curtains, and nightly acrobatic talent swinging on silks above you.
The Pink Door has some of the best dishes like Cheese Board Supreme with a daily selection of Italian cheeses and housemade crackers, and Pink Door Caesar with fennel-dusted croutons and grilled chicken.
Burst with flavors in every bite!
For a heartier one, go for the Arancini made with rice balls fried and stuffed with caciocavallo and mozzarella.
Don't hesitate to try them with their signature Calabrian chili dipping sauce, they taste phenomenal together!
What to order: Arancini, Cheese Board Supreme, Linguine Alle Vongole, Pink Door Caesar
Address: 1919 Post Alley, Seattle, WA 98101
Website | Instagram | Facebook
10. Clinkerdagger
Overlooking the picturesque Spokane River and city skyline, Clinkerdagger is the perfect spot for a romantic dinner or a special business meeting in Spokane.
The interiors of the restaurant will remind you of an old-school Italian place back in time.
A classic American grill, Clinkerdagger serves quality steaks and fresh seafood innovatively and artfully.
A taste that reminds you of home, Clinkerdagger's French Onion Soup is like a warm embrace.
With a warm broth packed with caramelized onions paired with croutons and melted cheese on top, this place deserves a five-star rating for its phenomenal onion soup alone.
When in doubt, you can never go wrong with Prime Rib in Clinkerdagger. Cooked perfectly to your preference and coming with fresh horseradish butter that elevates its floor, this dish is to die for!
PRO TIP: Start your evening with a Scratch Margarita for a smooth dining experience.
What to order: French Onion Soup, Slow Roasted Herb Crusted Prime Rib, Scratch Margarita
Address: 621 W Mallon Ave, Spokane, WA 99201
Website | Instagram | Facebook
11. Zig Zag Cafe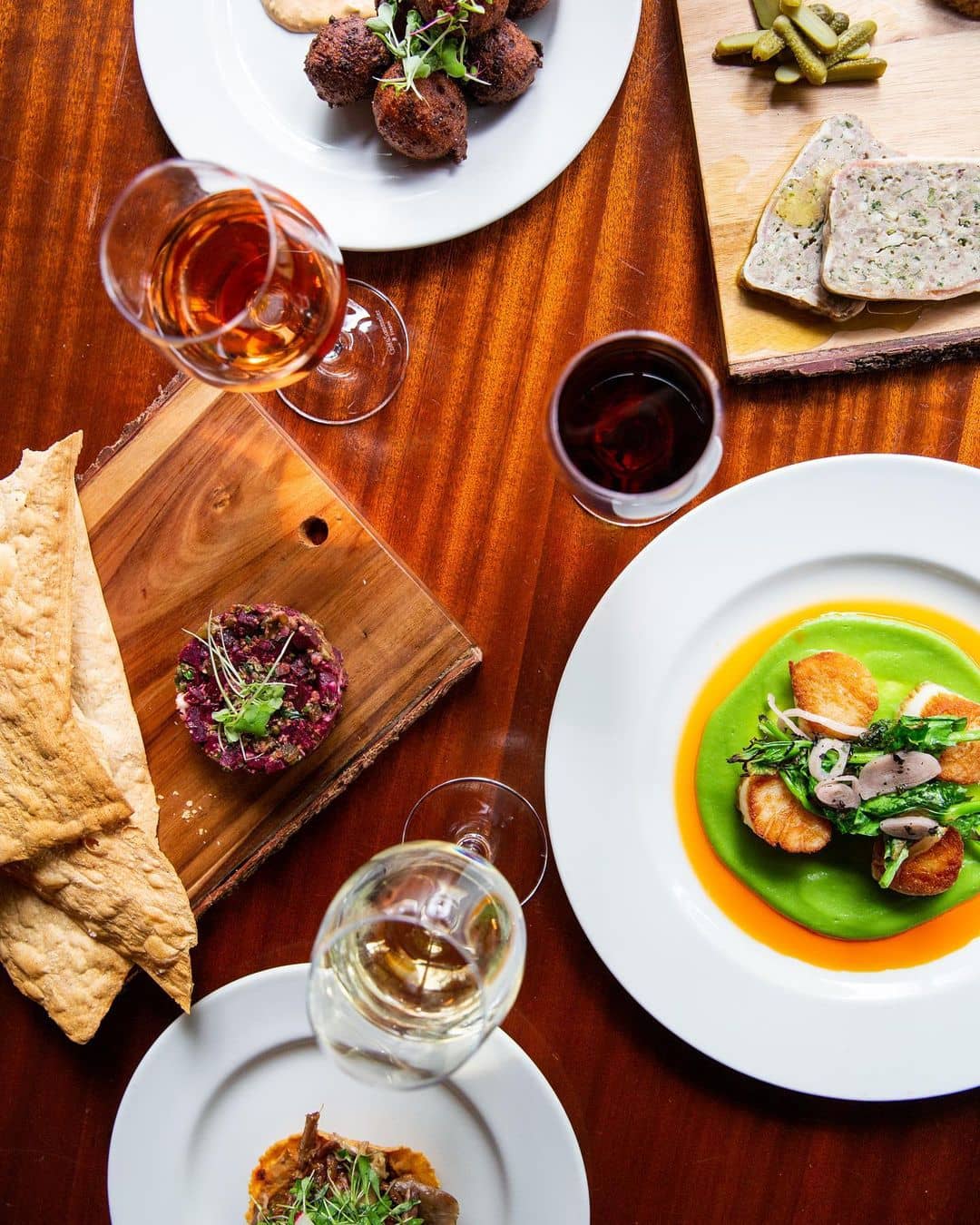 Zig Zag is one of Seattle's best-known bars, which is loved both by locals and the wider bar community with very good reason.
With a warm and welcoming space, candle-lit, and attractive, Zig Zag Cafe also offers excellent Greek food that is excellent enough to make a return visit to this classic space. 
You're in good hands with the marinated chicken kebabs with tzatziki, spiced lamb pastitsio, and a sesame-heavy hummus.
Or the classic, flavorful Spiced Lamb Pastitsio can also do you good!
Wash it all down with some original concoctions like the Trident, Manzanilla Sherry, or Peach Bitters. Some of their newer creations are worth trying too, especially The B&R.
You'll love it!
What to order: Marinated Chicken Kebabs, Spiced Lamb Pastitsio, Sesame-heavy Hummus, Classic Cocktails.
Address: 1501 Western Ave Ste 202, Seattle, WA 98101
12. Cafe Campagne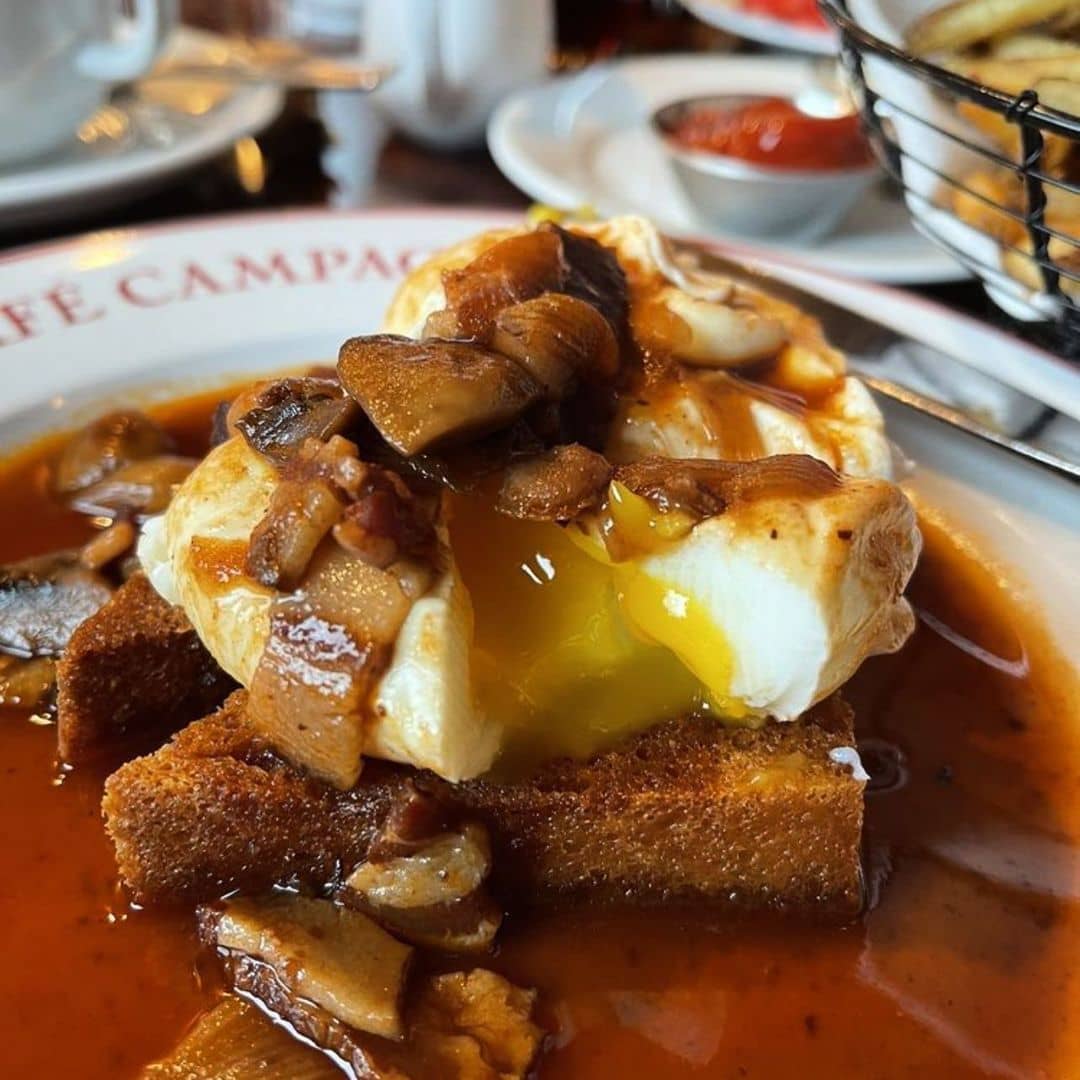 Located along the historic Post Alley in Pike Place Market, Cafe Campagne is a welcoming restaurant that serves breakfast, lunch, and dinner, as well as special weekend brunches.
Among all the French dishes they serve, what really makes Cafe Campagne famous is their quiche! 
The quiches here come filled with tasty things like Dungeness crab, comte cheese, or caramelized onion, and there's always a daily-rotating vegetable one, too.
For dinner time, don't hesitate to go for their gems such as Duck Confit and Steak Frites.
You might also want to try the Boeuf Bourguignon with the classic burgundy stew of beef, braised in red wine, and garnished with pearl onions, mushrooms, and bacon.
It tastes even better with their homemade buttered spaetzle. Yummy!
What to order: Crab Quiche, Duck Confit, Steak Frites, Boeuf Bourguignon
Address: 1600 Post Alley, Seattle, WA 98101
Website | Instagram | Facebook
13. Seattle Fish Guys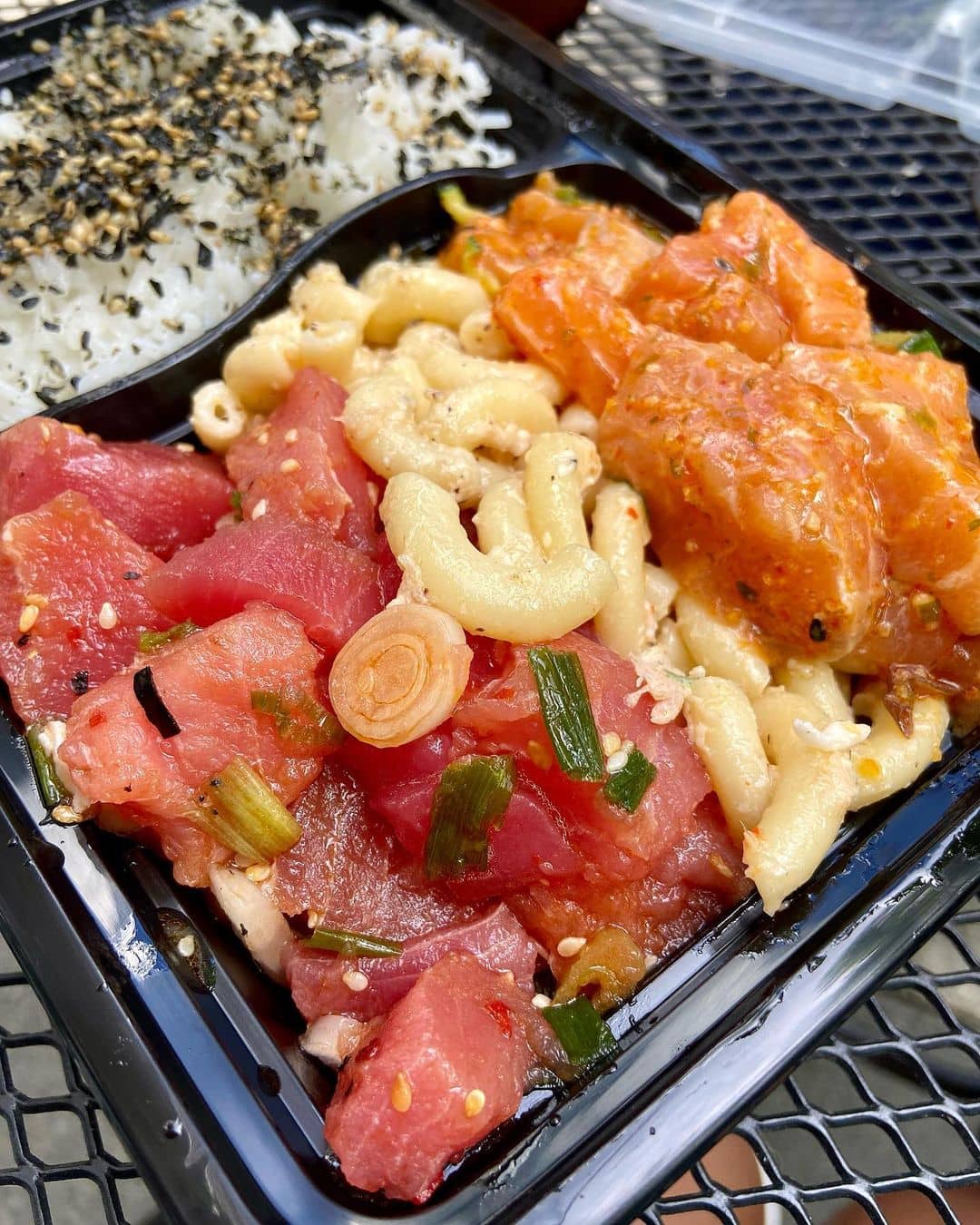 If you've never tried Poke – a Hawaiian delicacy made with fish and marinade, we suggest starting at Seattle Fish Guys.
Here, they offer catering options for everything from office lunches to special events of all sizes with adjustable ingredients based on your liking.
Every bowl is made with fresh and locally sourced smoked salmon, Dungeness crab, poke bowls, oysters, and clams with a choice of mac salad, seaweed salad, squid salad, or kimchee on the side.
Their portion is quite huge, one scoop of their fish is equal to about two at other poke joints, be aware!
Plus, you can even customize your order with up to seven types of poke as well!
What to order: Poke Bowl, Smoked Salmon, Dungeness Crab
Address: 411 23rd Ave S, Seattle, WA 98144
Website | Instagram | Facebook
14. en Rama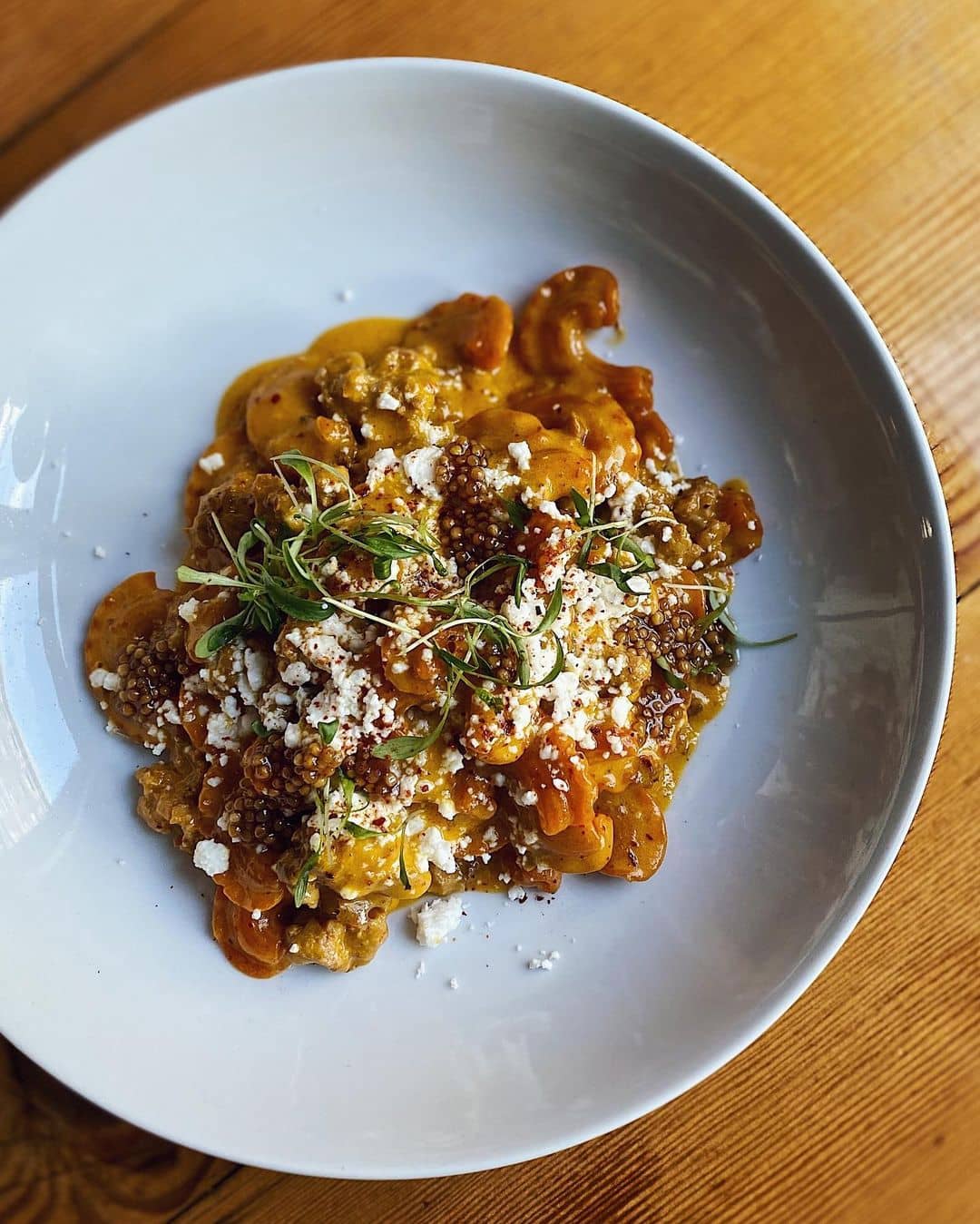 With a menu featuring house-made pasta, Spanish small plates, sherry on tap, and a lot of signature cocktails, en Rama is a must-visit place for foodies.
This Italian gastropub has a warm and cozy environment, and the large, well-lit patio makes a perfect location for a date night.
The Pimento Cheese small plate comes with grilled bread and pickled vegetables.
While the creamy, tangy, and spicy cheese tastes great on its own, ask for their berried onion compote to pair with the cheese, and await a flavor explosion in your mouth!
If you love your seafood, try their Mussels. Blanketed in white wine butter sauce, the mussels taste heavenly, with a slight tanginess from the white wine, richness from the butter, and sweetness from the shallots.
The Bucatini here, according to the restaurant's regulars, is "a religious experience"!
With a medley of mushrooms, al-dente pasta, pistachio tarragon pesto, and other additions, everything on the plate pops.
What to order: Pimento Cheese, Mussels, Mushroom Bucatini
Address: 1102 A St Suite 220, Tacoma, WA 98402
Website | Instagram | Facebook
15. Bar del Corso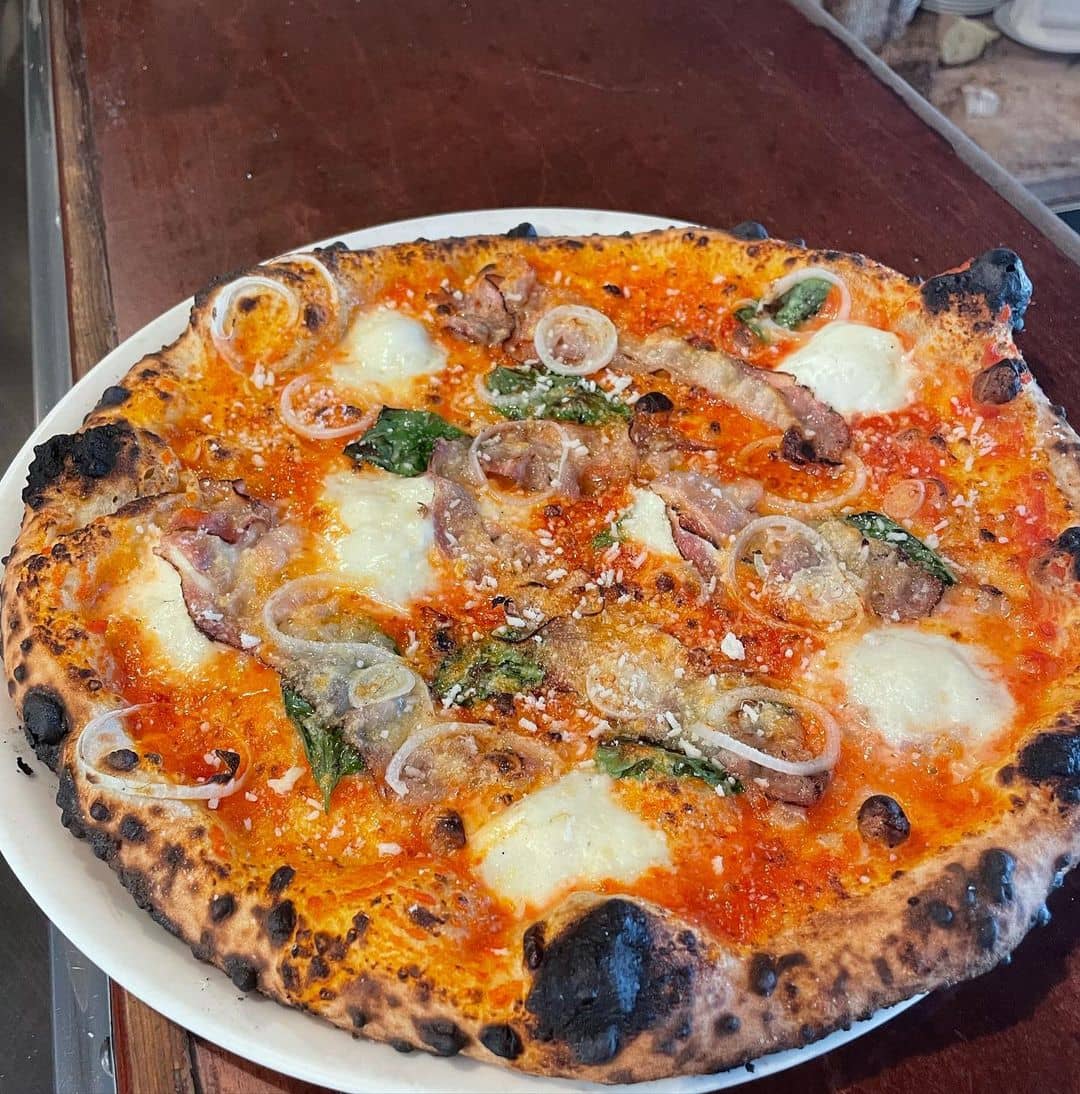 Excellent Neapolitan pizza and small plates make this Italian spot on Beacon Hill a perpetually-crowded classic.
If those are just what you need, then pay a visit to Bar del Corso! With an upbeat vibe and friendly service, this cozy place will always make you want to return for more!
It's hard to choose which blistered bubble-covered pie is the best, but the Margherita with buffalo mozzarella and the Corno di Capra with homemade sausage and pickled goat horn peppers are the two most outstanding.
Don't miss out on their small plates, especially the Suppli al Telefono, a phenomenal pre-pie snack filled with tomato-infused arborio rice and mozzarella that stretches like saltwater taffy; and the Grilled Octopus with white beans. Tastes like heaven!
What to order: Margherita Pizza, Corno di Capra Pizza, Suppli al Telefono, Grilled Octopus
Address: 3057 Beacon Ave S, Seattle, WA 98144
Website | Instagram | Facebook
16. Taurus Ox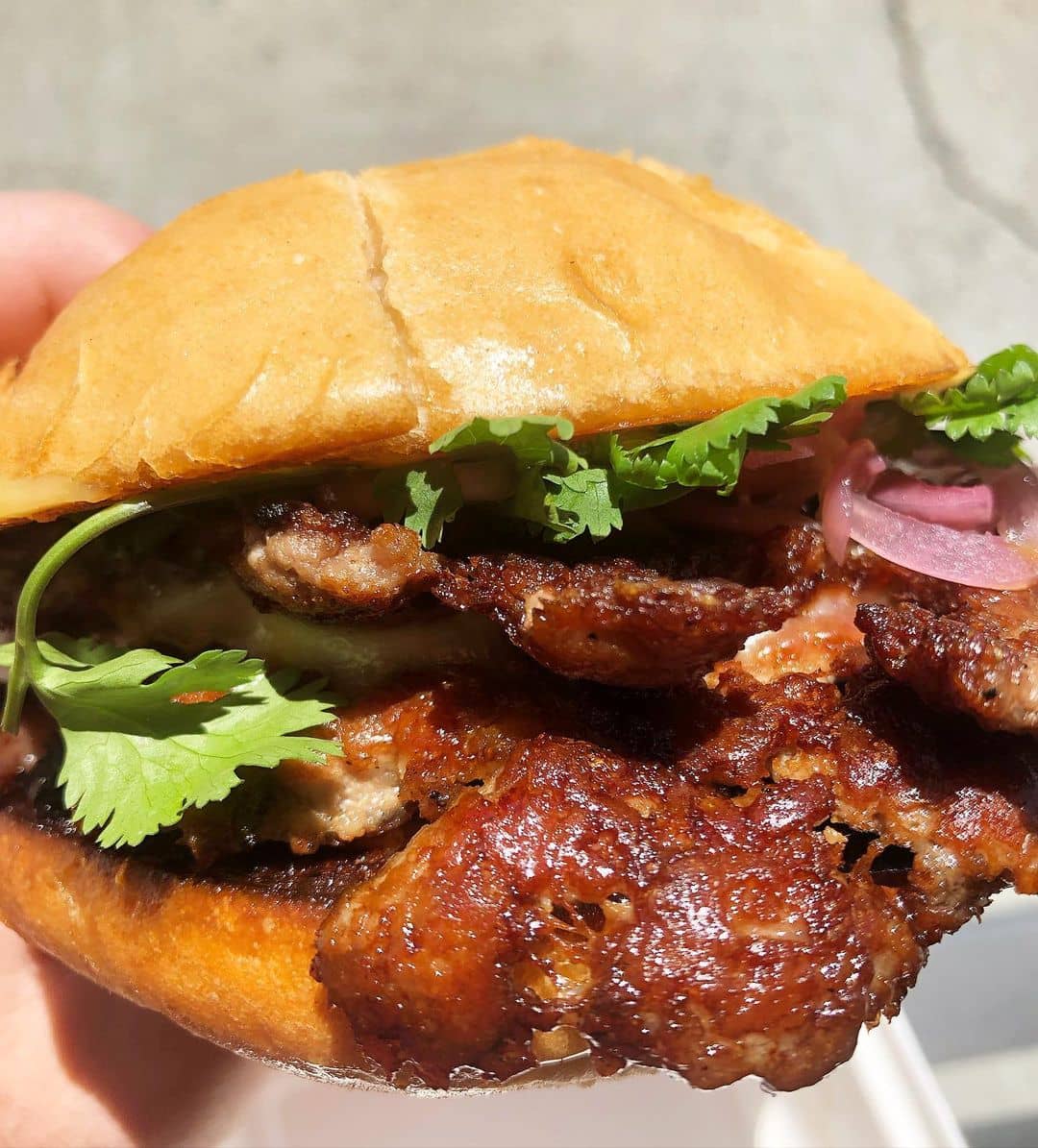 Taurus Ox is a little corner spot on Capitol Hill, serving fantastic Laotian food, from pork belly stir-fries to rice noodles with peanuts and eggs.
This place is wonderful yet friendly enough for any daily meal, takeout lunch, or a casual night out.
Always try their famous Taurus Ox's Burger, a complete stunner with taro stem, cilantro, pickled onion, and cured pork jowl.
It's a drippy, tangy, beautiful mess, and the genius addition of sharp provolone cuts through the herbs and rendered fat flawlessly. You can never find a burger like this elsewhere!
Other Laotian dishes that you shouldn't miss are Thom Khem – caramelized pork belly stew with rice and a crispy brussels sprout hash brown, and a grilled garlic lemongrass sausage.
And Chicken Laap, a refreshing minced chicken and herb salad, seasoned with lime, chili, and toasted rice powder.
What to order: Taurus Ox's Burger, Thom Khem, Chicken Laap, Papaya Salad
Address: 903 19th Ave E, Seattle, WA 98122
Website | Instagram | Facebook
17. Phở Bà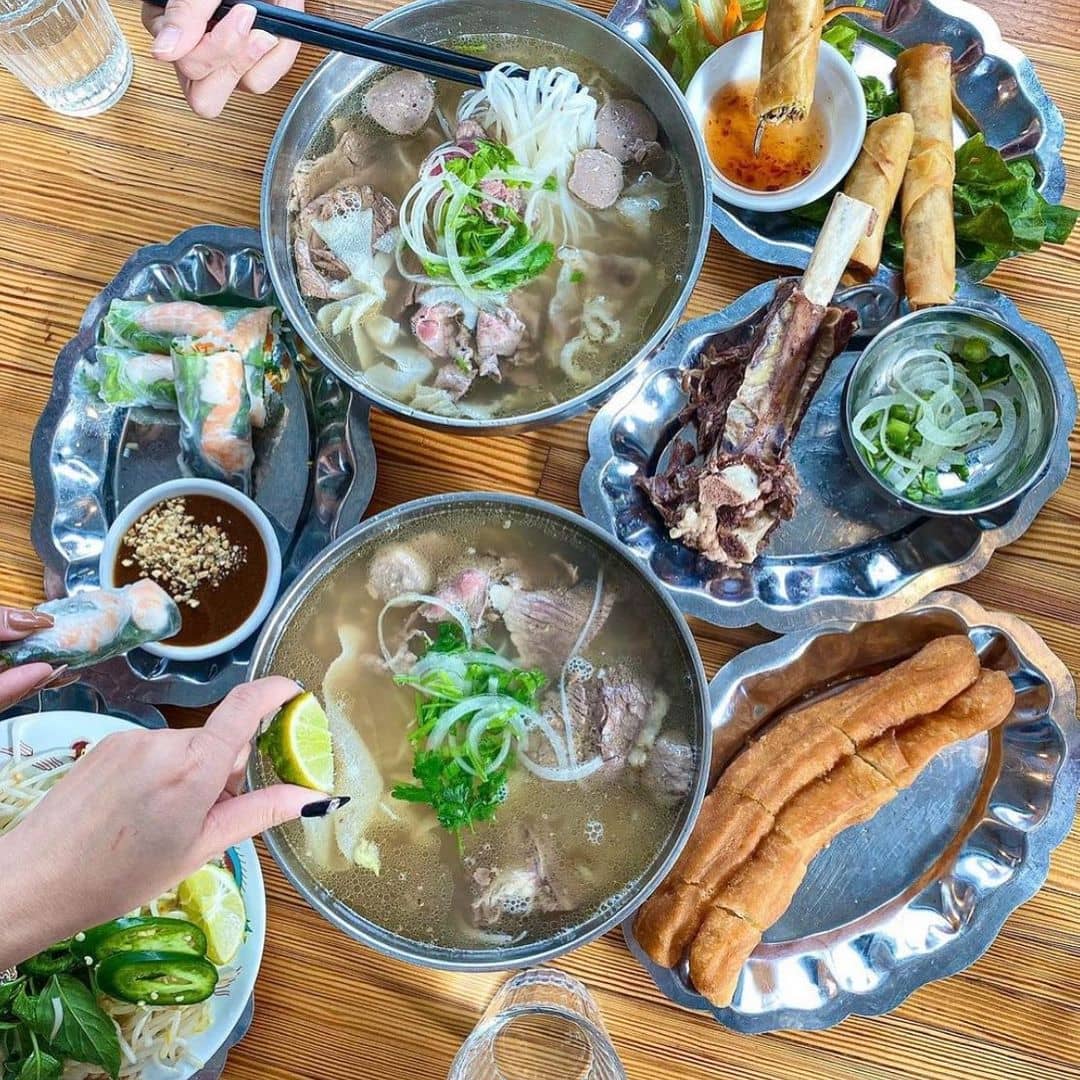 Phở Bà, a cherished Vietnamese spot in Seattle, offers scrumptious, authentic food that feels like a hug from home. 
This unpretentious, family-run joint exudes an aroma that's hard to resist and has a laid-back vibe that just makes you want to sit back and savor.
The staff is as friendly as it gets, with the owner being your personal cheerleader, making sure your visit is a delight.
Their signature dish is Phở, a traditional Vietnamese soup that's a mix of comfort and joy, making even a gray day feel warm.
Try their Phở with Brisket or with Đặc Biệt, both packed with flavors in a clear broth that's a carnival of tastes in your mouth.
Their Spring Rolls and Egg Rolls are great buddies for your pho, bringing a mix of fresh and crispy textures to your table.
What to order: Phở with Brisket, Phở Đặc Biệt, Spring Rolls, Egg Rolls
Address: 415 7th Ave S, Seattle, WA 98104
Website | Instagram | Facebook
18. The Capital Grille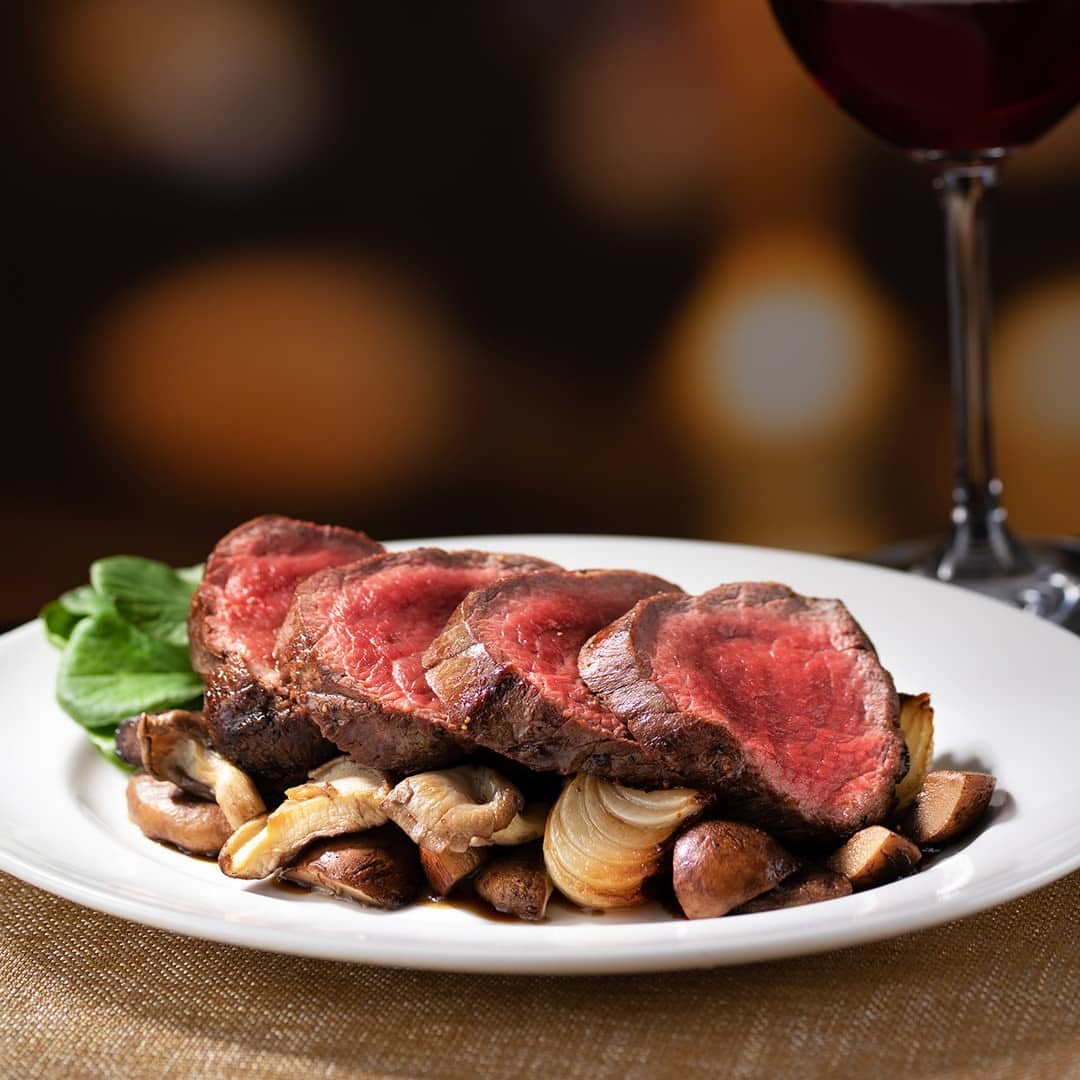 From the moment you step into The Capital Grille, you'll be embraced by the experience of comfortable elegance.
With African mahogany paneling and Art Deco chandeliers providing warmth, this fine-dining restaurant aims to impress. Its floor-to-ceiling wine kiosk is home to 3,500 bottles, allowing an extensive wine list of 350 selections.
If you're looking for a restaurant that will give you a day to remember, The Capital Grille is more than happy to welcome you with open arms.
For starters, their Lobster Bisque soup is a solid 10. A french onion soup filled with big chunks of lobster, this dish is bursting with the buttery, savory deep flavor of lobster.
It has a subtle hint of umami meatiness and sweetness that highlights the flavor of its main ingredient.
Very tender cut beef paired with poached lobster tails and a butter sauce, the Seared Tenderloin with Butter Poached Lobster Tails will give you an experience of a lifetime.
What to order: Lobster Bisque, Seared Tenderloin With Butter Poached Lobster Tails,
Address: 1301 4th Ave, Seattle, WA 98101
Website | Instagram | Facebook
19. Pestle Rock
Pestle Rock is a hot spot for Isan Thai cuisine in the heart of Seattle. While most people are more familiar with Bangkok-style cuisine, Pestle Rock will make you fall in love with their specialty if you aren't yet.
Showcasing Isan Thai dishes from Thailand's northeastern region, this spot focuses on spicy food, and we're here for it!
Be blown away by Pestle Rock's Mee Ka Ti, a spicy stir-fried rice noodle with chicken, egg, coconut milk, bean sprout, and onion.
The creamy coconut milk especially makes everything better. This gluten-free dish can also be made vegetarian if you like!
Are you more of a curry person? Then, Pestle Rock's Kao Soi is the perfect dish for you! This curry noodle soup has so much depth to its flavor; it almost feels like it's telling you the rich culinary history of Northern Thailand.
Topped with red onions, pickled mustard greens, and crispy noodles, this dish looks just as good as it tastes.
The Ba Mee Hang Muuton is another noodle option featuring wide egg noodles tossed with green onions, cilantro, choy sum, and ground peanuts.
The Carlton Farms garlic stewed pork belly is the star of the show, giving this dish rich and savory notes.
What to order: Mee Ka Ti, Kao Soi, Ba Mee Hang Muuton
Address: 2305 NW Market St, Seattle, WA 98107
We hope you've had your favorite places to explore when visiting Seattle. But don't just stop here, you guys!
Let your food journey continue with our suggestions on these best seafood restaurants in Seattle!
Looking for a place to stay in Seattle?
How We Create Our "Best" Lists
All Noms Magazine's "best" lists are created using multiple factors and signals to help readers find the best restaurants, things to do, and places to stay at. Some of these factors and signs include personal experiences, correspondence with locals, and compiling experiences from review sites.
Each list is also created to be balanced (in terms of price, cuisine type, ambiance, and more) as possible. This means that the lists are not specifically created in ranking order. You should be comfortable picking from any of the spots on the list and generally have a good time. But of course, YMMV (your mileage may vary) and everyone may have different experiences/palates.