Craving that perfect steak in NYC? We've got you covered with the top spots for a juicy cut. NYC's love for great steakhouses shines, even with the rise of plant-based dining.
Keen on a classic setting? Keens Steakhouse is a must. Prefer something with a view? Porter House Bar and Grill awaits.
Here are the 14 best steakhouses in NYC where steak fans flock for the ultimate feast.
1. Keens Steakhouse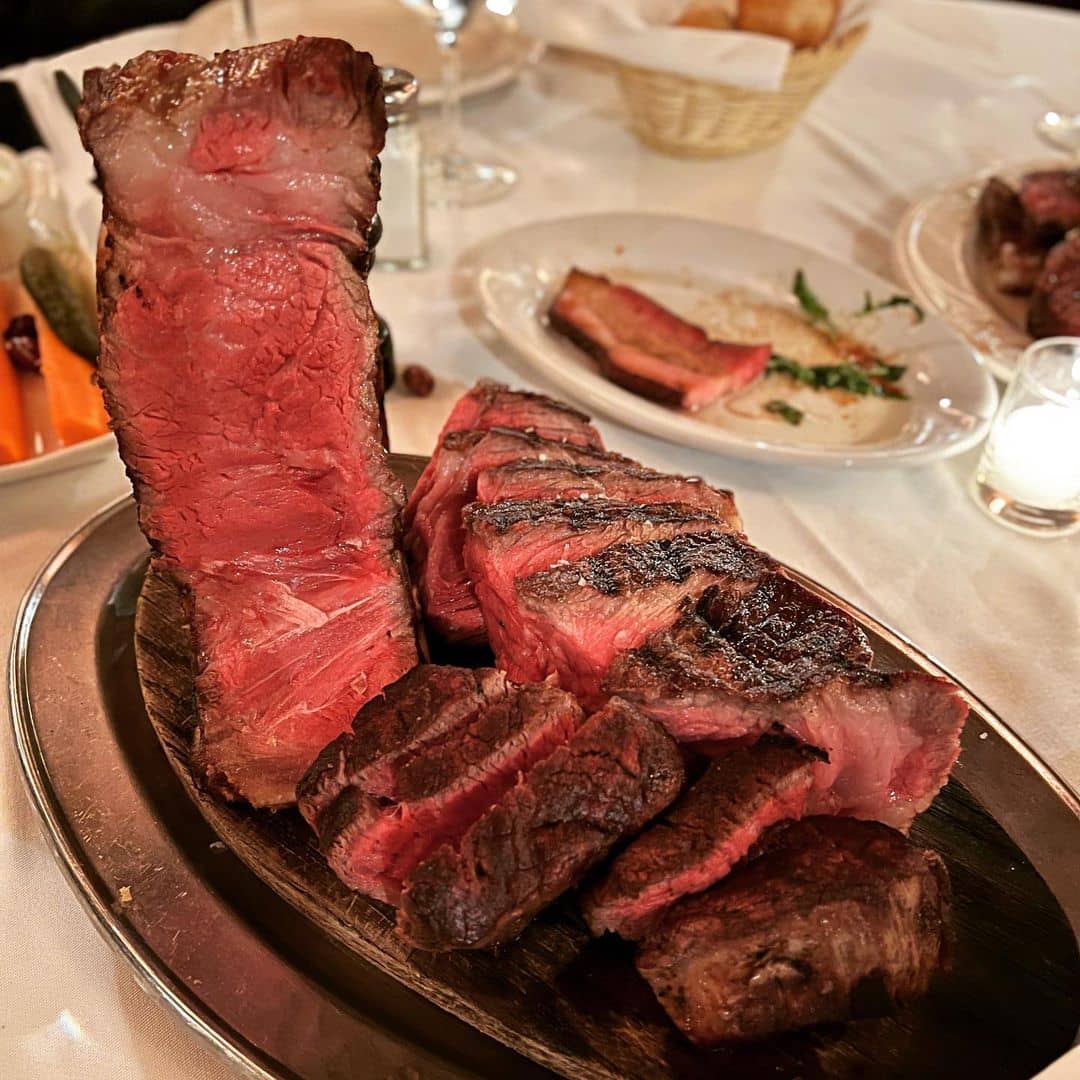 Step into history at Keens, an 1885 gem where Teddy Roosevelt and Einstein smoked pipes. Imagine tucking into the Legendary Mutton Chop, a thick slice of tender, charred perfection, in a room that breathes antiquity.
The Prime Porterhouse steak, a juicy, pink-centered marvel with a savory crust, demands attention. Don't miss the Creamed Spinach and crispy Hash Browns – they're as memorable as the steak!
What to order: Our Legendary Mutton Chop, Prime Porterhouse, Hash Browns, Creamed Spinach
Address: 72 West 36th Street, New York, NY 10018
Website | Instagram | Facebook
2. Porter House Bar and Grill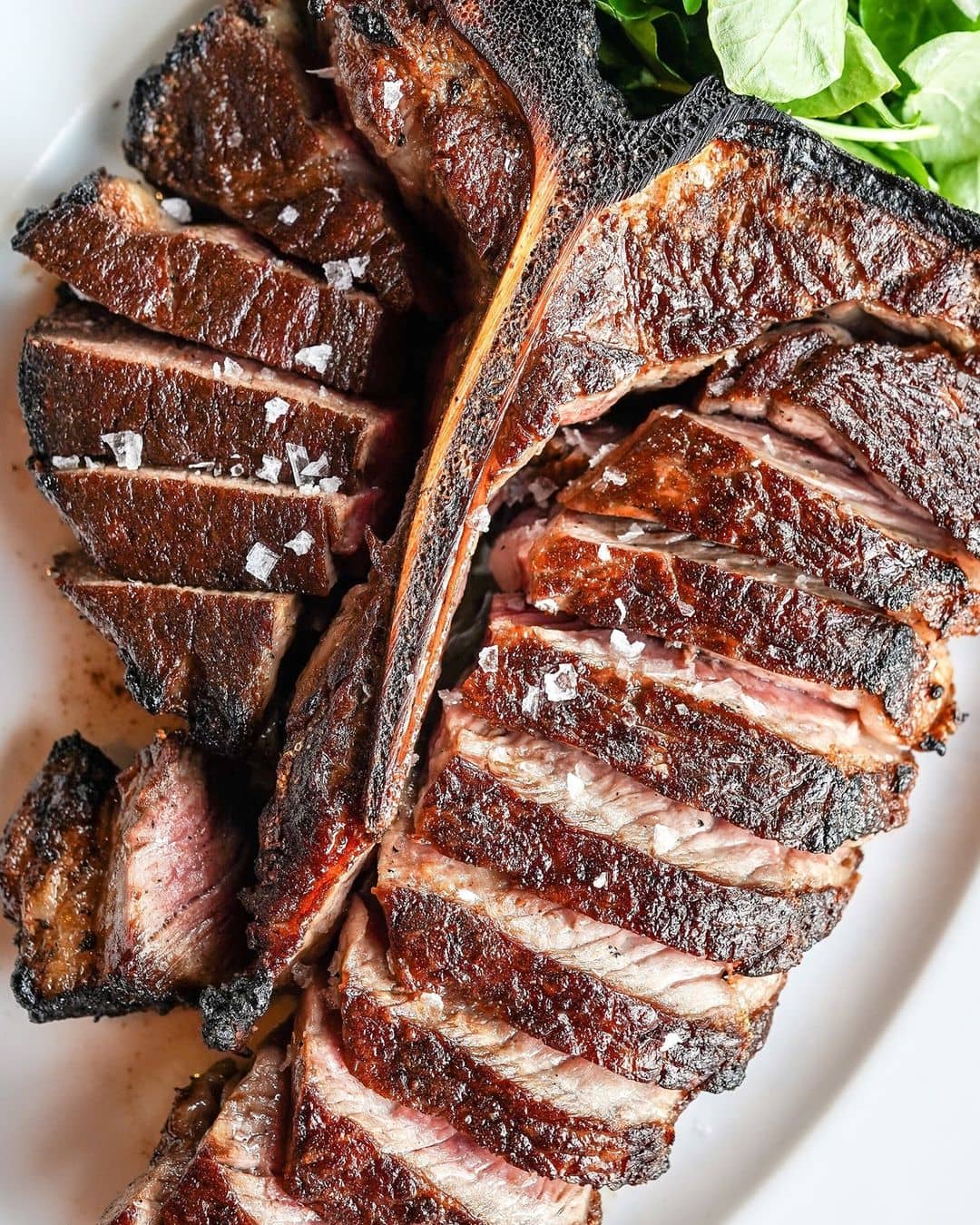 Perched in the Time Warner Center, Porter House Bar and Grill is where steak meets stunning Central Park views. Their Filet Mignon, draped in rich French butter, is a visual and taste sensation.
Savor the slightly sweet, smoky Chili Rubbed Rib Eye, and don't skip the Buttermilk Onion Rings – they're a crunchy tower of delight.
What to order: Filet Mignon, Chili Rubbed Rib Eye, Buttermilk Onion Rings
Address: 10 Columbus Circle, 4th Floor, New York, NY 10019
Website | Instagram | Facebook
3. Gallaghers Steakhouse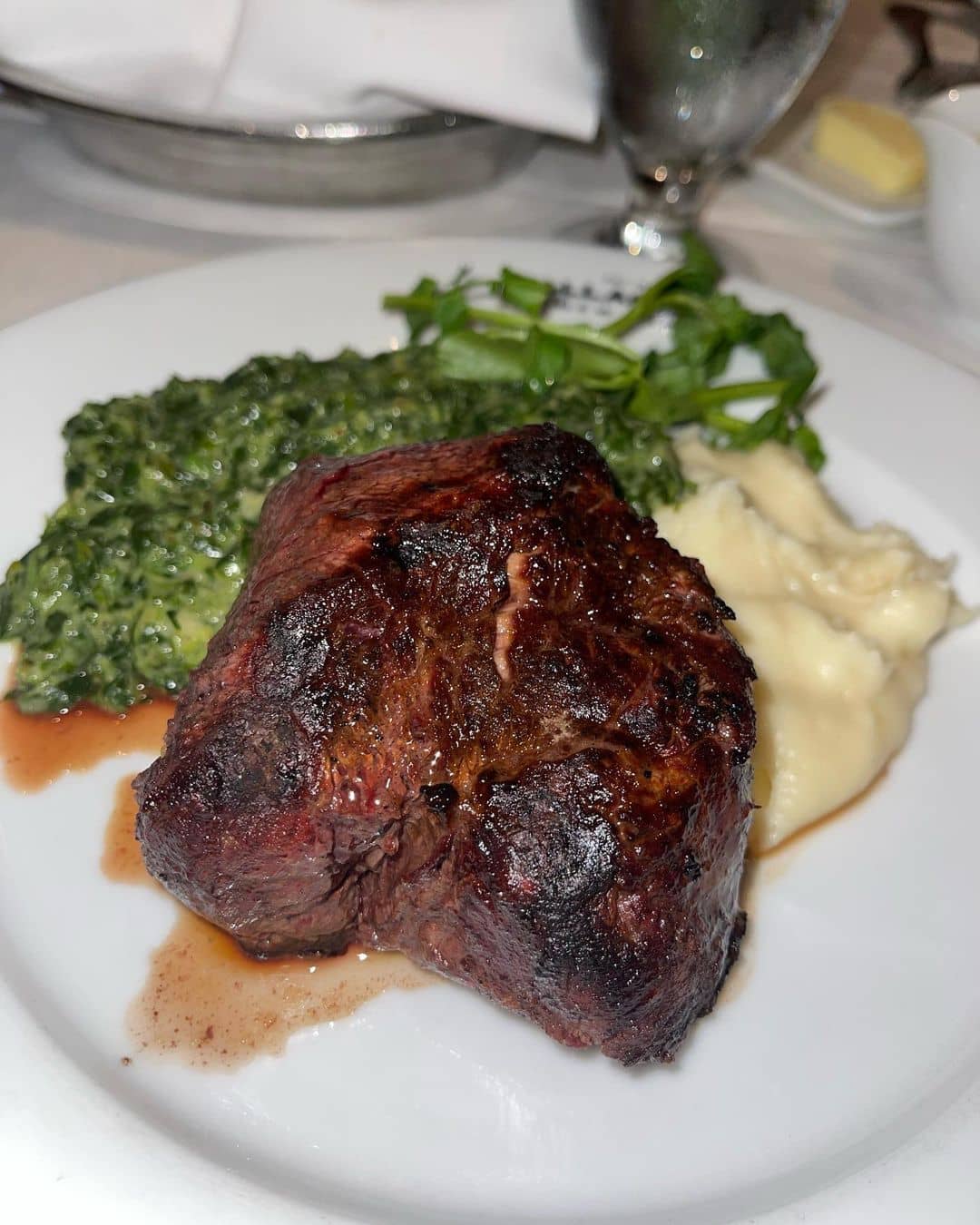 At Gallaghers, in the heart of NYC, tradition meets taste. Their meat is hickory-charred for a prime, smoky steak experience. Begin with the cheesy, sumptuous French Onion Soup.
The Filet Mignon, a hickory-grilled marvel, is tender perfection. Finish with their Key Lime Pie – it's a tart, sweet slice of heaven.
What to order: French Onion Soup, Filet Mignon, Porterhouse, Key Lime Pie
Address: 228 West 52nd Street, New York, NY 10019
Website | Instagram | Facebook
4. COTE Korean Steakhouse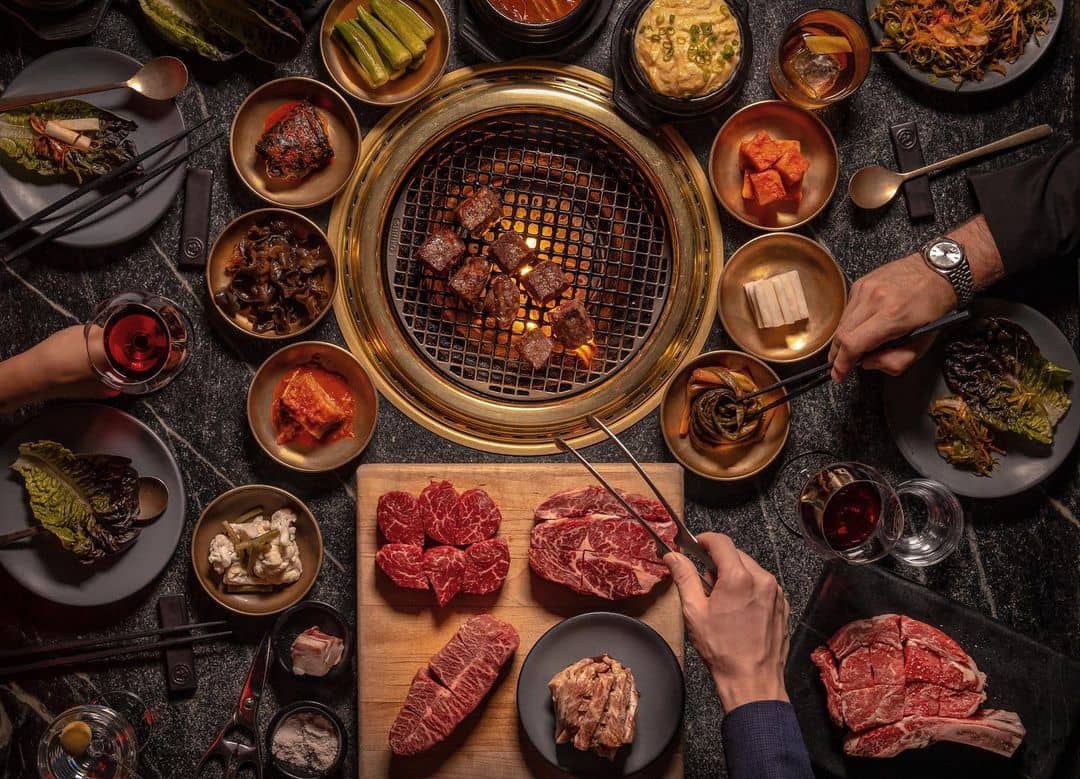 COTE fuses Korean BBQ with American steakhouse flair, earning a Michelin star for its vibrant scene and smokeless grills. The Butcher's Feast, with four beef cuts and Korean sides, is a must.
Sizzle your own steak, enjoy the fiery Kimchi Stew, and indulge in the soy sauce caramel Soft Serve – a sweet-savory endnote.
What to order: Butcher's Feast, Kimchi Stew, Korean Bacon, Soft Serve with Soy Sauce Caramel
Address: 16 West 22nd Street, New York, NY 10010
Website | Instagram | Facebook
🍕 Check out these top-rated NYC guided food tours!
5. Macelleria Italian Steakhouse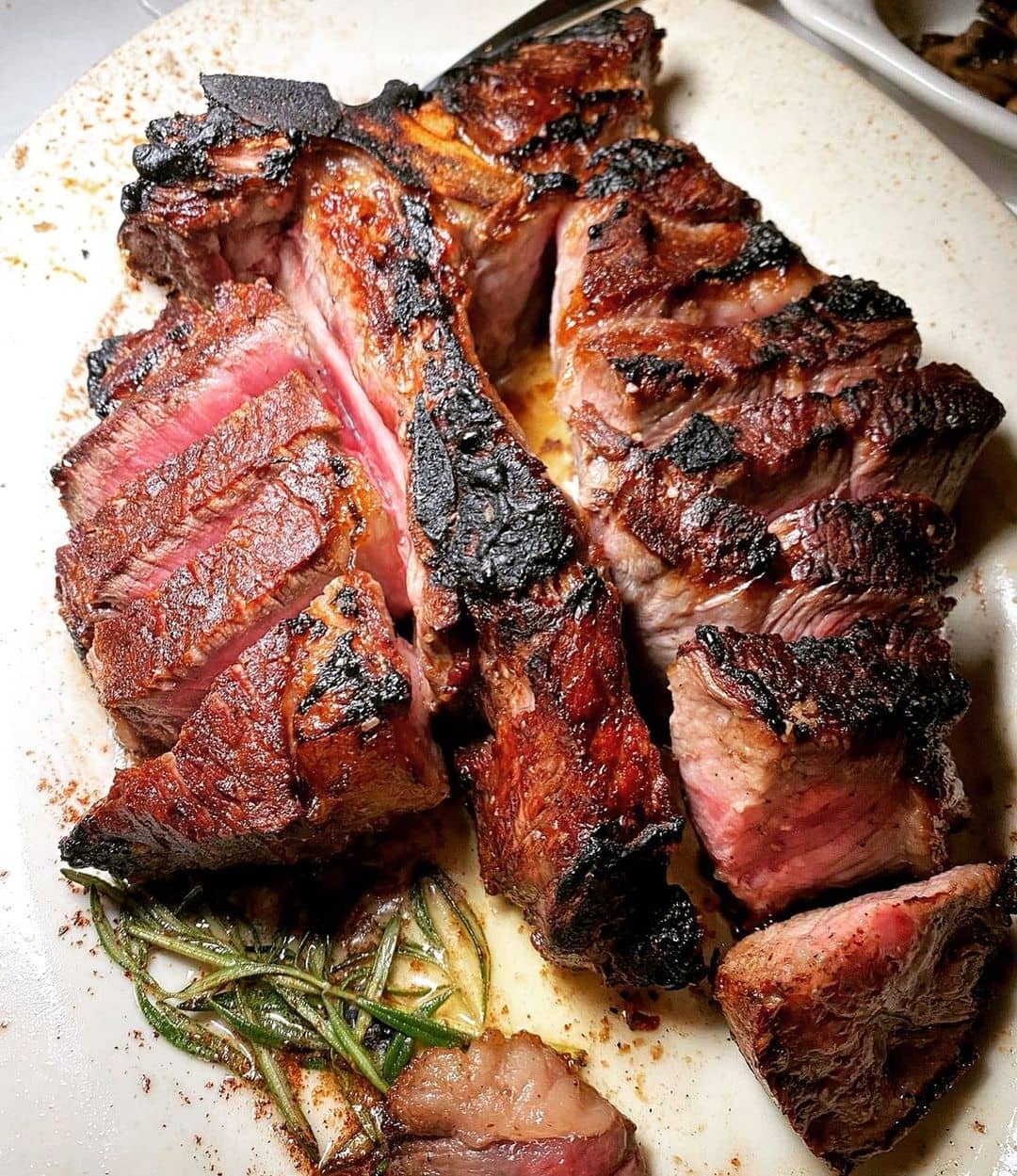 Macelleria pairs Italian charm with steakhouse quality, serving up generous portions and rich flavors. The Rib Eye steak is perfectly seasoned and grilled, while the Short Ribs Risotto combines tender meat with creamy risotto for a comforting dish.
For pasta lovers, the Pappardelle with Braised Short Ribs Ragu is divine.
What to order: Rib Eye, Short Ribs Risotto, Pappardelle with Braised Short Ribs, Sole Oreganata
Address: 142 5th Avenue, Village of Pelham, NY 10803
Website | Instagram | Facebook
6. The Grill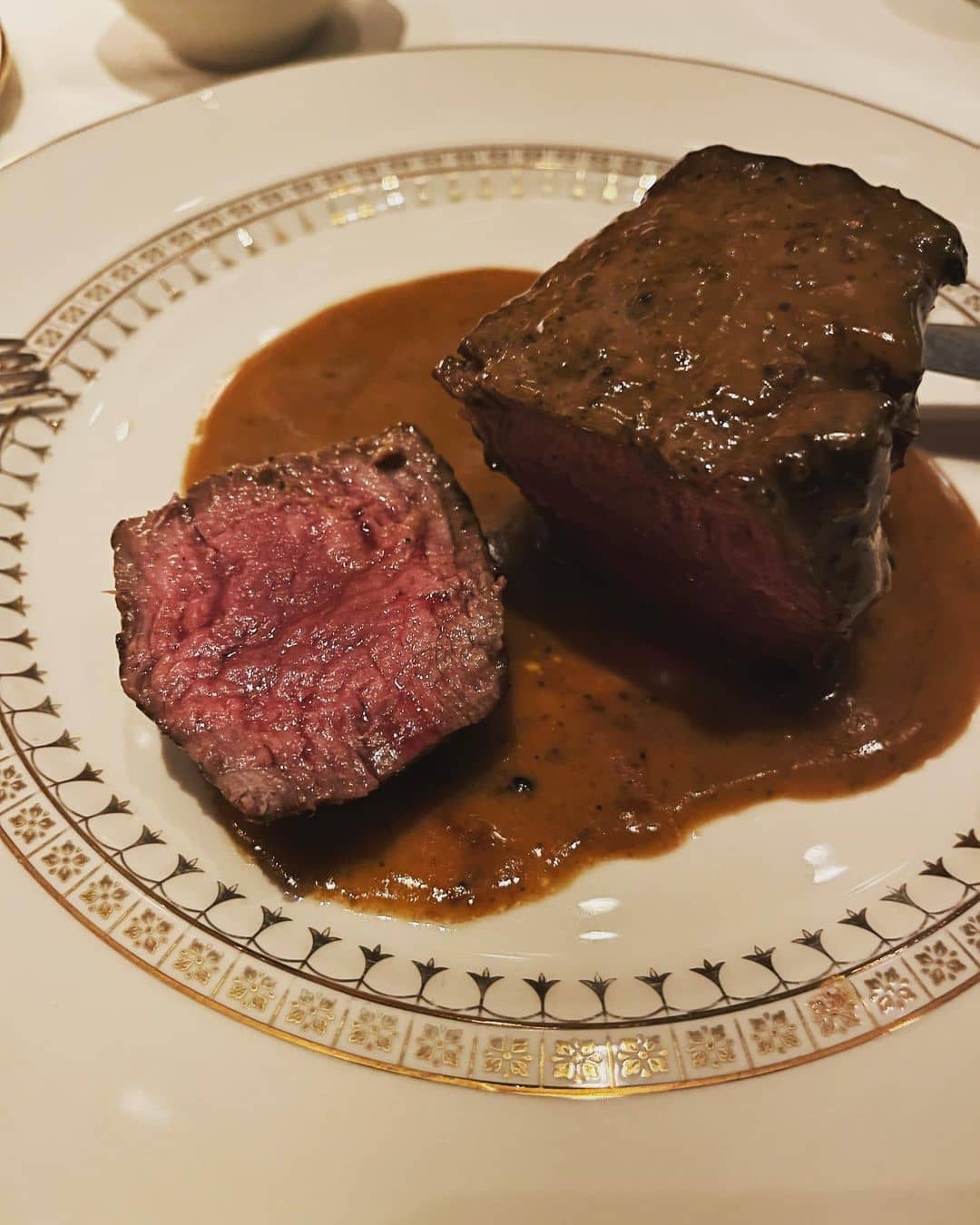 Step back into the opulence of The Great Gatsby at The Grill. Classic meats and seafood prepared tableside by tuxedoed staff make for a unique dining event.
The Rib Eye is a spice-rubbed, juicy masterpiece, and the Pasta a la Presse – with a sauce made right at your table – is unforgettable.
What to order: Rib Eye, New York Strip, Pasta a la Presse, Lemon Chiffon
Address: 99 E 52nd Street, New York, NY 10022
7. Smith & Wollensky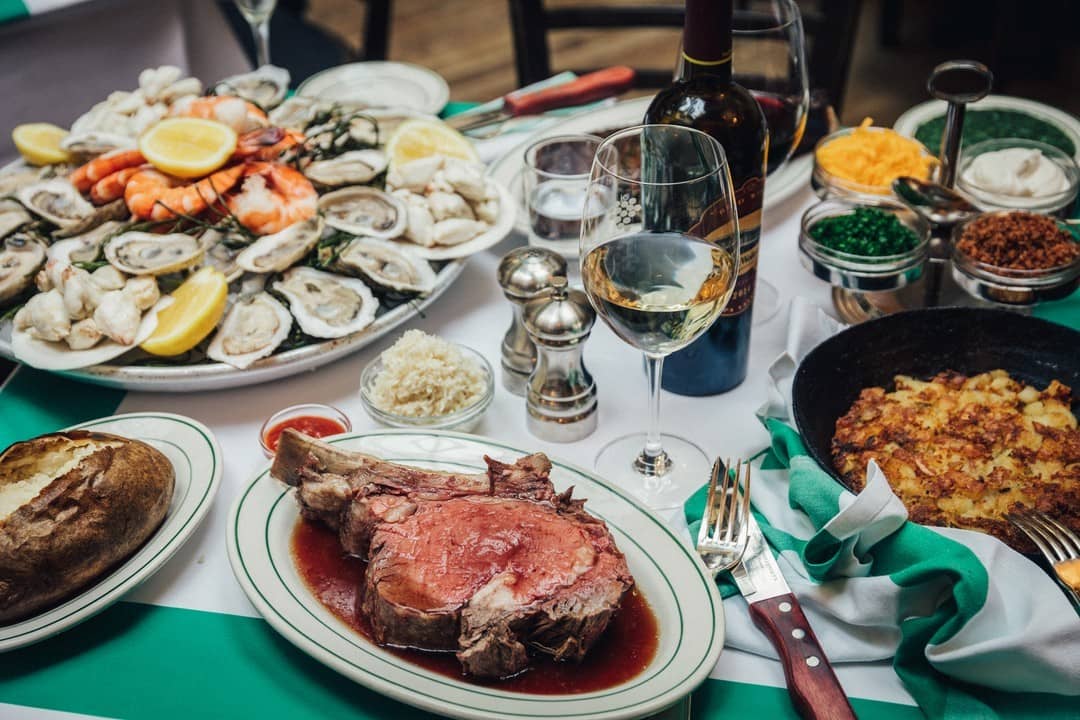 Classic New York steakhouse elegance shines at Smith & Wollensky. The Cajun Filet Mignon offers bold flavors with a crispy edge, and the colossal Prime Rib is a tender feast for two. Start with the Maryland Crab Cake or the Split Pea Soup, and cap off your meal with the airy Coconut Layer Cake.
What to order: Cajun Filet Mignon, Prime Rib, Maryland Crab Cake, Split Pea Soup, Coconut Layer Cake
Address: 49th Street & Third Avenue, New York, NY 10022
Website | Instagram | Facebook
8. Hawksmoor NYC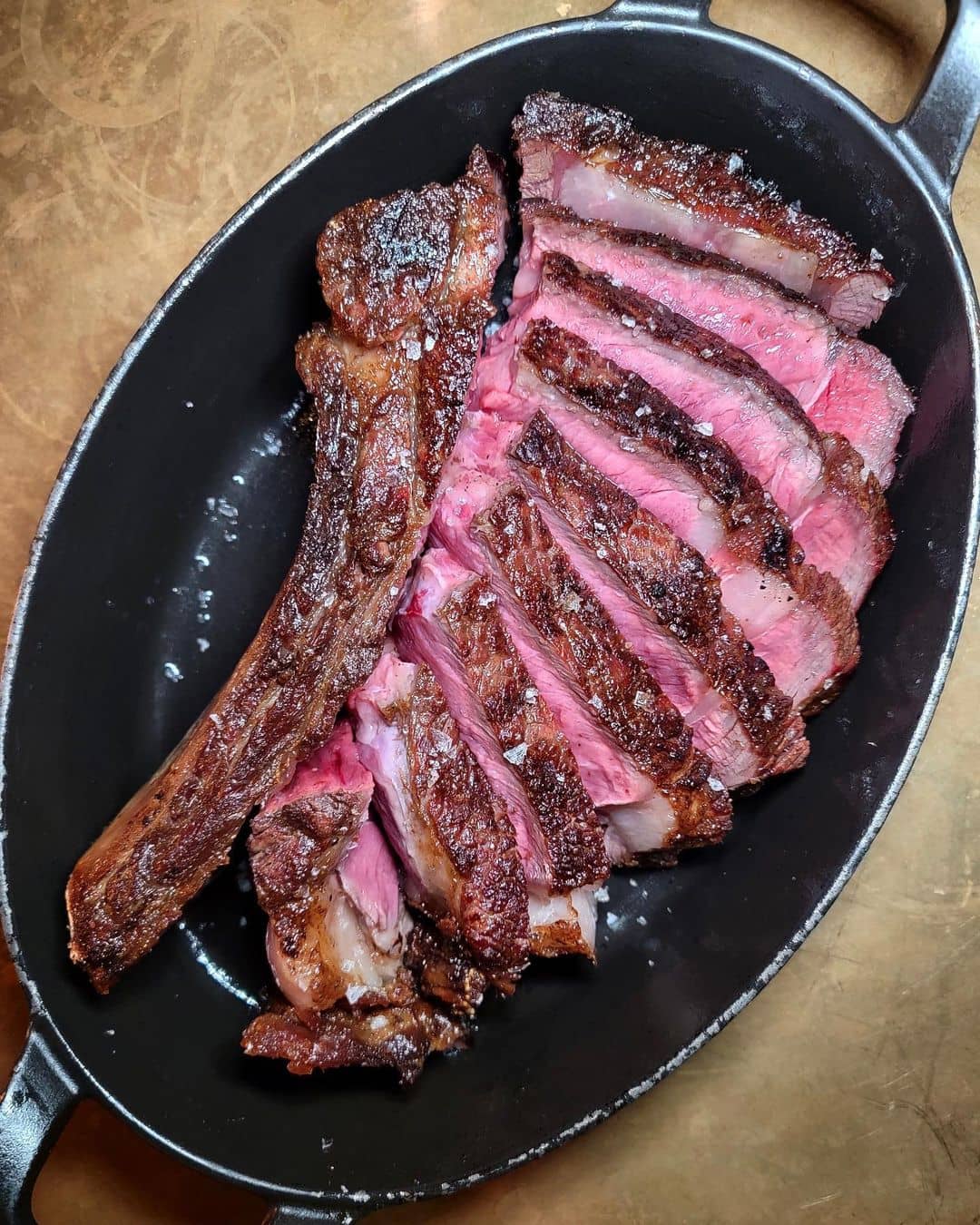 Love a good steak but don't wanna spend a ton? Hawksmoor's the spot. They're from the UK and their steaks? Top-notch without breaking the bank. Try the 12 oz Rump – it's got this awesome grilled taste and is super tender. And don't skip their Bone Marrow Oysters; they're roasted and oh-so-good.
Got room for dessert? Dive into their Sticky Toffee Pudding, it's pure joy in every bite!
What to order: Rump, Elysian Fields Lamb T-bones, Bone Marrow Oysters, Sticky Toffee Pudding
Address: 109 E 22nd Street, New York, NY 10010
Website | Instagram | Facebook
9. Club A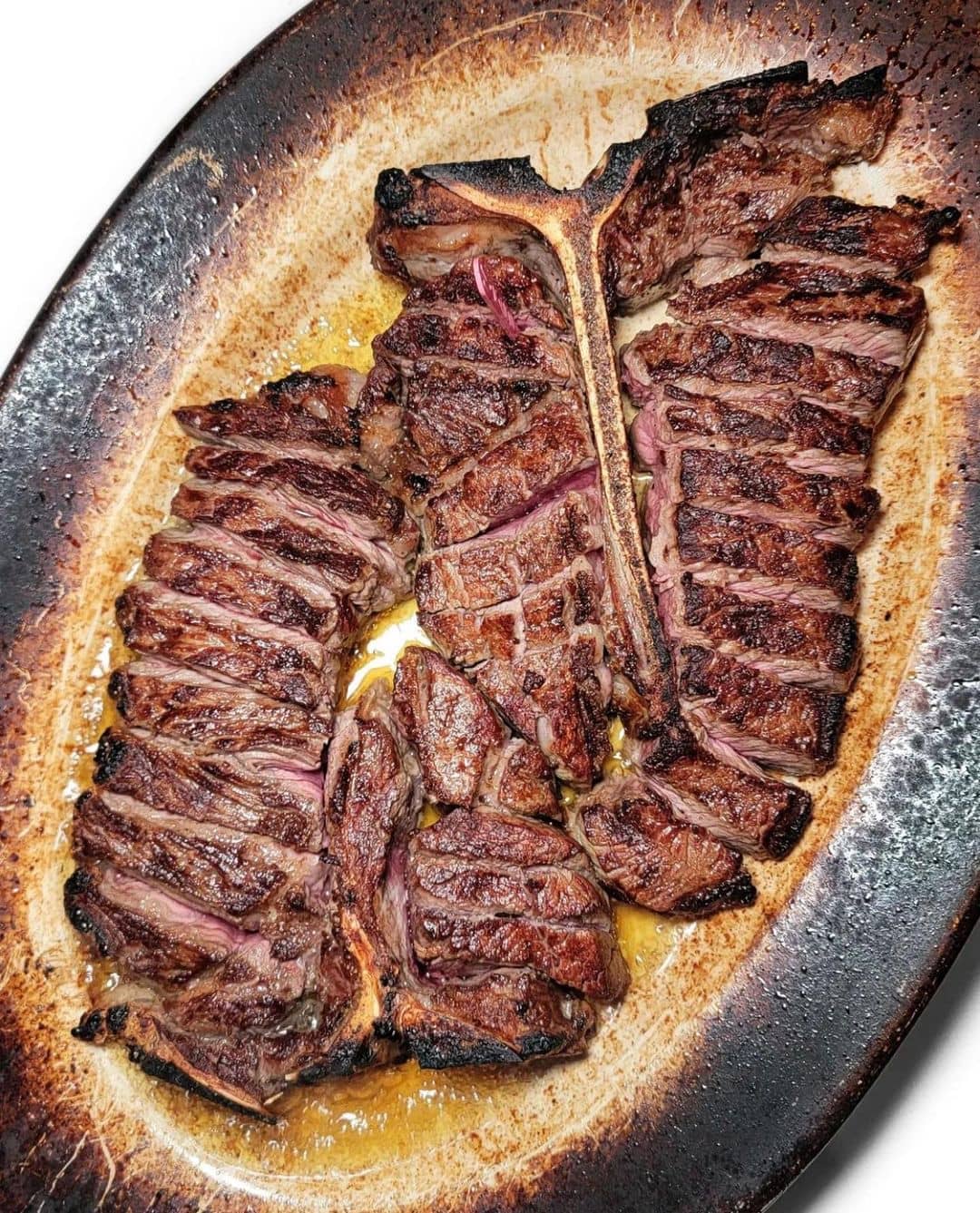 Bruno Selimaj's Club A Steakhouse mixes old-school cool with a fresh vibe. Picture this: live tunes, cozy seats, and steaks that are just… wow! The Petite Filet Mignon is so soft it nearly melts in your mouth.
Whipped potatoes and a killer Mac & Cheese on the side? Yes, please! And that Hanger Steak with the creamy, peppery sauce? Big flavor alert!
What to order: Petite Filet Mignon, Whipped Potato Puree, Mac & Cheese, Hanger Steak with Au Poivre Sauce, Club A Bacon
Address: 240 E 58th Street, New York, NY 10022
Website | Instagram | Facebook
10. Peter Luger Steak House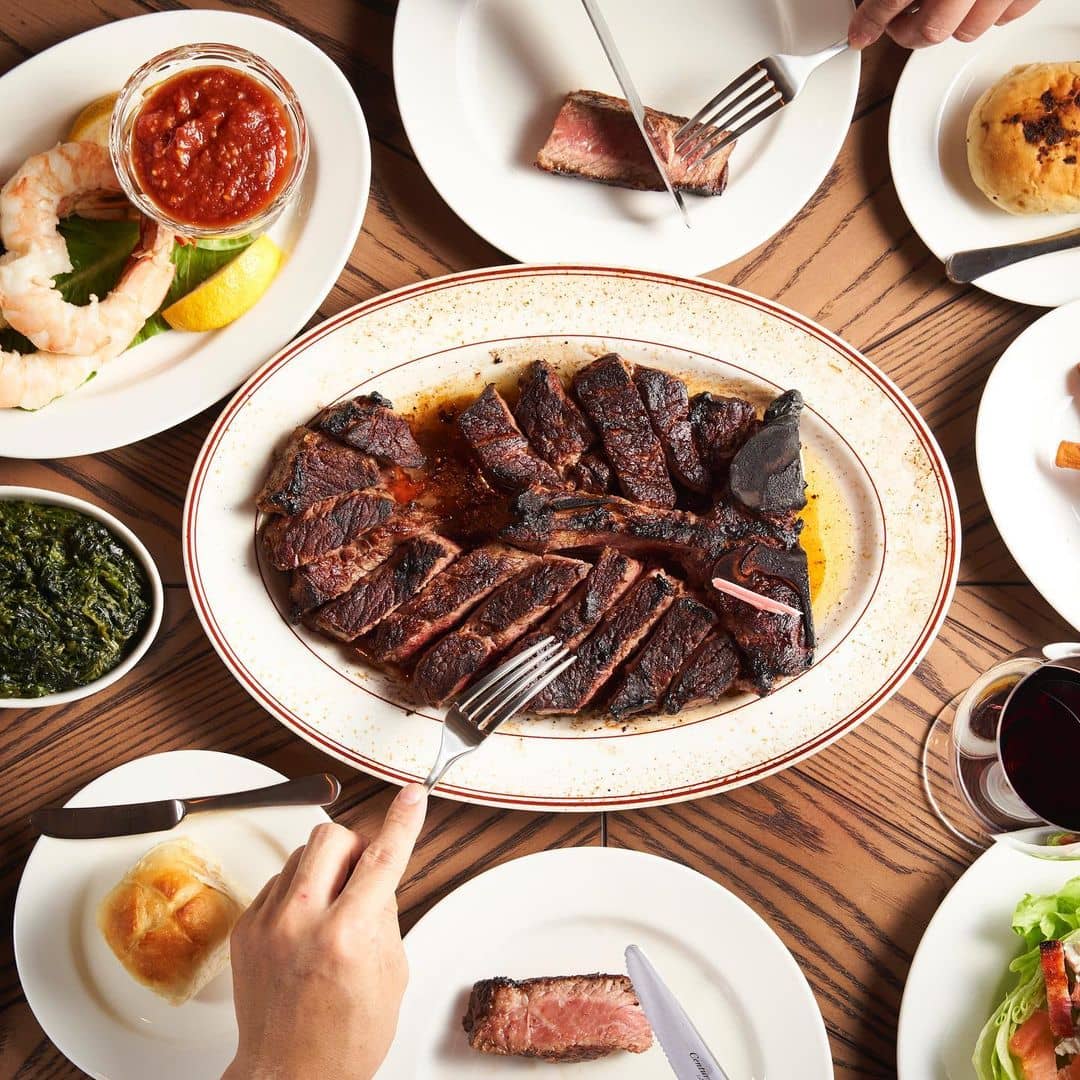 Step back in time at Peter Luger's, an NYC legend serving steaks since forever. Their Creamed Spinach? So buttery. And those German Potatoes taste like happy childhood memories.
But the star is the Dry Aged Steak, big on flavor, especially with their unique steak sauce. It's not just eating; it's an experience.
What to order: Creamed Spinach, German Potatoes, Dry Aged Steak
Address: ​​178 Broadway, Brooklyn, NY 11211
Website | Instagram | Facebook
11. STK Steakhouse Midtown NYC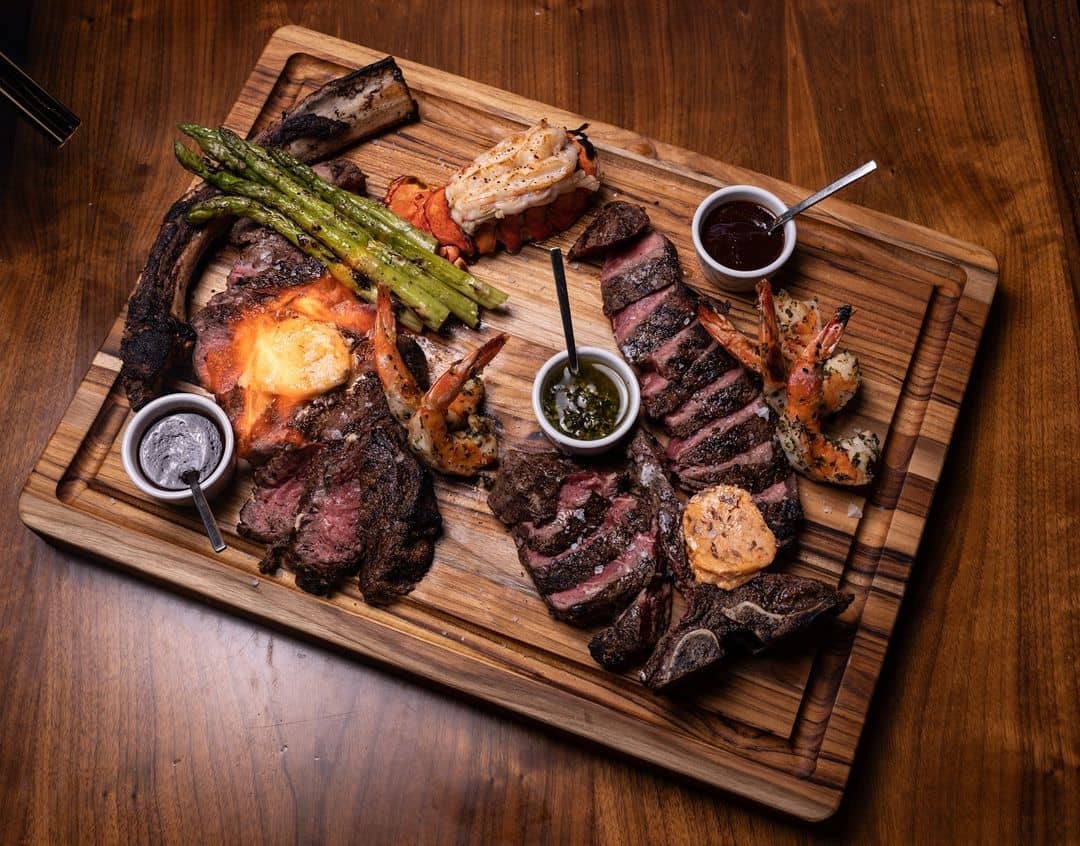 STK isn't your usual steakhouse. It's got this cool, party vibe and steaks for days. Choose your Filet Mignon, slap on some STK Bold sauce, and you're set. Or why not throw in some lobster?
Swing by for lunch, and their Wagyu Burger will show you what a real burger should taste like.
What to order: Filet Mignon, Filet with Lobster Tail, Wagyu Burger & Fries
Address: 1114 6th Avenue, New York, NY 10036
Website | Instagram | Facebook
12. Royal 35 Steakhouse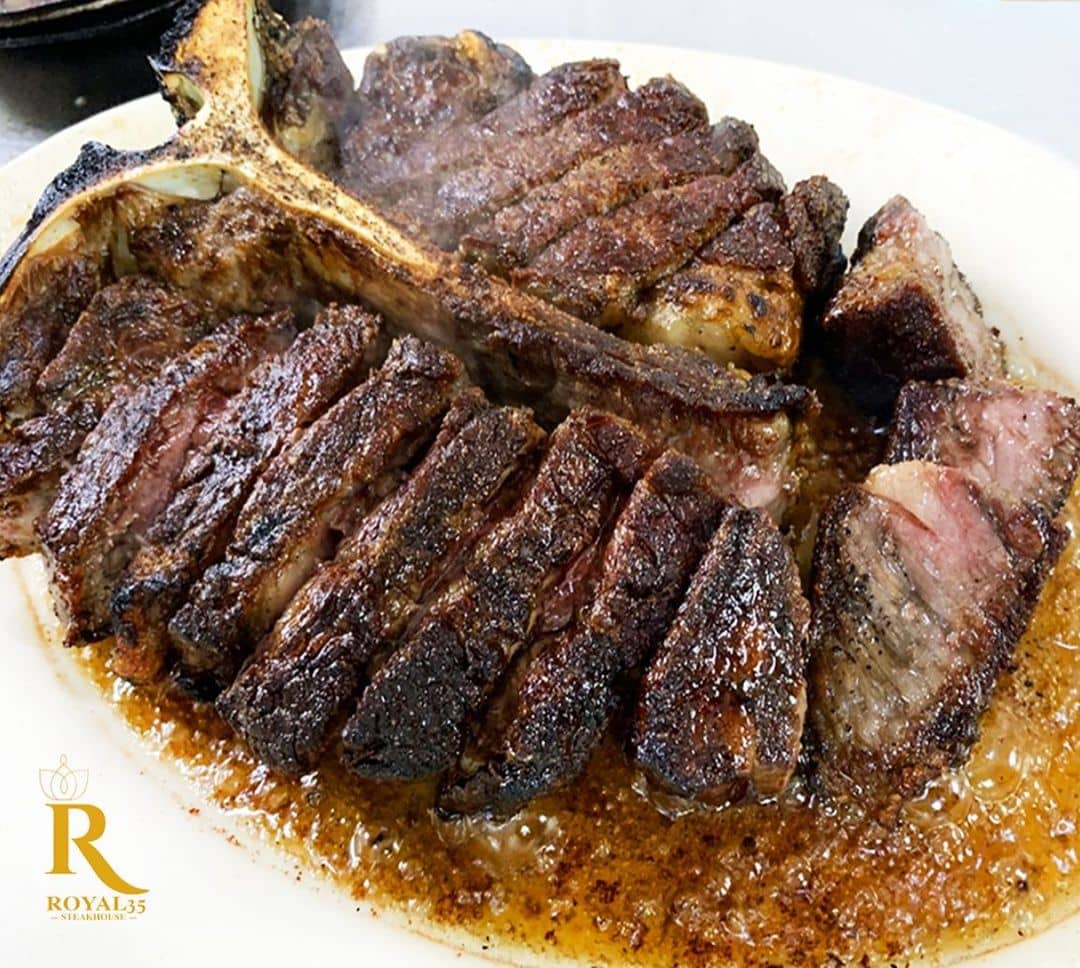 Royal 35, steps from the Empire State, is steakhouse gold. Cozy up by the fireplace and dive into a Porterhouse that'll make your heart sing. And that Veal Chop? You'll be dreaming about it.
Don't miss their Seafood Tower either – it's like the freshest catch with perfect sauces to match.
What to order: Porterhouse Steak for Two, Veal Chop, Royal 35 Seafood Tower, Sautéed Spinach
Address: 1 E 35th Street, New York, NY 10016
13. Sparks Steak House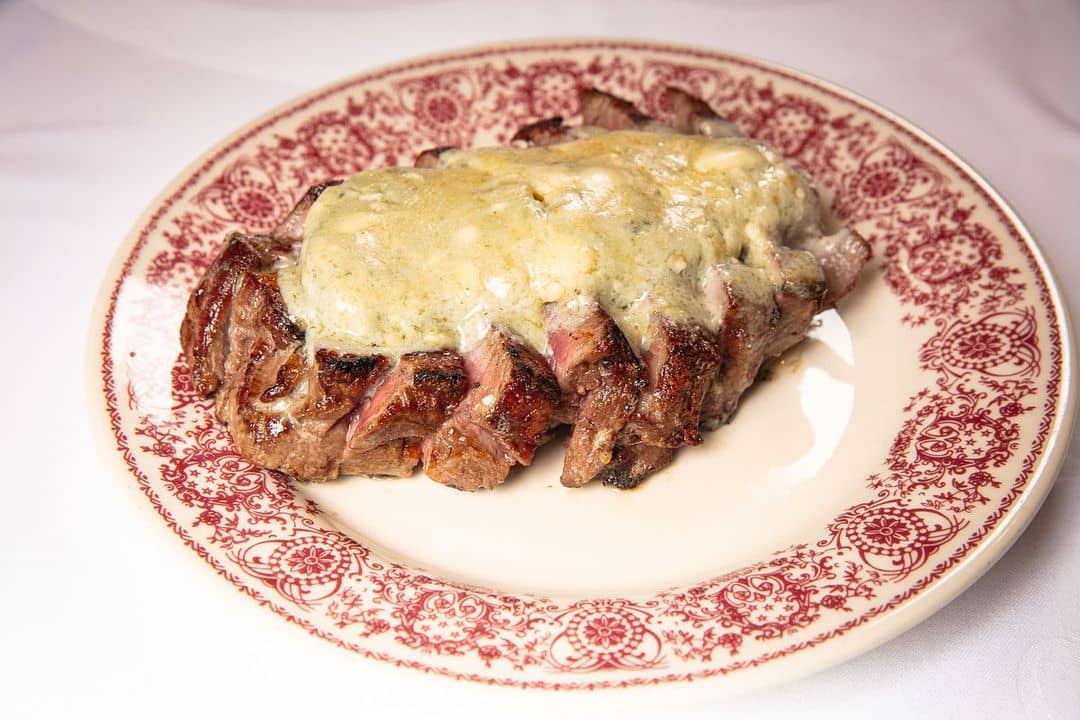 Got a thing for tradition? Sparks has been doing it right since 1966. The Filet Mignon? Pure quality. And the Prime Sirloin is juicy as can be. Creamed Spinach and Hash Browns here are winners too.
For something unique, try the Steak Fromage with Roquefort cheese – it's a flavor bomb!
What to order: Filet Mignon, Prime Sirloin Steak, Creamed Spinach, Hash Brown Potatoes, Steak Fromage
Address: 210 East 46th Street, New York, NY 10017
Website | Instagram | Facebook
14. Ruth's Chris Steak House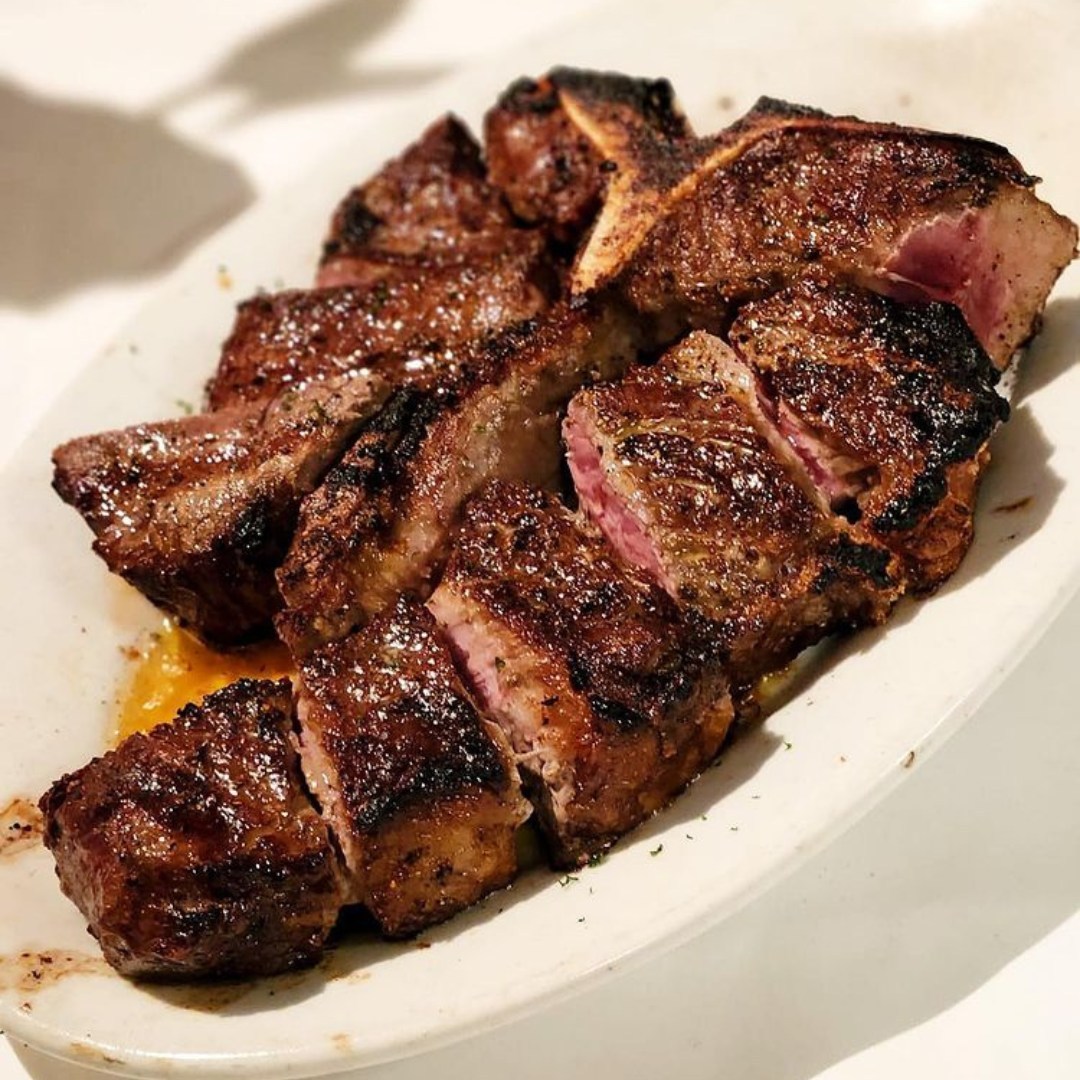 Near Times Square and want steak heaven? Ruth's Chris is where magic happens. Their Petite Filet is something you'll crave forever. It's just that good. And those Roasted Brussel Sprouts with bacon and honey butter? They'll turn you into a sprout believer. It's fancy, it's friendly, and it's all about great steaks.
What to order: Petite Filet, Roasted Brussel Sprouts
Address:
-600 Old Country Rd, Garden City, NY 11530
-881 Walt Whitman Rd, Melville, NY 11747
-472 Smith Haven Mall, Lake Grove, NY, 11755
-670 White Plains Rd, Tarrytown, NY 10591
Website | Instagram | Facebook
When it comes to the best places to eat, New York City is the gift that keeps on giving. Head to our best Brooklyn restaurants page to see what this glittering city has in store for the gourmand in you.
Looking for a place to stay in New York?
This article includes affiliate links where we may get a small commission if you use our link. No extra cost is added to you.
How We Create Our "Best" Lists
All Noms Magazine's "best" lists are created using multiple factors and signals to help readers find the best restaurants, things to do, and places to stay at. Some of these factors and signs include personal experiences, correspondence with locals, and compiling experiences from review sites.
Each list is also created to be balanced (in terms of price, cuisine type, ambiance, and more) as possible. This means that the lists are not specifically created in ranking order. You should be comfortable picking from any of the spots on the list and generally have a good time. But of course, YMMV (your mileage may vary) and everyone may have different experiences/palates.