Only a five-minute subway ride from Manhattan and a forty-minute walk away from Downtown Brooklyn, you've probably passed through Williamsburg on your quest for the most delicious cuisine. Luckily for you, Williamsburg is one of the best places in New York City to dine and drink.
We've got you covered if you're looking for the best eats in the big apple. Williamsburg has a lot to offer, whether you're craving the cheesiest pizza or the creamiest pasta.
Keep reading our list of the 13 best Williamsburg restaurants below to see what we're talking about.
1. Le Crocodile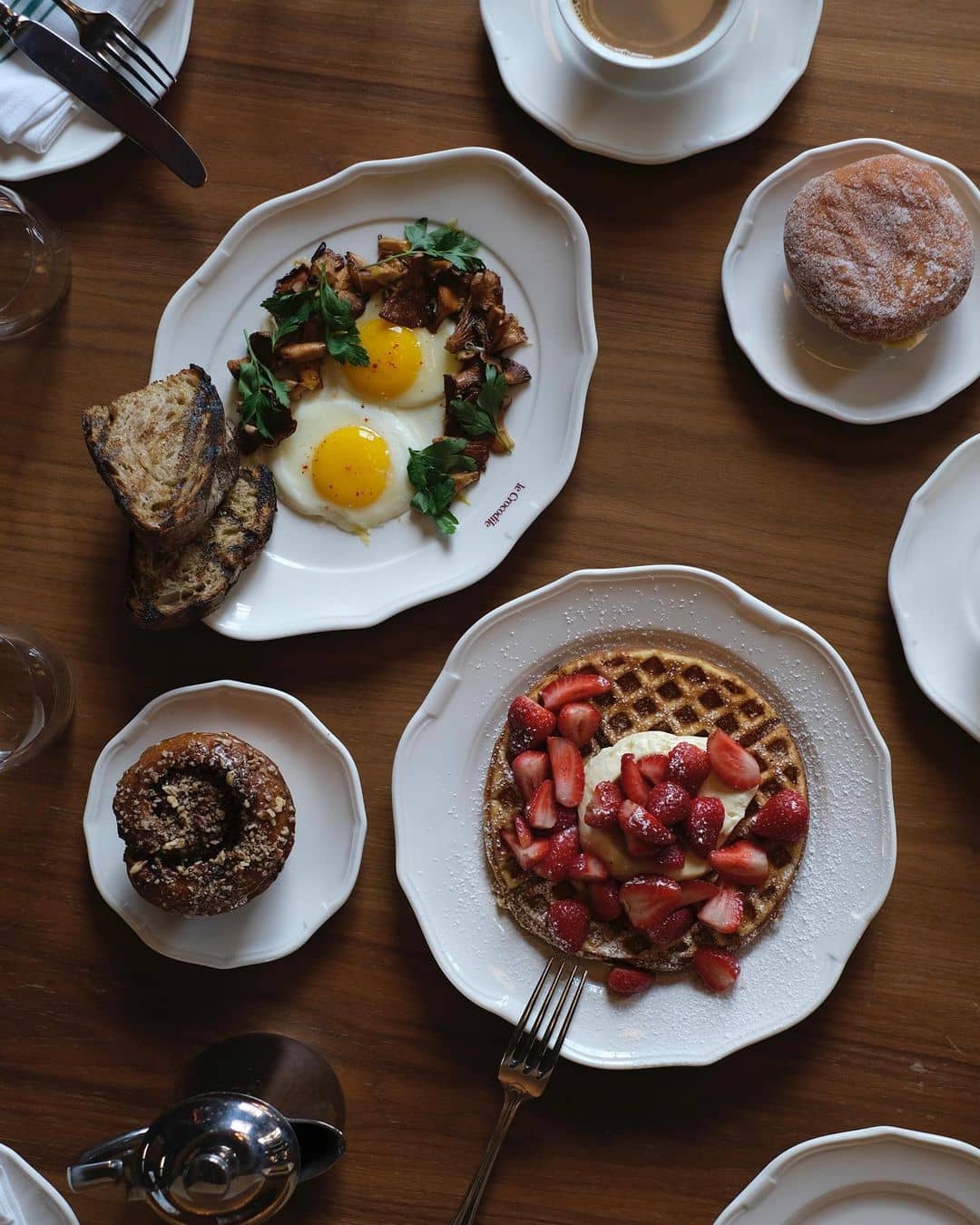 Looking for some French flair while in Williamsburg? Le Crocodile has you covered. Classic French brasserie food is served in a charming Parisian setting; you'll have the best romantic experience here. The low lighting and high ceilings create an intimate and sensual ambiance. If you wish to impress someone special, you should bring them here.
Le Crocodile's French Onion Soup is a must-have comfort food filled with bits of lardon and loaded with Gruyere. It comes in generous portions that are great for sharing if you're planning to order more than one starter.
Another highly recommended starter, the ½ Dozen Oysters, are very crisp and creamy. You can tell the oysters are cleaned with precision because of how fresh they taste.
For the main dish, Orzo Cacio e Pepe is the true star of the show. Rich without being too heavy and perfectly seasoned, you'll be picturing the Eiffel Tower's lights blinking on and off right in your eyes with every bite.
What to order: French Onion Soup, ½ Dozen Oysters, Orzo Cacio e Pepe
Address: 80 Wythe Ave, Brooklyn, NY 11249
Website | Instagram | Facebook
2. Kokomo
Kokomo offers the ultimate Caribbean experience in Williamsburg. Their outside dining is one of the best you'll ever experience in your life. The interiors are full of vibrant colors paired with cute lights. Kokomo is all about having a good time, from the exotic food to the vibes mixed with the liveliest tunes.
Cheesy with all the right seasonings, the Oxtail Flatbread is scrumptious to the core. The sweet tomato sauce complements the fatty shredded oxtail, and the crispy onions add a nice touch.
Have you ever heard of an island pasta? Something like that exists in Kokomo, and it tastes crazily good. The perfect blend of Caribbean spices and a creamy umami finish that your tongue will savor, Koko's Island Pasta is a clear winner.
What to order: Oxtail Flatbread, Koko's Island Pasta
Address: 65 Kent Ave, Brooklyn, NY 11249
Website | Instagram | Facebook
3. Maison Premiere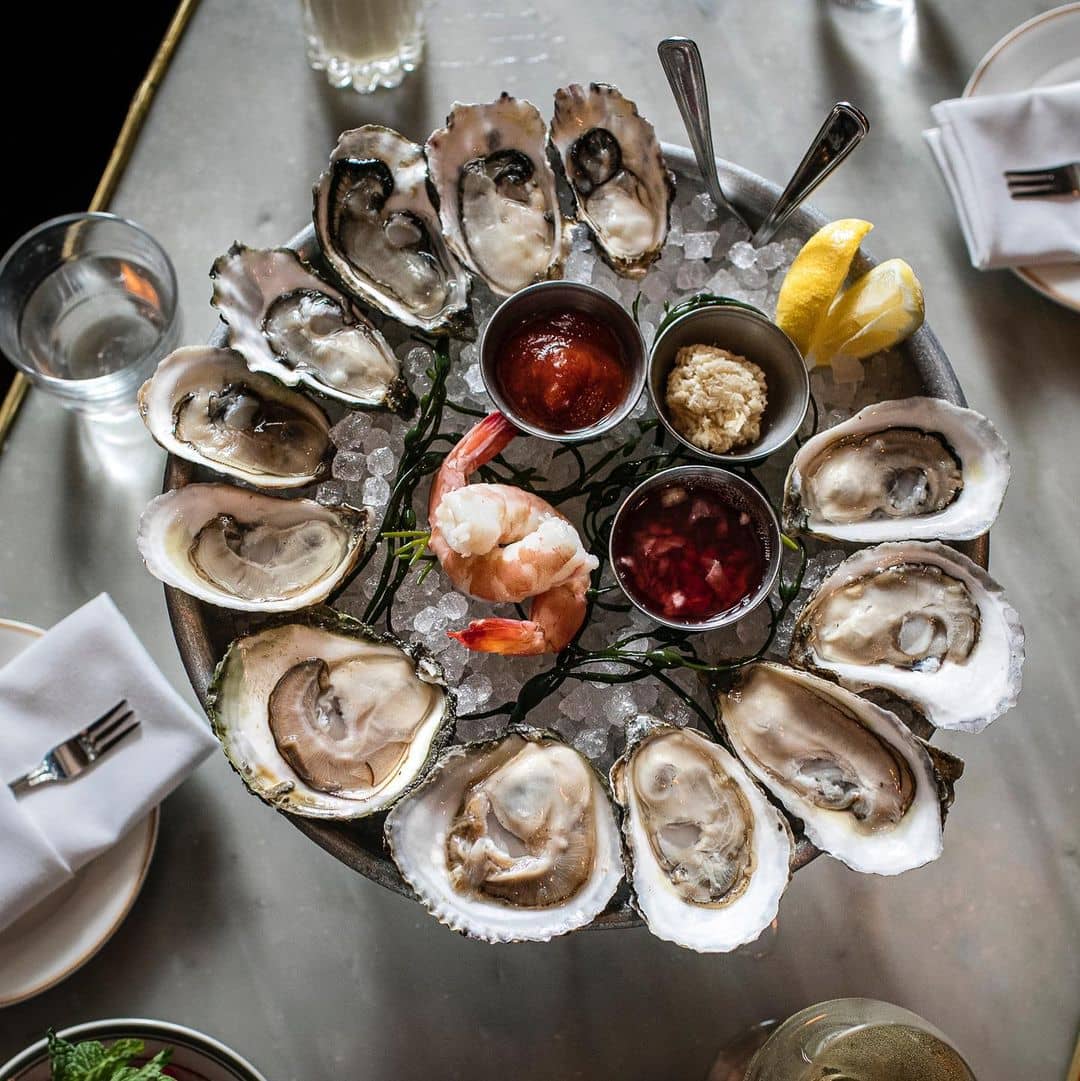 Maison Premiere is all about oysters, cocktails, and absinthe. This modern oyster bar is more New Orleans-style in terms of food and decor, and the cocktails here are in a class of their own. It is one of the best seafood restaurants in NYC!
Maison Premiere has one of the best oyster selections in the whole of NYC, which means your first order here should be Oysters! Shucked to order, the oysters here are as fresh as they come, and they are plump and juicy, with a strong taste of the sea. Wash them down with a glass of any crisp white wine of your choice, and you'll be content for life!
Served with crispy potato chips, in a fresh and fluffy brioche, their Lobster Roll has a huge fan following. The roll is warm and buttery, the lobster is fresh and cooked to perfection, and together, everything tastes absolutely divine and comforting.
Don't miss the Steamed Mussels. Served with spicy nduja and gumbo sofrito, this plate of food will make you leave with a full tummy and heart!
As for drinks, no matter what you order, you can rest assured it will taste stellar!
What to order: Oysters, Lobster Roll, Steamed Mussels
Address: 298 Bedford Avenue, Brooklyn, NY 11249
4. Peter Luger Steak House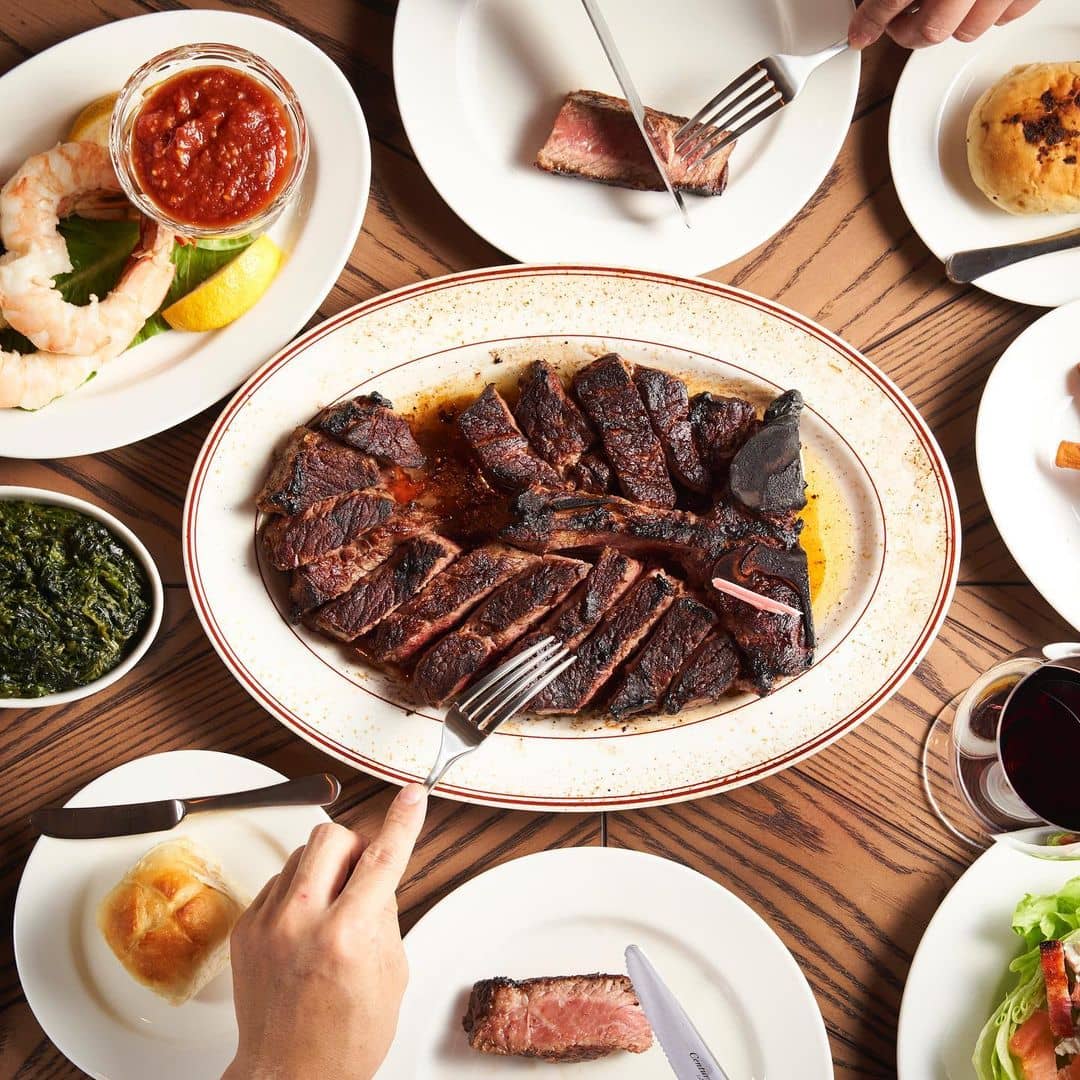 Peter Luger Steak House, the third-oldest steakhouse in New York City, has truly withstood the test of time. Located in Williamsburg, this New York staple serves up steaks fit for a king. With a very laid-back and cozy ambiance that brings you back to 18th-century New York, Peter Luger is an iconic place that you must try at least once in your life.
Deliciously buttery and creamy with lots of spinach, Peter Luger's Creamed Spinach is a dish everyone loves aside from their steak. It comes with just the right amount of cream, so you can really enjoy the spinach's taste.
If steaks in Peter Luger had a best friend, it would certainly be their German Potatoes. Crunchy and tasty as they should be, these ones taste like your childhood favorite home fries.
Of course, Peter Luger is best known for their Dry Aged Steak, and it definitely lives up to the hype. Their steak sauce, made from delicious spices that taste like cocktail sauce, is uniquely done and goes so well with the steak and almost everything on their menu!
What to order: Creamed Spinach, German Potatoes, Dry Aged Steak
Address: ​​178 Broadway, Brooklyn, NY 11211
Website | Instagram | Facebook
5. Bonnie's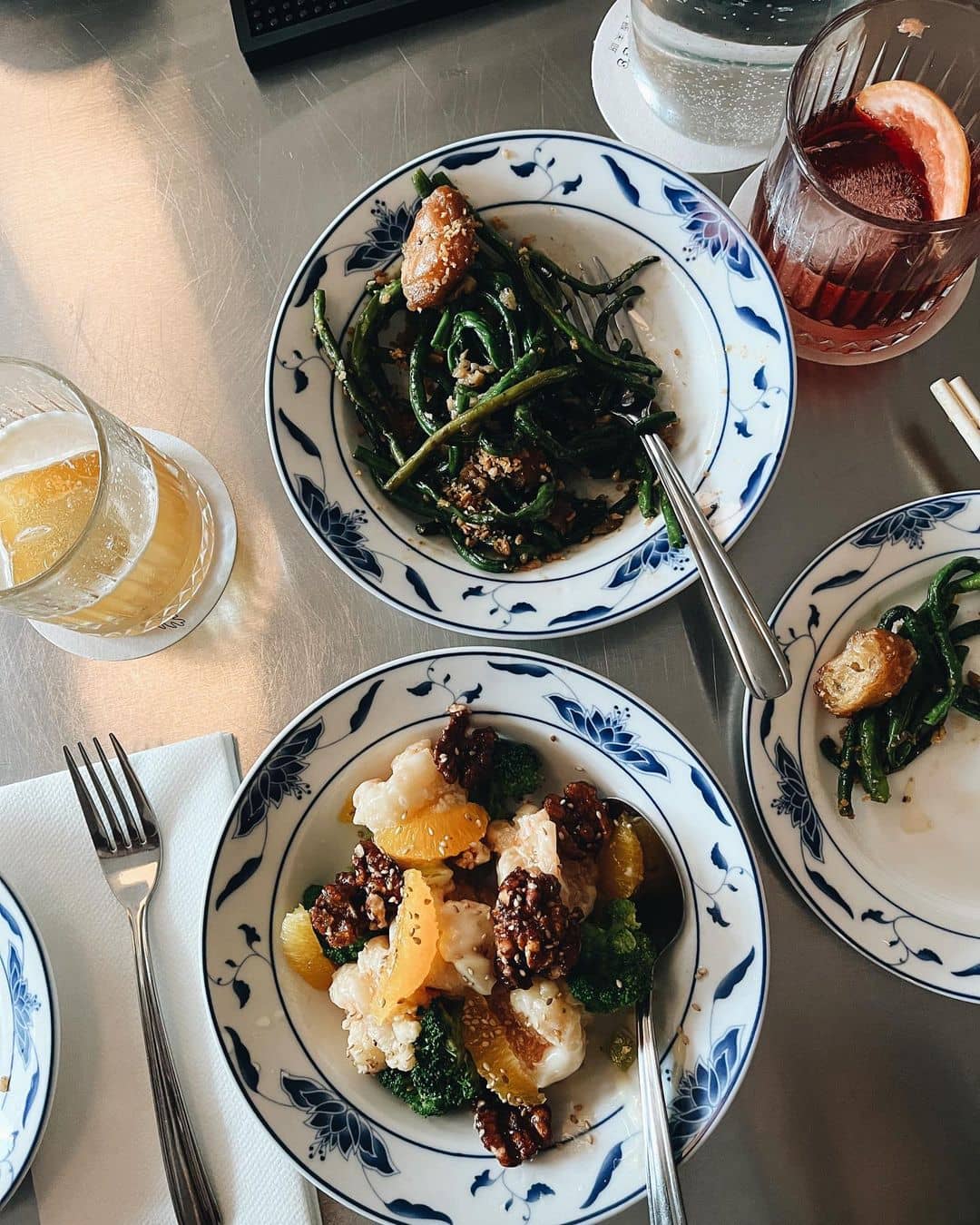 A rare gem with unique eats, Bonnie's creates modern takes on Cantonese foods, and they do it so well. With a really chic and eclectic ambiance, this place unquestionably aims to please. Bonnie's is so good that booking a reservation two weeks in advance is highly recommended to score a seat.
Bonnie's Dao Gok, or Chinese Long Beans, has a deep umami flavor that stays in your mouth for a long time. So, you may need to wash it down with water to properly savor the next meal. Each bite is chewy and extends all the deliciousness further into your mouth.
Another crowd favorite is the X.O Cheung Fun or Seared Rolled Rice Noodles, that taste oddly like toasted gnocchi with Cantonese flavors. Magically fluffy and crispy at the same time, you'll love every bit of this dish.
What to order: Dao Gok (Chinese Long Beans), X.O Cheung Fun (Seared Rolled Rice Noodles)
Address: 398 Manhattan Ave, Brooklyn, NY 11211
6. Lilia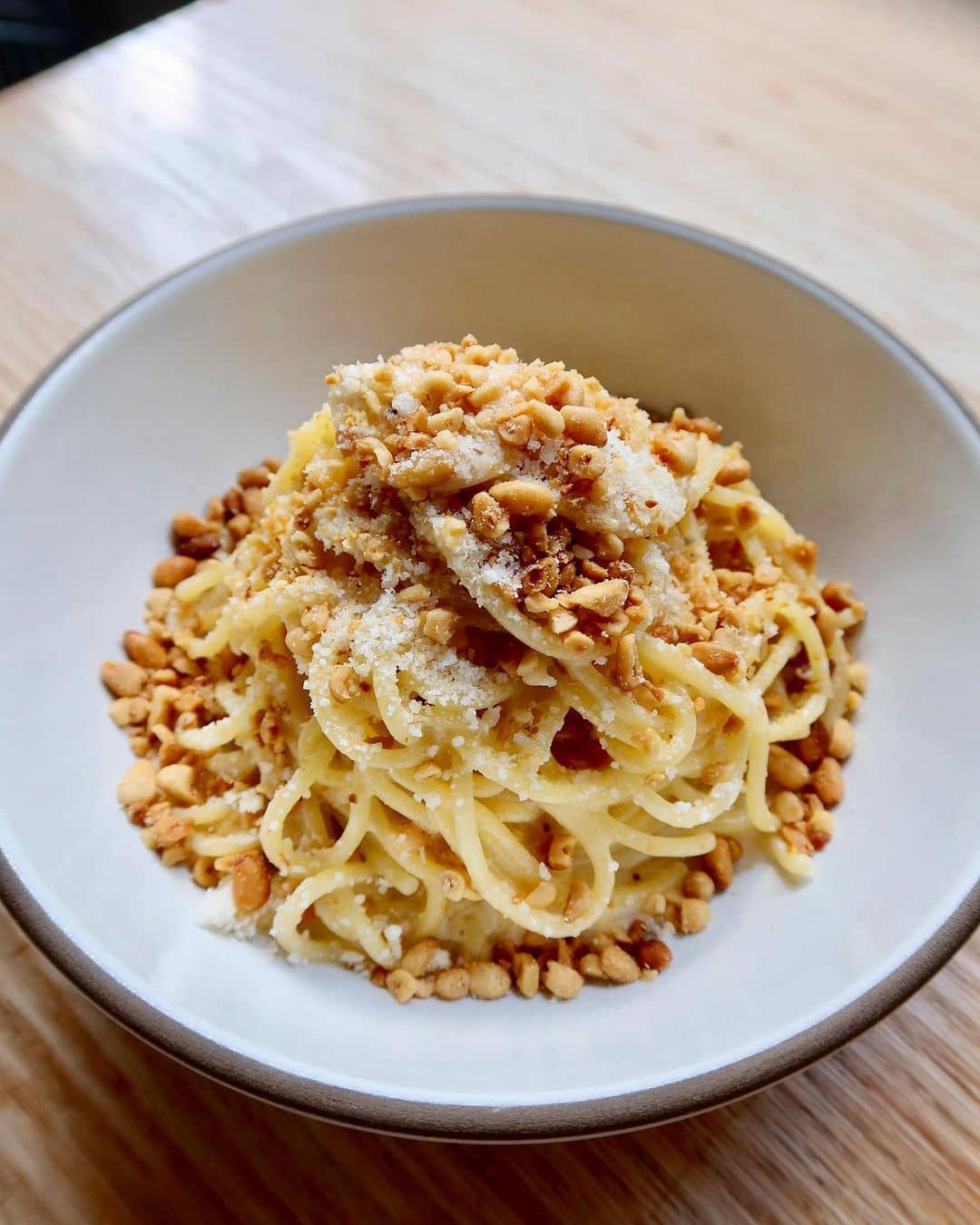 One of the best Italian restaurants in the entire NYC, Lilia serves unreal pasta in a converted auto body shop. Wood-beamed ceilings, giant factory windows, and a relaxing open kitchen allow a comfortable but hip atmosphere. You can find the perfect union of amazing service and excellent food at Lilia.
The pasta responsible for most of Lilia's positive ratings, the Sheep's Milk Cheese Filled Agnolotti, is truly unforgettable. With a flawless sauce coating that feels as fluffy as a little pillow filled with cheese, you will thoroughly enjoy this dish's soft texture and sweet honey flavor.
Another signature dish in Lilia is the Mafaldini. This one has a very unique shape and excellent texture. The butter, cheese, and pink peppercorn let the pasta shine bright like a diamond.
What to order: Sheep's Milk Cheese Filled Agnolotti, Mafaldini
Address: 567 Union Ave, Brooklyn, NY 11211
Website | Instagram | Facebook
7. Reunion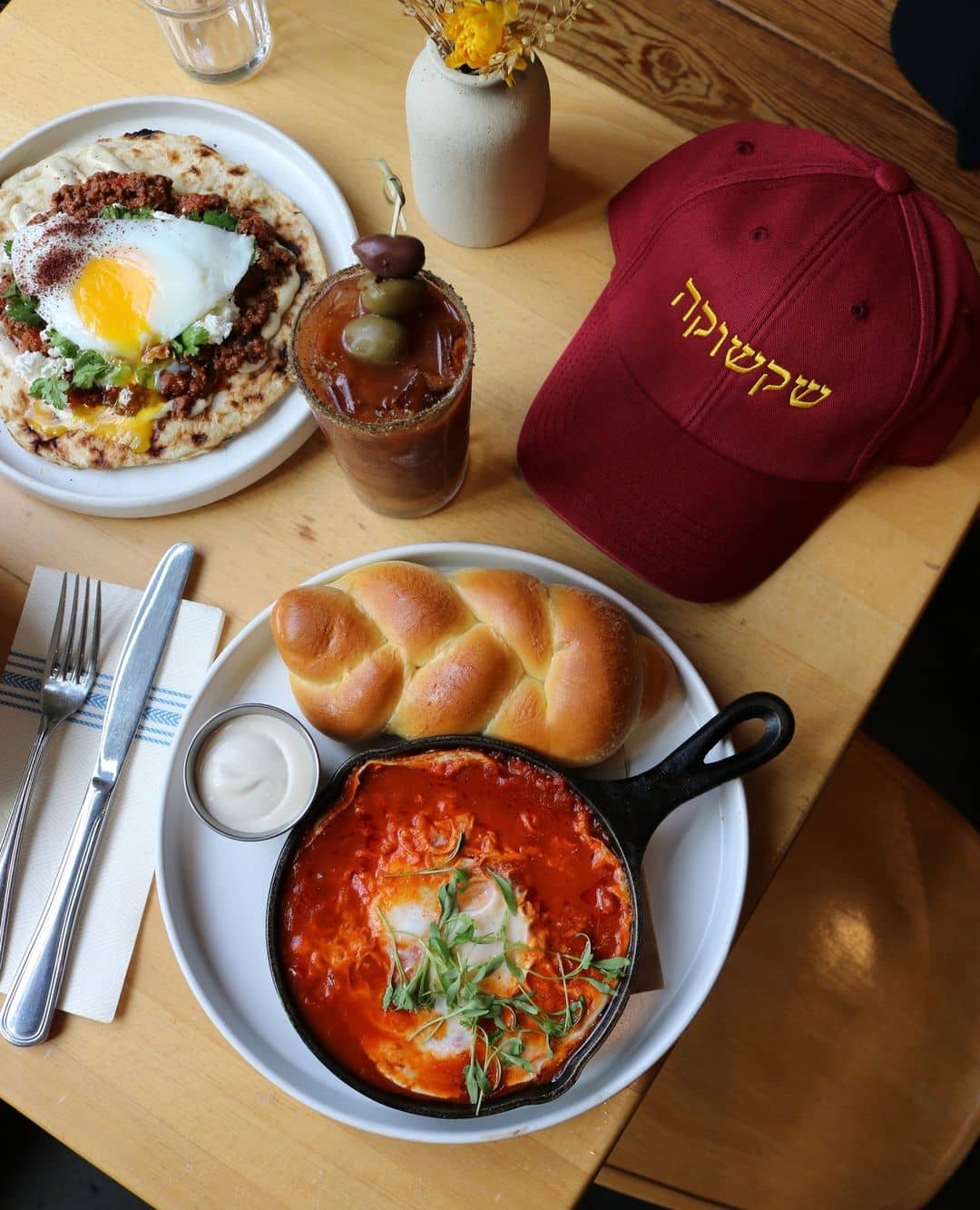 Reunion is a love letter to Tel Aviv. Get off the L train and feel like you're in the middle of the most iconic Israeli city to enjoy the absolute best brunch in Williamsburg you've ever had. Dive in and get ready to experience warm Middle Eastern hospitality in the heart of Williamsburg, where you are offered irreplaceably tasty dishes and a cozy atmosphere.
Their Shakshuka is absolutely bomb. It's a very flavorful dish that comes with juicy tomato sauce with a kick of spice from the pepper creating a smoky flavor overall. The bread that comes along is so puffy and complements the shakshuka perfectly.
Or you can go for their famous Incredible Shawarma made with chicken shawarma, potatoes, tahini, red cabbage, amba, and zhoug. Each bite is packed with flavors and people are coming back for more! For desserts, don't hesitate to order their Tahini Cheesecake topped with maple tahini caramel and sesame brittle. Delicious and indulgent!
What to order: Shakshuka, Incredible Shawarma, Tahini Cheesecake
Address: 544 Union Ave, Brooklyn, NY 11211
Website | Instagram | Facebook
8. St. Anselm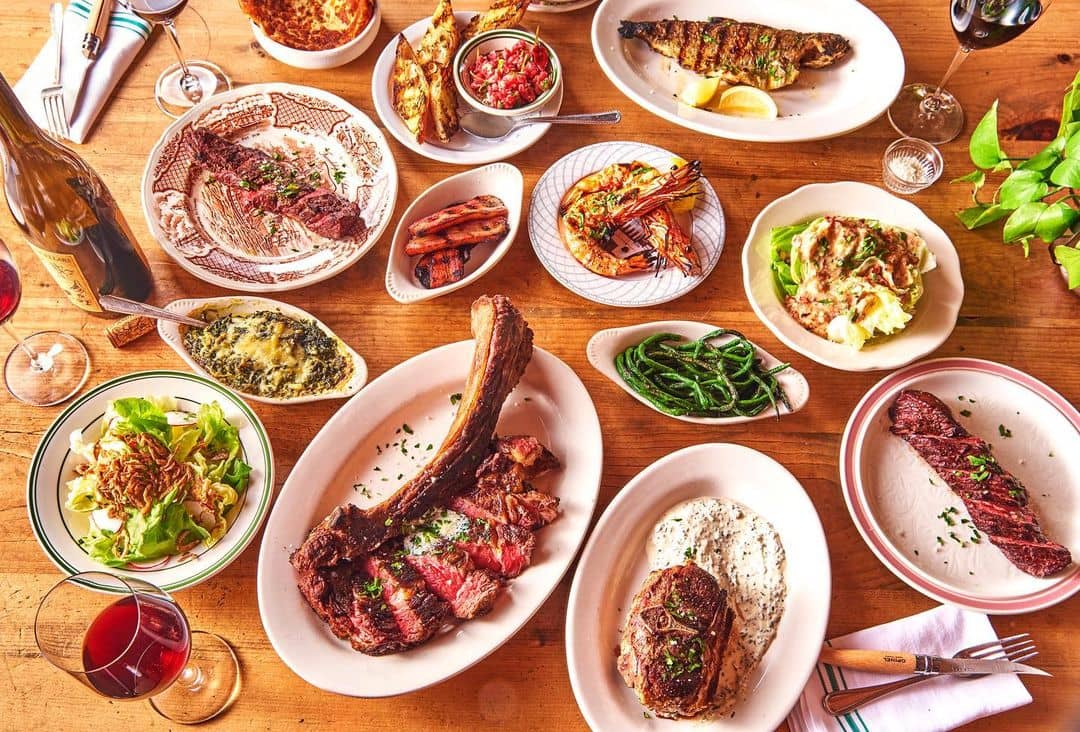 Located a few blocks from the L stop in Williamsburg, St. Anselm serves a mix of steakhouse staples and meat off-cuts. It is a small yet cozy restaurant with a more homey feel compared to usually fancy steakhouses. If you choose to sit at the chef's counter, you can smell all the glorious scents of sizzling steaks.
The no.1 must-order item in St. Anselm is their Butchers Steak. Very nicely charred, super tender, and well seasoned— could this get any better? But wait, there's more! This steak is also the best-valued steak you can get.
Another notable cut in St. Anselm is their Ax Handle Rib Eye. This one earns a medal as a heavyweight champion. The combination of the natural fats of this cut, along with some added flavor to the bone, this one comes with an insane mixture of flavors that goes OOMPH in your mouth.
What to order: Butchers Steak, Ax Handle Rib Eye
Address: 355 Metropolitan Ave, Brooklyn, NY 11211
Website | Instagram | Facebook
9. Diner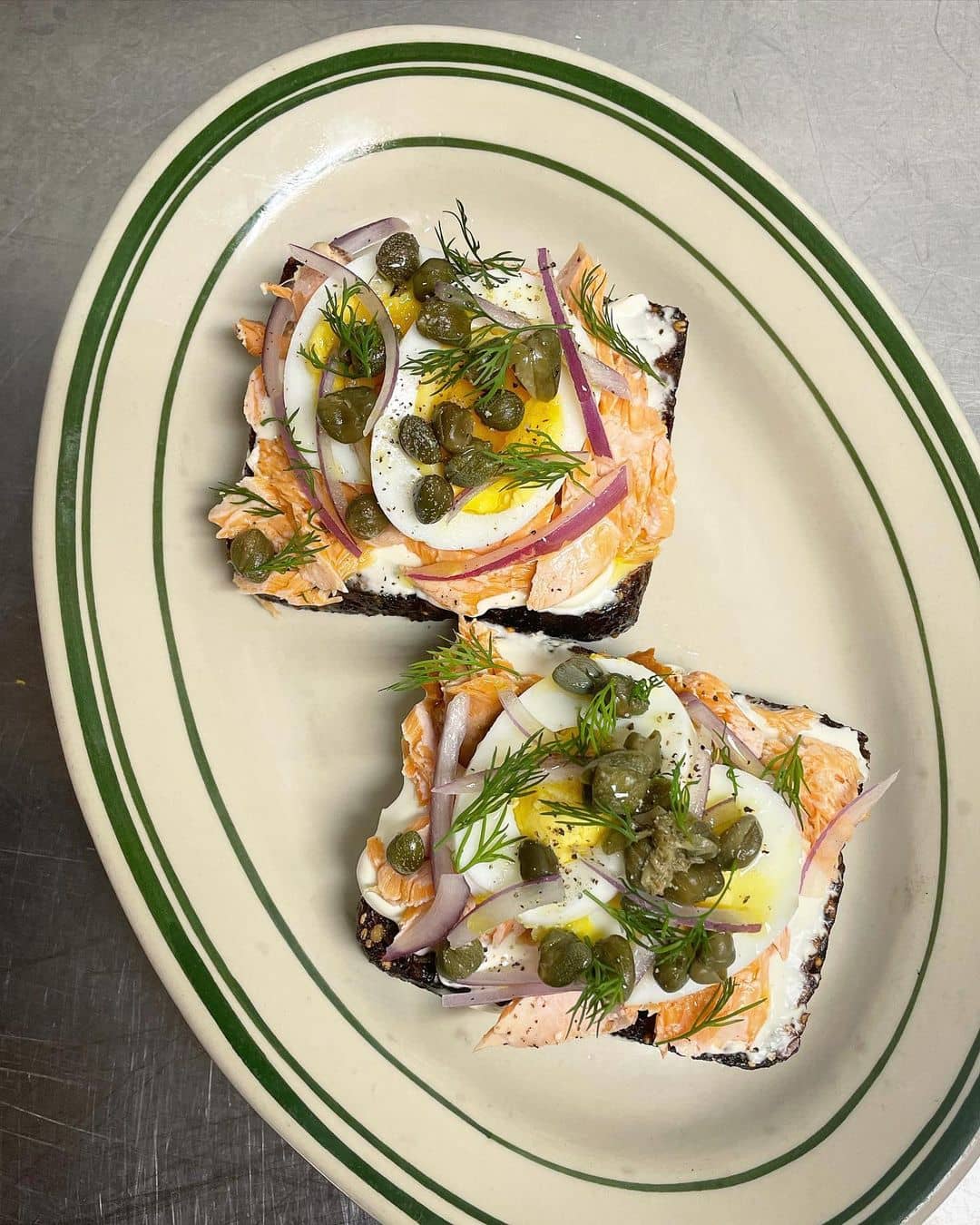 A perennial favorite among locals, Diner represents everything cool about Williamsburg. Stylish, intimate, and extremely high quality— it's hard to get enough of this place. The front dining room transports you to what seems like a cool railcar with hand-cut tiles and custom light fixtures. A southside powerhouse, you can never go wrong with Diner.
Diner's Caesar Salad doused in a tasty sour creamy dressing is perfectly balanced with crunchy layers of green lettuce. This dish will make it impossible for you to order one at any other place because your mind will only think about Diner's Caesar Salad.
A wholesome burger for a wholesome place, Diner's Grass-fed & Finished Burger is one for the books. Made from sustainable and organic ingredients, this burger is as healthy as it gets.
What to order: Caesar Salad, Grass-fed & Finished Burger
Address: ​​85 Broadway, Brooklyn, NY 11249, United States
Website | Instagram | Facebook
10. Anthony & Son Panini Shoppe
Home to the best sandwiches in town, Anthony & Son Panini Shoppe makes sandwiches that are not only classics but staples in Italian-American culture. Having been around for years, it's earned its place on the block. They have a cute small bar outside with benches you can sit at. A tried and true neighborhood spot, Anthony & Son Panini is a must-visit in Williamsburg.
Nothing screams "Take my money!" more than Anthony & Son's FDNY Hero sandwich. Chicken cutlet, vodka sauce, and fresh mozzarella are spread deliciously on garlic bread. Your tongue will appreciate the bread's crispiness and cutlet's softness.
Part of their specials menu, the Mario Special panini is a true treasure indeed. With the light chipotle flavor and the crisp chicken cutlet paired with American cheese and the tastiest avocado, you'll be devouring this one in an instant.
What to order: FDNY Hero, Mario Special
Address: 433 Graham Ave, Brooklyn, NY 11211
Website | Instagram | Facebook
11. Birds of a Feather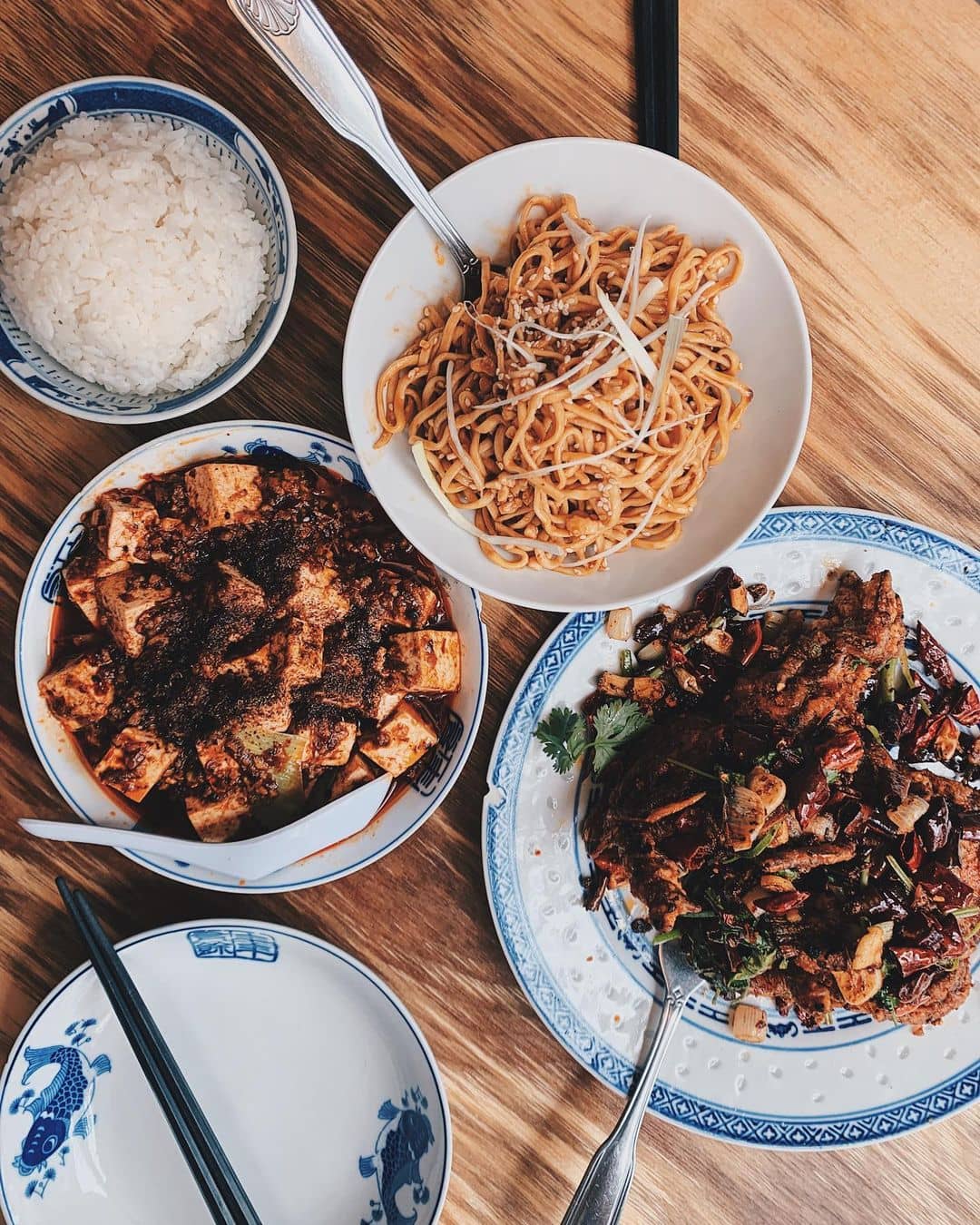 Serving authentic Szechuan food, Birds of a Feather offers a casual dining experience in Williamsburg. This restaurant particularly stands out from other Chinese restaurants in the area due to its creativity and authenticity.
Many of their dishes are traditional options made with a Szechuan twist. If you're in search of real, quality Szechuan cuisine in Williamsburg, Birds of a Feather is the first place you should visit.
If you like a nice spicy kick of numbing spice, you won't regret having their Dan Dan Noodles. The texture of the noodles is slightly chewy and works perfectly with its spicy sauce. This dish is simply FIRE, and you'll keep wanting to come back for more.
Birds of a Feather's Spicy Cumin Lamb has its own unique level of spiciness that you can't find in other places. With lots of cumin and marinated garlic that has a subtle sweet taste, this will be the best Spicy Cumin Lamb you'll ever taste.
What to order: Dan Dan Noodles, Spicy Cumin Lamb
Address: 191 Grand St, Brooklyn, NY 11211
Website | Instagram | Facebook
12. Edith's Eatery & Grocery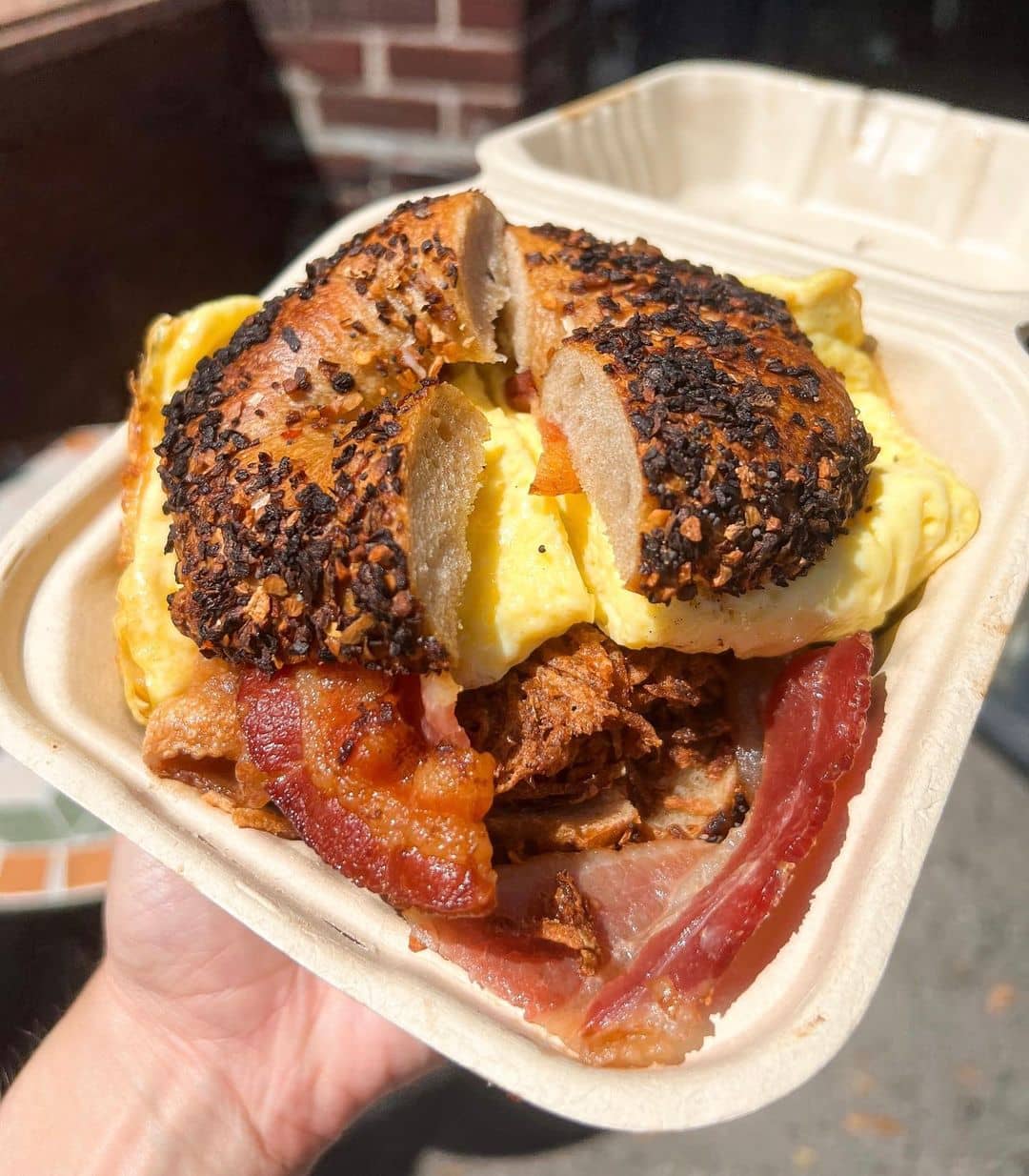 Edith's Eatery & Grocery is one of the few places in New York where food is so outstanding you wish you lived next door to have a taste every day. This sweet lunch neighborhood spot has a cafe and grocery in one, as well as a deli counter with meats and various deli fare. After you enjoy your meal, you can browse the grocery section for stuff you may want to take home.
Addictive, flaky, and hits all the right spots, their Homemade Malawatch with soft-boiled eggs tastes heavenly. One bite of this dish will have you wishing you could have this for breakfast every day.
Edith's Syrniki Russian Pancakes are a dream. Dense yet soft with an obvious tangy farmer's cheese flavor, you could eat this one all day. The tart currant sauce takes the pancake to a whole new level.
What to order: Homemade Malawach, Syrniki Russian Pancakes
Address: 495 Lorimer St, Brooklyn, NY 11211, United States
Website | Instagram | Facebook
13. L'Industrie Pizzeria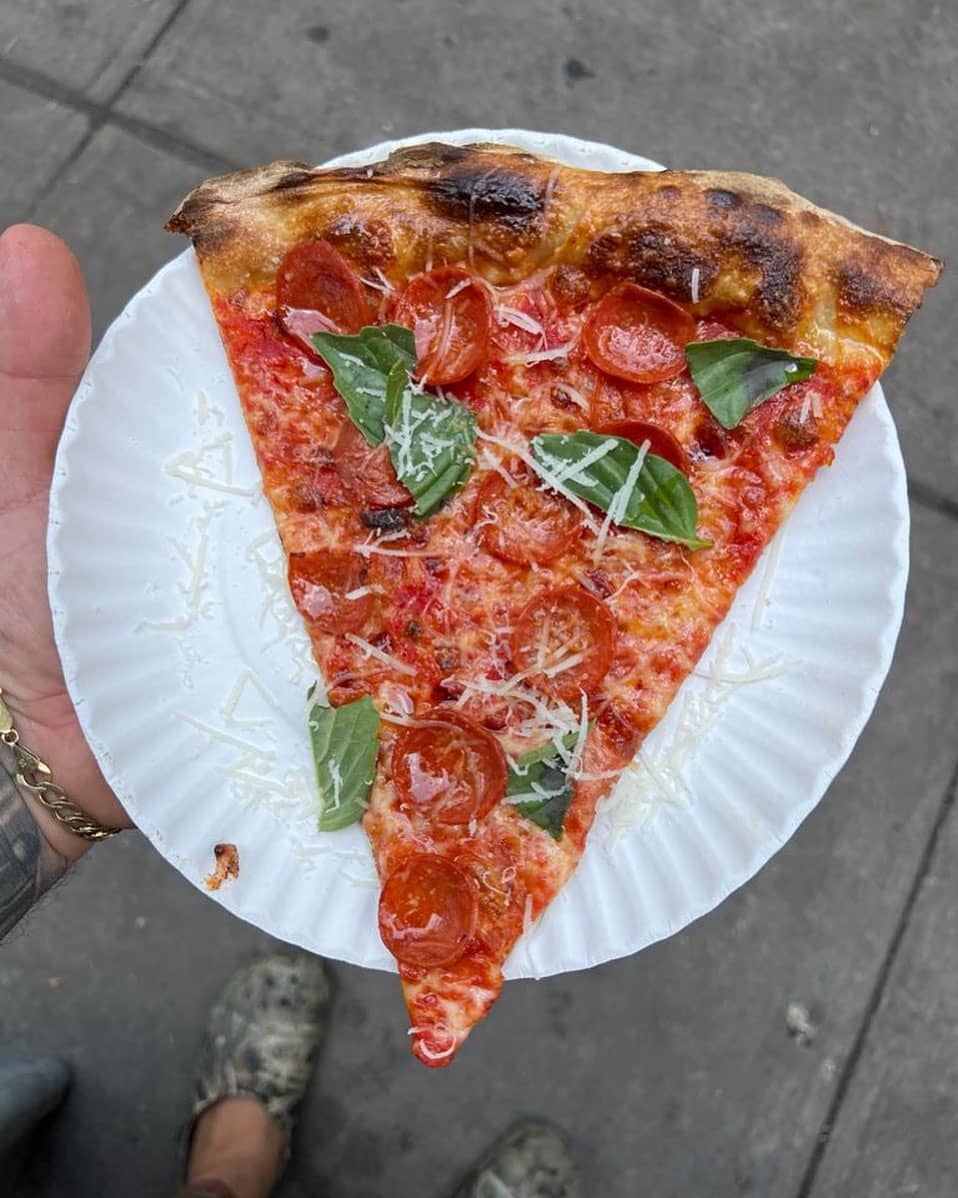 What better way to spend a New York day than dining on a mouthwatering slice of pizza? With a shelf that's lined with rows of imported Italian pizza ingredients and plenty of booths set up in a covered street outside, L'Industrie Pizza provides you with the ultimate New York Pizza experience.
From the bustling kitchen, the friendly staff, and the music ranging from old-school hip-hop to classic rock, this place is as lively as it gets.
There's a reason why L'Industrie's New Yorker pizza got its name, and if the whooping pepperonis and sausages are not enough to convince you, what else can? For some reason, the combination of these two simple ingredients topped with fresh basil creates the best pizza in the whole of NYC.
From your first bite to your last, the Margherita pizza hits almost like vodka in a good way. The sauce just hits differently, and the edge of the pepperoni cups curls up so well. The sweet crust complements Margherita's slightly alcoholic taste.
What to order: New Yorker, Margherita
Address: 254 S 2nd St, Brooklyn, NY 11211
Website | Instagram | Facebook
As one of the most popular spots in Brooklyn, Williamsburg is home to lots of tasty hot spots in New York, but the culinary journey doesn't end here. Head on over to our list of the best restaurants in New York for more mouthwatering recommendations.