On the hunt for the best donuts in NYC? You're at the right place!
Whether you like to enjoy yours with a strong cup of coffee, or as a dessert, donuts have their way of pleasing people, and without a doubt, NYC has some of the best donut places in the country.
Can't wait to dig in? Visit our top 2 donut spots in NYC – Peter Pan Donut & Pastry Shop and The Doughnut Project.
Our handy list has the names of the best donuts in NYC and where you can find them.
1. Peter Pan Donut & Pastry Shop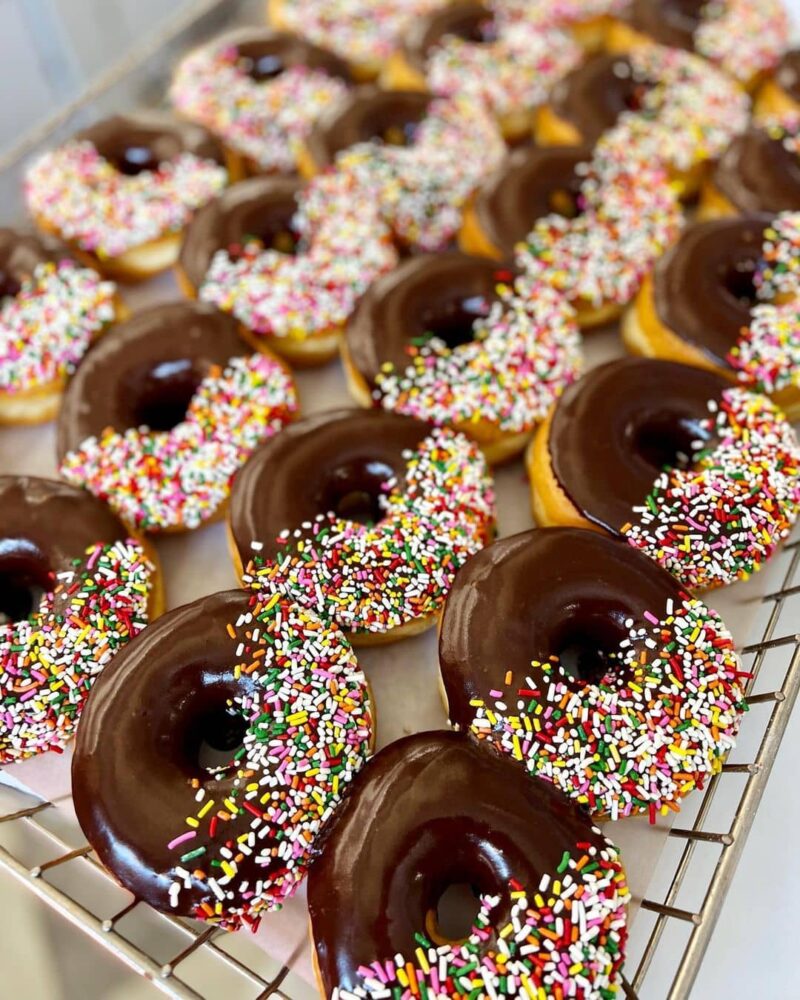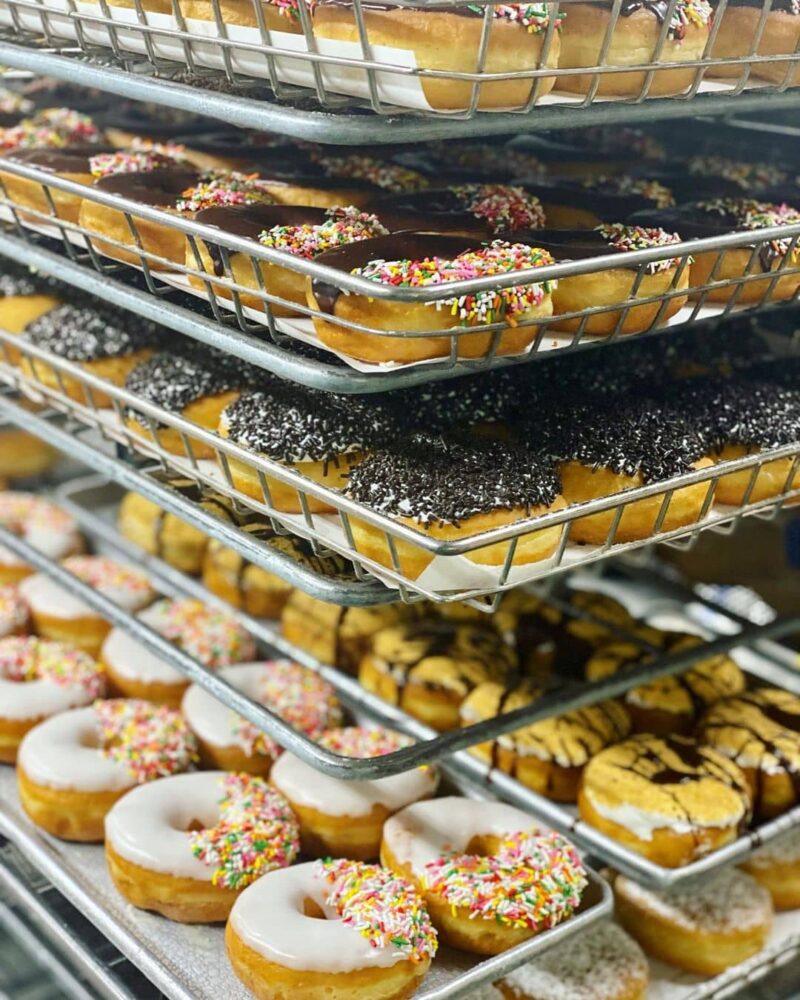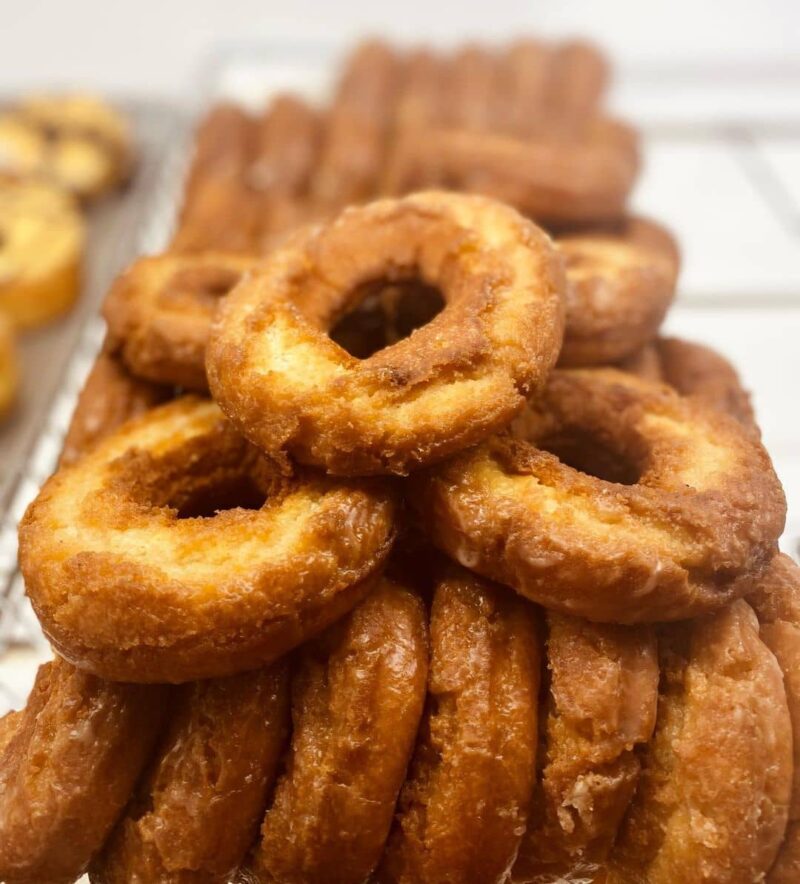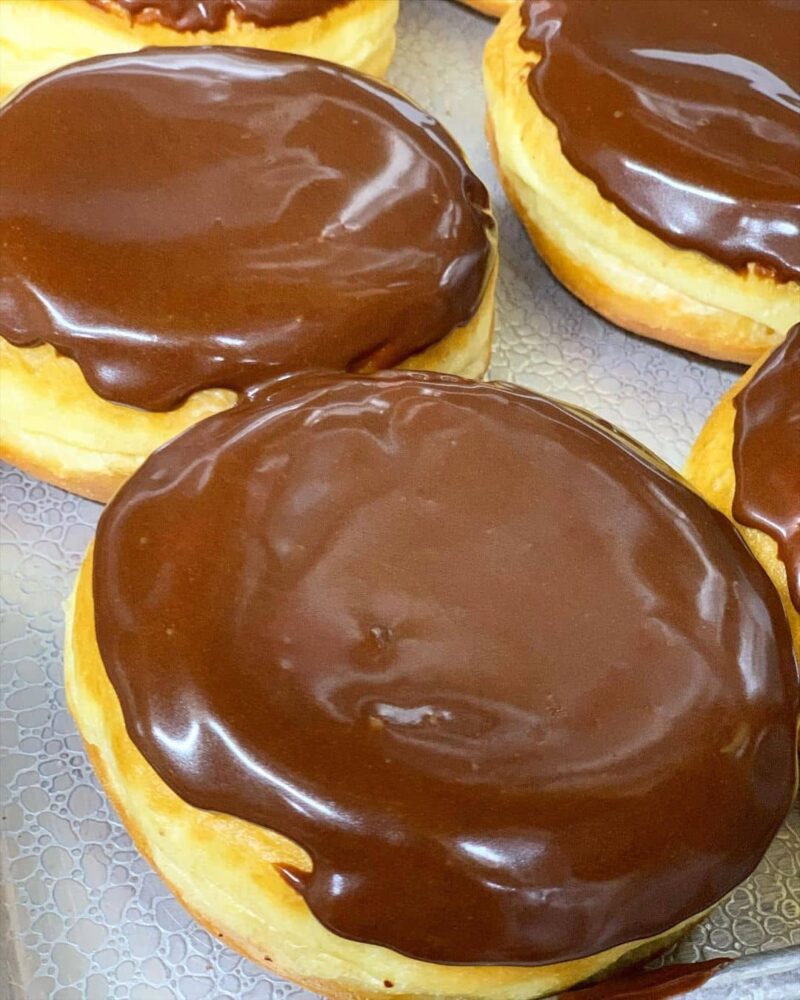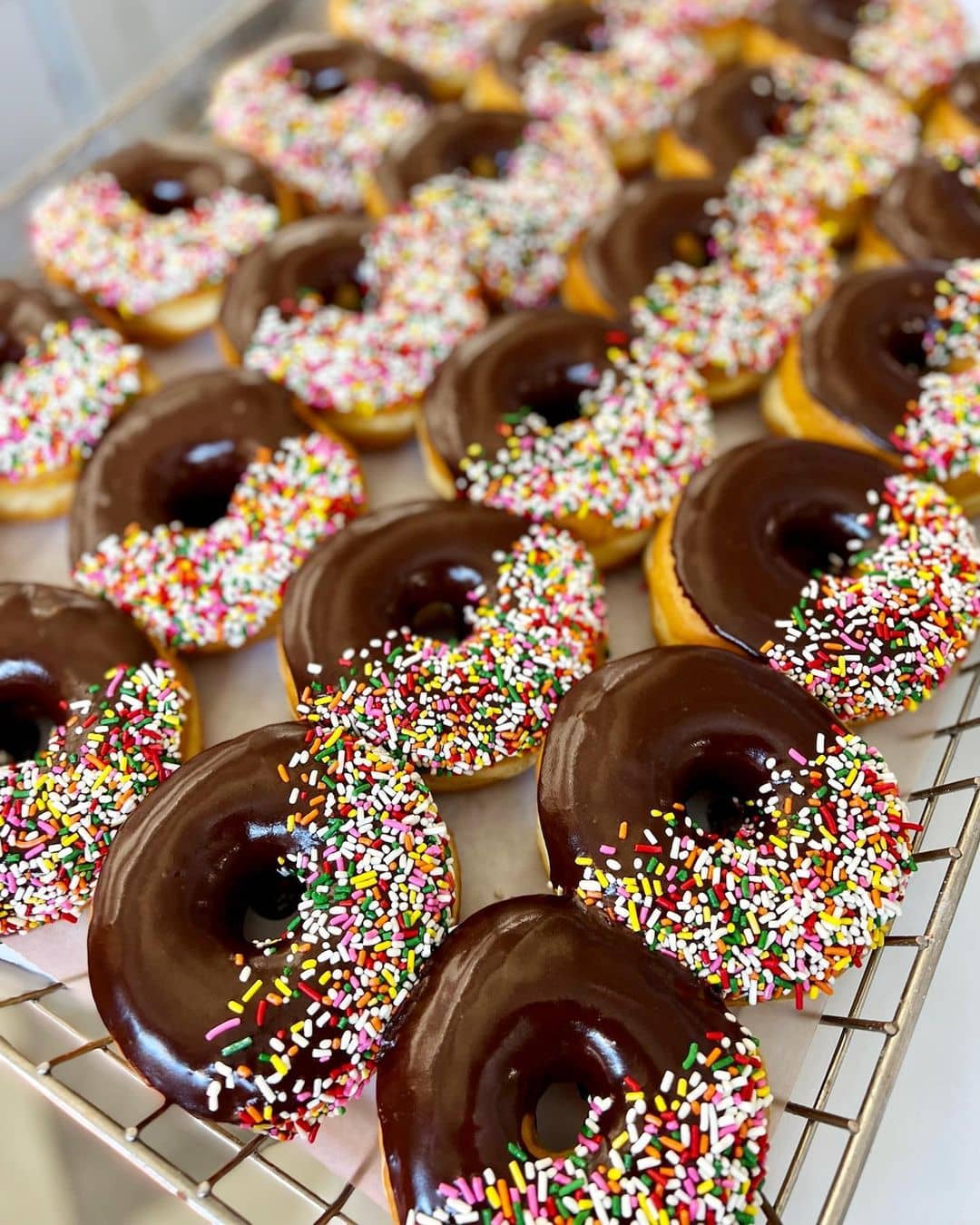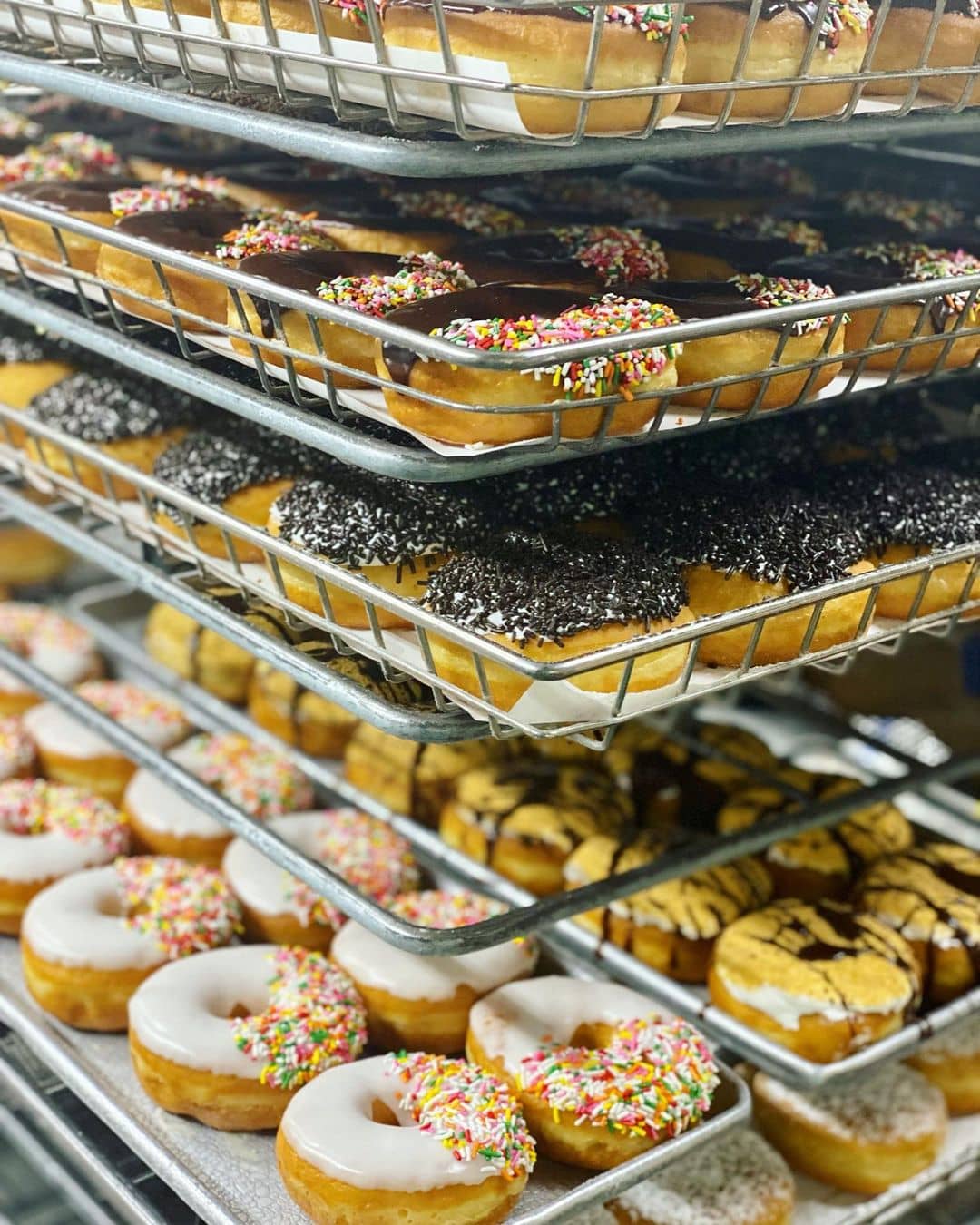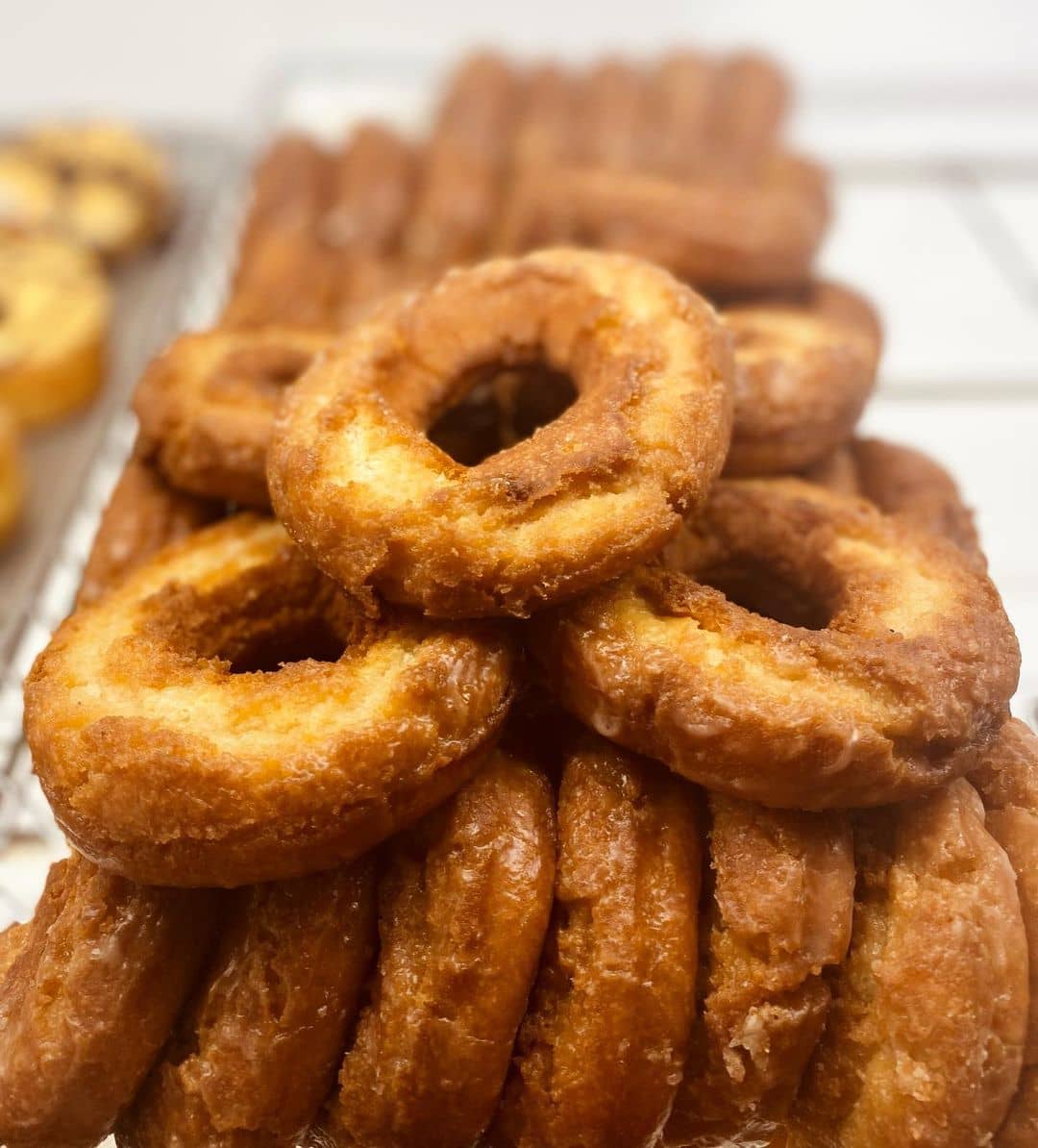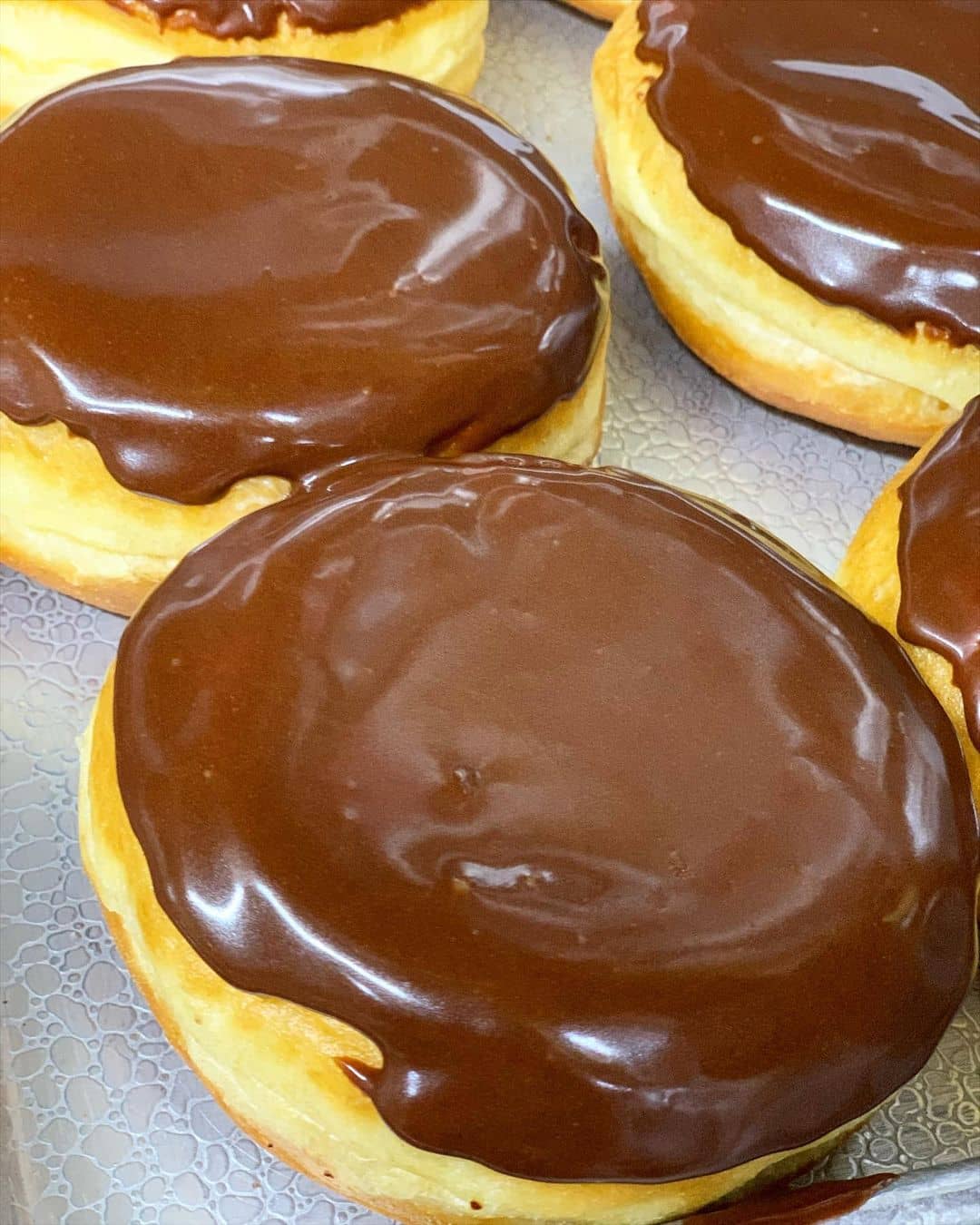 In Brooklyn's Greenpoint, Peter Pan Donut & Pastry Shop is a 1950s classic, offering divine doughnuts without a hefty price tag. The Blueberry Buttermilk is a berry-filled delight, while the Cream Crumb Old Fashioned is creamily irresistible.
Don't miss the Cream Crumb Red Velvet or the Boston Cream – they're why locals love this place.
What to order: Blueberry Buttermilk, Cream Crumb Old Fashioned, Cream Crumb Red Velvet, Boston Cream, Sugar Jelly
Address: 727 Manhattan Avenue, Brooklyn, NY 11222
Website | Instagram | Facebook
2. The Doughnut Project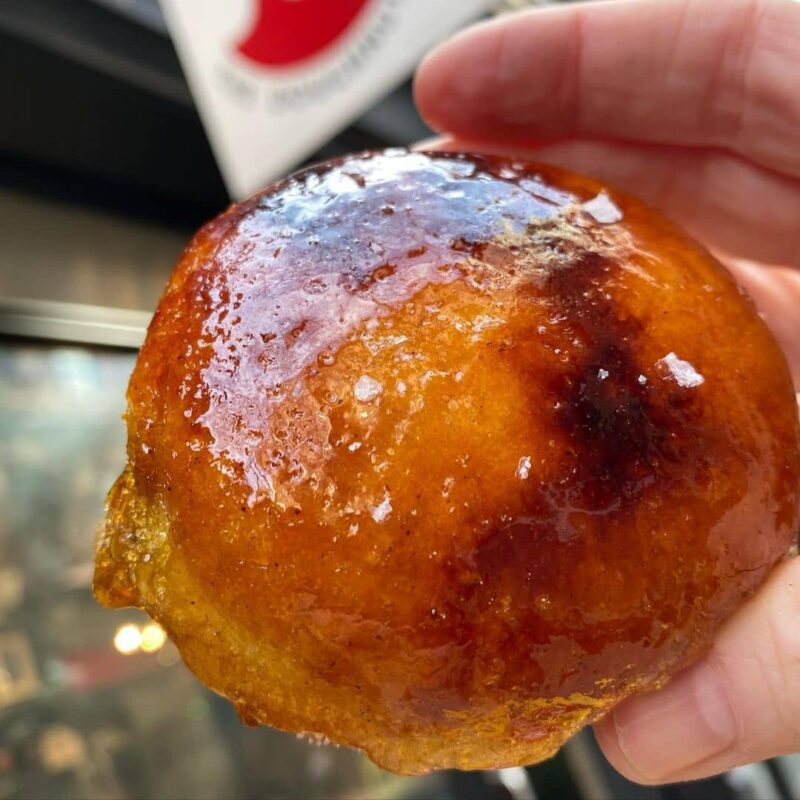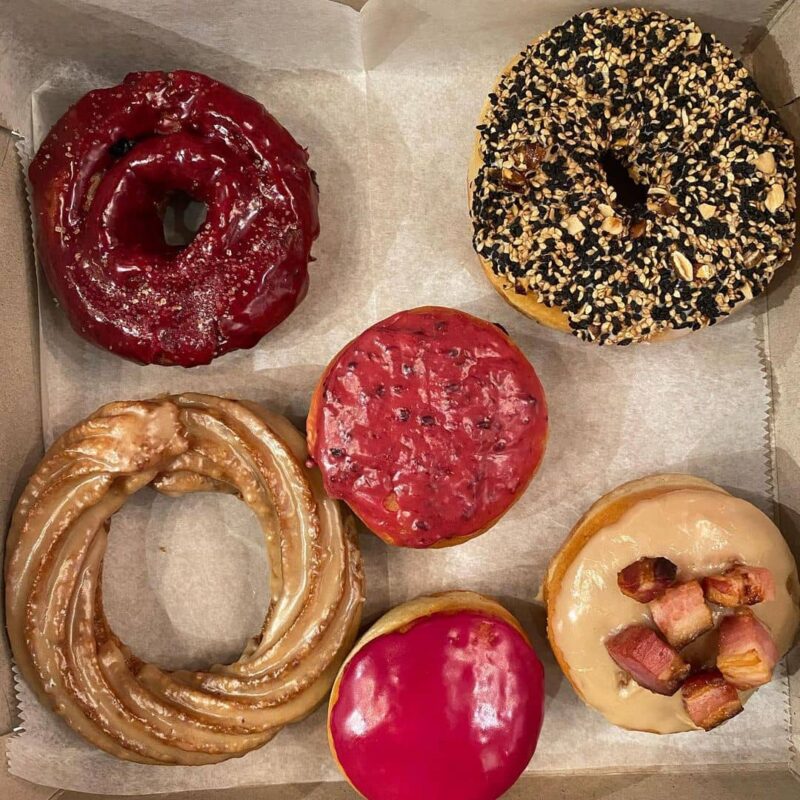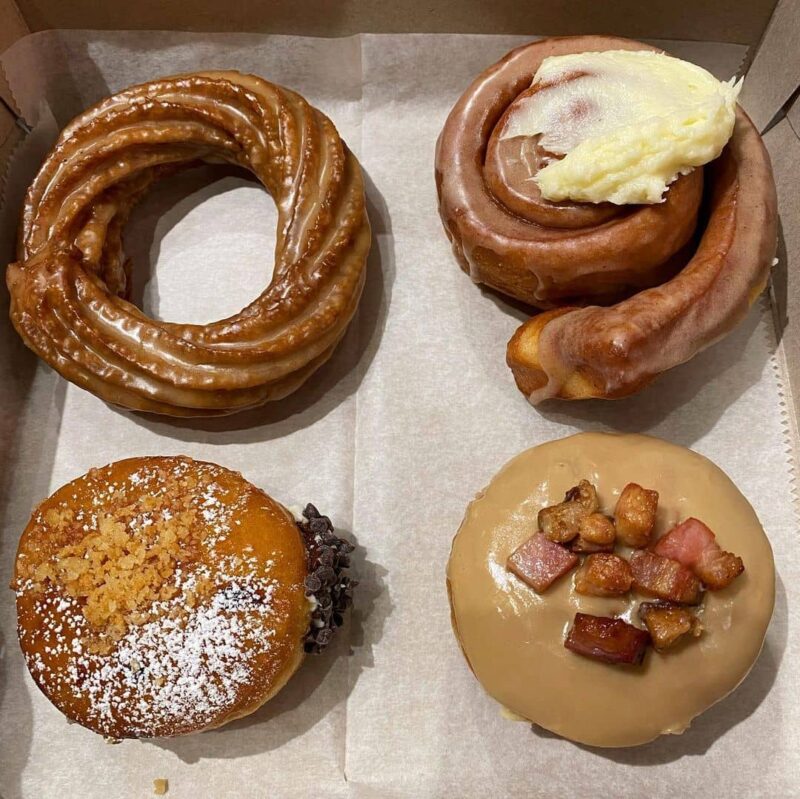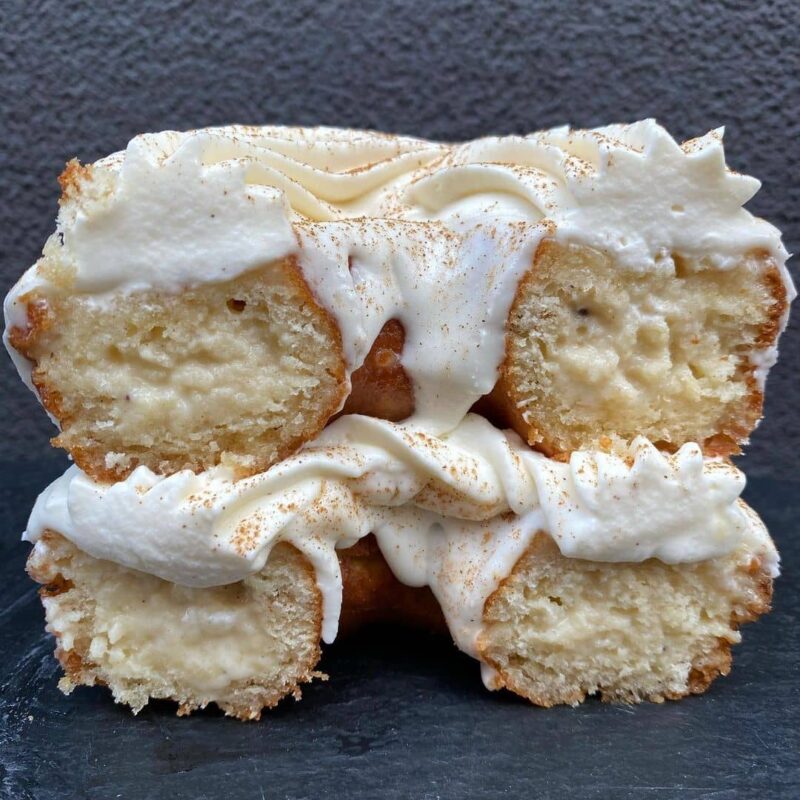 This West Village spot is all about small-batch, uniquely inspired doughnuts. Try the New Old Fashioned for a simple pleasure, or venture into the vibrant Those Beetz are Dope with its beet glaze and ricotta filling.
The Bronx adds a savory twist with olive oil and pepper, while vegans adore the Cereal Milk Crunch.
What to order: New Old Fashioned, Those Beetz are Dope, The Bronx, Cereal Milk Crunch
Address: 10 Morton Street, New York, NY 10014
Website | Instagram | Facebook
3. Dough Doughnuts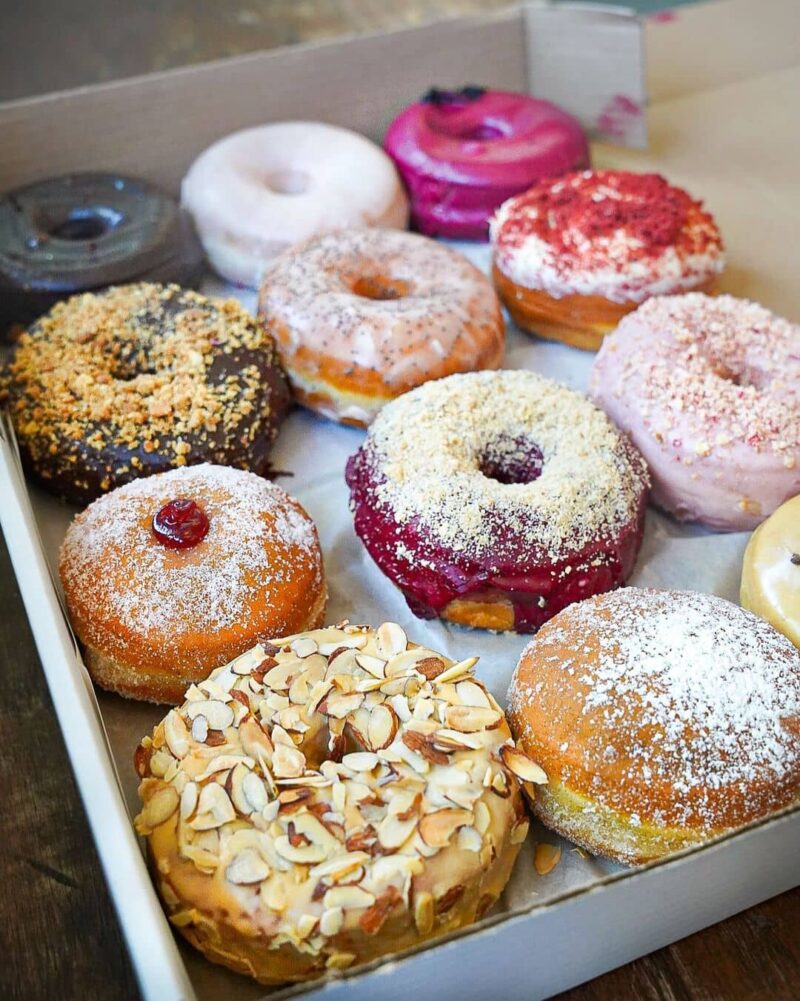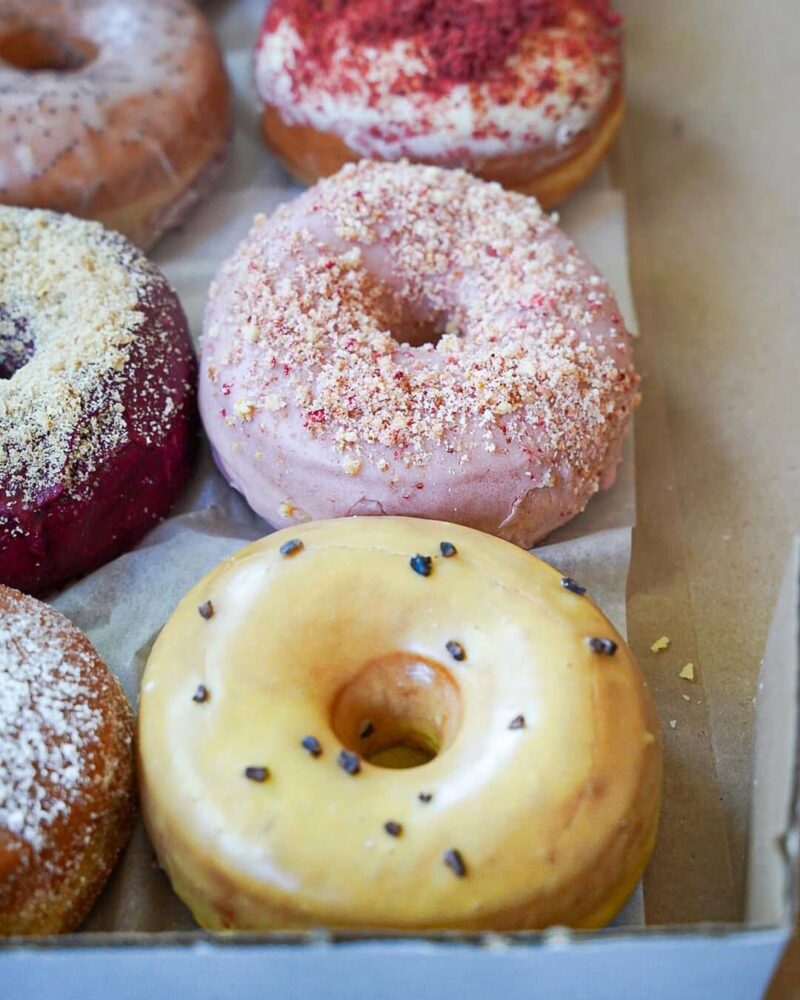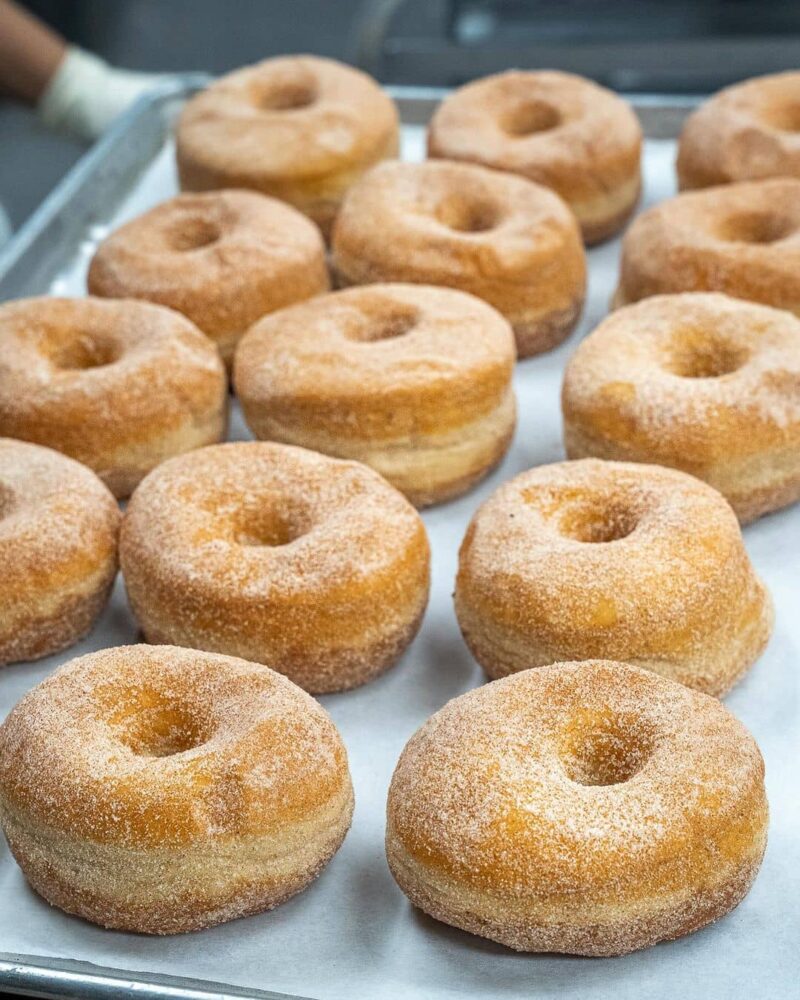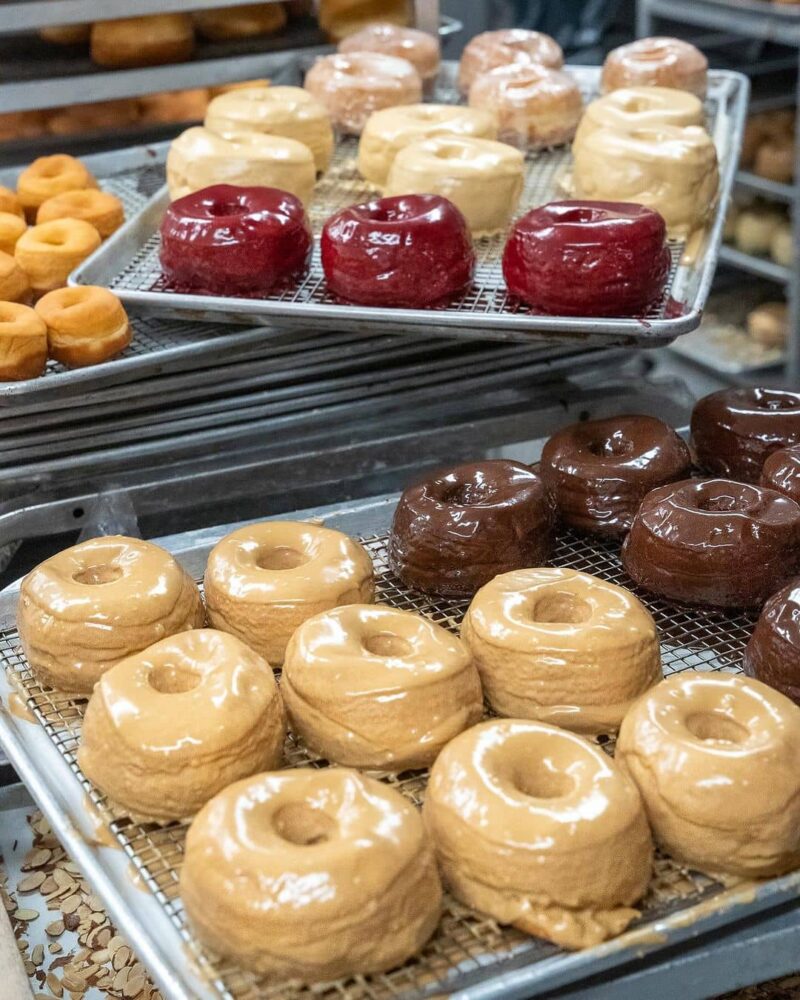 Dough Doughnuts in NYC offers oversized, unique flavors that set them apart. The Dulce De Leche – Almonds combines sweet glaze with crunchy nuts. The Hibiscus doughnut, also available in vegan, is a dreamy mix of sweet and tangy. And the Strawberry Boston Cream is irresistibly diet-breaking.
What to order: Dulce De Leche – Almonds, Hibiscus, vegan Hibiscus, Strawberry Boston Cream
Address: 646 Vanderbilt Avenue, Brooklyn, NY 11238
Website | Instagram | Facebook
4. Fan Fan Doughnuts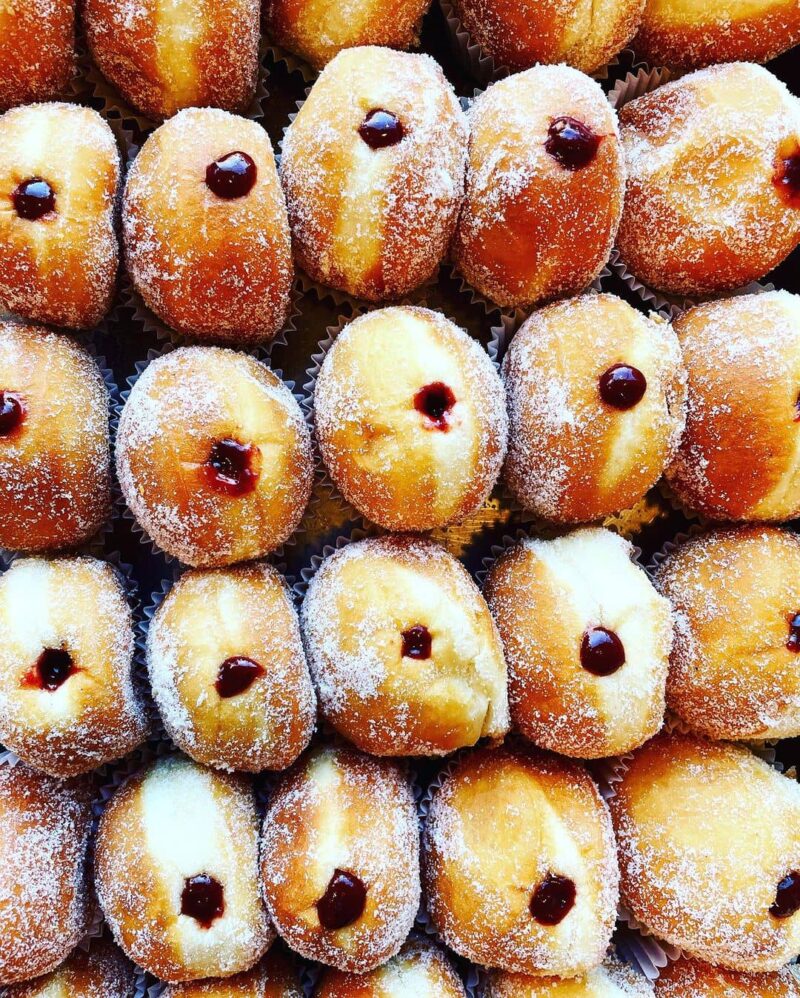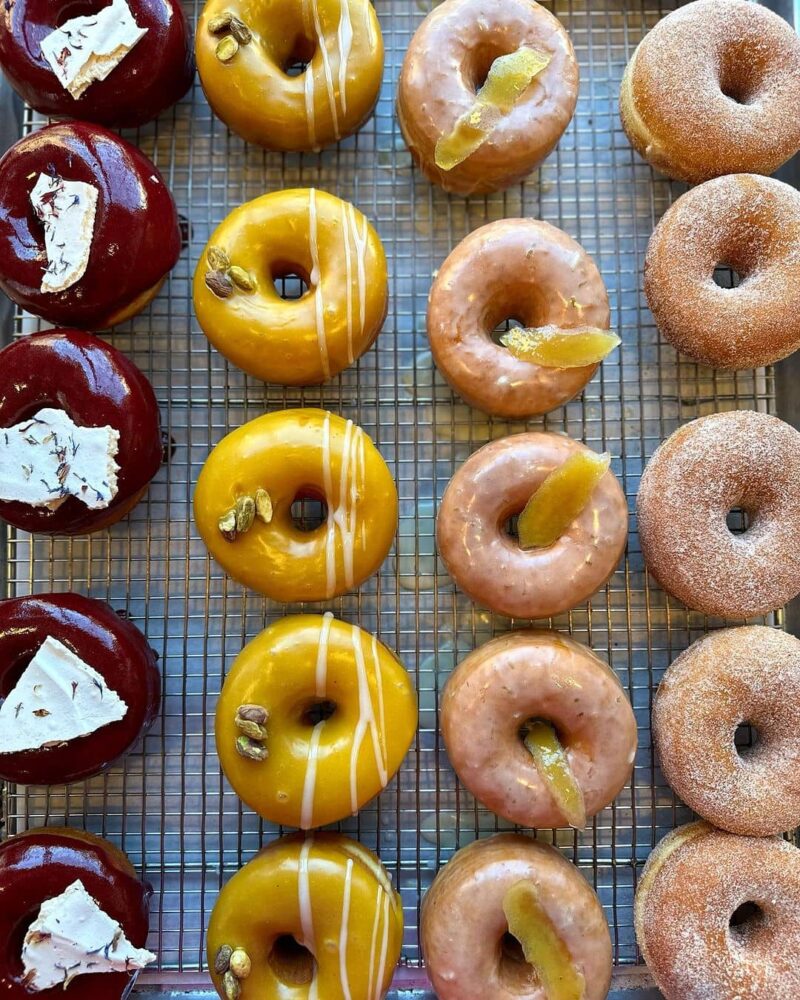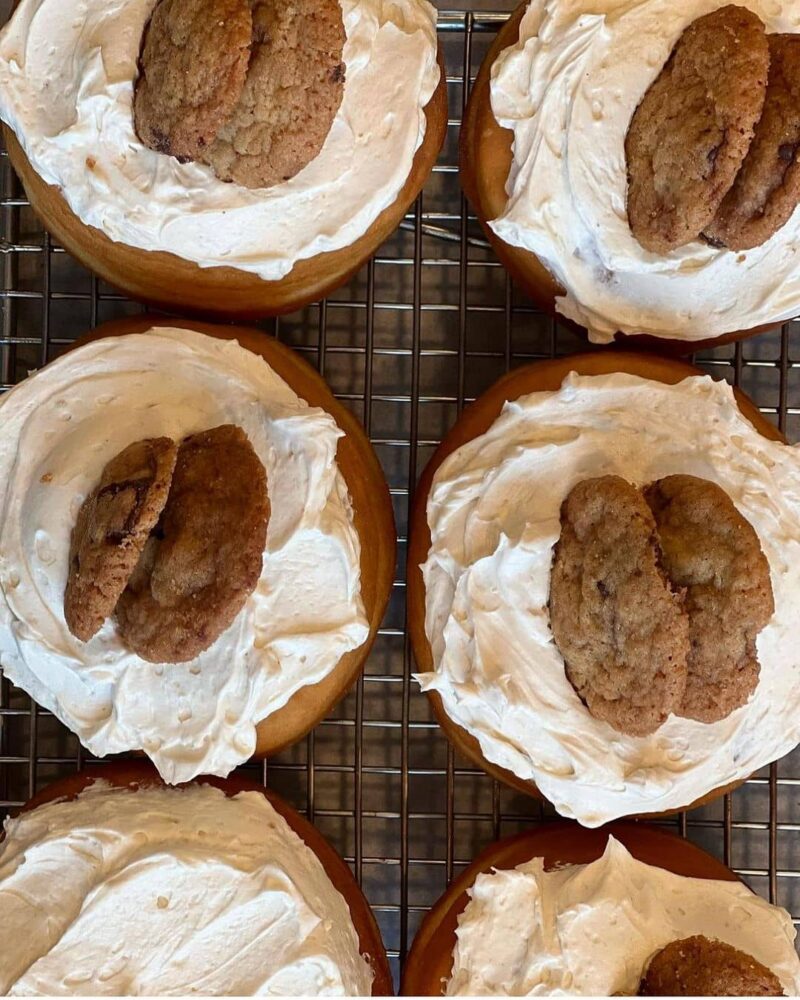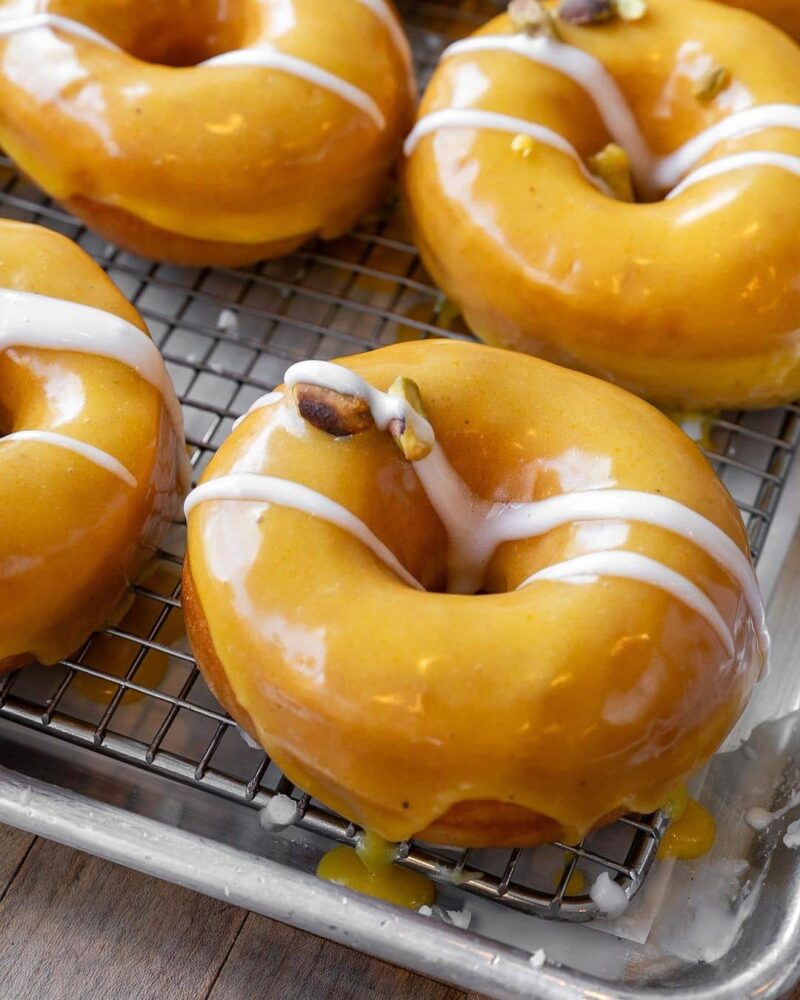 Fan Fan Doughnuts brings internationally inspired flavors to life in their doughnuts, with a special nod to Mexican influence. Their signature Guava & Cheese Fan-Fan is a fusion of cream cheese, guava glaze, and walnut crumble.
Another must-try is the Danny Boy, a salted brown butter caramel delight. And for an innovative dessert, their Doughnut Soft Serve combines creamy ice cream with a pillowy doughnut cone, offering a unique and delightful experience that's hard to resist.
What to order: Guava & Cheese Fan-Fan, Danny Boy, Doughnut Soft Serve
Address: 448 Lafayette Avenue, Brooklyn, NY 11205
Website | Instagram | Facebook
5. Doughnut Plant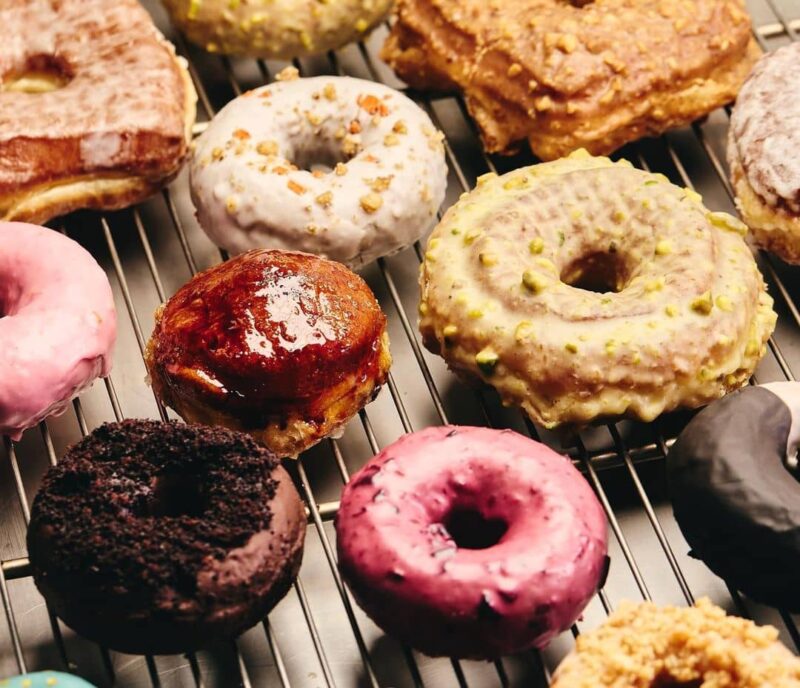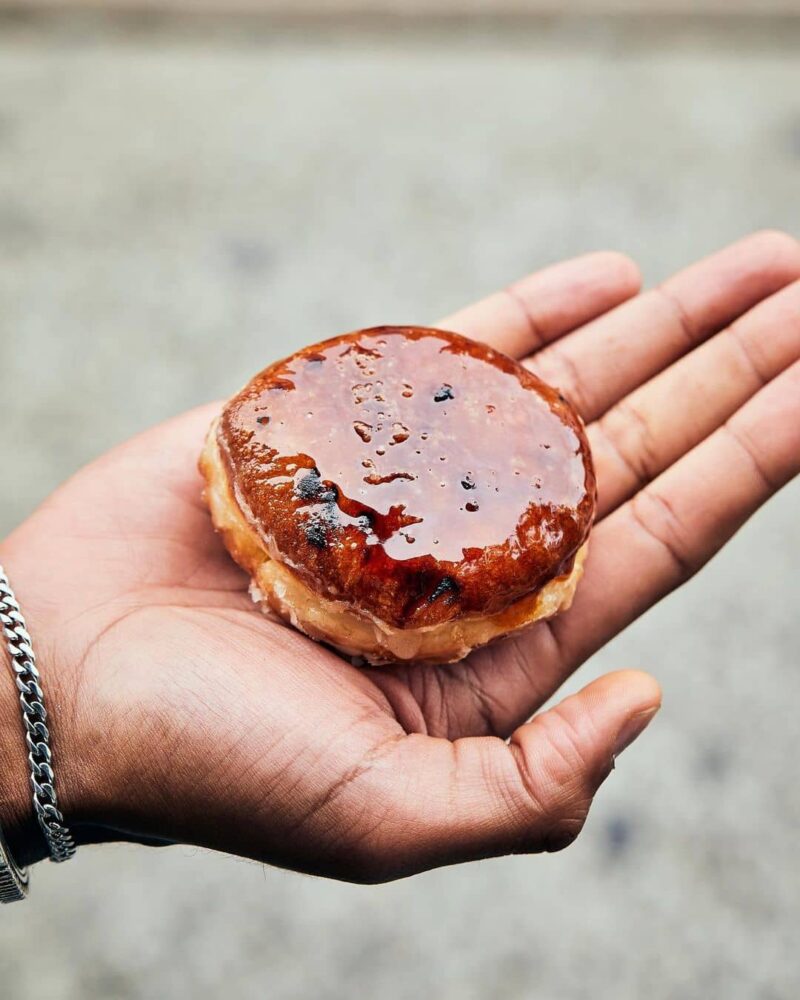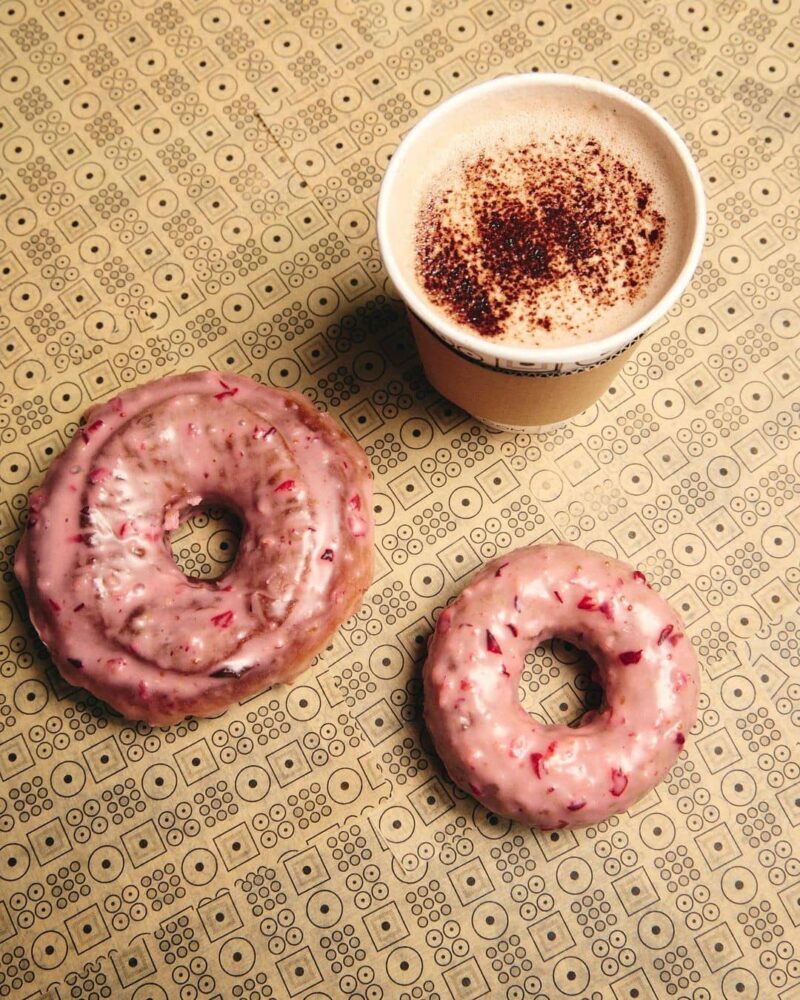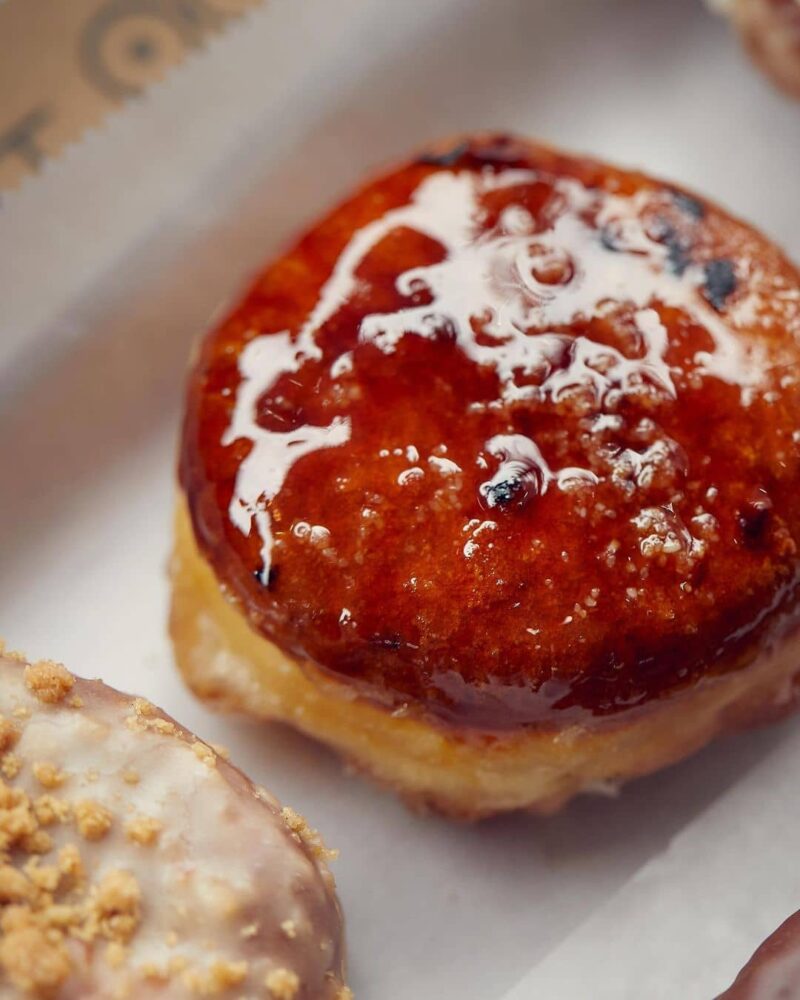 Doughnut Plant, a staple since 1994, combines family recipes with modern innovation. Their light, fluffy yeast doughnuts, particularly the Coconut Cream and the Crème Brulee, are irresistible.
The Coconut Cream is a square-shaped treat filled with fresh coconut milk cream, and the Crème Brulee is a custard-filled wonder with a crackling sugar top. Vegan Sourdoughnuts, especially the Dark Chocolate, are a delight, and the Blackout Wonder Wheel is a must-try for its rich, intense flavor.
What to order: Coconut Cream, Crème Brulee, Dark Chocolate Sourdoughnut, Blackout Wonder Wheel
Address: 379 Grand Street, New York, NY 10002
Website | Instagram | Facebook
6. The Donut Pub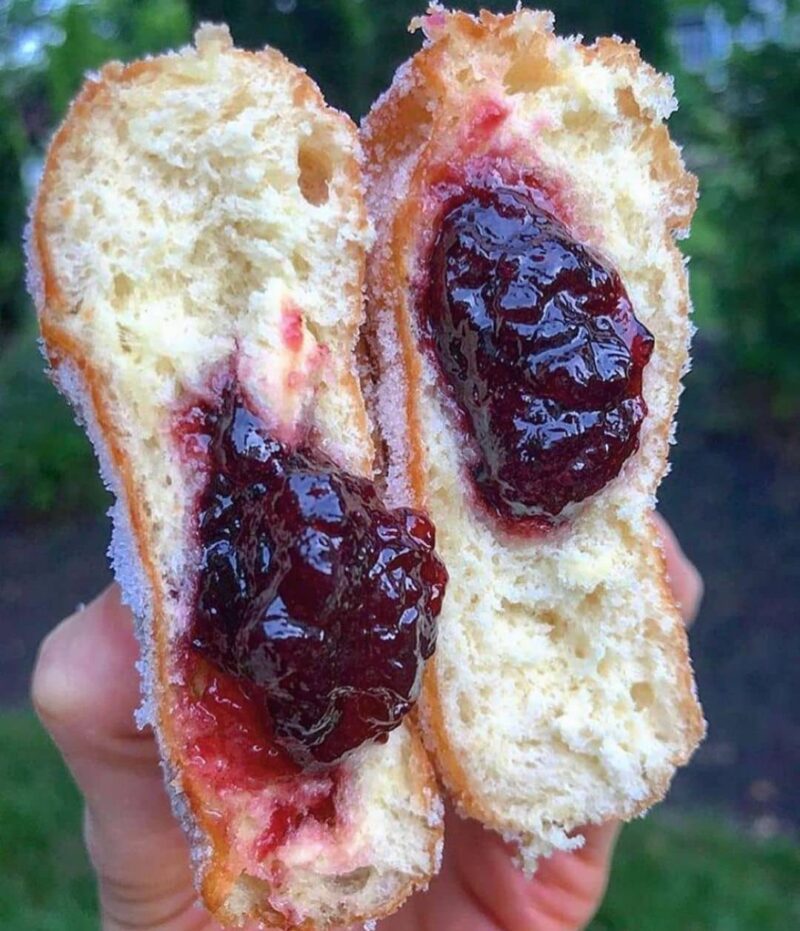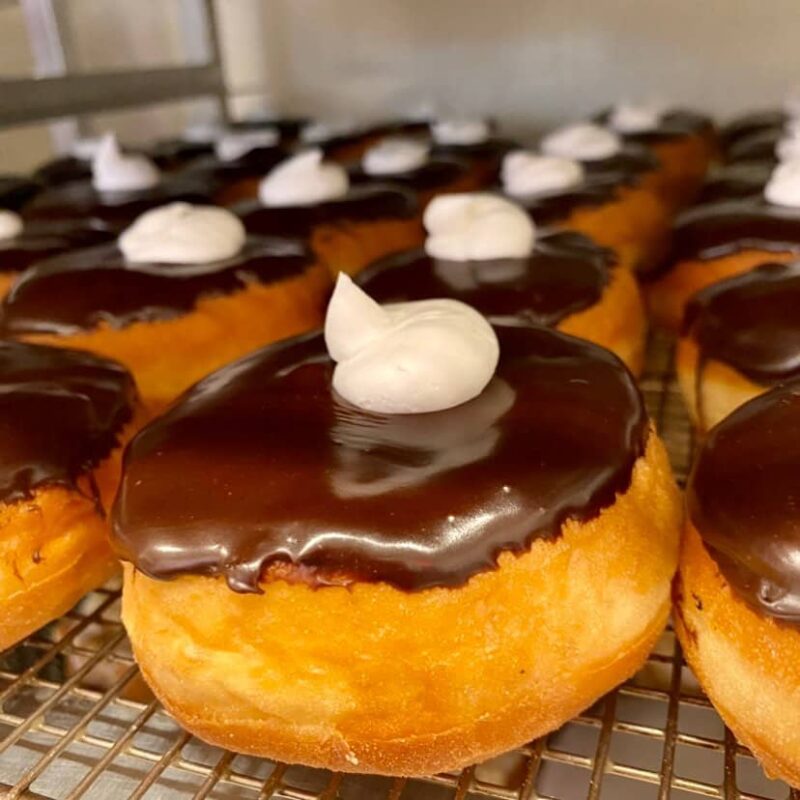 A fixture since the 1960s, The Donut Pub specializes in classic donuts with a retro charm. Their French Cruller is a decadent treat, light and airy. For something unique, try the Cannoli Croissant Donut, perfectly paired with their Cold Brew.
The colorful Birthday Cake donut is a visual and flavor feast, and the Maple Bacon donut combines sweet and salty for a satisfying breakfast option. Each donut here is a testament to their mastery of the art.
What to order: French Cruller, Cannoli Croissant Donut, Birthday Cake, Maple Bacon
Address: 740 Broadway, New York, NY 10003
7. Bear Donut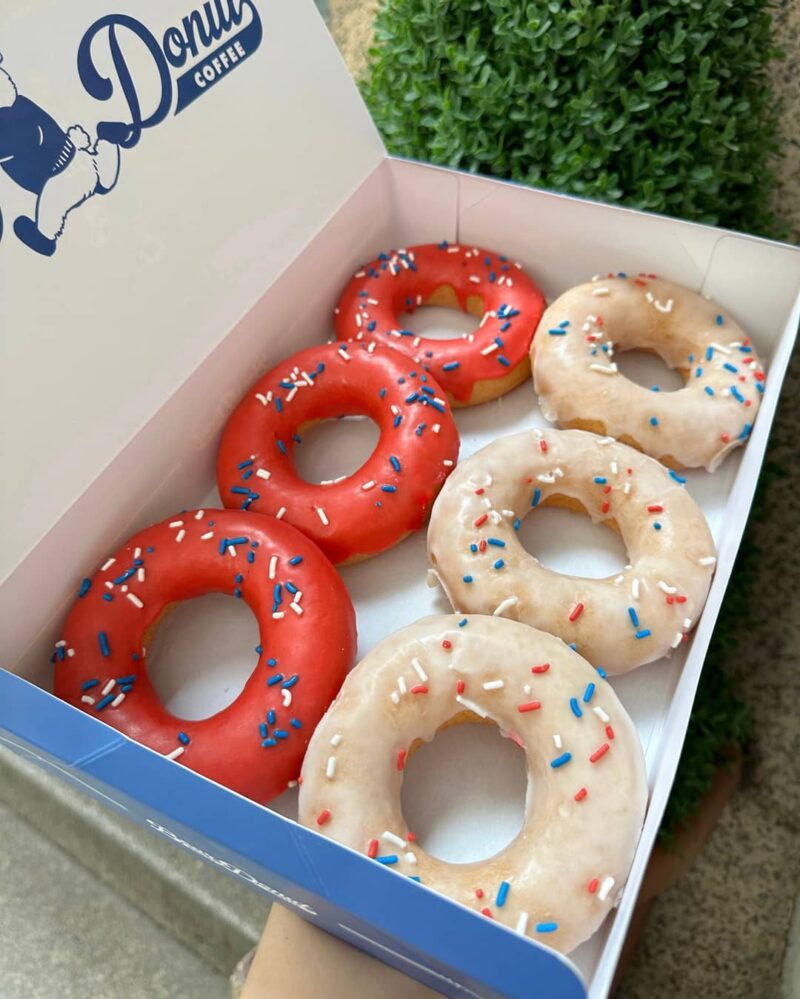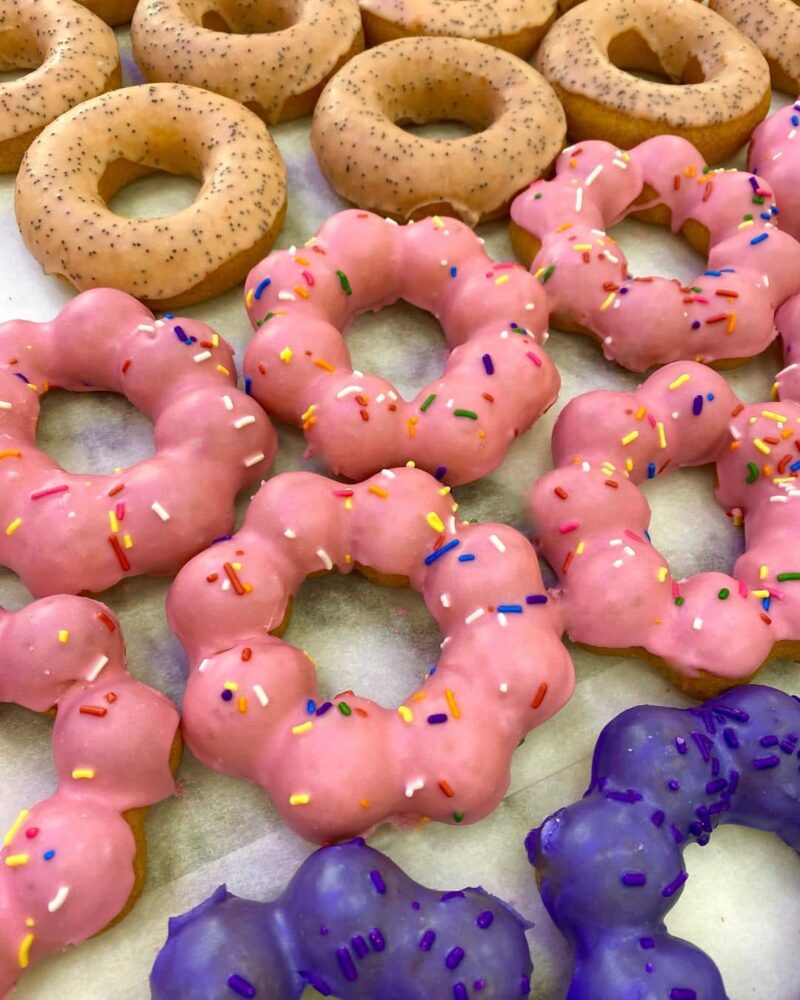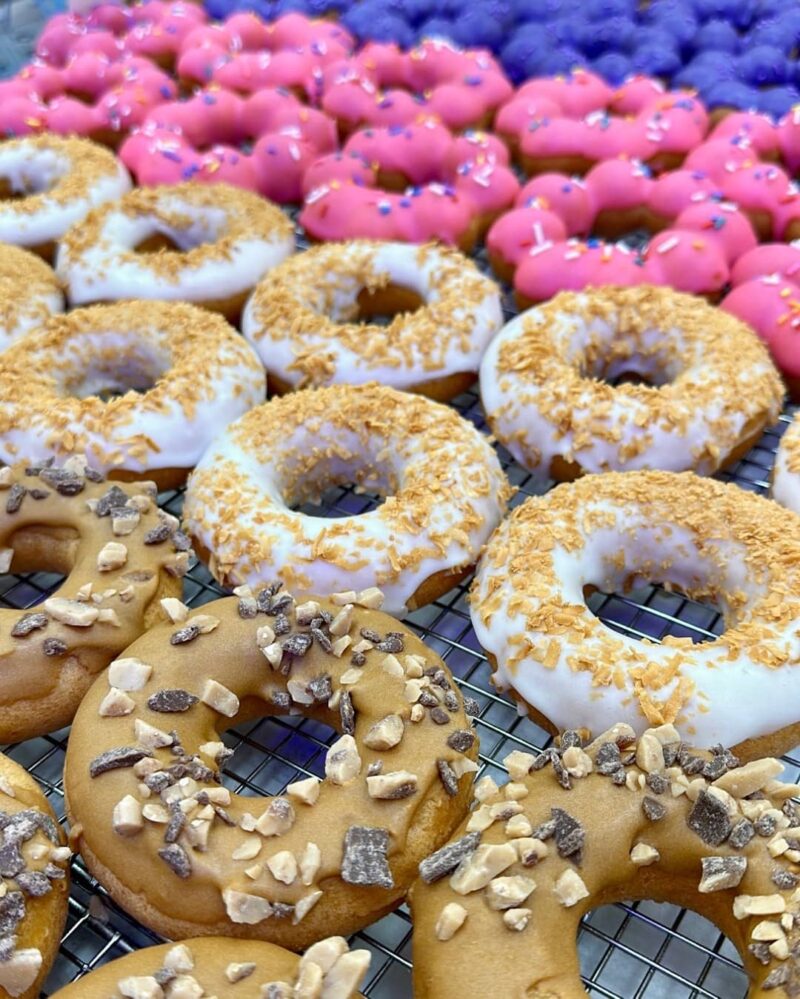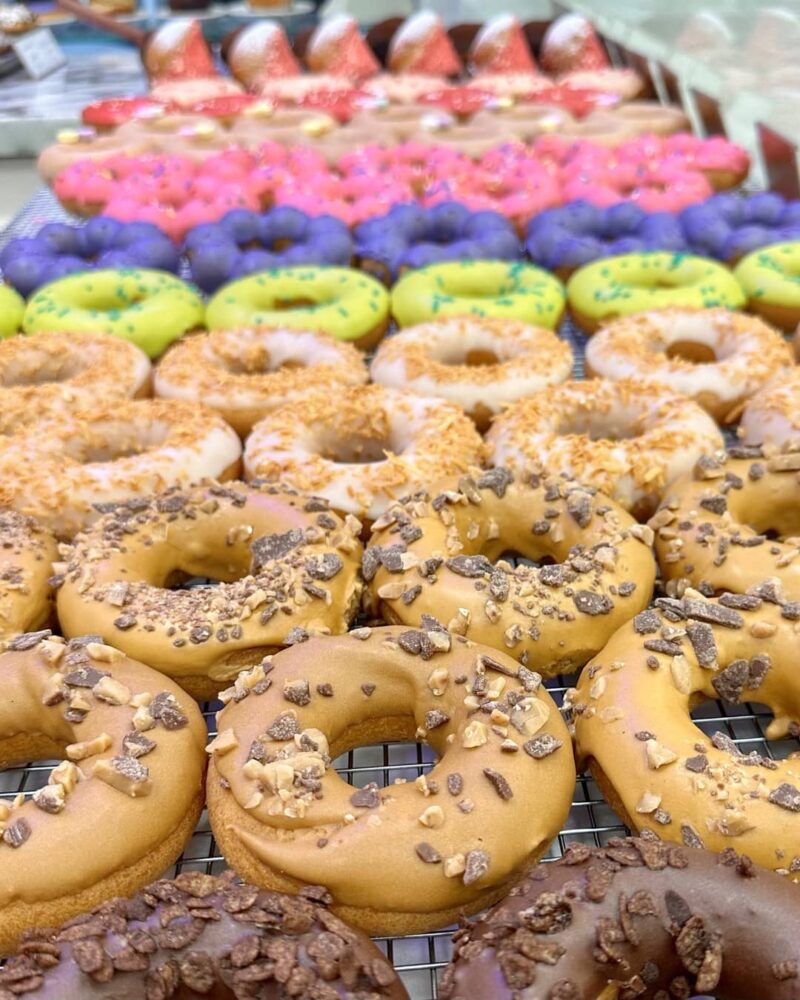 Among NYC's popular donut shops, Bear Donut stands out with its inventive creations like bubble ring-shaped Bear Donuts, brionuts, and doffles. Their Brionuts, available only in the morning, are a delightful blend of traditional donuts and cream puffs, with the Double Milk Tea being a standout flavor.
The Crunch Chocolate Glazed is a rich treat, and the classic Sugar Bear Donut is a timeless choice. Their Ube Soft Serve in a classic glazed donut cone is an addictive and innovative pairing.
What to order: Double Milk Tea Brionut, Crunch Chocolate Glazed Donut, Classic Glazed Donut + Ube Soft Serve
Address: 40 W 31st Street, New York, NY 10001
Website | Instagram | Facebook
8. Moe's Doughs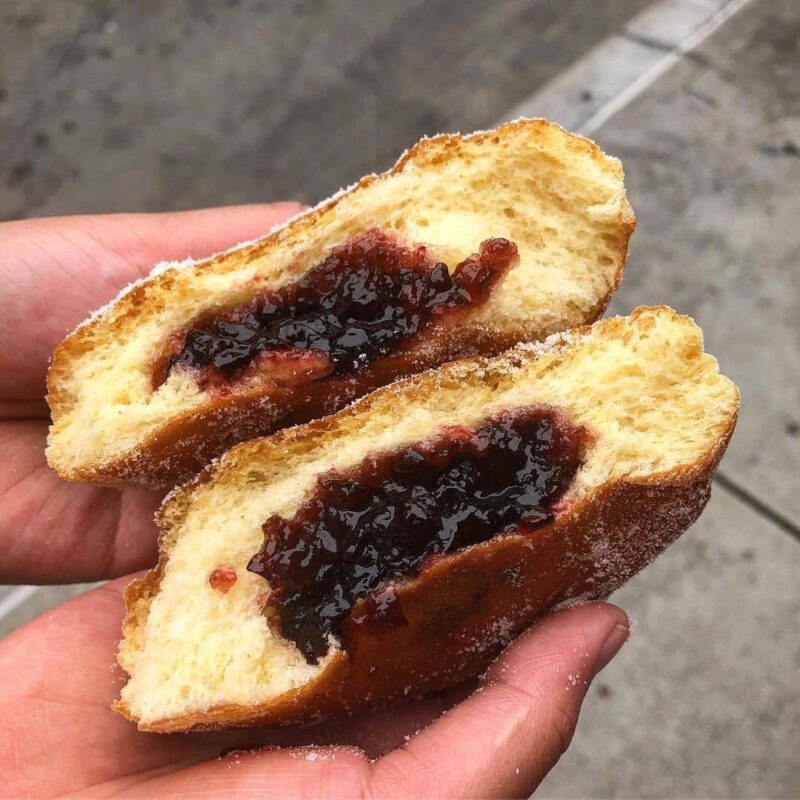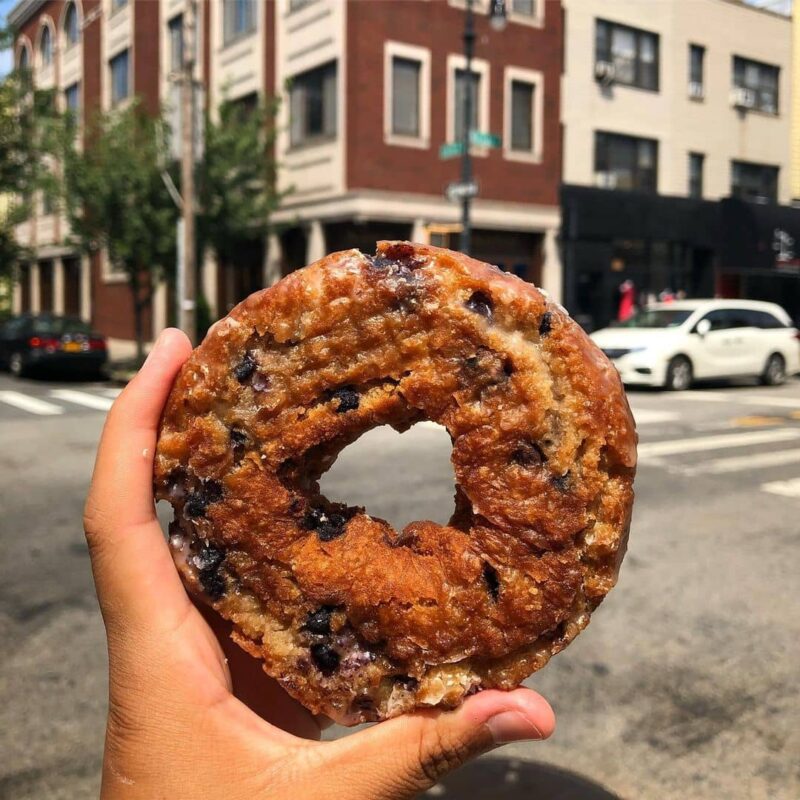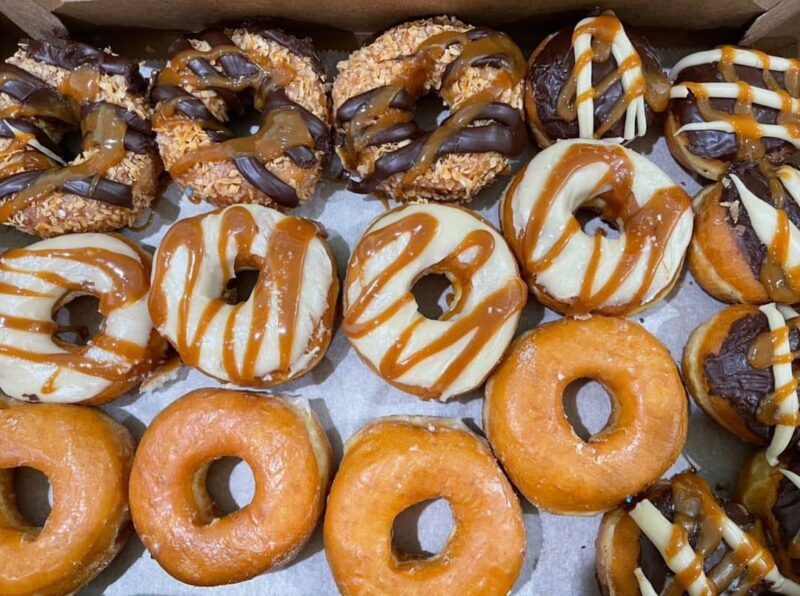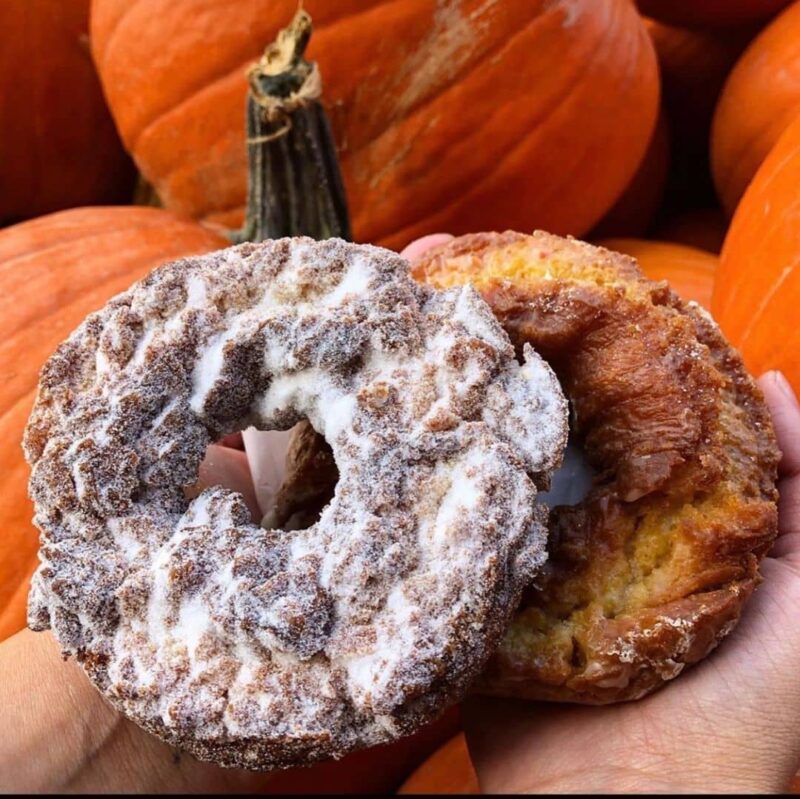 Moe's Doughs, rivaling the famous Peter Pan in Greenpoint, delights with its tasty creations. The Samoa doughnut, a blend of chocolate, caramel, and coconut, is unforgettable. Their Rainbow Cake doughnut brightens any day, and the classic Boston Cream is a staple.
For a satisfying snack, the Snickers doughnut hits the spot. With each creation, Moe's demonstrates its prowess in the doughnut world, offering delights that are hard to resist.
What to order: Samoa, Rainbow Cake, Boston Cream, Snickers
Address: 126 Nassau Avenue, Brooklyn, NY 11222
9. Supermoon Bakehouse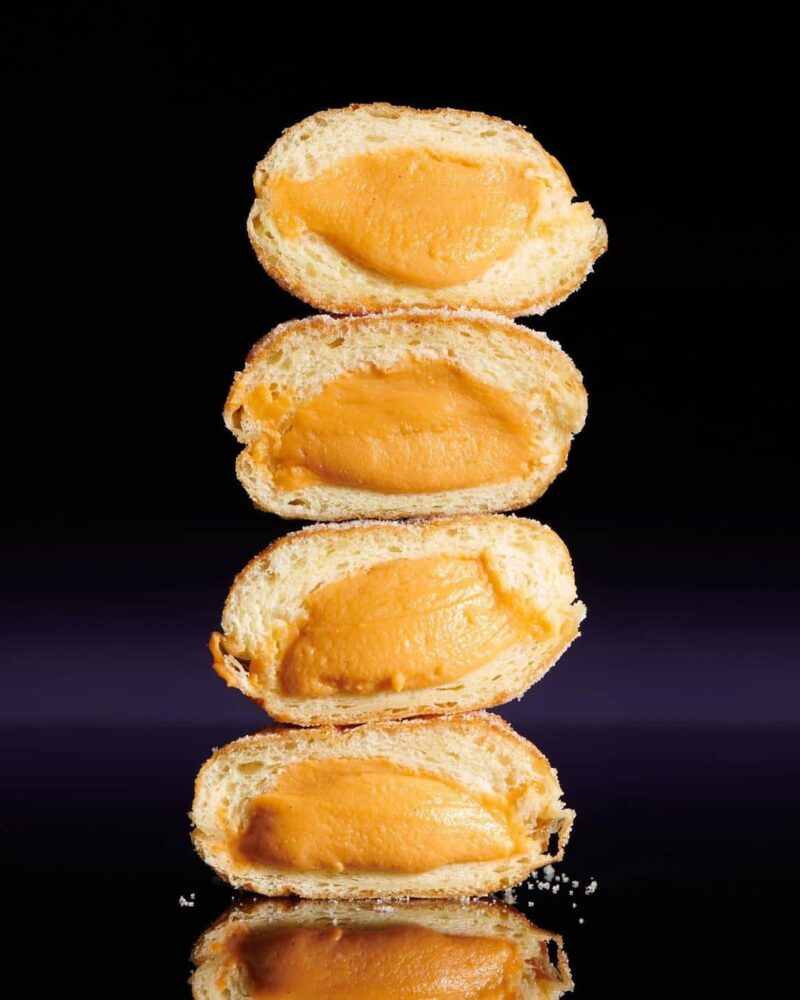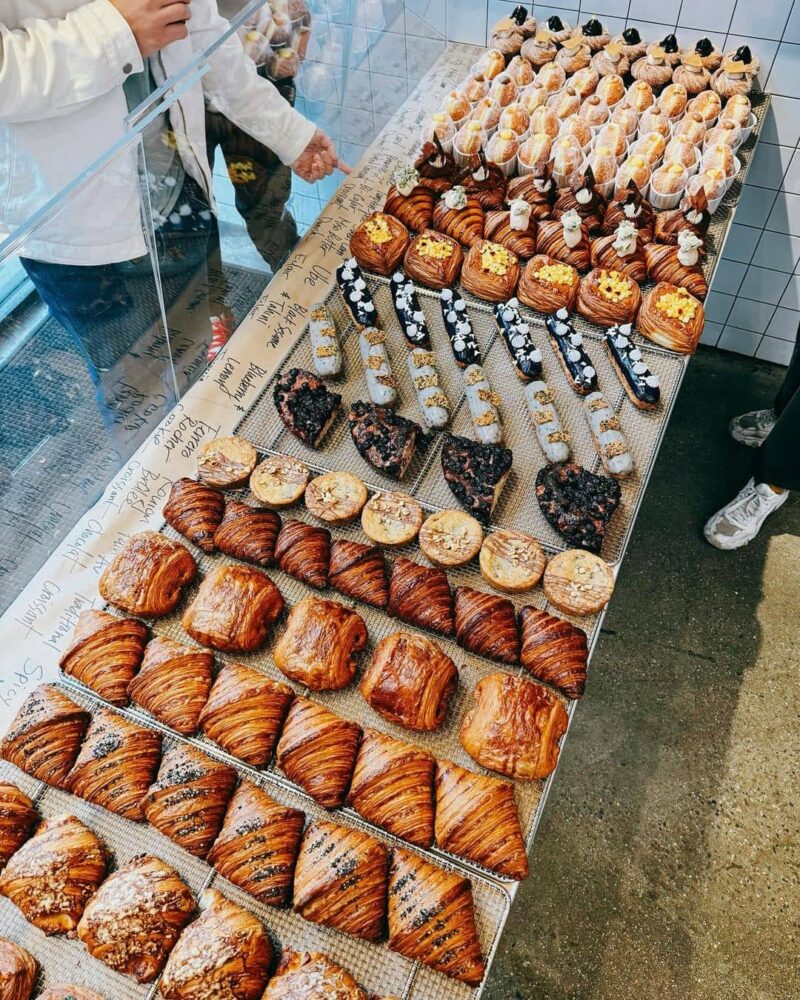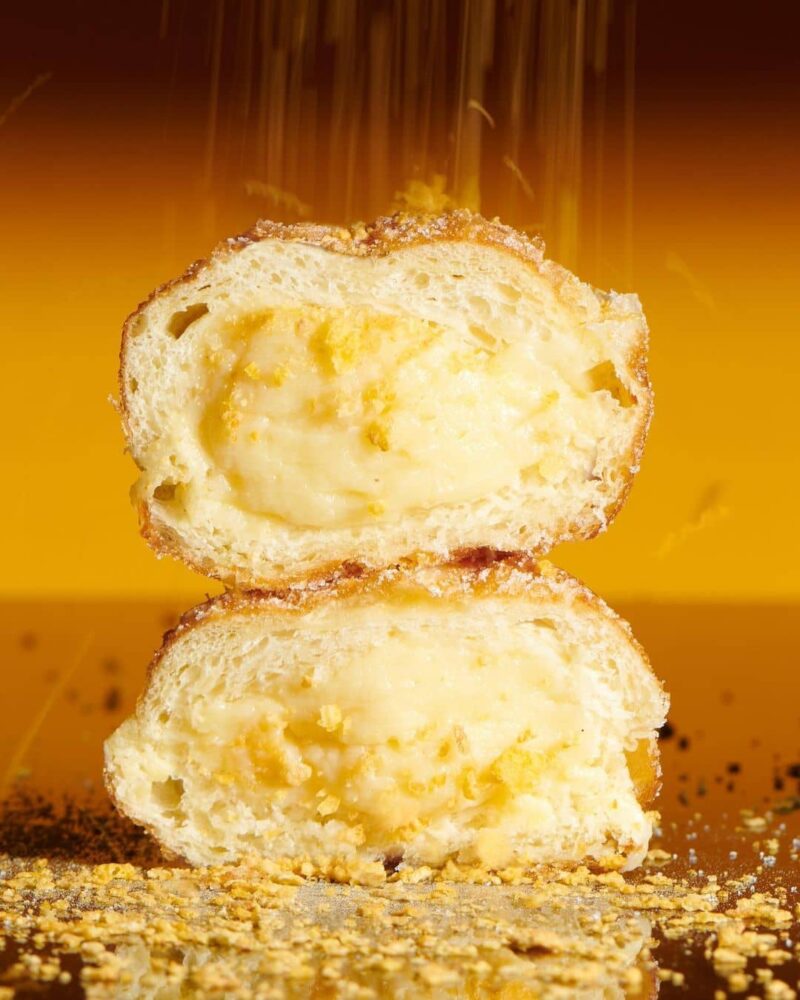 Supermoon Bakehouse, a recent addition to NYC's pastry scene, dazzles with its oversized, rotating selection of doughnuts. Don't miss the Pistachio Cream & Praline, a nutty sensation, or the Brown Butter Chai, a spice lover's dream.
The Passionfruit Curd Doughnut offers a perfect balance of sweet and tangy flavors. Each visit to Supermoon Bakehouse promises new, exciting flavors, making it a must-visit for doughnut aficion
What to order: Pistachio Cream & Praline, Brown Butter Chai, Passionfruit Curd
Address: 120 Rivington Street, New York, NY 10002
Website | Instagram | Facebook
10. Alimama Tea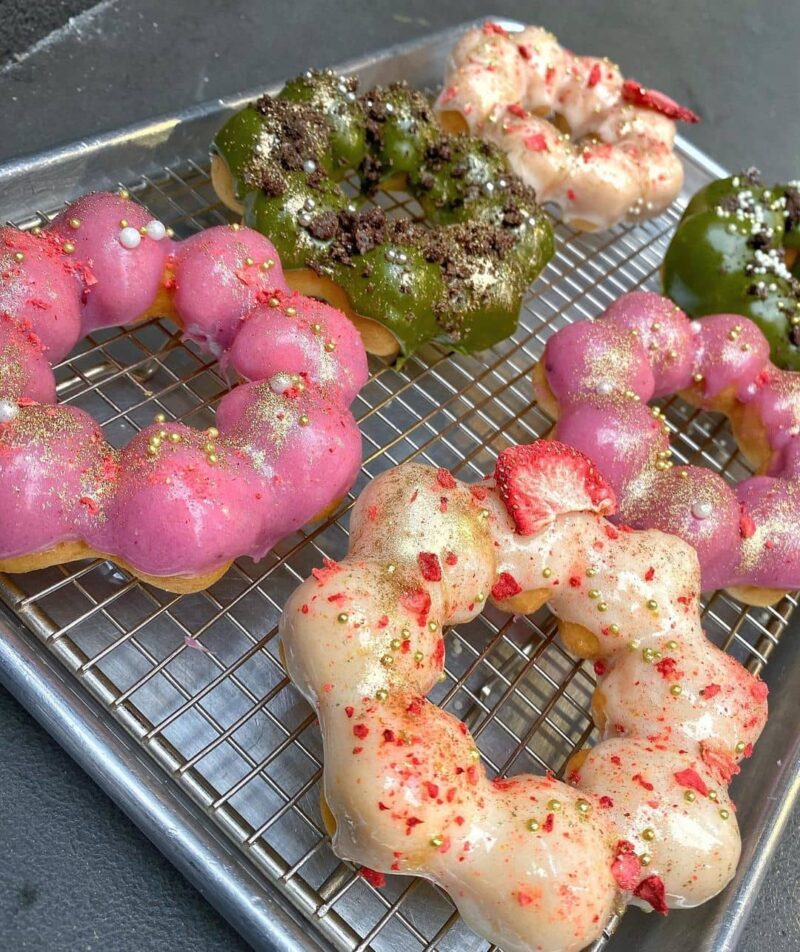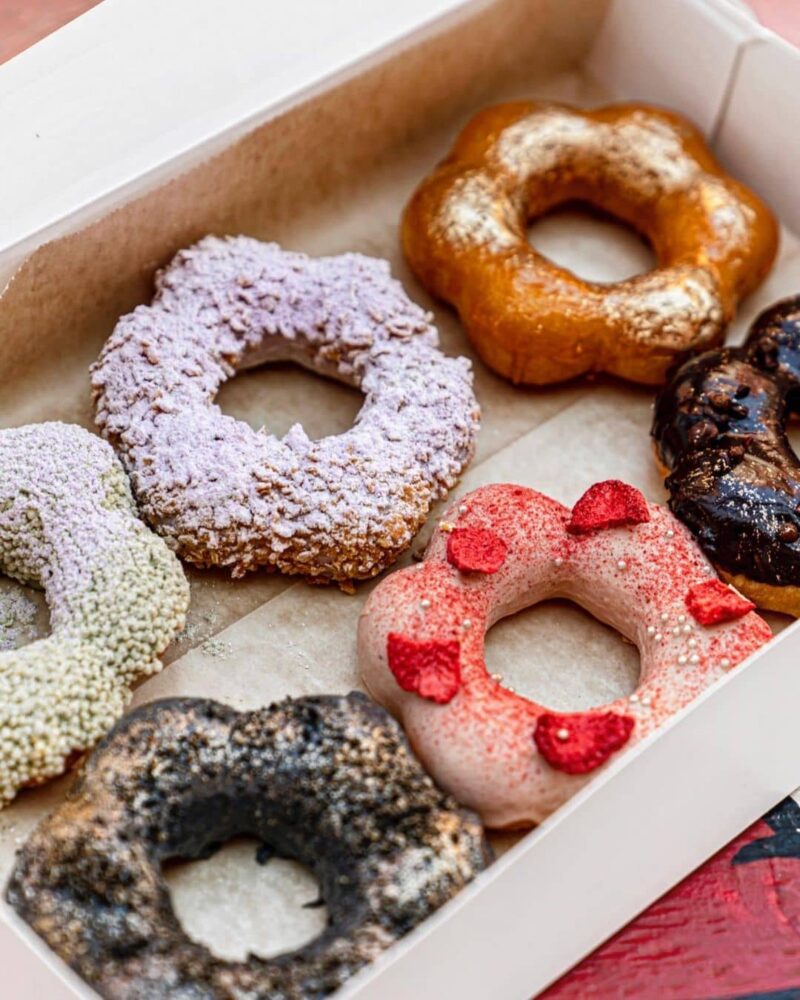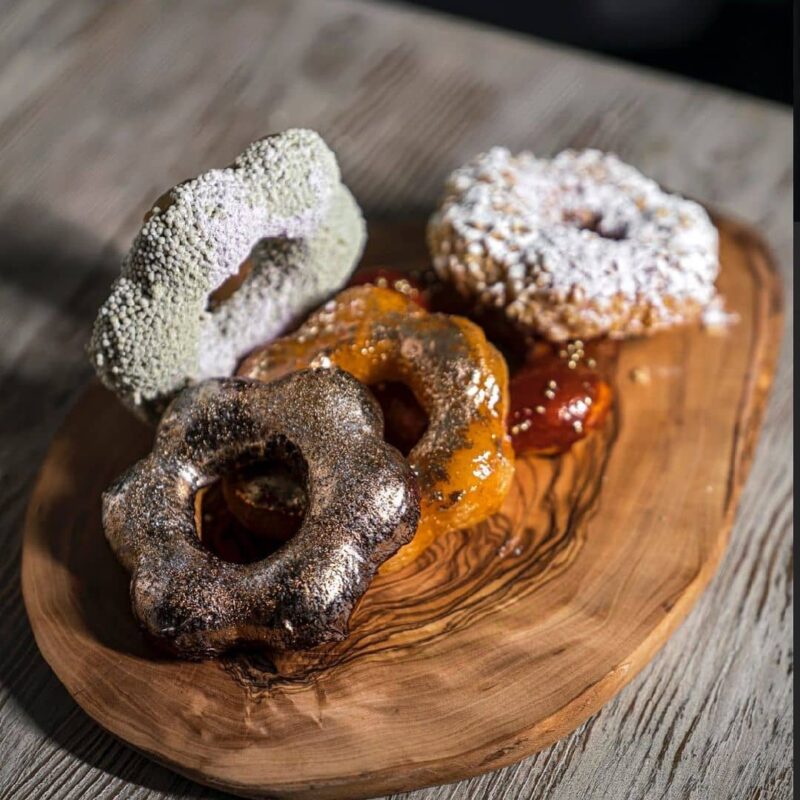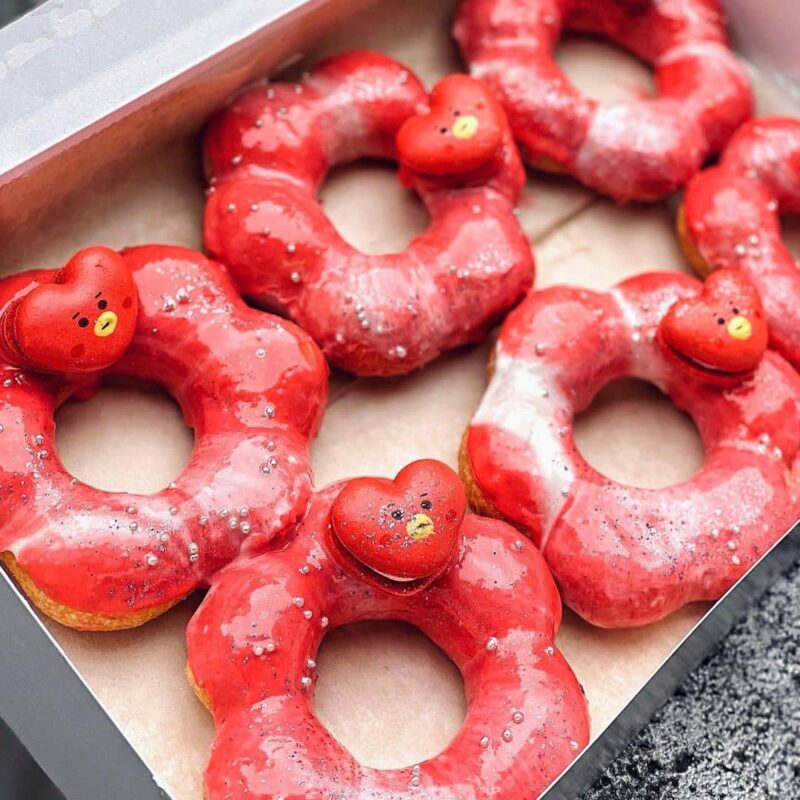 Alimama Tea is a delight for anyone with a sweet tooth. It's a colorful, cute spot specializing in mochi doughnuts and cold brew teas. Their gluten-free mochi doughnuts are fresh, chewy, and perfectly bouncy. Don't miss the Taro Munchkins – sweet, chewy, and fluffy, they're a hot favorite.
The Onyx, a caramel dark chocolate mochi doughnut, is decadently delicious. And their Milk Tea Boba Cream Puff? It's like sipping the popular drink in a pastry form. Pair these treats with their Earl Grey Lavender tea for a complete experience
What to order: Taro Munchkins, Onyx, Milk Tea Boba Cream Puff, Earl Grey Lavender ice tea
Address: 89A Bayard Street, Manhattan, NY 10013
Website | Instagram | Facebook
11. Cloudy Donut Co.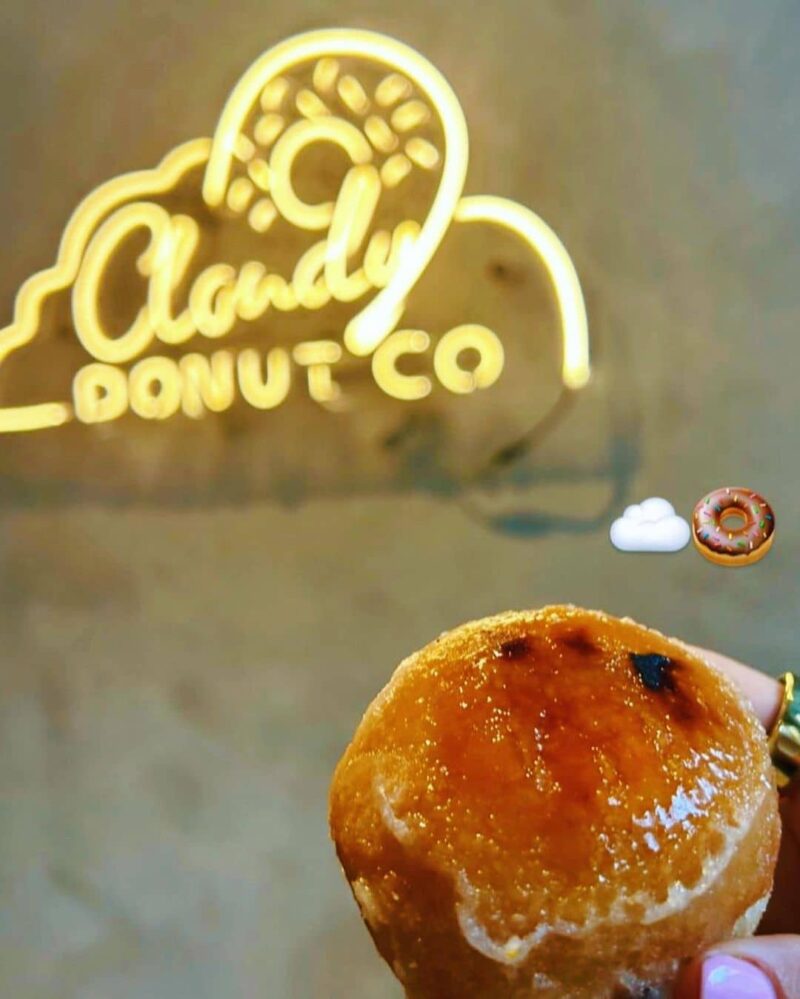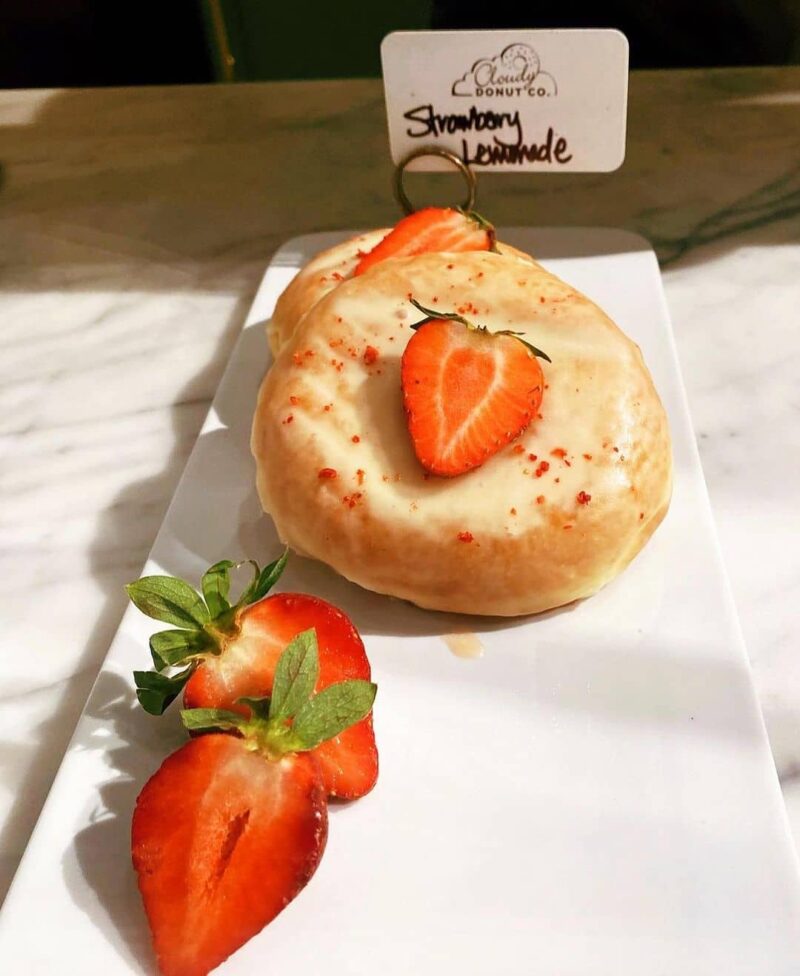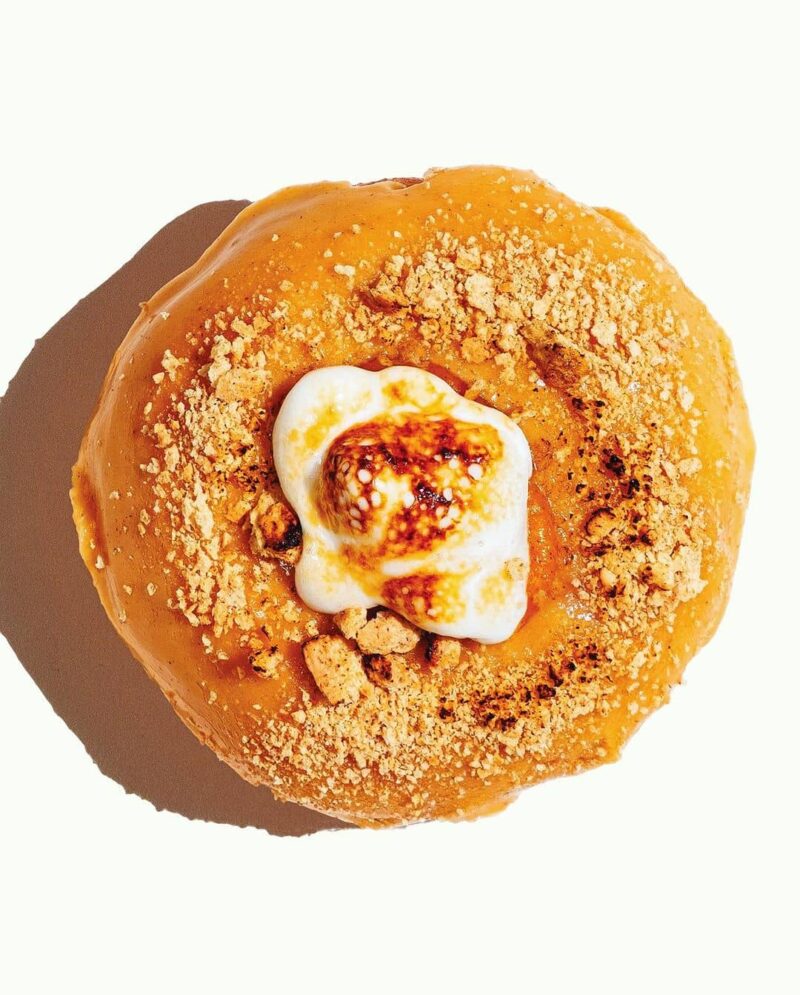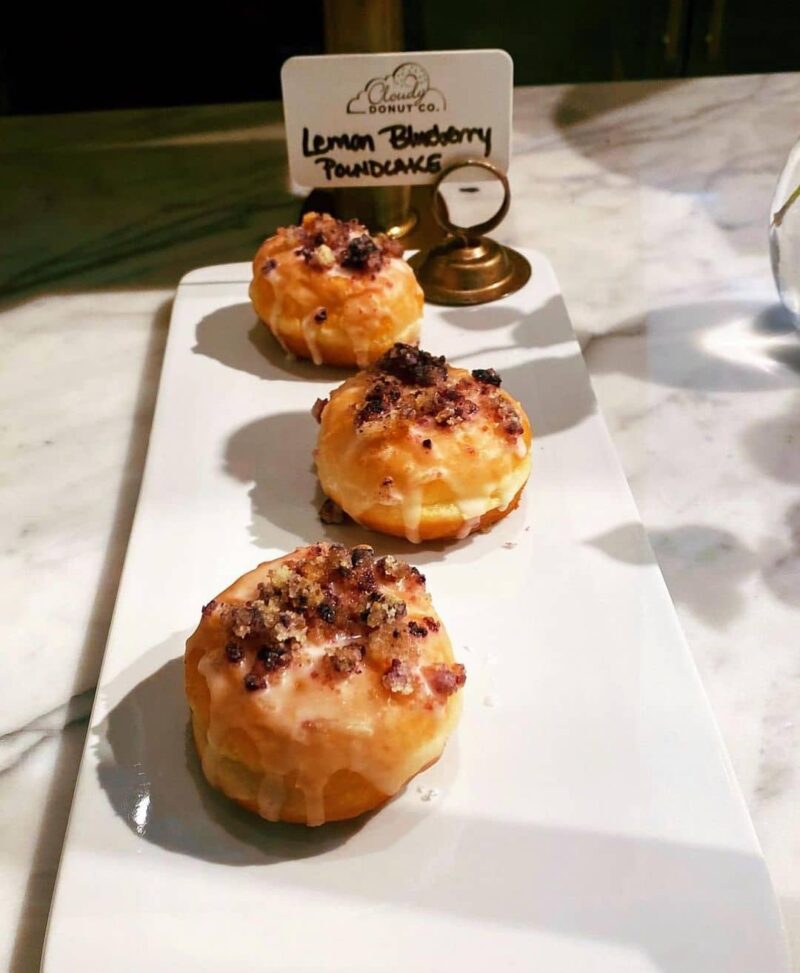 Cloudy Donut Co. offers a vegan donut paradise with 44 flavors for both humans and dogs. This first black-owned business in the area serves up classic options like Powdered Jelly and Chocolate Glaze.
But the real stars are creations like the Grapefruit Mimosa, bursting with sweet grapefruit champagne glaze, bruleed grapefruit slices, and a pipette of champagne. The Pina Colada donut is a tropical treat, showcasing the team's meticulous craftsmanship.
And for your furry friend? They've got treats too!
What to order: Grapefruit Mimosa, Pina Colada, Sugarberry
Address: 14 Columbia Pl., Brooklyn, NY 11201
Website | Instagram | Facebook
12. Wildair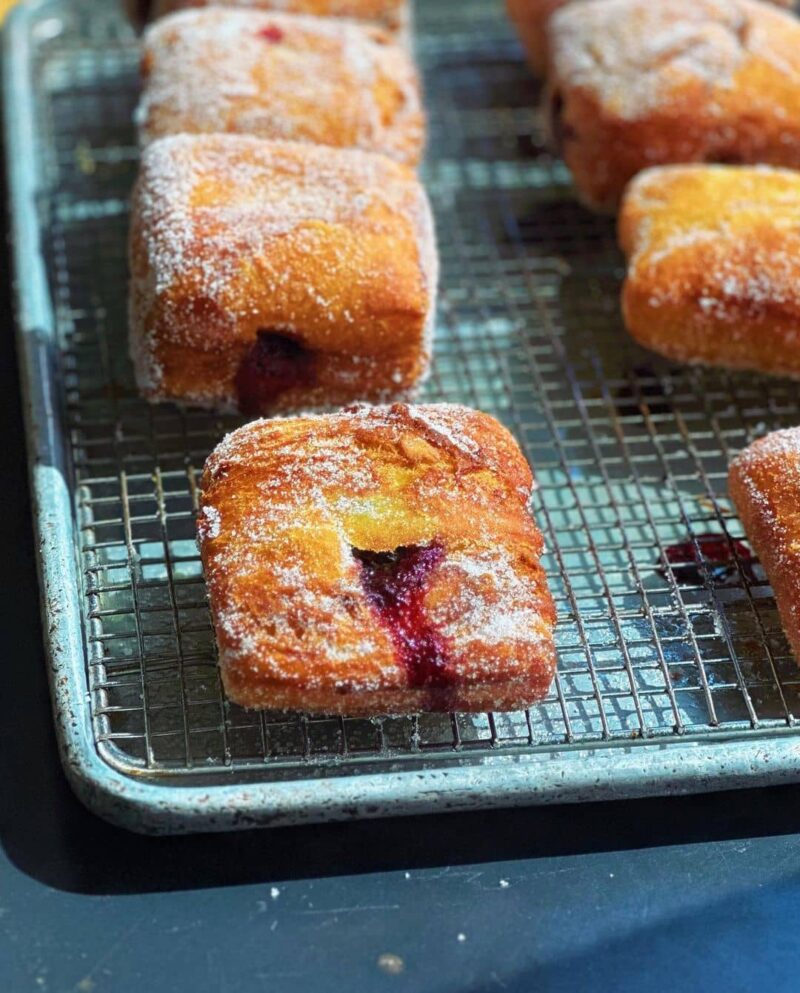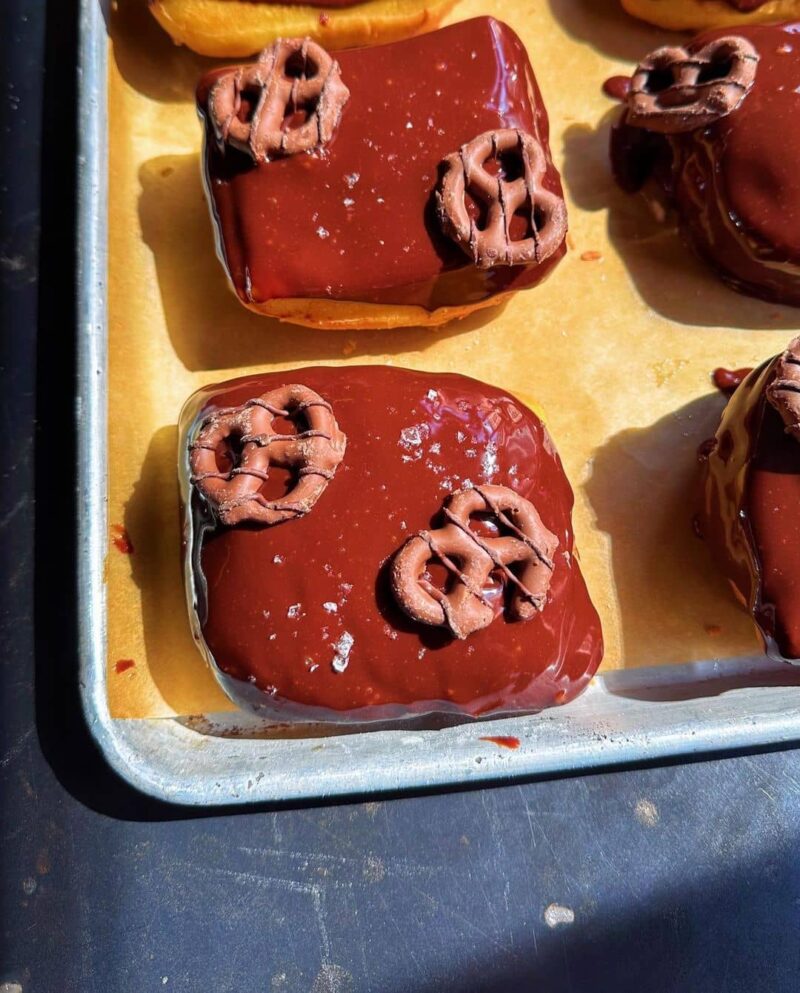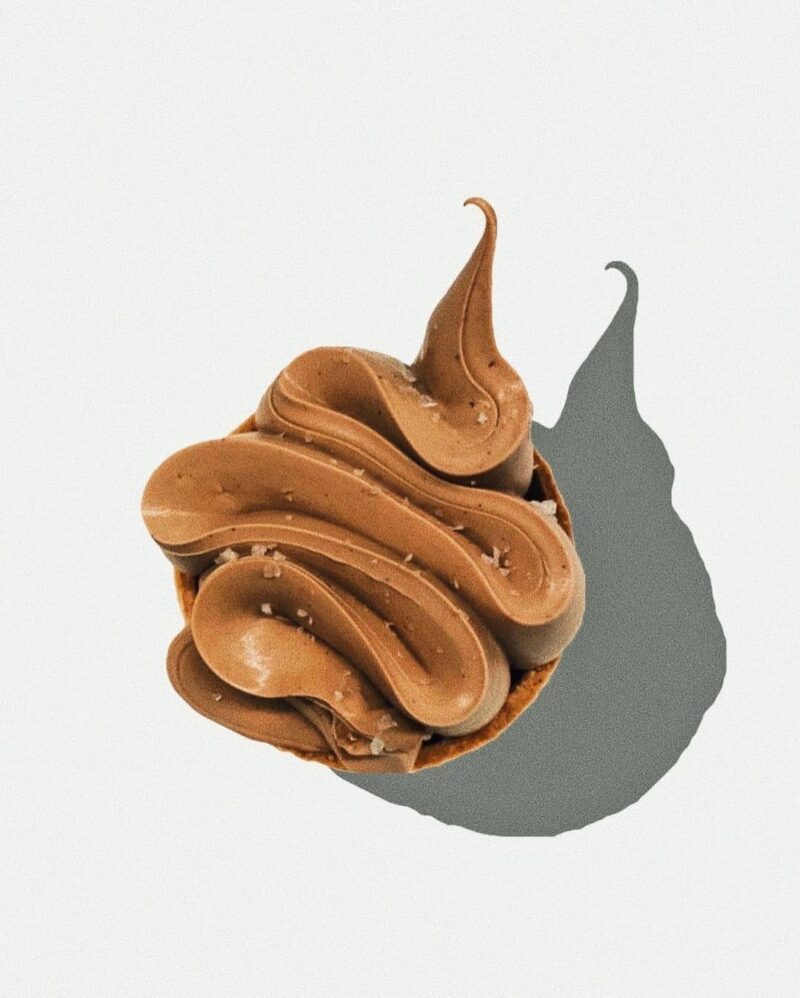 Wildair might be known for American cuisine, but their Donut Saturdays from 12:00 to 2:30 PM are a hidden gem. Their Banana Chocolate Cookie Dough donut is a crowd-pleaser, offering a perfect balance of fluffiness and creamy chocolate.
The French Toast Creme Brulee and Tiramisu donuts are equally impressive, while the Mille Feuille donut is an innovative twist on classic flavors and textures. These donuts might come with a price, but they're definitely worth it for their unique and delightful tastes.
What to order: Banana Chocolate Cookie Dough, French Toast Creme Brulee, Tiramisu, Mille Feuille
Address: 142 Orchard Street, New York, NY 10002
Looking for the best restaurants in Brooklyn to dine at before you head on your doughnut spree? We have a perfect dissection of the county's best eats.
How We Create Our "Best" Lists
All Noms Magazine's "best" lists are created using multiple factors and signals to help readers find the best restaurants, things to do, and places to stay at. Some of these factors and signs include personal experiences, correspondence with locals, and compiling experiences from review sites.
Each list is also created to be balanced (in terms of price, cuisine type, ambiance, and more) as possible. This means that the lists are not specifically created in ranking order. You should be comfortable picking from any of the spots on the list and generally have a good time. But of course, YMMV (your mileage may vary) and everyone may have different experiences/palates.