We can hardly say no to craft beer, whether it's light-bodied and full of fruity, floral notes; or full-bodied and super bold with spices or chocolate. Not only the diversity in tastes that seduces us but the colors and aromas are no less charming!
Whether you love craft beer or just being curious what it's about, here's our suggestion on the 10 best breweries Vancouver has to offer.
10. East Van Brewing Company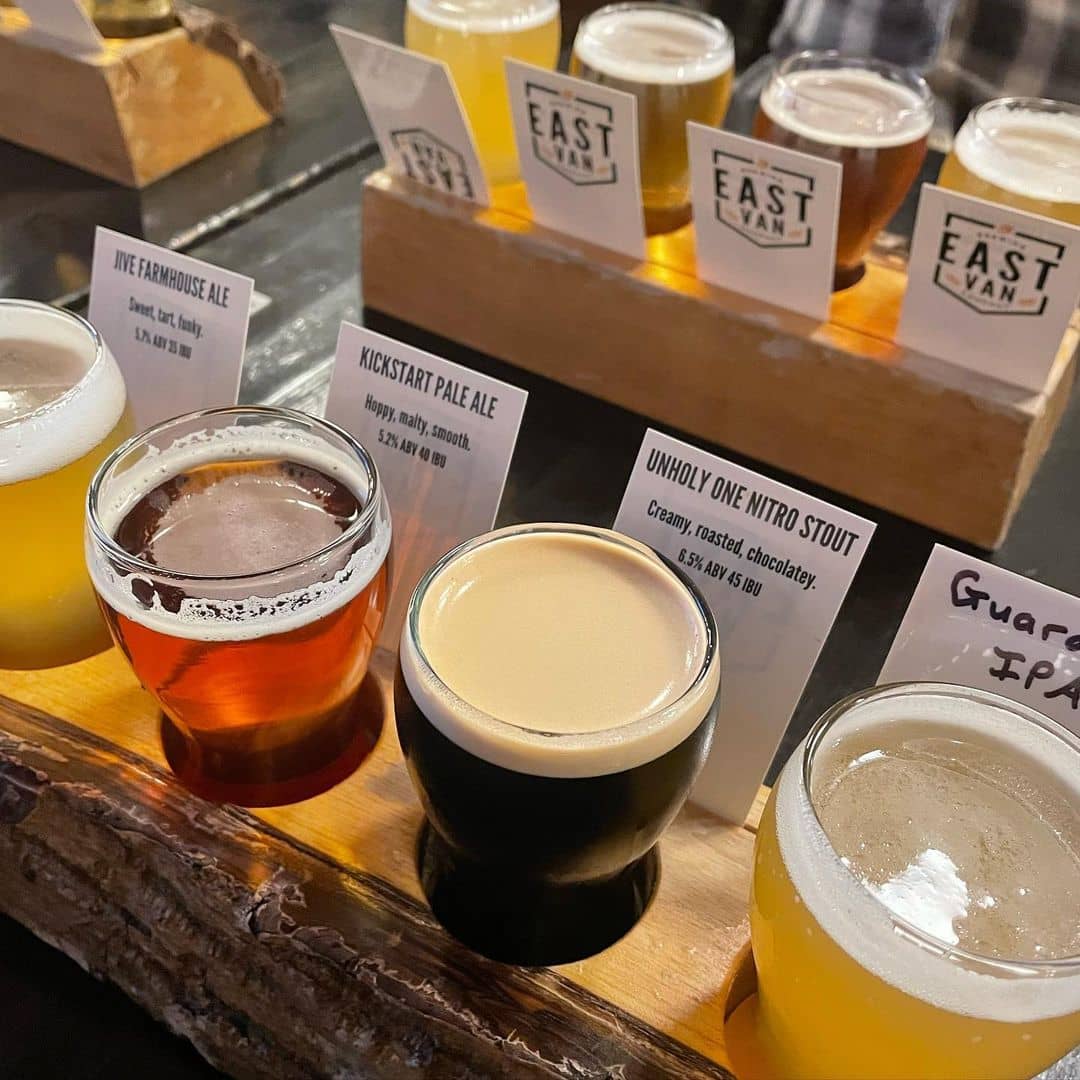 Bump into East Van Brewing, and you'll wish to have found this brewery earlier! Featuring a solid core line-up with rotating seasonals, East Van Brewing always offers you something interesting to try year-round. Besides their extensive drinks, you'll love their decoration with a rustic yet modern style and welcoming, friendly ambiance once enter. 
There are usually around 10-15 beers on tap, but you can start with Jasmine Rice Lager, an easy-to-drink, light-bodied, crisp finish, and full of floral notes in both scent and taste. Or else, you can consider Wheelbite IPA, which is much bolder and mouth-watering with stone fruits and dank flavors.
Don't leave without trying The Jive House Hazy Ale – a signature beer and must-try when visiting East Van Brewing. This dry-hopped, semi-sweet, juicy, funky with a light tartness can cause you an instant crush!
What to order: Jasmine Rice Lager, Wheelbite IPA, The Jive House Hazy Ale
Address: 1675 Venables St, Vancouver, BC V5L 2H1
Website | Instagram | Facebook
9. Brassneck Brewery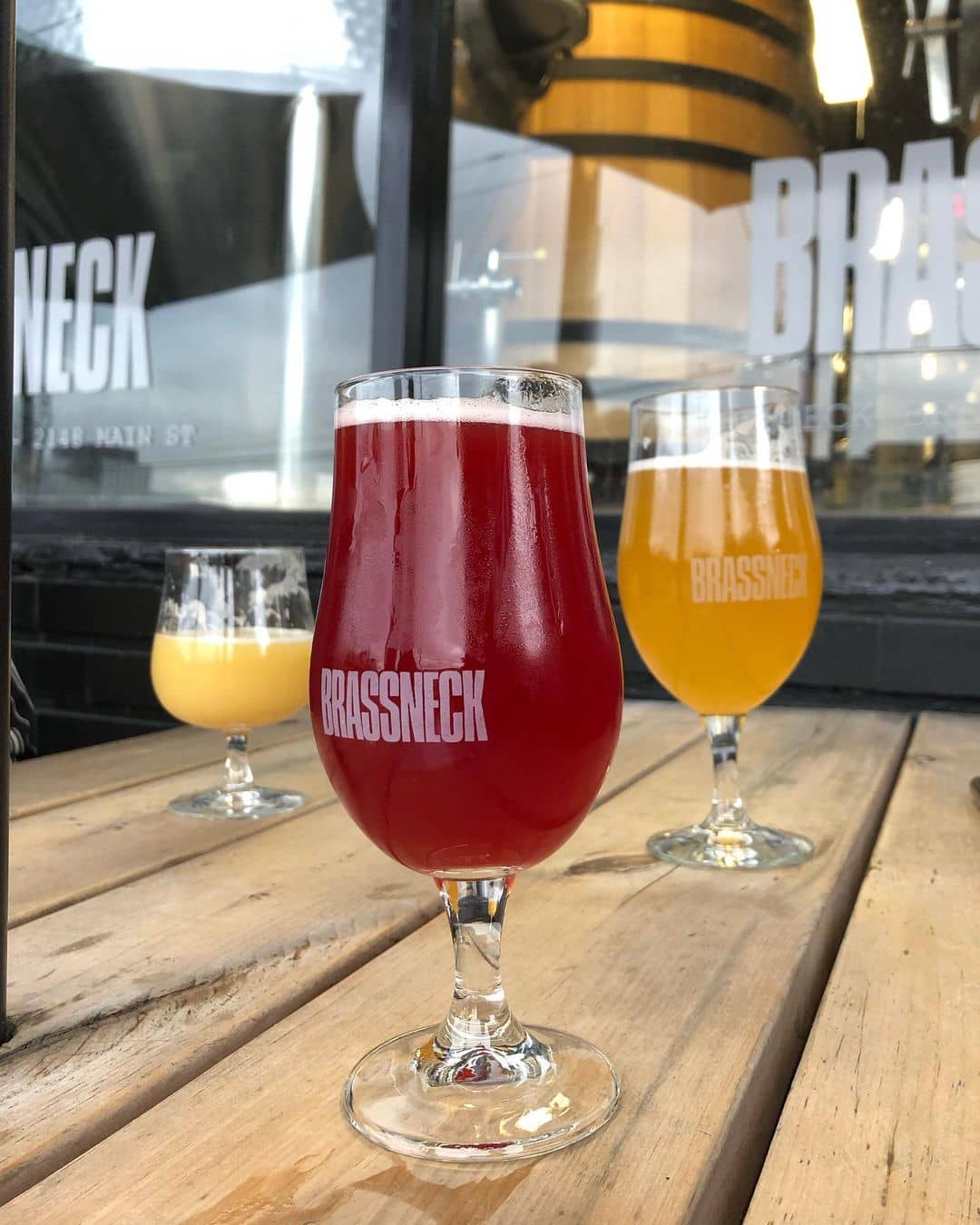 No beer lover's visit is complete without a stop at Mount Pleasant's Brassneck Brewery! Here you'll find classic beer styles and stunningly unique brews, which never fail us once. Drop by to fully experience their outstanding drinks and local-friendly, welcoming ambiance!
Their menu is always changing, but there are two gems that stay all the time: Passive Aggressive and Multiweizen. Passive Aggressive is the first beer that they brew at Brassneck, which has a slightly sweet malt character, combined with vibrant fruit notes in both aromas and taste profile. Basic but extremely mouth-watering.
Multiweizen is a combination of fruitiness, gentle cinnamon, and clove, which is more complex yet unique to enjoy.
What to order: Passive Aggressive, Multiweizen, Mr. Natural, Mr. Personality, The Weather In Space.
Address: 2148 Main St, Vancouver, BC V5T 3C5
Website | Instagram | Facebook
A rundown of all the best restaurants, cafes, drink spots, shops, and places to stay in the Mount Pleasant area.
8. Brewhall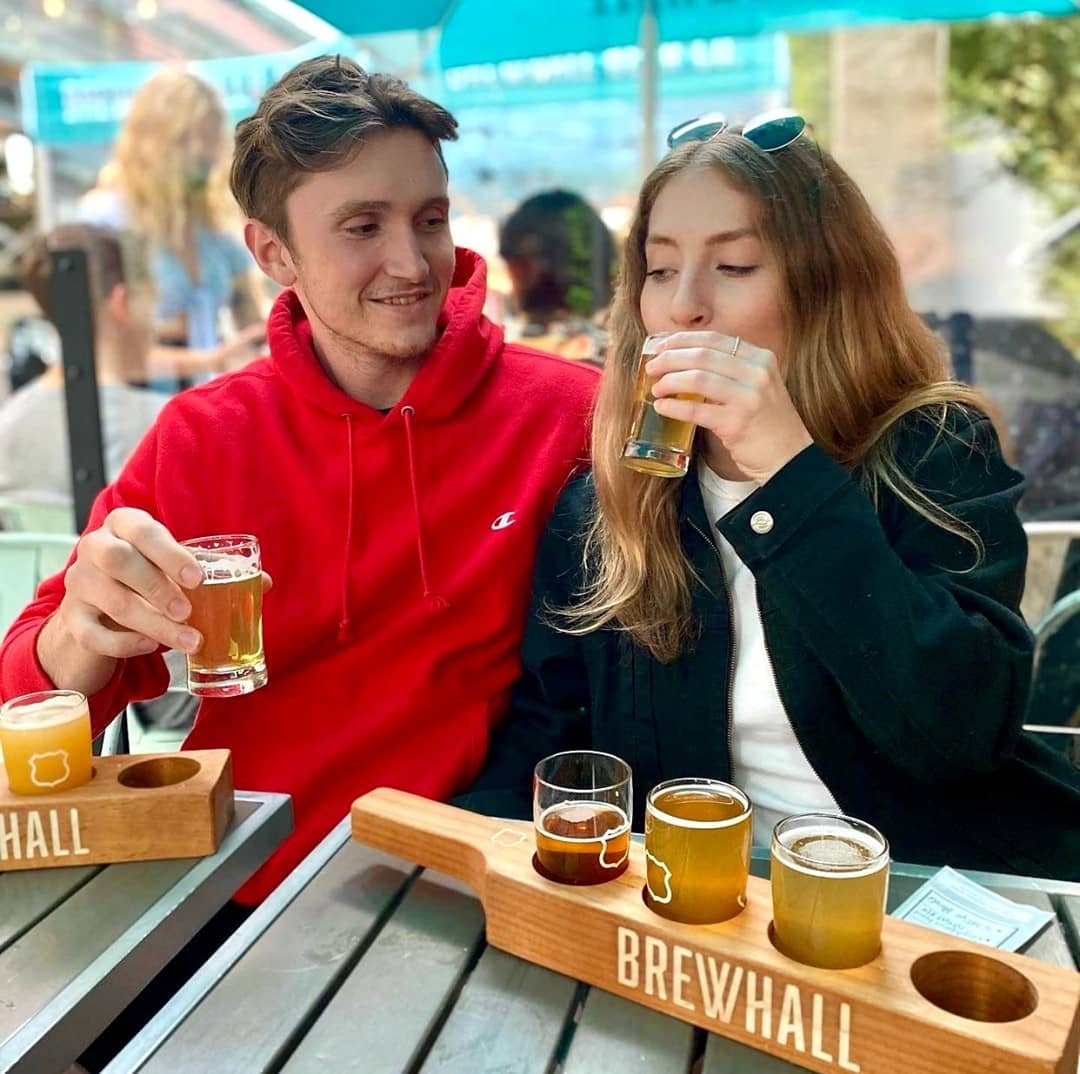 Brewhall, to be in short, is the place where you can find great beers, a good selection of food, and awesome music at the same time. Doesn't sound bad for your friend-gatherings, right? Pay a visit and enjoy this cheerful vibe right away!
There are 22 craft beers and more than 50 ciders on their menu (and definitely will not stop there), so if you need some help, start with the Köl Story Bro Kölsch Style Lagered Ale. You might have some difficulty saying this name at first, but you will easily remember how good and crisp it is. This is a smooth and refreshing beer with a clean finish, lightly hopped with floral and spicy notes, which turns out to be super balanced afterward.
Or you can try award-winning Azedo Tropico Sour, a blend of passionfruit, pineapple, and dark berries that creates a bright aroma of ripe tropical fruit and vibrant acidity. Pouring a blushing pink, we have to say this one is pretty much Instagram-y! 
What to order: Brewhall ​Köl Story Bro Kölsch Style Lagered Ale​, Brewhall Neon Light, Brewhall Azedo Tropical Sour, Bourbon Barrel Aged Imperial Red Ale.
Address: 97 East 2nd Avenue Vancouver, BC V5T 1B3
Website | Instagram | Facebook
7. 33 Acres Brewing Company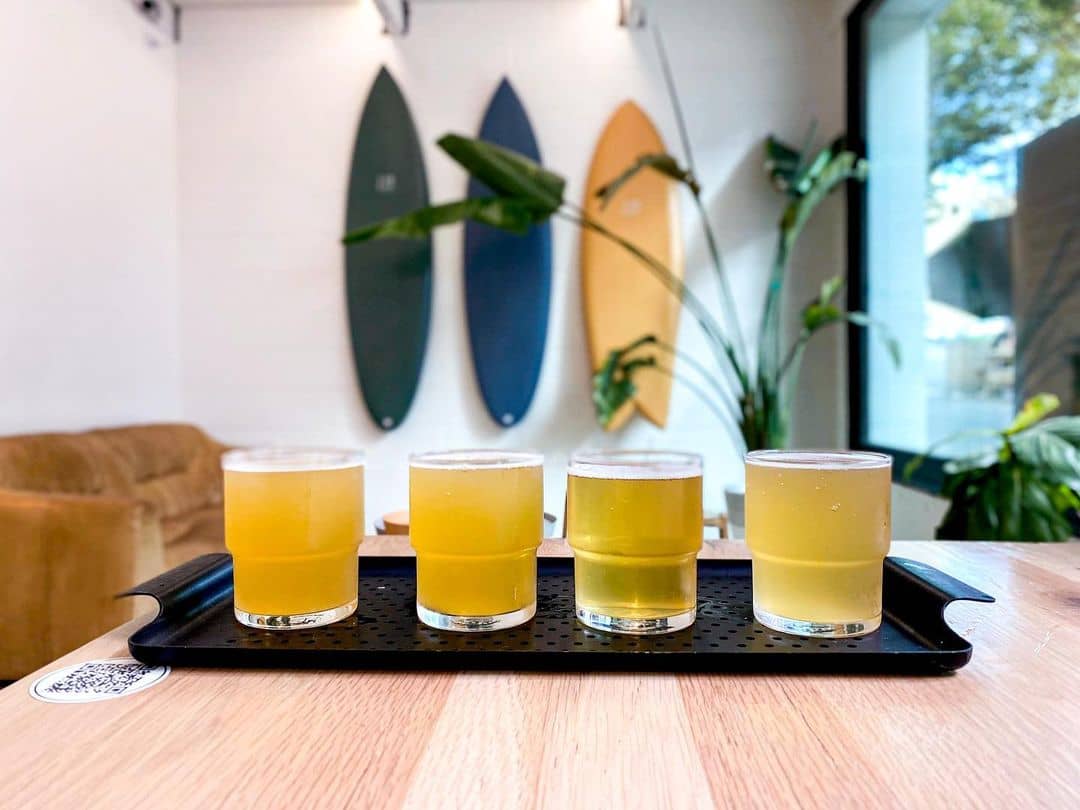 Being named Brewery Of The Year at the 2018 BC Beer Awards, ladies and gentlemen, may we present you 33 Acres Brewing! Besides their crazy good beers, which are excellent without exception, the space and ambiance at 33 Acres Brewing are certainly worth lingering with simple but impeccable designs, a welcoming atmosphere, and a lot of natural lights.
There's always been a saying when we come to 33 Acres Brewing, "Don't expect anything from their drinks, because what you get are way beyond your expectations". Make a try with 33 Acres of Ocean, 33 Acres of Light, and 33 Acres of Euphoria to see it yourself!
While Ocean is full-flavored with a distinct floral hop, refreshing taste, and slight pine aroma; Light is more complex, full-bodied with hints of fruits that lead to a crisp finish. Finally is the joyful, dangerous yet drinkable Euphoria with deep flavor, creamy mouthfeel, and smooth aftertaste.
What to order: 33 Acres of Ocean, 33 Acres of Light, 33 Acres of Euphoria, 33 Acres of Darkness.
Address: 15 W 8th Ave, Vancouver, BC V5Y 1M8
Website | Instagram | Facebook
6. Strange Fellows Brewing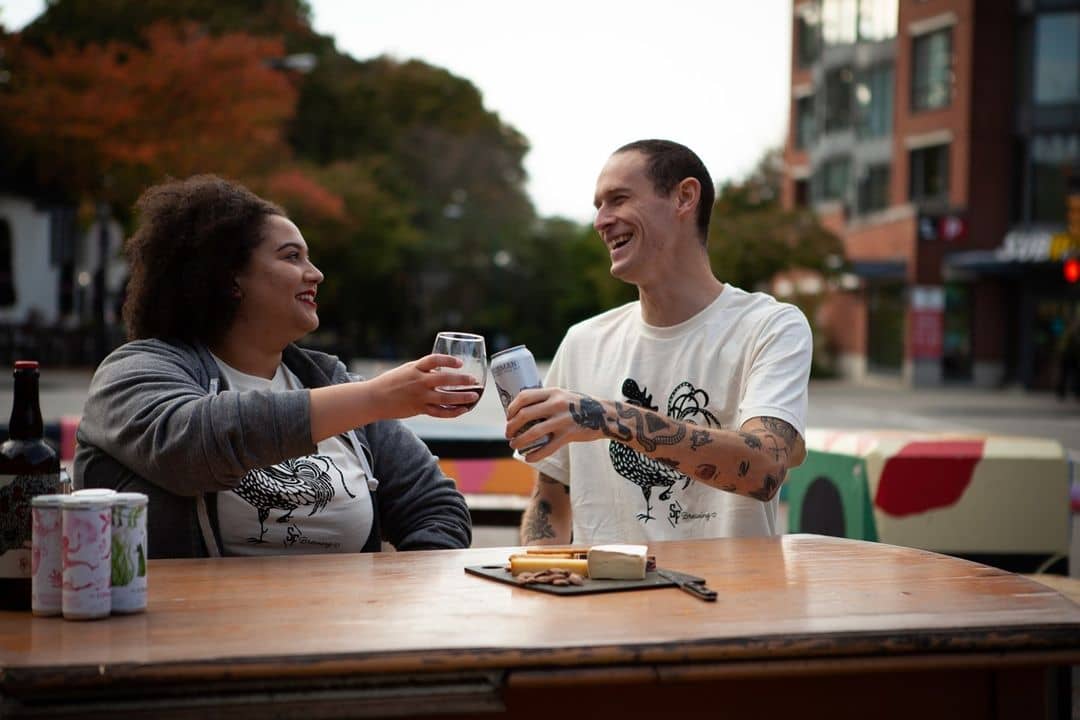 Famous for sour and barrel-aged beers, Strange Fellows Brewing is our favourite spot whenever we want some quality beers with extraordinary twists. You can find all sorts of beer styles here, from hoppy and seasonal ales to stout of all strengths or classic pilsner! The interior here is lovely with modern style and full glass windows that show off the brewery space, where the magic happens!
Settle down with some Talisman West Coast Pale Ale, as this is a delicately dry-hopped and golden-hued ale with a tropical and citrusy fragrance. You will definitely love this starting! Then, move on with the Jongleur Wit Beer and be seduced by its spicy aroma and silky mouthfeel.
End your brewery journey with Blackmail Northwest Stout; that rich, soft roast and slightly sweet character from chocolate will do you good!
What to order: Talisman West Coast Pale Ale, Jongleur Wit Beer, Blackmail Northwest Stout, Ciltivas Belgian Single, Cyclops Single-Hopped IPA.
Address: 1345 Clark Dr, Vancouver, BC V5L 3K8
Website | Instagram | Facebook
5. Main Street Brewing Co.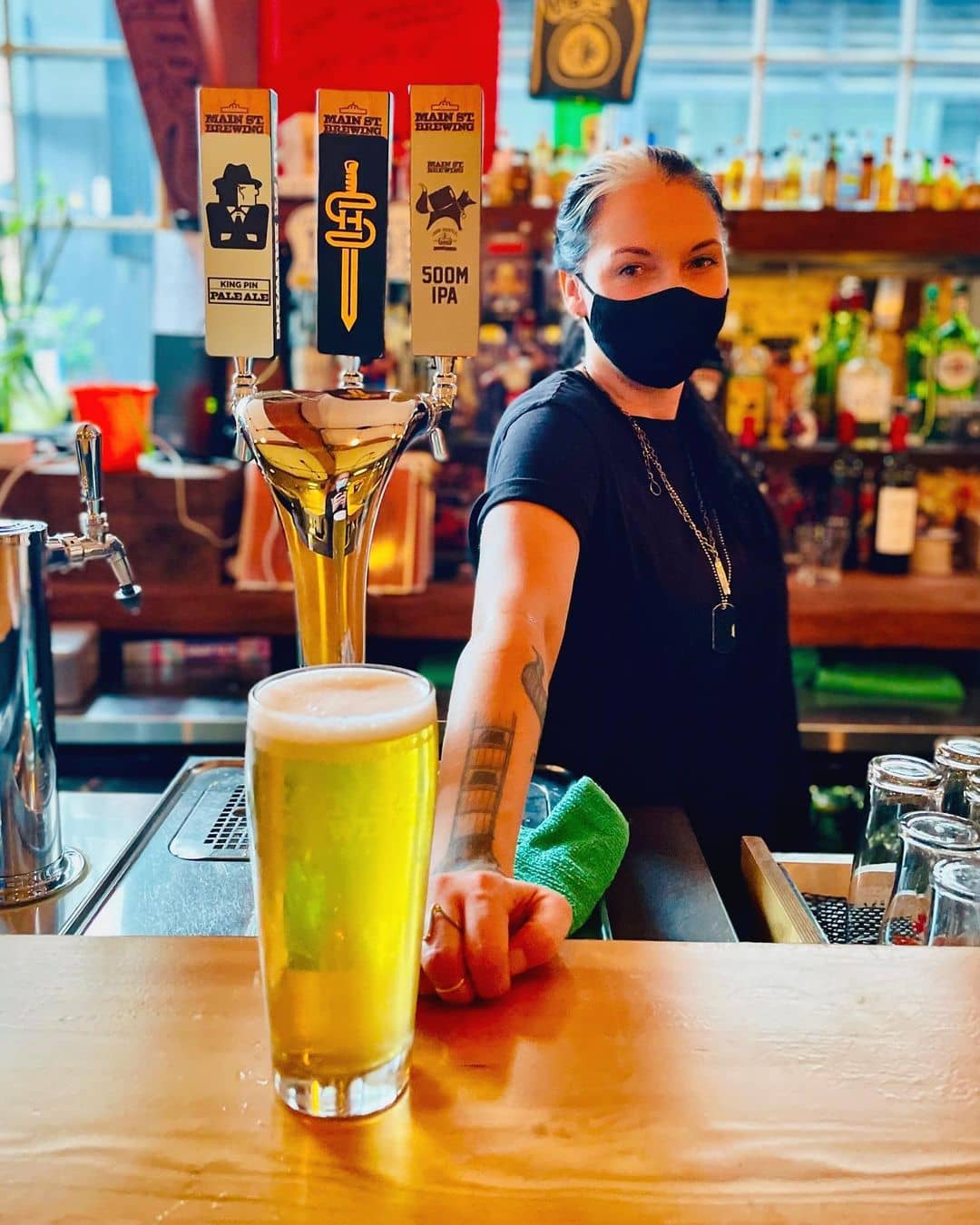 Tucked away inside an old building, Main Street Brewing, as a result, has that same vintage vibe by featuring exposed brick, large murals, strings of bulbs, and woody furniture. Once visiting Main Street Brewing, besides enjoying the drinks, you can get the chance to enjoy the sounds of the brewhouse, and the sweet smell of grain occasionally wafting through. We can never get bored of this magical place!
We highly recommend you to try their signature Main Street Pilsner, King Pin Hazy Pale Ale, and Naked Fox. If you're into a bright and crips taste profile, for sure you will have a good impression with Main Street; while King Pin is a lot of juicier and flavorful with a hop-forward papaya and citrus finish.
Naked Fox is our all-time favorite when we want to get things a bit 'naughty'. With the scent of sandalwood and grapefruit, Naked Fox is bold and lovely at the same time, which just double the seduction!
What to order: Main Street Pilsner, King Pin Hazy Pale Ale, Naked Fox IPA, Fruit Bomb.
Address: 261 E 7th Ave, Vancouver, BC V5T 0B4
Website | Instagram | Facebook
4. Luppolo Brewing Co.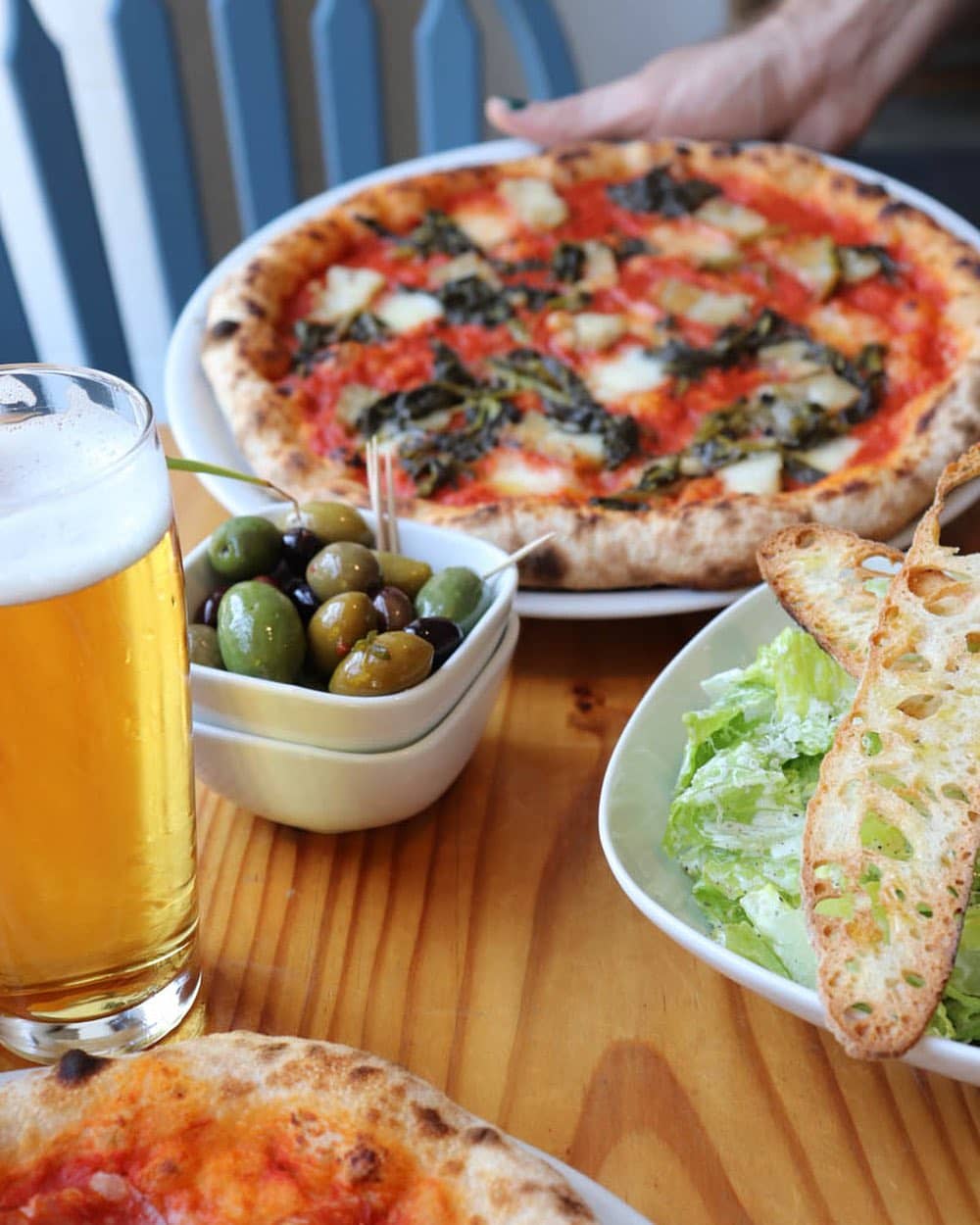 Luppolo Brewing is an Italian-inspired brewery with insanely good craft beer, stunning Italian food, and a cozy ambiance. We bet everything that makes your day is all in this place! Once coming to Luppolo, you can either choose to nestle in their small, calm in-house space, or enjoy that refreshing atmosphere outside with patio for groups. Both are great!
Their beers are top-notch, so don't hesitate to try them all, especially the 3: Gose With Lime, New World Sour, and Vivace Saison! Gose With Black Lime is a bright German-style wheat beer that is filled with citrusy aromas, which leads to flavors of lemon and a hint of peppery notes. While New World Sour is way more complex and flavorful with generous amounts of tropical and citrus flavors. This one stays true to its name, guys!
We save the best for the last, Vivace Saison. This lovely pale ale has a smooth and bright aroma of tangerine, which leaves the taste of tropical, earthy taste and silky mouthfeel to your palate afterward!
What to order: Gose with Black Lime, New World Sour, Vivave Saison, Double Coat Doble IPA, Gold Medal Deer.
Address: 1123 Venables Street Vancouver, BC V6A 2E3
Website | Instagram | Facebook
3. Container Brewing Ltd.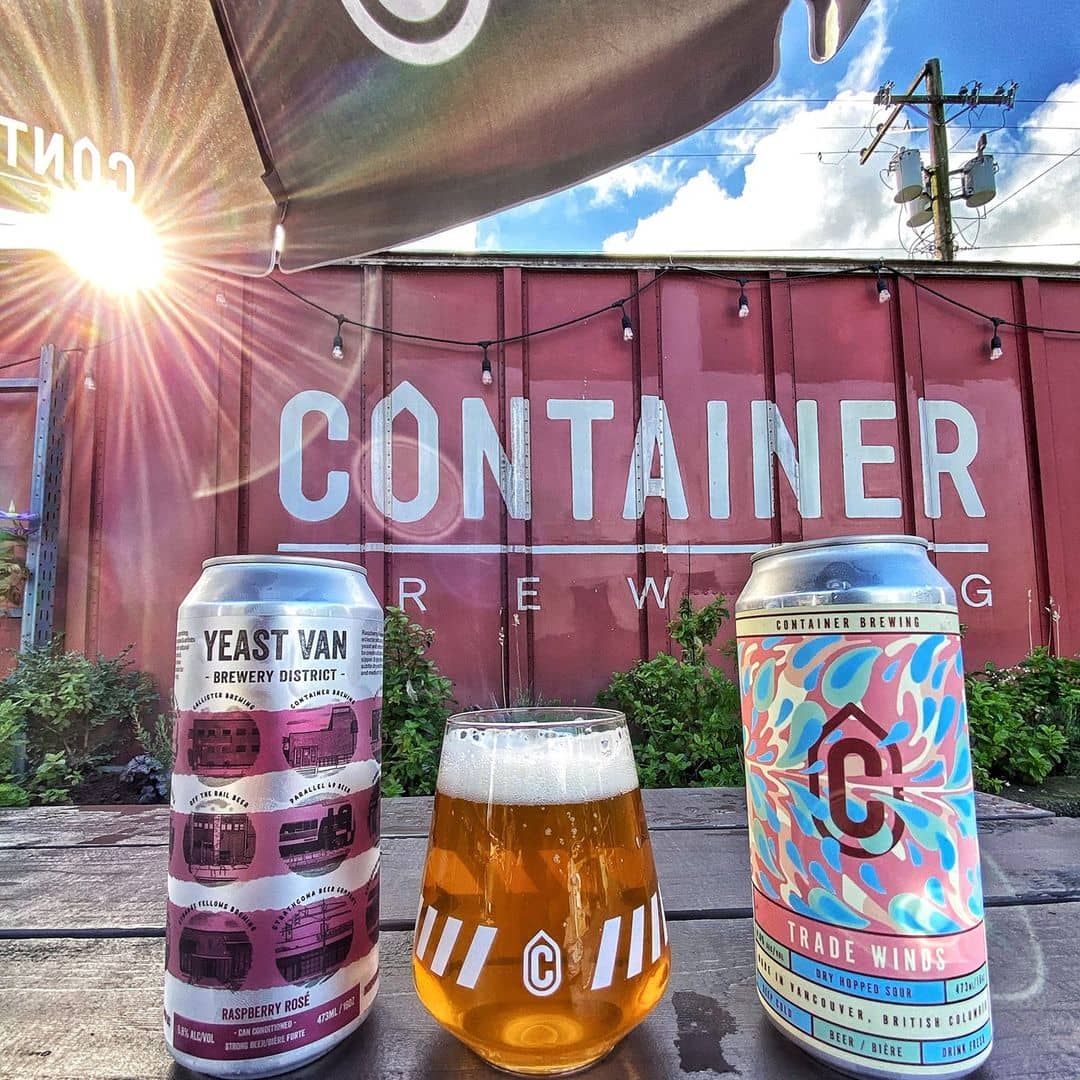 How to enjoy great beer in a comfortable environment, where everything is open up and can make you instantly feel relaxed? Container Brewing is our answer! Offers classic beers with very unique touch-ups, open-air space, Container Brewing has always been our favorite spot for friend-gatherings and high-quality beer. Plus, their beer line-up is influenced by Tim Juul the Head Brewer with beer experience in New Zealand. This can never go wrong!
Get your beer fix with their Origin Neipa, Noch Mal German Pilsner, or Three Legged Mare English Brown Ale. They are the stars of the show! While Origin Neipa is bold, full-bodied with big stone fruits aromas; Noch Mal is crisp and bright with hints of thyme, lemongrass, and tea in both scent and taste.
Three Legged Mare English Brown Ale is pretty much a classic ale that comes up with nuts, dried fruit fragrance, rounded out by herbaceous hops, and a dry finish. Come on, who can say no to this?
What to order: Origin Neipa, Noch Mal German Pilsner, Three Legged Mare English Brown Ale.
Address: 1216 Franklin St, Vancouver, BC V6A 1K1
2. Strathcona Beer Company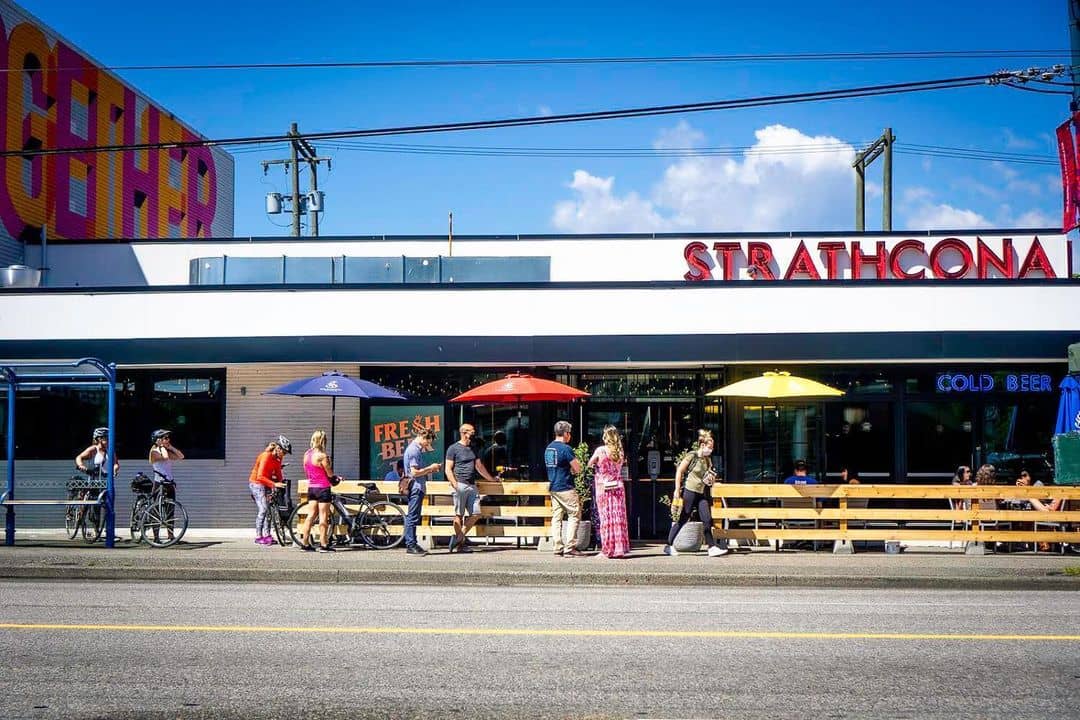 Located in the heart of Strathcona, Vancouver's oldest neighborhood, Strathcona Beer Company is a world-class brewery that offers traditional beer taste with a modern twist that you can't find elsewhere! We have to admit their unique drinks have tempted the palate of most discerning beer drinkers in town. Not only the beers are impressive, but their neon signs and decorations are eye-catching and Instagram-y as well.
Hands down to their famous Beach Pink Lemonade, a precise blend of lemon, raspberry that creates a light body, easy-to-drink with a tart and fresh finish. Or you can go for Love Cherry Lime Sour if you wish for something even sourer with lime and cherries.
Finish your brewery experience with Smash Bombs to truly feel the tropical fruit bomb in your palate. Trust us, you will be seduced!
What to order: Beach Pink Lemonade, Love Cherry Lime Sour, Big Sexy Funk, Smash Bombs Double IPA.
Address: 895 E Hastings St, Vancouver, BC V6A 3Y1
Website | Instagram | Facebook
1. Superflux Beer Company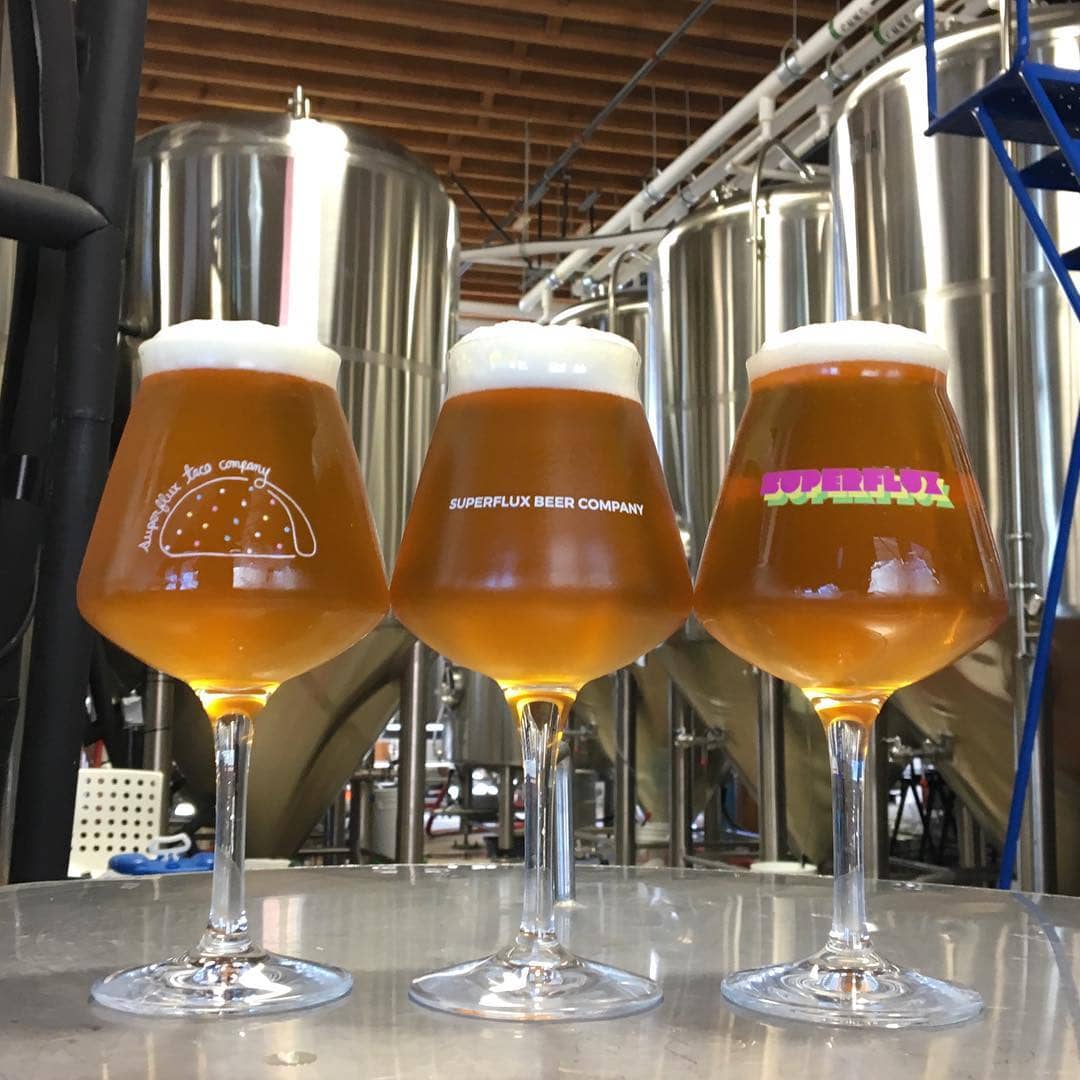 If you've been searching for a super-duper unique brewery experience with a lot of innovation and flavor, Superflux Beer Company is the spot. Besides its bold beer lineup, you are sure to find some deluxe hot dogs, hyper-seasonal salad, and mouth-watering side dishes! Superflux offers a stylish and minimal interior with lots of outdoor space, which is a great idea for friend gatherings and casual dates.
Need help from choosing from the extensive menu? Start with their Color & Shape, which has a really good hazy profile with hints of citrus and herbs. Or go for Double Coconuts to truly taste that fresh, lightly sweet, and elegant dry-down.
The last one, (which we have always kept as our little secret) The Creamery, will undoubtedly have your heart! It is all about the blend of vanilla, chocolate, strawberry, which create a sweet, thick yet smooth aftertaste. Try this whenever you feel like exploring a hidden gem!
What to order: Color & Shape, Easy Tiger, Happyness, Double Coconut, The Creamery
Address: 505 Clark Drive, Vancouver, BC V5L 3H7
From local microbreweries to bars with a wide range of international craft beers on tap, we hope to finally offer you some best breweries to quaff down a pint! Plus, you can also check out these best cocktail bars in Vancouver for more choices.
You may also be interested in:
The following two tabs change content below.
Latest posts by Noms Magazine (see all)