Looking for the best ramen in Portland? Well, you're in the right place!
With new ramen shops springing up in every region, there is no second-guessing that ramen is one of the most popular international dishes celebrated throughout the nation, and Portland is no exception.
Portland's ramen scene has flared up in recent years, and the following are close to a dozen places you can find the most soul-soothing bowls of ramen in Portland.
1. Kinboshi Ramen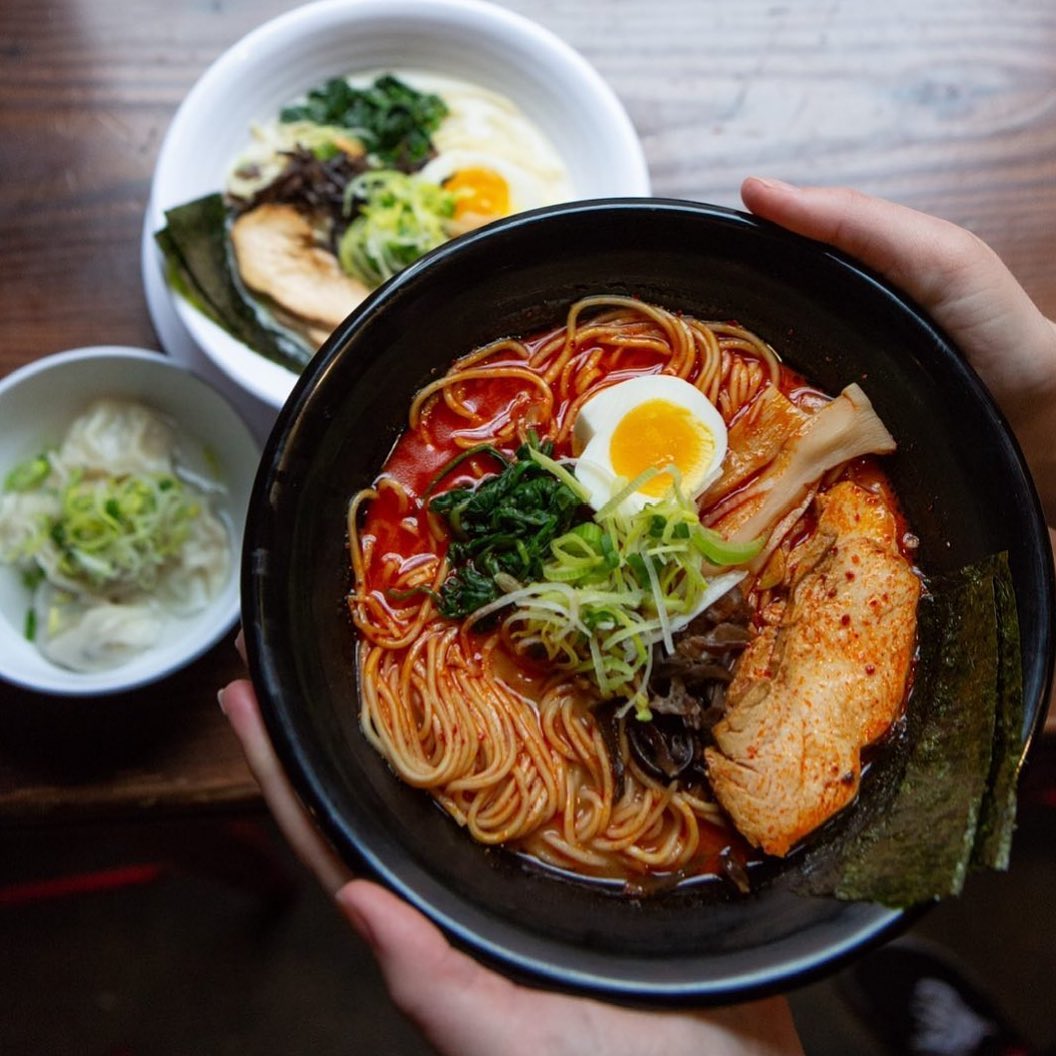 Brought to Portland from Japan in 2016, Kinboshi Ramen is one of the city's authentic handmade Japanese ramen places, and the first to introduce Hakata-style ramen to Portland.
The restaurant's menu offerings have also evolved over the years, now including vegan ramen bowls, donburi, and more, all of which can be enjoyed in a casual, communal setting.
The only best way to start your ramen meal at Kinboshi is with the Tonkotsu Red. Kinboshi's original spicy rich pork bone broth comes with juicy chashu pork, seasonal veggies, soft-boiled egg, and noodles.
The flavour in this bowl is rich, huge, deep, and well-balanced.
If you prefer a less spicy version, with no compromise in flavor, you should go with the Tonkotsu Shoyu.
Made just for Portland, the Paitan ramen base is a rich chicken broth that doesn't involve pork.
Available as Paitan Shio (regular) and Paitan Red (spicy), the highlight here is most definitely the chicken broth, which is thick, rich, and creamy, and tastes outstanding with all the toppings.
If you're vegetarian or vegan, you should try the Miso Vegan or Miso Vegan Spicy. Made with organic soy milk, the miso vegan broth makes this one of the best-tasting vegan ramen bowls out there.
The Tebasaki Chicken Wings or Japanese savory/sweet chicken wings will bring out your "heart eyes" emoji face!
What to order: Tonkotsu Red, Tonkotsu Shoyu, Paitan Shio, Paitan Red, Miso Vegan, Miso Vegan Spicy, Tebasaki Chicken Wings
Address: 609 SE Ankeny Street A, Portland, OR 97214
Website | Instagram | Facebook
2. AFURI Ramen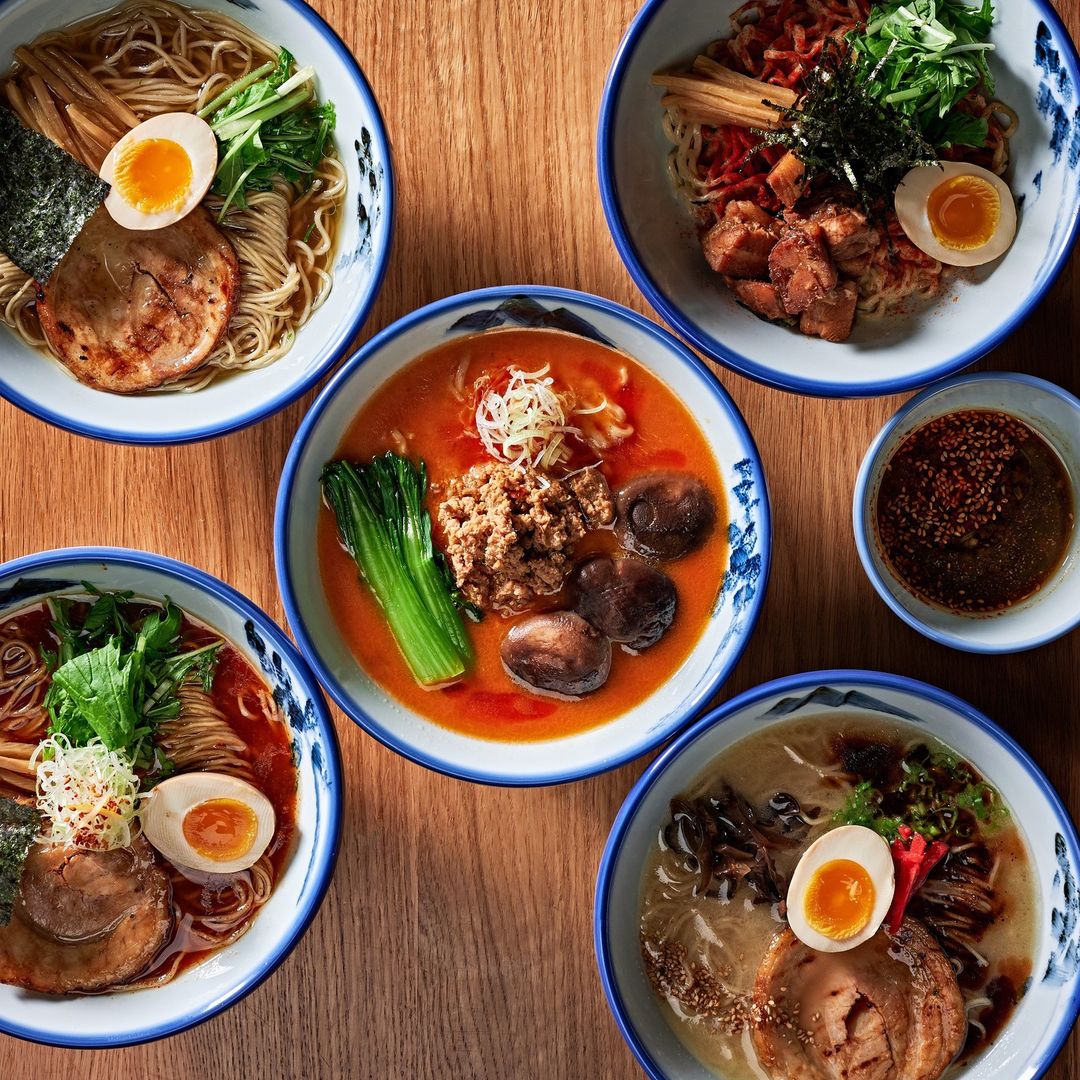 A highly acclaimed Japanese ramen chain, AFURI Ramen rose to fame almost instantly and rapidly soon after its launch in Portland, and has been a foodies' and critics' favorite since.
With a trendy atmosphere and friendly service, this ramen spot brings joy to its patrons with traditional Japanese food.
AFURI's specialty is Yuzu Shio; this bowl of ramen comes with a clear chicken broth, which gives it a distinct look and taste compared to the usual tonkotsu-style ramen you see everywhere.
Finished with thin noodles, egg, and chashu, this is a fantastic ramen bowl with a distinguishable yuzu flavor.
The Tonkotsu Tantan has the traditional tonkotsu broth – rich, spicy, and flavourful – with thick noodles, and comes topped with shitake, bok choy, pork crumbles, and chilli oil.
The pork crumbles add an enjoyable contrasting texture to the rich broth and thick noodles, and the chilli oil opens up your taste buds.
While the ramen dishes here are phenomenal, AFURI's Softshell Crab Bun and Kakuni Pork Bun also need special mention.
What to order: Yuzu Shio, Tonkotsu Tantan, Softshell Crab Bun, Kakuni Pork Bun
Address:
-50 SW 3rd Avenue, Portland, OR 97204
-1620 NW 21st Avenue, Portland, OR 97209
Website | Instagram | Facebook
3. The House of Ramen PDX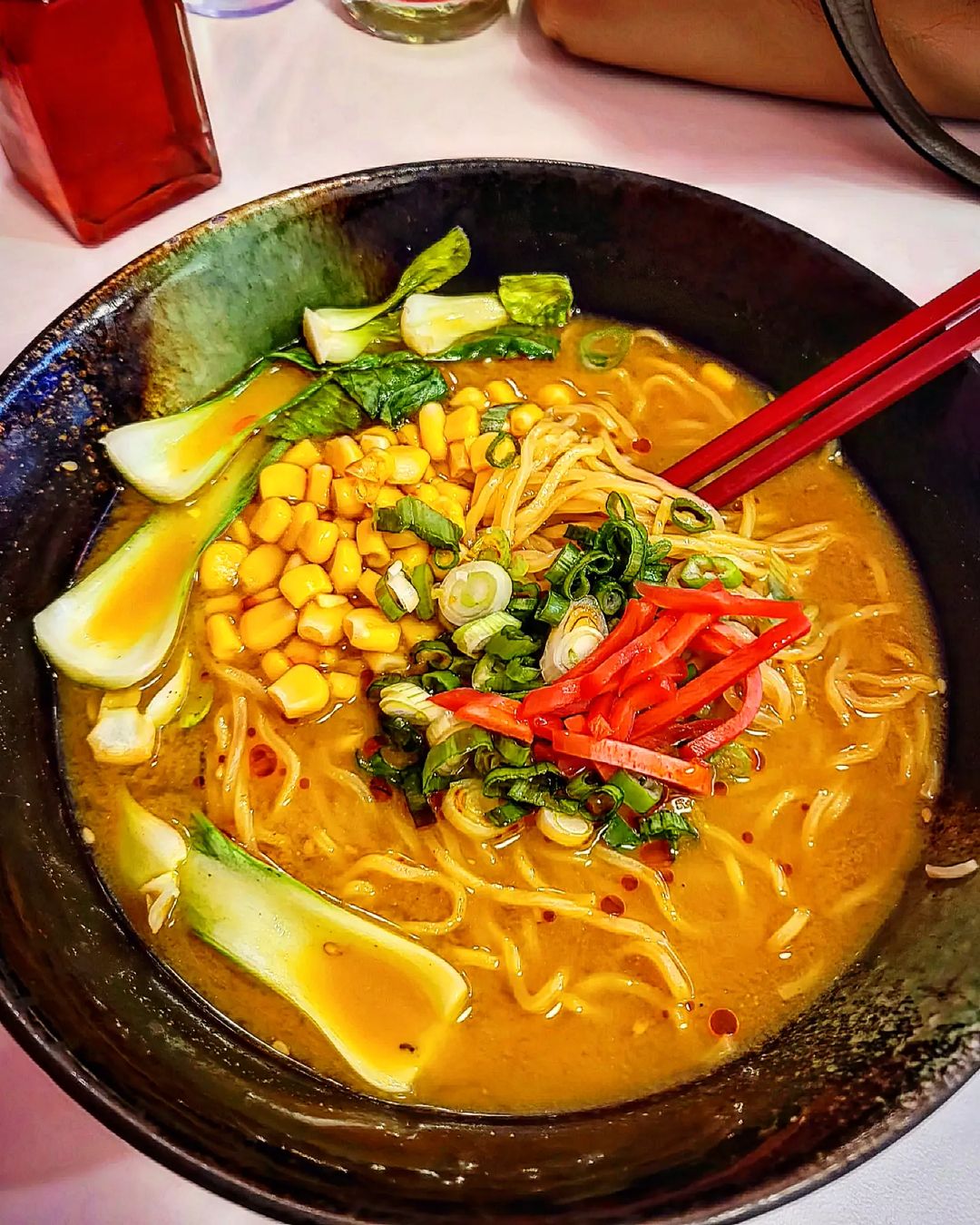 The House of Ramen is a bustling ramen place in Downtown Portland, known for offering a variety of soups, noodle types, and toppings.
This is one of the few places in the city where people believe to enjoy the highest quality ramen, which is the main reason the place is always bustling.
The Chef's Special is the restaurant's signature bowl, in which the chef creates his magic by making an amazing blend of pork and vegetables, which complement each other in a tonkotsu base, along with other toppings.
Everything in the bowl is fresh, and you will enjoy a flavor-packed and filling meal.
The BBQ Pork Ramen is another enticing creation from The House of Ramen.
The BBQ pork comes perfectly cooked – smoky, juicy, and tender – and so does the flavored egg; together with the wavy noodles and umami-filled, savory, and tangy shoyu soup base, this is an easy winner.
The Meat Lovers, as the name suggests, is a meat-filled preparation, and contains chicken, chashu pork, and BBQ pork in a shoyu broth.
What to order: Chef's Special, BBQ Pork Ramen, Meat Lovers
Address: 223 SW Columbia Street, Portland, OR 97201
Website | Instagram | Facebook
4. Ramen Ryoma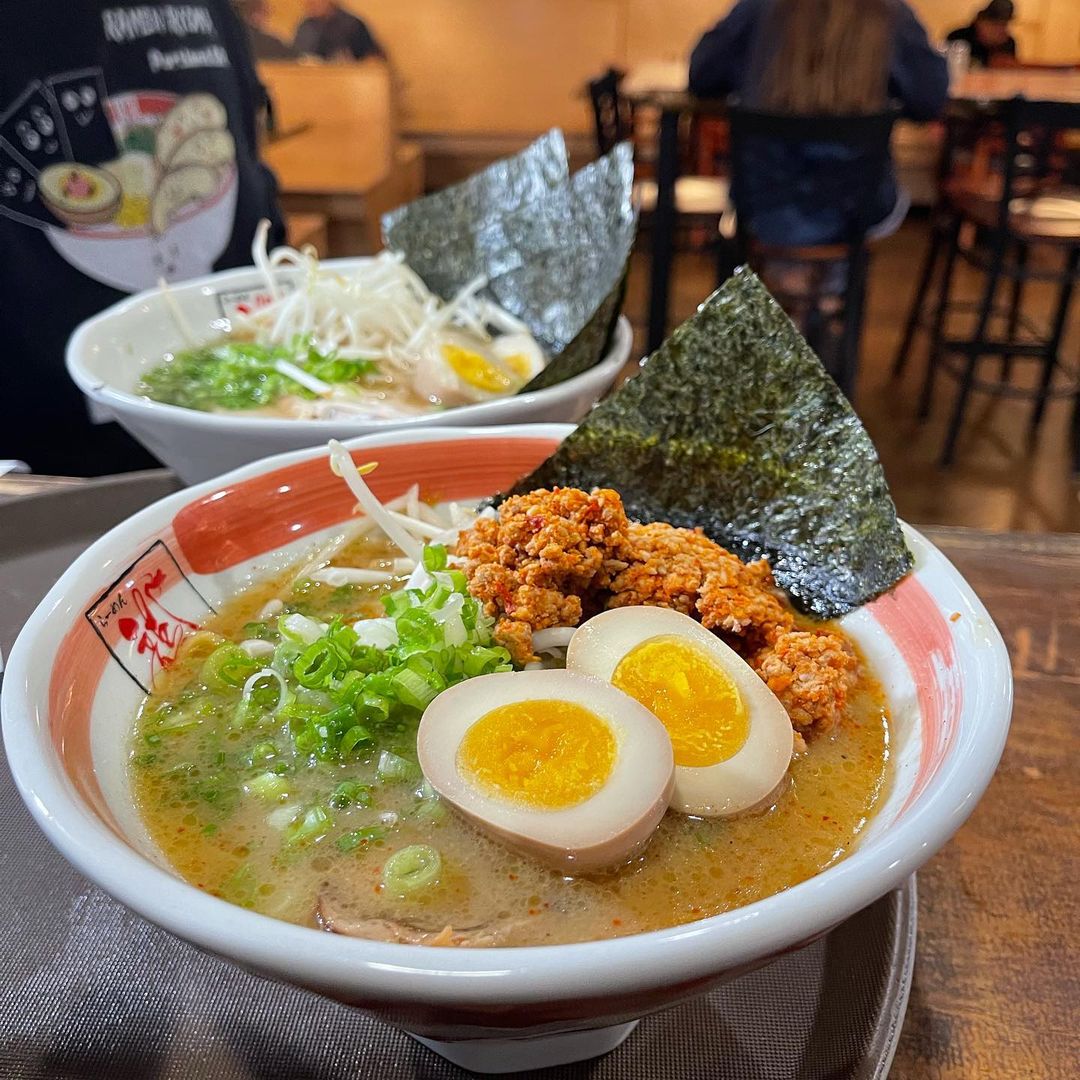 Established in 2016, Ramen Ryoma is a specialty ramen spot known for its quality taste. From its hand-massaged noodles to mouthwatering soup, everything here is original, authentic, and tempting.
Though the place is rather small and decent, the ramen, on the other hand, is extraordinary.
One of Ramen Ryoma's classic offerings is the Corn Butter Ramen. There's corn, there's butter, there's a slice of juicy chashu, and other fresh toppings, served in your choice of miso, shoyu, or shio broth.
The ratio of everything in the bowl is just perfect, and this steamy bowl of ramen will let you leave with a happy tummy.
The Spicy Umami Ramen is absolutely delish as well.
Again, you can choose your broth (we vote for miso!), which is rich and flavorful, the chashu is perfectly cooked and tender (not too fatty), and the ramen tastes delicious with House Sake.
And how can we forget the Vegetable Ramen?! With soy milk and veggie miso broth, this ramen can be a tough contender to any of the best ramen bowls you've ever had.
What to order: Corn Butter Ramen, Spicy Umami Ramen, Vegetable Ramen, House Sake
Address: 1037 SW Morrison Street, Portland, OR 97205
5. Kumiho Ramen Cart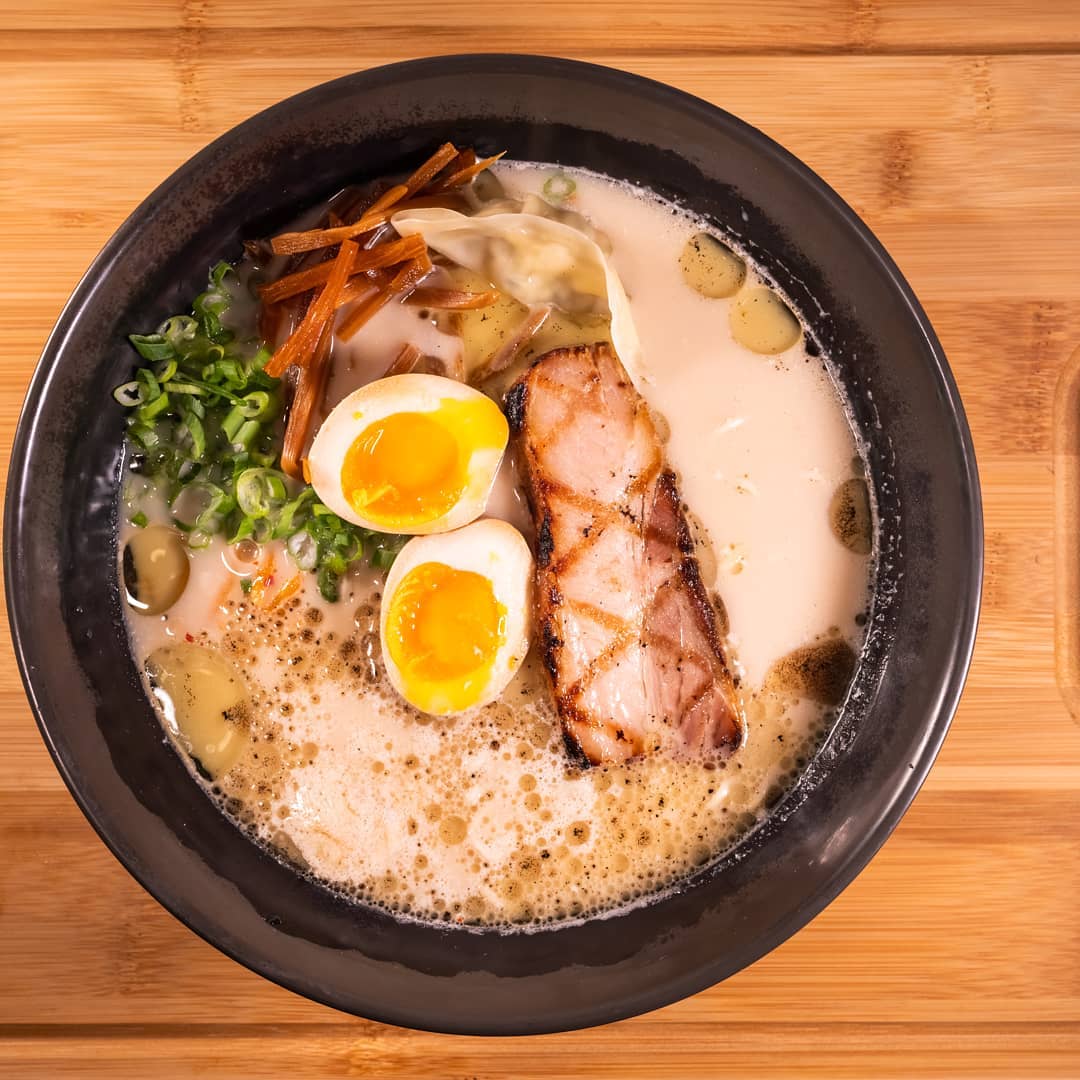 Located at The Barley Food Pod, Kumiho is Portland's favorite ramen cart offering a short, simple, yet highly satisfying menu.
While the cart is rather tiny, the flavors that leave the kitchen are on a stellar level.
Their Tonkotsu Ramen comes with an extra-rich bone broth that comes with just the right depth without being too heavy; the noodles are thin and firm; and the pork is beautifully charred to give it a crispy and chewy texture.
The Shoyu Ramen has a delicious tangy flavor, and the broth is light-bodied yet flavourful. The curly noodles soak up all the saucy goodness, and the toppings perform their part flawlessly.
Now, what makes Kumiho's ramen stand out from the rest is most certainly their Mom's Korean Spicy Add-in.
Available in mild, medium, and hot levels, this condiment uplifts the base flavor of the ramen, making it even more enjoyable and memorable.
If you like a good burn, the medium will be more than sufficient.
What to order: Tonkotsu Ramen, Shoyu Ramen, Mom's Korean Spicy Add-in
Address: 6035 NE Halsey Street, Portland, OR 97213
Website | Instagram | Facebook
6. Kayo's Ramen Bar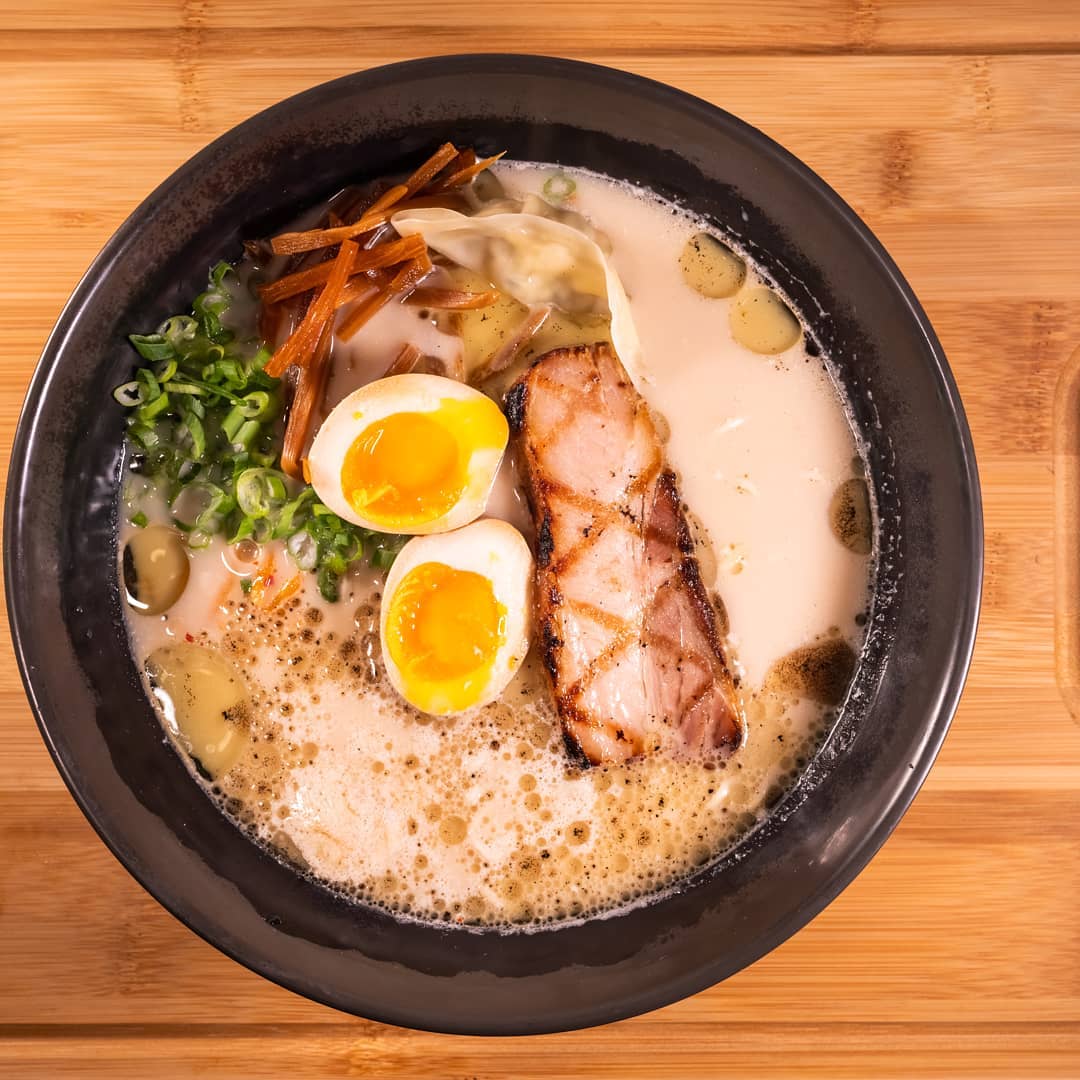 Among the many authentic ramen shops in Portland, Kayo Ramen Bar has successfully managed to differentiate itself by specializing in clear-broth ramen, rather than the rich tonkotsu-style ramen that's widely available everywhere else.
The creative and interesting spins in Kayo's menu rank it among the best ramen bars in Portland, and its casual and intimate atmosphere along with great-tasting food makes it popular among ramen lovers.
Kayo's most popular offering is TanTan Ramen. This fiery bowl of ramen is authentic, rich, hearty, and savory.
Flavored with chili and Sichuan peppercorns, the ramen is not only hot but also leaves behind a tingly sensation in your mouth, which you'll enjoy if you love your food fiery.
You could also try the TanTan Ramen without the broth – TanTan Mazemen; it has all the flavourful goodness from the former but without the soup.
Make your ramen bowl vegan by choosing the vegan broth and tofu for your protein.
We specifically loved the Shoyu Vegan Ramen, which delivered an explosion of flavors in every bite (or slurrp!). Of course, the vegan broth has tons of flavor, and the tofu comes cooked outstandingly well.
Before we forget, do order Kayo's Kale or Pork Potstickers, because it would be a sin not to! They're so darn good!
What to order: TanTan Ramen, TanTan Mazemen, Shoyu Vegan Ramen, Curry Ramen, Kale Potstickers, Pork Potstickers
Address: 3808 N Williams Avenue #124, Portland, OR 97227
Website | Instagram | Facebook
7. Tomo Ramen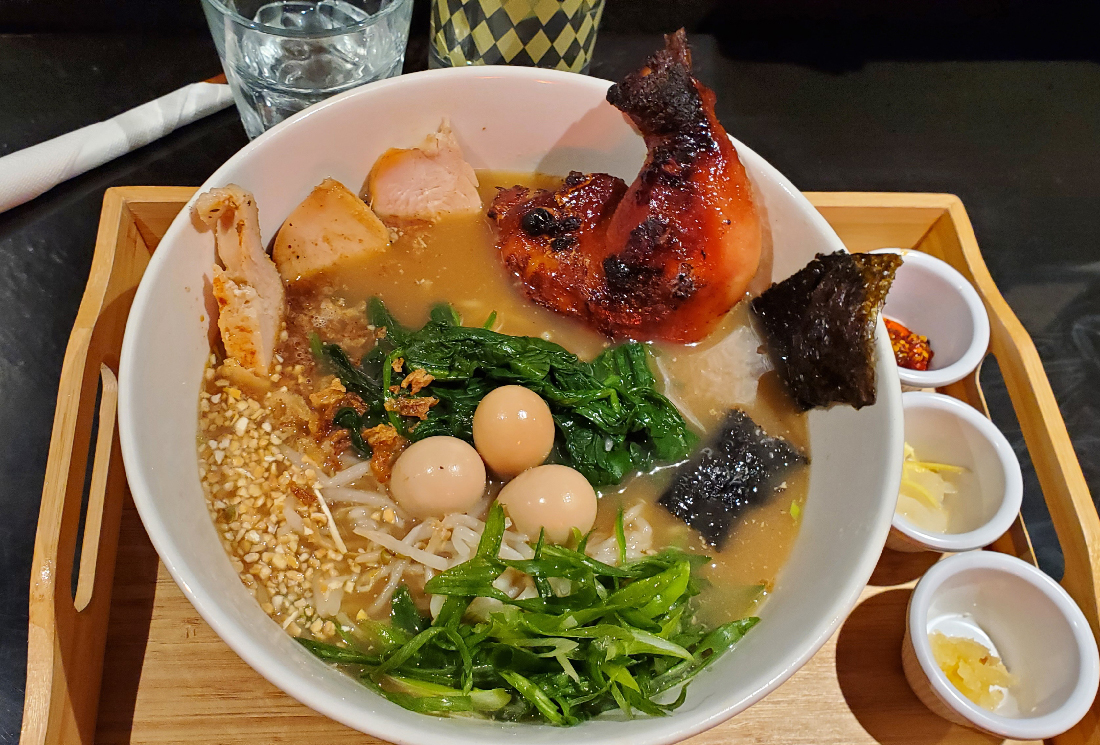 Located on Portland's Hawthorne Blvd., Tomo Ramen is a less-known gem of a place serving authentic and delectable bowls of ramen in a cozy and relaxed setting.
With multiple communal tables around the restaurant, here you can enjoy good ramen for lunch or dinner by yourself or with a group of friends.
The Tonkotsu Miso Ramen is an all-time favorite at Tomo Ramen. The pork broth comes with a delightful miso flavor, the pork belly just melts in the mouth, and the noodles are cooked just right, and have a slight chewiness to them.
A rare kind of ramen you can find here is Gyu-Ramen. The base of this ramen is a deeply flavored beef broth, which comes with perfectly tender sliced beef ribeye, chashu pork belly, and lots of other toppings.
There's something about this beef ramen that makes you want to order it again even the next time you visit.
Spicy Seafood Ramen – where do we even start?!
Filled with all types of seafood you could possibly imagine, this ramen bowl will soothe the soul of every seafood lover.
What to order: Tonkotsu Miso Ramen, Gyu-Ramen, Spicy Seafood Ramen
Address: 3545 SE Hawthorne Blvd., Portland, OR 97214
8. Suki Ramen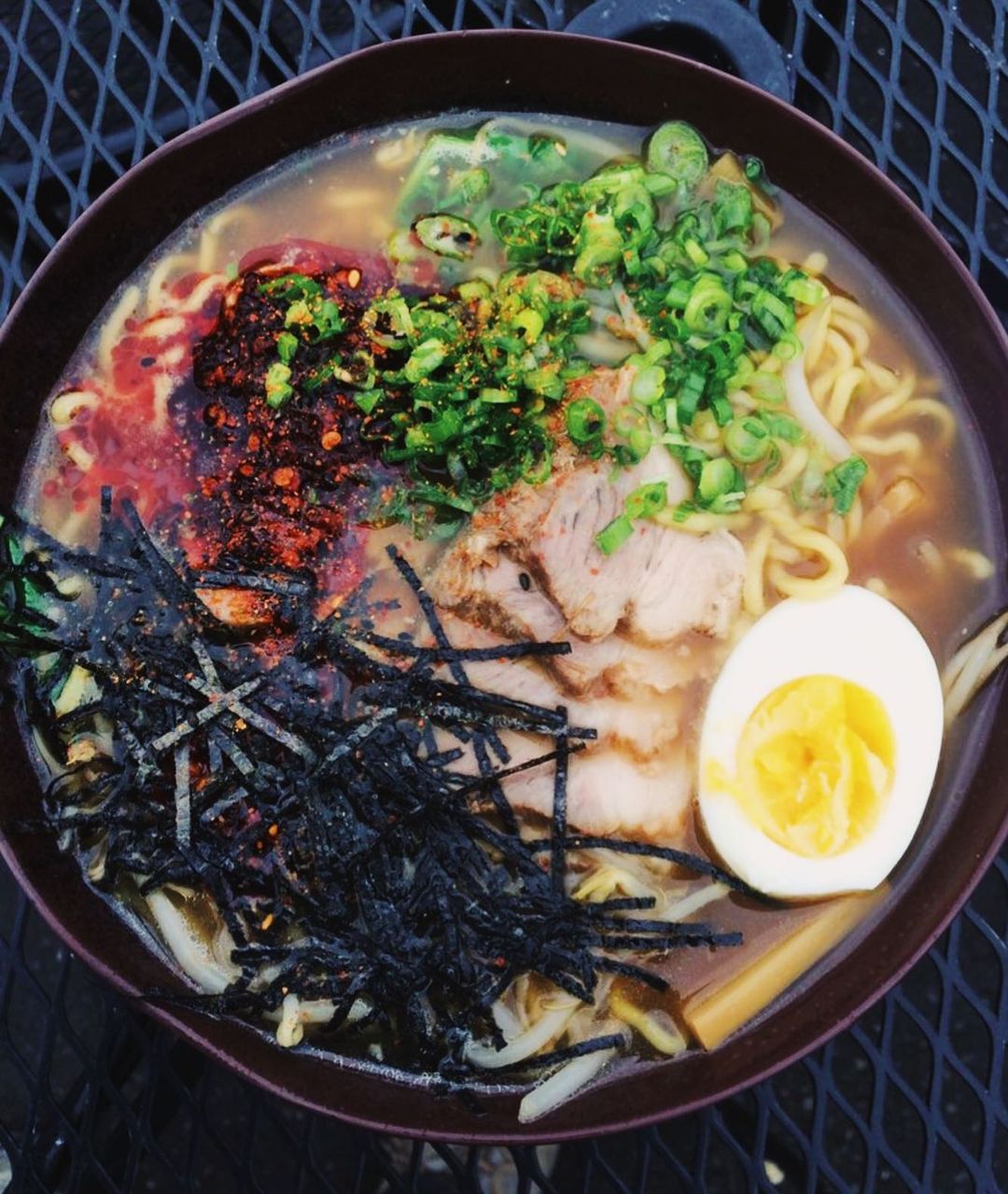 Suki Ramen – a simple ramen cart in SE Portland serving quick and tasty ramen, has a formidable spot in the Rose City's legendary food cart scene.
With an easy-to-remember menu and unforgettable-tasting ramen, this little spot is a must-visit ramen place in the city.
With a generous amount of meat and toppings swimming in a salty and flavor-deep broth, the Miso Ramen is so tasty, you wouldn't want to stop before you finish the entire bowl.
If you're a fan of chicken katsu and ramen, Suki Ramen's Katsu Ramen will leave you speechless.
This hot bowl of comfort comes with crispy, crunchy, golden, tender, and juicy chicken katsu in a creamy broth that is big on flavor, and all the other toppings you expect from a proper ramen bowl.
It is classic, comforting, and wonderful!
If you're craving ramen during Portland's warm and humid summer days, all you need is Tsukemen from Suki Ramen.
This is basically chilled ramen, where you get the broth and the noodles and topping in separate bowls, and you dip the noodles into the chilled broth before eating.
While the flavors remain intact, this serving style certainly gives you a unique ramen-tasting experience.
What to order: Miso Ramen, Katsu Ramen, Tsukemen
Address: 8225 SE 82nd Avenue, Portland, OR 97266
9. Baka Umai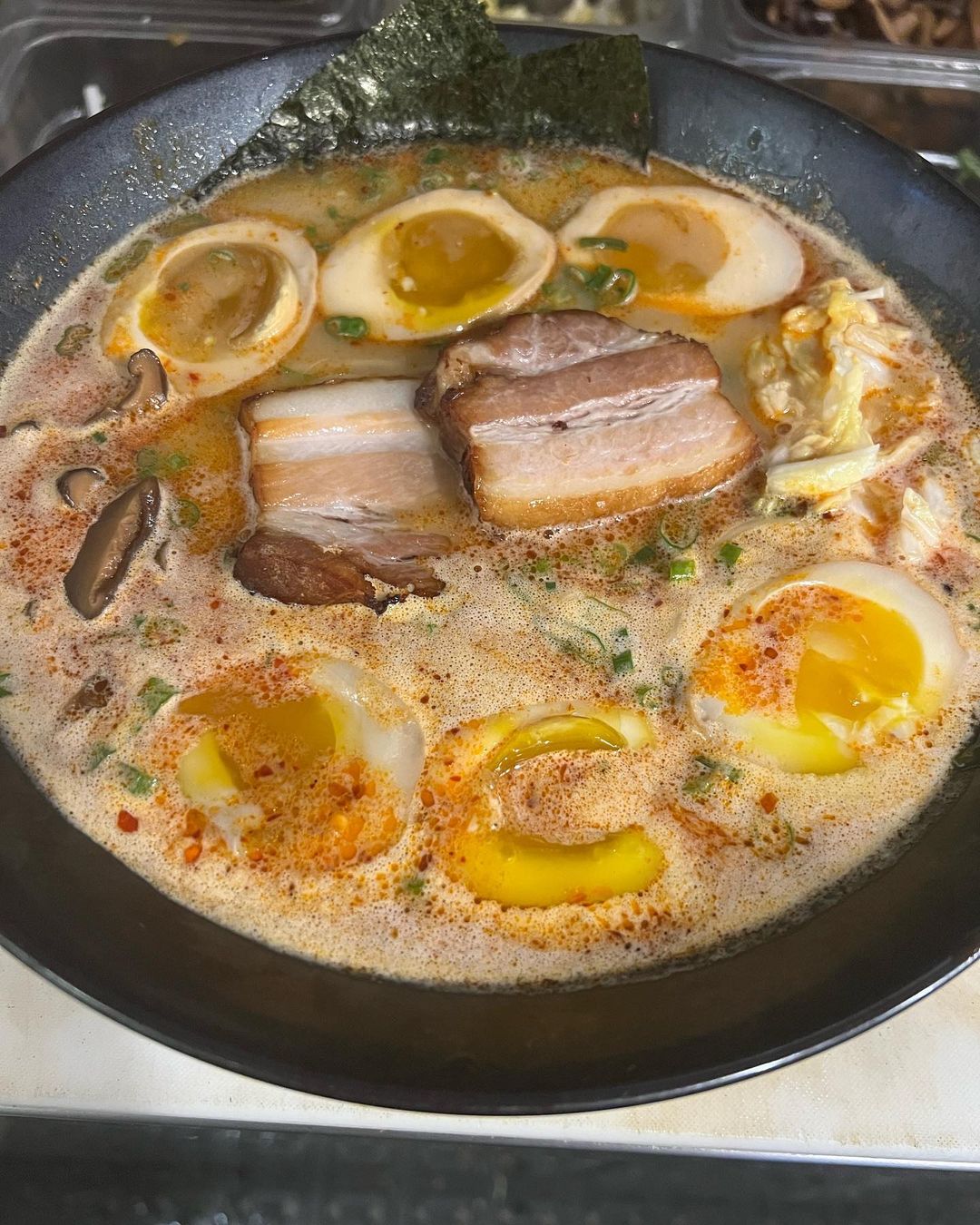 If you're a spice lover, and a good spice kick is a welcome addition to everything you eat, then Baka Umai is just for you.
With every element made fresh daily in-house, every bowl of ramen crafted here is just perfection and is exactly what lures in patrons every single day.
Yes, you can order Tonkotsu Ramen and Yuzu Shio Ramen, but they're not why you visit Baka Umai. When you're here, you cannot leave without trying one of their much-revered spicy ramen bowls, like the Ghost Pepper Miso Ramen and Chorizo-men.
In the former, smoke-dried ghost pepper chili oil is infused in the broth base, which means they're not kidding about the heat, and you will feel the same in every spoonful.
Topped with spicy pulled pork, candied jalapenos, some veggies, and a soft-boiled egg, this bowl is from another world!
Chorizo-men is a cool twist to traditional ramen, where housemade spicy chorizo is used as the meat.
While the other flavors in the bowl are quite familiar, this simple but delicious twist could make this ramen your new favorite!
The Midori Mazemen (brothless ramen) tastes bomb with the housemade xo sauce and the crispy pulled pork. The fermented chili paste topping brings in the punch you look for at Baka Umai.
What to order: Ghost Pepper Miso Ramen, Chorizo-men, Midori Mazemen, Tonkotsu Ramen, Yuzu Shio Ramen
Address: 4703 SE Hawthorne Blvd #100, Portland, OR 97214
Website | Instagram | Facebook
10. Wu-Rons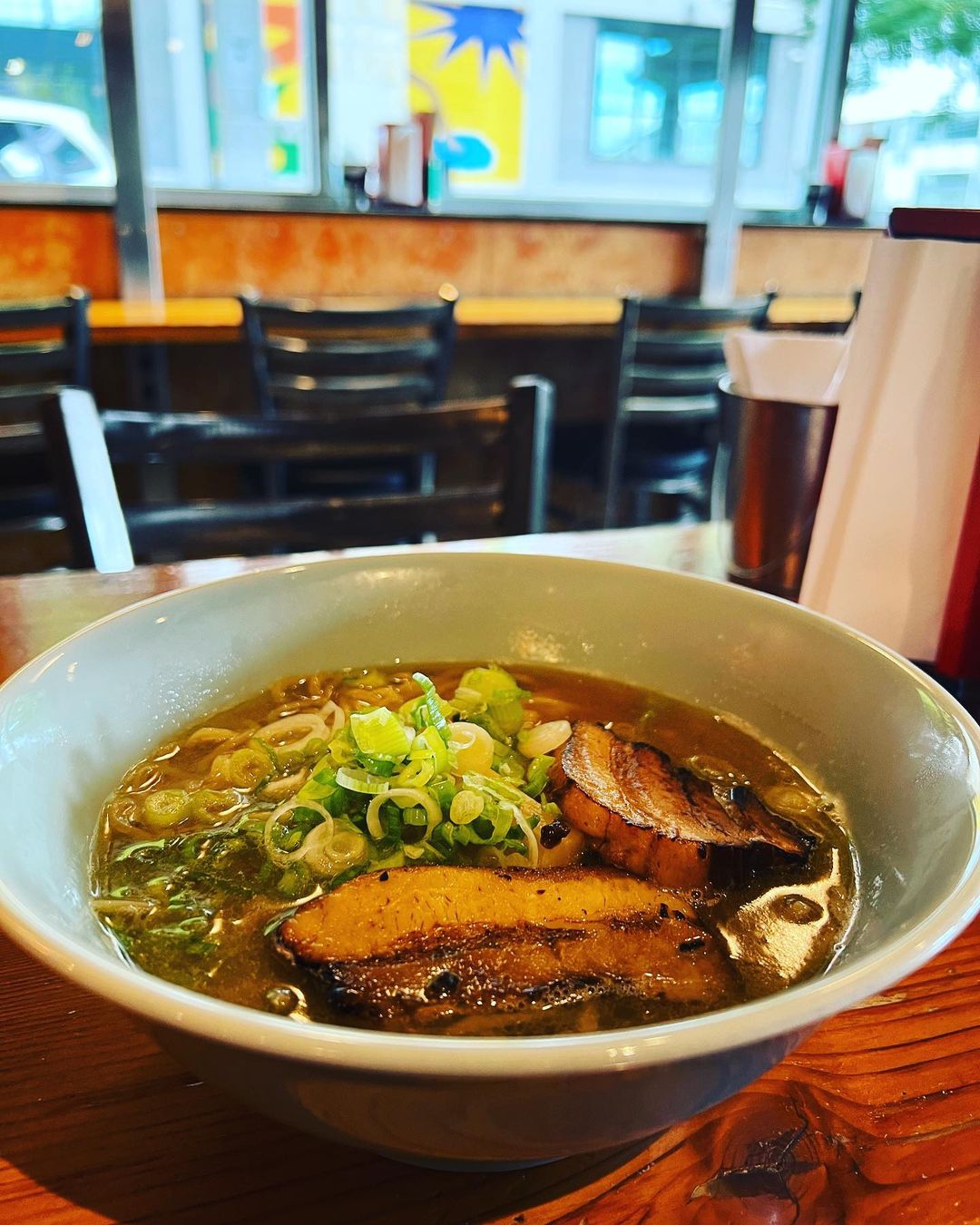 Another beloved Southeast Portland ramen restaurant, Wu-Rons started with just one ramen on the menu but has since evolved with multiple options (still a short menu!) to satisfy the never-ending ramen cravings of the locals.
Specializing in Nagahama-style ramen, this place features a quirky interior and a chill vibe.
So, what should you start with? Wu-Rons specialty, of course – Nagahama Tonkotsu!
With a rich, velvety broth bathing the chashu, pork belly, and thin noodles, and topped with a beautifully cooked soft, runny egg, this is a super good bowl of ramen you're guaranteed to enjoy.
You could try this ramen in a miso variation as well – Nagahama Miso Tonkotsu.
And there's Vegetarian TanTan for all the vegetarians out there. This comes with a kelp and mushroom broth and has thin noodles, tofu, sprouts, cilantro, green onions, and sesame.
There's no denying that this vegetarian ramen tastes equally good to any other umami-flavored ramen on the menu.
What to order: Nagahama Tonkotsu, Nagahama Miso Tonkotsu, Vegetarian TanTan
Address: 1430 SE Water Avenue, Portland, OR 97214
Website | Instagram | Facebook
Is ramen the only international food you can find in Portland? Nope! The city is home to multiple award-winning restaurants and hundreds of food carts/trucks.
So, rest assured that there are numerous Portland restaurants you can explore whenever you're up for it.
How We Create Our "Best" Lists
All Noms Magazine's "best" lists are created using multiple factors and signals to help readers find the best restaurants, things to do, and places to stay at. Some of these factors and signs include personal experiences, correspondence with locals, and compiling experiences from review sites.
Each list is also created to be balanced (in terms of price, cuisine type, ambiance, and more) as possible. This means that the lists are not specifically created in ranking order. You should be comfortable picking from any of the spots on the list and generally have a good time. But of course, YMMV (your mileage may vary) and everyone may have different experiences/palates.