Brunch can be so fascinating and decadent to enjoy, and if brunch time if your favorite time of the day, then this one is for you! Though Toronto has no shortage of places to get amazing egg bennies and fluffy pancakes, there are some spots you surely want to hit up.
Whether you're into sweet, buttery pancakes, savory chicken and waffles; an Instagram lover, or a foodie, these 12 best brunch Toronto spots that promise to satisfy your taste buds!
1. Lady Marmalade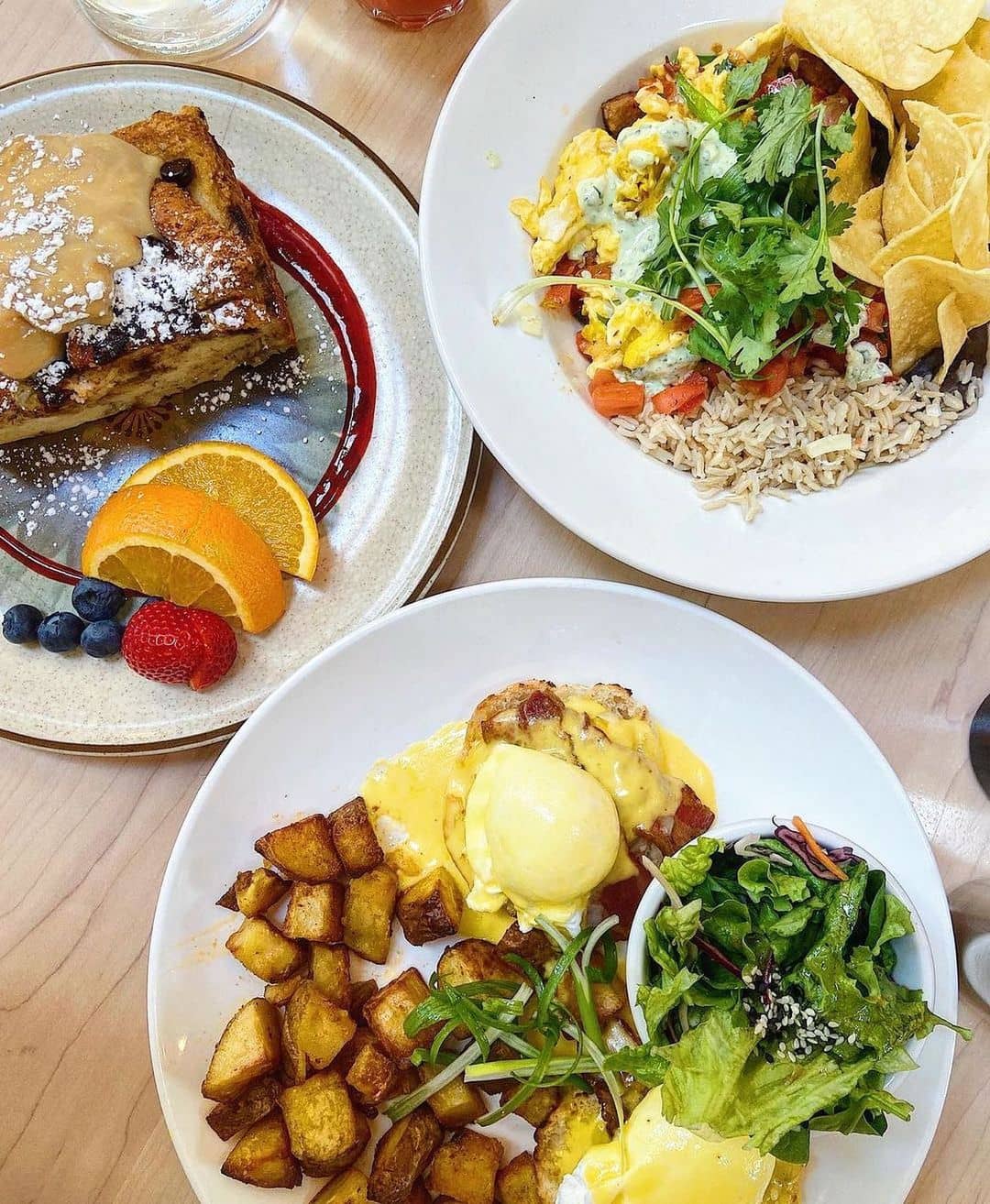 Lady Marmalade has been the locals' favourite brunch spot by serving up the city's most amazing brunch for more than 10 years. People are lining down the street just to get a chance to try their scrumptious Lady Marmalade Eggs Benny in a homey interior filled with plants and pretty paintings. Drop by and give yourself a treat!
It goes without saying that you must have the famous Breakfast Sandwich to start your day! Consists of scrambled eggs, bacon, avocado, tomato, cheddar, and chipotle mayo on a bun served with home fries (or you can also choose salad). It is packed with flavors and can surely light up your day!
For a lunch-like option, don't hesitate to go for the Braised Beef Torta. This goodie is filled with ancho braised beef with queso fresco, tomato, avocado, citrus red onions, pickled jalapeños, and chipotle mayo. Its taste is phenomenal enough to make you revisit it again and again!
What to order: Cheddar & Spinach Waffle, Breakfast Sandwich, Braised Beef Torta
Address: 265 Broadview Ave, Toronto, ON M4M 2G8
Website | Instagram | Facebook
2. MIA Brunch Bar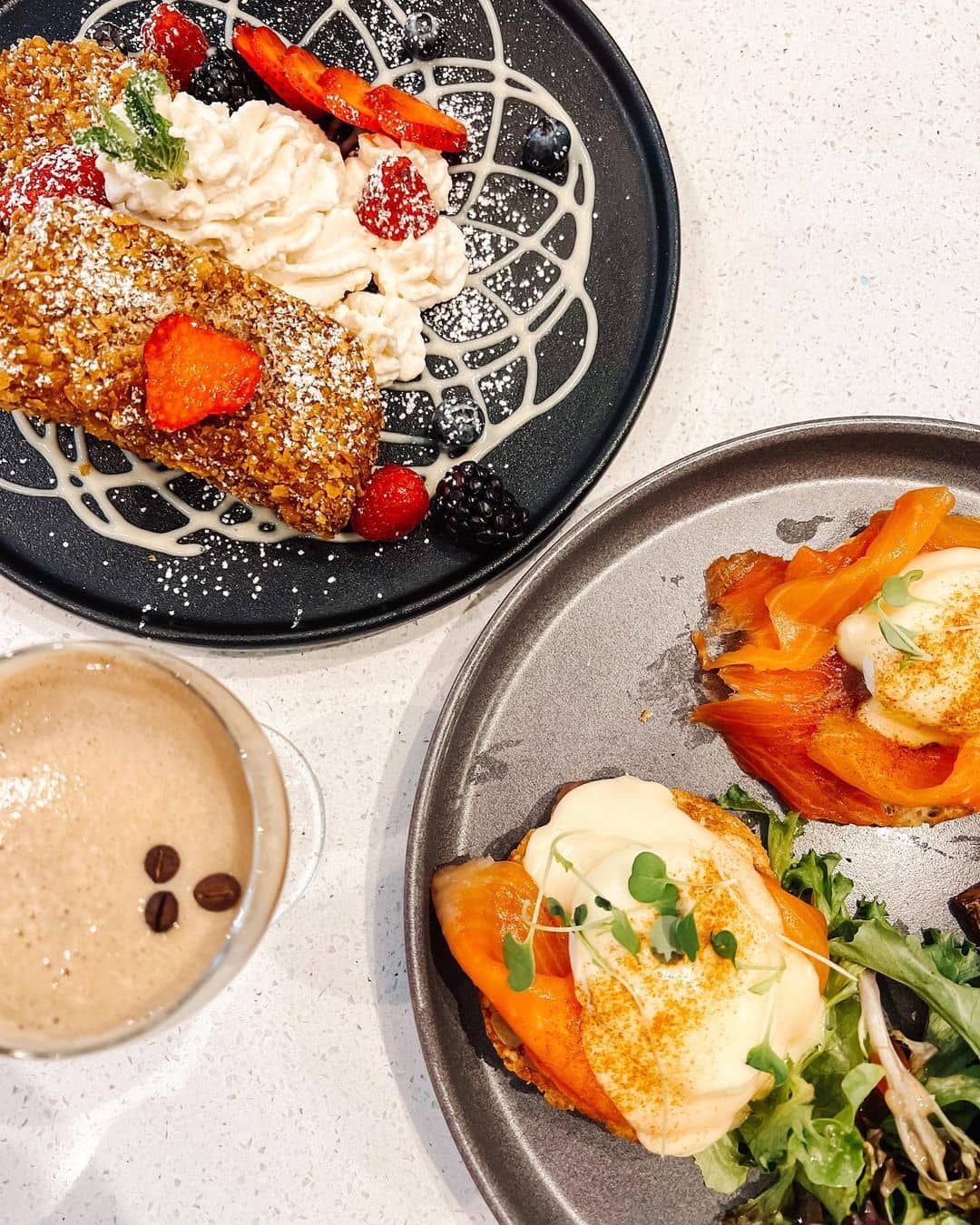 Finding some seriously good breakfast and brunch? Head to MIA Brunch Bar, where you'll get some crazy good classic brunch staples with a twist in a bright and cheerful kind of space. Come and enjoy your brunch, or this inviting place is also a perfect spot for a morning pick-me-up!
The Chicken Belgian Waffles is the top seller at MIA with chicken on the waffles, topped with bacon bits, and then drizzle generously with maple crème drizzle. For a sweeter choice, you can order Blueberry, Chocolate Chip, or Original, all of them are the best so you'll never have to wonder!
MIA also offers lighter options like granola yogurt, avocado toast, and salad. But most importantly, always finish with a cup of Chai Tea Latte. Fragrant and perfectly sweetened!
What to order: Chicken Belgian Waffle, Crunchy French Toast, Chai Tea Latte
Address: 2140 Yonge St, Toronto, ON M4S 2A8
Website | Instagram | Facebook
3. Emma's Country Kitchen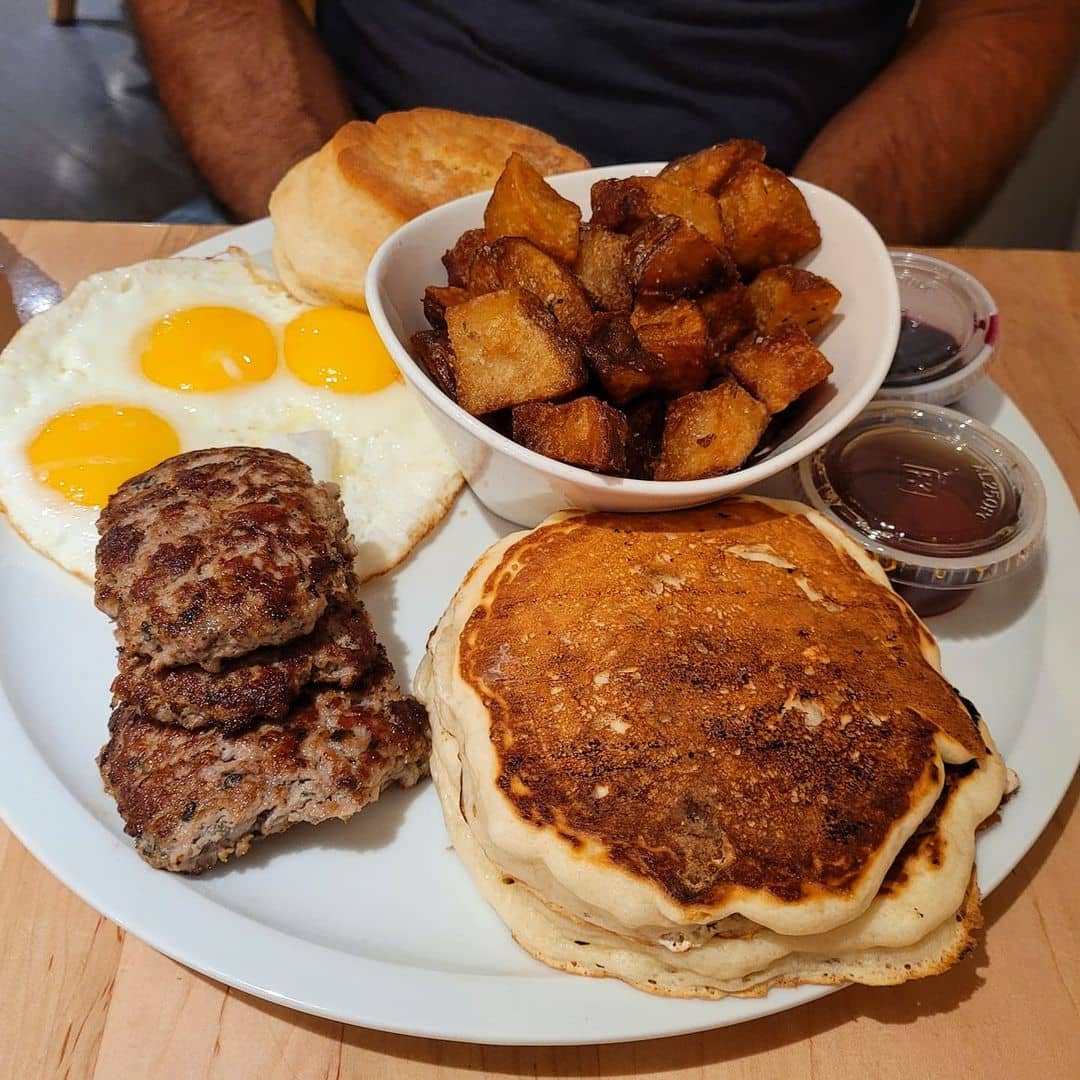 Known as breakfast & brunch heaven tucked into St. Clair Avenue West, Emma's Country Kitchen is where you'll be able to find all sorts of classic brunch favorites, house-cured meats, freshly baked biscuits, and donuts. If you're in a rush, don't worry, they have to-go lunches at the front!
Once you're here, start with the Brunch Poutine with crispy russet home fries topped with cheddar and Swiss cheese, creamy sage, and onion sausage gravy. This is wholesome and taste phenomenal in every bite!
Their Buttermilk Pancake or Biscuit & Gravy is no less stunning. While the Buttermilk Pancake is fluffy, eggy, sweet, and a bit salty; the Biscuit & Gravy is creamy and tasty as ever!
What to order: Brunch Poutine, Buttermilk Pancake, Biscuits & Gravy
Address: 810 St Clair Ave W, Toronto, ON M6E 1A7
Website | Instagram | Facebook
Looking for a place to stay in Toronto?
4. The Morning After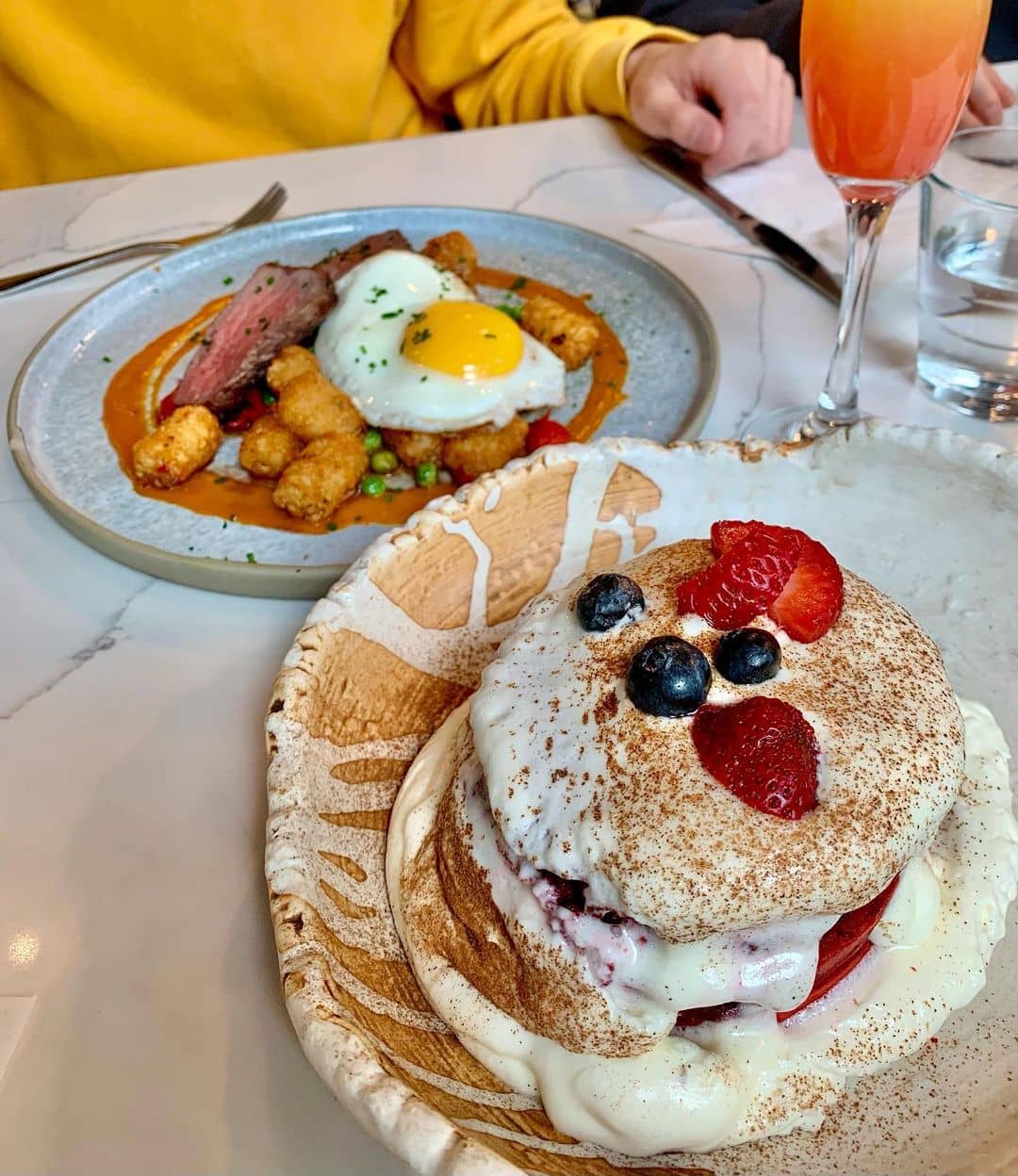 Sits at the heart of the CityPlace complex, The Morning After is an upbeat brunch spot in town with a unique hangover theme, bright blue patio furniture, and a roomy patio to soak in the sun. At weekends, the DJ will be pumping tunes during the daytime on their Le Brunch party, make sure you don't miss this event!
If you're coming in a group, go for the Mash-Up Platter! The huge treat comes with a mix of pancakes and waffles, including a mixed pancake, french toast, and waffle platter with sweet accompaniments. This giant baby is sure to keep 4 of you full and satisfied!
You can settle down with The Wreckage which is covered in Quebec cheese curds, hollandaise sauce, bacon, and a fried egg; or the super meaty and mouth-watering Make No Mis-Steak. Hey steak addicts, you can thank us later!
What to order: Mash-Up Platter, The Wreckage, Make No Mis-Steak, The Deep End,
Address: 88 Fort York Blvd, Toronto, ON M5V 4A7
Website | Instagram | Facebook
5. Sisters & Co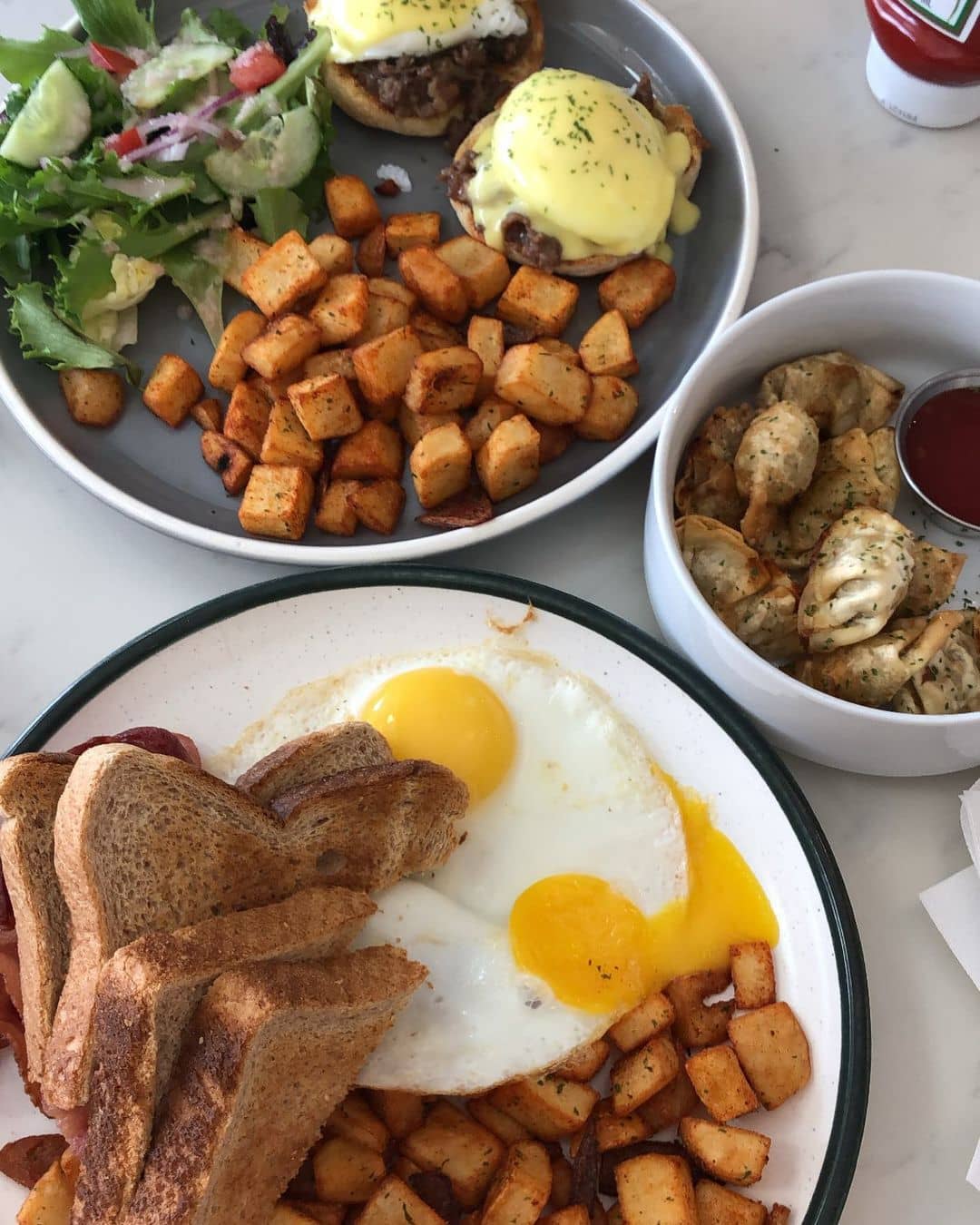 Offering classic brunch favourites with an Asian twist, Sisters & Co really knows how to surprise your taste buds with their fascinating and creative dishes! Accomplished with a pleasingly minimal white and emerald green color scheme with soft pink and grey accents, this place welcomes all the food and Instagram lovers!
Never skip their Char Siu Benedict, which is absolutely a crowd-pleaser comes with pulled char siu pork, caramelized onions, two poached eggs, hollandasie sauce, and parsley on an English muffin. This top-notch combination of flavorful char siu and rich egg is a universal comfort, to be honest.
Another highly-recommended item is the Chicken Katsu Club Sandwich with two crunchy cutlets of crispy panko fried chicken stacked with lettuce, tomato, bacon, and garlic aioli on toasted milk bread. So worth falling for!
What to order: Chicken Katsu Club Sandwich, Bulgogi Beef Benedict, Coconut Chia Seed Pudding
Address: 887 Dundas St W, Toronto, ON M6J 1V9
Website | Instagram | Facebook
6. La Cubana
Serving homemade, meticulously prepared Cuban comfort food in a casual retro setting, La Cubana is going to throw you back to the 50s' style diner with fascinating Spanish and Caribbean influences in every bite. They also offer unique Cuban coffee, a full bar with Cuban cocktails, and their very own brewed craft beer, so make sure to try them when visiting La Cubana!
Nothing ever tastes as good as the famous Pressed Cubano Sandwich combines pulled pork roast, deli ham, Swiss cheese, dill pickles, and zesty mustard aioli. And don't forget to pair it with Yuca Frita – a fantastic side dish that is crispy on the outside and tender on the inside.
To share, order the Molasses Roasted Pork Shoulder, which is generously basted in a rich molasses glaze, and paired with an earthy Romesco sauce and fresh greens. Finger-licking good!
What to order: Pressed Cubano Sandwich, Yuca Frita, Corn Frituras, Cod Croquetas, Molasses Roasted Pork Shoulder
Address:
– 392 Roncesvalles Ave, Toronto, ON M6R 2M9
– 29 Ossington Ave, Toronto, ON M6J 2Z4
7. Good Fork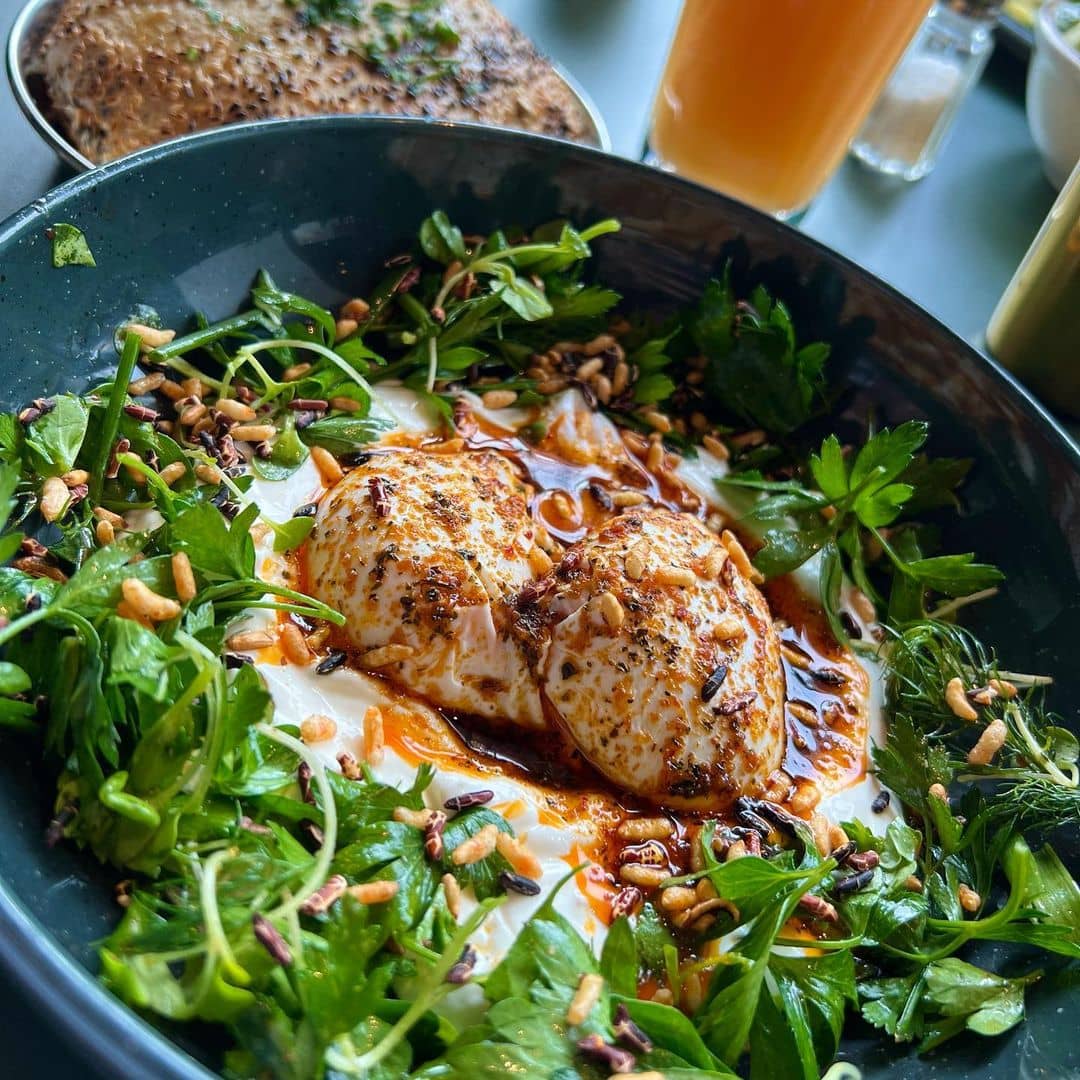 Searching for a modern space with a creative menu for brunch? There wouldn't be a more perfect choice than Good Fork. With plush banquettes, soft lighting, and a jewel-tone scheme, this place is totally heaven for all Instagram lovers along with delicious Turkish-inspired dishes to satisfy your taste buds!
A completed brunch wouldn't go without the Blueberry Halva Pancakes topped with a crater of airy orange blossom ricotta, cradling sweet wild blueberries, and crumbly cinnamon amaranth. Garnish those fluffy ones with divinely-caramelly maple syrup, and you are all set!
If you're feeling a bit adventurous, let the restaurant surprise you with Omelet Weekly Vibe, which recipe is changed every week! For lunch, don't hesitate to settle down with their Crispy Chicken Sandwich and wash it all down with Kahve Martini, a tasty yet powerful one with house-made Kahlua and Turkish coffee!
What to order: Blueberry Halva Pancake, Omelet Weekly Vibe, Crispy Chicken Sandwich, Pressed Sujuk Sandwich, Appley Apple Pancake
Address: 1550 Dundas St W, Toronto, ON M6K 1T5
Website | Instagram | Facebook
8. Easy Restaurant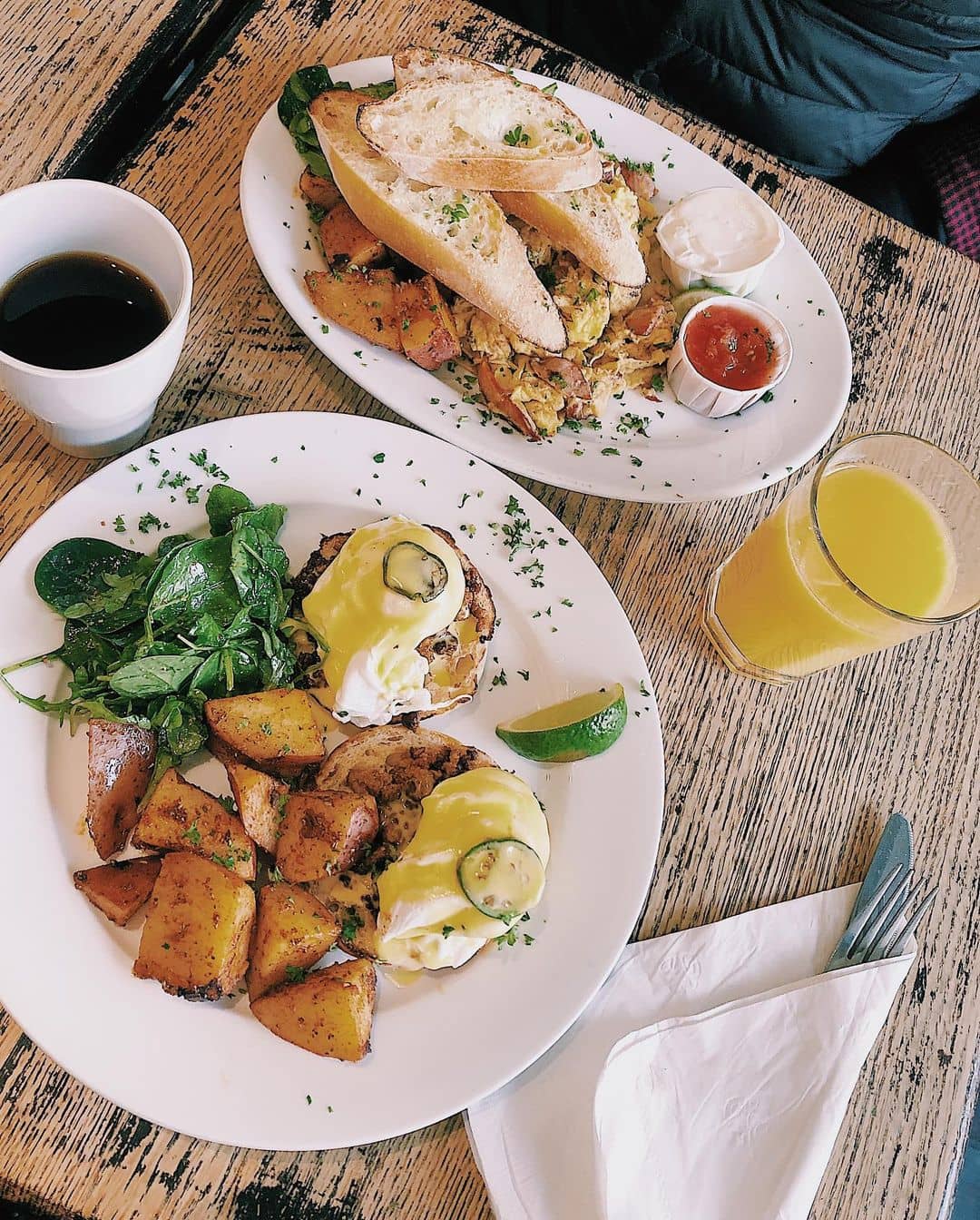 Operating since 1999, Easy Restaurant has long been recognized as one of the best places to serve all-day breakfast, specialty coffee, and huevos rancheros in the Toronto. With a laid-back vibe, retro movie posters on the walls, and old rock on the radio, Easy Restaurant is going to seduce you with its one-of-a-kind atmosphere and stunning food!
Since Huevos Divorciados is a house specialty, a classic riff on huevos rancheros, you would never want to miss a chance trying this. With corn tortillas sop up all the sunny eggs, green salsa, and saucy black beans, their Huevos Divorciados can taste like heaven when paired with Fred's Bread baguette and guacamole on top. It's hard not to fall for this filling Mexican brunch!
If you love Huevos Divorciados, you'll want to continue with Mexican Rider which comes with scrambled eggs, grilled chorizo, and jalapeño peppers on a soft corn tortilla. Irresistible!
What to order: Huevos Divorciados, Breakfast Burrito, Chicken Quesadella, Mexican Rider
Address: 1645 Queen St W, Toronto, ON M6R 1A9
Website | Instagram | Facebook
9. Dirty Food Eatery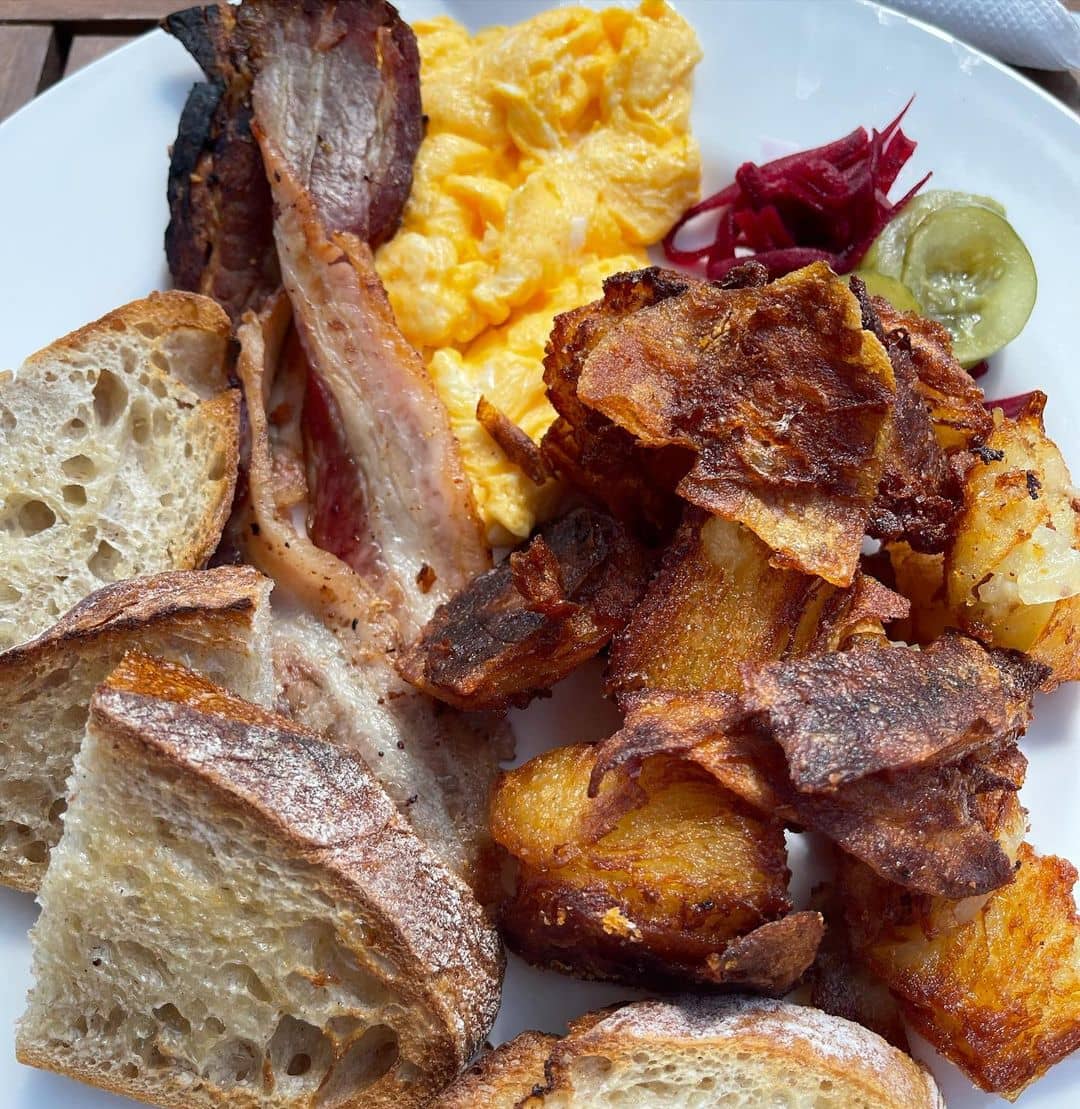 First thing first, don't let the name of this place scare you off, or you'll miss the best brunch spot in town! Located in The Junction, Dirty Food Eatery's concept is to focus on serving up all your favorite guilty pleasure meals, featuring from eggs benny, and breakfast sandwiches, to decadent grilled cheese. Pair your meal with their specialty coffee or craft beer and cocktails in the welcoming ambiance and cozy space at Dirty Food.
It's always suggested to start with the classic Chicken N Waffle, super crispy, boneless, and perfectly flavoured buttermilk fried chicken paired with fluffy and tender golden waffles. The most perfect pairing that can taste like heaven when dipped with chili-infused maple syrup!
For a meatier one, don't hesitate to go for the Monte Cristo, with choice of smoked beef brisket or smoked portobello mushrooms, with aged cheddar, swiss slices, and horseradish mayo on egg dipped pullman loaf. Tasty!
What to order: Salmon Jonny, Chicken N Waffle, Monte Cristo, Eggs Jenny
Address: 3070 Dundas St W, Toronto, ON M6P 1Z7
Website | Instagram | Facebook
10. The Federal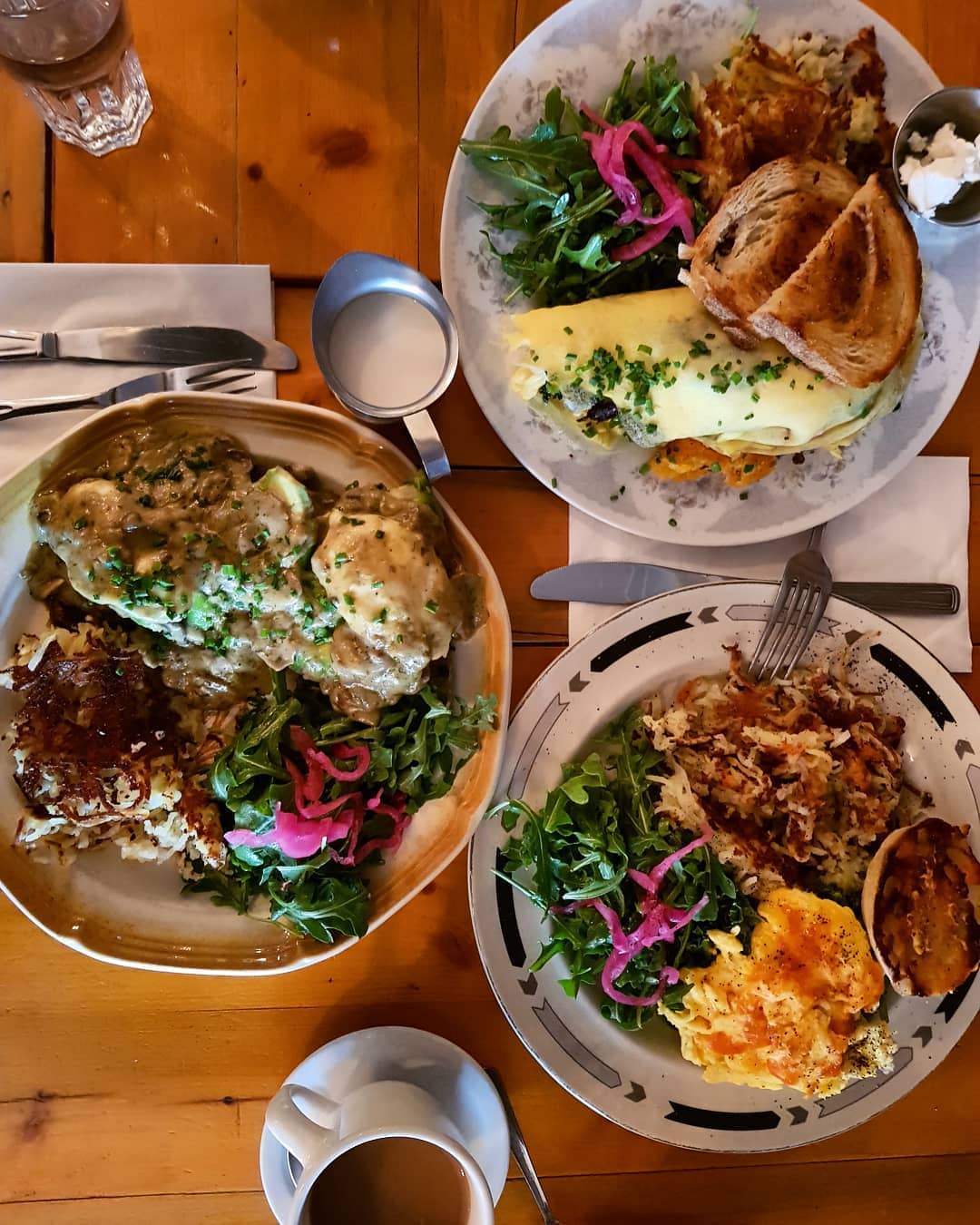 In the heart of Dundas West's trendy restaurant row sits The Federal – the neighbourhood spot for classic brunch fare. Featuring a vintage vibe and a down-to-earth atmosphere, you can tuck yourself in their hidden, cozy place, grab a petite dining room seat, or plop a stool at the bar, and enjoy your brunch at The Federal.
The Eggs Federal has been a staple on the menu since the very first day, so we bet you might want to start with it! With two English muffins topped with pieces of bacon, poached eggs, and mushroom cream, you can get that elegant taste that comes from the eggs benedict soaks up the mushroom cream perfectly.
For a more lunch-like option, you will love to try the Curry Chicken Salad. Combining sourdough bread toasted to crisp, decadent flavours from mango chutney, pickled red onion, and aioli sauce, you are sure to leave with a full stomach with this dish!
What to order: The Egg Federal, Scrambled Eggs, Curry Chicken Salad Sandwich, Gold Standard Sandwich.
Address: 1438 Dundas St W, Toronto, ON M6J 1Y6
Website | Instagram | Facebook
11. Almond Butterfly Bistro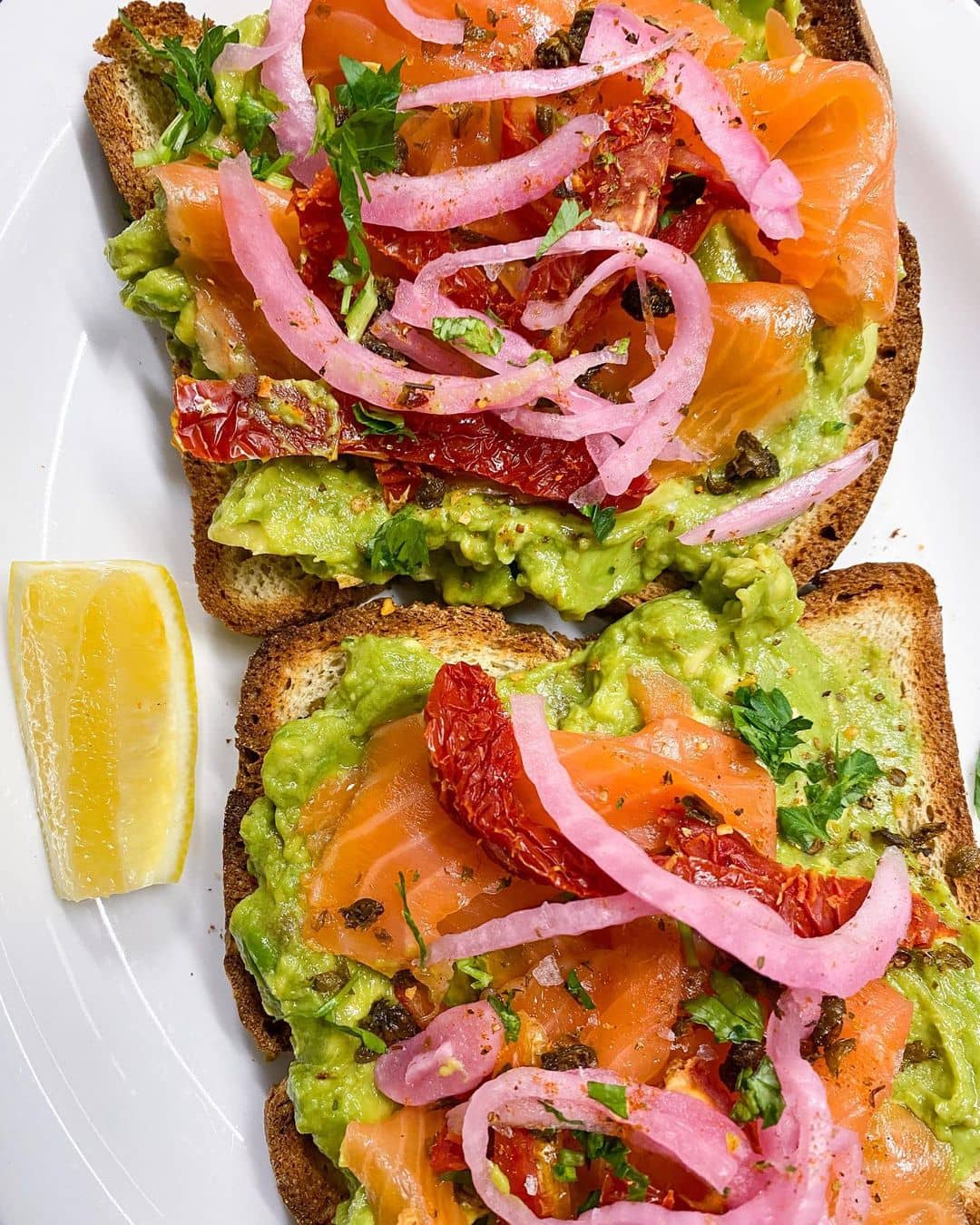 Having been serving for more than 10 years, Almond Butterfly Bistro has been known and loved for making some of the best gluten-free muffins, cookies, and cinnamon buns in the city. Here, you will not only find stunning brunches but also breakfast, lunch, or on-the-go snacks that are hard to resist. Plus, if you're looking for dairy-free, paleo, and vegan options, Almond Butterfly has got your back!
Venice Beach is definitely a must-try at Almond Butterfly Bistro. Made with smoked salmon, sundried tomato, smashed guac, puffed capers, pickled red onion, rock salt, and served on two thick slices of housemade toast. It tastes so wholesome that your palate is going to thank you for this!
For some savory ones, try the Smoked Salmon Toast. Or you can try the light yet flavorful Pura Vida with vegan chia, hemp seed yogurt bowl, topped with housemade granola, sided with banana bread, and seasonal fruit. This can surely light up your day!
What to order: Smoked Salmon Toast, Venice Beach, Pura Vida, Farmer's Breakfast
Address:
-792 Dundas St W, Toronto, ON M6J 1V1
-100 Harbord Street, Toronto, ON M5S 1G6
Website | Instagram | Facebook
12. Maha's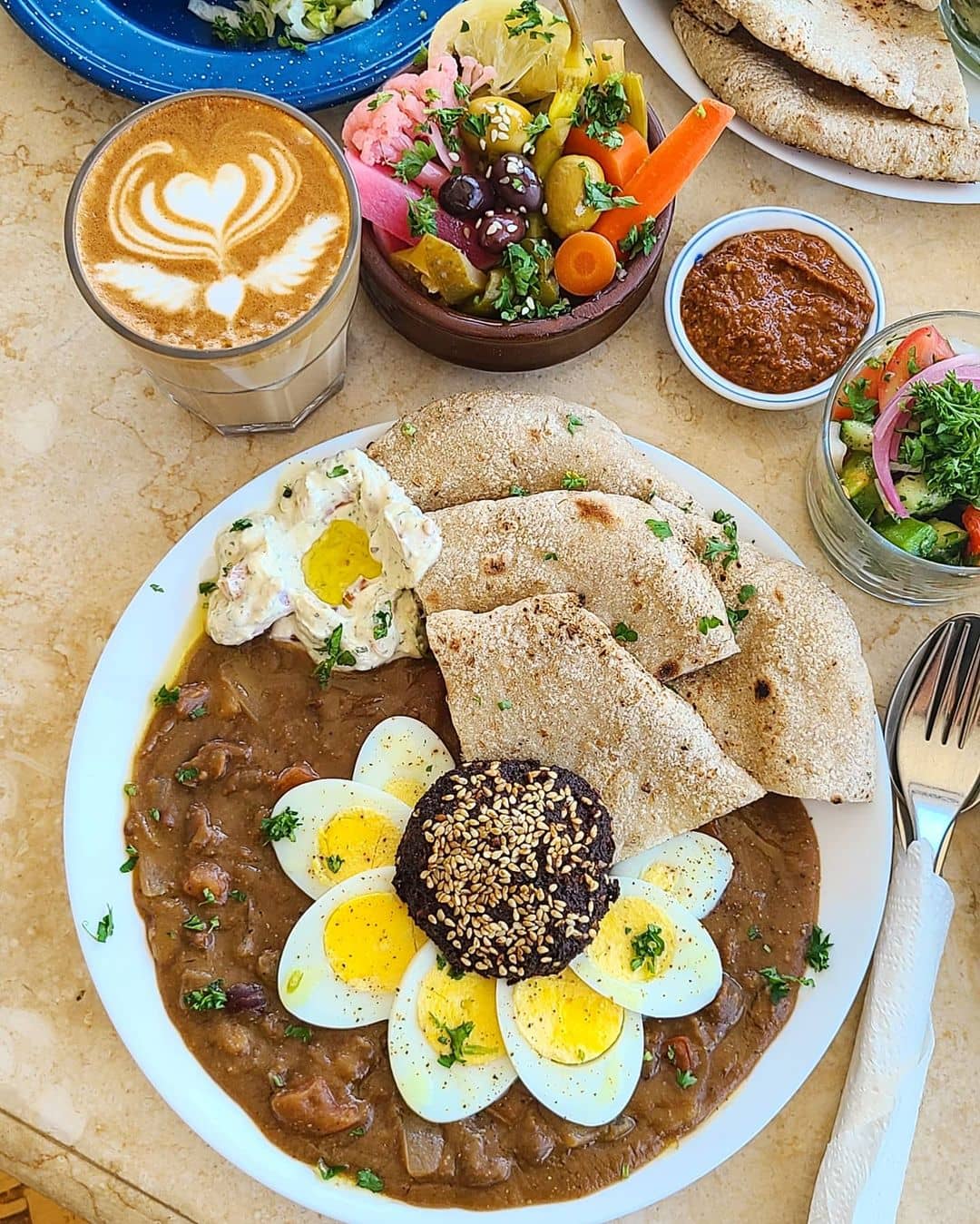 Offering traditional Egyptian dishes that are rich in sweet spices and full of different flavours, Maha's is a brunch spot that is like nothing else around. Come by to immerse yourself in such a homey atmosphere, bright, sunny dining room, and a much-loved menu that has all the components of a truly delicious brunch!
People are lining up for their signature Egyptian Falafel, being crispy on the outside and wrapping its soft center around a couple of soft-boiled eggs that remain gooey on the inside. While the flavors and textures blow your mind, served with cumin home fries and Salata balady for an even better taste!
For a light yet elegant brunch, you can also have Egga – an Egyptian omelet – which is herbaceous, green, fresh, and ready to be savored with Balady bread. Don't forget to try their exotic coffee, especially the soft and creamy Hazelnut Latte!
What to order: Shakshuka, Egyptian Falafel, Egga, Maha's Mind Blowing Chicken, Watermelon Feta Salad, Hazelnut Latte
Address: 226 Greenwood Ave, Toronto, ON M4L 2R2
Website | Instagram | Facebook
We guest we'd never know why brunch is oh-so-special, the only one thing we are sure about is that we can never get enough of it. Craving a bigger meal? Explore our list of the best Restaurants In Toronto now!
How We Create Our "Best" Lists
All Noms Magazine's "best" lists are created using multiple factors and signals to help readers find the best restaurants, things to do, and places to stay at. Some of these factors and signs include personal experiences, correspondence with locals, and compiling experiences from review sites.
Each list is also created to be balanced (in terms of price, cuisine type, ambiance, and more) as possible. This means that the lists are not specifically created in ranking order. You should be comfortable picking from any of the spots on the list and generally have a good time. But of course, YMMV (your mileage may vary) and everyone may have different experiences/palates.