Sushi – built with fresh fish, amazing quality rice, and other taste-enhancing ingredients, is one of the most loved dishes around the world. But, not everyone can put together a mesmerizing plate of sushi, even if they have the best ingredients; it takes years of practice to become a sushi chef, and Toronto has some of the best sushi restaurants with experienced sushi chefs.
We have put together a comprehensive list of the best Toronto sushi restaurants so you can get your high-end or mid-tier sushi fix and what to order at each spot.
1. Shoushin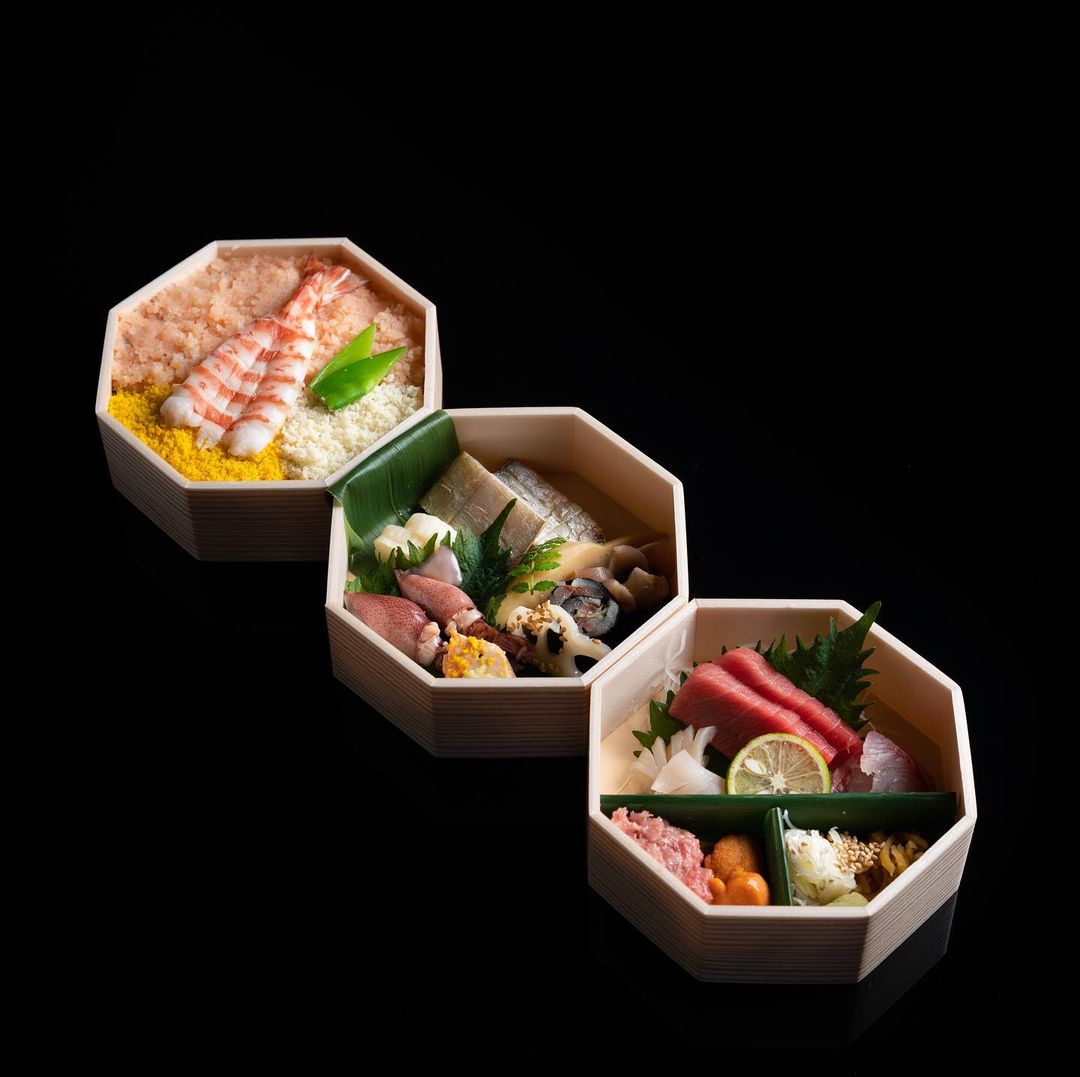 With "Crafting the Perfect Sushi" as the tagline on their website, Shoushin is North Toronto's only omakase sushi restaurant. Established in 2015, the restaurant specializes in Edomae style sushi, and the place resembles the traditional high-end sushi restaurants found in Tokyo. With original ingredients, and fish imported directly from Japan, Shoushin guarantees superior taste and authenticity.
Since Shoushin is an omakase restaurant, you leave it to the chef to design your meal based on his understanding of your preference and the seafood selection available on the day. So, if you manage to get a reservation, you have two Omakase options to choose from – Sakura and Obsession Perfection.
Sakura Omakase happens to be the popular choice here because Obsession Perfection is only available at the chef's discretion.
With Sakura, you get a couple of appetizer dishes, a soup, seasonal sashimi, premium sushi, and dessert. Safe to say that everything you get will taste fresh, authentic, top quality, and filled with flavor.
After your Omakase meal at Shoushin, remember to order a slice of Crown Musk Melon. Imported from Japan, the fruit is served extra ripe, has a musky flavor, and all the sweet melon juices will linger in your mouth.
What to order: Sakura Omakase, Crown Musk Melon
Address: 3328 Yonge Street, Toronto, ON M4N 2M4
Website | Instagram | Facebook
2. Aburi Hana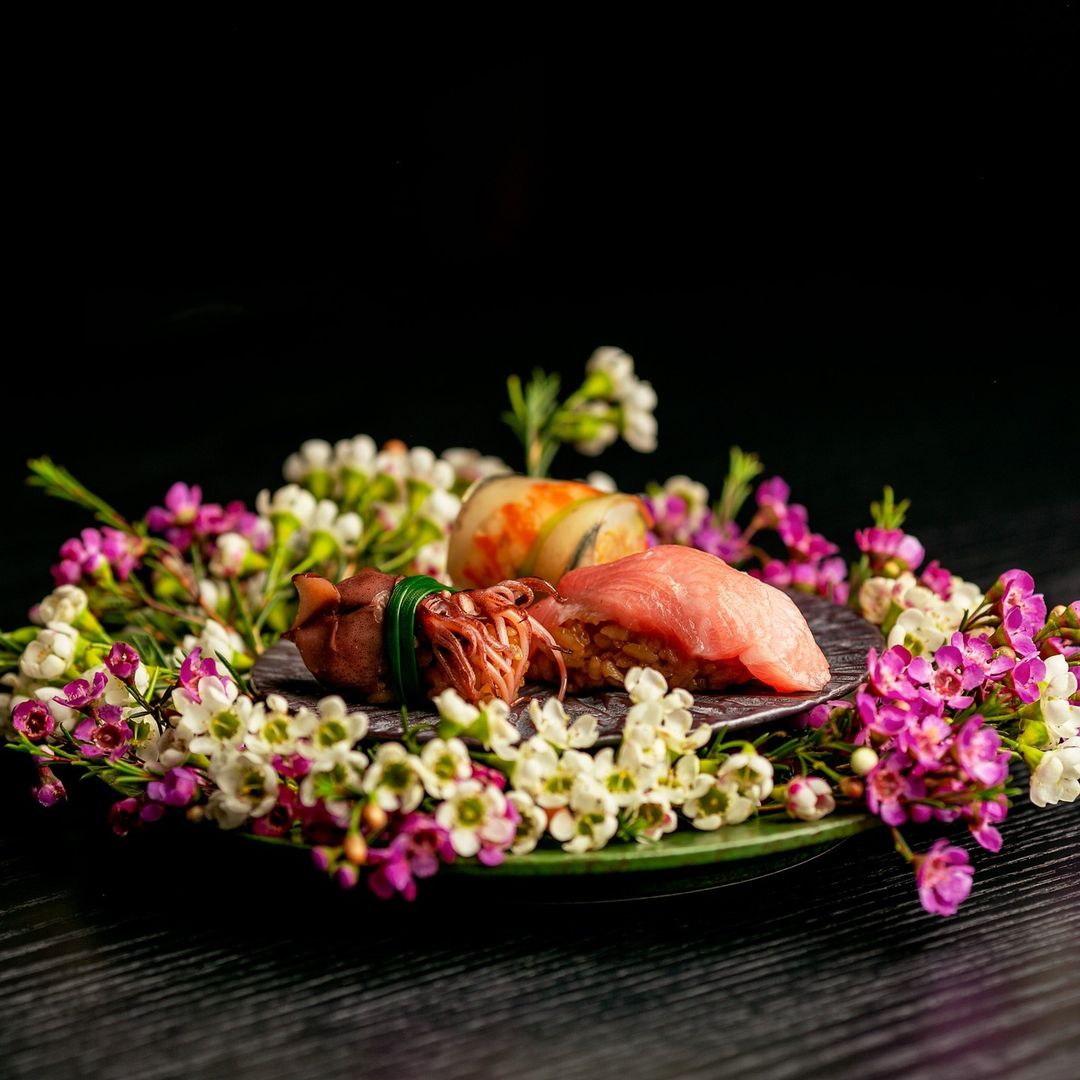 Brought to you by Aburi Restaurants Canada, the group behind the most popular Miku, Aburi Hana is a posh Japanese restaurant offering a modern Kyō-Kaiseki experience. This type of food highlights simple flavors from the freshness of the ingredients used rather than focusing on heavy seasoning. Enjoy chef Nakagawa's new flavors and textures in an intimate setting, on handmade and artisanal Arita plateware.
At Aburi Hana, you get to experience a refined, multi-course, culinary experience and one of the best restaurants in Toronto.
Their current Kaiseki-style menu showcases the exquisite Aburi Kamasu Nigiri, a true culinary masterpiece. This nigiri creation features the finest Japanese barracuda, and is visually stunning, with its picturesque and magnificent plating that captures your attention.
Each component is meticulously arranged, from the vibrant heirloom tomato shiso snow to the delicate karasumi and the tangy fermented mango. The micro shiso adds a touch of freshness and vibrancy to the ensemble.
Surrender yourself to the sublime flavors of the Aburi Miyazaki Wagyu, a culinary masterpiece that beautifully combines Japan and Canada's spring. The tender Wagyu beef, accompanied by sweet red miso, crispy gobo, maitake mushroom, and an egg yolk sauce, takes your taste buds on an unforgettable gastronomical journey.
Each bite is a spectacular showcase of the best of both culinary traditions. 
What to order: Aburi Kamasu Nigiri, Aburi Miyazaki Wagyu
Address: 102 Yorkville Avenue, Unit 4 (Lower Level), Toronto, ON M5R 1B9
Website | Instagram | Facebook
3. Yasu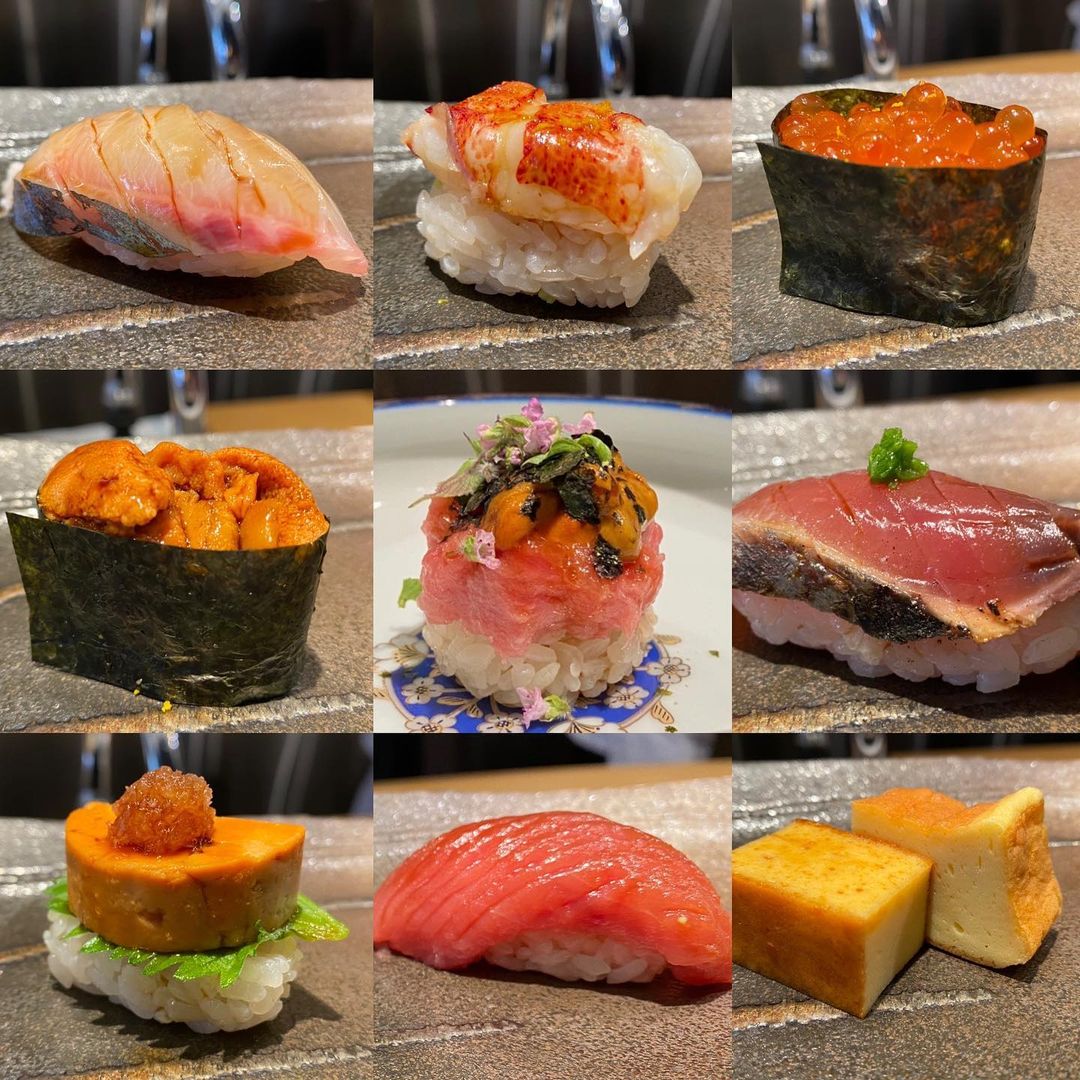 Yasu is Canada's first Omakase sushi bar. The restaurant sources the freshest and finest fish from around the world, including Japan, Spain, and Chile. Chef/Owner Yasuhisa Ouchi manages to capture the essence of sushi by using classic methods to bring out the umami-ness of seafood.
The place is classy and relaxed, where you can taste a high-class Omakase menu for a portion of the price you would otherwise pay at a premium sushi joint in a metropolitan city.
Embracing the essence of freshness and seasonality, each visit to Yasu offers a unique and authentic culinary journey as the menu changes daily. 
For lunch, indulge in the Omakase Sushi, a delightful selection of 16 exceptional sushis accompanied by a delectable dessert. In the evening, savor the Seasonal Omakase, featuring a tantalizing plate of fresh sashimi, flavourful soup, and a variety of nigiri creations.
Let Chef Yasu guide you through a remarkable dining experience, showcasing his mastery and passion for the art of Japanese cuisine.
What to order: Omakase Sushi, Seasonal Omakase
Address: 81 Harbord Street, Toronto, ON M5S 1G4
Website | Instagram | Facebook
4. Miku Toronto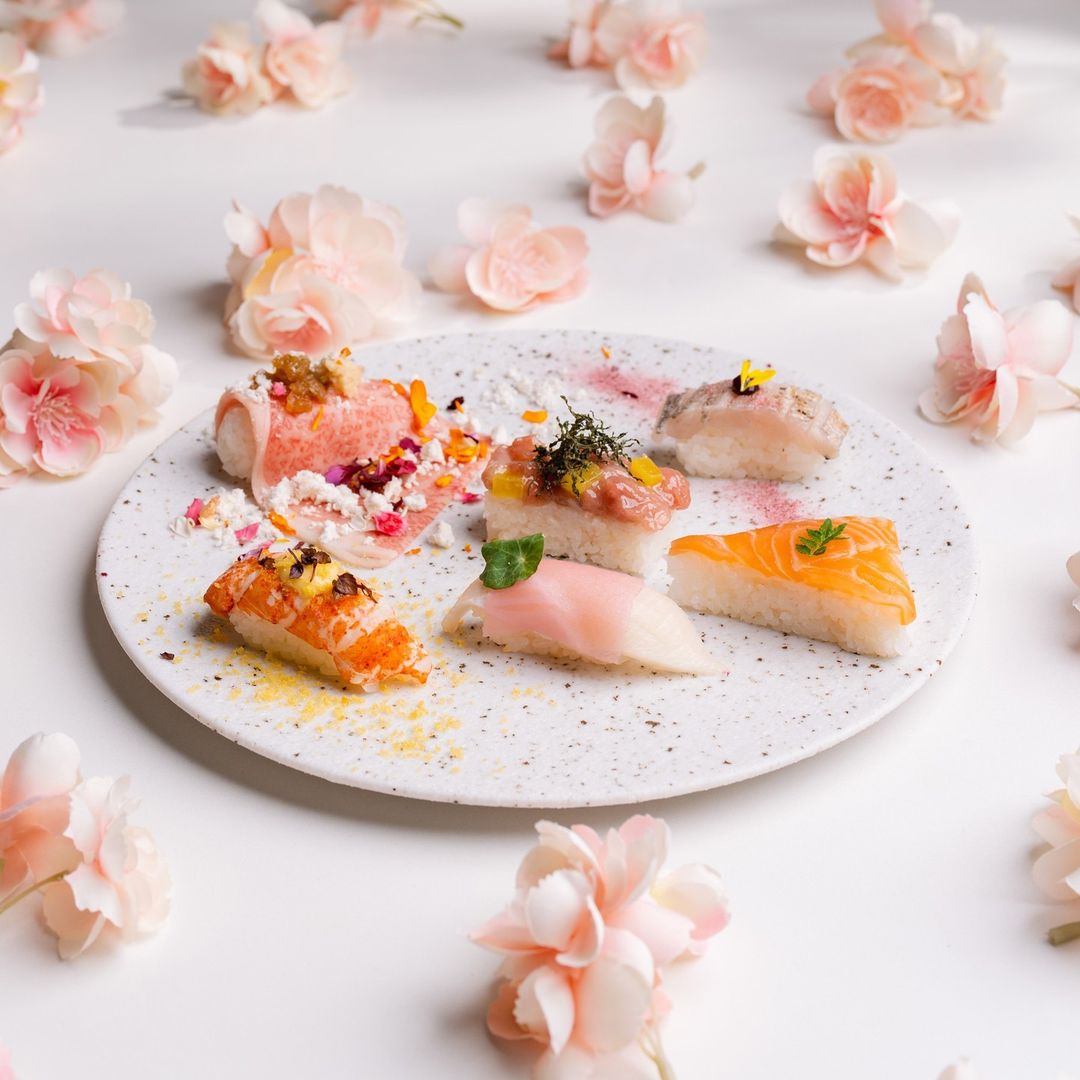 No sushi Toronto trail will be complete without Miku Toronto in it. Known as "Toronto's First & Finest Aburi Cuisine", Miku features a sushi bar, a raw bar, and a large patio, and serves innovative Japanese cuisine in an upscale environment. This is a haven for Aburi sushi lovers!
When you're at a restaurant that introduced Aburi sushi to Canada, of course, you have to try their Aburi sushi menu. Two favorites from this menu happen to be Ebi Oshi Sushi and Salmon Oshi Sushi.
The former is sweet and tender pressed prawn sushi, with a smoky flavour from the char, and the salmon oshi or torched salmon sushi has a slight savoriness from the sauce, smokiness from the torched fresh salmon, and a spice kick from the jalapeno on top.
Another stand-out dish is their Red Wave Roll. A gluten-free spicy prawn roll, wrapped in fresh red tuna and served with their classic masatake sauce.
Let's not forget about the Green Tea Opera dessert at Miku. Even if you're not a big fan of green tea flavor, this dessert will leave you drooling for more, with its unique and delicious pairing of dark chocolate ganache, matcha buttercream, and more.
What to order: Ebi Oshi Sushi, Salmon Oshi Sushi, Red Wave Roll, Green Tea Opera
Address: 105-10 Bay Street, Toronto, ON M5J 2R8
Website | Instagram | Facebook
5. Tachi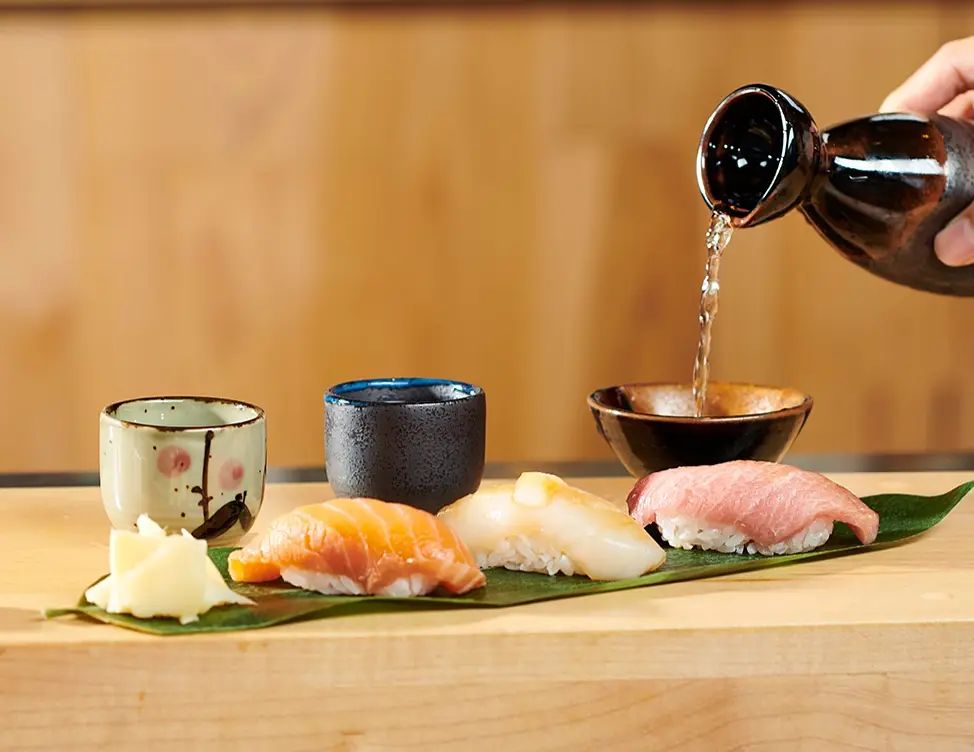 As the first stand-up sushi place in Canada, Tachi specializes in Japanese Omakase. The restaurant features a premium omakase menu that is served to patrons standing up, and in less than just 30 minutes. Tachi is more of a sushi stall than a restaurant; nevertheless, you are guaranteed to be served the finest seafood at nominal pricing.
Tachi's dine-in omakase menu features 11 pieces of sushi and 1 handroll, and the offerings are seasonal.
Of the 11 sushis, the most popular one is the O-Toro or fatty tuna. You can feel the freshness and quality of the fish the moment you take a bite and feel the fish literally melting in your mouth.
If you like your sushi rich and "fishy", you'll enjoy the Katsuo or bonito. The ruby-red meat of this strong-flavored fish comes with an enjoyable smoky flavor.
Pair your omakase with sake from their Drinks menu, or even better, go with the Sake Flight Tasting and taste three different kinds of sake.
What to order: O-Toro, Katsuo from their Omakase menu, Sake Flight Tasting
Address: Assembly Chef's Hall, 111 Richmond Street W, M5H 2G4
Website | Instagram | Facebook
6. Kibo Secret Garden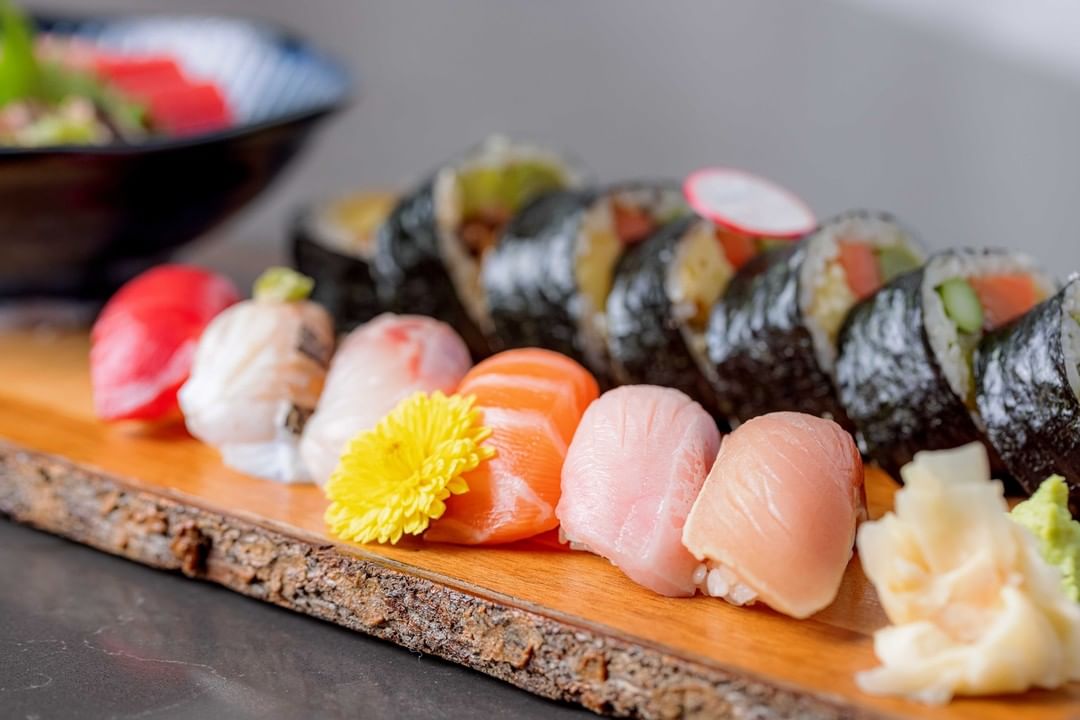 Located in the heart of Yorkville – the center of Toronto's fine-dining restaurants, Kibo Secret Garden offers a high-end sushi experience based on the famous Japanese Omakase tradition. Apart from their Omakase menu, which requires a reservation, they also have a comprehensive a-la-carte menu. The place itself is elegant and understated, and the patio is the most popular dining spot at Kibo Secret Garden.
Apart from trying their 15-course or 20-course Omakase menu, there are many other must-try dishes at Kibo Secret Garden.
Sushi Pizza is an interesting dish you can start with. Available in salmon, tuna, scallop, and yam variations, this "pizza" ticks all the boxes, with an amazing balance of flavor.
Have you had the privilege of tasting lobster maki before? This is one of the tastiest sushi dishes you can find, and you can taste it at Kibo Secret Garden as their Fresh Lobster Maki. While the presentation is jaw-dropping on its own, the sushi tastes even better.
Another highlight of this sushi place is that they offer a wide variety of vegetarian and gluten-free options.
What to order: Omakase, Sushi Pizza, Fresh Lobster Maki
Address: 154 Cumberland Street Upper Level, Toronto, ON M5R 1A8
Website | Instagram | Facebook
7. Shinobu Sushi Restaurant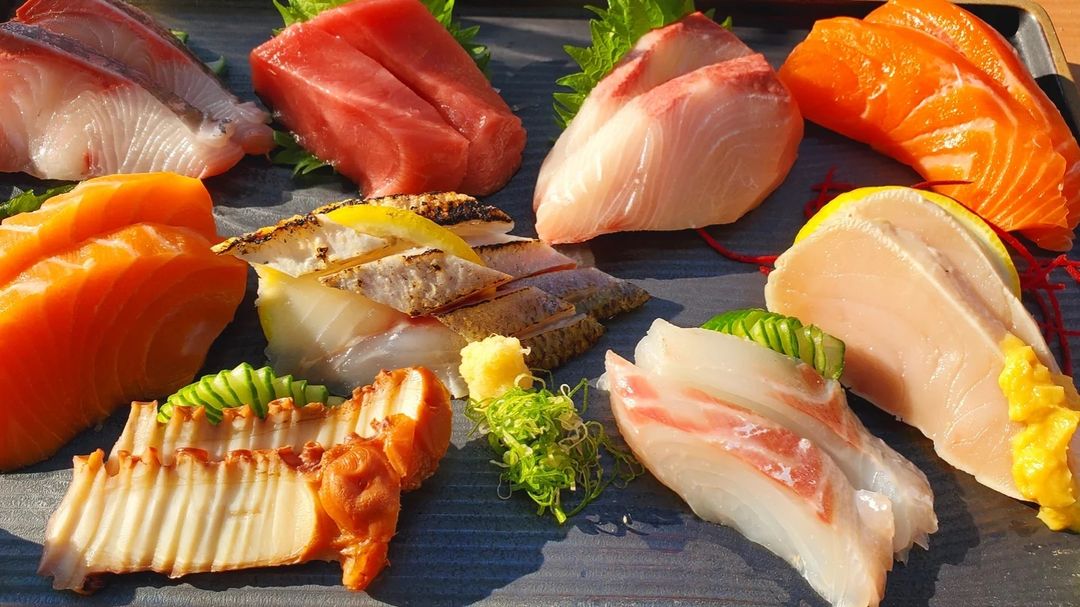 Nestled in a quiet neighborhood in North York, Shinobu Sushi Restaurant offers diners an authentic dining experience featuring traditional Japanese flavors. This is a casual restaurant, perfect for a friends night out or family gatherings, and they are not only famous for their freshest sushi but also their delicious tapas offerings.
If you're a sushi roll person, the Volcano Rainbow Roll at Shinobu is a must-try. The roll gets blow-torched in front of you (gourmet touch!), on your table, which caramelizes it a little bit, and the drizzle of honey sauce adds depth to the otherwise complex flavor. A complete orgasmic experience in the mouth!
Torinten Nanban – a Japanese tempura-style fried chicken – the soul food of Oita, Japan, served with creamy tartar sauce. Coated in a light and airy batter to deliver a perfect crunchiness, this is absolutely yummy.
What to order: Volcano Rainbow Roll, Torinten Nanban
Address: 3403 Yonge Street, North York, ON M4N 2M8
8. To-Ne Sushi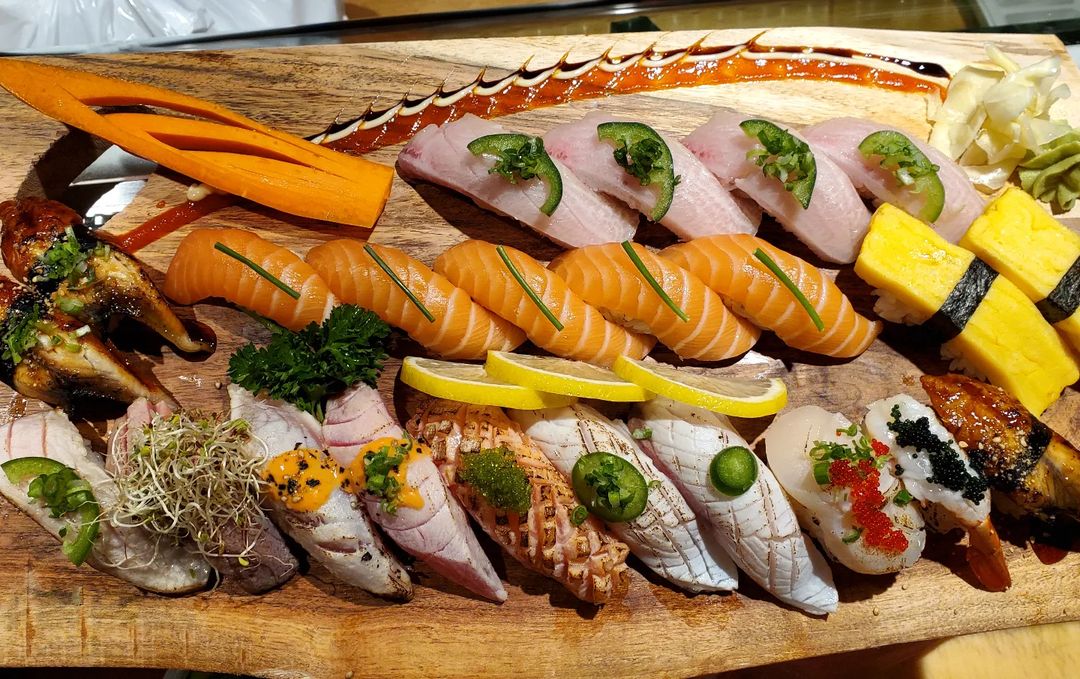 Named after the longest and largest river in Japan – Tone-gawa', To-Ne Sushi is a sushi bar cum restaurant, serving a varied menu with multiple options for everyone around the table. The place is simple, friendly, and slightly rustic, and the food is on par with some of the high-end sushi/Japanese restaurants in the country.
With an extensive menu at your disposal, it will be overwhelming to choose just a few sushi options and other dishes for your meal. An easy way out would be to go with one of To-Ne's Boat Trays.
Even their Boat Trays are extensive! Depending on your appetite and the number of people dining, you can choose anywhere between 22 and 50 pieces of assorted sushi in your boat tray. This makes it possible for you to taste everything the restaurant has to offer.
If you're there for lunch, try the Chicken Katsu Don. Served with salad and miso soup, the chicken katsu or deep-fried chicken cutlet is crispy on the outside and juicy on the inside, without any greasiness, and comes with a generous serving of rice.
What to order: Boat Tray, Chicken Katsu Don, Shrimp Tempura
Address: 414 Queen Street W, Toronto, ON M5V 2A7
9. The Sushi Bar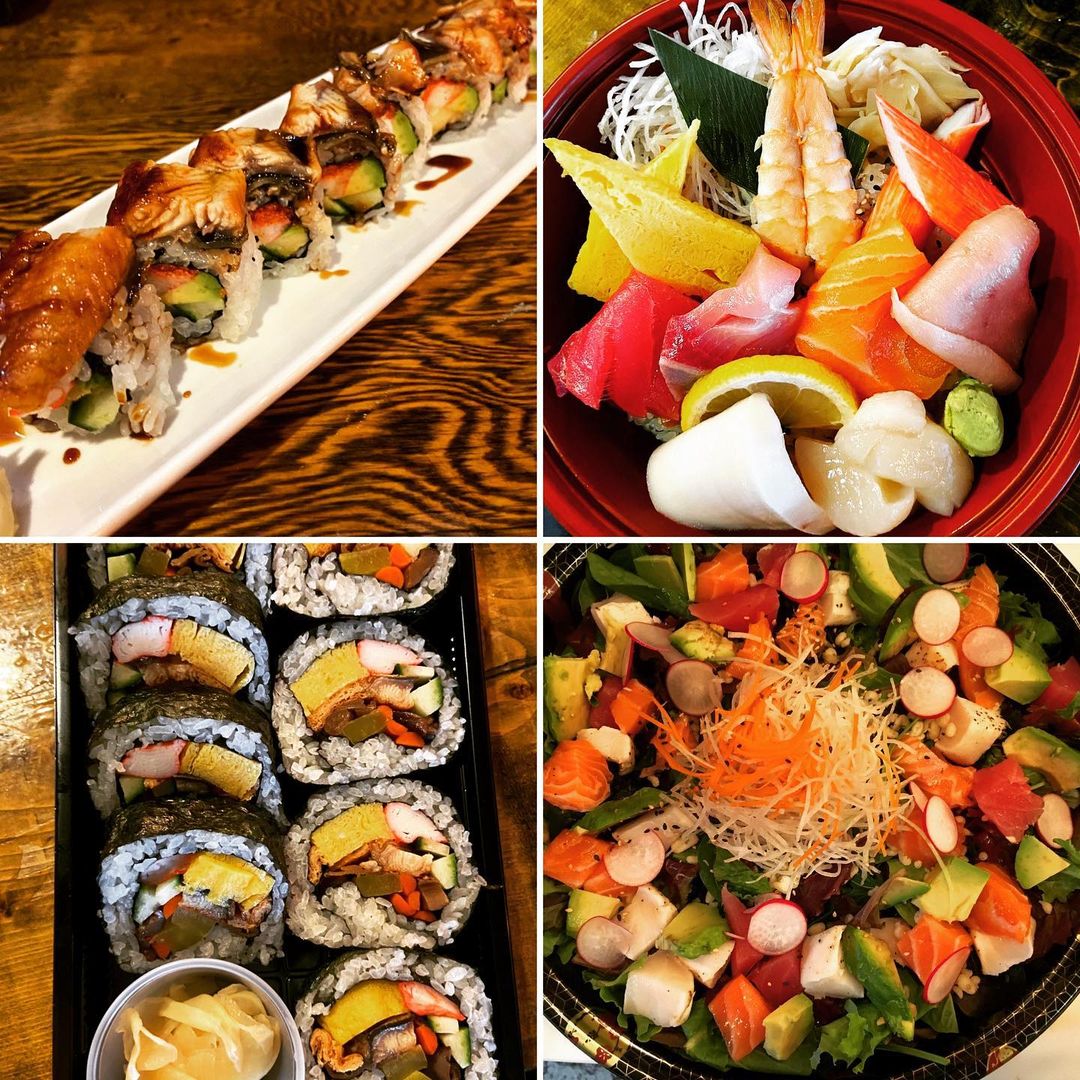 With a relaxed yet lively vibe, The Sushi Bar brings to you a taste of Japan, thanks to the chef, Dr. Jimi, who has over 30 years of experience. From sushi platters to bento boxes to noodles & rice, this restaurant serves it all.
The Sushi Bar's past diners claim that the Sushi Pizza here is the best you will find. Containing mixed tempura bits, fish egg, spicy mayo, and your choice of seafood served on top of pan fried rice, this dish is a whole package. The fact that it is pan-fried instead of deep-fried makes this a highly recommended dish from The Sushi Bar.
Rather than choosing the Dynamite Roll, give it a twist and try the Green Dragon Roll. This is essentially the Dynamite Roll but comes layered with tempura bits and avocado in addition to fish roe, green onion, shrimp tempura, and spicy mayo. Though it might seem like a bit too much, every element on your plate will just make sense!
What to order: Sushi Pizza, Green Dragon Roll, Salmon Teriyaki Roll
Address: 3365 Yonge Street, Toronto, ON M4N 2M6
Website | Instagram | Facebook
10. Sushi Masaki Saito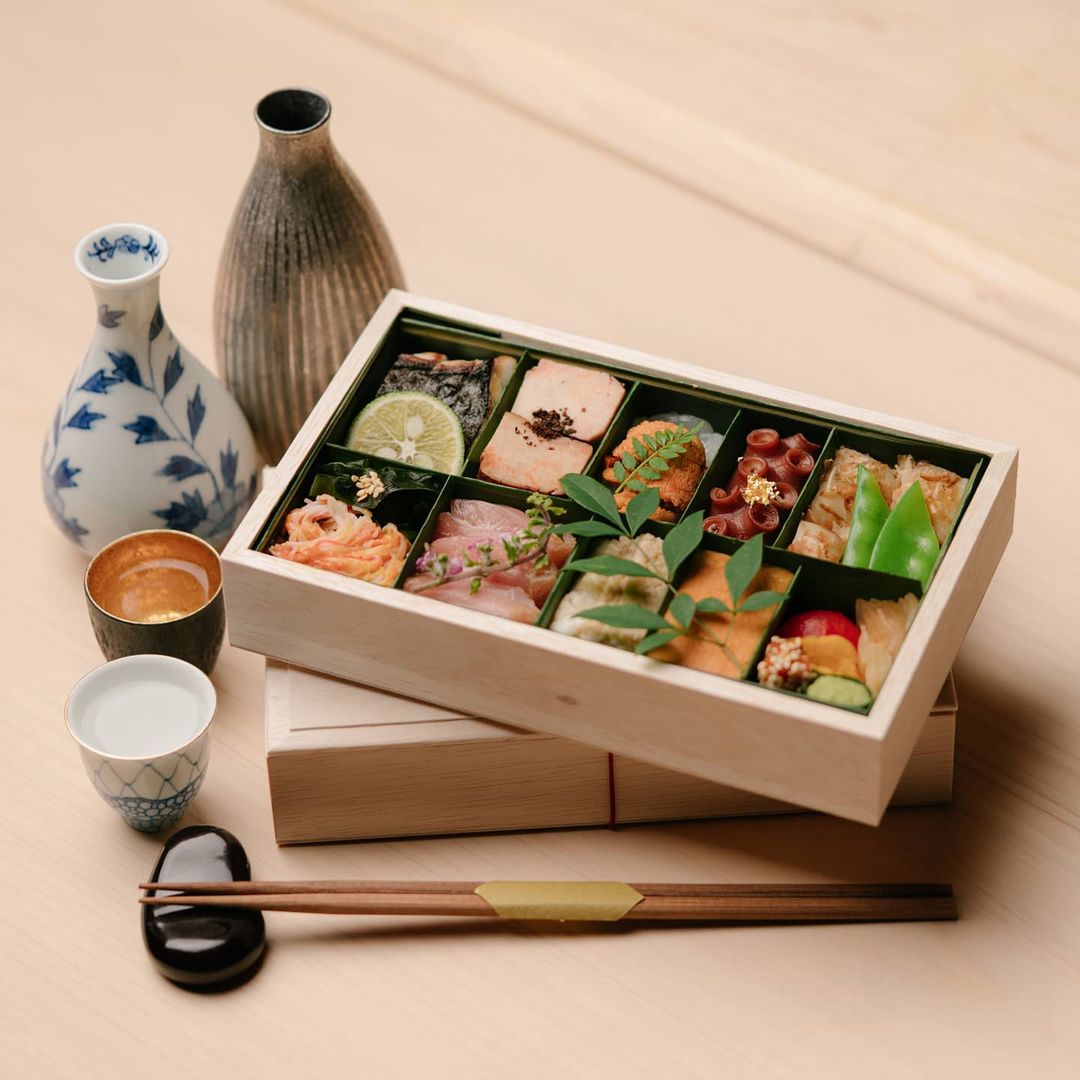 Now now, while it is easy to find a sushi place in Toronto, let's be clear in mentioning that there is only one Masaki Saito! This eponymous sushi pilgrimage will give you an otherworldly experience, not just with food but also with its classy decor.
Sushi is all about the minute details, and chef/owner Masaki Saito has taken it to a whole nother level. With his fish flown in from Japan every single day, you are guaranteed only the freshest and bestest of the best ingredients you can ever find in your sushi.
At Masaki Saito, there is just one item on the menu – Omakase. Priced at a whopping $680 per person, it would be no exaggeration to say that people travel from different parts of the world to taste the chef's seasonal specialties. So, if you have a special occasion coming up, or you're just in the mood to splurge, this is the place to be! But, is it splurge-worthy? Absolutely!
What to order: Omakase
Address: 88 Avenue Road, Toronto, ON, Canada M5R 2H2
11. Goen Japanese Restaurant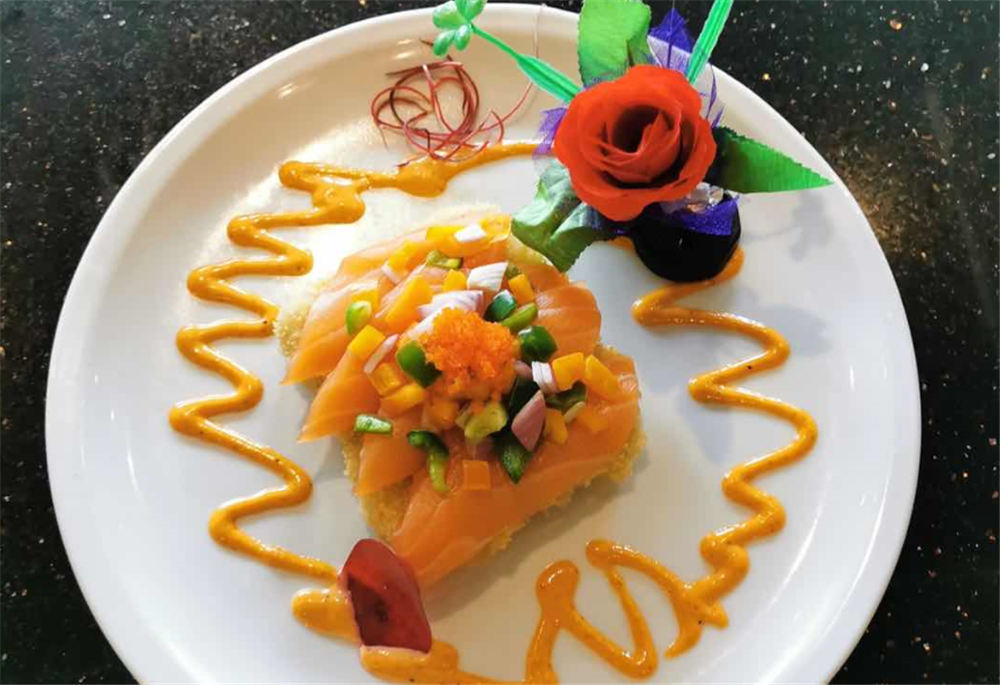 Goen Japanese Restaurant is your neighborhood place that serves extremely satisfying sushi and other Japanese dishes at pocket-friendly prices. This quaint little restaurant is simple and family-friendly, and their food is consistently good.
The Excellent Roll at Goen Japanese Restaurant has shrimp tempura, mango, avocado, masago, and is topped with eel sauce and spicy mayo. As its name suggests, this roll is pure excellence all the way!
A similar item is the Bushido Roll, which has butter fish as extra along with all the other elements as in the Excellent Roll. The subtle smokiness here tastes amazing on the palette when paired with the house-made sauce.
Other dishes that are worth a try are the Tobiko Nigiri (flying fish eggs) and Ikura Nigiri (salmon roe).
Apart from sushi, you could also indulge in some extraordinary Japanese classics, like Shrimp Tempura, Karaage, and Chicken Gyoza.
What to order: Excellent Roll, Bushido Roll, Tobiko Nigiri, Ikura Nigiri, Shrimp Tempura, Chicken Gyoza, Karaage
Address: 672 St Clair Avenue W, Unit 2, Toronto, ON M6C 1B1, Canada
12. Rollian Sushi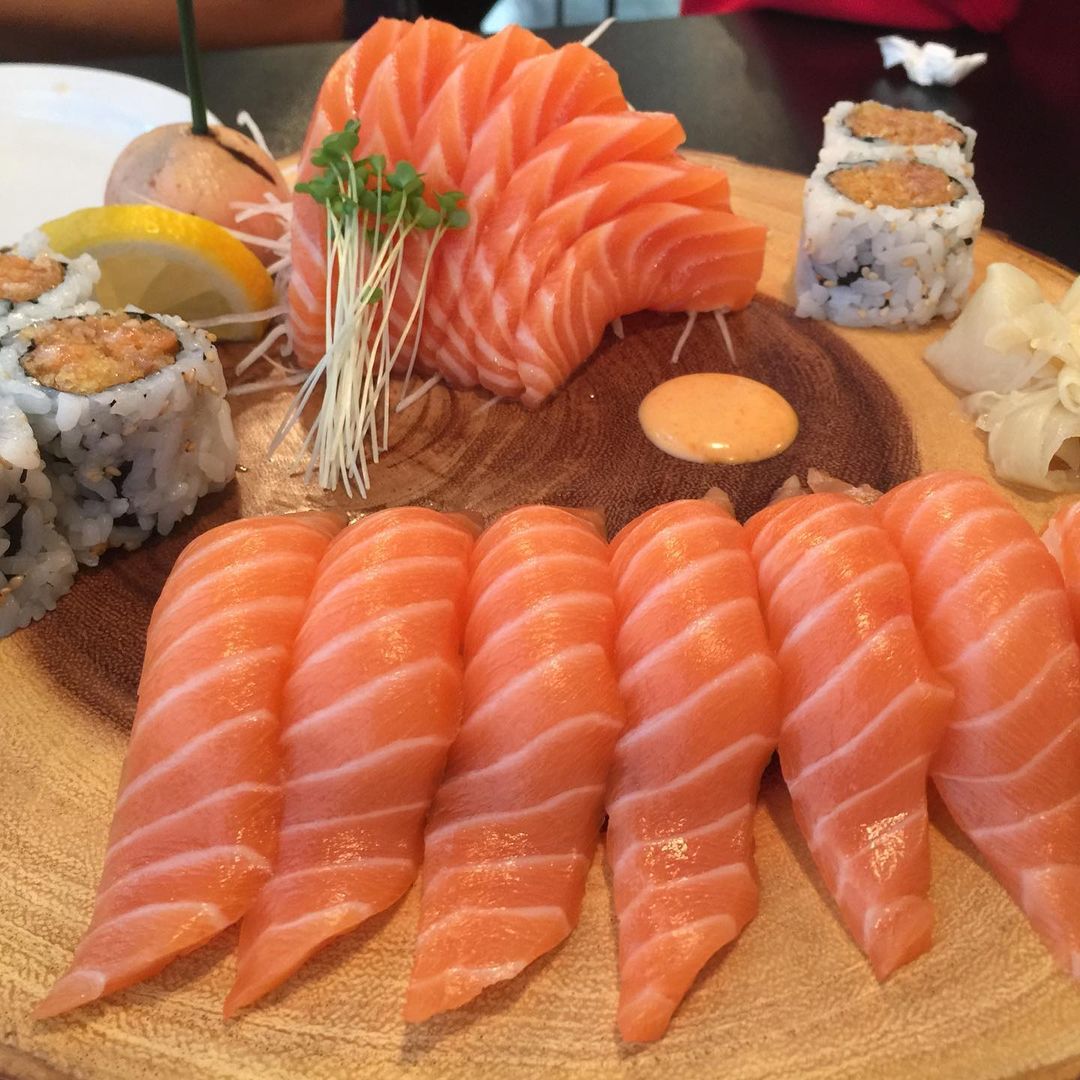 Rollian Sushi is again a small, decent sushi restaurant in Toronto that creates some sensational authentic Japanese food with fresh ingredients. You can see that every dish that comes to your table is meticulously crafted, and you get to enjoy the fresh, subtle flavors in a casual setting with attentive service.
Their Take Boat would be a feasible option to try most of their sushi and roll offerings. With 15 sushi pieces and 26 roll pieces, there will be more than enough for two.
The California Roll from Rollian Sushi comes filled with excellent flavors and textures, that it will take you to heaven and back! With a little sweetness from the crab meat, slight crunch from the cucumber, creamy avocado, and salty and fishy masago, this is a mouth-watering mixture of the finest elements.
What to order: Take Boat, California Roll
Address: 2584 Yonge Street, Toronto, ON M4P 2J3
Website | Instagram | Facebook
13. Spring Sushi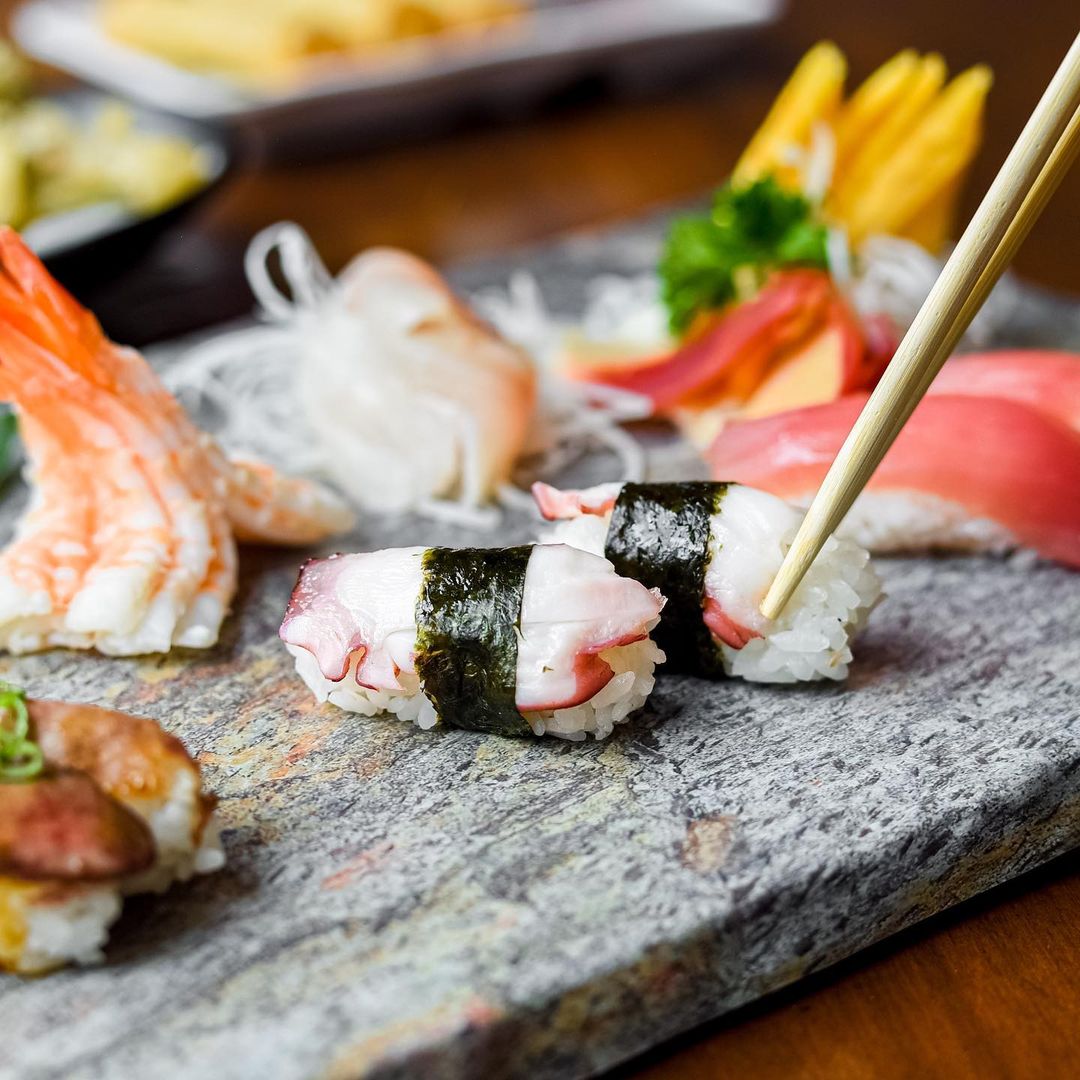 Spring Sushi is a Japanese and Thai establishment, providing one of the best All-You-Can-Eat-Sushi in the city. With a patio space overlooking Yonge and Dundas Square, you get to enjoy good food with good views.
The Spicy White Tuna Sushi is something you'll instantly become fond of. Of course, the fish is fresh, and its buttery texture when combined with the spicy sauce makes the sushi taste nice.
If you like white tuna, the torched version of the sushi also tastes delicious. Their Torched White Tuna Sushi comes with a sesame seed mayo, which adds a super strong flavor to the sushi's smokiness.
The Salmon Sashimi is as fresh as you can get anywhere. The salmon tastes like butter and just melts in your mouth, you would gulp down piece after piece!
What to order: Spicy White Tuna Sushi, Torched White Tuna Sushi, Salmon Sashimi, Shrimp Tempura
Address: 10 Dundas Street East, Toronto, ON M5B 2G9
Website | Instagram | Facebook
When you're on the hunt for the best restaurants in Toronto, you cannot overlook some of these exemplary sushi spots. With a food culture as diverse as its population, Toronto brings to you the best of world cuisine.
How We Create Our "Best" Lists
All Noms Magazine's "best" lists are created using multiple factors and signals to help readers find the best restaurants, things to do, and places to stay at. Some of these factors and signs include personal experiences, correspondence with locals, and compiling experiences from review sites.
Each list is also created to be balanced (in terms of price, cuisine type, ambiance, and more) as possible. This means that the lists are not specifically created in ranking order. You should be comfortable picking from any of the spots on the list and generally have a good time. But of course, YMMV (your mileage may vary) and everyone may have different experiences/palates.