Looking for the best downtown Portland restaurants? Well, you're in the right place!
Whether it is to celebrate a special occasion with your loved ones, to enjoy time with your friends with good food and drinks, or for a quick work-related luncheon, downtown Portland has a diverse array of restaurants you can choose from.
The following restaurants downtown Portland are the top-rated ones in the area, suitable for any type of meal you have in mind.
🚌 Explore Portland's food scene with these guided food tours!
1. Lechon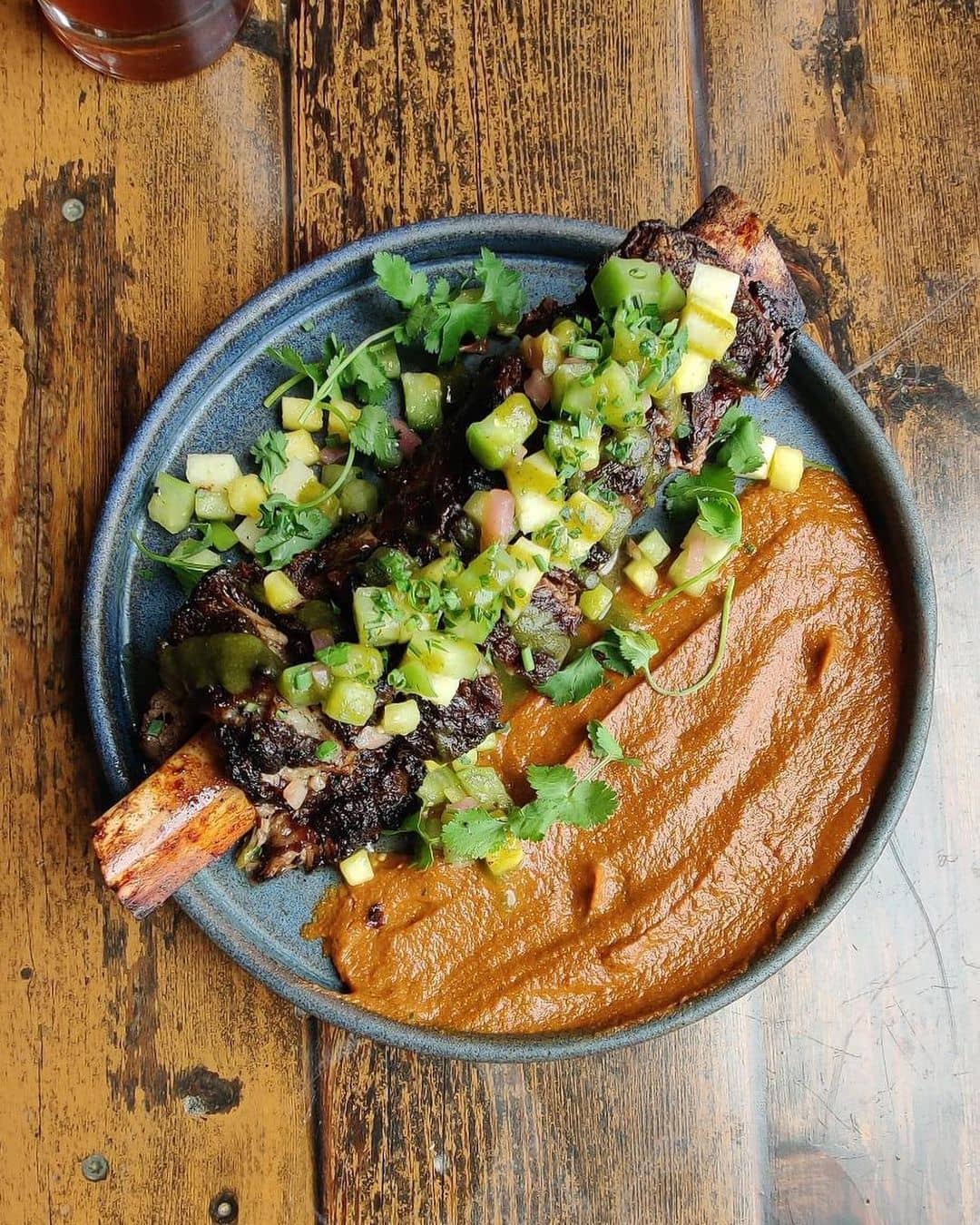 A worthy addition to downtown Portland's flourishing South American culinary scene, Lechon brings to the Pacific Northwest the classic flavors commonly found in South American kitchens.
The restaurant is located in the picturesque Portland waterfront, and with vibrant and chic interiors, the place is ideal for romantic dates.
Lechon's Shrimp Ceviche and Mal Humorado cocktail is an unbeatable combination. Served with salty, house-made chips, which are perfect for scooping the ceviche with, the ceviche is fresh, flavorful, and tastes wonderful with the chips.
Follow it with a few sips of the slightly spicy cocktail.
The Peruvian Fried Chicken Bites, available tapas-style, are just nom nom nom! The hot honey and basil aioli dips make these crunchy and juicy bites drool-worthy.
Their Grilled Octopus is the kind of dish you'll reorder every time you visit the restaurant. The octopus is fabulously tender, and the flavors on the plate sing beautifully.
The Nikkei Style Kalbi Beef Short Ribs are a stunner! The smell, sight, and flavor of this dish are so captivating, you cannot hold back with just one bite.
What to order: Shrimp Ceviche, Peruvian Fried Chicken Bites, Grilled Octopus, Nikkei Style Kalbi Beef Short Ribs, Mal Humorado
Address: 113 SW Naito Pkwy, Portland, OR 97204
Website | Instagram | Facebook
2. Higgins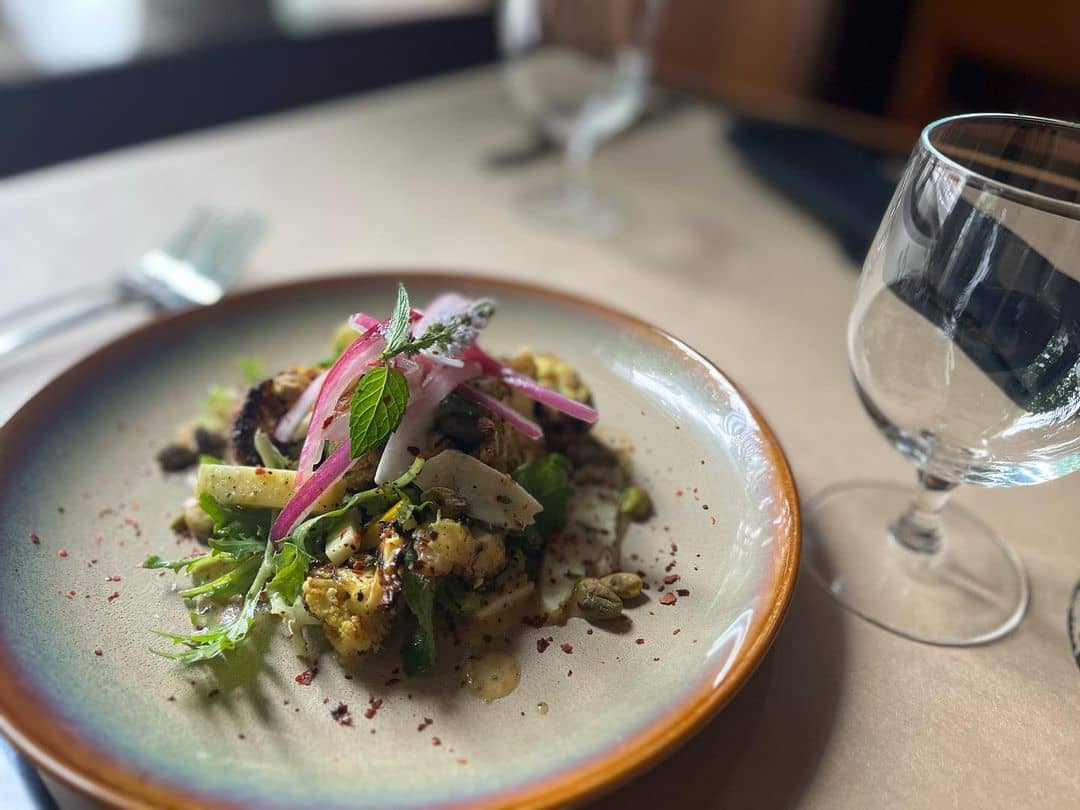 Opened in 1994, Higgins is a downtown Portland institution and is one of the pioneers of introducing farm-to-table dining in the city.
The menu here is seasonal and celebrates Portland at its best, and the atmosphere is old-school casual with flawless service.
When you dine at Higgins, you HAVE TO start with one of their popular Charcuterie boards, and our favourite is the Salami & Sausages board. This board is a perfect presentation of all things savory and smoky, and the pickles on the side are great too.
Available for lunch, the Grilled Beef Burger comes in a crusty hearth baked bun; while the meat is grilled to perfection – juicy and tender with a beautiful crust, adding applewood smoked bacon to your burger makes it a whole lot more flavorful, meaty, and succulent.
Magret, Confit & Sausage Liberty Duck is a wonderful dish to savor. The duck is cooked to perfect rareness, comes glistening on the plate, and is melt-in-the-mouth tender.
The cheddar polenta adds a rich, creamy element to the dish, and the brandied cherries and braised greens contribute with their freshness and lightness.
Finish your meal with the velvety smooth, rich, luscious, and decadent Dark Chocolate Budino.
What to order: Salami & Sausages Charcuterie, Grilled Beef Burger, Magret, Confit & Sausage Liberty Duck, Dark Chocolate Budino
Address: 1239 SW Broadway Portland, OR 97205
Website | Instagram | Facebook
3. Q Restaurant & Bar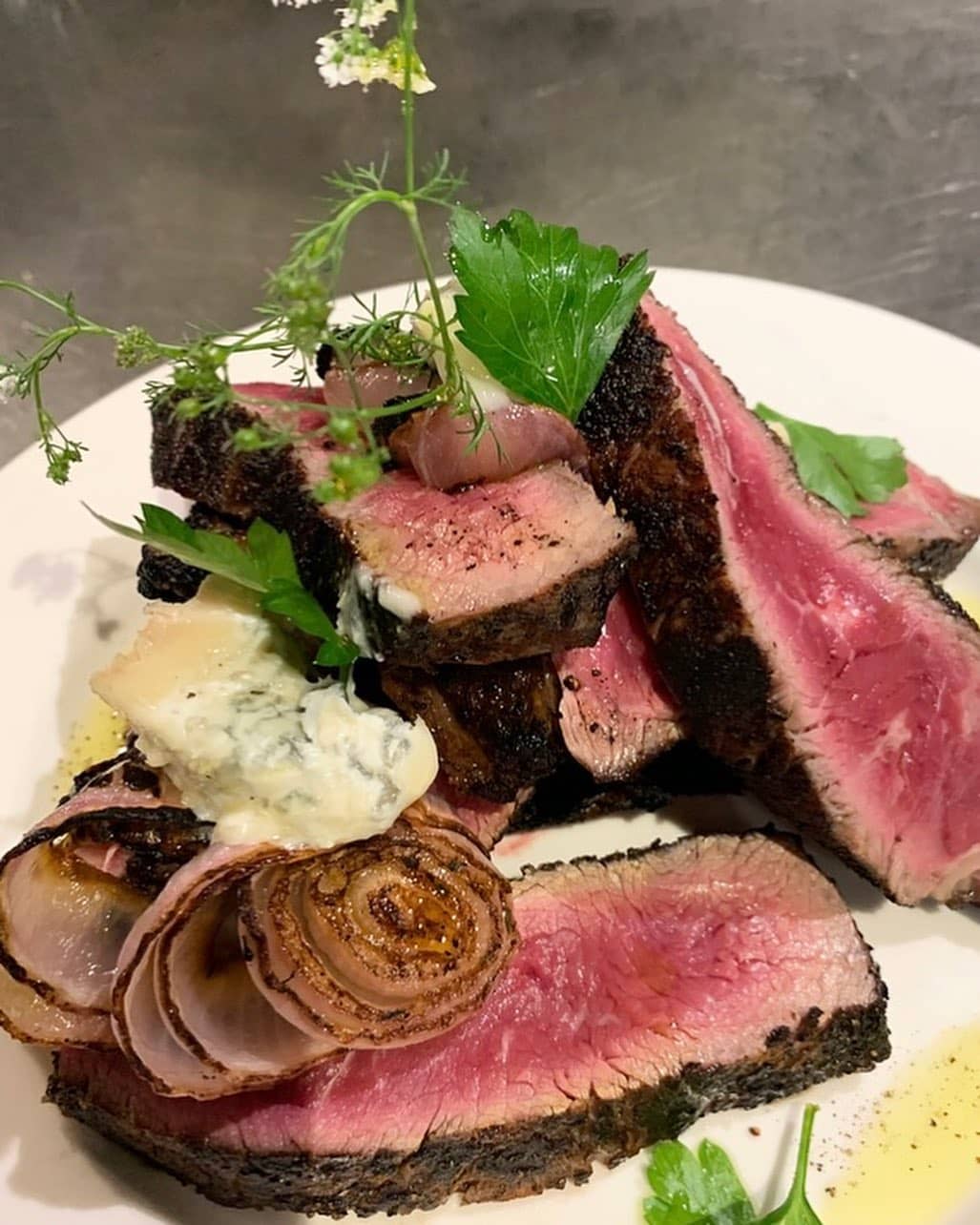 Located in the heart of downtown Portland, Q Restaurant & Bar is a family-owned establishment known for providing an enriching dining experience with great food and fine wines.
The interior is modern, welcoming, airy, and bright, with an open kitchen and panoramic windows, and the service is always on point.
Available on Q's lunch, dinner, and weekend brunch menus, the Bacon Wrapped Dates are special. It's sweet, it's salty, it has crunchy almonds, and the marsala sauce adds a sweet cum savory flavor to the dish, making it complete!
Now, let's take a moment to talk about Q's Osso Bucco. The braised veal shank is so tender, juicy, and succulent, that you almost cannot differentiate it from the dark and rich sauce. Paired with a cheesy and creamy risotto, this dish is pure deliciousness!
Prime NY Strip Steak & Crispy Stuffed Chile Relleno – TBH, while the steak comes well-seasoned and well-prepared, what's even more delightful is the crispy stuffed chile relleno.
Made from scratch, in-house, the restaurant serves some delicious seasonal ice cream and sorbet flavors. The Vanilla Bean is a classic and a constant hit, and we also love their seasonal Peaches & Cream Ice Cream.
What to order: Bacon Wrapped Dates, Osso Bucco, Prime NY Strip Steak & Crispy Stuffed Chile Relleno, Vanilla Bean ice cream, Peaches & Cream ice cream
Address: 828 SW 2nd Avenue, Portland, OR 97204
Website | Instagram | Facebook
4. Murata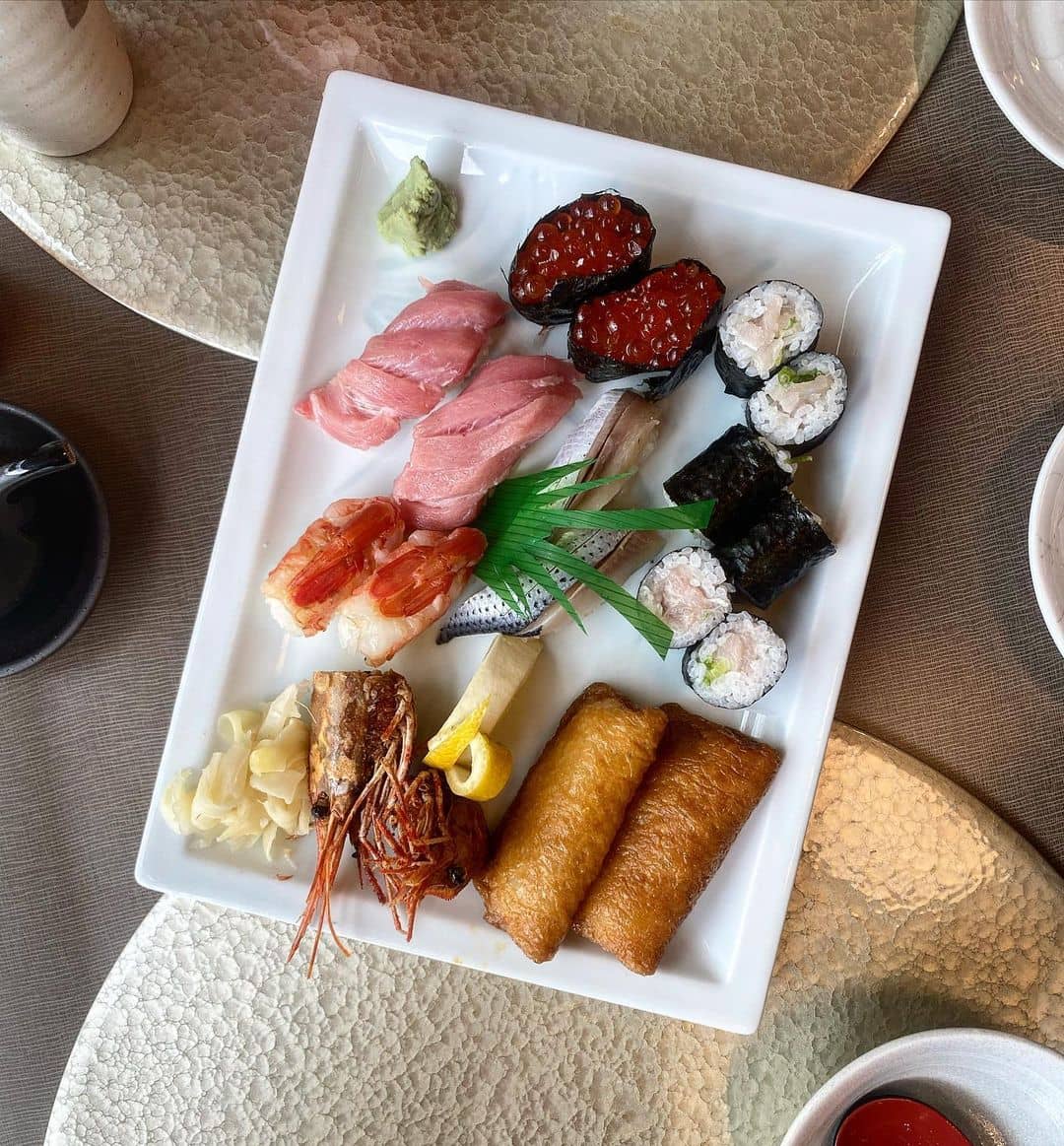 Established in 1988, Murata is a family-owned sushi restaurant designed to offer the traditional tatami room experience right here in downtown Portland.
This upmarket destination serves masterfully created dishes and features a traditional decor and a family-friendly atmosphere.
From their masterful preparations, the Uni Nigiri and Hamachi Nigiri are not to be missed. These are fresh and delicate, have a slight sweet and savory flavor, and simply melt in the mouth.
The Spicy Tuna Roll is distinctly flavourful and is a wonderful combination of textures and flavors.
For something more filling, try the Katsu-don. You get their popular deep-fried crispy pork cutlet resting atop a serving of steamed rice, in a sweet soy-based sauce, along with soft-cooked eggs.
Served with a side of miso soup, pickled radish, and cucumber salad, this is a well-rounded meal.
Murata's Deep-fried Breaded Prawns are a hit. The prawns come to the table crunchy and juicy with a little bit of their natural sweetness, and taste so good, you cannot stop with just one or two!
What to order: Uni Nigiri, Hamachi Nigiri, Spicy Tuna Roll, Katsu-don, Deep-fried Breaded Prawns
Address: 200 SW Market Street, Portland, OR 97201
Website | Instagram | Facebook
5. Nong's Khao Man Gai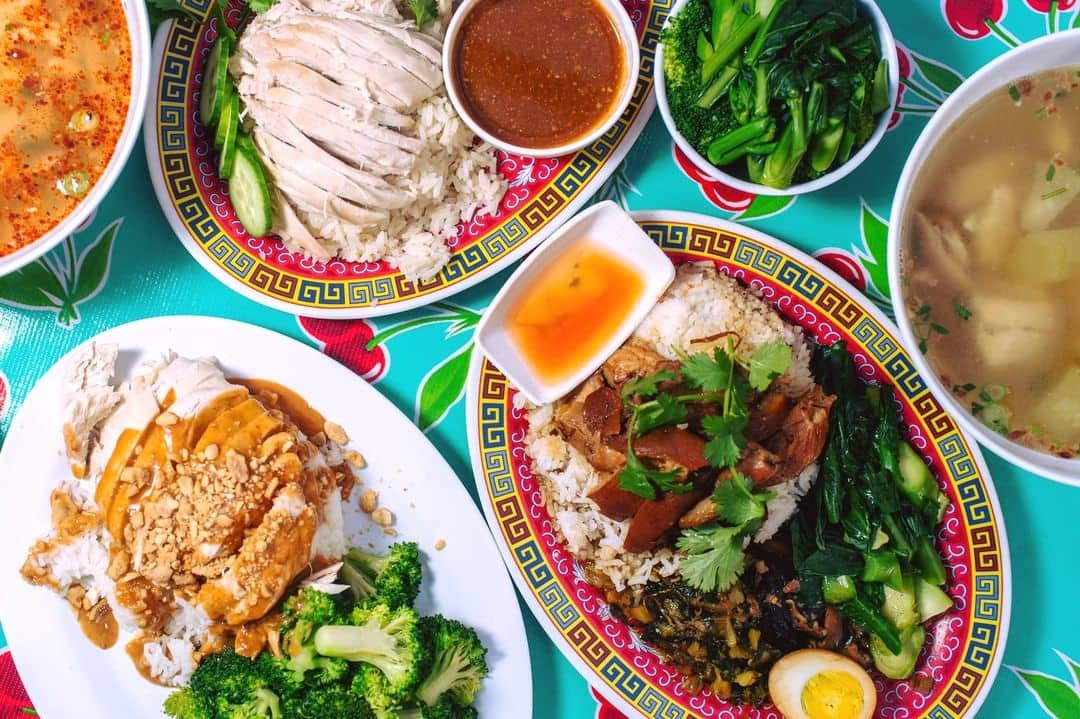 How many times have you heard people say, "do one thing and do it right"? At Nong's Khao Man Gai, the focus is on one thing – Khao Man Gai (chicken and rice), and they do it SO DAMN RIGHT!
This is a classic Thai concept where restaurants focus on one dish only, and chef Nong has everyone smitten with her one dish.
So, of course, Khao Man Gai should be your first order here. This is Thai chicken & rice served with Nong's signature sauce; it's simple, delicious, healthy, comforting, and well-balanced in flavor.
The dish is also available in gluten-free and paleo versions.
Super Soup – Khao Man Gai served in a large bowl of soup. The soup is super flavorful and indulgent, and with the chicken and rice in it, you'll crave it multiple times a week, and not just on rainy days!
Do yourself a favor and get their Thai Tea Float – so cold, refreshing, and perfect to cool down after a spicy and lush meal.
What to order: Khao Man Gai, Super Soup, Thai Tea Float
Address: Downtown – 417 SW 13th Avenue, Portland, OR 97205
Website | Instagram | Facebook
6. Portland City Grill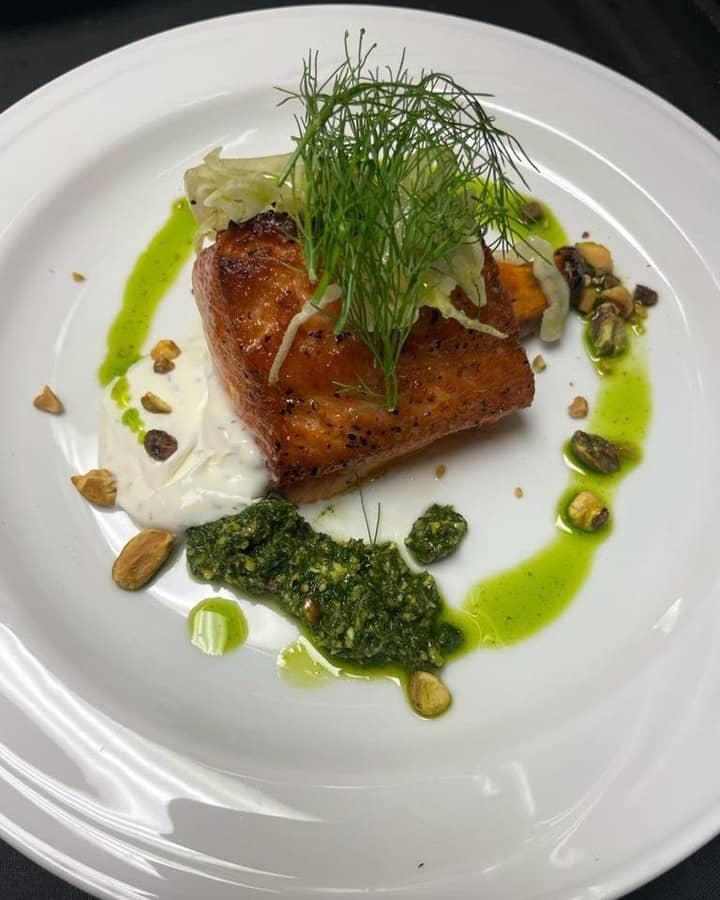 With unparalleled views of downtown Portland and the Cascade mountains, Portland City Grill has been alluring diners for over 20 years with its mouth-watering steak preparations, fresh seafood, and an award-winning wine list.
The menu has influences from Asian and Northwest cuisines, and the skyline view from the restaurant makes it a go-to place for unforgettable dinner dates.
Studded with crunchy peanuts, and tossed in a spicy, savory, and slightly sweet kung pao sauce, the perfectly tender Kung Pao Calamari is an excellent plate to start your meal with.
Date night or otherwise, you cannot go wrong with Portland City Grill's Filet Mignon. Grilled to perfection, this piece of steak is delicate, buttery, and absolutely tender. Served with mashed potatoes and asparagus, this is a plate of pure indulgence!
You cannot miss the Jambalaya here, no matter the changing protein. We tried the Oregon Rockfish Jambalaya with sausage, shrimp, and all the other delicious elements, and boy was it aromatic and flavor-packed! This is soul food at its finest!
The Pacific Northwest Cioppino is a lighter alternative for seafood lovers. This classic fisherman's stew comes loaded with seafood and certainly packs a punch. The toasted bread slice on the side with goat cheese on top is a perfect addition to the stew.
Finally, get the Vanilla Bean Creme Brulee. It just makes everything better!
What to order: Kung Pao Calamari, Filet Mignon, Oregon Rockfish Jambalaya, Pacific Northwest Cioppino, Vanilla Bean Creme Brulee
Address: 111 SW 5th Avenue, 3oth Floor, Portland, OR 97204
Website | Instagram | Facebook
7. Mucca Osteria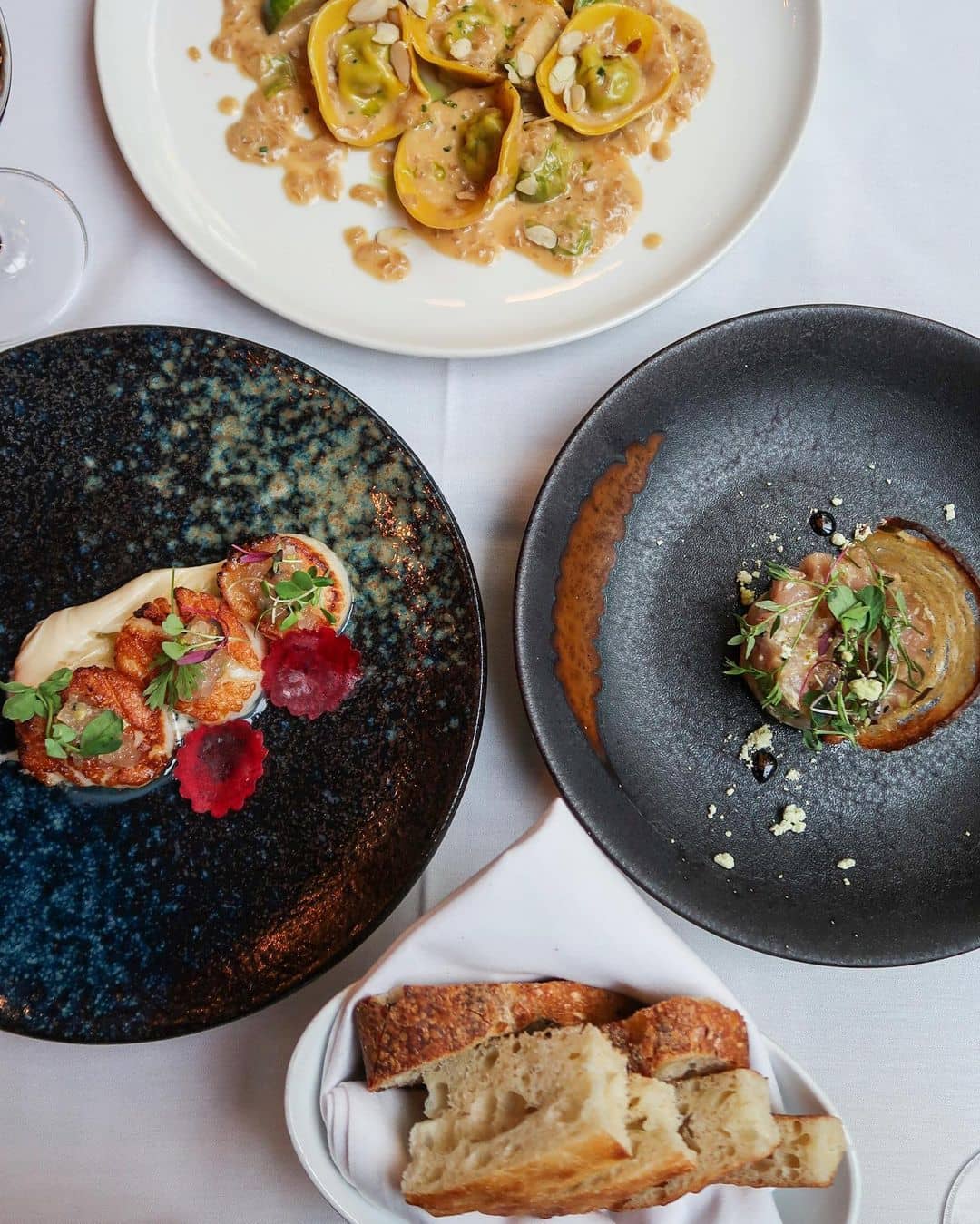 An intimate Italian spot located in the heart of Portland, Mucca Osteria takes you on an extensive Italian food journey.
The menu here is seasonal, with carefully curated dishes made with fresh, locally sourced ingredients, and the interior is chic and refined.
The Prosciutto e Burrata is a tasty twist on the classic Italian antipasti. The 500-day aged prosciutto is beautifully salty and has a rich umami flavor, which goes well with the fresh and creamy cheese, and the pickled red onions help cut the richness from the main elements.
All the bread and pasta at Mucca Osteria are made fresh, in-house, every day with carefully selected ingredients, and you can taste their quality in every bite.
The Agnolotti del Plin has fresh agnolotti pasta with a sweet butternut squash filling, and finishes the old-school way, with brown butter sage, parmesan, and pepita. These pillows of pasta might be small in size but they definitely impress in terms of flavour.
Gnocchi al Gorgonzola e Radicchio – this dish has fresh and pillowy gnocchi with radicchio and smoky sausage in a creamy and buttery gorgonzola sauce, and topped with candied pecans.
What to order: Prosciutto e Burrata, Agnolotti del Plin, Gnocchi al Gorgonzola e Radicchio, Cioccolatino
Address: 1022 SW Morrison Street, Portland, OR 97205
8. Huber's Cafe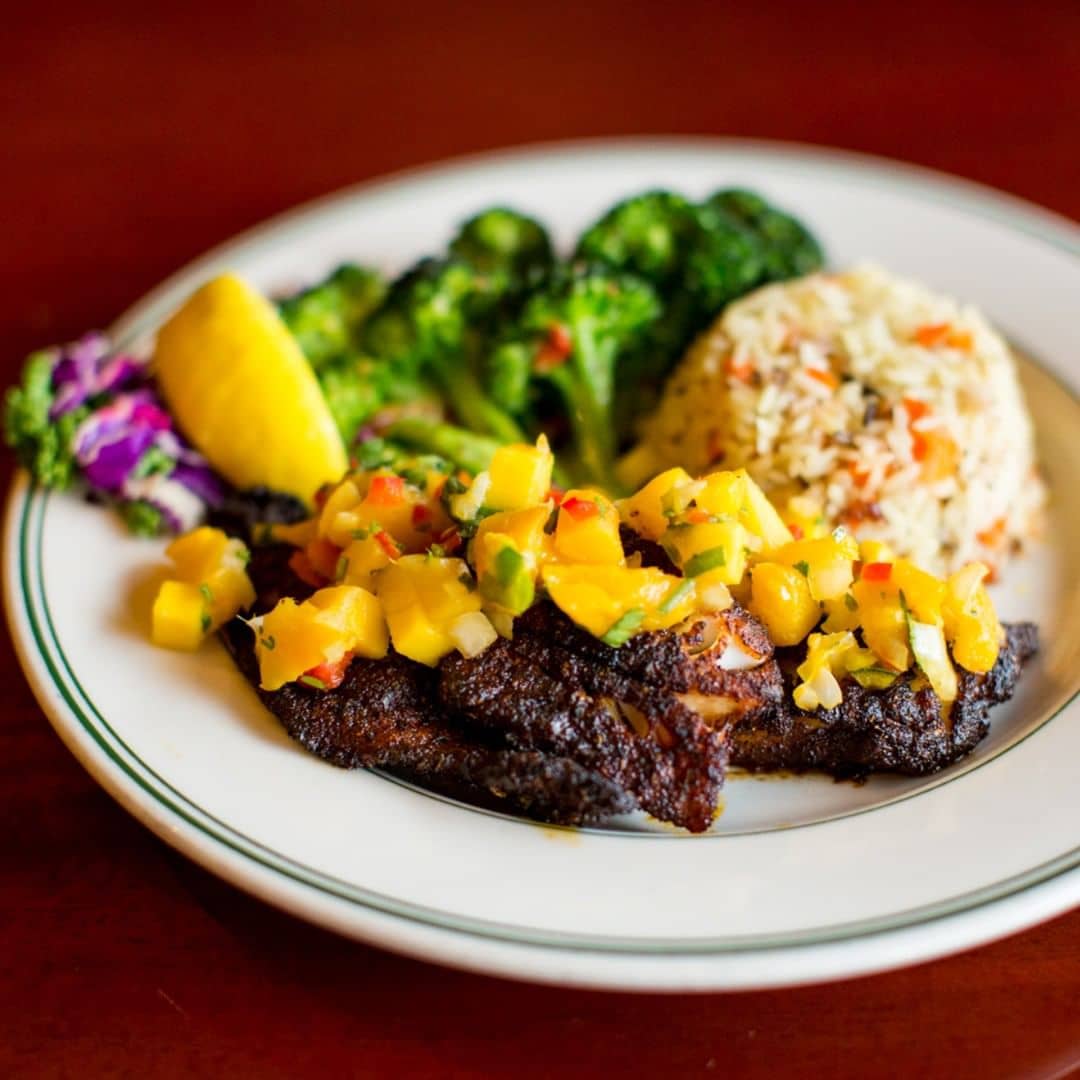 Established in 1879, Huber's Cafe holds pride as the oldest restaurant in Portland, hugely popular for its roast turkey, turkey sandwich, and more things turkey, and Spanish coffee as well.
While it is the food that still keeps patrons coming in, the restaurant also holds on to its original architectural features, which makes it charming and authentic.
Of course, you have to start with the house specialty – Roast Young Tom Turkey. This traditional specialty has beautifully roasted, juicy, and moist turkey meat, served with traditional gravy, fresh mashed potatoes, and cranberry sauce.
This is an amazing turkey meal that feels like a memorable Thanksgiving dinner.
Served with Huber's fresh and delicious coleslaw, the Turkey Cream Cheese & Cranberry sandwich is more of a handheld version of a traditional turkey dinner, and tastes legit.
The Hot Turkey Sandwich, on the other hand, comes covered in gravy, and with a side of cranberry sauce and mashed potatoes or sage dressing. Safe to say, this sandwich is as filling as it is delightful.
Another highlight of your meal would be the housemade pumpkin Pie, which makes a statement on its own.
And not to forget, Huber's widely popular Spanish Coffee. Introduced in 1975, this drink has rum, triple sec, coffee liqueur, coffee, whipped cream, and nutmeg in a sugar-rimmed glass and flamed tableside. This isn't a drink, this is an experience!
What to order: Roast Young Tom Turkey, Turkey Cream Cheese & Cranberry Sandwich, Hot Turkey Sandwich, House-made Pumpkin Pie, Spanish Coffee
Address: 411 SW 3rd Avenue, Portland, OR 97204
Website | Instagram | Facebook
9. Mother's Bistro & Bar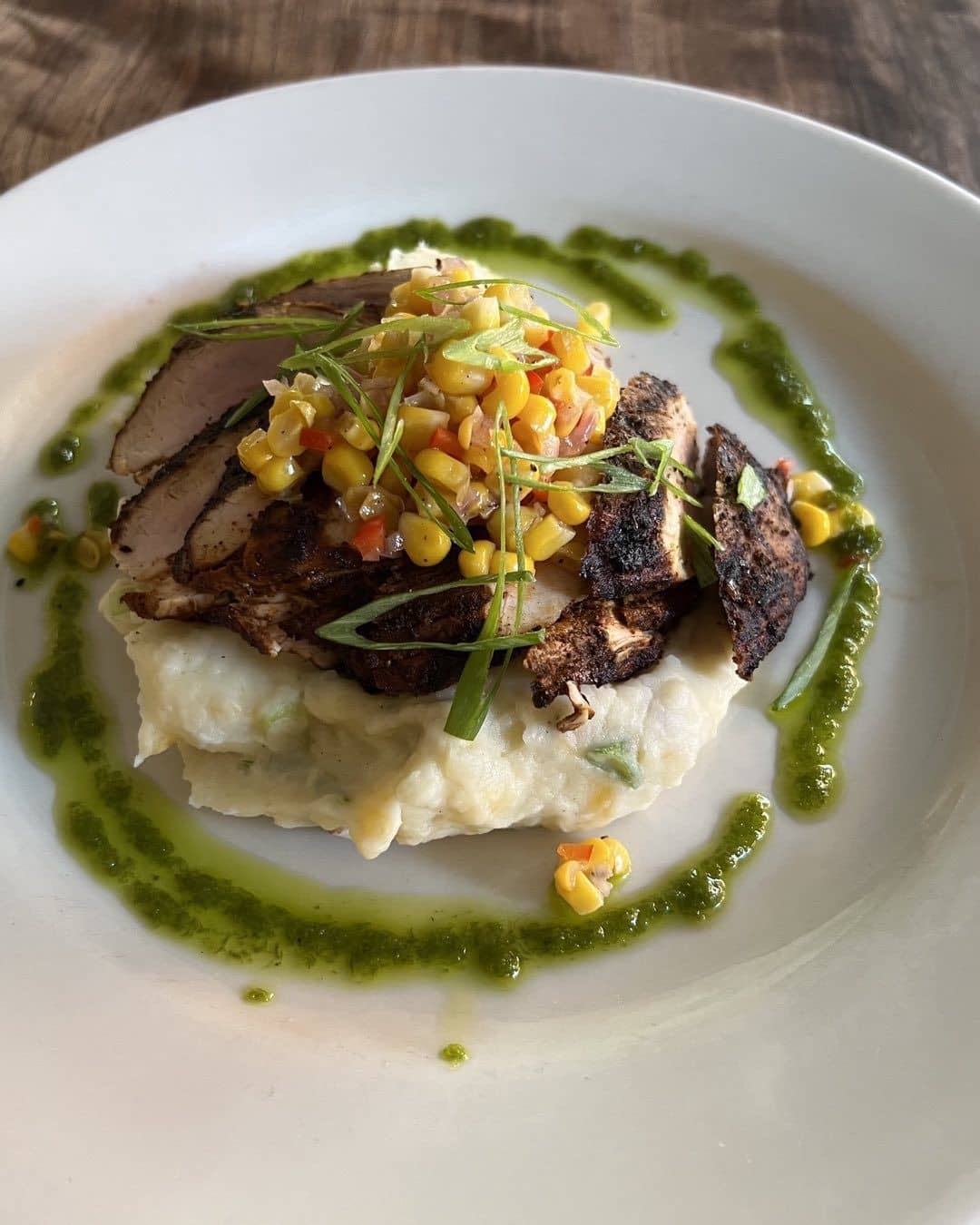 Mother's Bistro & Bar is all about classic comfort food, made from scratch. From roasts to dumplings to stews, this eatery gives you a refined taste of home.
The atmosphere is homey and family-friendly, and the decor leans toward country chic – vibrant and cheerful.
If you're visiting the place for breakfast, we have just four words for you – Crunchy Challah French Toast. This cornflake-dipped French toast is super crunchy and perfectly golden brown on the outside, while the inside remains soft and fluffy.
Drizzle some pure maple syrup on top and enjoy this refined classic.
Available for dinner, the $15,000 Dungeness Crab Cake is an excellent starter (BTW, no, the crab cakes don't cost $15,000; ask the waiter for an interesting explanation!).
The crab cakes are decent-sized, and come beautifully fried to golden brown, with generous amounts of crab meat that you can taste in every bite. The coleslaw they're served with tastes delish as well, and the creole mustard sauce adds a much-needed kick to the dish.
The Migas breakfast plate is generous, filling, and satisfying. Served with whole wheat toast, the plate is filled with a variety of tasty elements, including roasted potatoes, chipotle sour cream, and housemade salsa, and the taste of every element gets you excited for the next bite.
The Five-Hour Braised Pot Roast is simply incredible. The beef short rib is extremely tender and flavourful, and the red wine gravy is so yum, that you'd want to lick the plate clean.
Served with smashed potatoes and seasonal vegetables, this makes a lovely, hearty meal.
What to order: Crunchy Challah French Toast, $15,000 Dungeness Crab Cake, Migas, Five-Hour Braised Pot Roast
Address: 121 SW 3rd Avenue, Portland, OR 97204
Website | Instagram | Facebook
10. Cuốn – Vietnamese Street Food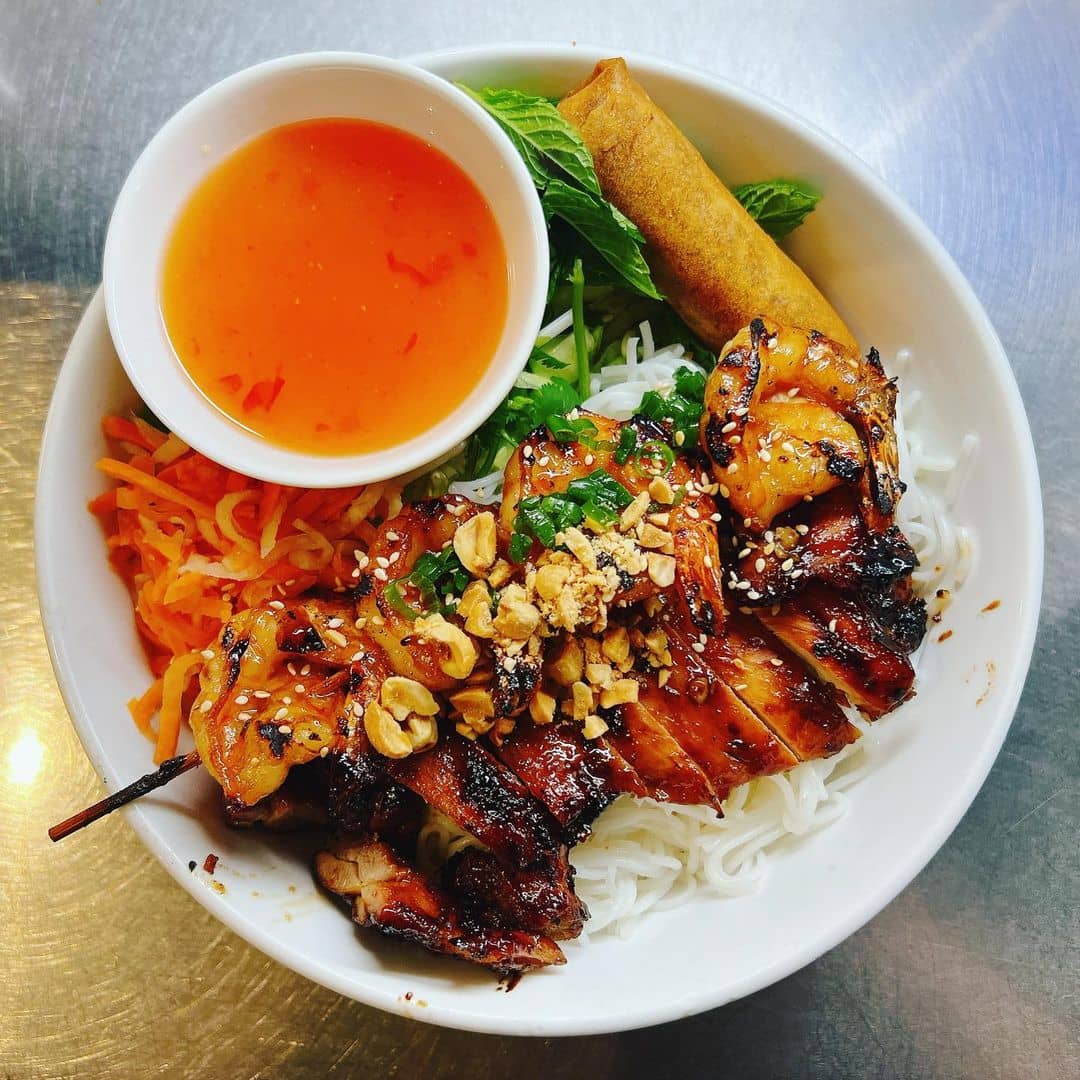 Meaning "roll" in Vietnamese, Cuốn is a family-owned restaurant that brings to downtown Portland delicious Vietnamese street food, all made with fresh, high-quality ingredients.
With floor-to-ceiling windows, the space is modern, elegant, and casual, and is ideal for enjoying quick, delicious meals with friends.
At Cuốn, starting your meal without an order of their Spring Rolls would be a sin, and we particularly love the Grilled Lemongrass Pork Spring Rolls. Infused with a deep lemongrass flavor, the pork is super tender and tastes extraordinary in the huge roll.
If you're craving Crispy Pork Belly, this place has one of the best and most authentic versions.
Whether you have it as a Banh Mi, with Jasmine Rice, or in a Vermicelli Noodle bowl, the star of the dish will definitely be the perfectly juicy pork belly with crispy skin.
Their Beef Pho is just WOW! The broth itself tastes really authentic, with different levels of complex flavors, and comes filled with tender and juicy meat as well as beefballs. T
And when you're heading out, grab to-go a refreshing Vietnamese Iced Coffee.
What to order: Grilled Lemongrass Pork Spring Rolls, Crispy Pork Belly, Beef Pho, Vietnamese Iced Coffee
Address: 600 SW 4th Avenue, Portland, OR 97204
Website | Instagram | Facebook
11. Jake's Famous Crawfish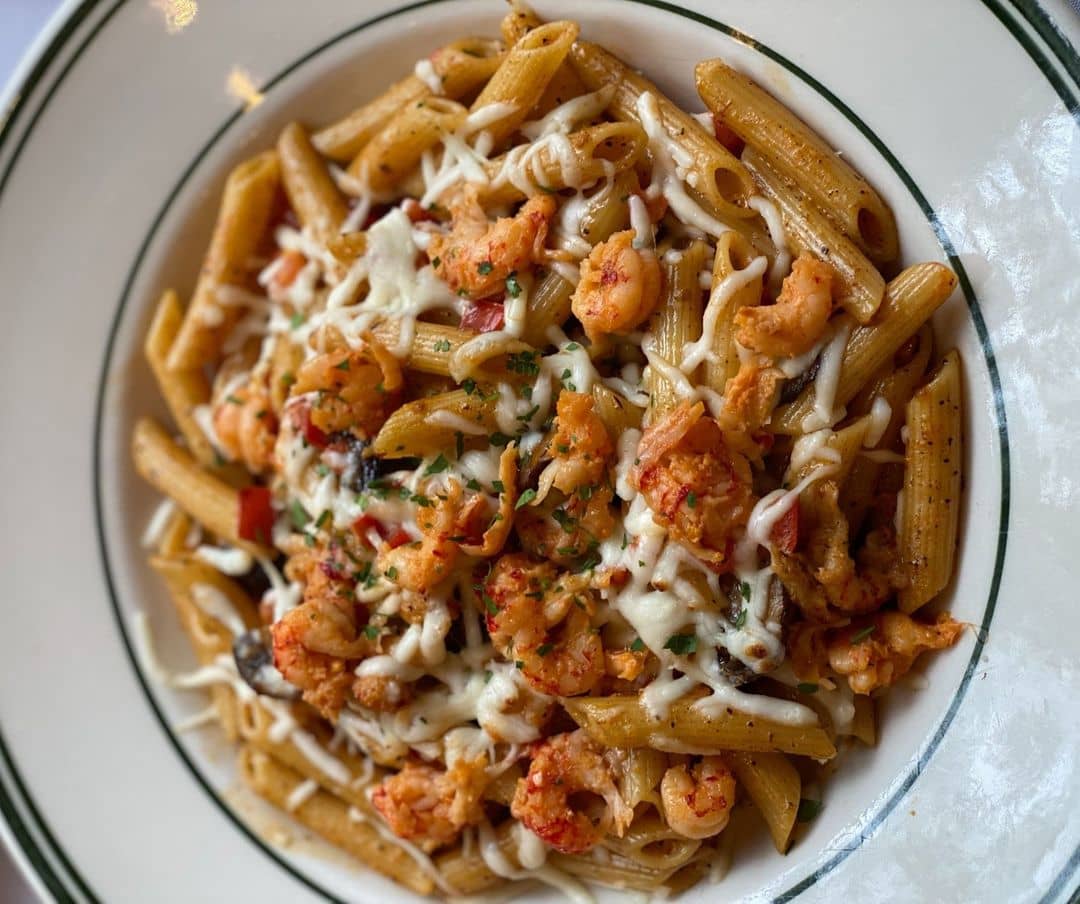 Jake's Famous Crawfish, since 1892 – the name board says it all! This place has been a downtown Portland staple for decades and has been offering a timeless seafood dining experience for generations.
The Dungeness Crab & Bay Shrimp Cakes is an appetizer you'll find on almost every table in the restaurant.
These famous cakes are crispy, moist, and flavorful, and the ginger jalapeno aioli they're served with serves them right by adding an enjoyable spice kick to the subtle and sweet crab and shrimp cakes.
The Crab & Shrimp Stuffed Salmon comes highly recommended not just by the chef but also by the restaurant's regulars. The crab, shrimp, and cheese filling in the salmon makes the fish even richer, and you can quite literally feel the extra level of decadence.
The Popcorn Crawfish is to die for! It's crispy, crunchy, tender, zesty, juicy, and absolutely divine, especially with the sherry wine aioli.
Last but certainly not the least, Jake's Famous Étouffée. This classic stew has the holy trinity of chicken, shrimp, and crawfish tails in a rich and spicy brown sauce.
What to order: Dungeness Crab & Bay Shrimp Cakes, Crab & Shrimp Stuffed Salmon, Popcorn Crawfish, Jake's Famous Étouffée
Address: 401 SW 12th Avenue, Portland, OR 97205
12. Bamboo Sushi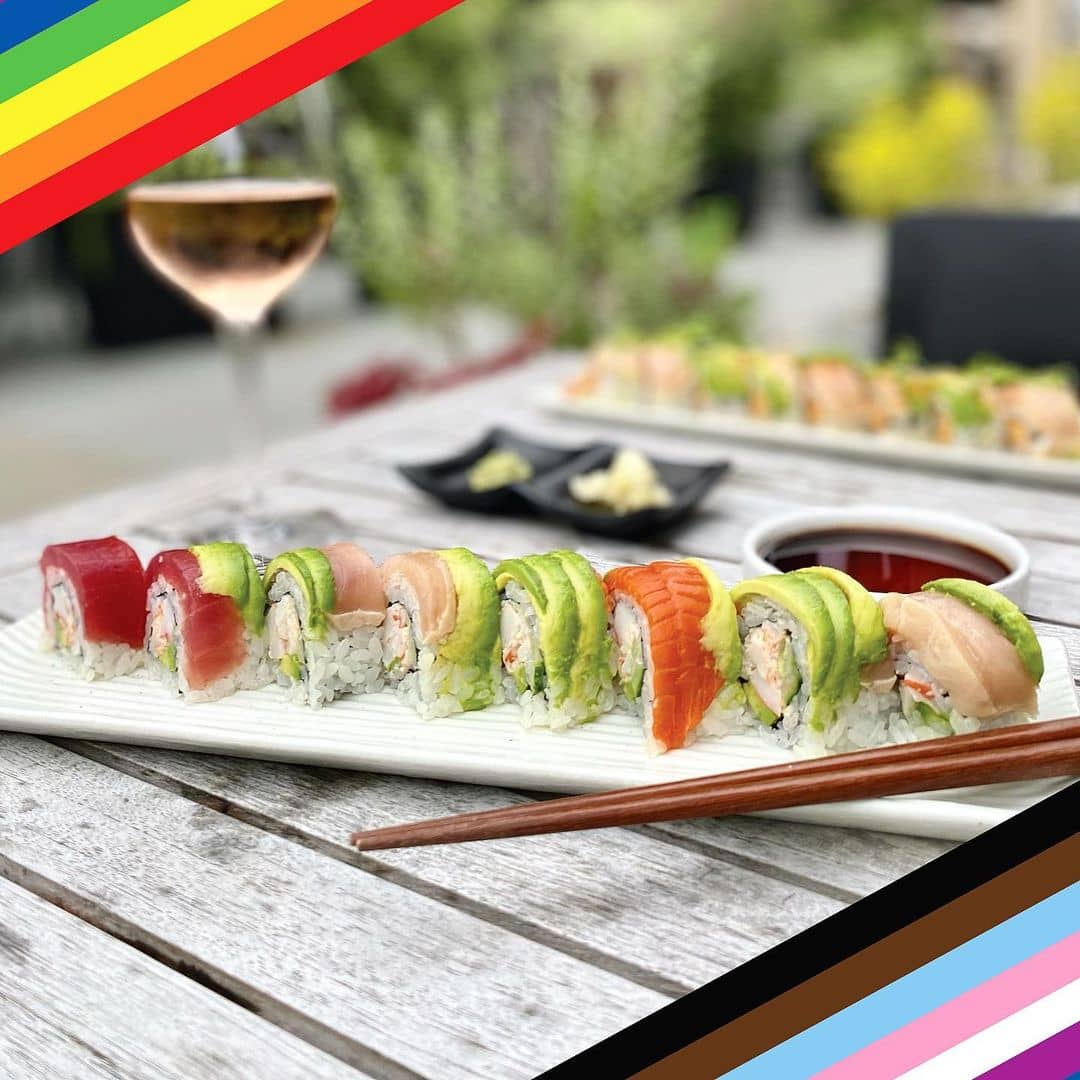 As "the world's first certified sustainable sushi restaurant", Bamboo Sushi operates in multiple locations around the country, serving playful and creative sushi, sake, and more.
The restaurant's downtown Portland space features traditional Asian decor with wooden flooring, panels, and seating, and the vibe is casual.
Their Bamboo Dragon roll is unique, elite, and a delight to have. Made with shrimp tempura, spicy tuna, crab, avocado, cucumber, and tempura crunchies, this roll is a beautiful and skillful preparation of multiple textures and flavors, all working together wonderfully well.
The Green Machine roll is a refreshing addition to the menu, exclusively curated for vegetarians. The tempura fried green bean in the roll tastes amazing, and the cilantro sweet chilli aioli on top adds a wonderful flavor.
The MSC Grilled Octopus, served over roasted cauliflower steak, blistered cherry tomatoes, and aji verde, is FIRE! The octopus is beautifully charred, tender, and slightly chewy, and the aji verde is spicy and makes the dish utterly irresistible.
Bamboo Sushi also offers some impressive cocktails, like the Kaleidoscope. This gin-based cocktail also has elderflower liqueur, which gives it its mesmerizing color, and a touch of rose water makes it fragrant and tasting dreamy.
What to order: Bamboo Dragon, Green Machine, MSC Grilled Octopus, Kaleidoscope
Address: 404 SW 12th Avenue, Portland, OR 97205
Website | Instagram | Facebook
13. Love Belizean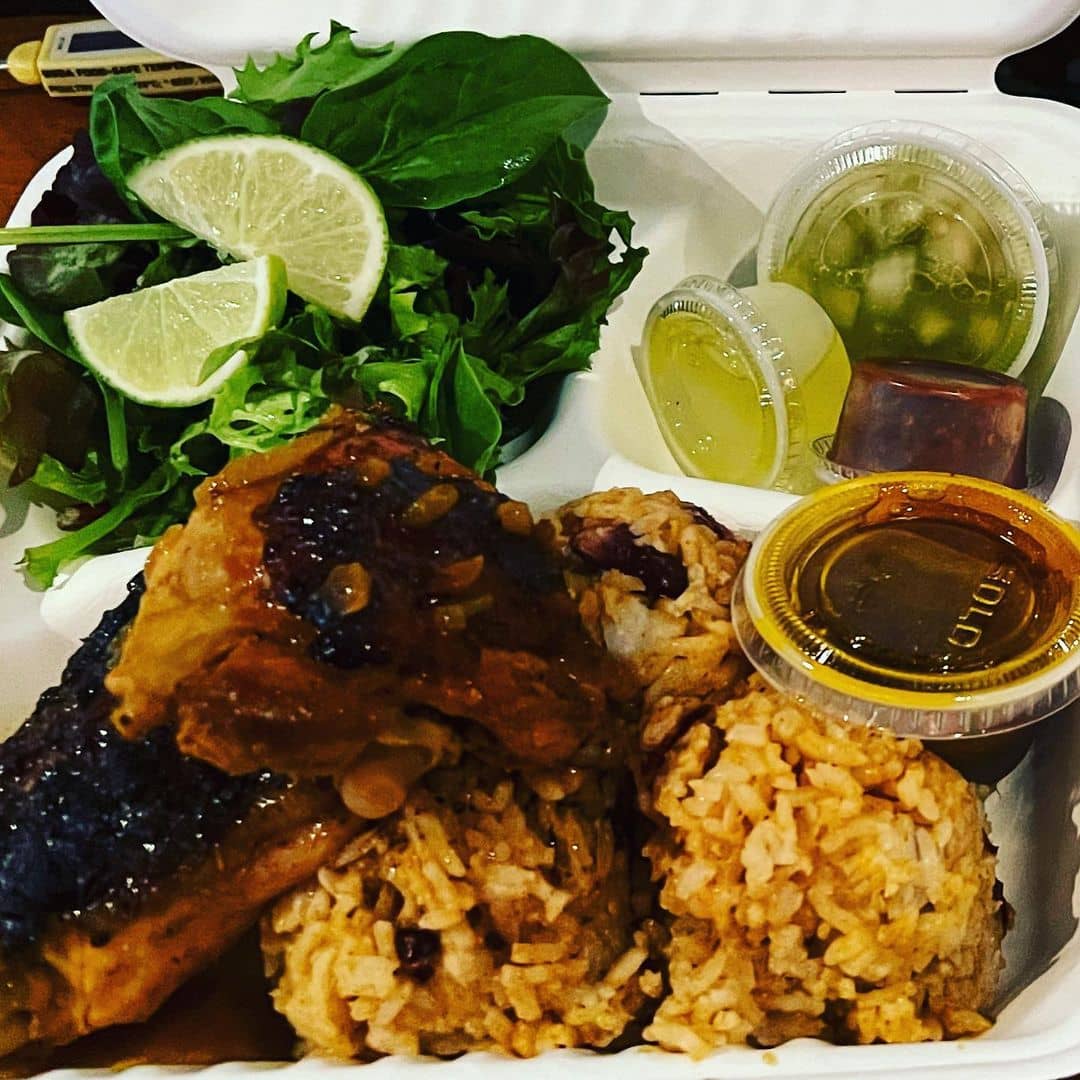 Love Belizean originally began as a tiny food cart in a parking lot near PSU; fast forward to today, it has become one of the go-to kitchens for the residents of downtown Portland.
This counter-serve, lunch-only eatery is hugely popular for its Belizean chicken dish, served in a chill atmosphere.
The most ordered item here is the Single or Double Belizean Chicken Plate. Served with rice and your choice of salad and sauces, the showstopper of the plate – the chicken, is perfectly cooked, with a mouthwatering char and glaze on the outside and perfectly juicy inside, and mightily flavorful.
For your sauce, try the Prickly Pear for something interesting and refreshing.
For all the vegans, vegetarians, and those with gluten restrictions, there's the Bean Plate.
Served with seasoned rice, salad, and hot sauce, the red beans are stewed in a coconut curry base, which is mildly spiced, rich, and creamy, and tastes gratifying with the rice.
What to order: Belizean Chicken Plate, Bean Plate, Prickly Pear sauce
Address: 1503 SW Broadway, Portland, OR 97201
With a burgeoning food scene that demands exploring, Portland has an epic food trail waiting for you, and we have a list of the best Portland restaurants where you can indulge.
How We Create Our "Best" Lists
All Noms Magazine's "best" lists are created using multiple factors and signals to help readers find the best restaurants, things to do, and places to stay at. Some of these factors and signs include personal experiences, correspondence with locals, and compiling experiences from review sites.
Each list is also created to be balanced (in terms of price, cuisine type, ambiance, and more) as possible. This means that the lists are not specifically created in ranking order. You should be comfortable picking from any of the spots on the list and generally have a good time. But of course, YMMV (your mileage may vary) and everyone may have different experiences/palates.