Looking for the best Indian restaurants in Seattle? Well, you're at the right place!
From the rich, creamy curries to the aromatic biryanis and the fluffy naans, these spots offer the most authentic and mouth-watering Indian dishes you can find in Seattle.
So, buckle up and get ready to take your taste buds on a flavorful journey through the best Indian restaurants in Seattle!
1. Spice Waala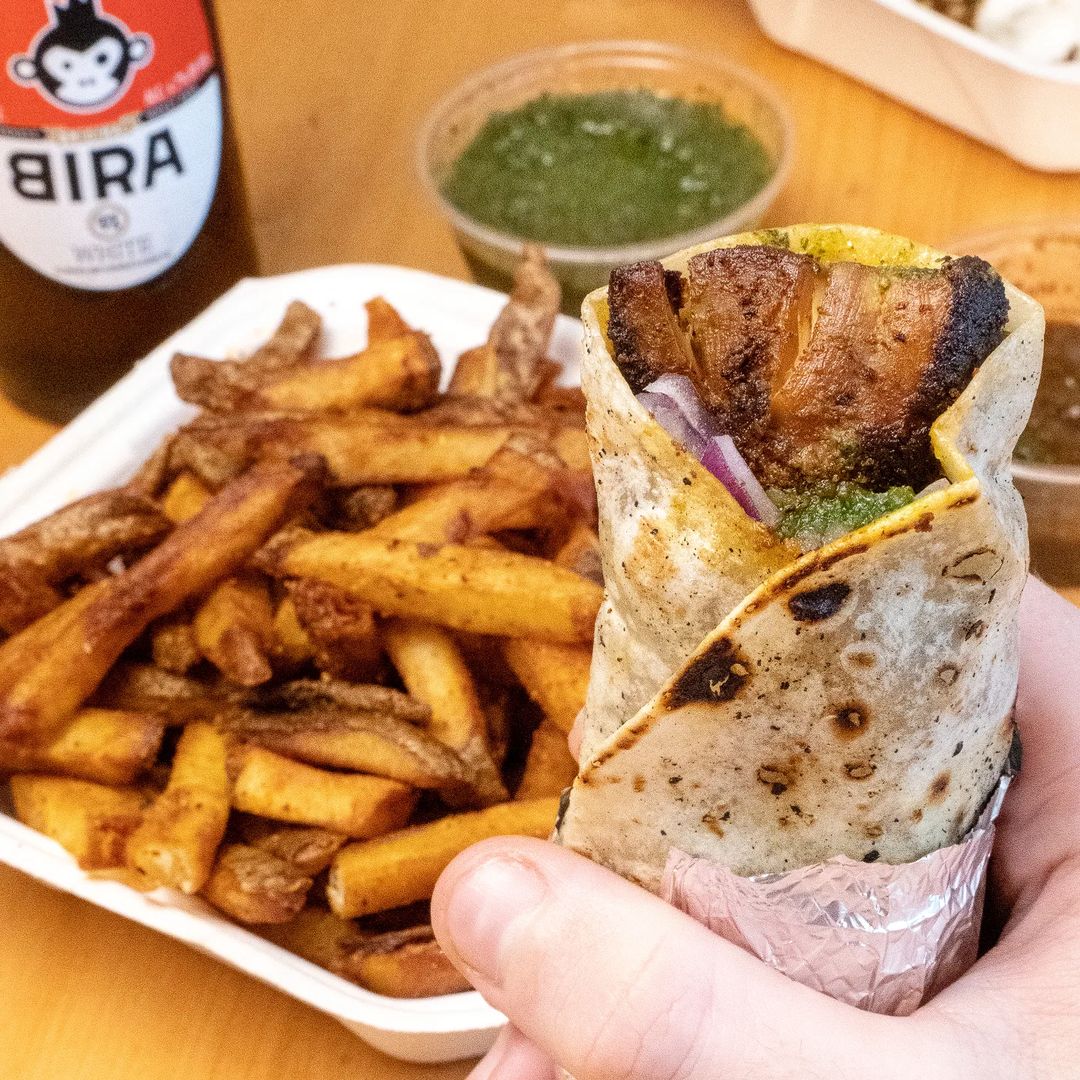 Spice Waala is a hidden gem located in Capitol Hill, which brings the vibrant flavors of Indian street food right to your plate. This place is all about authentic Indian cuisine served in a relaxing, casual ambiance.
When it comes to the menu, the Chicken Tikka Roll and Aloo Tikki Roll are the talk of the town. The Chicken Tikka Roll is a flavorful wrap filled with spiced chicken that's been marinated to perfection.
We've never seen anyone leaving this place not complimenting their roll! If you're searching for a vegetarian option, grab the no-less-delightful Aloo Tikki Roll, which is made with spiced potato patties, it's a roll that packs a punch!
Paddi Chaat is another crowd favorite with fluffy chips, boiled potato & chickpeas topped with sweet yogurt, tamarind & cilantro chutney. And don't forget to order some drinks!
We highly recommend you try the Mango Lassi, which we prefer to call "liquid gold" made out of mango! This is super delicious with hints of cinnamon, and is sure to make you come back for more!
What to order: Chicken Tikka Roll, Aloo Tikki Roll, Papdi Chaat, Mango Lassi
Address: 
– 340 15th Ave E, Seattle, WA
– 2008 NW 56th St, Seattle, WA 98107
Website | Instagram | Facebook
2. Annapurna Cafe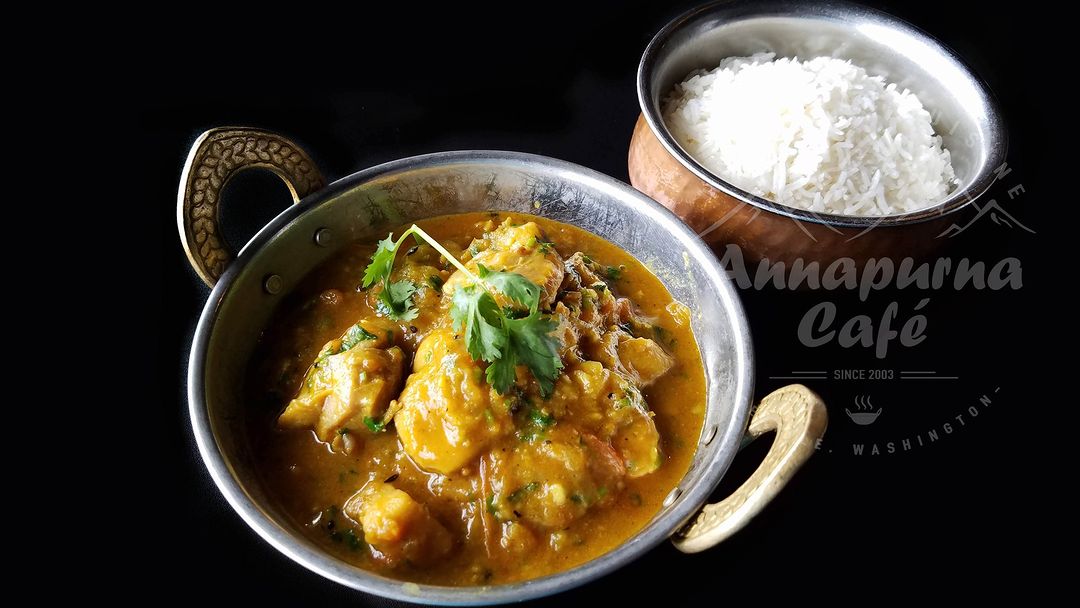 Annapurna Cafe is a cozy spot in Seattle that specializes in Himalayan, Tibetan, and Indian cuisine.
The restaurant has a unique basement setting filled with colorful Himalayan dishes, while the friendly and professional staff create an inviting and comfortable atmosphere!
When it comes to food, the Thukpa and Momos are the stars. The Thukpa is a hearty noodle soup that's both comforting and flavorful. The Momos, Tibetan dumplings, are a must-try, filled with either meat or vegetables.
Choose the chicken filling, which is well-spiced, juicy, and pairs perfectly with the trio of chutneys: creamy peanut, spicy tomato, and herby mint.
Fish Korma is another lip-smacking dish, which has a delicious, creamy, and fragrant white gravy. If you haven't tried their Fish Korma, you haven't eaten real Indian food!
Palak Paneer is a wonderful vegetarian option if you ask us, which is made with paneer cheese in a rich, thick sauce consisting of puréed spinach mixed with tomatoes, garam masala, garlic, and numerous spices. Fragrant and tasty!
What to order: Thukpa, Momos, Tensing Momo, Palak Paneer, Fish Korma
Address: 1833 Broadway, Seattle, WA 98122
Website | Instagram | Facebook
3. Saffron Grill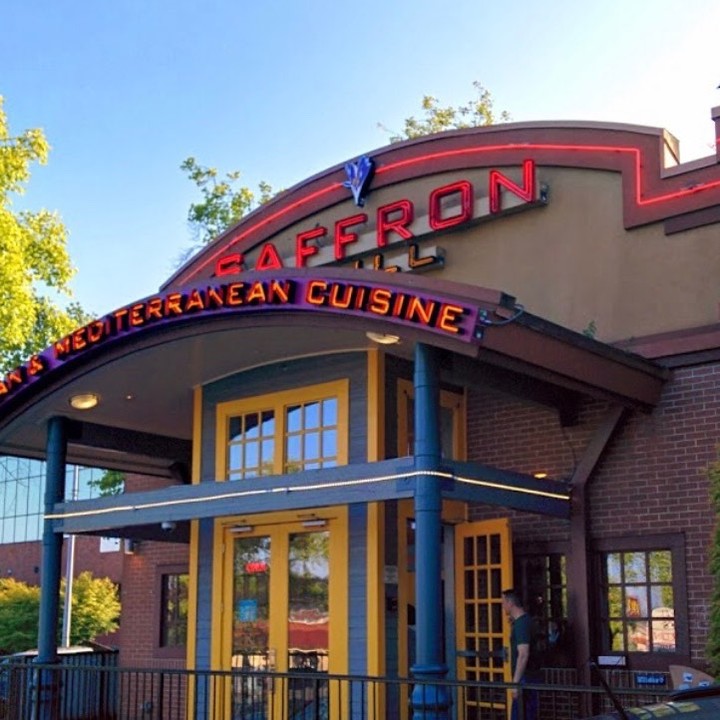 Saffron Grill is a haven for those who love Indian cuisine with a touch of elegance. Located in North Seattle, the restaurant offers a warm and cozy ambiance, complete with traditional Indian decor.
The menu has a focus on Mediterranean and Indian cuisine fusion, especially in the North Indian. This place is just the perfect introduction to gorgeous flavors and spices that Indian food utilizes so well.
The menu is diverse, but the Chicken Tikka Masala and Lamb Korma stand out. The Chicken Tikka Masala is creamy, rich, and filled with aromatic spices, making it a must-try!
The Lamb Korma is equally impressive, with its tender meat and flavorful gravy. These two are sure to satisfy your palate!
In the mood for some curry? Try the Curry Specialty, a traditional brown curry prepared with tomatoes, onions, and fresh herbs. Or you can get it innovated with the Mango Curry, which is creamier with a mango chutney base along with ginger and garlic.
They are both served with Basmati rice. End it right with some Gulab Jamun, an Indian delicacy made from milk dough fried until golden brown, dip it in the cardamom syrup and you're all set!
What to order: Chicken Tikka Masala, Lamb Korma, Paneer Tikka, Curry Specialty, Mango Curry
Address: 2132 N Northgate Way, Seattle, WA 98133
Website | Instagram | Facebook
4. Rupee Bar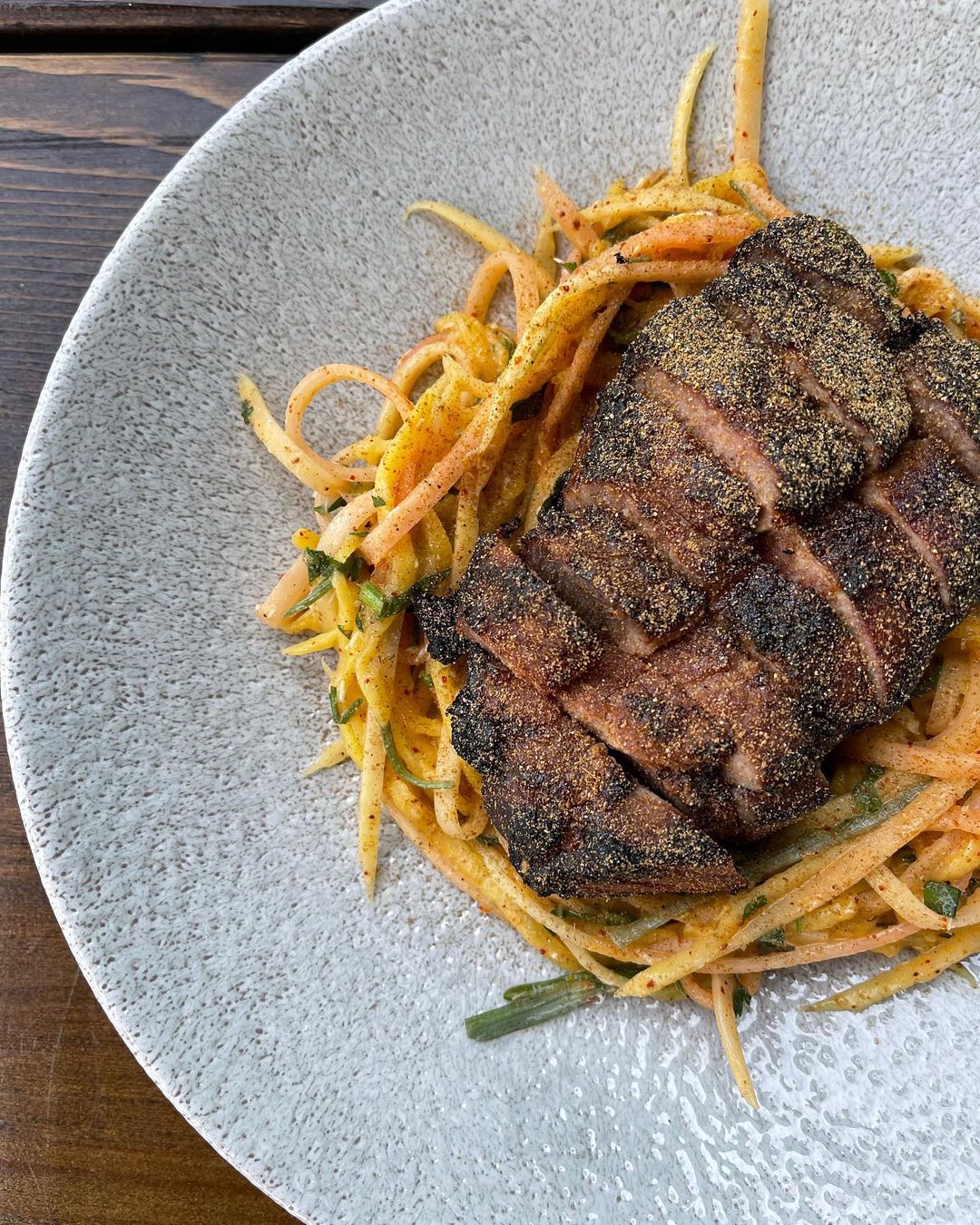 Located in Ballard, Rupee Bar is a restaurant specializing in Sri Lankan and Southern Indian cuisine. It has a laid-back vibe with a touch of sophistication, while the interior is chic, featuring a mix of modern and traditional elements.
With a stellar bar program, the restaurant provides its clients with some of the best cocktails in Seattle
When it comes to food, the Chicken Curry and Coconut Sambol are the stars. The Chicken Curry is a flavorful dish that combines a variety of spices to create a rich and satisfying experience.
The Coconut Sambol is a Sri Lankan specialty that adds a tropical twist to the meal. For cocktails, the King Coconut is a must-try with a sweet taste and smooth mouthfeel.
For something easy-drinking yet powerful at the same time, try Knives Out, which is made with aged rum and passionfruit juice!
If you're searching for something to pair with your drink, we highly recommend bites like Bhel Puri! It's a light and refreshing salad with puffed rice, vegetables, and tamarind topped with yogurt.
Or a Mutton Roll filled with spiced ground lamb if you're into something more flavorful and meaty. 
What to order: Chicken Curry, Coconut Sambol, Bhel Puri, Mutton Roll, King Coconut, Knives Out
Address: 6307 24th Ave NW, Seattle, WA 98107
Website | Instagram | Facebook
5. The Roll Pod Indian Restaurant – White Center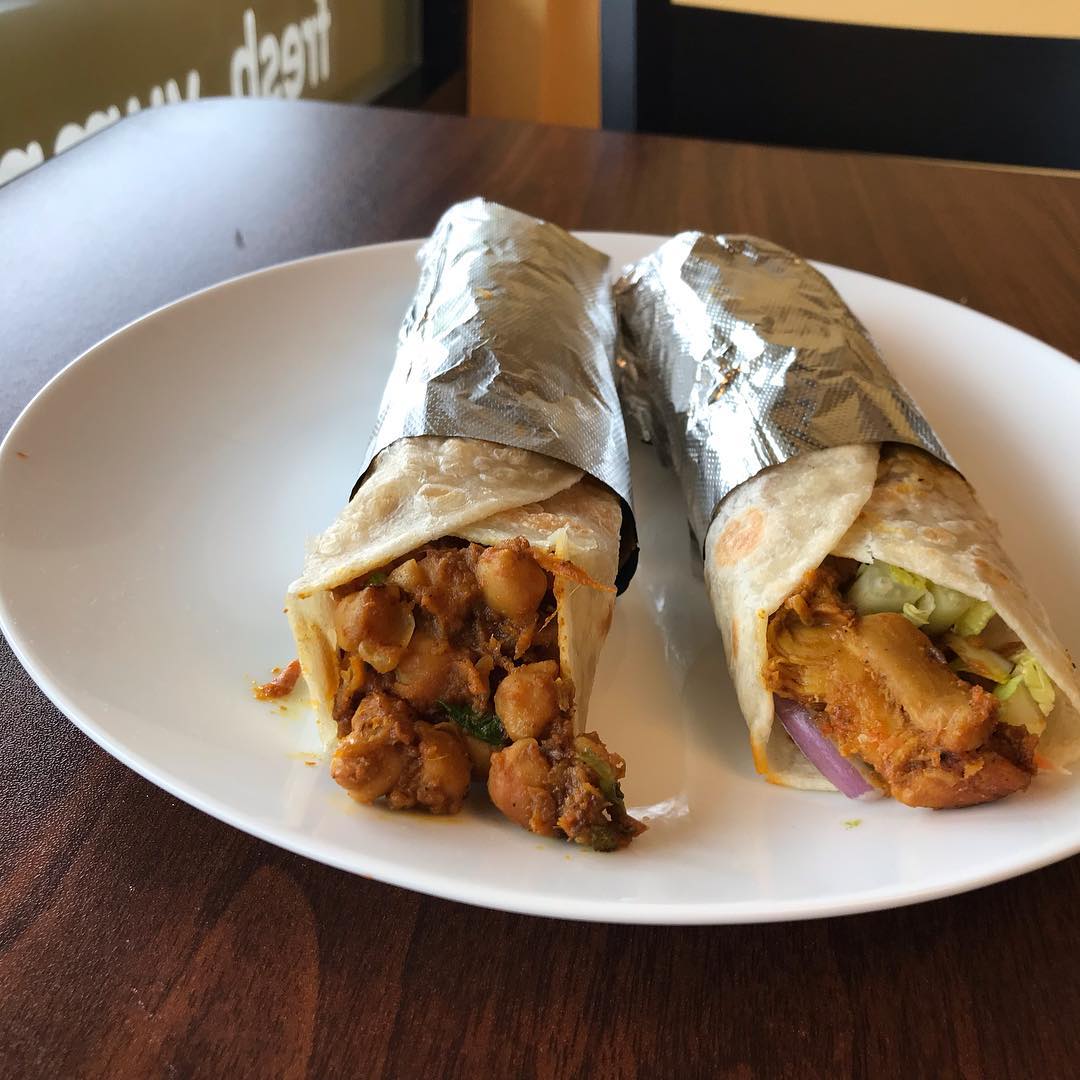 The Roll Pod in White Center is all about giving you a taste of India in the most convenient way possible! Specializing in Kathi Rolls, Rice Bowls, and Pav Bhaji, this spot is perfect for those on the go.
Established in 2016, they've been serving up mouthwatering Indian food that's both fresh and balanced. No wonder why this place is always packed with people who know stunning Indian food!
When it comes to their menu, the Kathi Rolls are a must-try. These rolls are packed with flavor and are perfect for those who want a quick but satisfying meal.
You can also try the house's specialty like Rice Pod, a special fried rice with a creamy gravy overlaid with meats, salad medley, sauces, and lemon juice.
They have vegan options too, making this dish so approachable!
For a lighter one, choose the Salad Pod, all the goodness of the Rice Pod but replacing the rice with chopped lettuce but still the same amount of protein and flavors!
We personally love munching on their Pav-Bhaji Pod, a lip-smacking spiced veggie medley that you can enjoy with a toasted bun. Just dip the bread piece in the bhaji and enjoy it!
Simple yet tasty!
What to order: Kathi Rolls, Rice Bowls, Full Rice Pod, Full Salad Pod, Pav-Bhaji Pod
Address: 9602 16th Ave SW, Seattle, WA 98106
Website | Instagram | Facebook
6. Cafe Zum Zum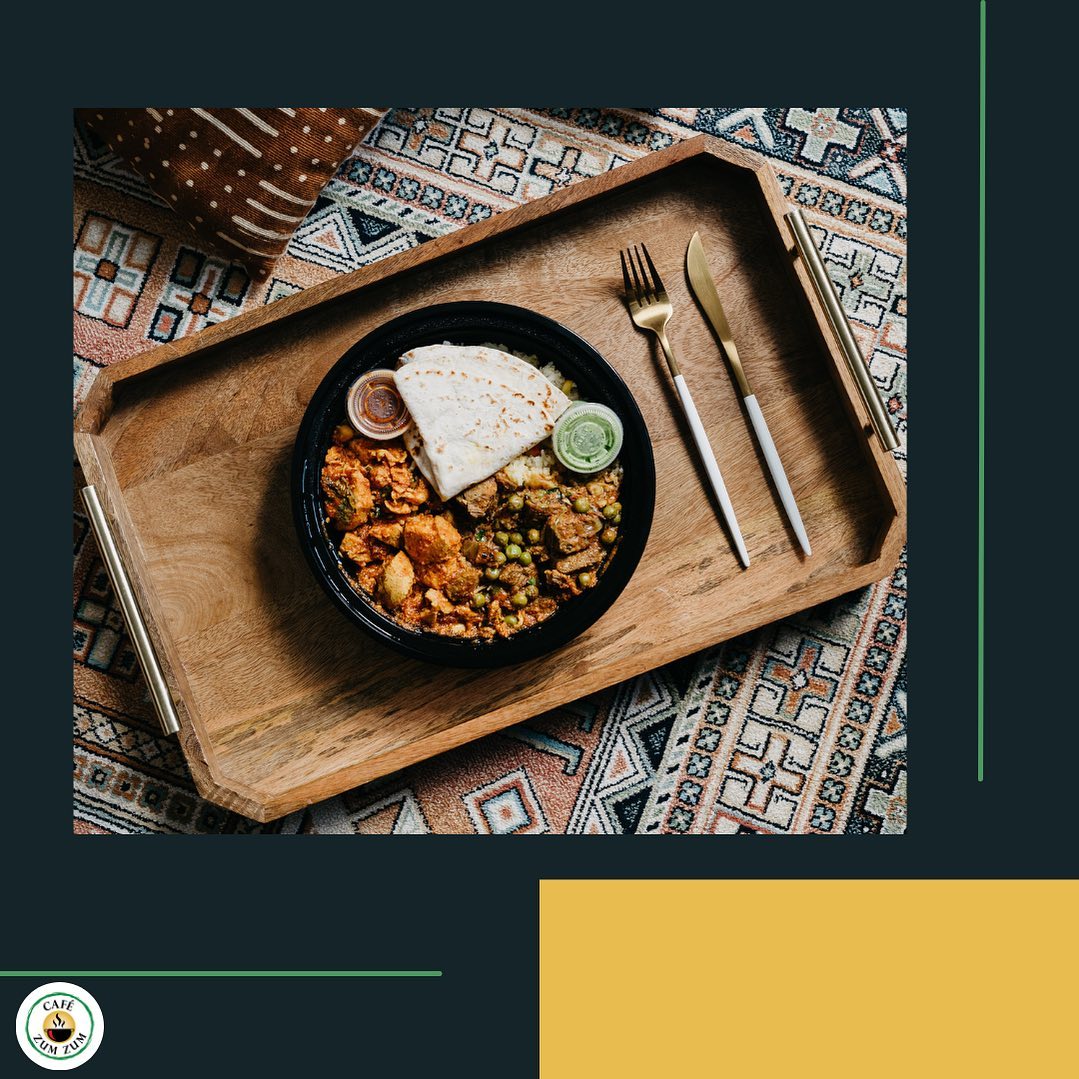 Whenever you feel like enjoying brunch in a cozy, homey atmosphere, Cafe Zum Zum is your place to go!
Though being stuck so deep within Century Square and we can barely see them, Cafe Zum Zum is always bustling with locals who love the authentic taste of Indian food.
Don't hesitate to pay a visit and try it yourself!
Once you're here, the Vindaloo Curry Chicken is highly recommended. It is spicy, tangy, and wonderfully fragrant. You can actually smell it being made back in the kitchen.
You can actually customize your spice level, which makes this dish even more stunning (especially for those who love spicy stuff!).
Of course, you can't miss the curry. While the Chicken Curry is creamy and tender, the Lamb Curry is way richer and more hearty!
For a vegetarian option, choose the Vegetarian Daily Special with green lentils that is well-spiced and has such a nice heat. It is so flavorful that you might want to come back for more!
What to order: Vindaloo Curry Chicken, Naan, Chicken Curry, Lamb Curry, Lamb Donne, Vegetarian Daily Special
Address: 1501 4th Ave Ste 101, Seattle, WA 98101
7. Spice King Seattle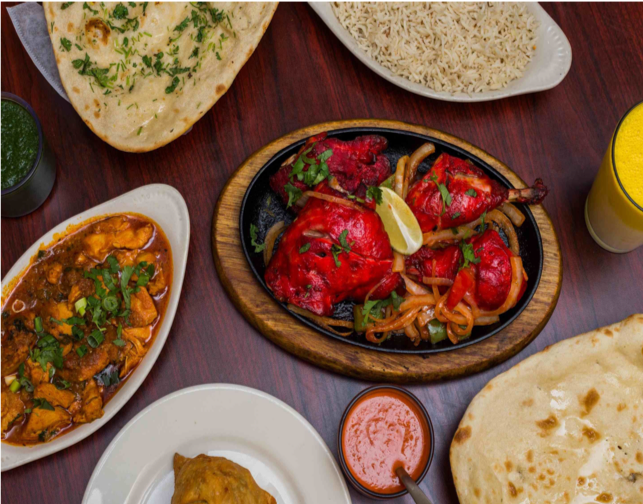 What to do after wandering around Pike Place Market? Stop by Spice King Seattle to fill your tummy with flavor-packed Indian dishes!
Located not too far from the market, this spot is definitely a very hole-in-the-wall type Indian place with a laid-back ambiance and friendly service. 
The menu offers a variety of dishes, but the Butter Chicken and Meat Thali are highly recommended.
The succulent boneless chicken has that wholesomely sweet and spicy tastes complement each other, while the Meat Thali is packed with flavors and textures!
Don't be shy, order some Masala Tea to wash them all down.
If you're in the mood for some seafood, try the Seafood Curry with flavor exploded in your mouth!
The dish comes with a mix of crab, prawn, and clams, along with some veggies, light coconut milk, lime juice, and green curry paste.
What to order: Butter Chicken, Meat Thali, Aloo Tikki Chaat, Amritsaki Kulcha, Seafood Curry, Chicken Shish Kebab
Address: 213 Pike St, Seattle, WA 98101
8. Far Eats Cafe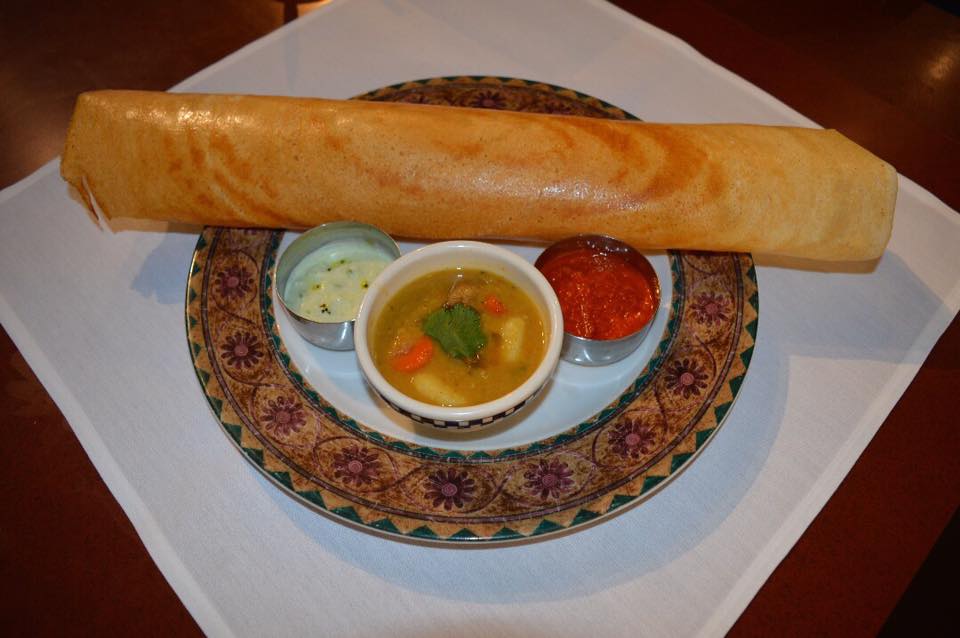 Far Eats Cafe is a hidden gem that brings the flavors of India right to Seattle. Located in a cozy corner, the restaurant offers a warm ambiance with a touch of modern decor.
The menu is a blend of traditional and contemporary Indian dishes, making it a perfect spot for both purists and adventurers!
The two must-try items here are the Chicken Tikka Masala and the Paneer Butter Masala. The Chicken Tikka Masala is a creamy, tomato-based curry that's rich in flavor and perfectly spiced.
The Paneer Butter Masala, on the other hand, is a vegetarian delight with soft paneer cubes that melt in your mouth.
House signature like Far East Biryani is no less stunning with signature style biryani made with Basmati rice, ghee, onion, and pudina, served with cucumber raita and pappad.
We're so sure you won't find this taste anywhere else in town! The Stuffed Tiger is unique too, with herb-cheese-stuffed jumbo prawns baked and topped with tomato butter sauce. Feel so wholesome in every bite!
What to order: Chicken Tikka Masala, Paneer Butter Masala, Samosa, Butter Chicken, Stuffed Tiger, Far East Biryani
Address: 400 2nd Ave W suite 100, Seattle, WA 98119
9. Taste of India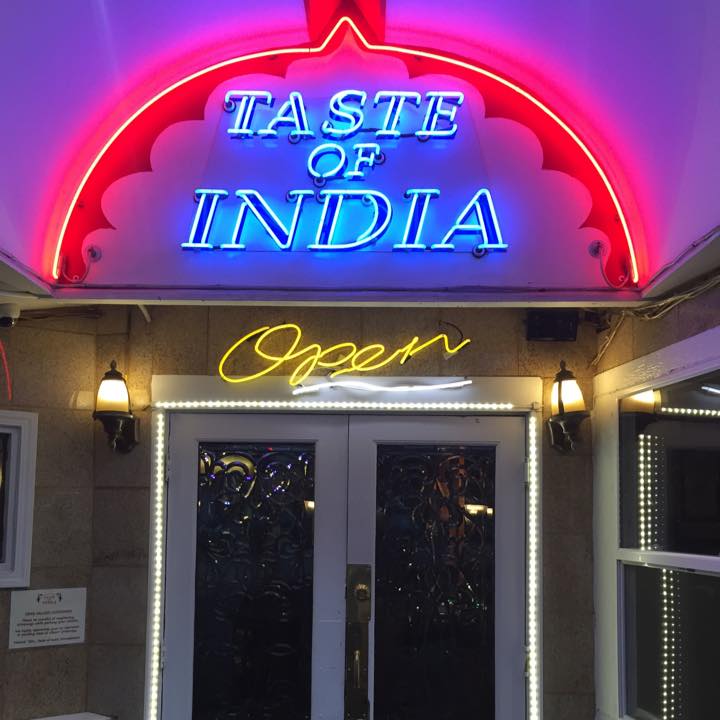 Taste of India offers authentic Indian cuisine in a warm and welcoming setting. The restaurant is known for its extensive menu that caters to both vegetarians and non-vegetarians.
The ambiance is traditional, complete with Indian artifacts and decor. Oh, they also offer a bottomless chai tea service, ensuring that no meal is complete without refreshments!
The Butter Chicken and the Lamb Biryani are the dishes you can't miss. The Butter Chicken is creamy and flavorful, while the Lamb Biryani is aromatic and comes with tender pieces of lamb.
The most popular vegetarian offering is the Baba Ghannoj – eggplant smoked over an open fire that is then pureed and combined with tahini and a special dressing, and served with pita. Trust us, this is truly mouth-watering!
To share, get the Taste Of India Delight, which comes with a selection of vegetable samosa, vegetable pakora, chicken tikka, and chicken pakoras.
For a meaty one, we personally love the Lamb Koti Kabab with tender pieces of lamb marinated in yogurt and spices.
What to order: Butter Chicken, Lamb Biryani, Chicken Tikka, Taste Of India Delight, Lamb Boti Kabab, Baba Ghannoj
Address: 5517 Roosevelt Way NE, Seattle, WA 98105
10. Jewel of India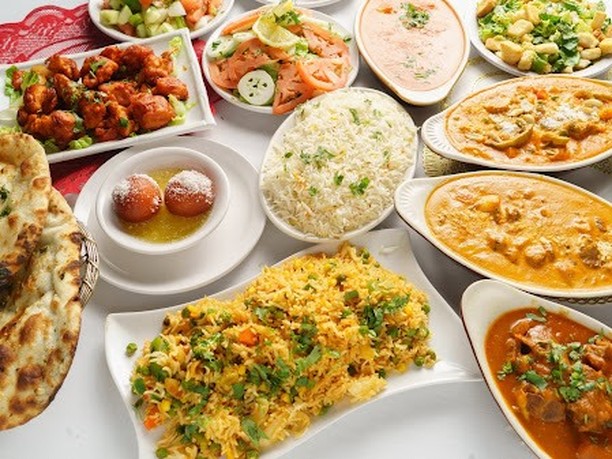 Jewel of India is an authentic North Indian restaurant located in Seattle's U-District. The restaurant offers a lunch buffet on Fridays to Sundays and has both vegetarian and non-vegetarian options.
We love exploring their menu as it features dishes representative of the many regions and culinary heritage of India as a whole!
The Thali Lunch Special is a hit, offering a variety of dishes in one platter. People love coming here to enjoy their curry, especially the rich and flavorful Chicken Curry.
A stable and comfortable dish that never gets old! If you like their curry, you'll definitely fall for their Chicken Soup, which is creamy and flavored with numerous spices, then drizzled with some lemon to balance the whole taste profile.
Seekh Kabob is no less delicious with lamb meat blended with herbs and spices grilled in a special tandoor oven.
Each bite is juicy, meaty, and packed with flavors! Order some Cucumber Salad to freshen things up. It's light and full of crunchy texture from fresh cucumbers, lettuce, tomatoes, and onions.
What to order: Thali Lunch Special, Chicken Curry, Seekh Kabob, Cucumber Salad, Chicken Soup, Paneer Tikka Kabob
Address: 4735 University Way NE, Seattle, WA 98105
Website | Instagram | Facebook
And there you have it, folks! We've just taken you on a culinary tour of the best Indian restaurants in Seattle. Whether you're a fan of North Indian, South Indian, or even Himalayan flavors, Seattle's Indian food scene has something for everyone.
Looking for more food recommendations? Well, check out our pick of the best Seattle restaurants.