Looking for the best Ballard restaurants? Well, you're in the right place!
When it comes to food, Ballard has some of the best restaurants in Seattle— quaint cafes, lively bars, beloved bakeries, and more than a dozen breweries that host many of the neighborhood's hottest pop-ups.
With so many good options, choosing where to eat in the neighborhood can be difficult.
Luckily for you, we've compiled 10 of the best restaurants in Ballard below to help you decide.
1. San Fermo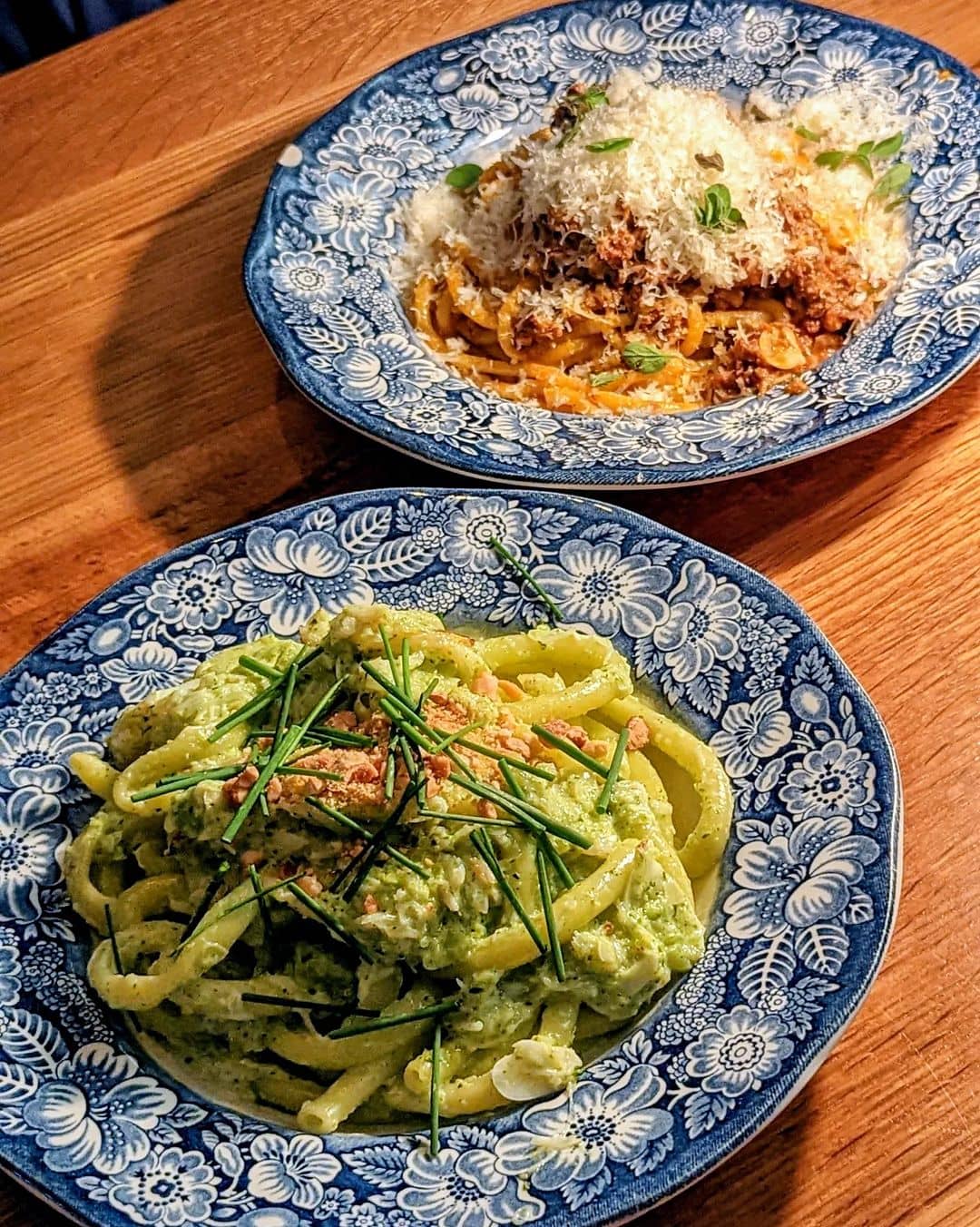 Set in a vintage house in Ballard Ave, San Fermo is home to the freshest pasta in town.
The small front porch with heated lamps leads you to the entrance, where you'll be transported to a place that feels like a restaurant in Italy as soon as you step inside.
With an open kitchen to watch how the chef makes magic, San Fermo is definitely a gem.
You may think it's a weird combination, but their Burrata with salad and balsamic strawberries is hella good. It has an outstanding balance of ingredients and a very rich texture that's not too filling.
For an Italian restaurant, San Fermo's Saffron Spaghetti Bolognese passes all standards with flying colors.
With a perfect meat-to-sauce ratio and harmonious mix of pork and veal that stood out among others, this pasta is made to offer to the food gods.
What to order: Burrata, Saffron Spaghetti Bolognese
Address: 5341 Ballard Ave NW, Seattle, WA 98107
Website | Instagram | Facebook
2. Sunny Hill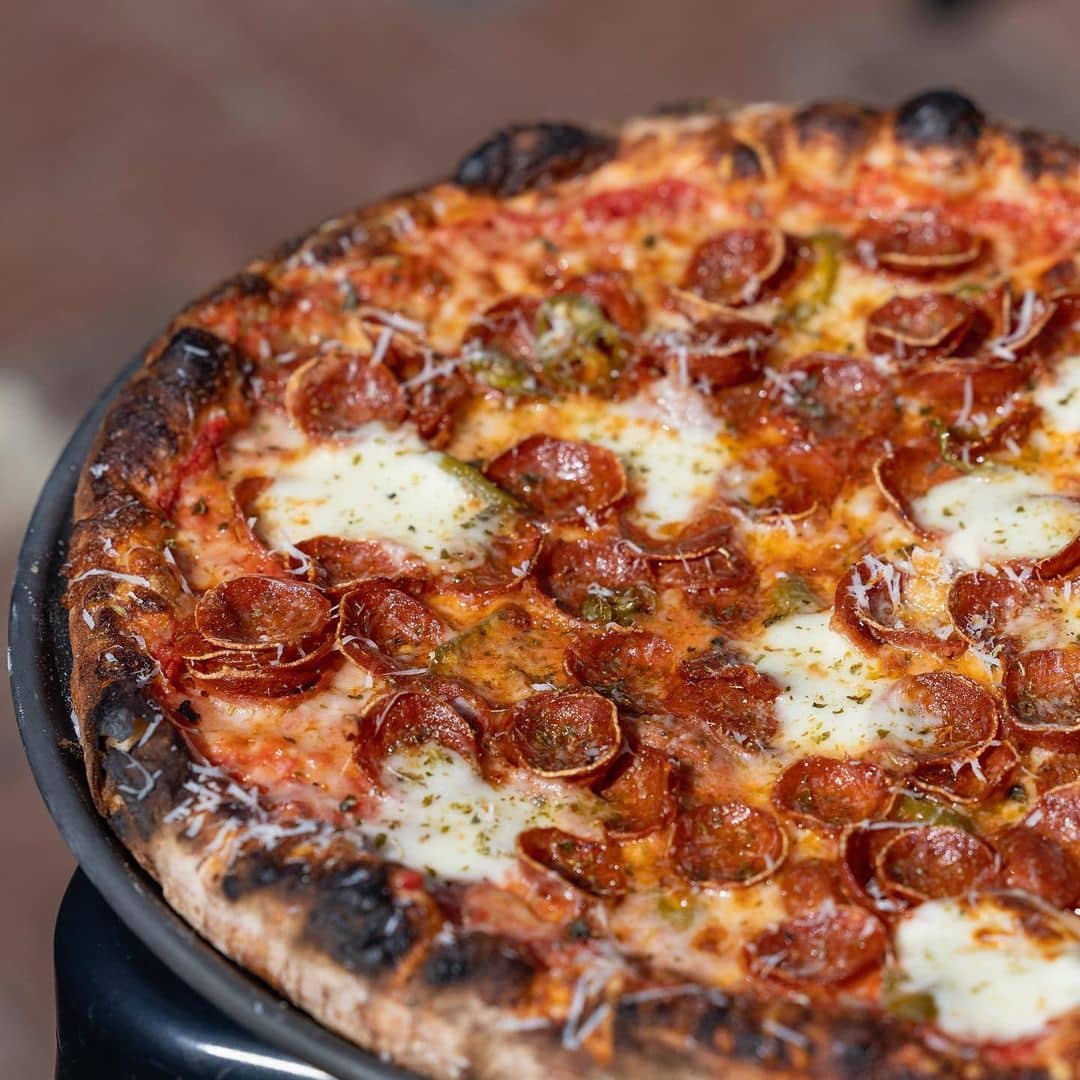 A chill hangout place with some of the best Detroit-style square pies, Sunny Hill, has got it going on in Ballard.
Posey vases filled with roses and colorful tiles make the perfect setting for a romantic afternoon date as you try and catch the sunset outside.
Sunny Hill is a must-try if you're in the Ballard area and you're craving some darn good pizza.
Did you know Sunny Hill is also home to the famous Waffle Fries in Seattle? No? Then, you're about to find out just how terrific it is.
These Waffle Fries are absolutely killer and still stay fresh and crispy after a while, so ordering a takeout won't ruin the experience.
If you want to taste the square pie in all its glory, we highly recommend getting the Arcade which is Sunny Hill's own take on the classic pepperoni.
What to order: Waffle Fries, Arcade Square Pie
Address: 3127 NW 85th St, Seattle, WA 98117
Website | Instagram | Facebook
🍕 Are you a foodie? Check out these top-rated Seattle food tours!
3. WeRo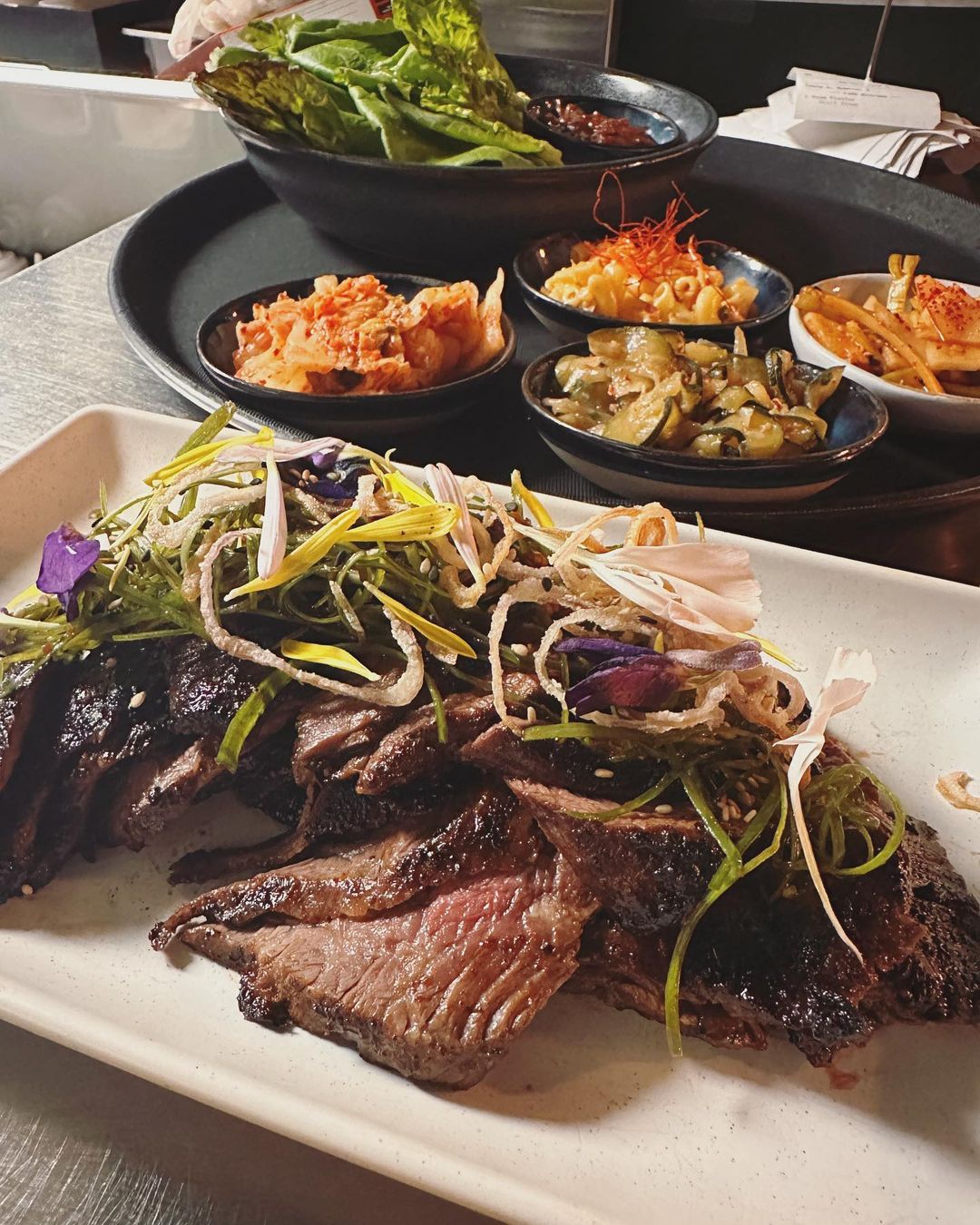 Headed by Chef Wes Yoo, WeRo is a modern upscale Korean restaurant in Ballard. The quality of the food they present is *chef's kiss*.
You can choose to sit indoors with chic and relaxing interiors or on the patio, where you can enjoy the beautiful sunsets of Seattle.
WeRo is a solid 10 out of 10 for plant-based peeps and those who love Korean food.
For starters, the Jeon is a savory pancake with lots of kimchi, potatoes, and mung beans.
One taste is enough to send you to a different dimension. It comes with a delectable soy sauce with a subtle sweetness brought about by the sesame oil.
The star of the menu is no doubt the Steak Ssam Platter. The kalbi is hands down one of the best you'll ever have in your life.
What to order: Jeon, Steak Ssam Platter
Address: 5210 Ballard Ave NW, Seattle, WA 98107
Website | Instagram | Facebook
4. Samara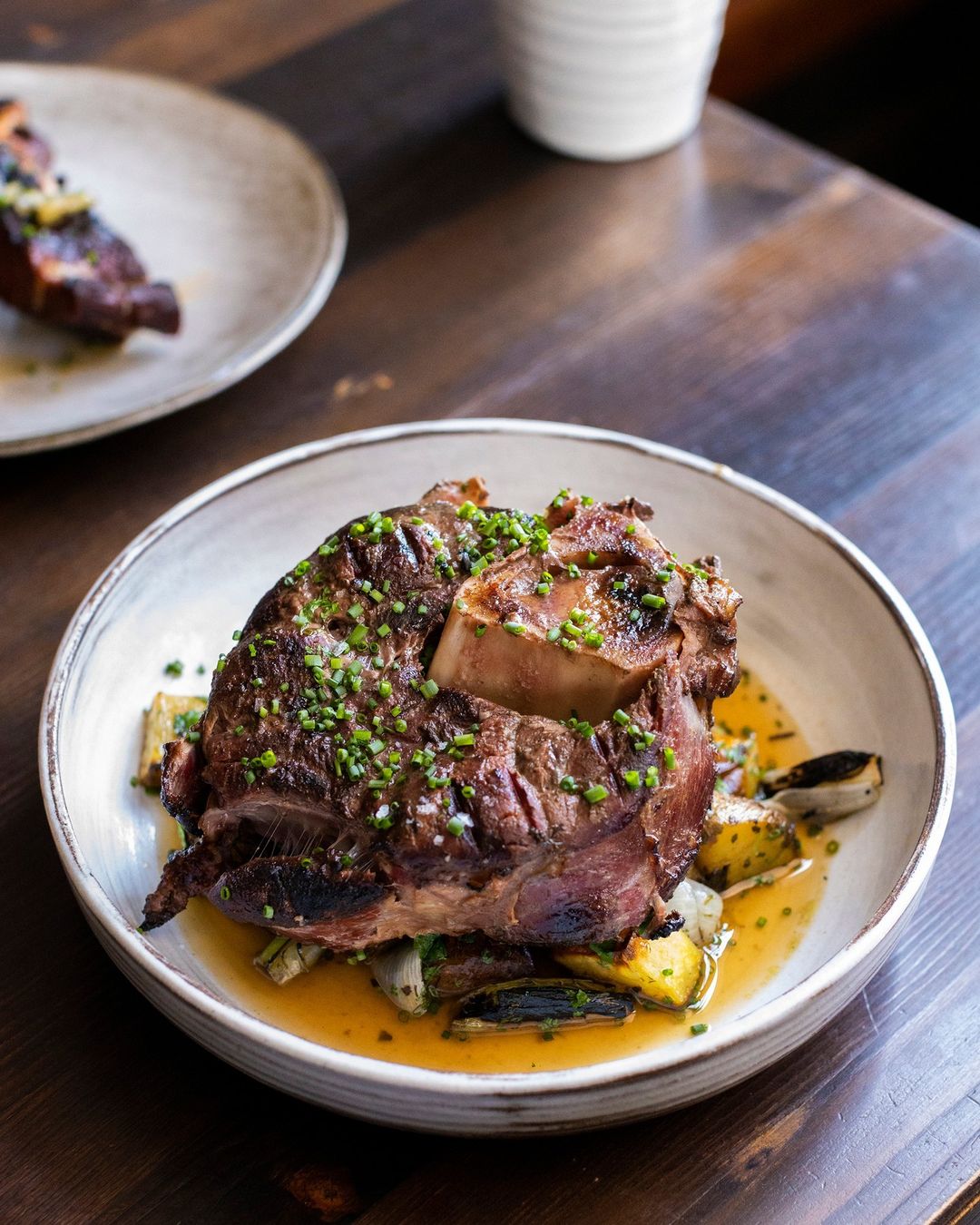 A local bistro heated by wood stoves, Samara is an intimate gathering place inspired by the style of Parisian neighborhood bistros.
Samara prepares dishes that highlight regional produce and seafood from sustainable fisheries and livestock breeds using a wood-fired brick oven and hearth.
They have a nicely curated wine list to complete the perfect date night.
Samara's almond-crusted Halibut with blistered green beans and a phenomenal almond oil sauce that tastes divine will make you part of the clean plate club because you'll gobble this one up in no time; it literally melts in your mouth!
Uniquely delicious and made with flawless execution, their Magret of Duck is another dish that shares the spotlight.
The insides are soft, flavorful, and juicy, while the outside is perfectly crispy.
What to order: Halibut, Magret of Duck
Address: 6414 32nd Ave NW, Seattle, WA 98107
Website | Instagram | Facebook
5. Cafe Munir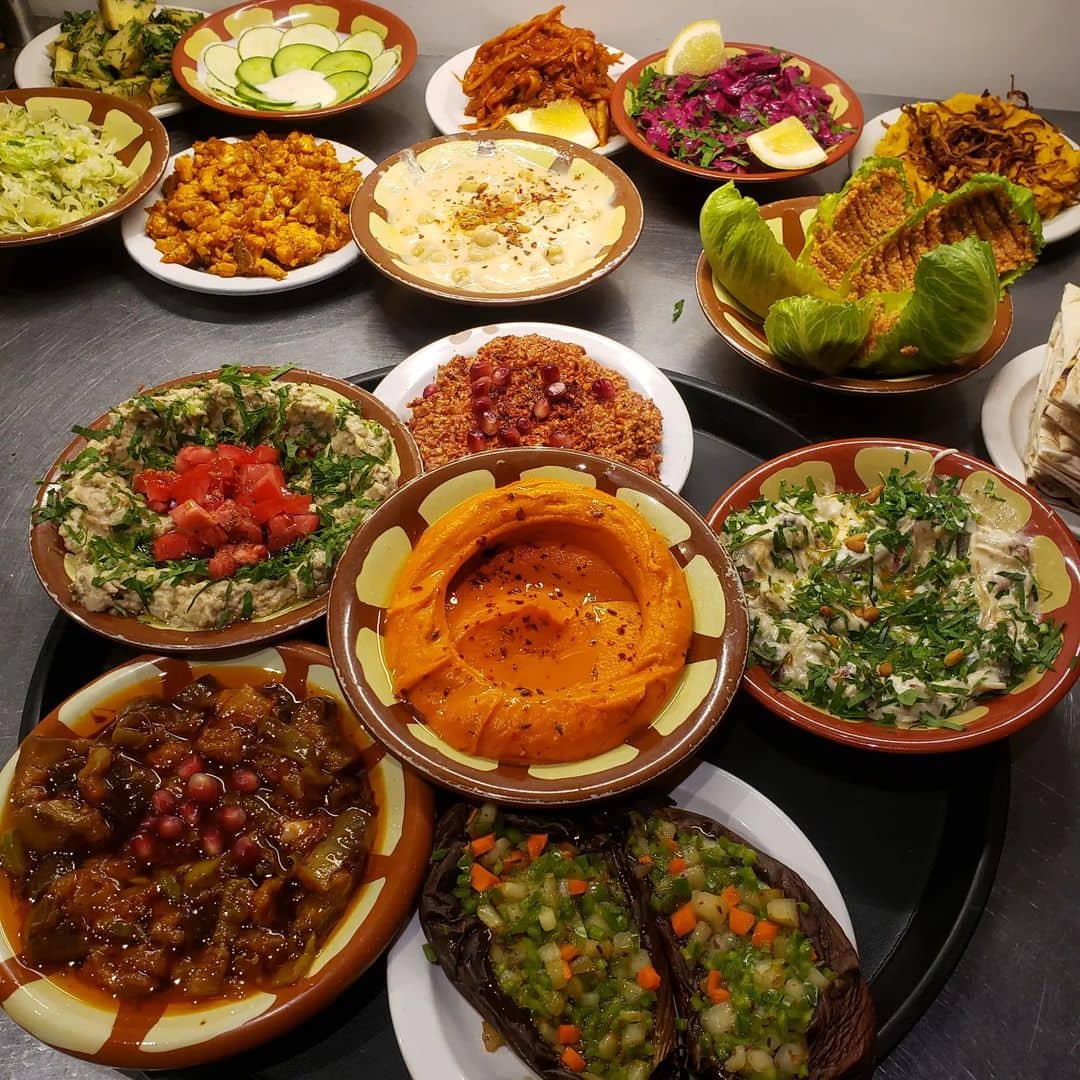 A true neighborhood gem, Cafe Munir serves Lebanese food and all sorts of whiskeys worldwide.
It's a tiny little restaurant in Loyal Heights with an intimate and sweet ambiance. The rounded doorways, hardwood floors, elegant lighting, and music set a romantic mood.
If you want to impress a date or spend a memorable dinner with someone you hold dear, Cafe Munir is the place to be.
A superbly moist chicken with the best garlic dipping sauce, Cafe Munir's Shish Taouk is a truly one-of-a-kind dish you need to try.
The garlic sauce complements the chicken's juiciness without being overwhelming, creating a balanced combination of flavors.
A dish that sizzles? We all know that's going to taste crazily good, and Cafe Munir's Sizzling Lamb Hummus is a living testament.
The crispy little bits of ground lamb taste like a Lebanese version of bacon bits, and you're going to love every bit of it!
What to order: Shish Taouk, Sizzling Lamb Hummus
Address: 2408 NW 80th St, Seattle, WA 98117
6. Pestle Rock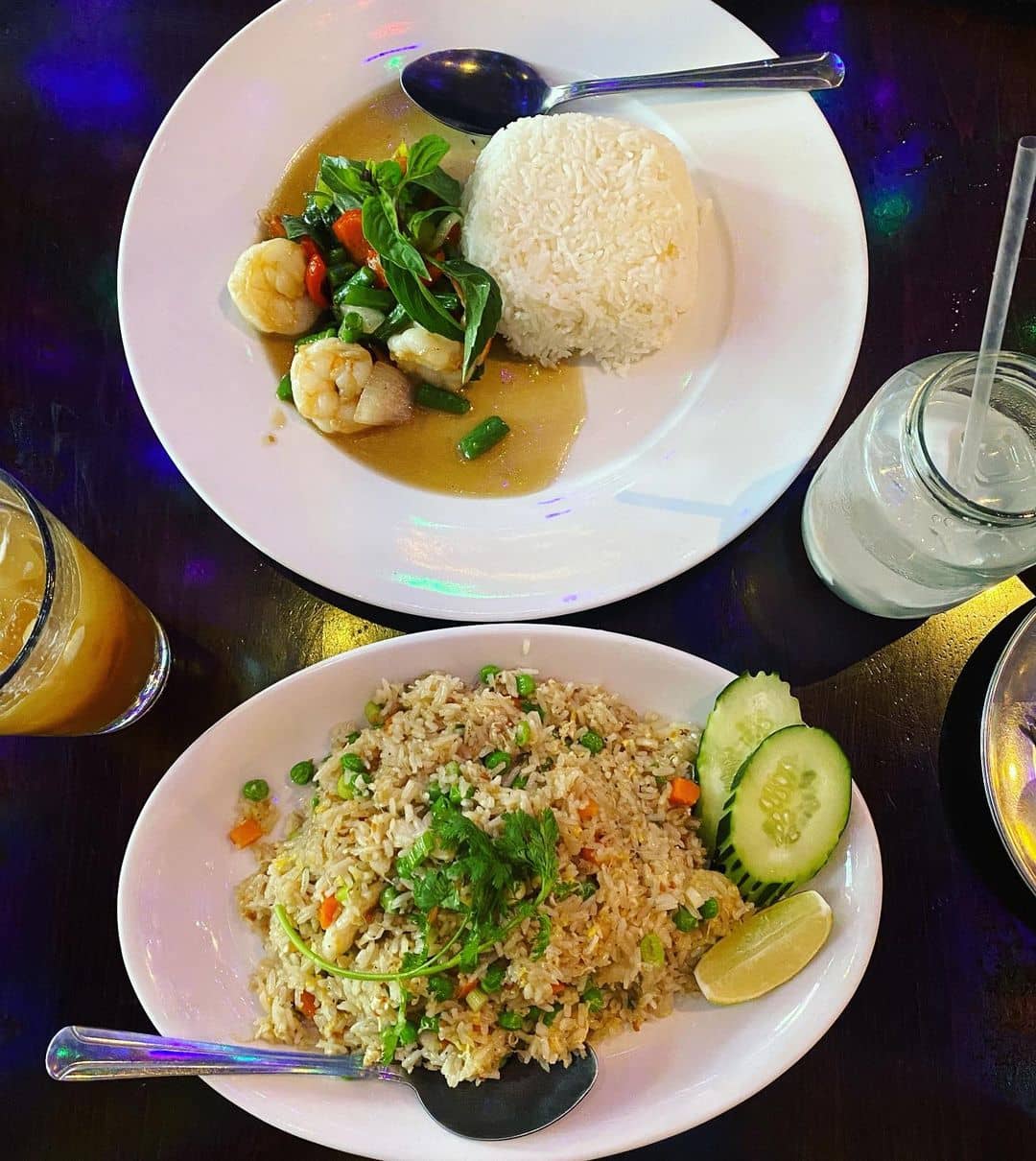 Thailand is a country known for its outstanding culinary scene, and Pestle Rock made sure to bring all that yummy Thai flavors to Ballard for everyone to taste.
Offering Isan-style (Northern Thai) cuisine, food in Pestle Rock isn't your typical pad thai and curry.
Prepare your tongue for a spice adventure, as this place is not for the faint of heart.
One of the popular dishes in Pestle Rock, the Khao Soi may not be as spicy as other dishes, but it's hearty and crunchy enough to tug your stomach's strings.
This classic Thai curry noodle soup is made vegan by using rice noodles.
If you're a fan of pad thai and you're looking for that in Pestle Rock, we have both good and bad news for you.
Unfortunately, they don't serve pad thai in this place, but they have Mee Ka Ti that tastes a little bit like pad thai but is spicier and served with skinny rice noodles.
What to order: Khao Soi, Mee Ka Ti
Address: 2305 NW Market St, Seattle, WA 98107
7. El Moose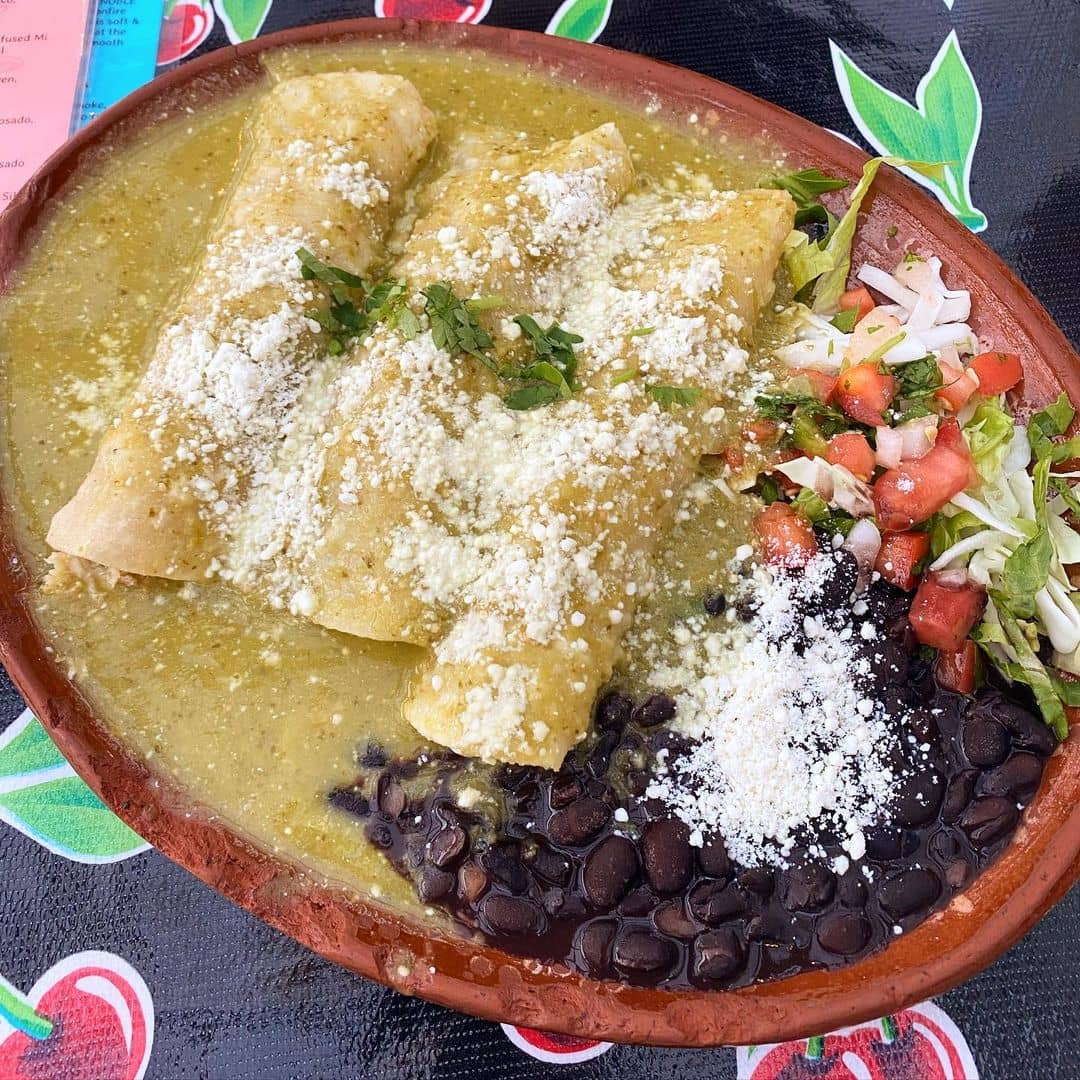 A fantastic Mexican restaurant, El Moose, can be found in the vicinity of the historic Ballard neighborhood.
The atmosphere, menu, variety, pricing, and food quality are all top-notch. Even though they serve dinner, their outstanding brunch menu is what draws most of their customers.
El Moose's Chilaquiles is potentially the best you'll ever find in Seattle. Each bite will have you daydreaming of Mexico.
These chips are perfect for scooping guacamole or whichever you prefer, but they also taste as good on their own green or red sauce.
Who doesn't want Housemade chorizo? The Chorizo Con Papas Y Nopales tastes so good and filling you might not be able to finish it.
What to order: Chilaquiles, Chorizo Con Papas Y Nopales
Address: 5242 Leary Ave NW, Seattle, WA 98107
Website | Instagram | Facebook
8. Spice Waala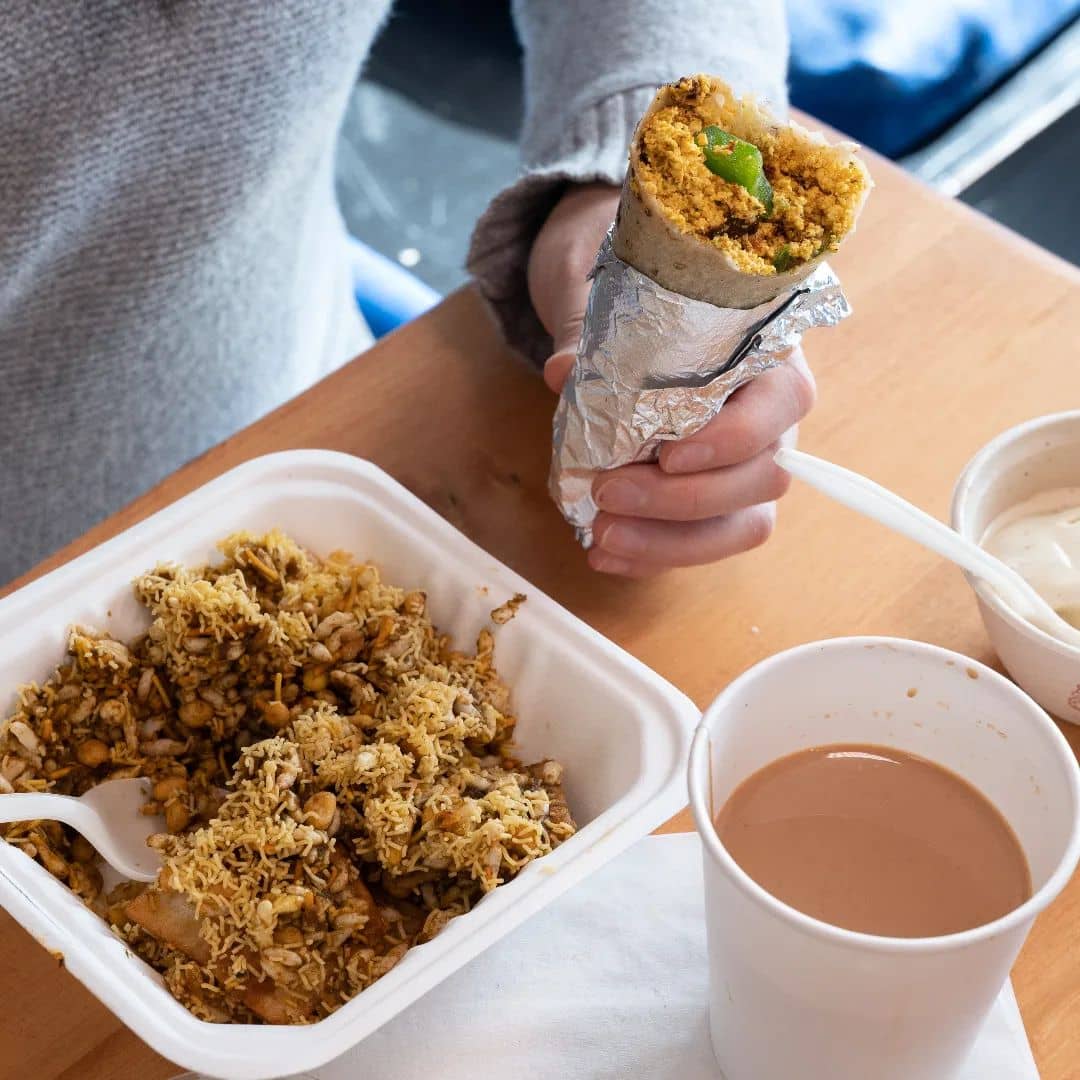 Serving authentic Indian street food, Spice Waala is about to be your next favorite spot in the Ballard area if you love Indian cuisine or food trucks in general.
They are particularly famous for their rolls that look like burritos but are made with Indian ingredients.
If you like supporting local businesses that give back, Spice Waala helps the community in more ways than just serving mouthwatering food by donating every week.
Fancy a kick from Indian spices that hits all the right spots? The Chicken Tikka Roll is the dish you should get.
The chicken is so tender and has an intense spicy flair, perfectly balanced off with a herby chutney and onions.
A show stopper, Spie Waala's Aloo Tikki Kathi Roll with egg is soft on the insides and crunchy on the outside.
The potatoes inside the roll are cooked to perfection, creating a scrumptious meal that will fill you in just a few bites.
Don't forget to sneak in whatever is available for their monthly rotating Soft Serve Ice Cream!
What to order: Chicken Tikka Kathi Roll, Aloo Tikki Kathi Roll, Soft Serve Ice Cream
Address: 2008 NW 56th St, Seattle, WA 98107
Website | Instagram | Facebook
9. Kimchi House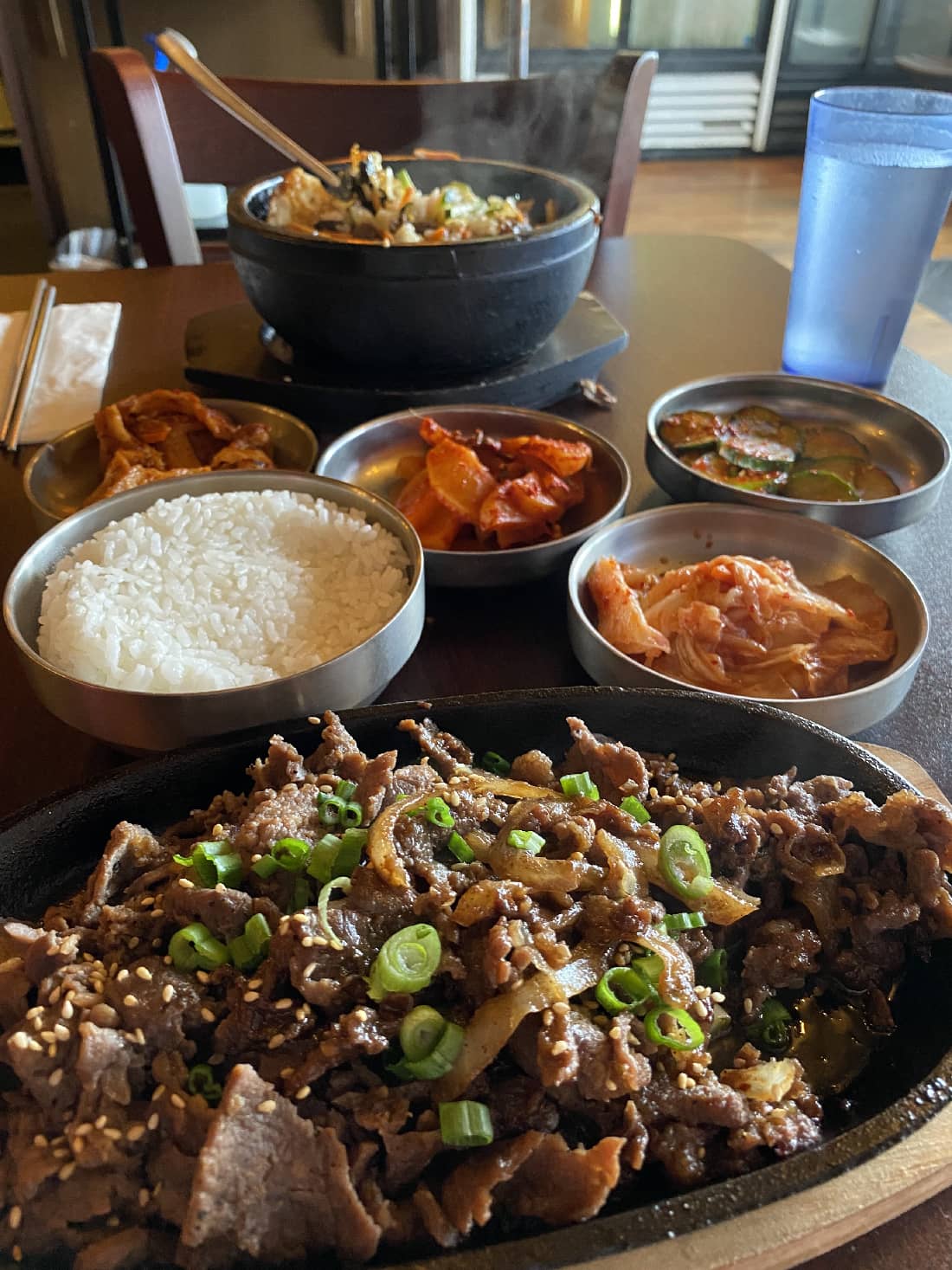 A cute little hole-in-the-wall Korean restaurant that is a little bit hard to spot because of its unassuming sign board, Kimchi House serves yummy Korean comfort food.
One thing about their food; it always hits the spot on those nights when you just want to eat homey meals that give you warmth.
You know everyone loves this place because of how it can get packed, so make sure to come early if you want to try out their food.
"You had me at Kimchi Fried Rice" is your new tagline the moment you taste Kimchi House's take on this popular Korean dish.
With lots of kimchi, prepare your tongue for a spicy adventure.
With its legendary marinade, the infamous Bulgogi is a treasure to discover if you haven't tried one yet.
What to order: Kimchi Fried Rice, Bulgogi
Address: 5809 24th Ave NW, Seattle, WA 98107
10. Billy Beach Sushi & Bar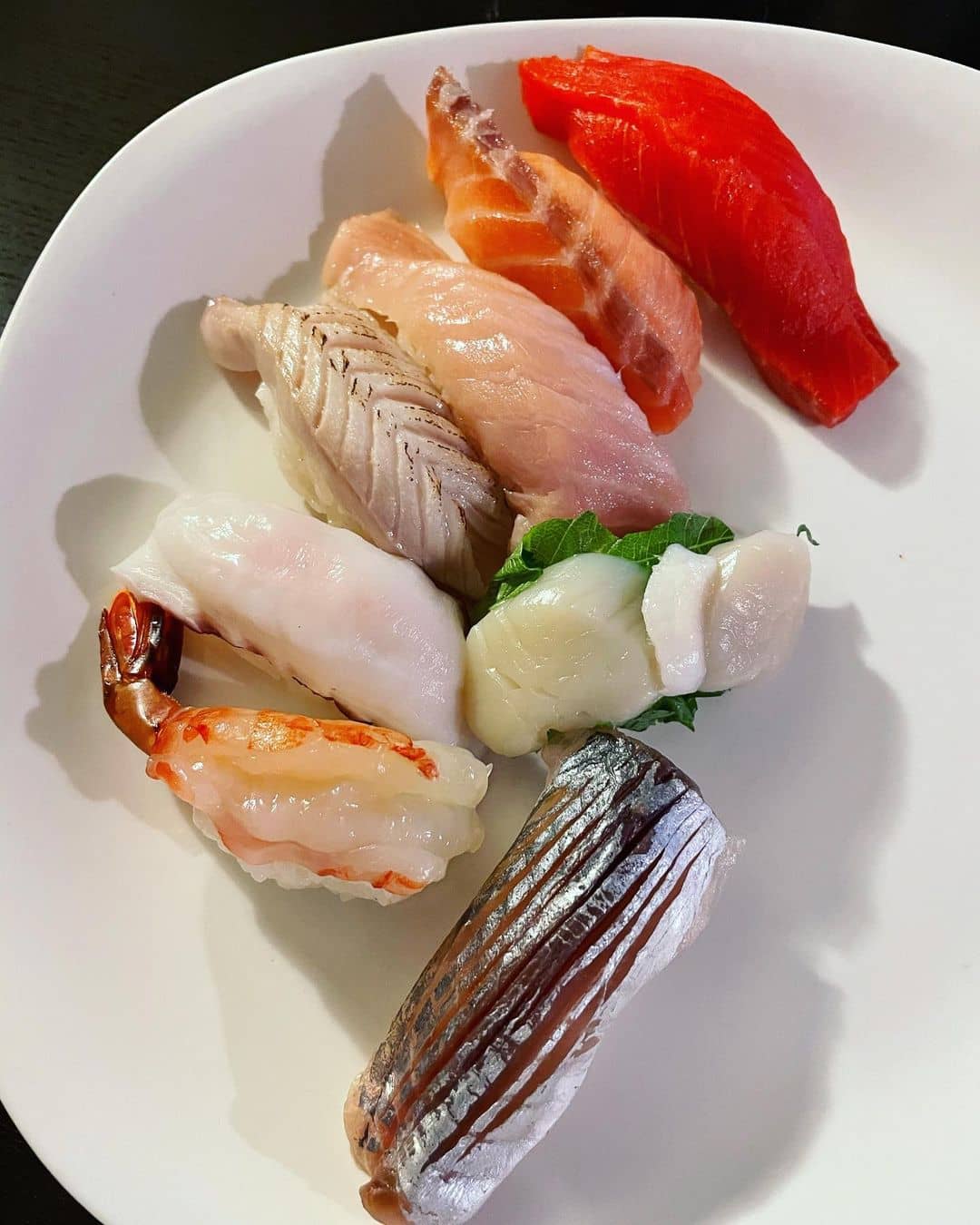 Billy Beach Sushi & Bar is your best bet for the best sushi ever in Ballard. If you like karaoke nights and happy hours, Billy Beach has the best of both worlds.
With a fun and chill environment, you can indulge in great sushi while singing the night away.
Feeling super bad? Billy Beach's Super Bad Boy Roll can lift your spirits because of its phenomenal taste.
It comes with baked salmon on top that looks so fancy and exquisite that you might go viral when you post it on the gram.
A tangy, spicy orange experience that you wouldn't expect from a seafood dish, the Spicy Calamari leaves a citrusy aftertaste that will send you to heaven.
What to order: Super Bad Boy Roll, Spicy Calamari
Address: 5463 Leary Ave NW, Seattle, WA 98107
Website | Instagram | Facebook
Ballard is where it's at when it comes to Seattle's dining scene because of all the great restaurants there. But if you look around, you'll find that there are plenty of other places to eat that are just as good.
If you're looking for more suggestions, we have compiled a list of the top Seattle restaurants for you to discover.