Looking for the best Indian restaurants in Toronto? You're in the right place!
Toronto's dining scene is bursting with exotic flavours, especially when it comes to Indian cuisine. If you're on a quest to discover some of the best Indian restaurants in Toronto, we've got you covered!
Indian food is celebrated for its richness in flavour, enticing aromas, and an unparalleled blend of spices. Let's explore some of the best spots to enjoy Indian culinary delights in Toronto:
1. Pukka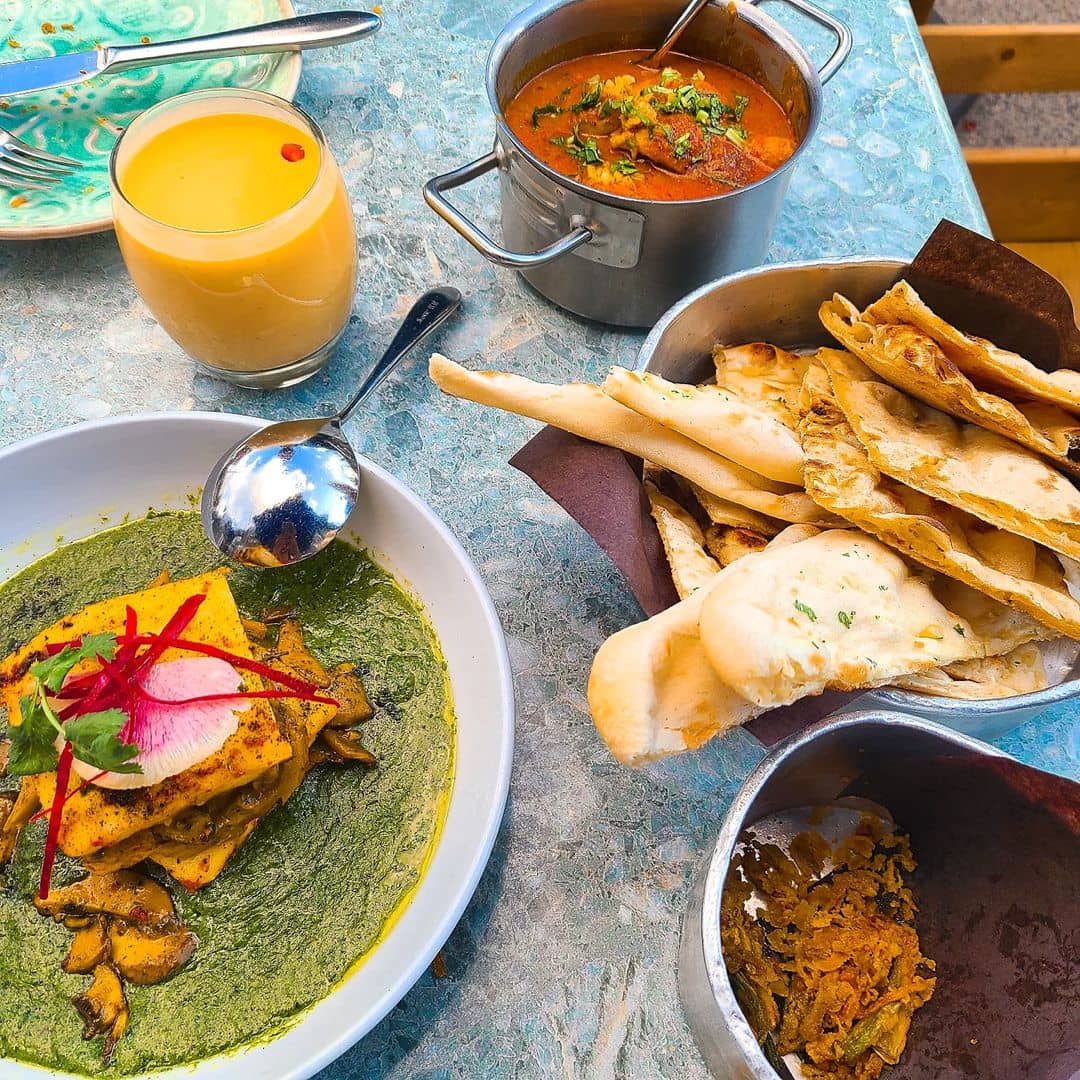 Pukka, a name synonymous with innovative Indian dining in Toronto, serves delightful and flavourful dishes in an engaging atmosphere. It's a destination for those seeking to experience the best Indian food in Toronto.
If you're new to the journey of discovering the deliciousness of Indian cuisine at Pukka, their Chaat is a great start. With its aromatic spices and tangy sauces, Chaat expresses an absolute category of Indian street foods that offers the palate a symphony of exotic flavours and textures.
Fresh and crunchy string vegetables and sprouts mixed with the juiciness of mango and green apple, all together covered in creamy yogurt.
Lamb Lolipop is another crowd-favourite at Pukka. The star of the show here is the Fenugreek curry that goes with the lamb. The juicy and meaty lamb flavour is elevated to whole-new level with rich seasoning in the curry (the fenugreek seeds give more depth to flavour with their nutty and tangy taste).
What to order: Pukka Chaat, Lamb Lolipop, Vegan Tikka Masala, Chilli Chocolate Tart
Address: 778 St Clair Ave W, Toronto, ON M6C 1B6
Website | Instagram | Facebook
2. Leela Indian Food Bar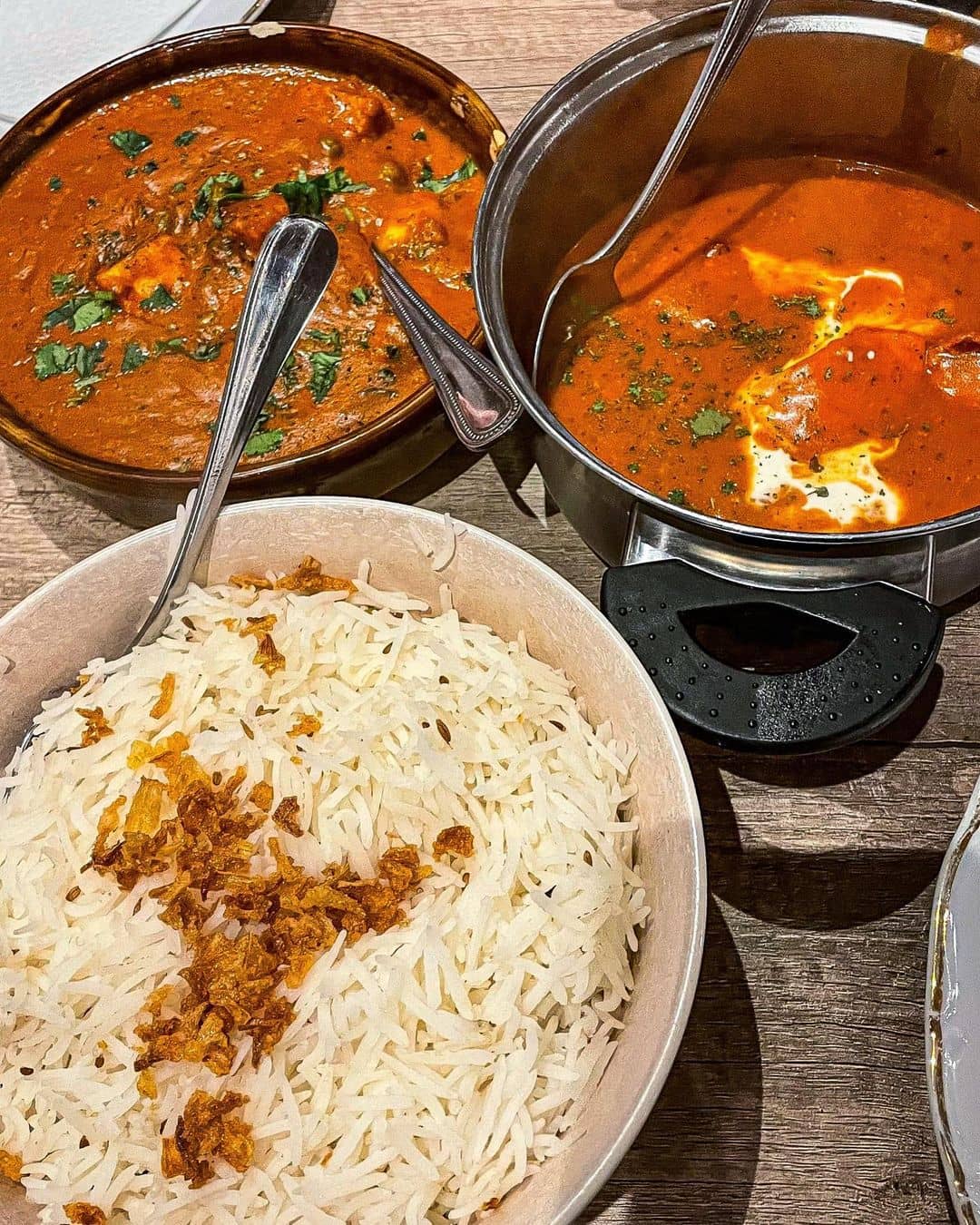 If you're looking for the best Indian restaurant near Gerrard Street, downtown Toronto, Leela Indian Food Bar is the star! Embracing you with a relaxing modern interior and world-class service, Leela will have already won your heart.
Charcoal Butter Chicken? No words can describe how flavourful it is! This dish is also similar to British tikka masala, where tender chicken is nicely covered in a buttery gravy with cream giving the curry sauce a silky, smooth, and rich texture.
Bhindi Masala, a magical combination of the crunchy sweetness with okra, onions, tomatoes, and delectable fresh spices, is one of the most recommended for those who're looking for something spicy and not too hearty. Yum!
What to order: Charcoal Butter Chicken, Bhindi Masala, Mater Paneer, Chaat Papri
Address: 1386 Gerrard St E, Toronto, ON M4L 1Z2
Website | Instagram | Facebook
3. Ambiyan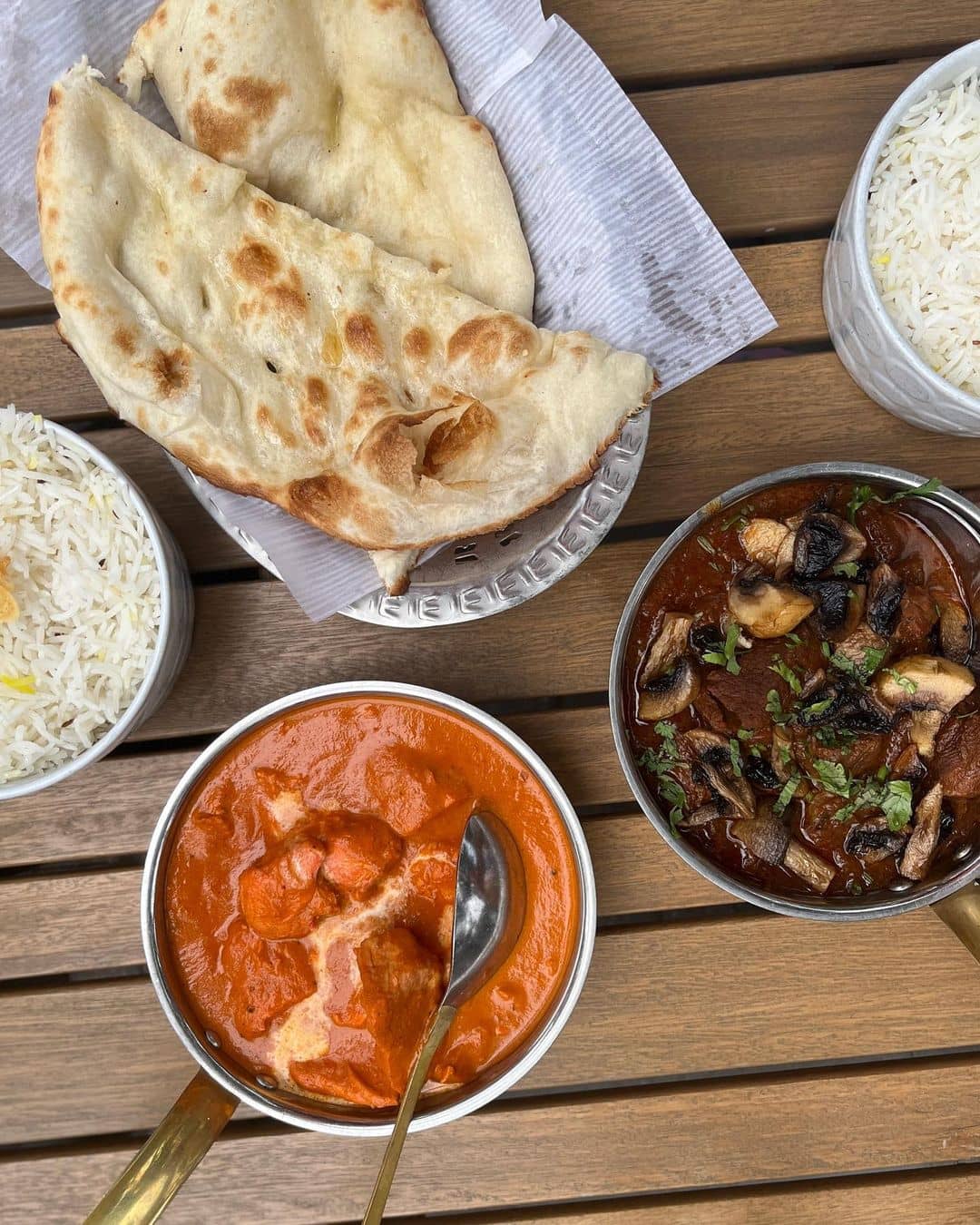 Lives up to the name, Ambiyan is known for its fresh take on Indian cuisine with an emphasis on free, organic, and locally sourced produce and meats. Ambiyan – the Diamond Winner in Reader's Choice 2020, promises to take you to the world of remarkable flavours.
Cheese Naan? Gone in seconds! The cheesy and savory taste of mozzarella cheese and cheddar cheese duo makes every bite full of flavour. The buttery smell from the bread with a touch of their special sauce even adds more flavour to the cheese.
Don't forget the local's fav – Daal Makhani! Creamy and rich, it is a popular North Indian dish where whole black lentils & red kidney beans are slow cooked with spices, butter & cream.
What to order: Cheese Naan, Daal Makhani, Vegan Chana Masala, Ambiyan Lamb Curry
Address:
-149 Main St, Unionville, ON L3R 2G8
-1560 Yonge Street, Unit 114, Toronto, ON, M4T 2S9
Website | Instagram | Facebook
4. Bawara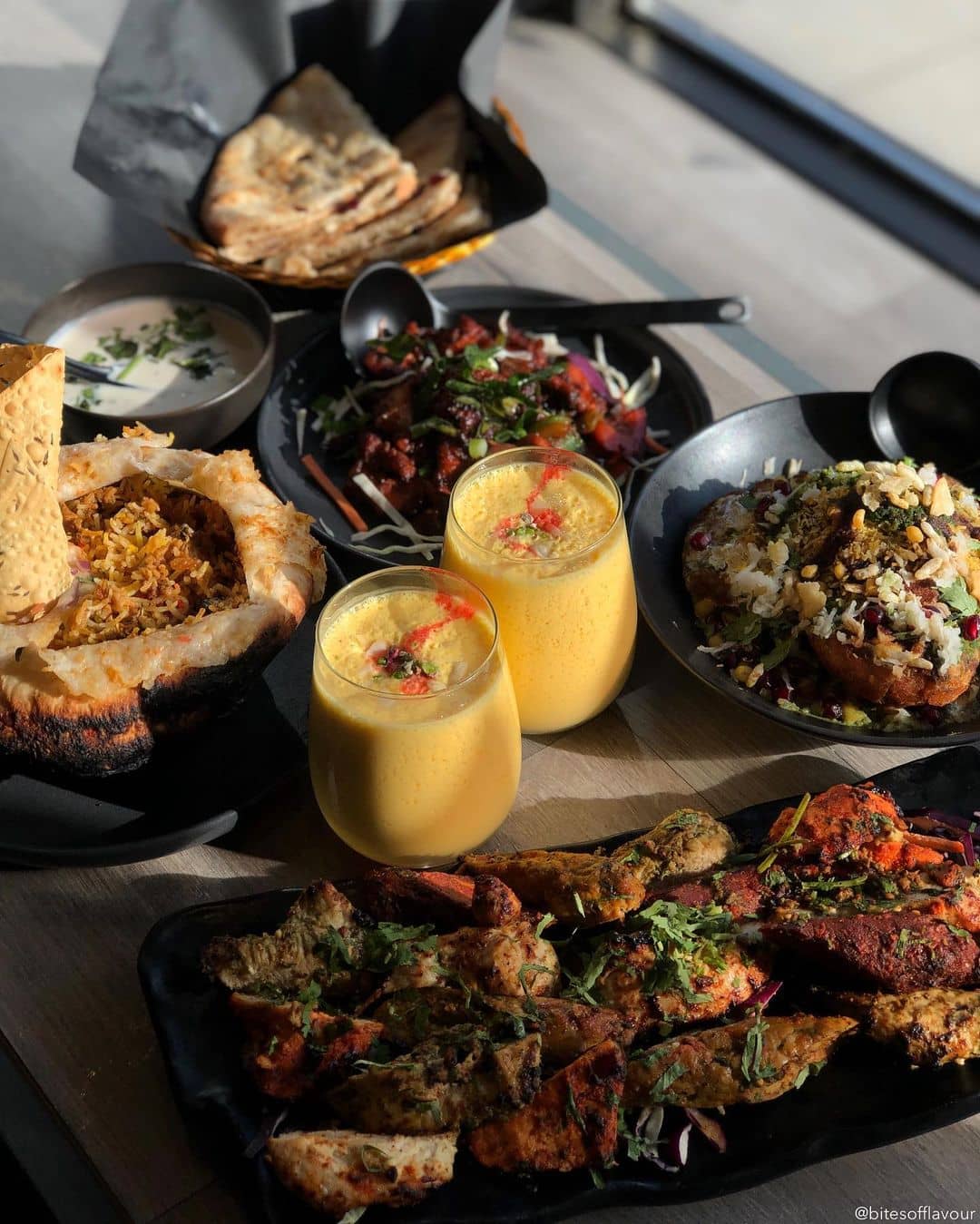 Although Bawara is still pretty new, this restaurant is still a must-visit! First thing first, the light and decoration are super comfy. The interior is more of a minimalist "go-to" but still delightful, making every moment so unwinding and lovely.
You can't leave without trying the Pan Fried COD – their "best seller"! Lovely crispy skin and the nicely-seasoned fish with their signature homemade Tandoori sauce promise to keep you eating until nothing is left.
Another specialty that you can't miss is the Tandoori Macchi. Whole Tilapia Fish marinated in creamy yogurt with a kick of fresh, spicy ginger and garlic is brought to a higher level with Bawara's special aromatic spice recipe, so make sure to check it out!
What to order: Pan Fried COD, Tandoori Macchi, Rajma Masala (Kidney Beans Foogath), Paneer Bhurji
Address: 1570 Bloor St W, Toronto, ON M6P 1A4
Website | Instagram | Facebook
5. Cumin Kitchen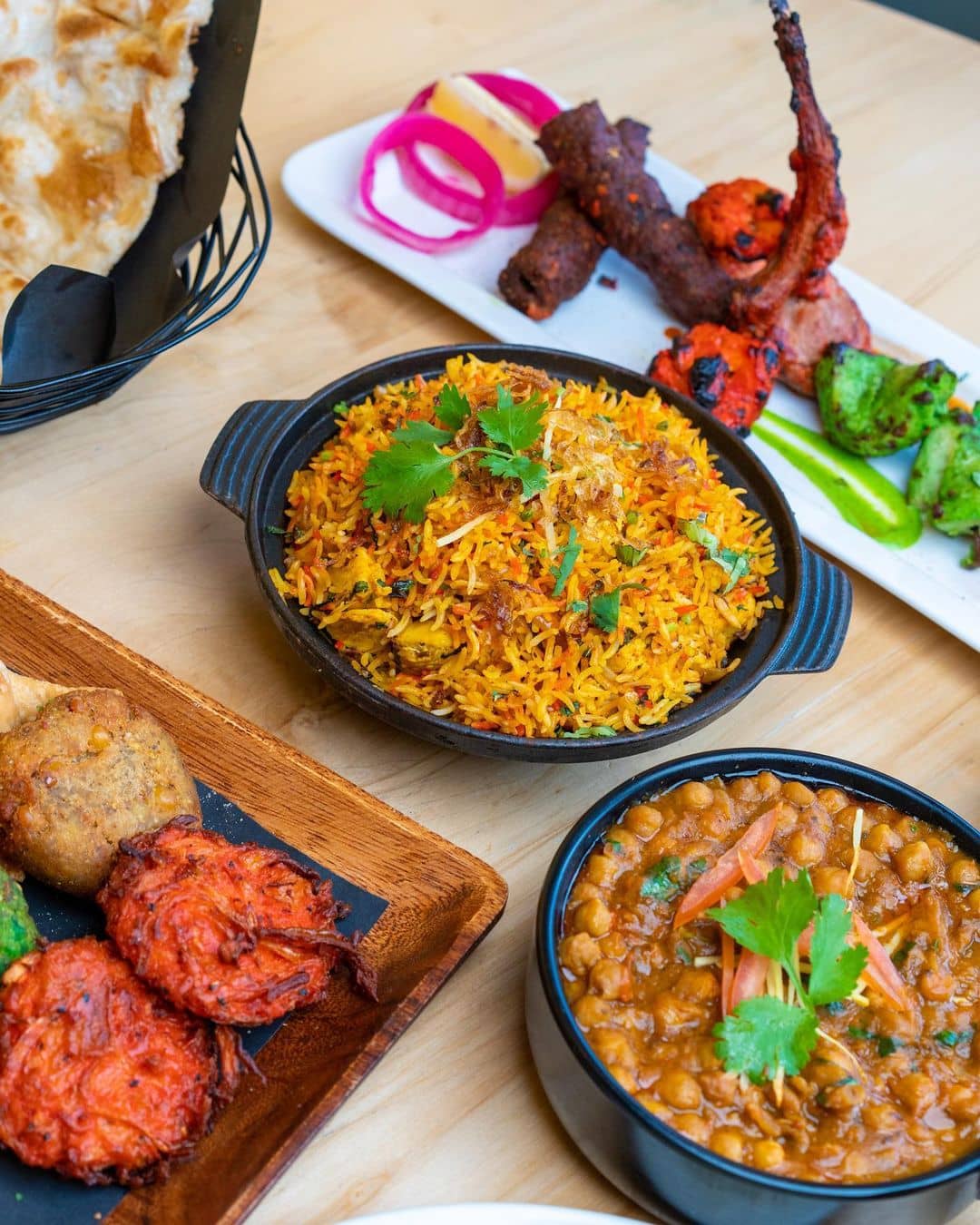 Cumin Kitchen is one of Toronto's finest Indian eateries. Inspired by Indian culture, every restaurant corner is adorned with many vibrant and cheerful colours but still gives you that aesthetic vibe.
Sometimes, a good restaurant doesn't need to be too fancy – it could be a cozy place with hearty dishes that satisfy your stomach.
Healthy and tasty, Tandoori Mushroom is always a famous starter in every Indian restaurant. Button mushrooms with assorted veggies are marinated in an exotic mix of signature spices, later grilled for a smokey, explosively tasty flavour.
You can't say no to Goat Masala with its fascinating taste. Goat Masala offers you to enjoy their top-notch juicy meat covered in thick, spicy gravy with a light touch of sweetness from onion and diced bell peppers. We promise you can't help having another bite!
What to order: Tandoori Mushroom, Goat Masala, Butter Chicken
Address: 1820 Danforth Ave, Toronto, ON M4C 1H8
Website | Instagram | Facebook
6. Curry Twist Indian Restaurant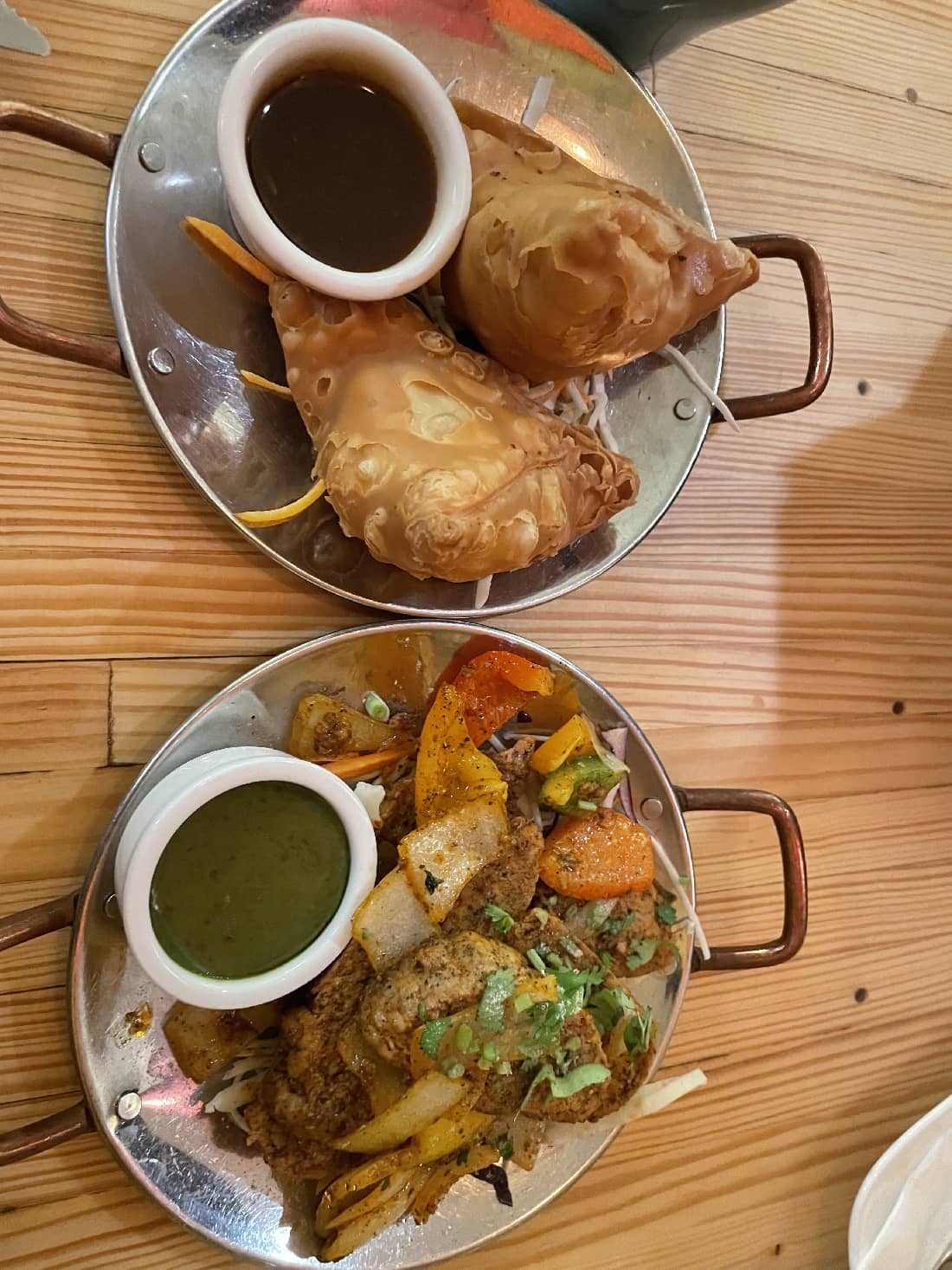 Located on a bustling street filled with many restaurants – Dundas Street, Curry Twist Indian Restaurant attracts visitors with its unique vibe. Walking inside, you'll get to experience that peaceful and relaxing feeling with pleasant yellow lighting and colorful decorations on the wall.
You can start with one of the chef's specialties – Fish Magic. Fatty salmon seasoned with fenugreek is cooked perfectly with a special coconut-based sauce. The spice is already so well-balanced, but the sweetness of coconut adds more depth to the flavour.
Chili Shrimp is also highly recommended at Curry Twist. Mildly spicy shrimp with sticky, tangy, and savory sauce with a light touch of sourness from lime juice is something you would love to have to satisfy your seafood craving. Oh, this dish is gluten-free and non-dairy, FYI.
What to order: Fish Magic, Chili Shrimp, Home Style Chicken Curry
Address: 3034 Dundas St. West, Toronto M6P 1Z3
7. Dil Se Indian Restaurant & Bar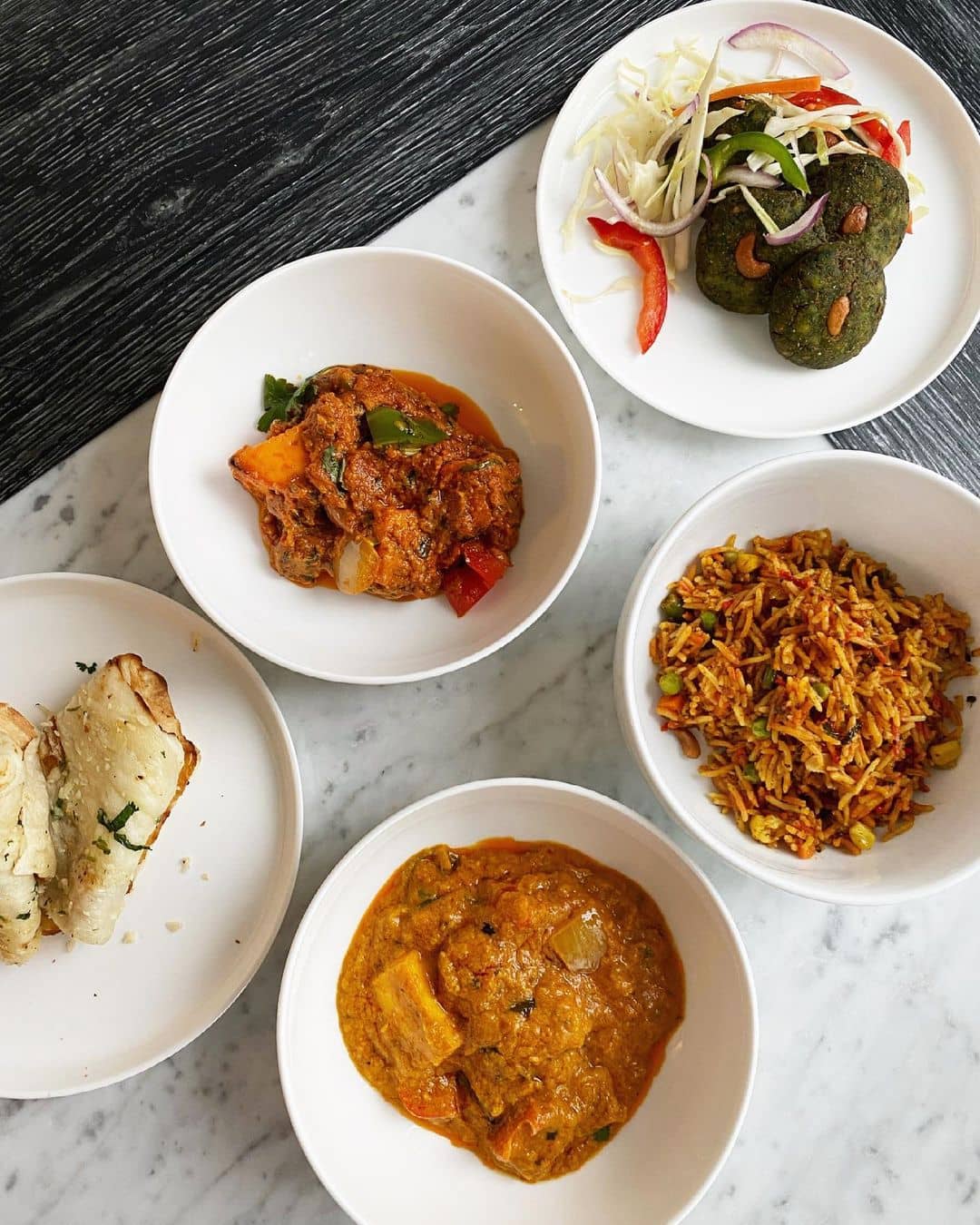 Dil Se provides a home-style Indian culinary experience. Being one of the locals' favourites, Dil Se offers you the world of fresh and tasty Indian delicacies and friendly staff that makes you feel at home.
Looking for something signature and remarkable as well? Dahi Bhalla Chaat is the perfect starter for you. Dahi Bhalla Chaat (or Dahi Vada) is the combination of "yogurt" (Dahi) and "deep fried lentil fritters" (Vada), so you can expect the softest lentil fritters drenched in creamy yogurt and topped with sweet and spicy chutneys with this dish.
Spicy and delicate, a full-flavoured meal made with fragrant basmati rice, tender-cooked shrimp, and caramelized onions? That is something you will experience with Shrimp Biryani – one of the most famous Indian rice dishes.
Everything is blended so nicely together, which helps create a delicious ending!
What to order: Dahi Bhalla, Shrimp Biryani, Paneer Tikka Trio
Address: 335 Roncesvalles Ave, Toronto, ON M6R 2M8
Website | Instagram | Facebook
8. Rikki Tikki Modern Indian Taste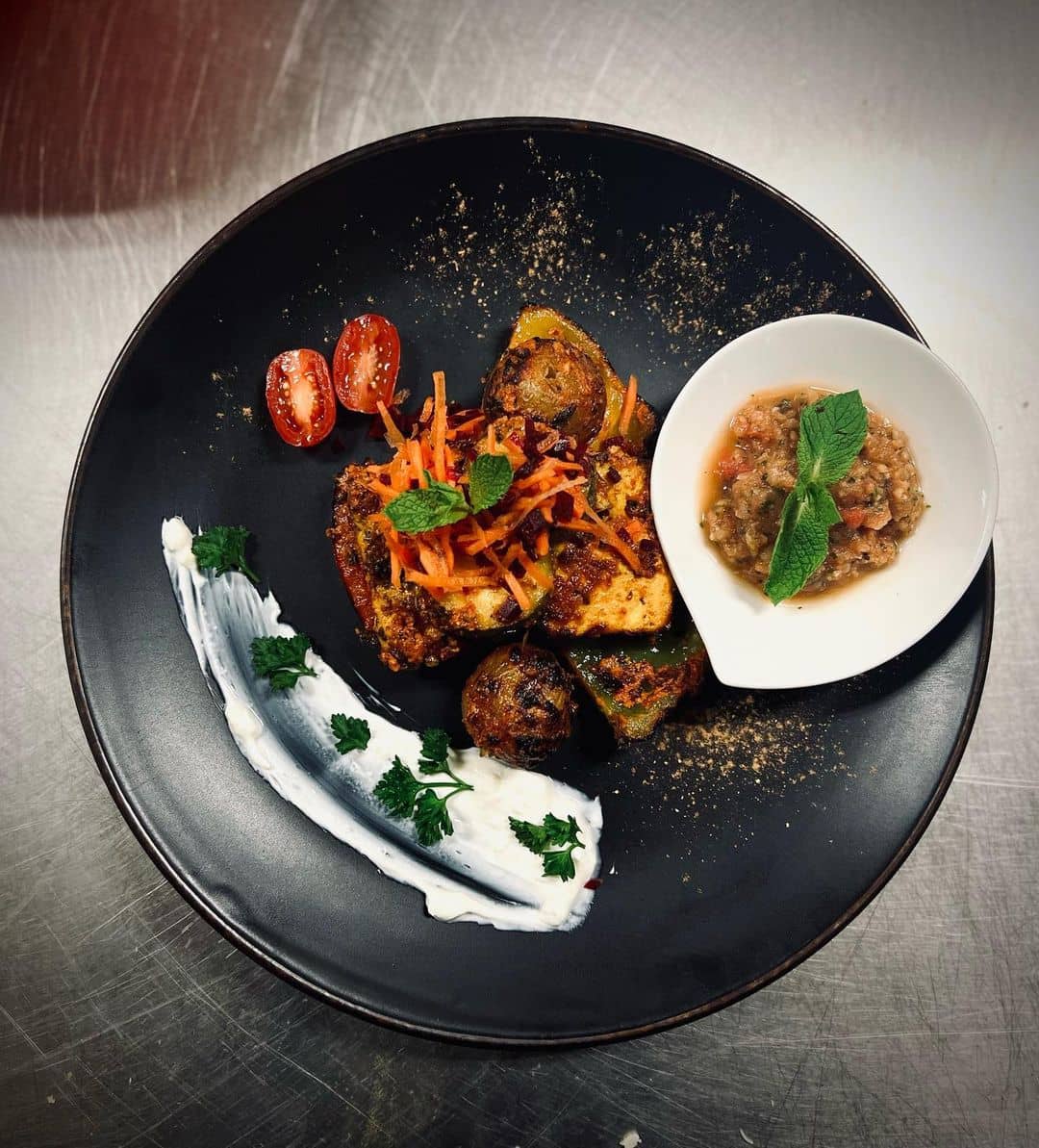 Rikki Tikki – a true hidden gem that serves unbelievably tasty Indian food. Especially if you fancy dishes like chicken curry, this restaurant will no doubt be a "perfect match" for you! A minimalist but delicately decorated place with delicious dishes. Sounds perfect!
Let's dive in with some Garlic Tikki – dumplings with potato filling dipped in special Manchurian sauce. The light sourness and sweetness from the sauce create a more phenomenal flavour to the creamy potato.
Chicken Tikka Masala is a perfect one for those who're looking for something more substantial and hearty. It's a delicious tomato-based sauce with a wide range of spices, including paprika and turmeric, making it slightly spicy and earthy, besides the tenderness of the chicken. Intensely flavourful and surely, Chicken Tikka Masala will please any palate.
What to order: Garlic Tikki, Chicken Tikka Masala, Dal Makhani
Address: 209 Augusta Avenue, Toronto, ON M5T 2L4
Website | Instagram | Facebook
9. Feast of Dilli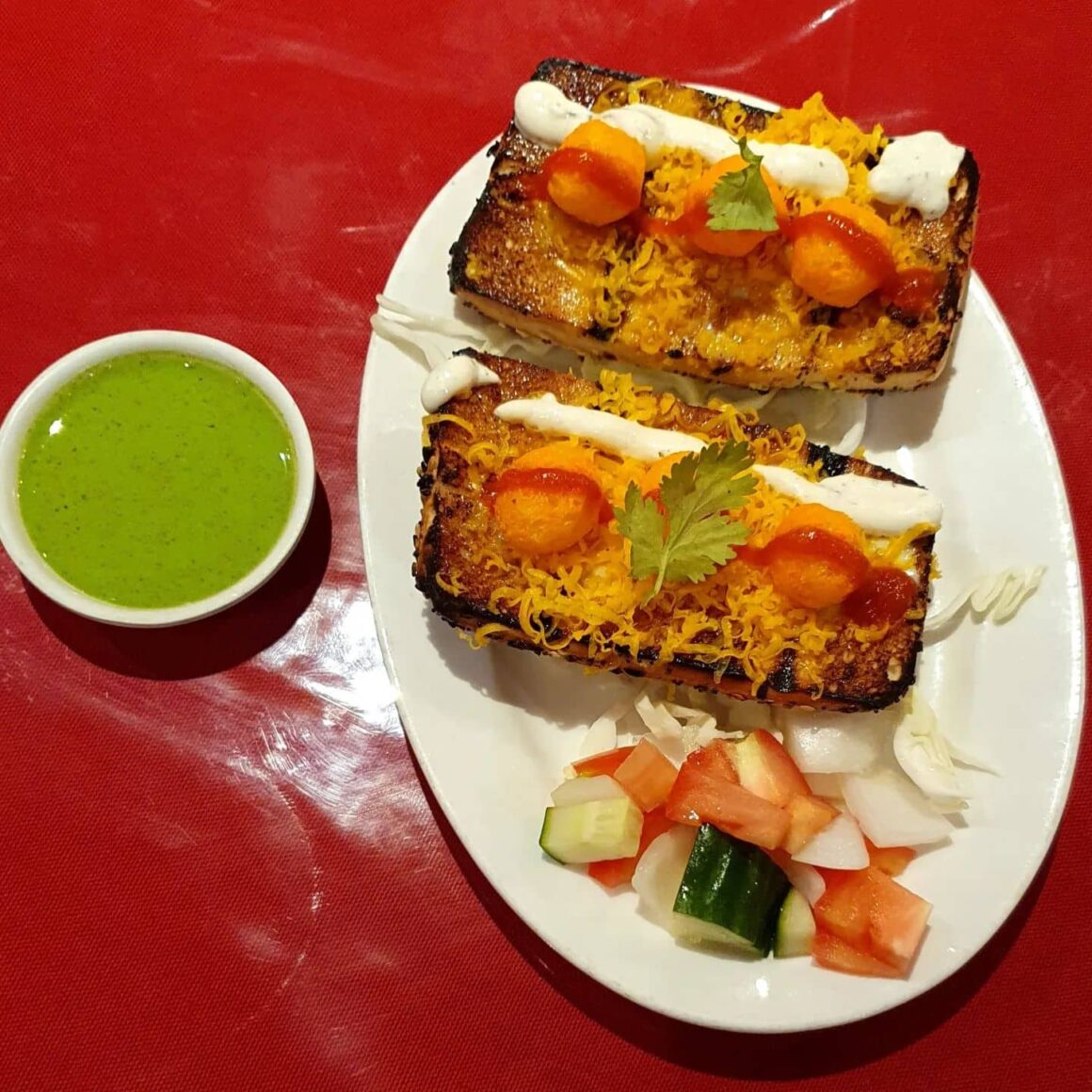 You're in the mood for some mouth-watering Indian meal but don't have any outstanding options, especially right in Etobicoke? You've come to the right place! Feast of Dilli is the number one destination we highly recommend for you! Featuring a friendly-family setting, Dilli offers a comfortable place to enjoy your meal.
Be sure to try their popular Chicken Biryani. One order includes flavourful and aromatic basmati rice flavoured with rose water and cardamom powder promise to make you "wow!" at the first bite. Right under the rice is tender and juicy chicken meat, cooked perfectly in thick gravy and spiced with biryani masala. Yum!
If you have room for dessert, do not miss Gulab Jamun. Worth every penny! It comes with two deep-fried balls made of flour, milk, butter, and cream surely give you an instant crush because of their tastiness. But the worth-highlighting element is the sweet rosewater-scented syrup covering all of the balls makes them even more delicious.
What to order: Chicken Biryani, Gulab Jamun, Vegetaian Biryani, Lamb Korma
Address: 378 Brown's Line, Etobicoke, ON, Canada, Toronto, M8W 3T7
10. Matha Roti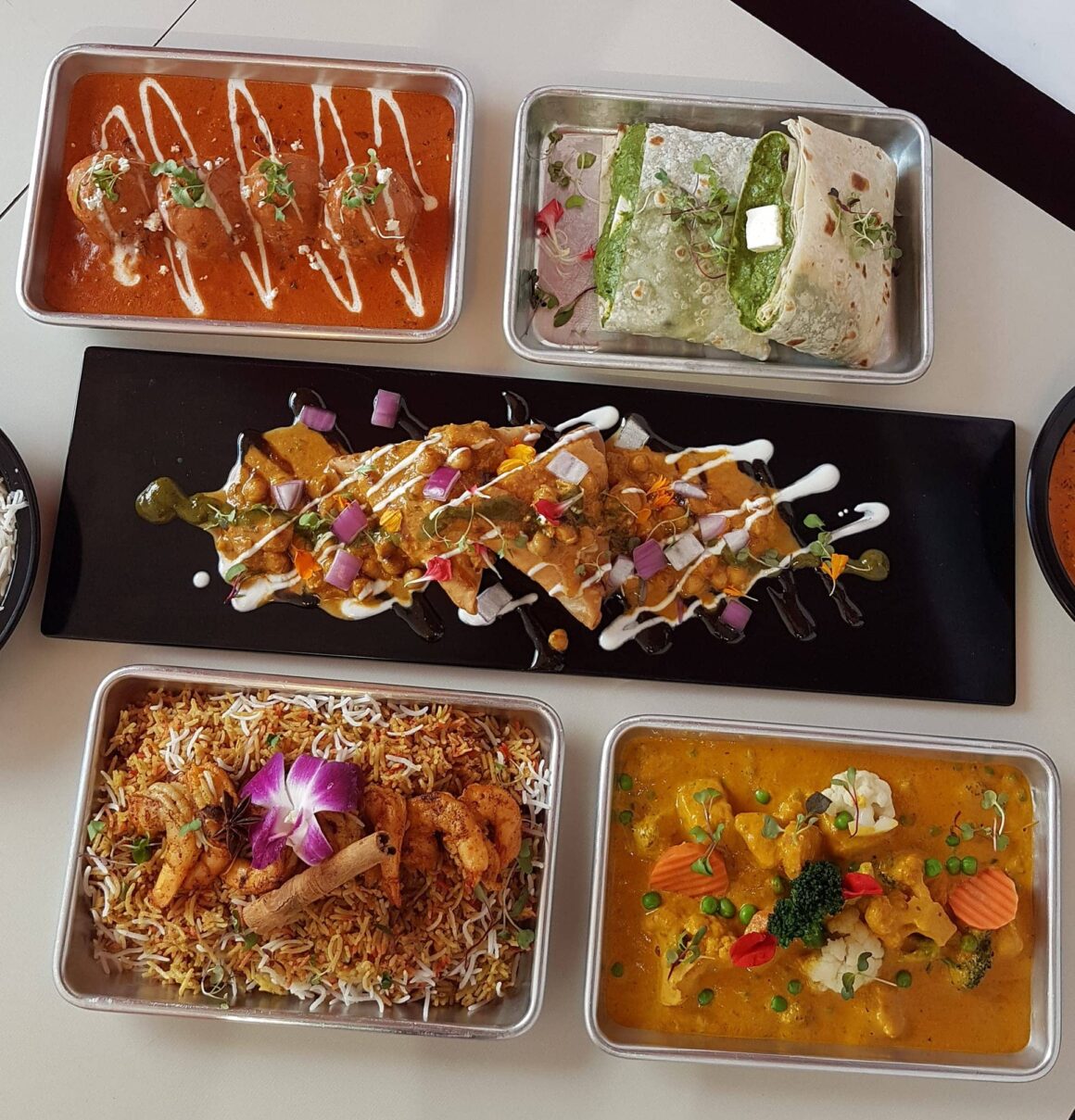 Featuring delicious home-style flavour from the Chef's mom recipes, Matha Roti will win your heart with hearty dishes made with so much love and care. Nothing is better than having warm and tasty home-cook food while enjoying every joyful moment with your loving family.
Staying at the top of the list is an all-time favourite dish – Authentic Curry Roti. Coming with a generous portion of plain Naans and a side full of thick, tangy, and savory curry with a sweet touch of methi leaves, Matha's Authentic Curry Roti is a big YES!
We've finally come up with something cheesy, creamy, and savory for our cheese lovers! Mutter Paneer Roti (or Matar Paneer) is one of the most popular dishes in India where "Paneer" (Indian cottage cheese) and "Matar" (green peas) are simmered together in a luscious gravy made with tomatoes, onions, and spices.
What to order: Authentic Curry Roti, Mutter Paneer Roti, Mango and Coconut Curry Roti
Address: 141 Harbord St, Toronto, ON M5S 2M2
Explore these top Indian restaurants in Toronto and immerse yourself in a world of Indian flavours, spices, and culinary traditions. Whether you're a local food enthusiast or a visitor looking to explore Toronto's Indian food scene, this guide offers something for every palate.
If you're looking for more, check out our Best Restaurants in Toronto for better options!
How We Create Our "Best" Lists
All Noms Magazine's "best" lists are created using multiple factors and signals to help readers find the best restaurants, things to do, and places to stay at. Some of these factors and signs include personal experiences, correspondence with locals, and compiling experiences from review sites.
Each list is also created to be balanced (in terms of price, cuisine type, ambiance, and more) as possible. This means that the lists are not specifically created in ranking order. You should be comfortable picking from any of the spots on the list and generally have a good time. But of course, YMMV (your mileage may vary) and everyone may have different experiences/palates.