Looking for the best Korean BBQ in Toronto? You're in the right place!
Did you know Korean barbecues are included in the top 5 best foods to exist on the planet? Well, that's just something we can't deny. From its aroma to the side dishes, to the scrumptious beef or meat, it's just the best meal to have with friends and family.
Now, when having a Korean barbecue meal, never ever settle for less. Immerse yourself in the whole Korean experience. That's when you know you're in for a moment you'll never forget. In Toronto, you can best believe that you'll have this moment frequently because they have some of the best Korean barbecue restaurants ever.
To give you insight on the next Korean resto you should go to, we've curated a list of the best Korean BBQ Toronto has that will not only satisfy your Korean barbecue cravings but will also give you the best Korean experience!
1. Mapo Korean BBQ 마포상회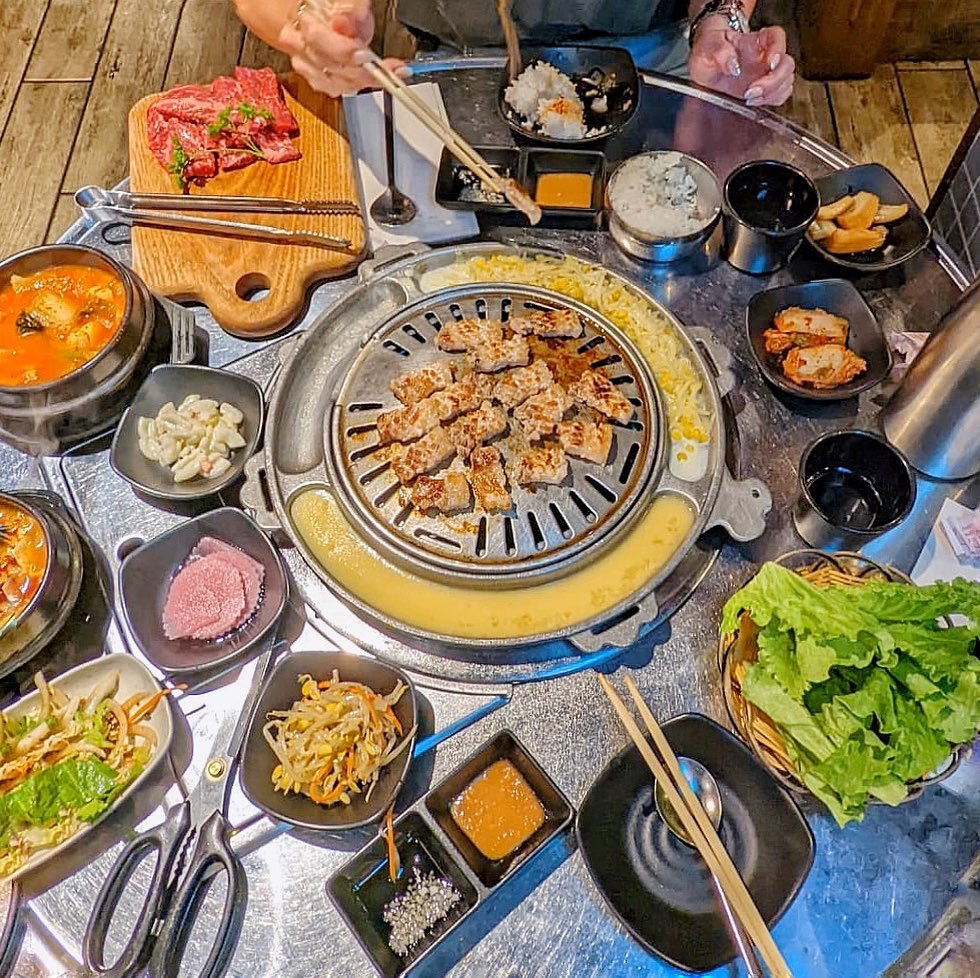 If there's one thing you should know about Mapo Korean, it's that you're bound to have a bursting full tummy after your meal here. They serve big portions and everything is of top quality. One thing you'll notice when you walk right in is that it oozes a lively atmosphere. You can see that they take after a creative kind inspo for their interior. There are 3D-looking paintings per booth where you can eat and grill your Samgyeop.
For their food, what you should look out for is their Gopchang. It's a cattle intestine. While that may sound odd, we promise that it's definitely worth every bite. They have the pork and beef kind of meat. Both have phenomenal taste. They also offer different cuts of meat. Their Banchan serves a good variety of side dishes. Offering about 5 side dishes, each and everyone was flavourful to its last bite. Their Corn Cheese also deserves a special mention here. The flavour is delightful as the corn and cheese blend well together.
We weren't fooling around when we said that it's bound to give you a full stomach. Try out their Combo C which is a great value for 3-4 people. You get big portions of 4 different kinds of meat that comes with soup plus different side dishes. Thinking of the meat you want to get?
We highly recommend the Honeycomb Pork Belly. This one has a unique flavor that you don't always see in typical Korean restaurants. It's sweet but not too sweet that it overpowers the yummy beef taste. Definitely, something you shouldn't miss!
What to order: Gopchang, Corn Cheese, Combo C, and Honeycomb Pork Belly
Address: 708 Bloor St W, Toronto
2. Korean Village Restaurant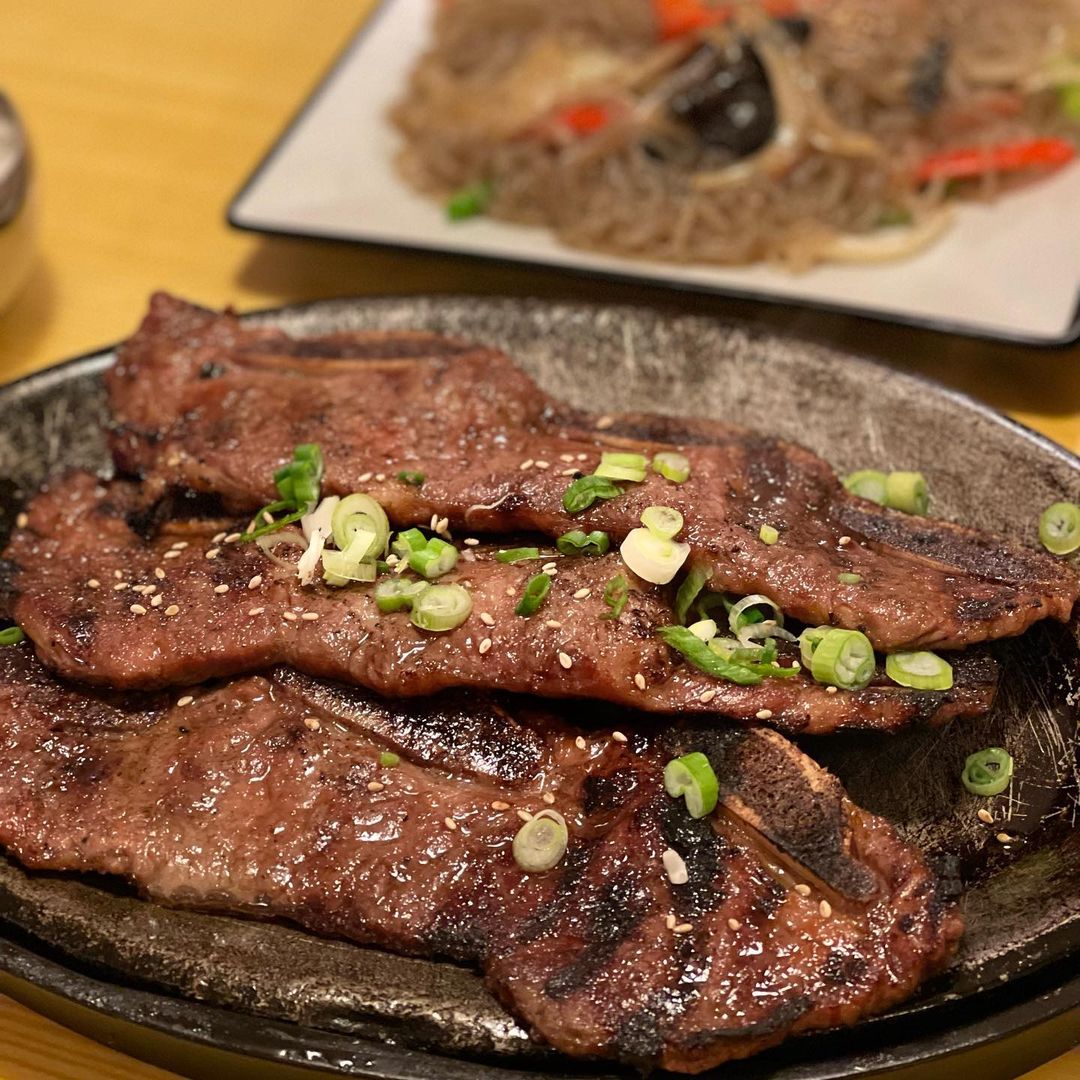 The Korean Village Restaurant is a classic Korean resto that gives you sanity and peace with its ideal dining experience. The ambiance of the place remains calm and the interior looks just like a classic Asian restaurant. The place is filled with bamboo and indoor plants which look very fresh to the sight. The lighting is warm and filled with fairy lights which still give a touch of liveliness to the area.
One of the best Korean Barbecues in town, they take pride in their succulent, tender, and tasty Bulgogi. It's teeming with flavour and with the texture, you're going to love it bit by bit. If you're looking for more meat options, you should definitely try out their Pork Belly and Spicy Chicken. The pork belly is just pure tenderness and the Spicy Chicken is a sure favorite, especially if you're into hot & spicy food. Wrap them in lettuce and it's just Korean barbecue goodness!
If you want something different, you can always count on their Kalbi Dinner which is basically marinated boneless beef ribs. This is served with rice and some Miso Soup. Their boneless are exceptional and the marinade is like no other! It's super tasty and the Korean flavors remain intact!
Lastly, don't forget to try out their Sushi Rolls and their Kimchi Pancake. The Sushi Rolls are well done and are fresh from every single ingredient, it adds a slight complexity to the menu which solves all your cravings! Their Kimchi Pancake is to die for. It's hot, crispy, and savory. It tastes like absolute heaven!
What to order: Bulgogi, Pork Belly, Spicy Chicken, Kalbi Dinner, Sushi Rolls, and Kimchi Pancake.
Address: 628 Bloor St W, Toronto
Website | Facebook | Instagram
3. Arisu Korean BBQ & Sushi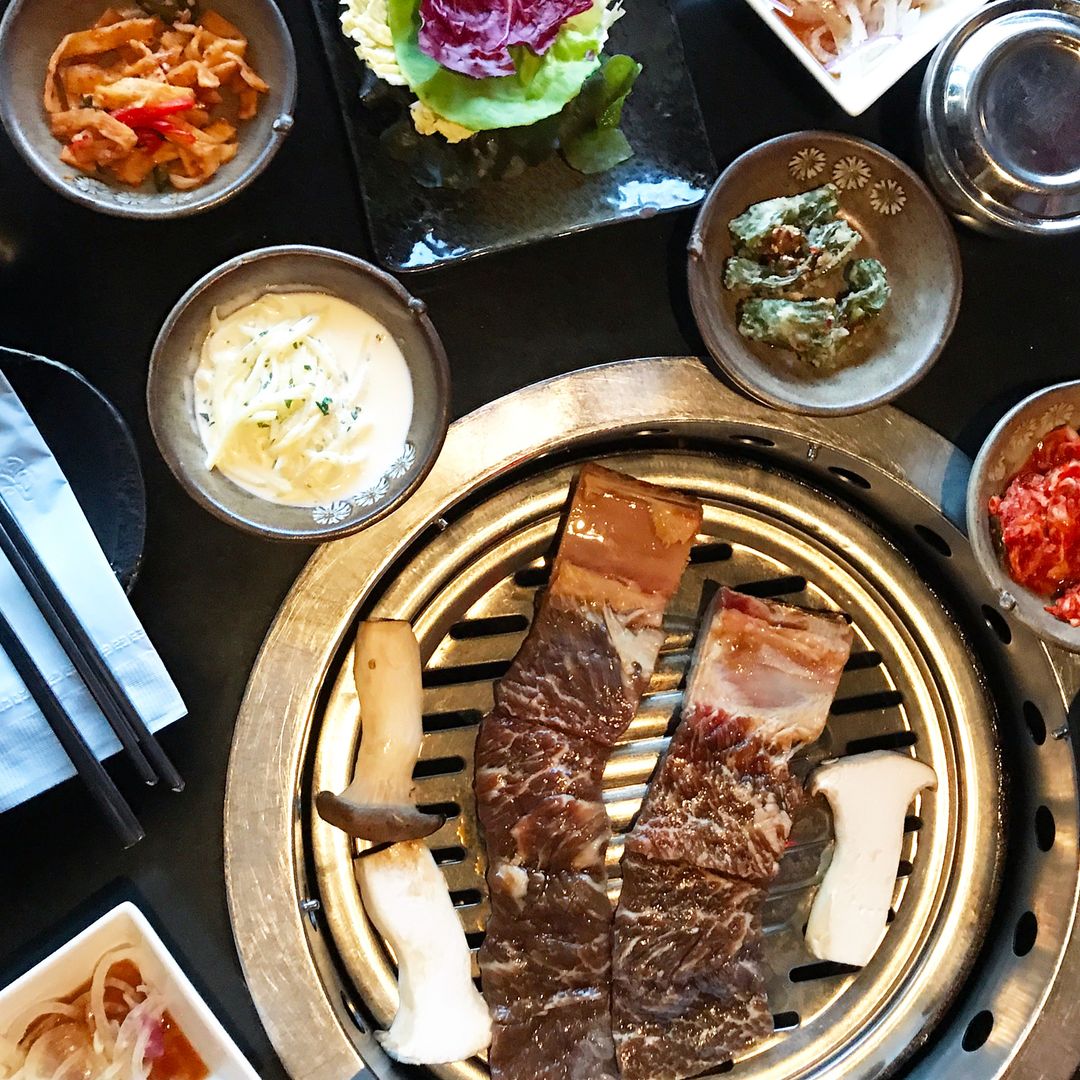 Proudly serving Koren BBQ and sushi in its most authentic form, Arisu Korean BBQ & Sushi has mastered serving premium & high-quality food for its Korean-cuisine-craving customers. For a Korean cuisine restaurant, you'd be surprised to find out their interior somehow falls far from the usual Korean interior designs. It has warm and somehow dim lighting. The walls are bricks and the booths for every customer are spacious. Overall, it has a comfy ambiance perfect for long chit-chats with peers!
Full of authenticity is their Korean BBQ meats. Every meal is plated with the utmost beauty. The best thing about it, it's the quality and texture. You can really see the marbling of some meats when cooked! If you're with a big bunch, we recommend you try out their 3 course BBQ meals. Specifically, get the Classic Korean BBQ Combo. It's sure to give you a Korean BBQ experience of a lifetime! From its Banchan, Marinated Short Rib Galbi, down to its Stone Pot Bibimbap, everything is above excellent! The Bibimbap tastes incredible, we recommend you get the Dolsot Bibimbap.
Their Tofu Soup is also one of people's faves! The spicy and tangy flavor of the Kimchi in it makes everything top-notch. The sesame oil gives it a fresh aromatic element. The garlic spices and the soft texture of tofu complete everything! For something unique, you can grab their duck BBQ and give it a try. Because it's a duck, it has a tasty and different flavor and the texture is also something to look forward to.
Overall, this restaurant is a Korean masterpiece and it's the way to go to satisfy your Korean-loving hunger!
What to order: Classic Korean BBQ Combo, Regular Bibimbap, Dolsot Bibimbap, Tofu Soup, and Duck BBQ Meat.
Address: 4501 North Rd #203, Burnaby, BC
Website | Instagram | Facebook
4. Daldongnae Korean BBQ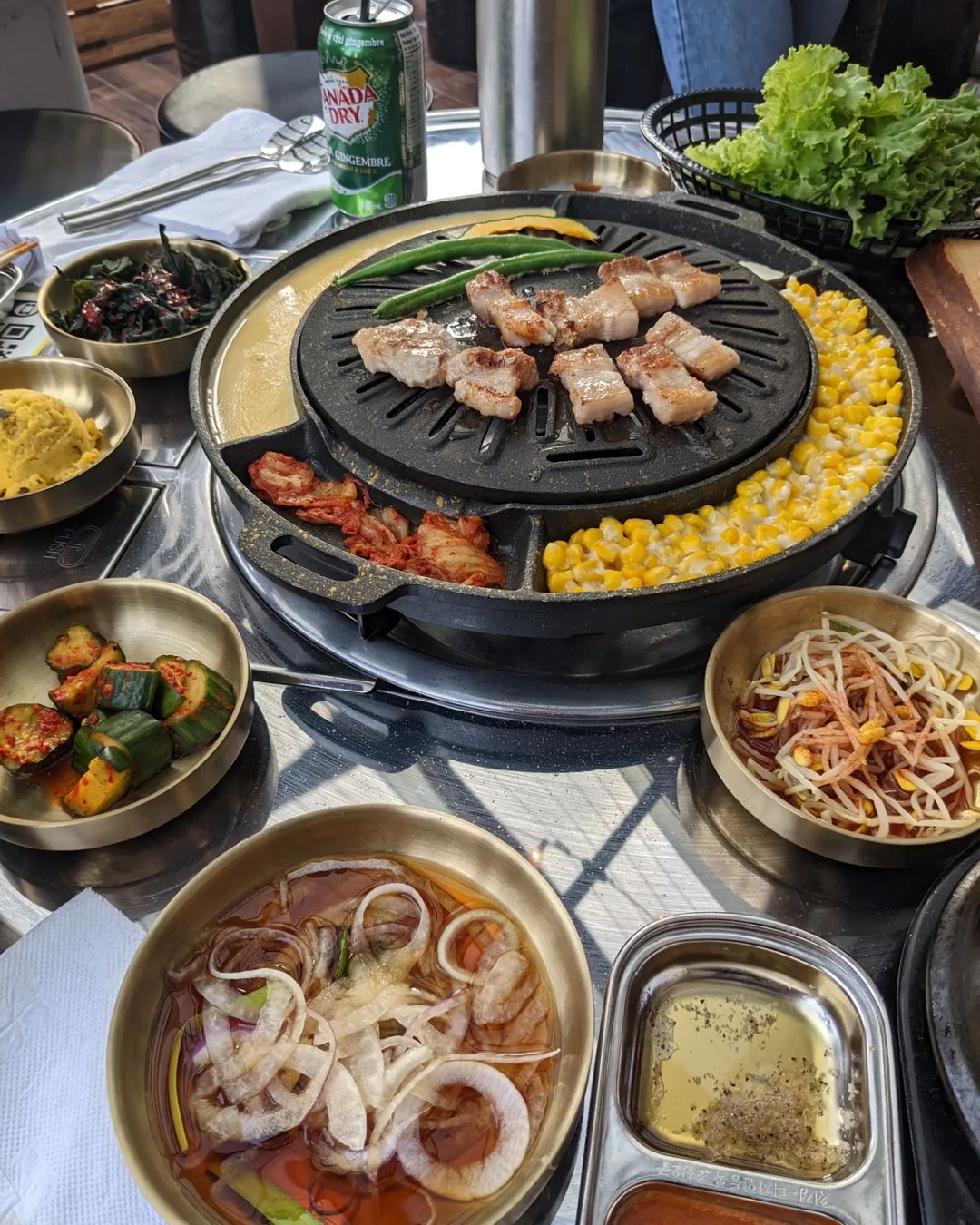 If you're looking for an aesthetic rustic Korean place where you can feel comfortable all the while munching on some high-grade food, Daldongnae Korean BBQ is your ultimate life saver! Looking straight out of a Kdrama, the interior feels like you've just traveled all the way there! It has a rustic interior filled with wood and warm lights giving you a cozy ambiance. Per booth has just the right amount of space which adds to more comfort!
If you're craving some under-the-sea goodness, why not get a hold of their Seafood Pancake? It's thin-crusted, crispy, and fluffy at the same time! It's just the ultimate appetizer to get. What makes it scrumptious? The mini shrimps, the squid blended with chives, and all the other veggies to name a few. Super filling!
Beef Rib Eye, Pork Shoulder Butt, and the Kimchi Cold Noodle Soup are the 3 things you should never forget to order. For the Beef Rib Eye, there's nothing much to say apart from the fact that the beefy flavuor bursts splendidly in your mouth. Its texture gains another point too. It's tender, soft, and easy to eat. The Pork Shoulder Butt is flavourful, well-marinaded, and filled with juiciness!
The Pork Skirt Meat surprises you with its thin cut and delicious flavor, it's easy to grill which makes eating more fun because you get to cook it quickly. For your side dish, we recommend that you make your way to getting their Sweet Potato and the Seaweed, dip them in some Gochujang sauce, and you're about to have a tasteful side dish like no other!
What to order: Seafood Pancake, Beef Rib Eye, Pork Shoulder Butt, Kimchi Cold Noodle Soup, Beef Rib Eye, Pork Skirt Meat, Sweet Potato, and Seaweed with Gochujang Sauce.
Address: 6034 Yonge St. Toronto ON
Website | Instagram | Facebook
5. Pujukan Authentic Korean BBQ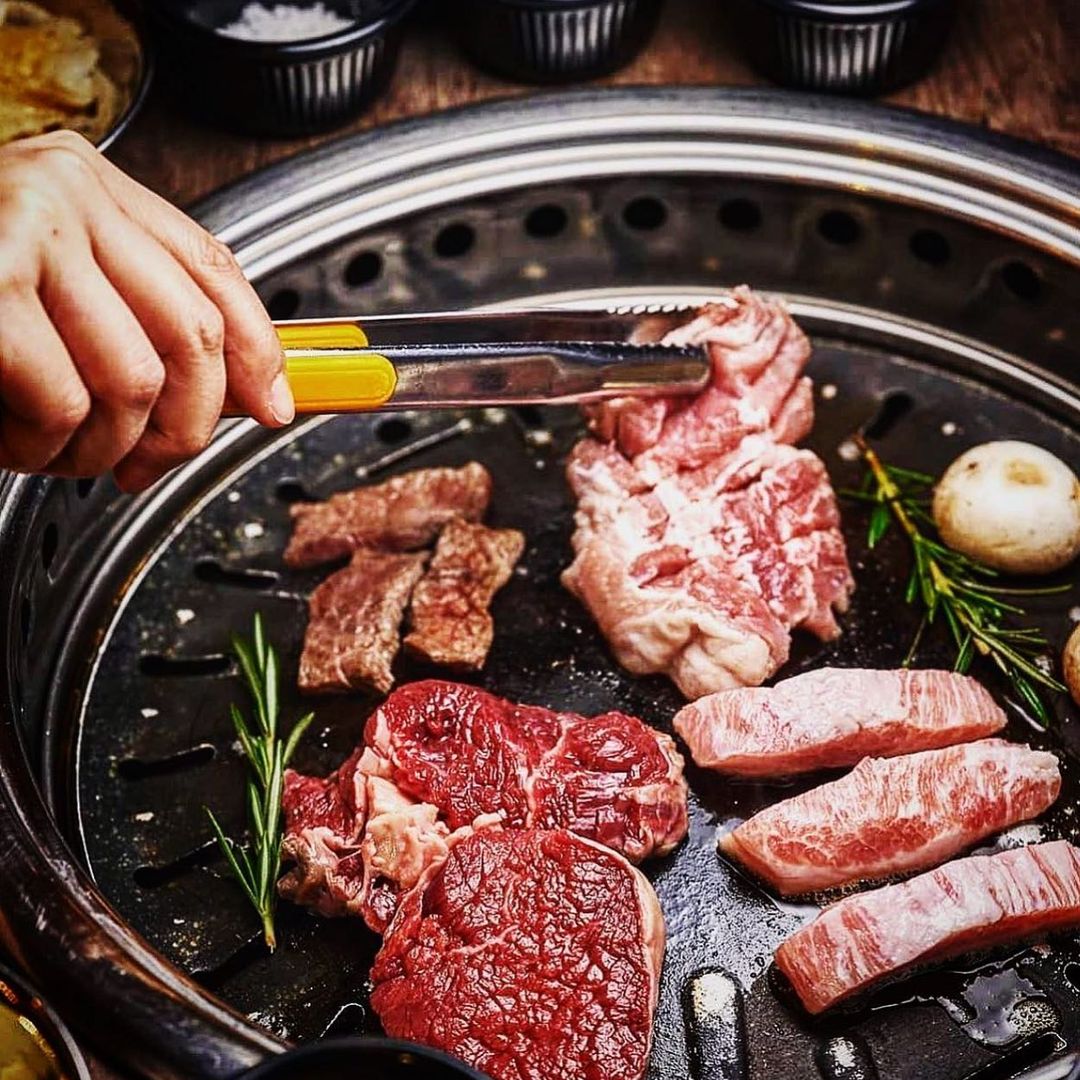 Something you should know about the Pujukan Authentic Korean BBQ is that it never disappoints! When you walk right in, you'll see a busy place filled with hungry yet satisfied people devouring scrumptious Korean food.
Its interior provides a rustic theme with a touch of modernity. Fake falling plants are plastered on the wall, adding creativity to the place. The lighting is warm and it gives a welcoming and lively ambiance.
Now down to the food! Let's first talk about the staples. Don't ever leave Pukujan without having a taste of their Tteok-Bokki. Chewy, sweet, with a hint of spiciness, it's everything you want in a bowl!
You should also try out their Fried Rice with Seaweed, this one is the ultimate staple. You may think that fried rice is basic but with the flavor of seaweed, it's taken to a whole new level!
Another sidedish you should get is their steamed eggs, one of the fluffiest steamed eggs you'll ever see! The taste? Spectacular. The texture? Like a dream!
For the meats, try out their Sirloin and Marinated Shoulder Butt. It's simply juicy and you can really tell it's high-quality meat. One of the reasons why Pujukan is very famous among the locals is because of its wide range of sauces. Their Ribeye Beef Short Ribs are extremely fresh, it's full of juiciness, and the texture is just tender and amazing! They have about 9 flavorued sauces. All the seasonings are impeccable but we recommend the Jalapeno dipping sauce to add a little oomph & uniqueness to your palate.
What to order: Tteok-Bokki, Fried Rice with Seaweed, Steamed Eggs, Sirloin, Marinated Shoulder BUtt, Ribeye Beef Short Ribs, and Jalapeno Dipping Sauce.
Address: 4852 Yonge St, North York, ON
Website | Instagram | Facebook
6. BIWON Korean Restaurant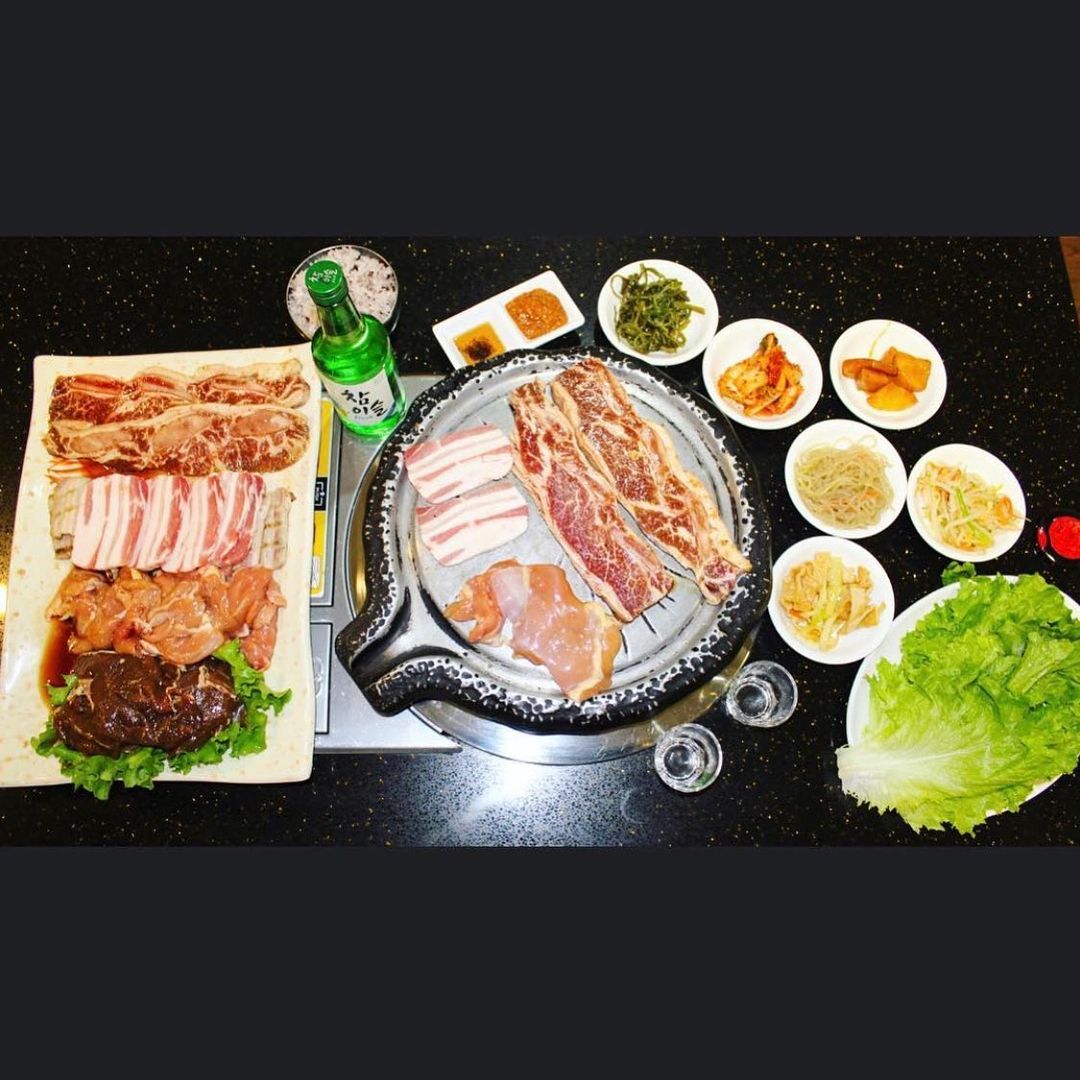 Biwon is a classic Korean restaurant with top-notch Korean food. In Biwon, they like to keep their interior looking clean and simple. Pretty straightforward, it's all about cream walls, clear dividers, spacious areas, and food posters all plastered all over. It gives off a classic and simple vibe yet is welcoming and warm.
Biwon serves generous proportions of food and we all know large portions are what keeps a restaurant worth the hype! Try out their Ramen GamJaTang Jungol plus Fried Dumplings. This is basically a pork bone soup with ramen. The pork slides off the bone easily which is a sign that it's cooked to perfection.
The flavour of the soup is delightful, it's well-balanced and not too overpowering to the taste. Pork SoonDuBu Jjigae is another stew you should try It's a soft tofu stew filled with eggs and lots of veggies. It leans more on the spicier side, but the taste literally will keep your mouth water every time you think of it!
The Grilled Mackarel Combo is a crowd favorite, and we're sure you're going to be part of the crowd! Served with steamed rice and your preferred soy bean stew, you're in for a savory and filling meal! The mackerel had the moistest texture but the skin remains crispy and tasty. Make it extra yummy by squeezing on some lemon!
The DonKatsu Dolsot Bibimbap has also caught our hearts! You can never go wrong with deep-fried pork plus some mixed vegetables. Everything was tasty with just the right flavors mixing each other. It's the perfect meal if you're just in for a quick-to-eat meal to fill up your tummy. On the other hand, if you really want a whole Korean experience, what you should order is their BBQ platter. It comes with four different types of meat, a bowl of soup, rice, and banchan, of course. Each meat brings you back to Seoul, that's for sure. It's nothing but tenderness and the classic goodness of Korea!
What to order: Ramen GamJaTang Jungol plus Fried Dumplings, Pork SoonDuBu Jjigae, The Grilled Mackarel Combo, DonKatsu Dolsot Bibimbap, and the BBQ platter.
Address: 473 Dundas St W, Toronto, ON
7. Gyubee Japanese Grill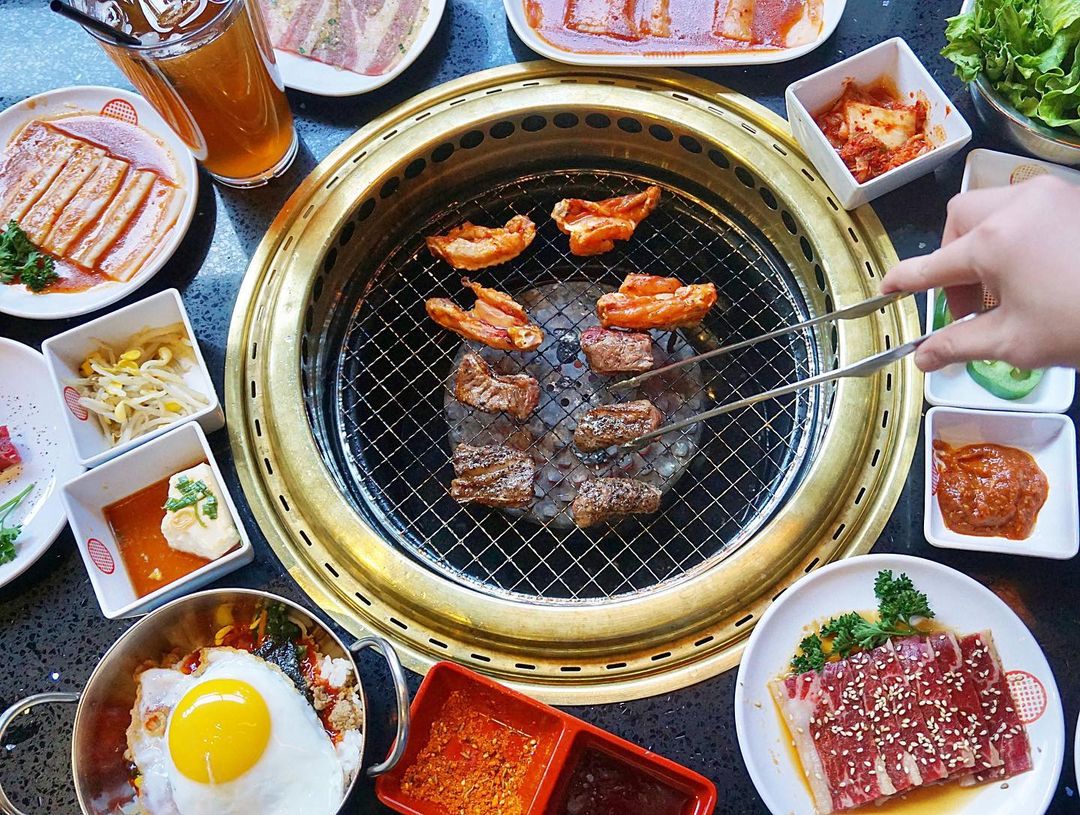 Any eat-all-you-can restaurant is forever a god-tier restaurant. It is what it is and we don't make the rules! In Gyubee Japanese Grill, you can eat all you can until you finally drop. With every food made with fresh and quality ingredients, savoring every taste is just a trip to paradise!
Gyubee has a modern interior with a mix of artistry in it. With every table flashed with a light long lamp, it's as aesthetic as it gets. Every booth also displays a painted wall-art to its side, making it Instagram-worthy. Well, here in Gyubee Japanese Grill, you don't only get to eat like a boss but you can unwind like one too!
Let's cut to the case, their Korean BBQ goes above and beyond the typical! Why? It's marinaded well enough that sauces aren't a necessity! Their Pork Belly is insanely good! Seasoned with the finest ingredients, it creates a unique and tasty mix of flavors. The beef is also an excellent choice, it's tender and has the same savory marinade.
For a hint of something else, get their Beef Brisket and Boneless Short Rib. The Beef Brisket has a luscious, chewy, and meaty texture, and the flavours all mixing together are rich and smoky. The Boneless Short Ribs are also worth a shot. The texture is top-notch and is filled with just the perfect beefy flavor!
What to order: Korean BBQ, Pork Belly, Beef Brisket, Boneless Short Rib, and Creme Brûlée.
Address: 7100 Woodbine Ave #100, Markham, ON
Website | Instagram | Facebook
8. The Owl on Bloor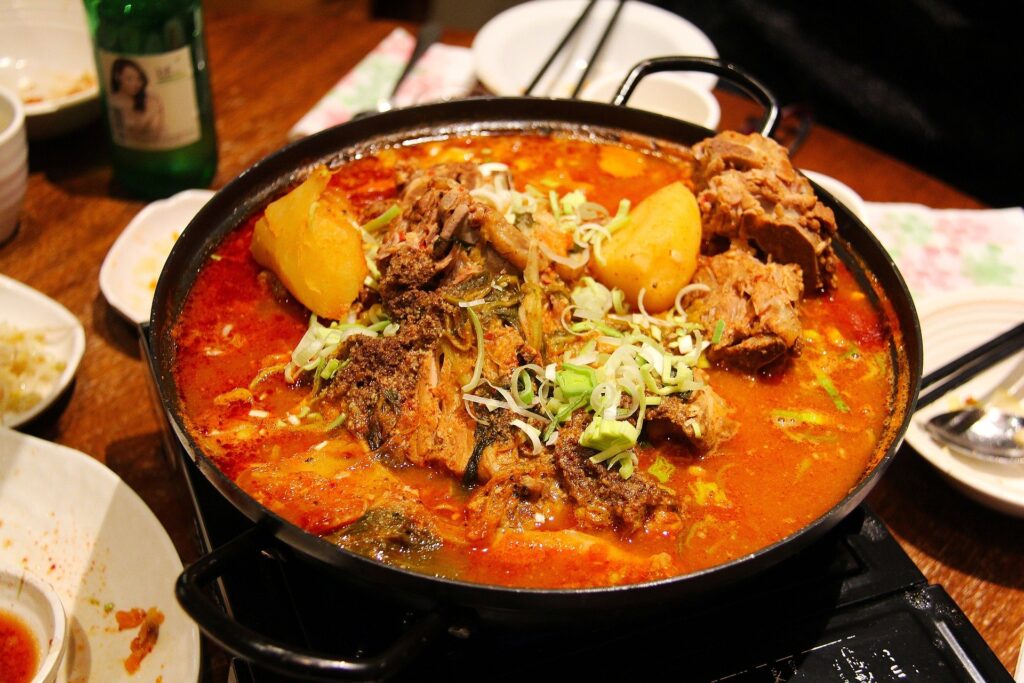 Known for serving a wide array of traditional Korean food, The Owl on Bloor has given customers an obsession with their delicious authentic Korean dishes. Open until midnight, it is seen as one of the best stops to go to fill you up in the middle of the night! The interior is just a humble design of a typical glassed door resto with warm lights and orderly placed chairs. There's a TV in the area where you can watch some shows while eating up some delicious dishes. Its simplicity gives you a classic appetizing vibe especially because of its spacious and comfy area.
First of all, you have to get the Gamja-tang or also known as their Pork Bone Soup. You'll thank us later! It's a spicy Korean soup made up of the neck and spine bones of a pig. For every sip, you get a rich flavor of spiciness and meaty flavor. Don't think it gets better? It serves gigantic proportions, and comes with side dishes and rice!
Try out their Pork Bulgogi or also called Je-Yuk. It's juicy and stir-fried with some assorted veggies. Their Beef Bulgogi is also top-notch. It's also filled with juiciness and is extremely flavorful. For a spiced-up palette, their Pork Ggan-Soo-Yuk is the one for you. It's some spicy deep-fried pork. The spiciness of the dish doesn't overpower its sweetness, giving it an interesting and yummy flavor.
What to order: Gamja-tang, Je-Yuk, Beef Bulgogi, and Pork Ggan-Soo-Yuk
Address: 700 Bloor St W, Toronto, ON
9. Mister Yummy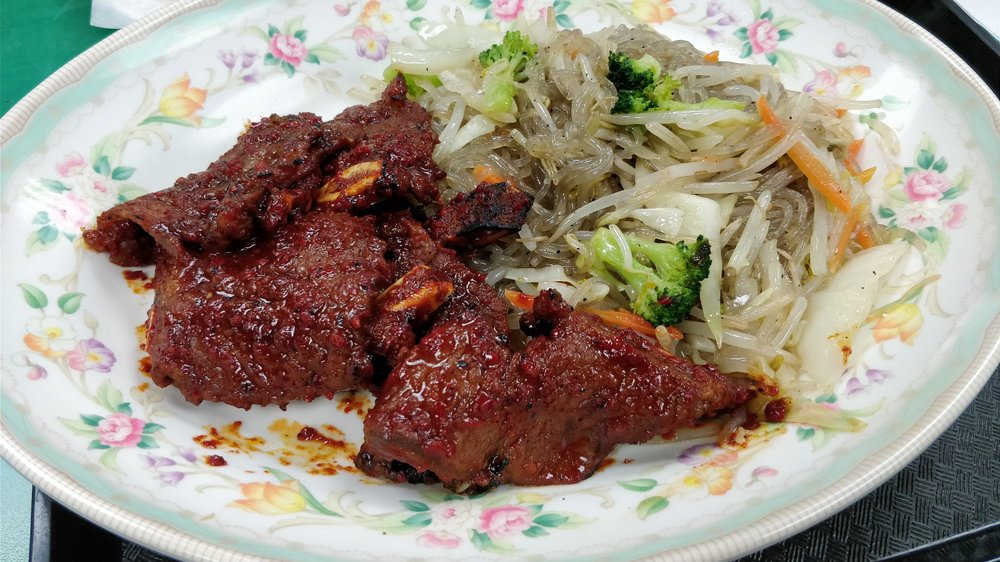 Known as the GOAT of affordable Korean barbecue and dishes, Mister Yummy is tucked away in an old mall. In Mister Yummy, you can taste some of the best Korean bbq and Bulgogi in town! From its affordability, you get so much more for its price. Its interior gives a humble look. Their different type of dishes is plastered on the wall where you can see their appetizing appearance. They also display different photos on the walls whether it's Kpop idols or different tourist spots. Nothing fancy, nothing complicated, and just a very home-style interior, but we can assure you that their food exceeds any expectations you may have!
Their Korean BBQ Chicken and Pork are exceptional! Their flavors are rich to the taste but it's not too overwhelming. You should also get their BBQ ribs, fried dumplings, tofu, bean sprouts, and macaroni. Everything just goes well together, the flavors complement each other, and even the side dishes are given in generous proportions.
The fried dumplings are loaded with fillings which makes them extra extra tasty. Their short ribs or Galbi is also one not to neglect. It has a spicy flavor which you will be obsessed with if you're into spicy food. Its spiciness is also mixed with more amazing seasonings that are matchless to any other short ribs! For about $5 or more, the quality and the taste of food seem priceless!
What to order: Korean BBQ Chicken and Pork, BBQ Ribs, Fried Dumplings, Tofu, Bean Sprouts, Macaroni, and Galbi.
Address: 2340 Dundas St W, Toronto,7100 Woodbine Ave #100, Markham, ON
10. Buk Chang Dong Soon Tofu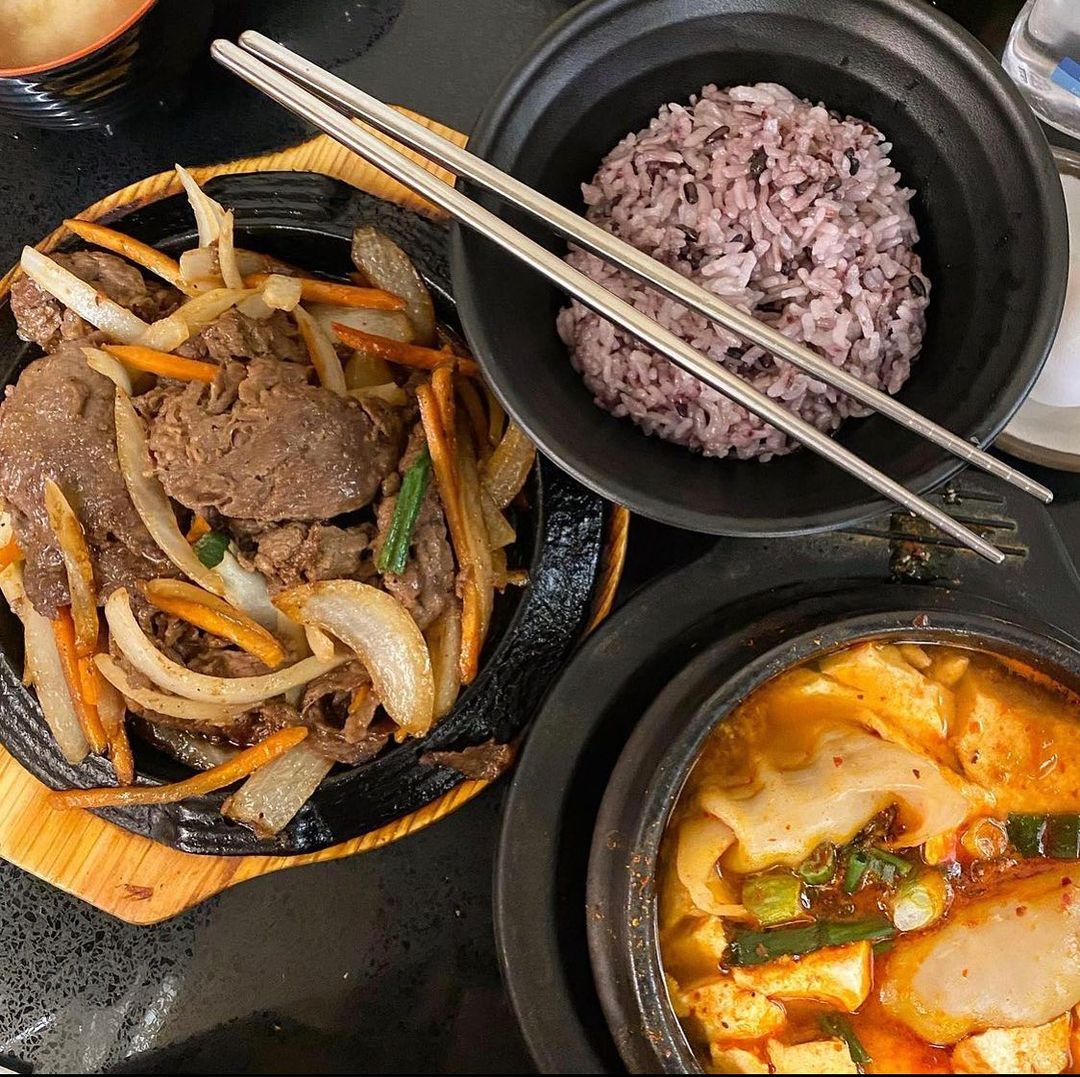 Another restaurant that will indulge you in Korean goodness is Buk Chang Dong Soon Tofu. The place is quaint and has a comfy vibe. The lights are doing their job making the food look as mouthwatering as ever. The area is mostly brick walls or glass doors which is a simple yet timeless look. The ambiance is cozy and ideal for a weekend chill eat-out session!
First thing on our list, get your hands on their variations of soup! We recommend the Combination Soon Tofu and Hot Stone Pot Rice, choices of meat can either be beef, shrimp, and mussel. One sip and you're captivated right away! The soup is flavorful and the tofu has the best texture of softness.
We also recommend you get their Dumpling Soon Tofu, which is another favorite. It comes out piping hot and its aroma will make you crazy for it. The dumpling and beef mixed together in a bowl create an incredibly rich taste. For something slightly healthier, their Vegetable Soon Tofu is the ultimate showstopper! It's not heavily seasoned with different kinds of spices and it wasn't excessively salty either. After you finish the soup, you won't feel like there's a lot going on with your tastebuds, certainly just the right sharpness of flavor you're looking for.
Their Broiled BBQ Beef Hot Stone Pot Rice or Bulgogi definitely hits the spot. It is intensely flavorful and has a classic touch of sweet and smoky. Paired well with the purple rice, you're off to have a full stomach with dancing tastebuds of joy!
What to order: Combination Soon Tofu and Hot Stone Pot Rice, Dumpling Soon Tofu, Vegetable Soon Tofu, and Broiled BBQ Beef Hot Stone Pot Rice/Bulgogi.
Address: 691 Bloor St W, Toronto, ON
Website | Instagram | Facebook
That's about it for the best Toronto restaurants you won't get enough of! If you still want to scour for more, we have just what you need! Check out our list of 15 best dining restaurants in Toronto. Have a blast and eat your heart out!
How We Create Our "Best" Lists
All Noms Magazine's "best" lists are created using multiple factors and signals to help readers find the best restaurants, things to do, and places to stay at. Some of these factors and signs include personal experiences, correspondence with locals, and compiling experiences from review sites.
Each list is also created to be balanced (in terms of price, cuisine type, ambiance, and more) as possible. This means that the lists are not specifically created in ranking order. You should be comfortable picking from any of the spots on the list and generally have a good time. But of course, YMMV (your mileage may vary) and everyone may have different experiences/palates.