Toronto is known to be home to many tourist spots and towering buildings, and not only is it home to great architectural sites. It's also home to many diverse nationalities from all over the world! Truly is it an iconic city that boasts multiculturalism in its hustling and bustling streets.
Because Toronto is the benchmark of multiculturalism, you can expect the food scene from different cultures to be spot on. Out of the many widely available cuisines found in Toronto, one that never ever disappoints is Mexican food!
There are plenty of Mexican restaurants in Toronto that offer the most scrumptious and authentic Mexican food ever! We've compiled the 12 best Mexican restaurants in Toronto and what to order at each:
1. Como En Casa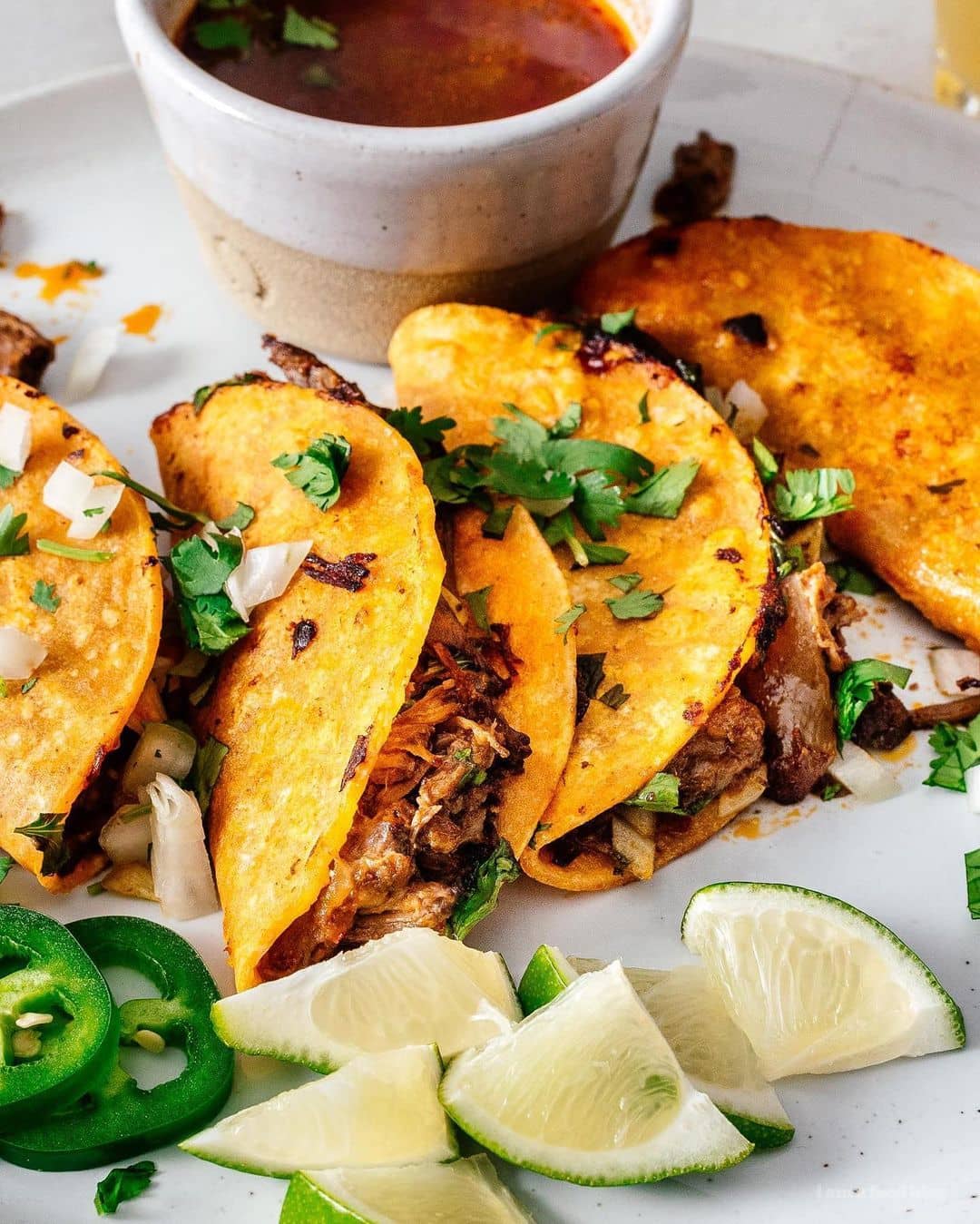 Como En Casa is your go-to tiny Mexican canteen that serves tacos, burritos, and enchiladas rich in flavour and authenticity. It's lively with so much ornaments plastered all around like colourful paintings and numerous warm lights that hang from the ceiling. Don't let the crowded-looking interior fool you! Their phenomenal food will definitely keep you coming back!
Starting off with the Mexican soul food favourite, their Tamal Meal is just heavenly. You can choose between chicken mole, pork in tomatillo, or vegetable. We recommend you get their pork in tomatillo. It's perfect with the spicy salsa sauce. The dash of spiciness from the salsa makes the whole dish top-notch!
Their Pork Stew in Verde Saucen is also worth a spot here. The Verde Sauce is delightful giving a zesty, tangy, and slight spice to the dish. You should also give their Carnitas Taco Meal and Fish Taco Meal a try.
The Carnitas Taco Meal is sure to keep you stuffed. Its 6" Corn Tortilla Tacos is filled with pork carnitas and some tasty salsa. What you'll love about this is that it's served with even more flavorful rice, pickles, and more! For the Fish Taco Meal, their battered Basa fish is freshly prepared, topped with some yummy coleslaw and Fresca salsa.
Lastly, their Chicken in Chipotle Sauce is just to die for! The chicken is consistently tender and the homemade chipotle sauce has the perfect mild and earthy spiciness. It's one of those meals that will keep you obsessed!
What to order: Tamal Meal, Pork Stew in Verde Saucen, Carnitas Taco Meal, Fish Taco Meal, and Chicken in Chipotle Sauce.
Address: 565 Yonge St, Toronto, ON
Website | Instagram | Facebook  
2. La Bartola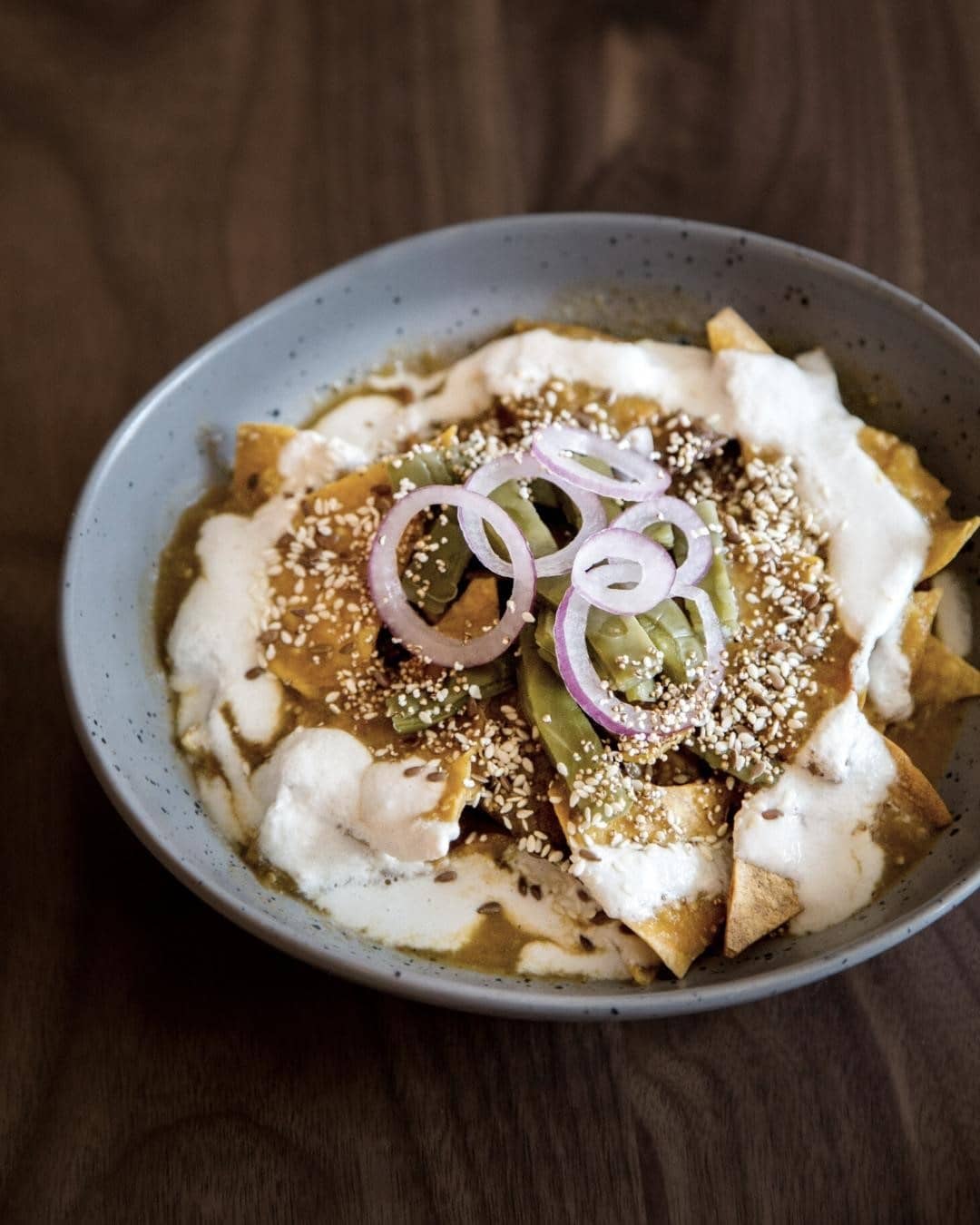 Aesthetic and oh-so-delicious are what describe La Bartola. La Bartola is a crowd-favourite Mexican restaurant that gives its customers a unique Mexican experience with its picturesque interior and mouth-watering food! Nothing beats the cozy yet vibrant atmosphere of this restaurant. From the faux hanging leaves at the counter, skull Mexican ornaments, to the warm lights and picture-framed wall photos. E
Making the place extra cozy is their patio. You can choose from two great patios, a street-side patio and one away from the busy streets.
For their food, you won't regret trying out their Hibiscus Flower Taco, Pistachio Pipian, and Jackfruit & Mushroom "Al Pastor" Taco. The Hibiscus Flower Taco is stellar and is full of savory goodness. Unlike any other taco you've tasted before, it has a unique pairing of braised hibiscus flowers, some mushrooms, and salsa macha.
All these different flavours mix amazingly in the tacos. The bursting flavours just blows you away with its savory taste. The Pistachio Pipian is just as good wih its rich and complex flavors. For the Jackfruit Taco, this is the perfect taco to get if you're craving something sour and savory. It isn't too sour but definitely has a kick of tang that adds something different to your palette.
What to order: Hibiscus Flower Taco, Pistachio Pipian, and Jackfruit & Mushroom "Al Pastor" Taco, and Oxacan Chocolate
Address: 588 College St, Toronto, ON
Website | Instagram | Facebook  
3. El Catrin Destileria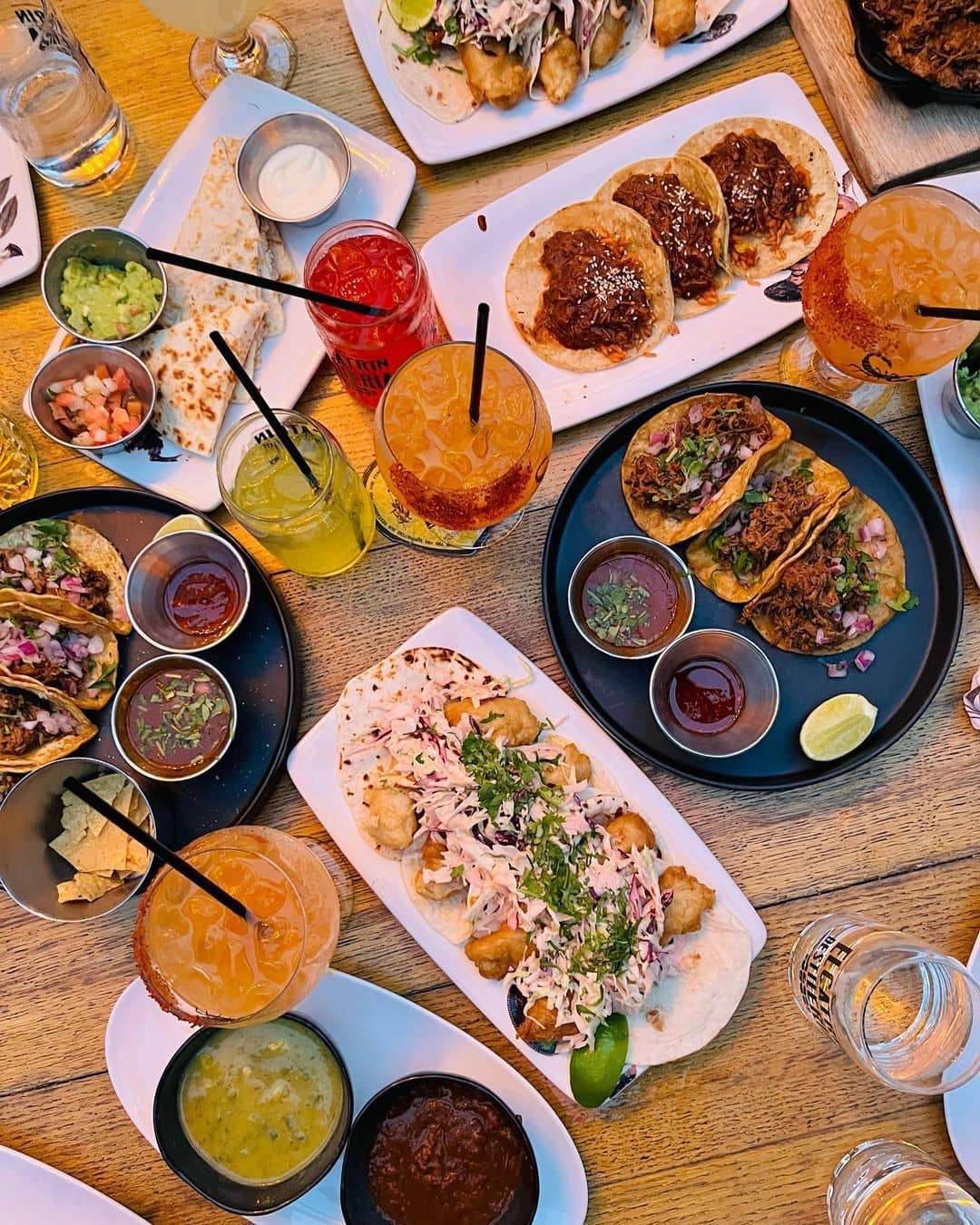 Truly immersing you in a full-on Mexican experience, El Catrin Destileria knows how to do it the right way. El Catrin Destileria is one of the most Instagrammable Mexican restaurants you'll come across in Toronto. Its high artistically painted walls and ceilings give you a good impression the moment you walk in. The unique dividers with classic Mexican ornaments also make a statement in the area. Their patio has that hip and vibrant ambiance you will definitely enjoy.
The Baja Tacos, Suadera Tacos, Crispy Flautas De Res Tacos, and Nachos with Guacamole are the stars of the show on their menu. The Baja Tacos and Suadera Tacos are extremely flavourful and have high-quality ingredients stuffed in them. For the Crispy Flautas De Res Tacos, you can tell that they took the crispiness of their tacos seriously. The taco shell had that good little snap after every bite, you'll love it! It's also loaded with beef Costilla and salsa papilla giving it a spectacular taste. All the seasonings in these tacos are simply top-notch.
Their Nachos with Guacamole also do not disappoint. We recommend you adding crickets to their guacamole, it makes it ten times tastier!
What to order: The Baja Tacos, Suadera Tacos, Crispy Flautas De Res Tacos, and Nachos with Guacamole
Address: 18 Tank House Lane, Toronto, ON
Website | Instagram | Facebook
4. Campechano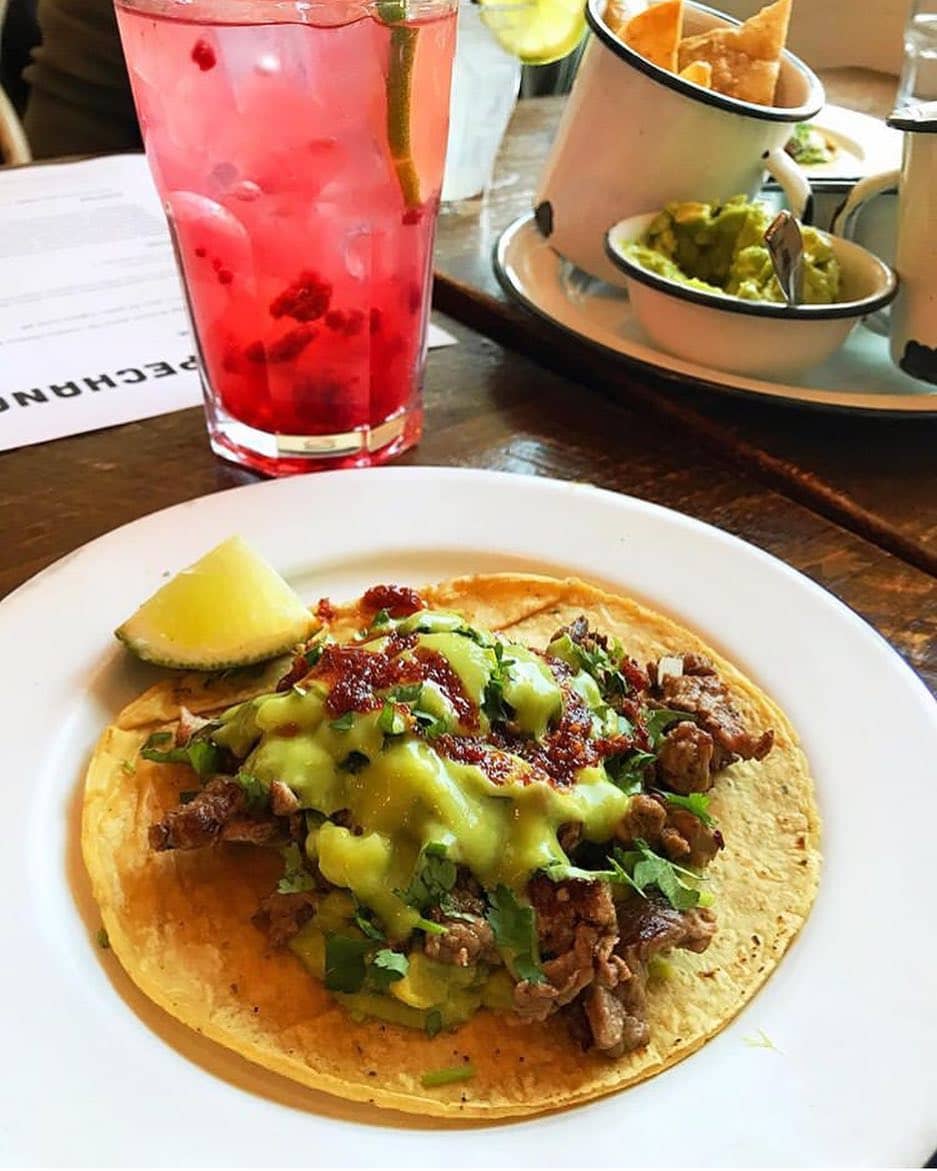 In Campechano, you're not only served amazing food but quality service and an aesthetic vibe too. Among all the restaurants in Toronto, you can count on Campacheno to give you a different kind of interior. Most Mexican restaurants go for the typical yellow walls but this restaurant gives it a modern twist. White painted walls are all artistically painted everywhere you look. The patio is also Instagrammable with its chill ambiance, breezy air, and plant-filled decorations.
Simply outstanding is what describes their food. Their dishes are filled with just great flavors and amazing presentations. Aside from their Ceviche which tastes flavourful, it's also gluten-free! With the nachos served along the Ceviche, it's flawlessly good! Another crowd favorite was their Fish Tacos. Get their Al Pastor, it has a gentle kick of flavor that lingers on the mouth.
For something to keep you stuffed, we recommend you get their Barbacoa or Braised Lamb. From its presentation to the taste, it will exceed your expectations. The texture is tender and the lamb was perfectly seasoned to taste. It's savory yet not too overwhelming. Always pair this with their Pescado or beer battered haddock. It both complements each other, especially with the Pescado's subtle taste and Barbacoa's bursting flavours.
What to order: Ceviche, Fish Tacos, Barbacoa, and Mojitos
Address: 504 Adelaide St W, Toronto, ON
5. Playa Cabana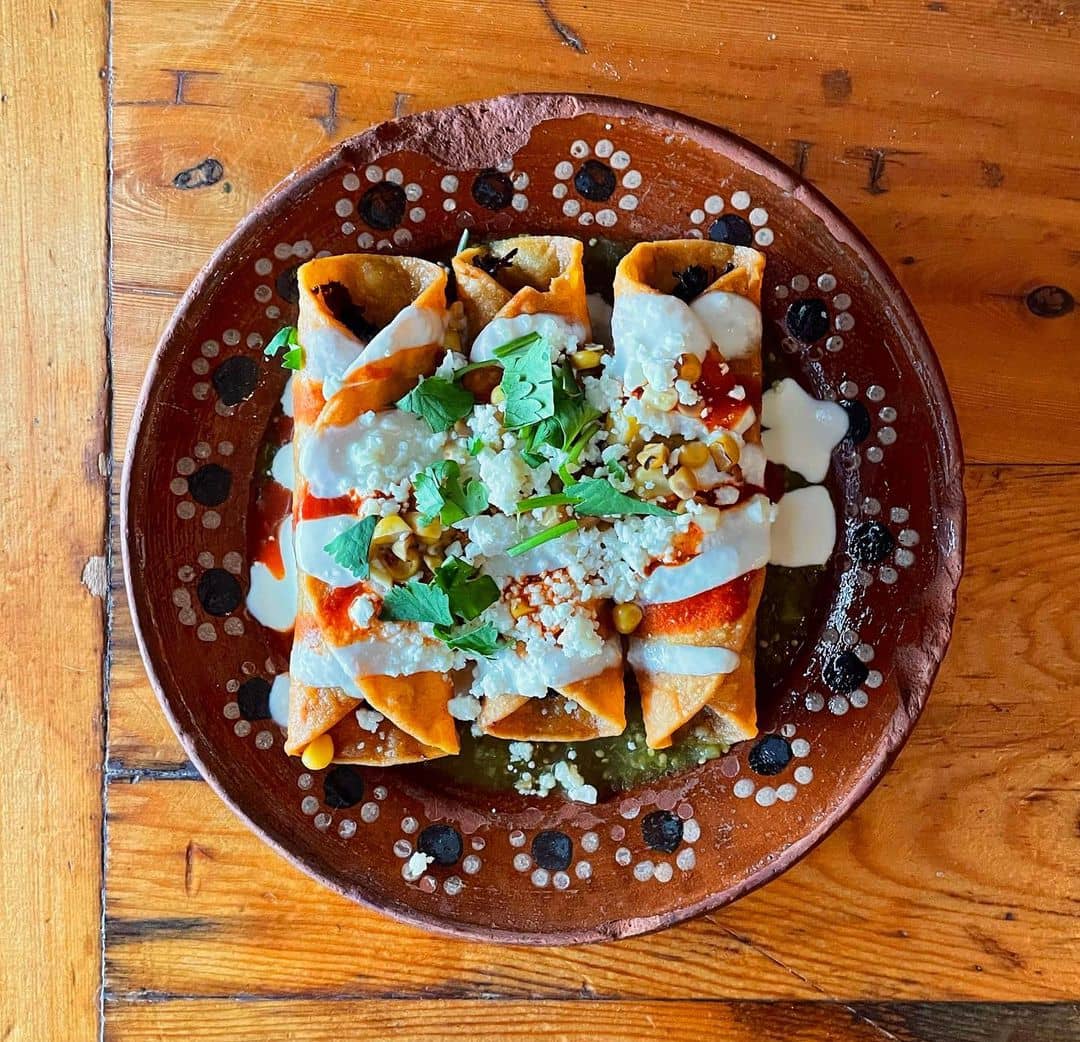 One of the liveliest and most colourful Mexican restaurants you'll see in Toronto is Playa Cabana. Their bright neon lights everywhere make the place look enticing and fun. With everything lit up, it's definitely the place to live, laugh, love! The decorations are mostly road signs and cool colourful lights. Expect to have a great time here as they serve you the best quality food and a top-notch vibe.
Let's start with their tasty Ceviche. Prepared with an incredible twist, you'd be obsessed with this dish. The raw tuna in their ceviche was impeccable plus the guacamole salad that comes with it. It's a great combination that you shouldn't miss.
For their tacos, try out their Barbacoa, Chorizo, Chicken, Shrimp, and Vegetarian tacos. All were made in a very traditional style and all had bursting flavors.
Try out their Beef Short Rib Burrito and Short Rib Enchiladas. The generous portions make it extra filling and since it's extremely flavourful, every bite is just heavenly. For their dessert, their Tres Leches is exquisite. The taste is milky and sweet but not too sweet. It's fluffy yet is still so dense. It's the most ideal dessert to have after some tasteful Mexican food.
What to order: Ceviche, Barbacoa, Chorizo, Chicken, Shrimp, and Vegetarian Tacos, Beef Short Rib Burrito, Short Rib Enchiladas, and Tres Leches.
Address: 2883 Dundas St W, Toronto, ON
Website | Instagram | Facebook
6. Quetzal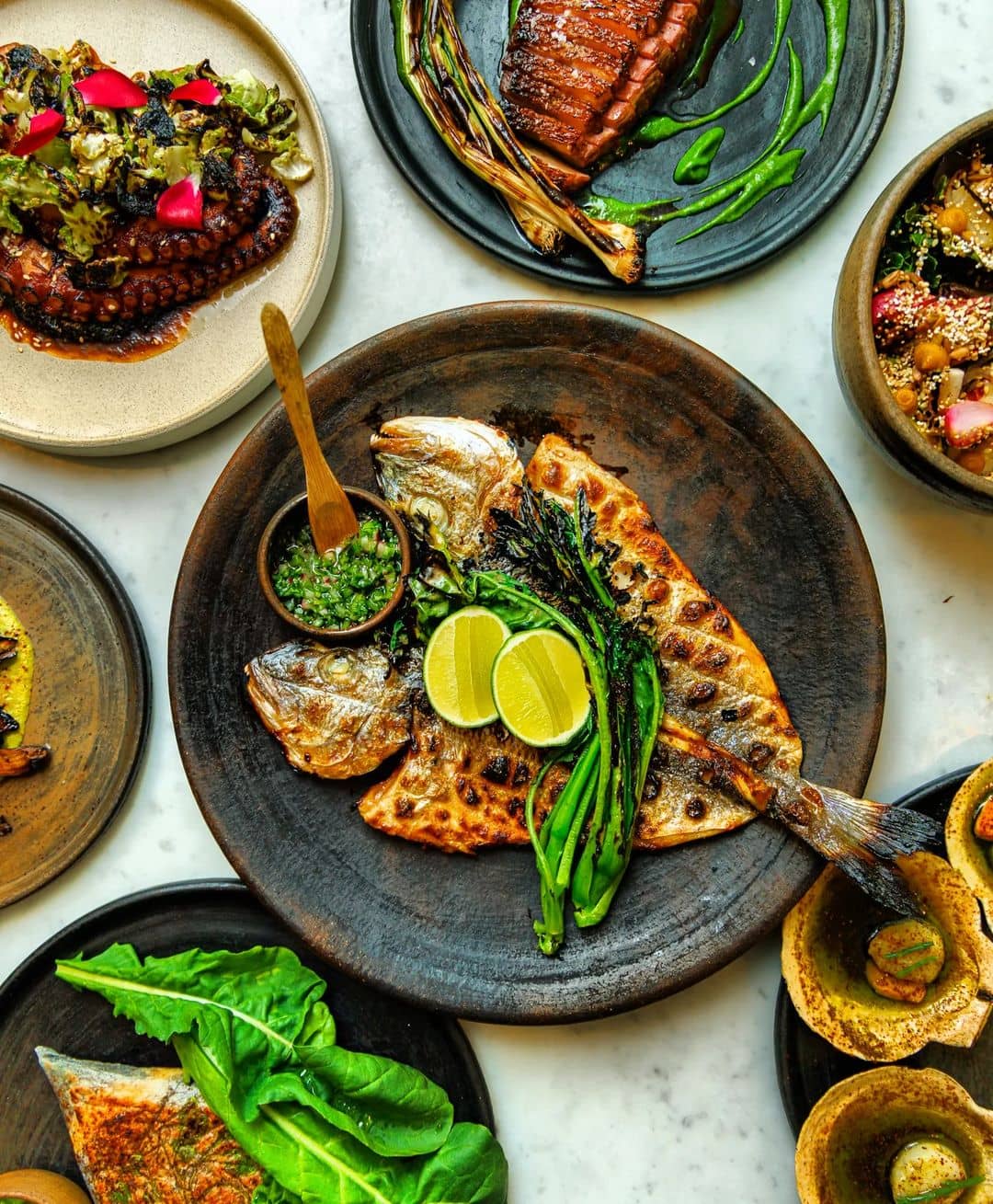 Another aesthetically pleasing resto in Toronto is Quetzal. The structure of this restaurant has a distinctive look to it. Its uniqueness won't let you think it's a Mexican restaurant at the first look. The place presents a minimalist aesthetic and has a cave-like structure. Picturesque and the most ideal place for an Instagram photoshoot, this place has it all!
Every single dish on their menu is worth the spend, that's for sure. But if you really want to leave this place astonished at the same time wanting more, there's a few dishes that will give you that exact feeling.
Order their Scallop Ceviche and you will sure be amazed by its taste and preparation. It was light and perfectly well-balanced. As you get to see how its made, you will also appreciate the exquisite step by step process.
Their Grilled Octopus, Smocked Chicken Masa, and their masterful Skirt Steak are the top 3 dishes next to the scallop that you have to try. Everything was fresh, well done, and tender. There's nothing else to ask for in these dishes. They have diverse flavors that you don't get to see anywhere else.
Lastly, for dessert, their Eche Curmada with Strawberry Granita and Tiny Tarragon Meringue will end the meal flawlessly.
What to order: Scallop Ceviche, Grilled Octopus, Smocked Chicken Masa, Skirt Steak, and Eche Curmada with Strawberry Granita and Tiny Tarragon Meringue.
Address: 419 College St, Toronto, ON
Website | Instagram | Facebook
7. XOLA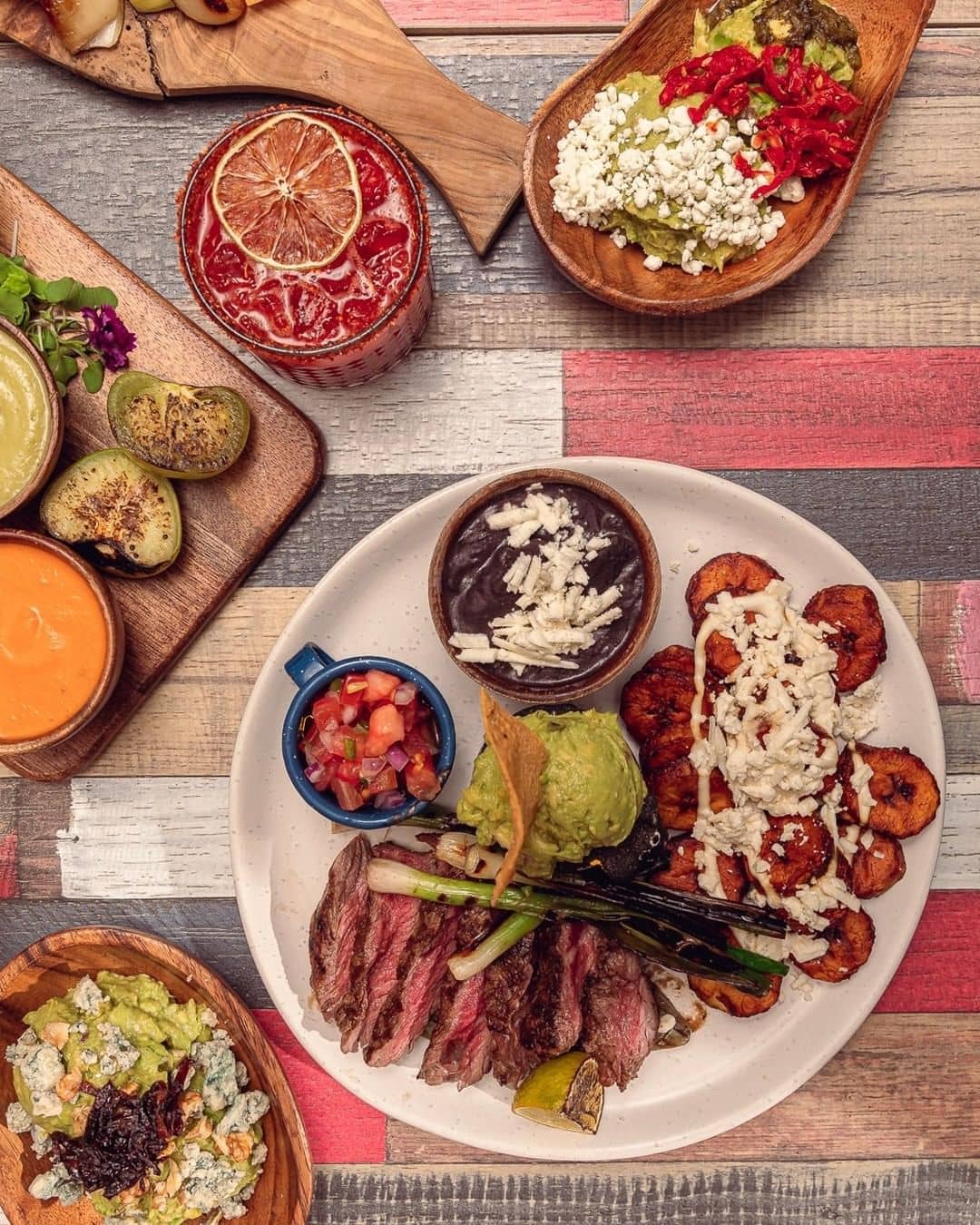 Xola is an artistic restaurant that boasts the best Mexican comfort food. This restaurant offers a creative and artistic vibe to the place. The walls are artistically painted with crazy bright colors. The lights are warm which somehow gives the place a cozy feel even with the vibrant colours everywhere. Even the chairs have colorful patterns and bright colours!
Their Sopa Azteca, Ceviche, Barbacoa, Duck Confit Tacos, and Cochinita Pibil Pork Tacos are the dishes that will put you in awe! Their Sopa Azteca is a traditional Mexican soup and the authentic flavours really stand out.
For the Barbacoa, the lamb was tender and what makes this dish amazing is the savory sauce. Their Cochinita Pibil Pork Tacos are marinated in achiote spice giving it a tasty twist. The spiciness also adds to the great flavours of the tacos.
What to order: Their Sopa Azteca, Ceviche, Barbacoa, Duck Confit Tacos, and Cochinita Pibil Pork Tacos
Address: 2222A Queen St E, Toronto, ON
Website | Instagram | Facebook
8. El Pocho Antojitos Bar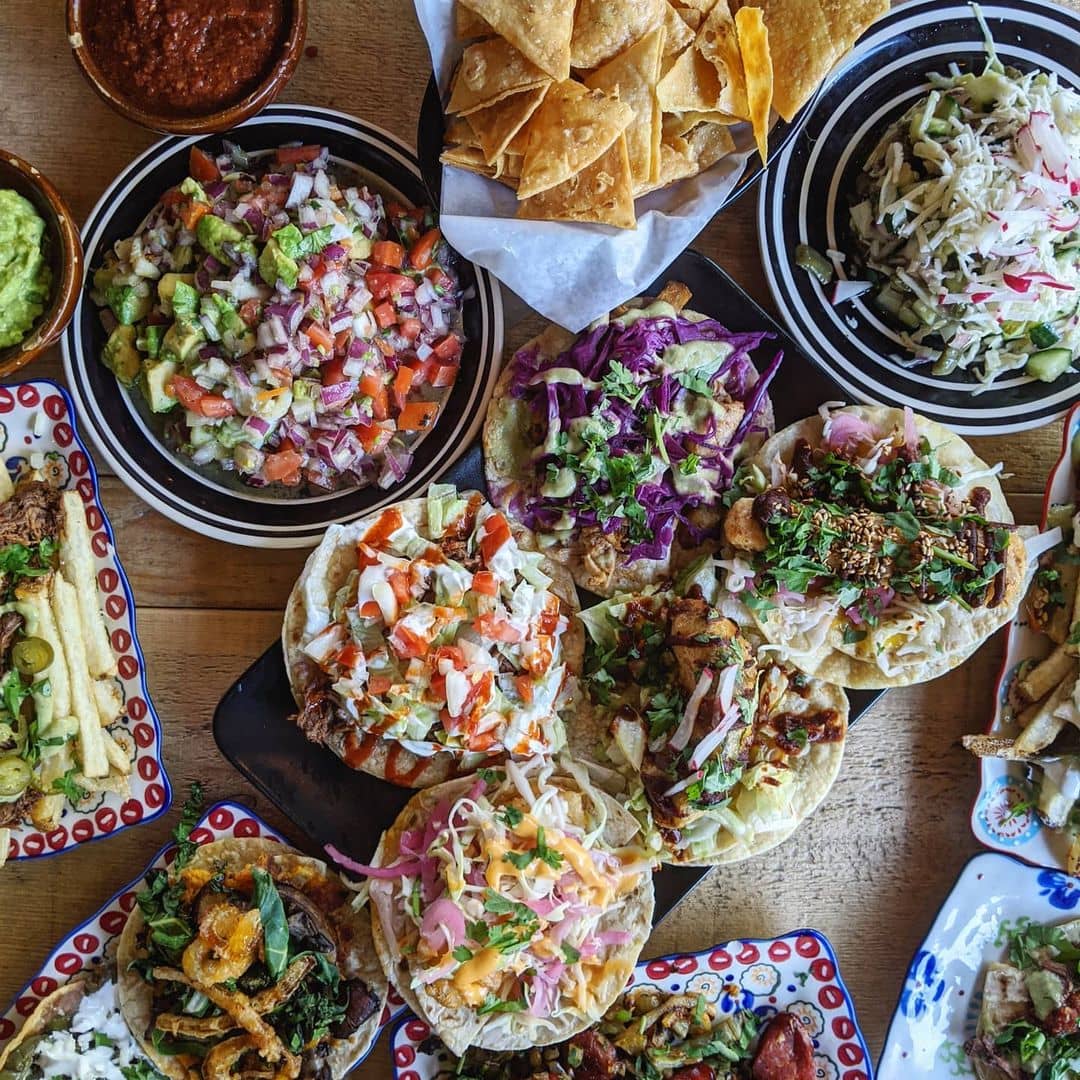 All about cockails, beers, and bold Mexican food, El Pocho Antojitos Bar is definitely you're go-to bar if you're craving great drinks and great Mexican food! Their dark interior makes the place cozy enough to just sit down and have some beer with friends. At night, with the candles lit up and the place feels extra cozier. Add that with some super delicious tacos, and it's a night of relaxation you'll never forget!
We recommend their Ceviche, Elotes, Churros, and Tacos Gringos. Nothing compares to this restaurant's well-seasoned dishes, that's for sure. Their Ceviche is a great way to start your meal as it has the perfect combination of spicy and savory! The fresh tortilla on the side makes it even more appetizing to finish it all up. For the Elotes, what we like so much about this is its housemade aioli. It's one you shouldn't pass on.
The highlight about their Churros is that it's gluten-free! Not only that but unlike other churros, they're not greasy at all, they're consistently crunchy and the flavors are not too sweet. It's the ideal taste for churros to make you eat more than you can!
Now, for their Tacos Gringos, it's insanely good. The beef Barbacoa has a classic scrumptious taste and Queso Cotija makes it even more delicious. You'll definitely crave this every single time you pass by this restaurant!
What to order: Ceviche, Elotes, Churros, and Tacos Gringos
Address: 2 Follis Ave, Toronto, ON
Website | Instagram | Facebook
9. Wilbur Mexicana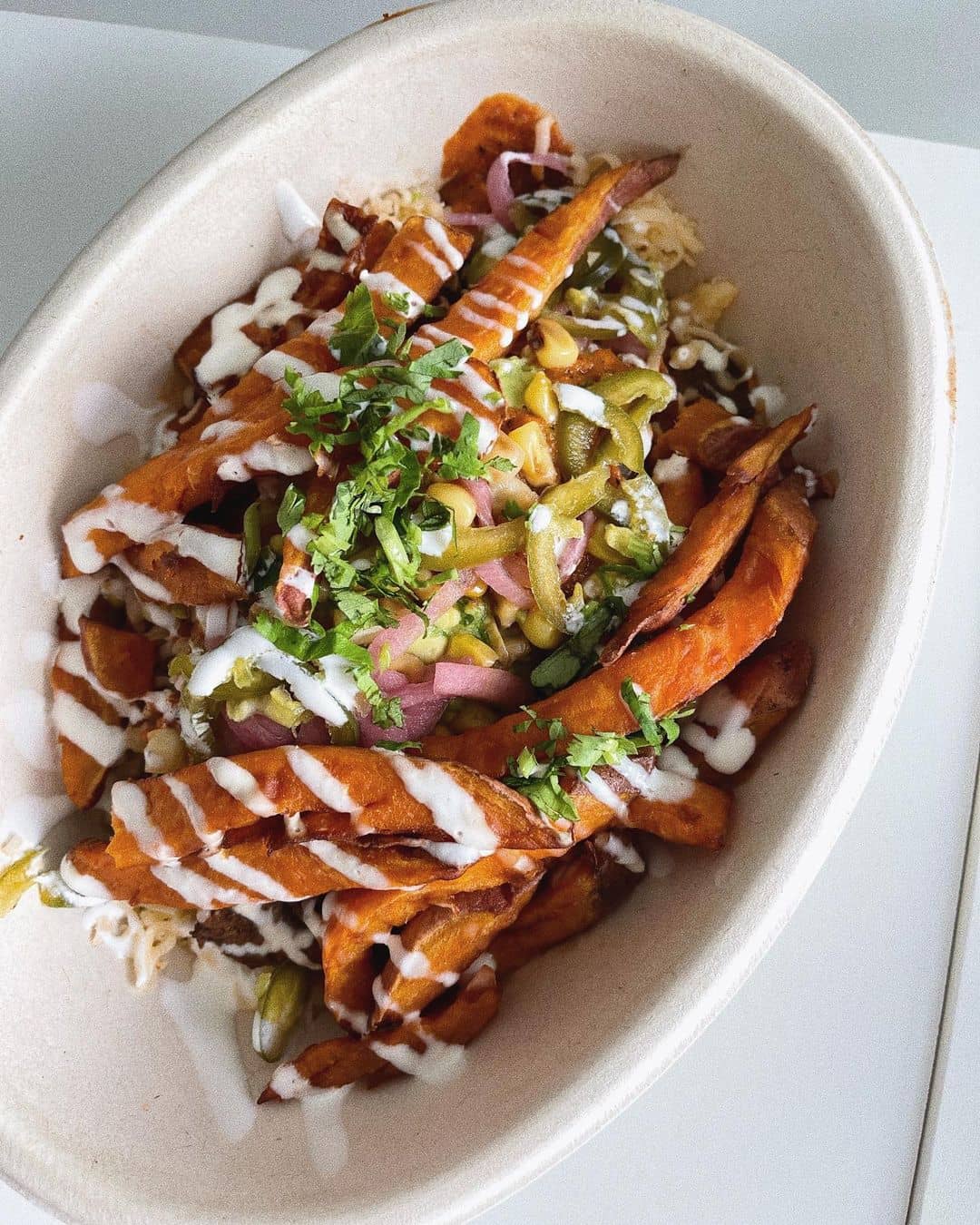 This apothecary-inspired counter serves not only amazing food but also an amazing dining experience! Wilbur Mexicana is known for having a unique concept in its restaurants. You can already guess that this place is one that makes you snatch out your phone to take hundreds of pics of its interior. It's unique but has a touch of a modern take. All the walls are made of glass which makes the lighting top-notch plus the apothecary-inspired decors boost the creativity of the place. We just know you'll want to come back here for the ambiance alone, even without even trying out their oh-so-good food.
But of course, what makes this place popular is its stellar food. Try out their Chicken Tinga Taco, Avocado Taco, and Bulgogi Taco. What's so good about the Chicken Tinga Taco? it's a crowd favorite that will probably be the best thing your mouth has ever eaten. It's super tasty with an excellent combination of flavours.
Their Avacado Taco is also a staple. The taste of Avocados are fresh and has the most dominant taste. The extra sauces make it more tastier. We recommend trying out their ghost pepper sauce if you want that kick of spiciness.
Their Bulgogi Taco just tells you they put the effort into serving quality and creative food. This taco is definitely the real deal. The bulgogi tastes amazing and the ingredients and combinations added are jaw-dropping.
What to order: Chicken Tinga Taco, Avocado Taco, and Bulgogi Taco
Address: 552 King St W, Toronto, ON
10. El Trompo
El Trampo is a classic Mexican restaurant that brings you back to Mexico with their full-on authentic Mexican food! Their interior is lively with many vibrant ornaments everywhere that truly get your attention. The walls, tables, and chairs all catches your attention as it's painted in the most vibrant colors ever. Going to this restaurant and seeing different decors and ornaments, it just gives you classic Mexican vibes!
Go get their Al Pastor Tacos, Mushroom Tacos, Pozole Soup, and Cochinita Pibil. Trying even one of these dishes will make you fall in love! Especially the Al Pastor Tacos. They're delicious and beautifully flavoured the the best way.
Mushroom Tacos were also a bang. The sauted Mushroom in the mushroom is what makes it amazing. The taste of the mushroom alone is just to-die-for!
For their Pozole Soup, it's only available on the weekends but once you get your hands on this, you'll want to grab a whole bunch! The taste is very authentic and transports you to Mexico in every sip you take. Lastly, what makes their Cochinita Pibil special is that it's done the traditional Mexican way. It's finger-licking good!
What to order: Al Pastor Tacos, Mushroom Tacos, Pozole Soup, and Cochinita Pibil.
Address: 552 King St W, Toronto, ON
Website | Instagram | Facebook
11. La Cantina Del Pueblo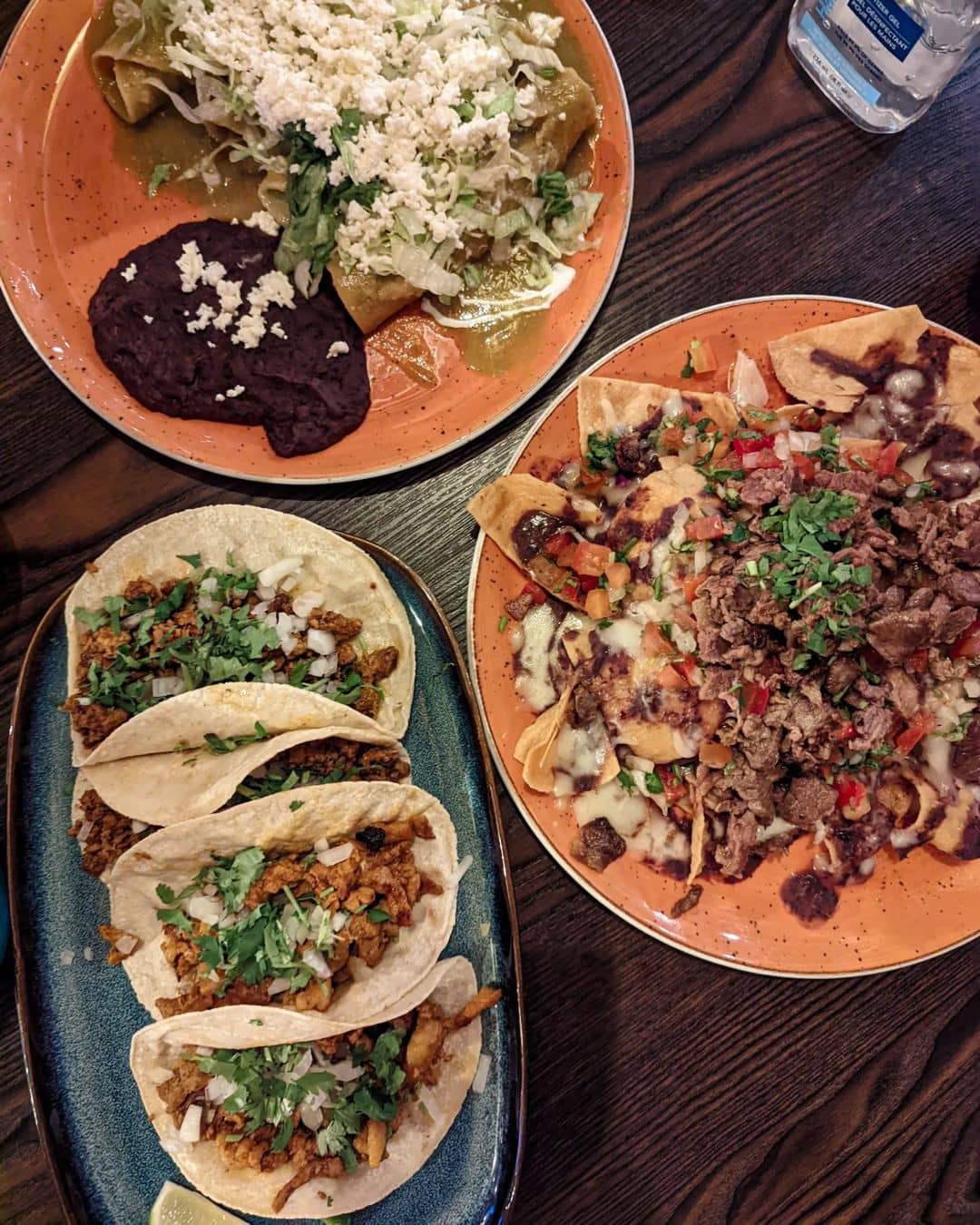 La Cantina Del Pueblo is another Toronto Mexican restaurant that offers authenticity and a hell of a good time! With their many tables and seats, inviting your friends here is always a good idea. The interior is also an attention-getter, especially for the patio where the hanging lights make an impressionable statement. Inside, there are banderitas hanging everywhere. The paintings and the Mexican mural adorns also add to the radiance of the place.
You have to try out their Enchiladas Verdes, Nachos, and Pastor Tacos. Everything was above average. The Enchiladas Verdes is complete with its tasty and zesty flavors. This is one of the best enchiladas you'll ever taste in Toronto. Their Nachos are also fire! It's homemade and has that addicting crunch in every bite. It's also full of beef which means that you get what you pay for!
Lastly, their Pastor Tacos have earned a lot of raving from the locals. With its generous portion and juiciness, you'd go crazy for it too. The juiciness of these tacos is unreal. The taste is well-seasoned plus the meat melts in your mouth graciously. It's definitely worth the hype!
What to order: Enchiladas Verdes, Nachos, and Pastor Tacos.
Address: 671 College St, Toronto, ON
Website | Instagram | Facebook
12. Seven Lives Tacos y Mariscos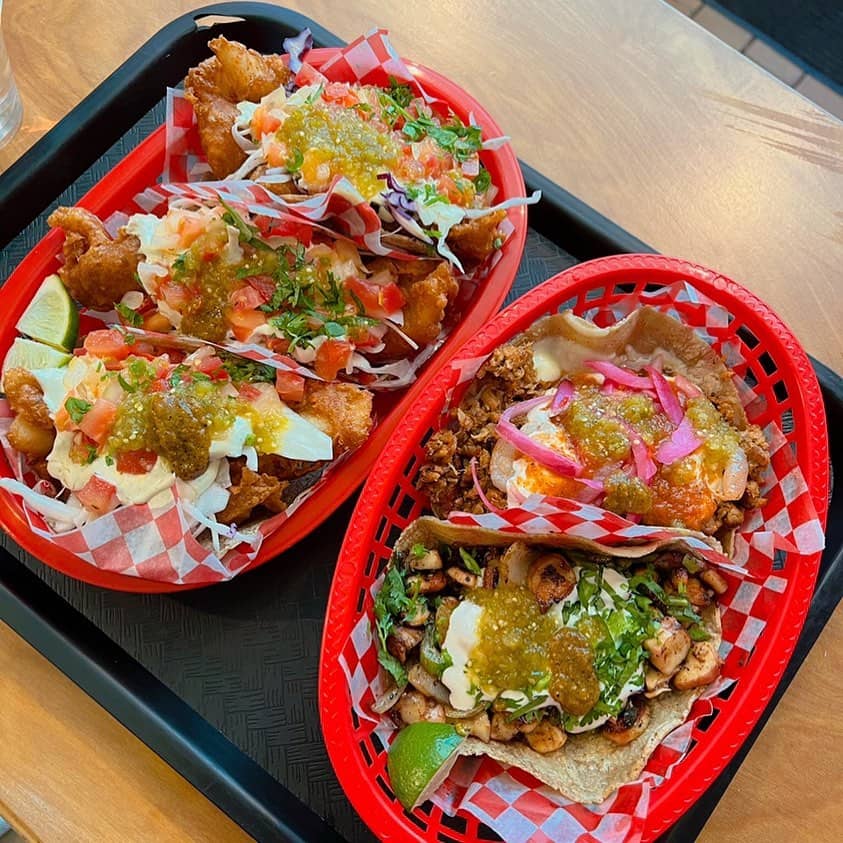 Seven Lives Tacos y Mariscos is your trendy taqueria that offers the best-tasting tacos ever! This place definitely takes lively colors to a whole new level. Just about everything inside the place captivates you with its vibrant colors. Even the ceiling is painted in different colors. The walls boast a large painting of their logos and it honestly brings the whole place together. This taqueria isn't your typical taco stand, it's a taco stand brought to greater heights!
You can assure that their food is just as pleasing as their interior. Try out The Gobernador, Shrimp Tacos, and Mahi Mahi Tacos. With these dishes, you will never be disappointed. The Gobernador is a popular dish that's gotten all the love from almost everyone! This taco is filled with smoked marlin and shrimp. The smokey taste is too good and the sauce that comes with this one is the perfect match! T
he Shrimp tacos have just the perfect savory taste that you will love. The shrimp is flavorful and it's served in generous portions.
Their Mahi Mahi Tacos also deserve much recognition. It has the perfect kick of spice and sweetness. The pineapples add to the sweetness balancing out the dish's savory taste by also giving it a slight tang. Once you try this, you'll keep running back to it!
What to order: Enchiladas Verdes, Nachos, and Pastor Tacos.
Address: 671 College St, Toronto, ON
Website | Instagram | Facebook
That ends our list for the best Mexican restaurants in Toronto. Craving for something else? We've got you!
Check out our list for the 15 best restaurants in Toronto you have to try.
The following two tabs change content below.
Latest posts by Noms Magazine (see all)