When you think of food in the Greater Toronto Area, restaurants in Mississauga are sure to surprise you! With a wide mix of community hangouts to great chain restaurants and even some family-run businesses, 'Sauga has a lot to offer that deserves your attention.
We've compiled a list of the 13 best Mississauga restaurants to dine at and what to order at each!
1. Piatto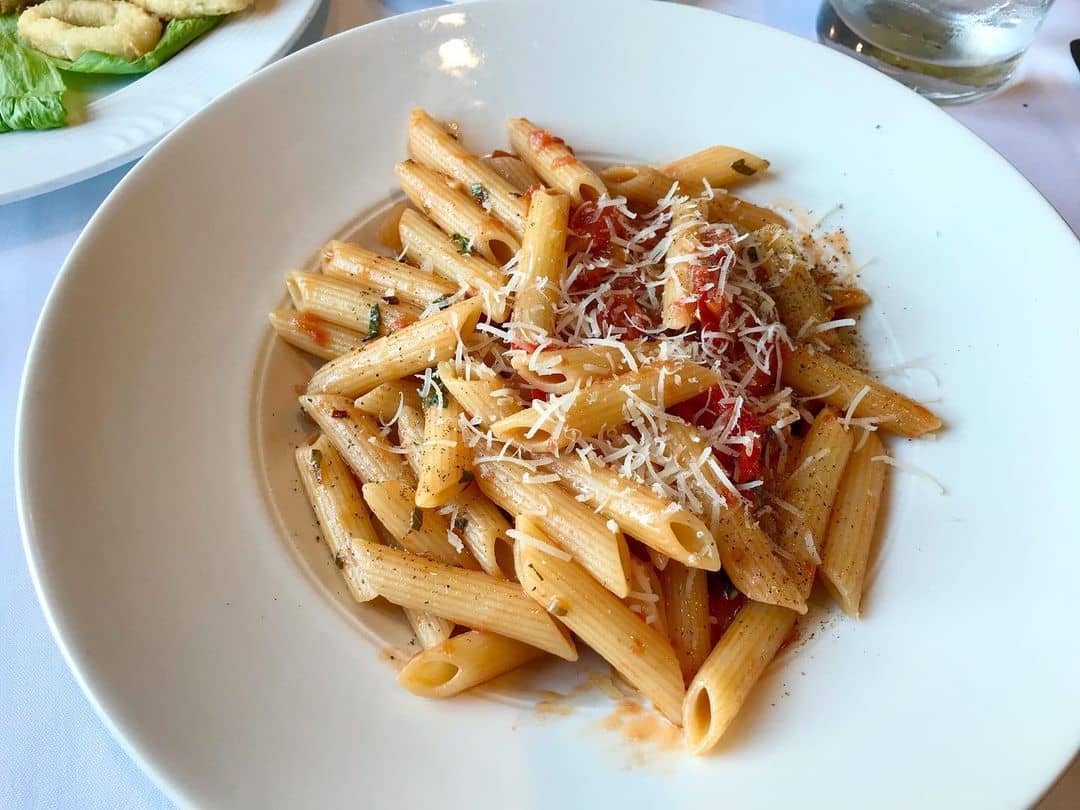 Traditional yet inventive, cozy yet elegant, Piatto prides itself in bringing the best of the Mediterranean kitchen straight to your table in the most charming way imaginable. Styled like an Italian grandmother's home, and an atmosphere to match, Piatto has been attracting just about everyone, from families to couples to business partners, becoming one of the top spots in Mississauga.
People often rave about their salads, particularly the Arugala salad which comes with pear and stilton cheese, providing a fresh explosion of sweetness and richness that pairs well with the greens.
Equally loved is the Shrimp sauteed with oyster mushrooms, sambuca, and cream, especially with a sauce so rich you'll be cleaning your plate with the complimentary bread.
Among their mains, consider trying out the Spaghettini Pescatore for a classic Italian taste or the Provini Veal Scaloppine – their signature. Try out the Al Limone version for a fresh take on otherwise heavy meat, or the Piatto version for some complementary flavors that elevate the dish.
What to order: Arugula salad, Shrimp sauteed in oyster mushrooms, sambuca, and cream, Spaghettini Pescatore, Provini Veal Scaloppine.
Address: 1646 Dundas St W, Mississauga, ON L5C 1E6, Canada
Website | Instagram | Facebook 
2. Chelsea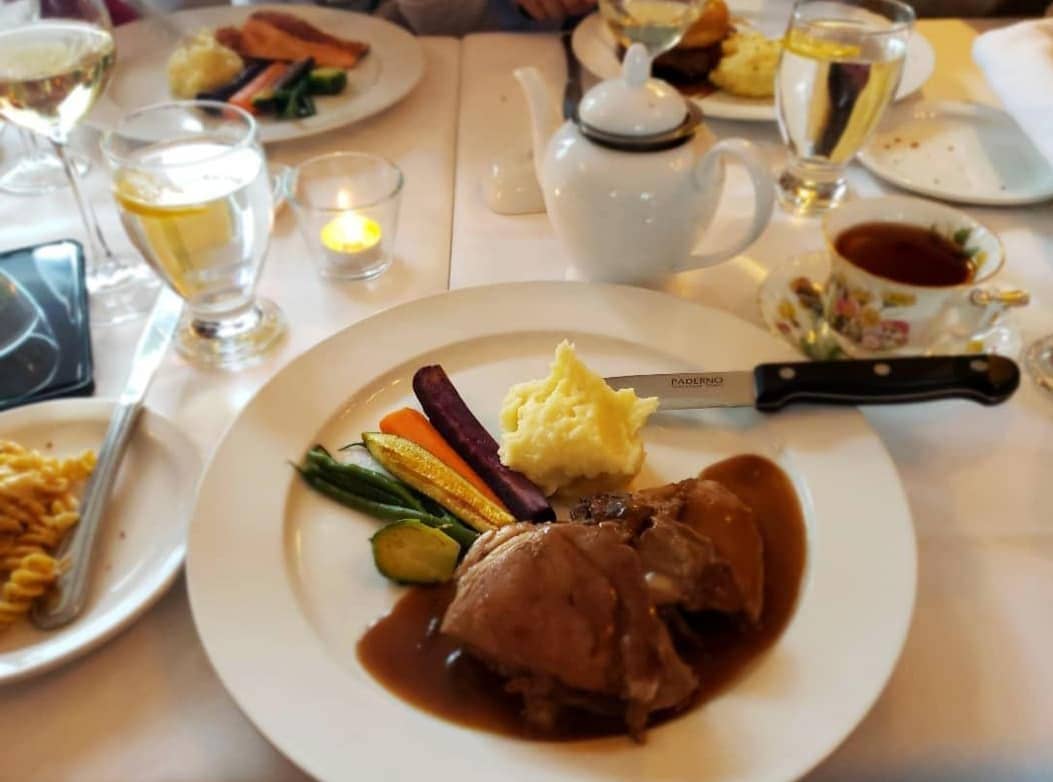 One of Port Credit's best-kept secrets, this quaint little spot minutes away from the lake features a small hand-crafted menu that never comes off as pretentious. Situated in a historic heritage house, Chelsea takes on the spirit of its location by being flush with warm cozy vibes that with a welcoming vibe perfect for their comfort food offerings.
The favorite of many, try out their Homemade Soup, made fresh every day, along with the Seafood Croissant. This pairing alone has made a regular out of many first-time locals.
Also famous is the Chicken Parmesean which has the right amount of cheese and is always rich in every bite. Also consider trying out the Fresh Garden Salad which, true to its name, is just a simple and fresh way to liven up the evening, much like Chelsea itself.
What to order: Homemade Soup, Seafood Croissant, Chicken Parmesean, Fresh Garden Salad
Address: 7 John St S, Mississauga, ON L5H 2E3, Canada
3. Twin Fish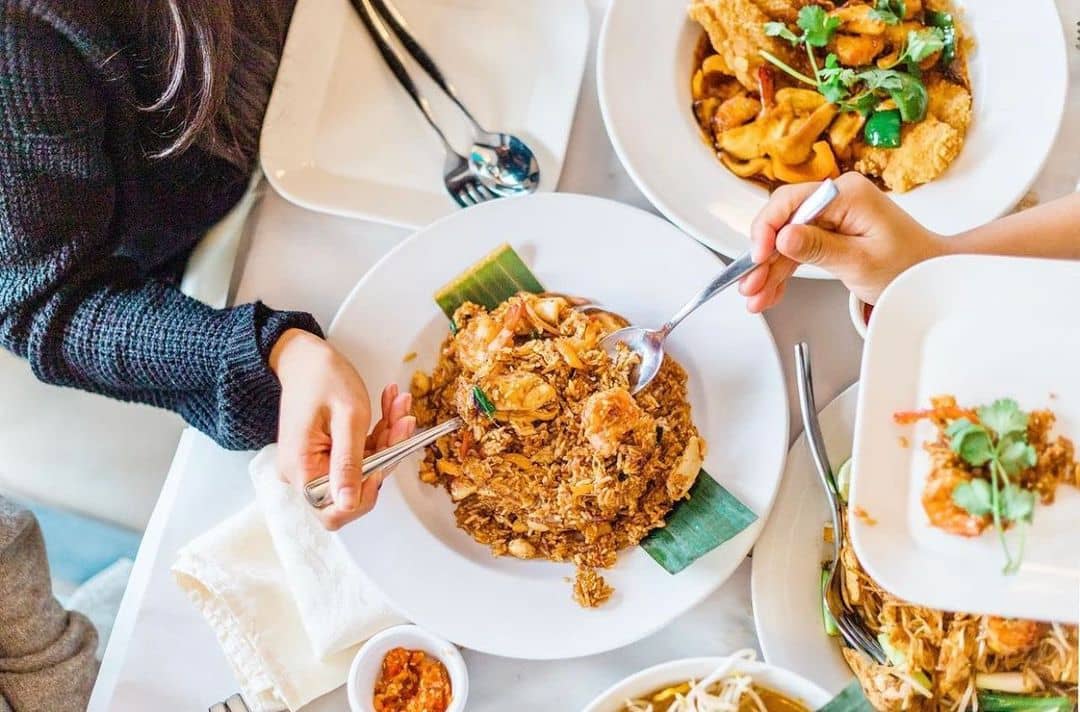 Still waters run deep in this classically styled Thai restaurant considered one of if not the best in Mississauga. Making good on its Thai roots, Twin fish finds beauty and subtlety, and sophistication in balance that makes the simplest dishes explode with the right amount of flavor. Whether you're adventurous with food, looking for spicy, or wanting to show your family a fun time, this spot is the place to be.
True to any Thai restaurant, the Pad Thai is a must order as it comes with tamarind – providing a refreshingly tart zing that's rare in Canada.
Also popular is the Mango salad, which uses green mangoes for a slightly sour taste cut by the spice of both chilis and mint. Luckily, you can get both in the same dish along with a piece of BBQ chicken, or order them separately for some very generous servings. Another fan favorite is the Red Snapper with Basil Sauce which is lightly fried for a crispy outside and a delicate softness on the inside.
What to order: Pad Thai, Green Mango Salad, BBQ Chicken and Pad Thai meal, Red Snapper with Basil Sauce.
Address: 80 Courtneypark Dr E, Mississauga, ON L5T 2Y3, Canada
Website | Instagram | Facebook
4. Scaddabush Italian Kitchen & Bar Square One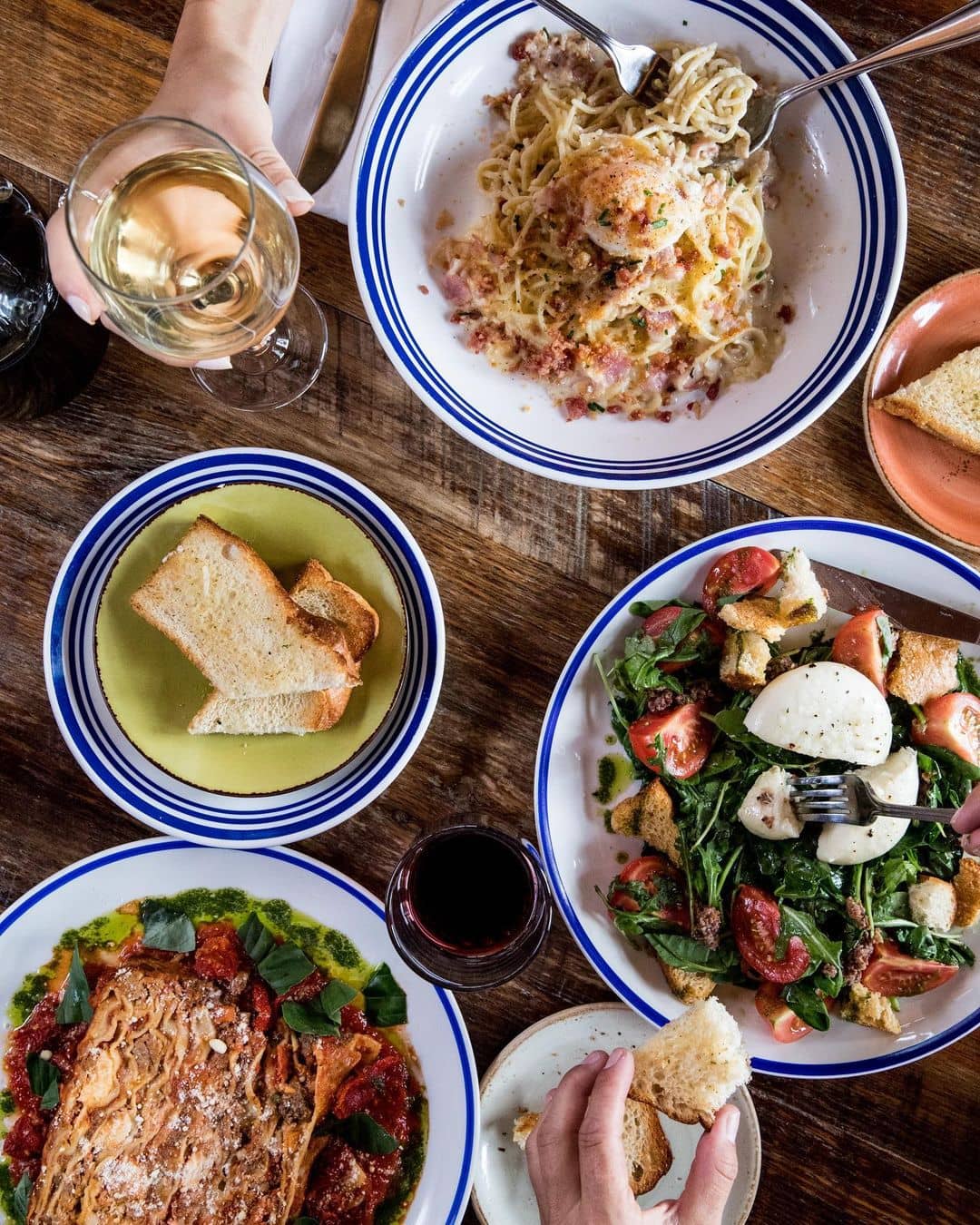 One of the larger chains on this list, Scaddabush prides itself in bringing the best of Italian-inspired cuisine to the general public. Leaning heavily on freshness, from their mozzarella to their pasta, this brick-laden homage to Italy offers a lively setting to enjoy some great food. If you find yourself in one of the largest malls in Canada, be sure to take a short walk to this place.
One of their specialties is meatballs, like Spaghetti with Meatball. When they say meatball in the singular, they mean it, as it comes in a giant size that's soft and perfectly cooked throughout.
Also, consider getting the Zucca Ravioli stuffed with butternut squash. featuring an emulsion of brown butter alfredo sauce and hazelnut butter, this is one of the more sought-after dishes in the pasta section. For drinks: try out their bellinis, like the Blood Orange Bellini and the Mango Bellini, both highly recommended for Scaddabush.
What to order: Spaghetti with Meatball, Zucca Ravioli, Blood Orange Bellini, Mango Bellini
Address: 209 Rathburn Rd W, Mississauga, ON L5B 4C1, Canada
Website | Instagram | Facebook
5. Katsuya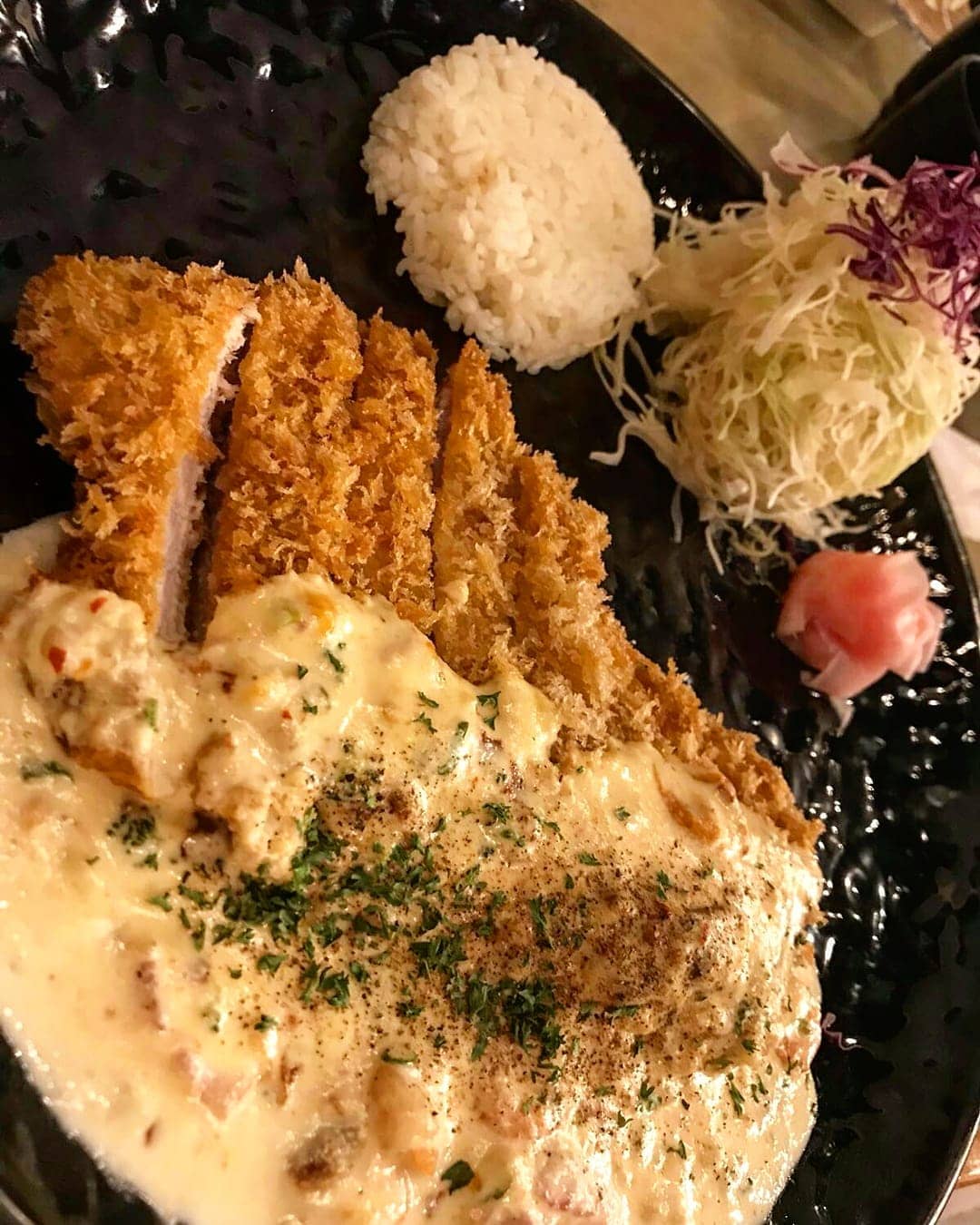 Katsuya, root word Katsu, prides itself on their modern Western take on an East Asian favorite. This fun little Japanese-inspired restaurant devotes itself to the traditional way of making Katsu Curry, with the added surprise of swapping the curry for various inventive sauces. The masterful East-meets-West vibe makes it one of the top restaurants in Mississauga.
Of course, a good one to try is the original Katsuya Katsu which is thought to be a step up from the average curry katsu by having a deeper flavor and a more vibrant palette.
Also well-loved is the Carbonara Katsu. Often the source of intrigue and interest, the carbonara sauce offers a smoother cheesier, and equally creamy sauce for those not as used to the spice of curry.
Aside from the katsu, try pairing your meal with Takoyaki. considered the best on the menu, their take on takoyaki features a crunchy outside and soft and chewy inside that bursts with savory flavor.
What to order: Katsuya Katsu, Carbonara Katsu, Takoyaki.
Address: 1224 Dundas St W, Mississauga, ON L5C 4G7, Canada
6. Union Social Eatery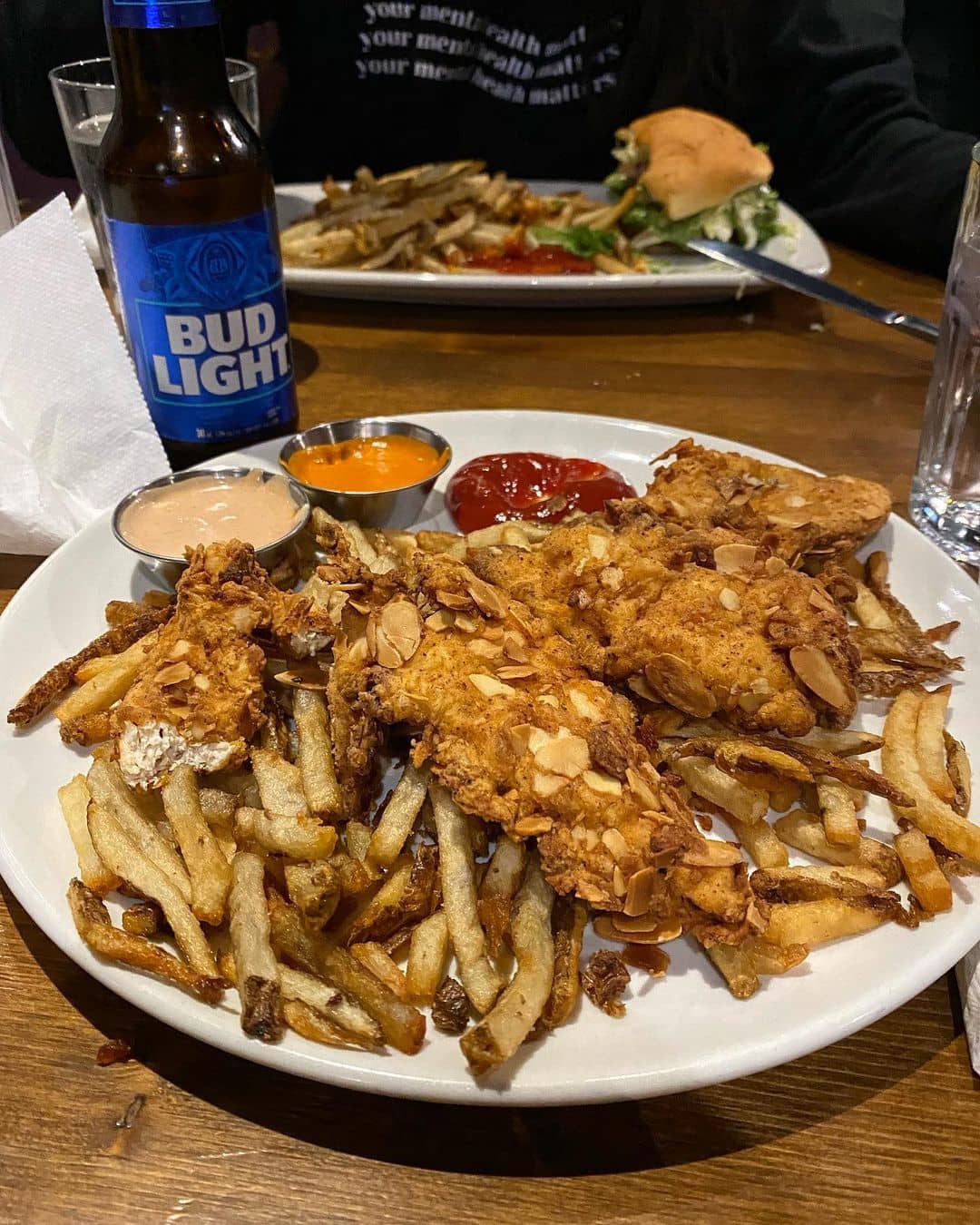 If you're wondering where the name comes from, Union stands for the union of casual food and a lively atmosphere. This classic bar-style hangout features an average bar done unaveragely. Simply put, Union is all about having a good time around some great company with great food in generous sizes.
Speaking of great food, people usually come for their two-handers, or burgers. More specifically, people love the Smokehouse Burger which features both smoked cheddar and smoked bacon. This leaves you with a smoky, meaty, and sharp taste in every bite.
If you're not feeling burgers, the Steam Whistle Fish and Chips proves to be a classic choice. Extra crispy on the outside, and flaky on the inside, this dish is usually perfectly seasoned and especially delicate. Regardless of what you order, be sure to pair it with their Truffle Fries. Many who frequent Union say that the truffle fries make everything better.
What to order: Smokehouse Burger, Steam Whistle Fish and Chips, Truffle Fries
Addresses:
-5042 Satellite Dr Unit F1, Mississauga, ON L4W 0E3, Canada
-6986 Financial Dr unit #6, Mississauga, ON L5N 8J4, Canada
Website | Instagram | Facebook
7. Samaka Meditteranean Seafood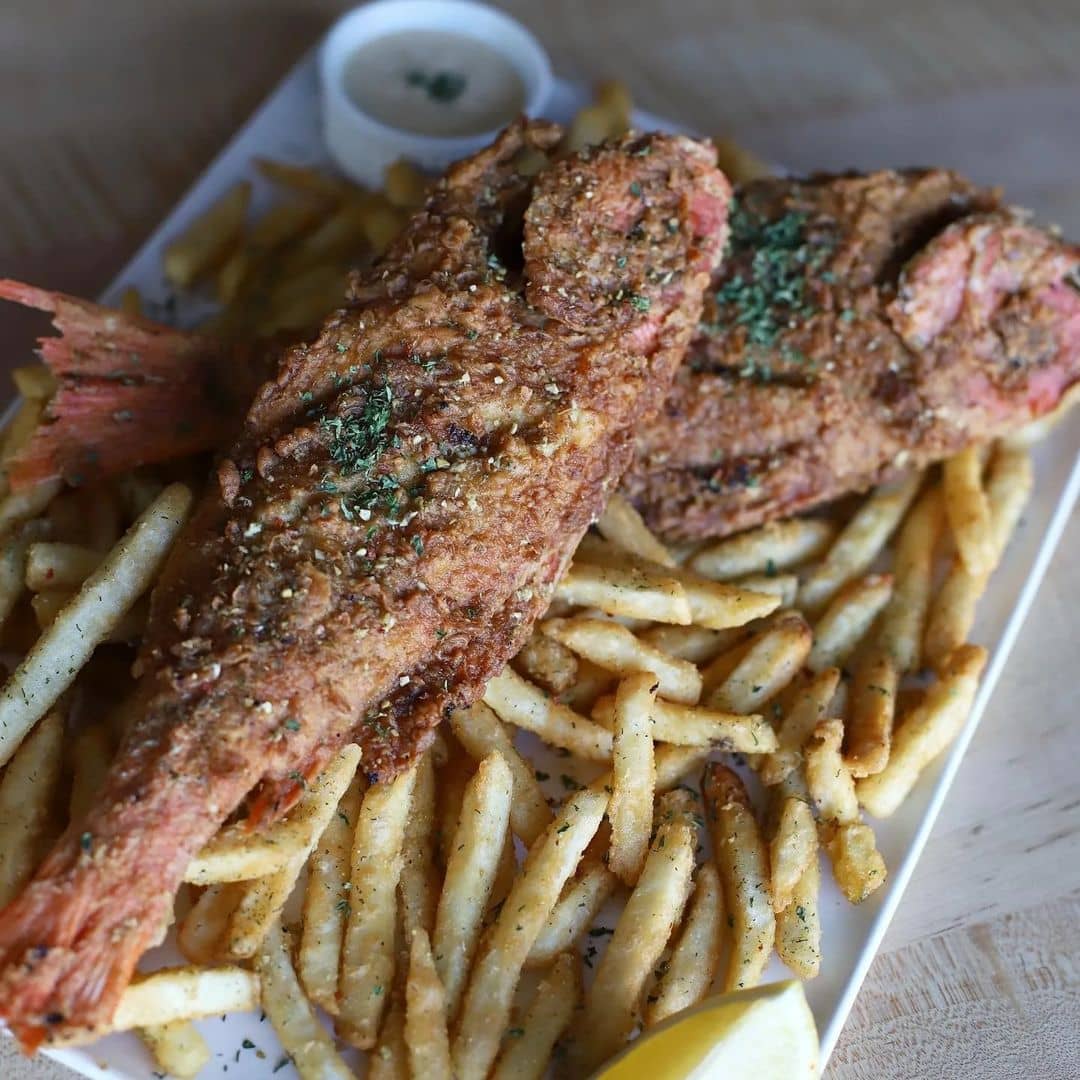 For a country so famous for its deserts, Samaka does a great job bringing freshness out of Egyptian cuisine. Laid back in a lively Eastern Meditteranean style, this place stays true to traditional spices and delivers fresh seafood where you like it, when you like it, and especially how you like it.
Though the choice is all yours, many rave about the Singari Style Sea Bass. Grilled to perfection, the market-fresh fish consists of a generous head-on serving, has a tangy well-seasoned skin, stays moist inside, and comes with basmati rice and Tahini.
The Sea Bream is also a great choice and is best grilled and served Lemon and Herb style. This makes the fish juicier and burst with both tart and spice. Also consider ordering some Uludag Gazoz, a type of lemon soda originating from Turkey.
What to order: Singari Style Grilled Sea Bass, Lemon and Herb Style Grilled Sea Bream, Uludag Gazoz
Address: 5120 Dixie Rd Unit 2, Mississauga, ON L4W 4K2, Canada
Website | Instagram | Facebook
8. Miga Korean BBQ and Restaurant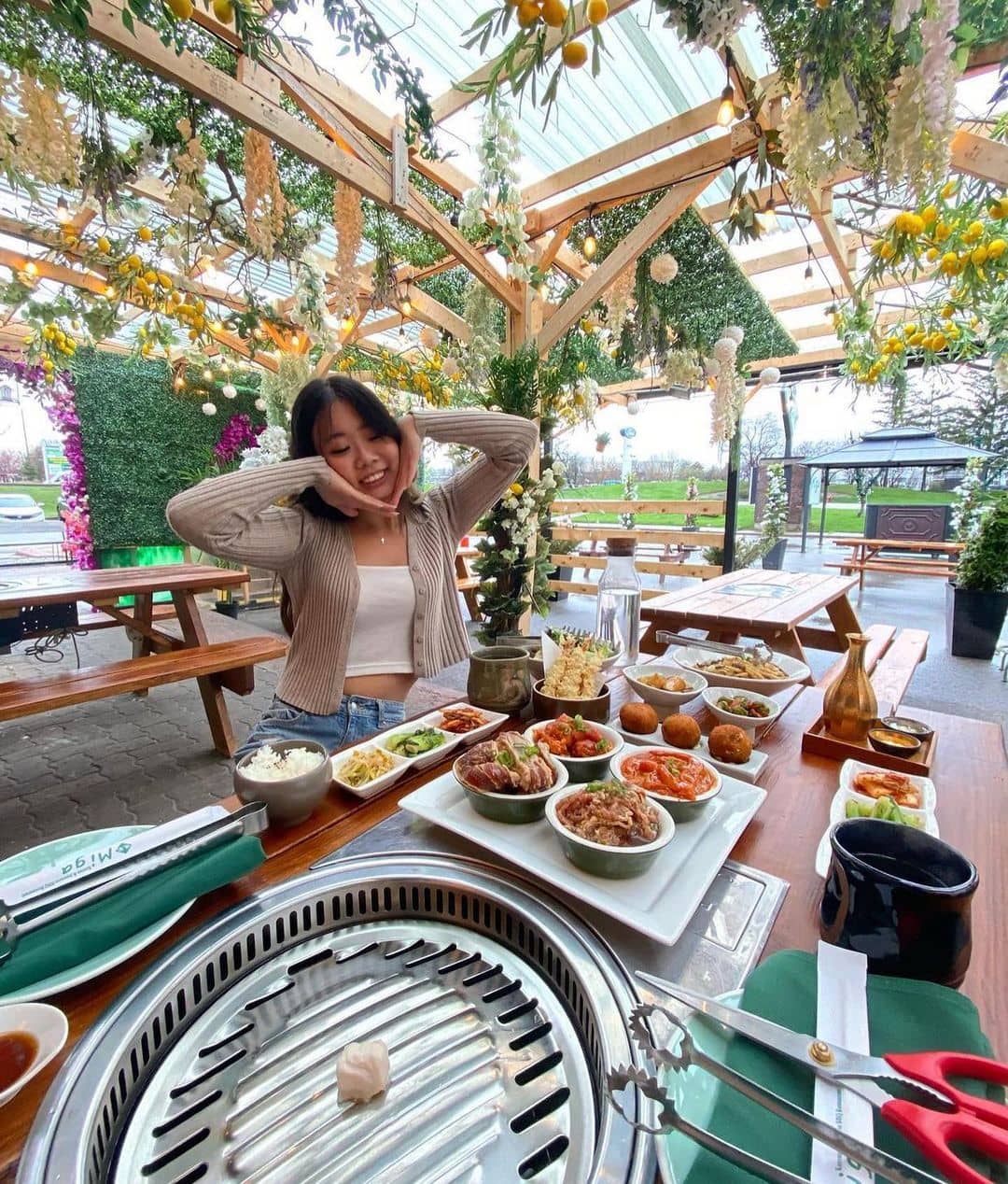 When it comes to barbecue with friends, Korean BBQ is the way to go. With a sleek style, lively outdoor patio, and a stunning mix of Asian flavors, Miga sets out to master just that. Pick a booth to sit at, grill up some meat, order some side dishes, and chit-chat the night away.
As Miga is not all-you-can-eat, you will have to order the meat per plate. Most impressive is the Japanese A5 Wagyu which has some impressive marbling that means it almost melts in your mouth at the softness. For more mid-priced choices, the pork belly proves to be a classic. Luckily, you can get both in their Premium Wagyu Combo, which comes with a specific order for which meat to grill first.
For some non-grill patio options, they do offer some stone pot rice bowls which stay warm and delicious all throughout the meal. Highly sought after are the bulgogi, which is well marinated with hints of soy and sesame in every bite, and spicy pork, which hits enough to wake you up but not overpower the meat.
What to order: Premium Wagyu Combo, A5 Japanese Wagyu, Pork Belly, Bulgogi Stone Pot, Spicy Pork Stone Pot
Address: 2382 Dundas St W, Mississauga, ON L5K 1R7, Canada
Website | Instagram | Facebook
9. Snug Harbor Seafood Bar, and Grill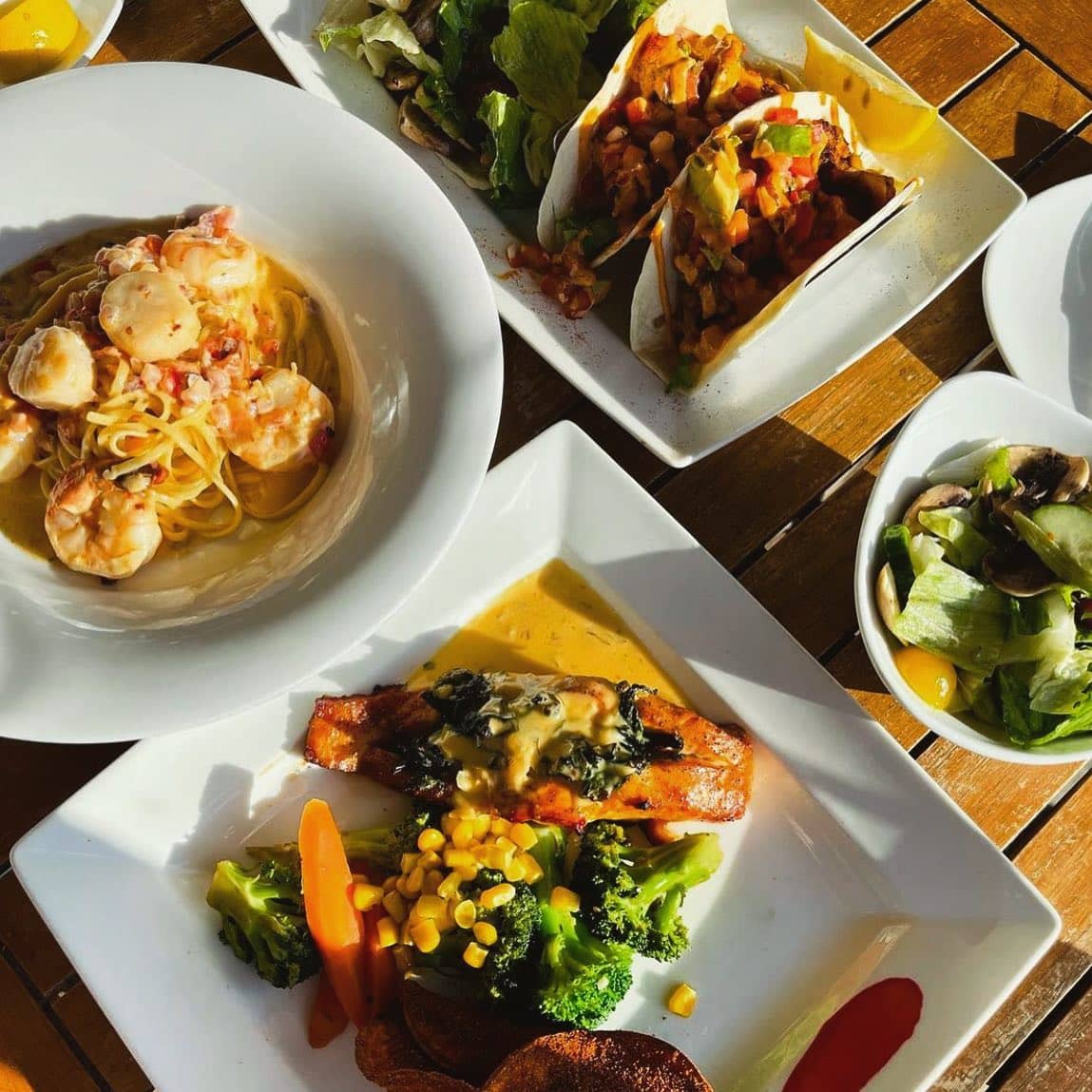 Sitting on the banks of Credit River, Snug Harbor is a quaint little family-owned restaurant. It's no surprise that it's one of the top restaurants in Mississauga as it's always bustling with a lively atmosphere. Flush with natural light and sporting a playful marina style, enjoy all the seafood classics to the view of the river.
Of the classics, some favorites include the Rainbow Trout which is pan-seared to crispy perfection and comes with a lemon butter sauce that takes all the unpleasant fishy taste away.
Also well-loved is the Seafood Pescatore for the juicy well-cooked scallops and shrimps that go on top of the pasta. The Seafood Bouillabaisse is also a crowd favorite for its rich broth and a generous heaping serving of seafood including mussels, clams, and shrimp.
What to order: Rainbow Trout, Seafood Pescatore, Seafood Bouillabaisse
Address: 14 Stavebank Rd S, Mississauga, ON L5G 2T1, Canada
10. Bobby's Hideaway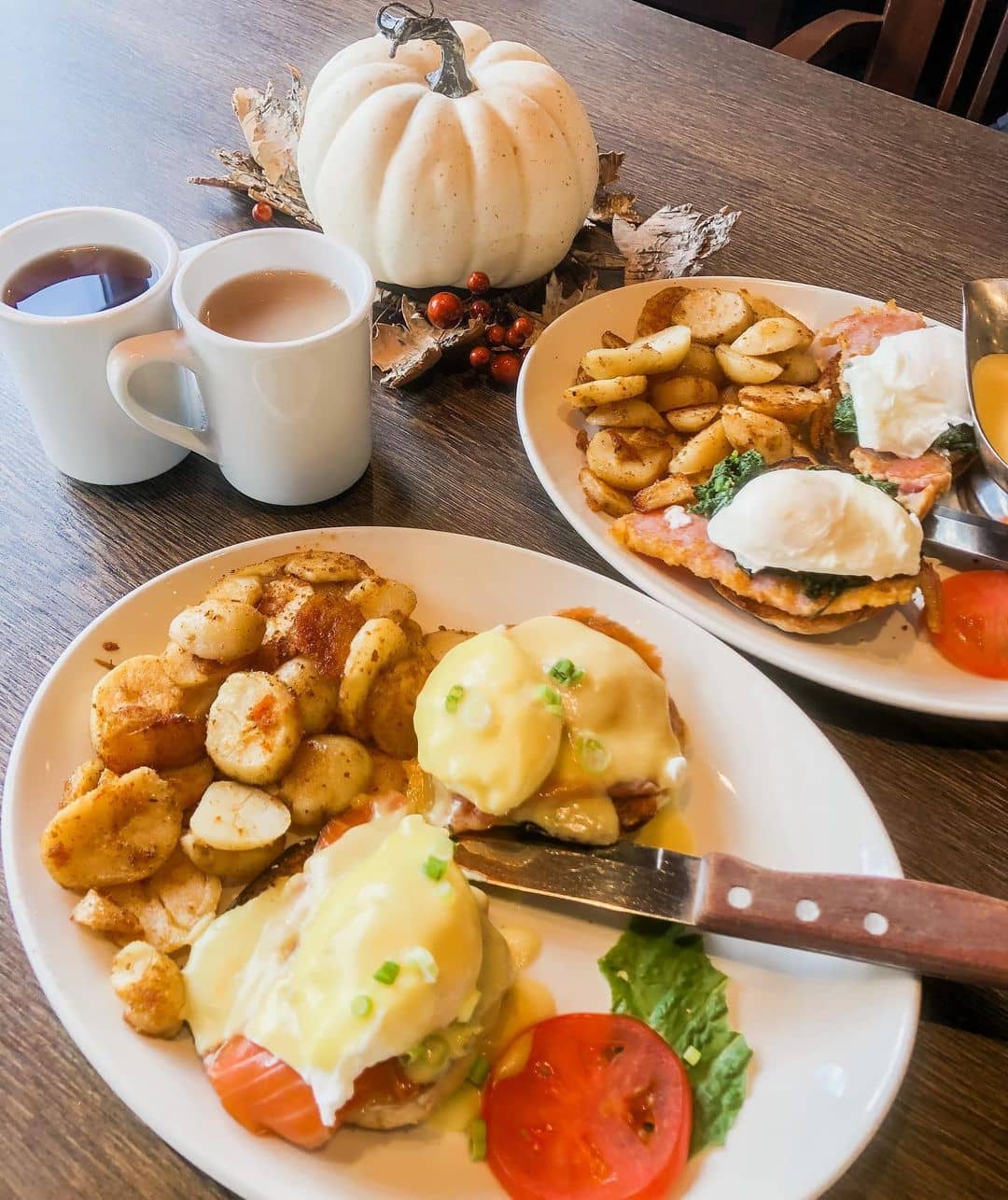 Bobby's Hideaway is a fun little family restaurant that's widely known for its breakfast menu and warm hospitality. Decorated like a classic diner, the spot is beloved by the local community in Streetsville which has people coming back for more.
From the caricature drawings on the wall to the extensive menu and the loud chatter from families filling up the booths, this place is sure to liven up your day any day.
People usually go for the Eggs Benedict which swaps ham for peameal bacon, comes with a homemade hollandaise sauce, and is overall as filling as it is tasty. The restaurant's signature, Bobby's Own, is a more laid-back meal and is simply just scrambled eggs with sausage, potatoes, and onions mixed in. It makes for a less pretentious version of an omelet that both parents and kids (if made unspicy) will love.
Though every meal comes with coffee or tea, try asking for hot chocolate instead and give yourself a rich and hearty treat on the side.
What to order: Eggs Benedict, Bobby's Own, Hot Chocolate
Address: 20 Queen St N, Mississauga, ON L5N 1A1, Canada
11. Plancha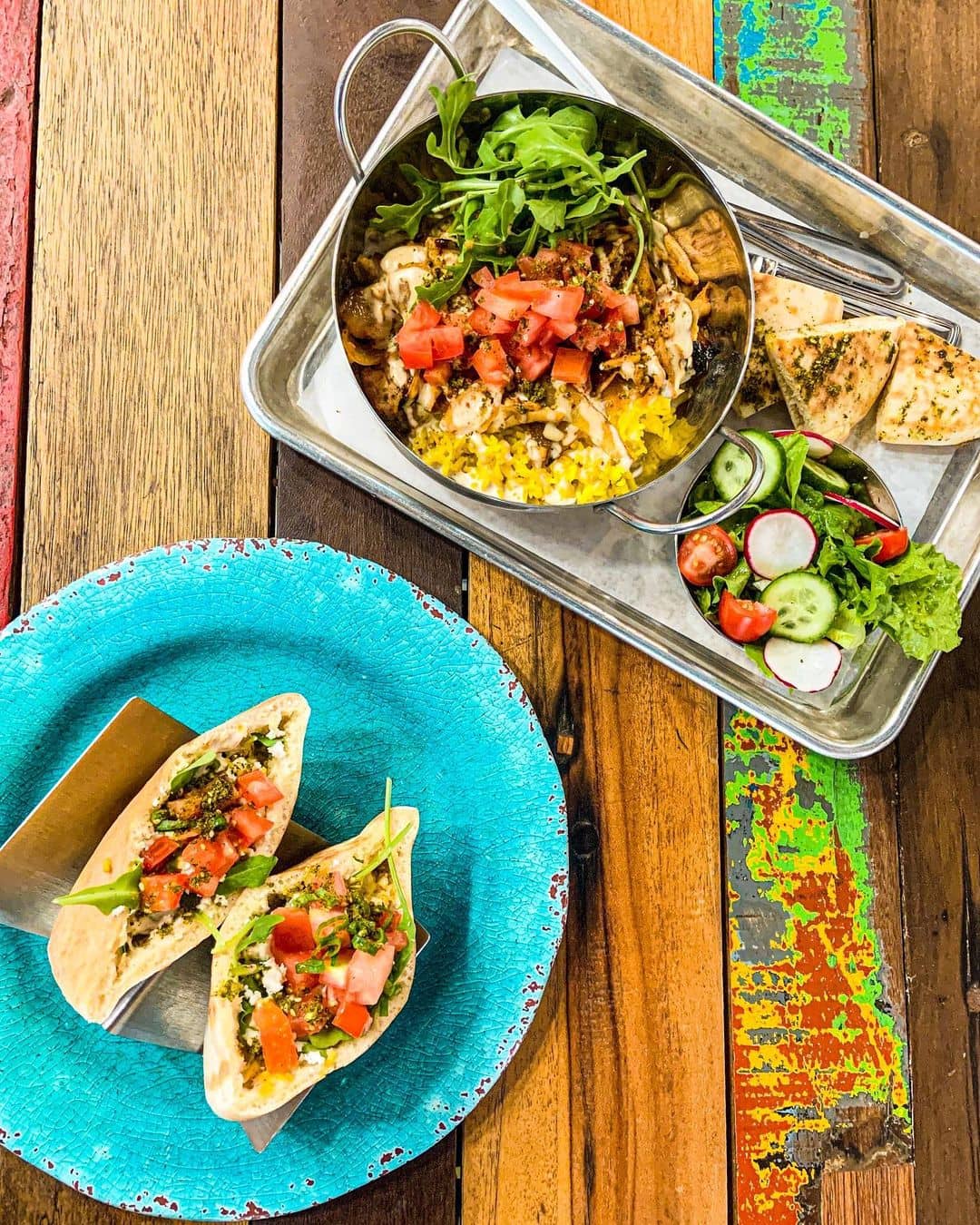 A small little off-to-the-side haunt, Plancha beams as a lively beacon in the busy Square One Mall. Proudly Mediterranean, the place strives to bring heritage and expertise to street food from halfway around the world while putting a fresh and healthy spin on it. Though seating is limited, the inviting bistro decor is only reason number one in a list of many on why this place is mall food stepped up.
The star of the show is their A La Plancha menu where each plate comes with Saffron rice or quinoa, hummus, salad, and pita. Try out the 12:10 to Marrakech which features Moroccan-spiced chicken, pickled mango, and sumac for a fresh and lively kick.
Santorini Sunset, on the other hand, is a vegan alternative that comes with spiced tofu instead of meat, but you won't exactly tell the difference.
Also consider trying the Happy Therapy Salad which combines crunch, spice, and sweetness for an experience that is true to its name.
What to order: 12:10 to Marrakech, Santorini Sunset, Happy Therapy Salad
Address: 100 City Centre Dr FM10 – 11, Mississauga, ON L5B 2C9, Canada
Website | Instagram | Facebook
12. Mandarin Restaurant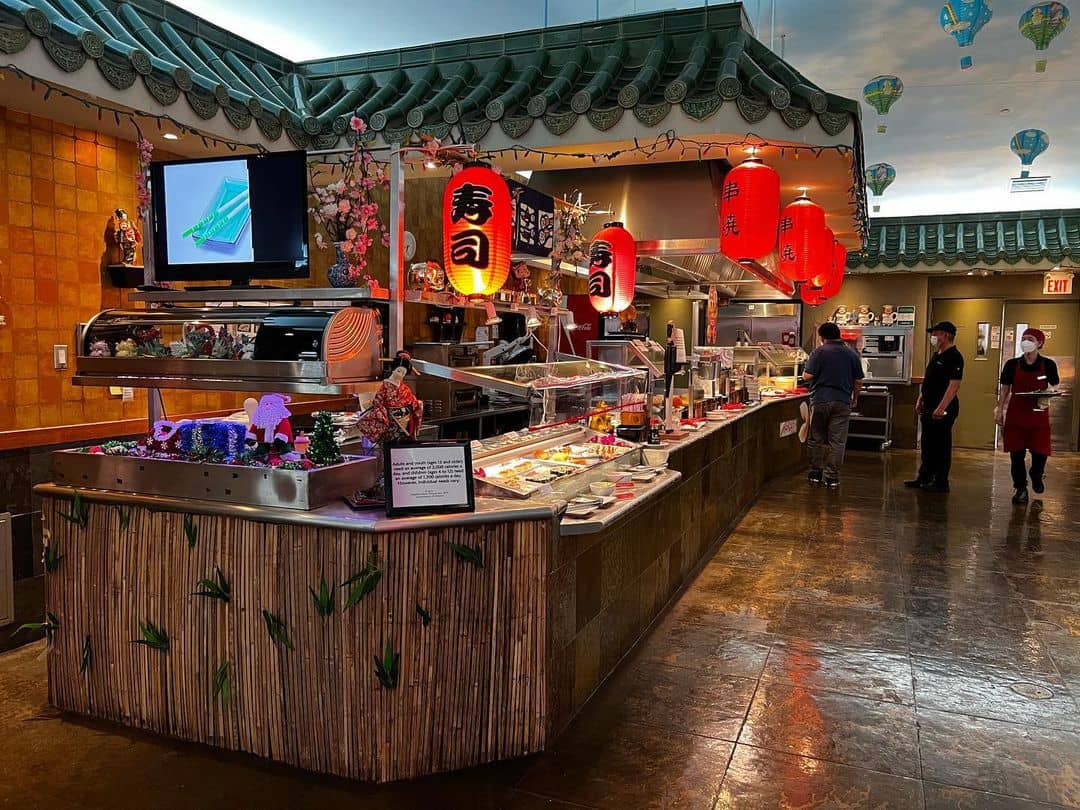 East-meets-West on steroids, this Asian cuisine buffet is the perfect place to go if you're craving Chinese and are looking for some bang for your buck. Styled out in oriental decor, Mandarin is the place to be when it comes to variety, and more so when you are usually indecisive – just try them all!
Although we do recommend trying everything, you may want to prioritize some favorites, like the dim sum and the chow mein. A heavy hitter is the Honey Garlic Spareribs which is equal parts sweet and savory and are very tender.
If buffet is not your thing, the takeaway is also possible where the Shrimp Combo, which comes with two spring rolls, torpedo shrimp, shrimp with almonds, and shrimp fried rice, is a common order as it covers all the bases you would want in shrimp.
What to order: Honey Garlic Spareribs, Shrimp Combo
Address: 87 Matheson Blvd E, Mississauga, ON L4Z 1X8, Canada
Website | Instagram | Facebook
13. El Sombrero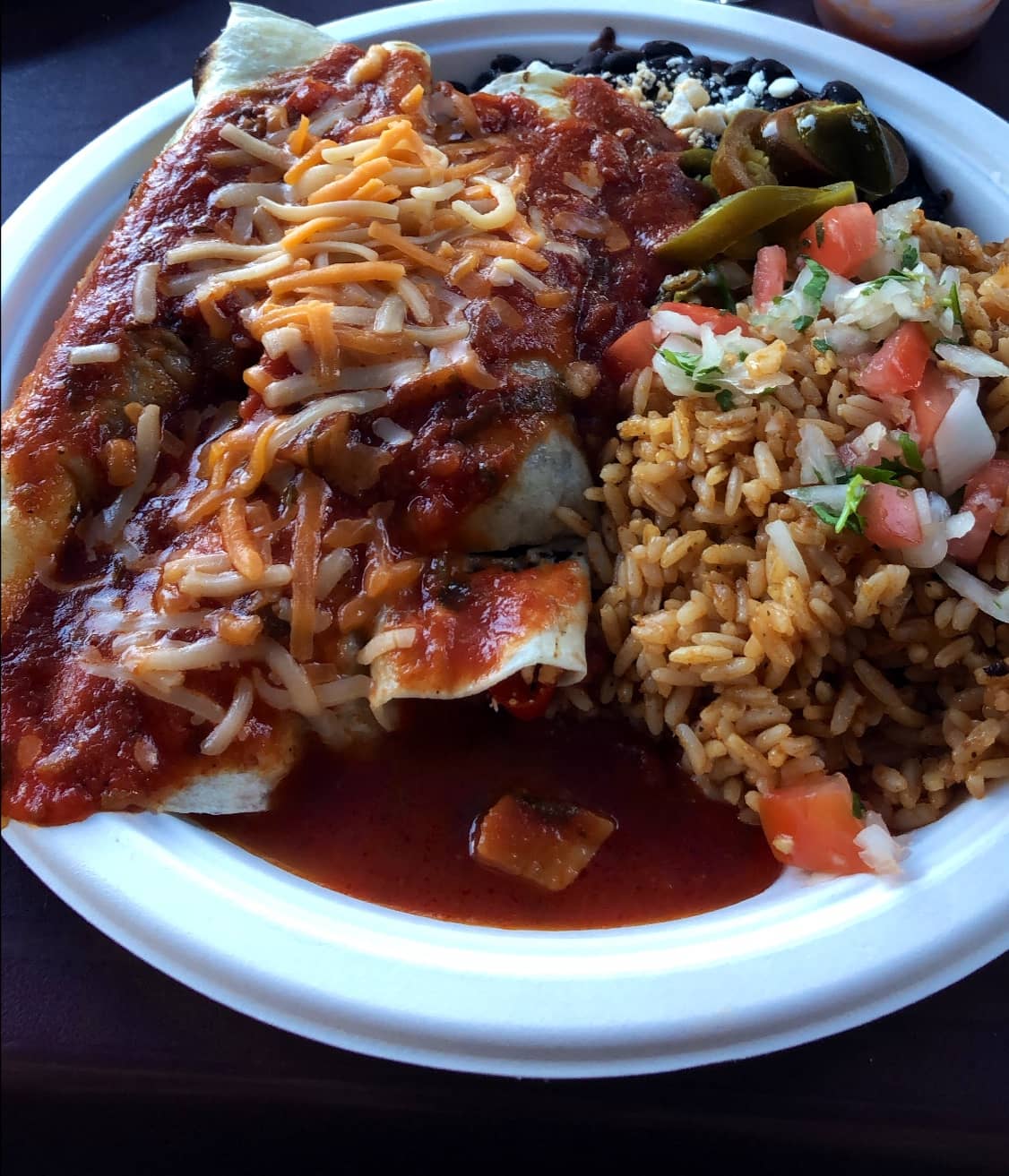 El Sombrero is a laid-back hangout with a decently pretty patio. As the name suggests, the place serves their rendition of Mexican fare which makes it one of the top restaurants of its kind in Mississauga.
They're most famous for their Wet Burrito. Though it sounds like a disaster, it's just another way of saying it's a stuffed-to-the-brim burrito covered in salsa and cheese. This leaves it bursting with Latin spice inside and out.
The fish tacos are also one to try out as it's filled with fried salmon, something not usually seen in tacos at its price point.
What to order: Wet Burrito, Fish Tacos
Address: 35 Brunel Rd, Mississauga, ON L4Z 3E8, Canada
Mississauga is not one to look over when it comes to good food and great ambiance. With friends or family, coworkers or classmates, be sure to try out any of these restaurants for your lunch or dinner out. Of course, if you live east of Mississauga, then maybe this list of the best restaurants in Toronto will be more to your liking.
The following two tabs change content below.
Latest posts by Noms Magazine (see all)