Situated on the great shores of Lake Ontario, in between Hamilton and Toronto, is Oakville. As one of the most densely populated areas of Canada, the town is known for its scenic harbors, lively shopping districts, and a community with a penchant for the arts.
As a town revered for various reasons and given the fact that it has an abundance of natural resources, it goes without saying that Oakville has an amazing culinary landscape to boot.
Below we've compiled some of the best Oakville restaurants you should dine at:
1. Hexagon Restaurant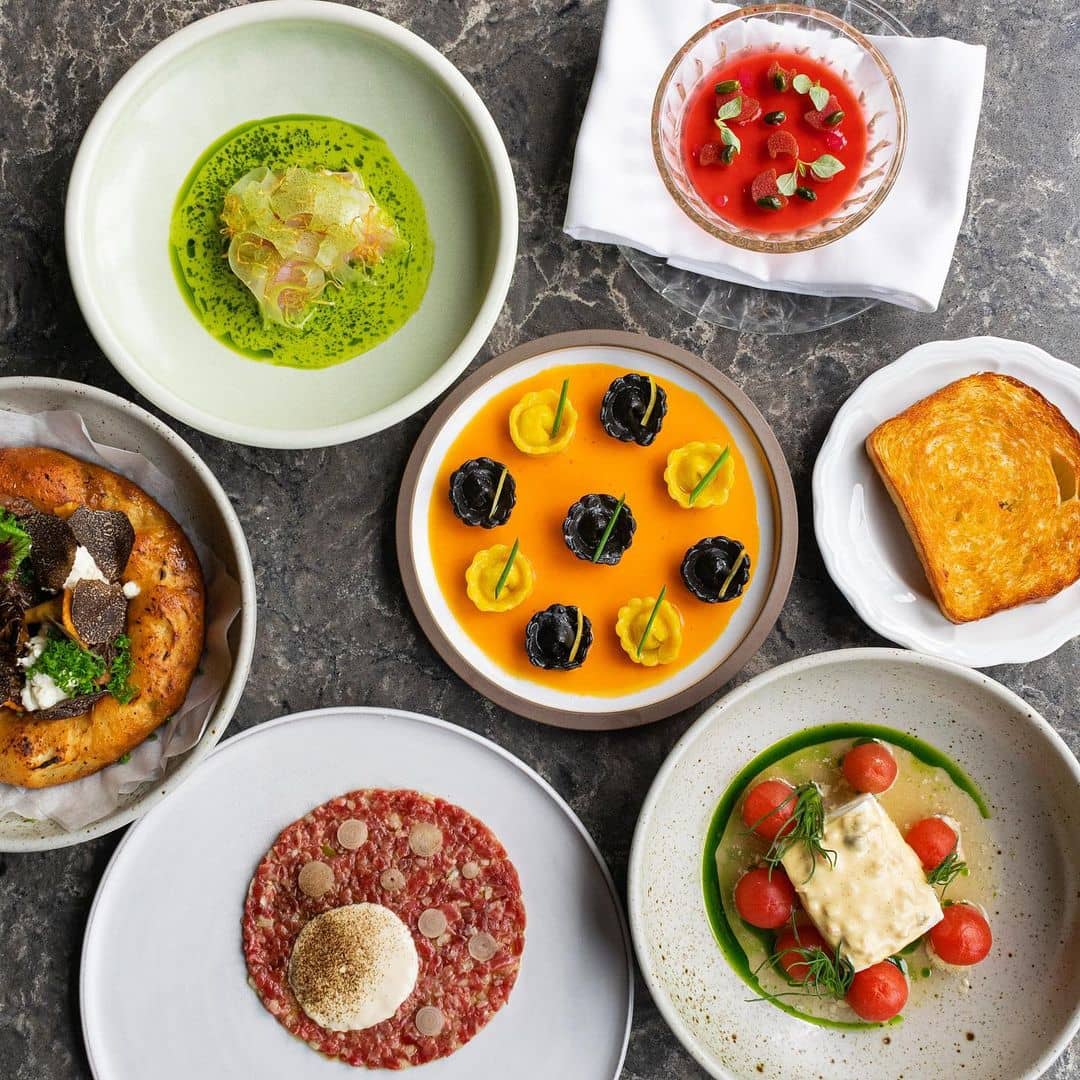 The Greater Toronto Area's culinary scene was forever changed when Hexagon opened their doors to eager diners looking for an upscale yet unintimidating venue in 2017. To say that Hexagon is a place to "eat" is an understatement—you're not going to "eat," you are about to "experience" what first-class dining is.
Hexagon offers a plethora of amazing dishes, coupled with attentive and passionate staff who are willing to walk you through anything you need to know. But what really marks Hexagon's uniqueness is none other than their "Tasting Menu," a multi-course blind tasting menu of exquisite dishes, expertly prepared with seasonal ingredients.
From their ala carte options, don't miss out on their eggs benedict, a classic dish that goes beyond what you normally expect for a North American brunch. Another stellar selection from their menu is the foie gras, preserved Saskatoon berry in almond brown butter cake, and one of the most delicious desserts from their ever-pretty pastry cart.
Dare we say, once you get a taste of Hexagon's offering, you'll have a hard time picking other restaurants featuring the same. *chef's kiss*
What to order: Eggs Benedict, Tasting Menu, Foie Gras Torchon
Address: 210 Lakeshore Rd E, Oakville, ON L6M 3R7, Canada
Website | Instagram | Facebook
2. Pasquale's Trattoria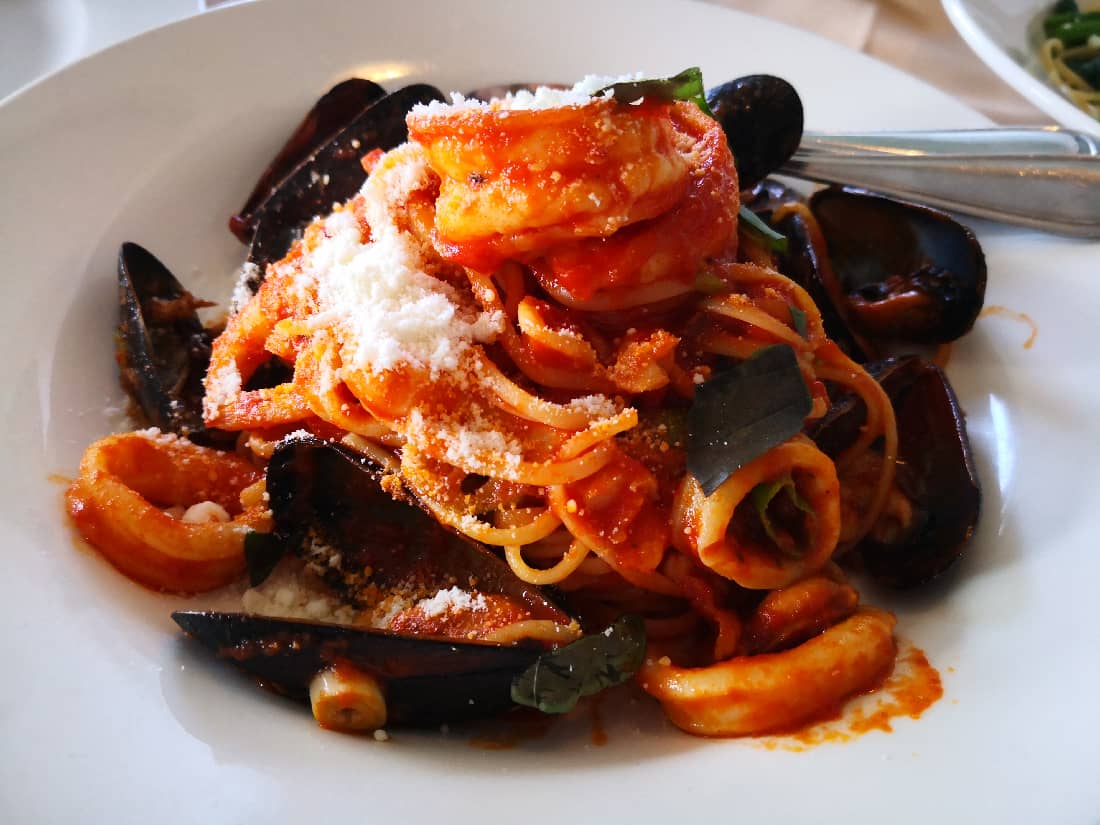 At the end of Lakeshore is Pasquale's Trattoria, a local Oakville jewel boasting generations of best-kept-secret recipes of authentic Italian fare. From tantalizingly delicious food and great service, to warm and friendly ambiance and amazing interior, this restaurant strikes the perfect balance between high-end and traditional Italian dining experience.
Their menu is jampacked with must-orders, but what left a lasting impression are their calamari, veal Calogero, ravioli, and tiramisu. The calamari is grilled and enhanced to perfection with lemon and black olives.
The seared veal crowned with Fontana cheese and fresh tomato is an exceptional item on their menu, enough to make your heart flutter with every bite. Pasquale's ravioli is melt-in-the-mouth goodness of pasta you wouldn't taste elsewhere.
But the crowning glory of their wide array of exceptional food is their homemade tiramisu, whose recipe dates back to 1966—truly a taste of heaven with every spoonful.
What to order: Calamari Alla Griglia, Veal Calogero, Ravioli, Homemade Tiramisu
Address: 50 Lakeshore Rd W, Oakville, ON, Canada
3. Community Restaurant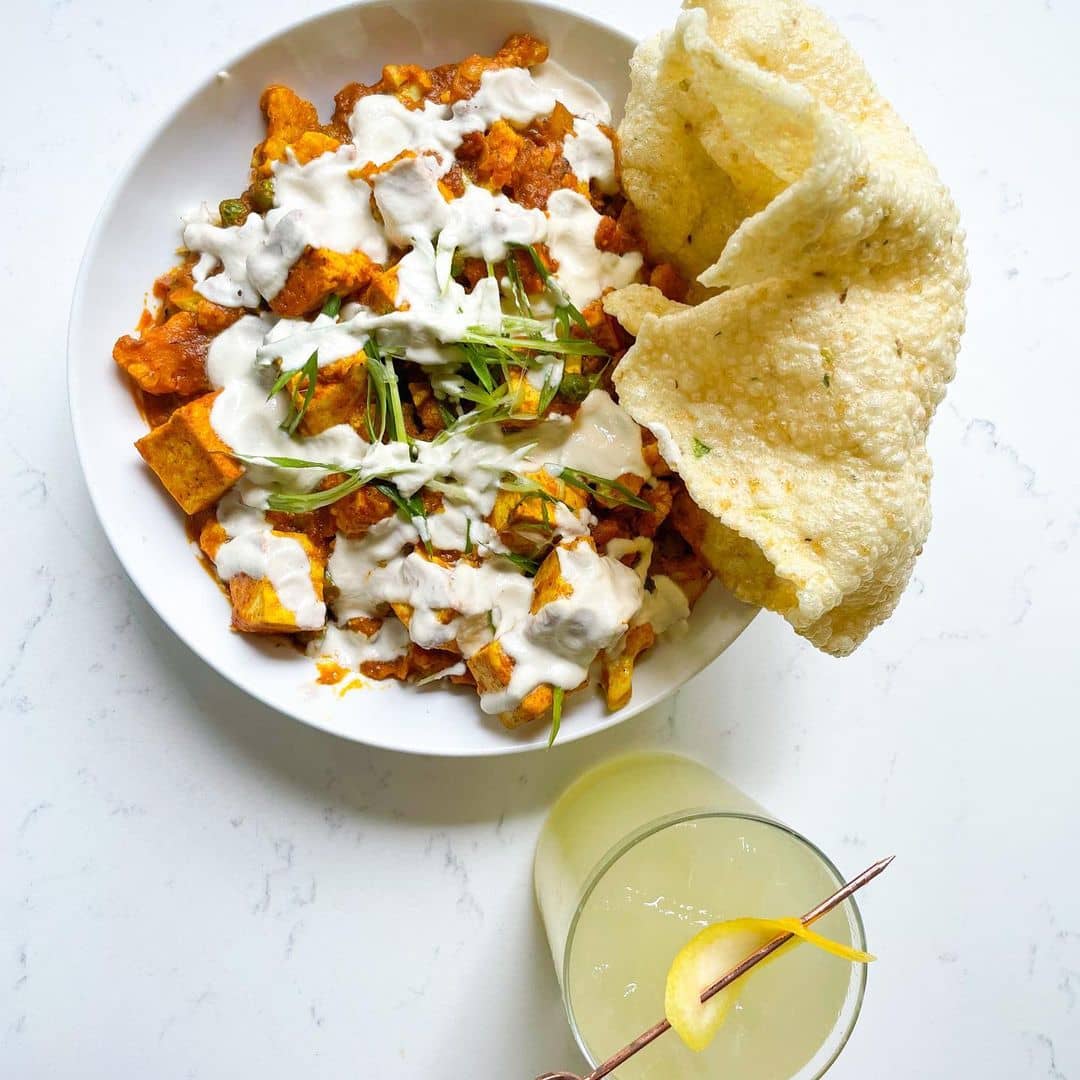 But Community Restaurant perfectly caught the attention of Oakville locals as a go-to venue for vegan and healthy options! From eye candy presentations and Instagrammable corners to impeccable service and warm ambiance, you're in for a remarkable time!
Community's strength is best displayed by the outburst of flavors from their extensive menu, particularly their delectable crab cakes, truffle fries, and mushroom risotto.
Even comparable to the original varieties, the crab cakes are made from palm, chickpea, nori, tartar sauce, and organic arugula, while the truffle fries are enhanced to the next level delish by a special mushroom gravy made with care.
The mushroom risotto is portabella, oyster, and cremini mushrooms uniting with kale and spinach, garlic confit, onions, and other ingredients to create an exceptional blend of flavours.
What to order: Crab Cakes, Truffle Fries with Mushroom Gravy, Risotto – Truffle & Wild Mushroom
Address: 343 Kerr St, Oakville, ON, Canada
Website | Instagram | Facebook
4. Maro's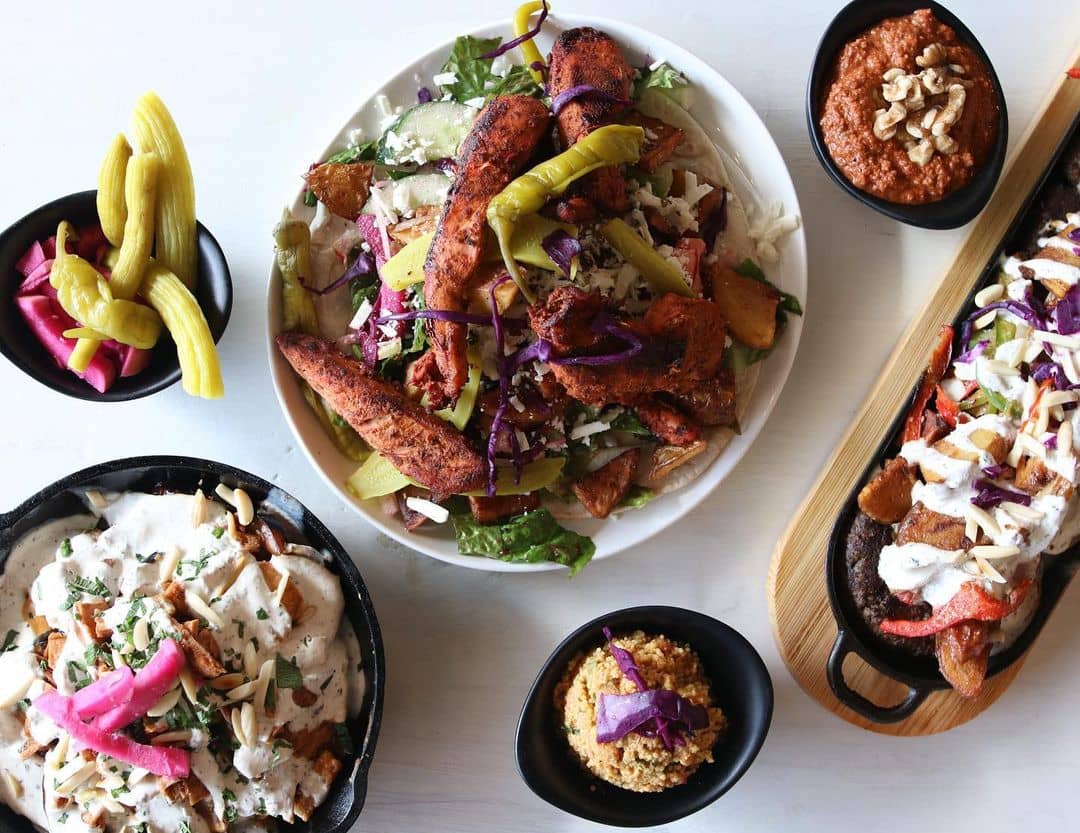 It's no secret that Mediterranean fare has made the world bend its knee for their colourful and flavourful contribution to the culinary landscape. In Oakville, Maro's sits atop the pantheon of restaurants serving this exact cuisine, infused with a hint of Middle Eastern.
Thanks to Maro's presence in town, it's easier to decide where to dine out for vegetarian and vegan options, without worrying about the taste and quality.
You may find yourself smiling at their wittingly named dishes, but wait until you grab a bite to be instantly swooned over by a flavourful harmony of fresh ingredients, in-house sauces, and traditional spices!
Prime proof of this greatness is their Belle and the Beast, their infamous fried cauliflower served with hummus and Moroccan couscous salad; Babel, BBQ minced beef with Bulgur, Lebanese garlic potatoes, and greek garlic yogurt; and Here Comes the Bride, fish filet marinated in Middle Eastern spices embraced by homemade Tahini marinara and Baba ghanoush.
Other menu highlights include KSAQ, Before Sunset, and The Bohemian.
What to order: The Belle and the Beast, Babel, Here Comes the Bride, KSAQ, Before Sunset, The Bohemian
Address: 135 Kerr St, Oakville, ON, Canada
Website | Instagram | Facebook
5. Trattoria Timone Ristorante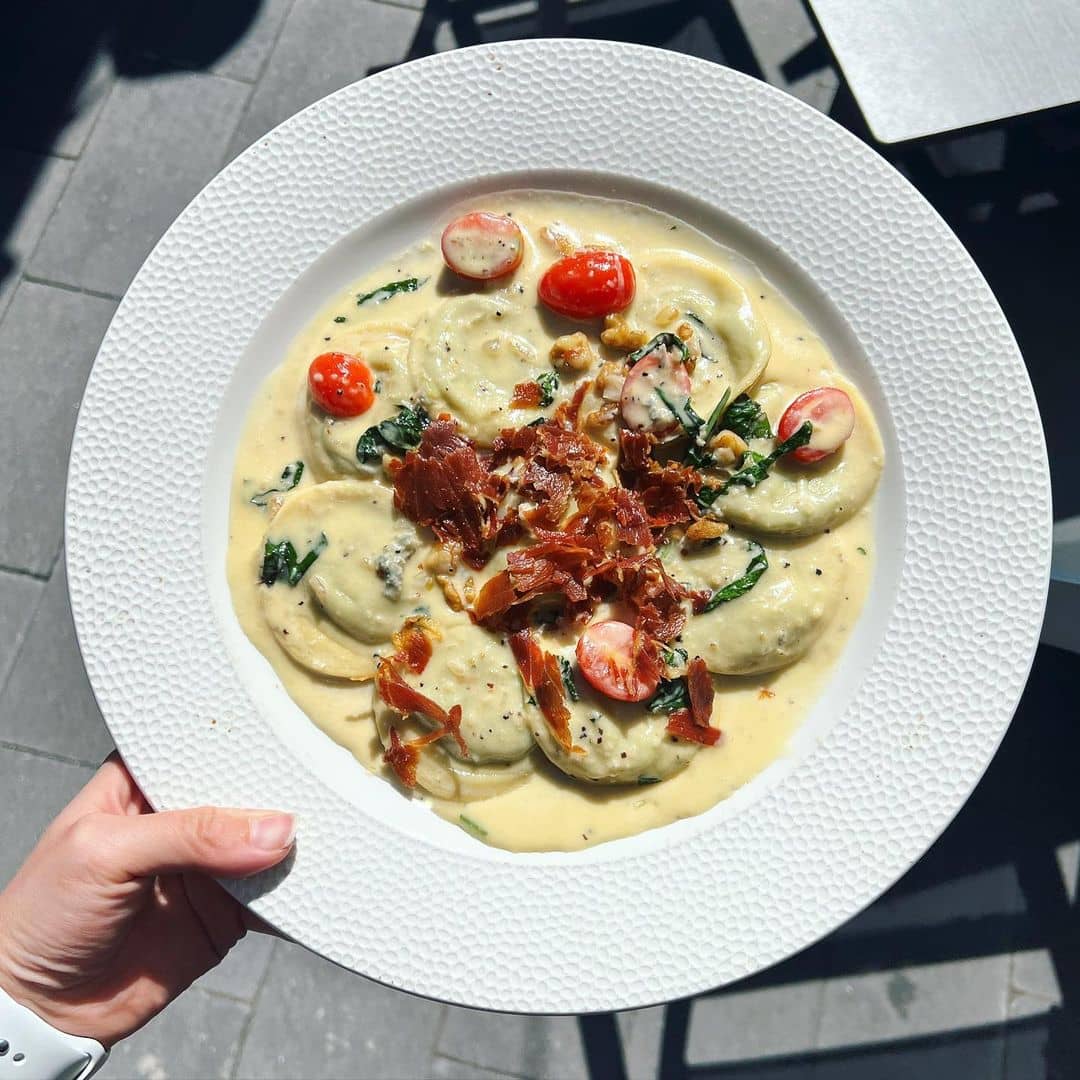 If you're looking forward to spending the night in an elegant and sophisticated restaurant, you should definitely consider Trattoria Timone. With a cozy seating area adorned with intricate details, they're famous for providing a "one-of-a-kind" Italian cuisine for the most discerning palate.
The lobster ravioli features perfectly cooked pasta with Canadian lobster in white butter sauce, while the butternut squash is sage, butter, walnuts, and parmesan in an undeniable bliss.
Another divine dish you shouldn't miss is their cioppino, an amalgamation of various kinds of seafood dancing in a herbed tomato, fennel, and white wine broth. And of course, don't forget to cap everything off with a glass of wine for the perfect finish!
What to order: Butternut Squash Ravioli, Lobster Ravioli With Summer Truffles, Cioppino, Italian Cheese Board, Butternut Squash
Address: 2091 Winston Park Dr, Oakville, ON, Canada
Website | Instagram | Facebook
6. Wasabi & Teriyaki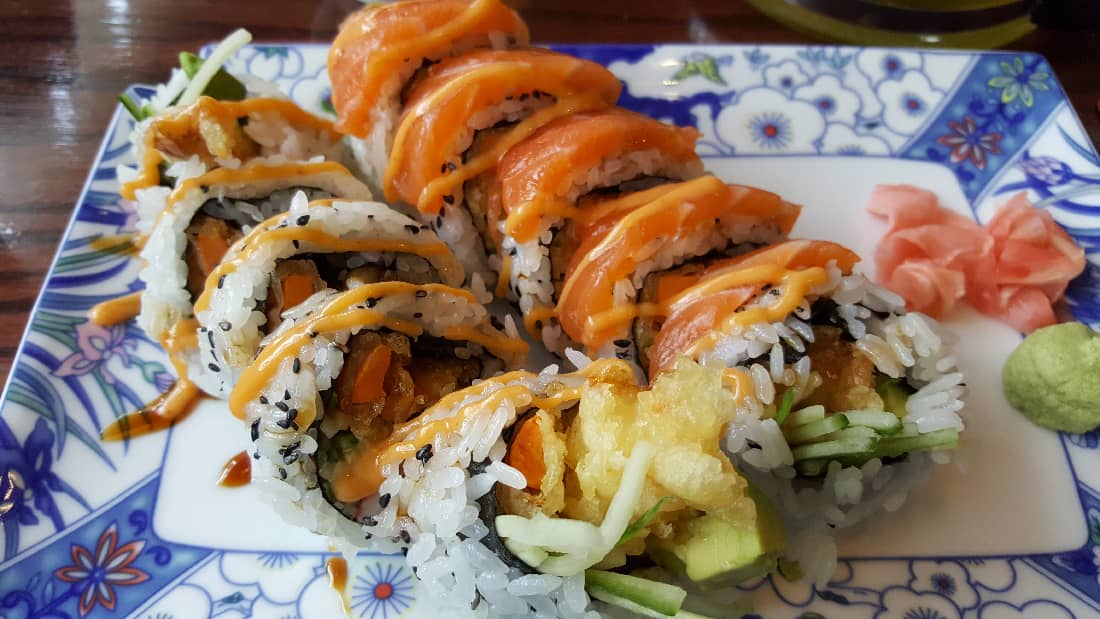 Wasabi & Teriyaki is a hole-in-the-wall restaurant featuring mouthwatering Japanese delights that merges affordability and quality in one—a feat you don't often see hand in hand.
A (not so) caveat, if we may point out, is the limited chairs available for dining in. The restaurant could only offer a handful of seats, which is why others opt for takeouts, but the top-tier taste definitely compensates for the lack of space.
If you're looking for some sushi fix, don't hesitate to order their spicy salmon and tuna rolls, but if you're bolder like us, deep dive into their sushi & roll platters! And don't forget to try their Ebi tempura cooked with just the right amount of outside crispness!
What to order: Spicy Salmon Roll, Tuna Roll, Ebi Tempura, Sushi & Roll Set
Address: 117 Cross Ave, Oakville, ON, Canada
7. Cucci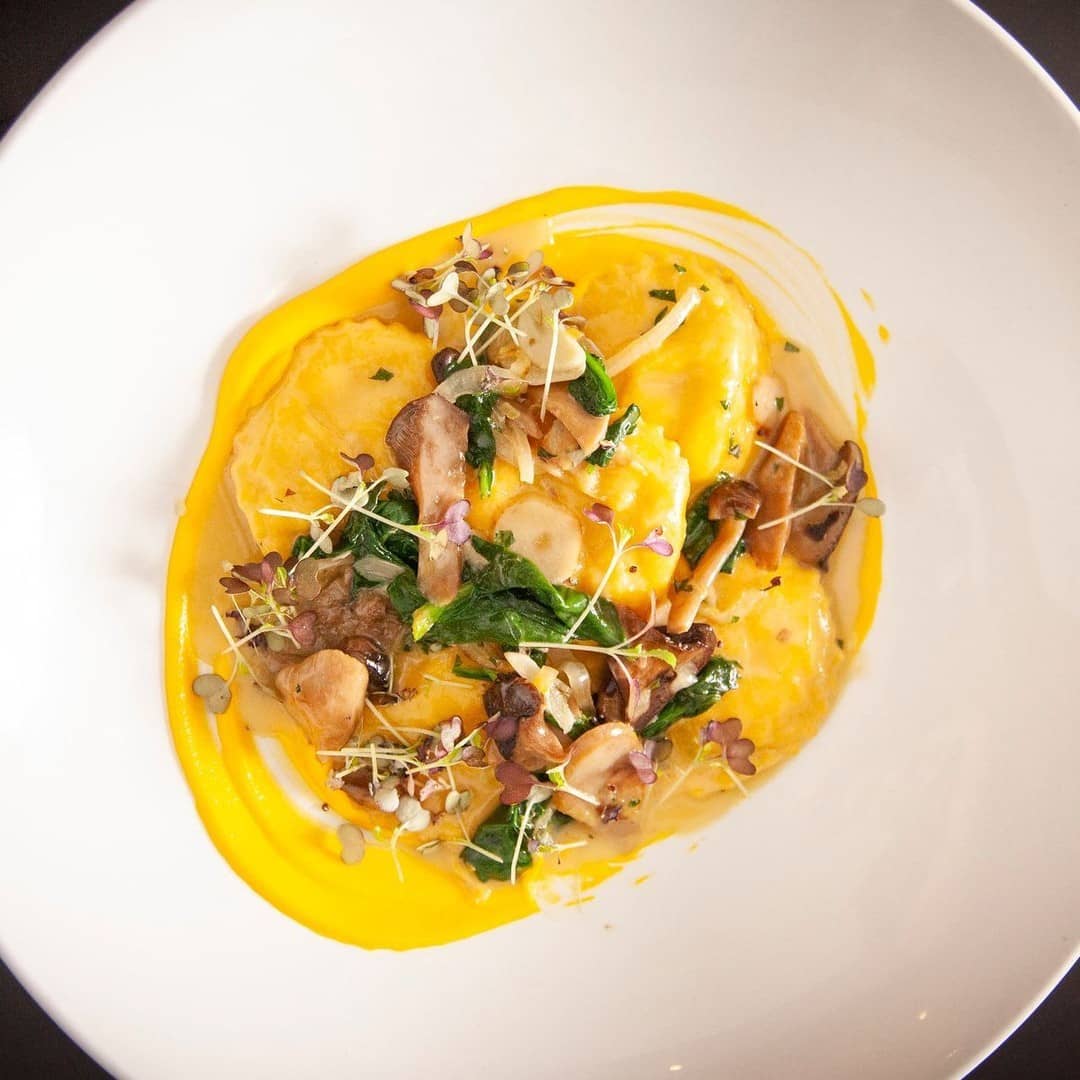 People travel from near and far to feed both their appetite and their cameras with Cucci in mind. They frequent this modern Italian restaurant for all the good reasons: outrageously tasty Italian food with contemporary flair, live music in low ambient light, a fine dining experience like no other, and the list could go on…
They're an ideal place for quite literally any occasion, from birthdays and anniversaries to romantic dinner dates and or elegant steak night "just because." Parking may be limited, but there's an option for valet parking if you can't find one on nearby streets.
There is much to unpack from their expertly crafted menu, but this particular lineup left a lasting mark: mushroom on toast for appetizer, linguine and beef tenderloin for the main course and a Chef inspired creme brulee for dessert—if you're ready for some out-of-this-world dining escapade, that is.
What to order: Mushrooms on Toast, Linguine, Beef Tenderloin, Chef Inspired Creme Brulee
Address: 119 Jones St, Oakville, ON, Canada
Website | Instagram | Facebook
8. Riyasat Indian Restaurant & Bar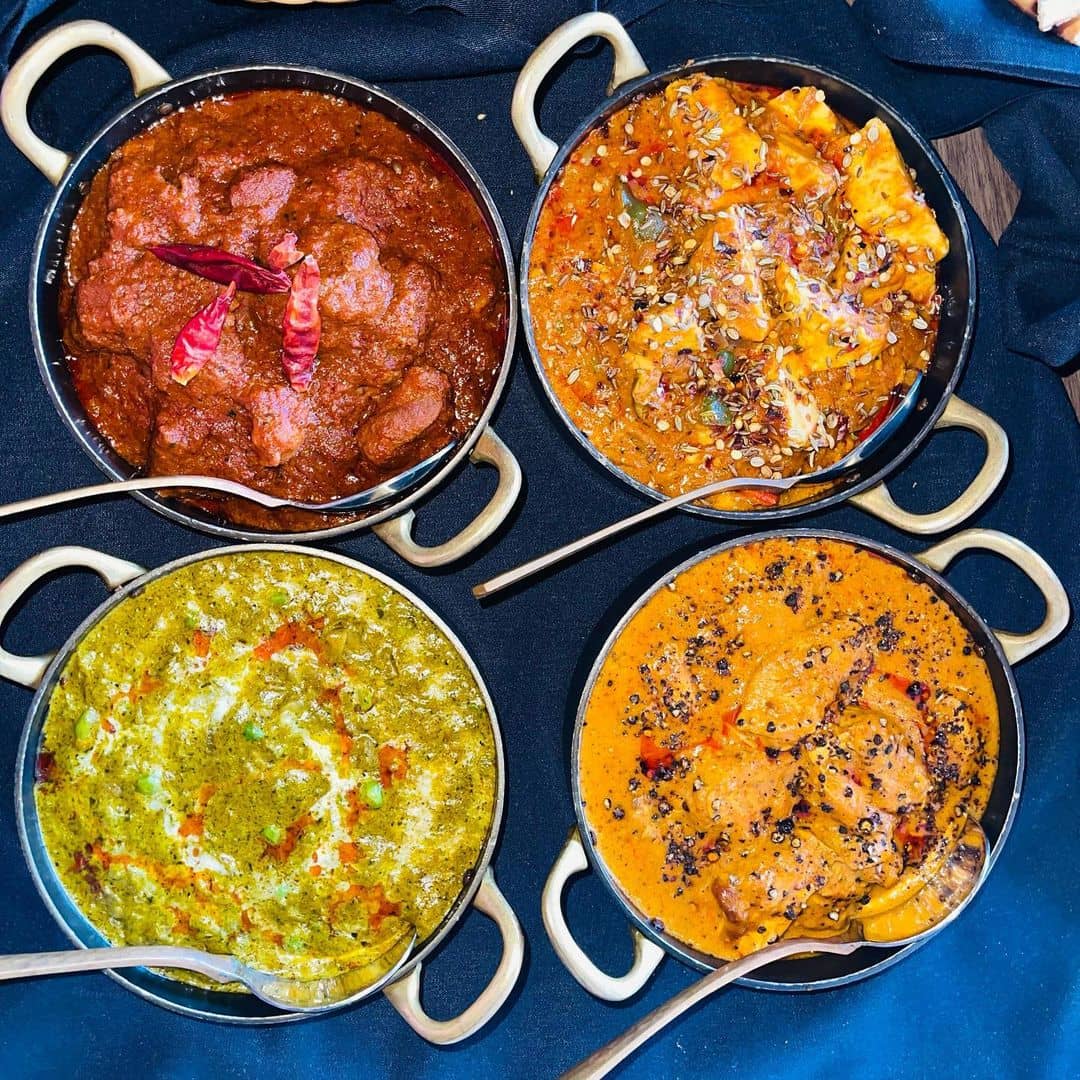 There are times when you don't need to fix what's broken, but there are moments when you need to step up and reinvent the wheel to cater to a wider reach.
The moment you step into their humble abode, you will be transported into South Asia. From decorative walls decors to aesthetic paintings, everything summons the beautiful Indian culture!
And that's before you touch any of their offerings — wait until you get a taste of their exceptional food such as the garlic naan, laal maas, gulab jamun and latpata paneer.
The haryali chicken tikka is boneless white meat flavoured with herbs and spices, while the laal maas is spicy royal Rajasthani mutton curry with chili onion gravy. Meanwhile, the latpata paneer, a specialty dis, is picked cottage cheese made extremely flavorful with Indian spices.
Lastly, the Stuffed gulab jamun is a must-order sweet climax for your visit! Even if you're not a fan of Indian cuisine, you will be instantly converted into one!
What to order: Haryali Chicken Tikka, Laal Maas, Latpata Paneer, Stuffed Gulab Jamun
Address: 263 Lakeshore Rd E, Oakville, ON, Canada
Website | Instagram | Facebook
9. Salad Thai Restaurant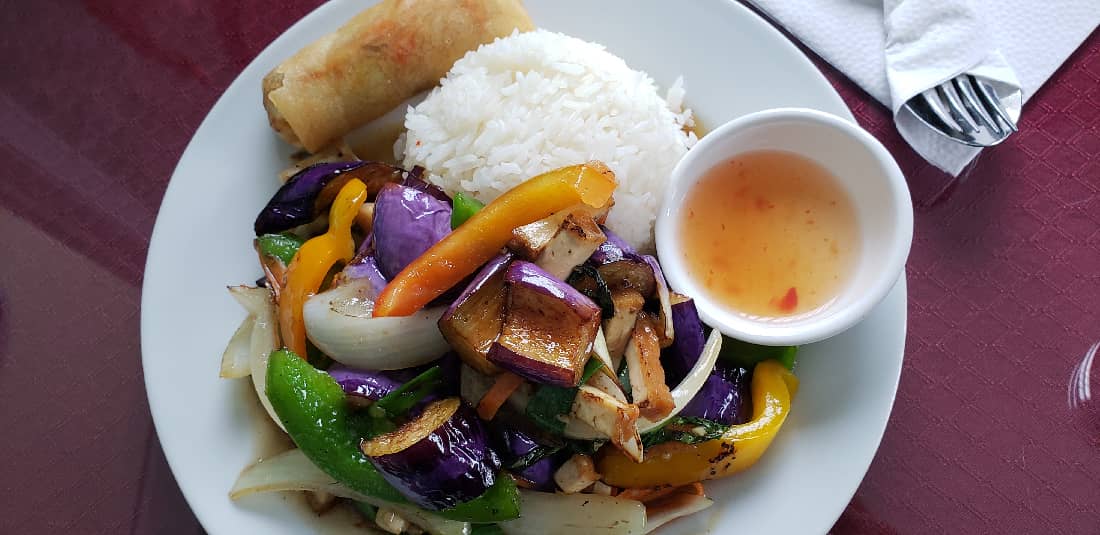 With over 15 years of consistently serving GTA folks with high-quality Thai food in Kerr village, Salad Thai has successfully brought the town closer to Thailand. After all, who doesn't love pad Thais, satays, and tom yum?
This small family-run restaurant offers excellent dishes that can compare to bigger Thai restaurants in other cities. Add up reasonable prices, cozy setting, and fantastic service into the equation, and you'll get a community-loved restaurant that's always busy with eager diners!
Salad Thai perfectly understands that not everyone loves spicy food. So, the menu features a spice guide to help you check your levels. With that said, don't hesitate to try some of their staples: green gurry, pad thai, panang fish, and shrimp coconut soup!
If you don't have the time to spare for dine-in, you can opt to order take-out, and the quality is just as great! Salad Thai truly ticks a lot of checks on our list, and soon, on yours, too!
What to order: Combo #7 ( Green Curry), Combo #1 (Pad Thai), Panang Tilapia Fish, Shrimp Coconut Soup (Tom Kha Goong)
Address: 398 Kerr St, Oakville, ON, Canada
10. Stoney's Bread Company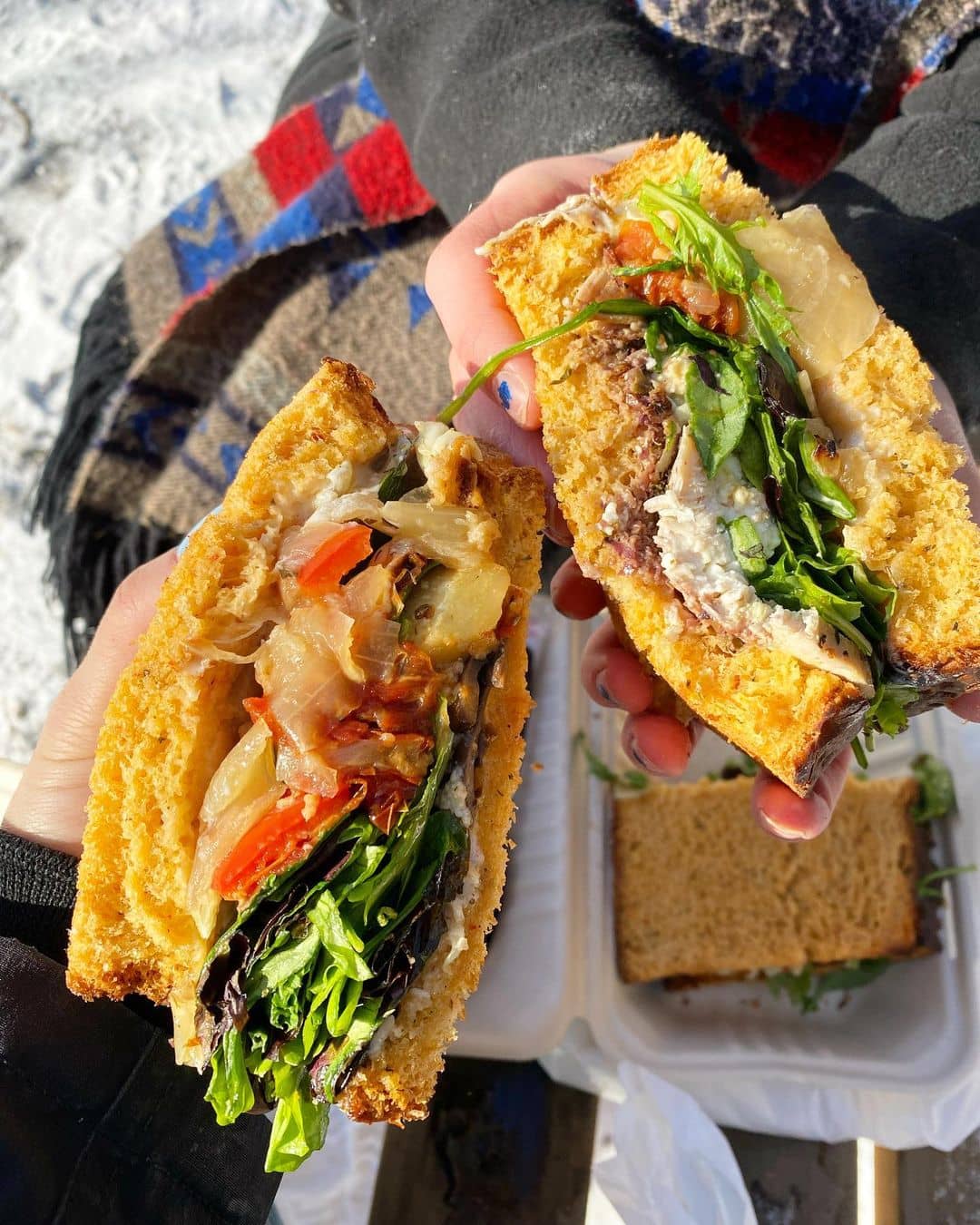 Those who skip breakfast look forward to brunch, and trust that yours will be one for the books if you head over to Stoney's Bread Company. They're easy to spot from afar: black facade with their name displayed on red bricks.
Inside is a black-and-white interior featuring wooden chairs and tables and elements working together to create a warm and chill atmosphere as you enjoy your fill of soulful food. But their claim to fame lies in their delicious offerings, such as pizza, sandwiches, and soups!
Surrender yourself to their maple glazed salmon salad served with potato, bacon, and champagne vinaigrette; savory east coast clam chowder; blackened chicken panini sandwich with goat cheese, avocado, and lemon dill aioli; and a southern style pulled pork smothered in bourbon BBQ sauce and garlic aioli on ciabatta.
Stoney's also features a special Sunday brunch menu with more flavoursome selections, such as the eggs florentine, crepe au Miel, and Stoney's omelet!
What to order: Maple Glazed Salmon Salad, East Coast Clam Chowder, Blackened Chicken Sandwich, Southern Style Pulled Pork Sandwich
Address: 325 Kerr St, Oakville, ON, Canada
Website | Instagram | Facebook
11. Justino's Wood Oven Pizza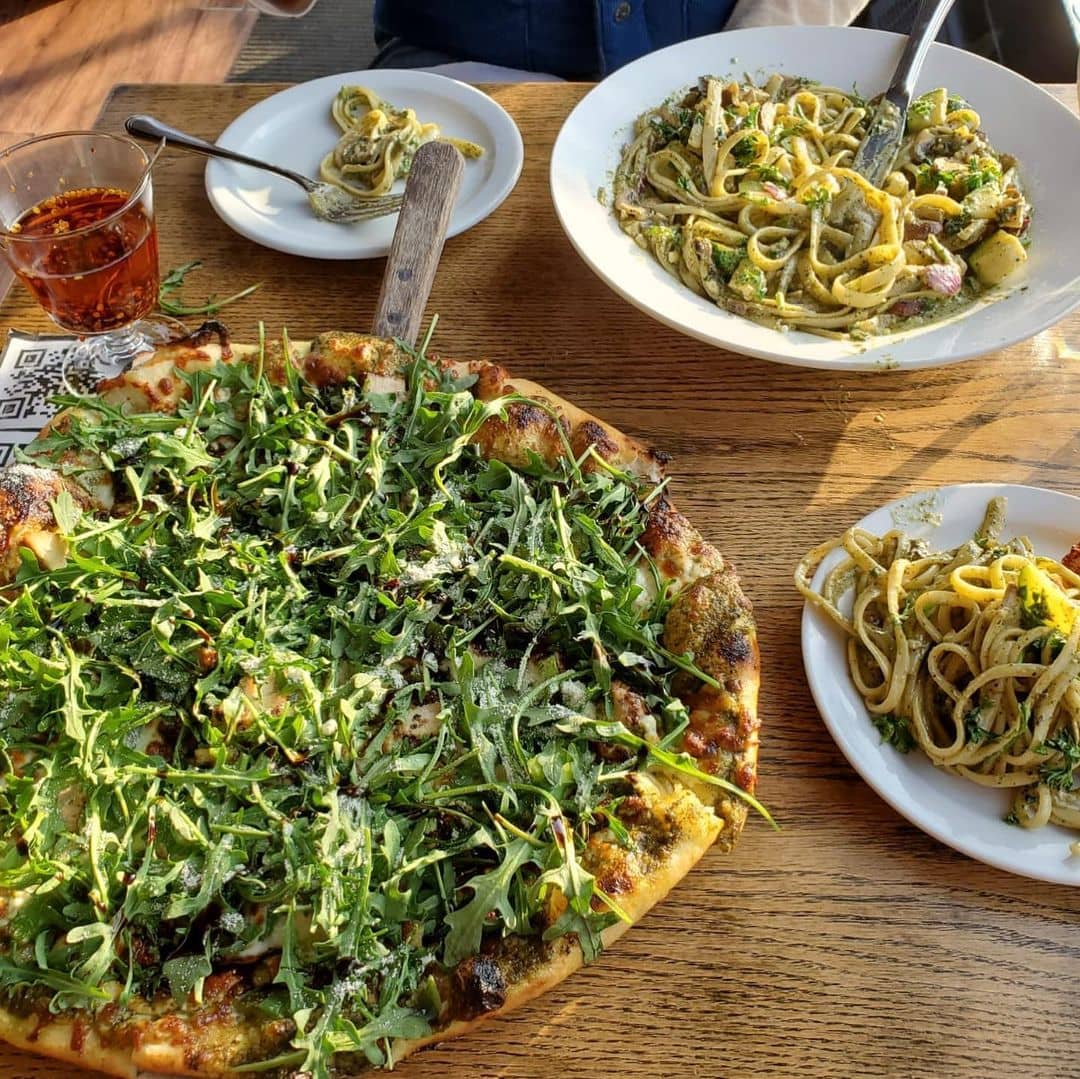 Craving for some homemade Italian food from scratch warmly prepared with care and passion? Justino's Wood Oven Pizza is your best bet — time has stopped to cater to Mama Rosa's recipes, which continuously appeal to all patrons, both young and old.
Honestly, based on the food alone, you can say Justino's is one of the best value-for-money restaurants in Oakville. All items on the menu are tasteful without trying too hard, so how can you resist a dish, say, a pizza, made by the owner with fervent passion right in front of your eyes?
Crowd favorite menu items include the famous aranchinni, Sicilian rice balls stuffed with heavenly goodness and coated with breadcrumbs; hand-rolled gnocchi, and wood oven capricciosa pizza with artichoke hearts, bell peppers, prosciutto, and mozzarella cheese.
Dreamy, no? For the sweetest finish, order their Canolli.
What to order: Aranchinni, Mama Rosas Gnocchi, Capricciosa Pizza
Address: 125 Kerr St, Oakville, ON, Canada
Website | Instagram | Facebook
12. Sunlight Grill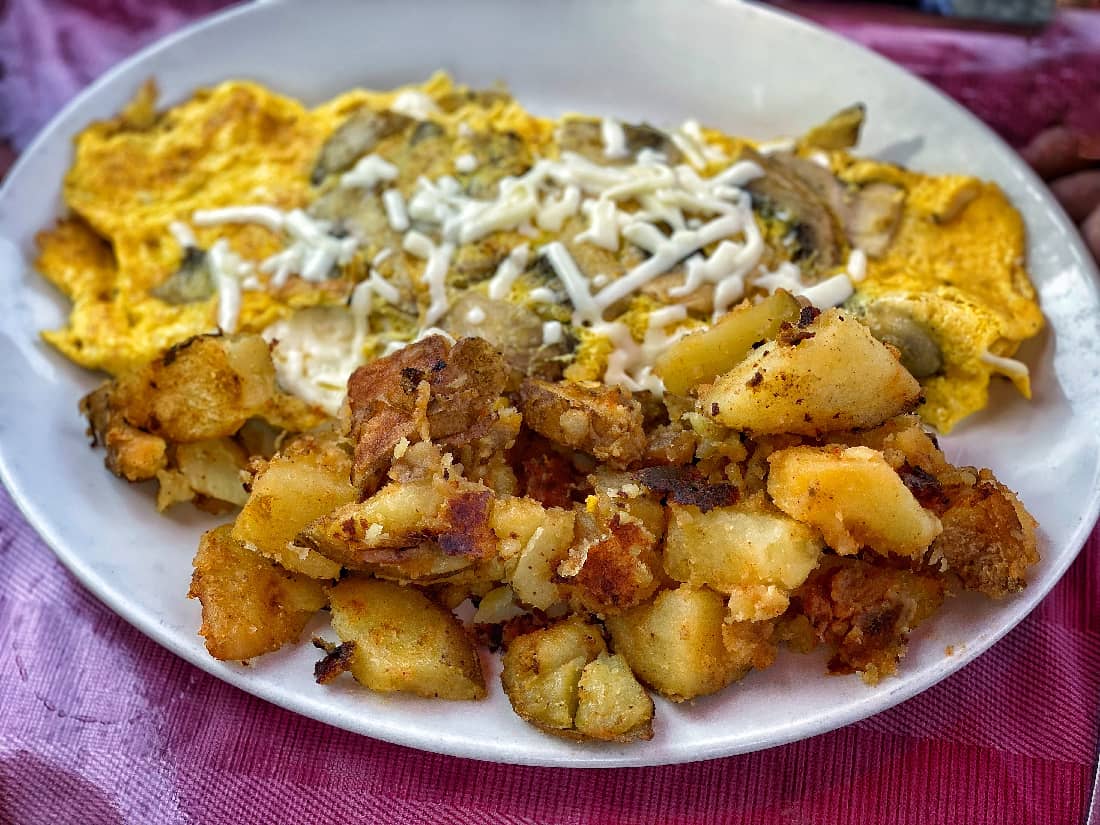 Breakfasts can make or break your day, but trust that yours will be off to a great start at Sunlight Grill, where a trifecta of good food, friendly staff, and homey ambiance awaits you.
All items from their menu are noteworthy, but we're biased towards their 3 eggs classic breakfast, Canadian omelette, and cinnamon french toast! All ingredients are freshly procured and are blending well with one another to create the perfect harmony to start your day right.
They also have selections for lunch and dinner that are as outrageously good! Not to mention, their place is squeaky clean, with neatly arranged elements creating an atmosphere close to home.
What to order: 3 Eggs Classic Breakfast, Canadian Omelette, Cinnamon French Toast
Address: 2308 Royal Windsor Dr, Oakville, ON, Canada
And there you have it! That sums up our Oakville restaurant recommendations. We know you're already hungry just by going over the list. We'll see you in one of them soon, yeah?
Another city worthy of all the culinary praises is Toronto, and we got you covered for some of its best restaurants!
How We Create Our "Best" Lists
All Noms Magazine's "best" lists are created using multiple factors and signals to help readers find the best restaurants, things to do, and places to stay at. Some of these factors and signs include personal experiences, correspondence with locals, and compiling experiences from review sites.
Each list is also created to be balanced (in terms of price, cuisine type, ambiance, and more) as possible. This means that the lists are not specifically created in ranking order. You should be comfortable picking from any of the spots on the list and generally have a good time. But of course, YMMV (your mileage may vary) and everyone may have different experiences/palates.